The third-largest city in South Africa, many people skip Durban in favour of Jo'Burg or Capetown; however, they really shouldn't. The weather here is always warmer than anywhere else in the country, and it's known as South Africa's playground. Durban boasts incredible beaches, shopping, and places to eat!
The city is one of the cheapest in South Africa, and this is reflected in holiday rentals in Durban. It's crazy just how much you can get for your money here. You'll be able to save what you spend on an Airbnb in Durban to make the most of the malls and restaurants lining the coast of this South African city.
In this post, I'll show you the best Airbnbs in Durban. I have a wide range of properties that will suit a range of travel styles and budgets. Not only that, but I'll also cover some of the best experiences in the area. Let's check it all out!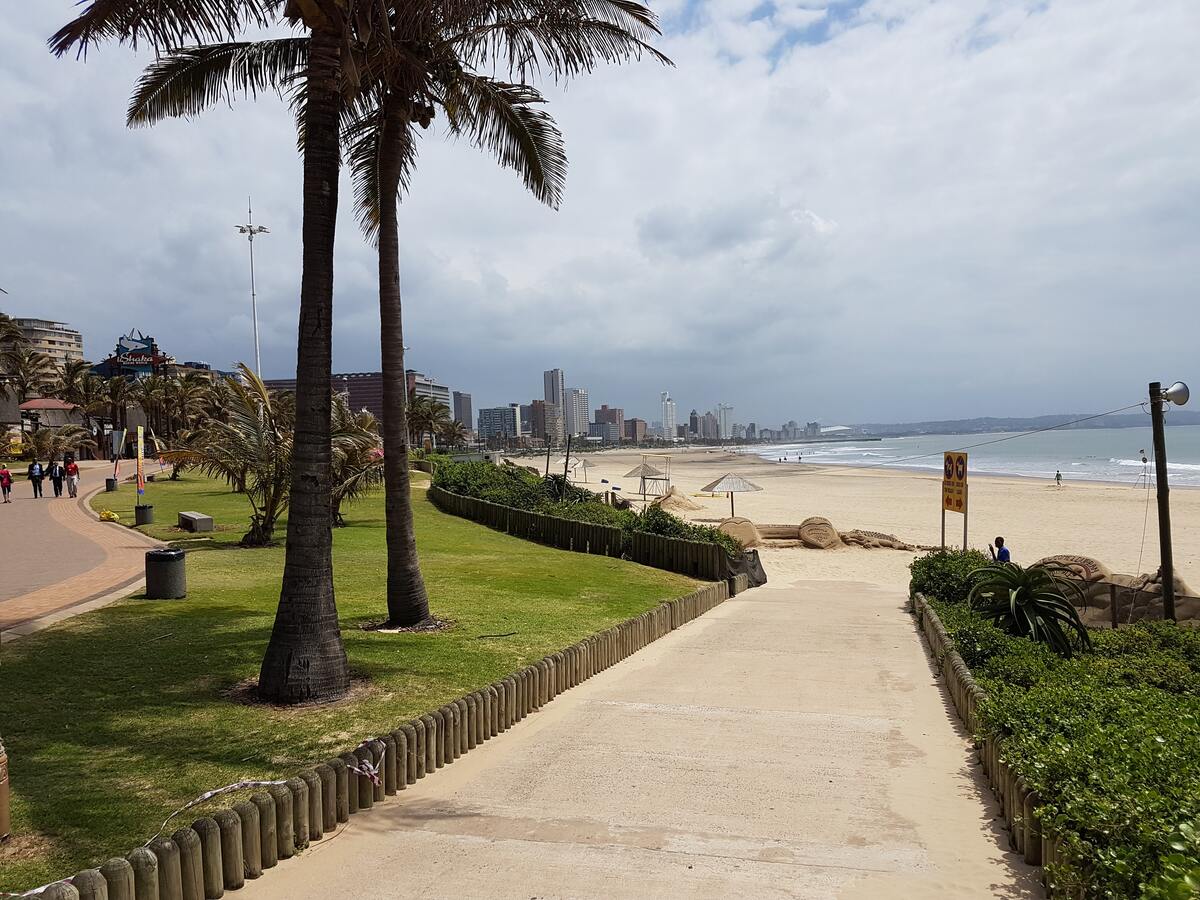 Quick Answer: These are the Top 5 Airbnbs in Durban
Overall Best Value Airbnb in Durban
Overall Best Value Airbnb in Durban
Loft Condominium
> $$
> 6 Guests
> Breakfast included
> Free parking
Best Budget Airbnb in Durban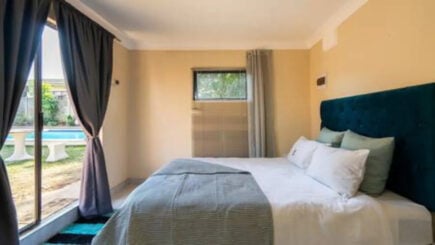 Best Budget Airbnb in Durban
Private room in Berea
> $
> 2 guests
> Communal lounge and kitchen
> Private bathroom
Over-the-Top Luxury Airbnb
Over-the-Top Luxury Airbnb
Walk to bars and beaches
> $$$$
> 3 Guests
> Private balcony
> Sophisticated and modern kitchen
For Solo Travelers in Durban
For Solo Travelers in Durban
Lion's Den Bluff Beach
> $
> 3 Guests
> Great location
> Awesome views
Ideal Digital Nomad Airbnb
Ideal Digital Nomad Airbnb
Luxury at 230
> $$$$
> 7 Guests
> Quiet residential area
> Swimming pool and jacuzzi

Unlock Our GREATEST Travel Secrets!
Sign up for our newsletter and get the best travel tips delivered right to your inbox.
What to Expect from Airbnbs in Durban
Durban is one of the essential stops on your South African adventure but it can only be a success with the right accommodation.
Luckily, there is a load of different Airbnb properties available across Durban. From the north in Umhlanga all the way to the south in Bluff, you can expect epic sea views from many of your Airbnbs. Though private rooms are still the cheapest way to travel, entire rental units are inexpensive too.
There's a mix of locals and business hosts in Durban, with many of the properties, focused on safety. A lot of Airbnbs will offer a pool (even if you're in a private room), and many of the entire flats or houses boast a fully-equipped kitchen, so you can save even more by cooking in if you fancy!
One thing is certain: you can expect way more for your money than you would in an equivalent Airbnb in the US, Europe, or Australia!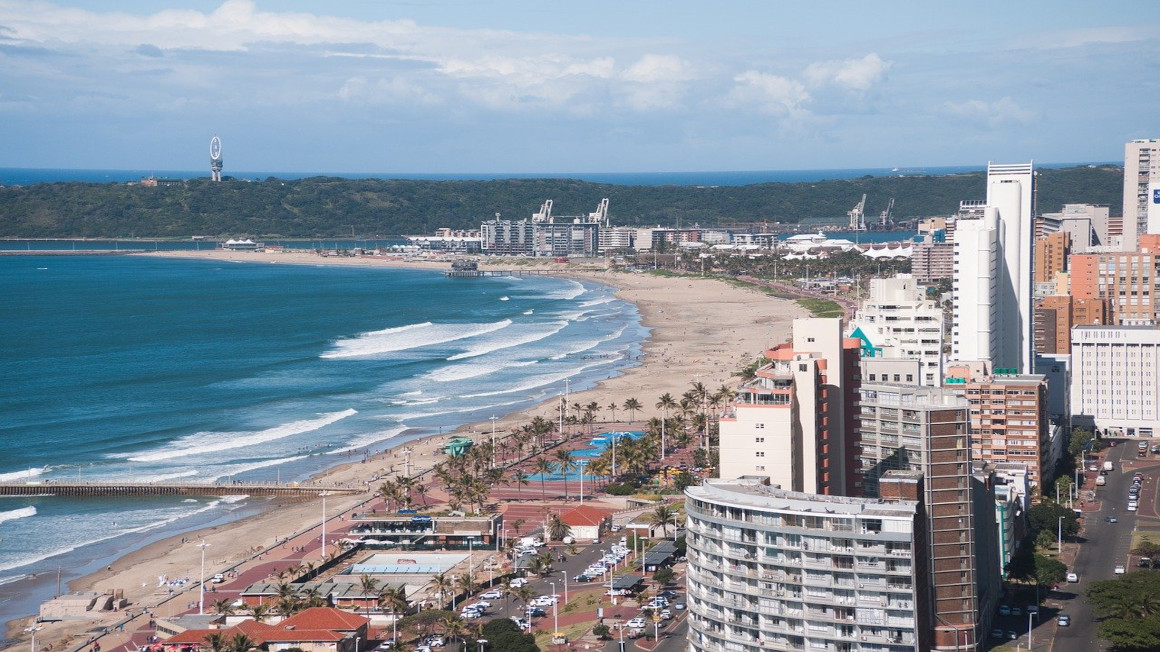 Entire Flat
The most common kind of Airbnb in Durban is an entire flat. While it may not be unique, each has its own distinct character and identity. Full flats usually host up to four guests, so they'd perfectly suit a solo traveller who wants a bit of space to themselves. They could also be suitable for a couple or a small group of friends and family travelling together at a push.
However, if you do rent an entire flat for four guests, be sure to check that there are two double/queen beds – otherwise, you might be fighting over who sleeps on the sofa bed!
Entire flats can be found all across Durban, but you're best checking out Berea, Buff, Morningside, and the City Centre.
Cottage
For something a little more upmarket (and occasionally romantic), it's a good idea to search for a cottage. They often have many of the same features you'll see in an entire rental unit but are usually on the ground floor and likely to have a garden. Many cottages in Durban have a swimming pool, perfect if you're planning to cool off after a day of exploring in the warm weather!
Cottages are great if you're travelling with your other half, whether it's a last-minute trip away or something as carefully planned as a honeymoon. Bluff is a great place to get a sea view cottage with a pool – can you think of anything better?!
Villa
For those looking for a truly memorable trip to Durban, consider booking a villa. These properties are generally further out of the city centre and command a much higher price than entire cottages or flats. However, they can also sleep more people. So, while that price might look expensive at first glance, it won't be that much more once you've split it 10 or 15 ways!
Villas are excellent for large families or groups of friends looking to celebrate a big occasion – or just spend some quality time together. Umhlanga is where to look for villas to the north of the city centre, while Bluff has some nice ones in the south.
Why Stay in an Airbnb
If you're still not convinced about staying in an Airbnb in Durban, we're not sure what it'll take. But here are five of the best reasons we can think of:
Local Experience: Staying in an Airbnb means you'll have a host at hand who knows all the hidden gems and things to do that you won't find in the guidebook.
Unique Properties: If you find hotels and hostels lack a bit of character, maybe Airbnb is for you. Where else can you find flats, tiny houses, and nature lodges in the same place?
Affordability: Airbnbs are far cheaper than the equivalent standard of hotel, and the price can be split even more if you're in a group. This is especially great for everyone backpacking in South Africa.
Last-Minute Booking: Arriving late in Durban? You won't want to be looking around for accommodation on foot. Instead, just check out what properties are still available to book and head straight there!
Airbnb Experiences: It's not all about places to stay; it's also what to do during your trip. Airbnb experiences offer tours curated by locals – we'll see more of them later!
The Top 15 Airbnbs in Durban
Now that we've got all of the admin out of the way, it's time for the part you've all been waiting for. Here are the 15 best Airbnbs in Durban. We hope it's not too hard to make your choice at the end!
When you see the price of this place, you'll think there's a mistake. A beautiful entire apartment all to yourself with a swimming pool, free parking, air conditioning and a fully-equipped kitchen for that price?! No way.
However, it's true, and that's why this Morningside loft is my best value Durban Airbnb. It has a great located in a quiet cul de sac and has a wonderful host. This lovely space is often booked up though, so you'll have to move fast to secure your stay!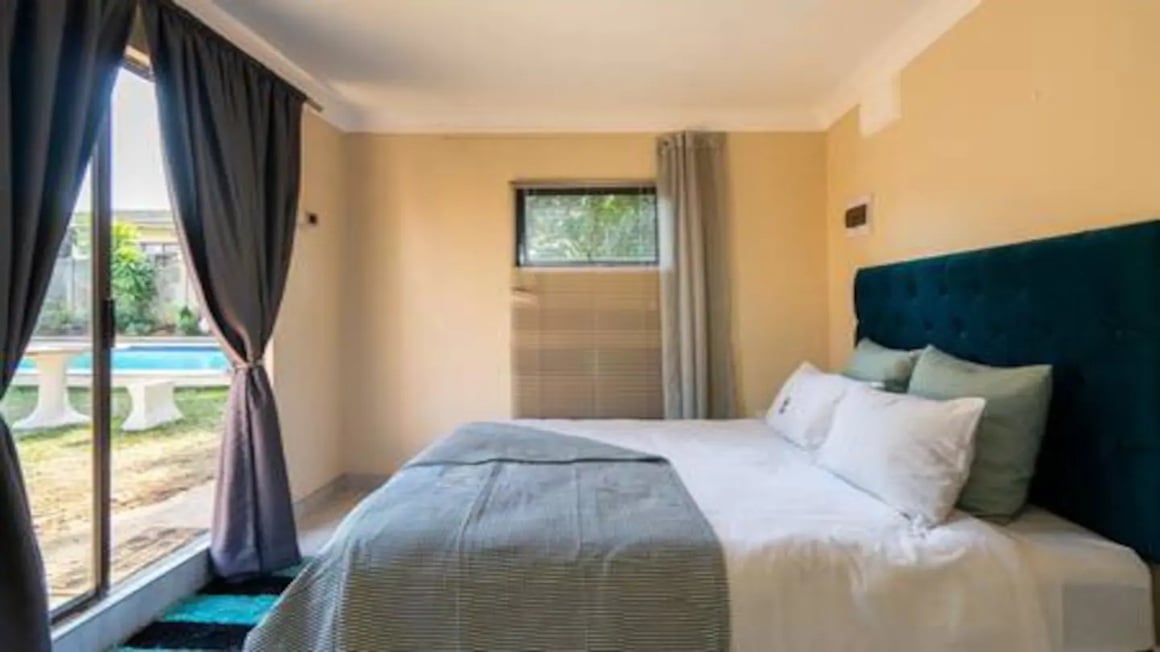 $
Communal lounge and kitchen
If you're on a budget in Durban, you can still get an entire rental unit if you're willing to stay further out of the city centre.
This apartment in the Berea neighbourhood not only offers you access to a comfortable bed, but also a pool. There's a communal lounge and kitchen too, where you can chill out and make your breakfast or evening meal.
You've also got a lovely host who is willing to help you plan your activities during your stay.
While you won't be seeing any big game in this part of South Africa, the idea of a lodge is still pretty nice. This small studio apartment in Bluff has been imaginatively re-designed to make you feel as if you're immersed in nature.
It comes with all the amenities that will make for a comfortable stay, including air conditioning, free wifi and free parking.
There's a veranda where you can chill out and watch the sunset, and there's also an entertainment area. You can even use the pizza oven if you request early enough!
Is This the Best Travel Pack EVER???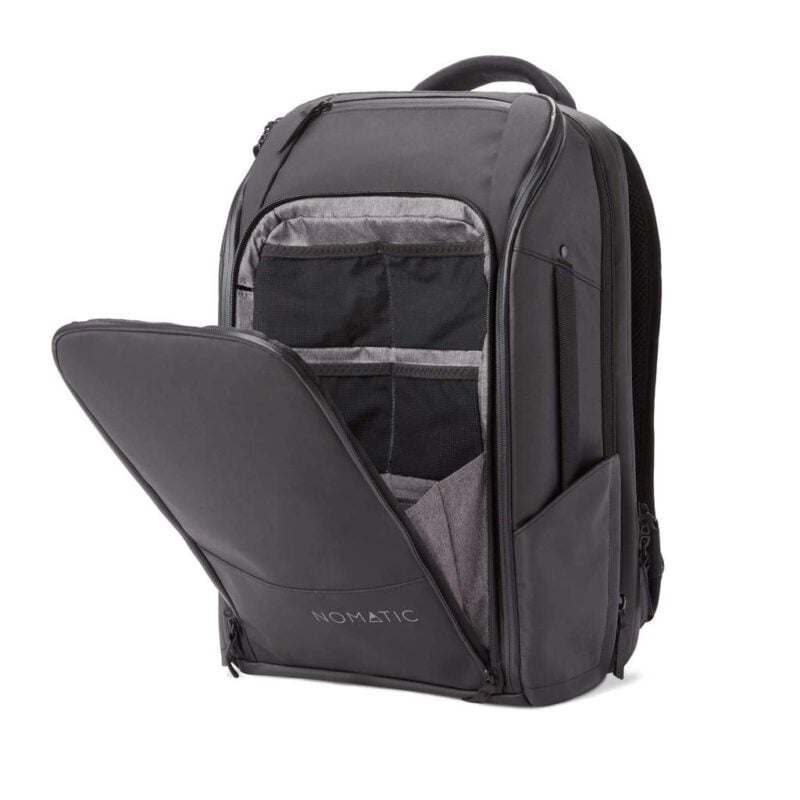 Here's another of Berea's vacation rentals in Durban and it's terrific for couples. The private garden unit gives you guaranteed privacy, and you may even spot colourful birds in the garden.
Your best chance of doing this is at the patio table, a great place to enjoy food together. If the weather's bad or it's getting a bit dark, retire inside to a comfortable queen bed. It's big enough for both of you to starfish! Should you need anything from your amazing host, they're in a separate flat nearby.
Best Airbnb in Durban for Families | Luxury at 230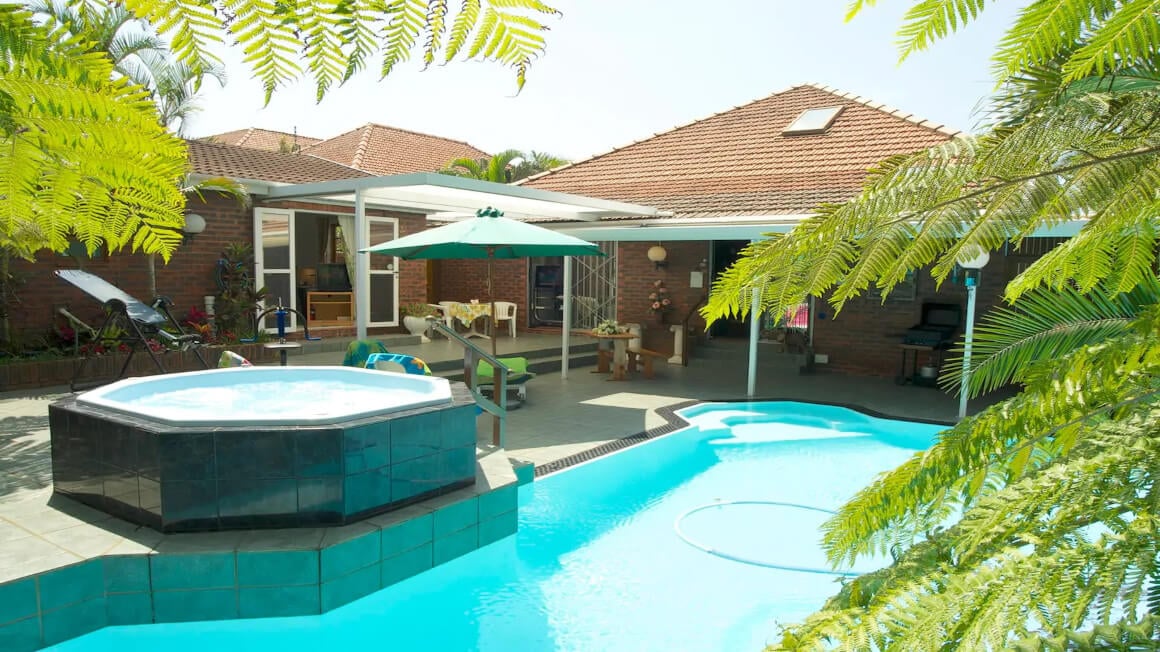 $$$$
Quiet residential area
7 Guests
Swimming pool and jacuzzi
With space for up to seven guests in a quiet residential area, this luxury family accommodation is a true home away from home. It's suitable for families of all ages, and there are two living rooms. One can be for the kids and another for the adults! Parents can make sure kids are safe in the swimming pool from the comfort of the jacuzzi.
Over the top luxury Airbnb in Durban | Lembali Lodge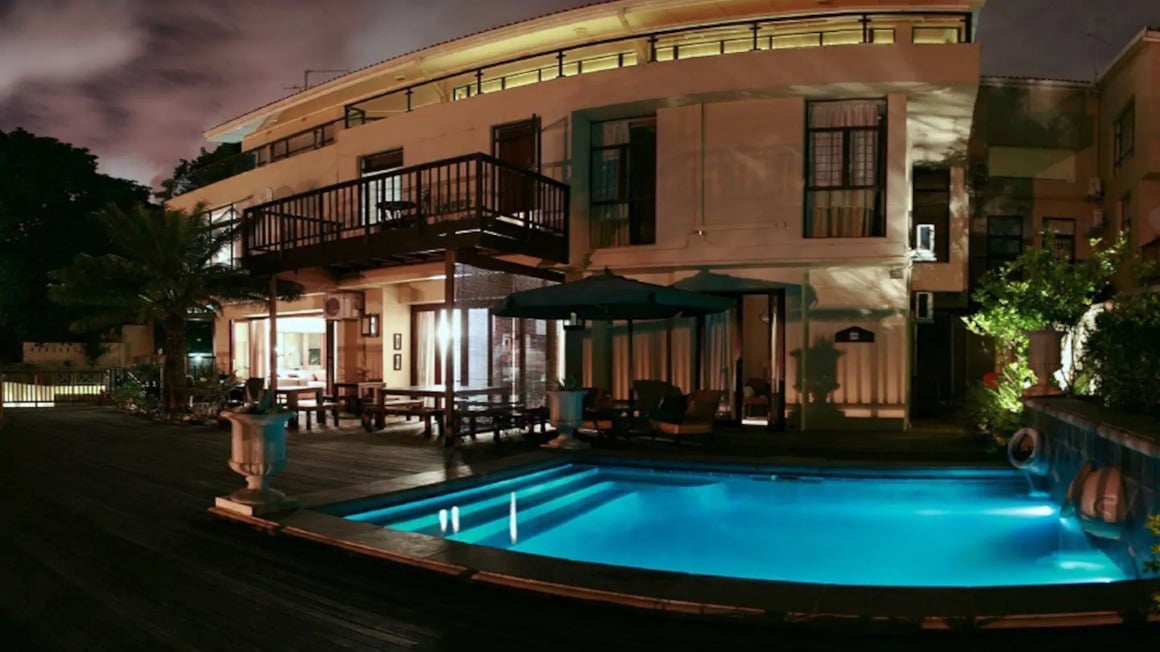 $$$$$$
Chef and breakfast available
If you're happy to splash the cash during your stay in Durban, then listen up. Lembali Lodge has six bedrooms, and you can book your very own private chef. Just imagine how good the food will be! All the bedrooms are en-suite, so no waiting for a shower in the morning, either. This is a spectacular option for groups staying in Durban. If you can split it between 12, it's actually relatively inexpensive.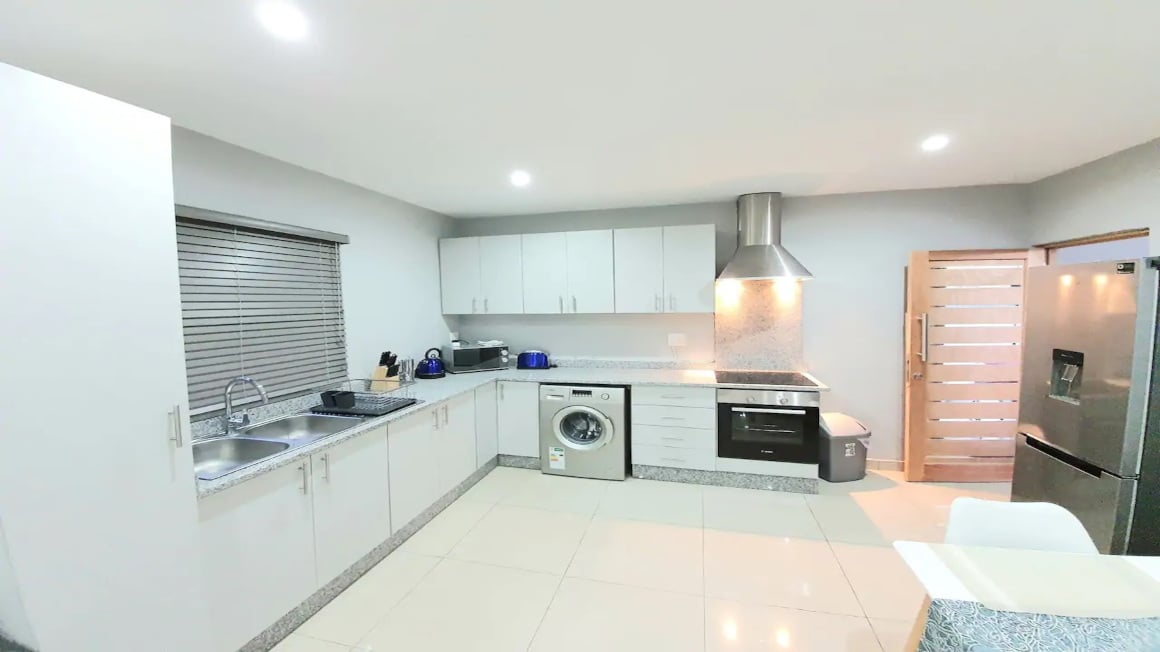 4 Guests
Access controlled unit
From villas to luxury lodges and a penthouse, you can't say we're not treating you well. This modern apartment is hosted by a business in a central location. The studio has a fully-equipped kitchen and a single bedroom, though the common area also has a queen bed. It's a great spot for two couples; the only downside is that there's no alcohol allowed on the premises. However, if you're cool with that, this place is a very good bet!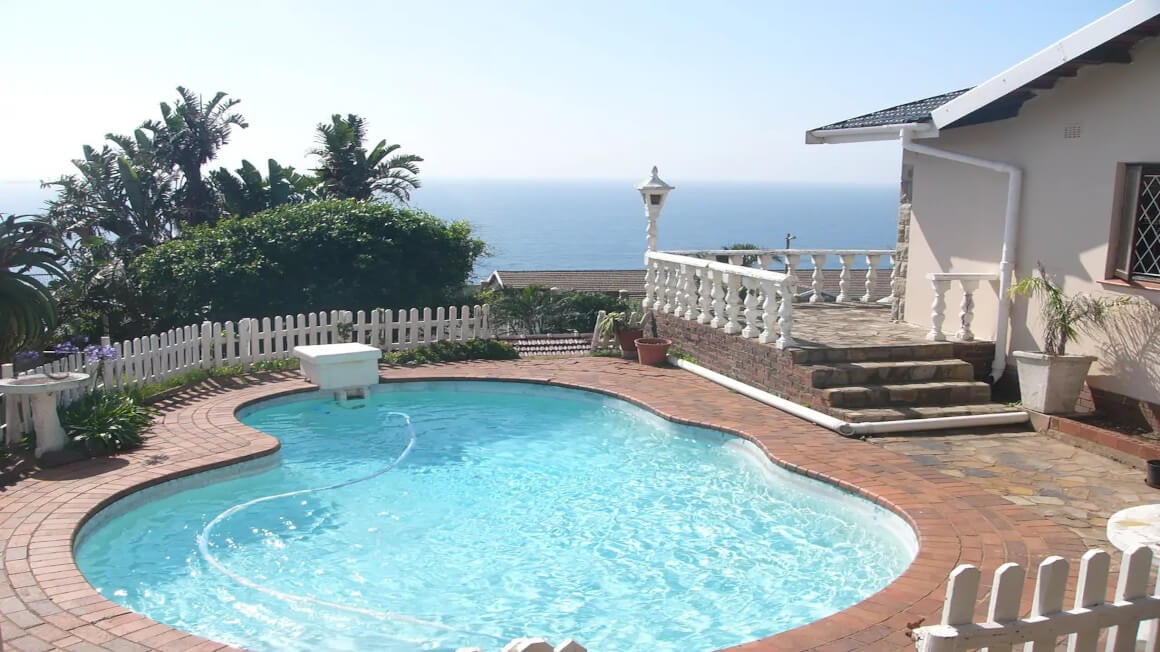 Overlooking the ocean, this cottage is one of the prettiest Airbnbs in Durban. With room for just two guests, it would be suitable for a couple or solo traveller. After a long day of exploring the city, come back and have a paddle in the swimming pool. Alternatively, take in those spectacular sea views from the verandah. It's one minute on foot from local beaches and 20 minutes by car to downtown.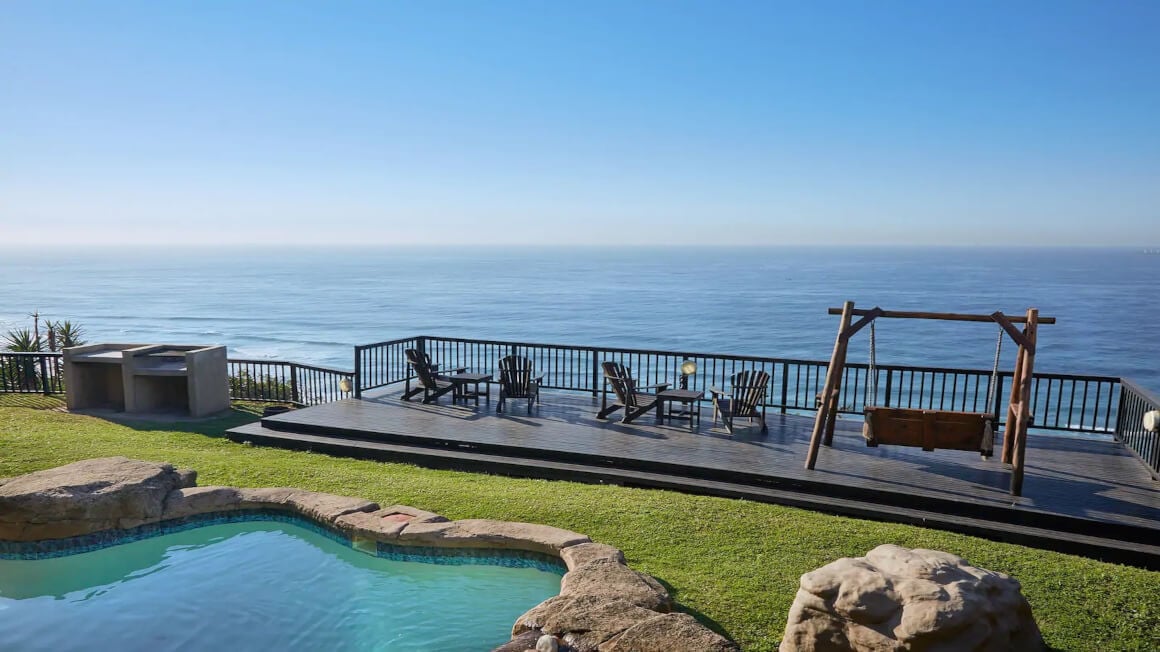 8 Guests
Outdoor deck and dining area
This Airbnb ocation in Bluff is perfect for those who want to be near the ocean. This villa is a large property and is up there with the best Airbnbs in Durban.
Overlooking Garvies Beach (which is great for surfing, by the way), you can enjoy an alfresco meal or just sit on the wooden swing enjoying the views. As well as the swimming pool, there's a garage to store two cars and a wood-burning BBQ.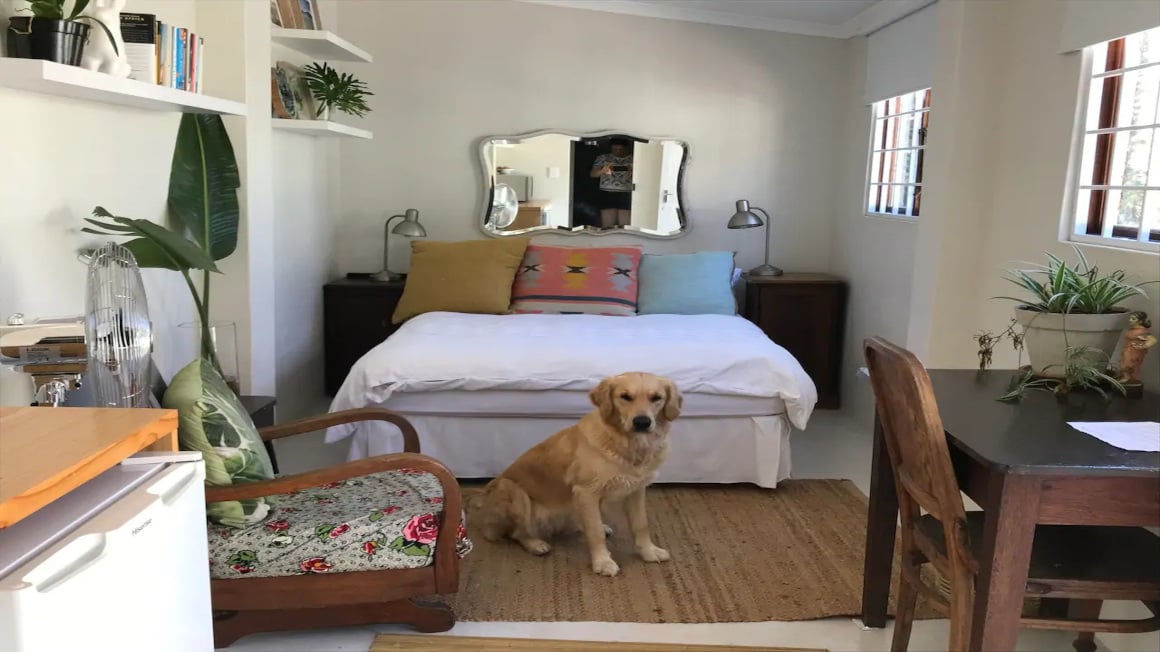 $
Laptop-friendly workspace
Of course, this place has a laptop-friendly workspace and fast Wi-Fi. You can throw a friendly dog in there, too! This super cheap room in Berea is on a quiet street, so you won't have traffic noise distracting you from getting creative. There are also a lot of shops and cafes within walking distance should you want a change of scenery from the desk in your room.
Best Airbnb in Durban for a Group of Friends | Loft Condominium
With three queen beds all in their own room, it's easy to stay in a property like this with your friends. Even better, you can enjoy breakfast and parking on the house! You'll also have basic cooking equipment and a fully-equipped kitchen so that you can save on lunch and dinner with a big meal for everyone.
3 Guests
Sophisticated and modern kitchen
If you're booking an Airbnb Plus accommodation, you can be assured of a stylish and beautifully designed flat. But you won't be expecting one this cheap! That's what you'll get, though.
With room for up to three guests, it's great for a couple. The glamorous apartment comes with a fully-equipped kitchen and a private balcony. You've got a VIP view of Durban Harbour! Plus it's within walking distance to many great bars and restaurants.
You've already seen a few Airbnbs in Bluff, but that's because it's one of the coolest destinations in Durban. I promise this is the last one, but I'm sure you'll be thanking me when you see it.
It's a small flat for two people, but it has a large amount to offer. Including a shared outdoor pool overlooking Dolphin View, beach access, and a gym.
Inside the house, you have air conditioning, a fully-equipped kitchen, and a cosy living area that has epic ocean views. There's even space to park your car! If you're looking for great holiday rentals in Durban, you can't ask for better than this for the price.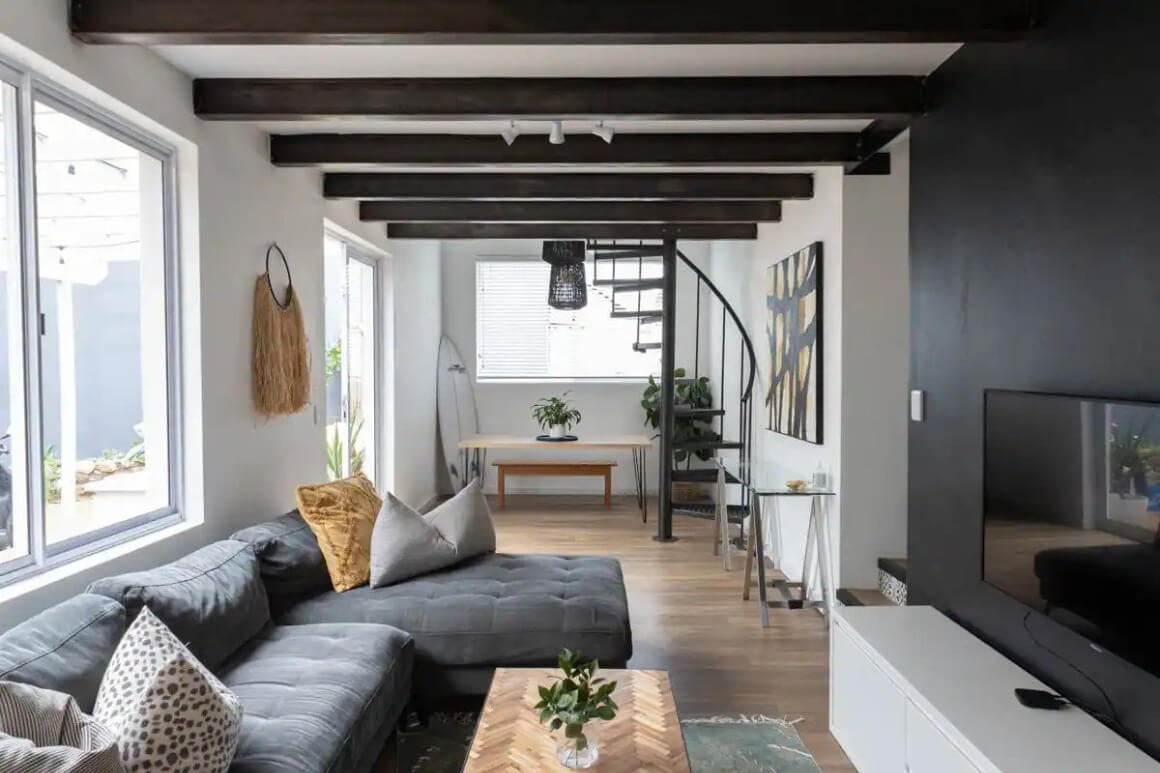 Durban North is another top place to stay, and if you're staying at this gorgeous home, you'll soon realise why. With two bedrooms and a gorgeous modern kitchen, as well as a spacious living area where you can all sit around and enjoy each others company, this is the perfect vacation rental for a group of friends or two couples.
If that's not enough, make sure to get proper use of the private garden and BBQ with your loved one before sharing a few beers on the covered deck. This cute and clean vacation rental is a winner when it comes to affordable pricing, too!
Last but not least is this spacious apartment in Umhlanga, slightly further north of Durban North. It has a welcoming open plan space with three large bedrooms, great for a small group of friends or family who wants space to themselves.
It has a lovely balcony/terrace area where you can enjoy evening meals. There's also free parking on the premises and is just 3km away from the beach.
Top 5 Airbnb Experiences in Durban
Sometimes, it can be a bit tricky deciding what to do and see when you're in a new place. Guided tours and open-top bus tours can be a bit gimmicky, and you might find you know nothing more about the place than when you arrived. Welcome to Airbnb Experiences!
These fantastic days out are curated by locals, who like nothing more than showing visitors their cities. They can be anything from multi-day hikes or picnics on the beach to a good old bar crawl.
Here are five of our favourite Airbnb Experiences in Durban!
$21/person
90 minutes
Up to ten guests
One of the best activities in Durban is riding the waves and you'll be out in the water in no time on this incredible surfing experience. If it's your first time surfing, don't worry, the helpful instructors will help you feel at ease. Just bring your swimwear, a towel and some good vibes. Everything else is provided for you.
$29/person
Two and a half hours
Up to ten guests
Fancy a break from the hustle and bustle of the city? Head to the Ndwedwe Area in northern Durban to get a slice of the South African village lifestyle. As well as seeing a traditional Zulu dance, you'll get to enjoy a meal and hear music performed by the locals. You'll also get a lovely beaded souvenir to take home.
$21/person
3 hours
Up to ten guests
Want to keep up with your workout routine while on holiday? Then a hike to a beautiful waterfall is certainly one way to keep active, as well as see some of Durban's most beautiful natural scenery.
Pack your swimwear and a towel, because you'll certainly want to cool off in these refreshing falls. You might want to stop a few times – not because you're out of breath, but there's a big chance of seeing wildlife and plants native to the area on your way!
$30/person
Three hours
Up to ten guests
Sometimes, all you want to do is enjoy the beach and meet some new people. With this awesome experience, that's exactly what you'll do. With a gazebo and picnic blankets, you'll be welcome to choose the music on the bluetooth speaker and make unforgettable memories on the beach.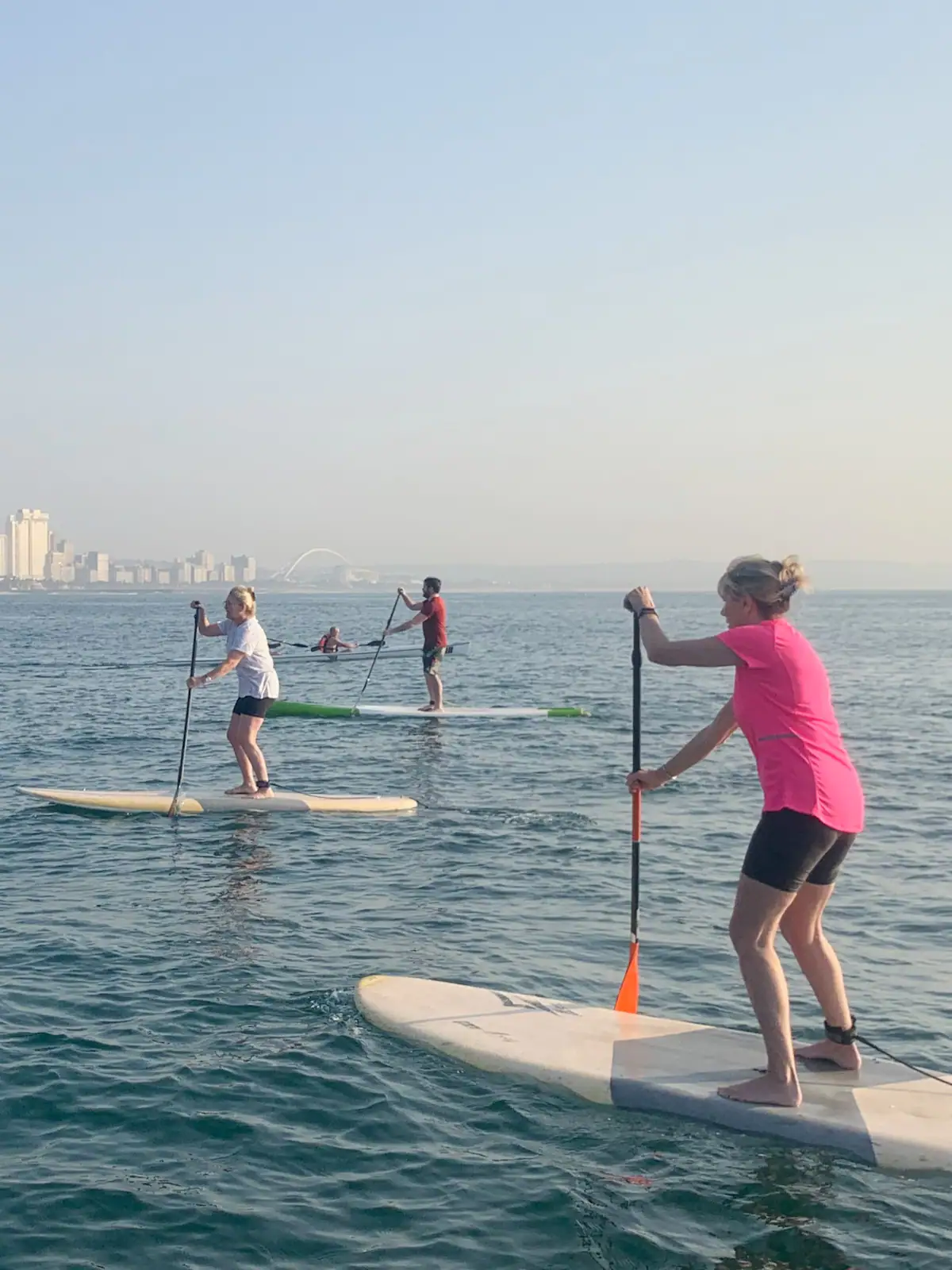 $21/person
90 minutes
Up to ten guests
Ever wanted to standup paddle board and look for dolphins, rays and turtles? Well in Durban, you can! This short and relaxing experience takes you out onto the bay in Durban (the location is dependent on the tide) where you're helpful instructors will show you the ropes. Enjoy the peace and tranquility of being on the ocean, admire the views and relax.
Don't Forget Your Durban Travel Insurance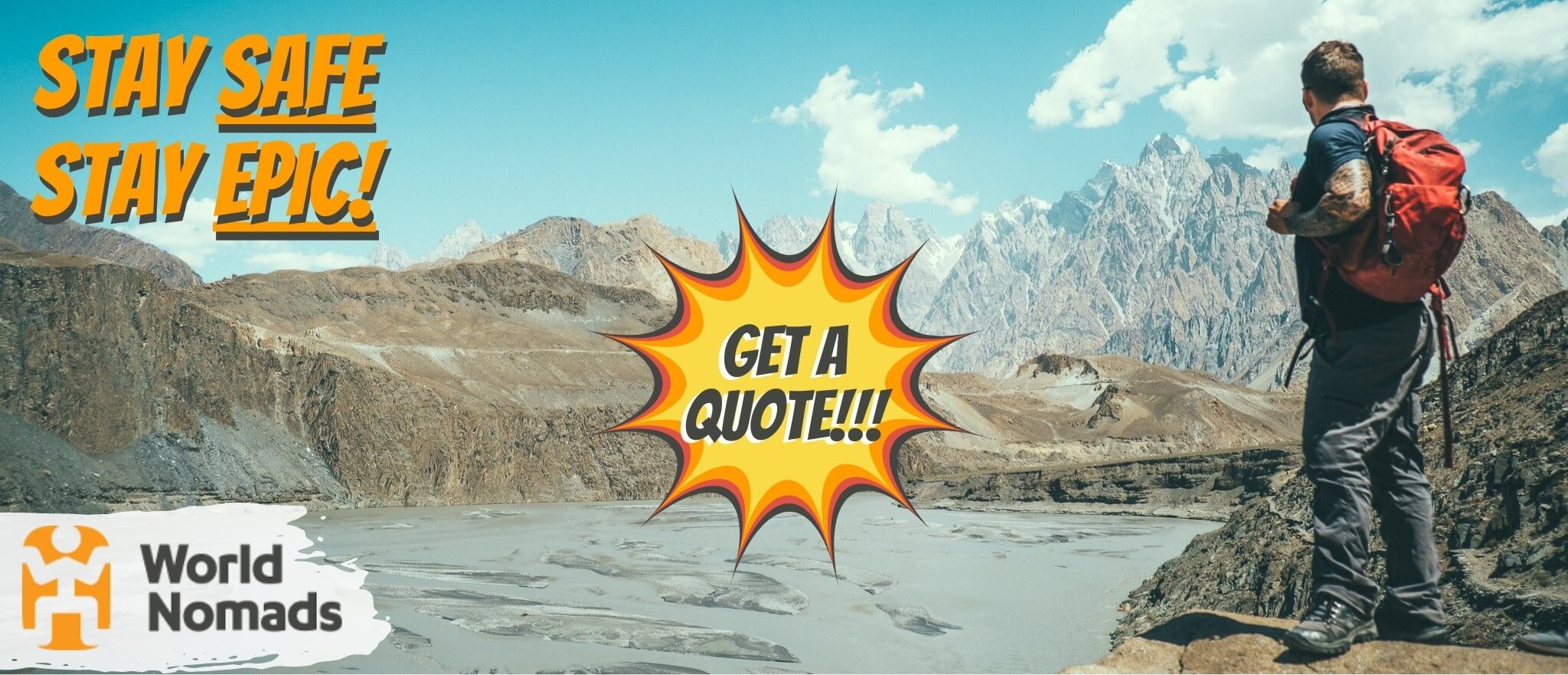 World Nomads' mission is to support and encourage travellers to explore their boundaries. They offer simple & flexible travel insurance, and safety advice to help you travel confidently.
They've been doing it since 2002 – protecting, connecting, and inspiring independent travellers just like you.
Get a quote below or read our in-depth review!
World Nomads provides travel insurance for travelers in over 100 countries. As an affiliate, we receive a fee when you get a quote from World Nomads using this link. We do not represent World Nomads. This is information only and not a recommendation to buy travel insurance.
Final Thoughts on Durban Airbnbs
Now that you've seen the best Airbnbs in Durban, you'll want to pack your swimming shorts and get on the first available flight – and we don't blame you!
But first, think about which of the Airbnbs was your favourite. Was it the lovely Lembali Lodge? The villa with a lookout deck in Bluff? Or perhaps the cosy cottage in Berea?
If you're still struggling to decide which Durban Airbnb is for you, keep it simple and go for our overall best value property. That's the beautiful and spacious Morningside Loft. You can't beat the combination of location, value for money, and comfort!
All you need to do now is make sure you enjoy your trip. To be safe while travelling in South Africa, why not check out travel insurance policies from World Nomads?
---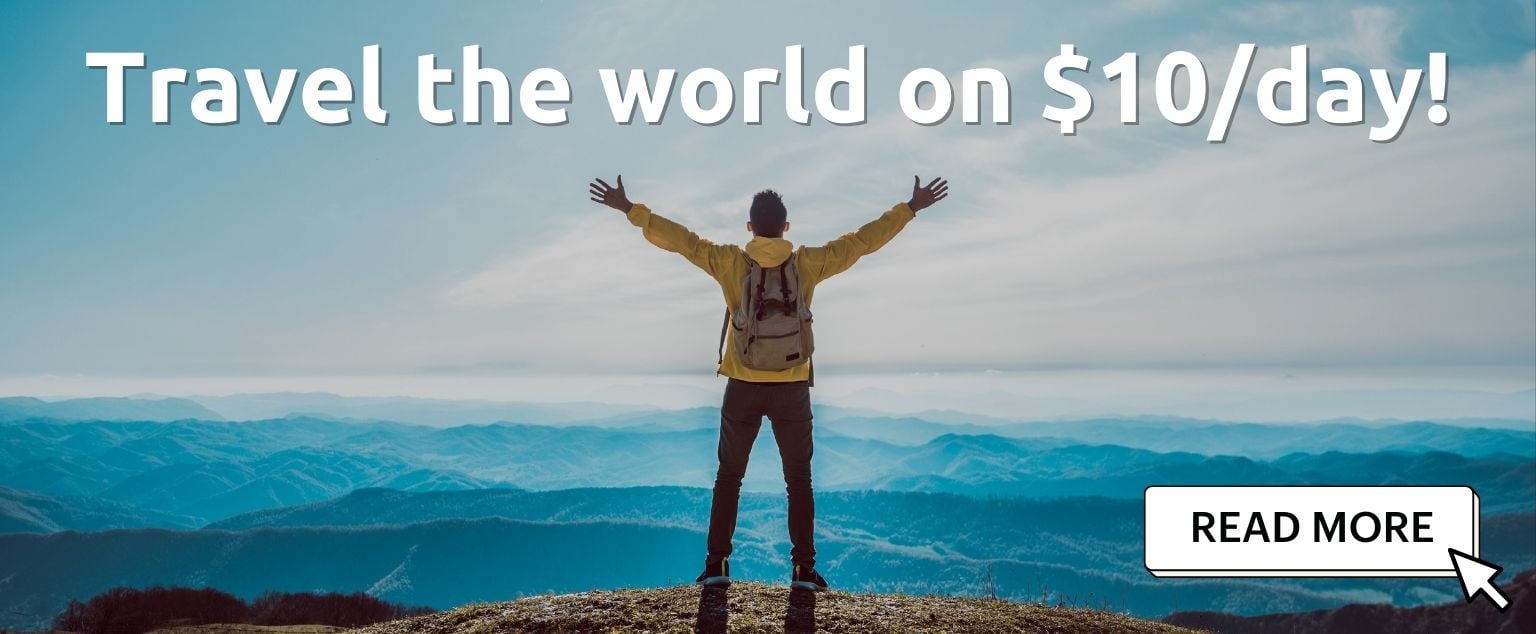 And for transparency's sake, please know that some of the links in our content are affiliate links. That means that if you book your accommodation, buy your gear, or sort your insurance through our link, we earn a small commission (at no extra cost to you). That said, we only link to the gear we trust and never recommend services we don't believe are up to scratch. Again, thank you!