"Beach house" and "the Bahamas" are two things that are just made to go together. For one thing, the islands of the Bahamas are pretty much all beach. Well, almost: there's a lot of beach going on, that's for sure.
There's private islands, cays, sandbars and pink sand beaches galore, which make this part of the West Indies the ideal place for beach houses.
The main bonus of a beach house is obviously being right on the sand. That's a given: it's in the name, right? But it also offers you a much more authentic experience, where you can live like a local and enjoy the true Caribbean atmosphere, which you don't get in a resort.
So if you want to see a more traditional side to The Bahamas, then staying in a beach house away from popular resort areas is a good idea. If you like safety and security, don't worry, you can find beach houses in gated communities and a few even in resorts themselves.
If that all sounds great to you, then read on, because this guide to the best beach houses in the Bahamas has everything you need to find the perfect stay.
In a Hurry? Here's Where to Stay in Bahamas for One Night
Is this amazing Bahamas Beach House booked for your dates? We've got your back with our other favorite properties below!

Unlock Our GREATEST Travel Secrets!
Sign up for our newsletter and get the best travel tips delivered right to your inbox.
Staying in a Beach Houses in the Bahamas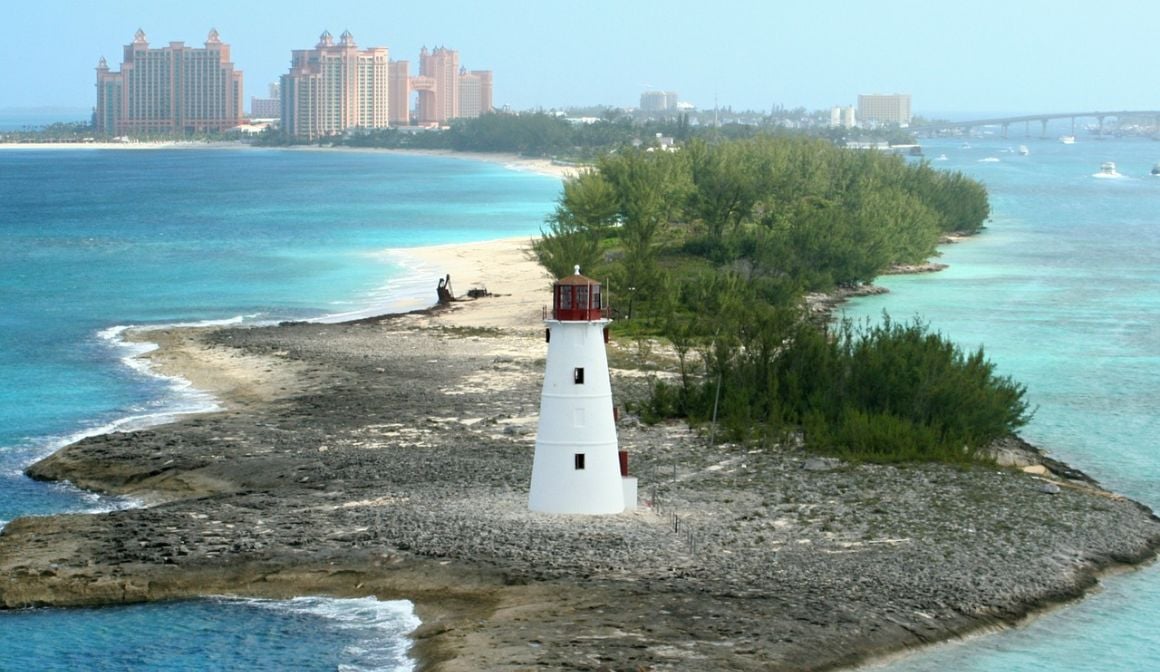 Surprisingly, you can secure yourself a beach house in the Bahamas for a refreshingly affordable price. That means if you're backpacking to the Bahamas (well, lucky you!) you'll be able to stay in relative luxury without too much of a hit on your bank balance. Most vacation rentals in the Bahamas come with a kitchen, dining area, living room, a bedroom or two, a deck, maybe even a private or shared swimming pool. That's pretty much standard.
That said, this is the Bahamas – a world of private islands and exclusive resorts. If you want out and out luxury, you can find it. This obviously comes with a price tag to match. I'm talking serious dollars. Then again, if you've got the money, why not treat yourself to the best that your money can buy, in one of the best Caribbean islands?
But let's go back to the budget side of things. Budget in the Bahamas doesn't exactly mean spending pennies, but you can get a range of different properties for affordable prices across the islands – all of the very, very decent quality. The best beach house in the Bahamas on a budget won't be something that is unclean or is populated by creepy crawlies or is situated somewhere sketchy.
Some affordable beach houses are touted as shacks, but don't let that fool you. They're colorful, stylish, and nicely decorated. Some of them are more like studios on the grounds of resorts and come with kitchenettes for convenience. Plus you'll always have the beach steps from your room.
Location-wise, you'll find beach houses in the Bahamas situated in all sorts of places. Always near beaches (duh), but sometimes a stroll away from towns with restaurants and shops; sometimes in gated communities; and other times, on private islands. Given the lack of long distances, often you're never too far from civilization, either on foot, by car, or – in some cases – by water taxi.
What to Look For in a Beach House
Of course, the first thing you need to consider when looking for a beach house is the location. While the Bahamas are not huge, there is a ton to explore, so you'll want to choose a neighborhood in the Bahamas that's close to the activities you want to enjoy.
The next thing you need to consider is the price. Depending on your budget, the best beach house in the Bahamas for you will range from having luxury amenities like a swimming pool and BBQ area, to simply having a kitchenette and a deck for watching the sunset. Either way, most of the time it'll just be you, some palm trees, and a sea view to soak up.
Most beach houses come fully equipped, but not all will have a strong WiFi connection, or air conditioning (trust me, you'll need it). If safety is a concern, you will also need to check if it is located in a gated community or a resort, which will add that extra security. If you're planning to drive around to see all the sites, don't worry, most beach houses come with parking.
In terms of booking platforms, there's a choice. VRBO and Booking.com are pretty decent, but in terms of the number of options you have, I tend to lean towards Airbnb. There's a wide range of beach houses on Airbnb, each of which has a good amount of photos to show you what's involved and the previous guest reviews make it easy to check all the amenities you need are there. Airbnb also makes it super easy to chat to owners of beach houses, which is a major plus, too.
But if sifting through these sites sounds too time-consuming and complicated, don't worry, because I've already picked out the best of the best below.
OVERALL BEST VALUE BEACH HOUSES IN THE BAHAMAS
OVERALL BEST VALUE BEACH HOUSES IN THE BAHAMAS
Eve's Cottage
> $$
> 4 Guests
> Ocean views
> Free parking
BEST BUDGET BEACH HOUSES IN THE BAHAMAS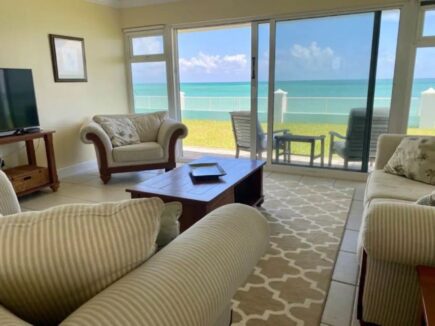 BEST BUDGET BEACH HOUSES IN THE BAHAMAS
Beach Front Cottage
> $
> 4 Guests
> Shared pool
> Walking distance to markets
BEST BEACH HOUSE FOR COUPLES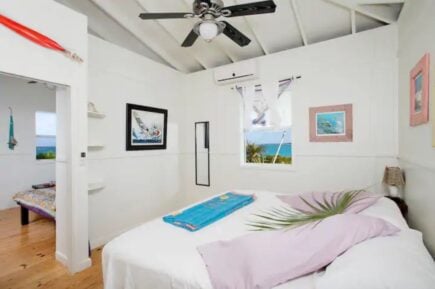 BEST BEACH HOUSE FOR COUPLES
Cayo Loco Private Beachfront Pink Sand House
> $$$
> 2 Guests
> Infinity pool
> Cute decor
BEST BEACH HOUSE FOR A GROUP OF FRIENDS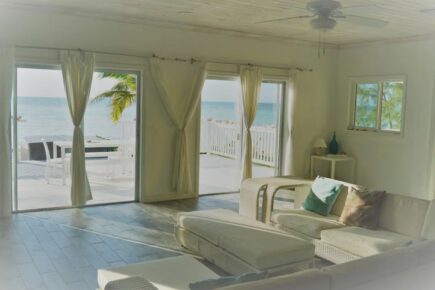 BEST BEACH HOUSE FOR A GROUP OF FRIENDS
Luxury Beachfront Villa
> $$
> 7 Guests
> Kayaks to use
> Jacuzzi!
OVER-THE-TOP LUXURY BEACH HOUSE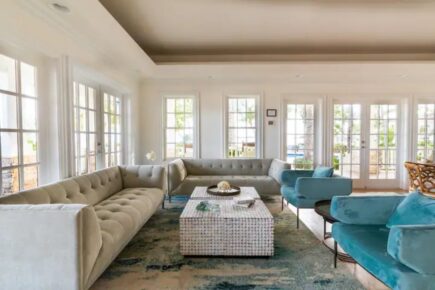 OVER-THE-TOP LUXURY BEACH HOUSE
Royal Island Villa
> $$$$
> 12 Guests
> Exclusive island location
> Endless activities available
BEST BEACH HOUSE FOR FAMILIES VISITING THE BAHAMAS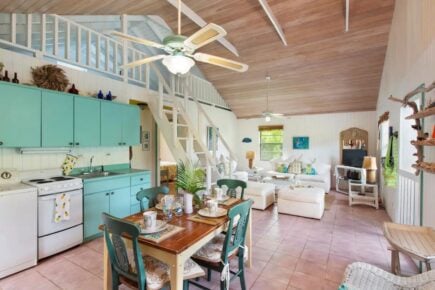 BEST BEACH HOUSE FOR FAMILIES VISITING THE BAHAMAS
Colorful Bahamian Cottage Steps from Pink Sand Beach
> $
> 4 Guests
> Staff on hand
> Close to Governor's Harbor
BEST BEACH HOUSE FOR BACKPACKERS IN THE BAHAMAS
BEST BEACH HOUSE FOR BACKPACKERS IN THE BAHAMAS
The Outpost Beach Shack
> $
> 2 Guests
> Private deck
> Queen-size bed
The 15 Top Beach Houses in the Bahamas
So, now you know what to expect from a beach house in the Bahamas, it's time to see the best of the best of them. If the thought of private islands and an island nation full of sun, sea, and sand is whetting your appetite for travel, then don't be surprised if you find yourself booking one of these awesome places.
Overall Best Value Beach House in the Bahamas – Eve's Cottage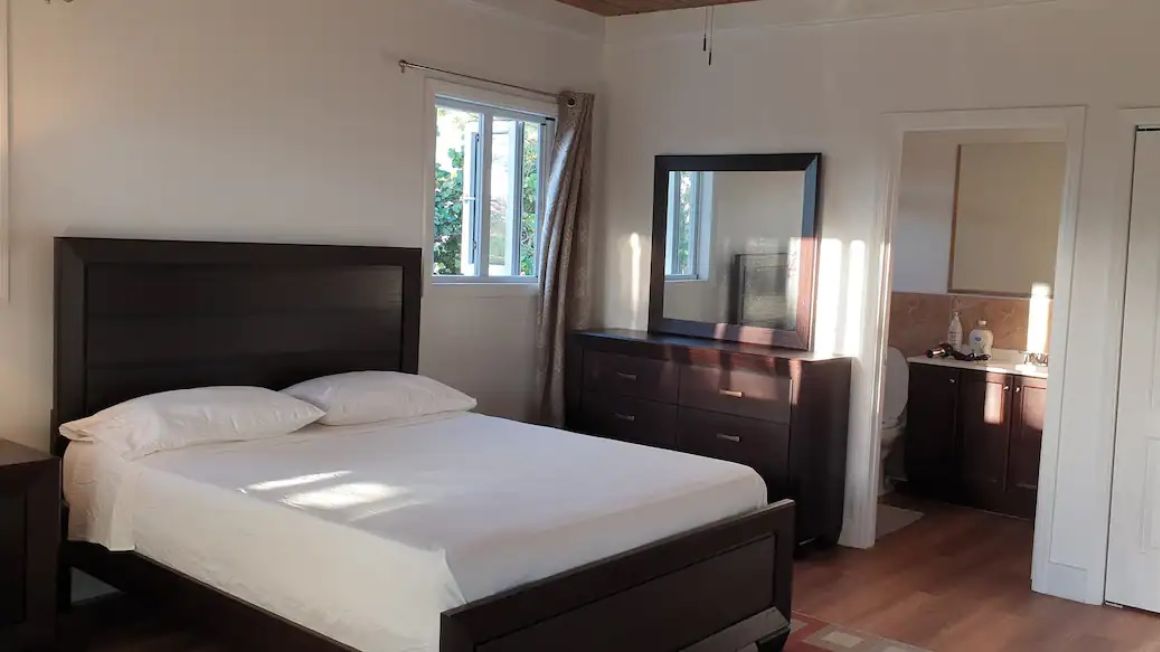 $$
4 Guests
Ocean views
Free parking
It's official: Eve's Cottage is the best beach house in the Bahamas. Especially in terms of value for money. You'll find it just a short drive from Governor's Harbor. It's the sort of place that you cannot wait to come back to after a day of exploring, tucked away from the hustle and bustle but without feeling too isolated.
Here you'll have classic beach house vibes: it's right on the sand, riddled with palm trees, and has some incredible views of the Atlantic Ocean. And best of all, there's more than one beach within walking distance of the property.
The best bang for your buck can be had at Eve's Cottage. It's a relaxing place right on the sand, where you can hear the sound of the Atlantic Ocean and feel the Caribbean breeze. It's peaceful and tucked away around a 10-min drive from Governor's Harbor, but never feels too far from the action.
Best Budget Beach House in the Bahamas – Beach Front Cottage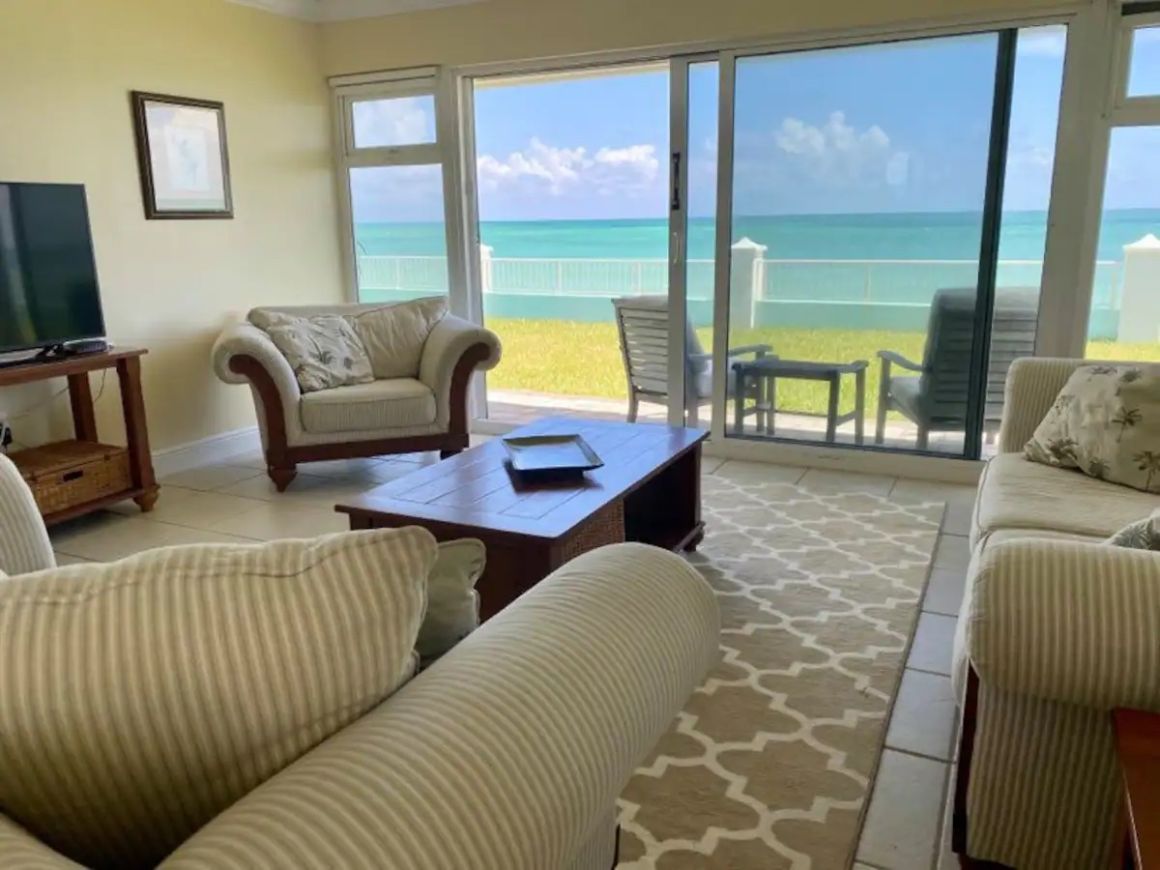 $
4 Guests
Shared pool
Walking distance to markets
Having your own house right on the beach doesn't have to cost the world. In fact, this two-bedroom cottage is super affordable. Its location is literally right on one of the most beautiful beaches in the Freeport neighborhood of the Bahamas.
So you can easily enjoy lazy days with your feet in the sand without having to walk far at all. The house has huge windows – perfect for gazing out to the sea all day. You'll also have access to a shared pool and BBQ area. Definitely the best beach house in the Bahamas on a budget.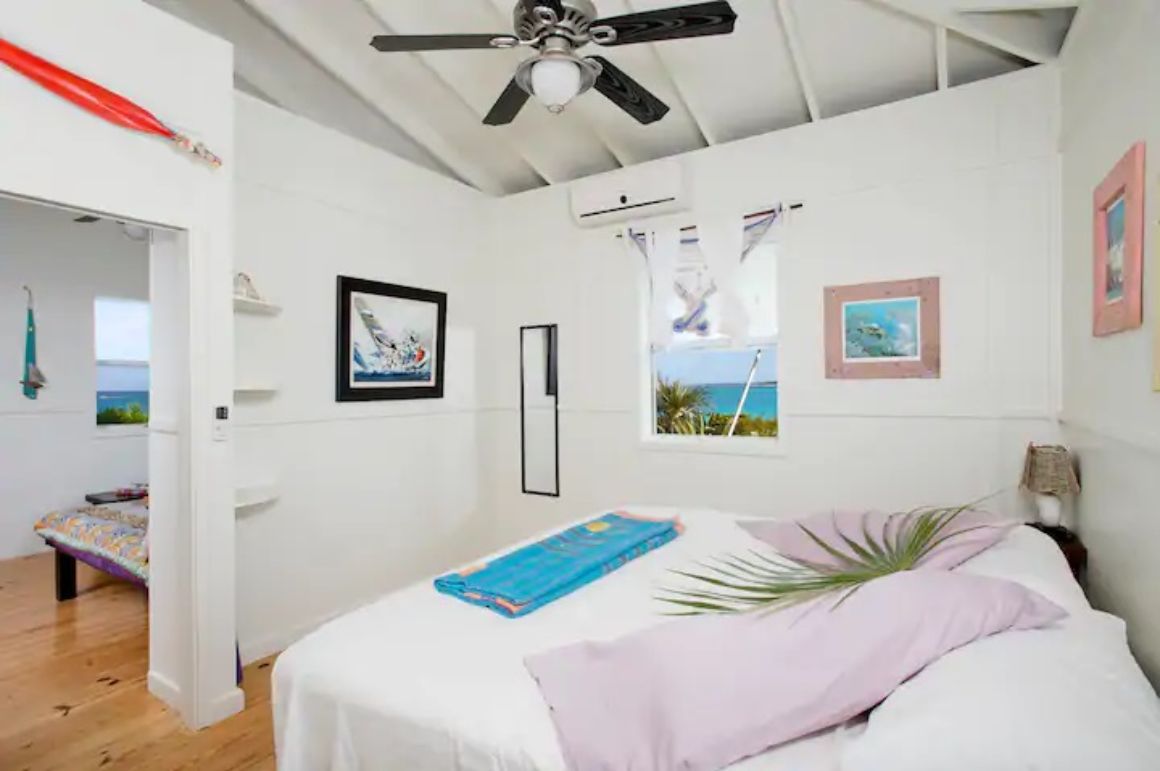 $$$
2 Guests
Infinity pool
Cute decor
Live out your very own romantic beach house dreams at this love shack on Cayo Loco. It's pretty much a love shack: pastel-painted outside, modern and clean on the inside. It may be modest in size, but it's charming and situated in a secluded spot on an also-romantic pink sand beach.
From here, a quick stroll can take you to restaurants, bars, and surf spots. But you'll also have access to a shared outdoor infinity pool, which is pretty awesome. In short, it's an unspoiled tropical oasis.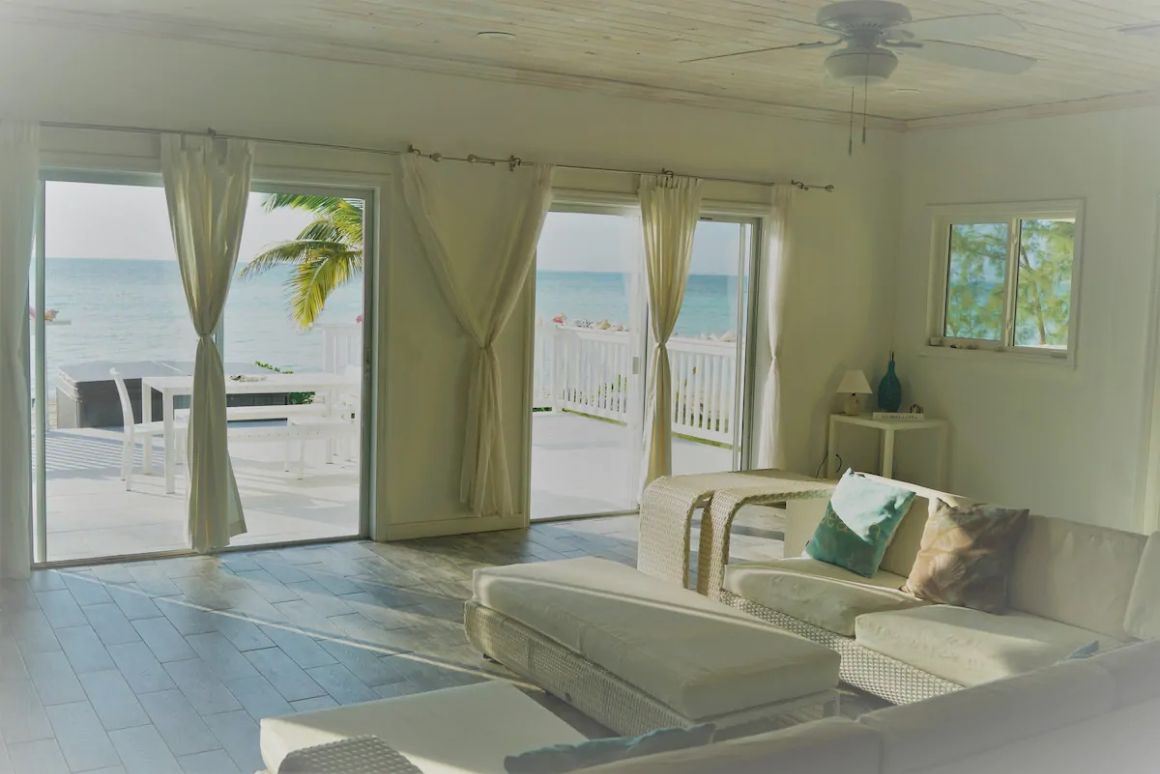 $$
7 Guests
Kayaks to use
Jacuzzi!
This is a spacious, modern house that's big enough to fit seven people – and it's perfectly set up for a big crowd to come and enjoy a Bahamian vacation. This newly built property has everything you could want: dreamy sea views, direct access to the beach, and equipment for beach games and other hijinks.
As you'd expect of the best beach house in the Bahamas for a group of pals, there's ample outdoor space for cocktails under the stars, plus a Jacuzzi, a large kitchen (where else do you make cocktails?), and kayaks for days out exploring.
Is This the Best Travel Pack EVER???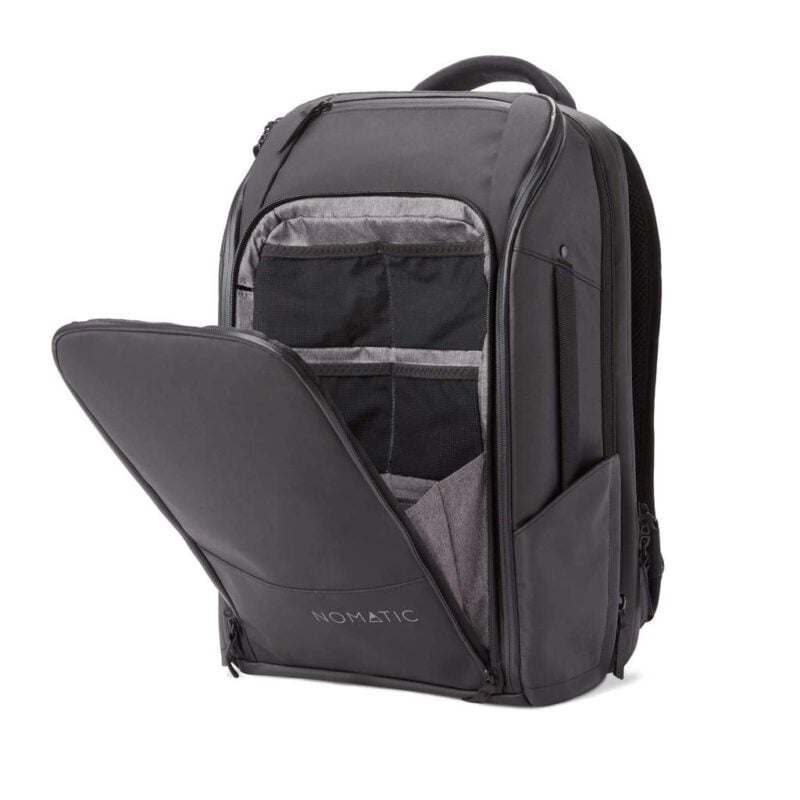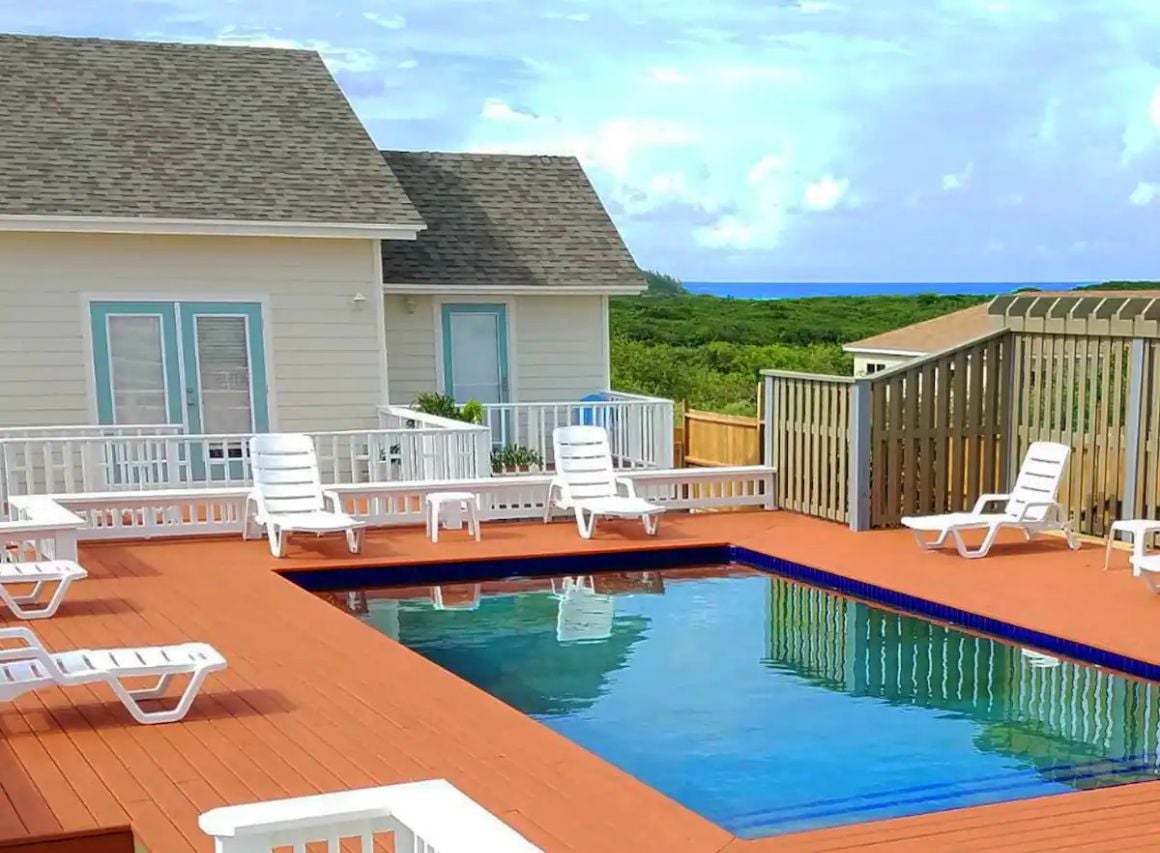 $$
6 Guests
Swimming pool
Hot tub
If one wasn't enough – have another awesome beach house for you and your mates. This one is actually made up of three separate three-bedroom villas so you can get the gang together, but also still have a degree of privacy between you all. Each one comes with a full kitchen, dining area, and large living room.
There's an outdoor area for you all to come together and chill, which includes a sizeable swimming pool and Jacuzzi as its centerpiece. Location-wise, it's just a stone's throw from all the action of Governor's Harbor including the stunning St Patrick's Anglican Church.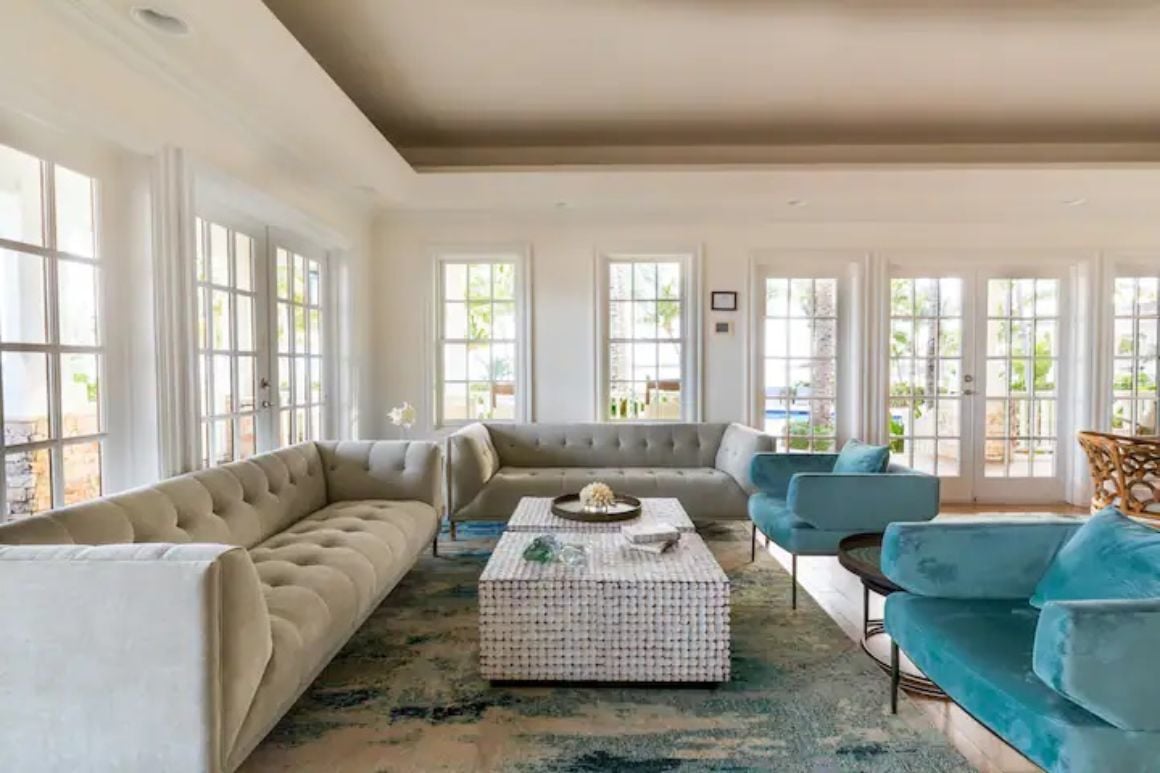 $$$$
12 Guests
Exclusive island location
Endless activities available
If you're in the Bahamas, why not go all out and book yourself into a glamorous villa? This incredible property is located on Royal Island, a 438-acre island estate featuring five standalone villas and a central beach club. It's truly exclusive; if money's not an issue, this is by far the best beach house in the Bahamas.
Mornings start with a step from your bedroom right onto the soft sand and into the sea. Spend the rest of the day doing whatever you like: jet skiing, picnicking on a sandbar, indulging in a massage, or sipping cocktails at the club all day.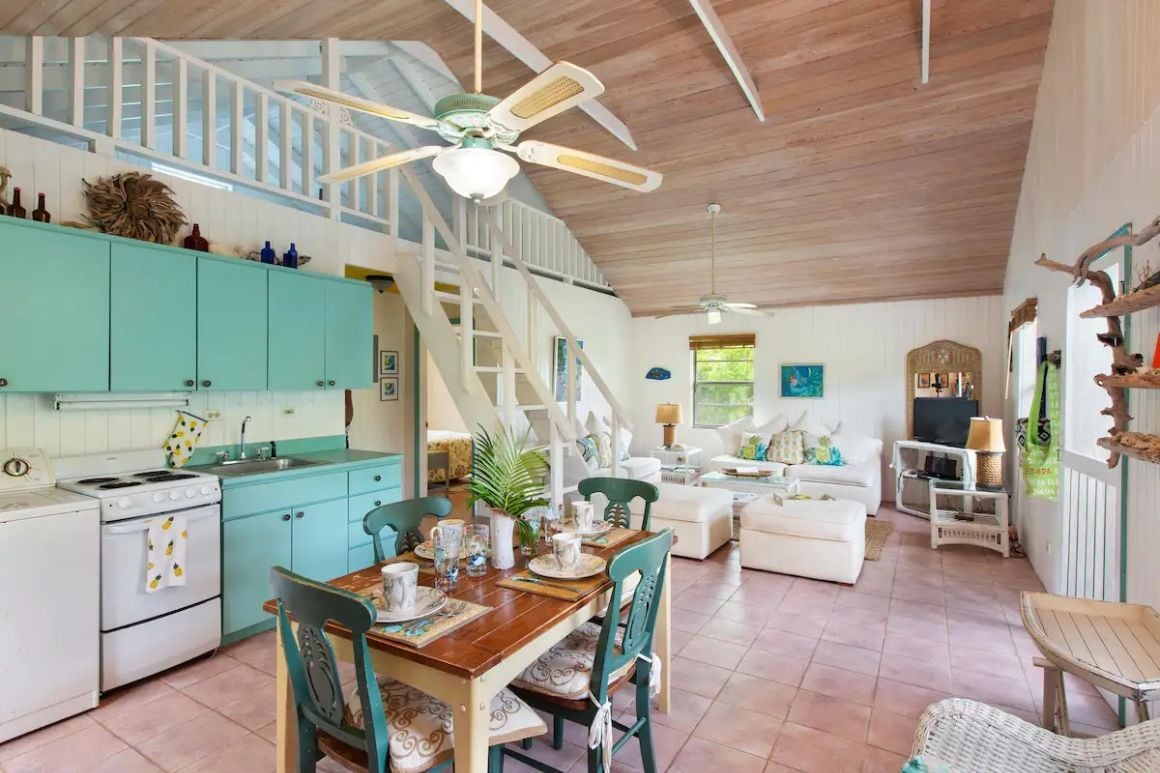 $
4 Guests
Staff on hand
Close to Governor's Harbor
For those of you who are traveling as a family, the Orchard Cottage is the ideal base for your vacation in the Bahamas. This bright and friendly-looking Bahamian cottage is situated on a quiet road just steps away from the Atlantic Ocean.
Here you'll be surrounded by palm trees, tropical flowers, and oodles of serenity. It feels safe and secure, with staff on hand to make sure your stay is as perfect as it can be. Amenities include smart TV, well-equipped kitchen, kid's toys and equipment, and comfortable bedrooms. Governor's Harbor is just on the doorstep.
$
2 Guests
Private deck
Queen-size bed
For some rustic goodness in your Bahamas beach house, book yourself into this shack. With a turquoise exterior and boho-chic interior, it's a shack in name only. Kick-off those shoes and get into island vibes; you'll sleep well in the queen-size bed here, chill out on the deck, or sun yourself on the secluded beach.
It's an ideal option for backpacking couples looking for somewhere affordable. This true hidden gem also features some spectacular sunsets, so get ready to enjoy. And don't worry: you can still upload it all to Instagram, thanks to the strong Wi-Fi.
$$$
16 Guests
Private island
Private docks
Looking for unique accommodation in the Bahamas? Look no further: book this property and you'll have your very own private island. Set on a two-acre estate among coconut tree groves, this beautiful beach house comes with a private beach, two private docks, and a hot tub. It's all private.
The idyllic location is ideal for a family getaway for a special occasion. You can dine al fresco, try out some surfing (yes, there are lessons available), or simply catch a sunset from this awesome spot. Dunmore Town and its restaurants are close by – simply hop in a water taxi and you'll be there in minutes.
$
1 Guest
Gated community
Kitchen
Traveling solo doesn't mean you can't stay in your very own beach house in the Bahamas. In fact, this one is affordable and has a secure location where you won't need to worry about any safety issues. It's actually situated in a gated community just a five-minute drive from the airport.
The studio space looks out directly onto the sand and has been renovated with modern fixtures, meaning you'll have all the amenities you'll need for a comfortable stay. Just bring your swimsuit and your toothbrush, and get ready to relax. You won't want to leave.
Best Beach House for a Weekend – Ocean View Hut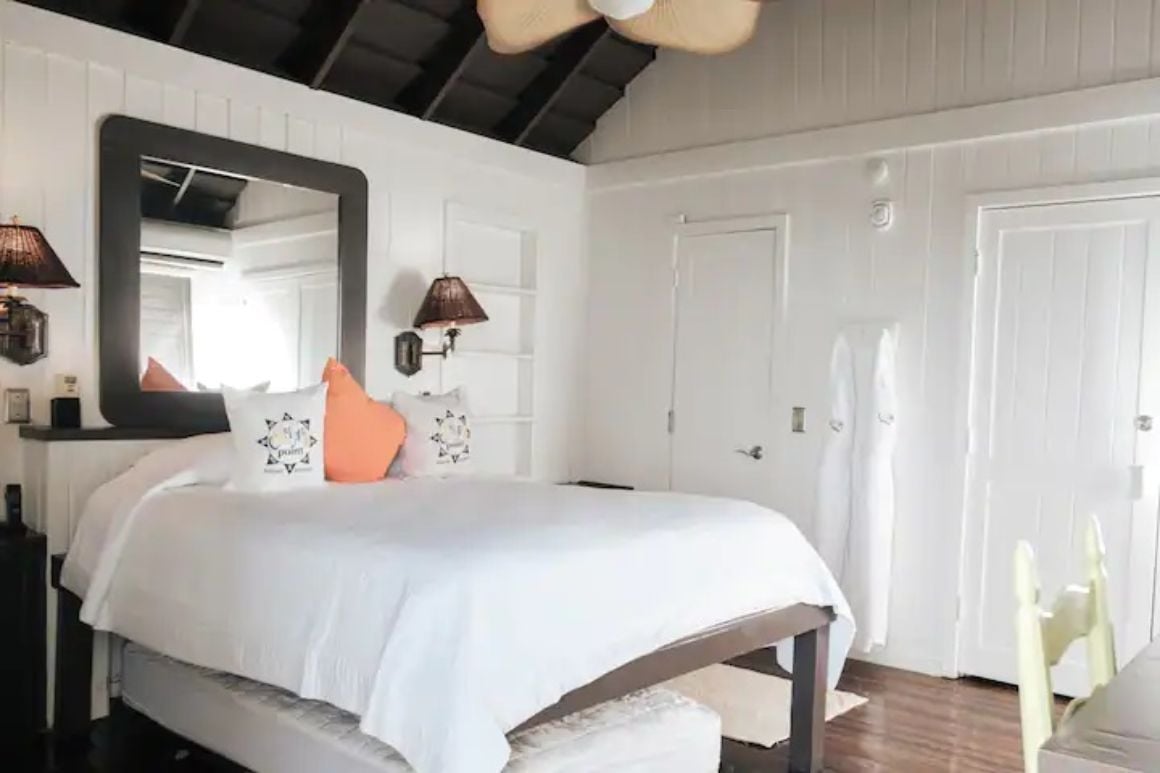 $$
3 Guests
Swimming pool
Ocean-view restaurant onsite
Weekends don't always have to be the same – especially if you book yourself into this awesome beach hut in this slice of Bahamian paradise. The cool, clean huts on offer here have been decorated in a laid-back beachy style, but are contemporary and clean, and come with a small kitchenette and a bathroom.
Of course, the ocean views come as a standard, too. The resort area where it's situated gives you access to a shared swimming pool, hot tub, and an ocean-view restaurant.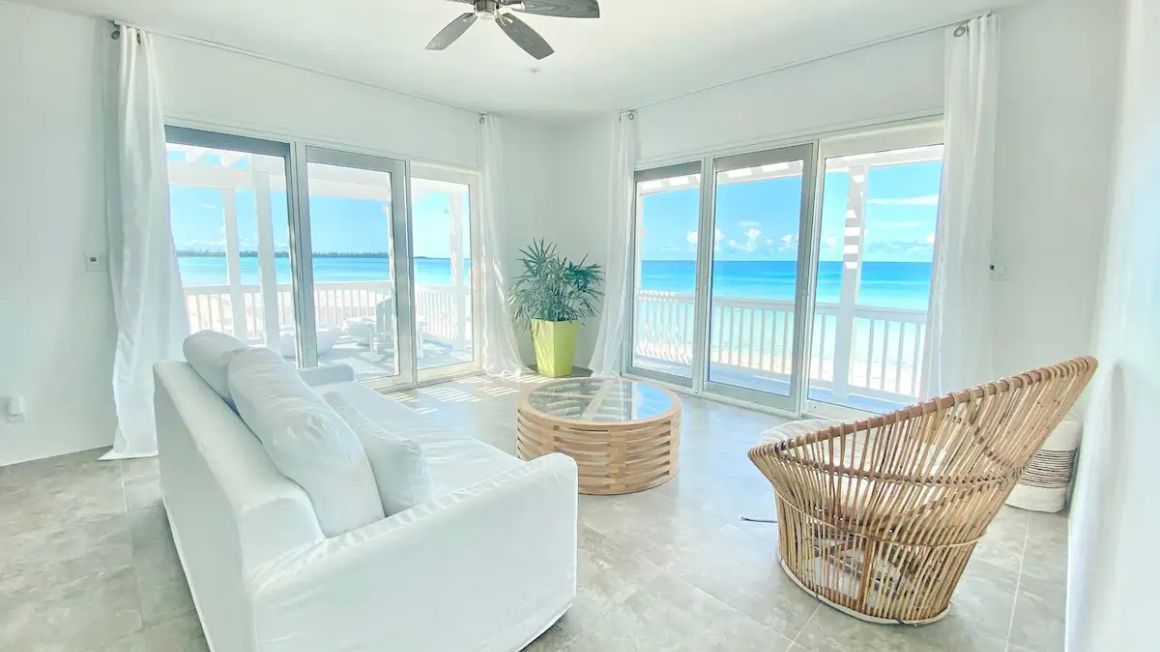 $$$
10 Guests
Swimming pool
Pink sand beach location!
If your idea of the best beach house in the Bahamas is all about being situated on one of its unique pink sand beaches, then this place is one for you. It's situated on Alabaster Beach, which is one of the most unique beaches on the island.
The luxurious stilted villa exudes classic beach house vibes, while inside it's all about polished minimalism with a seaside twist: think whitewashed walls and concrete floors, allowing the stunning sea views and sunsets to take center stage.
Amenities include a kitchen, dining area, chill-out spaces, and luxurious bathrooms. For restaurants, history, and supermarkets, Governor's Harbor is a mere 10-min drive from here.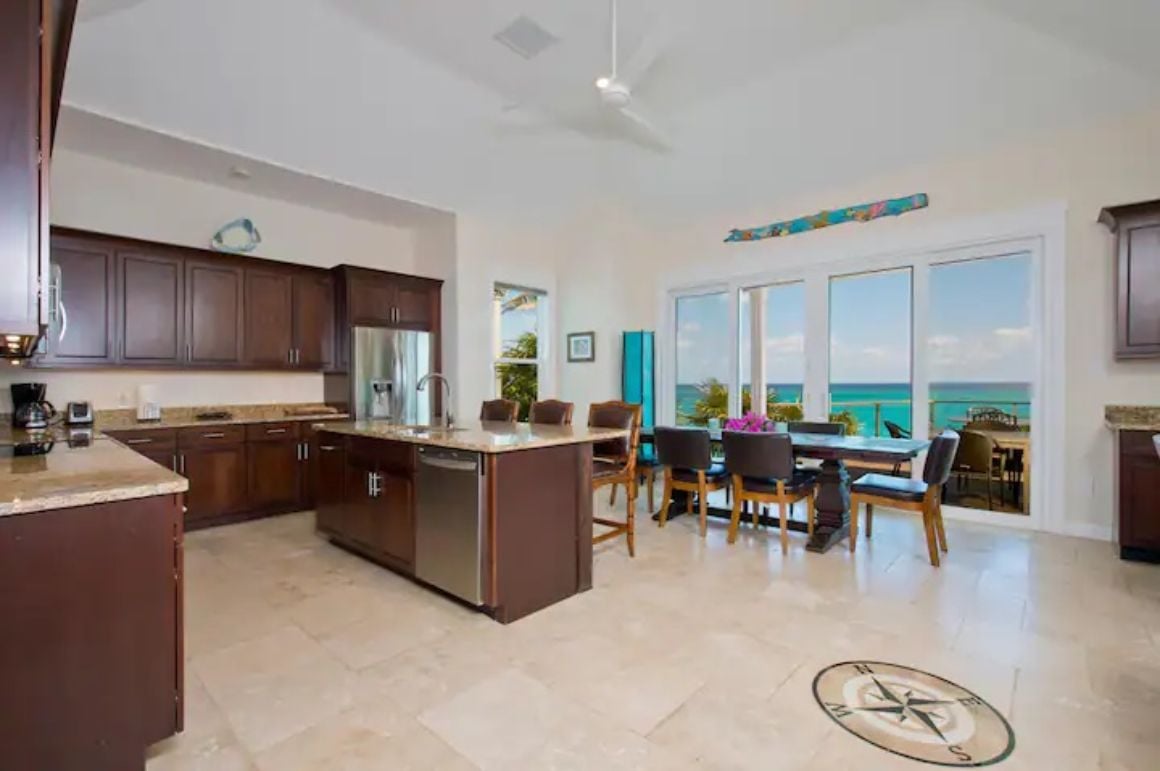 $$$
6 Guests
Incredible deck area
Private swimming pool
The best thing about the views at this spot is the fact that you have a raised deck to enjoy them from. You'll look down on tropical shrubs and palm trees, across a white powdery beach, and out to the gleaming ocean. Easily the best beach house in the Bahamas if you like a good ocean view, that's for sure.
Other plus points include the location on the prestigious Banks Road, itself just five miles from Governor's Harbor. Back at the villa you can enjoy a large outdoor pool, kick back on the deck, and appreciate the contemporary decor throughout.
$$$
5 Guests
Unique hexagonal structure
Private beach cabana to use
If you're on your honeymoon, you'll want somewhere to remember – and you won't forget this place in a hurry. This slice of unique accommodation in the Bahamas is actually a hexagonal villa constructed from cedar trees, situated right on the beach.
Sea views through the windows here are a constant joy, while the interiors are classically decorated with Caribbean-style furnishings and artwork. The house itself is surrounded by tropical plants and flowers; there's even a BBQ area and a private beach cabana with lounge chairs.
$$$$
12 Guests
Outdoor kitchen and BBQ
Private swimming pool
Palatial is definitely one way to describe this beach house. Situated on an idyllic strip of Paradise Beach, you'll find this spot in the north-eastern corner of Eleuthera – an island known for its no-car policy and pink sand beaches. The property itself boasts six bedrooms and is surrounded by lush tropical gardens.
The views of the sea from here are just as beautiful as the interiors, which boast charming Bahamian style mixed with designer detailing. In the day you can kick back around the pool; in the evenings you can make use of the BBQ area in the alfresco pavilion. Doesn't get much better than this.
Don't Forget Your Bahamas Travel Insurance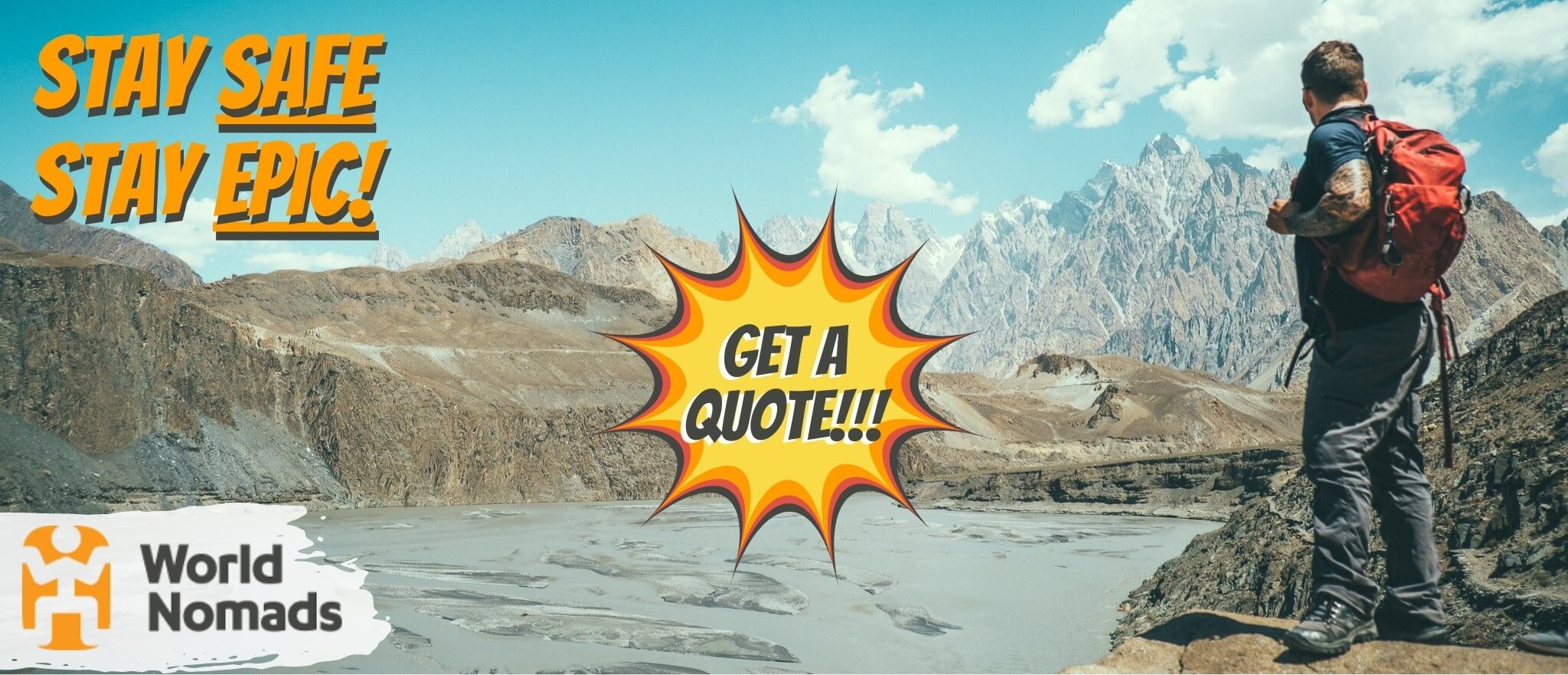 World Nomads' mission is to support and encourage travellers to explore their boundaries. They offer simple & flexible travel insurance, and safety advice to help you travel confidently.
They've been doing it since 2002 – protecting, connecting, and inspiring independent travellers just like you.
Get a quote below or read our in-depth review!
World Nomads provides travel insurance for travelers in over 100 countries. As an affiliate, we receive a fee when you get a quote from World Nomads using this link. We do not represent World Nomads. This is information only and not a recommendation to buy travel insurance.
Final Thoughts on the Best Bahamas Beach Houses
Ok, so it turns out that beach houses in the Bahamas are all sorts of amazing. The beach shacks are cute – they're colorful and compact and yet still manage to fit in everything you'll need for a comfortable stay.
And then there are the palatial beach houses in the Bahamas with their own grounds or set on private islands, or in gated communities.
Whichever type you go for, whether it's a budget-friendly option or something way more high-end, the Bahamas are the ideal spot for a beach house vacation.
It's pretty much the beach house capital of the world (although, do note that's NOT an official title) and anywhere you choose will have some beautiful beach paradise vibes to soak up. It's the Bahamas, what do you expect?
Last but not least: if you're travelling to the Bahamas from a different country (very likely), then you may want to consider getting travel insurance. It costs money, and it's a hassle, but it's always worth it – just in case.
---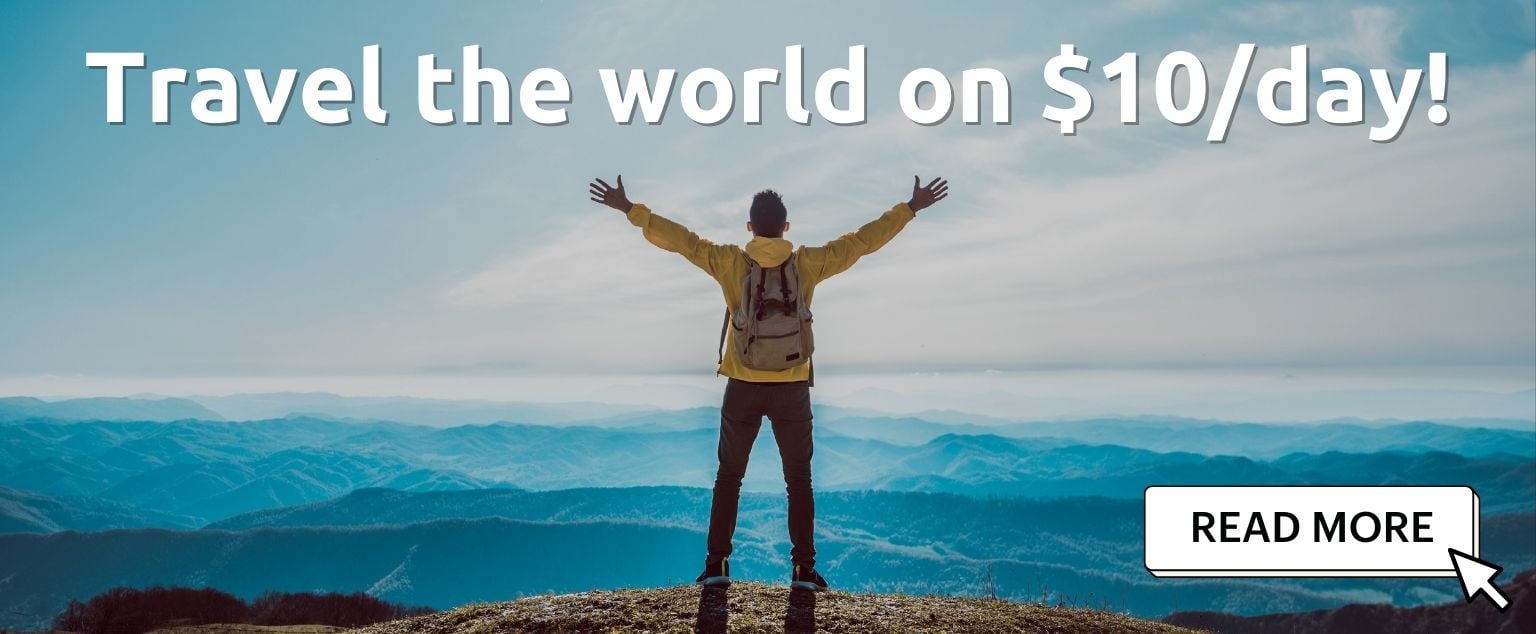 And for transparency's sake, please know that some of the links in our content are affiliate links. That means that if you book your accommodation, buy your gear, or sort your insurance through our link, we earn a small commission (at no extra cost to you). That said, we only link to the gear we trust and never recommend services we don't believe are up to scratch. Again, thank you!