Most people think of piña coladas and tropical cocktails when the Bahamas are mentioned. And who could blame them? Blessed with endless stretches of white sand beaches and turquoise waters, it's a picture-perfect paradise.
Famously called "the most beautiful place from space" by NASA Astronaut Scott Kelly, the Bahamas has a reputation for being a romantic honeymoon destination. But don't let that put off you singles!
It's also perfect for families, and groups of friends who'd like some relaxation and fun.
It doesn't matter if you have money to burn or you're trying to save the pennies, there are so many beautiful Bahamian rentals that will make your eyes pop.
I'm going to share with you my favorite Airbnbs in the Bahamas.
Quick Answer: These are the Top 5 Airbnbs in the Bahamas
Overall Best Value Airbnb in the Bahamas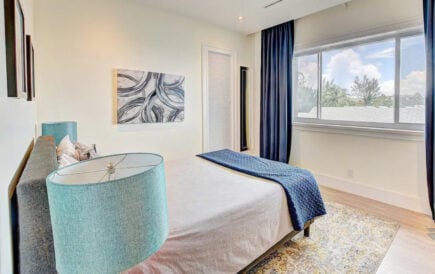 Overall Best Value Airbnb in the Bahamas
Luxury Condo Near the Beach
> $$
> 3 Guests
> Easy access to the beach
> Near bars, shopping, and restaurants
Best Budget Airbnb in the Bahamas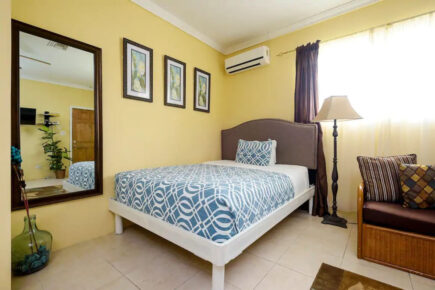 Best Budget Airbnb in the Bahamas
Central Studio Apartment
> $
> 2 Guests
> Close to beaches
> Short walk to Fish Fry
Best Airbnb for Couples in the Bahamas
Best Airbnb for Couples in the Bahamas
Villa on Paradise Island
> $$
> 2 Guests
> Shared pool
> Private, enclosed patio
Best Airbnb for Families in the Bahamas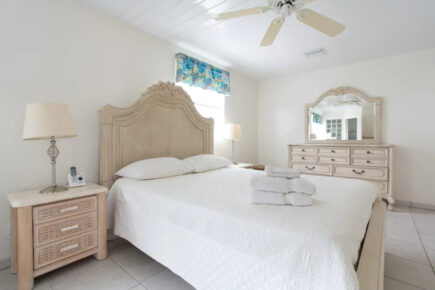 Best Airbnb for Families in the Bahamas
Beachfront Manor in a Quiet Neighborhood
> $$
> 8 Guests
> Beachfront
> In a residential neighborhood
Over-the-Top Luxury Airbnb in the Bahamas
Over-the-Top Luxury Airbnb in the Bahamas
Contemporary Beachfront Home
> $$$$
> 8 Guests
> Saltwater pool
> Private boat tour

Unlock Our GREATEST Travel Secrets!
Sign up for our newsletter and get the best travel tips delivered right to your inbox.
What to Expect from Airbnbs in the Bahamas
The epitome of paradise, the Bahamas are what beach dreams are made of. A high-income and developed country, tourism is the main contributor to the economy. Which is why they take such great care of tourists.
Finding the best rental to call your island home doesn't need to be a headache. There are plenty of Bahamas Airbnbs to suit every preference. Although you'll rarely find hostels, you'll be happy to know that condos and private rooms don't cost an arm and a leg. Even if you have a strict budget, you can have a private space without breaking the bank.
A top tip is to check with your host if they offer airport transfers for free, or for a small fee. Make sure you start off your Bahamas getaway on the right foot.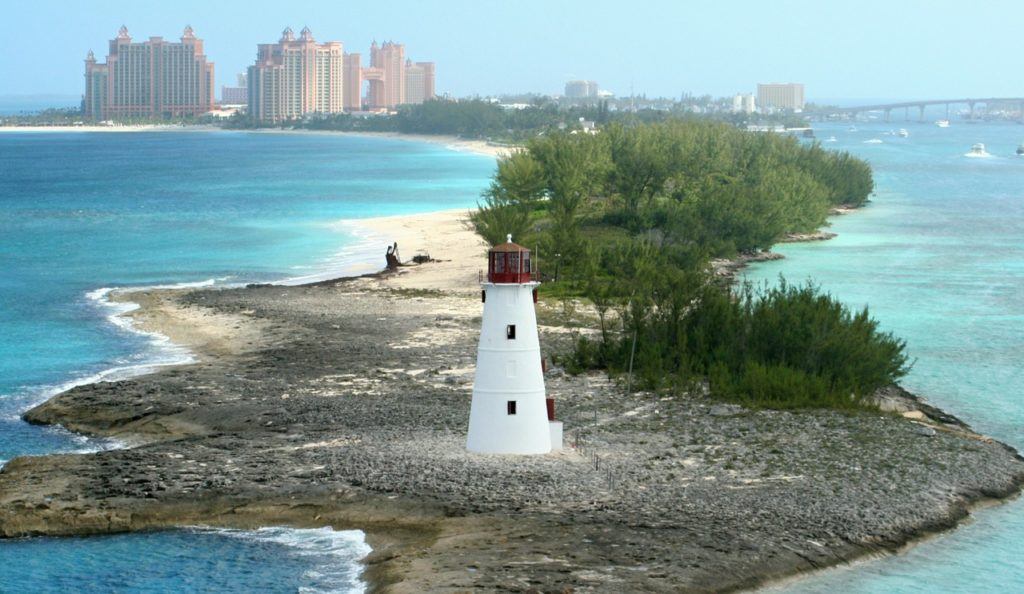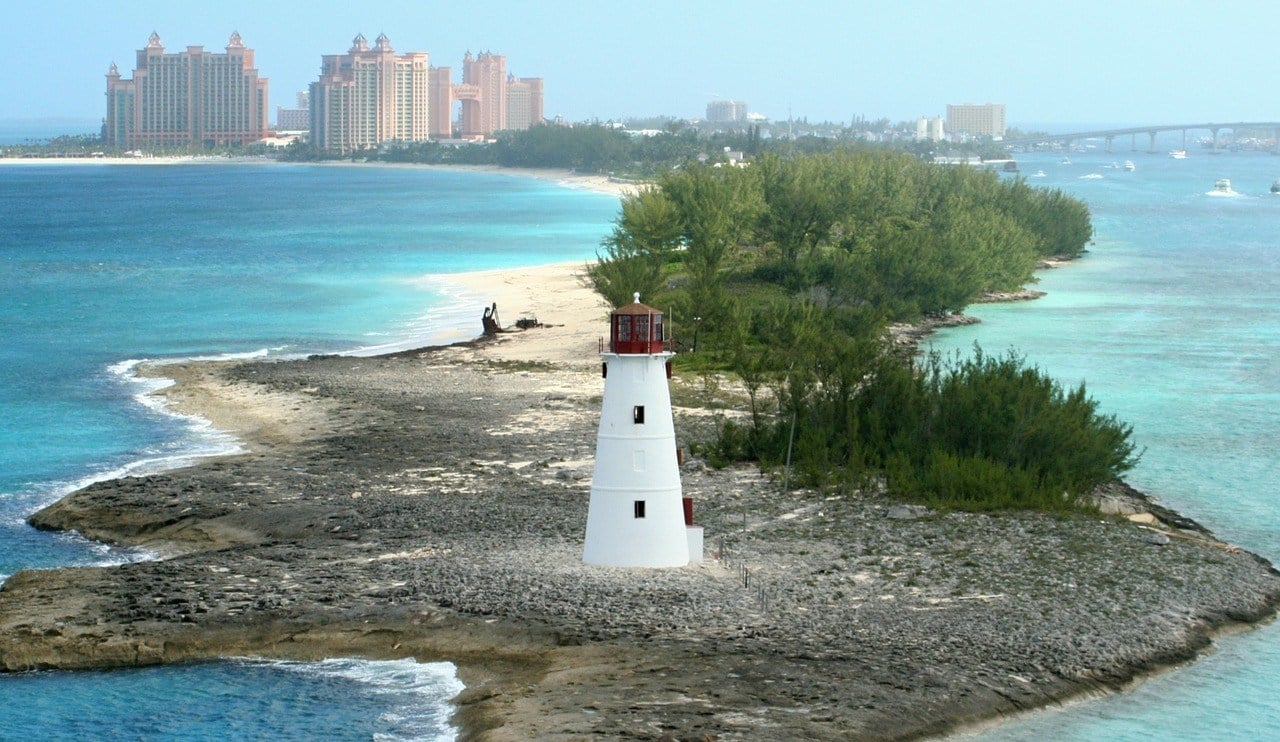 Private Rooms
There are so many Bahamas Airbnbs that cater to travelers on a strict budget. Whether you are looking to stay right by the beach or in town, booking a private room is a great option and reasonably priced.
You can have the entire room to yourself but still be able to mingle with other guests in common areas such as pools, gyms, and patios. Private rooms commonly have private bathrooms, but there may be the occasional spot with a shared bathroom.
You may even find an entire guest suite, which is like a studio apartment on your host's property.
Condo Units
Condo units are all over the Bahamas, and are one of the most popular accommodation options. Most are catered to couples but bigger condos can be found for families and groups of friends.
They offer great value for money, and come with a all the amenities such as pools, gyms, and BBQ areas. One of the best things about condos is that they are nevevilr far away from the most happening places. Guests will find themselves next door to restaurants, bars, and shopping areas.
Villas or Residential Homes
Villas and home are some of the most expensive options on Airbnb. But, guests will be spoiled no end with top-notch amenities. A lot of the island's villas are oceanfront with stunning views and many villa vacation rentals in the Bahamas come with a private beach, private pool, and are surrounded by palm trees.
A great option for families or large groups of friends, you will also find smaller entire rental units for a romantic, luxury getaway. What's better than waking up to complete luxury?
Why Stay in an Airbnb?
Planning a tropical getaway can be complicated. Let Airbnb make it easier with their smooth and hassle free system.
Staying Long-Term: If you are planning an extended stay in the Bahamas, you can take advantage of the long-term discounts often offered by hosts.
Airbnb Experiences: Nothing makes your stay more authentic than an intimate, personal tour conducted by locals. I've compiled my favorite Airbnb Experiences in the Bahamas you absolutely must try.
Unique Vacation Rentals: Hotel rooms are boring. Mix it up a little with the most distinct and gorgeous Airbnbs in the Bahamas. You'll find luxury that you won't find in a hotel, such as a private beach or paradise beachfront cottages.
Privacy: There are plenty of private homes and rooms available on Airbnb. All you need to do is filter, and scroll through the endless options.
Affordability: Airbnb is the best place to find affordable places to stay. Cheaper than hotels yet the same quality, comfort, and convenience – what more could you want?!
The Top 15 Airbnbs in the Bahamas
Raring to take a dip in the blue Bahamas ocean? Easy there! First, let's wade into the waters of the top 15 Airbnbs in the Bahamas, and see which one is best for you.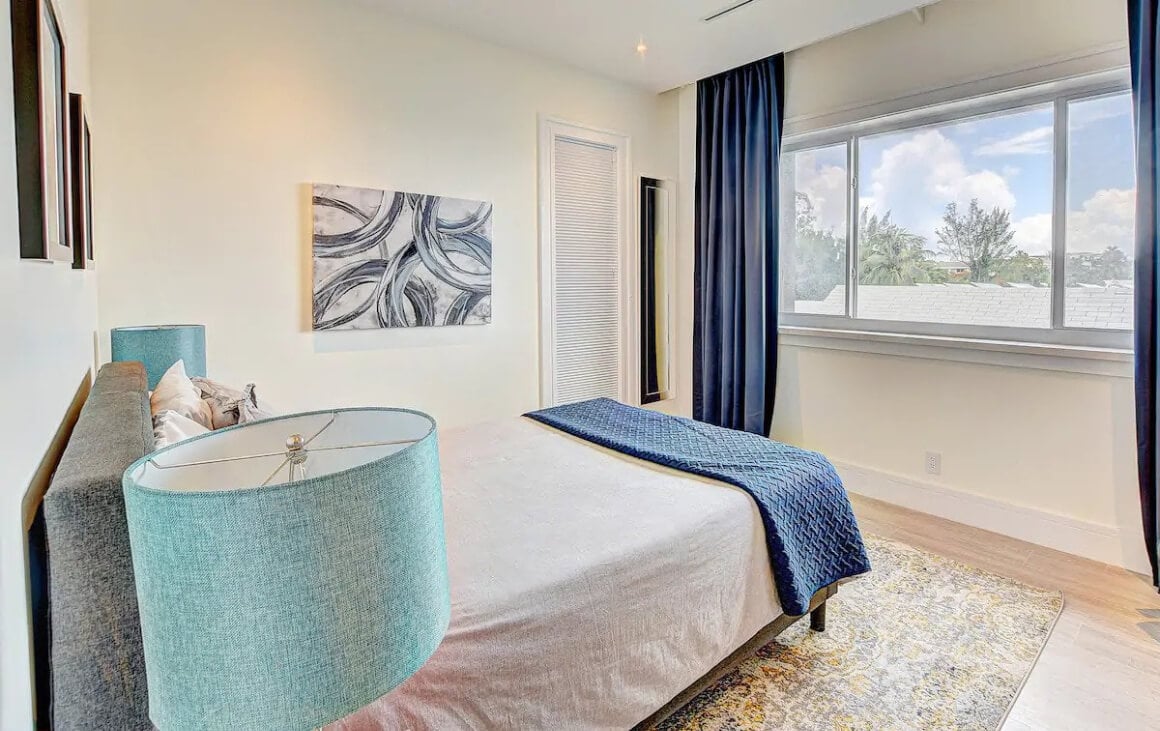 $$
Easy access to the beach
3 Guests
Near bars, shops, and restaurants
This bright and airy luxury one bedroom apartment is located near Atlantis Beach, a perfect home base to explore the island. It has easy access to the Versailles Garden, and the excitement of Atlantis where guests can explore the wide array of excellent dining options, bars, and shops.
Just a quick walk to the beach and ferry terminal, you can enjoy day trips to Nassau and other nearby islands. Along with the condo you will have access to the building's shared infinity pool, fitness center, free parking, and 24/7 security. You can enjoy a comfortable and safe stay in the Bahamas.
Some awesome attractions nearby include scuba diving and fishing, swimming with the pigs, Atlantis Paradise Island and Exuma Cays Land and Sea Park.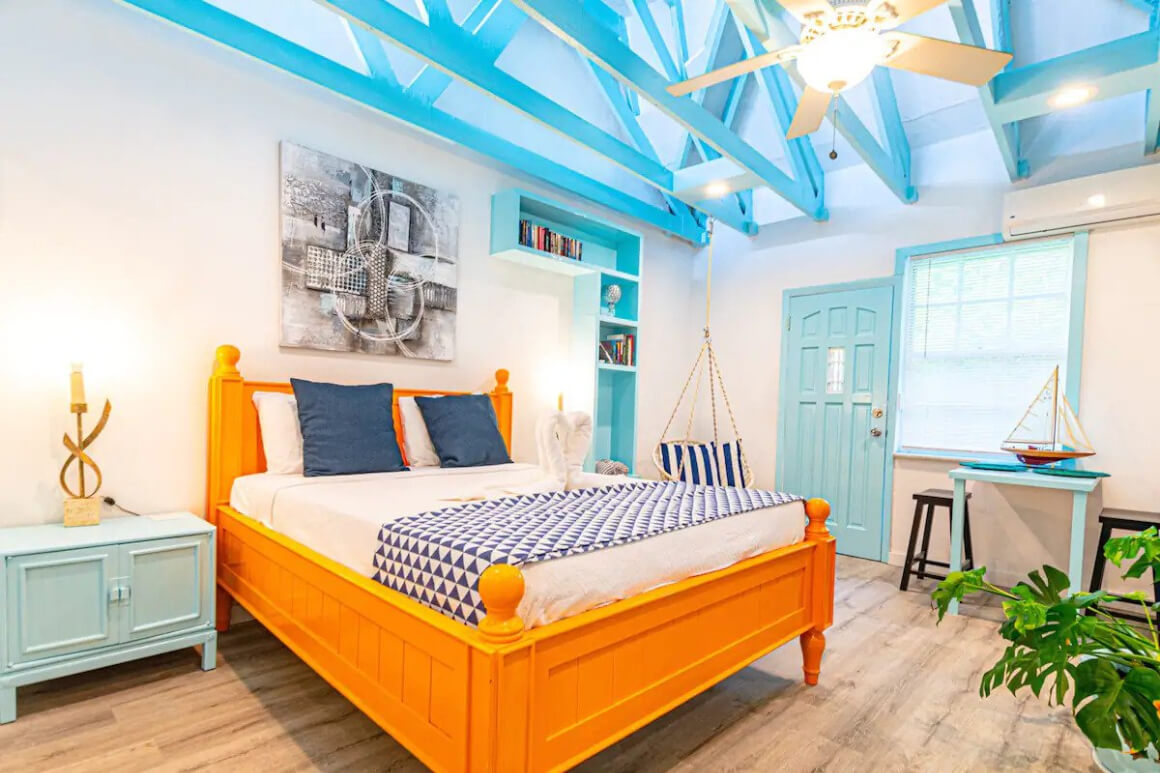 $
5 minutes from the airport
2 Guests
Near restaurants and bars
This lovely Bahamas Airbnb has an idyllic location – right next to Orange Hill Beach and Love Beach. The home is also 5 minutes from the airport, and walking distance to bars and restaurants offering local dishes and drinks. It is the perfect cozy room for a solo traveler who wants to be in the heart of the action.
For a day of adventure you can enjoy snorkeling around the island, or spend a lazy day at the swimming pool. There is also a public bus service that passes by the property every 10 to 15 minutes for those who would like to explore.
$$
Within a safe gated resort
If you want a luxurious Bahamas vacation with the most beautiful swimming pool, this is the best Airbnb in the Bahamas for you. This home is located in a gated community on a vast 3 acres of land.
With numerous shared swimming pools, a BBQ grill, poolside cabanas, and outdoor dining spaces, you can spend time with your loved ones lounging in the sun and dipping into the refreshing waters.
Each villa has its own private entrance, comfortable and well-designed living spaces, and modern fully-equipped kitchens. Massages, private chefs, catering services, and booking transportation can all be arranged upon request at an additional cost.
Is This the Best Backpack EVER???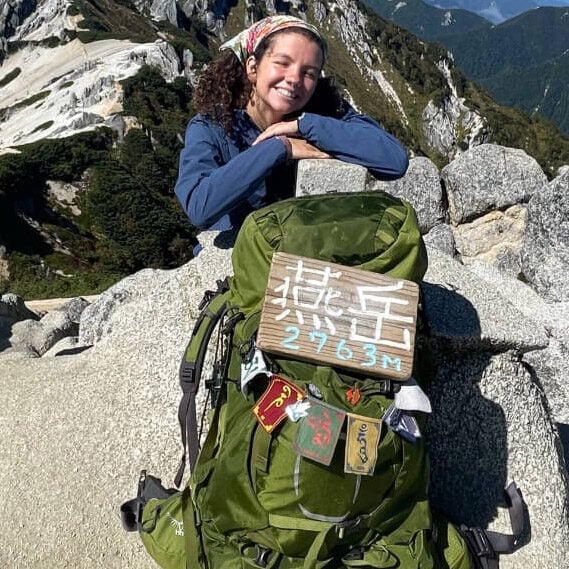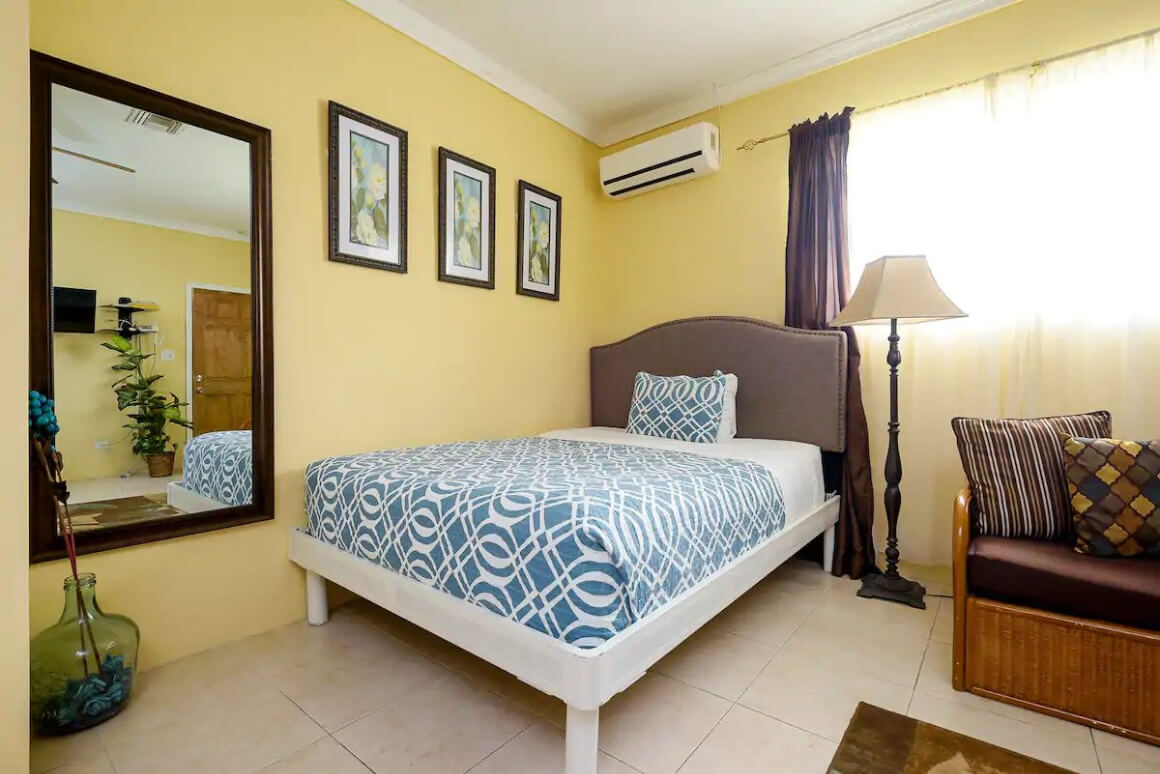 2 Guests
Short walk to Fish Fry
This beautiful studio apartment is located in a quiet neighborhood yet is close by to everything!
There are 3 beaches in walking distance as well as Fish Fry – a famous spot where locals and tourists go to get their fill of local dishes.Baha Mar Hotel and Atlantis are also just a 10-minute walk away. Guests can take bus #10 to Bay Street where they can enjoy free shopping and a huge selection of restaurants.
If you're looking for a budget place to stay, this is the perfect Bahamas Airbnb.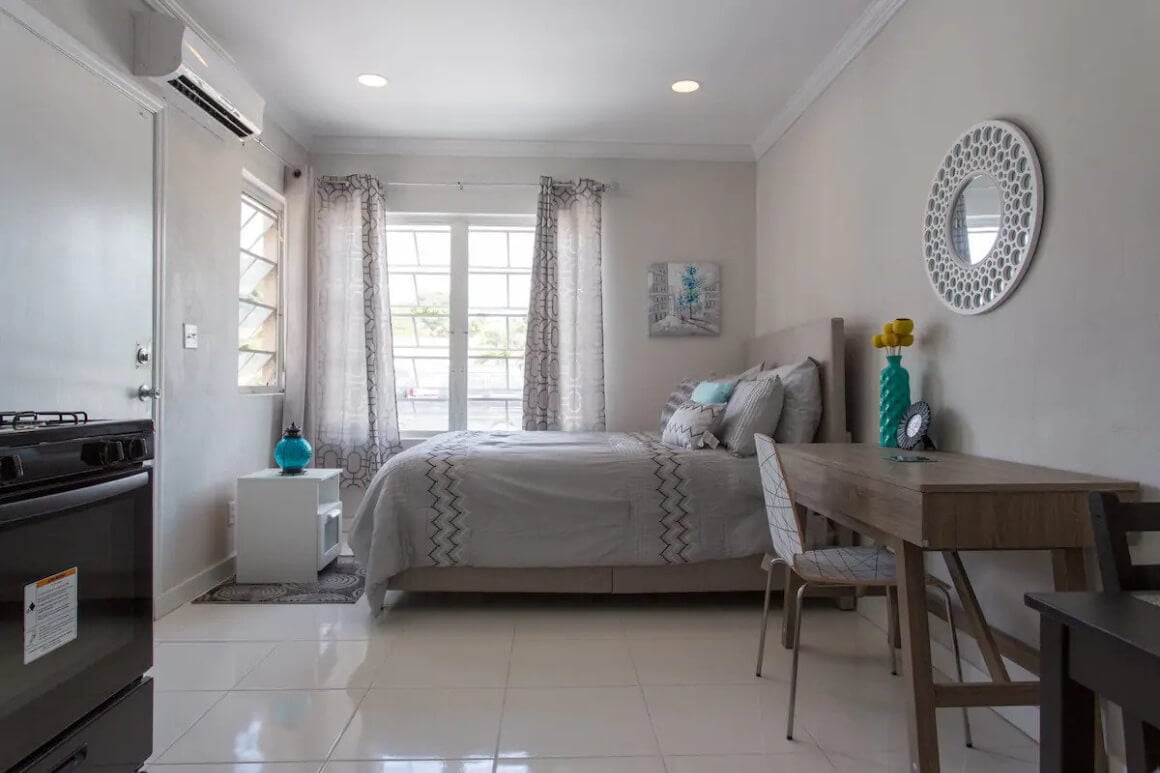 2 Guests
Fully-equipped kitchen
This lovely home is perfect digital nomads who need to get some work done while enjoying the endless sun and beautiful beaches of the Bahamas.
If you're too busy with work to prepare your meals, Fish Fry, one of the most popular hangouts for food, is within a 10 to 15-mile drive. There is also public transportation within walking distance of the vacation rental.
With speedy WiFi and a comfortable working desk, you can knock out your projects before heading to the beach.
4 Guests
Restaurants within walking distance
This gorgeous waterfront beach house in the Bahamas has some of the most incredible ocean views. It's a dream setting for a romantic holiday, or for a small family as it can sleep up to four guests. There is direct access to the beach which is shared with the other Bahamas vacation rentals nearby.
Originally built to house musicians during recordings, it has a very rich history of recorded music. A plus for those who love music!There are excellent bars and restaurants within walking distance, too.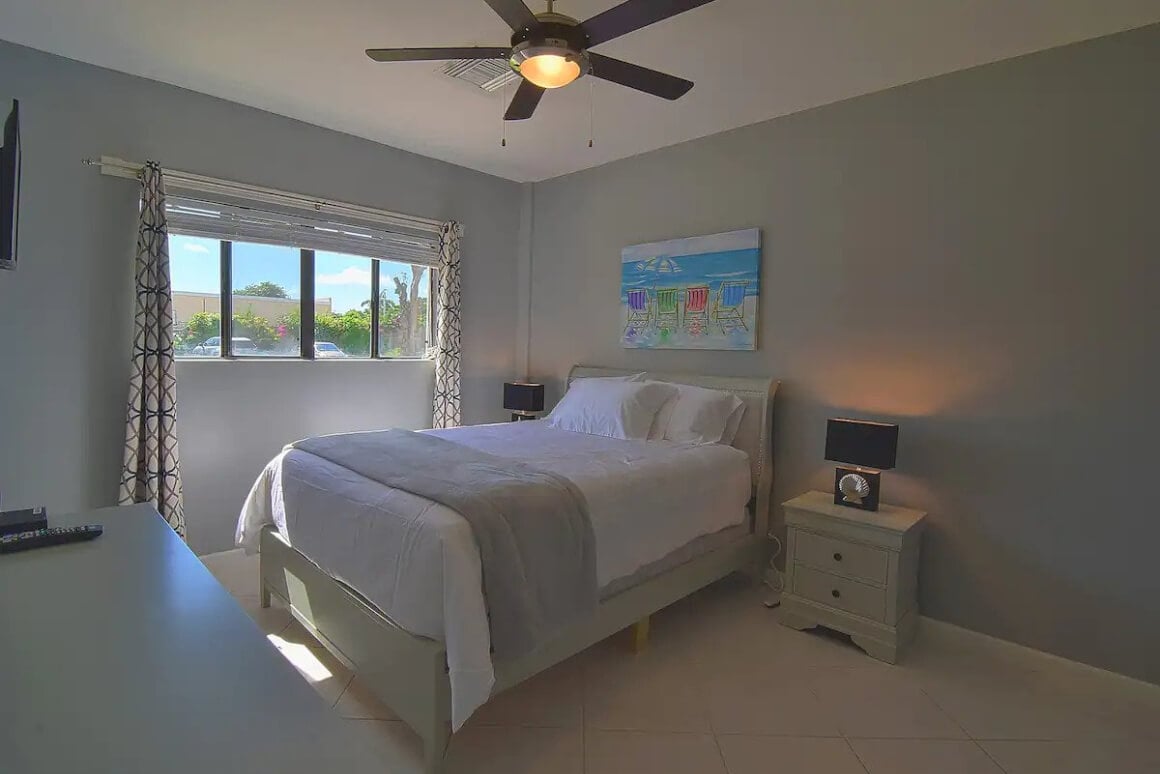 2 Guests
Walking distance to bars and restaurants
This stylish condo unit is centrally located, perfect for those who want to enjoy Bahamian nightlife. It is within walking distance of Atlantis Resort and Paradise Island Beach.
There's also quick and easy access to shopping centers and the island's best restaurants, bars, and clubs. You can party all night and be assured that you'll be coming home to a private, secured space all to yourself.
Spend your hungover days lounging around the shared swimming pool, and relaxing in the privacy of your own 1 bedroom condo.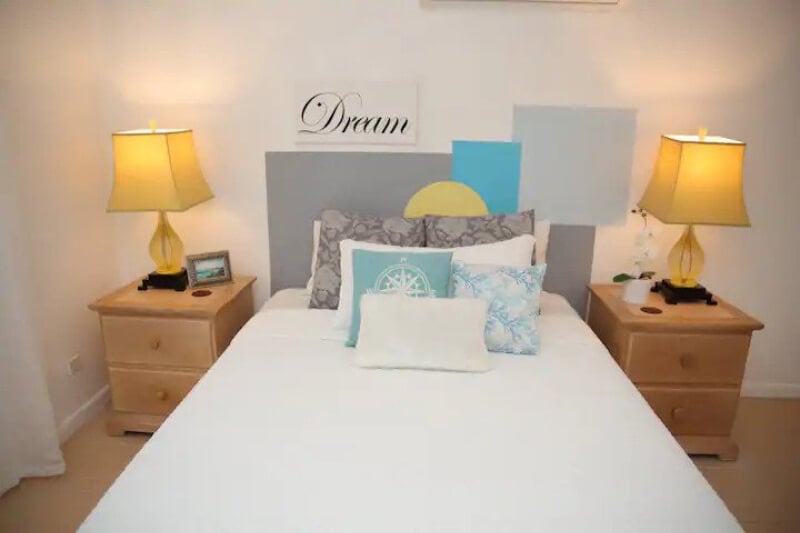 2 Guests
Walking distance to local restaurants
If you're planning a long stay in the Bahamas, check out this condo! It is the perfect combination of homey and beachy with a clean simple design.
The beach is just 10 minutes away, ideal if you love taking long walks to explore the area.
There are also shopping malls, fast food, and local restaurants, banks, as well as grocery stores in the area. Guests have everything they need and they don't even have to travel far. Convenience is the name of the game in this accommodation.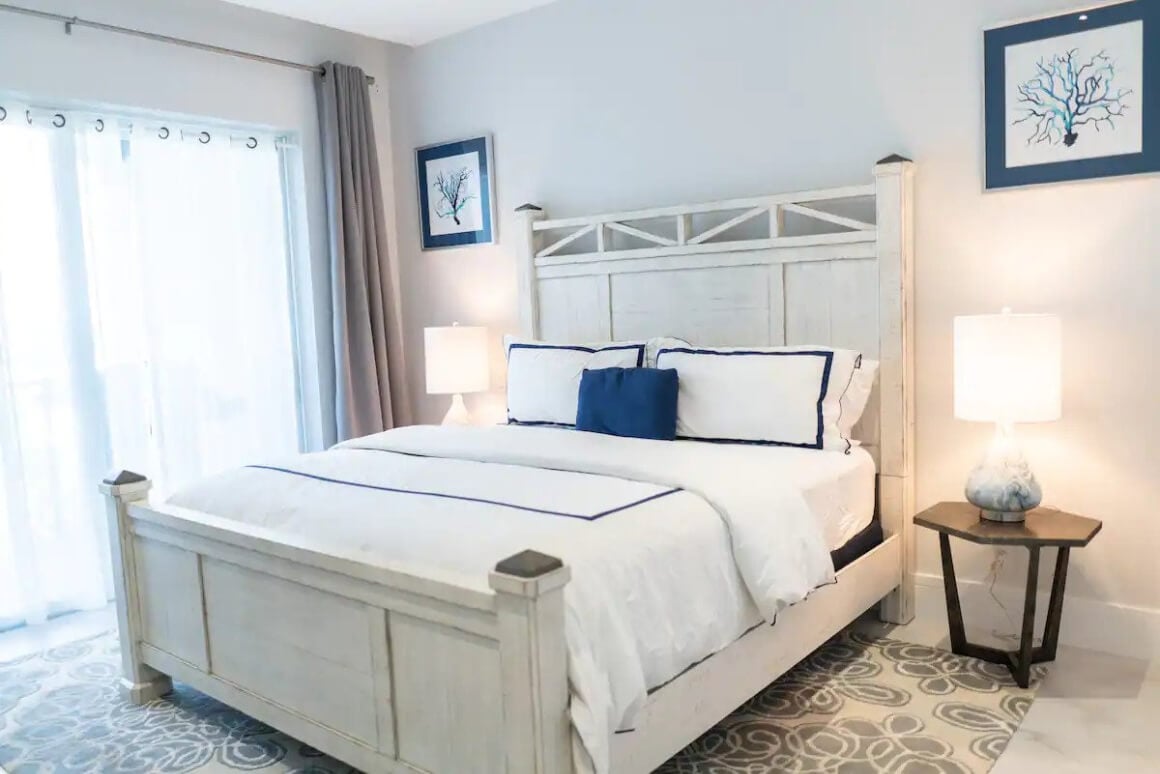 2 Guests
Walking distance to restaurants
Located in the heart of Cable Beach, this gorgeous property offers stunning views of the ocean and beautiful gardens.
It boasts various amenities such as an infinity pool, cabanas, gym, and bar area. Within walking distance to hotels, shops, and restaurants, you'll never be bored while on your honeymoon.
Although the condo is in close proximity to activity, it is still quiet enough to be a refuge for those who would rather spend their time lounging by the pool with their significant other.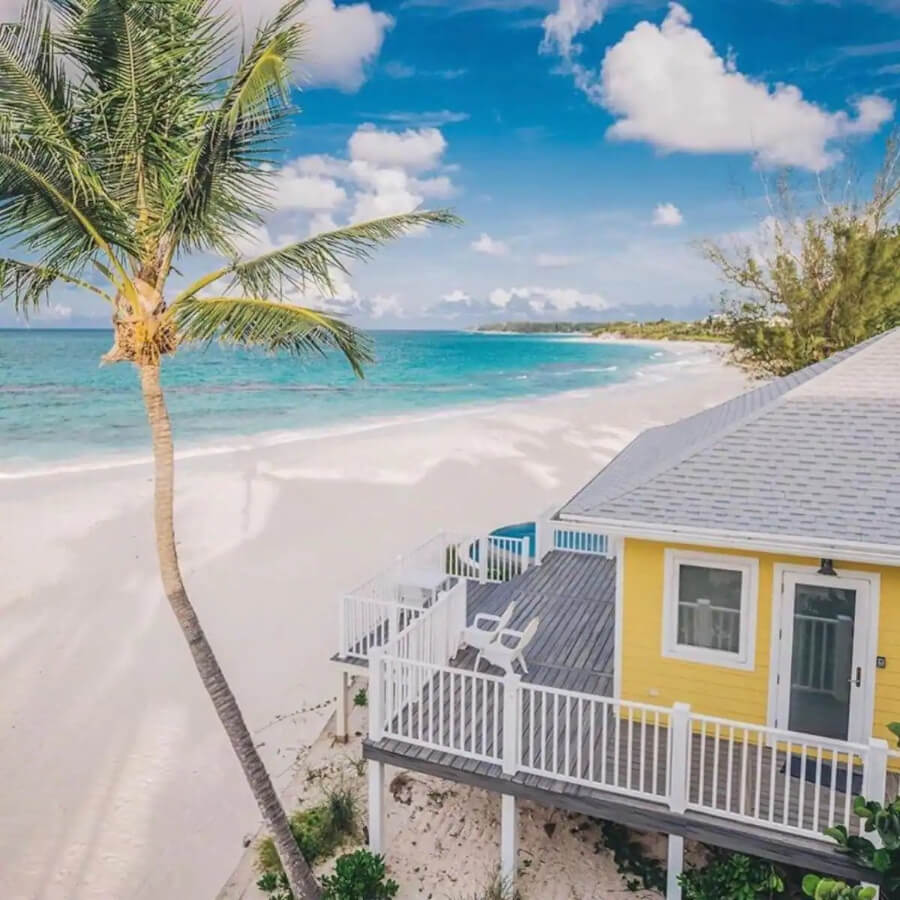 $$
Secluded location on Bird Point Beach
2 Guests
Oceanfront property
This entire residential home welcomes guests with its signature Caribbean color palette, white-washed walls and elegant spaces with small touches of the colour yellow throughout.
It has spacious living and dining areas with a fully-equipped kitchen fitted with state-of-the-art appliances where home-cooked meals can be easily prepared.
The property is on the oceanfront and has a wrap around terrace where guests can spend time sipping cocktails and enjoying dinner while overlooking the ocean. It's located within a few steps from the beach, as well as bars, restaurants, including the famous Tippy's Restaurant.
You also have your own private pool to cool down in, in case the ocean isn't cold enough!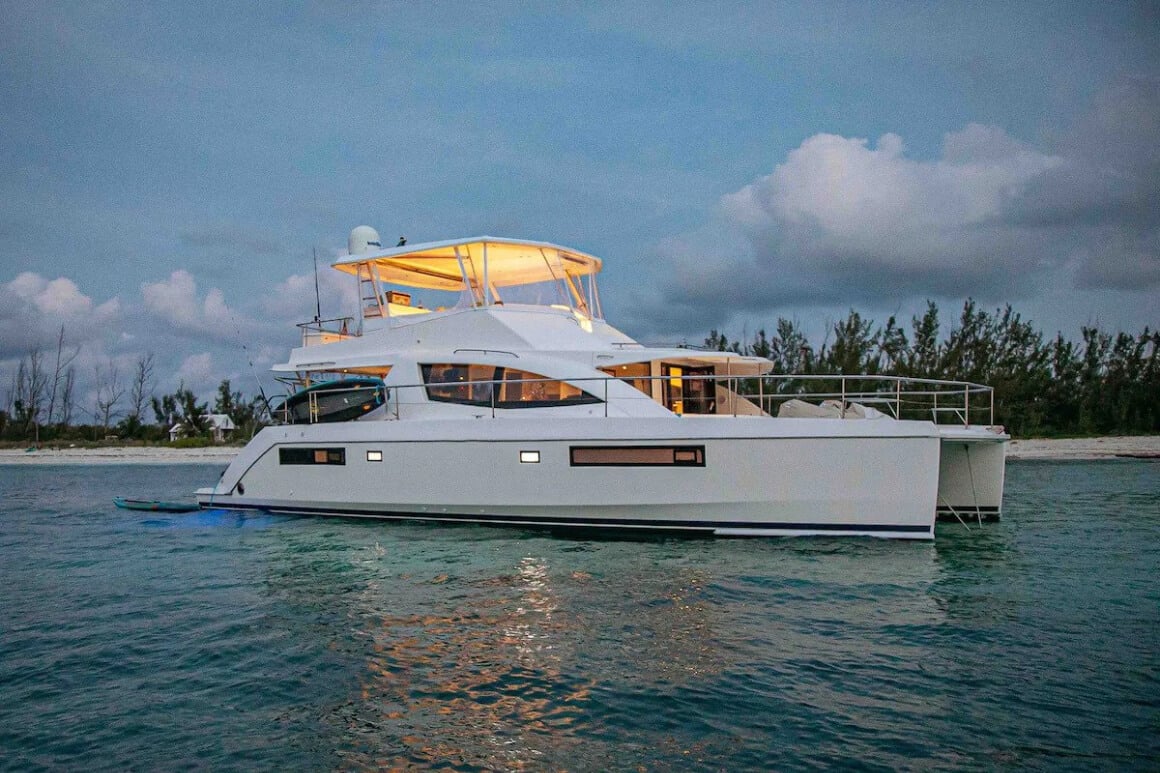 $$$$$
Private captain and chef
Eight Guests
Can explore wherever you want!
Not sure where to visit in the Bahamas? No matter, hire a private 53 foot boat with a captain and you can explore anywhere you want! With enough beds for up to 8 guests, this is truly a unique vacation rental that will leave lasting memories.
The boat comes with lots of space, including an outdoor deck with a seating area – the perfect place to enjoy cocktails in the evening.
When you're tired of a place, tell your licensed captain to lift the anchor and get sailing! Blue Lagoon Island? No problem. Grand Bahama? Whatever you want!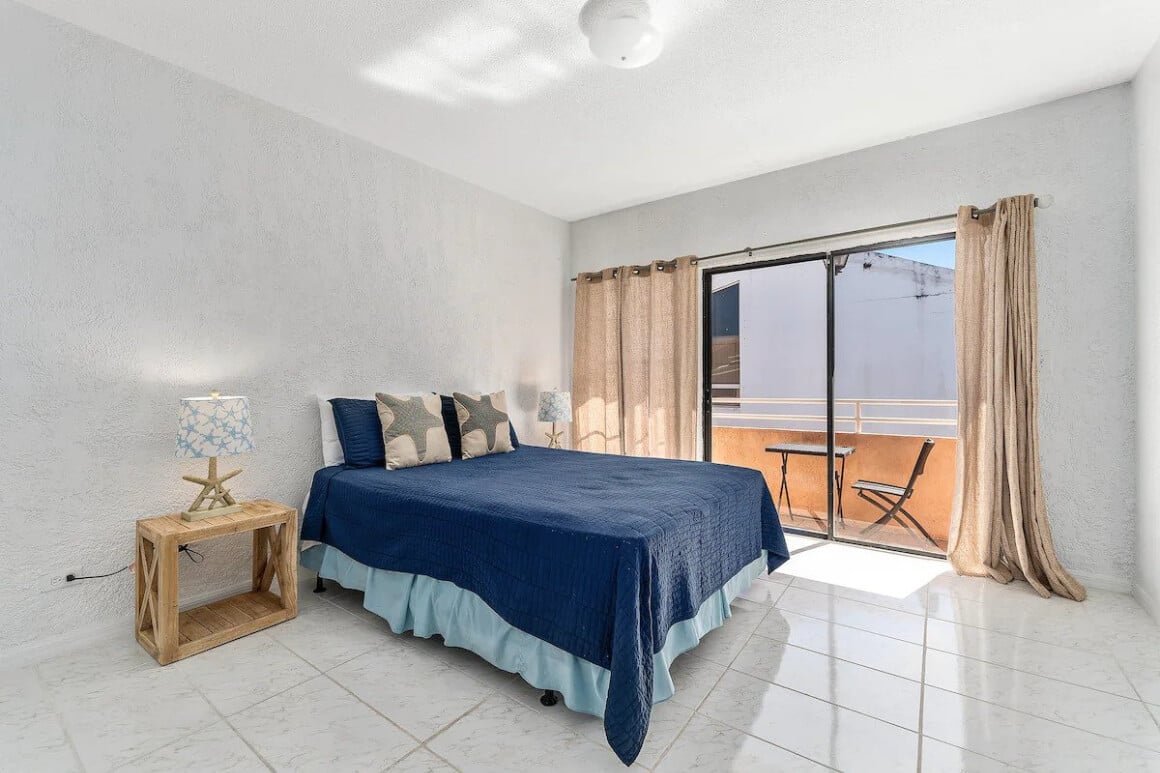 6 Guests
Access to a shared pool
This condo unit is in the charming Paradise Villas complex, in proximity to the public beach, convenience stores, and of course, the world-renowned Atlantis! It is the perfect place to spend a few weeks in the Bahamas either with a small group of friends or with family.
Guests have access to a shared pool and can prepare their own meals in the well-equipped kitchen.
The hosts can arrange to pick you up from the airport, boat excursions, and jet ski sessions at an additional fee for the guest's convenience. For an extended stay in a Bahamas Airbnb, this is the perfect spot.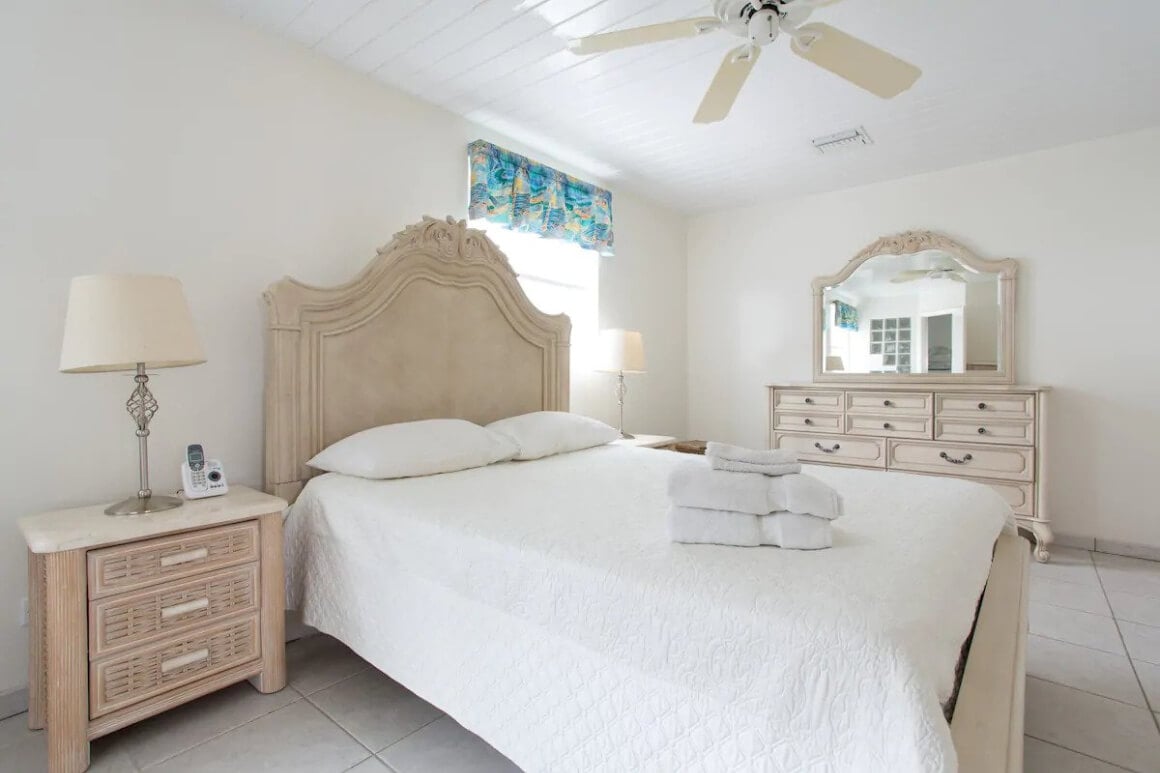 8 Guests
In a residential neighborhood
The Bahamas has always been popular for its white sandy beaches, and this beachfront property has one of the island's most famous beaches right outside its door. With its colorful turquoise waters, it's quite difficult to resist swimming or getting your feet wet.
This is the perfect location for anyone who wants quiet and relaxation without being too far from the city or the airport.
Guests have access to the gazebo and grill, and there's also a volleyball and netball area where the entire family can have additional fun. This Bahamas Airbnb will be your favorite family getaway.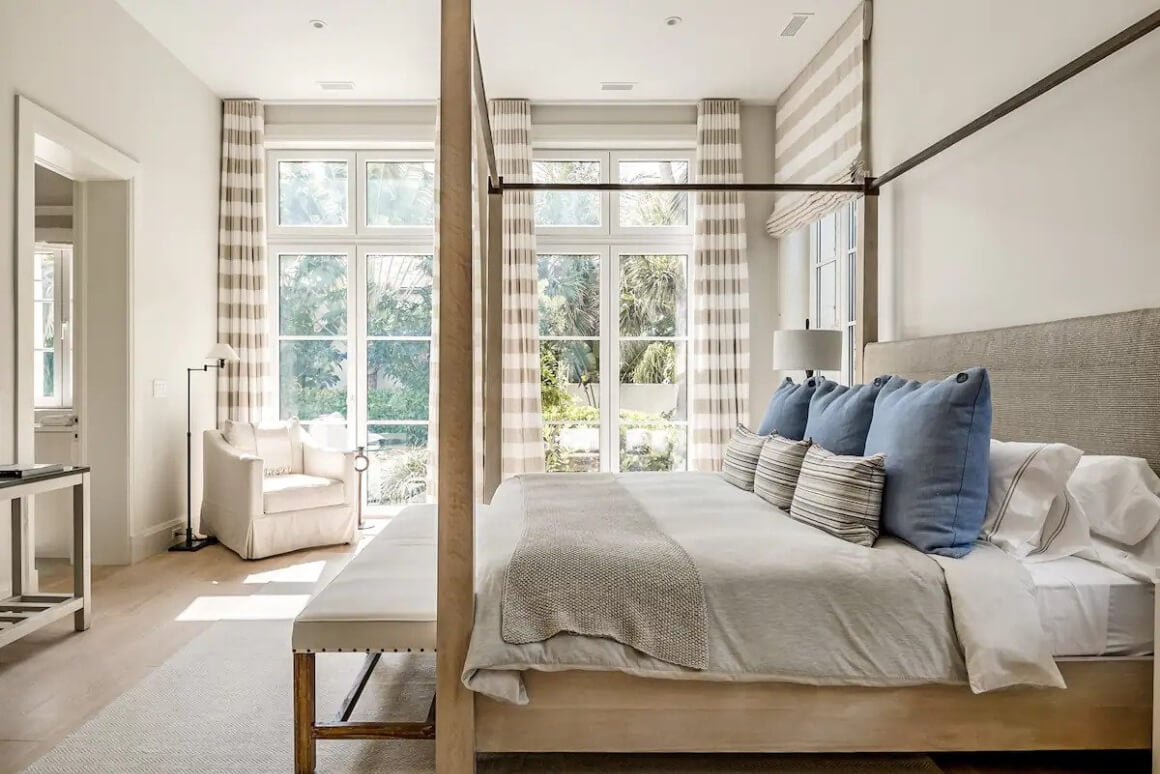 8 Guests
Private boat tour
This gorgeous oceanfront property will spoil guests to no end. So much so they might find it difficult to return to normal life after their Bahamian getaway.
Located on the soft sands of Colonial Beach on the island's western tip, guests can start their day with yoga under the regal palms. With a wealth of staff available, such as a private boat with a captain, mid-week housekeeping, and ground maintenance, you will need for nothing!
Additional services can be arranged at an extra cost such as a private chef, babysitting service, and activities and excursions, to name a few.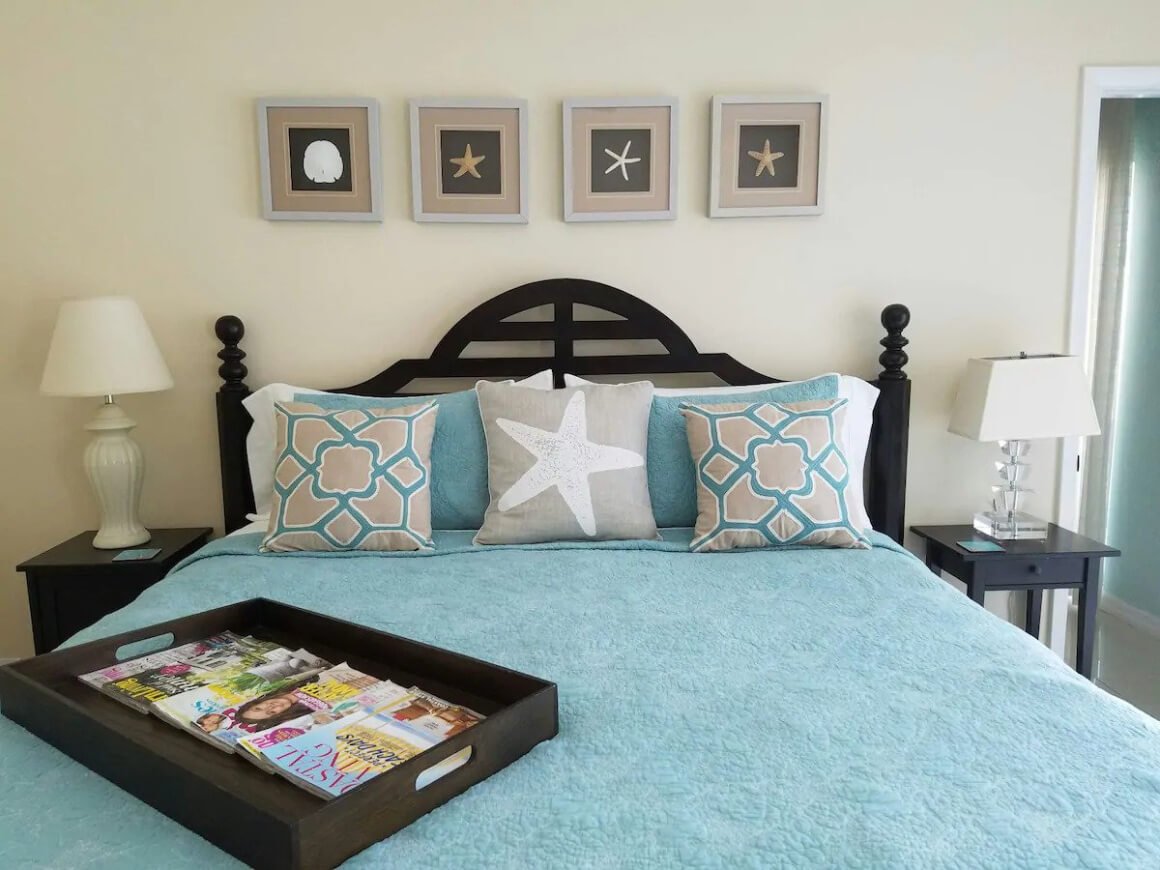 2 Guests
Private, enclosed patio
This entire villa is the best Airbnb in the Bahamas for couples who want to take a few days to rekindle their love for each other away from the demands of life and work.
The villa is in a gated complex in Paradise Island Beach Club, and is within walking distance from the Atlantis Resort, Cabbage Beach, shops, and restaurants. Twelve villas share the pool, and each villa comes with a large private terrace where guests can enjoy the beautiful weather, as well as a barbecue.
There are also two on-site parking spaces available for guests.
Top 5 Airbnb Experiences in the Bahamas
Make your Bahamian holiday even more unforgettable by booking an Airbnb Experience. If you are one of the few people who still haven't heard of it, it's about time you try it for yourself and book a unique activity.
Fun, local, and intimate tours are run by locals, letting you avoid mass tours and activities.
Discover the Bahamas and its rich culture and history with someone who knows the island by heart. You'll be able to easily manage everything on the Airbnb app so it's less of a hassle for you.
Excited yet? Good! Here are the top 5 Airbnb Experiences in the Bahamas.
$129/person
2 hours
Up to 8 people
The Bahamas has always been synonymous with long stretches of white sand and beautiful beaches. But there's one other thing it's popular for, the swimming pigs! If you're in the Bahamas, it's the perfect opportunity to see these pigs up close and personal.
This exciting 2-hour tour will give you the chance to interact and swim with the pigs at historic Adelaide Beach. Guests will be welcomed with a tropical drink upon their arrival and will go through safety instructions before interacting with the pigs. There will be a feeding and photo-taking session and then guests are allowed to spend the rest of their time as they see fit.
You can chill on the beach or do other water sports activities for an additional fee.
$199
3 hours
Up to 30 people
Want to learn more about the people and culture of Nassau? Then this tour will take you through the most famous landmarks while soaking in the history and stories of your friendly and knowledgeable local guide.
Not only do you get to learn about the heart of Nassau but you can also choose three landmarks to visit, and you'll get an in-depth guide to each place.
Tours are conducted in all weather conditions but it's not advisable for people in wheelchairs or people with severe mobility.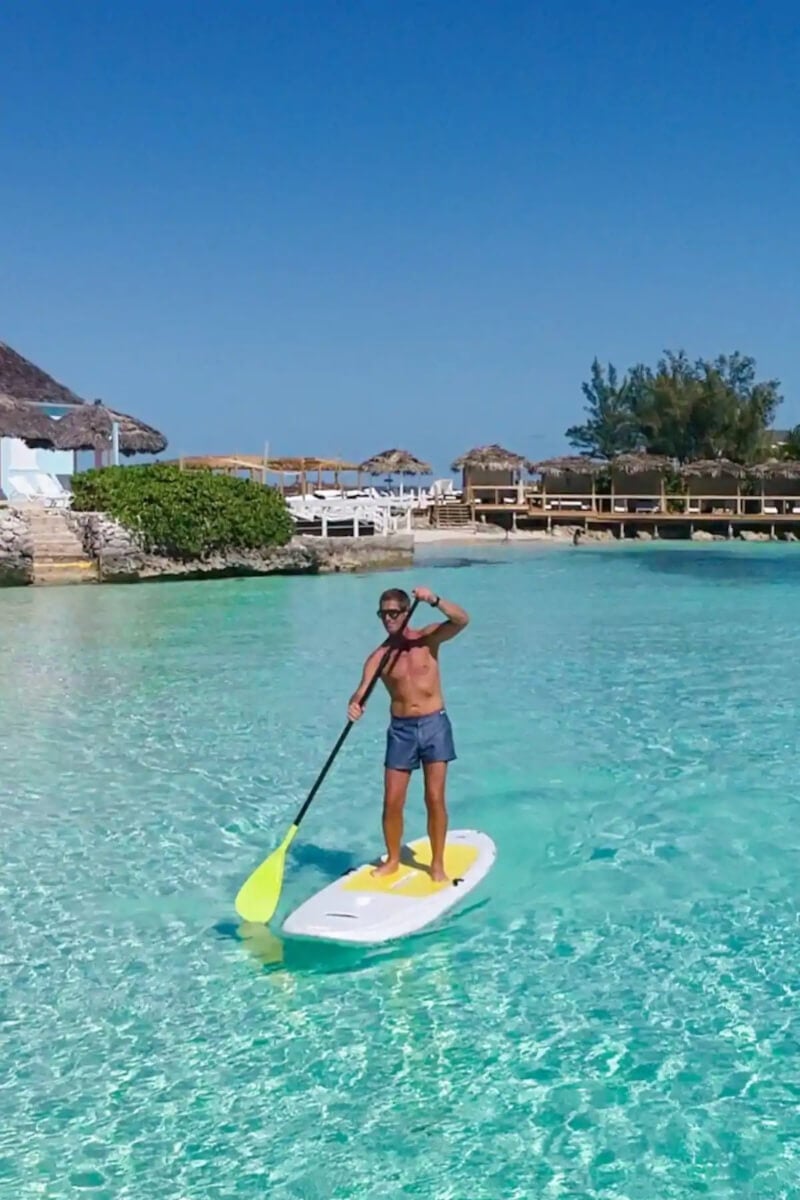 $80/person
5 hours
Up to 10 people
This tour includes food, drinks, transportation, tickets, and equipment and is located just a short distance from Nassau on Pearl Island. It will take you through the wildlife and stunning natural beauty of the beautiful white-sand beaches.
Participants can sample local delicious Bahamian dishes and drinks, and take a tour of the lighthouse with amazing views of the surroundings.
You'll be treated to an authentic and freshly prepared Bahamian lunch that includes fish fingers, BBQ chicken, plantains, and peas n' rice with your choice of lemonade or water.
Put on a snorkel mask and a pair of fins, and see the marvellous protected coral reefs firsthand. Round out the experience by cruising on a kayak or trying your physical powers by standing up on a paddleboard before catching a boat back to Nassau.
$55
60 minutes
Up to 5 people
Sure, the Bahamas are famous for its beaches and local culture, but it's also famous for its nature and national parks! If you want to see the other side of the Bahamas' nature, then a kayaking trip around the Bonefish Pond National Park is the way to go.
Whether it's your first time or you're an experienced kayaker, this tour is suitable for all. Learn about the unique ecosystem of the park, the cultural significance, and the wildlife that call it home.
$98/person
4 hours
Up to 8 people
This is an intimate experience for those who would like to venture out of Nassau and be away from the madding crowd. Guests will meet at the Poop Deck East Bay restaurant and will be escorted to the boat.
Guests will be treated to a few stories from the local Bahamian captain, while sailing past beautiful Paradise Island where million-dollar homes are located, before arriving at Rose Island. The journey takes about 45 minutes.
Rose Island is famous for its pristine waters and beautiful beaches where guests can snorkel and just enjoy the water. The stay on the island will take about 2.5 hours before the boat heads back to Poop Deck East Bay restaurant.
Drinking water, fruit punch, and life vests will be provided. No sailing experience is necessary to join this activity.
FAQs about Airbnbs in The Bahamas
Here's what people usually ask me about vacation rentals in the Bahamas…
Don't Forget Your Bahamas Travel Insurance
ALWAYS sort out your backpacker insurance before your trip. There's plenty to choose from in that department, but a good place to start is Safety Wing.
They offer month-to-month payments, no lock-in contracts, and require absolutely no itineraries: that's the exact kind of insurance long-term travellers and digital nomads need.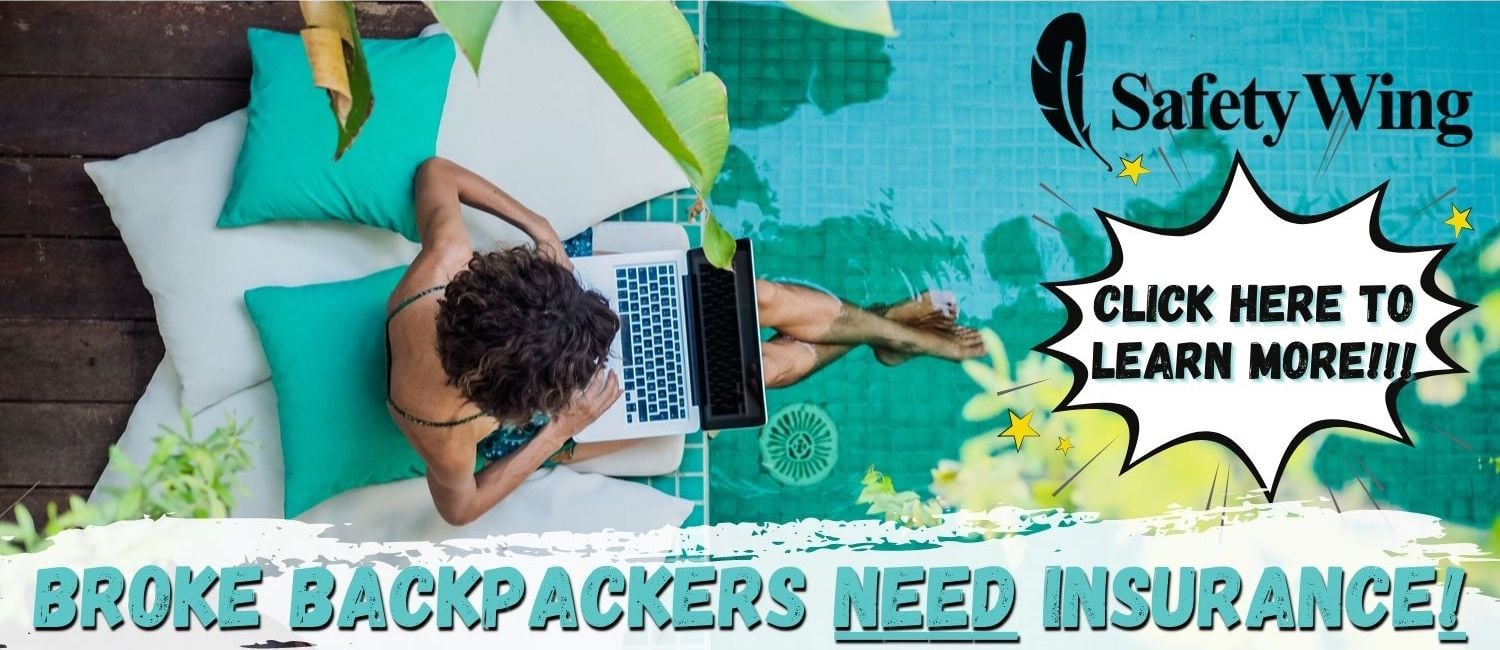 SafetyWing is cheap, easy, and admin-free: just sign up lickety-split so you can get back to it!
Click the button below to learn more about SafetyWing's setup or read our insider review for the full tasty scoop.
Final Thoughts
White-sand beaches, swimming pigs, nightlife, shopping, and a variety of water sports are only a few of the things that make the Bahamas a must-visit list. Being in the Bahamas is like having an endless summer.
Whether you are vacationing for a few days to take time off work or for a few weeks to live just like the locals do, Airbnb has got you covered. There are plenty of accommodations in the islands of the Bahamas that can cater to whatever your needs are.
It doesn't matter if you have a limited budget or if you're there to splurge, there are condos, villas, and homes to suit your requirements. And you won't run out of things to do because there are plenty of activities that you can easily book through Airbnb Experiences.
---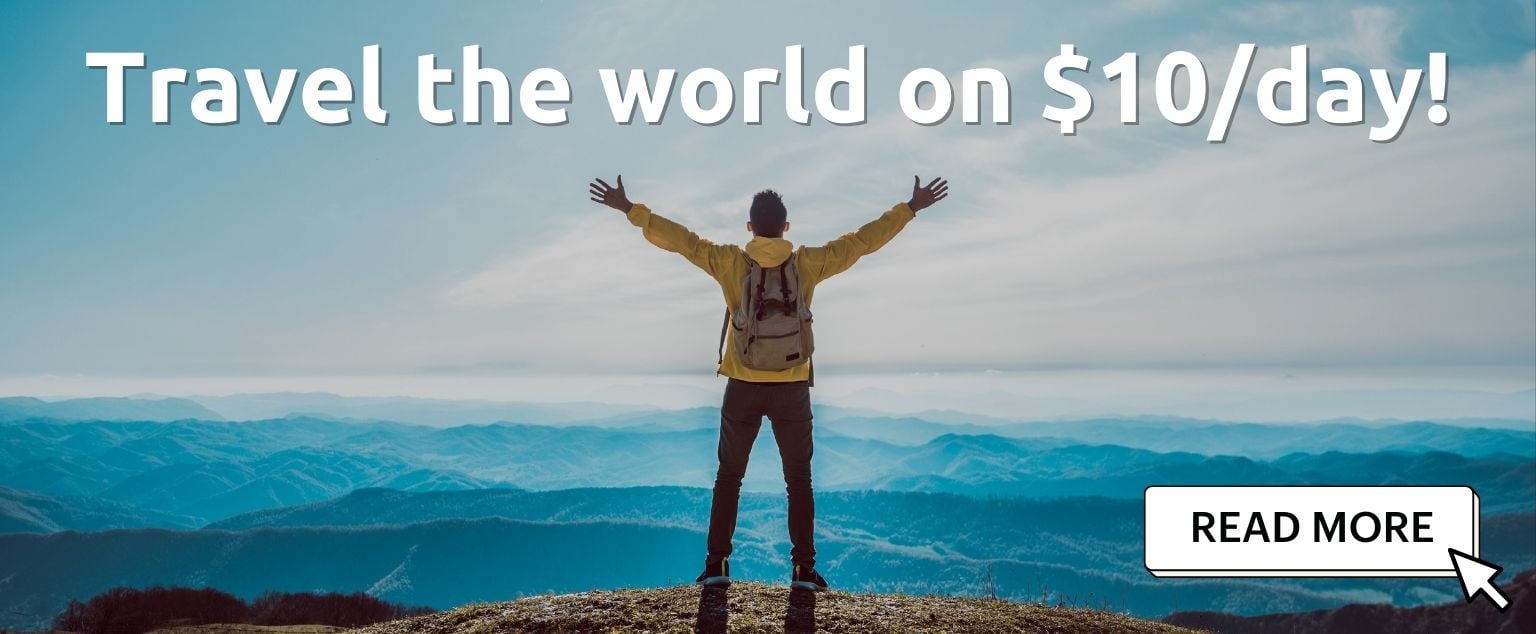 And for transparency's sake, please know that some of the links in our content are affiliate links. That means that if you book your accommodation, buy your gear, or sort your insurance through our link, we earn a small commission (at no extra cost to you). That said, we only link to the gear we trust and never recommend services we don't believe are up to scratch. Again, thank you!