Thinking about going to the Bahamas? Well, with its beaches, watersports, coral reefs, around 2,000 islands to explore, and yet more beaches, we can definitely see why. This cluster of Caribbean beauty spots is world-famous: say "Bahamas" and everyone knows the vibe.
Or do they? Because actually, there's really a lot of stuff about the Bahamas that makes us think it's not that safe. There's a lot to take into account, what with the violent crime levels on the rise, petty theft, sexual assaults, drug trafficking gangs, as well as other hassles.
This certainly makes for a bit of a worrying situation in this group of islands, which is why we have put together this insider's guide to staying safe in the Bahamas. Knowing the issues is the first step towards travelling smart and avoiding trouble, so we've packed it all in.
There's information on what islands of the Bahamas are safe, how solo female travellers can make the most of their trip, what the situation is with public transport – and even when hurricane season is because that is also an issue in the Caribbean!
So let's take a look at what's going on with these islands…
COVID-19 UPDATE
Whilst COVD 19 has not gone away, the world is opening up again to travellers. However, the Bahamas remains in a state of emergency and is under heavy lockdown. As such, travel is neither practical nor advisable at this time.
For the most up-to-date safety information and what you should be doing to help, please consult the WHO and your local government.
14/07/2020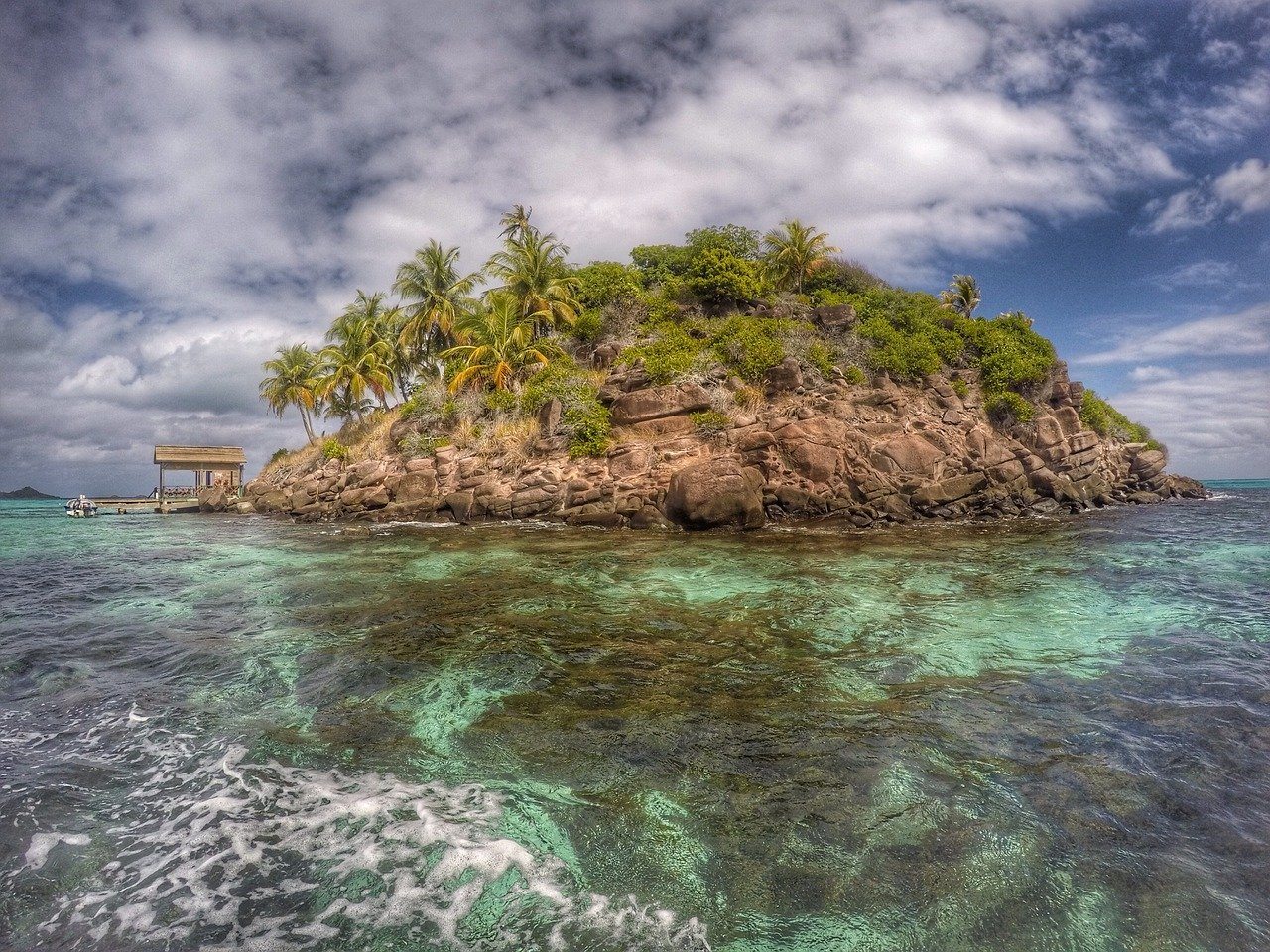 How Safe is The Bahamas? (Our take)
Famous for its crystal coastline, having a zillion (well, 2,000) islands, beaches – including Pig Beach – as well as coral reefs, this paradise archipelago is a popular destination. Nice weather too: George Washington said they were "the isles of perpetual June"
Though it's all good if you're sticking within the bounds of an all-inclusive resort – of which there are many – if you're trying to stick to a budget and do things more independently, you'll be more likely to encounter a sketchy situation. Some islands are safer than others, too.
The Bahamas comes packed with a lot of social issues, namely gaps between rich and poor, plus being a bit of a conduit for the drugs trade to North America and Europe. Crime is a big problem here. Poorly regulated water-sports are a source of danger as well.
Weather in the form of hurricanes and storms can pose threats to the islands, too.
There's quite a bit that makes us think that maybe the Bahamas isn't as safe as you think it is, but let's look at that in more detail…
Is The Bahamas Safe to Visit? (The facts.)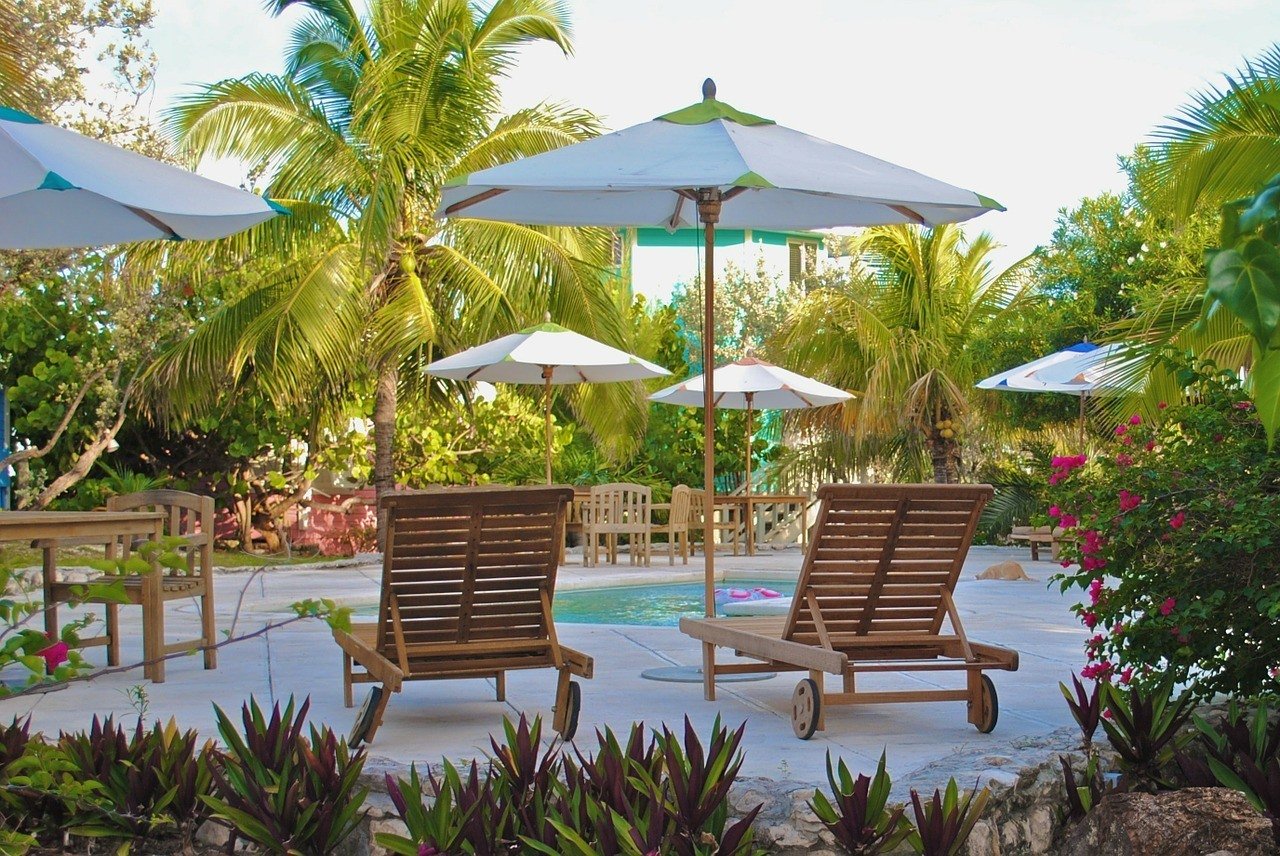 Made up of many beautiful islands, the Bahamas stretch west, from just 120 kilometres off the coast of Florida to the south, where it's a mere 97km from Cuba.
Bahamian isles attract a lot of tourists. In 2018 the Bahamas welcomed 6.6 million visitors and is set for a record-breaking 2019, apparently.
There are issues facing the Bahamas at the moment that might lead to a downturn in these visitor numbers. The murder rate has been on the rise, for example, and is believed to be related to drug gangs as well as domestic violence. In fact, the Bahamas has one of the highest homicide rates in the Caribbean, a region which has seen a deterioration in safety according to the 2019 Global Peace Index.
However, according to the Royal Bahamas Police, in 2018 the murder rate was reduced by 25% and crime as a whole is down by 14% percent. In 2018, there were 43 crimes involving tourists in the Bahamas, too – 30 of which were US nationals. Crime takes place mainly in and around Nassau, the capital.
The Ministry of Tourism, along with local governments, have implemented things like CCTV, regulations to improve the safety on boats, and general "aggressive efforts" across all ministries to help make the Bahamas a "welcoming environment" for visitors. Heightened police presence has been noted.
Is it Safe to Visit Bahamas Right Now?
A recent "crimewave" in the Bahamas has led the United States to issue a travel advisory from the 25th February 2019. There are 4 levels of travel advisories issued by the US to its citizens (4 being the worst) and the Bahamas got stuck with level 2: "exercise increased caution".
This means that tourists should be aware that "violent crime, such as burglaries, armed robberies, and sexual assault, is common, even during the day and in tourist areas."
It's believed that US citizens have been assaulted primarily in Nassau on New Providence Island.
However, this advisory doesn't mean you shouldn't be going anywhere; the Bahamas responded to America's update by saying that it shares this "level 2" advisory with France, the UK and Spain (the latter being one of the safest countries in Europe).
The British High Commission reports that there has been an increase in reports of break-ins and robberies across New Providence, Grand Bahama and Freeport. They also note police patrols in tourist areas.
Most crime, however, is against Bahamians, but that doesn't mean shouldn't take sensible precautions.
Also, it is important to note that outlying islands, like the Exumas.
Another thing to take into consideration is nature! From June to November, it's hurricane season and this means that the islands can get hit by storms. Protecting yourself against mosquitoes is more than just a suggestion in the Bahamas: here they transmit Chikungunya virus.
In conclusion, though the US has issued a travel warning, we would still say that it's safe to travel to the Bahamas right now.
Do you need Travel Insurance for your trip? Even if you're only going for a few days, that's more than enough time to get smote by wrathful angels. Have fun in Bahamas, but take it from us, overseas medical care and canceled flights can be seriously expensive – insurance can, therefore, be a life-saver.
Travel mishaps can and do happen and it is well worth thinking about insurance before you leave home.
We have used World Nomads for years now, reviewed their travel insurance policy, and I have personally made several claims. Why not get a quote from them yourself?
Do be sure to read the terms and conditions to make sure that the policy covers your needs.
Getting an estimate from World Nomads is simple – just click the button or image below, fill out the necessary info, and you're on your way!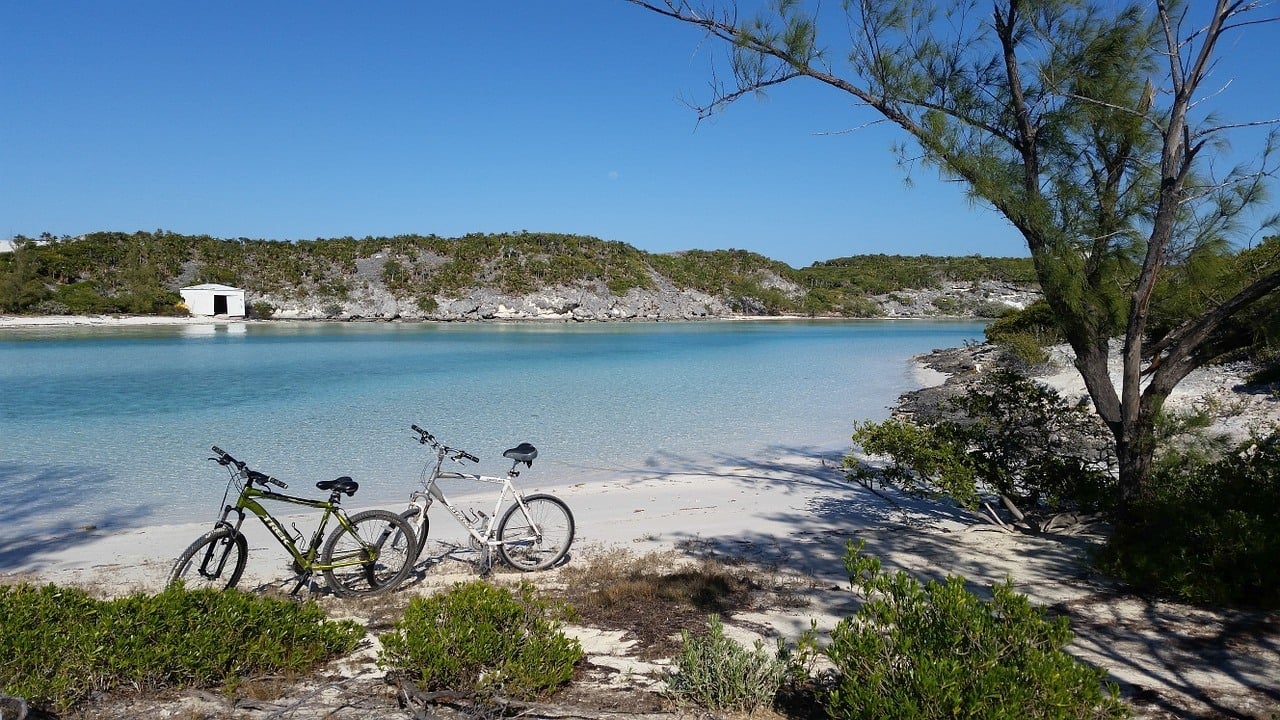 The romance of the Bahamas may be one thing, but the reality of stepping outside the resort areas is another. With petty crime a possibility, especially in tourist areas (places you'll be heading at least once, we imagine), it's important to know what to look out for and what you can do to stay safe in the Bahamas, so we've made a list of some of our best tips for travelling smart in this tropical paradise…
Avoid Nassau's Over the Hill area – this area is known for crime, especially violent crime, but tourists have no business here anyway.
If someone tries to take your stuff, don't resist – it's not worth it. Wear a secure money belt to hide your cash.
It's best not to walk around obliviously – with your bag open, a dangly handbag, an SLR or phone in your hand; snatch and grab and pickpocketing happens in touristy areas.
Try to dress down – looking too flashy is going to make you look like a walking ATM for thieves.
Do not leave your valuables unattended at the beach – thefts do happen.
Keep an eye on your bank cards when paying for stuff – and check your bank statements for dodgy activity; credit card fraud does happen here.
Don't take money out on the street at ATMs – go inside a bank or a hotel and be aware of who is around you when doing so.
Make sure your hotel room is secure – look doors and windows before you go out (and whilst you're in it, we'd say).
Say no to drugs – you may be offered them, but they're illegal. You're an easier target than a gang member for police, so if you're caught with anything you could be fined, imprisoned or deported or a mix of all three.
Keep a cool head – staying calm and not confronting people is a good way to go. You don't want to provoke an angry situation.
Curb public displays of affection – same-sex or between opposite sexes, even holding hands or kissing is just best avoided.
Practise safe sex on the island – and be aware that AIDS is a risk. It's estimated that 3.2% of over-15s are living with HIV (compared to 0.3% in the UK; figures as of 2013).
Make sure tour/watersports/excursion companies are reputable – these are poorly regulated and bad safety precautions have resulted in deaths and injuries of tourists.
Be wary of jet ski operators – "there have been reports of sexual assaults by jet ski operators in Nassau" according to the British government.
Sexual assaults occur around casinos, clubs, hotels, even on cruise ships – be careful of your drink as drink spiking is a big problem.
It's definitely better to take a taxi at night – especially in crime hotspots like Grand Bahama and around Nassau.
Take care walking around after dark – particularly in quieter areas on or near beaches, or just away from downtown Nassau.
Avoid travelling on local buses at night – especially if you're not in touristed areas; you'll be at risk of being a victim of crime.
Don't accept rides from strangers or get into unlicensed taxis – just comes with risk.
Pack your luggage yourself and don't leave it unattended – you don't want to be inadvertently trafficking drugs (it can happen!)
Be very careful with your passport and other important docs – don't carry them around with you; keep 'em safe.
Monitor local weather during hurricane season – it can get seriously bad.
Make sure your phone works – so you can use it for maps, emergencies, keeping in touch with people. Get an international sim card if you need one.
Knowing what to expect is one of the best ways to stay safe travelling anywhere in the world, and that goes for the Bahamas too. Of course, sometimes it can all be a case of bad luck, but knowing the sorts of annoyances and dangers you're going to encounter makes for a good first step of what to look out for. People often say "be vigilant" – but unless you know what of, that's kind of a useless tip!
Some General Safety Tips from the OG Broke Backpacker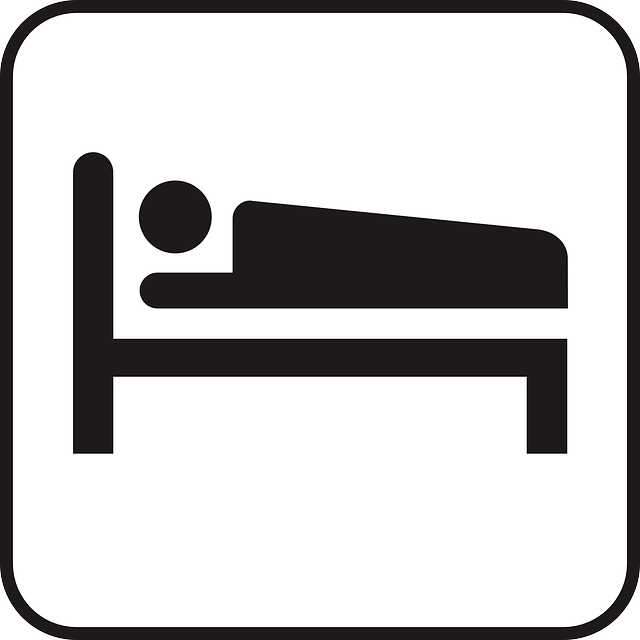 Sleep safe! Choose your hotel, hostel or Airbnb ahead of time so you're not last-minute booking a less-secure place.
Read our Where to Stay Guide for our favorite accommodations in the Bahamas by area.
Keeping your money safe in the Bahamas
One of the most annoying things that can happen to you whilst travelling anywhere in the world is to lose money. Whether you actually lose your wallet, or your wallet mysteriously "goes missing", it can still make your trip turn sour.
In the most touristed areas of the Bahamas, you will definitely want to keep your money safe; this is where it's most likely to be pinched. To help stop potential thieves in their tracks, however, we would seriously recommend buying a travel money belt.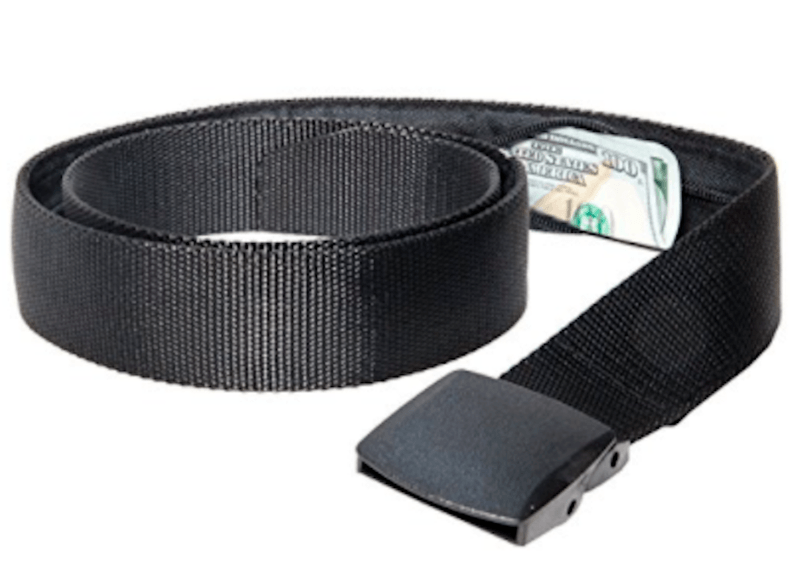 Having a money belt is a surefire way to basically never have your money stolen from you, but we'd say it depends on the money belt.
Some of the money belts on offer out there can be a little too obvious, like wearing a bum bag underneath your clothes, so would-be pickpockets can still see it. Luckily for you, we've got an awesome recommendation: the Active Roots Security Belt.
If you're fans of simplicity then you're going to like this option. It looks like a normal belt but there's a secret zipper pocket where you can stash your cash. No pickpocket or potential thief is going to think of looking in such a normal-looking belt! Check out our in-depth AR Security Belt product review for more details on the specs and usability.
If you need a little more room for your passport and other travel valuables, have a look at a full-size money belt that tucks under your clothes instead.
If neither of those options appeals to your refined fashion sense, don't compromise! Opt for an infinity scarf with a hidden zipper pocket.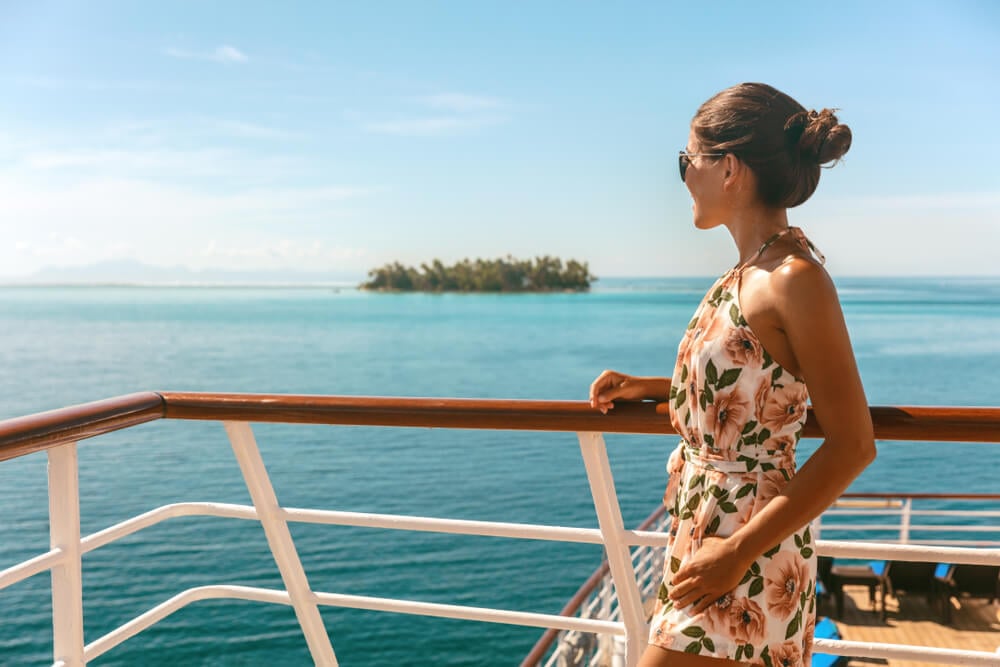 Being all about solo travel, we could talk all day about the benefits of travelling the world by yourself; the main one though is probably only having yourself to rely on. It's going to be challenging, but that's the best bit: you get to grow as a person whilst seeing awesome stuff! As long as you know how to stay safe travelling, you'll be fine.
The Bahamas may seem like more of a place for honeymooners and retiree tour groups rocking up on cruise ships, but these islands can be travelled solo though it comes with some risk. For the best ways to tackle the Bahamas by yourself, we've got a few pointers…
Choose an accommodation that suits your travel style. There's a surprisingly big range of accommodation on the Bahamas – from luxe resorts to cute guesthouses and even hostels, there's a lot to choose from. Make sure it's also safe and secure, meaning a good location as much as good security in place and "amazing staff" written in reviews.
A good option, if you're a solo traveller, is an all-inclusive resort – if you can afford it. You won't have to worry too much about safety, there are no worries about travelling alone at night, everything's in one place and you'll probably get to meet people, too.
If you've chosen to stay somewhere like an Airbnb, a villa, or even in a hotel – we would advise that you are very careful about answering the door. If someone's knocking and you can't see who it is, and you weren't expecting anything, maybe don't answer and call security – if your place has it.
Avoid booking an isolated form of accommodation, unless on one of the safer, outer island like one of the Exumas, or maybe Bimini or Abaco. Unless in a group, probably don't get an Airbnb.
Try to walk around as confidently as possible. It's possible that you'll be more of a target by yourself, so walk with purpose and look like you know where you're going – even if you don't.
Try to keep other people informed of where you are and what you're doing. Calling your parents, your friends, other members of your family, checking-in on your Whatsapp, updating your Facebook with amazing photos, that sort of thing, is going to ensure that people know what you're up to; it's always safer having people know where you are than being off-grid.
A good way for solo travellers to see the Bahamas is on a group tour. You can do things like swimming with stingrays, going on a snorkelling adventure, or some other sort of island-hopping excursion. Not only do you get to see awesome stuff, but you also get a guide to tell you about it all, the safety of being guided, and find some people to travel with and get to know.
There are booze cruises you can go on, which is a fun way to let loose if that's your idea of fun. Just make sure that the company operating the cruise itself is reputable, well-reviewed, and that the boat itself isn't overloaded. Also, sorry to sound like your parents, but careful of how much you drink on these as you will be on a boat far from help; swimming and drinking isn't a good idea.
Somewhere you can go by yourself that's pretty safe is the Ardastra Gardens. Whilst partly a zoo, it's also a conservation centre where you can wander around 5 acres of tropical jungle and see some rare Caribbean flamingoes.
There you have it. Whilst solo travelling in the Bahamas might not seem like the best thing to do as we said, it can be done. A good way to go about it would be to ask the staff at your accommodation where's safe to go and what's good to eat – they'll be happy to tell you.
That's if you want to go independently, of course. We'd recommend an island other than Grand Bahama or other islands and towns associated with crime. If in doubt, go all-inclusive, get on a tour, and ready yourself to lounge on the beach with pretty much no worries.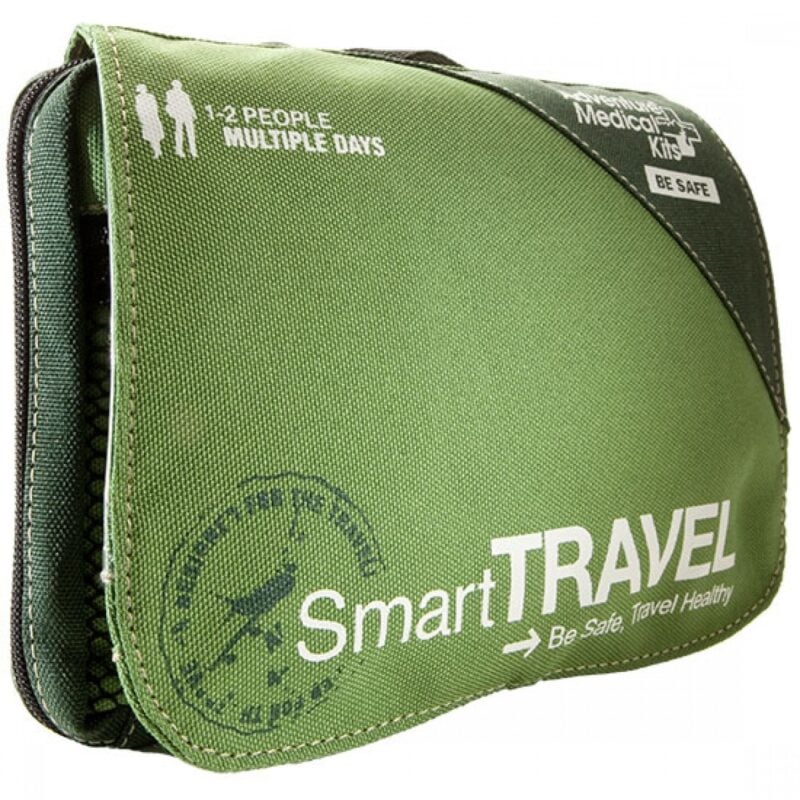 Be prepared for what life throws at you on the road. Pick up an AMK Travel Medical Kit before you head out on your next adventure.
View on REI
View on Amazon
Is the Bahamas safe for solo female travellers?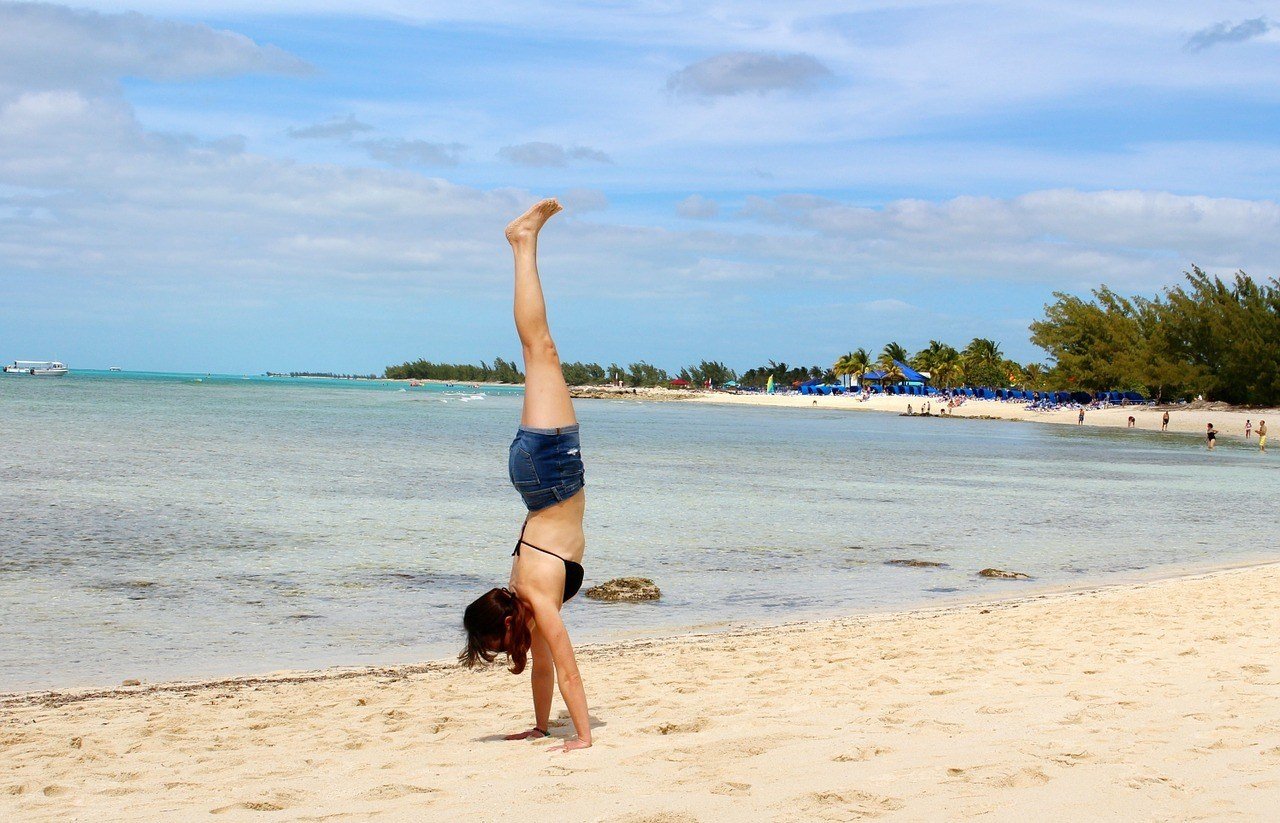 This is the part where we usually say, "surprisingly, it's fine for solo female travels" – but it's not. It's really not the safest destination for solo female travellers. For one thing, catcalls and sexual harassment have been reported by women walking around Bahamian streets.
In fact, even if you're not travelling solo as a female, and you're just a female on holiday – with family, with friends, whatever – there is a chance you may be harassed whilst walking around. We're not going to lie, it's not looking good, but we've got a few tips to help you stay safe if you still want to travel to the Bahamas as a solo female traveller.
Accommodation. This is very important for avoiding trouble as a solo female traveller and is basically the foundation for your trip; get a bad place, and you may have a crappy time. New Providence has a selection of hostels, but don't expect them to be budget-friendly. Then again, when it comes to safety in the Bahamas, your budget shouldn't be costing you your security.
Hostels are a good option in the Bahamas. Here you'll find sociable people, beachside locations, nice staff and a relaxing environment that's still secure. Make sure you read reviews. Firstly though, it's very, very important that you book somewhere that's got a lot of good reviews – especially from solo female travellers who have been there before.
The Bahamas is still a conservative society and very much patriarchal. Seeing a woman walking around by herself may cause people to question you, maybe out of interest more than anything, but don't tell strangers things they don't need to know. Use white lies; you never know what sort of person is asking you stuff.
When it comes to clothing, it's best to dress modestly. Yes, beach-wear is fine at the beach, but when you're not on the beach, we would advise covering up. Have a sarong or scarf or light dress handy in your bag that you can easily throw on once you're done sun-soaking and need some lunch.
It may seem like you can't do much of anything in the Bahamas as a solo female traveller, but there's a lot you could be doing to get to know the culture of the islands. You could take a cooking class or go on a food tour; learning about food together is a good way to make friends – you've already got a shared interest: food! Make sure to go on a reputable tour, however.
Be aware of your surroundings, of possible dangers, at all times. Not to stress you out, but just noting who's around you and what the atmosphere is like is a good thing. Be on-guard.
Don't walk around by yourself at night – at all, ever. It's really just not a good idea to be doing so and could really put you in danger.
Drink spiking is a problem around many areas of the Bahamas. People may seem friendly wanting to get you a drink, but honestly, it is a bit of an issue here so refuse politely. Buy your own drinks and don't leave them unattended.
If you are a solo female traveller, definitely do not get into strangers' cars or into a taxi that appears unlicensed. This may seem obvious, but it can be seriously risky to do so.
Don't go off-grid. Make sure at least someone knows where you are – it's much safer that way. Even if you're heading out for the night, just tell the staff at your hostel or hotel, or text your friends at home, or even your parents.
If you're not too bothered about hanging around other people get yourself a nice hotel on one of the outlying islands. The crime levels in places like Bimini and Abacos are far lower than in places like New Providence and Grand Bahama. These islands are much quieter, there are far fewer people, they're less developed, and that actually makes them pretty stunning if you ask us.
Don't lose your money to a pickpocket! 
There are tons of ways to store valuables and goods while traveling but a travel scarf has to be the least obtrusive and the most classy.
The Active Roots Zipper Scarf is your run-of-the-mill infinity scarf but with a hidden pocket that's big and sturdy enough for a night's cash, your phone, a passport and (hell with it) some snacks too!
This isn't Thailand. This isn't backpacking in Europe. You're not going to be around a ton of other solo female travellers, and that's part of what makes it not that fun to be by yourself as a woman in the Bahamas. However, that doesn't mean you can't go here by yourself.
Many women do travel solo to the Bahamas. Actually, if you are the sort of person who isn't too bothered about being in a social hostel, or partying every night, then the peace and quiet of one of the Bahamas safer, quieter islands could be completely right for you.
Think about it: sparkling seas, hardly any tourists, not having to worry about where the next meal is coming from, cocktails on the beach… Doesn't sound bad, does it? Still, if you head out from the resort be aware of your surroundings and keep our tips in mind to stay safe.
Is the Bahamas safe to travel for families?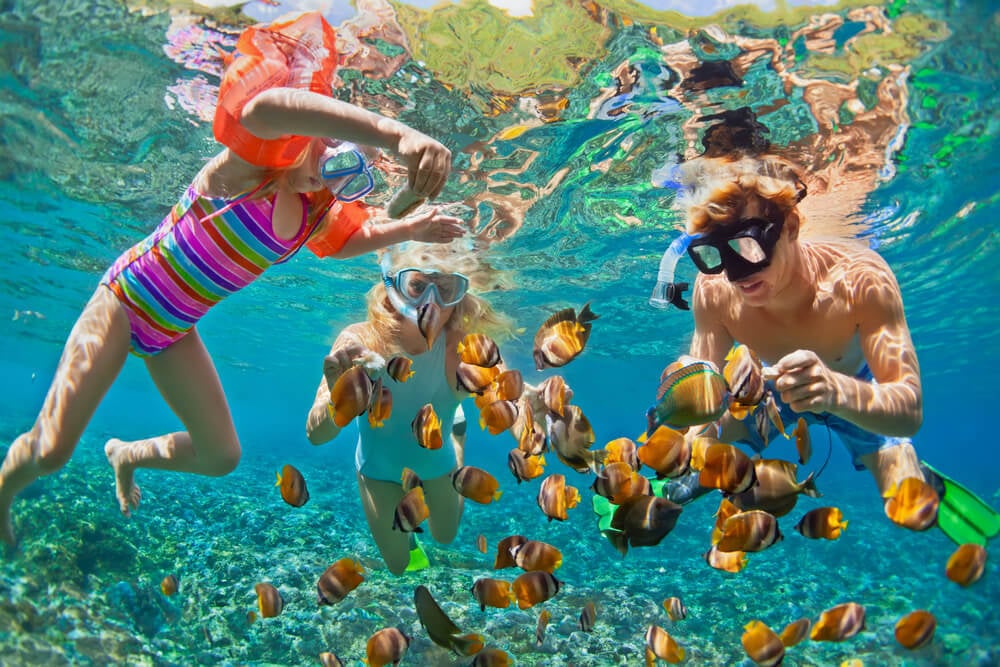 The Bahamas is safe to travel for families. This group of islands may seem more of a "luxury" destination than anything else, but there are a fair few family-friendly hotels where you could base you and your family for your own slice of Caribbean sun.
Most likely these sorts of hotels – more like resorts and quite possibly all-inclusive won't just be the best option for you and your children, but also they will be the most appropriate too.
Larger hotels have fantastic facilities for children, things like kids' clubs, child-friendly pools, babysitting services etc. So much so that you won't even have to leave the walls of the resort.
For those who do want to see some things outside of that world of convenience will find a lot of family-friendly adventures to be had. You can go to the Aquaventure Water Park on Paradise Island; check out the 18 waterslides at Atlantis Resort; go snorkelling and diving with a tour company, or go out on a glass-bottomed boat tour to catch glimpses of undersea life without getting wet!
You'll also get the chance to soak up some culture too, with plenty of local markets in Nassau that you can explore via a comprehensive food-tasting tour. Alternatively, you could get driven around to historical landmarks.
If you take a tour of any kind, make sure the company is reputable, well-reviewed, highly recommended by other families, and check that whatever activity you're going to do is safe to do with the ages of children you have with you.
For the most part, families will be safe in the Bahamas.
How to Keep Kids Safe in The Bahamas
Most of the time you'll probably just want to spend your time hanging out at the beach – we totally get that. Just make sure you pack the beach essentials, particularly sunscreen. Ensure you and your little ones are covered up against the sun; use plenty of sunscreens and limit everyone's time in the sun.
If you want to walk around the towns, pushchairs really aren't the best idea – especially outside of towns. Don't expect to find facilities like high chairs and baby-changing rooms.
When it comes to eating out children will usually be welcomed into a restaurant as Bahamians are family-oriented and love children. The only problem you'll have with your kids on the islands… adults-only resorts and high-end restaurants; make doubly sure that the accommodation you're going to book welcomes children.
Taking basic safety precautions, your kids will be safe in The Bahamas. Together, you can snorkel, go horse-riding, make sandcastles all day long and splash around in the pool. You'll probably make friends with other families too, so they'll get some new playmates!
Is it safe to drive in the Bahamas?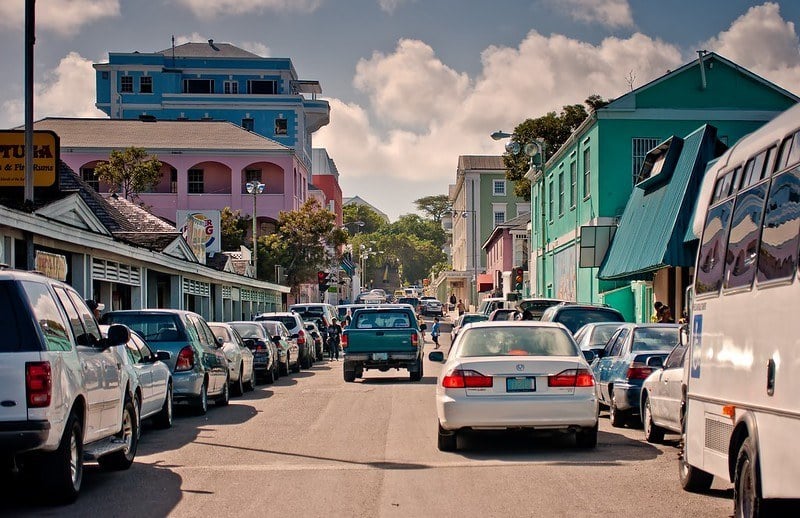 Driving in The Bahamas is much like driving in the UK – it follows the UK's driving laws, such as driving on the left-hand side of the road; that doesn't mean, however, it's as safe as driving in the UK. Towns can be hazardous to drive in, the streets busy, the drivers crazy…
Outside of towns, the road conditions can be pretty dire, with lots of potholes, and you'll have to watch out for things like people and dogs in the road.
Traffic rules aren't always adhered to by the locals – and traffic police don't enforce those rules, either.
In truth, unless you really want to, there's not much to driving in the Bahamas. You can always hire a driver: much easier and pretty affordable. Renting a car can be expensive and the cars are often in bad condition anyway. If you decide to do so, make sure you arm yourself with good car rental insurance coverage.
Sketchy areas of the island are where getting robbed and having things stolen from your car when you're parked up, may happen. You'll want to have your windows up and your doors locked at all times.
On the outlying islands, you could hire a motorbike or moped; on some of the more remote islands, getting around by golf cart is the way to go. If you do decide to go for a motorbike, wear a helmet!
Basically, driving in the Bahamas is safe-ish, but not recommended. If you do choose to drive, you should have experience of driving in a foreign country, know how to drive defensively, and be a confident driver.
Is Uber safe in the Bahamas?
There is no Uber in the Bahamas and there's no Lyft either. To be fair, these are beachy islands that maybe don't need the benefits of ride-hailing apps.
This is something that means you're going to have to be relying on the local taxis, so now you probably want to know…
Are taxis safe in the Bahamas?
First things first, you're probably going to use a taxi getting around the Bahamas at some point. They're often the main form of transport and, for the most part, you're not going to have too much trouble with them.
You'll be able to find taxis outside hotels, at the airport, and in busy public places.
You can also hail taxis on the street, mainly only in Nassau and Freepoint; this is also the sort of place where the taxis hail you if they think you need a lift.
You should make sure you get a licensed taxi – those have a yellow number plate.
The taxis in the Bahamas are pretty well regulated and fares (fixed as well as per the meter) are set by the local government; that means you won't have to be haggling every trip.
There are fixed rates for destinations like cruise terminals and the airport and they might charge you for luggage.
However, on some islands, you may have to play the haggling game, and you have to may share your taxi with other people – especially in more remote islands.
Make sure you have small change to pay for your taxi to avoid getting shortchanged.
To be on the safe side, arrange a driver or recommended taxi service through your hotel. The more resort-like the hotel, the more they will be able to basically arrange everything for you, making it pretty easy (and safe) to use taxis in the Bahamas.
Is public transportation in Bahamas safe?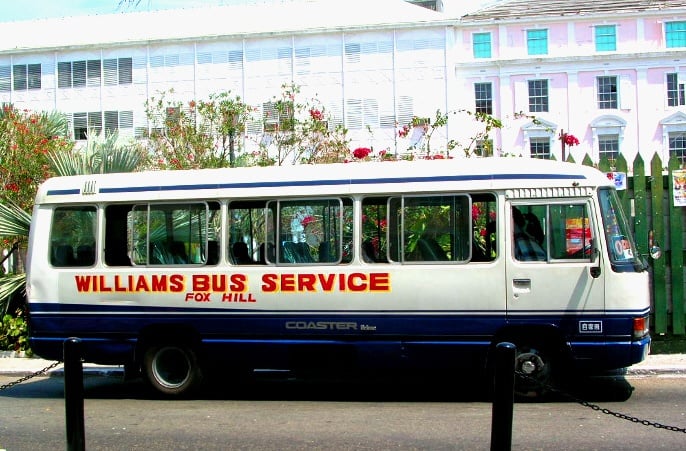 There is public transport in the Bahamas, but not on all islands and certainly not that structured; it runs on Bahamas time.
The main form, well, the only form of public transport on the islands is buses. These are referred to as jeetneys and are surprisingly easy to use and pretty frequent, though not that reliable.
Buses are available on several of the major islands and in the most important towns, such as Nassau, Grand Bahama and Paradise Island.
In Nassau you will see many, many jeetneys; these little private mini-buses run during daylight hours mainly but they don't have much in the way of a timetable. They leave when they're full and you pay a fare that ranges from 1.25 – 2.50 BS$.
New Providence has the most overall. They run between 6 am and 7 pm and they basically just follow a massive loop around the island; just look at the front of the bus to see where it's going.
In Freeport, you'll be able to catch a jeetney between there Port Lucaya but it's not very frequent and quite often late.
If you're having any problems at all figuring out destinations of the buses, then just chat to the driver. They'll be helpful, friendly and will help you get to where you want to go.
The buses in the Bahamas are pretty safe in general, but you should keep an eye on who's around you (and on your belongings, too). Travelling on buses after dark is not a good idea and will put you at more risk of being a target.
The outer islands don't have any public transport, but you can get to them by using ferries operated by a company called Bahamas Ferries. You can catch the ferry from Nassau to a whole range of islands, including:
Andros
Abacos
Eleuthera
The Exumas
Grand Bahama and Long Island
The government also runs water taxi links between places that aren't that far away from each other, between North and South Bimini for example, and from Mangrove Cay to South Andros. These are quite frequent (around every half an hour).
For the more adventurous, there is another way to get around in the Bahamas: the mail boats. These boats tick between islands and are pretty slow. Find your place amongst the chickens, parcels and other people and head to one of the 30 inhabited islands of the Bahamas.
There are 19 mail boats in all and you will be able to spot them leaving Potters Cay (in Nassau).
As we said, these can take a long time and are very weather dependent. The plus side is that they're fairly cheap. You can even book ahead; ask the Bahamas Tourist Office or the dockmaster in Nassau for details.
To conclude, the public transport is safe in the Bahamas – just not very dependable!
Keep everything on you in transit!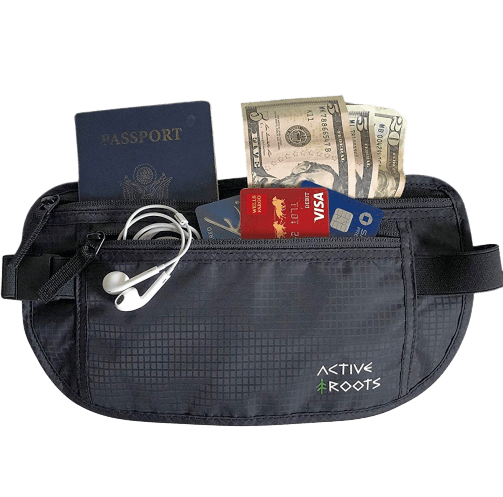 When moving from place to place, you shouldn't store travel documents in a bag, even if it's under your seat or overhead.
A full-sized money belt that stays tucked under your clothes keeps your documents and cash organized during your travels and assures nothing critical gets left behind or stolen.
Is the food in the Bahamas safe?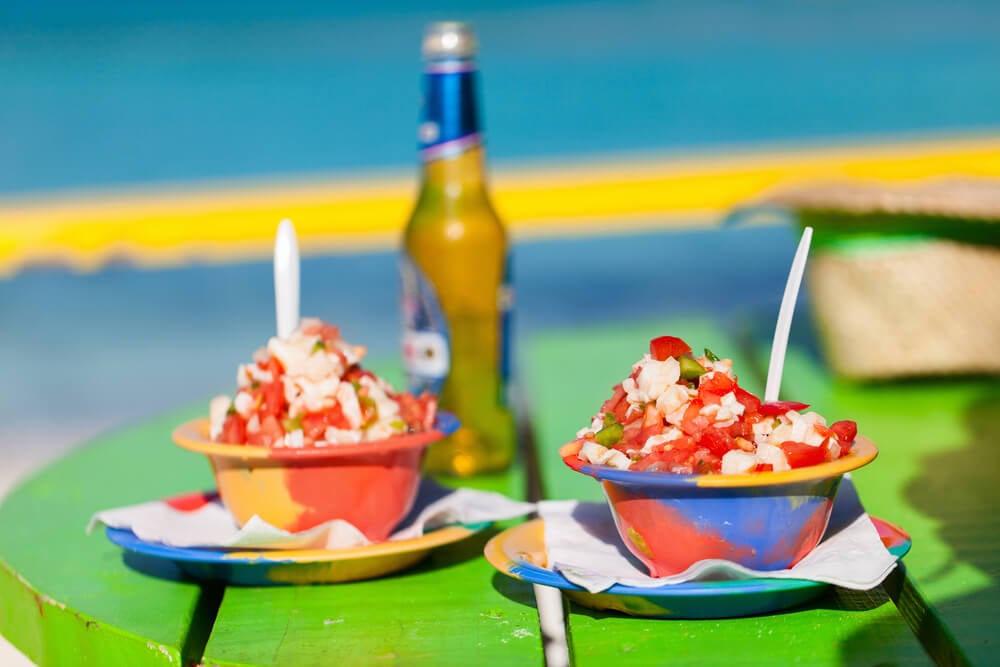 Once you've had enough of seeing all the beaches, the monuments, and heading on all manner of water-based tours, you'll probably be hungry; now is a good time to try out Bahamian food. Surprisingly, there is a lot of different stuff to try out scattered across the islands.
Paradise Island is home to high-end resort dining, such as Crusoe's Restaurant, wheres in Downtown Nassau you'll find a range of authentically Bahamian cuisine – we're talking conch fritters and seafood. To navigate the tastiness safely here's some helpful tips…
If you're worried about getting to grips with real-life Bahamian food then take a food tour. This is the best way to sink into the culinary scene of the Bahamas and a good way to learn about unique tastes, meet some local chefs, and probably find a new favourite dish you never heard before.
When it comes to Bahamian food, you shouldn't be afraid to give it a go. Whilst tempting, you shouldn't just stay at the hotel restaurant. Head out to the busy parts of town and see what takes your fancy.
Can't figure out where's good to eat? Go to places that are busy with locals for starters; they'll be at the tastiest, most popular, most famous places. If they're busy, that means they're good (and you're likely to not get ill eating there, either).
Another good way to protect your stomach when eating local food is to only eat stuff that's been freshly cooked and that's still hot when you devour it. If you can see the food being cooked before your very eyes, that's a bonus as well as a blessing – since it's cool to see and you know it's fresh – but if you can't see it, having something that's super hot (temperature-wise) means it's been well cooked.
Be careful of things like conch salad. This is a bit like ceviche (raw seafood). If you eat somewhere less reputable where the conch might not be so fresh, you could really make yourself ill. Food poisoning from seafood is very horrible and can be dangerous, let alone how much it's going to put a dampener on your holiday.
Fish is big news in the Bahamas and most dishes will include fish of some kind. As with seafood, however, just make sure the fish is fresh; if it tastes weird, that may mean that it's a little bit past its best, so stop eating!
Watch out for souse. This is a popular Bahamian dish and is a big stew. If you're squeamish, you may want to steer clear of this; the meat used in this stew is almost anything. You might find a tongue, you might find a trotter, so if that sort of thing turns your stomach, best avoid.
Don't be late for the hotel buffet. Buffets are a good place to get ill because food sits around for a long time picking up germs, other hotel guests breathe on it, cough on it, might not have washed their hands and don't use the tongs – you don't know! The best way to tackle the humble buffet is to arrive early! That means the food will be fresher and less likely to give you an upset stomach.
So whilst you should go and enjoy Bahamian food, just make sure you don't go crazy on it – and be careful of eating at ropey places. There are good dishes, good puddings and some good liquors and rums to wash it down with; cocktails like the Yellowbird work very nicely!
If you're paranoid then maybe you might want to stick to hotel food or only go to international restaurants – this is fine, it's your trip after all. Those with sensitive stomachs may want to arrive in the Bahamas complete with rehydration sachets and anti-diarrhoea meds…
Can you drink the water in the Bahamas?
The water in the Bahamas is said to be fine to drink, but it's not that nice.
Locals often drink bottled water. If you head to any of the outer islands it's probably better to stick to bottled water in general anyway.
If you like, you can boil the water (vigorously for at least 1 minute), you can take water purification tablets with you, and bring along refillable travel bottle. We even have compared the best travel water bottles on the market to help you decide which one is the best for you. Save the planet from more plastic!
Want to save the world?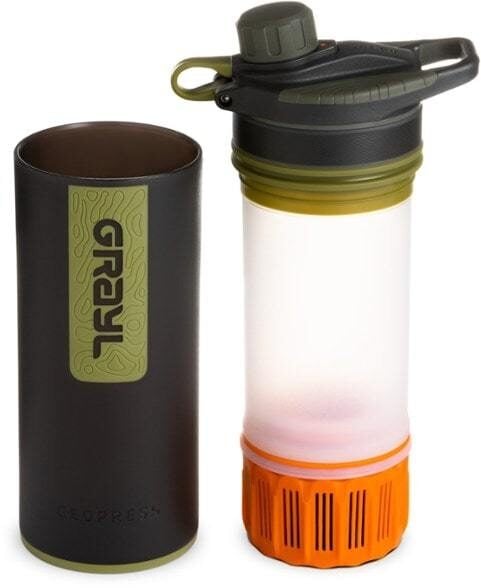 Single-use plastic bottles are a huge threat to Marine Life – Be a part of the solution and travel with a filter water bottle.
The GRAYL GEOPRESS water bottle is the ONLY all-in-one filter water bottle setup you'll need. Whether you need to purify the water from a hostel sink in Kathmandu or a stream trickle in the Andes, the Geopress has got you covered.
Read our full review of the GRAYL GEOPRESS!
Is the Bahamas safe to live?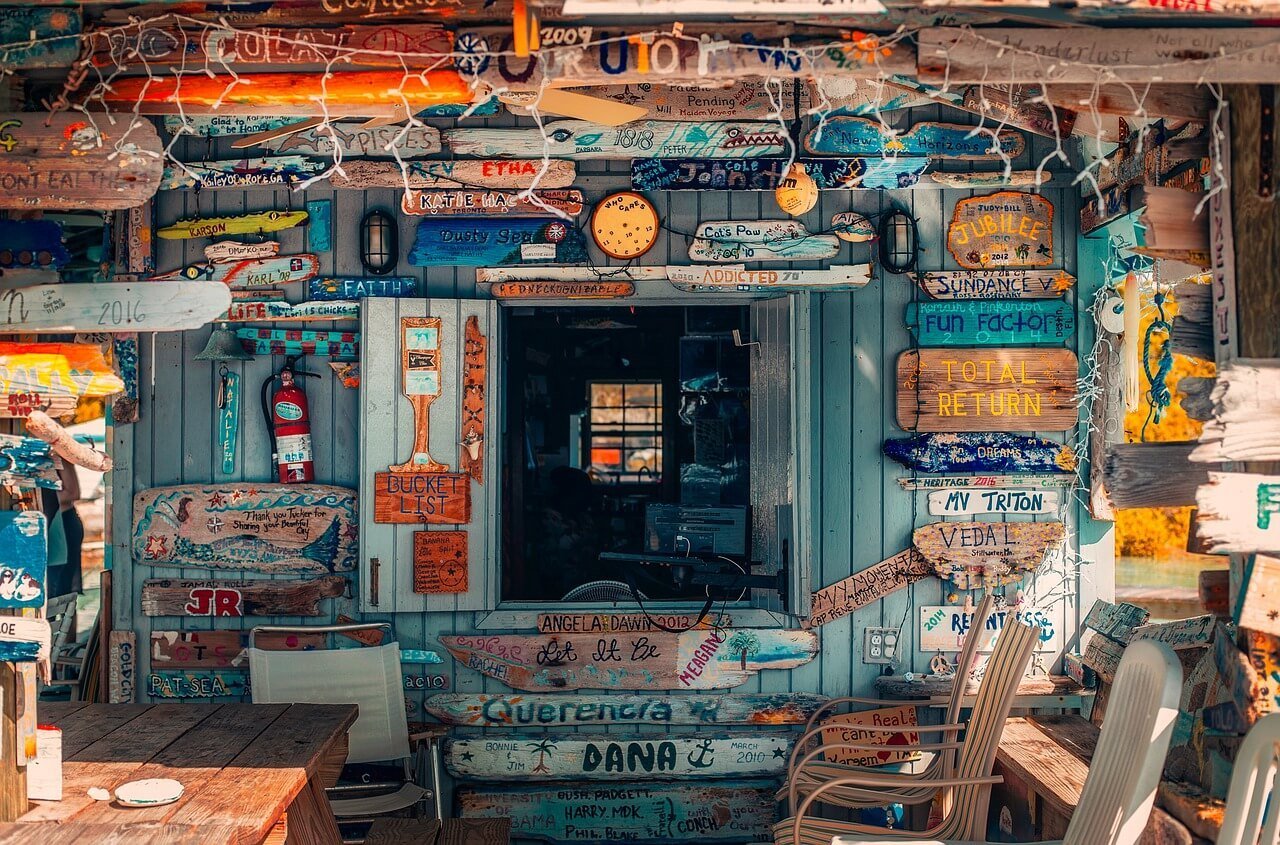 Life in the Bahamas sounds like a dream, right? Sitting out on your very own deck, drinking a cocktail, looking out at your sea view…
However, there are some concerns about living somewhere that's got such a high crime rate, which is why the Bahamas' sizeable expat community live in gated communities. This does make it a little safer to live in the Bahamas and the most you'll have to worry about is how to keep the cockroaches away.
If you want to head out at night outside, be very cautious about everything: what roads you travel on, what sort of people are around you, where you're going.
Living in Paradise Island may seem like a little slice of paradise, however, that kind of place is actually more geared towards tourists and is lacking in amenities (such as hospitals too).
You're also going to want to make sure you buy or rent a house that is going to withstand tropical storms and hurricanes – and that's high enough that means flooding isn't a worry, either.
Crime on the islands is mainly gang-related but there is still petty crime and thieves to watch out for. This can be avoided by a few simple things: locking car doors, staying in your safe neighbourhood, and basically following our advice that we've already talked about (i.e. not making yourself a target by being in the wrong place at the wrong time).
There are obviously parts of life in the Bahamas that are not safe in some areas: crime, poverty, corruption.
This, however, is balanced out by the positives of living in the Bahamas: friendly people, laid-back lifestyle, great weather and simple living.
How is healthcare in the Bahamas?
The healthcare situation in the Bahamas is not too bad – depending on where you are.
There are medical facilities available mainly in Nassau, Grand Bahama and Paradise Island. In these sorts of places, you will find European and American staff and doctors.
Both Nassau and Grand Bahama feature emergency rooms that are open 24 hours a day. In an emergency, you should call 911 or 919.
Though the outer islands are quiet and relatively free of crime, the downside is that they have less in terms of medical facilities. You will find small, government-run clinics on highways and just outside of the main towns of the islands; these are open from 9 am to 5 pm, Monday-Friday. If they are closed they will have the emergency numbers posted on their front doors.
In total, there are around 50 health facilities spread across the outlying islands. If you need urgent care and you're on one of these islands, you'll be taken to Princess Margaret Hospital where most emergency surgeries on the islands are performed. However, the Bahamas is low on blood and surgical capabilities are often quite limited.
The Bahamas government offers up free care for its residents, but not for visitors, meaning that you will need health insurance. Resorts, however, will often have an on-site clinic that is readily available for guests.
If you're not feeling well ask at your hotel about the nearest healthcare clinic or pharmacy to get advice and over the counter medication. There are options to go to walk-in clinics if your hotel doesn't have that facility.
Interesting side note, Bahamians themselves often rely on herbal remedies.
Basically, the healthcare is decent in the Bahamas, it can just be a little lacking if your trip is to the outlying islands and if you seek professional advice.
Final thoughts on the safety of Bahamas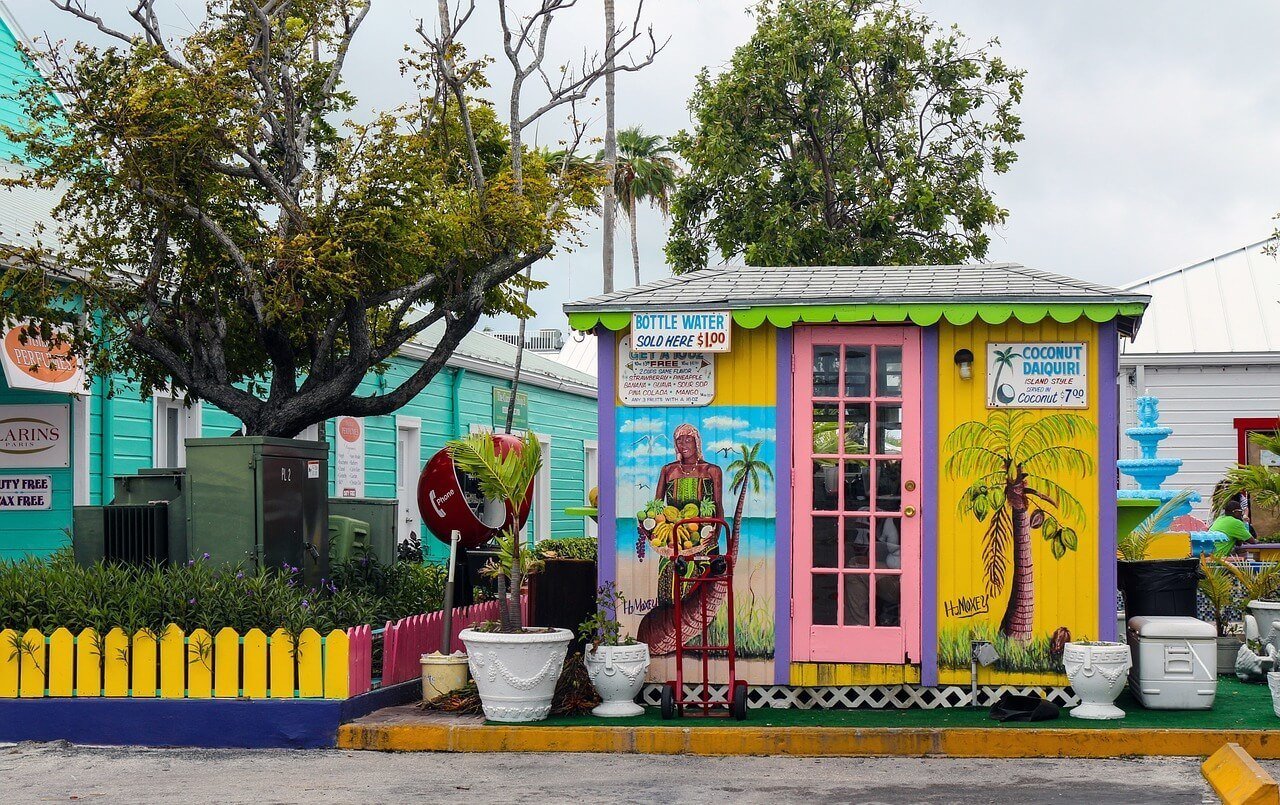 The Bahamas may be paradise, for some people at least, but the beaches and warm weather of this archipelago are balanced out by a fair bit of crime. Not only is there petty crimes, like pickpocketing, there's also robberies, sexual assaults, and gang-related murders, making for a bit of a scary prospect of heading outside your resort. For the most part, however, as long as you travel smart, you'll be fine.
Keep our tips in mind and know that some areas of the more touristed islands just aren't a good idea to visit. Travelling smart also takes into consideration stuff like staying in secure and safe accommodation in the first place, and making sure that you don't use tour companies, watersports rentals and excursion outfits that aren't reputable. Reading reviews takes precedence over your budget here, 100%.
So make sure you're well prepared before you go. Know where is and where is not so safe to wander around, stay at accommodation that comes highly recommended (don't skimp on that for the sake of a few dollars), only use the most well-reviewed tour companies, stay aware of your surroundings: you'll be fine. If you don't feel up to exploring, stick to your resort – at least you have the luxury of doing so. Enjoy!
And have you thought about getting Travel Insurance for your trip? You can get a quote from World Nomads by clicking on the link below.
Disclaimer: Safety conditions change all over the world on a daily basis. We do our best to advise but this info may already be out of date. Do your own research. Enjoy your travels!
"Find out how YOU can support the site. We work hard to put out the best backpacker resources on the web, for free! It's all about helping out our tribe of awesome backpacker readers [that's you!]. Please visit the link to find out how you can help keep the site going 🙂
For the sake of transparency, some of the links in our content are affiliate links. This means that if you book your accommodation, buy a book or sort your insurance, we earn a small commission at no extra cost to you. I only link to stuff I've actually used and never endorse products or services that are not up to scratch. Thanks for your support.