Visiting The Bahamas for the first time is, kinda life changing! Once you set your eyes on the pristine acres of pink sand beaches and secluded ocean coves, you'll never quite be the same again! The Bahamas really are paradise on earth.
With 16 main islands (and over 700 in total) there's plenty of places to explore, and it's not only beaches either. We fell in love with not just its coastal wonders, but the culture, food and jungles of The Bahamas too. This idyllic country has something to offer everyone and each trip can be as unique as your personal travel style.
From the USA, The Bahamas is a short hop and it's a trip I've taken on a number of occasions. Not only is it one of the most naturally beautiful and diverse regions in the Caribbean, but I've always found the locals to be super welcoming and friendly too.
Of course, The Bahamas are jammed packed with world-class accommodation of all kinds. But personally, I prefer something a little more unique like a beach cottage, and that's where vacation rentals come in. Whether you're looking for a romantic getaway, a trip with friends or a base for your online work. The Bahamas has it all!
Whatever type of trip you're planning, we've got the vacation rental for you and we're confident it will make your vacay that much more enjoyable. Whether you're looking for a beachside secluded cottage, incredible villa overlooking the stunning coastline or a modern apartment in the heart of the action … we've done the hard yards for you and found your perfect vacation rental in The Bahamas.
From personal experience, the only downside of The Bahamas is that is can be a little on the expensive side. but take it from me – the colourful ocean cays and islands have accommodation for EVERY type of visitor
So, if you're interested in finding a place to stay in The Bahamas, read on!
Quick Answer: Top 5 Vacation Rentals in The Bahamas
Overall Best Value Vacation Rentals in Bahamas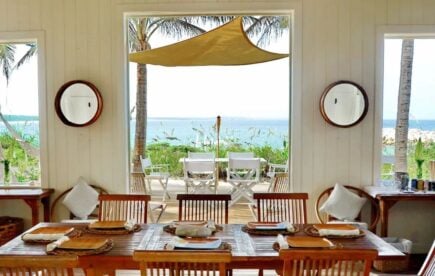 Overall Best Value Vacation Rentals in Bahamas
Gorgeous 2 Bed Beach Cabana
> $$
> 4 Guests
> Located on the beachfront in Marsh Harbor, with stunning ocean views
> Recently renovated with impeccably designed interiors
Best Budget Vacation Rentals in Bahamas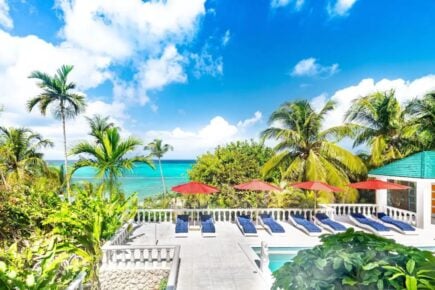 Best Budget Vacation Rentals in Bahamas
Studio Cottage with Beautiful Views and Pool
> $
> 2 Guests
> Located in a gated resort in Nassau
> Includes access to shared gardens and a large pool
Best Vacation Rentals for Couples in Bahamas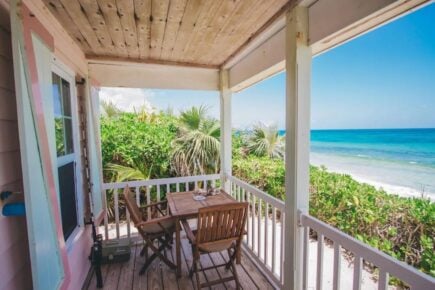 Best Vacation Rentals for Couples in Bahamas
Charming Secluded Beach Hut for 2
> $$
> 2 Guests
> Right on the pink sand beach in North Palmetto Point, surrounded by wild tropical plants
> Traditional bamboo style beach studio with direct beach access
Best Vacation Rentals for Families in Bahamas
Best Vacation Rentals for Families in Bahamas
Homey Bahamaim Oceanview Villa with 4 Beds
> $$$$
> 8 Guests
> On the coastline in east Nassau, nearby many local eateries and shops
> Traditional home with large deck overlooking the ocean
Over-the-Top Luxury Vacation Rentals in Bahamas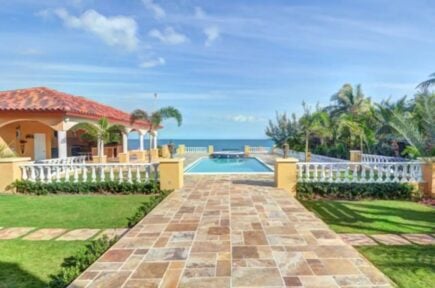 Over-the-Top Luxury Vacation Rentals in Bahamas
Opulent 5 Bed Villa with Ocean Views
> $$$$
> 10 Guests
> On the beach in a residential neighborhood in Nassau
> Huge outdoor living space including BBQ area, kitchen, and lounge

Unlock Our GREATEST Travel Secrets!
Sign up for our newsletter and get the best travel tips delivered right to your inbox.
Types of Accommodation in The Bahamas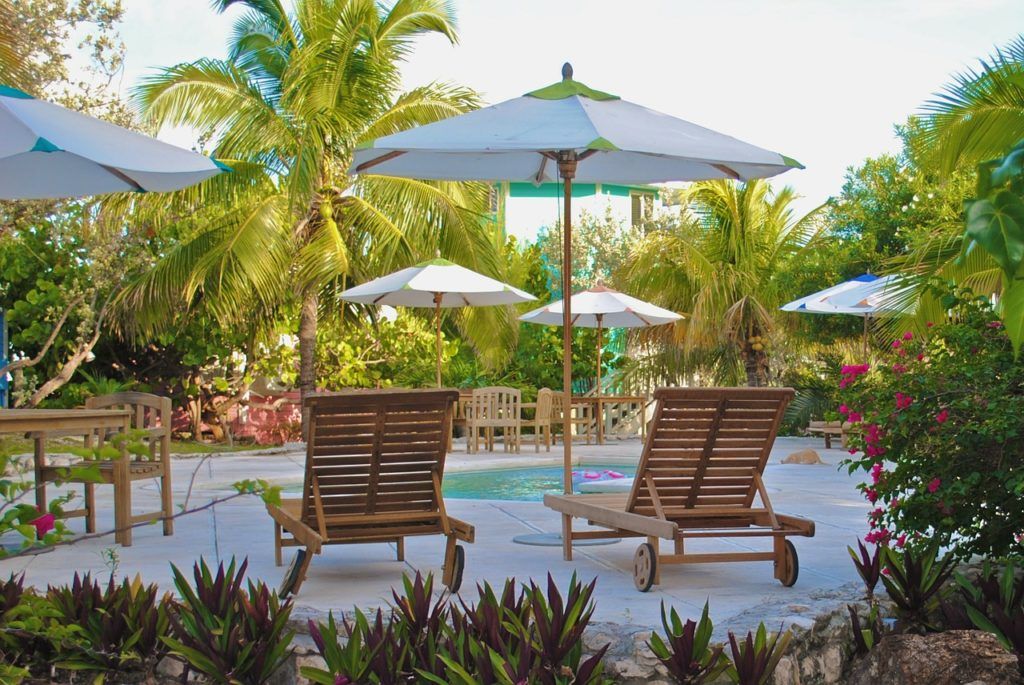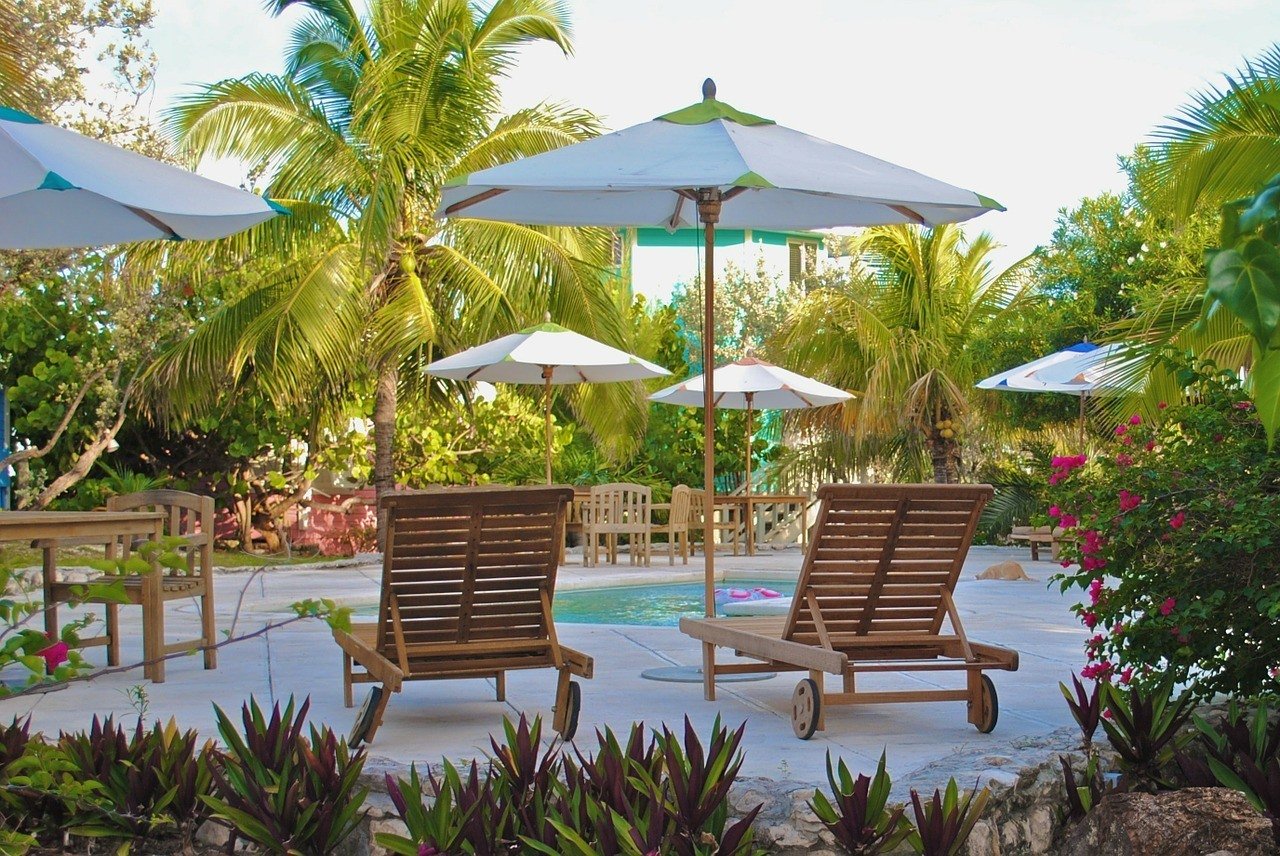 Apartments and Condos
Along the busy coastlines of Nassau and Paradise Island, you'll find rows upon rows of low-rise condos and apartment blocks. While there are by no means bustling cities in The Bahamas, these two islands are the most populated. Apartment blocks are what you might call the dynamic hubs of island culture and history.
If you're visiting for a quick weekend getaway, are transiting through the main islands, or are simply interested in learning more about the history of the area, these condos and apartments are your best bet for accommodation.
From small lofts to penthouses and ocean-view apartments, this type of accommodation can suit a wide range of travellers. Many condos are attached to some of the island's spectacular resorts and hotels, but they can also be relatively budget-friendly. Here, you'll enjoy access to shared access to resort amenities such as swimming pools and private beaches.
Beach Cottages
When it comes to size, price, and location, beach cottages fall between apartments and luxury villas. These ocean-side vacation rentals are usually modestly designed with homey furniture and fully-fitted kitchens. From one-bed bungalows to four-bedroom family homes, they range massively in price. However, generally speaking, a beach cottage is the cheaper alternative to a luxury villa. They are my personal go-to style of accomodation when I visit The Bahamas.
Beach cottages are a great option for small families, couples, and friends itching for a mellow vacation by the crystal clear island waters. You might even find a beach houses in the Bahamas with a private designated beach or a swimming pool. The homes are common Airbnbs in The Bahamas, and they are usually owned by, designed, and decorated by local Bahamians, offering an authentic experience that you won't find at luxurious hotels and resorts.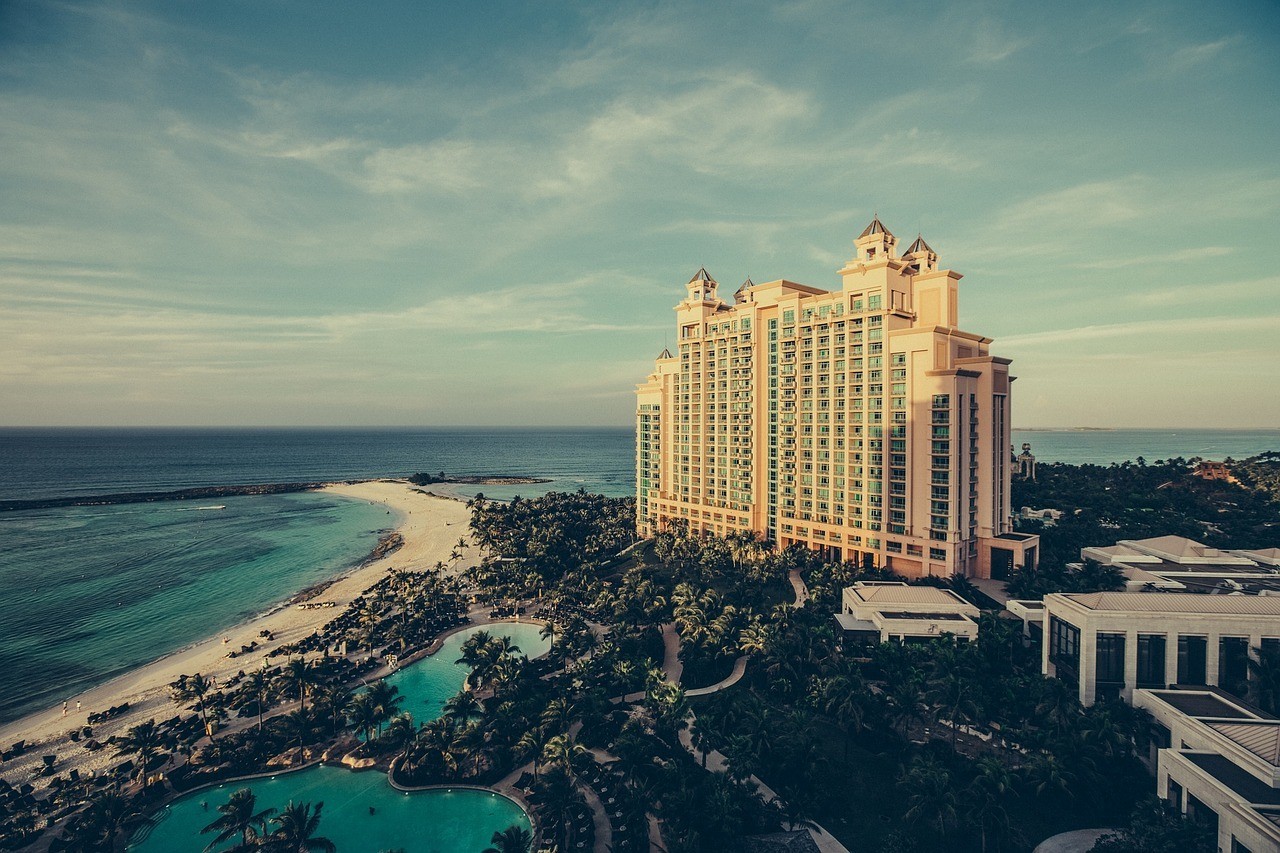 Villas
Elegant boutique hotels and resort chains can be found on every popular island in The Bahamas. So, you might prefer spending your hard-earned cash on a more private and authentic option. From deserted islands to popular tourist beaches, luxurious villas are usually found right by the water, or at the very least, with ocean views.
These huge homes are designed to accommodate many guests and include everything you might need during your stay. I'm talking beach bats, BBQ facilities, private pools, and hot tubs, and of course, well-equipped chef-standard kitchens.
Villas are the best option if you're travelling with a large family or group of friends, or if you're wanting to host a 'destination event'. Start saving now though, as these luxury vacation rentals in The Bahamas don't come cheap.
Top 20 Vacation Rentals in The Bahamas
Whether you're in luxury mode or on a tight budget, you'll find some great accommodation options up for rent across this exciting chain of islands. Let's take a look at our favourites.
Best Overall Vacation Rental in The Bahamas | Gorgeous Beach Cabana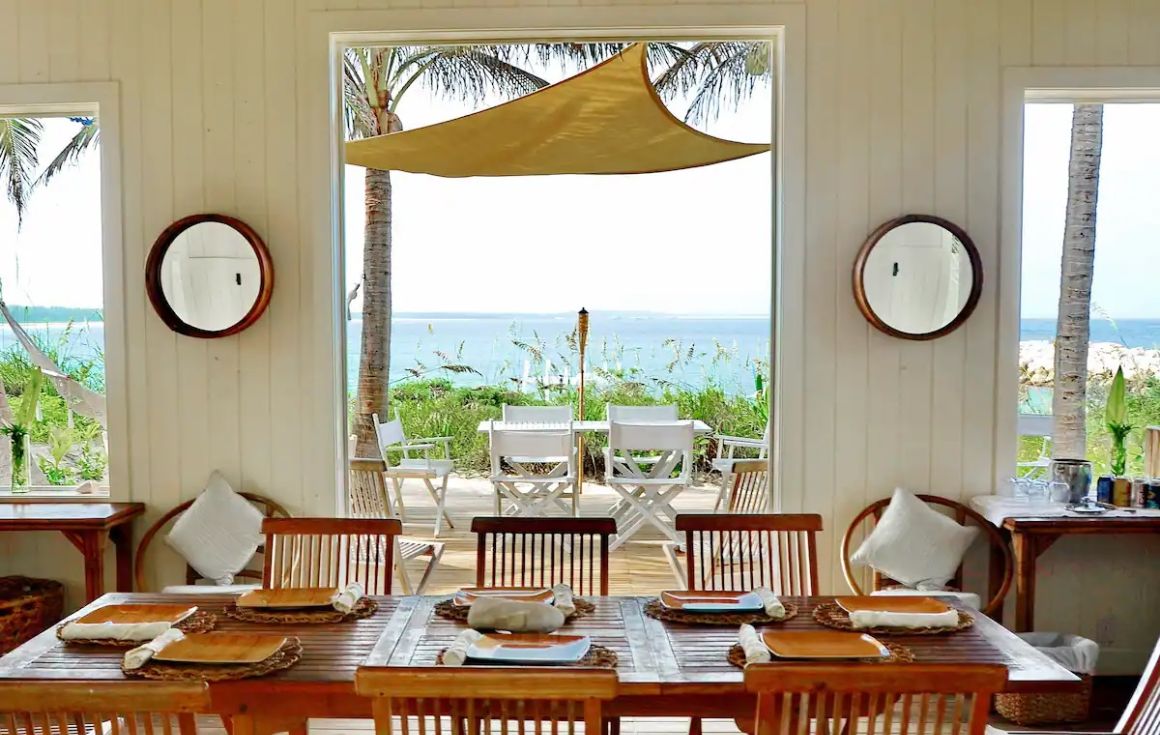 $$
Beachfront location in Marsh Harbor
4 Guests
Modern and impeccably designed interiors
This is, without a doubt, one of the most stylishly decorated holiday homes in The Bahamas. It sits a few meters from the water's edge and is filled with tasteful interiors that would be approved by the likes of Martha Stewart herself. You'll find yourself barely wanting to leave this cosy spot.
Each of its two bedrooms has its own outdoor access, leading onto a gorgeous wraparound covered patio. Is there anything better than crisp ocean air wafting through your room first thing in the morning? Oh, and it's a 5-minute walk to the beach. Now we're sold.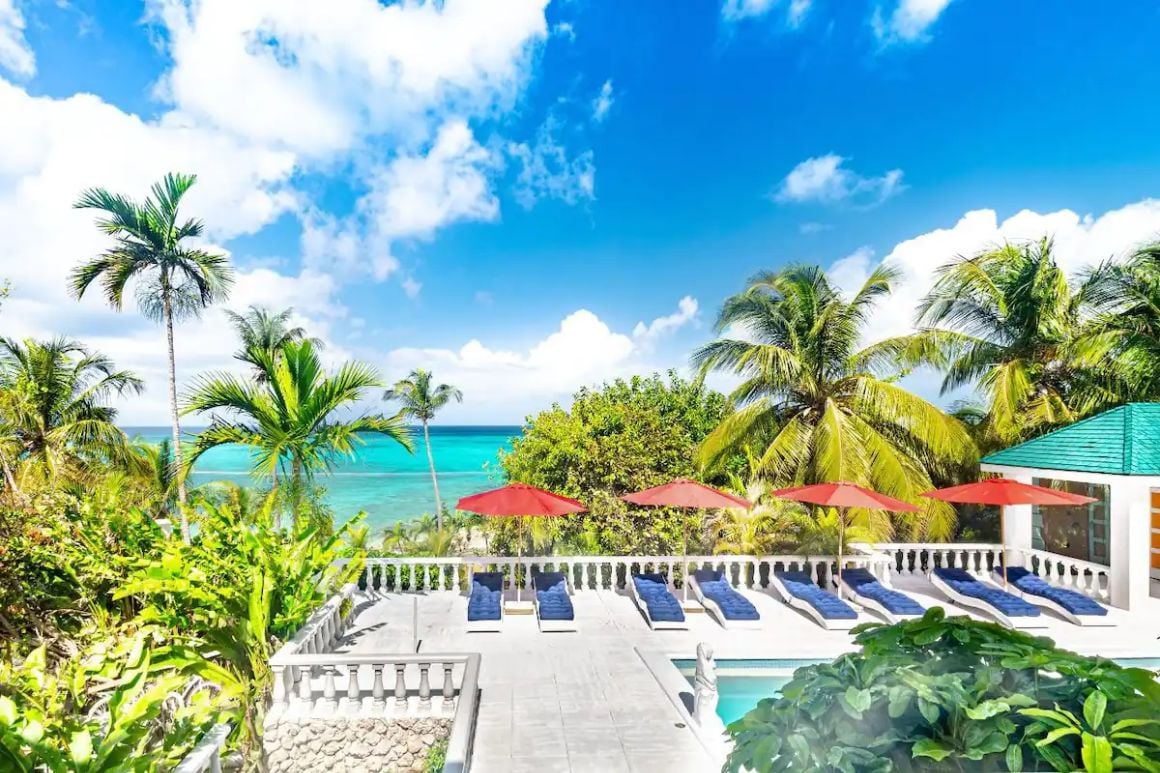 2 Guests
Access to shared gardens and a large pool
Bright walls, modern furniture, and a fully equipped kitchen make this one of the top beach vacation rentals in The Bahamas for those on a budget. Being part of a small private resort, it provides the best of both worlds. This private and secluded property has its own kitchen for guests to cook up a storm. No need to pay those high restaurant prices!
The accommodation includes access to shared amenities including a beautiful pool deck and laundry facilities. To top it all off, it comes in at a staggeringly low price for its great location. It's a true win-win!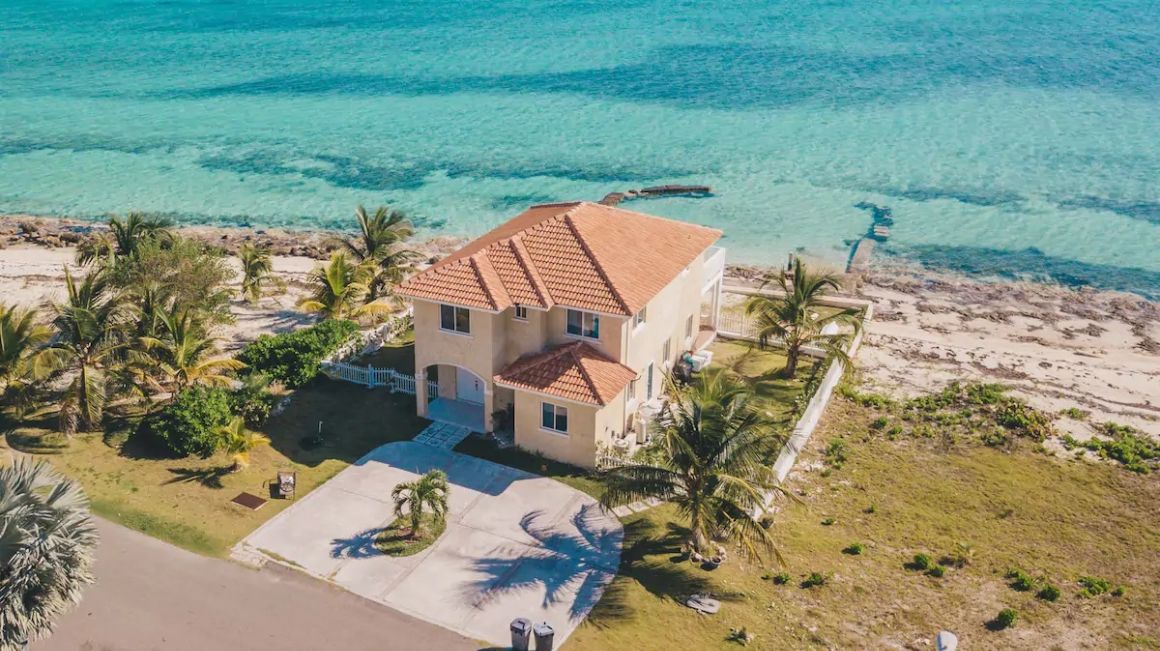 $$
Treasure Cove gated community in Nassau
8 Guests
Wraparound deck and private beach
With so much beauty around you, it's only fair you have a beautiful vacation rental in The Bahamas to match. This stunning home is perched just above a pristine private white-sand beach in a gated community.
The large patio with ocean views is the place to be for epic sunsets, though the interior isn't too shabby either. With pastel blue painted walls and white linen curtains, it's hard not to feel relaxed in this secluded beach home.
Capable of housing up to 8 guests in its four bedrooms, this is the perfect vacation rental in The Bahamas for groups. And to make your bonding time even more exciting, there are free kayaks and snorkelling equipment in the back garden for guests to use.
Is This the Best Travel Pack EVER???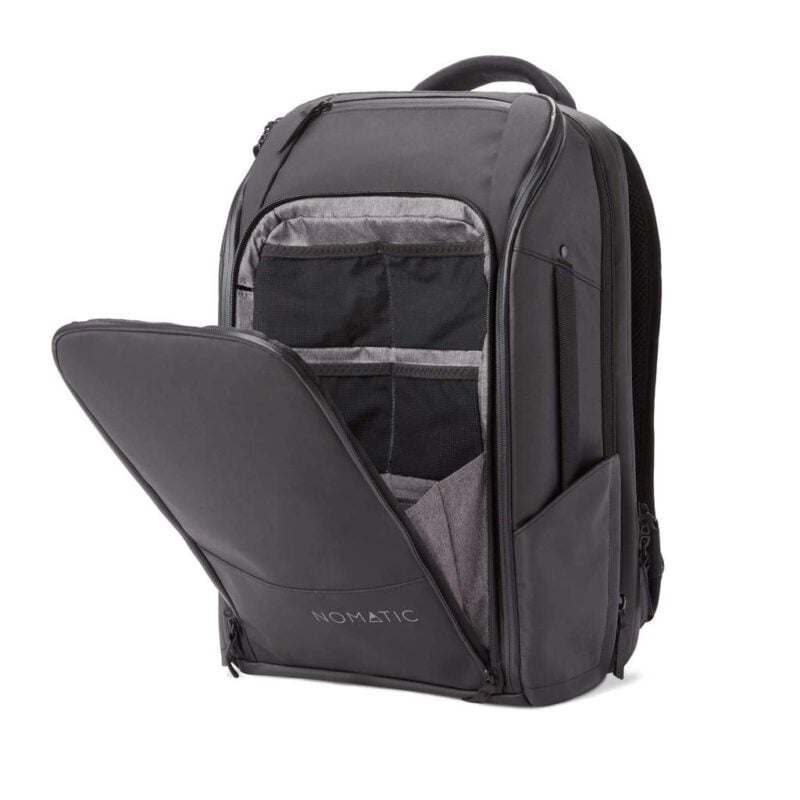 $$$$
Residential neighbourhood in Nassau
10 Guests
Huge outdoor living area
This Spanish-inspired home looks well-suited for a James Bond film. It's classy, sleek, and dramatic all at once. It's an unusually large property that sits right on the beachfront in Nassau. The interior is filled with warm antique furniture, dramatic ceilings, and hanging chandeliers.
However, the focal point of this villa is the pool and hot tub area, which is surrounded by terracotta tiles and ocean views. Beside the pool, you'll find a covered patio with a bar and BBQ facilities. There's even a private dock with a beautiful gazebo surrounded by nothing but shallow lapping waves – luxury at its best.
Best Vacation Rental in The Bahamas for Families | Homey Oceanview Villa
$$$$
Located in Eastern Nassau
8 Guests
Traditional home with ocean views
This four-bedroom beach home has a fully-equipped kitchen, a spacious lounge, and a beautiful outdoor living area. Designed and inspired by Greek island architecture with rounded archways and vaulted ceilings, the sparkling white home also boasts dream-worthy ocean vistas.
Best of all, the outdoor living area has a covered space with a bar, BBQ area, and outdoor furniture. This is one of the best vacation rentals in The Bahamas to enjoy a full moon rise over the ocean.
Best Weekdn Vacation Rental in The Bahamas | 3-Bed Home with Pool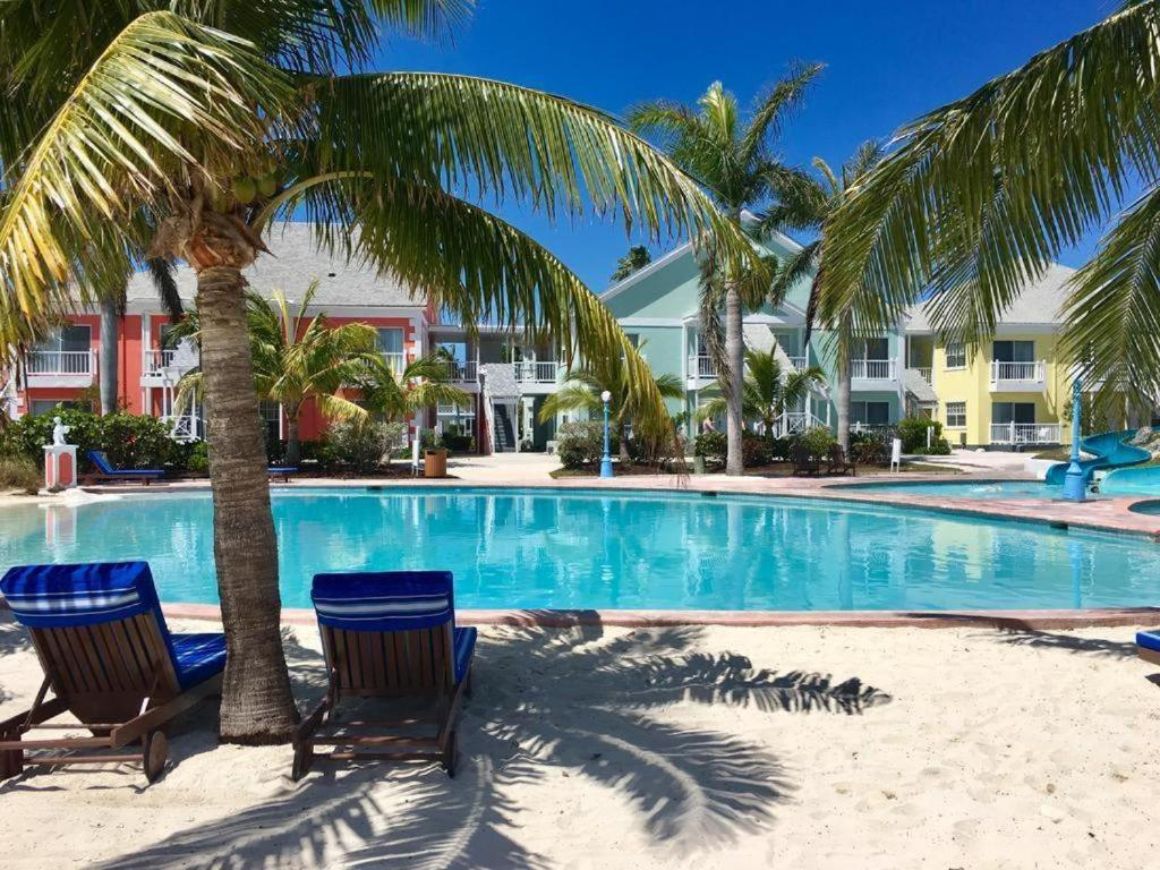 $$$
Sandyport Old Town, Nassau
6 Guests
Spacious home with shared pool
If you're popping over to The Bahamas for a quick weekend (because why not?), you'll want to pick a central vacation rental near the beach. This gorgeous home is conveniently located in a buzzing Nassau neighbourhood, only a few minutes from the famous Sandyport Beach.
It's inside a gated complex and also has access to a shared pool and outdoor lounge. With three bedrooms, a spacious living area and fully-equipped kitchen, you'll have everything you need for a comfortable stay. One of the bedrooms is a children's room with bunk beds, making it perfect for the whole clan enjoying a family vacation!
Best Vacation Rental in The Bahamas with Pool | Luxurious Beach Villa
$$$$
On the beach in New Providence, Nassau
With a warm jacuzzi for cool evenings and a refreshing pool for the sunshine, you'll find it difficult to leave this luxury villa in The Bahamas. Plus, it's only a few steps from the beach.
This place is ideal for a family trip, friends gathering, or even for those looking for some peace and quiet. It's a beautiful home with everything you'll want and need during your tropical vacation, including four bedrooms, a fully-equipped kitchen with a breakfast bar and plenty of social gathering space.
My favorite part about this home is the pool deck and covered patio, which have tons of seating areas and a formal dining table to enjoy a meal with your loved ones outside.
Single-Storey Vacation Rental in The Bahamas | Cute 4-Bed Villa
$$$
Nearby restaurants and activities
4 Guests
Large outdoor living area and pool
This contemporary four-bedroom house is located in a prestigious area nearby the famous Atlantis Resort. From the moment you walk through the dramatic hallway entrance, you'll be surprised with tasteful interiors and interesting art.
Filled with modern furniture in neutral and calming colors, you'll be spoilt for choice when it comes to comfortable seating arrangements. Wide passageways and a lack of stairs make this a spacious luxury vacation rental in The Bahamas.
As well as this, guests have access to shared facilities such as the tennis courts, laundry room, and gym.
Most Central Vacation Rental in The Bahamas | Beach Home with Pool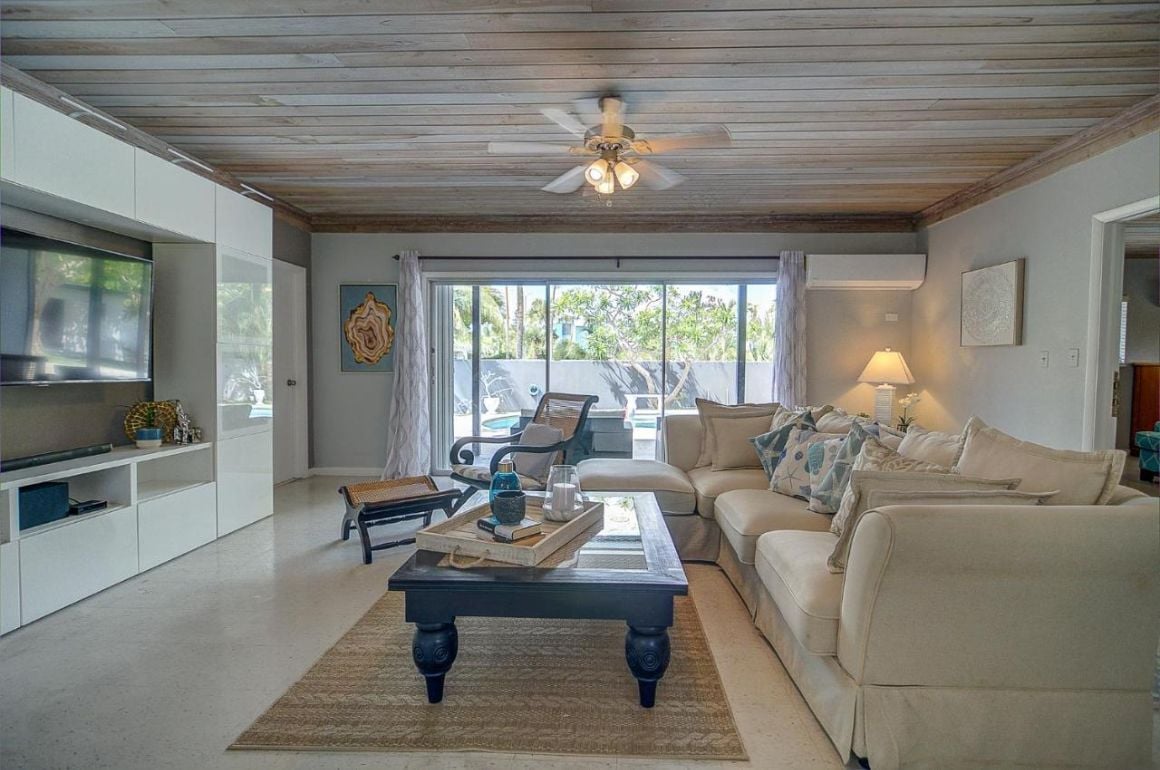 $$$
Walking distance to many popular beaches
6 Guests
Modern and bright interiors
This beach-themed family home is so well located, your only worry will be choosing which of the many nearby restaurants and beaches to visit, all within walking distance.
While the interior is simply designed, the home is surrounded by lush lawns and plants and includes a private swimming pool. Can you think of a more perfect spot for a midday cool-down after a day exploring local markets and eateries?
The property comes with two spacious bedrooms with double beds, a large living area, and a basic kitchen with a stove, fridge, and basic appliances.
Best Vacation Rental for Groups in The Bahamas | Villa with Huge Pool
$$$$
Beachfront villa in New Providence, Nassau
18 Guests
A huge outdoor pool, deck and private beach
Opulent pillars supporting tall dramatic ceilings, marble floors, and expansive glass windows overlooking the blue ocean, what more could you want from a luxury villa in The Bahamas?
This villa is luxury-defined. The kitchen has been fully kitted out with white cabinetry and marble countertops. Combined with top-of-the-range appliances, it's no chore to cook a family meal in this extraordinary kitchen flooded with natural light.
Two lounges, plenty of dining space, and a huge outdoor living area offer tons of room for your large family or group to spread out in. Here, you'll be able to enjoy each other's company while still maintaining your own personal space.
The highlight of this property is the huge outdoor pool that sits directly across from the beach. This is the property that makes The Bahamas one of the best Caribbean islands to visit.
Best Vacation Rental in The Bahamas for Friends | Stunning Villa with Pool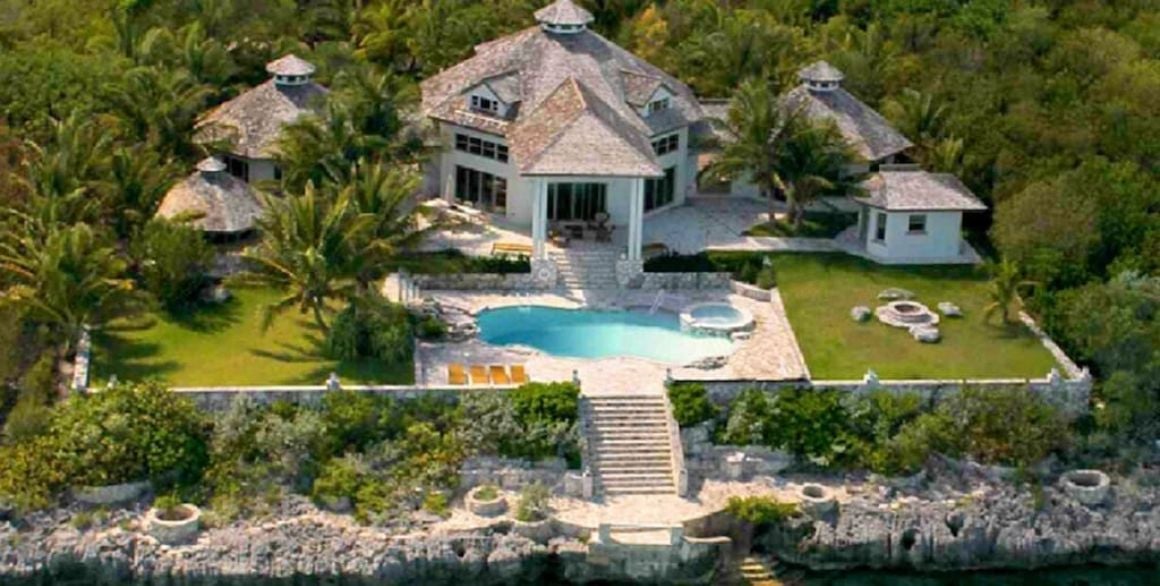 $$$$
Beachfront villa north of Andros Town
9 Guests
Three villas with a pool, jacuzzi and dock
A pool, jacuzzi, fire pit, and private dock make this one of the best vacation rentals in The Bahamas for a huge blow-out with your best friends. Bring along your friends and this house, or should we say three adjoining houses, will provide the rest.
Not only is it right around the corner from the hip town of Andros with loads of traditional bars and restaurants, but it's also right on the beach, making it both secluded and central.
Each of the three bedrooms is decorated tastefully with island-inspired bamboo furniture. There is even a den with two extra beds if you need a bit of extra space!
Most Unique Vacation Rental in The Bahamas | Private 4 Bed Castle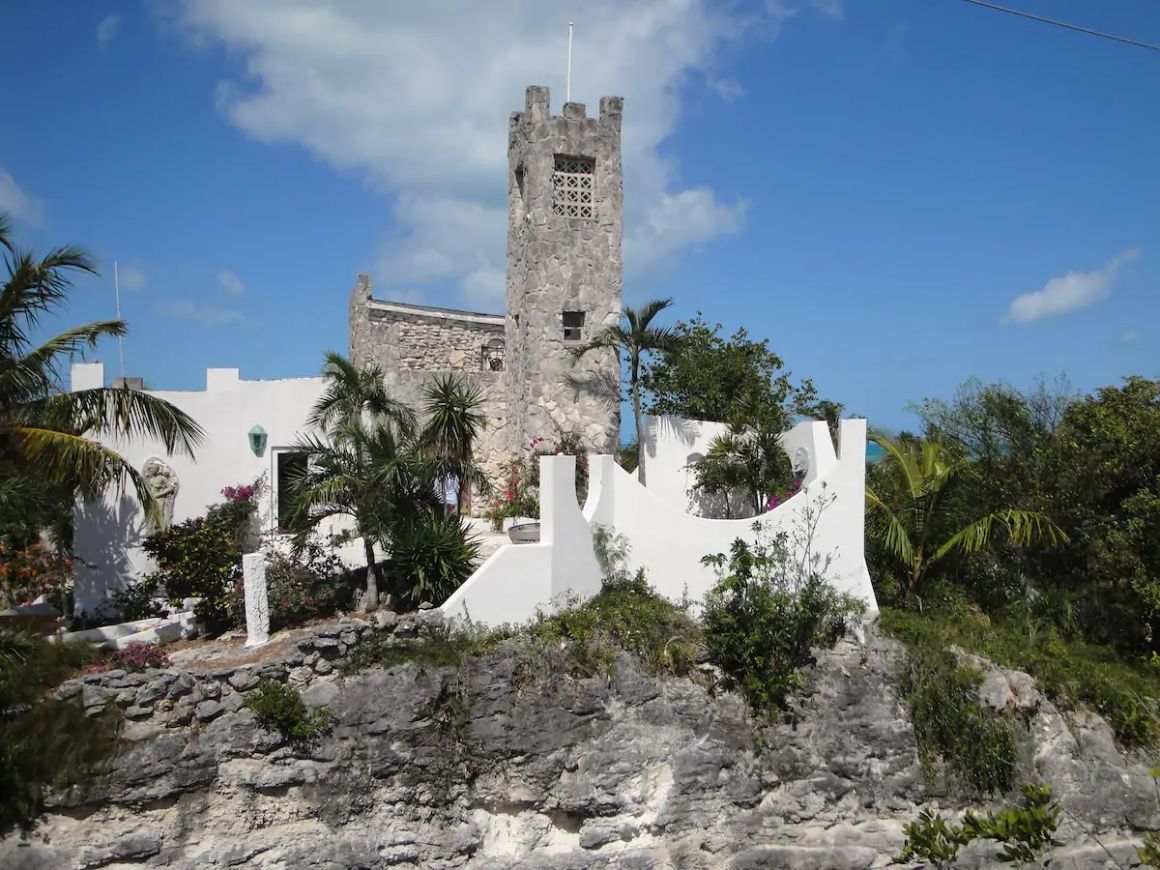 $
Located atop a hill in Tarpum Bay
9 Guests
Traditional medieval-style castle
Have you ever wanted to spend a night in a medieval castle on a tropical island? This stunning spot was previously the home of a famous artist and has been tastefully renovated to maintain its castle flare while boasting modern interiors. When I've visited with mates this has been our accomodation of choice and honesty, it was a blast!
The home still has its original stain-glass windows and natural stone walls with inset pieces of coral. Best of all, there's a rooftop balcony that showcases unrivaled sunrise views. Can't you just imagine brewing a morning coffee and heading upstairs to start the day with the sunrise?
Best Vacation Rental in The Bahamas for Honeymooners | Bright Studio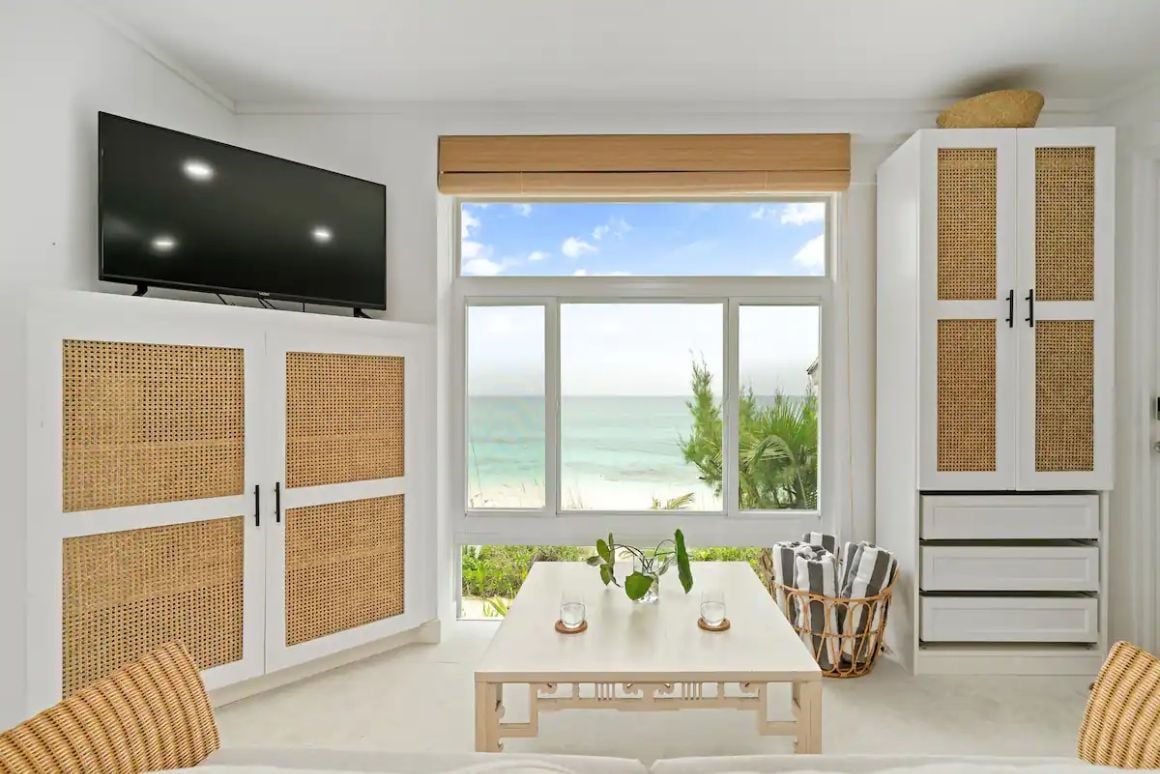 $$
Walking distance to restaurants
2 Guests
Spacious studio with beach views
Simple, stylish, and clean interiors burst out of every inch of this beach studio. You'll feel totally at peace surrounded by white walls, linen, furniture, and appliances in this charming spot.
Perfect for couples, this rental home has a queen-sized bed, a fully-equipped kitchen and some of the best views we've ever seen. It is perched atop a stunning white sand beach with direct private beach access. There's even a bunch of water toys (including sailing boats, canoes, and stand-up paddleboards etc) for you to make use of.
Best Bahamas Vacation Rental for Nightlife | Cute Studio with Pool
$
Walking distance to attractions in Nassau
2 Guests
Access to a shared pool
This stylish self-catering vacation rental in The Bahamas is right by some of the main island's top dining and nightlife areas. Its located in a private resort with access to a beautiful shared swimming pool with a deck overlooking the ocean.
Inside the studio, you'll be treated with colorful interiors, high ceilings, and tons of natural light. And of course, one cosy double bed. It's the ideal spot to arrive back to after a night out on the town. Furthermore, with private beach access, you're only a few steps away from a refreshing ocean swim at all times.
Best Vacation Rental in The Bahamas with a View | 4 Bed Waterfront Villa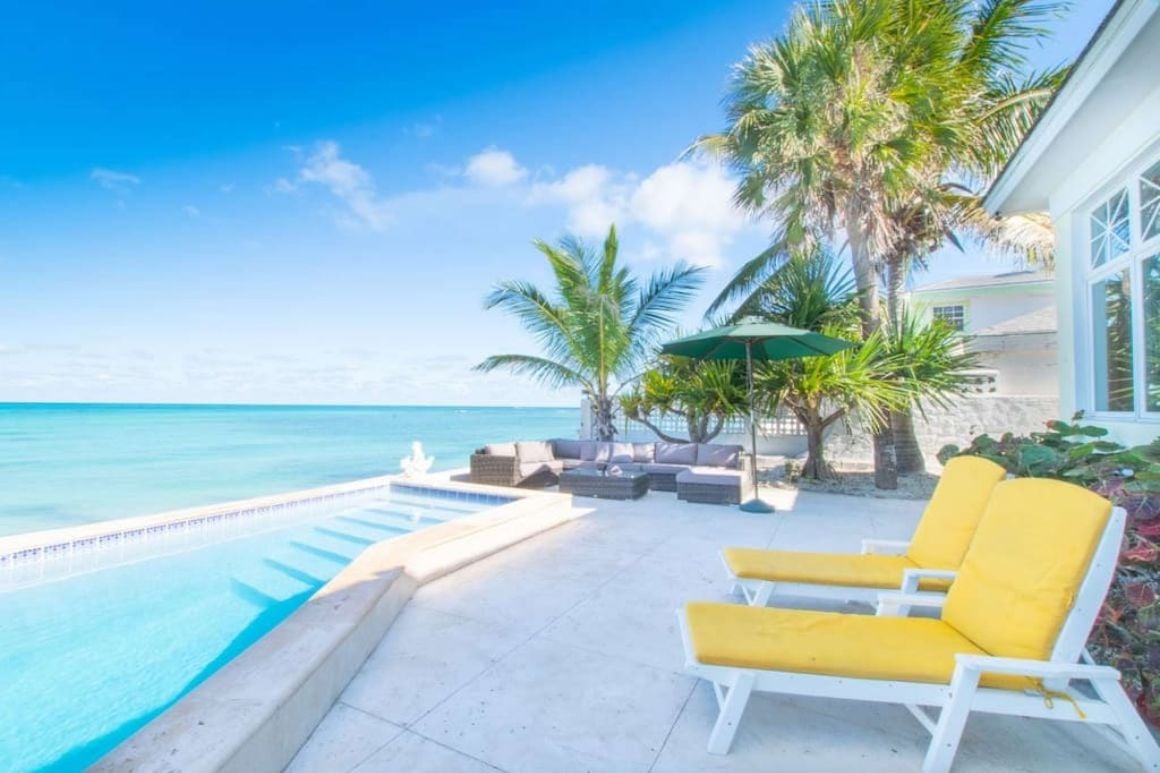 $$$
Built on the beaches of New Providence
8 Guests
Traditional island-style interior
Views are abundant in this exquisite part of the world, however, the view from this villa is difficult to beat. This impressive villa boasts high arched windows with pillared entrances. It sits right on a white sand beach and has a crystal clear swimming pool overlooking the ocean.
The interior is just as impressive, with lots of natural light filtering through huge windows. The home is filled with island-inspired bamboo furniture, blinds, and traditional plantation ceiling fans, giving it an authentic and homey feel.
Best Vacation Rental in The Bahamas for Couples | Secluded Beach Hut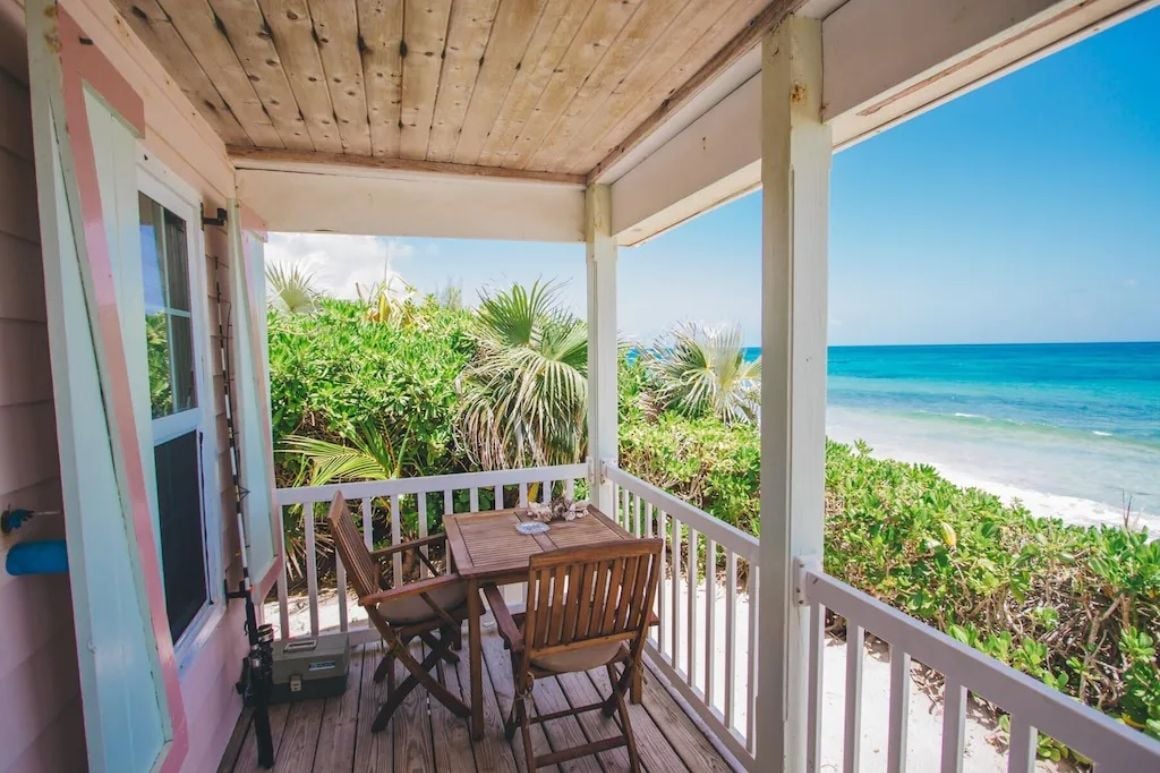 $$
On pink sand beach in North Palmetto Point
2 Guests
Direct beach access
One of the top beach vacation rentals in The Bahamas for a romantic getaway, this beautiful home is located on a secluded beach. It's a simple wooden beach hut with nothing between it and the ocean but jungle, yet has everything you could possibly need during your stay.
The single-room hut is charmingly decorated with warm wooden furniture and comfortable linens. However, you'll likely spend most of your time outside on the beach or under the shady-covered patio, breathing in the fresh ocean air and catching some tropical sun. I have to be honest, this is my favourite place to stay when I visit The Bahamas, I just love the simplicity of staying by the beach in a cute cottage.
$$$$
Located on the beach in North Nassau
6 Guests
Direct beachfront access
Surrounded by white beaches and tropical palm trees, this beach holiday rental in The Bahamas has unmatched ocean views. With both a patio and a balcony, there is plenty of space to enjoy the outdoors from the home.
The interior is beautifully decorated with charming coastal decorations, with touches of Greek-island-inspired blue dotted throughout the house. Kitted out with contemporary furniture and lighting fixtures, this beachy house is up there with the top Bahamian vacation rentals.
Most Remote Vacation Rental in The Bahamas | Secluded 1 Bed Home
$$
Located in North Palmetto Point
2 Guests
Private beach access and hammocks
This tropical spot is without a doubt one of the most beautifully secluded rentals in the island chain. Hidden beneath tropical plants just behind a remote and wild beach, you'll find this quaint yet spacious island home. The living space has high vaulted wooden ceilings and is filled with local bamboo furniture.
Best of all, you're never more than a few steps from the pristine beach. You can also take a break from the sunshine and enjoy a nap in the boho hammock hanging in front of the house.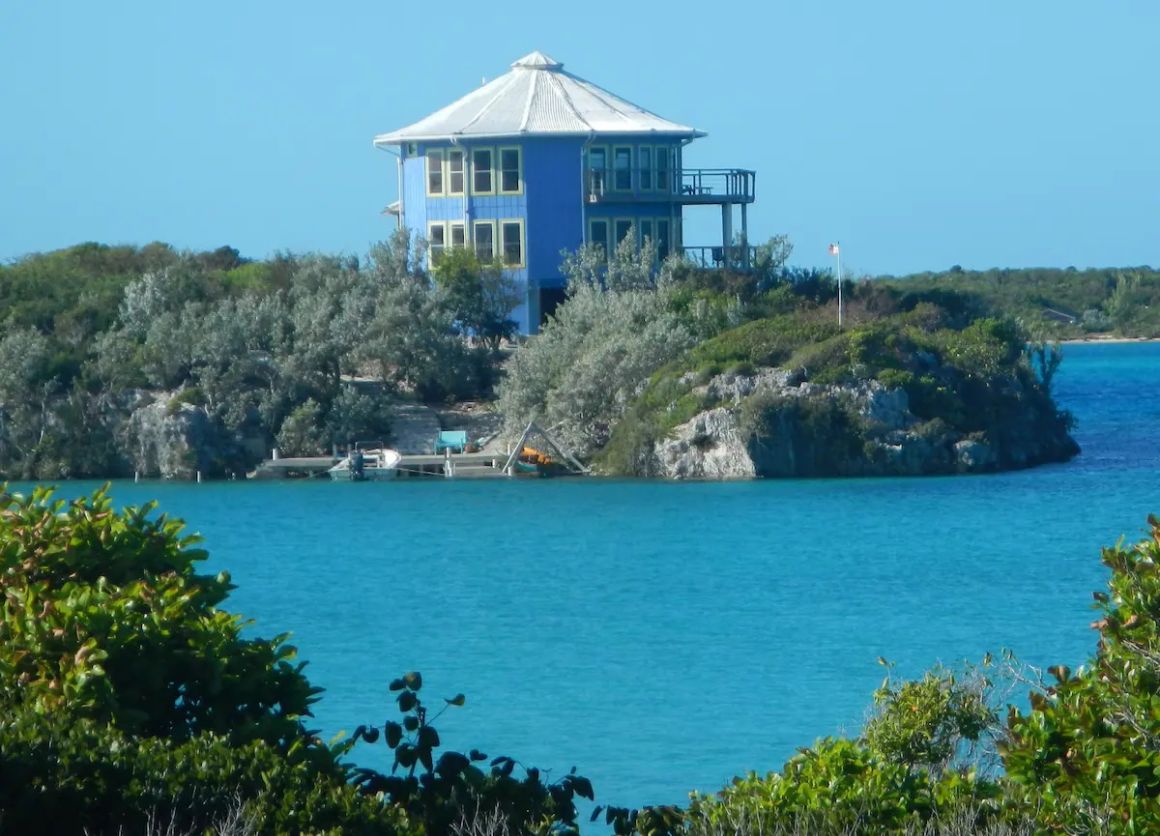 8 Guests
Includes a private dock and beach
Hidden away on the far-flung private island of Big Farmers Cay in the middle of the ocean, this lighthouse-inspired beach vacation rental in The Bahamas is the perfect spot for a secluded holiday with friends.
Capable of housing up to 8 guests, this unique rental home may be secluded but. itis kitted out with all you would need for a comfortable stay, including a fully-equipped kitchen. There is also a private beach and crystal-clear bay filled with sea turtles.
One of the coolest things about this island? For an additional daily fee, you can be provided with a boat to use to explore the multitude of exclusive coves, beaches, and islands in the area.
Best Vacation Rental in The Bahamas with a Private Beach | 7 Bed Villa
$$$$
On a private beach in George Town
14 Guests
Beautiful views from every room
This incredible villa awaits, isolated in a dense jungle with nothing but palm trees, white sand, and crystal clear ocean surrounding you. With four stories of bright rooms flooded with sunshine, seven bedrooms, and nine bathrooms, there is more than enough space here for the whole extended family.
While the home has tons of balconies and decks with unrivaled ocean and jungle views, the best part of this holiday villa is the private beach out front. Acres worth of untouched sand and tropical reefs await you.
Don't Forget Your Bahamas Travel Insurance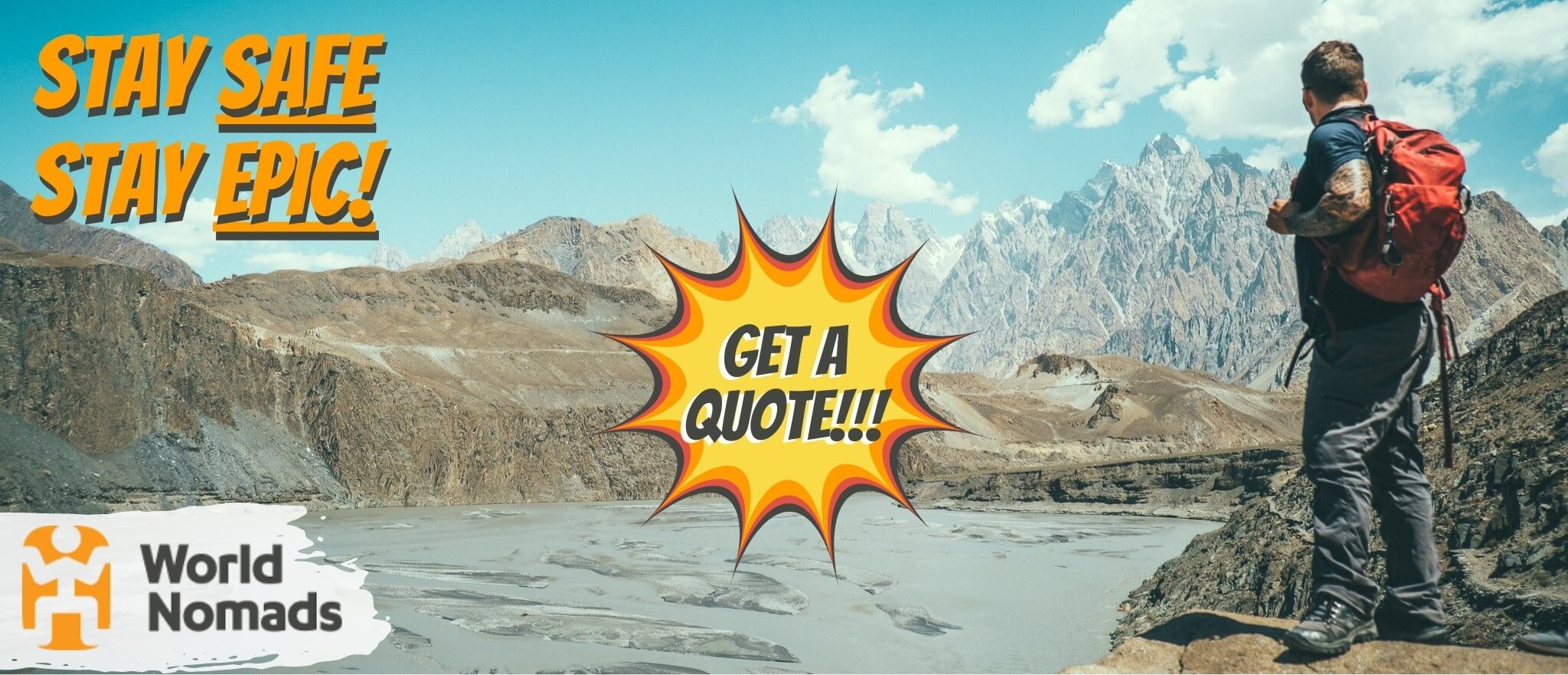 World Nomads' mission is to support and encourage travellers to explore their boundaries. They offer simple & flexible travel insurance, and safety advice to help you travel confidently.
They've been doing it since 2002 – protecting, connecting, and inspiring independent travellers just like you.
Get a quote below or read our in-depth review!
World Nomads provides travel insurance for travelers in over 100 countries. As an affiliate, we receive a fee when you get a quote from World Nomads using this link. We do not represent World Nomads. This is information only and not a recommendation to buy travel insurance.
Final Thoughts on Bahamas
The Bahamas is home to some of the most beautiful islands in the world. Tropical beaches, exciting city life, and locals who love to welcome foreign visitors give this special island chain its unique charm and beauty.
From massive beach villas with private swimming pools and beaches to studio apartments in the trendy coastal villages, you'll be spoilt for choice when it comes to choosing where to stay in The Bahamas. But, we hope this guide has helped you in your decision-making process.
Do you have a favourite vacation rental from this list? Let us know in the comments.
---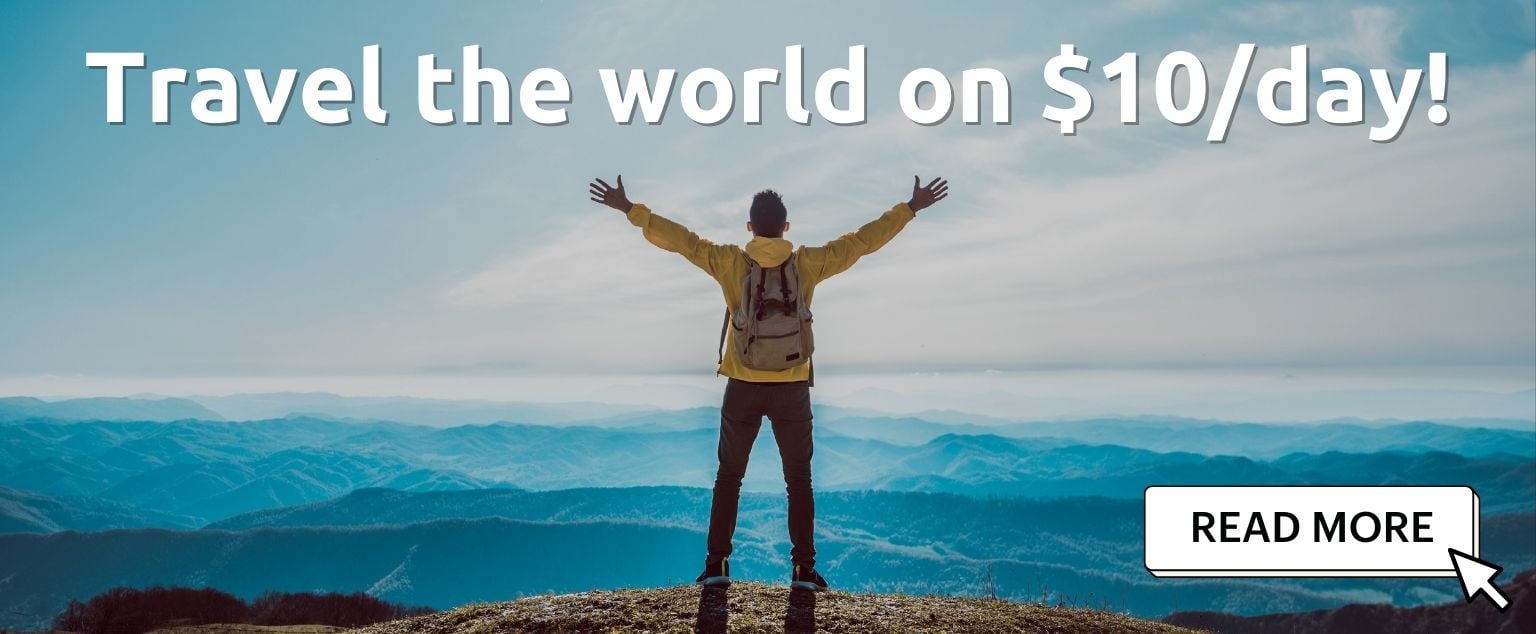 And for transparency's sake, please know that some of the links in our content are affiliate links. That means that if you book your accommodation, buy your gear, or sort your insurance through our link, we earn a small commission (at no extra cost to you). That said, we only link to the gear we trust and never recommend services we don't believe are up to scratch. Again, thank you!