Although Chicago may be the first place that comes to mind when thinking of Illinois, it's only the beginning of what makes the state such a cool place to visit. With shores on Lake Michigan, a border along the Mississippi River, and fantastic forests and parks, Illinois is an outdoor adventure waiting to happen.
If you're hoping to experience the natural side of Illinois, you certainly won't want to be stuck in a hotel on the side of the highway. Instead, why not check out some of the best cabins in Illinois? This way, you can fully appreciate a remote setting in the great outdoors.
To help start you off on the right foot, we put together a list of Illinois's top cabins for any type of traveler. Whether you're looking for a spot to work remotely or planning a family vacation, there's a cabin to meet your needs.
In a Hurry? Here's Where to Stay in Illinois for One Night
FIRST TIME IN ILLINOIS
Cottonwood Cabin
Leave the hectic traffic and city noise behind and enjoy a peaceful escape right by the Shawnee National Forest. This historic log cabin perfectly combines rustic charm while still providing contemporary creature comforts for an unforgettable trip in Illinois.
Nearby Attractions:
Cave in Rock
Garden of the Gods
Stone Face
Is this amazing Illinois Cabin booked for your dates? We've got your back with our other favorite properties below!
Staying at a Cabin in Illinois
Amidst the scenery of forests, rivers, and lakes, a cabin in Illinois fits in perfectly with the surroundings. Plus, you'll have the entire space to yourself, so you won't need to worry about bothersome neighbors like you would at a hotel.
Depending on how remote you want to be, you can find cabins that are close to urban areas and others that are more off the beaten path. Keep in mind that some more rural cabins might not have Wi-Fi or great cell phone service.
You'll definitely want to have your own car when staying at a cabin in Illinois since public transportation is very limited. Cabins will have parking available on site, and having a vehicle also makes it easier to visit parks or other attractions.
Since there are a lot of cabins in Illinois to pick from, it's possible to find spots for solo backpackers, romantic getaways, family vacations, and everything in between. And, since the price of a cabin is usually comparable (or cheaper) than staying in a hotel, you'll come off on the better end of the deal!
What to Look for in a Cabin
Cabins can be found all around the state, especially close to popular parks like Shawnee National Forest. Depending on your travel style and preferences, there are some features you'll want to keep an eye out for.
Cabins range from small studios to multi-story properties, so you'll be able to find a spot for any group size. If you're traveling with young kids, make sure to check if there are age requirements at a cabin. Some properties may have safety hazards for little travelers, such as onsite ponds or rivers.
Some of the more remote cabins in Illinois will be more like a camping experience. If that's your thing and you can live without wifi for a couple of days, this is for you. However, most cabins will include modern comforts like equipped kitchens, water, heating, and TVs.
Additional features like fire pits, picnic areas, and hot tubs are fairly common to find at cabins in Illinois. At spots that are located next to lakes or rivers, other sporting equipment like kayaks may also be available.
If you're feeling overwhelmed by the number of options, using search platforms like Airbnb can help you out. You can filter cabins based on price, travel dates, and preferred amenities to find the perfect spot for you.
Overall Best Cabin in Illinois
Overall Best Cabin in Illinois
Cottonwood Cabin
> $$
> 4 guests
> Over 400 acres
> Pond
Best Budget Cabin in Illinois
Best Budget Cabin in Illinois
West Point Cabin Getaway
> $
> 2 guests
> Indoor fireplace
> Solar powered cabin
Best Cabin for Couples
Best Cabin for Couples
Couple's Retreat Cabin
> $$
> 2 guests
> Hot tub
> Covered front porch
Best Cabin for a Group of Friends
Best Cabin for a Group of Friends
Goose Island Cabin
> $$
> 8 guests
> 100 private acres
> Hammocks and fire pit
Over-the-Top Luxury Cabin
Over-the-Top Luxury Cabin
Starved Rock State Park Cabin
> $$$$
> 10 guests
> Huge windows
> All real wood furniture
Best Cabin for Families Visiting Illinois
Best Cabin for Families Visiting Illinois
Beck's Hideaway at Dixon Springs
> $
> 6 guests
> Deck with tree-top view
> Fishing pond
Best Cabin for Backpackers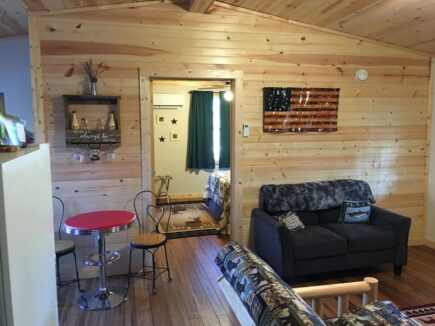 Best Cabin for Backpackers
Ma's Alto Pass Cabin
> $
> 2 guests
> Snacks, water, and wine provided
> Nearby hiking trails
The Top 15 Cabins in Illinois
Adventure awaits you at one of the best cabins in Illinois! Take a break from the rush of city life and find your own peaceful natural retreat. From family vacations to solo weekend getaways, we've got a cabin on this list for every type of traveler.
Overall Best Cabin in Illinois – Cottonwood Cabin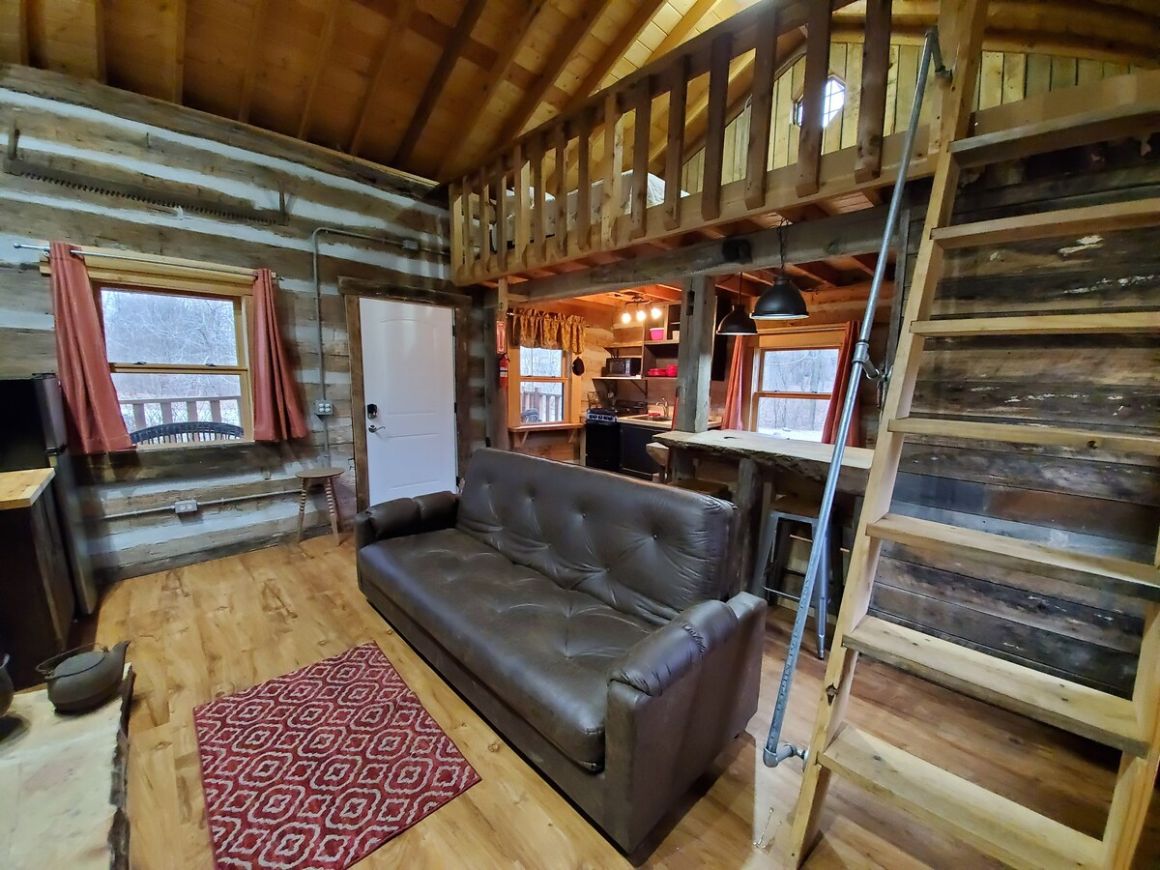 $$
4 guests
Over 400 acres
Pond
Situated right next to the Shawnee National Forest, this cabin definitely tops the list for unique accommodation in Illinois! With miles of hiking trails practically in your backyard, you'll have more than enough adventure to fill your vacation.
Rent kayaks from the nearby Outpost Store, or get your camera ready to capture waterfalls like Jackson Falls and Burden Falls. On lazy afternoons, you can hang out at the pavilion or fish in the catch and release pond onsite.
$
2 guests
Indoor fireplace
Solar powered cabin
This off-grid cabin in Illinois is a safe haven for travelers looking to unplug from modern life. Relying on solar panels for energy, you can go back to the basics and enjoy a camping-style experience.
There are plenty of trails and parks nearby like Gardner Park and Siloam Springs State Park where you can hike, fish, and kayak. Cook dinner on the wood fire stove, or use the open campfire while watching the stars come out.
$$
2 guests
Hot tub
Covered front porch
Everything about this place is tailor-made for a romantic vacation, making it one of the best cabins in Illinois for couples. You can enjoy modern comforts like a full-sized kitchen, Wi-Fi, and even a hot tub, while also appreciating the rustic decorations and secluded setting.
If you want to get out and explore, there are hiking and biking trails nearby. Other attractions like breweries, golf courses, and local orchards are all just a short drive away.
$$
8 guests
100 private acres
Hammocks and fire pit
Turn a trip with your friends into an unforgettable experience by staying at one of the best cabins in Illinois. Located on the banks of the Rock River with State Forest in the backyard, you'll have the perfect nature retreat. Activities here include hiking, biking, kayaking, or just hanging out.
The log cabin maintains a rustic charm while also providing modern comforts like electricity and hot water. If you fancy exploring, quaint historic towns like Oregon and Dixon are just a short drive away. Otherwise, light up the campfire and relax in your 100 private acres of land.
The BEST Travel Backpack?!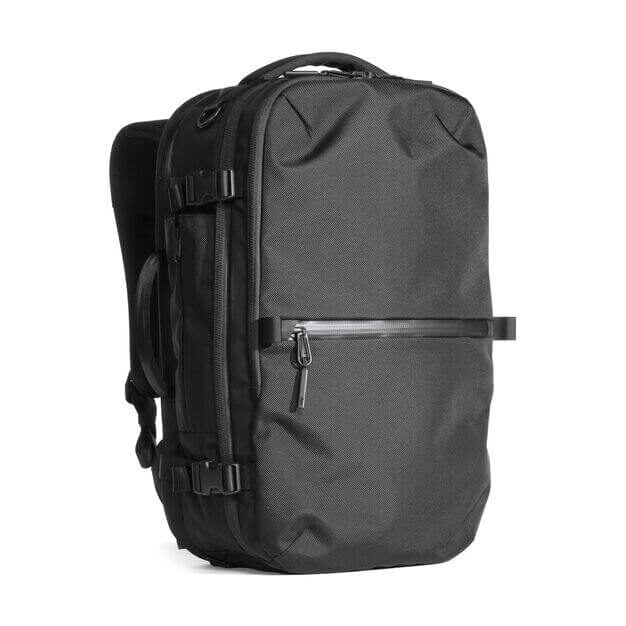 Pssssst! Not picked the perfect travel backpack yet? The Broke Backpacker team has tried out over thirty backpacks this year! Our favourite travel backpack is the Aer Travel Pack 2.
View on AER
Another Great Cabin for a Group of Friends – Shawnee Pines Lodging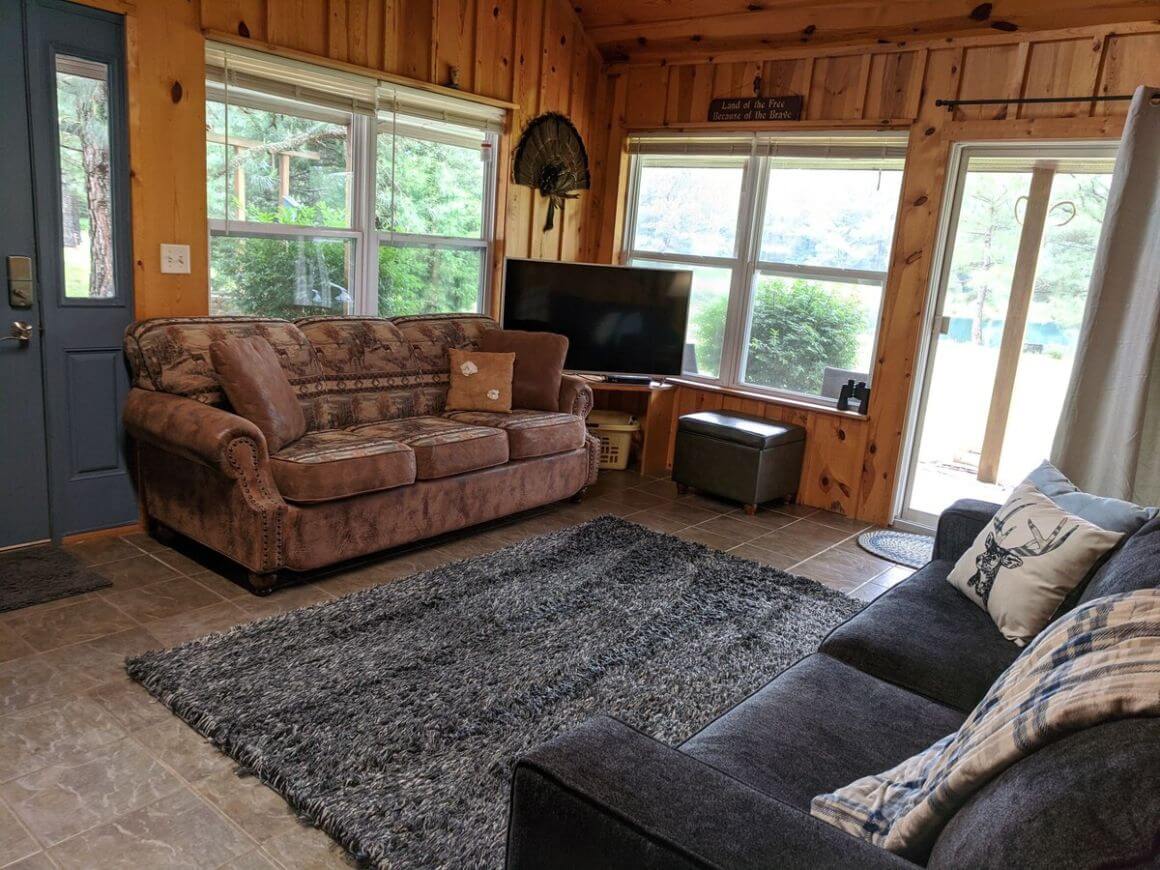 $$
6 guests
Charcoal grill and fire pit
Wrap-around porch
If you're looking for somewhere to escape with friends, then the Shawnee Pines cabin is the place to be. It's also perfectly situated to explore natural attractions of southern Illinois like Cave in Rock and Garden of the Gods.
After a day of hiking, you can fire up the charcoal grill and roast marshmallows around the campfire. When you just want to chill, there's a pond on-site complete with a sand beach and lounge chairs.
$$$$
10 guests
Huge windows
Real wood furniture
This majestic cabin feels more like a private resort, yet it still maintains a natural forest charm. The vaulted ceiling and giant windows allow for plenty of space and natural light for you to soak up those forest views.
From the cabin, you can walk to Grand Bear Lodge where you'll find a waterpark and other fun activities. It's also right by Starved Rock State Park, and there are wineries, quaint antique shops, and historic sites nearby.
$
6 guests
Deck with tree-top view
Fishing pond
Comfy, budget-friendly, and with a great location, what more could you ask for! Kids will have plenty of space to play in, and there's a fishing pond and pavilion on-site. What's more, town amenities and restaurants are just a short drive away.
Dixon Springs State Park is just down the road where you can swim, hike, or have a picnic. After a day of visiting historic sites or the Chocolate Factory, enjoy a family dinner with a view on the spacious deck.
Another Great Cabin for Families Visiting Illinois – Red Roof Retreat Cabin
$$
6 guests
Boats, bikes, and fishing poles
Grill and firepit
This is the ideal cabin for families looking for a fun summer vacation rental. Located on the shores of Lake Egypt, you can canoe, kayak, or paddleboat to your hearts' content. There are also two mountain bikes and fishing poles provided, you'll have the bases covered for all sorts of fun activities!
On rainy days, you can keep kids occupied with the games, puzzles, and family movies. Evenings can be spent around the campfire roasting marshmallows and enjoying unspoiled views of the stars.
$
2 guests
Snacks, water, and wine provided
Nearby hiking trails
This cabin is perfect for anyone backpacking the USA on a budget. It has a secluded feel, yet Alto Pass is only half a mile away. You'll be right in the Shawnee National Forest, and close to top hiking and biking locations like Bald Knob Cross.
If you ever get tired of wilderness exploration, there are some award-winning wineries to discover nearby. At the cabin, you can enjoy modern amenities and a great back porch where you can dine al fresco each day.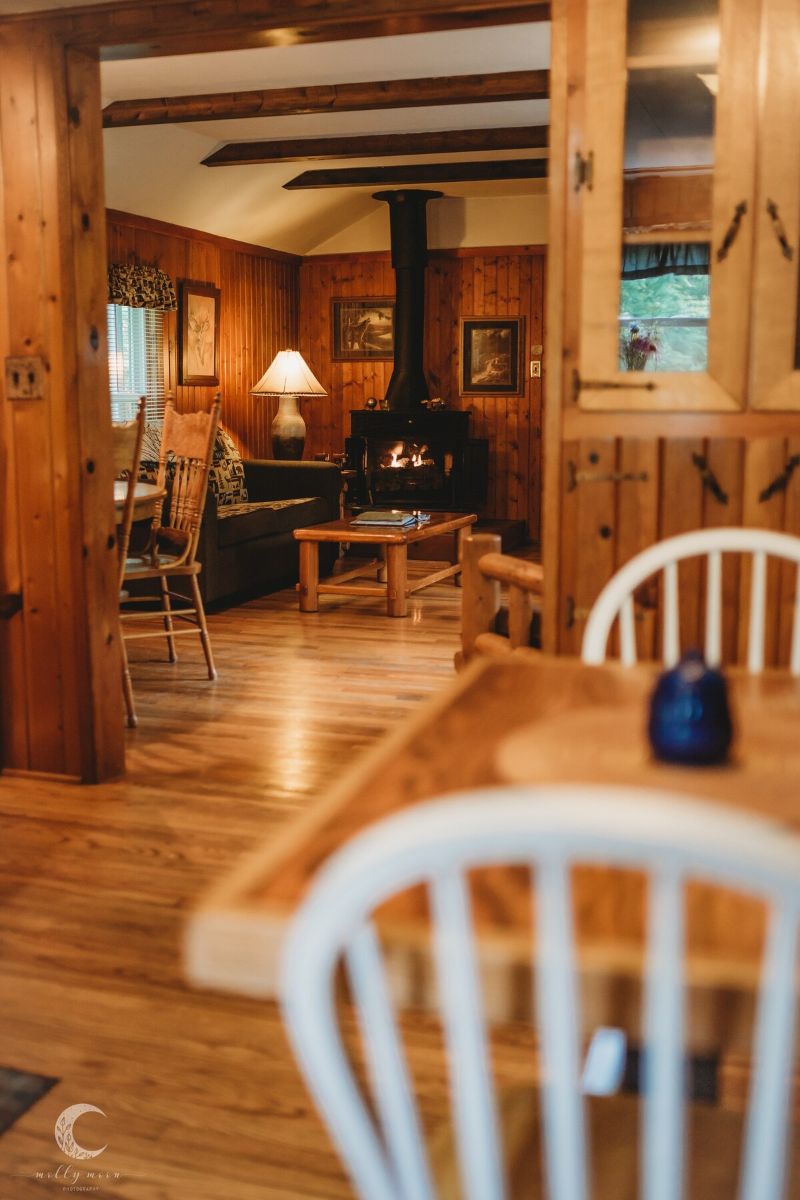 $$
6 guests
Grill and picnic area
Private lawn
The Whispering Pine cabin offers a great place to relax for anyone looking to escape for a weekend. The cabin itself is on Pine Creek, and it's directly across the street from the popular White Pines State Park. Town amenities are also a short drive away, so you'll have everything you need at your fingertips.
Restaurants, local shops, and historic attractions can all be found in the town of Oregon. At the cabin, there's a spacious lawn for yard games, an indoor fireplace, and a fire pit.
$$$
8 guests
7-acre lake (fishing poles provided)
Spacious patio
Just because it's a cabin doesn't mean you need to miss out on luxurious modern comforts. This one is right next to a 7-acre lake where you can go fishing, kayaking, or swimming. Plus, it provides comfy amenities like a Jacuzzi and flat-screen TVs.
Spend your afternoons kayaking or swimming in the lake, or just relax on the spacious patio. During colder months, you can still appreciate the view from the huge windows while staying cozy around the indoor fireplace.
$$
4 guests
Fully equipped kitchen
Fire pits and gas grill
Bringing modern style and natural charm together, this cabin offers digital nomads the perfect setting for remote work. You'll have complete privacy and quiet, plus a reliable Wi-Fi signal to ensure you can stay on top of work.
When you decide to head outside, the Lake of Egypt is close by where you can go boating or hiking. Restaurants and shops are just a short drive away, or make your own favorite comfort meals in the kitchen.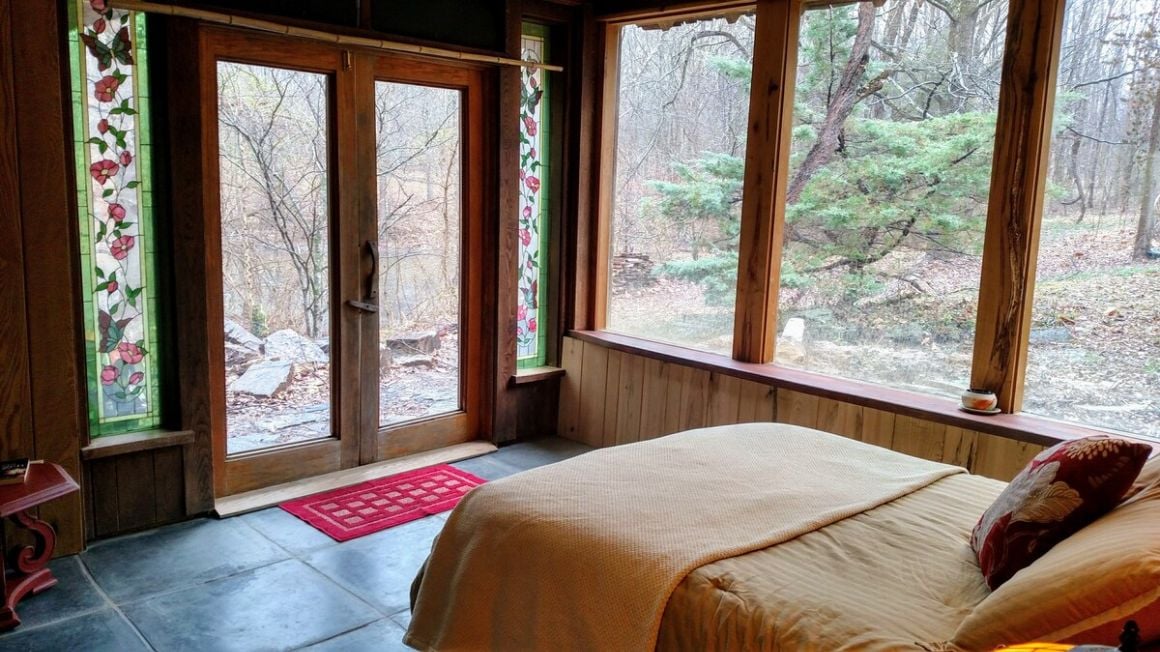 $$
2 guests
Fire pit
Garden, trails, and pond
Tucked in a rural part of southern Illinois, this cabin may be small and cozy, but the view is big! The large windows let in plenty of natural light so you'll practically feel like you're outside the whole time.
There's plenty to explore in Shawnee National Forest which surrounds the property, and Cobden and Alto Pass are close by. If you don't feel like driving anywhere, put on your hiking boots and head out on one of the many trails.
Absolute Cheapest Cabin in Illinois – Sonnemann Cabin
$
2 guests
Grill
Woods and fields scenery
This cabin in Illinois offers the perfect solution for budget backpackers traveling on a shoestring. There's no TV or Wi-Fi, so you'll have to unplug while you're there. But, there's still AC and heating so you can stay comfortable at any time of year.
You can enjoy total peace and privacy with a pleasant view of the woods and fields from the front porch. The furnishings are simple but comfortable, and there's a kitchen and BBQ so you don't have to spend money on restaurants.
$$
6 guests
Panoramic views
Wood-burning stove
Combining rustic charm with modern luxury, Eagles Nest is an ideal place to escape daily life for a while. Thanks to the huge windows, you'll always have a panoramic view of the Rock and Kyte Rivers!
The quaint town of Oregon is just moments away should you need supplies, but the cabin is entirely secluded. This region of Illinois is known for its great wineries and historic site. There are also numerous parks where you can go hiking, kayaking, biking, or snowshoeing depending on the season.
Final Thoughts on the Best Cabins in Illinois
Now that you know how awesome staying at a cabin can be, hopefully, you're ready to pick your favorite and get on the road! Say goodbye to stuffy hotels and hello to wilderness scenery.
There are so many cabins in Illinois to choose from, so every type of traveler can find something that works for them. Big families, solo digital nomads, or couples on an anniversary trip can all find a great place to stay!
While you're making your trip preparations, you may also want to consider getting travel insurance. Travel always has a degree of uncertainty and risk, which is why it's always good to have a backup.
And have you thought about getting Travel Insurance for your trip? We've put together a roundup of Travel Insurance for backpackers – check it out here, or if you're low on time, get a quote from World Nomads, our favorite travel insurance provider.
---
Find out how YOU can support the site.
We work hard to put out the best backpacker resources on the web for free! It's all about helping out our tribe of awesome backpacker readers (that's you!). Please visit the link to find out how you can help keep the site going 🙂
For the sake of transparency, some of the links in our content are affiliate links. This means that if you book your accommodation, buy a piece of gear, or sort your insurance through our link, we earn a small commission at no extra cost to you. We only link to stuff that members of the Broke Backpacker team has actually used and never endorse products or services that are not up to scratch. Thanks for your support!