So, you're planning your next epic adventure in Myanmar and obviously, the former royal capital of Mandalay is a definite stop on the itinerary. Better yet, it may even be your home base in Myanmar. This gorgeous city is a major bucket list item with its historic sites, bustling markets and incredible food. You'll just love exploring its busy streets.
Staying at a hostel is a great way to see the city and stick to your travel budget. Many of the affordable places to stay offer the same amenities and locations as the higher-priced hotels, but they have a more vibrant and friendly atmosphere at a lower price point, which is awesome. It's also a great way to get local travel tips and meet new people.
Quick Answer: Best Hostels in Mandalay

Do You Want to Travel FOREVER??
Pop your email in below to get a FREE copy of 'How to Travel the World on $10 a Day!'.
What to Expect from Hostels in Mandalay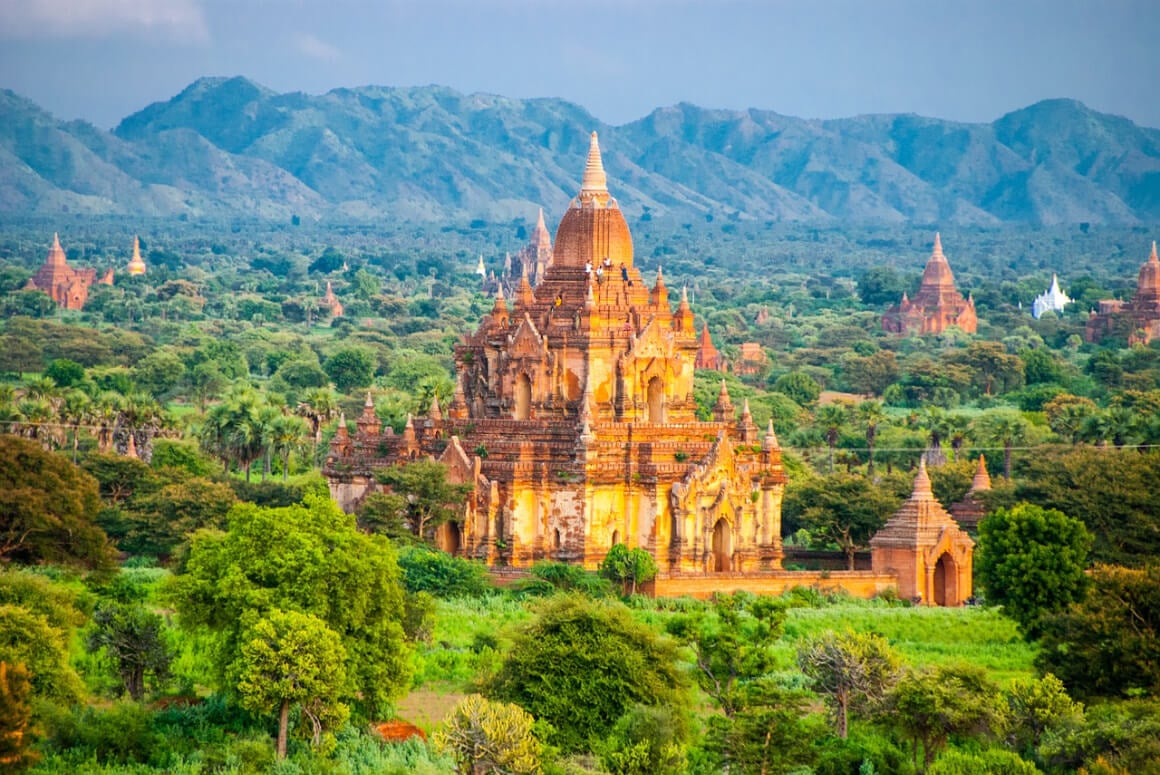 Staying at a hostel in Mandalay is the best way to have a great stay without busting your travel budget. Pricewise, you're likely going to spend $7-$13 per night in a dorm and anywhere from $15 to $50 for a private room. The prices vary depending on what's included like private rooms with an ensuite bathroom, but that's to be expected.
When looking at hostel prices taxes are typically included so there are no surprises on the final bill. Something to keep in mind is that normally you can pay by cash or credit card. If you use a card, there's likely a 3% charge, so it's financially better to pay in cash. To make it easier for you to avoid this charge by paying cash, some hostels offer currency exchange on-site. Some hostels actually require cash payment, so it's best to check out what they expect before you arrive.
Few hostels have shared kitchens but most include breakfast with the price of your stay, which is a nice tradeoff. Most hostels include towels with the rate, that way you don't have to cram a travel towel into your backpack– just use theirs.
Free wifi is the norm around town. It's always reassuring that you can get your device connected so you can easily stay in touch with friends and family back home. Some hostels have computers and printing facilities for guests to use which is really useful when you're backpacking in Myanmar.
Some hostels have other perks like free unlimited water drinking, Burmese cigars, or even a pool to help you cool off after a day of exploring the city.
The majority of hostels in Mandalay are located in the Chanayethazan neighbourhood which is one of the best areas to stay in Mandalay as it's walkable to many of the great places to eat and party. Some of the major things to see in town are close by, but the reality is that many are a bit too far to reach on foot, such as the U-Bein Bridge.
Many hostels offer bike rentals so you can easily peddle your way around town. If you're looking to give your legs a bit of a rest, hail a tuk-tuk, then sit back and enjoy the city as it whizzes by. Exploring Mandalay is for sure one of the best experiences whilst in Myanmar.
When you first arrive, the best way to get into town is by taxi from either the airport or train station. Mandalay International Airport is only about 45 minutes from the city. Taxi shares are a cost-effective way to get from your flight to town. It will cost less than a taxi all to yourself, but it will take longer to arrive. If time isn't an issue, then definitely consider this option. If you're looking to take it up a notch, some hostels can arrange a private pick-up, which is super cool but is probably the most expensive way to travel.
Best Hostels in Mandalay
So, now you know what to expect from just about any hostel in Mandalay. Now, let's dive into the specifics of each one so the decision of where you're going to stay is a no-brainer.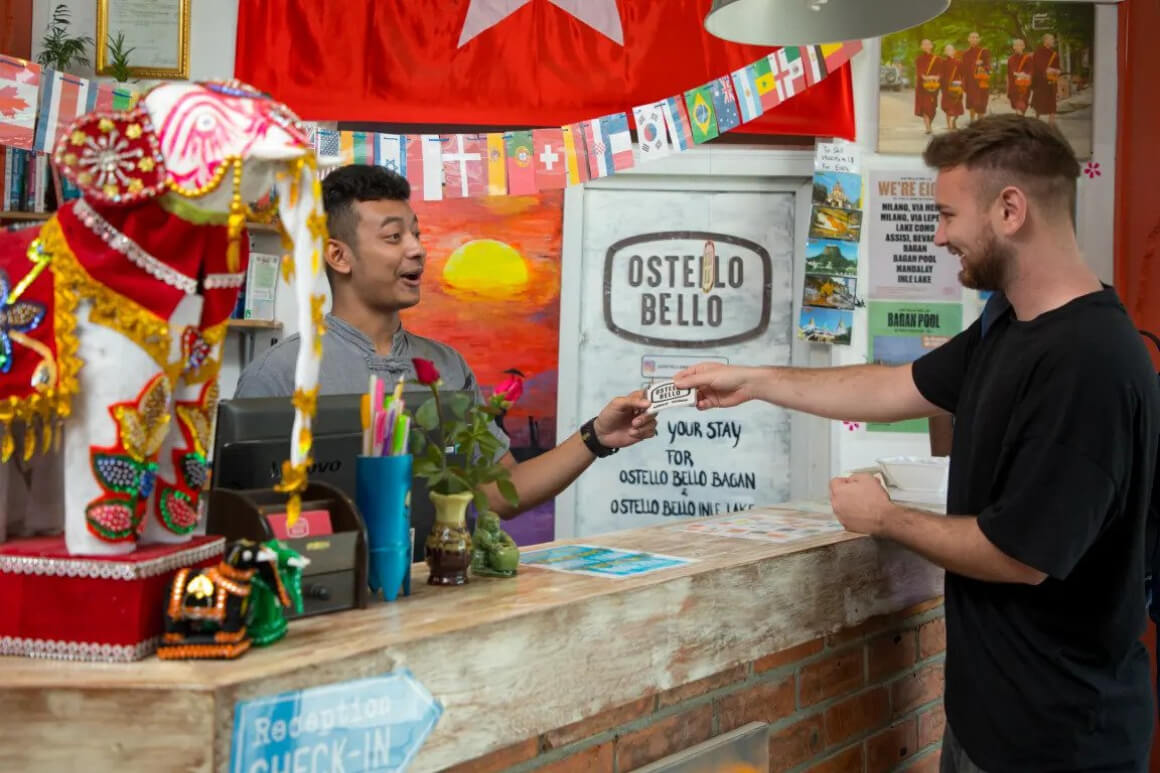 $
Female and Mixed Dorms & Private Rooms
Towels & Linens Included
Free Breakfast
The name Ostello Bello is well known in the hosteling world for great service and a solid night's sleep. In Mandalay, it's the same. The Ostello Bello Mandalay is a place that has everything you could ever want from a hostel. It's the perfect place to make your home base when staying in Myanmar.
Choose from a bed in a dorm or a private room. The dorms are pretty spacious, setting you up with an outlet and reading lamp right at your bed. Lockers below the bunks are perfect to store your backpack while you're snoozing or out and about for the day. Private rooms are awesome here, each even has its own ensuite bathroom. Book a room for just yourself or for a group as large as 8 people. Sometimes when you'retravelling solo you want a break from the dorms and to instead have a room and bathroom all to yourself. Or if you're a large group, you'll know who's hogging the bathroom!
Why you'll love this hostel:
The vibe at Ostello Bello Mandalay is killer. No matter what you're doing, friendly faces and chill attitudes are all around. From the check-in to deciding what your next adventure will be at the tour desk, and of course, on the rooftop enjoying a drink with fellow travellers, you'll be surrounded by sick people.
Ostello Bello knows what you need to make the most of your trip to Mandalay. They've got everything for you from guidebooks to sunscreen and bug repellent for you to use as you need. Cheers guys!
Best Hostel with Female Only Dorm in Mandalay – APLUS Hostel
$
Mixed and Gender-Specific Dorms & Private Rooms
Towels Included
Free Breakfast
Located in the city centre, A Plus Hostel is close to everything you're in town to see. It's just a short walk over the moat to the royal palace. Bunking it up is the way to go if you're on a tight budget. At A Plus you'll be set with your own capsule-type bed, complete with a privacy curtain. So although you're paying the rates to share a room with other guests, you can block them all out with one swish of a curtain. Bye!!
In your bed, you've got an outlet and a lamp. So plug in your device, put on your headphones, connect to the free wifi, and relax – by scrolling through your feed or binge-watching your favourite show. Private rooms at A Plus can sleep up to 3 people. More importantly, some of the private rooms are ensuite. So, that means you don't have to share the bathroom with anyone else which is always a bonus especially at a hostel.
Why you'll love this hostel:
Bike Rental
Rooftop Bar
Currency Exchange
Unlimited coffee and water is a great perk at A Plus. This way you can refill your water bottle instead of having to buy a new one every time you're a bit parched. Although they don't have a shared kitchen for guests to use, you'll be set up each morning with free breakfast. If you're looking for a bit more, there are tons of places to get something to eat or drink nearby. There's even a 24-hour convenience store directly under the hostel. This way you can run down, grab something and head back up to the rooftop to enjoy it while taking in the view.
Bike rentals and currency exchange are two other ways that A Plus makes your stay easy peasy. If you want to take in the sites on two wheels, they'll set you up. If you're looking to avoid the 3% fee for using your credit card, just exchange your money right there and pay in cash. It totally makes cents. (ha!)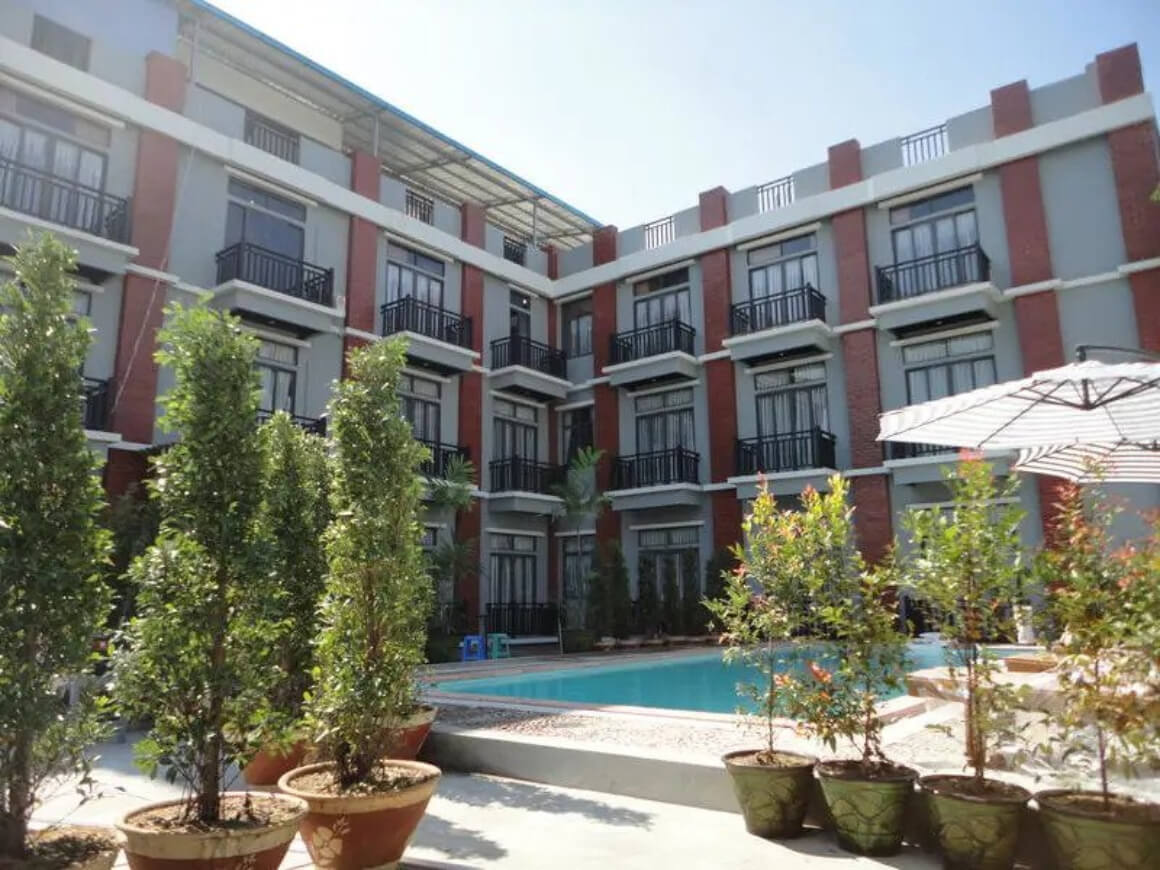 $
Female and Mixed Dorms & Private Rooms
Pool
Free Breakfast
Pool! Yeah, that's right! Nan Bwe – The Vibe Hostel has a pool. This is one of the main things that makes them stand out from the competition. You can cool off with a quick dip in the pool after a long day of sightseeing in town. This way you can take a break during your backpacking trip around Southeast Asia to have some proper holiday vibes, sit by the pool and spend a day chilling!
Nan Bwe has both dorms and private rooms. If you're looking to stay in a dorm, choose from mixed-gender or female-only rooms. A nice feature is that the female-only dorm has a bathroom ensuite, so there's no sharing with stinky boys! Private rooms are perfect for two people. Twin beds or a double makes it easy for a couple or mates to stay together and split the cost of the room. The privates are ensuite, which is super nice and along with the pool, you'll be forgiven for thinking you're in a hotel!
Why you'll love this hostel:
LGBT Friendly
Bike & CarRental
Burmese Cigars
Come as you are, Nan Bwe – The Vibe won't judge! We absolutely love that Nan Bwe is LGBT friendly and they proclaim it. So, no matter who you are, you're welcome at Nan Bwe. Yaaaas!
Nan Bwe – The Vibe Hostel is a bit further from the Mandalay city centre than most hostels, but with its location comes a great perk: a POOL! When you're ready to dry off and head out for your next adventure in Mandalay, the staff will help you rent a bike or a car to get to where you want to go. They can even get you a car with a driver or a tuk-tuk if that's how you want to roll. Let someone else figure out the road signs, you can just sit back stress-free and enjoy the ride.
Free breakfast, free drinking water, free tea and juice, free shuttles to the bus station in the city centre, and even free Burmese Cigars are offered to guests at Nan Bwe. These are some serious perks for the guests to take advantage of at Nan Bwe.
Best Hostel for Solo Travellers in Mandalay – Kaung Hostel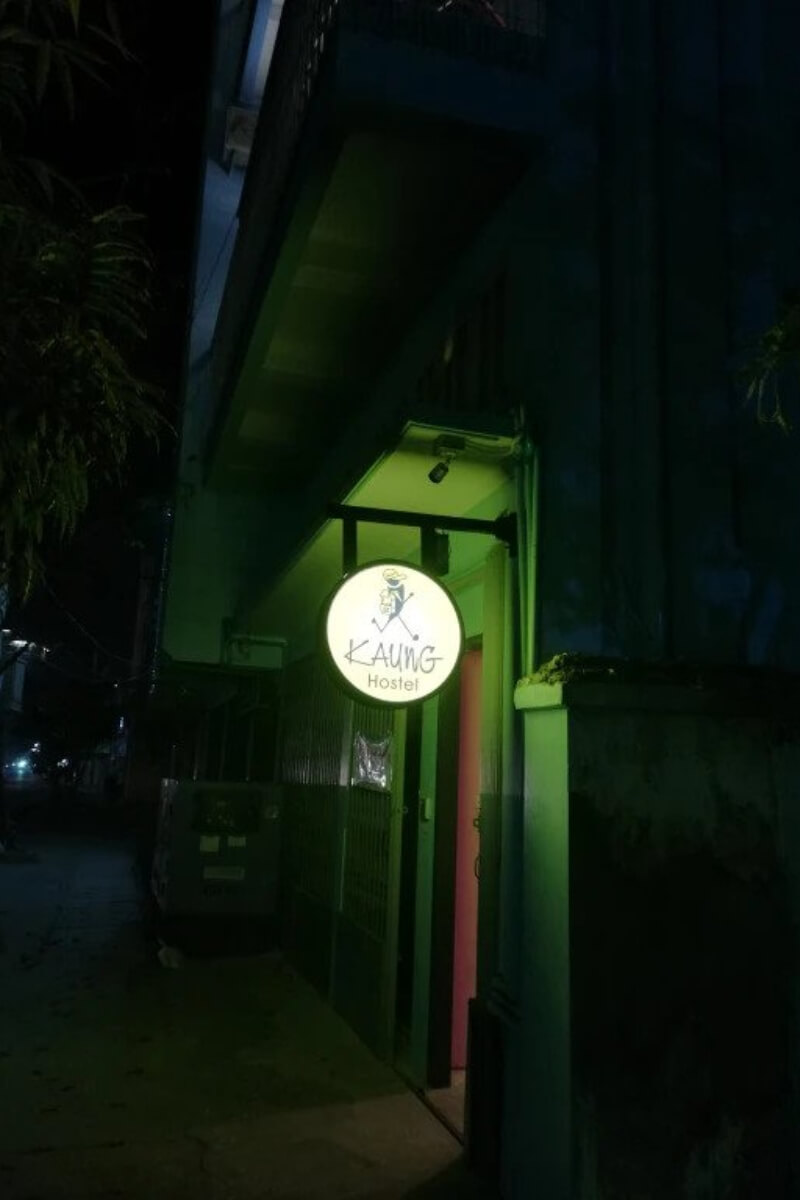 $
Mixed and Female Dorms & Private Rooms
Air Conditioning
Free Breakfast
Kaung Hostel is a solid hostel in the centre of Mandalay that offers a convenient place to stay if you're travelling solo or in a small group. You're good to go at Kaung with various room options as well as the perfect location in town.
Choosing to stay in a dorm means you're set up in the traditional bunks with an outlet and a reading lamp. These rooms are a bit snug, but you're in Mandalay to get out and see the sites, not to lay in bed all day! If you're looking for more of a private setup, consider their private rooms. Kuang offers privates for 1, 2, or 3 to sleep in single beds in the same room. Whether you choose a dorm or a private room, sharing bathrooms help to keep rates low.
Staying at the Kaung Hostel puts you right at the centre of everything Mandalay is about. Great things to see and do like the cultural Museum, Shwe Kyi Myint Pagoda, Sri Ganesh Temple and the Zegyo market are within walking distance. Just as important, the hostel is surrounded by tons of places to eat and drink. You can also save a few bucks for your next adventure and instead, whip up your meals in the shared kitchen.
Why you'll love this hostel:
Location
Express Check-in and out
Vending Machines
The convenience of the Kaung Hostel is pretty sweet. Express check-in and check-out makes it an easy process altogether. If you haven't had a moment to run out and grab something from one of the nearby groceries or fast food joints, check out the vending machines they have at the hostel. Chances are there's something to hold you over until you can get out and about.
Nothing is more convenient than the free continental breakfast in the morning. What's better than having a free, energising breakfast before you head out for a day exploring the city? Backpackers know what we're talking about here!
Kaung Hostel is one of our favourites in Mandalay but they're not taking guests right now. We're not sure if they're closed for good but we hope they'll come back soon.
Most Affordable Hostel in Mandalay – Celia Hostel Mandalay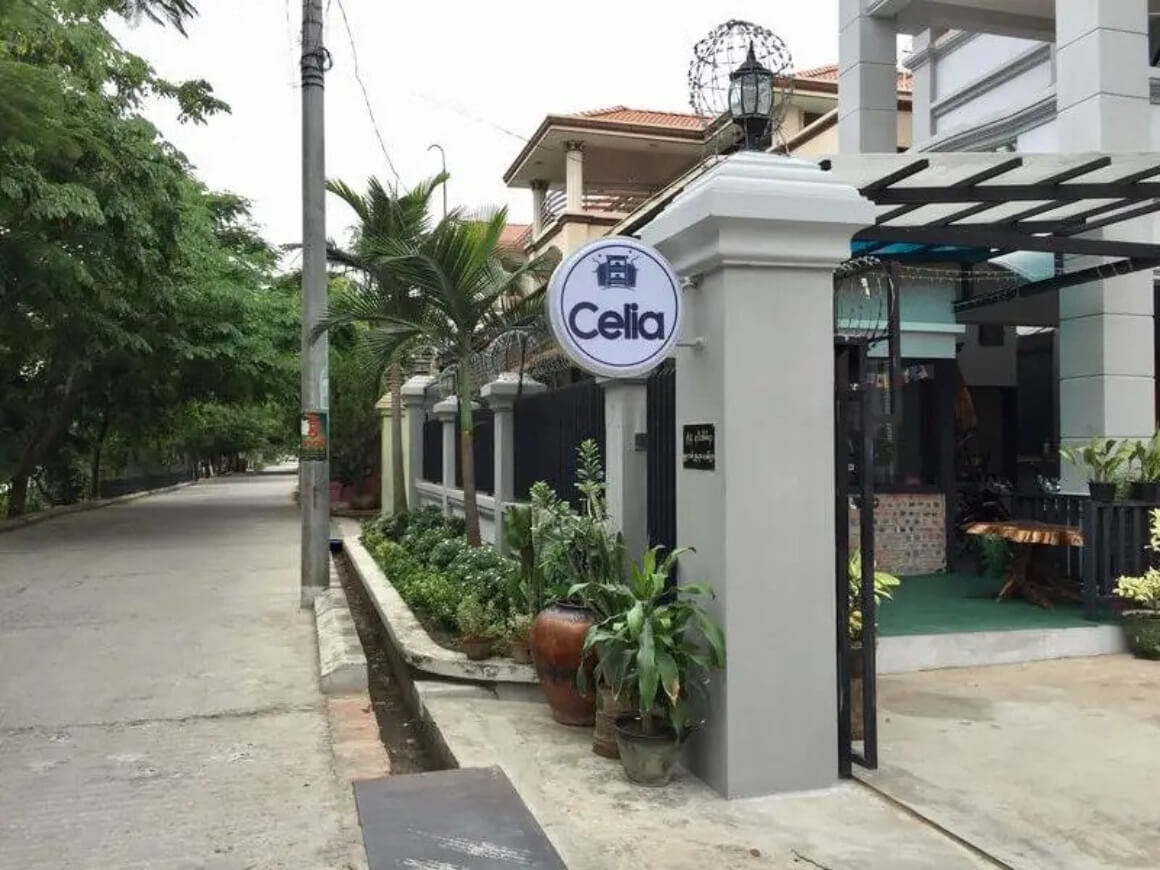 $
Dorms & Private Rooms
Shared Kitchen
Free Breakfast
Celia Hostel is an epic place to stay in Mandalay. While it's in a quieter section of town, it's still close to the centre and heaps of things to do and see. Celia has both a garden and a rooftop for guests to relax and take in the beautiful views as it's larger and a bit more spacious than other hostels in the area. The greenery in and around the hostel has a wonderful calming and suburban feel.
Complimentary Coffee, Tea, and Water will keep you hydrated and caffeinated during your stay. Keeping to your travel budget, you can make your own meals in the shared kitchen or even use the BBQ. If you're looking to grab something, head to the onsite coffee house for something a bit more intricate like one of their mock-tails. Free breakfast is a nice way to start your day. Get fuelled up with a continental or Asian breakfast, your choice.
Something to note is that Celia is a cash-only place. They accept Kyats or US dollars to make it a bit more convenient. So, just make sure you've got it in your pocket before you arrive.
Why you'll love this hostel:
Located in the centre but closer to the mountains, it's easy to walk around to get to the places like shops and restaurants. If you're wanting to get around a bit faster Celia Hostel will get you set up with a bike or a car rental. That way you can get out exploring in whatever way you want. If you've got your own wheels during your trip to Mandalay, Celia has free onsite parking.
The 24-hour front desk is a top feature at Celia. The friendly staff are there to help you with just about anything. From figuring out airport transfers to booking cooking classes, walking tours or just some travel advice just ask and they'll help you get it all sorted out.
Celia Hostel Mandalay is one of our favourites in Mandalay but they're not taking guests right now. We're not sure if they're closed for good but we hope they'll come back soon.
Is This the Best Backpack EVER???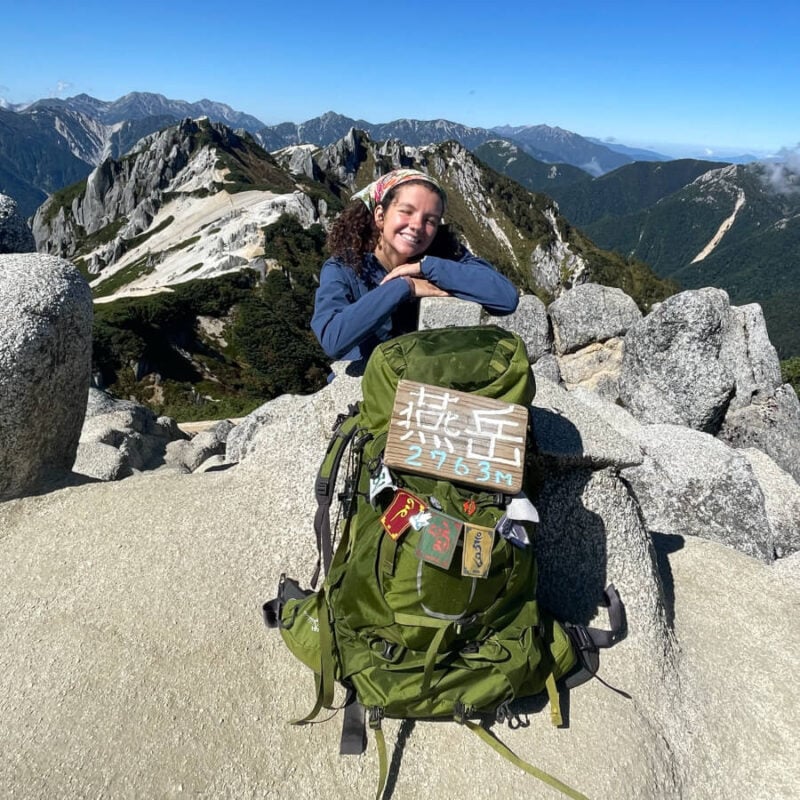 Other Hostels in Mandalay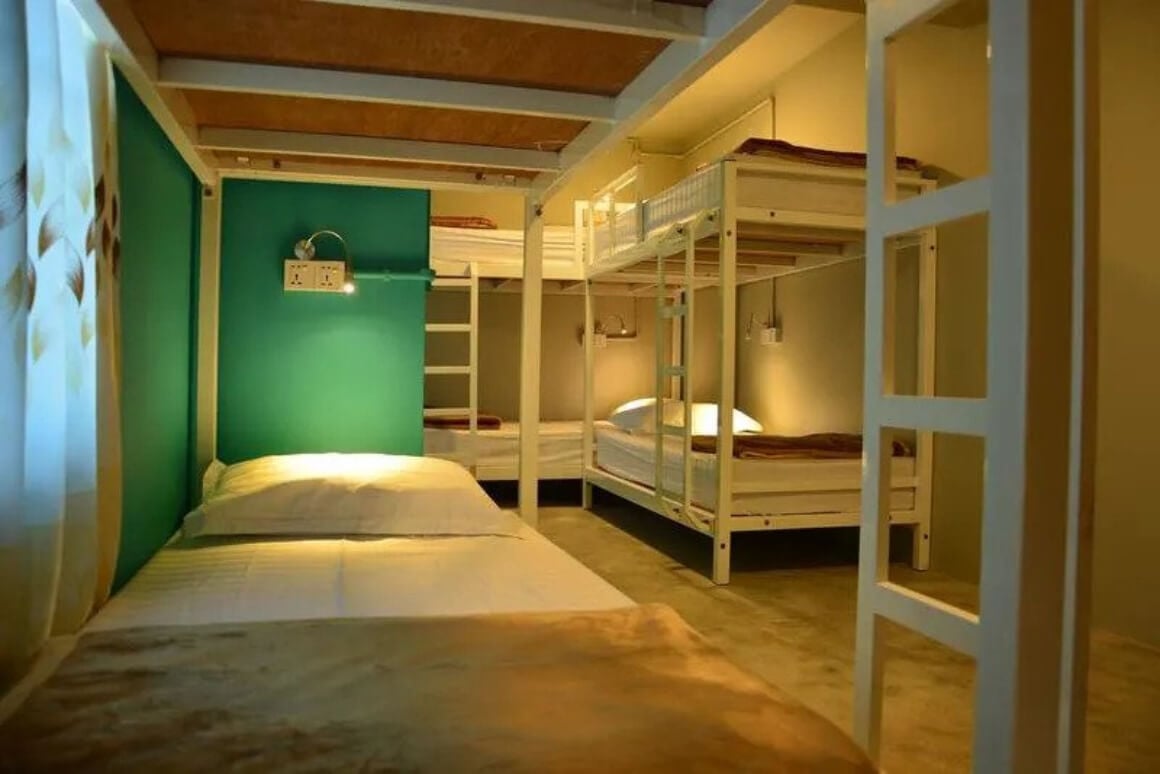 $$
Female and Mixed Dorms & Private Rooms
Car Rentals
Free Breakfast
The name Downtown@Mandalay is a dead giveaway that the location is key. The hostel is perfectly situated for seeing the sights. Places like Sri Ganesh Temple and Ein Daw Yar Pagoda are not too far away. If you're looking to venture further, consider renting a car or a bike – Downtown will help you arrange it, no worries!
Female and mixed dorms at Downtown@ are a solid option for an affordable stay in Mandalay. If you're interested in getting a private room, choose from a room for two with either single beds or a double. You can also choose to have a room with a bathroom ensuite or to keep costs down, or opt to use the shared bathrooms. An ensuite room is awesome when you want some true privacy, then it's definitely worth the slightly higher rate for peaceful pooping!
Downtown does not have a communal kitchen (truthfully, not many traditional hostels in town do either), but free breakfast is offered every morning. This way you can fill your belly before heading off for a day of sightseeing.
Mansion Hostel Mandalay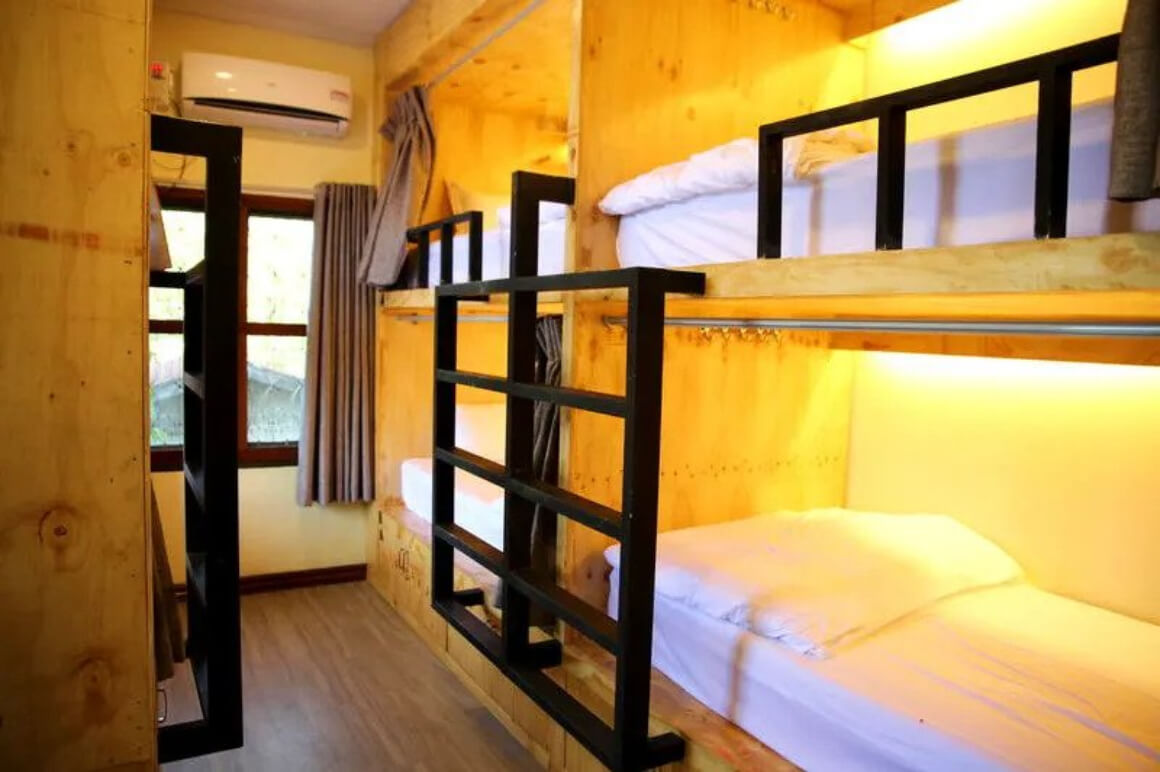 $
Gender-Specific Dorms & Private Rooms
View of the Royal Palace
Free Breakfast
You're heading to Mandalay to see the sights, so why not stay at a place that has the best views of the royal palace? Located just across the water from the palace, Mansion Hostel is steps away from one of the bridges that will take you over the moat. Take in the beautiful scenery while eating breakfast or relaxing in the evening up on the rooftop. This panoramic view is the perfect backdrop to your stay in Mandalay.
All room options at the Mansion set you up in a capsule-type single bed. Surrounded by semi-permanent walls on most sides, you can give yourself more privacy by closing the curtain. Inside your tiny space, the outlet and reading lamp lets you get a bit of "me-time" away from everyone else.
Private rooms are an option at the Mansion, but it's the same set-up as the dorms. So, if you're looking to share a bed with your partner, this may not be the place for you (or ya know, maybe it is!) Instead, if you're travelling as a group of friends, it's a nice option to have a bit of privacy together, but without having to share a bed.
Mansion Hostel Mandalay is one of our favourites in Mandalay but they're not taking guests right now. We're not sure if they're closed for good but we hope they'll come back soon.

Our GREATEST Travel Secrets…
Pop your email here & get the original Broke Backpacker Bible for FREE.
Ace Star BnB Backpacker Hostel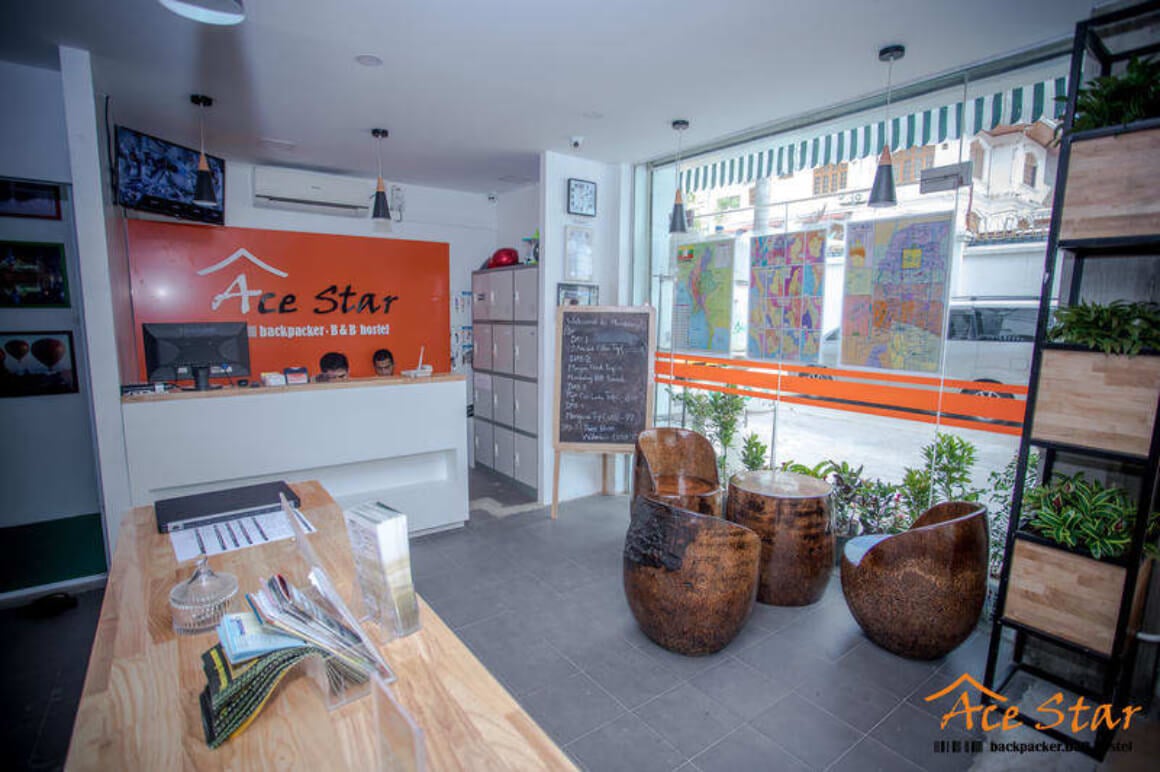 $
Single Gender & Mixed Dorms Only
Rooftop Garden
Free Breakfast
The vibe at Act Star is super friendly and welcoming to all travellers. As a true backpacker hostel, Ace Star is designed for travellers who are on a journey to experience the world. Keeping rates low so we can continue this journey for as long as possible, Ace Star offers dorm accommodations. Bunking it up with other travellers makes it easy to meet others and keep the costs at a minimum. Depending on your comfort level, choose from single or mixed-gender rooms. Some are ensuite while other rooms share the bathrooms.
Personal lockers are just right to keep your stuff secure when you're snoozing or out on an epic adventure for the day. Just make sure to bring your own lock.
Head up to the rooftop garden to relax and unwind after a day of sightseeing. After a quick run to the convenience store nearby, make it BYB. Chances are you'll meet other guests up there doing the same exact thing. Strike up a conversation and ask about their latest adventure or life story. Chances are you'll get some great advice on where to head tomorrow or even new friends on this journey of life. Cheers!
Ace Star BnB Backpacker Hostel is one of our favourites in Mandalay but they're not taking guests right now. We're not sure if they're closed for good but we hope they'll come back soon.
Mandalay Hostels FAQ
Travel Safety Tips for Mandalay
ALWAYS sort out your backpacker insurance before your trip. There's plenty to choose from in that department, but a good place to start is Safety Wing.
They offer month-to-month payments, no lock-in contracts, and require absolutely no itineraries: that's the exact kind of insurance long-term travellers and digital nomads need.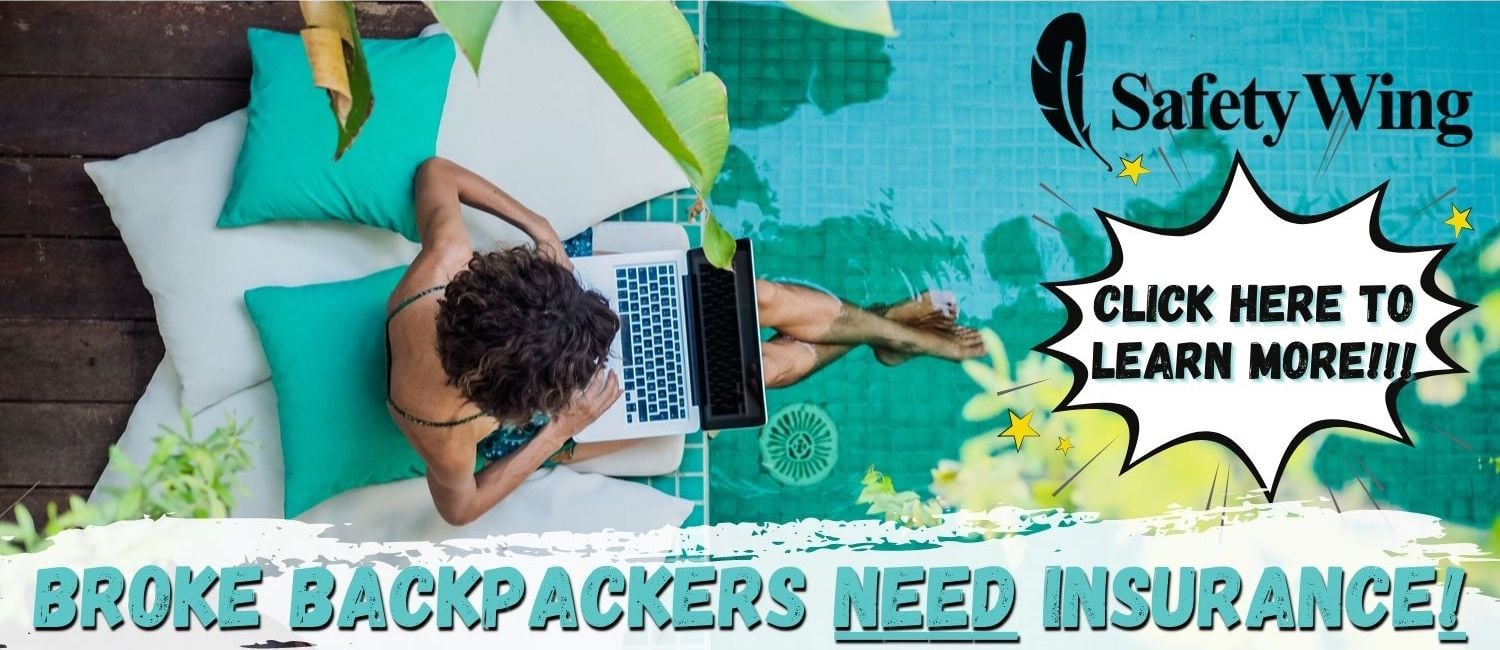 SafetyWing is cheap, easy, and admin-free: just sign up lickety-split so you can get back to it!
Click the button below to learn more about SafetyWing's setup or read our insider review for the full tasty scoop.
Final Thoughts
So there you have it, the Best Hostels in Mandalay. As you can see the city of Mandalay has so much to offer visitors and there are some great places to stay that offer top quality at affordable rates. Definitely check out Ostello Bello Hostel, they do an awesome job of meeting the needs of every guest and then some. That's why we've named it Best Overall Hostel in Mandalay. In the end, even if you choose another place from the list, you're sure to have a great time in Mandalay.
Worried about safety in Myanmar? Check out our post for the latest info.
Visiting the rest of Myanmar? Have a look at the best hostels in Yangon before you head that way.
---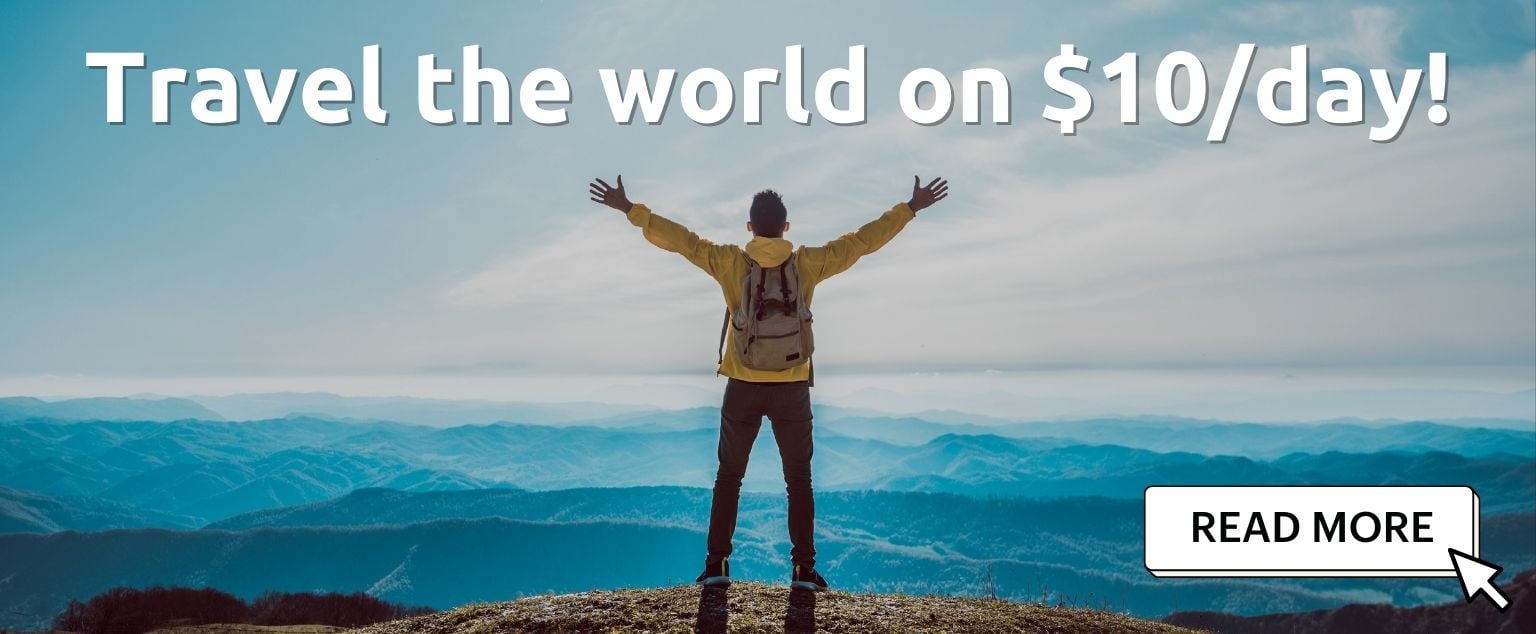 And for transparency's sake, please know that some of the links in our content are affiliate links. That means that if you book your accommodation, buy your gear, or sort your insurance through our link, we earn a small commission (at no extra cost to you). That said, we only link to the gear we trust and never recommend services we don't believe are up to scratch. Again, thank you!