Ever considered discovering Albania? Well, now's your chance! Tirana is the capital city of Albania, found on the Balkan Peninsula of Southeastern Europe, and it's the perfect starting point for an Albanian adventure.
The country itself is probably most famous for its network of bunkers, mountains, and UNESCO World Heritage towns. Tirana, however, has its own list of attractions that make it a great place to travel to and discover.
The capital city has some awesome galleries, museums, and theaters as well as some amazingly colorful buildings and street art. Oh, and let's not forget Tirana's very own pyramid – a historical landmark in the middle of the city.
Tirana also happens to be one of the cheapest cities to visit in the Balkan Peninsula as well as in the rest of Europe. That should already have your attention!
There are also a decent number of hostel offerings which are, as you guessed, pretty reasonable for European standards. You can be sure that booking a hostel in Tirana will more than satisfy your needs and help make your trip a memorable one.
I've done the research for you so all you need to do is book those tickets and get exploring! Keep reading on to discover the top hostels in the Albanian capital!
Quick Answer: The Best Hostels in Tirana

Do You Want to Travel FOREVER??
Pop your email in below to get a FREE copy of 'How to Travel the World on $10 a Day!'.
What to Expect from Hostels in Tirana
So, you're backpacking through the Balkans and find yourself in Tirana. Lucky you. But where to stay?
When it comes to hostels in the city of Tirana, there are more than enough for you to choose from. This means that you aren't going to be paying an arm and a leg for your accommodation. Saving money on accommodation means that you're going to have more to spend on other activities and ultimately are going to have a better experience.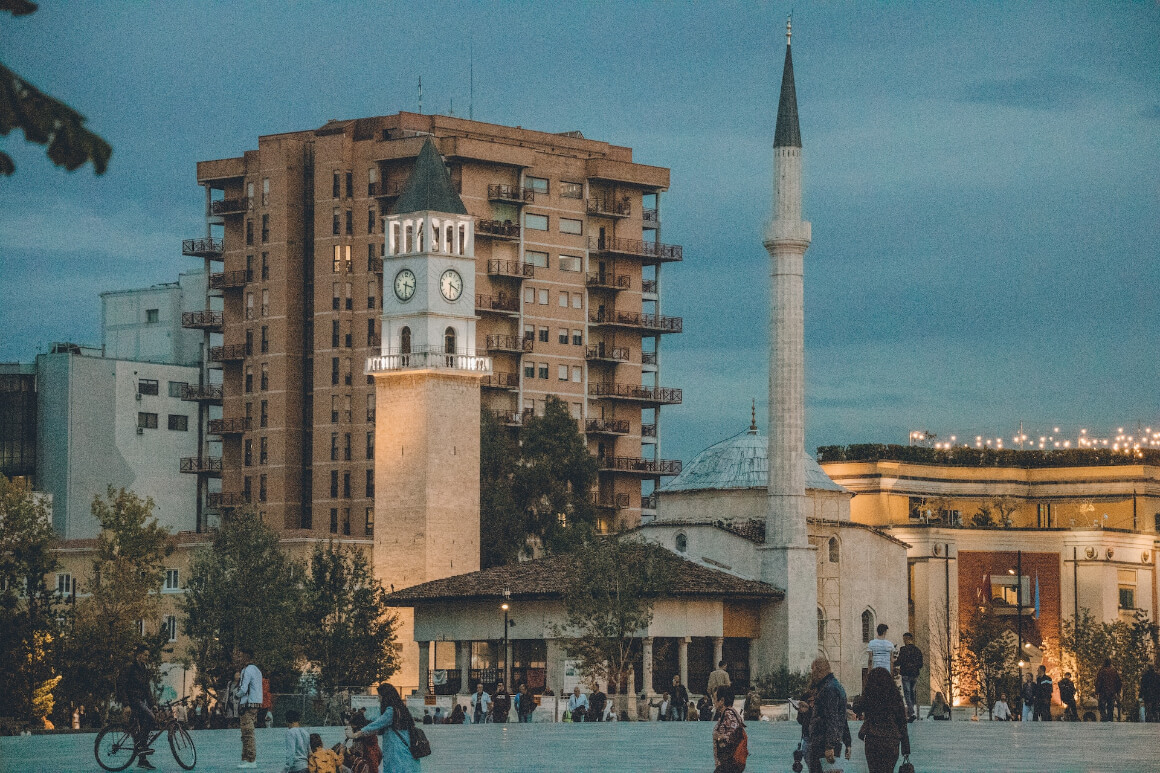 There are also a range of different hostels on offer which means that there's going to be something for everyone, depending on what you're looking for. Some people want a bustling and vibey hostel, whereas others are looking for a quieter vibe. Whatever it is that you're after, you can rest easy knowing that there's something for you.
Compared to the rest of the Balkan states and Europe, hostels in Tirana are pretty affordable. You can expect to pay between $13 and $22 for a bed in a dorm and between $22 and $66 for a private room. This is obviously dependent on the offering and the amenities that it provides.
Hostelworld is always my go-to booking site for all hostel-related bookings. There is no other site that I would recommend using as it's all there for you in one location. You can effortlessly browse and filter your results, read reviews, and make bookings. Why would you want to use anything else?
Right, so that's most of the nitty-gritty, general stuff out of the way. Let's now get into the real substance of the article – the best hostels that money can buy in Tirana.
Best Hostels in Tirana
I've gone through all the offerings and filtered accordingly so that all you have to do is sit back, relax, and get reading. While you're about it, grab yourself a cold one or a cuppa and immerse yourself in the best hostels in Tirana for 2023.
Whether you're a solo traveler, traveling couple, or digital nomad looking to live that good hostel life in Albania, I've got you covered! Let's go!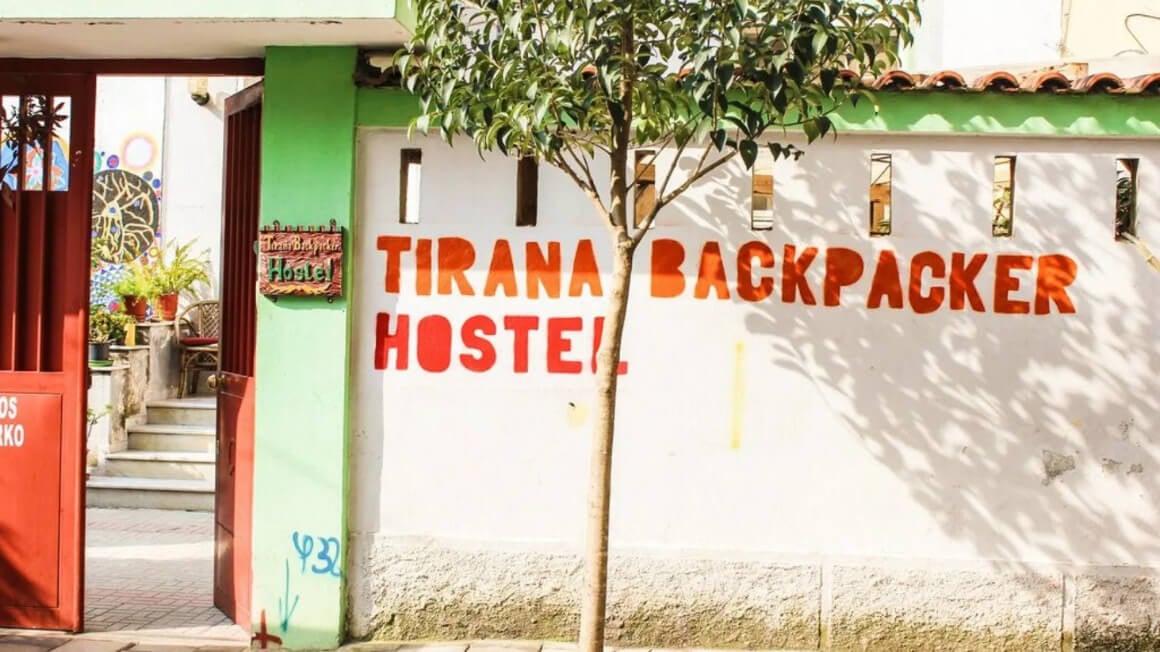 Towels and linen included
Bar on the premises
Right, so where to begin? The Tirana Backpacker Hostel pretty much has it all. There's a super cool garden, for starters. It's the perfect hang-out spot for fellow travelers and there's almost always something happening there. The hammocks and sofas make it the perfect chill spot during the day and at night.
There is free breakfast included which is always a win as well as towels and linen, Wi-Fi, and city maps. There is also a laundry service available as well as bicycles for rent to explore the nearby attractions.
Why you'll love this hostel:
Backyard chill sessions
Instruments for a jam session
Centrally located in Tirana
Aside from being highly attractive already, there's still more! The whole vibe of the hostel is centered on community and every night the dinner is cooked by volunteers. This really gets the community spirit going, and it's a great way to meet other travelers.
It's also super easy to get to and from the airport using the bus which is a short commute away (and it's only a few dollars). Overall, it's just a really well-run hostel with clean bathrooms and great facilities – everything to make your stay both comfortable and enjoyable.
Best Hostel for Solo Travelers in Tirana – Trip'n'Hostel
Every solo traveler is different. What I can tell you is that if you're after a great, relaxed hostel that puts forward a chilled vibe, then Trip'n'Hostel will be well-suited for you. The indoor and outdoor common areas are great places to relax, do a spot of work, or catch up with friends and family.
The rooftop solarium, essentially a glassed-in area, is a perfect chill spot for those slightly cooler months. The self-catering kitchen is connected to the back garden which is a great spot to sit and enjoy your delicious, self-cooked meal.
Why you'll love this hostel:
Great chill areas
Relaxed atmosphere
Rooftop solarium
The breakfast is one of the top attractions of the hostel – and it's free! Overall, the staff are really friendly yet still professional, the rooms and bathrooms are clean, and the vibe is great. Oh, and there's also a bar to grab your favorite drink at before heading over to the games room.
Epic Hostel for Digital Nomads in Tirana – Blue Door Hostel
Free breakfast
Private bar
The Blue Door Hostel, characterized by its, uh, blue door is a brand new hostel that's close to the Tirana city center. It is located in quite a historical area and the nearby history is mirrored in the hostel. The very essence of the front door symbolizes tranquility, elegance, and peace.
The Blue Door hostel is conveniently located in the city and is within a short commute from the Old Bazaar, the National Museum, and local restaurants.
Why you'll love this hostel:
Plenty of workspace available
New, modern feel about it
Great views from the terrace
One of the highlights of the hostel is that it is surrounded by characteristic Albanian villas, so even though it's in the city, you get the feeling that you're in the suburbs. This does a great job to relax guests somewhat as it is the perfect break from the bustling city center.
With free WIFI, dedicated workspaces, and a chilled vibe, it's the perfect urban venue for digital nomads to catch up on emails and do a spot of online work.
Linen included
Security lockers (large and small per bed)
As a traveler myself, I know the struggle of having to find an affordable place to ensure you have money for the rest of your trip. That's where Buff Hostel comes in – it's the most affordable of all the hostel offerings in Tirana.
Just because it's affordable doesn't mean that you're losing out – it's still got all the elements to make your stay comfortable. Linen and towels are included in the price, there's free Wi-Fi, and each bed comes with two lockers (one for large luggage and one for day packs).
Why you'll love this hostel:
Conveniently located from local sights
Affordable rates for budget travelers
Run by young, energetic owners
One of the best things about Buff Hostel is its location – it's in a historical neighborhood with plenty of bars, restaurants, and markets close by. The hostel also has a few different chill areas spread over the three floors so you can either socialize or chill on your own depending on your vibe.
Great Dorm for Couples in Tirana – Art Hostel Tirana
Awesome terrace
Security lockers
Art Hostel Tirana is one of the top-rated hostels in the city – and it's easy to see why! There are dorm rooms that feel like hotel rooms – they are spacious and modern with privacy curtains across them, too. The kitchen facilities are great and there are some awesome common spaces to chill, relax, or meet other like-minded travelers.
However, one of the favorite attractions is the terrace area which really comes alive at night with its open pergola and lighting. It's the perfect spot for couples, solo travelers, or friends to hang out and have a drink or a bite to eat.
Why you'll love this hostel:
Amazing, friendly staff
Comfortable, modern rooms
Great kitchen facilities
There are also board games available to keep you busy or a communal TV in the lounge area if you can all settle on a movie, series, or documentary to watch. There's also your own personal Netflix account that you can stream using the free Wi-Fi available at the hostel. What a time to be alive!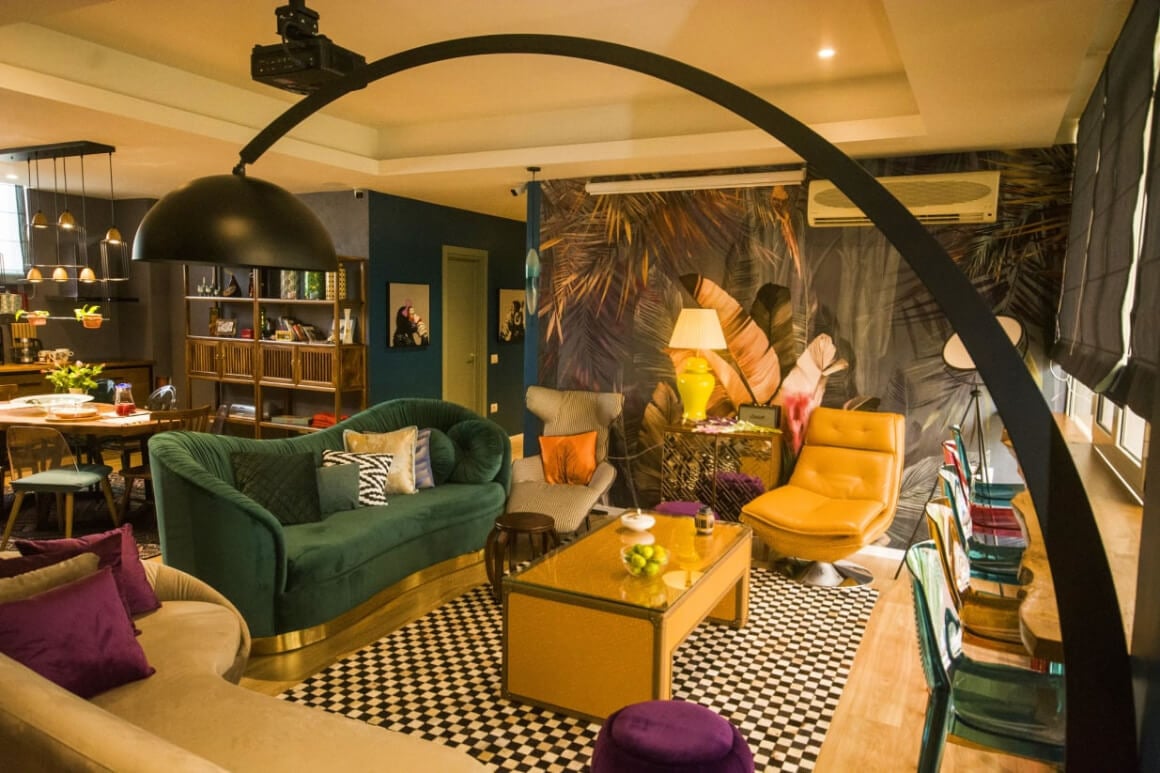 Private locker
Individual reading light
As a solo female traveler, you want to feel safe in the hostel that you're staying in as well as in the area the hostel is in. Both of these boxes are ticked when it comes to the Vanilla Sky Boutique hostel. There are a whole host of bars and restaurants within walking distance of the hostel as well as all the main tourist attractions in the city.
The hostel also has a nice modern feel to it with common areas that feel more like home than a hostel. More importantly, there are female-only dorms which adds to the safety aspect of solo female traveling.
Why you'll love this hostel:
Modern, chic feel
A real "home away from home" feel
Hair dryers included
Aside from the already attractive nature of the hostel, it features free Wi-Fi, modern self-use kitchen facilities, and epic chill areas. The shared bathrooms are beautifully designed and are cleaned daily to ensure they are always spotless. Some of the rooms even feature a small balcony for grabbing some fresh air while gazing up the side streets.
Best Hostel with Private Rooms in Tirana – Homestel Albania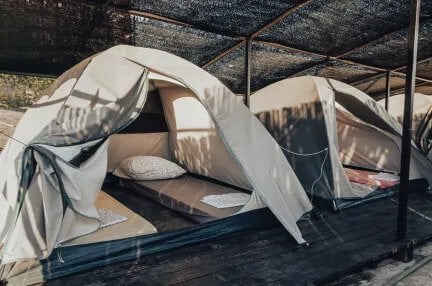 Individual power sockets at each bed
Fully-equipped kitchen
It's all in the name – Homestel is another one of those hostels that has that homely vibe and is very much centered on the people. The favorite spots to socialize are, of course, the rooftop terrace and the large kitchen.
Another huge plus is the location. The hostel is conveniently located from all the major bus stations which makes the world of difference when arriving and departing the city. There are also a whole host of bars, cafes, and restaurants within walking distance of the hostel that offer a great variety and at different prices. There's something for everyone!
Why you'll love this hostel:
One of the largest rooftop terraces in the city
Surrounded by cafes, bars, and restaurants
Free walking tours from the hostel
The hostel can also arrange a number of other events and services. This includes barbecues on the rooftop (a firm summertime favorite), transport within Albania, airport transfers, and car rental. Think of it as a one-stop shop.
The private rooms are also really well-priced and provide good bang for your buck. The rooms are available with a private or shared bathroom, TV, and AC at an additional cost. The AC is definitely recommended for those hot summer months!
Hostel for Large Groups in Tirana – Zig Zag Hostel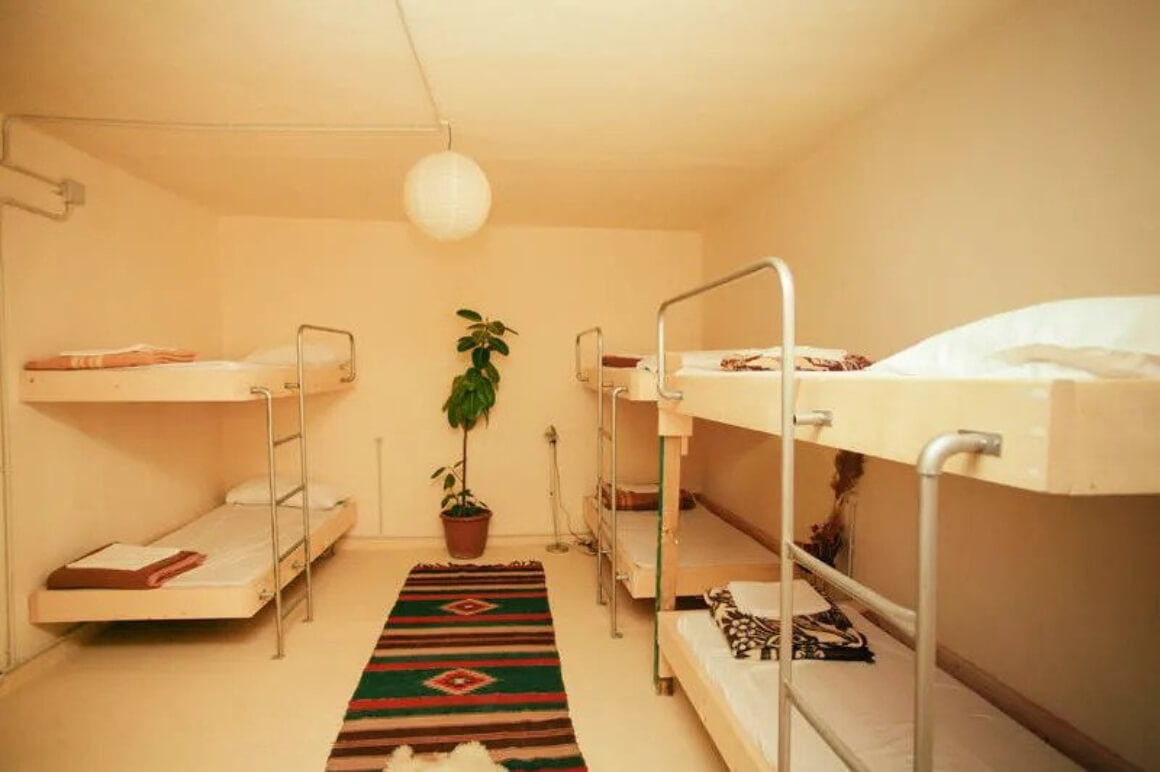 Breakfast included
Onsite bar
One of the best features of the Zig Zag Hostel is that 6-bed dorms allow you and your friends to have an entire room to yourselves. This makes it the ideal hostel for large groups who are traveling together. It is also the perfect chilled vibe for you and your friends to relax in after a long day of exploring the Albanian capital.
The central location of the hostel means that you're within walking distance of the major tourist attractions as well as the local nightlife and restaurants. The garden area is one of the favorite features of the hostel as it's the ideal place to chill with your mates or mingle with other travelers.
Why you'll love this hostel:
Super flexible check-in and check-out times
Relaxed, cozy, and homely vibe
Great place to meet other travelers
Aside from these already attractive amenities, the Zig Zag Hostel in Tirana allows for flexible check-in and check-out. This is always such stress trying to see everything, get ready, and pack before check-out time. Some hostels even charge you a penalty for checking out late! Again, this contributes to the relaxed nature of the hostel and further enforces the cozy and homely vibe.
You can also expect the usual like free Wi-Fi and free city maps with towels and linen being included too. The breakfast has been described as "insane" and will ensure you are well-fed for a busy day of exploring in the capital.
Is This the Best Backpack EVER???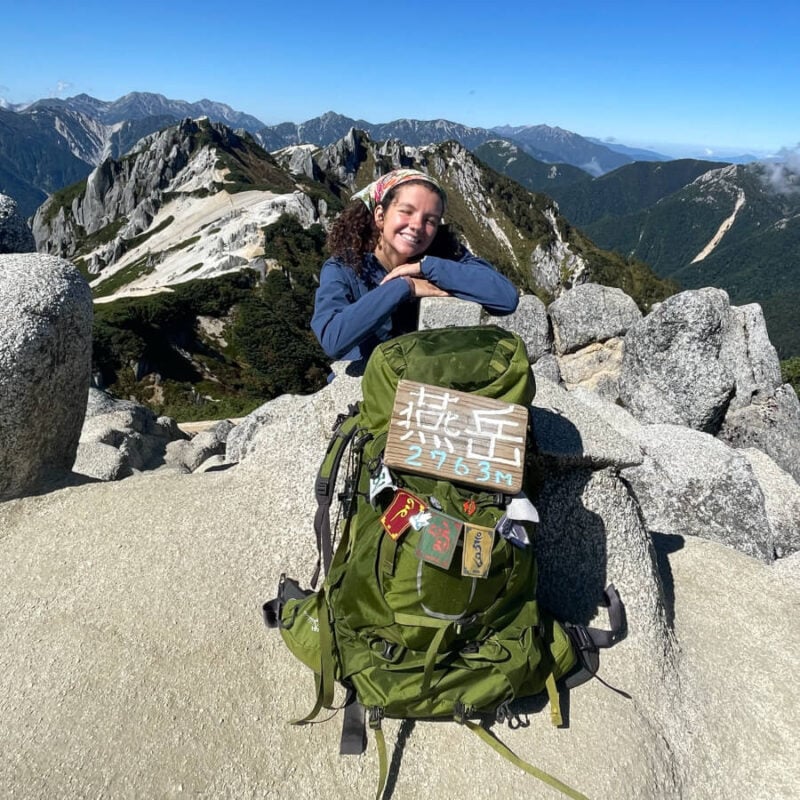 Other Hostels in Tirana
Now, aside from this list, there are a few other hostel options that I can also recommend in Tirana. They're all great alternatives to the above places if what you're looking for is booked out for the dates that you're going to be in the city.
Here they are:
Variety of room options
Fully-equipped kitchen
The Golden Rooster features pretty basic dorm rooms that are spacious, have lots of natural light and each bed has its own individual locker. The private rooms have a number of configurations and you can even get a single private room that sleeps one person – pretty nifty!
There are some pretty cool common areas within the hostel that are perfect to chill out in, read a book, do some work, or meet other like-minded travelers. There is a fully-equipped kitchen for guests to prepare their own meals which is always a win! Eating out can get expensive and can be lonely as a solo traveler. Why not kill two birds with one stone – save some cash and meet new people!
Restaurant, café, and bar on site
Amazing staff
As the name suggests, Mosaic Home is going for a more cozy, home-like vibe instead of a robotic-type hostel with no personality. There's nothing like feeling the comfort of being home while travelling and that's what the hostel is aiming to achieve.
All rooms feature air conditioning which is an absolute God-send in the hot summer months, especially if you're staying for a few or more days. There's nothing quite like trying to do a spot of work in extreme heat. While the hostel serves up free breakfast in the mornings, the on-site café also offers healthy meals to its guests at an additional cost. Mosaic Home is light and bright with lots of natural sunlight pouring in and making it feel like a warm, welcoming home.
AC in all rooms
Rooftop terrace
Last but not least, and to bring us to a close, is the Hoja Hostel. Hoja means "beehive" in the Albanian language and the name is derived thanks to the way the building is built (well, like a beehive!).
The hostel features either four or six-person mixed dorms and is relatively small and intimate compared to other larger hostels. There are two main common areas, one on the ground floor and the other up on the rooftop – the latter having great views over the city. There is a bar and café onsite for meals and a supermarket right next door to the hostel. For those social butterflies, there's a cool bar called Te Bacja directly behind the property for evening drinks and socializing.
Tirana Hostels FAQs
Now, when it comes to questions in a particular location, I'm all about asking them beforehand in order to avoid any issues later on. Some people feel that their questions may be stupid or not important. Chances are, someone else has the same question as you do and is also intimidated to ask it.
Always remember – no question is a stupid question! Here are some of the most frequently asked questions that I've come across:
Travel insurance is ESSENTIAL!
I wouldn't travel anywhere in 2023 without insurance, and neither should you! Don't be silly.
ALWAYS sort out your backpacker insurance before your trip. There's plenty to choose from in that department, but a good place to start is Safety Wing.
They offer month-to-month payments, no lock-in contracts, and require absolutely no itineraries: that's the exact kind of insurance long-term travellers and digital nomads need.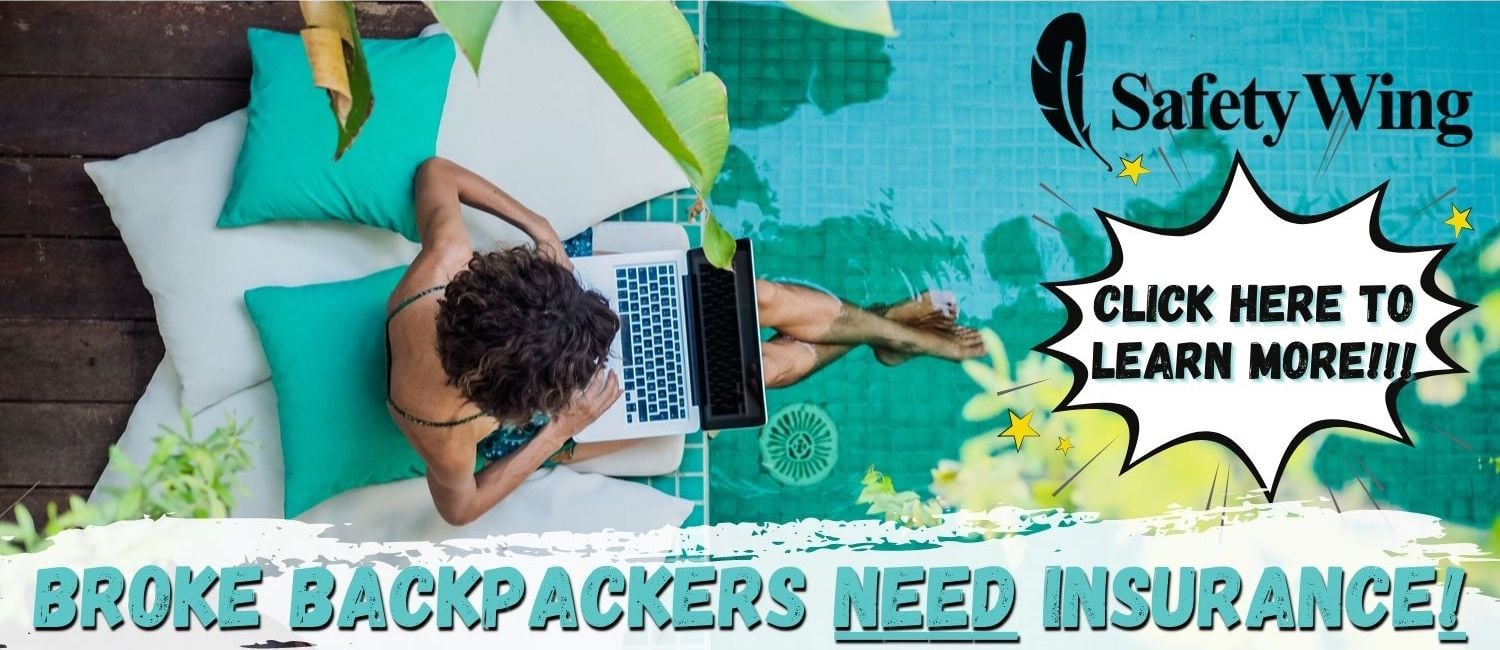 SafetyWing is cheap, easy, and admin-free: just sign up lickety-split so you can get back to it!
Click the button below to learn more about SafetyWing's setup or read our insider review for the full tasty scoop.
Final Thoughts on Hostels in Tirana
Unfortunately, that brings us to the end of the Best Hostels in Tirana for 2023. But, it's not all gloom and doom – this is just the beginning. You've got the information, now all you need to do is get booking and hit the road!
I have every bit of faith that this guide will see you through your travels of the Albanian capital. Whether you're after that pumping party hostel or that chilled haven, I'm confident that you'll have the most epic stay! Remember to check out my top pick, Tirana Backpacker Hostel. Trust me, you won't be disappointed!
Safe travels and see you out there!
---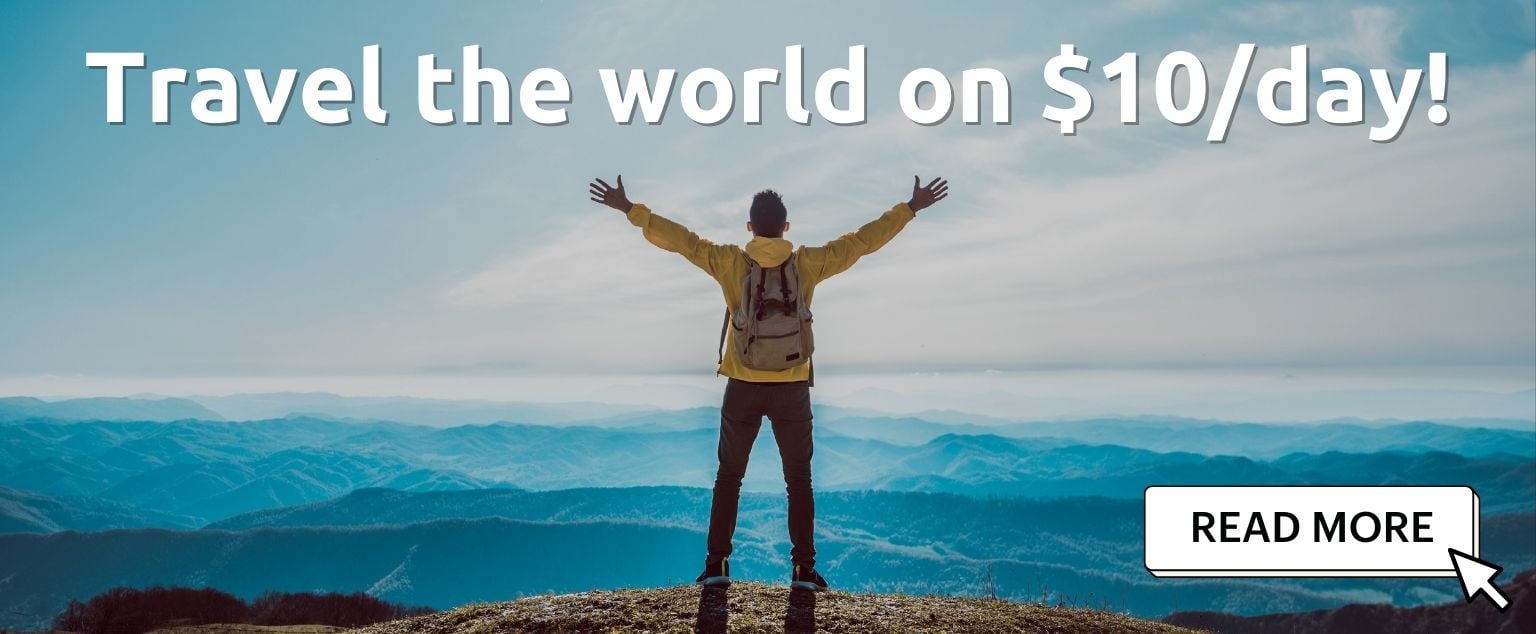 And for transparency's sake, please know that some of the links in our content are affiliate links. That means that if you book your accommodation, buy your gear, or sort your insurance through our link, we earn a small commission (at no extra cost to you). That said, we only link to the gear we trust and never recommend services we don't believe are up to scratch. Again, thank you!