The capital of New Zealand, Auckland is known for its stunning natural surroundings and its hair-raising attractions. This is a city that can offer a lot for people who enjoy being in nature and raising their adrenalin levels. It's also a city that has a bright, welcoming vibe that will make you fall in love with it.
There are a lot of amazing places to visit in Auckland no matter what you like to do. It isn't all bungee jumping and ziplines, those these are obviously there if you want to try them out. If you're looking to plan your ideal trip, including all of the activities that you want to do, then here's a list of the best and most popular attractions and landmarks in Auckland.
Need a place quick? Here's the best neighbourhood in Auckland:
BEST AREA IN AUCKLAND
CBD
Auckland's CBD is the busiest part of the cosmopolitan city and there's always plenty going on. With many of the city's major sights, a wide selection of places to eat, drink, and shop, and a good choice of hotels, hostels, and apartments, the CBD is the overall best Auckland neighbourhood for a first-time visitor.
Places to visit:
Admire the diverse works in the popular Auckland Art Gallery Toi o Tamaki.
Visit the Auckland War Memorial Museum.
Soak up the views from Auckland Harbour Bridge. Daredevils can sign up for an exhilarating bungee jump.
These are the BEST Places to Visit in Auckland!
A member of our team admits to seeing Lady GaGa in Auckland whilst staying in one of the coolest hostels around in the CBD district. Be sure to check out where to stay in Auckland so you have the low down on ALL of Aucklands' great neighbourhoods. Choose your favourite, book your accommodation, and continue on down this list!

Unlock Our GREATEST Travel Secrets!
Sign up for our newsletter and get the best travel tips delivered right to your inbox.
#1 – Auckland's Sky Tower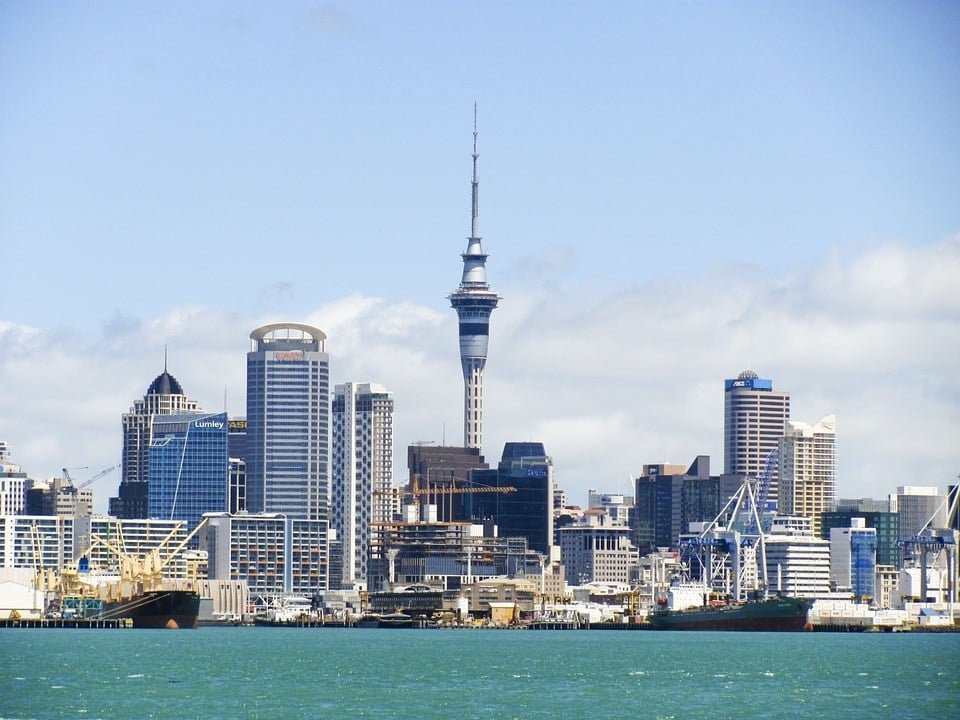 One of the most obvious landmarks in Auckland.
This building is the tallest in New Zealand, which makes it the best place to get amazing views of the city.
Why it's so awesome: Going to a tall place in a new city is the ideal way to get a feel for the city's layout and to enjoy some amazing views. Auckland's Sky Tower is on every backpacking guide to Auckland, is 328 meters tall and the perfect place for some great photographs. But you can do more than that at this Auckland must do. It's also a popular place for an adrenalin rush!
What to do there: This is one of the best places to visit in Auckland if you just want to take in the views and take pictures. But if you're really brave, you can walk the Sky Walk platform around the pergola of the tower, a dizzying 192 meters high. And for the real adrenalin junkies, you can also base jump off the platform!
#2 – Auckland Art Gallery – One of the most underrated places to see in Auckland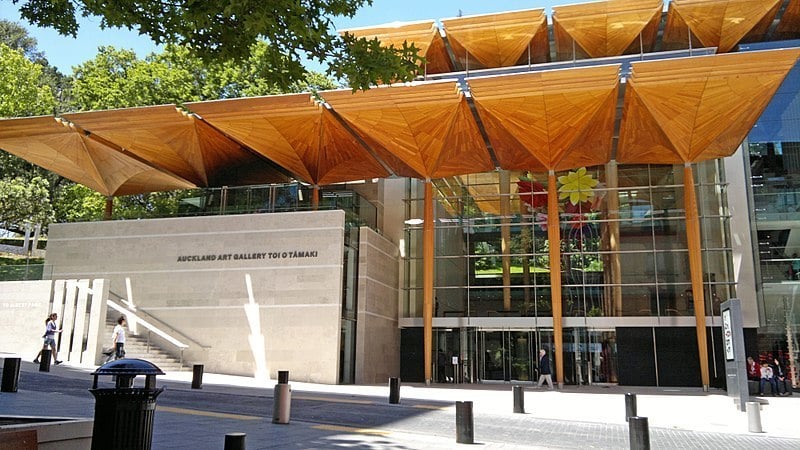 One of the most popular and impressive points of interest in Auckland.
The most extensive art collection in New Zealand is at this gallery.
Why it's so awesome: You probably don't think of New Zealand in terms of art, but if you enjoy exploring this aspect of a country's culture then this is the place to visit. The gallery houses an impressive range of European artwork dating back as far as the 14th century. However, it's the collection of Maori and Pacific Island arts that really impresses.
What to do there: This is a lovely serene place to visit and enjoy Auckland's art scene. With more than 15,000 pieces of artwork on display, you'll be spoiled for choice. Just make sure that you visit the main New Zealand collection, located on the main floor. This is where you'll find works by Pacific Island and Maori artists, past and present.
#3 – Auckland War Memorial
If you want to learn more about Auckland's history, this is the place to visit.
The collection of artifacts at this memorial cover New Zealand's history from the first Polynesian settlers to the present day.
Why it's so awesome: This war memorial was first built to remember the soldiers killed in World War I, but it has grown to include much more than that. New Zealand is a fairly young country in terms of western history, but it was first settled by Polynesian settlers, and this heritage is what you'll learn about when you visit this war memorial.
What to do there: You'll need some time to explore this museum, as it contains several different parts. Head over to the Main Maori Galleries first. You'll experience a range of Maori artworks dating back as far as the 12th century. Make sure you visit the first floor too, where you'll find a natural history collection. The top floor is dedicated to the war memorial and contains artifacts of all the wars that New Zealand has been a part of.
#4 – Green Bay Street Food – A great place to visit in Auckland if you are alone/traveling solo
Located in Green Bay, this is a weekly zero waste food extravaganza!
If you like cheap but delicious eats, this is one of the best places to eat in Auckland.
Why it's so awesome: This is a street food location with a difference. Dedicated to building community and zero waste, it offers the tastiest food in the city with a conscience. Some of the city's best food trucks and stalls show off their wares here, so fill your belly and support a good cause at the same time.
What to do there: You'll want to go stall to stall at this place to try everything that's on offer. Some popular stalls and trucks include Judge Bao, Kraken Crumpets, Mama Tahina, and Go Go Mexican, so start with your favorite and keep going from there. There's a real community feel at this street food location, so take your time, chat to people, and take in the friendly vibe.
#5 – One Tree Hill – A beautiful outdoor place to visit in Auckland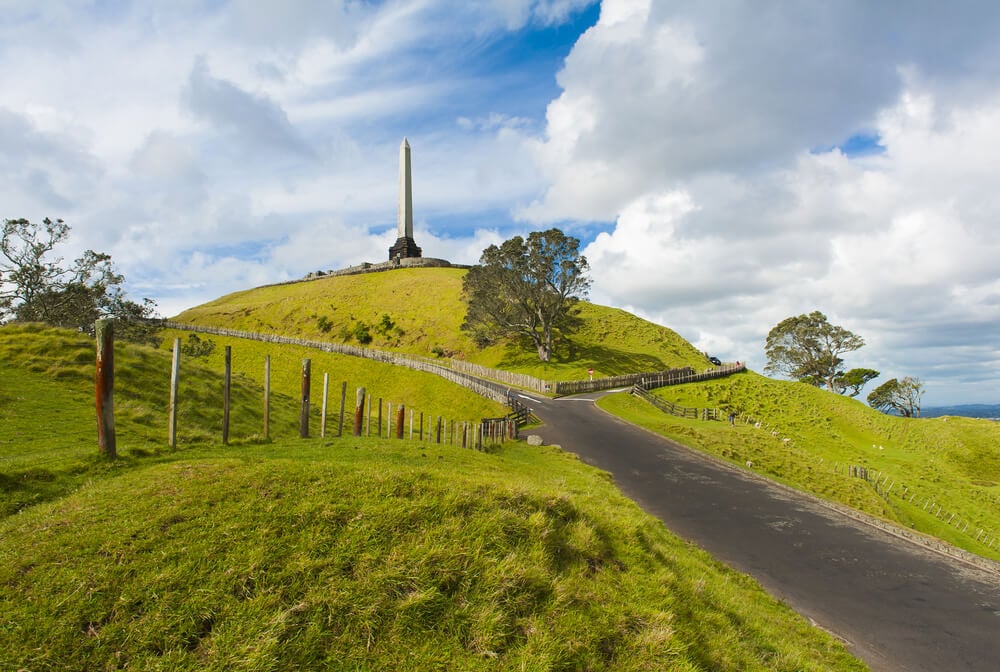 This is the symbol of the city and is an Auckland must-see.
The city sits in the middle of a lovely park with some really amazing trails.
Why it's so awesome: It sounds a little strange to say that you should see a hill, but in this case, it's the truth. This hill is a volcanic cone that's considered to be the symbol of Auckland by many of its inhabitants. It's located in the southwest corner of the park and there are amazing views as well as the remnants of a Maori village from the pre-European era on the slopes.
What to do there: While you're visiting Auckland, you really want to visit this park for the amazing views across the city. There are several walking trails through the park itself if you want to explore, but make sure you spend most of the time exploring the remnants of the Maori Pa, or fortified village, that stands on the slopes of the hill. There's also an obelisk at the top of the hill. It was built over the grave of Sir John Logan Campbell, who gave the park to the city.
#6 – Brown's Island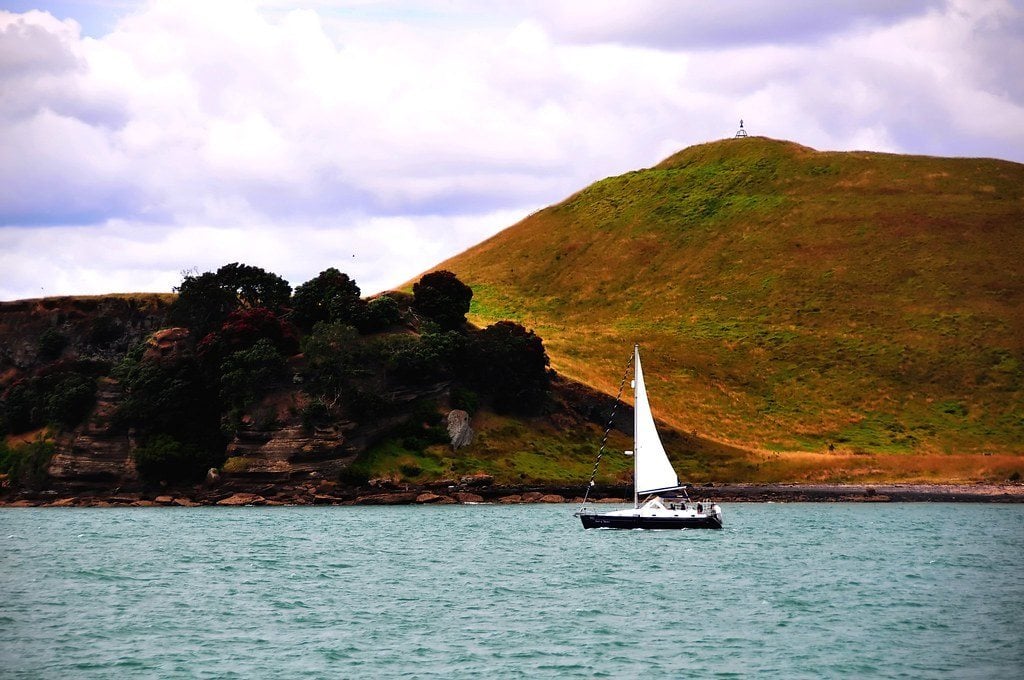 Located in the middle of Auckland harbor, this tiny island is often overlooked.
This island has a tumultuous past as it's one of Auckland's most intact volcanoes.
Why it's so awesome: There's nothing like finding a gem of serenity and history in the middle of a city, particularly one that few people ever see. But that's exactly what this island is. It's a remnant of New Zealand's volatile geological past, as it's a part of the Auckland volcanic field. It also once held bustling villages and is covered with ruins from this distant past.
What to do there: None of the ferries or tour boats stop at the island but you can get there by private boat, kayak, or seaplane. There's a beach on the northside where you can pull in close to the shore. Once you're there, just spend your time exploring the ruins that dot the island. Also, make sure you climb to the top of the hill, where you can look down into the main caldera and see the three volcanic cones in the slopes.
#7 – Muriwai Gannet Colony – An awesome place to visit in Auckland for half a day!
Auckland doesn't have much in terms of mammals, but it makes up for it with birds of all kinds, including these enormous seabirds.
Muriwai is a stunning black sand beach that looks incredibly dramatic in photos.
Why it's so awesome: If you like animals, then you need to make a trip to this area. Located on the west coast of New Zealand, just an hour from Auckland, this bird colony makes the ideal day trip from the city. The birds are native to New Zealand and although they leave the colony once they're grown, they return to mate and raise their young. And the area in which they choose to do this is truly spectacular.
What to do there: One of the things that will strike you about this area is how spectacular it is. The soaring cliffs against the roaring ocean are a sight not to be missed, as long as you make sure that everything you have is tied down, so the wild winds don't whip it away. The coast is only an hour from the city, so when you travel to Auckland, make sure you take a day trip to see this wild and beautiful scene.
#8 – Parnell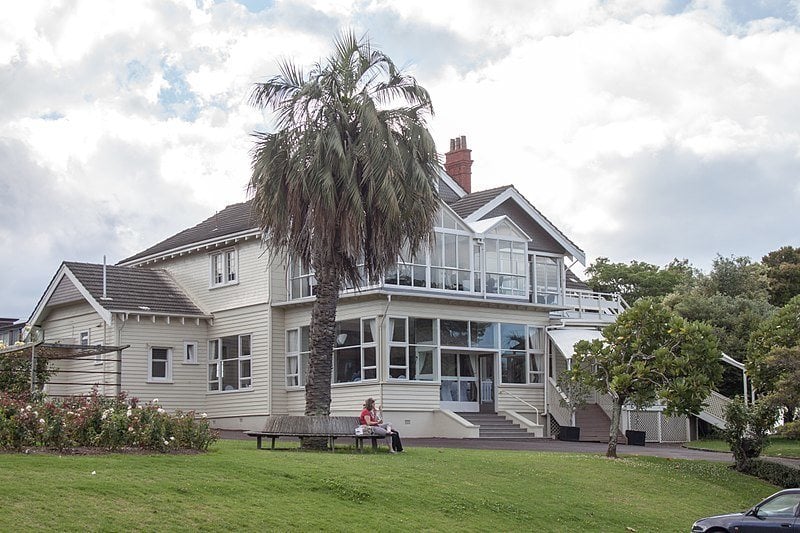 The oldest suburb in Auckland and now one of the most stylish.
If you're looking to spend some cash, you'll definitely be able to do it in this area.
Why it's so awesome: This suburb is lined with seemingly endless shops that offer goods to satisfy any need or want. If you're looking for unique, designer clothing, jewelry, homewards, or artwork, then you'll find them all side by side in this suburb.
What to do there: If you love to shop, then this suburb holds endless treasures for you. Grab your cards and carve out an afternoon or even a whole day for you to explore the shops and find souvenirs or clothes to remember your trip by. And when you get tired, there are lots of trendy local cafes where you can grab a coffee and rest your tired legs and credit cards.
#9 – The Street Food Collective – A must-see for foodies!
Located in the suburb of Ponsonby, this is a permanent food truck space.
No matter what type of food you'll love, chances are that you'll find it!
This market is one of the best places to eat in Auckland for cheap.
Why it's so awesome: The street Food Collective is open 7 days a week from 5-10pm and offers some of the best food truck vendors in the city. The roster of food trucks is always changing in this location, so no matter how many times you go, you'll find something new and delicious to try!
What to do there: Make sure you're hungry and turn up early so that you can enjoy some great food before the crowds get there. Some of the most popular regulars include the Tin Kitchen, Brooklyn Dogs, Maidstone Burgers and the Little Yellow Food Truck. And if you'd like a drink while you're there, make your way to Herbie the Bar.
Is This the Best Daypack EVER???
#10 – La Cigale French Markets
Year after year, this market shows people why it's one of the best places to visit in Auckland.
This French-themed market offers everything from buttery croissants to seafood paella.
Why it's so awesome: La Cigale is hands down the best market in the city and it's actually one of the most popular landmarks in Auckland as well. With two locations, one at Parnell and the other in Britomart, this market makes Saturday mornings a gastronomical delight for the whole of Auckland!
What to do there: Go French without having to pay for a plane ticket at this market. Try the delicious and dizzying range of French foods including aged cheeses, smoked salmon, cream eclairs, croissants, and seafood paella. The markets are open from 8am and they're incredibly popular, so make sure you're there early so you don't miss out on any of the treats!
#11 – Waiheke Island – One of the nicer places in Auckland to sightsee!
One of the most popular places to visit in Auckland.
Waiheke Island is one of Auckland's Hauraki Gulf islands and home to beautiful beaches and a relaxed café culture.
Why it's so awesome: If you want to get away from the city, then this island offers you the chance to do so. There are several villages on the island that contain art galleries and some trendy cafes, and the beaches are simply spectacular. The Stony Batter Historic Reserve is also located on the island, complete with an underground tunnel system from World War II.
What to do there: This is the perfect place to relax, swim at the beach, and take in the scenery. If you're looking for something a little more strenuous, then try one of the many hikes that wind along the coastline and through the interior of the island. The most interesting and the most difficult is the Church Bay Circuit. You'll see spectacular views along the way as well as the best that the island has to offer.
#12 – Viaduct Harbor – Cool place to see in Auckland with friends!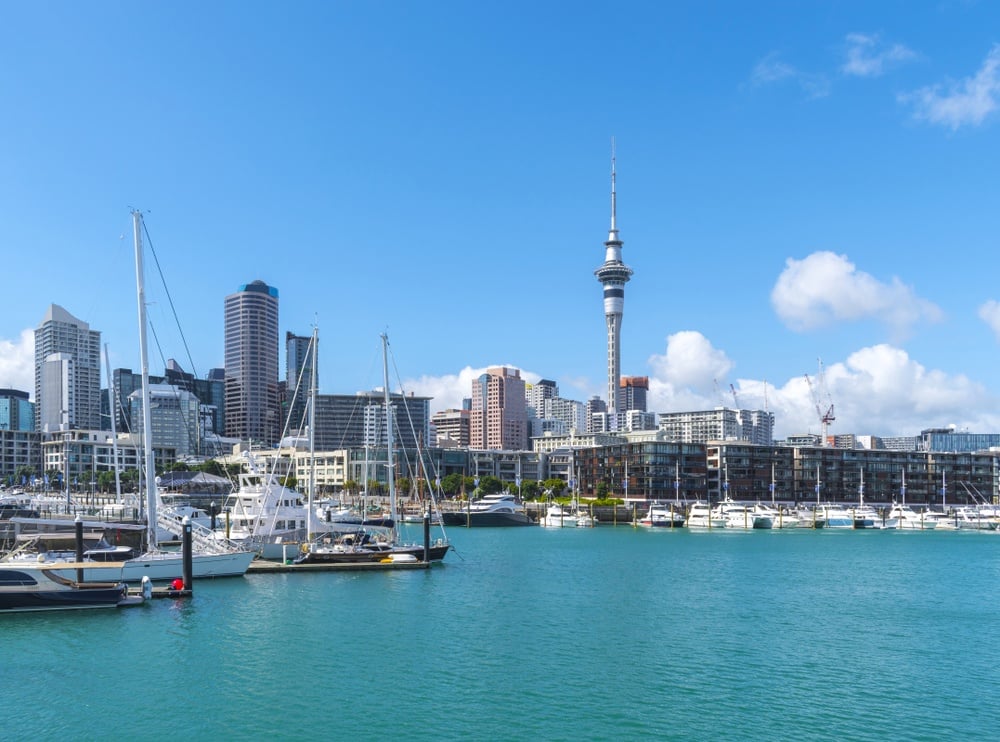 This area is the entertainment hub of the city.
You should definitely spend a Sunday in this area while you're visiting Auckland.
Why it's so awesome: Viaduct Harbor was recently renovated when New Zealand hosted America's Cup yachting regatta. The renovations were a complete success and have resulted in this area becoming a hub for entertainment year-round, but especially on weekends. During the summer, there are free events all the time, and even when there's nothing going on, you'll find live music, street food, and some of the coolest cafes in the city.
What to do there: Take the family down on a Sunday for the Flower Market with live music and free food. Or grab some friends and explore the cafes and restaurants. This is the center of Auckland, so it's a great place to start or end your explorations of this vibrant city.
Small Pack Problems? 😉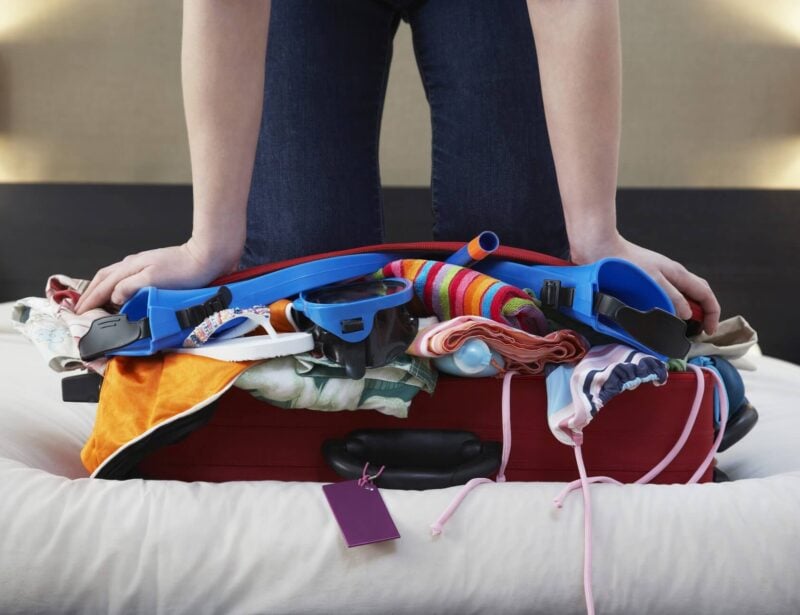 My missus travels with all her clothes in ziplock bags: don't be like my missus. UP YOUR PACKING GAME!
Packing cubes for the globetrotters and compression sacks for the real adventurers – these babies are a traveller's best kept secret. They organise yo' packing and minimise its volume too so you can pack MORE.
Or, y'know… you can stick to ziplock bags.
View Our Fave Cubes
Or Check Out the Sacks!
#13 – Kaipara Coast Sculpture Gardens – A beautiful and scenic place to check out in Auckland
A manicured garden that's the perfect place for a relaxing stroll.
More than 50 sculptures are on display through the varied landscape of this garden.
Why it's so awesome: Located just north of Auckland, this garden provides an interesting and relaxing place to visit. It's filled with native fauna and contains more than 50 pieces of sculpture art created by New Zealand artists. The garden provides the perfect natural backdrop for this art and there are several trails you can take, which make this an Auckland must-do.
What to do there: One day, when the weather is nice when you're visiting Auckland, take an afternoon or morning out to explore this garden. There's a short pathway through the park that will take you around all the sculptures. Or you can take the longer path dedicated to conservation. This loops through the different landscapes of the garden, including the native bush, pine forest, and farmland areas.
#14 – East Coast Beaches – A must visit place to visit in Auckland on the weekend!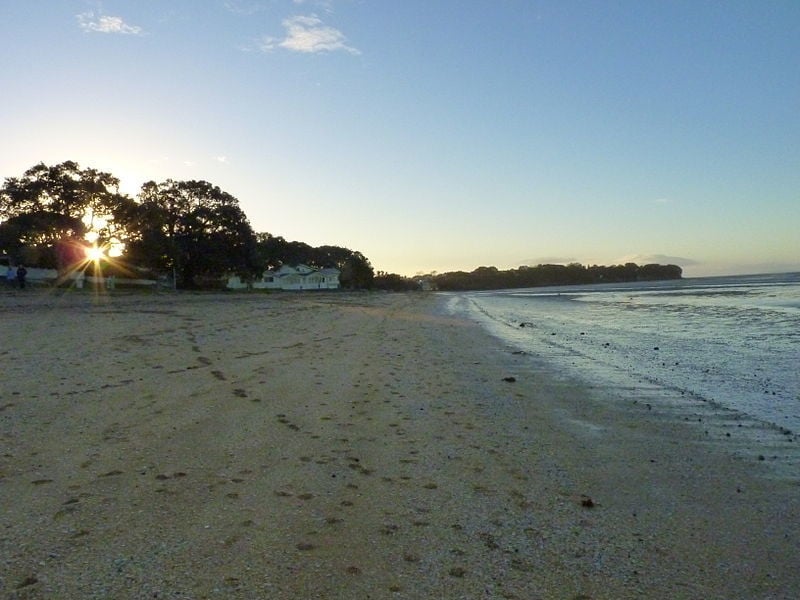 When you explore Auckland, you can't forget the stunning beaches!
There are several beaches in this area, so find one that sparks your interest and set up your towel!
Why it's so awesome: New Zealand is an island, which means that it's surrounded by beaches. The beaches along the eastern coasts are absolutely gorgeous, lined with forest and popular with the locals for fishing and sun-bathing. There are three beaches in the city itself: Takapuna, Milford, and Cheltenham Beach. They're all beautiful, but Takapuna tends to be more crowded.
What to do there: If you want to visit the beach while you're in Auckland, you'll be spoiled for choice. Head to Milford or Cheltenham if you want a quieter beach in the city itself. But if you want to see a more spectacular beach, take a short drive outside of the city to Maraetai Beach. It's just southeast of the city and offers beautiful calm waters that will tempt even the most nervous swimmer.
#15 – Albert Park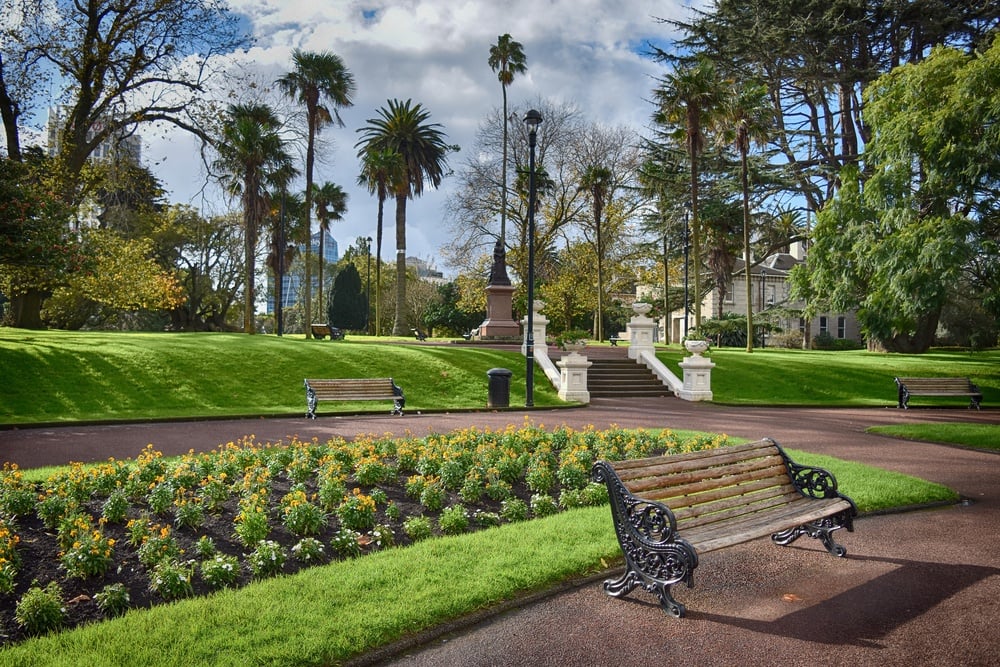 A beautiful inner-city park with lots of quirky attractions!
Make sure you check out some of the historic buildings in this area too.
Why it's so awesome: Auckland likes to do everything a little differently, and that extends to its parks as well. Aside from the usual green spaces with flower beds and statues, the park also contains also a variety of quirky statues and attractions. This is what really makes it one of the most famous places in Auckland.
What to do there: There's a lot to see in this park, so make sure you put aside enough time to explore. As you enter the park, you'll see a floral clock from 1953, which sets the tone for the rest of the park. Check out Albert Park House, which contains some unusual ceramics and clocks, and the Meteorological Observatory at the highest point in the park. If you like architecture, you'll also enjoy the Old Government House, a neoclassical structure that was New Zealand's first parliament and was built in 1856.
#16 – Silo Market – A great place to visit in Auckland at night
A summer favorite and one of the best places to eat in Auckland.
Grab some food, do some shopping, or see a movie at the outdoor cinema.
Why it's so awesome: These waterfront markets are the best place to be Friday through Sunday during summer. They host a wide range of music and entertainment events, outdoor movies, food trucks, and stalls selling everything you could ever want to buy and then some.
What to do there: Auckland is in love with its food trucks and some of the best in the city show up to this market. Try burgers, tacos, or delicate Chinese meat buns and browse the stalls for souvenirs of your trip. And you can't go home early either. You need to stay to watch the music events or just pull up a patch of grass and settle down to watch a movie under the stars. During summer, this is the perfect Auckland night.

Our GREATEST Travel Secrets…
Pop your email here & get the original Broke Backpacker Bible for FREE.
#17 – Auckland Museum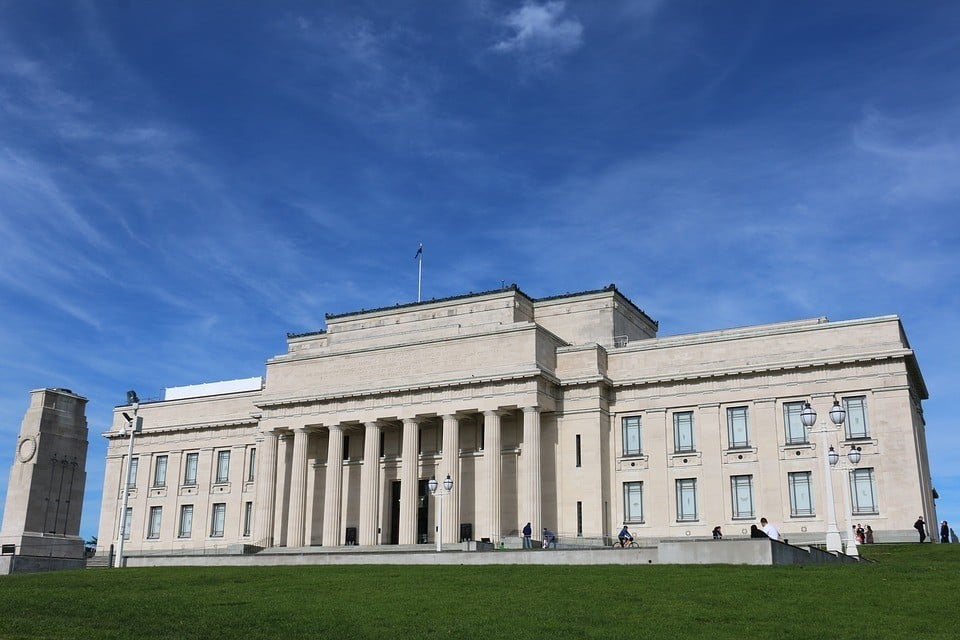 This is one of the few places where you can learn more about the traditional Maori culture.
The museum is located in the Auckland Domain, so afterwards you can take a stroll around the park.
Why it's so awesome: This museum is in the best spot in Auckland, right on the top of a hill in the middle of one of the most popular parks in Auckland. It contains exhibits on the culture and history of New Zealand and is one of the few places in the world where you can get a better grasp of the traditional Maori culture.
What to do there: Spend some time learning about Maori culture. The museum includes a beautiful, ornate Maori canoe called a waka as well as a visual representation of Maori village life. And when you're done with the museum, you can explore the park outside and prepare yourself for the city once more.
#18 – Ponsonby and Karangahape Road – A very cool place in New Zealand to go for a day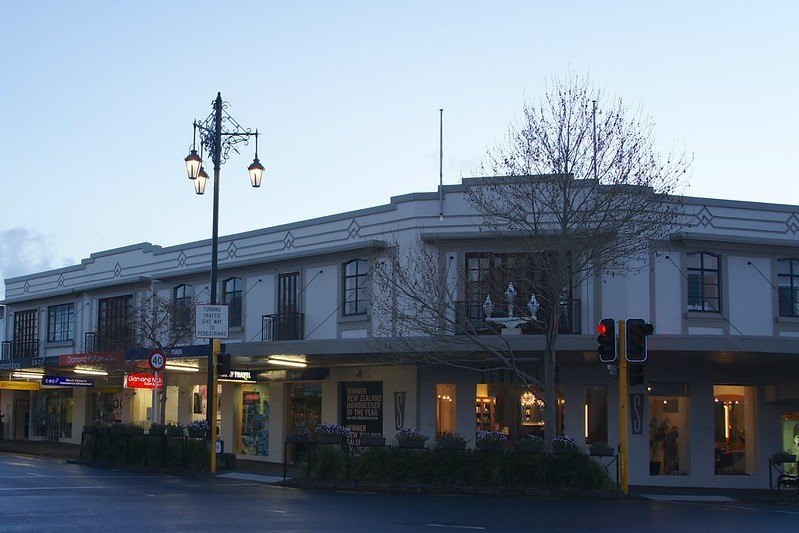 These roads have everything, from shops to cafes and nightclubs.
Karangahape Road is the heart of Auckland's LGBT community.
You'll find some of the best restaurants in these streets.
Why it's so awesome: These streets are a hub for fashion, eating, and hanging out with friends looking cool. Ponsonby is more fashionable, but Karangahape is more elective and both have amazing food, independent shops, and bars where you can hang out once the sun goes down.
What to do there: You'll probably want to spend a whole day and part of the night in this area. Wander around exploring the shops and grab snacks and meals when you get hungry. The room in this area is awesome and ranges from German pastries to Thai street food and Argentinian barbecue. So, no matter what type of food you enjoy, you'll find it. Once the sun goes down, stick around to explore the bars at Shanghai Lil's, Love Bucket, or the Vodka Room for the best drinks and vibe.
#19 – Giapo – Quite the quirky place in Auckland!
If you travel to Auckland in the summer, then ice cream is a must, and this shop sells the best and the weirdest ice cream in the city.
You'll get some amazing pictures for your Instagram feed in this shop.
Why it's so awesome: Giapo sells more than ice cream. They sell sweet, melting works of art. They do have some regular offerings, but you should opt for the quirkier creations, which are really what make this shop one of the best places to visit in Auckland. There are a range of international dishes as well as some sculptured chocolate marvels.
What to do there: If you have the time and you're in Auckland at the right time of year, then visit this shop a few times so you can explore as much of their menu as possible. Try some of the international dishes like gelato dumplings and pani puri first. And then move onto the sculptured chocolate, like the Octopus creation. Everything looks amazing and tastes even better, so make sure that you experience and eat as much as your stomach can handle.
Get insured for your trip to Auckland!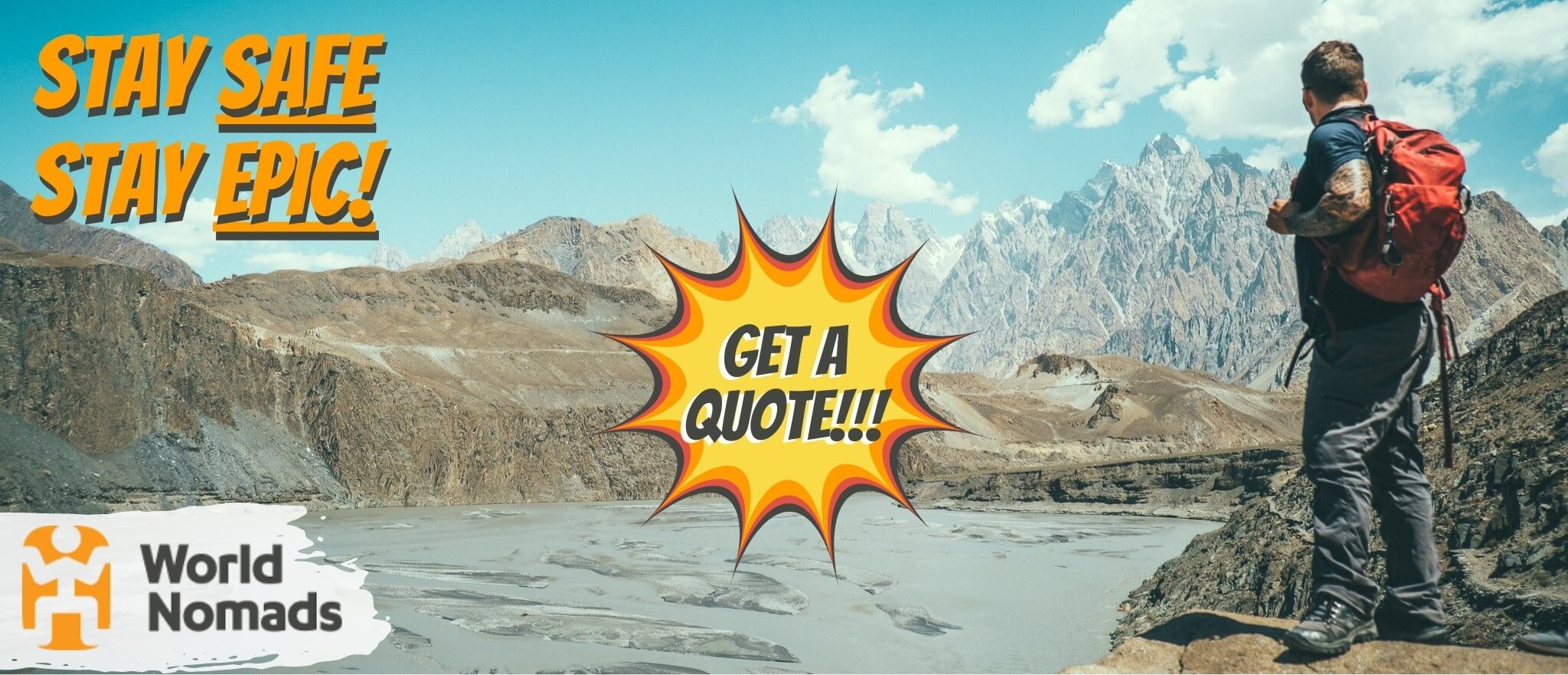 World Nomads' mission is to support and encourage travellers to explore their boundaries. They offer simple & flexible travel insurance, and safety advice to help you travel confidently.
They've been doing it since 2002 – protecting, connecting, and inspiring independent travellers just like you.
Get a quote below or read our in-depth review!
World Nomads provides travel insurance for travelers in over 100 countries. As an affiliate, we receive a fee when you get a quote from World Nomads using this link. We do not represent World Nomads. This is information only and not a recommendation to buy travel insurance.
FAQ on the Best Places to Visit in Auckland
Find out what people want to know about the best places to visit in Auckland
Final Thoughts on the Coolest Places to Visit in Auckland
Auckland is a beautiful city and it's surrounded by some of the most stunning natural landscapes you'll ever see or explore. This travel location is really about nature, and there are so many amazing natural places to visit in Auckland that you'll be spoiled for choice. With this list of the best attractions in Auckland, you can get the most out of your trip and get a sense of how powerful and beautiful this city and its surrounds really are!
---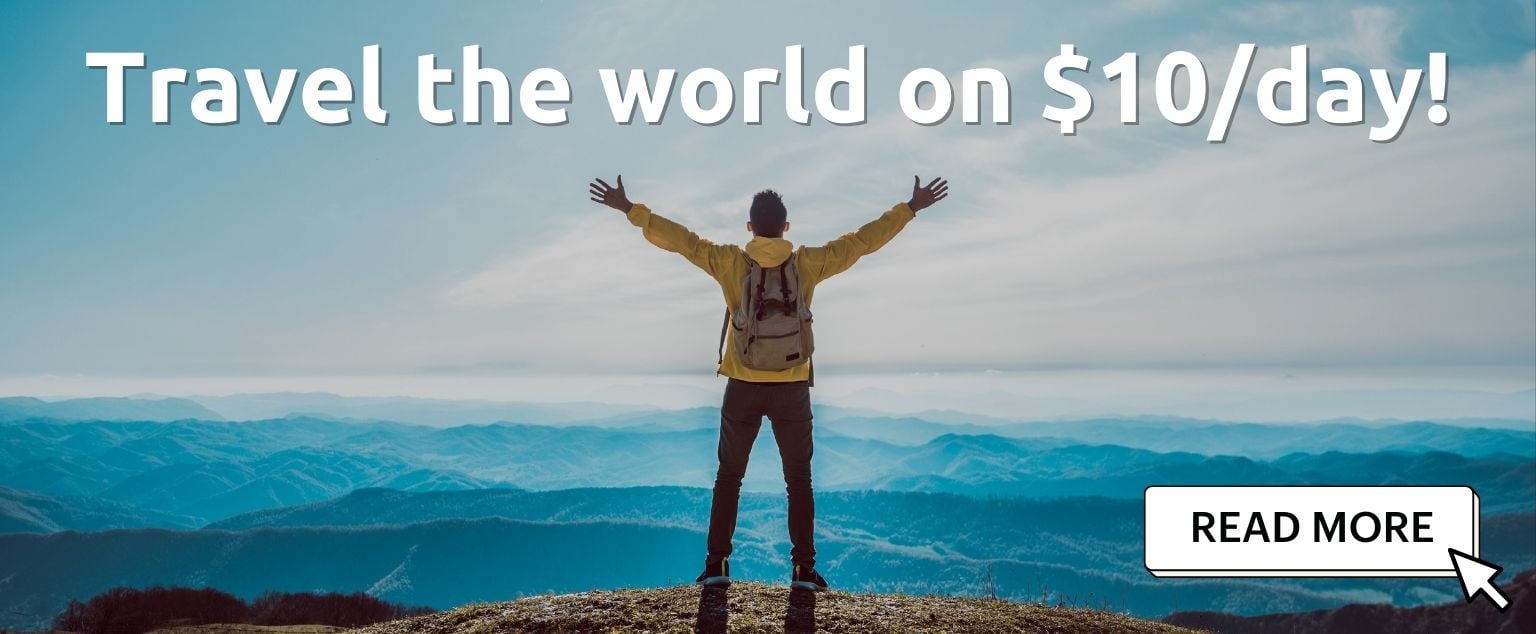 And for transparency's sake, please know that some of the links in our content are affiliate links. That means that if you book your accommodation, buy your gear, or sort your insurance through our link, we earn a small commission (at no extra cost to you). That said, we only link to the gear we trust and never recommend services we don't believe are up to scratch. Again, thank you!