One of the most stunning cities in the United Kingdom, Bath is steeped in history. Dating back to Roman times, you'll find architecture from then but also through the ages to modern-day. It's not just the architecture that makes this such a cool place to visit though! There are plenty of great spots to wine and dine yourself, or simply just hang out and make new friends in the cool hipster bars! That is of course if you can drag yourself away from taking a dip in the therapeutic waters of Bath's spas!
In this post, we'll take a look at the best places to visit in Bath. From Roman Baths to museums, to landscaped gardens, you'll have a much clearer idea of what you want to put on your Bath itinerary by the time you've finished reading our useful and informative list!
NEED A PLACE QUICK? HERE'S THE BEST NEIGHBORHOOD IN BATH:
FIRST TIME IN BATH
City Centre
The centre of Bath is where you'll find the vast majority of the city's major historic and cultural tourist attractions. One of the oldest districts in town, Bath City Centre is famous for its striking Georgian architecture, impressive and innovative buildings, and its enchanting atmosphere.
Places to visit:
Walk across and admire the architecturally exquisite 18th century Pulteney Bridge
Browse 20th century works of art by British and International artists at the Adam Gallery
Shop painting by local contemporary artists at the Fine Sight Fine Art gallery
These are the BEST places to visit in Bath
#1 – The Roman Baths – Possibly one of the most important places to visit in Bath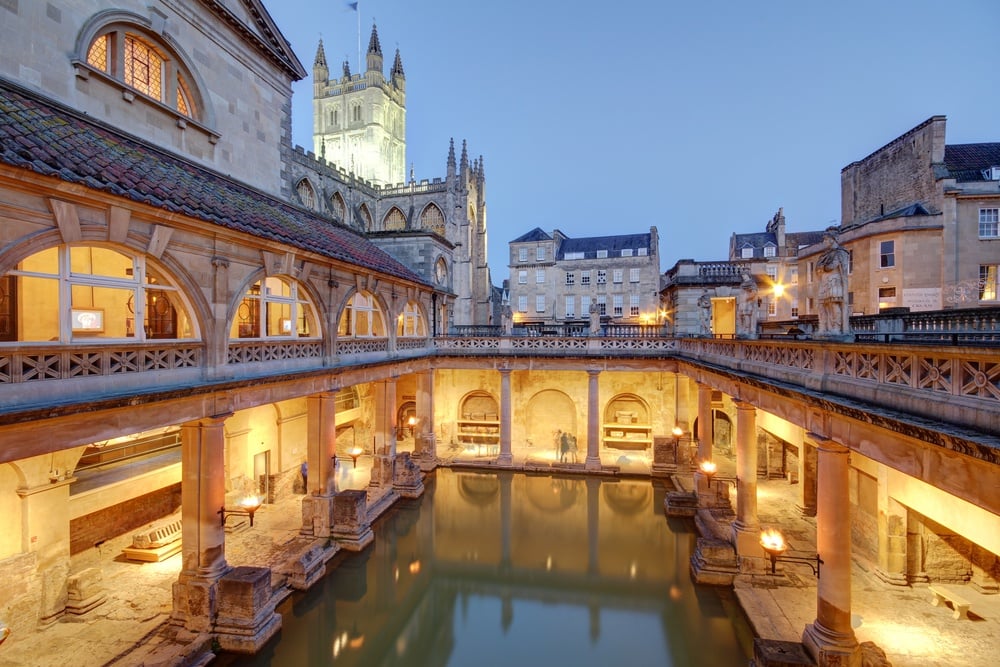 One of the finest examples of Roman architecture in Britain
Attract more than a million visitors each year
One of the top landmarks in Bath
Why it's awesome: Voted as the most romantic buildings in the UK, no Bath itinerary is complete without visiting the Roman Baths they were named after. Dating all the way back to 75BC, they were also intended as a temple to the Goddess Minerva and built around the largest of the city's three hot springs. The Great Bath is the highlight, but there's more to this cool place than that. In the attached museum, you'll see many artefacts found in and around the area in archaeological digs, that go all the way back to Roman times!
What to do there: Although the baths were used in Roman Times, and the water is constantly 46.5 degrees, you can't take a dip. However, if you do want to relax in the hot springs, read further down our list! Visiting the Roman Baths and Temple certainly will take a couple of hours of your time, and you can spot some fascinating finds at the museum. This part of Bath is often incorporated in tours, so you're unlikely to miss them!
#2 – Bath Abbey – One of the most religious places to visit in Bath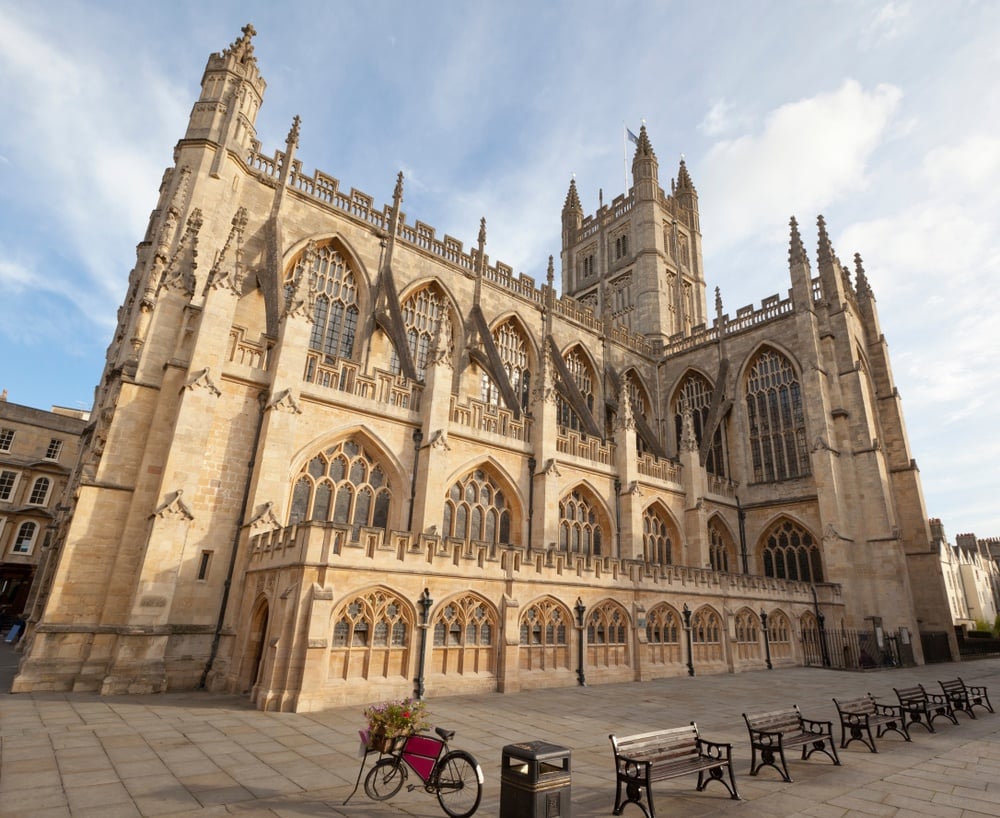 Another example of wonderful architecture
Gothic cathedral dating back to 1499
Often holds concerts and public lectures
Why it's awesome: If you love architecture, you've come to the right place. Just make sure that you stick the Abbey near the top of your Bath itinerary (like we have). The Gothic façade's design actually came from a dream from the Bishop at the time, Oliver King. He thought that he could see angels climbing up and down from heaven, and you can see an interpretation of this dream in stone on the west side of the building!
What to do there: You might think that this is just a church and doesn't require much time to look around. However, you'd be wrong! Want to get a great view of the city skyline and the surrounding countryside? Of course you do! Climb the 212 steps for stunning views and don't forget to bring your camera! There are even after dark tower visits for couples. Also, check out the events calendar on the abbey's website. There are regular events such as concerts and lectures here.
#3 – Pulteney Bridge – A great place to see in Bath if you love architecture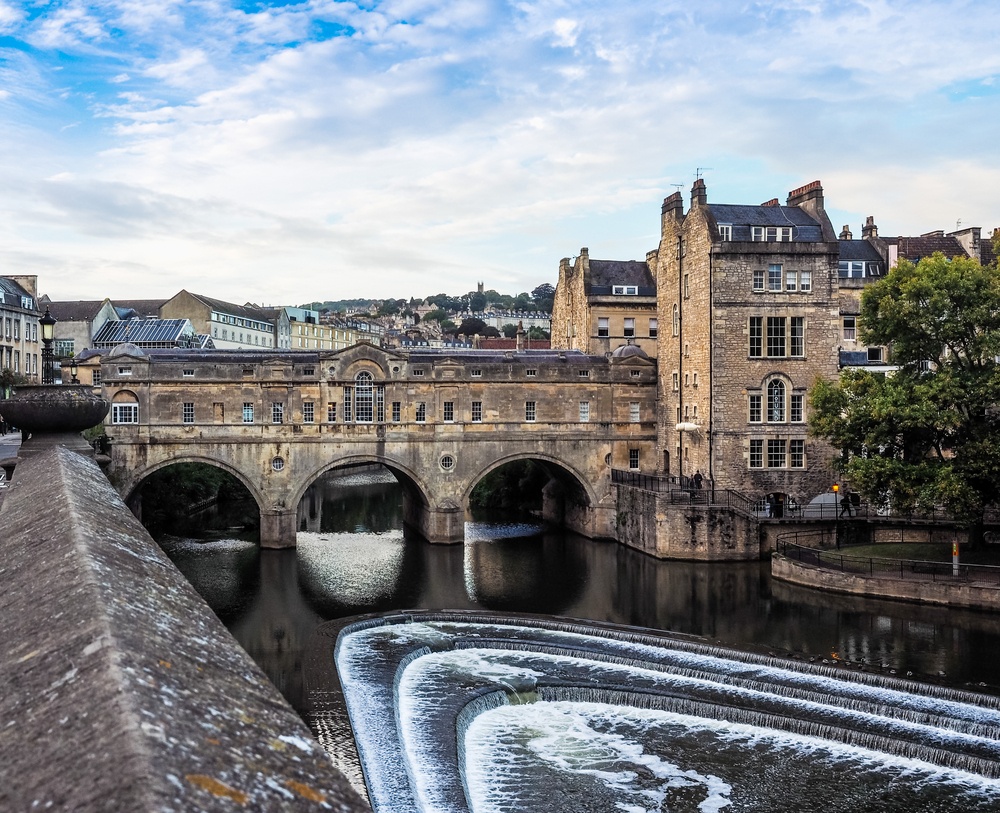 One of the most iconic bridges in the world
Quaint shops and restaurants inside
A starting point for cool and enjoyable river excursions
Why it's awesome: You might recognise Pulteney Bridge if you've seen the movie Les Miserables. Even if you haven't, you'll be suitably impressed by this beautiful arched bridge, one of the few remaining in the world that is topped with buildings. Like the Golden Gate in California and the Bridge of Sighs in Venice, Pulteney Bridge is considered one of the most iconic in the world, let alone of the coolest landmarks in Bath. Great Pulteney Street, which the bridge opens out onto, is very pretty too!
What to do there: If you're planning on going kayaking, punting, or even just taking a tour on the River Avon, then the chances are you'll be starting off from Pulteney Bridge, so arrive a little before your tour and explore what there is to see! Even if you're not doing a tour, there's plenty to keep you entertained. The quaint restaurants on the bridge are some of the best places to eat in Bath, while there are some cute shops where you can pick up some souvenirs too!
#4 – Bath Skyline Walk – An unknown (but awesome) place to see in Bath!
6 mile round loop that gives panoramic views of the city
Hike through valleys and woodlands
One of the best Bath vacation ideas for the outdoor enthusiast
Why it's awesome: It's a bit of a stretch to say that Bath is full of hustle and bustle, but sometimes you might want to escape the hordes of tourists and take in some of the countryside air. We've got you covered with the Bath Skyline Walk. This 6-mile loop is just a short distance from the city centre, but you'll feel like it's taken you far, far away! You'll pass through green meadows, peaceful valleys, and wonderful woodlands. Make sure you take a camera to capture some images of the area's flora and fauna!
What to do there: Wondering how to see Bath and incorporate some countryside time into your trip? That's exactly what you can do by taking the Skyline Walk. It's a dream for both hikers and photographers, who will be able to get jaw-dropping shots of the city and the natural landscapes that surround it. You can do the walk in half a day, but perhaps it would be a nice idea to take a picnic and spend the entire day out in the fresh air of the Somerset countryside!
#5 – Thermae Bath Spa – Great Place to visit in Bath for couples!
Relax and unwind in natural hot springs
Take in views of the most famous landmarks in Bath from the rooftop pool
Why it's awesome: Just because you can't take a bath in the Roman Baths anymore, doesn't mean that you can't enjoy the warm and cleansing waters of the city's hot springs. The Thermae Bath Spa is a spa complex which blends Georgian and modern architecture, with a thoroughly unique take on relaxation. If you're travelling with your other half, this is one of the best things to add to your Bath itinerary. Especially if you book a twilight package!
What to do there: There's more to do than just soak in the waters of Bath's hot springs at this incredible place. Choose from steam rooms, saunas, massage options, and even a rooftop pool to make visiting Bath a truly memorable and romantic experience. If you want to take a dip in the city's hot springs, you'll be pleased to know that Thermae Bath Spa isn't your only option (although why you wouldn't want to go here is a mystery!) Cross Bath allows 10 guests a time into this beautiful 18th century building, a truly intimate experience!
Is This the Best Travel Backpack EVER???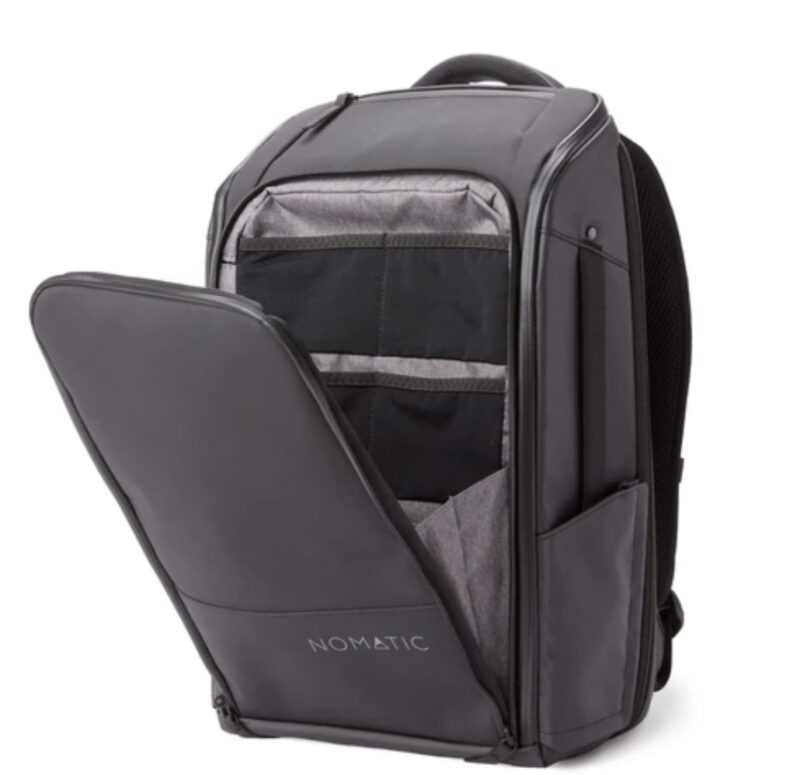 #6 – Herschel Museum of Astronomy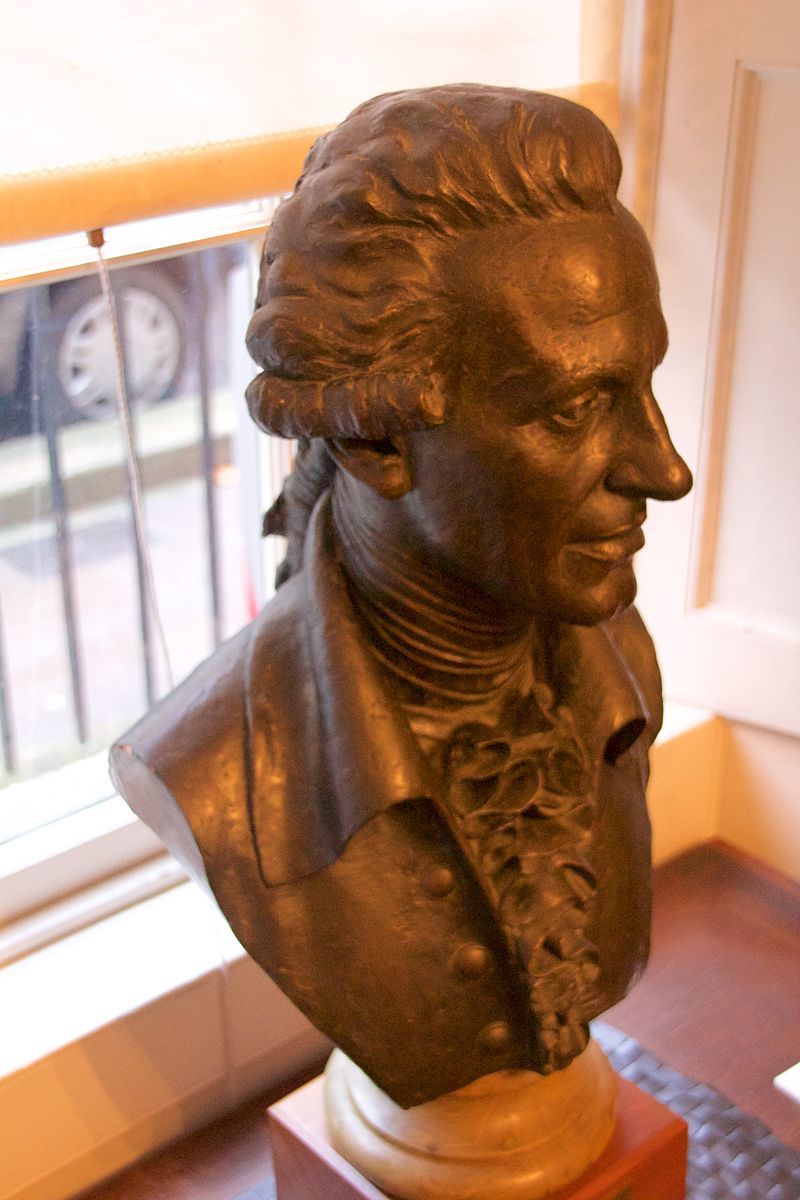 Learn more about the man who discovered Uranus
Check out the Georgian garden
One of the most famous places in Bath
Why it's awesome: This museum is dedicated to German-British astronomer Frederick William Herschel, who discovered Uranus back in the 18th century. It was with a telescope that he'd designed and built in the building that is now the museum! He was also a musician, and there are plenty of artefacts throughout the museum from Herschel's lifetime. There's also a beautiful Georgian garden which is a lovely place to walk around after seeing everything in the museum.
What to do there: If you want to learn as much as possible about the life and times of Herschel, then you can take a self-guided audio tour of the museum. This means you won't miss a single fact and you'll come out full of new knowledge! Check the events programme in advance as the museum also offers a lot of fun and educational workshops. These could be a great idea if you're travelling with the family and looking for something unique and unusual to keep the kids entertained!
#7 – Jane Austen Centre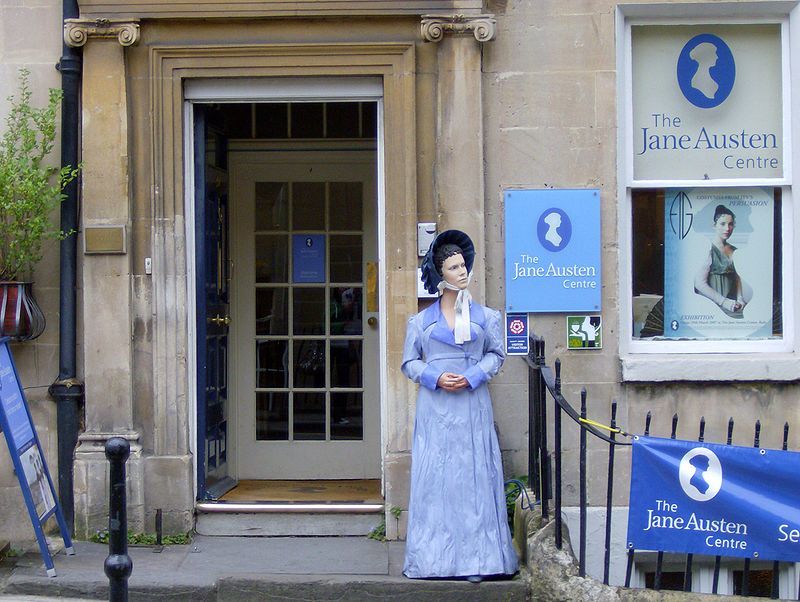 See the former home of one of the UK's greatest authors
Have a high-tea experience in the museum tea room
A Bath must-see for literature lovers
Why it's awesome: The city had a vibrant social scene in the late 18th century, which was one of the things that led Jane Austen to holiday here. In 1801, she relocated and lived here for 5 years and her former home is now one a Bath must-see for any lover of literature! The museum is packed with displays relating to the author's time in Bath, and there's even a waxwork which is meant to look like her. Pretty tricky though, as there are no images of her in existence to work from!
What to do there: A guided tour around Austen's house is a really fun idea. You'll be led around by a guide in period costume! If that's your thing, then try and head to Bath in September, for the 10 day Jane Austen festival. Thousands and visitors and fans descend on the city from all over the world, most of them dressed in said period costumes. You too can get involved in one of the more unusual things to do in Bath. If dressing up isn't for you, you can always enjoy high tea in the museum's café!
#8 – Prior Park Landscape Garden – A nice quiet place to see in Bath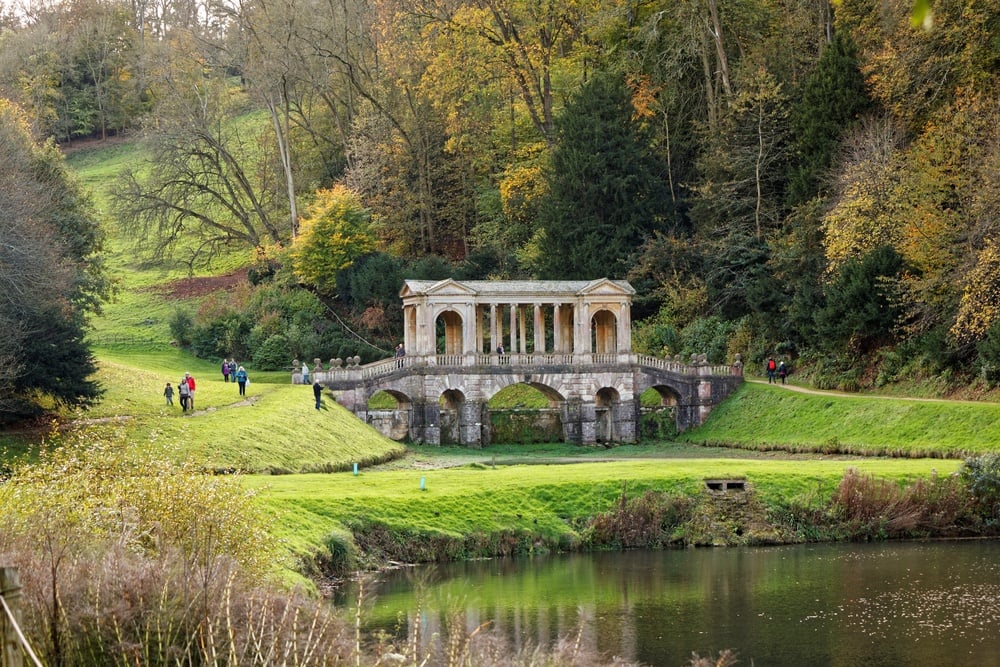 2 miles southeast of Bath
One of the most picturesque rural landscapes anywhere in Britain
18th century garden with a bridge, Serpentine lake, and temple.
Why it's awesome: If you're looking for a quiet rural day out within walking distance of the city centre, then put this place on your Bath itinerary. The National Trust operated Prior Park landscape garden is absolutely beautiful and dates back to the early 18th century. One of the highlights is the Palladian bridge, of which there are only 4 of this style of bridge in the entire world. It's a true Bath landmark! The gardens, which were designed by famous architect Capability Brown and poet Alexander Pope are another highlight.
What to do there: Depending on what month of the year you visit, there are a number of seasonal events and walks through the gardens. Guided tours are themed too – 90 minute walks can see you learning about different types of fungi and wildlife, or learning from the head gardener how they keep this place so perfect! If you want to combine a visit to the gardens with the Bath Skyline Walk, the trail passes nearby so you can easily join that! However, if you want to just relax in the gardens, visit the Tea Shed café for a traditional English pot of tea!
#9 – The Holbourne Museum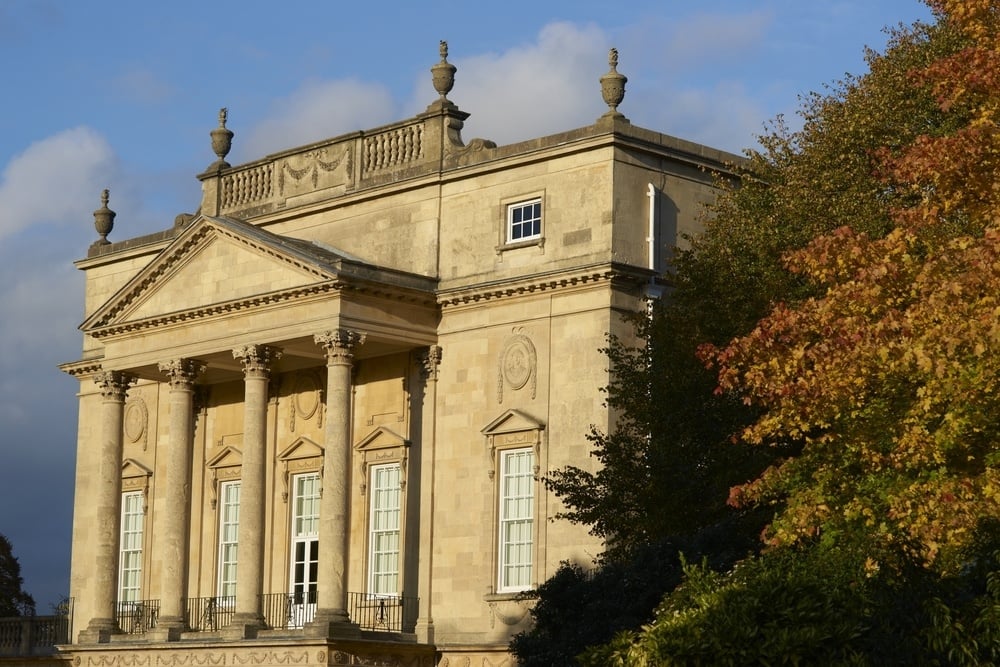 Huge collection of British art
One of the coolest points of interest in Bath for art lovers
Take a walk in the UK's only surviving 18th-century pleasure gardens afterwards
Why it's awesome: If you're interested in art, The Holbourne Museum has one of the best collections in the whole of Britain. As well as paintings by famous artists such as Stubbs, Reynolds, and Gainsborough, there are examples of Wedgwood porcelain, early period furniture, and 18th-century silver. The museum actually used to be the Sydney Hotel, and outback you'll find the only surviving 18th-century pleasure gardens in the UK.
What to do there: Even if you're not an art connoisseur, you will probably still be impressed at the collection in this incredible museum. However, there's more to pull you in (if you needed any extra convincing, that is). The Holbourne Museum regularly holds events, including educational programs, classical music concerts, and informative lectures. Check out the events programme to see if there's anything of interest during your visit! Another cool option is visiting the museum's 'after hours' programme, where you'll be allowed in to explore after dark!
#10 – The Royal Crescent – One of Bath's coolest historical sites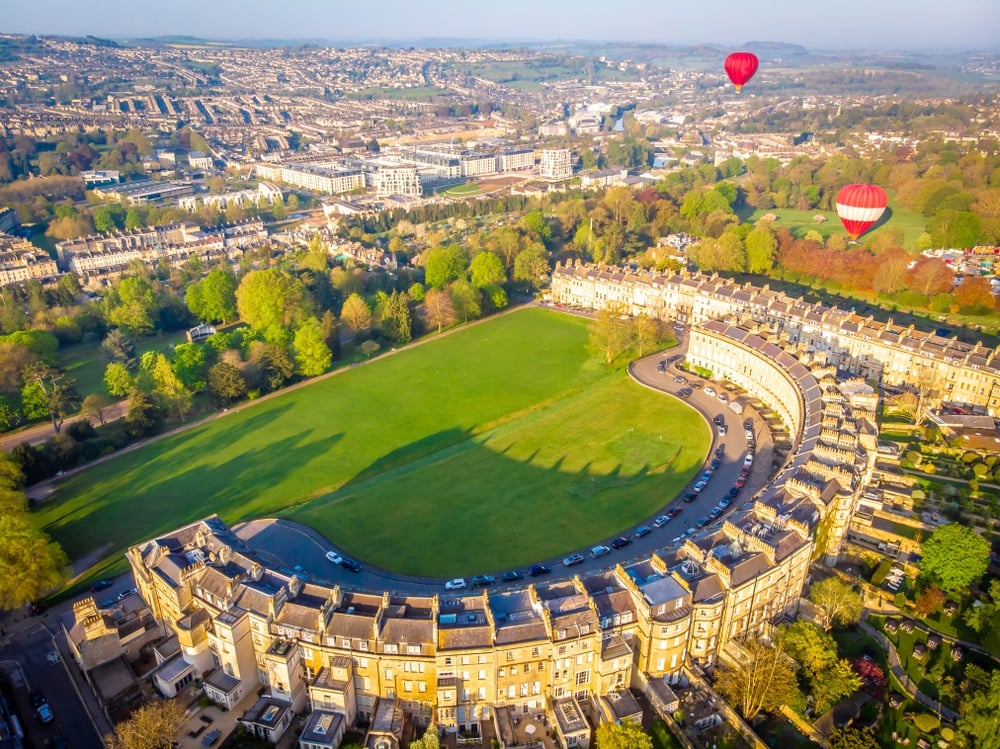 One of the best places in Bath for admiring architecture
Several tours and events of the Royal Crescent available
Beautiful 18th century houses arranged around a perfectly manicured lawn
Why it's awesome: These Grade 1 listed buildings are one of the best examples of Georgian architecture found anywhere in the UK. Dating back to the 18th century, the houses are now mostly privately owned but there is a five-star luxury hotel here. Obviously, private living quarters are off-limits to the public, but you can do a tour of one of the houses to learn more about the crescent! There's a ha-ha wall which is used to keep animals out of the formal part of the garden too.
What to do there: Part of one of the most famous landmarks in Bath is open to the public: Number 1 Royal Crescent. You can see what life was like for the wealthy in the 18th century and the servants too… Guess which ones had it better?! If you enjoy visiting this cool museum, there are a number of other places that you might want to note down for your Bath itinerary. These include the Museum of Bath Architecture, Queen Square, and the Royal Circus.
#11 – Museum of East Asian Art
Take a trip to the Far East without leaving Bath
More than 2,000 items throughout the museum
On-site shop stocks a number of cool Asian products
Why it's awesome: Of the 2,000 plus items in the Museum of East Asian Art, some date back more than 7,000 years! This impressive collection has artefacts from China, Japan, Korea, and Southeast Asian history. The museum is inside a gorgeous Georgian townhouse, but it's refreshing to find something that isn't antique British furniture or art inside and is a must on any culture vulture's Bath itinerary!
What to do there: The museum has an impressive permanent collection, but there are a number of temporary exhibits too. So, check out what's on when you're in town as there's bound to be something cool and interesting! It's also worth seeing what's happening in the museum's events programme. It's definitely a good idea to visit the shop too, especially if you want to stock up on Asian products!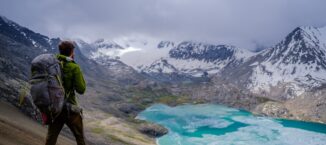 Do You Want to Travel FOREVER??
Then pop your email address in below and we'll send you a FREE copy of 'How to Travel the World on $10 a Day!'
Get insured for your trip to Bath!
Remember, when you are traveling you may need insurance! World Nomads are our go-to Travel Insurer; we have used them ourselves for years now.
Getting an estimate from World Nomads is simple – read the review or click below, fill out the form, and you're on your way!

Final Thoughts
So, that concludes our list of the best places to visit in Bath. We hope that you've found it informative and useful, and as well as giving you plenty of Bath vacation ideas, you also have a better idea of the best places to stay in Bath too!
You'll find everything you could want from a British city break when you travel to Bath – fascinating culture, intricate architecture, and a great food and drink scene. You might even end up having to book a couple of days longer than you initially planned on spending here!
We hope that our list of the best places to visit in Bath has provided you with a comprehensive outline of the city, and also given you an idea of how to live like a local. Armed with our list, you'll be able to really make the most of your trip. We hope you have a great vacation!
---
Find out how YOU can support the site.
We work hard to put out the best backpacker resources on the web for free! It's all about helping out our tribe of awesome backpacker readers (that's you!). Please visit the link to find out how you can help keep the site going 🙂
For the sake of transparency, some of the links in our content are affiliate links. This means that if you book your accommodation, buy a piece of gear, or sort your insurance through our link, we earn a small commission at no extra cost to you. We only link to stuff that members of the Broke Backpacker team has actually used and never endorse products or services that are not up to scratch. Thanks for your support!