Moscow may be the capital of Russia, but if you're a culture vulture, then St. Petersburg is the city for you. A port city on the Baltic Sea, it offers everything you could want from a city break and more. Founded in 1703 by Peter the Great, it is home to some of the most impressive architecture and art in the whole of Russia. There's so much to do here, it can be hard putting together your St. Petersburg itinerary. That's where we come in! We've compiled a list of the best places to visit in St. Petersburg.
A quick scroll through Google shows you that the city is chock full of palaces, parks, cathedrals, and theatres. There are far too many to fit into one visit, so only our favourites have made the list of the best places to visit in St. Petersburg. We've also thrown in a few off the beaten track and unusual places to make sure you get to see all the best attractions in St. Petersburg, as well as some hidden gems that only the locals know about!
Best Places to Stay in St. Petersburg
Wondering about where to stay in St. Petersburg? We're not surprised. After all, in a city with so many cool areas, how can you pick? There are so many neighbourhoods in St. Petersburg, including Vasilievsky Island, Petrogradskya, and New Holland. They all offer a different experience of the city, and it depends on which one fits you best. To help you out, we've compiled a very short list of three of the best places to stay in St. Petersburg. We've taken into account the budget and travel style!
Want to know where to stay in St. Petersburg on a budget? Check out Baby Lemonade Hostel. The different themed rooms offer a cool and relaxed place to stay in town. Step back into the 60s and 70s every time you come home! This hostel is a great place to meet fellow travellers, so you will easily find someone to explore the best places to visit in St. Petersburg with!
Extremely welcoming, with a great bed, a "hammock-net" to relax on (high up but definitely safe) and a seated window area, you'll feel more than comfortable in this Airbnb – check out the pictures yourself. You'll get a beautiful living space, a quality kitchen and numerous other amenities. It's right in the heart of the city so you'll be close to everything that needs to be explored.
Best Budget Hotel in St. Petersburg: Zagorodnyi 12 Inn
If you're thinking about the best places to stay in St. Petersburg on a budget but you don't want to share a room in a hostel, then this is a great alternative. Zagorodnyi 12 Inn offers reasonably priced rooms with an extra-long bed and satellite TVs in all rooms!
Right in the heart of one of the most glamorous neighbourhoods in St. Petersburg, you'll find this luxury five-star hotel. There are two recipes on site – one serving Italian and the other serving Asian cuisine. Rooms are decorated sumptuously, and you'll feel like a true Russian Tsar or Tsarina!
Need a place quick? Here's the best neighbourhood in St. Petersburg:
BEST AREA IN ST. PETERSBURG
Tsentralny
The Tsentralny District is the beating heart of St Petersburg. It sits at the centre of the action and is home to some of the cities most famous and fascinating landmarks, including the Winter Palace and St Isaac's Cathedral.
Places to visit:
Browse the State Rooms of the Stroganov Palace.
Climb to the top of St Isaac's Cathedral and enjoy the views.
Delve deep into the history of Russia's royal family at the spectacular Winter Palace.
These are the BEST Places to Visit in St. Petersburg!
#1 – State Hermitage Museum
Possibly one of the most important places to visit in St. Petersburg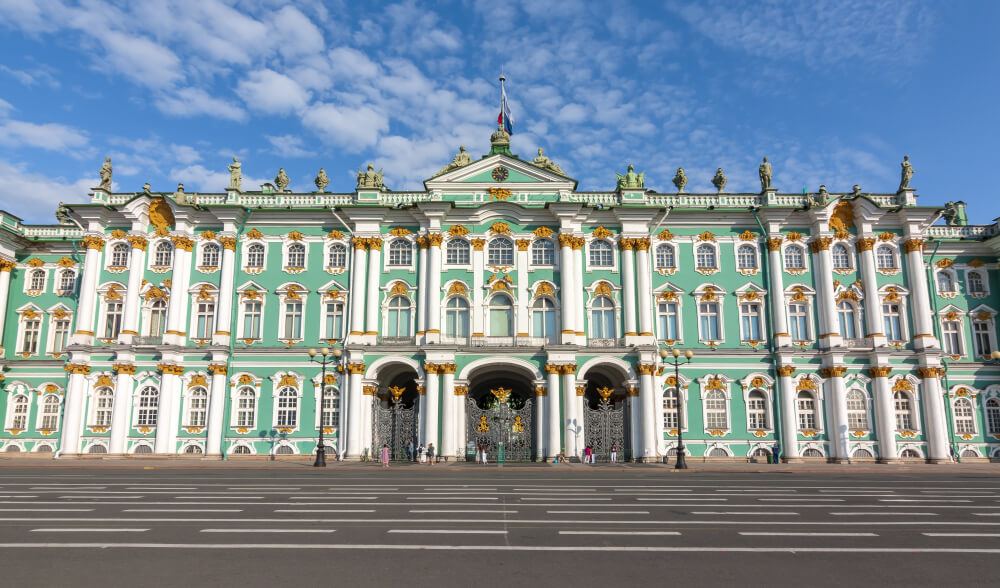 One of the world's greatest treasuries of art and antiquities
See the intricate and beautiful peacock clock – it's amazing
Spread out across several sites
Why it's awesome: No St. Petersburg itinerary is complete without a visit to the State Hermitage Museum. Not only is it one of the most astounding museums in Russia, but the entire world! We'd recommend setting aside a whole day for visiting St. Petersburg's Hermitage Museum. Incredibly, there are over 3 million works from around the world here! The main building is the Winter Palace which houses Greek and Roman antiquities, centuries of European art, and the staterooms of the Russian Imperial family from the 18th and 19th centuries!
What to do there: If you aren't blessed with a lot of time for the museum, take a guided tour to see the highlights. One of the most curious things you won't want to miss is the peacock clock. The mechanical 18th century automated clock still sings today. It's the largest example of 18th-century robotics that has survived to the present day without any alterations! Some housekeeping – since the museum is so big it's a great idea to get a map which covers the 6 buildings. That way, you can choose the things you're most interested in. It's absolutely impossible to see everything! Also, the museum can get very popular in summer, so consider purchasing skip the line tickets!
#2 – Mariinsky Theatre
See a ballet performance from the "Imperial Ballet of Russia"
A world-class concert hall
One of the most renowned cultural attractions in St. Petersburg
Why it's awesome: This huge theatre is one of the most famous in the world. Built-in the 19th century, for over 150 years it has hosted some of the best actors, performers, and dancers in the world. Although you can see operas and plays at the Mariinsky, it's best known for ballet. In fact, this used to be known as the Imperial Ballet of Russia, so that should give you some idea of how revered it was (and still is)! Recently, the theatre has expanded. In 2006, it added the concert hall and a second stage for opera and ballet in 2013!
What to do there: If you're limited on a budget or time, you may not be able to extend to a show at the Mariisnky Theatre. Although that's a shame, it doesn't mean you have to miss out completely. We'd definitely recommend taking a tour around the grand auditorium, one of the most beautiful and richly decorated in the world. If your budget does cover it, don't miss a show at this incredible place off your St. Petersburg itinerary. It's also a great place to admire from the outside. Make sure you get pictures of the colourful buildings from Theatre Square!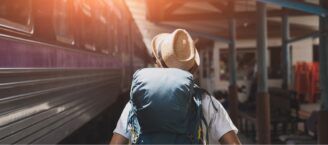 Unlock the secrets of traveling on a budget!
Sign up for The Broke Backpacker newsletter to receive regular tips on how to travel for less plus a FREE copy of The Backpacker Bible!
#3 – Saviour of the Spilled Blood
One of the best religious places to see in St. Petersburg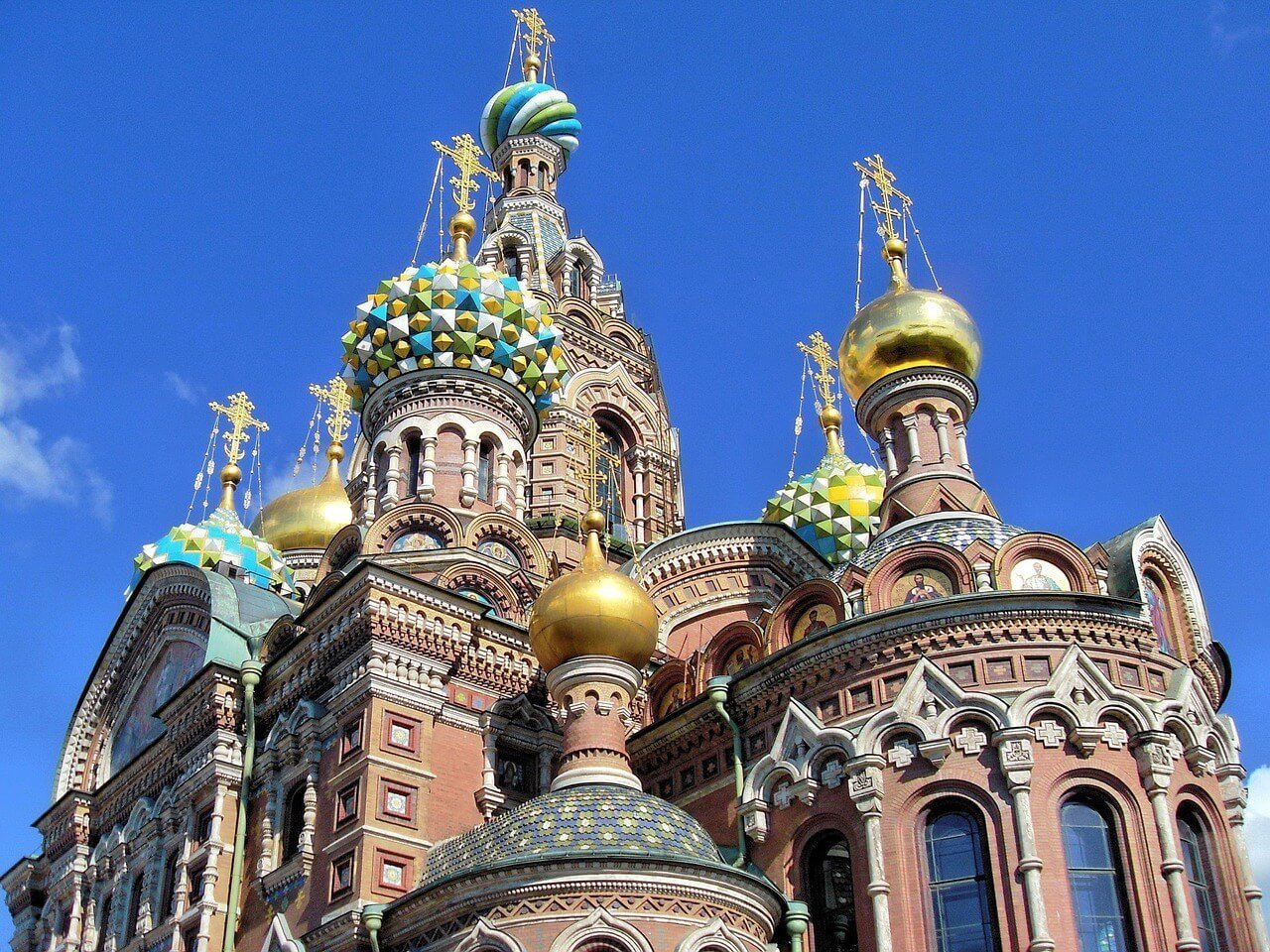 The most unique places of worship in the city
Home to one of the world's biggest collections of mosaics
One of the most recognizable landmarks in St. Petersburg
Why it's awesome: This incredible church was built on the site where Tsar Alexander II was killed in an attack, which explains its macabre and graphic name. Although St. Petersburg is filled with churches, this is arguably the most beautiful, and the reason it's made it onto our list! The colourful church is just as bright and gaudy on the inside, where you'll find one of the world's biggest collection of mosaics. Most people compare this to St Basil's Cathedral in Russia, another of the country's most famous landmarks!
What to do there: Any guided tour of the city will take you past the Saviour of the Spilled Bloody Cathedral. Probably more than once! That's because it's right by the State Russian Museum, and plenty of other attractions are nearby. If you have time, it's definitely worth getting an hour-long audio tour of the church. It'll tell you about the church's history and construction. Another religious building well worth your time when you travel to St. Petersburg is St Isaac's Cathedral and Colonnade. It's easily recognizable by its golden dome!
#4 – Peterhof Palace
A beautiful and scenic place to check out in St. Petersburg
Once the main summer residence of the Russian Tsars
Excellent location overlooking the Gulf of Finland
Have a picnic in the Lower Park
Why it's awesome: Since it's located 45 minutes from the city, you'll need to dedicate at least half a day to visiting Peterhof Palace. However, it's well worth it! Situated on the Gulf of Finland, this opulent palace is also known as the "Russian Versailles". It's not hard to see why, whether that's down to the gilded domes, or the fountains throughout the extensive landscaped gardens. Unbelievably, there are more than 60 fountains and 200 sculptures throughout the gardens at Peterhof. The most famous, The Grand Cascade, is a St. Petersburg must see!
What to do there: Don't miss going inside the stunning Peterhof Palace. Classic staterooms, the ornate Ceremonial Staircase, and the Grand Ballroom are just some of the highlights of the interior. Outside, there's more to the gardens than just the incredible selection of fountains! The Lower Park has a canal that empties straight out into the Gulf of Finland and is a great spot to have a picnic. Like many other attractions on this list, Peterhof gets very busy in summer. It's definitely worth booking your ticket in advance, especially if they enable you to skip the queues!
#5 – Tsarskoye Selo and the Amber Room
Experience the lavish wealth of the Romanov Imperial Family
See a recreation of the Amber Room, thought to be lost in World War II
One of the most famous attractions in St. Petersburg
Why it's awesome: By now, you've probably realized that the palaces in St. Petersburg are pretty extravagant. It's possible that the 18th century Tsarskoye Selo is the most opulent and lavish of them all, built for Empress Elizabeth by the architect responsible for the Winter Palace, Bartolomeo Rastrelli. It's a day trip out of the city, to the town of Pushkin, widely regarded as one of the prettiest neighbourhoods in St. Petersburg. The Amber Room is undoubtedly a highlight. Thought to be lost forever in the Second World War, the painstaking reconstruction of the room is impressive nonetheless!
What to do there: As well as visiting Tsarskoye Selo, while you're in Pushkin there are a few other cool places to check out. One of the top attractions in St. Petersburg is Catherine Palace, where you'll find the Amber Room. Attached to that is also the Catherine garden, which is landscaped with a variety of English, French, and Italian techniques. If you want to find somewhere a little quieter to escape to, check out the Alexander Park. They're a little more overgrown and spread out, but there are some interesting buildings hidden away in there!
The BEST Travel Backpack?!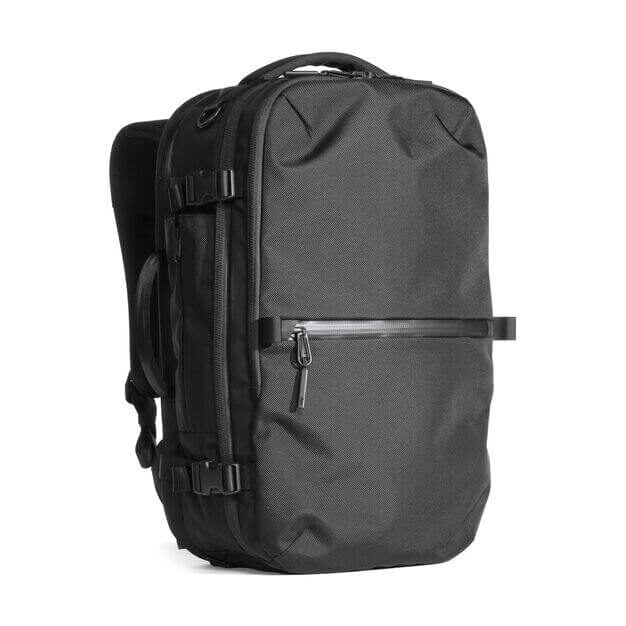 Pssssst! Not picked the perfect travel backpack yet? The Broke Backpacker team has tried out over thirty backpacks this year! Our favourite travel backpack is the Aer Travel Pack 2.
View on AER
#6 – Museum of Hygiene
Quite the quirky place to visit in St. Petersburg
Educate yourself on the dangers of germs and disease
See one of Pavlov's dogs!
One of the more unusual points of interest in St. Petersburg
Why it's awesome: Yes, St. Petersburg is fascinating. However, if you're just visiting palaces and cathedrals, it's definitely not out of the question that you'll get palace fatigue. You can only take so much of walking around all those long hallways and being astounded by art after all! For a perfect tonic, head to the unusual Museum of Hygiene. It was established in the early 20th century to educate the city's locals on good health practices. It's especially worth a visit if you want to learn about the gruesome medical practices from the turn of the last century!
What to do there: There's plenty to see in the display cabinets here that you won't find anywhere else in St. Petersburg! Check out both female and male models with movable internal organs, wax anatomy models, and even some displays explaining the spread of sexually transmitted diseases. Perhaps don't eat before you visit here! One of the coolest displays you'll see is Pavlov's taxidermy dog. This may not be one of the most famous places in St. Petersburg, but it's certainly worth a visit. Especially if you're into science!
#7 – Grand Maket Rossiya (Grand Model of Russia)
One of the more unique places to visit in St. Petersburg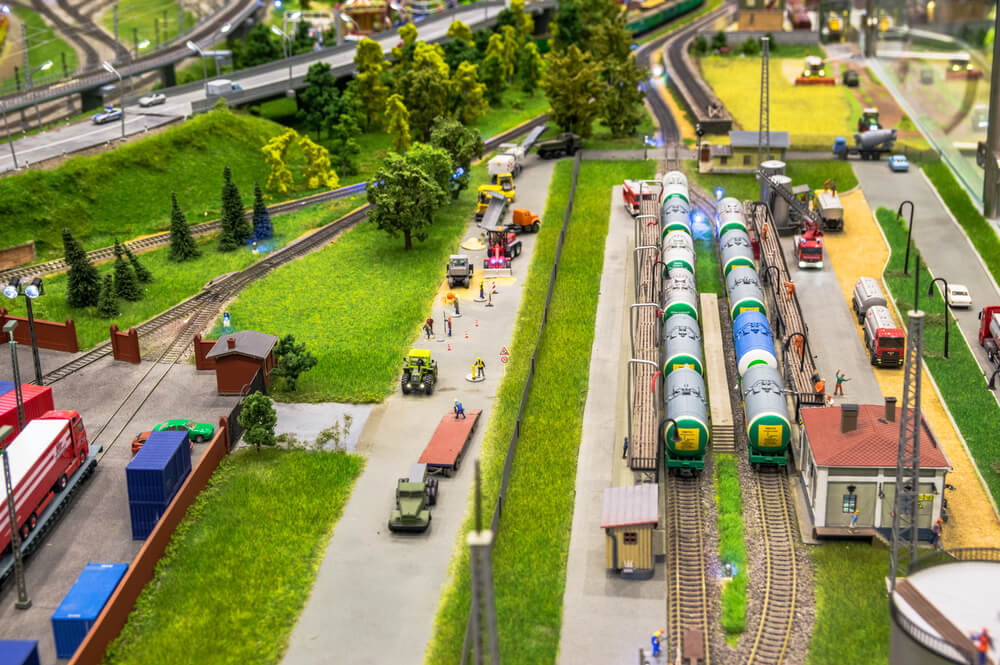 Rent binoculars to see the whole scale of this cool recreation of Russia
The second biggest model in the world
See all of Russia's most important cultural and geographical attractions in just one day!
Why it's awesome: If you don't have time to cover all 17 million kilometres of Russia (and let's face it, who does?), then this is your next best opportunity! The Grand Model of Russia is the second biggest model in the world after Miniatur Wunderland in Hamburg. It's not entirely to scale, but it does mean you can visit Moscow, the Ural Mountains, and Vladivostok all in the same day! There are 2.5km of train tracks which miniature trains run on, and over half a million LED lights, which you're guaranteed to see as a day only lasts 15 minutes!
What to do there: Russia is so big that it may not even be possible to get around the whole model of it one day! If that's the case, rent a pair of binoculars so you can take in the whole of this amazing model. If you do have a bit more time, fantastic. You can have a go at controlling some parts of the model yourself! There are buttons on the side where you can control the speeds of the cars and trains in the model. Sometimes it's just enough to watch what's going on though. Old women feeding their chickens, a tiny UFO, and escaping prisoners are all part of one of the most unusual attractions in St. Petersburg!
Quick Note – Staying Safe in St. Petersburg
Travelling in St. Petersburg is generally safe. As with most large cities that attract a lot of tourism, the biggest threat is petty theft. Make sure you always carry your passport and identification on you and be aware of your surroundings. One thing you do have to be wary of is that St. Petersburg draws its bridges at night. So, if you're out too late you may get stuck in a neighbourhood where you can't get back to your accommodation. It's definitely something to avoid, but at least it will be a funny story to tell when you're back home!
Do you need Travel Insurance for your trip? I have been using World Nomads for some time now and made a few claims over the years. They're easy to use, professional and relatively affordable. They may also let you buy or extend a policy once you've started your trip and are already abroad which is super handy.
If there's one insurance company I trust, it's World Nomads. To find out why I use World Nomads, check out my World Nomads Insurance review.
Want to keep your money safe?
You should always have emergency cash hidden on you – pick up this awesome security belt with its hidden pocket before you travel, it's perfect for hiding money, a passport photocopy.
#8 – Nevsky Prospekt
5km street dissecting the city from east to west
Great for shopping – high end boutiques and designer shops here
Check out some of the best places to eat in St. Petersburg
Why it's awesome: One of the most bustling streets you'll find anywhere, the central avenue Nevsky Prospekt is considered one of the greatest streets in the world. As well as the Hermitage and the Mariinsky theatre, you'll find some places that didn't make our list of the best places to visit in St. Petersburg but are still worth your time! These include Kazan Cathedral, the House of Books, and the Eliseyev Emporium. Just be careful when you're crossing – much of the street is 4 lanes on each side!
What to do there: If you're visiting St. Petersburg, you're bound to end up on this thoroughfare at some point. It was originally planned as one of the roads to Moscow but is now one of the central points of restaurants for tourists! If you want to walk the whole length of Nevsky Prospekt, you'll need at least two hours, and possibly a little more if you're to take in its major sights. As well as historical and cultural sites, make sure to stop off to window shop at some of the city's most exclusive boutiques, or sample Russian delicacies at the best places to eat in St. Petersburg.
Need some extra energy?
One of the best investments you can make is a worldwide travel adapter that will work anywhere! The one featured here is tough, reliable and a solid buy – Don't leave home without one.
Buy your travel adapter on Amazon now.
#9 – St. Petersburg Metro
A great place to see in St. Petersburg if you love architecture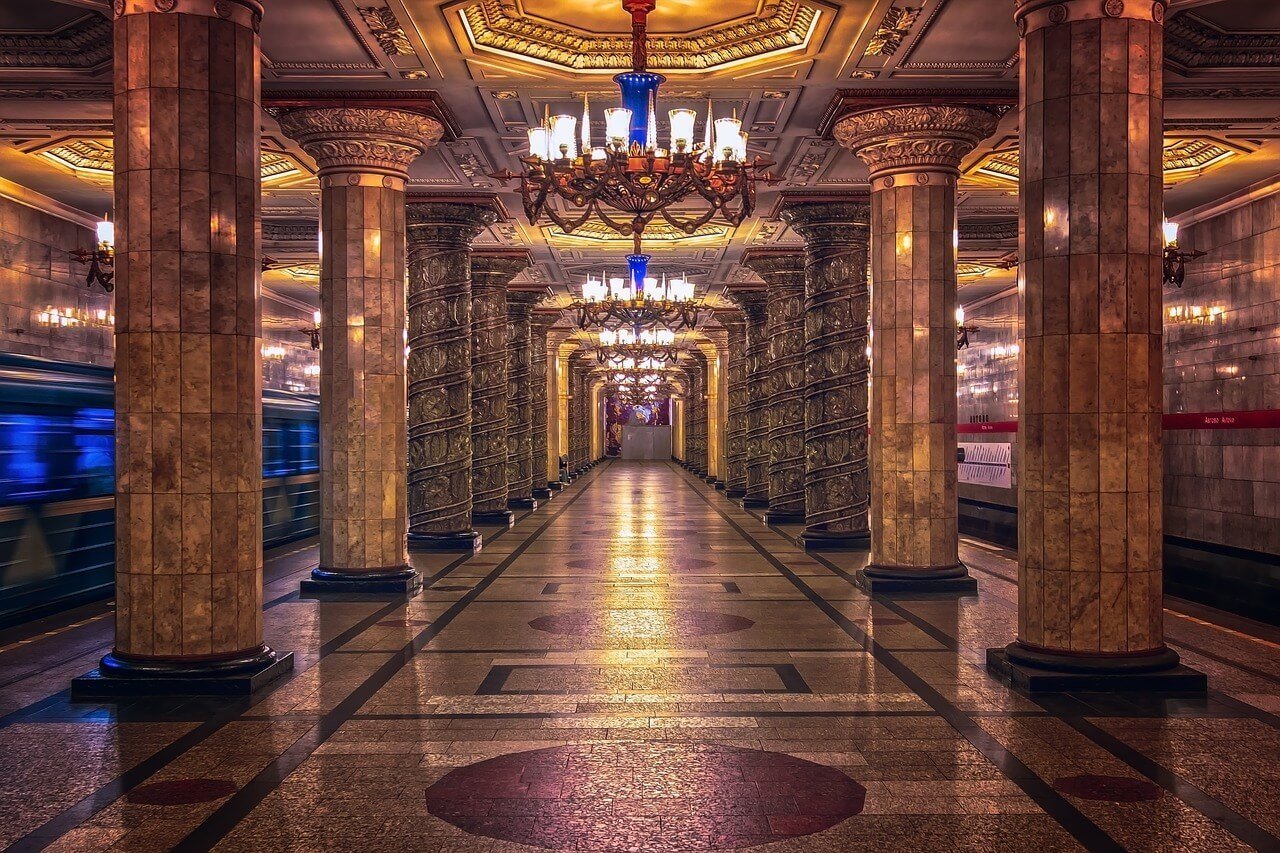 How to see St. Petersburg in more ways than one
Marvel at the Grand columns of Avtovo Station
Some of the coolest architecture in the city
Why it's awesome: St. Petersburg's rapid transit system is about more than just getting from A to B. The stations here are opulent and rival the palaces and cathedrals above ground for their intricate architecture. Although walking is often the best way to see a city, don't miss out on taking the metro – even if it's just to be astounded by the beauty of the stations!
What to do there: Moscow's subway was the first built in Russia and St. Petersburg's system was designed to mimic its beautiful architecture. All 8 lines on the first line built-in 1955 are considered places of cultural significance. Check out the grand marble and glass columns of Avtovo Station and the sport-themed Sportivnaya. Spending a day on the metro may seem boring, but not here in St. Petersburg!
#10 – Slam City
A great place to visit in St. Petersburg at night!
A great example of alternative St. Petersburg nightlife
See live performances from local musicians
A club run by cassette-focused Russian record label
Why it's awesome: Saint-Brooklynsburg is a cassette focused Russian record label, but what on earth is that? Well, it's responsible for one of the coolest additions to the city's nightlife scene. The music mixes American style garage rock with old school cassettes to give a very distinctive sound. The club has super cool décor, and it's the perfect place to spend a party at night after a day visiting the museums and palaces of the city!
What to do there: Don't miss a live performance from one of the coolest bands on the city's music scene! The dress code is pretty extravagant, so make sure you pick out your brightest colours to fit in! Slam City is at its most vibrant and raucous on a weekend, so go then if you can. It's a St. Petersburg must-do if you want to experience the city's alternative music scene!
Get insured for your trip to St. Petersburg!
Remember, when you are traveling you may need insurance! World Nomads are our go-to Travel Insurer; we have used them ourselves for years now.
Getting an estimate from World Nomads is simple – just click the button or image below, fill out the necessary info, and you're on your way!

Final Thoughts
So, that concludes our list of the best places to visit in St. Petersburg. We hope that you've found it useful and helpful in planning your trip! We think the 11 places we've chosen are just enough places to visit in St. Petersburg in 3 days. However, if you're planning on staying longer, you'll certainly find that there's more to do.
We hope that our list has not only showed you how to visit St. Petersburg, but how to live like a local too. As well as seeing all the most famous attractions the city has to offer, you'll get off the beaten track too. Who knows, you may even make Russian friends and practice your language skills?!
Just make sure that whatever you do on your trip, you're armed with our list of the best places to visit in St. Petersburg. It'll help you plan out your holiday and really help you to make the most of your vacation!
"Find out how YOU can support the site. We work hard to put out the best backpacker resources on the web, for free! It's all about helping out our tribe of awesome backpacker readers [that's you!]. Please visit the link to find out how you can help keep the site going 🙂
For the sake of transparency, some of the links in our content are affiliate links. This means that if you book your accommodation, buy a book or sort your insurance, we earn a small commission at no extra cost to you. I only link to stuff I've actually used and never endorse products or services that are not up to scratch. Thanks for your support.