Istanbul is a magical city of many cultures. It's where the East meets the West, and even spans over two continents, split by the Bosporus Strait. From the stunning mosques of the Sultanahmet district to the cozy cafes of the Jewish Quarter in Balat, contrasting cultures live together in harmony in Istanbul.
This makes for a great culinary scene. The food in Istanbul is a melting pot of spices, flavors, and cuisines from across two continents. The spice markets are a thrill for the senses, with every flavor hitting your nose all at once.
I'm thinking about those delicately constructed layers of filo pastry on a perfect baklava. Dinner is a hearty, meaty delight of of kebab varieties. Istanbul is a place FULL of flavor.
There is just too much amazing food to choose from, and some foods that are unique to the city such as stuffed mussels and sucluc, which is why doing a food tour in Istanbul is such a great idea.
If you want to explore the city and find the best food stops, then a foodie tour of Istanbul is how you'll get acquainted. Indulge culinary delights with a side order of top-quality hospitality.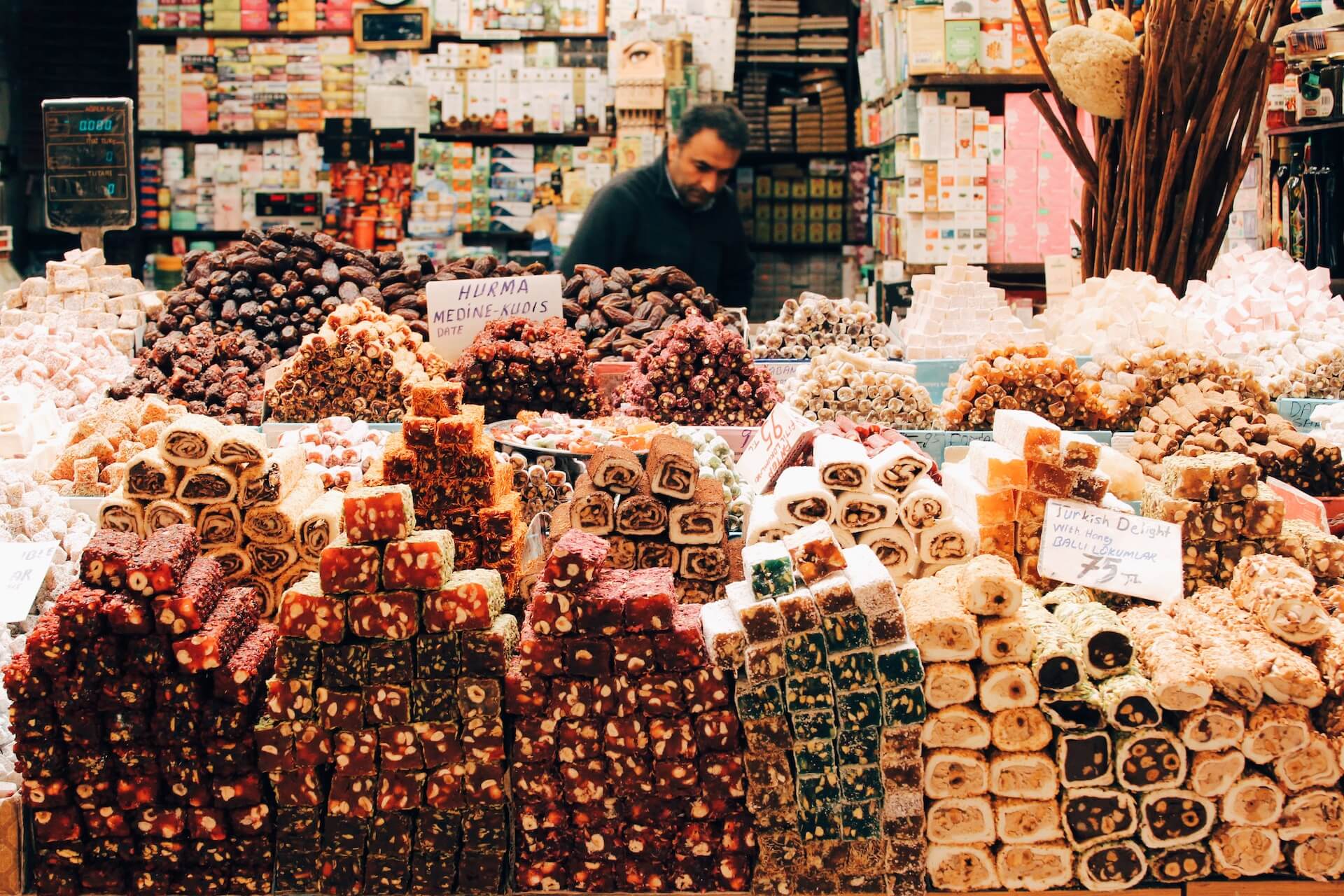 Unlock Our GREATEST Travel Secrets!
Sign up for our newsletter and get the best travel tips delivered right to your inbox.
Food in Istanbul – Why is it Special?
Formerly known as Byzantium, then Constantinople, Istanbul has always been a thriving city and a meeting point between cultures. In fact, the Grand Bazaar is the oldest shopping mall in the world and has always been a hub of trade for centuries.
Every wanderer looking to trade came traveling through Istanbul on the trade routes of the Silk Road, including some recipes…
Even today, the flavors from the East and West combine to make some of the best fusion food on the planet. There are lots of must-try foods in Istanbul.
Let's start with Simit, a popular street food in Istanbul. This chewy, round bread is covered in sesame seeds and topped with honey or Nutella.
Another doughy favorite of mine is pide or "Turkish pizza", just like the Italian equivalent but without the tomato sauce. There's also lahmacun, made of a thin piece of dough, and topped with minced meat, spices, and vegetables.
Breakfast is a big event for locals, and no matter where you stay you're more often than not given a complimentary Turkish breakfast of eggs, cheese, cucumber, tomatoes, olives, and bread. Yum-o.
Menemen is eggs, tomatoes, green peppers, and spices, it's a popular breakfast dish in Istanbul. The dish takes its name from the Menemen district of Izmir in the Aegean Region of Turkey.
One dish you've probably heard of is Köfte, usually made from lamb, beef, or both. You may know köfte from the takeaway. But in Istanbul, it's obviously way better – it's served with grilled peppers, spicy sauce, flatbread, and rice.
Döner – you know her. Here it's cooked on vertical rotisseries and is arguably Turkey's most famous food. But wait a minute, what about baklava?
Baklava was one of the most popular sweet pastries of Ottoman cuisine, made of flaky layers of pastry topped with honey and nuts. Borek is a savory version of baklava that can also be found in Istanbul. It's usually filled with cheese, meat, or vegetables.
And finally, you can't come to Istanbul and not try the seafood. Grab a fresh Balik Ekmek (fish sandwich) from the fishing boats on the Bosphorus. The cafes along the river bank in Eminonu, near the famous Galata Bridge, serve up the freshest catches of the day and it's one of the top attractions in Istanbul.
A note on happy bellies – It's generally safe to consume street food in Istanbul, but it's best to avoid very cheap meat or seafood. If there's a queue, it's usually good to eat.
Overall Best Tour
Overall Best Tour
A Taste of Istanbul's Street Food
> Where: Kadikoy Market, Beyoglu district
> Includes: Professional guide, Tastings, Public transportation (Bus, ferry, subway etc.)
> Duration: 4.5 Hours
> Price: €63.02
Best Cooking Class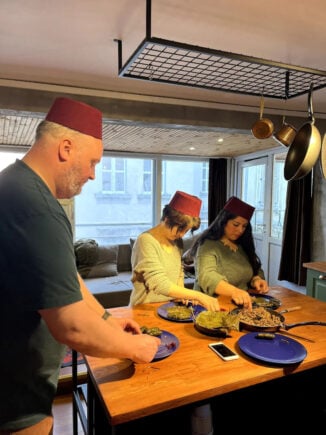 Best Cooking Class
Turkish and Ottoman Cuisine Workshop
> Where: Istiklal Street, Beyoglu
> Includes: All food, drinks, food history and cooking demonstration
> Duration: 3 Hours
> Price: €57
Best Dinner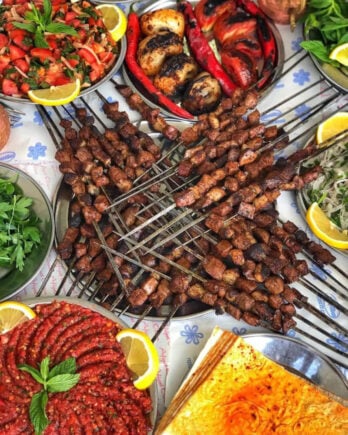 Best Dinner
Dervish Experience & Traditional Dinner
> Where: Fatih
> Includes: Food, drinks, transport & tickets to the show
> Duration: 3.5 Hours
> Price: €66
Istanbul Foodie Neighbourhood Breakdown
Before we introduce you to the top food tours in Istanbul, let's quickly run through the best foodie neighborhoods so you can explore the culinary delights on your own.
Sultanahmet, also known as the old town, is Istanbul's most touristed district and includes neighbourhoods such as Sirkeci and Eminonu. Visit the famous Spice Market Misir Carsisi, also known as the Egyptian Bazaar, which is an explosion of color and flavor from every corner of the world.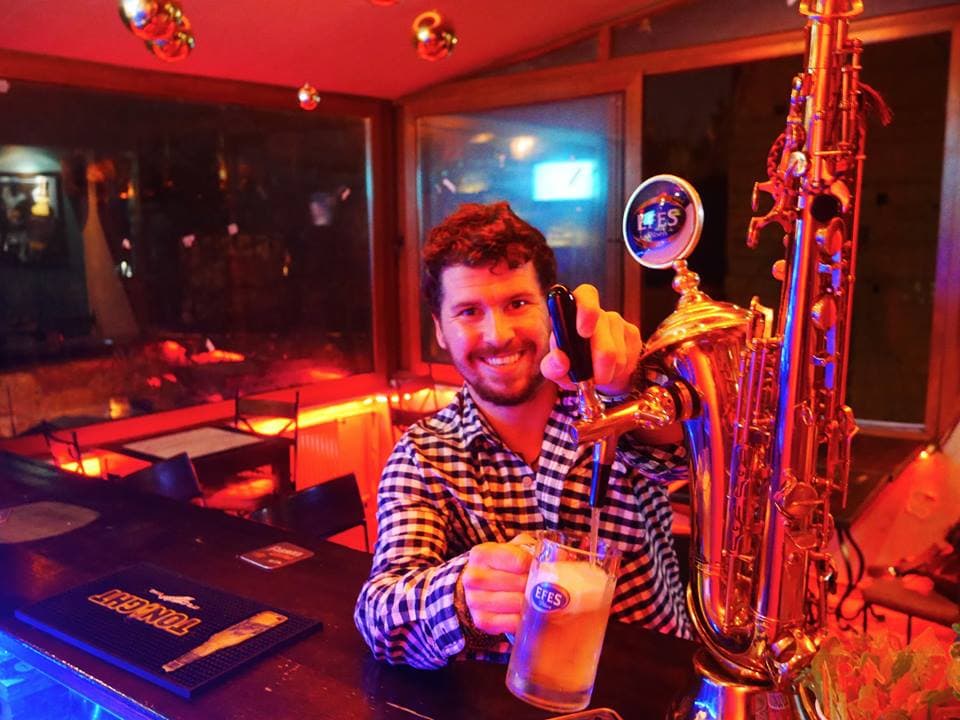 In Eminou try Turkish delight, also known as lokum, at the oldest confectionary shop in Istanbul, Ali Muhiddin Haci Bekir Lokumlari. Stop by at the Blue Mosque and Hagia Sofia, as well as the underground Basilica Cisterns. Of course, no visit to Istanbul is complete without a trip to the Grand Bazaar, full of indoor souks and market stalls peddling everything from fine leather to fake brands.
Karakoy is a harborside neighborhood in Istanbul on the opposite side of the river to the old town. Trendy cafes and cocktail bars line the streets while family-run shops and traditional neighborhood bakeries give the area a local vibe.
Istiklal Street is Istanbul's busiest thoroughfare, packed with color, culture and flavors from all over the world. Also known as "Independence Caddesi," it's a 1.5-kilometre-long pedestrian boulevard that runs through Beyoglu.
Just north of Taksim Square the area of Besiktas is famous throughout Turkey. Hundreds and thousands of Turkish residents visit here year-round to fill their bellies with the first meal of the day. Affectionately known as "Breakfast Street", the area near to Dolmabahçe Palace is packed full of cafes and restaurants serving up menemen, kaymak, simit, and a whole selection of fresh fruits and vegetables. All washed down with a healthy amount of Turkish coffee of course.
To the north of Besiktas is the flamboyant restaurant Nusr-Et Steakhouse Etiler, made famous by the viral 'Salt Bae' videos on social media. I can say from experience it's 100% worth the hype and is one of the top places to visit in Istanbul! The 'extra' serving style, refined Turkish dishes, and over-the-top portions make this a meal not to be missed.
Kadiköy is a laid-back residential neighborhood on Istanbul's Asian shore. It's probably best known for its fresh seafood and local favorite Marmara Balik Market (fish market). Here you can find everything from Turkish pizza, to fresh olives, and perfectly steamed stuffed mussels. The area is pretty popular with the younger crowds too. You can visit indie boutiques, hipster cafes, and traditional Anatolian eateries. There's also some of the best nightlife in the city along Barlar Sokak (Bar Street).
For some of the best views, visit the Moda Caddesi neighborhood's shores that showcase Istanbul's beautiful skyline. Get a dondurma (ice cream) from Meshur Dondurmaci Ali Usta and look out across the Sea of Marmara.
Best Food Tours in Istanbul
Now you know where to go looking for the best food in Istanbul, you need to know which… It's time to take a look at the top food tours to add to your Istanbul itinerary.
Where: Kadikoy Market, Beyoglu district
Duration: 4.5 Hours
Includes: Professional guide, Tastings, Public transportation (Bus, ferry, subway etc.)
Price: €63.02
This small group tour gives you a taste of some of the best food in Istanbul. It's a comprehensive five-hour tour of Istanbul's street food scene covering everything from pide to simit.
You will travel by foot as well as tram, and take a ferry over the Bosphorus to seek out the best dishes on the Asian side of Istanbul.
Start by browsing the vibrant Kadikoy Market on Istanbul's Asian side. Later, take a stroll along the iconic Galata Bridge to sample the seafood sandwiches of Galata.
There's a bit of everything on this tour, all finished off with baklava at the famous pastry shop 'Karakoy Gulluoglu' in the Beyoglu district.
Your local guide will give you loads of facts about the surrounding area as well as some great tips for getting around. Do this tour at the start of your visit, even if you're only visiting for a weekend, and save yourself a load of money on taxis and bland food.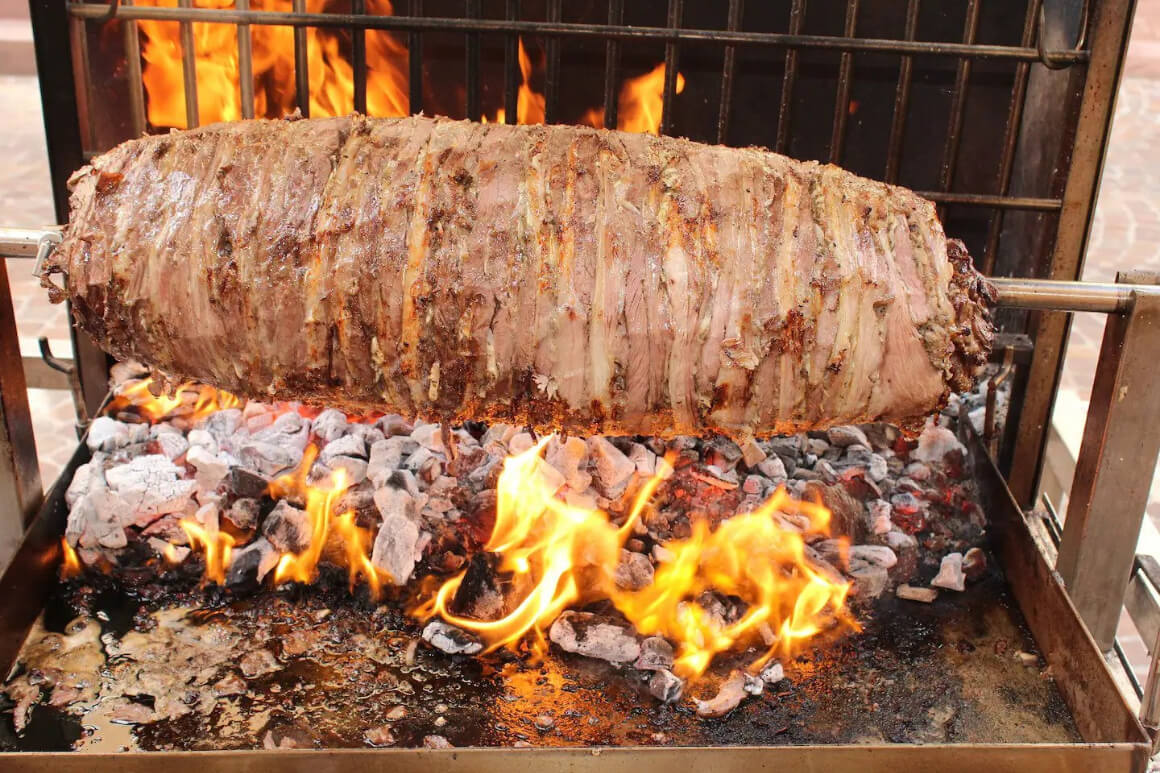 Where: Karakoy & Kadikoy
Duration: 3 Hours
Includes: Food, drinks, ferry, local guide
Price: €68
This offbeat 3-hour tour is perfect for those that aren't watching their weight. Packed with tasty delights from favorite local spots and food markets, this tour takes in the highlights of Istanbul's treats.
Try fresh mussels at the Karakoy Pier, a local favorite, wander the backstreets of Kadikoy on the Asian side, and try some of the best Turkish mezes. Then uncover the secrets to Turkish cheese and try Künefe, a cheesy dessert adored by locals.
Local guide, Yunus Emre, has been an official tour guide in Istanbul for over 12 years. He's done all of the sights and knows the facts, but this tour isn't for sightseeing.
It's a deep dive into the flavorsome food that keeps this city running.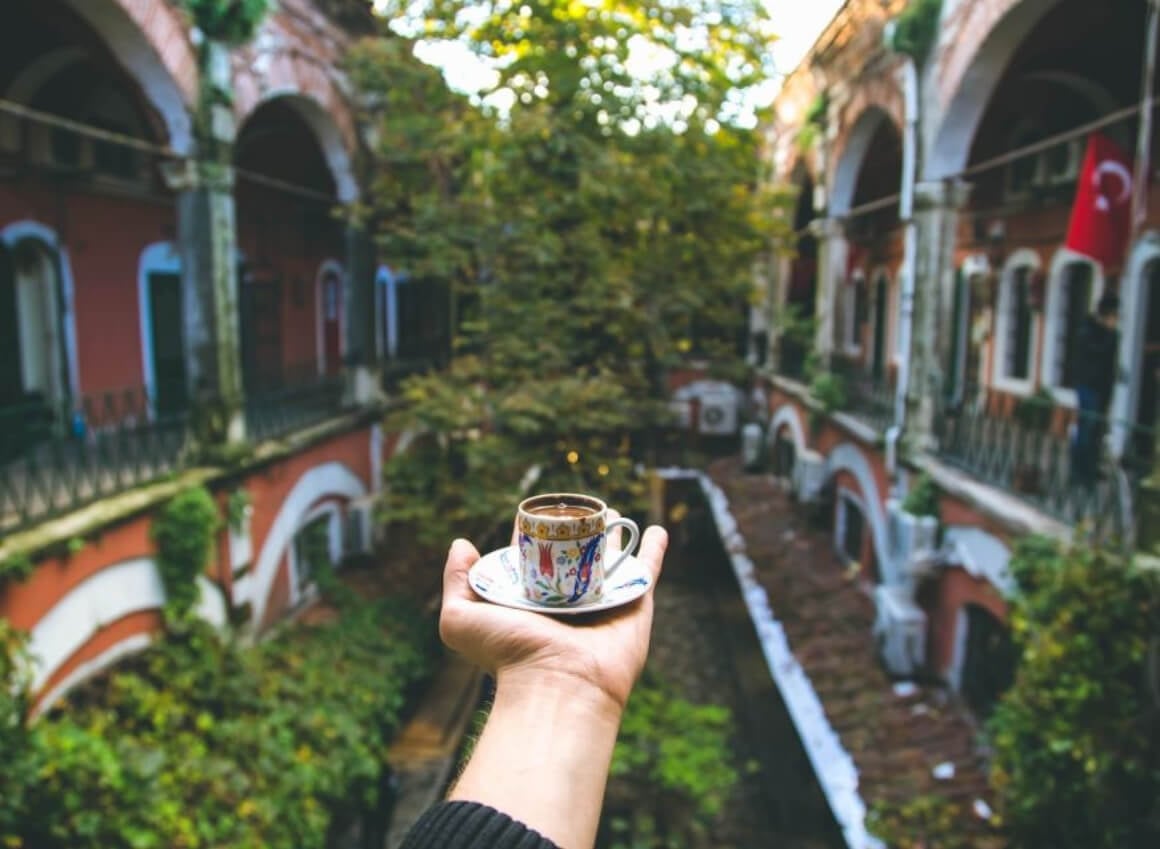 Where: Fatih / Old Town
Duration: 3 Hours
Includes: Hotel pick-up and drop-off from centrally located hotels, local guide, coffee and Turkish delight tasting, all entrance fees
Price: €80
Turkish coffee is world-famous and making the perfect cup is a fine art. Visit a unique museum and get the chance to drink at some of the most historic coffee venues in Istanbul on this three-hour guided tour.
You will learn everything there is to know about the national drink during this tour for caffeine lovers. Make the perfect Turkish coffee in a historic coffee shop, visit the coffee storage of the Ottomans, and try authentic Turkish delights at the Kurukahvedji Inn.
Coffee is a huge part of Turkish culture, and this tour gives you all of the facts. Learn the how, the why, and the where to drink coffee along the beautiful "Coffee Route" of Istanbul.
Where: Fatih
Duration: 3.5 Hours
Includes: Food, drinks, transport & tickets to the show
Price: €66
Join the locals at a very traditional Sufism Dervish show, then get spoiled with a feast on the rooftop of a 150-year-old restaurant.
Spend an hour experiencing the hypnotic 'Whirling Dervish' of Turkey. Learn all about the dance and the history of the authentic surroundings from your local guide.
Hosts Kubilay and Zeynep are passionate about their culture and want to share it with visitors. You will get to know them and learn about the spiritual ways of Sufism.
This tour is a great way to get a sense of the Rumi spirit, a word borrowed from Arabic literally meaning 'Roman'. The community comes together for these impressive shows, a far more authentic Istanbul experience than belly dancing.
After the show, you will be whisked away to a local kebab restaurant. It's housed in a historic building with beautiful views out over the city from the rooftop.
You will get an unlimited amount of quality Turkish cuisine. Try traditional soups, a great choice of kebabs, and of course lots of mezes. Finish the night off with tea or Turkish coffee and a local dessert.
There are vegetarian and vegan options available too! Just let them know your dietary requirements when you book.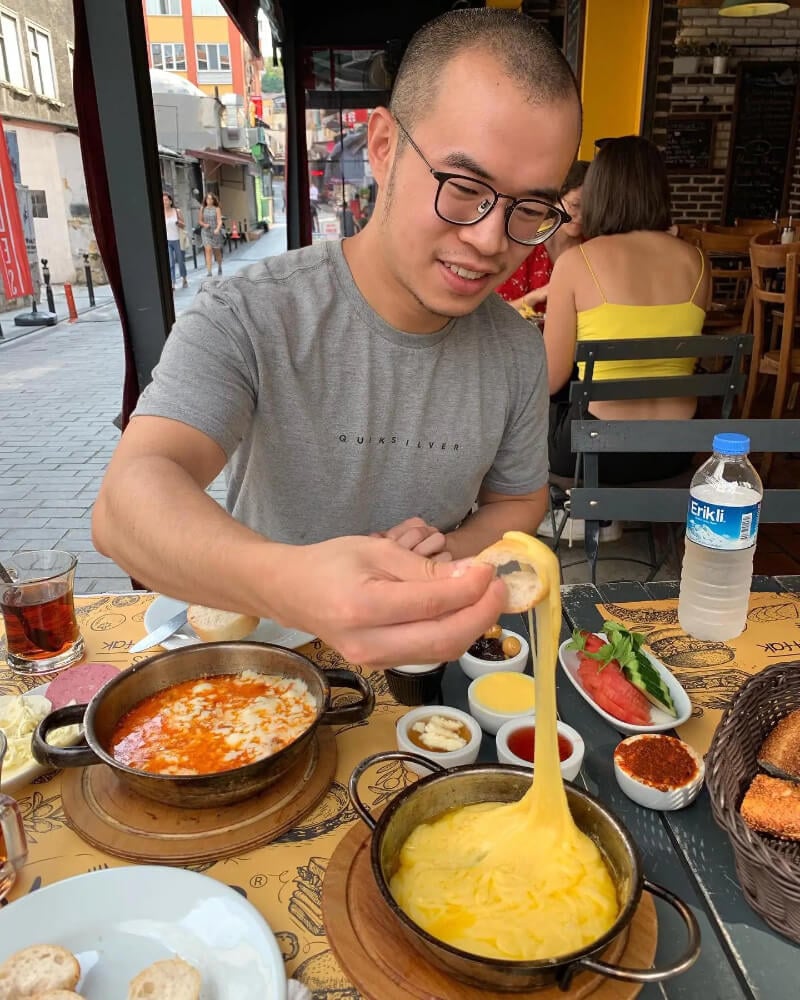 Where: Besiktas
Duration: 2 Hours
Includes: Traditional Turkish Breakfast and Turkish tea
Price: € 37
Hundreds of people flock to 'Breakfast Street' in Istanbul every morning, but it remains largely unheard of to tourist visitors. The first meal of the day is an important part of Turkish culture, experience it like a local with one of the best Istanbul foodie tours.
Just across from the Dolmabahce Palace, this trendy neighborhood in Besiktas is the best place to get breakfast in Istanbul. People from all over Turkey head here but many foreign visitors miss it completely.
Local guide Utku will order you a feast including menemen, kaymak & honey, and muhlama. Don't worry about trying to translate menus, he'll take care of everything.
Utku has traveled all over the world. He brought the very first Airbnb Experiences to Istanbul while he was working as Airbnb Brand Ambassador. His aim is to give you an unforgettable local experience in Istanbul.
If you're not too full, chat about the best things to do in Istanbul over Turkish tea or coffee before heading back into the city center.
Where: Istiklal Street, Beyoglu
Duration: 3 Hours
Includes: All food, drinks, food history and cooking demonstration
Price: €57
Tucked away in a cozy house on Istiklal Street, between the Galata tower and Taksim square, you will find a fun-packed cooking experience with locals.
Kaan and Arda will immerse you into the world of Ottoman gastronomy, but this is no history lesson. They have been doing this sort of thing for a while, and know the key to great food is having fun!
Compete with your fellow cooks for 'best chef', learn some new dance moves while listening to traditional Turkish music, and eat your heart out during this action-packed cooking lesson in Istanbul.
Learn the art of making Turkish lasagna called 'Yalama', and try Salgam (fermented black carrot juice), yum! There are plenty of options for vegetarians too with humus, Çig Köfte, and lots of other tasty treats.
This is a great way to get a real appreciation for the food in Istanbul. Learn what goes into the food you are eating as well as try some of the best things to eat in Istanbul.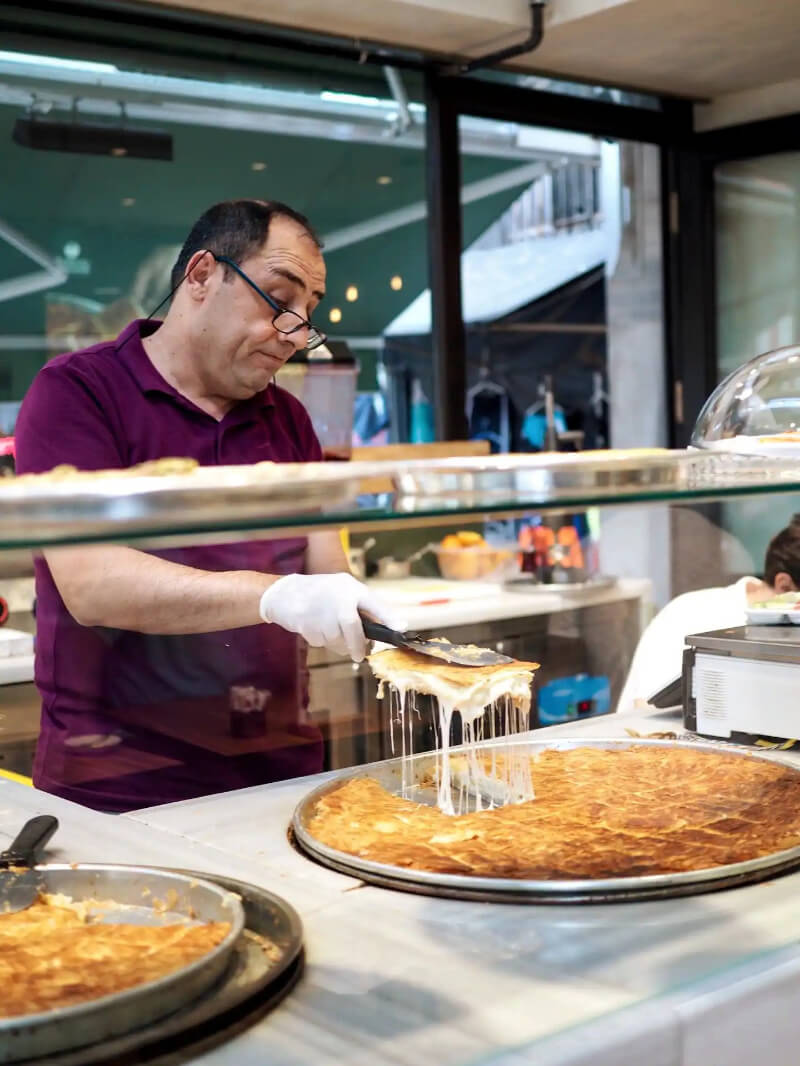 Where: Sultanahmet and Eminou
Duration: 4.5 Hours
Includes: Food, drinks, vegan/gluten-free options (advanced notice required)
Price: €52
Wander the hidden streets of the old town and visit the most historic and authentic local eateries in the heart of Istanbul.
This tour takes in all of the essentials. If you want someone else to do all of the hard work for you and try the very best food in Istanbul, this is the one for you.
Starting at the iconic Spice Bazaar you will try pide, followed by Turkish delights from a 245-year-old shop, then to a local stall for the "best döner in town".
Find hidden kebab stalls in the Grand Bazaar and wash it all down with Turkish coffee. Finally, demolish some baklava as you take in the sights of the Blue Mosque and Hagia Sophia.
Ozcan, the founder of Taste Of Istanbul, along with a small team (Didem and Elif) runs highly-rated food tours in Istanbul. As a local foodie, he has hand-picked some of the very best spots to try the most delicious and iconic food in the city.
This tour is perfect if you don't have much time in Istanbul, or if you just want to learn about all of the best spots in the old town to return to during your stay. Taste of Istanbul also runs a nighttime tour of Beyoglu and a transcontinental foodie walk.
Is This the Best Daypack EVER???
Final Thoughts on Food Tours in Istanbul
So there you have it, the best Istanbul food tours you just have to try. They are packed with history, culture, flavor, and a little pinch of heaven.
Not only will you ignite your taste palet, but these tours will help you learn all about the cultures of the many empires that have ruled and traveled through Istanbul. It helps you understand the people around you better. You'll also find yourself greeted with open arms.
Taste some of the very best fusion cuisines that have come from centuries of trade and shared cultures. Try and use a couple of Turkish words too and watch their faces light up.
Istanbul is a complete paradise for foodies, so make sure you make the most of your stay. These awesome food experiences really set your world on fire.
---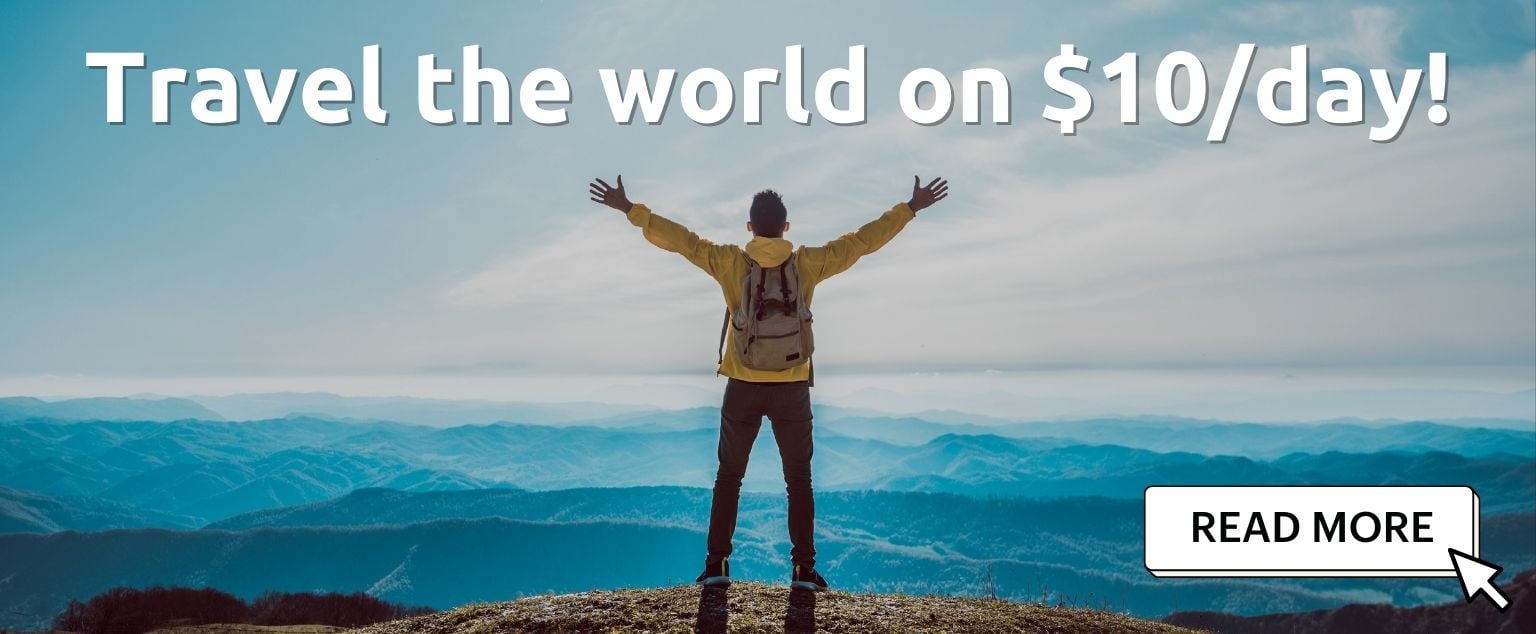 And for transparency's sake, please know that some of the links in our content are affiliate links. That means that if you book your accommodation, buy your gear, or sort your insurance through our link, we earn a small commission (at no extra cost to you). That said, we only link to the gear we trust and never recommend services we don't believe are up to scratch. Again, thank you!