There are few cities in the world that should be on everyone's must-see list, but in my not so humble opinion, if Istanbul is not included that list is wrong.
Istanbul is the only city in the world that straddles two continents, taking the best of Europe and Asia and creating one of the world's greatest melting pots of culture, history, incredible food, and beautiful architecture.
This bustling metropolis of close to 16 million people is the once capital of the Roman Empire before it was seized by the Ottomans. It has some of the oldest history in the world, and as such, you can bet there are a ton of incredible things to do in Istanbul.
But it's not just for history lovers. Istanbul has vibrant backstreets, thriving souk markets, delectable street food (if you don't try the stuffed mussels you're missing out!), and stunning mosques.
You could spend your life exploring the city and still be constantly finding new things to do in Istanbul. Unfortunately, most of us don't have that much time so here are the top things to do that will take you a little bit further than the surface.

Unlock Our GREATEST Travel Secrets!
Sign up for our newsletter and get the best travel tips delivered right to your inbox.
If you only have a short time or a weekend in Istanbul, below you will find the top five things I enjoyed the most while being in Istanbul. Hopefully, you can find some great things to do that you otherwise wouldn't have thought of.
What better way to take in the only city on two continents than to see both sides at once?! The Bosphorus Strait is a body of water that splits the European and Asia side, allowing for majestic views and cool breezes.
You can take a cruise where you will be served dinner with live entertainment or a short sunset ride at golden hour. Somehow sunset makes this city even more breathtaking and is one of the most romantic things to do in Istanbul.
If you want to ride the river but the idea of a cruise is either too much for you, or your wallet, simply take a ferry from one side to the other to get a great, albeit shorter, look. The ferries only cost between 15-20 Lira and take about 20 minutes so anyone can do it while visiting Istanbul.
Entrance: Depending on the tour
Hours: Evening
Address: Kabatas Vapur Iskelesi, Kad?köy Sahil R?ht?m Cad., Zab?ta Kar??s?, Kad?köy Merkez, Kad?köy, ?stanbul, Turkey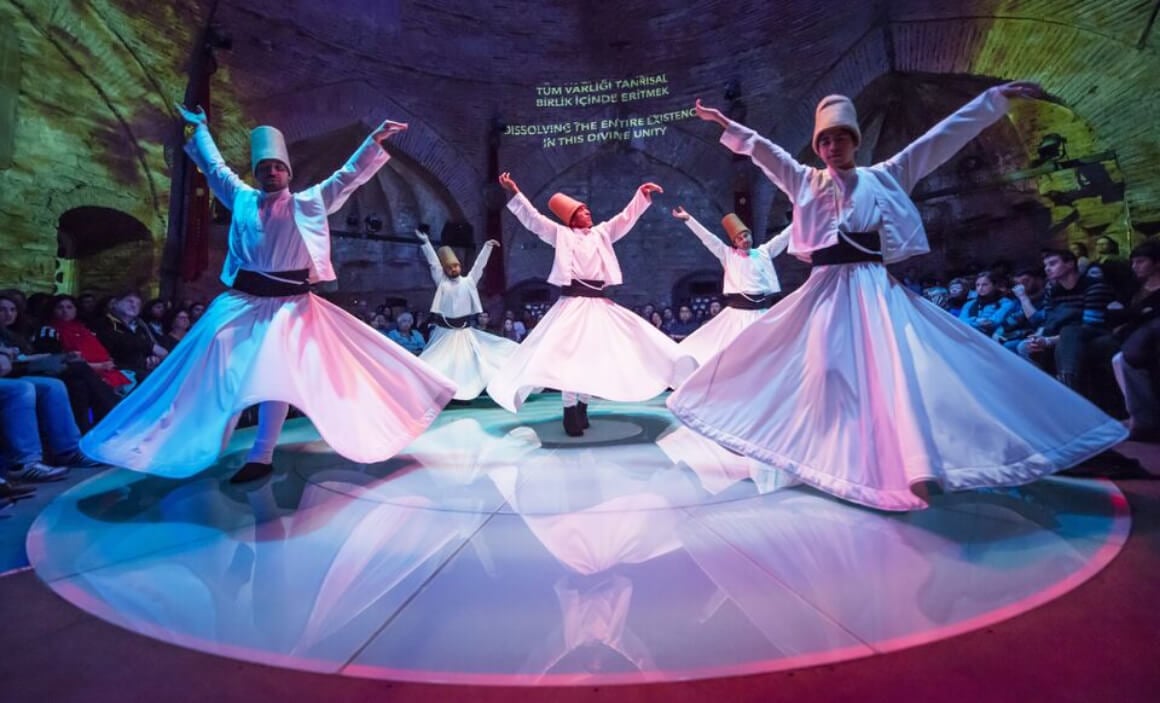 When traveling to a new place you should always try to find something that they do there the best or is hard to find in other places.
In Istanbul, that thing is a Whirling Dervish Show. The show is a complex musical dance set to Sufi music with elaborate costumes and choreography. Unesco has listed this as a Heritage of Humanity so don't just take my word for it.
Sufi music is hauntingly beautiful and whether I am in India, Egypt or in Turkey I seek it out like a bee to honey. Seeing the Whirling Dervishes live is one of the most unusual things to do in Istanbul but definitely not one to be missed!
Entrance: Depending on the show
Hours: Evening
Address: Hoca Pa?a, Hoca Pa?a Mahallesi Ankara Caddesi, Hocapa?a Hamam? Sk. No:3 D:B, 34110 Fatih/?stanbul, Turkey
3. Fill your shopping bags at the Grand Bazaar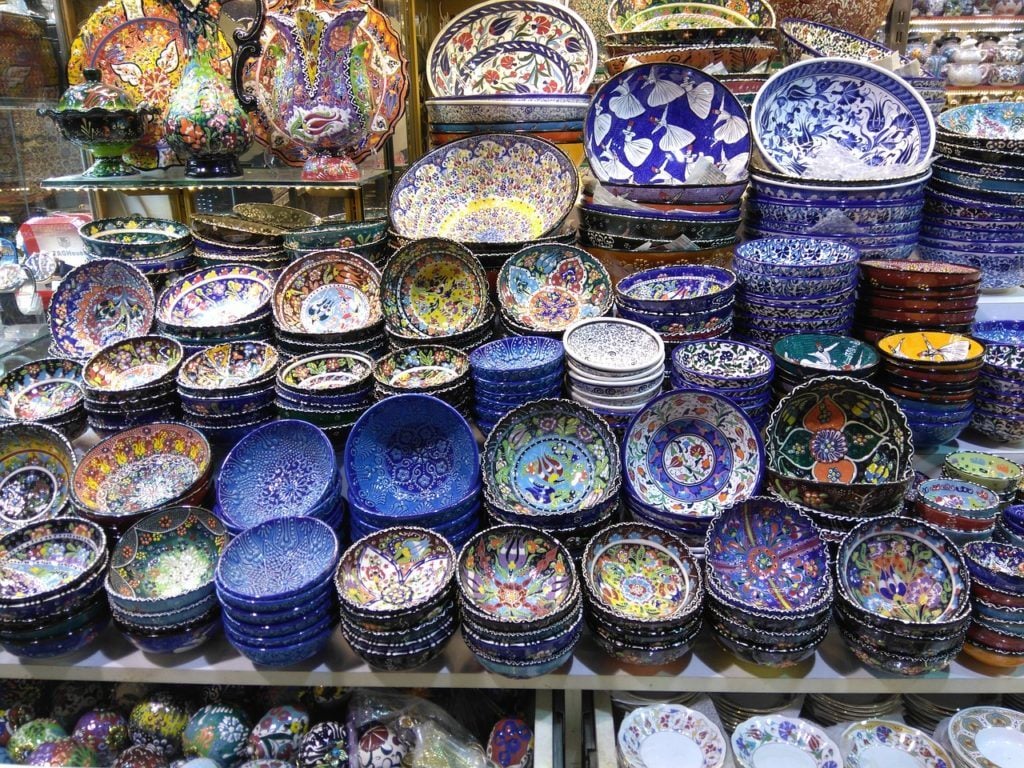 Whether you are looking for the next souvenir to adorn your already crowded coffee table, searching for the perfect gift to give a special someone, or just want to work on your haggling chops, look no further than the Grand Bazaar.
A huge maze filled with carpets, incense, trinkets, the greatest deals, and the occasional less-than-honest salesman. You could spend all day here drinking tea, chatting with the locals, and buying something you didn't know you couldn't live without.
Getting lost in the Grand Bazaar is a quintessential Istanbul experience and one of the greatest things to add to your Istanbul itinerary.
Entrance: Free
Hours: 10:00AM – 18:00PM
Address: Beyazt, Kalpakçlar Cd. No:22, 34126 Fatih, Istanbul, Turkey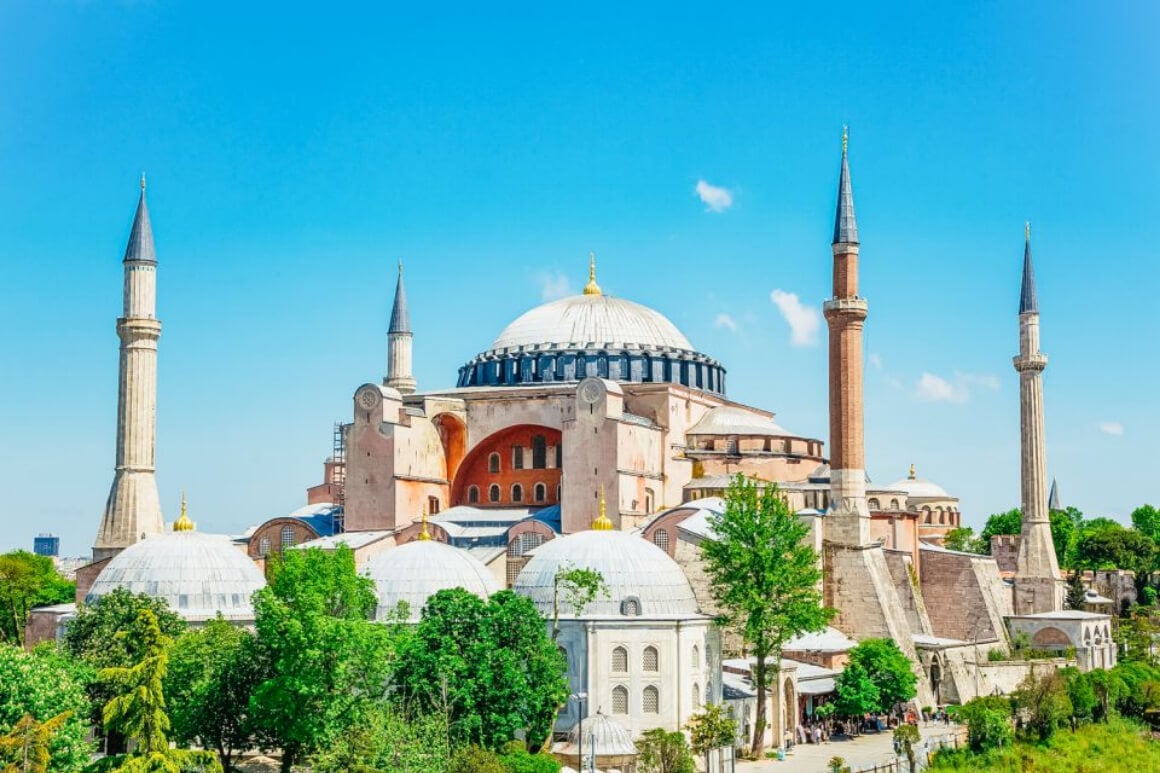 Throw the word Istanbul into Google images right now and what you will be greeted with is about 50 pictures of the Hagia Sophia. Visiting Istanbul without seeing the Hagia Sophia is like going to Paris without seeing the Eiffel Tower or New York without the Statue of Liberty.
However, the thing that sets apart the Hagia Sophia from all of the above, is the fact that it is even more impressive inside than out. The massive domes and intricate lettering are a marvel to witness. If you are on a six-hour layover in Istanbul and there's only one place to visit in Istanbul, stop reading this article and go to the Hagia Sophia, trust me, this is the best thing to do in Istanbul.
You can go alone to take in the sheer size and art, or if you are more interested in the facts and history you can have a guide explain everything to you.
Since this is a mosque the entry is free, this is by far one of the best free things to do in Istanbul, however, please remember to go outside hours of prayer and above all to be respectful.
Entrance: Free
Hours: 9:00AM -18:30PM
Address: Sultan Ahmet, Ayasofya Meydan? No:1, 34122 Fatih, ?stanbul, Turkey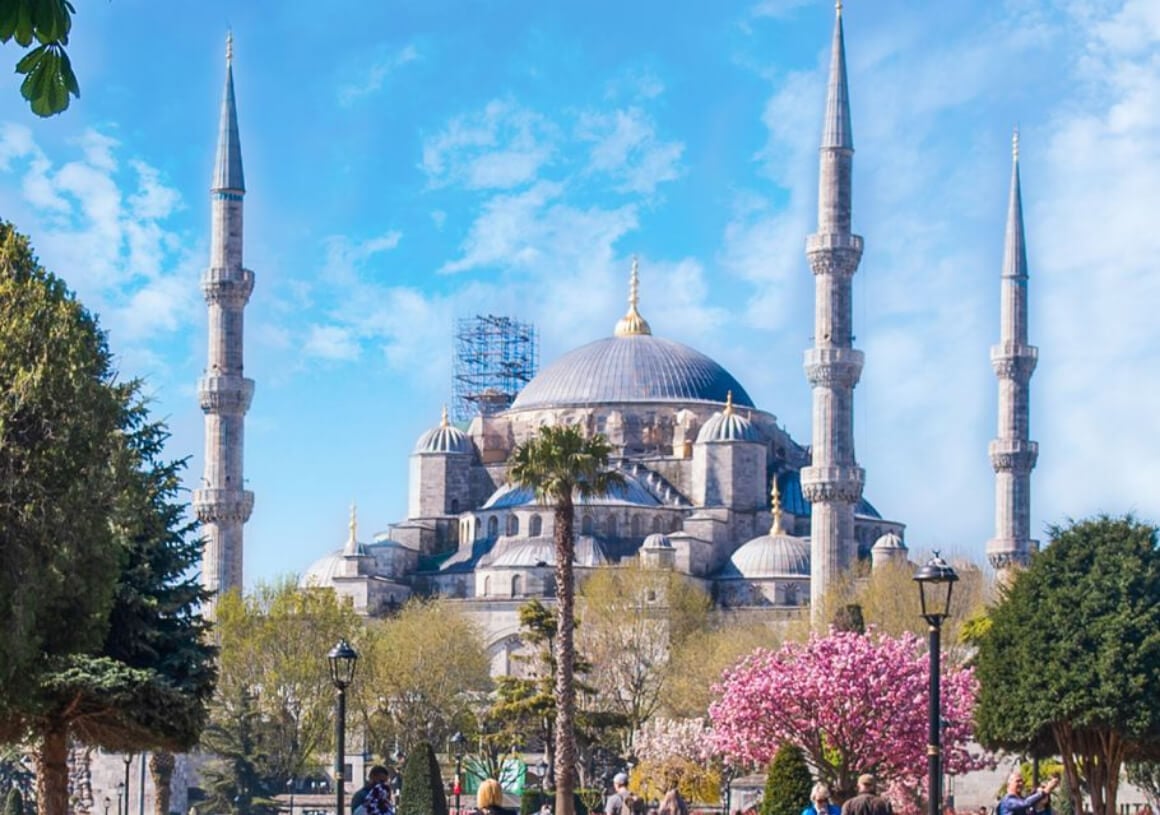 Go back and pull back up those photos from google images of Istanbul. If there are 50 pictures of the Hagia Sophia, then there are 49 pictures of the Blue Mosque. Built to rival the nearby Hagia Sophia, it definitely succeeded in what it was trying to do.
While the interior of the Hagia Sophia will astound you with its sheer size and height of the domes, the strength of the Blue Mosque is in the details. The over 20,000 individual tiles hand-painted with (you guessed it) blue ink are nothing short of spectacular and are one of the most amazing things to do not just while visiting Istanbul but dare I say, the world. Though it is painted blue, the reason it is called the Blue Mosque is actually due to the blue colour it turns at twilight.
Conveniently for us travellers, the Hagia Sophia and Blue Mosque are located right next to each other in the Sultanahmet area, making for an easy, free and spectacular day trip. Unfortunately as of 2022, the Blue Mosque is closed for renovations however I will update you soon on the reopening date.
Entrance: Free
Hours: 9:00AM-17:00AM
Address: Sultan Ahmet, Atmeydan? Cd. No:7, 34122 Fatih/?stanbul, Turkey

Rounding out the Sultanahmet trifecta is the Topkapi Palace. Now a museum, it was the first Ottoman Palace in Istanbul and was used as the main residence of the royal family between the mid-1400s-1800s.
Now you can go wander through the lush gardens, and ornate bedrooms and picture how the royals must have lived. Now since it is not a mosque unlike its neighbors the palace comes with an entry fee of 200 Lira per person as of 2022.
However, this includes a guided audiobook as well as access to the Hagia Irene Museum. If you want to visit the Harem section this will cost you another 100 Lira.
Entrance: 200 TL +100 TL for Harem Section
Hours: 9:00AM-18:00PM, Closed on Tuesdays
Address: Cankurtaran, 34122 Fatih/?stanbul, Turkey
Small Pack Problems? 😉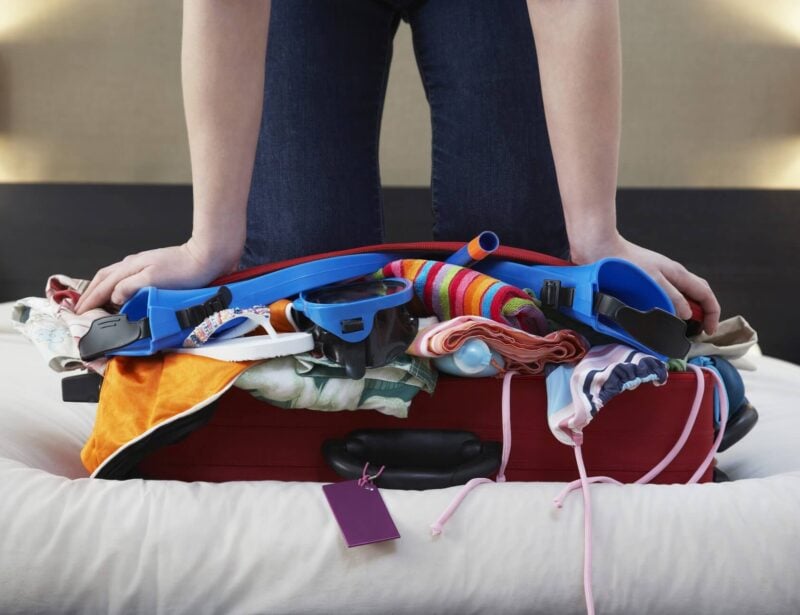 My missus travels with all her clothes in ziplock bags: don't be like my missus. UP YOUR PACKING GAME!
Packing cubes for the globetrotters and compression sacks for the real adventurers – these babies are a traveller's best kept secret. They organise yo' packing and minimise its volume too so you can pack MORE.
Or, y'know… you can stick to ziplock bags.
View Our Fave Cubes
Or Check Out the Sacks!
7. Journey through the Spice Market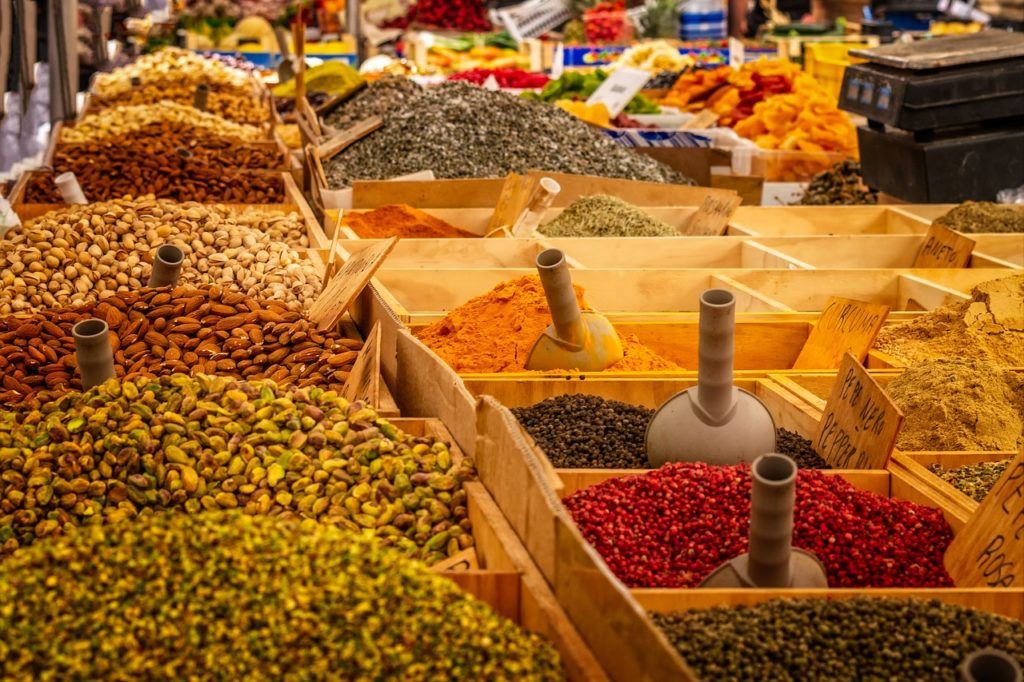 Missing the hustle and bustle of the Grand Bazaar already and thinking about what to do in Istanbul next? Well, you're in luck as the Spice Market is just a stone's throw away.
If you think I don't need to visit the Spice Market, I'm not planning to bring back a pound of saffron, you couldn't be more wrong!
Don't let a somewhat misleading name deter you. While there are tons of spice vendors there, it is also home to some of the best sweets, tea, fruit, and snack vendors in Turkey. Getting to try baklava and Turkish delights at the source is one of the greatest things to can do in Istanbul and is not to be missed.
Fun fact: The Spice Bazaar and several over sites around Istanbul were used as filming locations for the James Bond movie: From Russia With Love.
Entrance: Free
Hours: 9:00AM to 19:00PM
Address: Sultan Ahmet, Atmeydan? Cd. No:7, 34122 Fatih/?stanRüstem Pa?a, Erzak Ambar? Sok. No:92, 34116 Fatih/?stanbul, Turkey
Before deciding to go to the Basilica Cistern you may be asking yourself what a cistern even is? Well, a Cistern is an underground reservoir that in ancient times was used to provide fresh water to the city.
There are several hundred of them scattered around Istanbul but this one is the biggest and baddest.
Filled with marble columns and engraved pillars, it's a trip back in time preserved under a modern city, and I think that is definitely one of the most unique things to do in Istanbul. Prices per head are 30 lire per person as of 2022.
Entrance: 30TL
Hours: 9:00AM to 18:30PM
Address: Alemdar, Yerebatan Cd. 1/3, 34110 Fatih/?stanbul, Turkey
9. Discover the Chora Church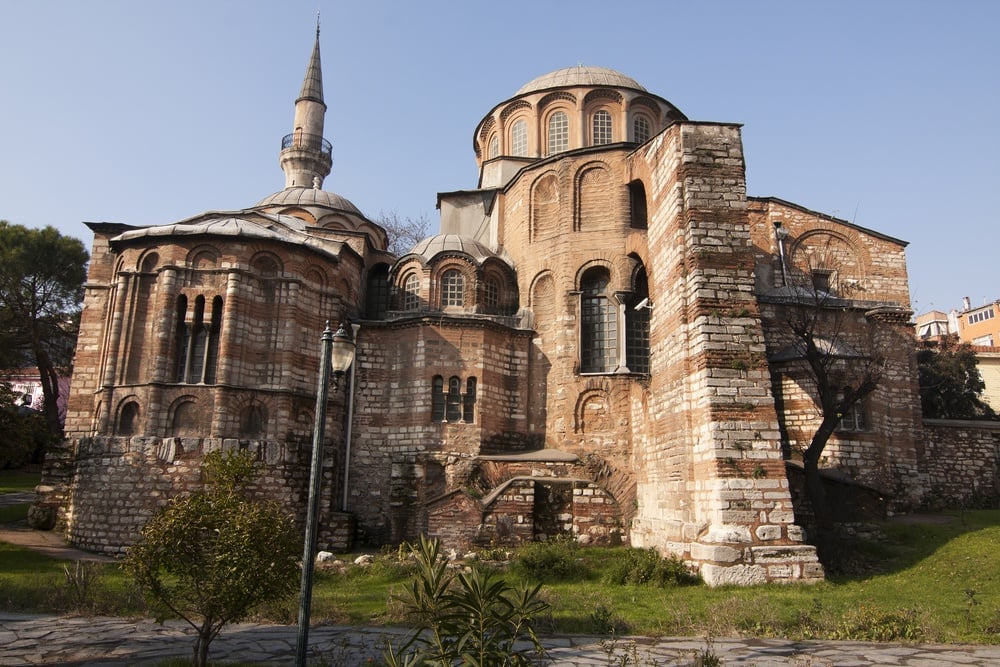 Many people don't know this but Istanbul also has deep Christian roots, particularly when Istanbul was known as Constantinople, the capital of the Roman Empire.
One such example is the Chora Church which was a Greek Orthodox Church that was later converted into the Kariye Mosque. While being a mosque, it still maintains some of the best-preserved and oldest Byzantine Christian frescoes and mosaics in the world and is an interesting look into another side of Istanbul's past.
A somewhat overlooked Istanbul attraction but I can guarantee you that you will be glad you went. And as it is now a Mosque there are no admission fees.
Entrance: Free
Hours: 9:00AM to 17:00PM
Address: Dervi?ali, Kariye Cami Sk. No:18, 34087 Fatih/?stanbul, Turkey
Is This the Best Daypack EVER???
10. See the views from Galata Tower
Istanbul is such an amazing place with so much to see, but where is the best place to see it from? Most people would tell you to go up to Galata Tower.
The 67-meter watchtower built over 1500 years ago has the perfect combination of beauty, history, and a fantastic view, which makes this one of the top things to do for any travel group, even ones that can't agree with each other on what to see while visiting Istanbul. The best time to enjoy the panoramic views is during the sunset call to prayer.
In addition to it having the best views be sure not to miss the exhibition space and museum as there are always cool new things to see. The entry fee is 100 Lira per person as of 2022.
Entrance: 100TL
Hours: 9:00AM to 22:00PM
Address: Bereketzade, Galata Kulesi, 34421 Beyo?lu/?stanbul, Turkey
11. Savour Kebabs at Dürümzade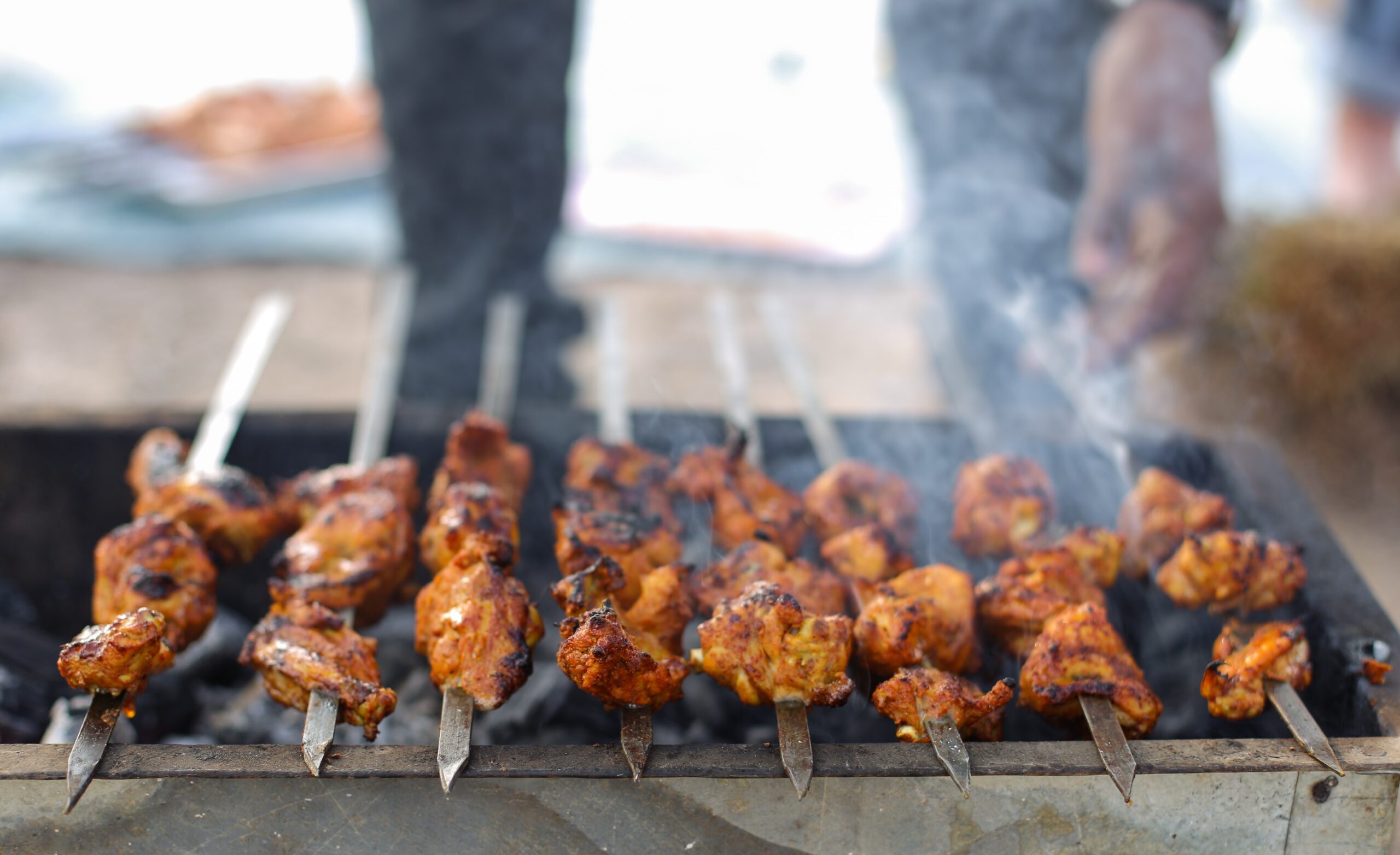 After soaking up all the history of Istanbul it's time for your stomach to soak up its world-famous food. And how can you start talking about Istanbul or the wonders of Turkish food without starting with the Kebab?
While Doner Kebab is easily one of Turkey's most recognizable exports, there are so many other variations that deserve as much if not more attention, and there is no better place to start than Dürümzade.
Cheap, filling, loved by the locals, and Anthony Bourdain's favorite Kebab? Say no more. I don't know what your definition of fun is but includes eating, making this one of the most fun things in Istanbul for me.
Entrance: Free
Hours: 10:00AM to 1:00AM
Address: Hüseyina?a, Kamer Hatun Cd. 26/A, 34435 Beyo?lu/?stanbul, Turkey
12. Eat a Belik Ekmik by the Galata Bridge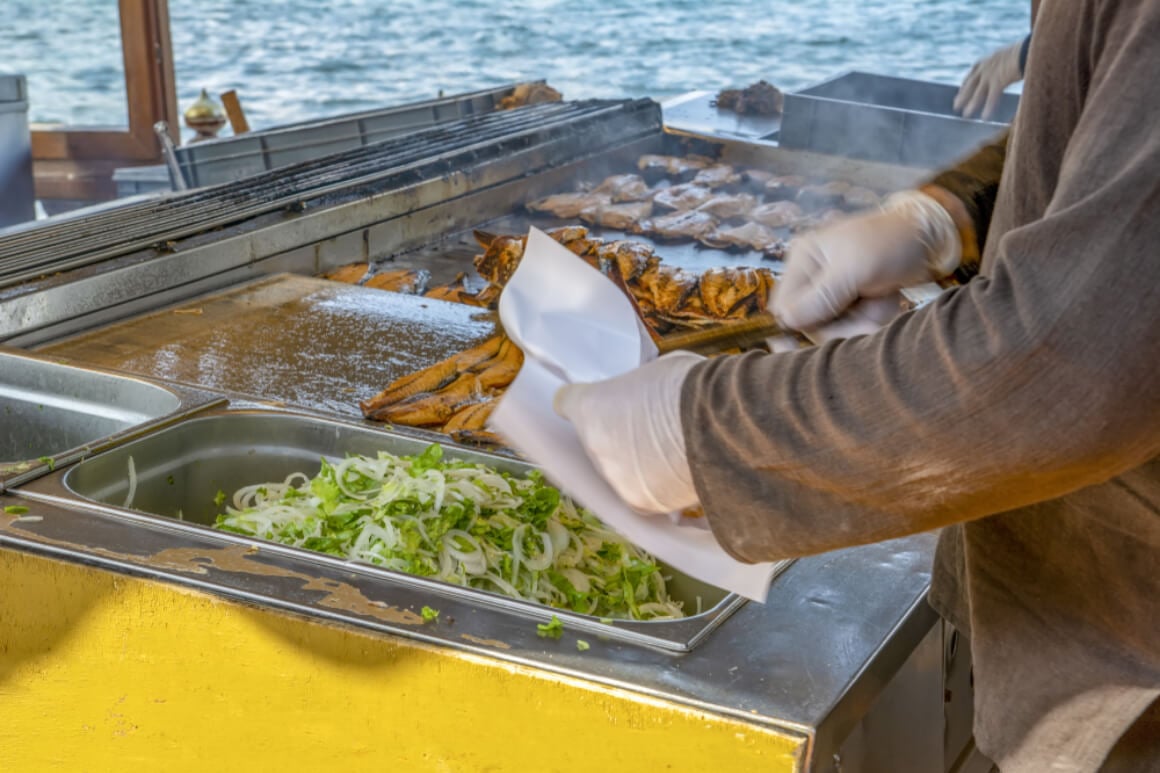 If eating Kebabs is one of the most Turkish things you can eat, then eating a Belik Ekmik (Fish Sandwich) by the seaside overlooking the Galata bridge is one of the most Istanbul things you can eat.
You can choose to go to one of the many restaurants in the area serving the beloved sandwich or for the more authentic (and cheaper) experience, grab one that was cooked on one of the many boats docked at Eminönü and grab a seat by the windy banks to enjoy the food and to watch the people and boats go by and savour one of the best Istanbul outdoor activities.
Entrance: just the cost of your food
Hours: 12PM – 12AM daily
Address: Bal?kç? Murat Abi – Traditional Fish Sandwich Stand, ?ehsuvar Bey, Kad?rga Meydan? Sk., 34000 Fatih/?stanbul, Turkey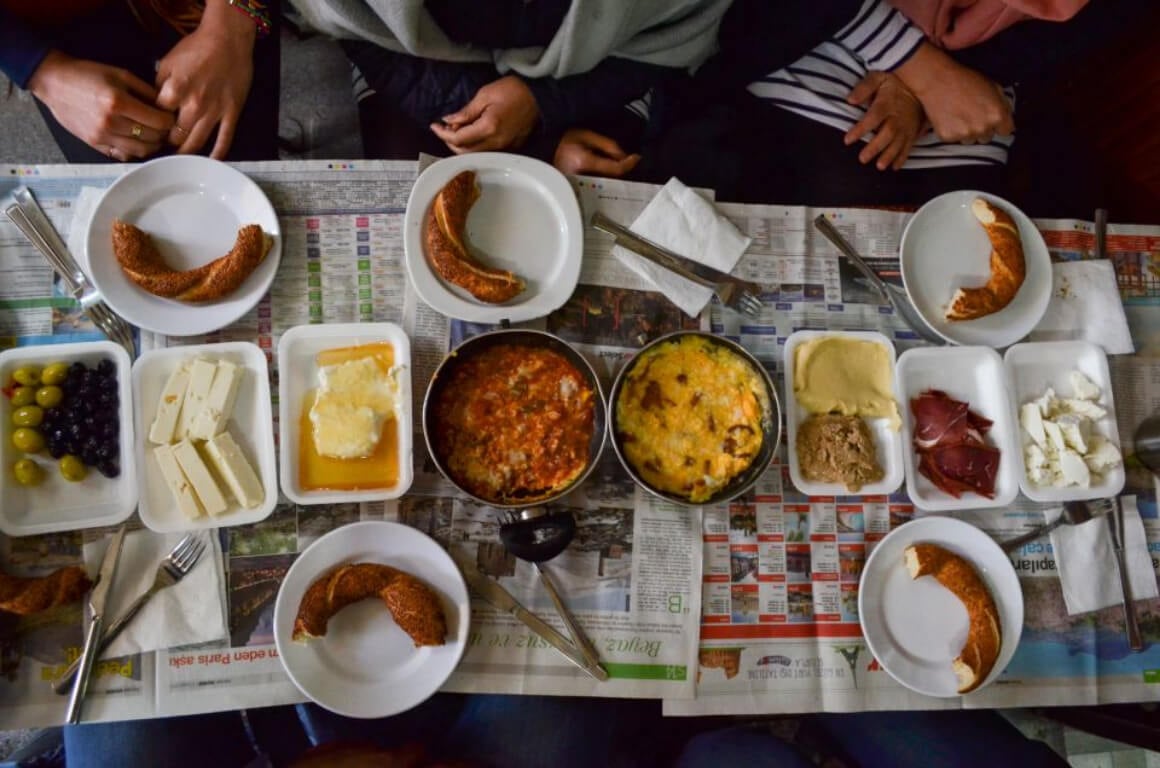 Look, I'll level with you. I don't eat breakfast, I have a slow metabolism and I can't afford to. However that all goes out the window when I'm in Istanbul. Cheeses, olives, meats, eggs, tomatoes, bread, jams, pastries, butter, and cucumbers. No, those are no different dishes, you get them all at once!
If I'm going to cheat on my no breakfast rule it has to be worth it and it is without a doubt one of the tastiest things to do in Istanbul.
Find yourself a place that specializes in breakfast and not as just another course to really get the full experience. Shouldn't be too hard as there are tons out there waiting for you to find them!
Entrance: depends on tour
Hours: 9.00AM or 9.30AM
Address: Hobyar, Hamidiye Cd. 16-75, 34112 Fatih/?stanbul, Turkey
Travel with peace of mind. Travel WITH a security belt.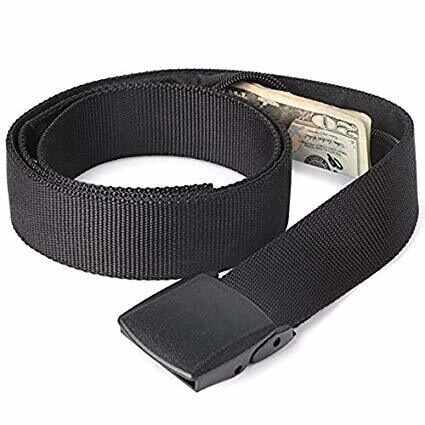 Get your cash stashed with this awesome Pacsafe money belt. It will keep your valuables safe no matter where you go.
It looks exactly like a normal belt except for a SECRET interior pocket perfectly designed to hide a wad of cash or a passport copy. Never get caught with your pants down again! (Unless you want to.)
Hide Yo' Money!
14. Wash the food down with some Raki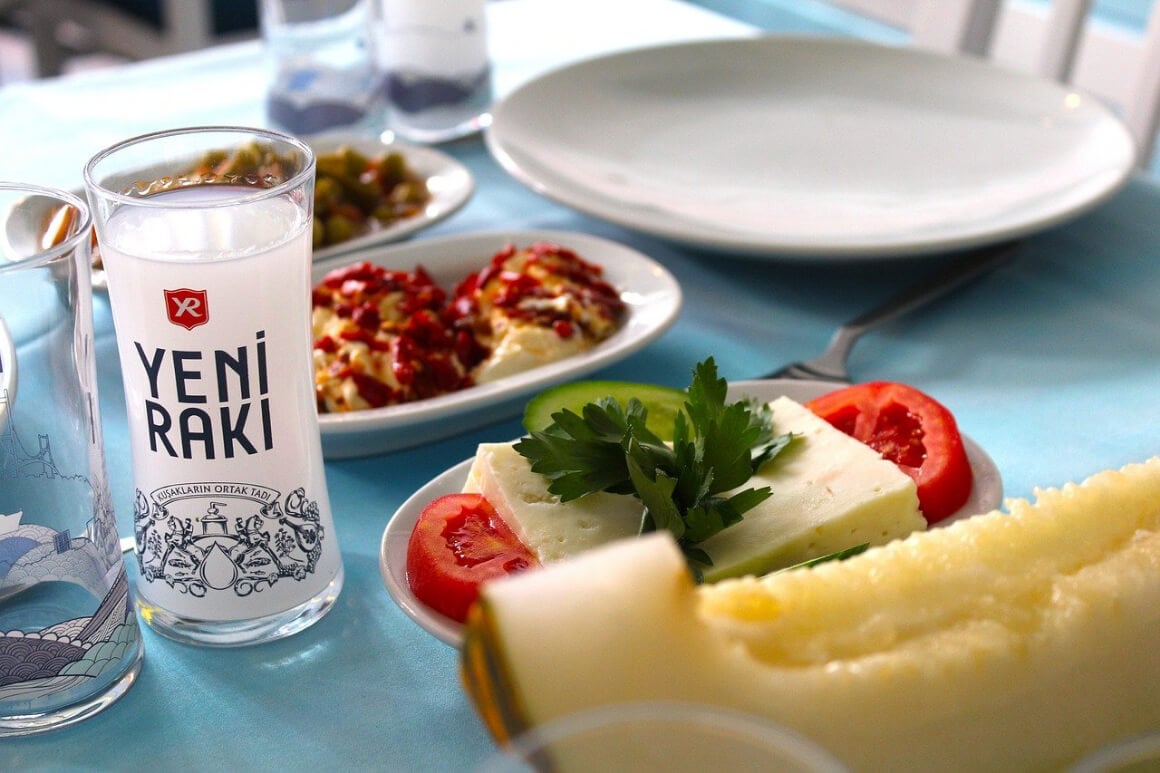 You've spent the day scarfing down all the delicious food that Istanbul has to offer, and now you need something to wash it down with. Look no further than the national spirit of Turkey, Raki.
Distilled from either gapes or figs and flavoured with star anise, this fragrant liquor packs a punch. Now anise has a similar flavour to licorice so I can't say it will be for everyone, but with 40 million litres drank a year, there is a good chance that you will be one of the ones who enjoy it, so give it a shot! Pun intended.
Entrance: just the cost of your shot.
Hours: depends on the bar/restaurant
Address: Any bar or restaurant! But I recommend looking at Nevizade Street.
15. Get lively on Nevizade Street
Now with two shots of Raki in your system, you are probably going to be looking for a place to keep the good times rolling. Head on over to Nevizade street to have an amazing night you will hopefully remember in the morning.
Here the music is loud, the Efes and Raki are flowing and it is a great place to wind down after a long day. If you're lucky, musicians will come to your table to serenade you with a song or two. If this alley becomes a little too much for you, it is part of the much larger Istiklal street where you can find more relaxing places to have a drink or 10.
Entrance: only the cost of your drinks
Hours: depends on the bar
Address: Hüseyina?a, 34435 Beyo?lu/?stanbul, Turkey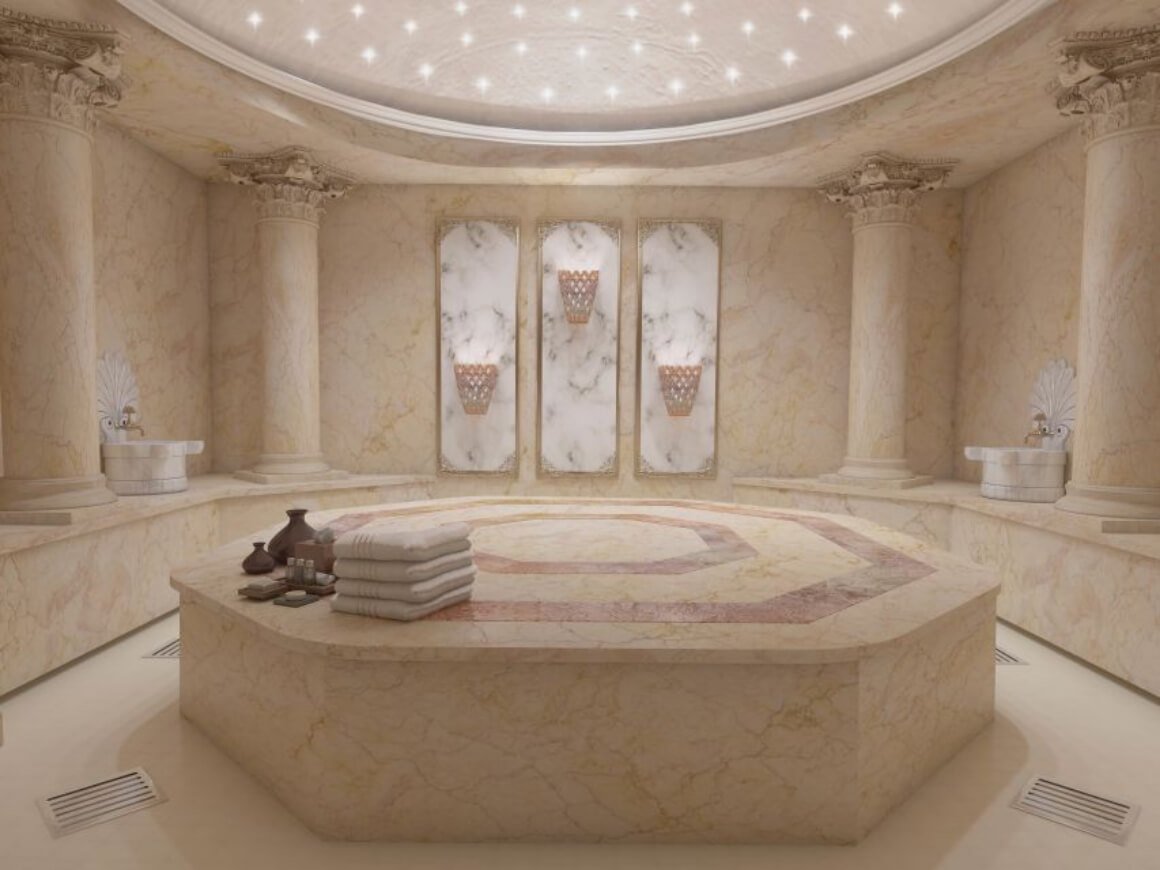 It's the next morning, you got home an hour later than you should and were about one Efes away from plastering your Kofte Kebab all over the beautiful streets of Istanbul.
All you want is to relax and try to relieve some of the tension in your body. Well, you might be looking for a Turkish Bath or Hamam as they are referred to locally.
Have a soothing steam bath followed by a Turkish massage and the scrubbing away of all your dead skin leaving you as smooth as a baby's bottom. Don't worry, if you didn't have a late night last night this is for you too, in fact, you might enjoy it even more! The Turkish bath is an essential thing to do in Istanbul.
Entrance: Depends on the package
Hours: 6AM – 12AM
Address: Cemberlitas Hamam, the entrance is next to Cemberlitas Tram Station
17. Appreciate Modern Art at Istanbul Modern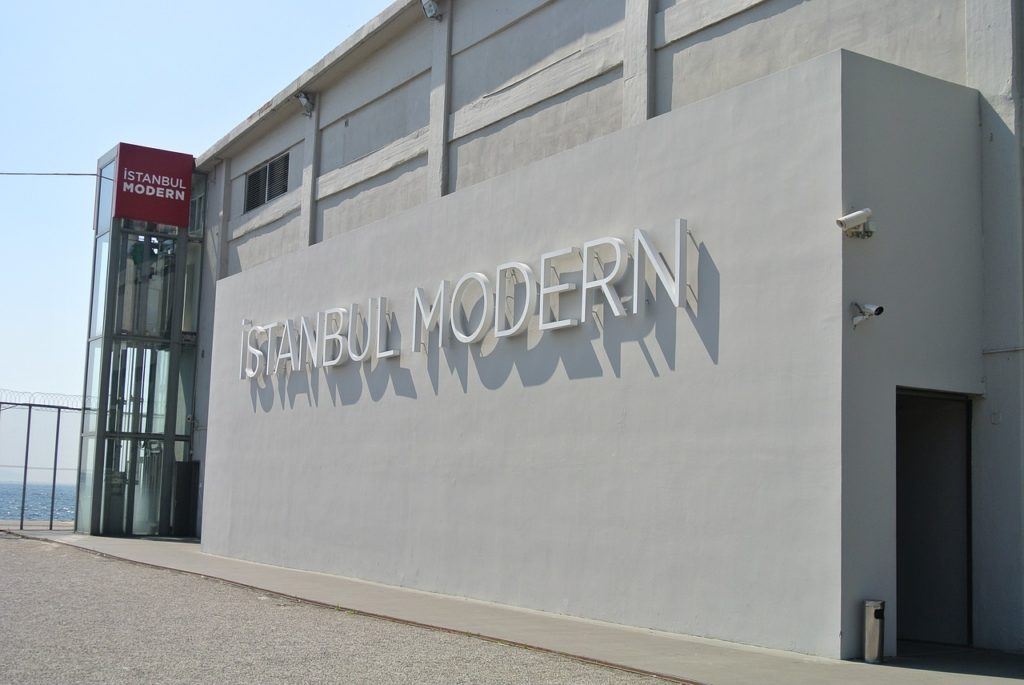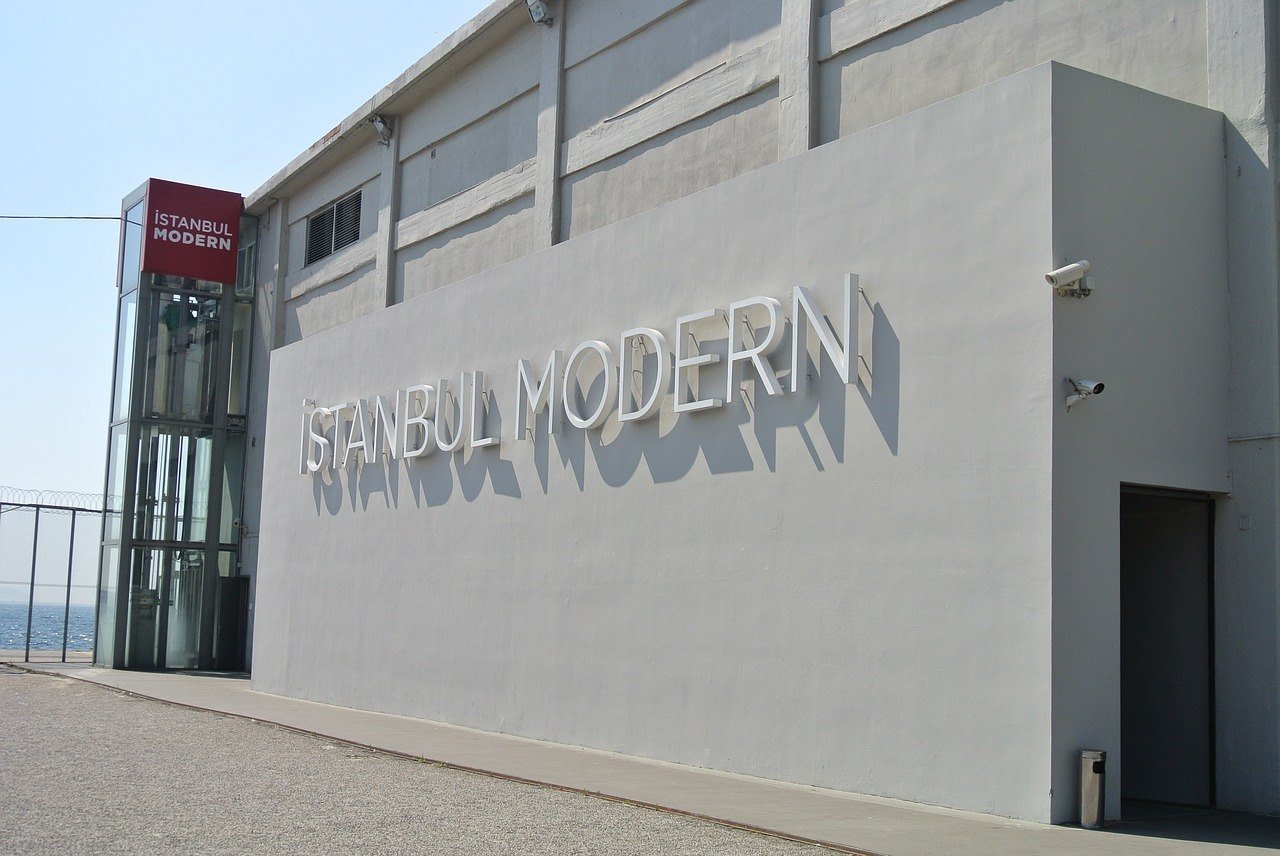 Previously most of the places I have been recommending have been steeped in history and for good reason, Istanbul is one of the most historical cities in the world and it would be a shame not to see it. But there is also so much it has to offer in its contemporary state.
Start off with a visit to the Istanbul Modern Museum, showing both Turkish and International works of art, as well as an inhouse cinema, mulling around here would be a day well spent.
Also, it's smack dab in the middle of Istiklal Street so you don't need to make a far special trip to see it. This is also a great thing to do in Istanbul with kids to get them to appreciate the arts in a fun environment.
Entrance: 25TL
Hours: 10:00AM to 20:00PM
Address: Istiklal Street
18. Get cultured at the Süreyya Opera House
A beautiful venue inspired by the Champs-Elysées Theatre in Paris, the Süreyya Opera House gives space to some of the best theater, opera, and ballet performances in the country.
Originally serving as a movie theater and wedding venue, this theater is the perfect place to get some culture in you.
Visiting the Süreyya Opera House also gets you over to the Asian side of Istanbul which is criminally overlooked by many visiting Istanbul. Arrive an hour early to explore the neighborhood and stay for dinner and drinks afterward to explore a more local side of Istanbul nightlife.
Entrance: Depends on the show
Hours: Depends on the show
Address: Cafera?a, General As?m Gündüz Cd. No:29, 34710 Kad?köy/?stanbul, Turkey
19. Ride the tram in Kadaköy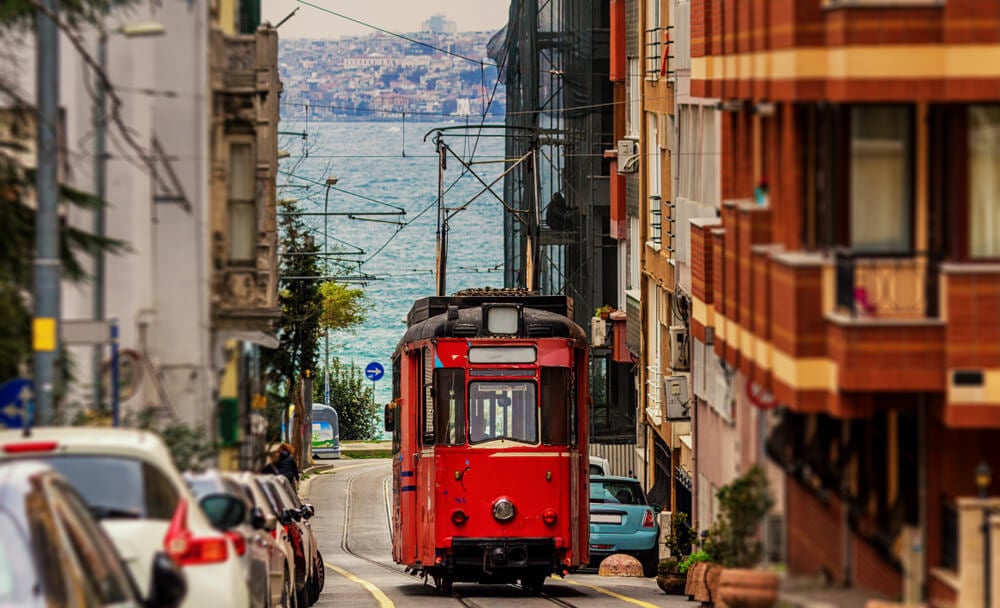 One of the iconic images of Istanbul is the tram, unfortunately however most of the trams have been replaced with modern sleek ones which are no doubt more efficient but lack some of that old-world charm. There are two remaining "nostalgic" trams left.
One on the European side starting in Taksim Square and the other on the Asian side in Kadaköy. My recommendation would be to take the tram on the Asian side as most tourists are on the European side and therefore it will be a lot more crowded. Riding in Kadaköy will give you a much better experience.
Entrance: 6 TL
Hours: 7:00AM to 21:00PM
Address: Depends on the stop
Save $$$ • Save the Planet • Save Your Stomach!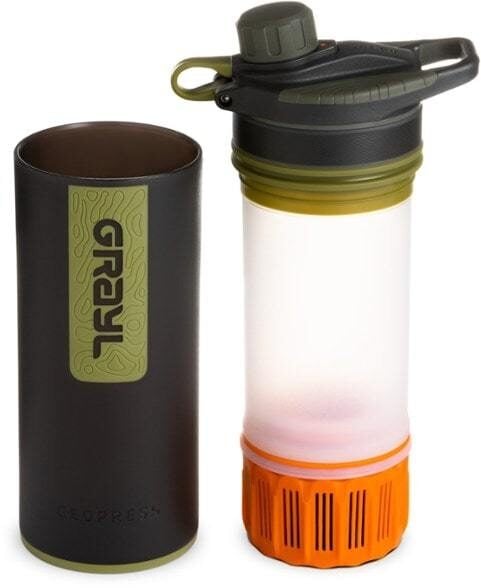 Drink water from ANYWHERE. The Grayl Geopress is the market's leading filtered water bottle protecting your tum from all the waterborne nasties. PLUS, you save money and the environment!
Single-use plastic bottles are a MASSIVE threat to marine life. Be a part of the solution and travel with a filter water bottle.
We've tested the Geopress rigorously from the icy heights of Pakistan to the tropical jungles of Cuba, and the results are in: it WORKS. Buy a Geopress: it's the last water bottle you'll ever buy.
Buy a Geopress!
Read the Review
Istanbul is an amazing city, but at the end of the day it is a city, with millions of people, and cities can sometimes be exhausting. So where do Istanbul natives go on a day trip from Istanbul when they need a little quiet and relaxation? Prince's Islands.
The first thing you notice is the silence, and one of the reasons is because they have banned all fuel-driven vehicles from the islands, and only bicycles electric vehicles and horse-drawn carriages rule the street. With old-style houses and clear blue waters that rival any of the more famous Greek islands, your day trip might just become three if you have the time.
There are two types of ferries to the islands. A slower ~100-minute ferry costs 5 Lira and a faster ~55-minute ferry costs 10 Lira. With prices like that, you have no excuse not to do one of the coolest things to do in Istanbul!
Entrance: Cost of the ferry – 5 Lira – 10 Lira
Hours: Daily from 10:40 AM, 11:40 AM, 12:40 PM, 1:40 PM, 2:40 PM, 3:40 PM. Last boat returns at 3.30PM.
Address: From Kabata? Dentur Avrasya Pier to Prince's Island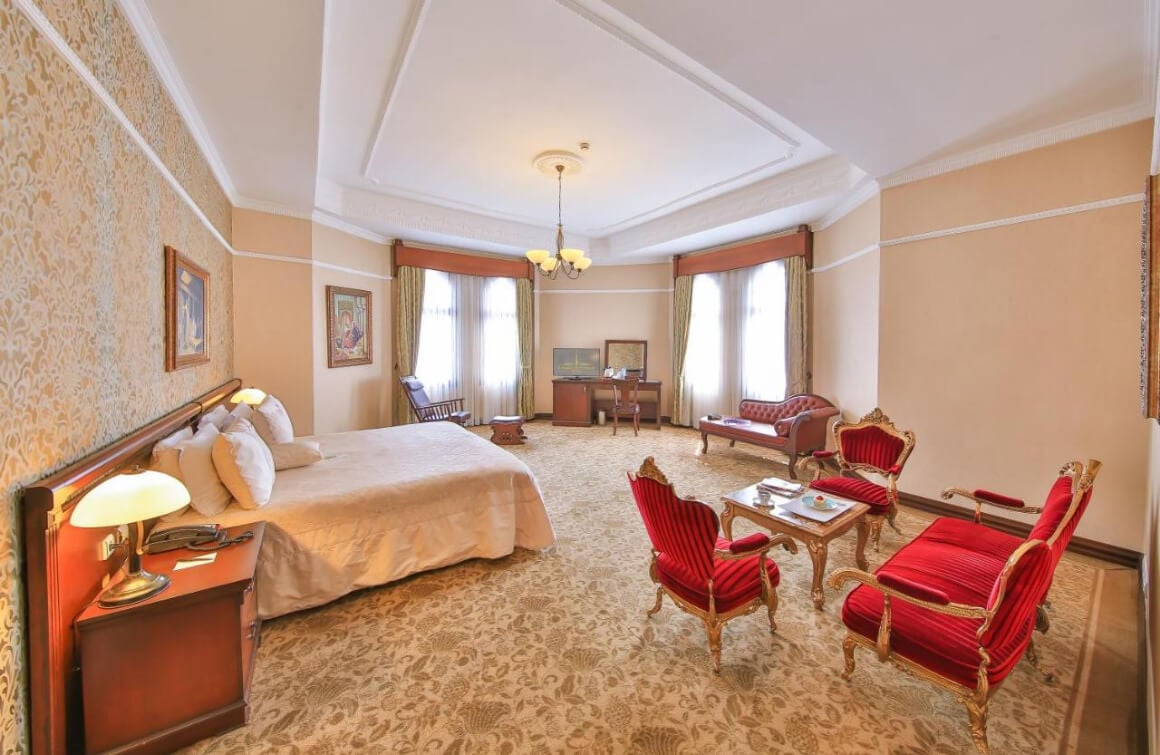 There are many boutique hotels, particularly in the Sultanahmet area that are housed in traditional old-style Ottoman buildings dating back hundreds of years. Some of the are definitely on the higher end of the price range but there are bargains around to be found.
Even if you don't stay in one for the whole time, doing a few nights in one will give you a different appreciation for your surroundings. Many of them come served with traditional Turkish breakfasts as well so you can kill two birds with one stone.
Entrance: for paying guests only.
Hours: 24 Hours (for guests)
Address: Hobyar Mahallesi Hamidiye Caddesi No:16 Sirkeci, Fatih, 34112 Istanbul, Turkey
22. Stroll Around Taksim Square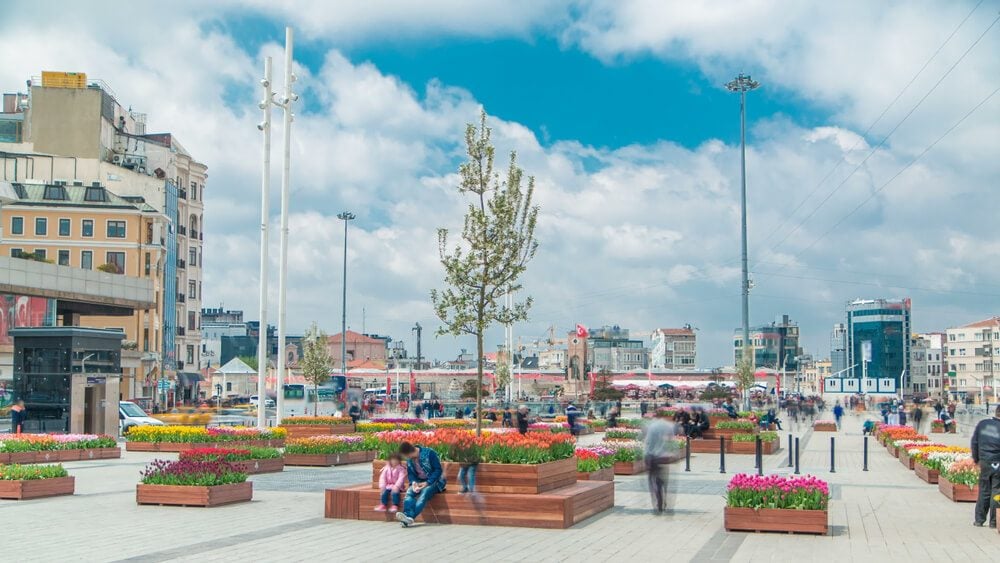 Spend more than a day in Istanbul and you're bound to make your way to Taksim Square. Boasting some of the best hotels, modern shopping, and restaurants in the city, the square is a perfect place to spend a few hours exploring or just people watching.
Taksim Square is one of the beating hearts of the city and is the site of many of the most important protests in contemporary Turkish history, and in happier times hosting events such as parades and New Year celebrations.
Entrance: free
Hours: N/A
Address: Taksim Meydan?, Gümü?suyu, 34435 Beyo?lu, ?stanbul
Forget boring accommodation… book yourself an EPIC STAY!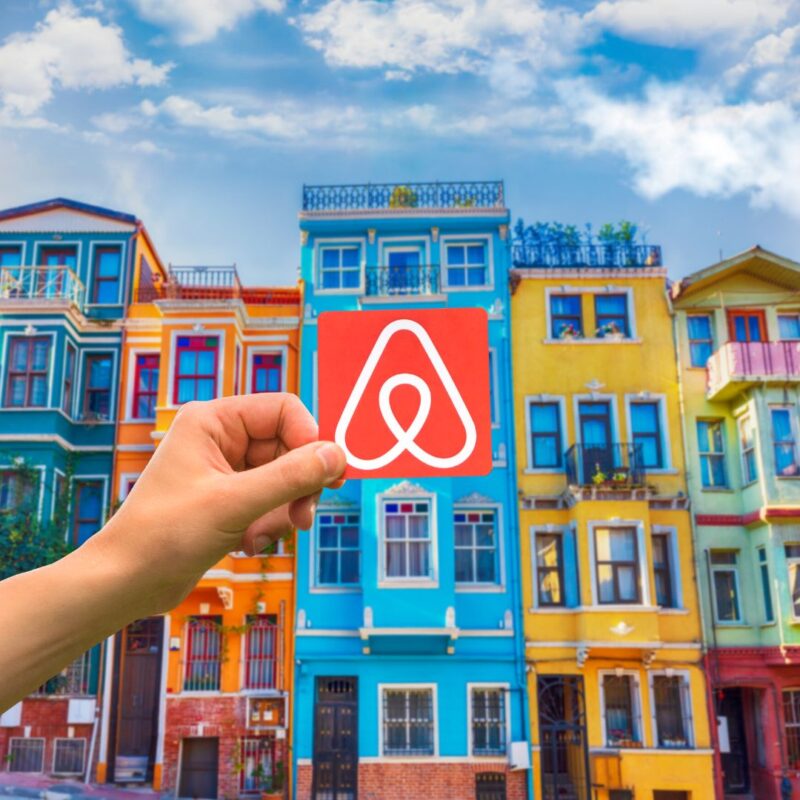 Why stay in a naff hotel when you can stay in a cosy, stylish local house instead? And for half the money too!
Stay somewhere EPIC and save your hard-earned dollars — from houses to barns to castles and caves, there is an Airbnb for every occasion!
Book an EPIC Stay
23. Get Bamboozled by Turkish Ice Cream Vendors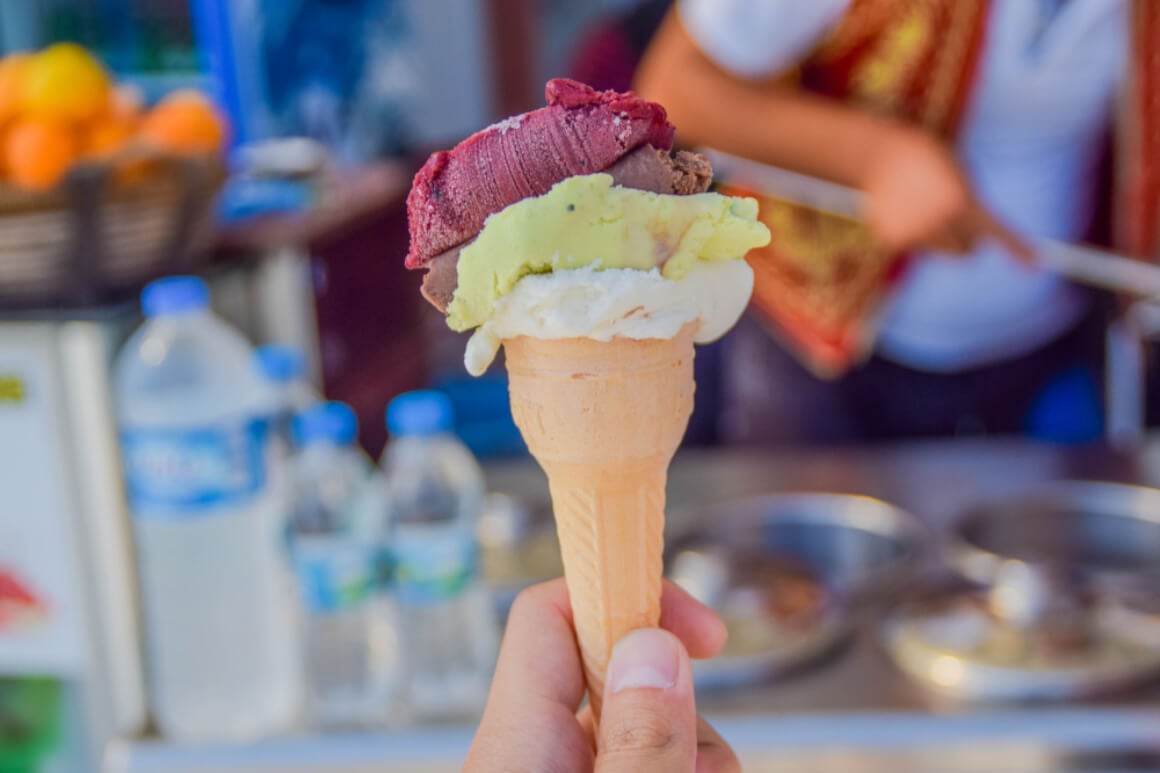 Made famous worldwide via the internet, grabbing or trying to grab an ice cream cone from these tricky vendors isn't as easy as it looks and is one of the most unique things to do in Istanbul. True showmen through and through, watch them fool you numerous times before you are rewarded with your prize. Desert and a show all for the price of one? Only in Turkey!
Once it's in your hand however the fun has just begun. Hidden behind the entertaining facade is one of the world's best cones. With local ingredients, this ice cream is delicious and melts at a much slower rate than traditional ice cream, allowing you to enjoy it even longer.
Entrance: free! Cost of the ice cream.
Hours: depending on the vendor
Address: All over Istanbul, but Grand Bazaar or Sultanhamet have a lot.
Haven't got enough of Istanbul history yet? Well, you're in luck because there is plenty more to see. The Hippodrome is a relic of the Byzantine Empire. A stadium that once held over 100,000 spectators at once and was home to horse and chariot racing during that time.
Unfortunately, the stadium itself has not survived, however many cool artifacts such as an ancient engraved Egyptian column and a sculpture of three bronze snakes from Delphi. Also, it is only two minutes away from the Hagia Sophia so you don't really have an excuse to not go see it!
Entrance: Free
Hours: 24 Hours
Address: Binbirdirek, Sultan Ahmet Park? No:2, 34122 Fatih/?stanbul, Turkey
25. Get your Morning Started with Turkish Coffee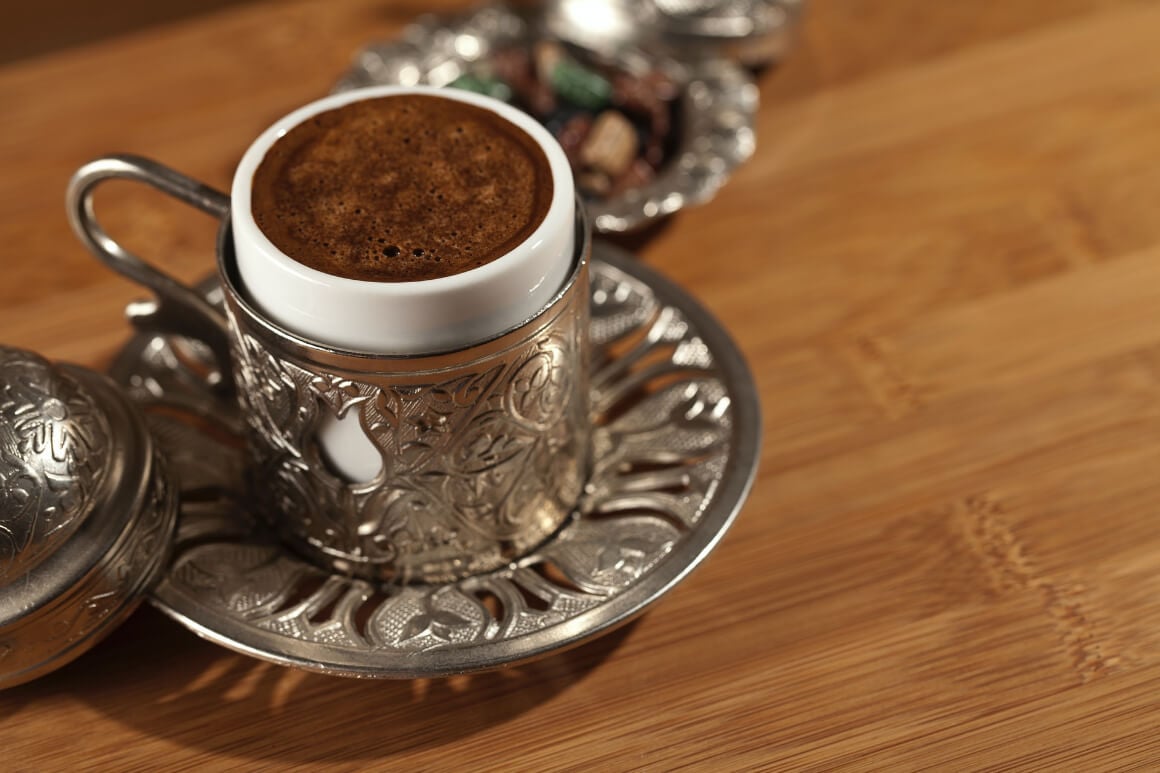 Even when you are in a new city and super excited to see everything, sometimes you just need a pick me up. Well lucky for you, you're in the right place.
Turkish coffee is brewed in a small pot called Cezve with very finely ground beans without the filtration leaving the grinds in the bottom of your cup for maximum flavour. Mostly taken black or just with sugar, it looks small but definitely packs a punch.
Some more superstitious Turks claim your fortune can be read in the leftover grounds so drink it all if you don't want to give too much away.
There are many great neighborhoods in Istanbul that offer accommodation options for any needs in Istanbul. Whether you are looking for a hostel environment to meet travel buddies, a hotel so you and your significant other can have some privacy, or an Airbnb for a more long-term stay I've got you covered below.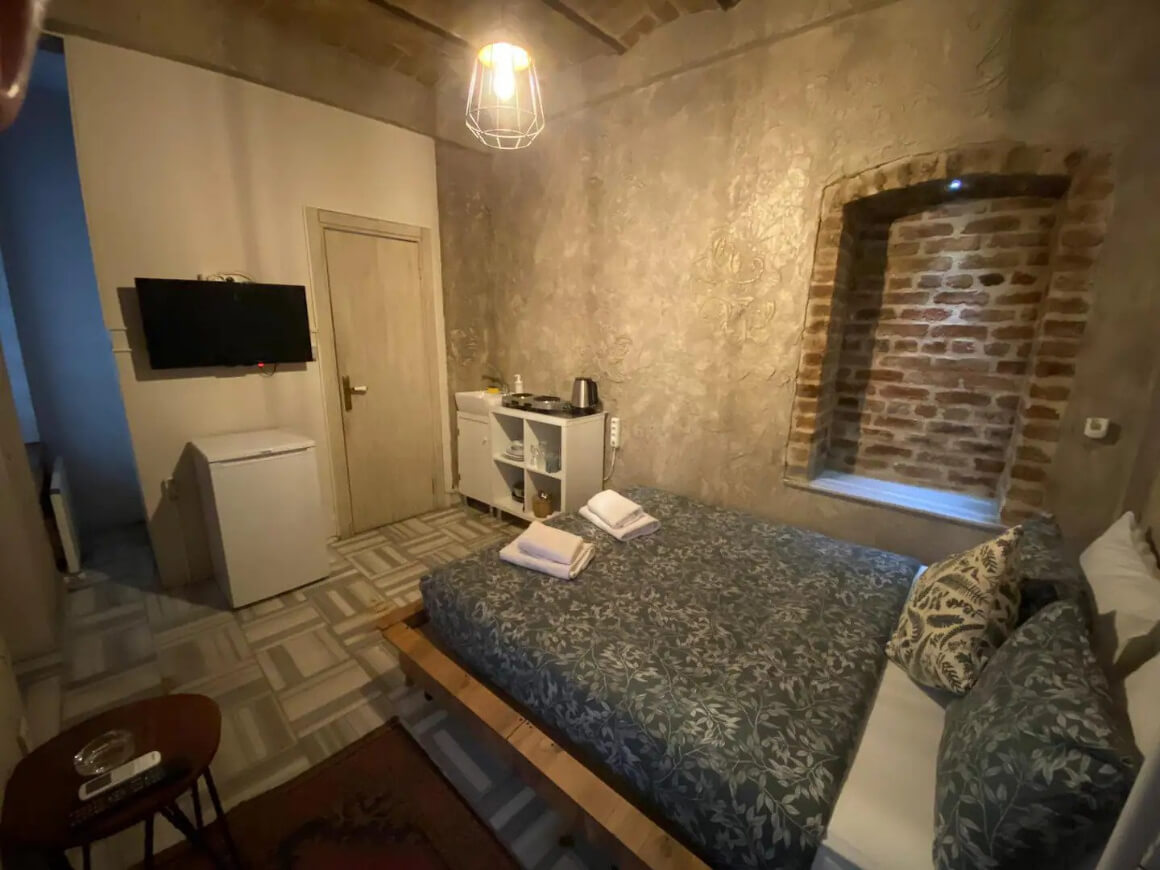 This Airbnb in Istanbul is located in Beyoglu, a great place to base yourself while in the city. Located an equal distance between the Sultanahmet, Taksim, and Galata neighborhoods, it is convenient for almost all of the things you want to see. As well as being affordable, this Airbnb also has cooking utensils and a washing machine to make your stay even more comfortable
The Cheers Hostel is the best hostel in Istanbul, with affordable prices, great beds, fun activities, and a lively atmosphere. The staff are friendly, the facilities are clean and the location superb. Even if you're super picky, you won't find much to nitpick from one of the coolest hostels in Istanbul.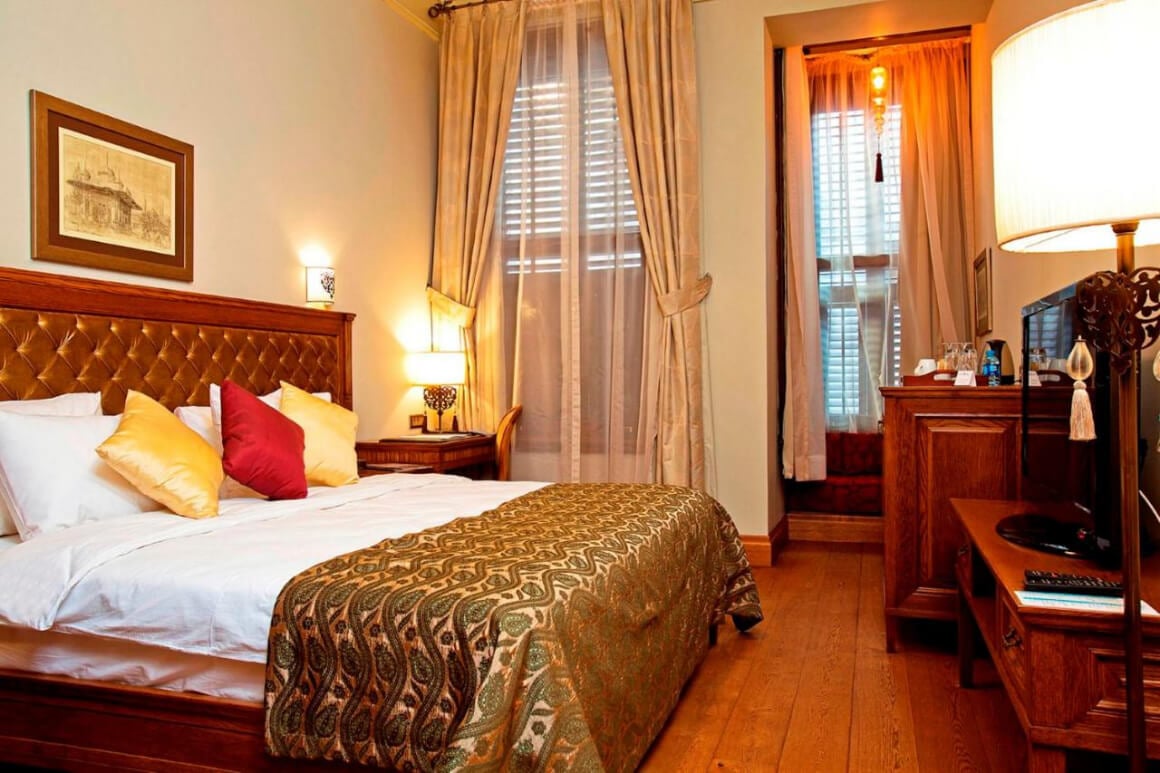 This classic hotel is a beautiful example of Ottoman architecture. Located very close to the Hagia Sophia and Blue Mosques, this heritage hotel allows you to be close to the beauty and also feel part of it as well. With wooden floors and ceilings, tasteful art, and delicious food, if you're looking to splurge a little, this is a winner.
Plan your accommodation location well – For the uninitiated, you might just type in Istanbul to booking.com and pick wherever is cheapest with decent ratings, but please note that this city is enormous. Picking a location close to the tourist areas will not only save you hours over the span of your trip but give you a better overall experience
Invest in travel insurance! You never know what may happen on the road.
Educate yourself on common scams– By and large, the Turks are extremely kind-hearted and generous people, however as with any major city there are scams you need to be aware of and Istanbul is no exception, especially given the current economic crisis with the Lira. Knowing what to look out for can give you peace of mind for your trip and a better overall experience.
Bring a good water bottle with you and avoid buying single-use plastic ones!
Man cannot live on kebab alone – As Kebab is the most recognizable dish you might be tempted to eat it all the time, and while it is delicious that would be a huge mistake. Turkish cuisine is one of the best and most varied cuisines in the world and sticking to just that would do the rest of the food a disservice
Look to Europe for cheap flights- If flying into Istanbul is expensive where you are flying from, try looking at flights to neighboring European countries as they often have very cheap flights to the capital, you might just save yourself enough for an extra Efes or two.
Find cheap flights. Every once in a while, a killer deal pops up.
Don't forget your travel insurance for Istanbul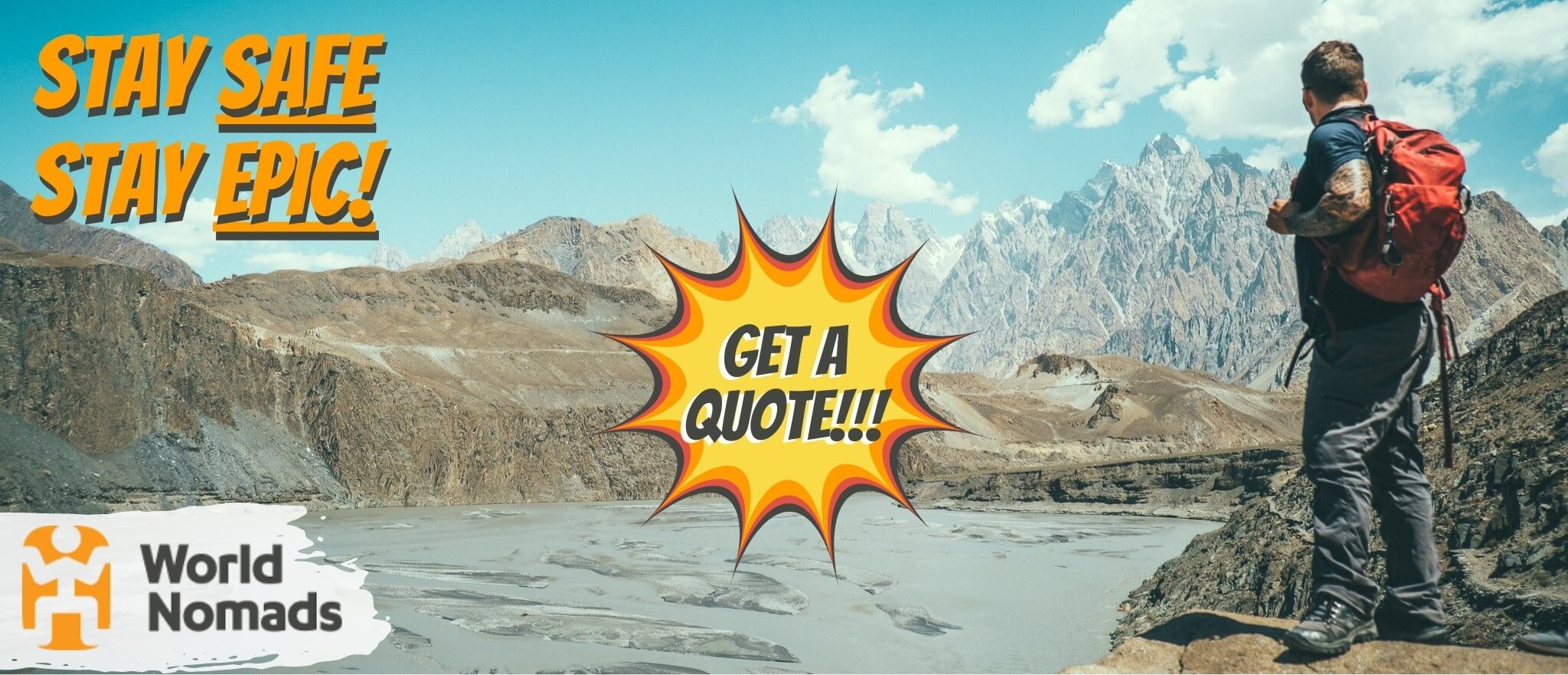 World Nomads' mission is to support and encourage travellers to explore their boundaries. They offer simple & flexible travel insurance, and safety advice to help you travel confidently.
They've been doing it since 2002 – protecting, connecting, and inspiring independent travellers just like you.
Get a quote below or read our in-depth review!
World Nomads provides travel insurance for travelers in over 100 countries. As an affiliate, we receive a fee when you get a quote from World Nomads using this link. We do not represent World Nomads. This is information only and not a recommendation to buy travel insurance.
Final Thoughts on Things to Do in Istanbul
I hope to have given you a great guide on things to do in Istanbul. And if you are reading this pondering your next trip and wondering if Istanbul and Turkey is for you, it is! There is so much to do, so much history to learn, and breathtaking things to see that any traveler would be lucky to tick it off their list.
There is a plethora of things to do in Istanbul at night, for solo travelers, families, or even just a layover. The question of what to do needs to be tailored for your needs specifically, there are no wrong answers, just better ones. And if you are ever bored here, you must be in the wrong city because it for sure isn't Istanbul!
But on a serious note, this place is one of my favorite places in the world, and when you make it here I'm confident it will be for you as well.
---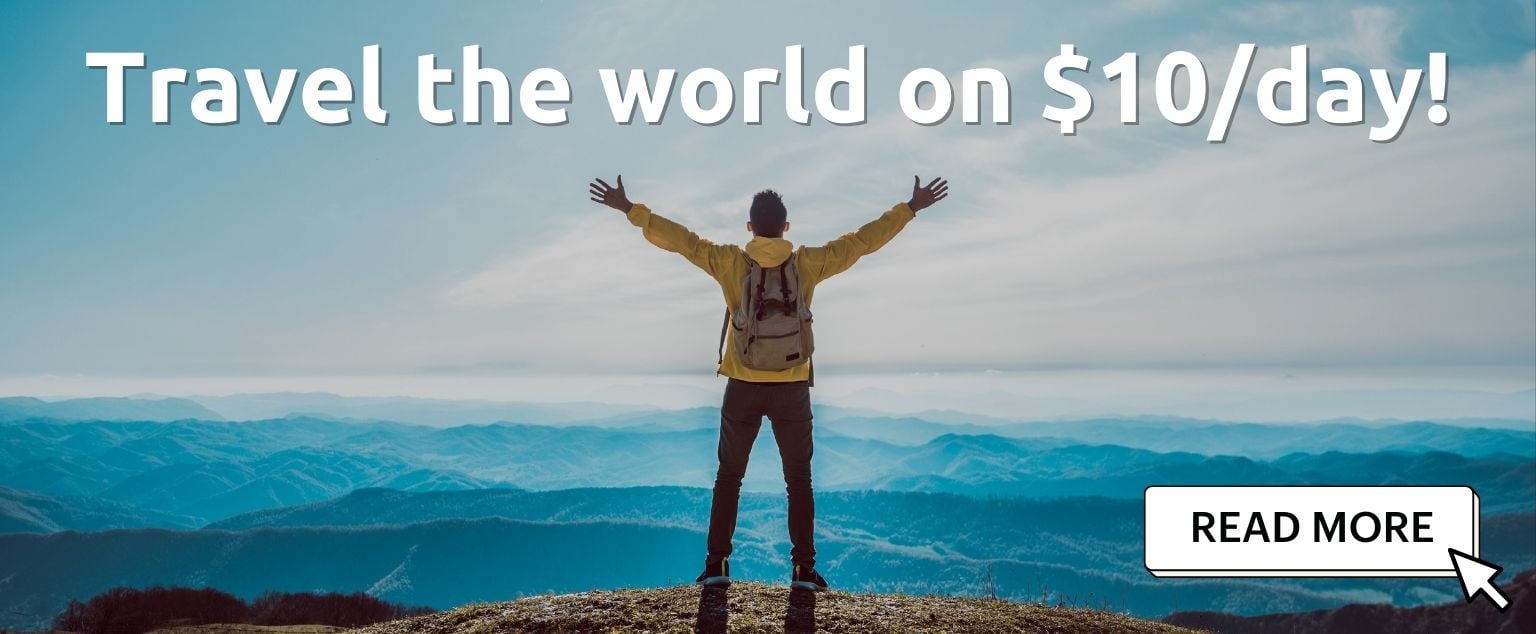 And for transparency's sake, please know that some of the links in our content are affiliate links. That means that if you book your accommodation, buy your gear, or sort your insurance through our link, we earn a small commission (at no extra cost to you). That said, we only link to the gear we trust and never recommend services we don't believe are up to scratch. Again, thank you!