Papua New Guinea is virtually an untrodden destination. It's got a ton of things to explore, from WW2 era wrecks to dive and explore, to adventurous hikes in the jungle and a lot of tropical islands to discover – over 600 of them.
But like many awesome places, it's not exactly paradise. Couple a deep gang culture and rampant violence with natural threats from tropical cyclones, to earthquakes and volcanic eruptions, it's no wonder that you're probably wondering "Is Papua New Guinea safe?"
In this insider's guide, we are going to be covering basically everything you're going to be worried about when visiting Papua New Guinea. This is one place that we'd say is definitely for the more adventurous travellers out there, and we want you to be able to travel smart and safe when you visit.
You may be concerned about visiting Papua New Guinea as a solo female traveller, or wondering if Papua New Guinea is safe for a family holiday, or maybe you just want some travel safety tips. You may also have questions whizzing around your head like whether it's safe to drive in Papua New Guinea. Whatever it is, our epic guide will definitely have you covered.

Unlock Our GREATEST Travel Secrets!
Sign up for our newsletter and get the best travel tips delivered right to your inbox.
How Safe is Papua New Guinea (Our take)
Papua New Guinea is pretty cool, we're not going to lie. World War II relics, a super diverse culture (including over 800 languages!) and beautiful lush nature…
But at the same time, Papua New Guinea isn't what we'd consider super safe. People do travel there, however, this one is definitely for the intrepid traveller.
Being on the Ring of Fire Papua New Guinea is always at risk from volcanic eruptions, earthquakes and tsunamis. And aside from these natural disasters, which also includes flash flooding and cyclones, there's a high level of violent crime.
There are some pretty big law and order issues in Papua New Guinea. Corruption is rife. And in many of its cities, once it's dark, it's seriously dodgy to walk around.
But, as always, travel smart, use your common sense, and Papua New Guinea will most likely be fine.
There is no such thing as a perfect safety guide, and this article is no different. The question of "Is Papua New Guinea Safe?" will ALWAYS have a different answer depending on the parties involved. But this article is written for savvy travellers from the perspective of savvy travellers.
The information present in this safety guide was accurate at the time of writing, however, the world is a changeable place, now more than ever. Between the pandemic, ever-worsening cultural division, and a click-hungry media, it can be hard to maintain what is truth and what is sensationalism.
Here, you will find safety knowledge and advice for travelling Papua New Guinea. It won't be down to the wire cutting edge info on the most current events, but it is layered in the expertise of veteran travellers. If you use our guide, do your own research, and practise common sense, you will have a safe trip to Papua New Guinea.
If you see any outdated information in this guide, we would really appreciate it if you could reach out in the comments below. We strive to provide the most relevant travel information on the web and always appreciate input from our readers (nicely, please!). Otherwise, thanks for your ear and stay safe!
It's a wild world out there. But it's pretty damn special too. 🙂
Is Papua New Guinea Safe to Visit Right Now?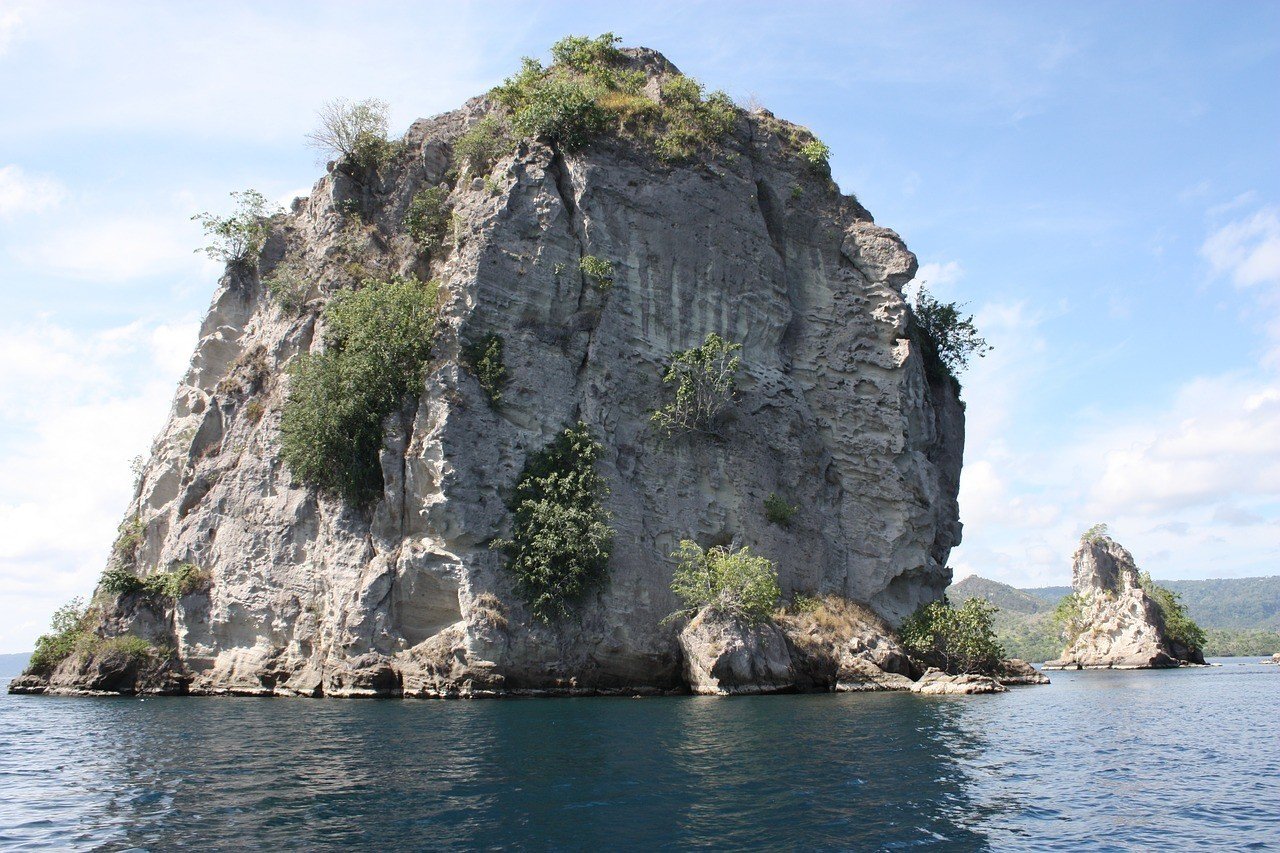 There are risks involved in visiting Papua New Guinea right now. Simple as that.
Volcanic activity is pretty much constant in Papua New Guinea, so make sure that you know what to do in an emergency. Kadovar Island volcano erupted in January 2018, for example, and the whole island had to be evacuated.
It's important to understand that many of these issues actually arise from urban drift when members of mostly tribal interior areas of Papua New Guinea move to the cities. Also, a lot of violence is between gang members or enacted in local communities – not tourists.
So, in a general sense, Papua New Guinea is safe to visit right now. It's just super sketchy… But travel outside the cities and you'll find a much more relaxed Papua New Guinea.
Planning your trip to Papua New Guinea is important. Check the weather forecast for heavy rains and strong winds for the rainy season, which runs from November to May. This can result in flooding and landslides.
Tourism-wise, not many people travel to PNG.
There are street gangs called raskols. There is a 60% unemployment rate (huge) in Port Moresby, for example, where crime is an everyday occurrence.
There are also areas that the UK government recommends you avoid. Well, the usual "all but essential travel" warning. Those are Hela and Southern Highlands provinces. That's because of tribal fighting. Also, take care around Enga and Western Highlands provinces.
So at the end of the day, Papua New Guinea is safe to visit right now. Many do visit. But it's just important to keep in mind that things don't work as you'd expect them to here…
Places to avoid in Papua New Guinea
Unfortunately, not all places in Papua New Guinea are safe. You need to be careful and aware of your surroundings pretty much anywhere you go in the world, and the same goes for visiting Papua New Guinea. To help you out, we've listed a couple of no-go or caution areas below:
Port Moresby, Lae, and Mt Hagen are populated by raskol gangs armed with machetes and guns. Violence can happen without any warning.
No-Go Zone Panguna Mine – foreigners who've entered the area around Panguna Mine have been questioned, had their passports withheld, and been stopped from leaving the area.
It doesn't matter where you're staying but as soon as the sun goes down, we'd highly advise you to stay inside. Walking around at night puts you at massive risk of being kidnapped, robbed or worse.
It's important to know that Papua New Guinea is definitely not a safe place, so a bit of caution and research before you start your travels will go a long way. If you want to increase your safety during your stay, read on for our insider travel tips. Stick to those and you won't have a single issue in Papua New Guinea.
Papua New Guinea Travel Insurance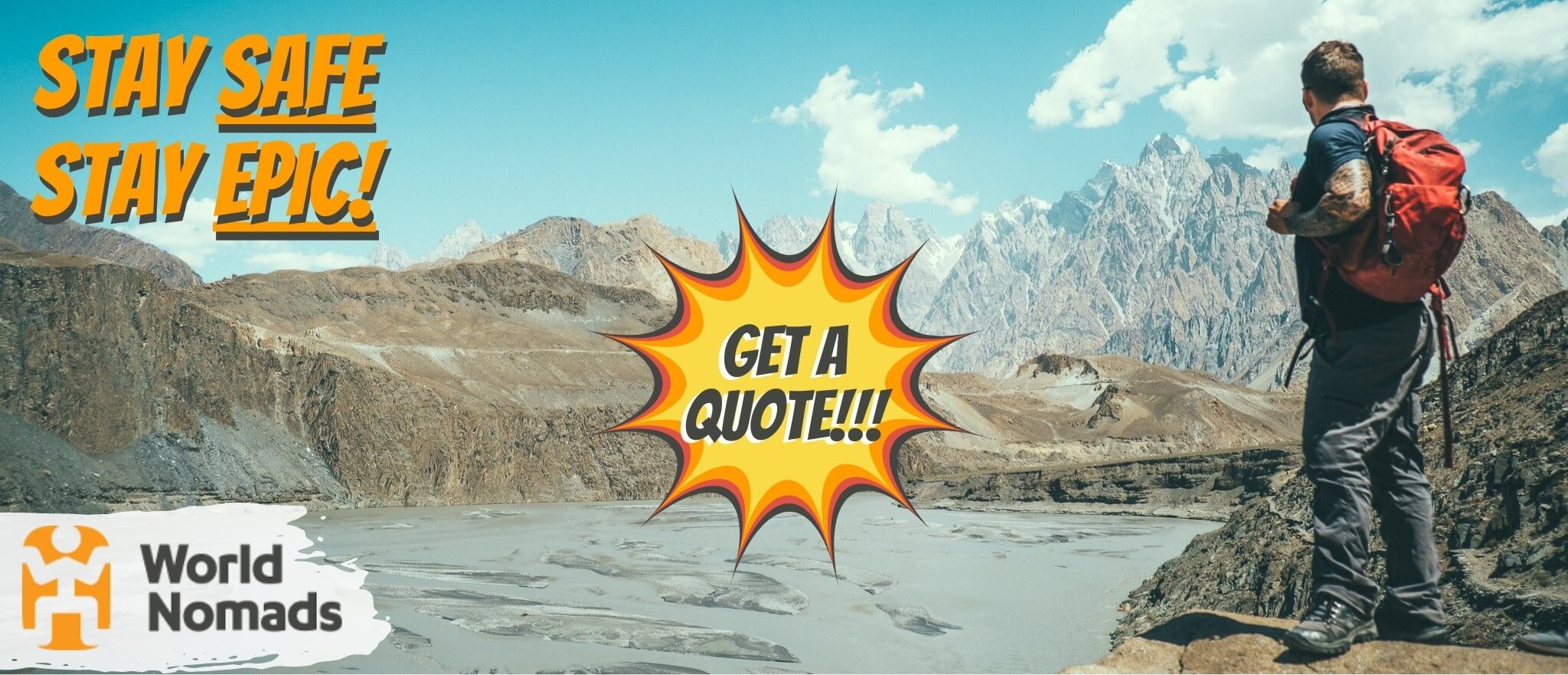 World Nomads' mission is to support and encourage travellers to explore their boundaries. They offer simple & flexible travel insurance, and safety advice to help you travel confidently.
They've been doing it since 2002 – protecting, connecting, and inspiring independent travellers just like you.
Get a quote below or read our in-depth review!
Papua New Guinea doesn't sound like the safest place on Earth. It is pretty spectacular though, we can't say that. So if you're planning to travel there, it pays to travel smart.
We've got together a few travel tips so that you will be able to travel as safely as possible to Papua New Guinea. It's not always going to feel safe, but use your common sense (and our tips) and you'll be ok.
Don't go around looking wealthy – this is just going to make you a target.
This includes having your SLR dangling around your neck – same reason. A great, and easy, item to steal.
Keep a dummy wallet – packed full of small cash. If someone wants to take your stuff, give this to them.
With that in mind, don't resist – your backpacking equipment is not worth your life. Just hand it over.
Stay calm – losing your cool in situations is going to attract unwanted attention.
Speak to people – if they're talking to you. Ignoring people might anger them. E.g. if it's a tout, just politely decline.
Watch out on "pay night" – Papua New Guinea people get paid fortnightly. "Pay night" can get pretty wild in the cities.
Check your vaccines before you go – there's been an outbreak of polio recently. Check with your doctor on others you'll need.
Protect against mosquitoes – they carry zika virus. So cover-up in the mornings and evenings. Wear repellent, too, to keep mosquitoes away.
Be aware of your surroundings at ATMs – a great place to get robbed.
Keep your belongings close to you – bag snatching is a thing. Wear a money belt to hide extra cash.
Be careful walking around after dark in urban areas – not clever. Especially in Port Moresby.
Watch out for roadblocks around Port Moresby – gangs set these up to loot and attack vehicle occupants. Definitely consider travelling with security. Also on the road between Lae and Nadzab Airport.
Keep an eye on local news – this will be important if something changes in terms of security or the weather.
Know what to do in the event of a natural disaster – earthquakes, volcanic eruptions, tsunamis – it pays to be in the know.
Travelling by car? Windows up, doors locked – simple.
There's a high level of rape and sexual assaults in Papua New Guinea – don't travel at night at all.
The Kokoda Track is great but be careful – There have been attacks on the trail. Travel with guides.
Don't wander off hiking trails – there is unexploded WW2 ordnance. Don't touch anything that looks like it might be.
You'll need permission to travel to Bougainville Island – they've had a period of separatist conflict.
Careful around the Indonesian border – there can be a conflict between the Indonesian government and indigenous people.
Be extra careful if you fly with a Papua New Guinea airline – Since 2000 there have been over 20 aircraft accidents. Do your research on the airline in question, they've had bad track records.
Weed and other drugs are illegal in Papua New Guinea – getting caught with some = lengthy prison sentences.
"Homosexual acts" are also illegal – important to remember. 14 years in prison. Best to avoid public displays of affection…
We're not going to lie: there's a lot to think about when you travel to Papua New Guinea. This isn't the easiest country to travel by far. Prepare for a dangerous nature, keep a cool head, and enjoy.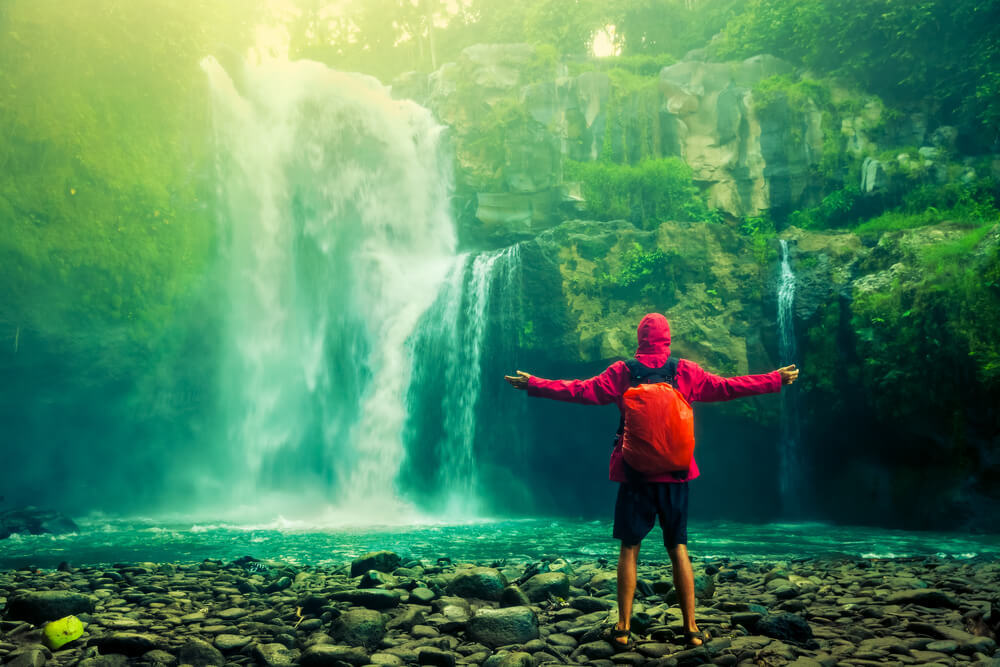 You probably won't encounter too much trouble when travelling solo around Papua New Guinea. That said, you will need to be aware that being by yourself will make you more of a target.
So to stay safe travelling alone in Papua New Guinea, here are some solo travel tips…
Stay vigilant at all times. This is pretty much the number one rule for anybody travelling to Papua New Guinea, and that goes basically double if you're by yourself. You'll be more of a target travelling alone.
Make sure you let your relatives, family, friends, someone you trust, know your travel plans. If something bad does happen, or you get into trouble somehow, having someone know where you are and what you're doing is going to help you keep safe.
Don't party too hard. Being super drunk is only going to leave your senses in the dust. You'll be much more open to being a victim of any sort of crime without your wits about you.
Even though you might be, try not to look lost. Knowing where you're going, or at least looking like you know where you're going, is going to help you blend in a little more.
If you're making a big journey, allow time to arrive at your destination whilst it's still light. It's definitely dangerous to travel at night in Papua New Guinea, so if you have any journeying to do – do it in the daytime.
Having different ways to access your money is a smart move. If something happens to your wallet or any of your money, it pays (literally) to have your cash stashed in multiple bank accounts, keeping a card safe in your pack at all times. A credit card might also be good for emergencies.
Ask trustworthy locals about safety in the area. Where you can walk, where to eat, the best ways to get around, you know, all that local knowledge sort of stuff.
Travel lightly. Tumbling on and off public transport with heavy luggage, or multiple bags is going to make you more vulnerable. We'd definitely recommend travelling with just one bag. And the less conspicuous that bag is, the better.
We really would suggest getting a guide. This may seem like a cop-out, or like you're not actually travelling solo anymore, but this will keep you safe whilst also helping to learn more about Papua New Guinea than you thought you would.
Basically, Papua New Guinea is sketchy enough for solo travellers that we actually recommend travelling with a local guide. But it's not so sketchy that you shouldn't travel there. Be vigilant and travel smart.
Is Papua New Guinea safe for solo female travellers?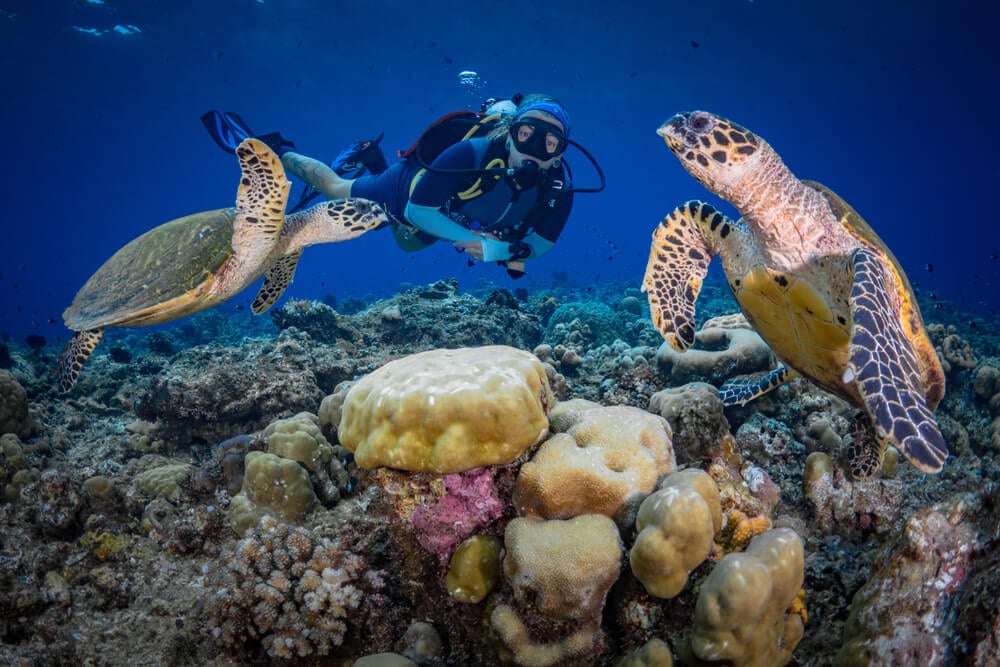 Most places in the world come with added warnings if you're travelling there as a solo female traveller. And, surprise surprise, that's no different for Papua New Guinea.
That said, if you're well-travelled and are used to travelling in developing countries, then you should be able to tackle Papua New Guinea head-on. And with that in mind, here are our tips for solo female travellers in Papua New Guinea.
Dressing modestly is pretty much a must. This is for two reasons. 1) So you don't look too rich and therefore a good target for robbery. And 2) So you don't draw too much attention to yourself as a woman.
Be very careful in the cities of Port Moresby, Lae and Mt Hagen. These are where raskol gangs operate the most. And sexual violence is said to be part of a gang initiation. As a tourist, you probably won't be targeted, but we'd say it's important aware that this happens.
Get yourself a well-reviewed, trustworthy guide. Ask other people who have used them for recommendations, go on forums, read blog posts, get in contact with people who have been to Papua New Guinea before. A guide is something that you really have to research since you'll be spending a lot of time with them.
Find other adventurous females to meet up with. Walking around by yourself in Port Moresby and the Highlands area can attract harassment and even result in assault. So there is definitely safety in numbers. Go online and see who's in Papua New Guinea at the same time as you.
Another good way to find fellow females is in well-reviewed accommodation. This is also where we'd recommend you'd stay, both for peace of mind and actual safety, too. You can ask owners and staff about things to do in the area as well, as well as for travel advice in general. People are friendly!
You'll have to remain vigilant everywhere you go. This means everything from what you're wearing, to where you're walking and how you're acting. Having to check yourself at every turn won't seem fun, but this is part and parcel of travelling solo as a woman anyway.
If you're at the beach (and not a resort swimming pool) follow what the local women do. Local women won't wear swimming costumes or bikinis at the beach, they wear laplaps, a wrap-around skirt, so you might want to invest one, too.
Keep away from any secluded areas. And make sure that you don't get yourself into a situation where you're alone with somebody you don't know. This could lead to bad things.
Papua New Guinea tribal thought is that menstruation = bad. So if you're on your period, keep it on the down-low. There are lots of suspicions around menstruation.
Other quirks of tribal belief related to women are that a woman shouldn't step over a man, step over his legs if he's seated, or even step over his possessions. It's probably not a must for a foreign tourist, but not doing these things (however ridiculous they may seem) will at least avoid people seeing you in a bad light.
Don't travel at night. On foot especially. Take a taxi.
You should think twice about Papua New Guinea if you're a solo female traveller. It's probably just not a good idea to go alone, especially if you're feeling unsure about it. However, if you've got travel smarts and a load of countries under your belt, it could be an amazing destination.
More on Safety in Papua New Guinea
We've covered the main safety concerns already, but there are a few more things to know. Read on for more detailed information on how to have a safe trip to Papua New Guinea.
Is Papua New Guinea safe to travel for families?
Papua New Guinea is surprisingly safe to travel for families.
And in fact, people who do bring their kids to Papua New Guinea will be amazed at how much children are loved by the people here. Raising children is a communal thing.
It's obviously not the usual family destination. You won't find kids' clubs, theme parks or any of that sort of thing in Papua New Guinea, but you will get a unique experience with a huge helping of culture.
And whilst there are high-end and mid-range resorts here, there is also the opportunity to stay with a family in a local village. Rural lodges or eco-resorts can be good to experience a different way of living.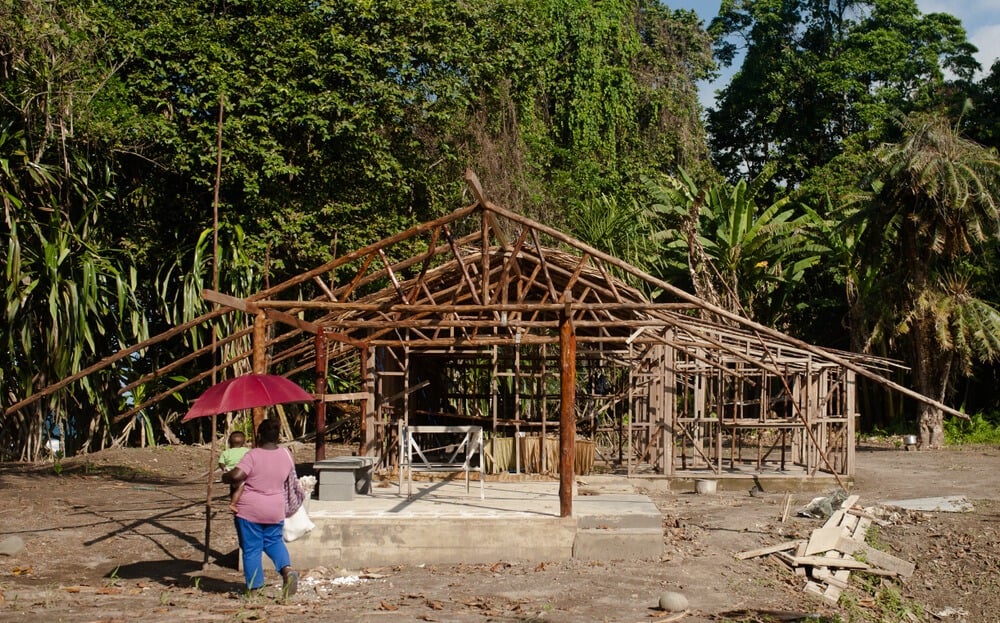 It's not going to be exactly easy to travel around – don't expect modern amenities everywhere.
Nature can be pretty dangerous – there are poisonous critters in the jungle and the sea. You'll have to make sure you and your kids are well protected against mosquitoes and there's that heat to deal with. So make sure nobody stays in the sun for too long – and don't forget to cover up and slather on plenty of suncreams.
Basically, it's going to be an experience.
Is it safe to drive in Papua New Guinea?
Driving in Papua New Guinea isn't exactly the best way to get around. For one there are only a few roads that are worth your while anyway.
And, you guessed it: it's not exactly safe, either.
Carjacking is definitely a thing. This is a threat to be aware of. Especially in and around Port Moresby and Lae.
Driving at night is a no-no and you shouldn't travel alone either. Go in a convoy or with a security escort and avoid remote roads, too.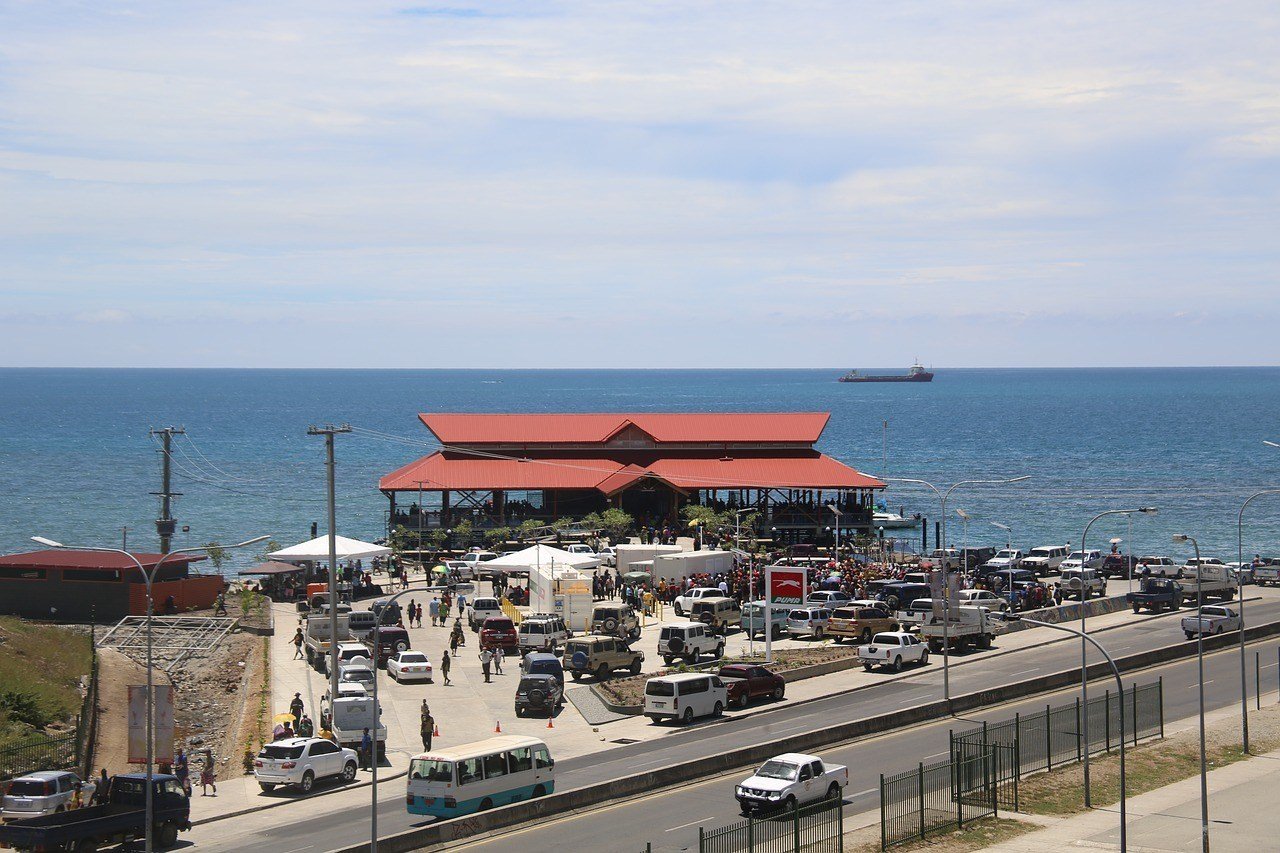 You're going to have to make sure your doors are locked and your windows are closed at all times.
There is a chance of getting held up by raskol gangs. It's something you can't do much about, really so just make sure everything's locked and that nothing valuable is on show.
Another hazard to be aware of is being involved in an accident in a busy place. Don't stop if this happens. If you've hit an animal or a person, keep driving until you get to the nearest police station and then report the incident. Basically, the idea of tribal payback, or revenge, can result in mobs forming and attacking who they think is at fault.
It's not really worth driving yourself around Papua New Guinea. That's because it's not safe to drive in Papua New Guinea.
Get yourself a driver if you want to get around on four wheels.
Is Uber safe in Papua New Guinea?
There's no Uber in Papua New Guinea.
In fact, there's no taxi-hailing apps or anything like that. Simple as that.
So…
Are taxis safe in Papua New Guinea?
Well, there's aren't so many taxis in Papua New Guinea either.
You will find a lot of taxis in Port Moresby and Alotau. In other destinations, there are literally just a handful of taxis.
The ones that do operate aren't 100% safe and they're pretty rough around the edges.
Expect: no meters, no seatbelts, cracked windscreens, etc.
There are a couple of taxi companies in Port Moresby with official taxi registrations. These actually have meters and are usually pretty clean and tidy as well. Scarlet Taxis and Ark Taxis are two reputable, privately owned taxi companies operating in the capital (but a little more pricey than others).
However in places like Mt Hagen, Lae and Goroka there are no taxi services at all.
In conclusion, taxis in Papua New Guinea aren't deathtraps at all, but they're also not squeaky clean.
They're safe though, for the most part.
Is public transportation in Papua New Guinea safe?
Public transport isn't exactly safe in Papua New Guinea.
The buses here are called PMVs (Public Motor Vehicles). PMVs are basically minivans or trucks with wooden benches in the back that ferry people between major cities and along rural routes, and they're super cheap.
However, still, people visiting do travel around on PMVs. It's a good way to see a slice of local life in Papua New Guinea.
The risks on PMVs include armed hold-ups, robberies, and sexual assault, as well as the fact that many of them are in bad condition.
PMVs leave once they're filled up so don't expect there to be a departure time or for it to be a comfy journey!
In the cities, they run along routes like buses and the stops are usually indicated by yellow poles. But you can just be let off anywhere you want, really.
If you're travelling in rural areas the driver might wait to join a convoy if there have been reports of raskol activity in the area.
PMVs travelling rural routes usually leave from the local market. It's easiest to catch one on the market days of Friday and Saturday.
Generally, despite the travel warnings, public transport in Papua New Guinea can be safe. Can be.
Bum bags aren't just for Adidas lads and super dads!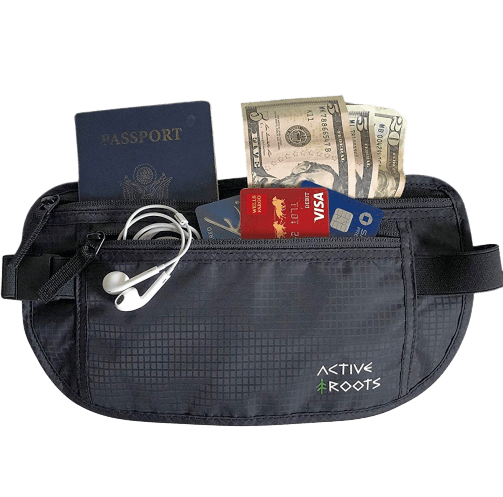 Seriously, once you enter the travel belt life, you never go back. You can NEVER overstate just how useful having all your most important valuables right around your waist is.
A full-sized travel belt stays tucked under your shirt and keeps your valuables – documents, passport cash, headphones, lip balm, illicit goodies 😉 – organised and on-hand for moment's notice.
Hide Yo' Money!
Is the food in Papua New Guinea safe?
You may be surprised to know that Papua New Guinea is a bit of a melting pot when it comes to its food. You can get almost everything here, with Japanese, Korean, and Chinese as well as European stuff on offer in big towns and the cities. You'll really be spoilt for choice.
Depending on where you are, it's going to be pretty safe to eat the food as long as you follow the following safety points.
Make sure you steer clear of tourist traps. These can be pretty numerous and hygiene probably isn't the top priority at these places, since all they have to do is simply exist for tourists rather than uphold a reputation that you'd have in a more local restaurant.
Ask the locals for food tips. This is a good way to get chatting to locals, of course, but an even better way to get introduced to local food that you may not have tried if you hadn't asked.
And if you can't ask a local for whatever reason, go to places that look busy. Preferably with local people. This is a good way to gauge the popularity of a place and popular places = tasty food that more than likely won't make you ill.
Always make sure stuff is properly cooked. Eating food that's been improperly cooked or not cooked through is a good way to get a bad stomach or outright food poisoning.
If you're staying in a village or eating some traditional food in a village, that's cool. It's probably fine, but we'd say go easy on it, especially if you're the sort of person who has a delicate stomach anyway.
Be careful of open-air street vendors and food stalls at markets, especially in the Highlands area. This food is often prepared and cooked at home, then simply brought to the market. It's not cooked fresh and if there's something that might fit the bill of "food that's been sitting around all day," this is it.
Often food isn't covered, which means all manner of germs can get to it. Meat often sits around all day. Just be aware of this.
Wash your hands before you eat. You have no idea what germs and dirt your hands have been picking up all day. So don't let yourself be the one who's making yourself ill!
If in doubt, go to a Chinese restaurant. The food here will (usually) be cooked extremely hot and the ingredients will be fresh.
Stick to fruit that you can peel yourself. People who sell it don't often have access to running water, so the fruit on sale might not be overly clean.
There's not really a high amount of awareness to do with food safety and sanitation in Papua New Guinea. It's not that people just don't care, it's that they don't know that handling food improperly could lead to illness. That's just how it is.
Can you drink the water in Papua New Guinea?
The water is safe in Papua New Guinea, in towns and cities anyway.
87% of households in urban areas have drinking water that's been treated.
But if you're worried, or prone to upset stomachs, we'd recommend taking a refillable bottle as well as some water purification tablets. We even have compared different travel water bottles in this article to help you decide which one is the best for you.
You could also boil the water (one minute; three in higher altitudes) or just buy bottled water.
In more rural areas the water isn't really safe to drink – people collect rainwater. There is some running water, but not a lot.
Is Papua New Guinea safe to live?
Good question. It can be safe to live in Papua New Guinea, but it often depends on where you live.
Also, it can be a challenging place to live long term.
Port Moresby, for example, comes with high unemployment and people living in terrible conditions.
If you want (or have) to live in Port Moresby then a gated community is probably going to be the way to go. There are luxury homes dotted around the city, too.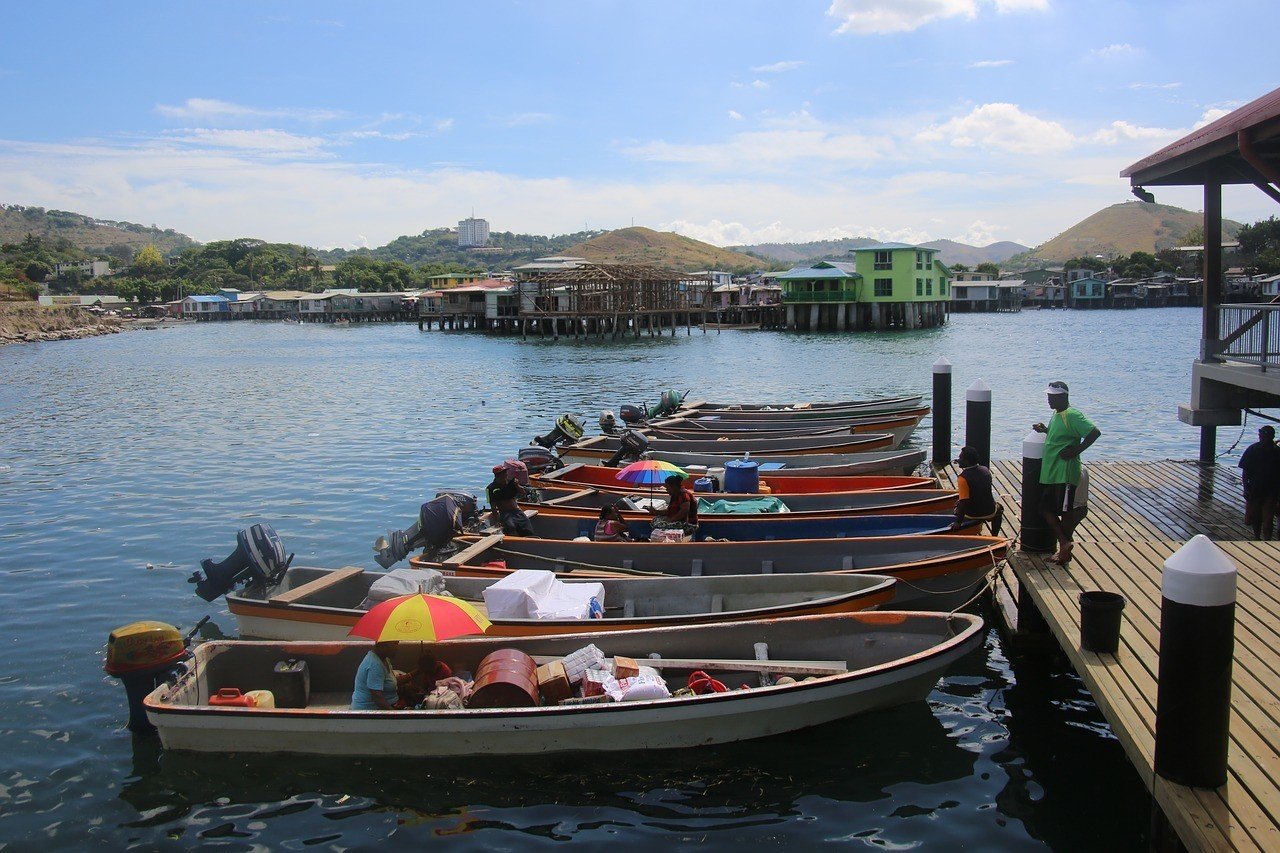 Aside from all of the crime, you'll get to learn a whole lot about Papua New Guinea, which is an experience like no other.
Another option would be Lae, which is less busy and cheaper to live.
Living in Papua New Guinea means you'll have nature on your doorstep though. Mountain views, wildlife, coral reefs, all of it within pretty easy reach of wherever you choose to live.
So if you're willing to put up with having to pay for a secure place to live, and all the hardships that with gang violence and corruption, living in Papua New Guinea can be a pretty rewarding experience.
You'll just have to get used to be vigilant at all times.
The Future of the SIM Card is HERE!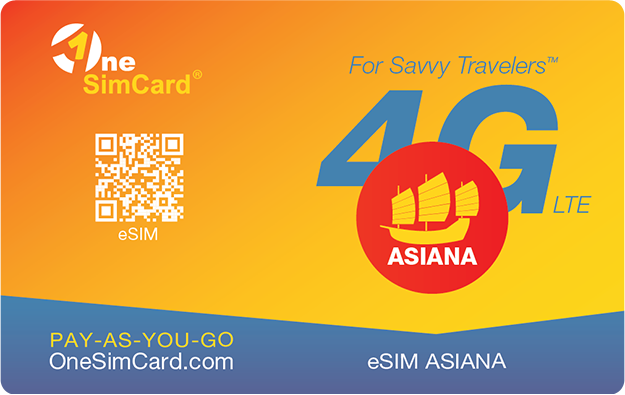 A new country, a new contract, a new piece of plastic – booooring. Instead, buy an eSIM!
An eSIM works just like an app: you buy it, you download it, and BOOM! You're connected. It's just that easy.
Is your phone eSIM ready? Read about how e-Sims work or click below to see one of the top eSIM providers on the market and ditch the plastic.
Buy an eSIM!
Is it safe to rent an Airbnb in Papua New Guinea?
Not that it's a massive surprise, but there are only a few Airbnb rentals in Papua New Guinea, and most of them haven't even been rated yet. If you do find a good place to stay, make sure you read the reviews and reach out to the host beforehand to make sure everything is legit.
Luckily, you'll stay safe with the reliable Airbnb booking system. Both hosts and guests can rate each other which creates a very respectful and trustworthy interaction.
Is Papua New Guinea LGBTQ+ friendly?
Homosexuality is still not legal in Papua New Guinea and can be punished with a long prison sentence. While the overall attitude towards the LGBTQ+ community is improving, we'd still advise being very careful as a gay traveller.
Any sort of gay nightlife or entertainment is completely underground and secret. So be prepared to keep your relationship behind closed doors when visiting Papua New Guinea.
FAQ about Staying Safe in Papua New Guinea
Here are some quick answers to common questions about safety in Papua New Guinea.
So, is Papua New Guinea Safe?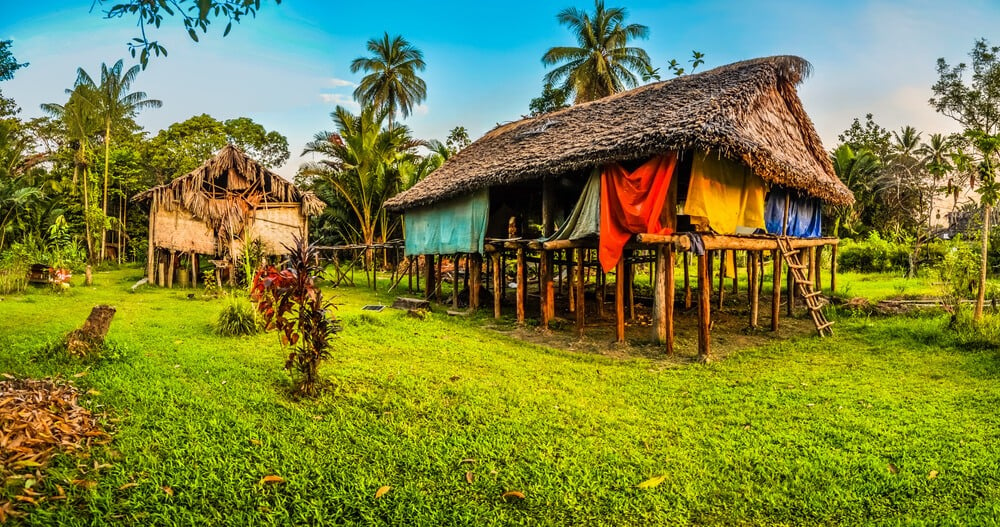 Papua New Guinea definitely isn't the safest place in the world. It's possibly one of the most UNsafe places you could dream of travelling to at the moment. Crime is pretty much everywhere (especially in the major cities), corruption is a huge problem, and then there's nature to deal with as well. Recent earthquakes and eruptions aren't just dangerous: they make it hard to get around, too.
It's not our favourite thing to say, but most violence won't be affecting tourists. People know that tourism is important to Papua New Guinea. Most violence is the stuff that happens between gangs, and the most affected people are going to be the local community. When it comes to areas that really are dangerous, the answer is simple: just avoid them. You know where they are now, so don't go.
Disclaimer: Safety conditions change all over the world on a daily basis. We do our best to advise but this info may already be out of date. Do your own research. Enjoy your travels!
---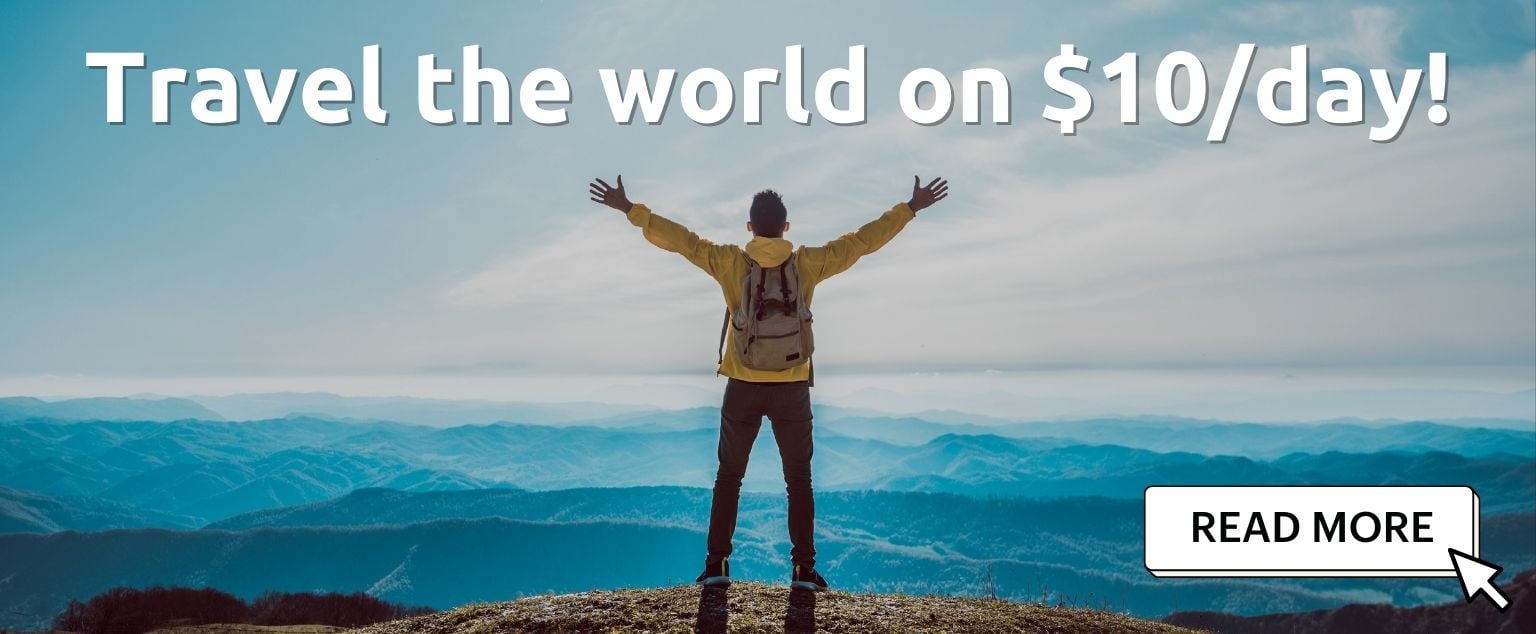 And for transparency's sake, please know that some of the links in our content are affiliate links. That means that if you book your accommodation, buy your gear, or sort your insurance through our link, we earn a small commission (at no extra cost to you). That said, we only link to the gear we trust and never recommend services we don't believe are up to scratch. Again, thank you!