Whether you want to sample authentic Puerto Rican rum, lounge on a sandy beach, or swim in a bioluminescent bay, there's no denying that Puerto Rico is packed with all sorts of adventures!
In fact, the island's tropical climate is an absolute crowd-pleaser that draws tourists from all over. With its crystalline lagoons and various types of natural habitats, it should come as no surprise that Puerto Rico is hailed as an absolute paradise for fans of the great outdoors.
You'll find sprawling estuaries, mangrove swamps, a rainforest as well as a dry forest- and let's not forget about those gloriously refreshing waterfalls dotted all over the island.
So, with all that in mind, let's check out the best national parks in Puerto Rico!
What are National Parks?
Nestled between the North Atlantic Ocean and the Caribbean Sea, Puerto Rico's tropical climate lends itself perfectly to national parks and reserves.
But first things first: if you're wondering what's considered a national park, well, it's basically a natural park that's protected by the authorities for the preservation of plants and wildlife. These parks also focus on conserving the site's cultural heritage and habitats, making sure that there are no major changes from its current state.
Speaking of habitats, did you know that Puerto Rico boasts a staggeringly diverse number of habitats? Coves, tiny islet sanctuaries for endangered birds, salt ponds, biodiversity galore… you name it! Indeed, the island's fascinating ecosystem means that it can also accommodate unlikely habitats.
Most of Puerto Rico's reserves are managed by The Conservation Trust of Puerto Rico, which was founded by the U.S. and Puerto Rican governments back in the 70s. This Trust actually manages around 20 historical and natural sites in the Commonwealth.
While the island is especially known for its silky shores (as evidenced by its popularity as a cruise destination), the truth is there's so much more to Puerto Rico than just sand, sea, and sun.
The island packs some of the most incredible national treasures in the Caribbean – so grab the bug spray, lace up your hiking boots, and prepare yourself for one of the most memorable travel experiences ever!
National Parks in Puerto Rico
Moseying around Puerto Rico's natural spaces should absolutely feature on your bucket list. Whether you're looking for some of the top hiking destinations in North America for summer or winter, this island has it all!
State forests, nature reserves, and historical parks are all waiting to be discovered – so let's get started!
San Juan National Historic Site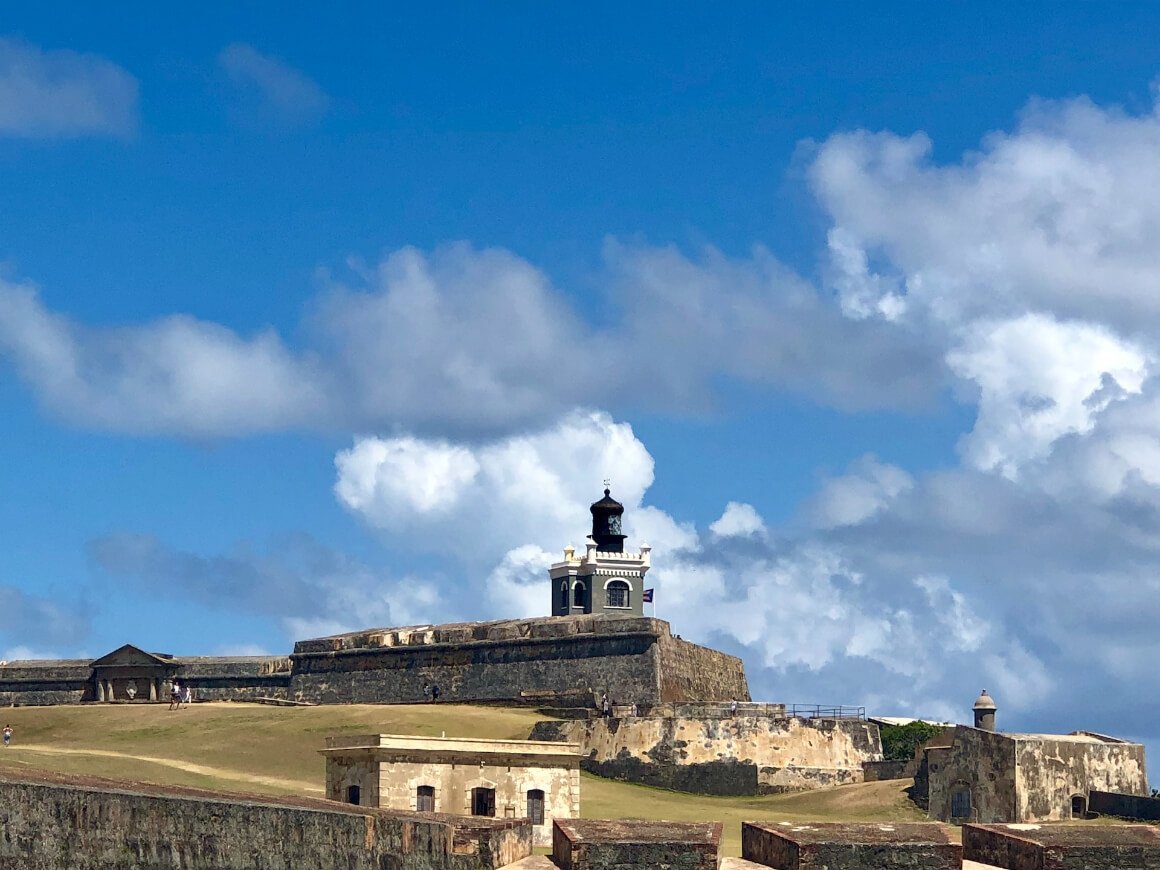 Size: 75.13 acres
Location: Old San Juan
Cost of Entrance: $10.00 (Adults), free for children 15 and younger
I sure hope you're ready to be wowed by one of the most fascinating national parks in Puerto Rico!
Now, here's a quick heads-up before we get into that one: the San Juan National Historic Site is quite different from other national parks you may be used to. While the park does have some beautiful hiking trails and ample bird-watching opportunities, it also features ancient Spanish fortifications. As such, this site is said to be one of the best places to learn about colonial history in Puerto Rico.
Nature lovers will be glad to learn that the park is home to the gorgeous Paseo del Morro trail. You'll need a couple of hours to complete this easy, 9km trail, and I must say that the views are absolutely worth it! It's not uncommon to see locals walking their dogs, jogging, or biking the trail during the weekend. If you're looking to enjoy a quiet moment of solitude, I would recommend that you head there on weekdays.
Fringed by the Atlantic Ocean, the Paseo del Morro trail is also known for being an excellent area for spotting migratory birds, so don't forget to pack your binoculars.
After a refreshing nature walk, be sure to check out the Castillo San Felipe del Morro fort, which dates all the way back to the 16th century! One of the park's most popular landmarks, this fort draws plenty of tourists each year and it's possible to book a guided tour to explore its barracks, dungeons, and ramparts.
Visitors who are into stargazing can also head to the park after sunset. Indeed, the site's high altitude and lack of city lights make it one of the most coveted spots in Puerto Rico for enjoying the night sky!
Where to Stay Near San Juan National Historic Site – 1 Bedroom Apartment in OSJ
Okay, you'd be hard-pressed to find somewhere that's more centrally located than this one-bedroom apartment in Old San Juan! Ideal for 2-4 guests, this space lies close to the San Juan National Historic Site. Classic home comforts await, complete with a kitchen, living room, and balcony overlooking Cristo Street.
Month to month payments, no lock-in contracts, and no itineraries required: that's the exact kind of insurance digital nomads and long-term traveller types need. Cover yo' pretty little self while you live the DREAM!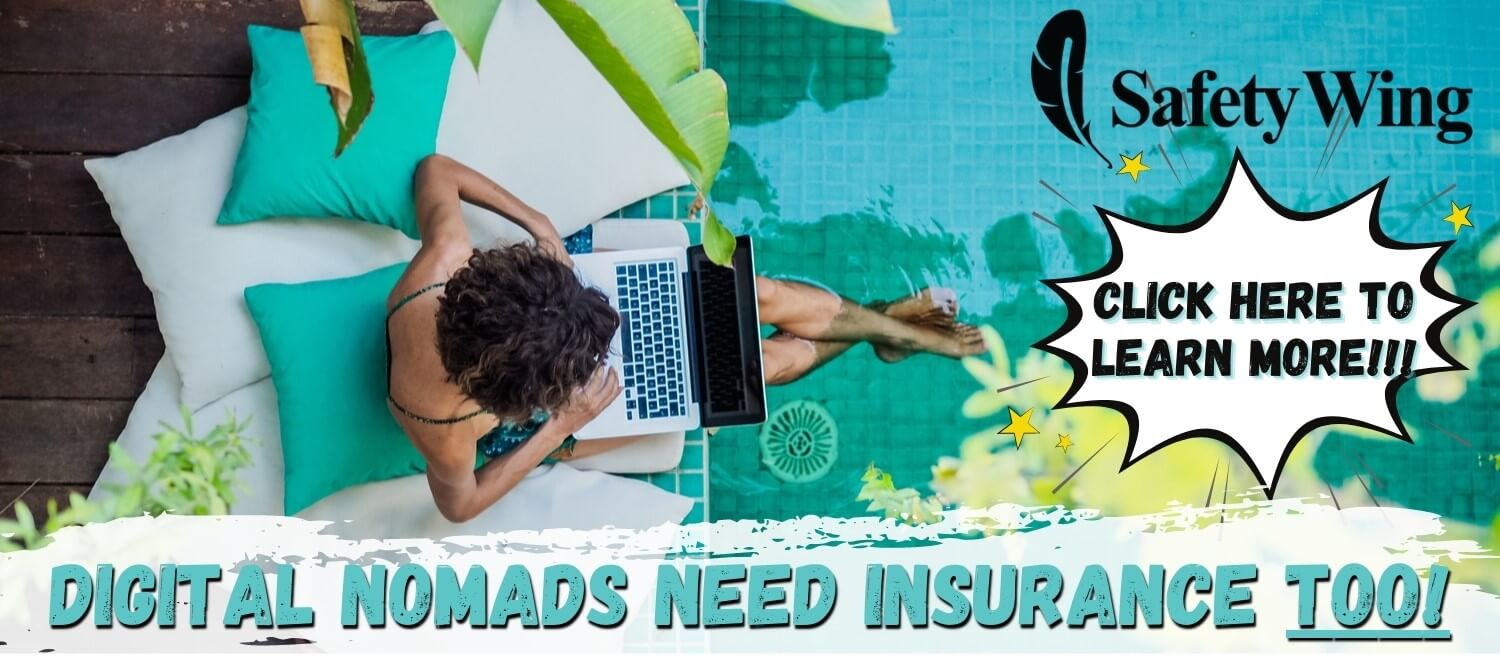 SafetyWing is cheap, easy, and admin-free: just sign up lickety-split so you can get back to work! Click the button below to learn more about SafetyWing's setup or read our insider review for the full tasty scoop.
Other Parks in Puerto Rico
Puerto Rico only has one (official) national park but rest assured that you'll find plenty of other lush outdoor spaces to explore, including forests and lagoon reserves!
Cambalache Forest Reserve
Size: 1,019 acres
Location: Arecibo
Cost of Entrance: Free (biking and hiking), $20 – $40 for camping
One of Puerto Rico's 20 state forests, the Cambalache Forest Reserve offers a peaceful oasis for reconnecting with nature.
If you ask me, the best time to visit national parks in Puerto Rico is during the dry season (December through April) and the Cambalache Forest Reserve is no exception! Minimal rainfall coupled with warm temperatures and sunny skies offers the ideal setting for exploring the walking trails before enjoying a picnic under a gazebo.
In addition, this forest reserve is packed with outdoorsy adventures, including mountain biking, hiking, and camping. This is one of the rare places in Puerto Rico where you can comfortably mountain bike in cool and well-shaded conditions.
It's also one of the few reserves to feature a wheelchair-accessible forest path.
Walkers will be glad to learn that the forest packs over four miles of trails, including a larger loop that circles the area. While the trails are well-marked, some can be quite slippery, so be sure to gear up adequately! I would also recommend that you bring bug spray because the heat and humidity tend to attract plenty (and I do mean plenty!) of mosquitoes.
If you'd like to prolong the fun and set up camp for the night, remember to apply for a camping permit.
Where to Stay Near Cambalache Forest Reserve – Tropical Cabin near the Ocean
Visitors who aren't into camping can consider booking this lovely cabin for two. With a studio-style layout, this space features an indoor-outdoor living experience with modern facilities. There's even a hammock where you can relax after trekking through Cambalache.
Aguirre Forest Reserve
Size: 2,393 acres
Location: Guayama
Cost of Entrance: Free
Tucked away on Puerto Rico's south coast is found an absolute gem that draws nature enthusiasts from all over!
Bordering the Jobos Bay National Estuarine Reserve, this site features floodplain forests, salt ponds, and mangrove trees. This forest is actually said to be one of the most ecologically diverse sites in Puerto Rico. Keep your eyes peeled for the many species of bats, birds, amphibians, and reptiles that have elected the forest as their home.
One of the most cherished Puerto Rico national parks, this forest even features notable bird species like the Mangrove Rails and Yellow-Crowned Night Herons. The Aguirre Forest Reserve is surrounded by lagoons and on clear days, you can even spot manatees frolicking in the water.
A word to the wise, though: only two of the forest's walking trails are marked, so finding your way around can be a bit confusing at first. You can either book a guide or head there early and spend some time getting acclimatized to the different paths.
At the very heart of the forest is found a boardwalk that'll take you through mangrove marshes. You'll also find picnic pavilions, perfect for taking a break while tucking into an Al Fresco meal!
Like most other nature reserves and forests in Puerto Rico, this place attracts heaps of bugs, so do remember to bring your insect repellent.
Where to Stay Near Aguirre Forest Reserve – Exotic Cabin with Amazing Views
Perfect for couples or solo travelers, this exotic cabin is an absolute dream come true for fans of the great outdoors! If you don't feel like going out to eat, you can always whip up a quick meal in the well-equipped kitchen. There's even an outdoor shower and hammock with romantic views.
Forget boring accommodation… book yourself an EPIC STAY!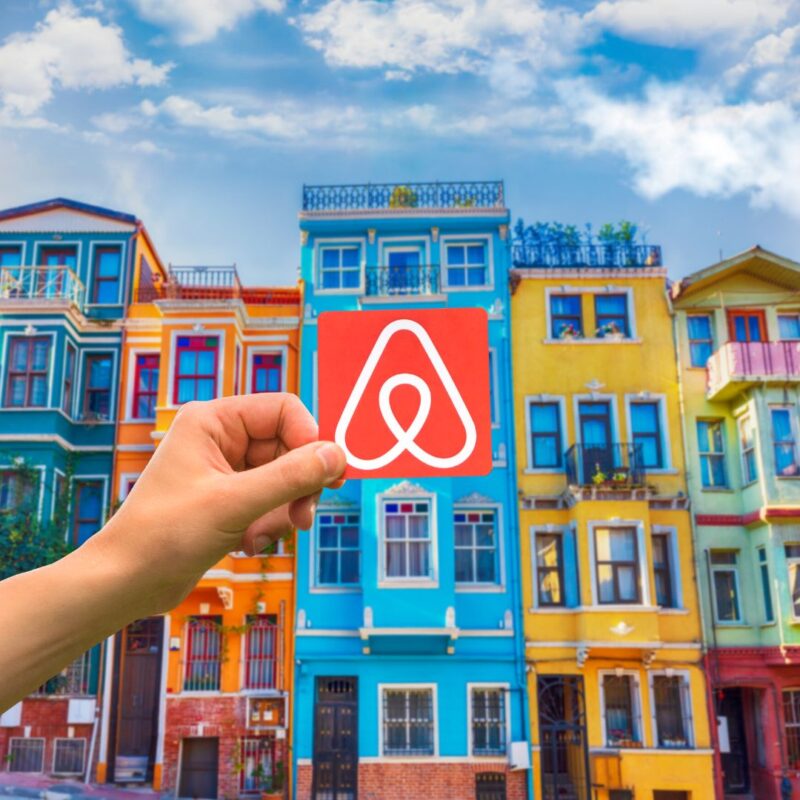 Why stay in a naff hotel when you can stay in a cosy, stylish local house instead? And for half the money too!
Stay somewhere EPIC and save your hard-earned dollars — from houses to barns to castles and caves, there is an Airbnb for every occasion!
Book an EPIC Stay
El Yunque Rainforest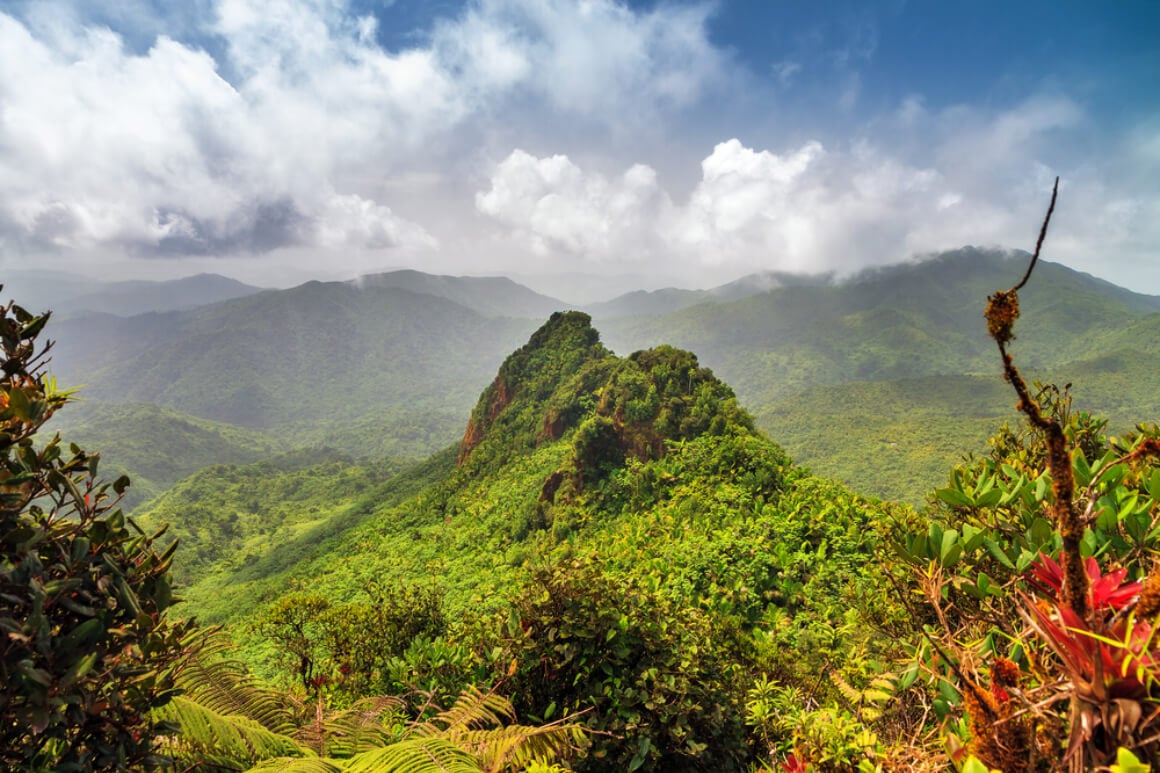 Size: 28,000 acres
Location: Rio Grande
Cost of Entrance: Free ($2 for access to recreational areas)
While it's not an officially designated national park, El Yunque Rainforest is one of the most visited sites in Puerto Rico. Managed by the National Forest Service, this site is literally the only tropical rainforest in the U.S. National Forest Systema.
In fact, the El Yunque Rainforest is deeply significant in Puerto Rican culture. Some locals believe that the rainforest got its name from a Taino word that means 'white earth' (referring to the clouds around the mountain peak). Other locals attribute the name to Yúcahu, the fertility deity who once resided on El Yunque mountain.
Speaking of the mountain, did you know that it's quite an easy hike to the summit if you start from Mina Falls? Just bear in mind that you'll need nearly five hours to complete the climb. Remember to wear waterproof shoes since the mountaintop is shrouded in mist, and there's often a bit of rain in the afternoon.
If climbing's not really your thing, you can always take a refreshing dip in one of the waterfalls' natural pools. I would recommend that you start off from La Coca Trail and enjoy a nature walk down to the pond. Alternatively, you can always embark on the El Angelito trail and literally rope-swing your way into the lagoon after your hike!
Where to Stay Near El Yunque Rainforest – Glamping Experience in the Forest
In my opinion, there's no better way to experience everything the forest has to offer than to set up camp right there among the trees! If you're not keen to sleep in the rough, this glamping tent has you covered. With a queen-sized bed for two, this Airbnb even features a small kitchen.
Toro Negro Forest Reserve
Size: 6945 acres
Location: Villalba
Cost of Entrance: Free (extra fee for camping)
It's no secret that hiking and biking are some of the most popular things to do in Puerto Rico national parks- but this forest reserve totally takes the cake when it comes to beautiful trails!
Actually, did you know that the Toro Negro Forest Reserve is made up of multiple forests peppered across the central mountain towns? Each forest area offers more than its fair share of activities, so there's definitely something for everyone!
I do need to point out that even though Toro Negro's forests are found in different locations, the park's hiking trails all start from the ranger station in Villalba. The trails only cover around 18km, but they offer some of the best views in Puerto Rico.
For unique photo ops, take the El Torre Trail that leads to an observation tower found in Orocovis. Here's the kicker, though: while the sights from the top are absolutely worth it, the trail can be challenging for some. It's a fairly steep, uphill trek, and some parts are quite slippery, so be sure to gear up adequately.
Because the observation tower lies over 3,000 feet above sea level, you'll be treated to awe-inspiring, 360° views of the surroundings once you reach the tower. Best of all, there's a cool and super refreshing breeze that awaits at the top. Trust me when I say you'll appreciate it after walking uphill in the sweltering Puerto Rican heat!
If you'd like to spend more time in Orocovis, you can always check out the Barrio Ala de la Piedra campsite.
Where to Stay Near Toro Negro Forest Reserve – Mountain Getaway for 2
Located just over 30 minutes from the reserve's ranger station, this Airbnb offers the ideal setting for getting away from it all. Tucked away in the mountains, this stunning space comfortably sleeps two. A fire pit, waterfall-like outdoor shower, and gas barbecue only add to the charm of the place.
Is This the Best Daypack EVER???
Jobos Bay Reserve
Size: 3,000 acres
Location: Central Aguirre
Cost of Entrance: Free
Lagoons fringed by dry forests, mangroves, and seagrass beds are just a few of the many wonders that beckon at the Jobos Bay Reserve!
This reserve differs slightly from other Puerto Rico national parks because it also doubles as a research center. A safe space for endangered species like Hawksbill Turtles, Brown Pelicans, and West Indian Manatees (among others), this nature reserve aims to protect the wetlands. They're also very involved in the sustainable management of coastal resources.
An interesting fact about this site is that it was once home to the Arciaco Indians as well as the Taino Indians. You can still see vestiges of these ancient archeological sites today.
Before you start exploring, I would advise you to check out the reserve's visitor's center, which is an absolute treasure trove of information.
Like all parks in Puerto Rico, the Jobos Bay Reserve has plenty of hiking trails. One of my favorites is the Jagüeyes trail which passes through a seasonal lagoon, salt flats, and a mangrove-filled dried forest. At the end of the trail, you'll find an observation platform where you can soak up sweeping views of the surroundings.
You can also check out the Salt Flat Trail, which starts off at the Visitor's Center. This one takes you to a wooden deck from where you can observe a habitat enhancement project.
Entry to the reserve is free, but you can always make a voluntary donation to support their conservation projects.
Where to Stay Near Jobos Bay Reserve – Alpine Hut for 2
An hour's drive away from the reserve is an Alpine hut that'll make you feel as though you're smack dab in the middle of Switzerland! Ideal for couples or solo travelers, this cabin features a modern kitchen and a fireplace.
Guanica State Forest and Biosphere Reserve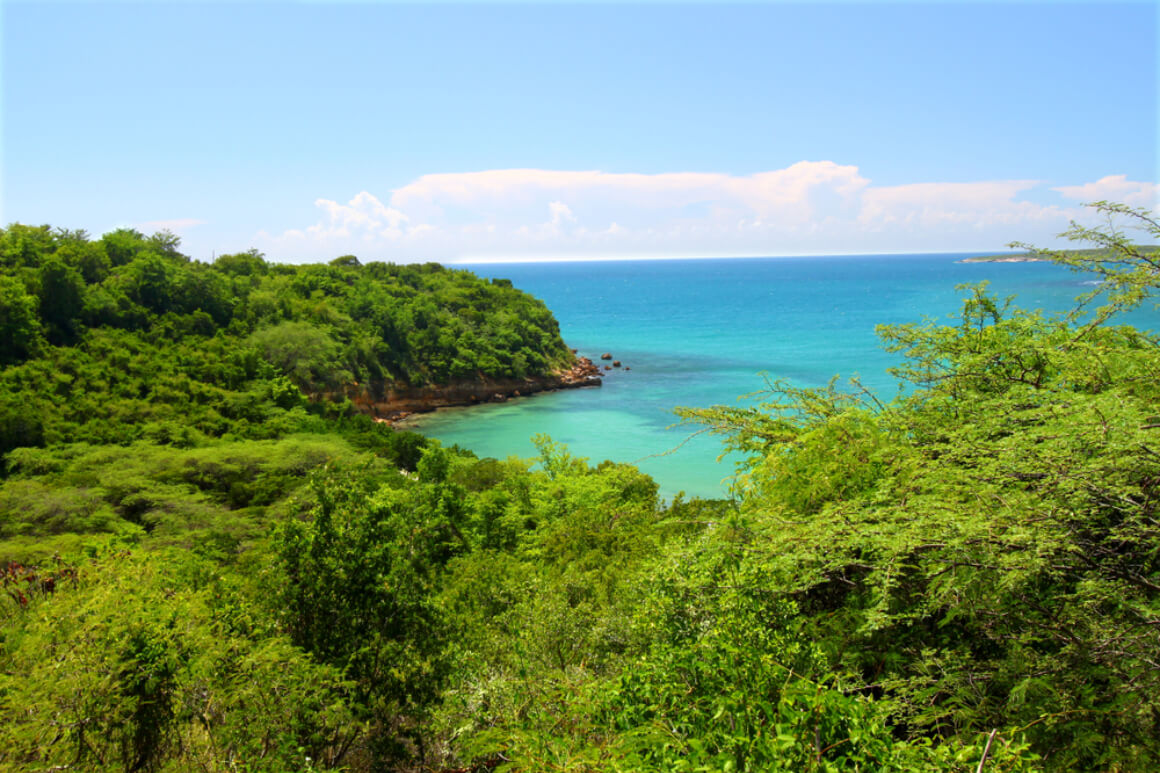 Size: 9,000 acres
Location: Guanica
Cost of Entrance: Free
It won't take you long to realize that Puerto Rico has an incredibly diverse terrain- as evidenced by the Guanica State Forest and Biosphere Reserve.
Standing in stark contrast to the island's rainforest and humid areas, this reserve encompasses a sprawling dry forest. And no: contrary to popular belief, a dry forest doesn't mean that all the plants and trees have shriveled up! Quite on the contrary, this place is teeming with the type of flora that thrives in drier climates.
Summer may be the best time to visit national parks in Puerto Rico, but because this dry forest sees very little rainfall each year, you can even head there during the notoriously rainy season (April through November).
Because this forest is a safe zone for several endangered species, it was even designated as a United Nations International Biosphere Reserve.
If you're planning on going hiking, I would recommend that you head there earlier in the morning or late afternoon. It is a dry forest, after all, and you'll definitely feel the midday sun burning overhead if you hit those trails at noon! Most of the park's trails are quite easy to tackle but the more popular by far is the Fort Caprón path that leads to a small fort.
One of the park's best-kept secrets is no doubt the Lluberas Trail that goes past natural limestone caves. While it's possible to enter the caves, you do need to apply for a permit from the DRNA.
Where to Stay Near Guanica State Forest and Biosphere Reserve – Cabin by the Pool
Whatever this tiny cabin lacks in size, it makes up for in comfort! This cozy, pet-friendly retreat for two features a well-appointed kitchen and even a private swimming pool. Best of all, you'll be right in Guanica's Dry Forest area.
Final Thoughts
Abundant wildlife, unparalleled natural beauty, and a host of outdoorsy adventures- what's there not to like, right?
There's no denying that the national parks in Puerto Rico all come together to provide an oasis to those who want to immerse themselves in nature. Families absolutely have it made since the island offers loads of kid-friendly trails, while birdwatchers will undoubtedly find their joy in the sheer number of rare bird species that found safe haven in Puerto Rico.
If you happen to be short on time, the one place I would urge you to visit is the El Yunque Rainforest. With its mist-shrouded peaks, plentiful trails, and super cool glamping options, this site is bound to be the highlight of your trip to Puerto Rico!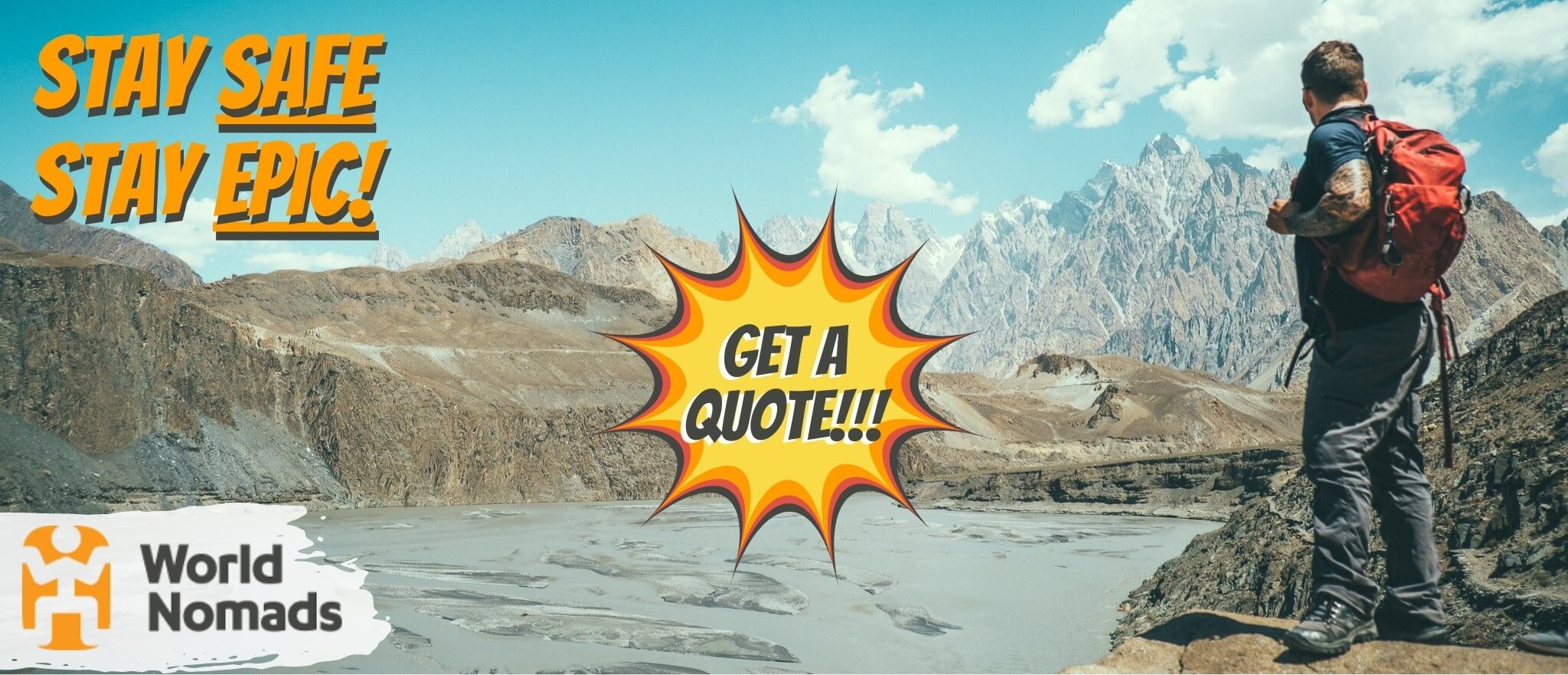 World Nomads' mission is to support and encourage travellers to explore their boundaries. They offer simple & flexible travel insurance, and safety advice to help you travel confidently.
They've been doing it since 2002 – protecting, connecting, and inspiring independent travellers just like you.
Get a quote below or read our in-depth review!
World Nomads provides travel insurance for travelers in over 100 countries. As an affiliate, we receive a fee when you get a quote from World Nomads using this link. We do not represent World Nomads. This is information only and not a recommendation to buy travel insurance.
---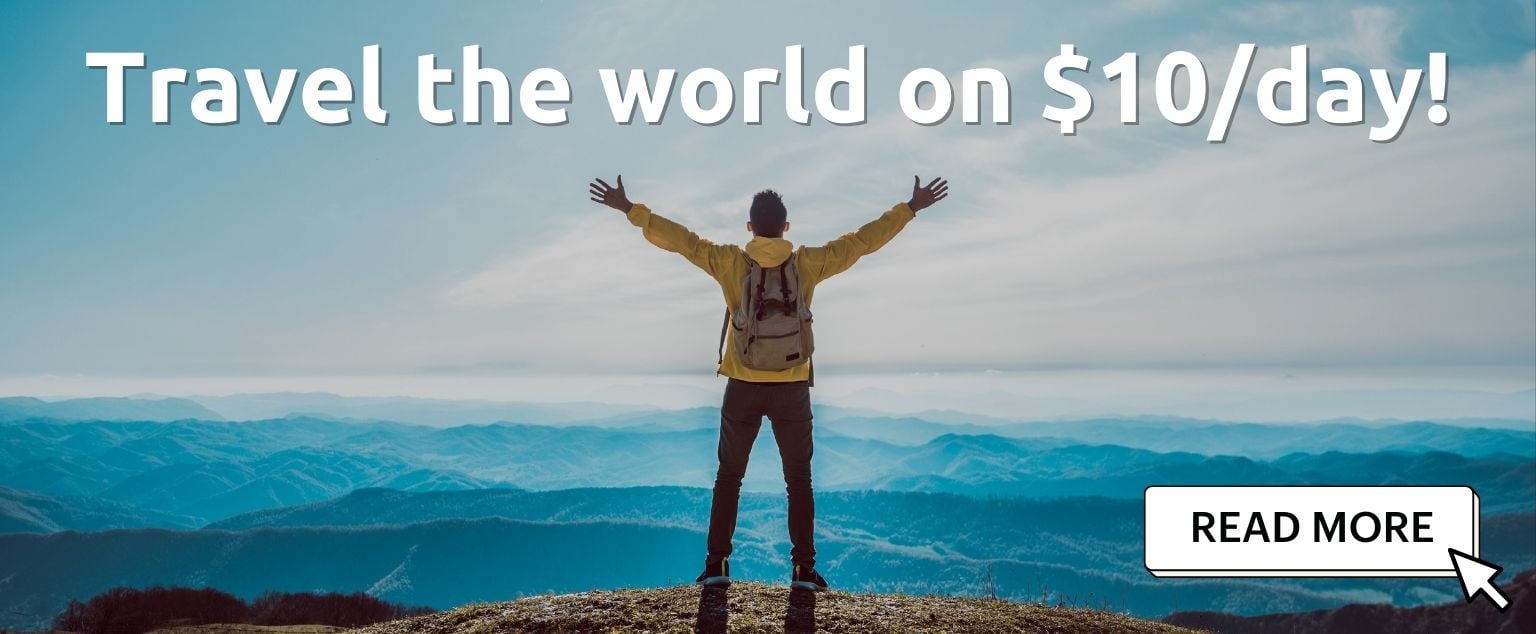 And for transparency's sake, please know that some of the links in our content are affiliate links. That means that if you book your accommodation, buy your gear, or sort your insurance through our link, we earn a small commission (at no extra cost to you). That said, we only link to the gear we trust and never recommend services we don't believe are up to scratch. Again, thank you!