Mobile touring is not a new concept but from 2019-2022, the number of campervans on the road has increased by 120%. When the world shut down after a pandemic, travelers were looking for new ways to travel in their own countries.
Van life, or overlanding, as it's often referred to, is the name given to traveling in a campervan or a vehicle that you can sleep in. This freeing form of travel allows time for reflection, flexibility, and a simpler way of living and traveling.
There are many reasons why you should travel in a campervan, such as being closer to nature and not needing to worry about the cost of rent or energy bills.
But there are many more reasons why traveling in a campervan is an epic idea. Here are 10 reasons why you should travel in a campervan.
The 10 Reasons Why You Should Travel in a Campervan
Depending on how frequently you want to travel, buying and converting a van can be cheaper than renting, and will certainly be much cheaper than buying a ready-made van.
Whether you decide to build your own, buy or rent, touring in a tiny house on wheels is a great way to travel, and here are my reasons why…..
1. It's a Money Saver
If you are self-sufficient with solar electricity, your costs can be as minimal as you like. Gone are the costs of accommodation as many countries welcome and encourage campers by providing free camping spots. You can also try wild camping, or if you do need to pay, staying at a nature park is a lot less than a hotel room.
When it comes to finding a place to rest for the night, there are many sites and apps like Park4Night that show you the location of free spots and what facilities each site provides.
You can also save heaps of money on food by swapping restaurant dining for alfresco camper cooking. Stocking up a little kitchen inside your camper before you leave home and shopping at local markets will keep a low budget.
2. It Offers Pure Freedom & Flexibility
Have you ever fallen in love with a place and wished you could stay longer? Or have you heard about a 'must see' sight from the locals which you wanted to add to your schedule?
Having no constraints on hotel checkout times, and worrying about train schedules and bus times gives you complete freedom of choice and the ability to change your itinerary whenever and however you want.
3. You Get to Connect with Nature
There is something very therapeutic about leading a simpler way of life and getting up close and personal with nature. Taking a break from the daily hectic life and waking up on a beach, next to a lake, or in the mountains will fill your mind with a multitude of positive emotions.
Staying in nature will reduce stress, bring calmness to your mind, improve mood, and boost self-esteem. Connecting with nature can also facilitate creativity and help you be more active. Spending more time in green space brings different benefits for different people but all with a positive effect.
4. You Can Take Your Pet
Ever struggled to find a pet sitter or wish you could spend your time off work with your furry best friend? Traveling in a van will give you the ability to take your pet with you. My springer spaniel has joined me on a road trip to 16 countries and it wouldn't have been the same without him.
There are often rules and regulations when bringing a pet abroad and they can vary significantly depending on which country you are visiting. You'll need to do some research into pet entry requirements well in advance before you travel. And make sure you have your pet passports at the ready!
5. You Get to Be a Part of a Campervan Community
There is a great sense of community amongst campervan folk, people are open-minded, adventurous and always have a story to tell. One of my favorite parts of campervan travel is meeting like-minded people on my journey.
Social media is a great platform to connect with others and find friends for a convoy. Having tried and tested a few methods, I have found the relevant Facebook groups are the best way to go.
I posted a couple of pictures of me, my dog, my van, and my route in a Vanlife Europe Facebook group when I was touring Norway and Portugal, and I have remained friends with many of the folks I met through this group. There is nothing more fun than driving a road trip in a convoy.
6. It Offers Convenience
Many of the decisions about where I park, and sleep is dependent on what I will be doing the next day.
If I plan to go on a hike or a bike trail, for example, I will park up close the evening before so I don't have to get up super early or travel too far. If it has been an exhausting day I also have the convenience of crashing right where I finish.
It also means after a long travel day, you can just head to the back of your van and boil the kettle for a cup of coffee. Having a home on wheels means everything is at your fingertips.
7. You Have More Space to Carry Your Own Stuff
If you are like me and like the outdoors, you will have collected quite a bit of gear over the years. A camper provides plenty of opportunities to bring your own gear whatever your hobby.
Under my bed and accessed from the back of my van we have 'the garage'. This is where I store my equipment such as hiking equipment, tent, snowboard, gym weights, skateboard, and my SUP.
Using the door and roof racks you can bring your bike, surfboard, kayak… the list goes on. The ability to use your own equipment and not have to hunt down a rental store will save you time, and money and enable you to have fun in the most remote of places.
8. You Have More Quality Time With Others
The simplicity and adventure of living and traveling in a camper allow you to spend quality time with whomever you are traveling with.
Exploring unknown territory, getting lost, cooking local produce, and seeing nature's beauty will create memories and a bond that will be invaluable for years to come.
9. It's A Comfortable Way To Travel
One of my favorite things about traveling in a camper is the comfort factor. I don't need to pack and unpack every couple of days, nor do I have to hold in my pee in search of a bathroom or sleep on an airplane or in an uncomfortable bed.
My van has bathroom facilities and a lovely double foam mattress and foam pillows. Traveling in a van means you are able to travel anywhere in the comfort of your own home.
10. You See More Traveling in a Van
A big part of the fun when traveling in a camper is the road trip itself. Driving from place to place gives you a better feel for the county by seeing and experiencing more.
Nothing beats driving around the mountains with a good Spotify playlist when heading to the hard-to-reach locations.
Whether you're thinking of a long-term travel plan or you're just thinking of taking short breaks throughout the year, traveling in a campervan is the best way to travel.
If you think traveling in a campervan may be for you and would like further information on van travel, head over to The Way to Venture where you will find information on building a van, suggested routes, and must-see highlights.
---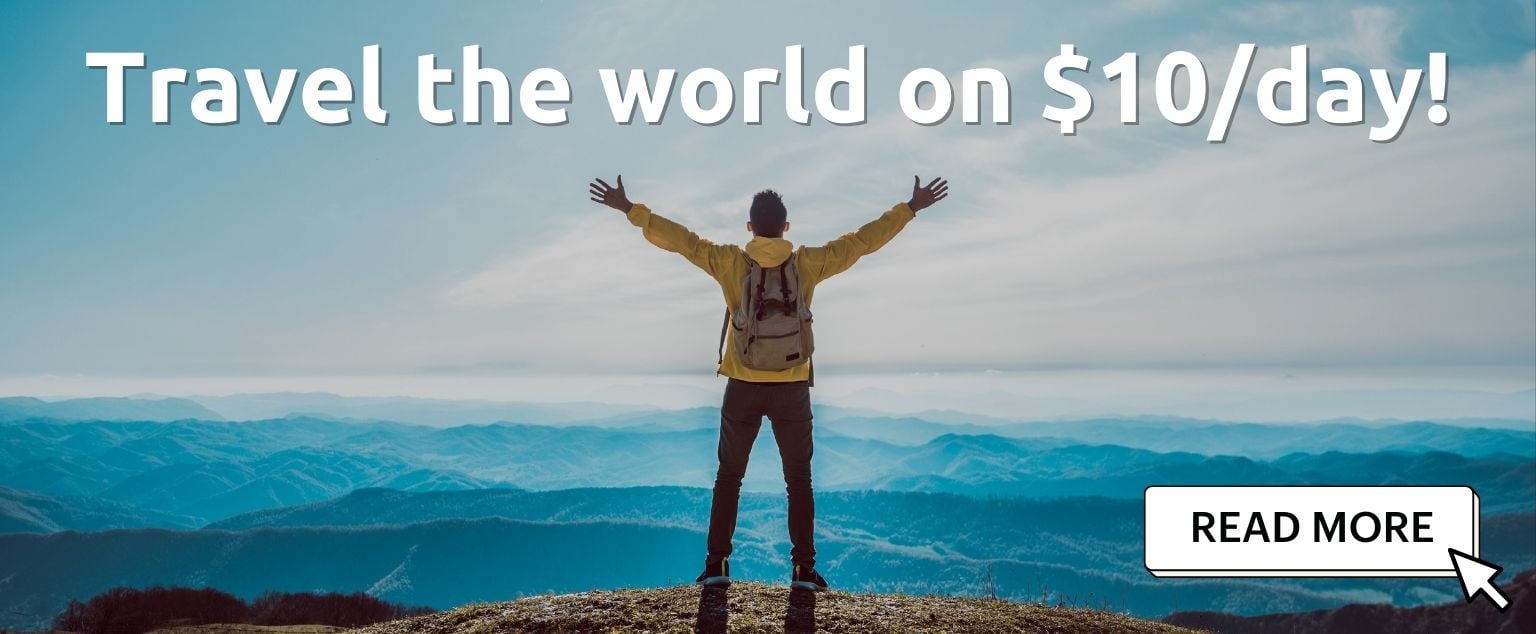 And for transparency's sake, please know that some of the links in our content are affiliate links. That means that if you book your accommodation, buy your gear, or sort your insurance through our link, we earn a small commission (at no extra cost to you). That said, we only link to the gear we trust and never recommend services we don't believe are up to scratch. Again, thank you!