Pack your shades and sunblock, it's time for a beachside vacation to Corpus Christi! This stunning coastal town is known for its stretches of beaches and high winds, making it the perfect place for watersports. But as well as spending time in the ocean, there are plenty more things to do in Corpus Christi for any type of traveler.
Whether you want to dance the night away at a waterfront club or meander around the botanical gardens, you'll never run out of attractions in Corpus Christi.
If you're visiting Corpus Christi soon and need a little help planning activities to add to your itinerary, don't fret. This guide offers all the best things to do in Corpus Christi from family-friendly fun to adrenaline-fueled adventures!

Unlock Our GREATEST Travel Secrets!
Sign up for our newsletter and get the best travel tips delivered right to your inbox.
The Top Things to Do in Corpus Christi
Visiting Corpus Christi but short on time? Then you should definitely check out these unmissable attractions in the city!
Things to do in Corpus Christi at Night
Best Day Trips from Corpus Christi
Best Day Trips from Corpus Christi
Visit Nearby San Antonio
Take a day trip to San Antonio and explore the UNESCO World Heritage Sites.
Adventurous Things to Do in Corpus Christi
Adventurous Things to Do in Corpus Christi
Jet Ski around South Padre Island
Revel in a thrill-inducing jet ski expedition across South Padre Island while exploring the area's most popular historical sites.
Romantic Things to Do in Corpus Christi
Romantic Things to Do in Corpus Christi
Sample the Local Wine
Take a trip to the many vineyards dotted across the Texan Hill County area and sample some of the region's best wines.
Most Popular Attractions in Corpus Christi
Most Popular Attractions in Corpus Christi
Hop Aboard the USS Lexington
Visit this iconic landmark which offers plenty of interactive exhibitions, simulations, and even overnight camping opportunities.
17 Things to Do in Corpus Christi
From beachside fun to historical landmarks, these are the best attractions in Corpus Christi that are not to be missed!
Kayaking during the day is fun but believe me when I say that there's nothing quite like kayaking at night: the stillness of the evening, the sloshing of the oars against the water, and the balmy sea breeze all provide one heck of a relaxing experience.
Throw in a clear kayak that glows and you've got yourself a winning adventure right here!
This expedition kicks off from southwest Little Bay. There's a lens in each kayak so you can feast your eyes on the glorious underwater world beneath. Best of all, the kayaks feature different color settings, so you can choose your own vibe.
There's also a guide who will point out various landmarks as you navigate your way up north.
Entrance fee: $50
Hours: Dependent on tour
Address: 1522 E Laurel St, Rockport, TX 78382, USA
2. Walk Across the Corpus Christi Harbor Bridge
This Corpus Christi bridge is to Texas what the Sydney Harbor Bridge is to Australia – although Texans may tell you that theirs is just a tad more impressive.
Undeniably one of the most popular attractions in Corpus Christi, the local Harbor Bridge connects the downtown area to North Beach. If you're embarking on a Texas road trip, you'll probably drive across it at some point.
What makes it really special are the light shows that bloom on the bridge every night, drawing locals and tourists alike to watch the dazzling display of colors.
Best of all, the bridge offers an excellent vantage point for enjoying dazzling views of the city skyline- perfect for those sunset selfies!
Entrance fee: Free
Hours: Open 24 hours
Address: Harbor Bridge, Corpus Christi, TX, USA
Is there anything better than being lulled to sleep by the soft sloshing of the waves against the shore? I think not!
If you want to experience this for yourself, head over to this quaint Texan Airbnb that's found right on the beach. With one bedroom to comfortably sleep two guests, this space also has a sofa sleeper and a junior bunk bed for the kids.
There's even a small kitchen that's outfitted with everything you'll need to prepare a meal. And of course, with the beach practically on your doorstep, you can go for a plunge in the ocean whenever you want! Nearby, you can visit the USS Lexington and the Museum of Science and History.
Entrance fee: $113/night
Hours: Check-in from 4 p.m. to 12 a.m., Checkout at 11 p.m.
Address: 201 Surfside Blvd, Corpus Christi, Texas, USA
4. Step Aboard the USS Lexington
Once known as The Blue Ghost for its excellent camouflaging power during the war, The USS Lexington is now a living museum – not to mention one of the most popular National Historic Landmarks in the city.
It's not all about boring displays from the past either. The USS Lexington provides plenty of fun activities including a 3D movie, an escape room, and a flight simulator. You'll also get to mosey around the crew quarters as well as the hangar and flight decks.
Oh, and guess what? If you want to prolong the fun, you can even camp there overnight. No wonder this is one of the best things to do in Corpus Christi with kids!
Entrance fee: $16.95 (adults), $13.95 (children)
Hours: 9 a.m. to 6 p.m.
Address: 2914 N Shoreline Blvd, Corpus Christi, TX 78402, USA
5. Check out the Texas Surf Museum
If you're under the impression that surfing is only popular on the U.S West Coast, think again!
In fact, surfing is so deeply rooted in the local culture that the city even has a museum dedicated to it. Budget travelers will be glad to learn that this quirky downtown venue is entirely free to visit, perfect for those backpacking the USA.
Visitors can comfortably recline on seats made from surfboats to watch films or check out interactive displays. Boasting rotating exhibits, this museum also has quite an impressive collection of both famous and classic surfboards.
Entrance fee: Free
Hours: 11 a.m. to 7 p.m. (5 p.m. on Sunday)
Address: 309 N Water St, Corpus Christi, TX 78401, USA
San Antonio is chock full of hidden gems so grab those walking shoes and let's head over to this neighboring city!
Famous for its many UNESCO Heritage Sites, diverse food scene, and colonial mansions, this city will undoubtedly be a hit with history buffs. Because it lies around two hours from Corpus Christi, San Antonio is ideal for a fun day trip when you want a break from coastal activities.
Now, if you're not quite sure where to start, you can always take a guided tour of San Antonio to explore some of the most eminent areas like the Espada Aqueduct, Alamo Plaza, and La Villita Historic Arts Village.
Entrance fee: $65
Hours: 9 a.m. to 12.30 p.m.
Address: Multiple pickup locations in San Antonio
Small Pack Problems? 😉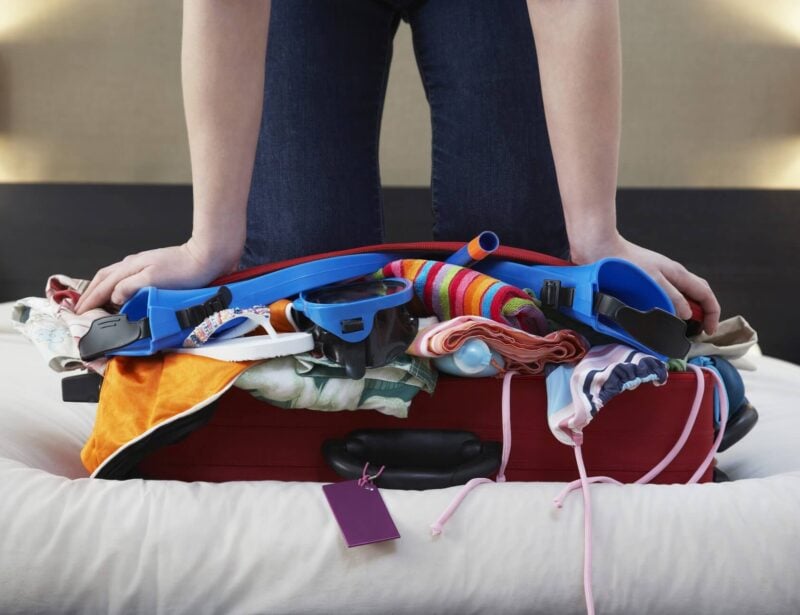 Wanna know how to pack like a pro? Well for a start you need the right gear….
These are packing cubes for the globetrotters and compression sacks for the real adventurers – these babies are a traveller's best kept secret. They organise yo' packing and minimise volume too so you can pack MORE.
Or, y'know… you can stick to just chucking it all in your backpack…
Get Yours Here
Read Our Review
7. Relax on Mustang Island State Park Beach
Wondering what to do in Corpus Christi on yet another bright sunny day? Why don't you spend an afternoon lazing around Mustang Island State Park Beach?
The city's already known for its sandy shores, but Mustang Island State Park is a real doozy that draws hordes of locals and tourists alike. Indeed, the beach offers a delightful respite from the bustle of the city, so head down early to make sure you've got the best spot!
There are plenty of awesome ways to occupy your time over there. You can snorkel in the exceptionally clear waters, paddle the bay, or even go geocaching.
Located a quick drive from the city center, Mustang Island State Park also offers plenty of camping opportunities.
Entrance fee: $5 (free for kids 12 years and under)
Hours: 8 a.m. to 5 p.m.
Address: 9394 TX-361, Corpus Christi, TX 78418, USA
8. Hike the Corpus Christi Bay Trail
Outdoor enthusiasts, rejoice! Not only is this trail one of the longest hiking routes in the city, but it also connects several of Corpus Christi's tourist spots such as the Marina and the Art Museum of South Texas.
This trail is an excellent choice for travelers who are pressed for time since they can cover plenty of ground in just a few hours.
The waterfront route is known for its excellent bird-watching opportunities so keep your eyes peeled for the American Peregrine Falcon and Brown Pelican, among others.
Just a quick heads-up though: a large portion of the Bay Trail consist of a bike lane or a sidewalk so don't expect a dedicated off-road route for the entire hike.
Entrance fee: Free
Hours: Open 24 hours
Address: From Barge Dock/American Bank Center to Texas A&M University-Corpus Christi (Ocean Drive)
9. Learn How to Windsurf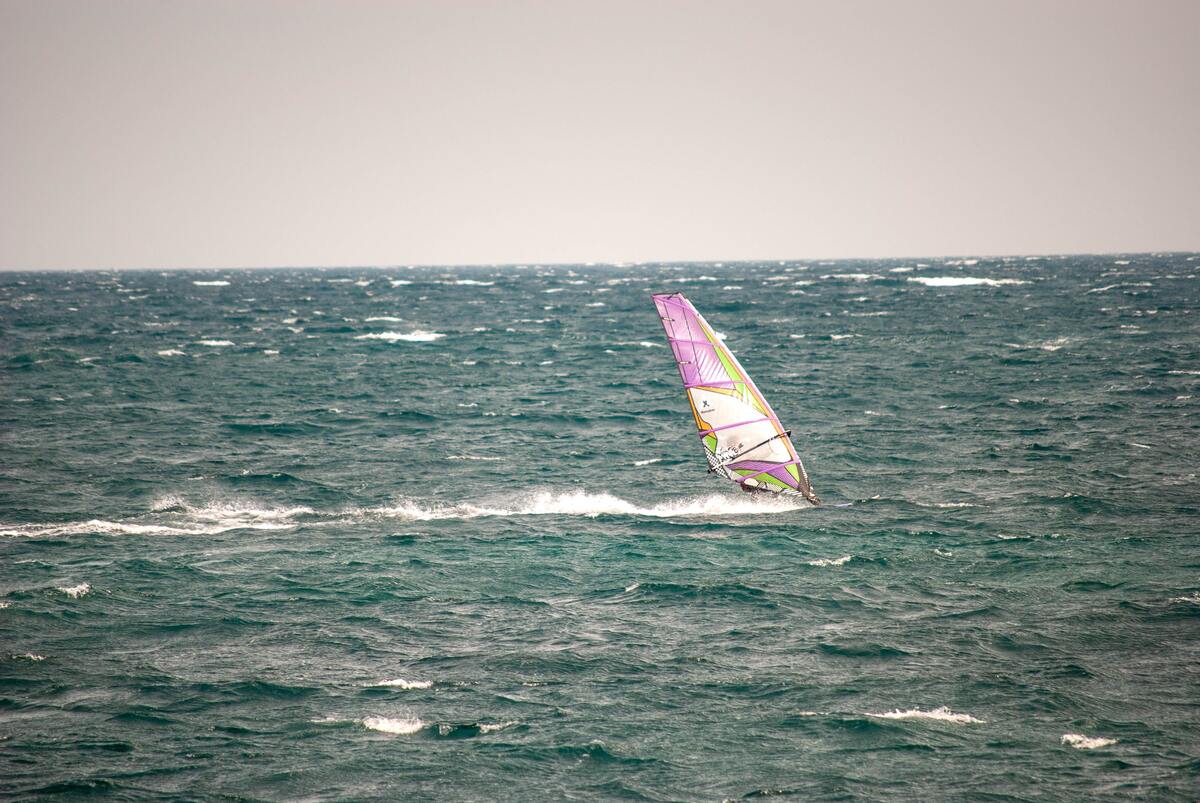 I'm sure by now I've convinced you that windsurfing is the local sport by excellence. After all, let's not forget that this coastal city has a whole entire museum dedicated to various types of surfing.
Yup, they're serious about their watersports, alright – and there's no better way to soak up Corpus Christi's beach vibes than to hit those waves yourself.
Now, if you're a klutz like me, you might just find yourself tumbling headfirst in the water but hey, that's all part of the fun!
But seriously though, most (if not all) of Corpus Christi's lagoons offer the ideal conditions for windsurfing. Best of all, you'll be spoilt for choice when it comes to windsurfing lessons since there are classes all over the city. But a top rated company is Worldwinds, which offer windsurfing lessons to all levels.
Entrance fee: $70 – $80 for an introductory session
Hours: Varies according to the class
Address: Bird Island Basin Rd, Corpus Christi, TX 78418
10. Catch a Show with the Kids at Harbor Playhouse
Whether you're looking for chills-inducing musicals or fun shows for the kids, Harbor Playhouse is all set to deliver hours of entertainment!
This place is an absolute landmark in the city so it's definitely among the top things to do in Corpus Christi. Believe me when I say that you really don't want to miss their interpretation of A Christmas Carol in December. Do book early though since tickets for this show are nearly always sold out.
To keep the little ones occupied, you can even enroll them in the theatre's Summer Camp Program where they'll get to write out and act their own script.
Entrance fee: Varies according to the show
Hours: 10 a.m. to 6 p.m.
Address: 1802 N Chaparral St, Corpus Christi, TX 78401, USA
Have you been searching for the best day trips from Corpus Christi? Well, look no further!
A little over two hours from Corpus Christi, South Padre Island is a lively hub for attractions like the Beach Park, Laguna Madre Nature Trail, and the iconic Port Isabel Lighthouse State Park.
But that's not all. The island is also home to the SpaceX South Texas launch site.
So, if you happen to be there at the right time, you may even be lucky enough to watch rocket launches right from the beach!
Don't worry if you miss the launch though. There are plenty of other exciting things to do over there, like this jet ski expedition that'll take you across South Padre's most popular sites.
Entrance fee: $173
Hours: Dependent on tour
Address: 204 Palm St, South Padre Island, TX 78597, USA
12. Hit Up Lazy Beach Brewing on a Friday Night
If you're looking for a straightforward microbrewery without any of those airs and graces that invariably seem to accompany touristy places, this is the place for you.
The first thing you'll notice when stepping into Lazy Beach Brewing is that it's full of locals – always a good sign!
Friday nights are invariably busy with acoustic jams, excellent eats, and an extensive selection of beer. There's at least one new flavor every week so trust me when I say that the beer menu is super varied. Oh, and did I mention that they've got hard seltzer on tap?
To work off all the booze and burgers, you can always join the Lazy Beach Brewing Fun Run that takes place every Thursday at 6 p.m.
Entrance fee: Free
Hours: 5 p.m. to 10 p.m. (Wednesday to Friday), 11 a.m. to 10 p.m. (Saturday), 11 a.m. to 2 p.m. (Sunday)
Address: 7522 Bichon Dr #100, Corpus Christi, TX 78414, USA
Is This the Best Daypack EVER???
A little-known fact is that Texas' Hill County has plenty of excellent wineries scattered through its lush landscape.
Now, the Texan wine scene may not be as popular as its Californian counterpart, but it still offers plenty of delicious concoctions that you can sample for yourself with a tour of the wineries.
This tour starts off in San Antonio and includes a visit to multiple wineries where you'll get to see the winemakers in action, learn more about the local brews, and sample some of their best products. This would undoubtedly be a great date activity for couples visiting Corpus Christi!
If you're not in a rush, you can also book a winery tour that includes a stop at Texas' famous LBJ Ranch.
Entrance fee: $109
Hours: 9 a.m. to 5 p.m.
Address: Various San Antonio locations
14. Cheer on The Hooks at Whataburger Field
In my opinion, there's no better place to mingle with the locals than at Whataburger Field. Indeed, catching a game at Whataburger is often said to be one of the most exciting activities in Corpus Christi- and for good reason!
It won't take you long to realize that locals are really into baseball. Even if sports aren't really your thing, I would totally urge you to check out a minor league game so you can take in the vibrant atmosphere as they cheer on their home team, The Corpus Christi Hooks.
It's not just about baseball either. Whataburger Field also has a climbing wall, basketball courts, and an air-conditioned rec area. Yup – there's plenty over there to keep the whole family entertained!
Entrance fee: Dependent on the activity
Hours: Open 24 hours
Address: 734 E Port Ave, Corpus Christi, TX 78401, USA
15. Stroll through the South Texas Botanical Gardens
Take it from me: there's nothing quite like strolling through the gloriously shaded Botanical Gardens in the afternoon after a full day of sightseeing under the Texan sun!
An absolute oasis in the middle of the city, this place is a nature lover's dream come true. It has an abundance of nature trails with plenty of flora.
My favorite thing about this venue is that it's split into themed gardens such as the Orchid Conservatory, Sensory Garden, Plumeria Garden, and even an Exhibit House. Kids will no doubt appreciate the playground as well.
Entrance fee: $9 (adults), $5 (children 3-12)
Hours: 9 a.m. to 6 p.m.
Address: 8545 S Staples St, Corpus Christi, TX 78413, USA
Travel with peace of mind. Travel WITH a security belt.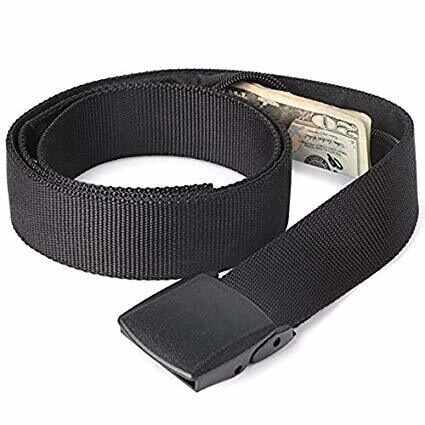 Stash your cash safely with this money belt. It will keep your valuables safely concealed, no matter where you go.
It looks exactly like a normal belt except for a SECRET interior pocket perfectly designed to hide a wad of cash, a passport photocopy or anything else you may wish to hide. Never get caught with your pants down again! (Unless you want to…)
Hide Yo' Money!
16. Pay Homage to Selena
Known as the Queen of Tejano music, Selena Quintanilla-Pérez is an integral part of the local culture. While her life was tragically cut short at the height of her success, she's still a beloved figure in the city.
Fans from all around the world flock to the Selena Museum to pay homage to the singer and learn more about her amazing albeit short-lived accomplishments. You'll be treated to exhibits about her life, awards, and costumes. There's even a reproduction of her recording studio.
After visiting the museum, you can also head to Selena's final resting place at the Seaside Memorial Park which houses a life-sized bronze statue of the star.
Entrance fee: $3
Hours: 10 a.m. to 4 p.m. (weekdays only)
Address: 5410 Leopard St, Corpus Christi, TX 78408, USA
17. Browse Through the Grow Local Farmer's Market
The great thing about Corpus Christi is that it can be a super affordable shopping destination – if you know where to go, of course!
Dining in is the easiest way to cut back on expenses when traveling so be sure to check out the weekly Grow Local Farmer's Market to stock up on exquisitely fresh produce.
Travelers looking for dog-friendly things to do in Corpus Christi will be glad to learn that their furry companions are welcome as long as they're leashed. And yes, there are plenty of canine-friendly treats awaiting as well!
The only bummer is that the market tends to fill up very quickly. My advice would be to head there right after it opens if you want to avoid the crowd.
Entrance fee: Free
Hours: 5 p.m. to 8 p.m. every Wednesday
Address: The Art Center, 100 N Shoreline Blvd, Corpus Christi, TX 78401, USA
Where to Stay in Corpus Christi
From refined resort hotels to beautiful beachfront vacation rentals, Corpus Christi packs plenty in terms of accommodation.
The good news is that there's something for every budget, so don't be afraid to explore all your options! Here are my top recommendations for where to stay.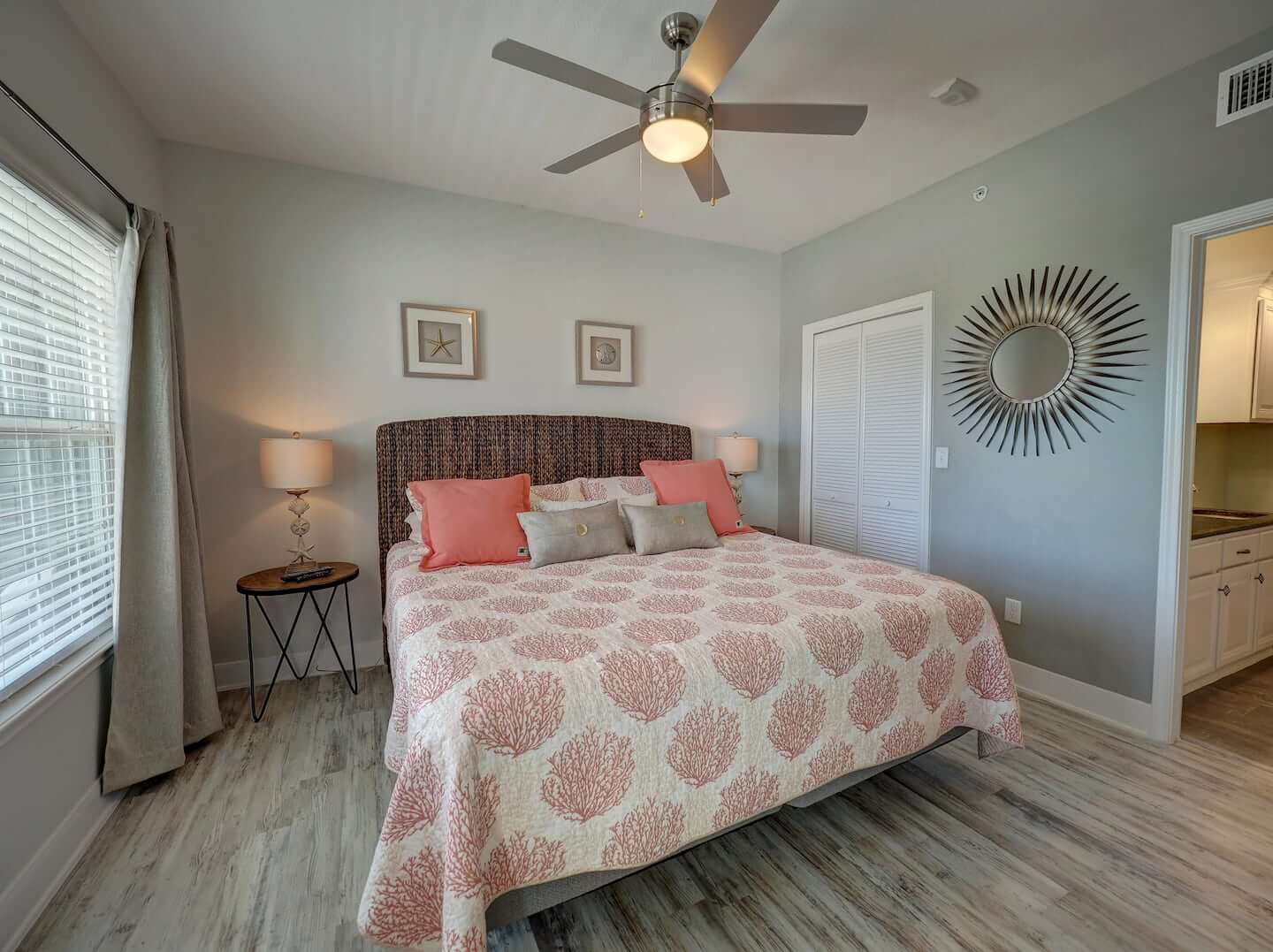 Nestled on Whitecap Beach, this Airbnb has two bedrooms that can comfortably sleep four guests. You'll also find extra beds to accommodate up to eight people. Groups, this one's for you!
It features classic home comforts such as a fully-stocked kitchen, complete with a Keurig coffee maker so you can wake up to a fresh brew every morning. There's also an outdoor grill, pavilion, and heated pool.
This Airbnb lies close to Port Aransas, the Bob hall Pier, and Padre Balli Park.
With affordable and comfy rooms, this quaint motel lies just a 7-minute walk from the beach, perfect for travelers looking for nautical activities in Corpus Christi!
Despite the inexpensive price tag, each room provides a refrigerator and microwave so you can rustle up a quick meal instead of eating out every day. There's also an on-site vending machine.
You can check out nearby attractions like the Texas Surf Museum and the Selena Memorial Statue.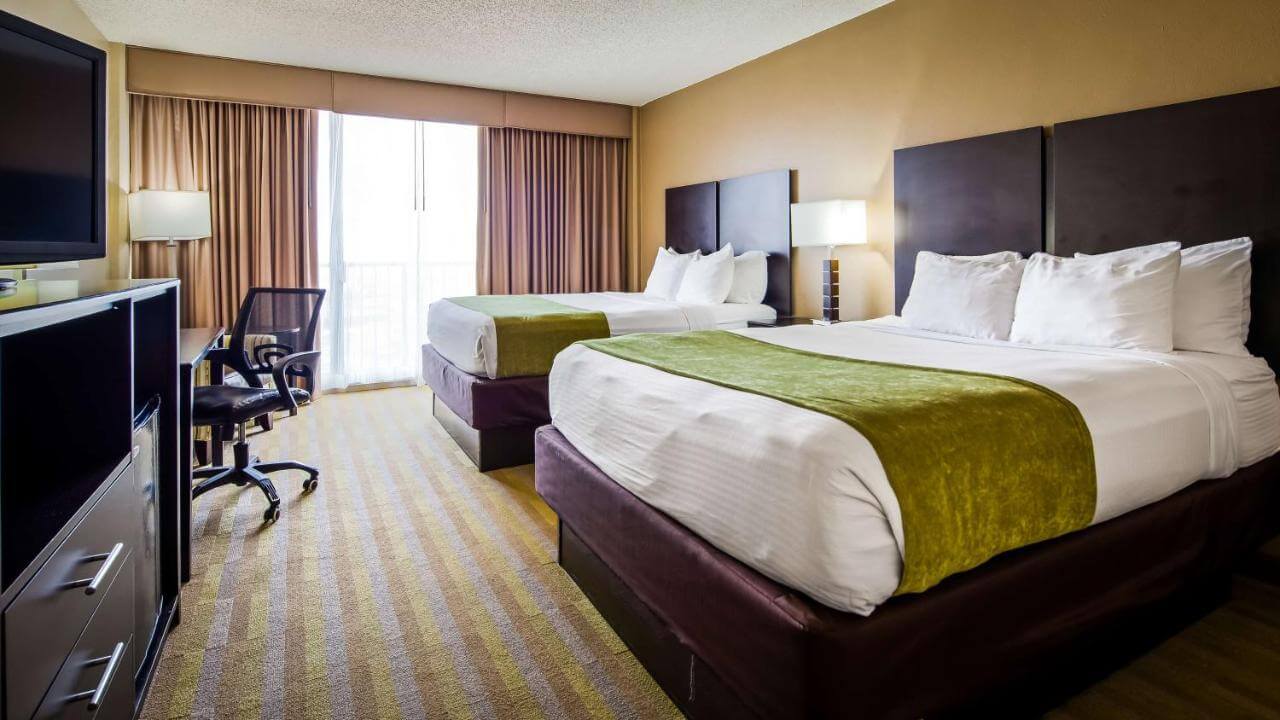 Offering spacious rooms that sleep two to four guests, Best Western Corpus Christi commands an excellent location near the Bay.
Rooms are fitted with microwaves and mini-fridges so you can fix yourself a snack whenever you want.
With a daily complimentary hot breakfast buffet, this hotel also boasts an outdoor swimming pool where you can cool off after touring nearby attractions like the USS Lexington and Padre Island.
Some Additional Tips for Visiting Corpus Christi
Okay, I know you're super stoked to head out there and hit all those exciting Corpus Christi attractions! But before you go, keep these tips in mind to make sure your trip goes off without a hitch.
Invest in travel insurance! You never know what may happen on the road.
Catch a Music Festival. Corpus Christi also happens to be one of the greatest musical cities in Texas, so you'll find plenty of events such as the Jazz Festival in October. Travelers can also check out the free outdoor concerts held on various beaches on Friday and Saturday.
Venture Out of the City. Corpus Christi is an excellent place to base yourself for exploring other Texan destinations so don't hesitate to take a few day trips if you've got some extra time to spare!
Indulge in Different Watersports. Windsurfing is practically a rite of passage for tourists, but you'll also find plenty of parasailing and jet-skiing opportunities. Take it up a notch by trying slalom skiing on the gorgeous River Nueces.
Get a Beach Parking Permit. Many Corpus Christi beaches require a beach parking permit. Don't worry though: you can very easily grab one from various locations in the city, including most Stripes Convenience stores. The permit costs around $12 and is usually valid for a year.
Bring a good water bottle with you and avoid buying single-use plastic ones!
Head out on a day trip to South Padre Island– It's not far, and there are plenty of amazing things to do! Spending a night there can make the whole experience even saucier, as there are loads of awesome places to stay.
Don't forget your travel insurance for Corpus Christi
ALWAYS sort out your backpacker insurance before your trip. There's plenty to choose from in that department, but a good place to start is Safety Wing.
They offer month-to-month payments, no lock-in contracts, and require absolutely no itineraries: that's the exact kind of insurance long-term travellers and digital nomads need.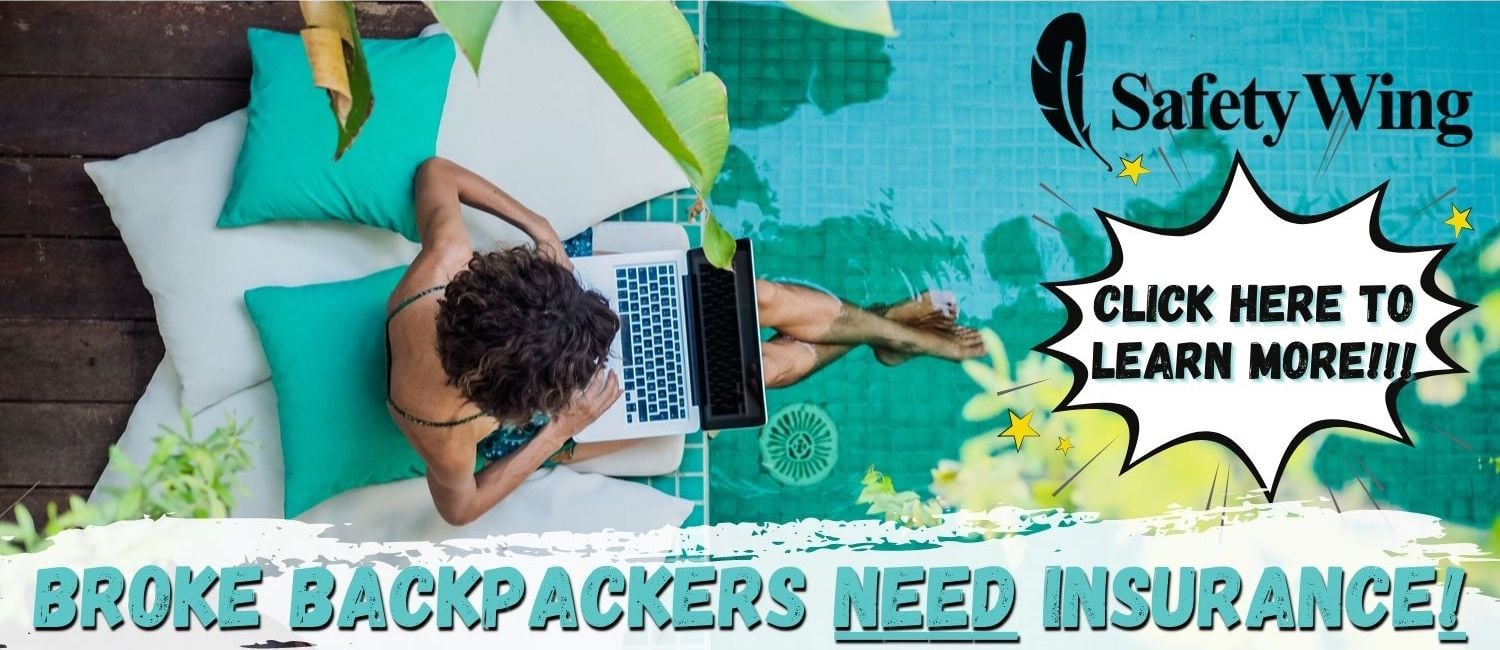 SafetyWing is cheap, easy, and admin-free: just sign up lickety-split so you can get back to it!
Click the button below to learn more about SafetyWing's setup or read our insider review for the full tasty scoop.
Final Thoughts on Things to Do in Corpus Christi
Not only is this coastal city bursting with a wide range of attractions to suit just about every type of traveler, but it also provides easy access to plenty of other cool destinations in Texas.
So, whether you want to try various types of nautical activities in Corpus Christi, spend a day lazing on one of the stunning beaches, or check out the museums, you can be sure that you'll never run out of things to do.
And if you're strapped for cash, let me assure you that you'll find plenty (and I do mean plenty!) of free things to do in Corpus Christi.
So, what are you waiting for? Time to zip up your suitcase and head out for the adventure of a lifetime!
---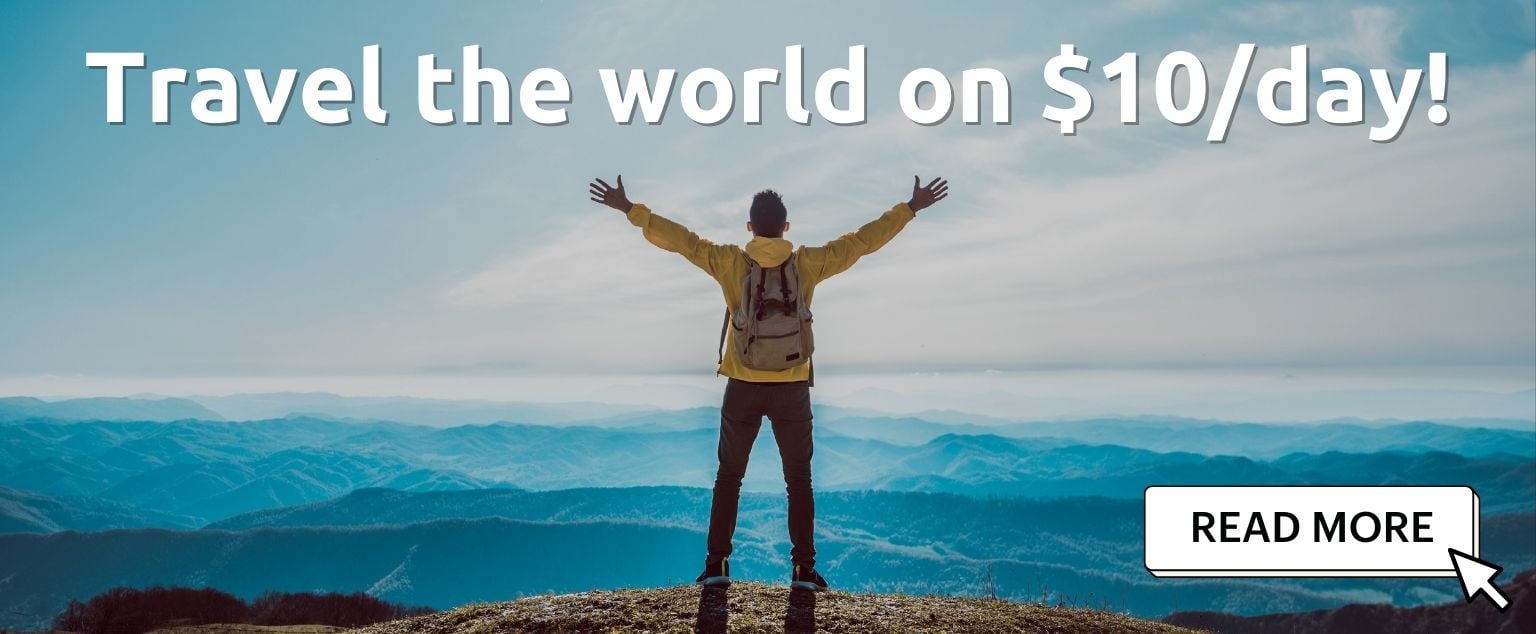 And for transparency's sake, please know that some of the links in our content are affiliate links. That means that if you book your accommodation, buy your gear, or sort your insurance through our link, we earn a small commission (at no extra cost to you). That said, we only link to the gear we trust and never recommend services we don't believe are up to scratch. Again, thank you!