Welcome to the Lone Star State, a place of sprawling countrysides, big cities, and even bigger cultures. As the saying goes, everything is bigger in Texas.
The state's diverse landscapes – made up of deserts, forests, rolling hills, and beaches – attract people from all around the world. Some decide to never leave! The open country is perfect for epic road trips as you drive between major destinations.
Texas has some of the most diverse cities in America, including Houston, and it is home to some 40 worldwide languages.
Austin, once an up-and-coming city, has now become a major destination. With some of America's best music scenes, Austin is home to the Texas Longhorn, and has inspiring scenery nearby.
Full of creativity, hospitality, and good ol' American food, you'll need a lot of time to explore the whole state properly.
When planning a staycation or traveling through the state, why not spend the night at some of the rentals in Texas?Airbnbs in Texas combine all of the Lone Star State's extravagant personality to give you an unforgettable experience.
While other cities and states may provide interesting homestay opportunities, Texas goes bigger and opens the door to some of the coolest Airbnbs in America.
Quick Answer: These are the Top 5 Airbnbs in Texas
Overall Best Value Airbnb in Texas
Overall Best Value Airbnb in Texas
Cabin in the Woods
> $$
> 5 guests
> Private lake
> Loft bedroom
Best Budget Airbnb in Texas
Best Budget Airbnb in Texas
Cheap Escape in Fort Worth
> $
> 2 Guests
> Private deck
> Shared pool
Best Airbnb for Couples in Texas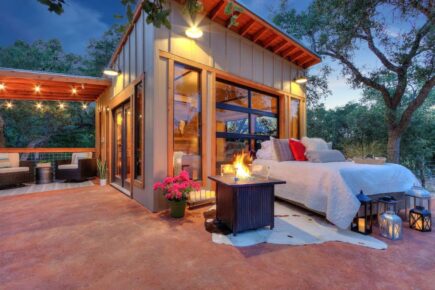 Best Airbnb for Couples in Texas
The Glass House in Hondo
> $$
> 2 Guests
> Starry nights
> Romantic tiny home
Best Airbnb for Families in Texas
Best Airbnb for Families in Texas
Beach House in Port Aransas
> $$$
> 12 Guests
> Multi-family vacation home
> Walk to beach
Over-the-Top Luxury Airbnb in Texas
Over-the-Top Luxury Airbnb in Texas
Lake Travis Waterfront Retreat
> $$$$
> 16 Guests
> Lakefront views
> Swimming pool

Unlock Our GREATEST Travel Secrets!
Sign up for our newsletter and get the best travel tips delivered right to your inbox.
What to Expect from Airbnbs in Texas
Airbnbs in Texas are a great way to explore the state through the eyes of those that call it home. At the same time, it's the perfect way for Texans to enjoy a staycation.
Rather than checking in to a nice hotel surrounded by more nice hotels and tall business buildings, put yourself in beautiful mother nature.
For those traveling through the state on a budget, you can tick off your bucket list without breaking the bank – and without the busy dorms!
In Texas, you will find some brilliant Airbnbs hosted by creative folks who are keen to provide an amazing escape from reality.
As you'll see below, you will be able to get off the beaten path, away from the crowds, and get to know Texas, and even your loved ones, a little better.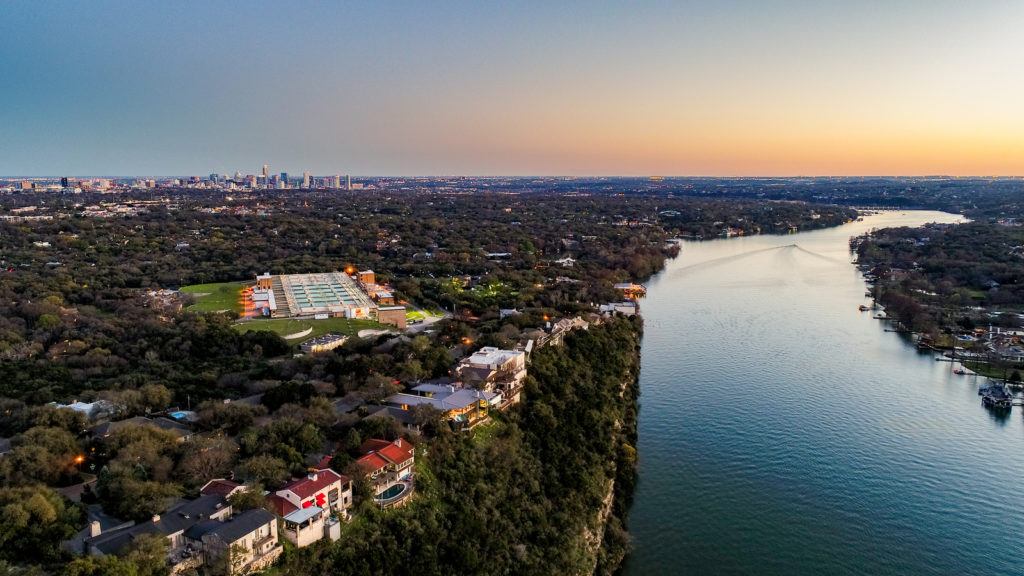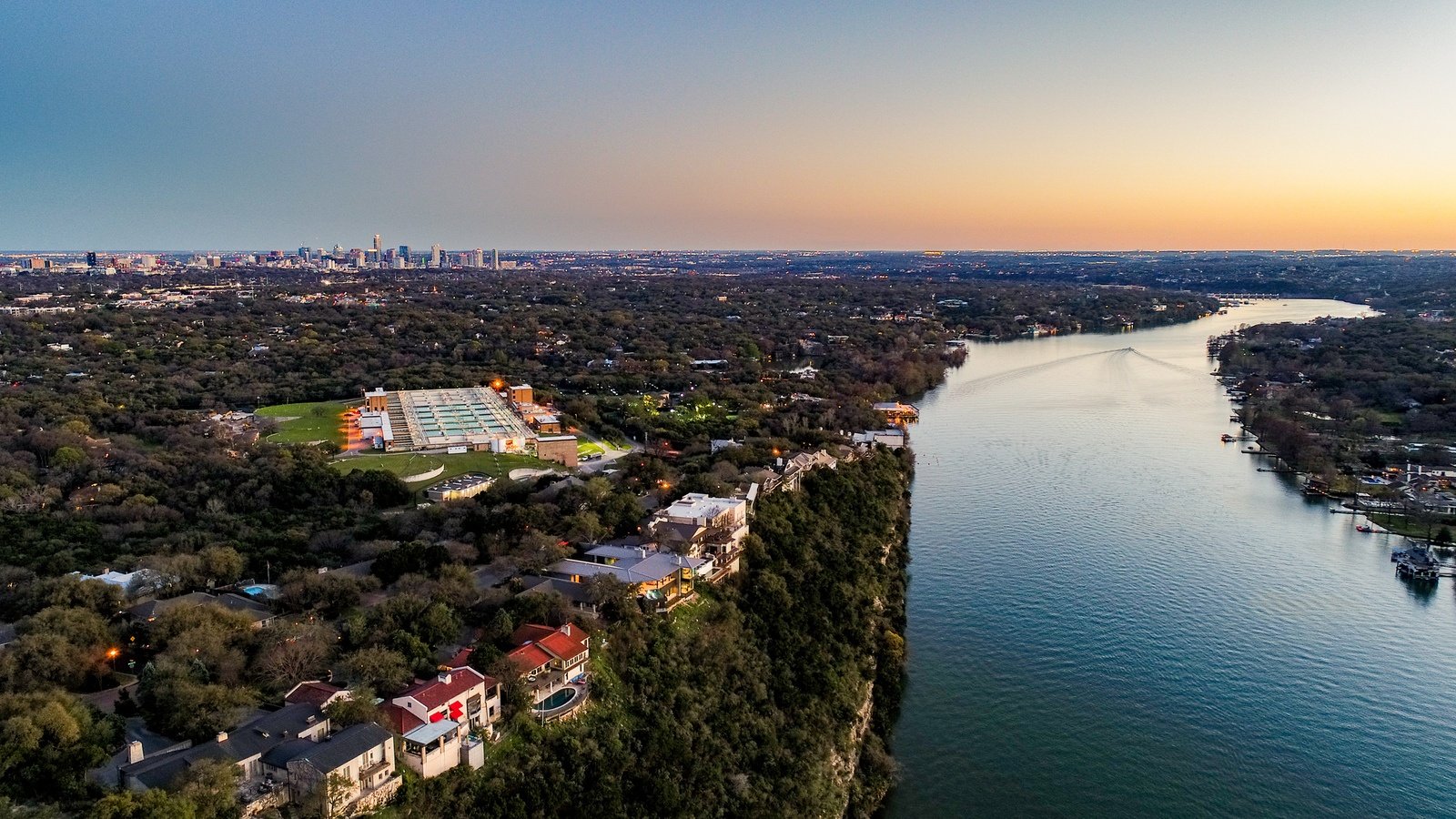 Treehouse
There may be no place in America where treehouse Airbnbs are more common. This is what makes Airbnb unbeatable. Not only can you stay in comfort and luxury, but you can enjoy an Insta-worthy experience that will create incredible memories.
Treehouses are great for couples looking for a unique romantic getaway that they can talk about for years to come. Grab a bottle of champagne and enjoy the views!
Treehouses are spread right throughout the eastern and southern parts of the state. Your best shot is around Austin, San Antonio, and Fort Worth.
They tend to be in the medium to high price range, owing to the unique experience. This may be over budget for some travelers, but for solo adventurers looking for a remote escape, it may be worth giving up a few extra bucks for a treehouse Airbnb.
Cabin
Cabins are another of the most popular types of Airbnbs in Texas. They come in all shapes and sizes, and a great cabin can be found to suit budgets.
Get out into nature, but still be close to happening small towns and often major cities. Places like San Antonio have some great cabins nearby, witness the city's rapid change in scenery as you leave downtown.
Many of the cabins you will discover are spacious enough for family vacations, and if friends want to gather for a getaway. You will love having the extra living space, and kitchens designed for large family meals.
Gather the group together each night for games in front of the fireplace, and enjoy amazing stargazing from the patio.
Tiny Home
Tiny homes have taken the country by storm, and Texas is well represented in this type of accommodation.
If you are after a unique stay with your partner or small family, Airbnb gives you a great opportunity to live out your tiny home dreams.
Embrace minimalism and feel small while surrounded by nature. Tiny homes provide an excellent opportunity to focus on the simple things in life and switch off from whatever is happening back home.
There are over 300 tiny homes in the state that feature on the Airbnb platform, many of which are in the Houston and Dallas areas.
Why Stay in an Airbnb?
Aside from being able to live in some of the coolest homes in Texas, here are some more reasons:
Local experience: Stay in homes built by Texans for Texans. Tap into the knowledge of your hosts to experience your area in a way no tourist ever could.
Unique properties: Aside from treehouses and tiny homes, you may find yachts, yurts, and barns to stay in.
Privacy: Sick of crowded dorms or noisy hotels? Check into entire properties instead and don't have a neighbor in sight.
Affordability: Rather than rent out a single bed, have a whole room to yourself with a private bathroom and kitchen.
Airbnb experiences: Airbnb taps into the knowledge of the locals and gives you the opportunity to explore the region alongside someone who knows it like the back of their hand.
The 15 Top Airbnbs in Texas
Okay, enough info – let's dive into the fun stuff. Read on to find the best Airbnbs in the Texas!
Overall Best Value Airbnb in Texas | Cabin in the Woods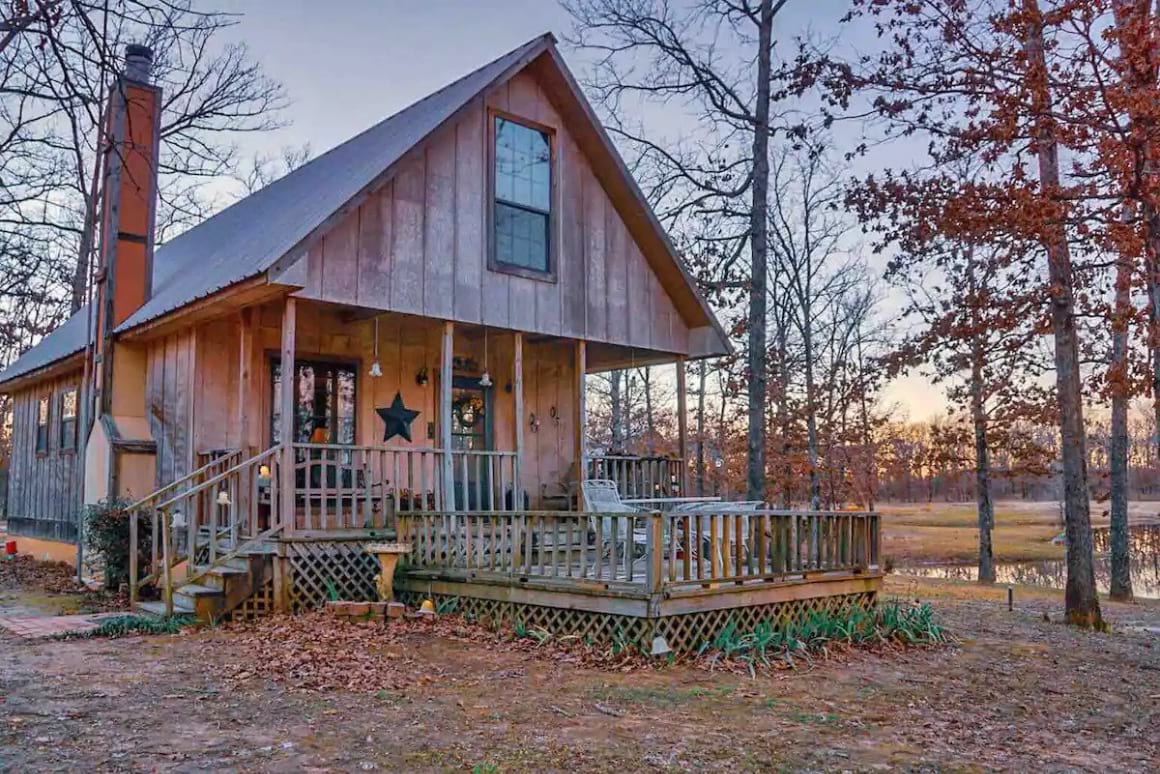 There are so many amazing Airbnbs in Texas that it was almost impossible to cut it down to one – almost.
At this Cabin in the Woods in Van, Texas, you will enjoy a combination of peace, privacy, and a unique experience all while surrounded by pristine nature.
Oh, and you can do it all without breaking the bank!
When you aren't making the most of this cozy cabin, go for walks through the woods without seeing another soul, kick back on the banks of your own private lake, and try and get some fish to nibble.
Deep in the heart of East Texas, just a quick drive will bring you to small towns with lots going on.
3 Places to visit:
Rhine Lake
Town of Van
Downtown Tyler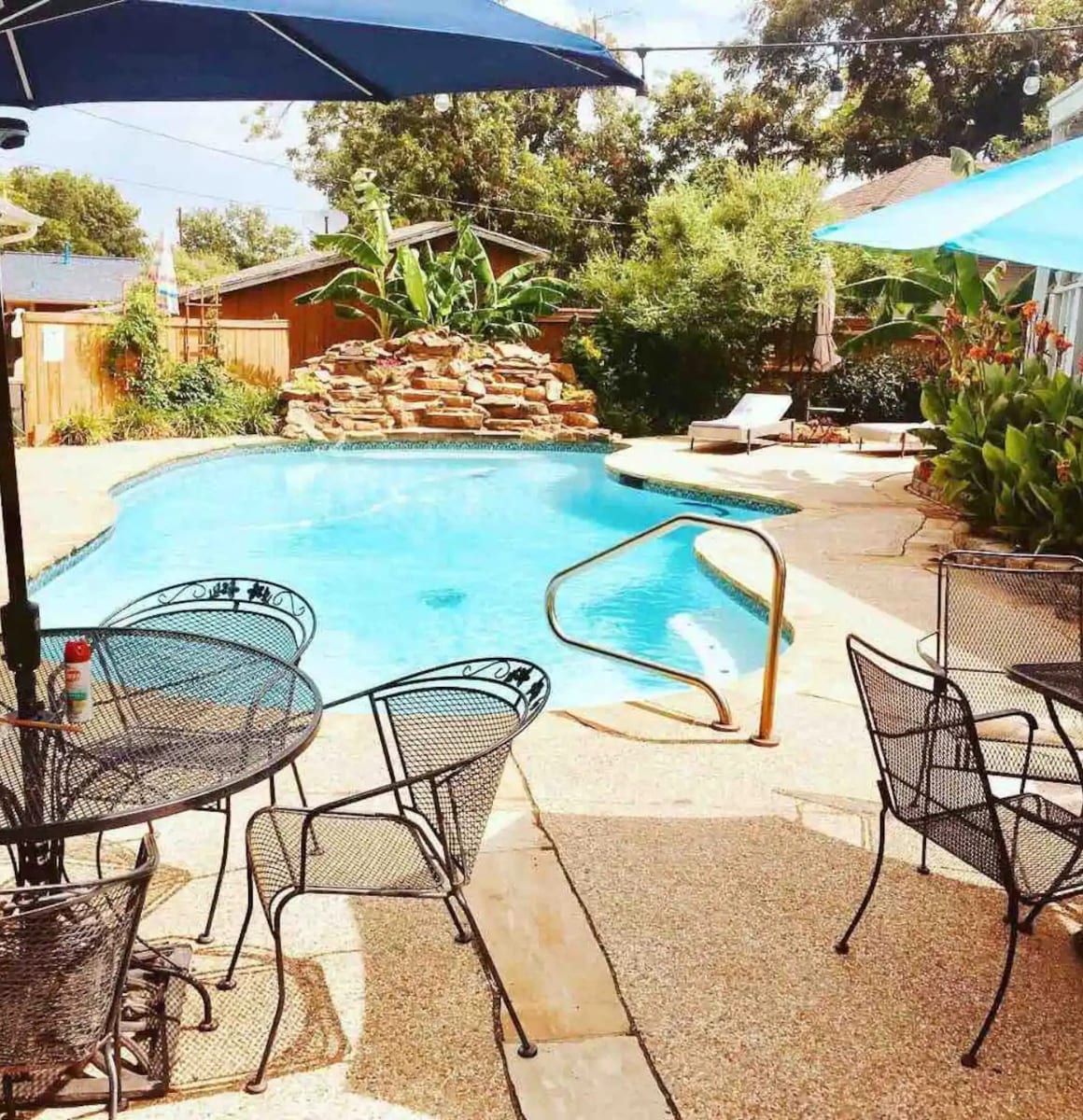 If you are after a cheap escape while moving through the Lone Star State, why not check out this Airbnb in Texas?
Located in a studio apartment independent from the main building, you will have your own private space for cheap.
With decent amenities to cook your daily meals, it is a perfect setup for turning a short visit into a long-term stay.
The beachy vibe will help you feel right at home, with a clean resting place during your Fort Worth adventures.
Invite a friend over to sleep on the extra sofa bed, and hang out on the private deck which looks down to the pool below.
Take the drive over to Dallas to visit some of the must-see spots!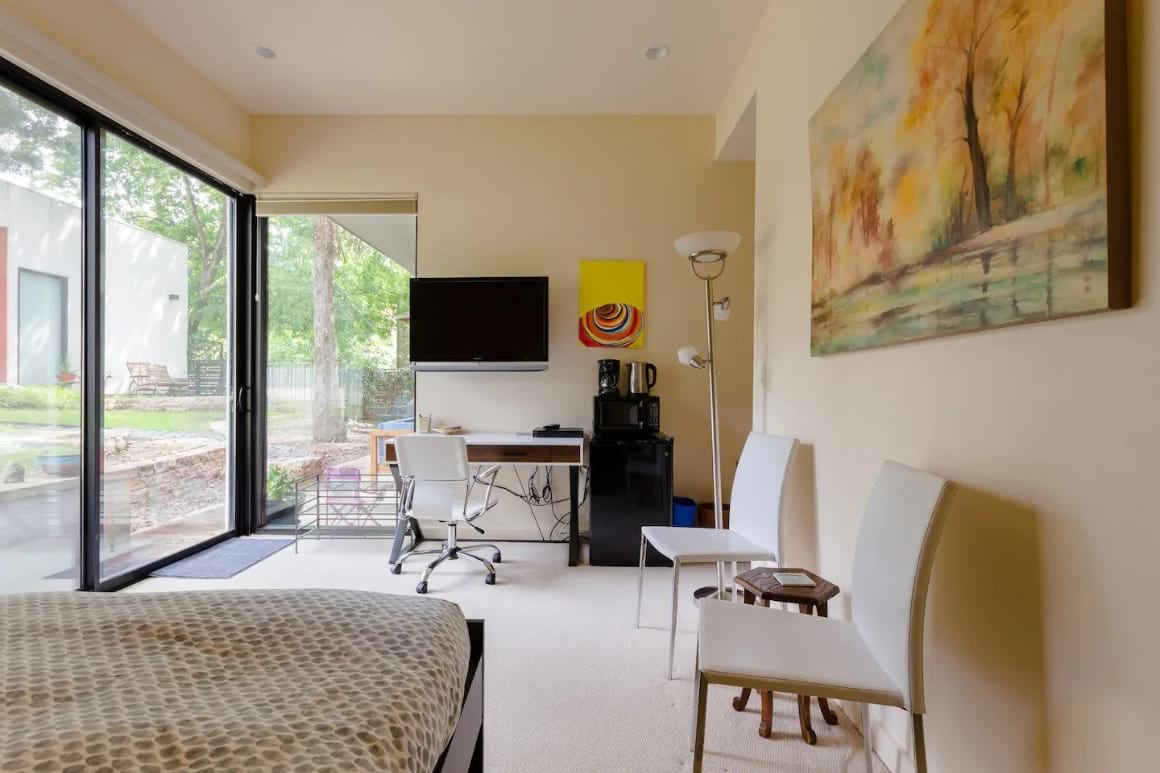 Looking out to a green and peaceful courtyard, you can relax in your private master bedroom after a big day exploring Austin.
Having your own room to kick back and relax will be an awesome change from endless dorm rooms. You will also have a desk and great Wi-Fi to get some work done, or to call home.
Make yourself a coffee, load up the mini-fridge, and head to the communal living spaces to hang with fellow guests. You will have a great balance between having your own space and mingling with other people.
When you want to head out, it's just moments from East 6 Street restaurants, Lady Bird Lake, and Festival Beach.
Is This the Best Travel Pack EVER???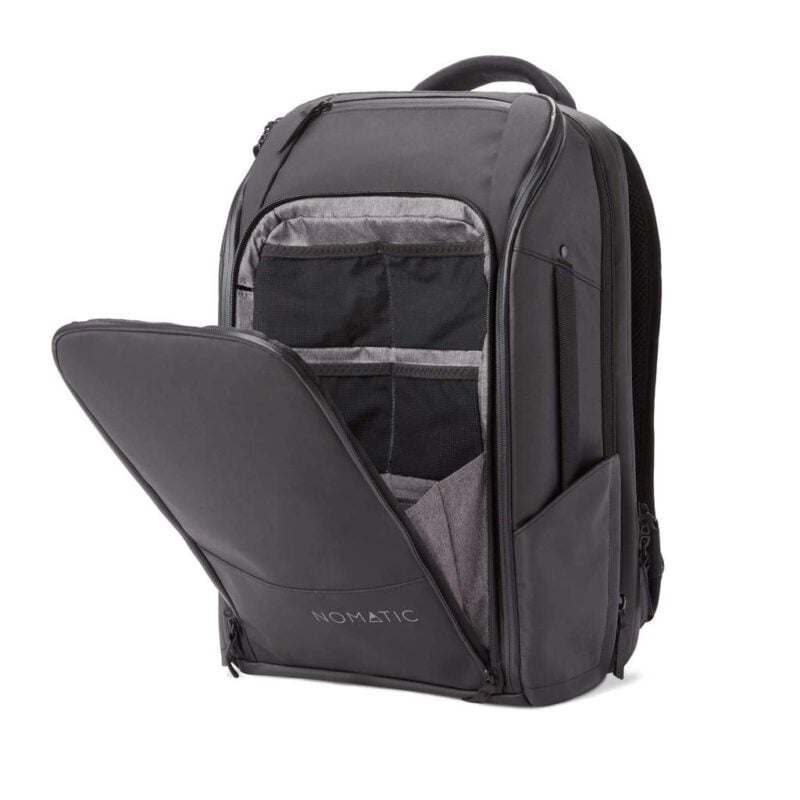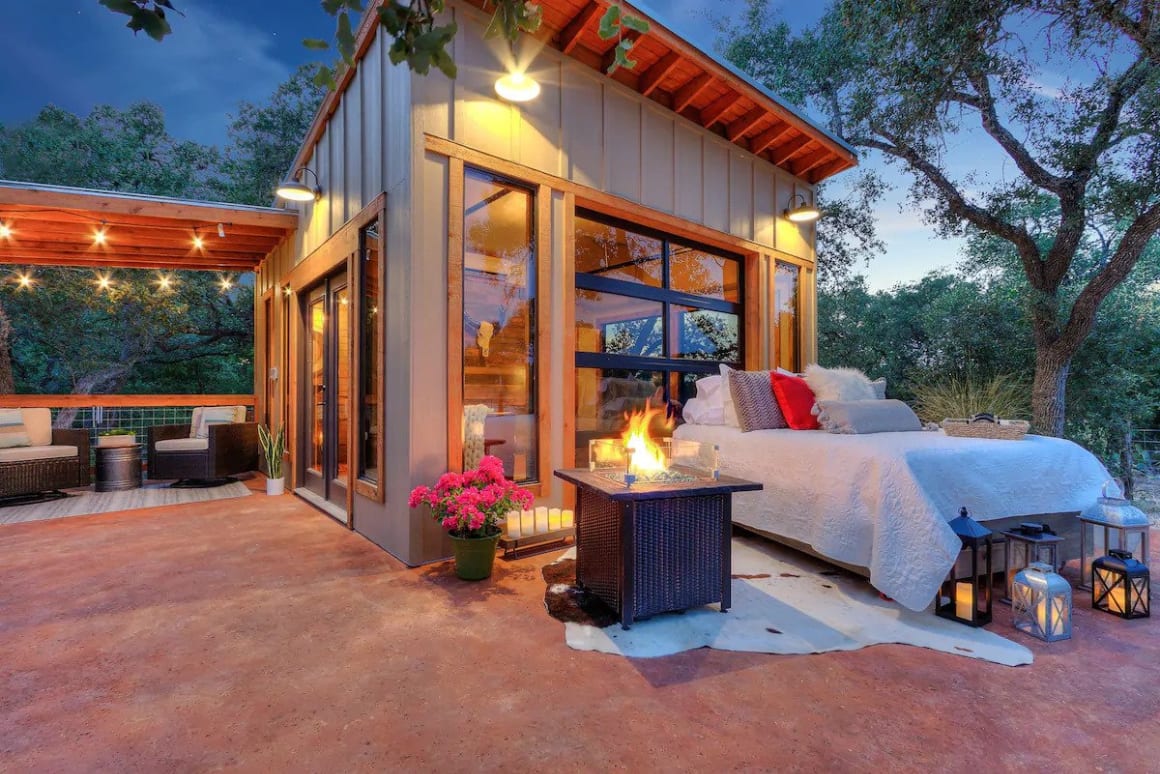 2 Guests
Romantic tiny home
Spend the nights inside surrounded by floor-to-ceiling windows, or roll your bed outside and sleep under the stars. This might just be the most romantic bed and breakfast in Texas.
Located in Texas Hill Country, surrounded by 72 acres of nature, the only noises you will hear are the birds and the rustling of leaves.
Only an hour from San Antonio, you will feel like you are on another planet as you light up the outdoor fireplace. Crack open a bottle of wine and work your way through the constellations as the stars come out.
When the sun comes up in the morning, enjoy a cup of coffee of the patio, and watch oranges and reds paint the horizon.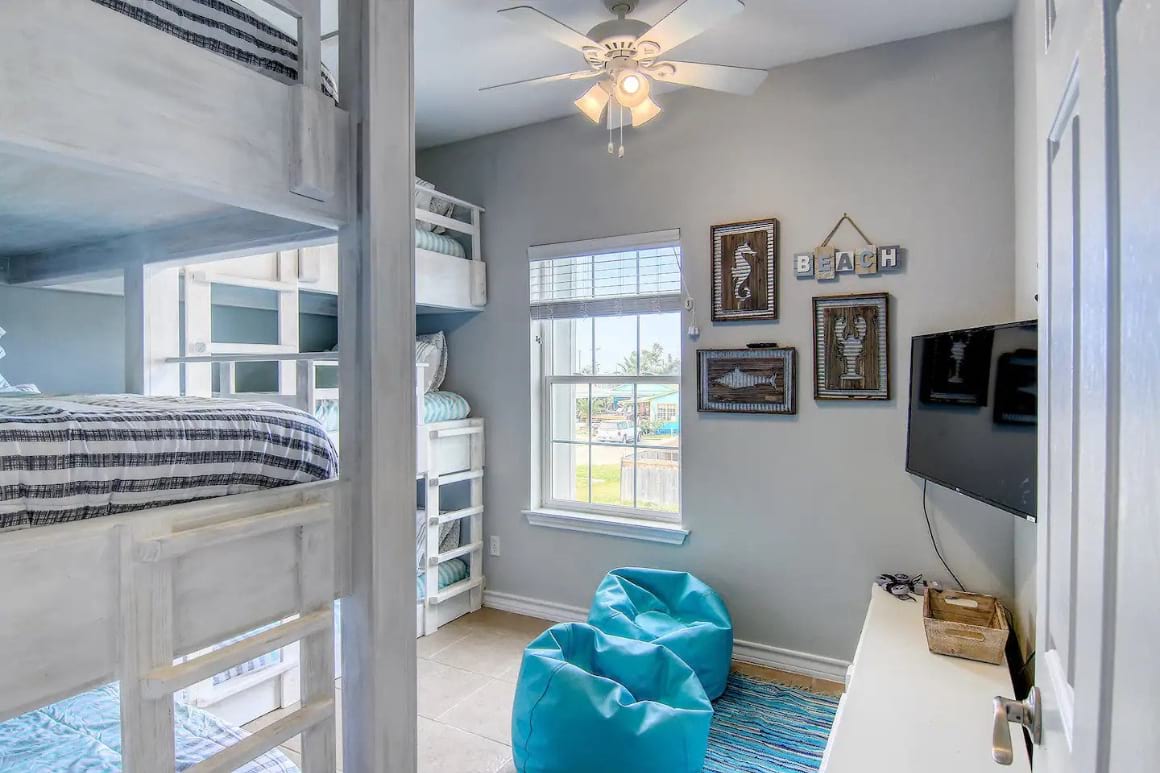 $$$
Multi-family vacation home
In sunny southern Texas you can stay at this wonderful beachside Airbnb. Perfect for families and children, with numerous bunkbeds, you can even bring along the cousins too!
This Airbnb in Texas has so much to offer families, including toys for the young ones to keep them entertained as the older folks enjoy the large patio.
Cook up a storm in a kitchen, and serve up delicious meals on the spacious dining table that has a spot for everyone.
When the suns out, it's time to head to the beach just a stone's throw away from your front door.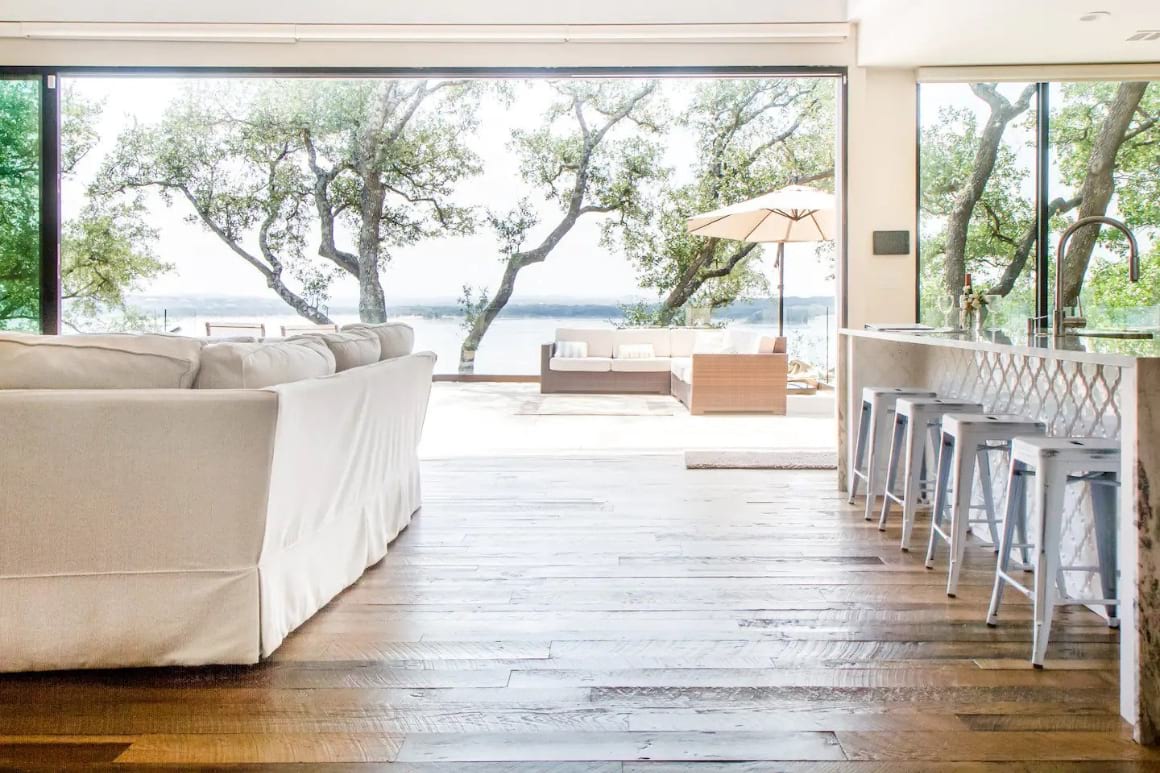 For insane luxury, it is hard to pass up this Airbnb in Texas. Located right on the edge of Lake Travis, wake up to stunning views of one of Texas' most popular natural playgrounds.
The beauty of this retreat speaks for itself with the amazing interior, furnished with gorgeous whites and wooden oak floors, it will quickly become your home away from home.
The huge patio and swimming pool area is perfect for entertaining guests, or hanging out with friends and family. There is also large lawns to explore and lounge, great for opening up your next book and having a read.
Once you're done admiring the views, walk down to the lake with access to your own private dock.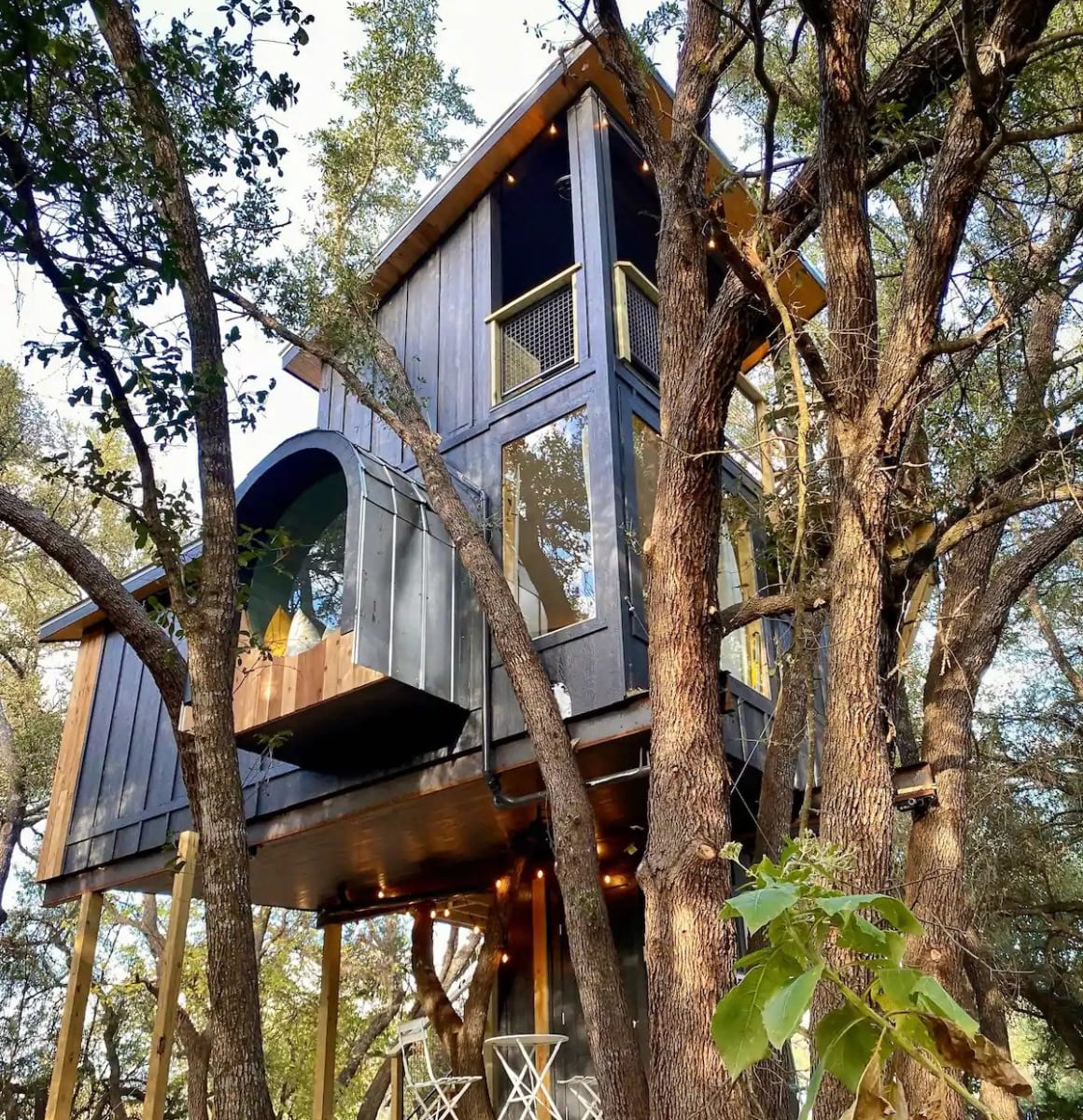 2 Guests
Natural surrounds
Have nothing to look at but the natural beauty of Texas at this treehouse Airbnb.
The sleek exterior makes way for a wonderful old-time cabin vibe – if that cabin also happened to be perched high up in the canopy.
Venture the winding staircase to the second floor, and lay down on the king bed looking out at the trees. Make yourself a nice drink in the well-stocked kitchenette and move over to the daybed for even better views.
Further up you will discover an outdoor bathtub, making this the ultimate tranquil treehouse retreat.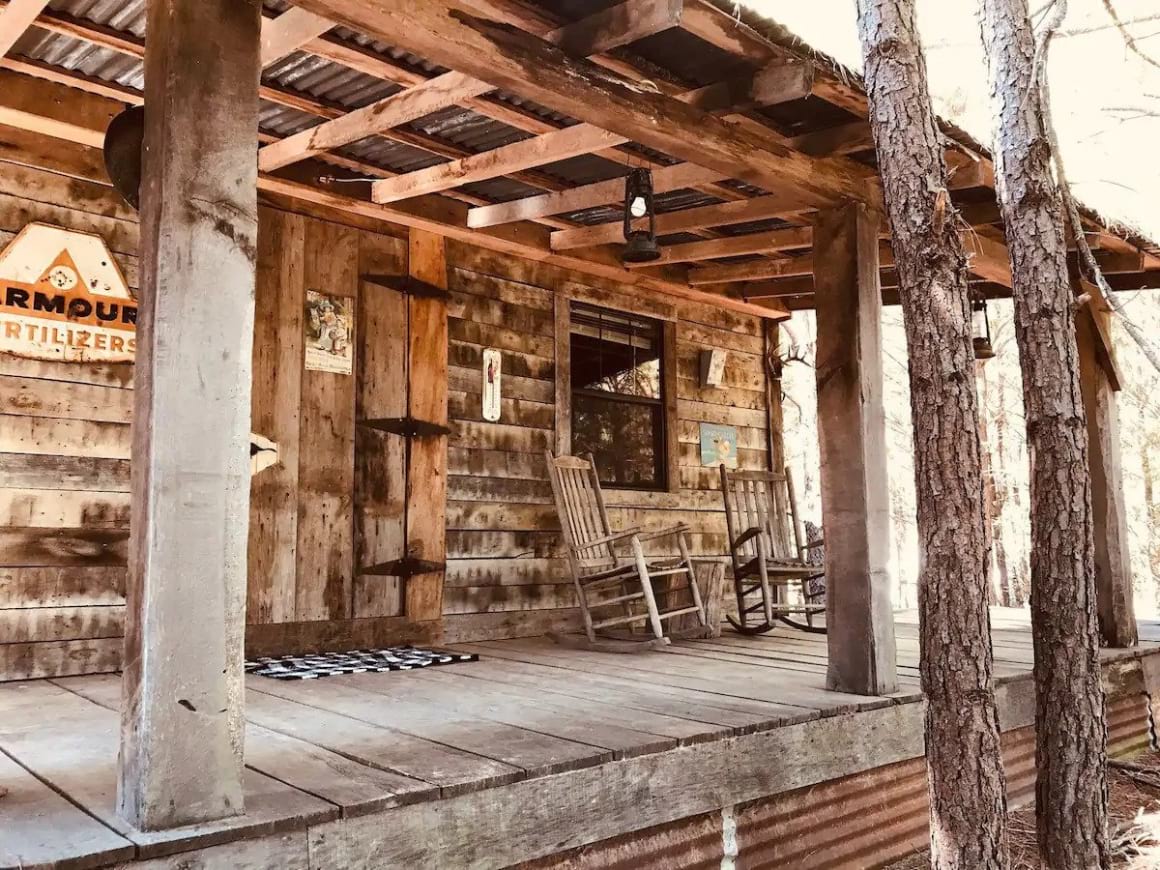 4 Guests
Canoes & pedal boats
So many of the best Airbnbs in Texas are of the cabin variety that you will have a great chance of experiencing the cabin life on your Texas adventure.
This cabin at Bluegill Lake really takes the cake. On a 22 acre property, it is a perfect place to have the peaceful country escape that you need.
Enjoy the private hot tub that looks out into nature and the fishing ponds, light up the fire pits each night, kick back with some good ol' bourbon, and make some s'mores.
Throughout the day you can explore the area, jump on a canoe, jon boat, or even move around the pond on a pedal boat.
Retreat to this enchanting tiny home Airbnb just minutes out of Weatherford, and close by to Fort Worth.
The tiny home experience is one everyone needs to live at some point on their travels. At this home there is a cozy living space, homemade baked goods on arrival, and a wonderful patio to enjoy the deep green forests.
Around the home, windflowers grow under the pergola that waits just for you. Sunsets lap the horizon every night, and in the winter you will even find a small lake.
Off the property, there are hiking, biking, and boating adventures nearby.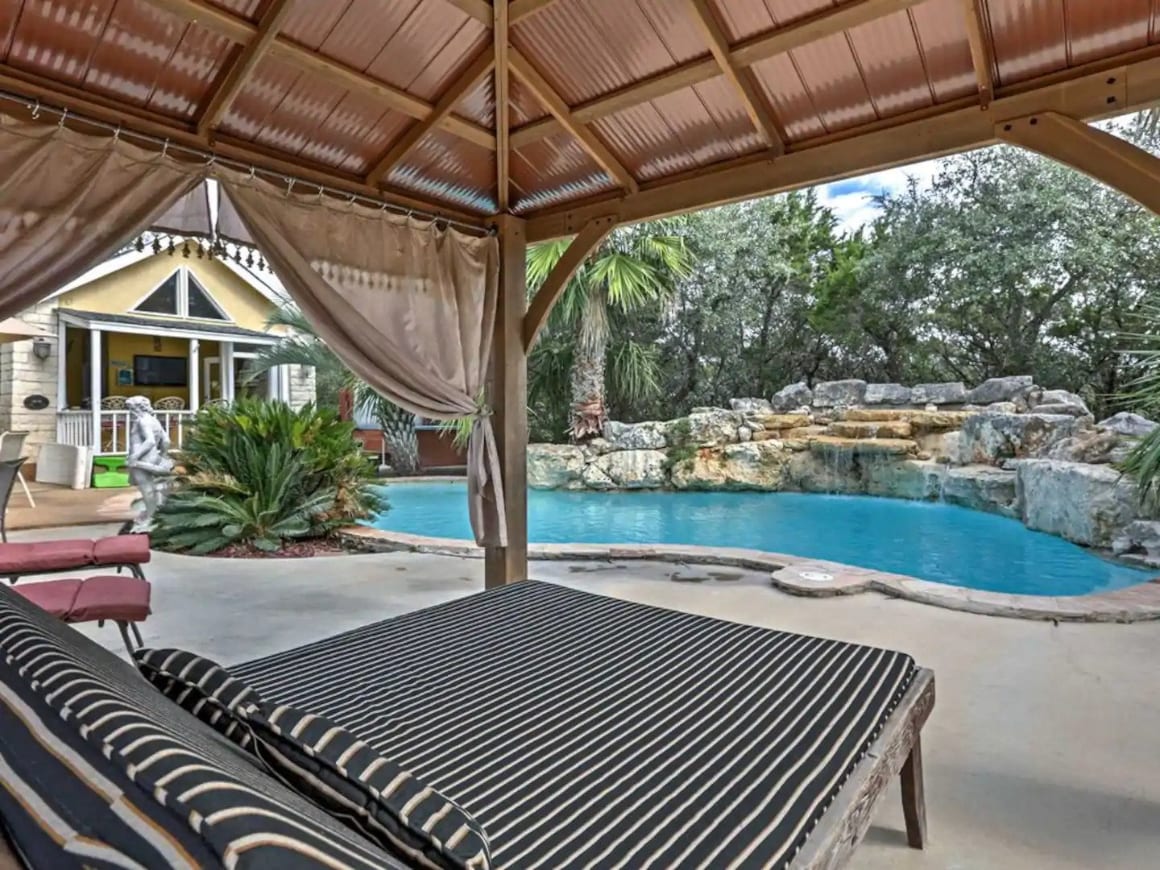 The best Airbnbs in Texas often come along with pools and hot tubs to make the most of the Lone Star State's excellent weather. This Airbnb is no different, enjoy resort-like amenities with a large on-site pool and a hot tub on the patio.
While the glass fire pit makes for a romantic evening with your partner, inside the home, there is a large entertinament center, indoor fireplace, and a steam room to relax in.
Aside from swimming, play a game of horsehoe or bocce on the home's grassy lawns.
At night, the pool space lights up so the fun can go all evening.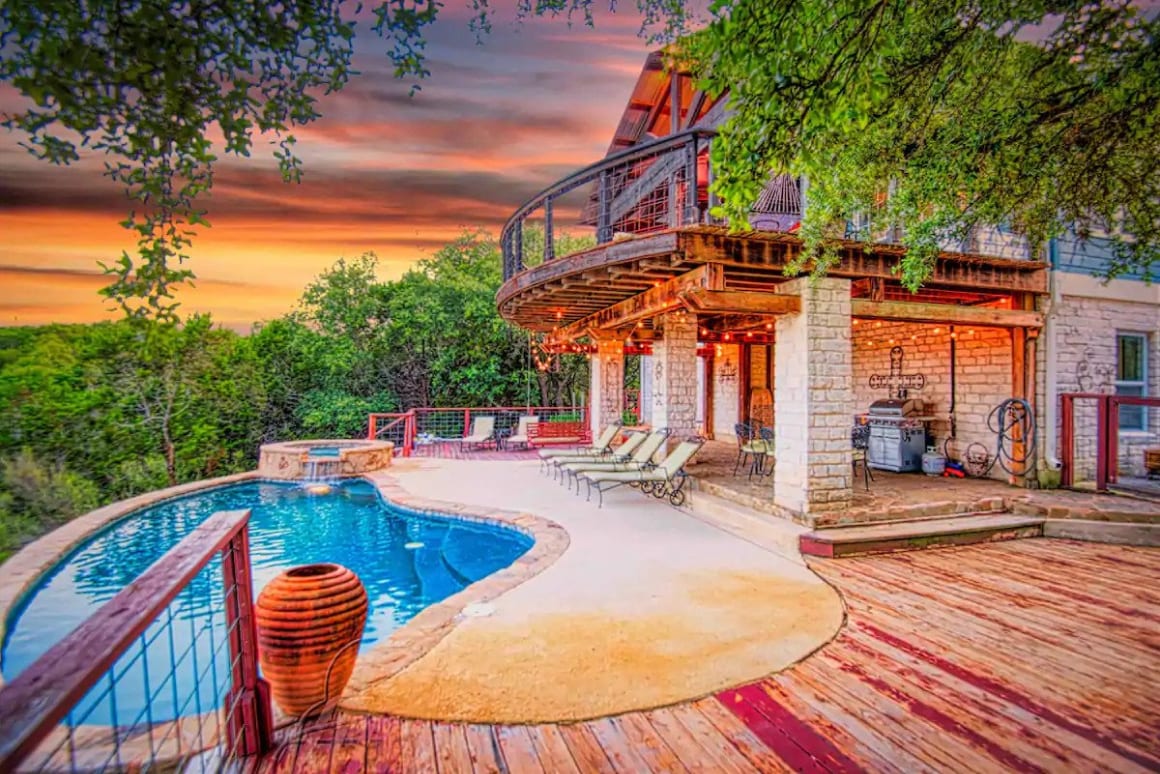 This massive Airbnb is a spacious lodge that can sleep up to 14 people.
Each night, enjoy dinner on one of two west facing decks and take in the bright orange sunsets.
The downstairs patio walks out to a cozy pool and spa area, another great place to nurse a cocktail and watch the sun go down.
On chilly nights, retreat to the huge living room area, play board games, and hang out with family and friends.
Just outside of Austin, you will have easy access to a city renowned for its entertainment and nightlife culture.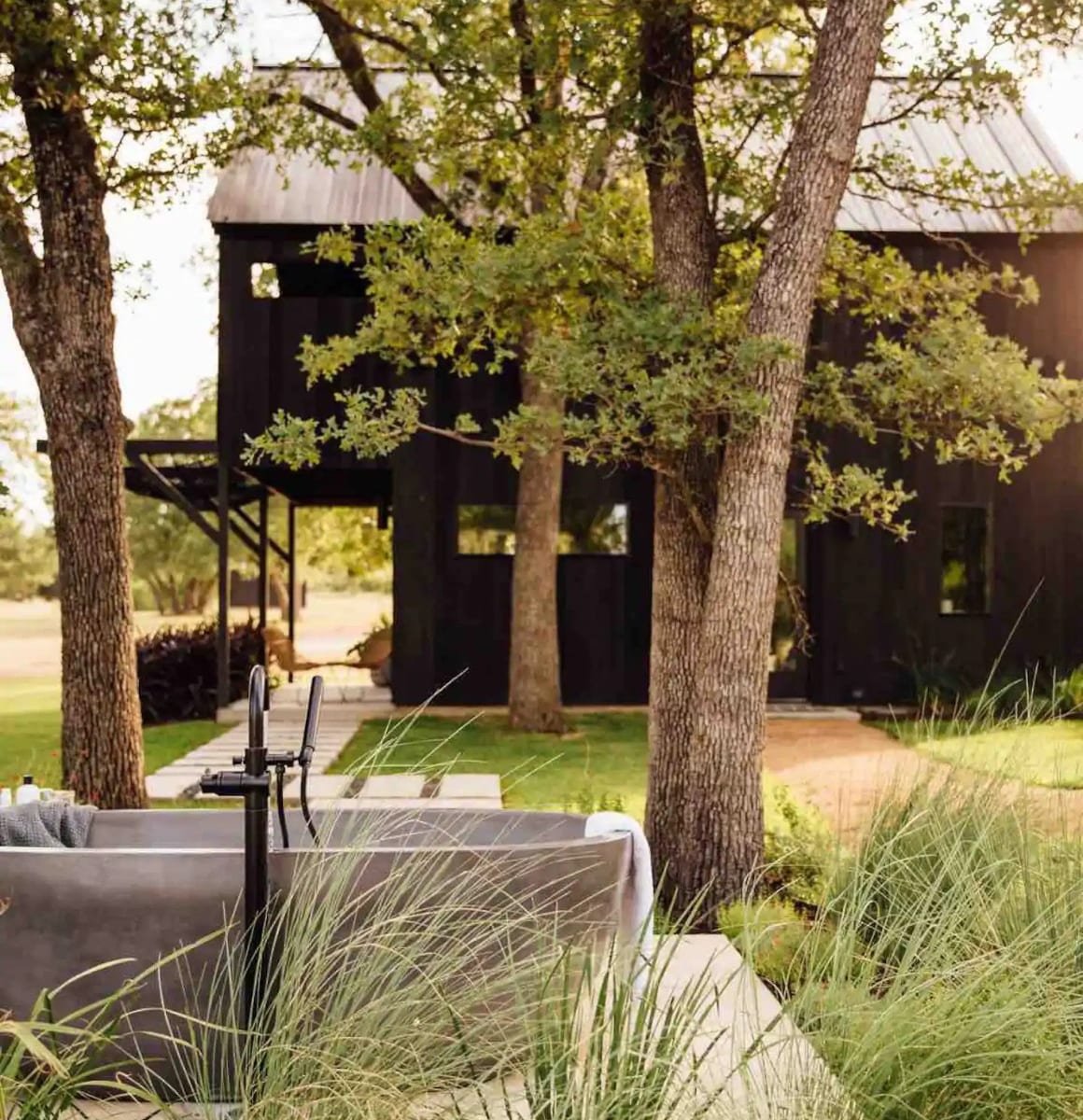 Just an hour out of Austin is the most beautiful Airbnb in Texas. You may have seen it scrolling Instagram –after all, it's famous for its hammock deck.
This one-of-a-kind experience is on a private gated ranch that immediately grants you private exclusivity.
Walk out of the bedroom onto the balcony, and then step onto the sprawling floating hammock. Look out to the rolling hills and green pastures, take in stunning sunsets and the cool evening breeze that floats through the Texas Hill Country.
In the morning, slowly wake up from the comfort of your king bed before wandering outside to bath in nature.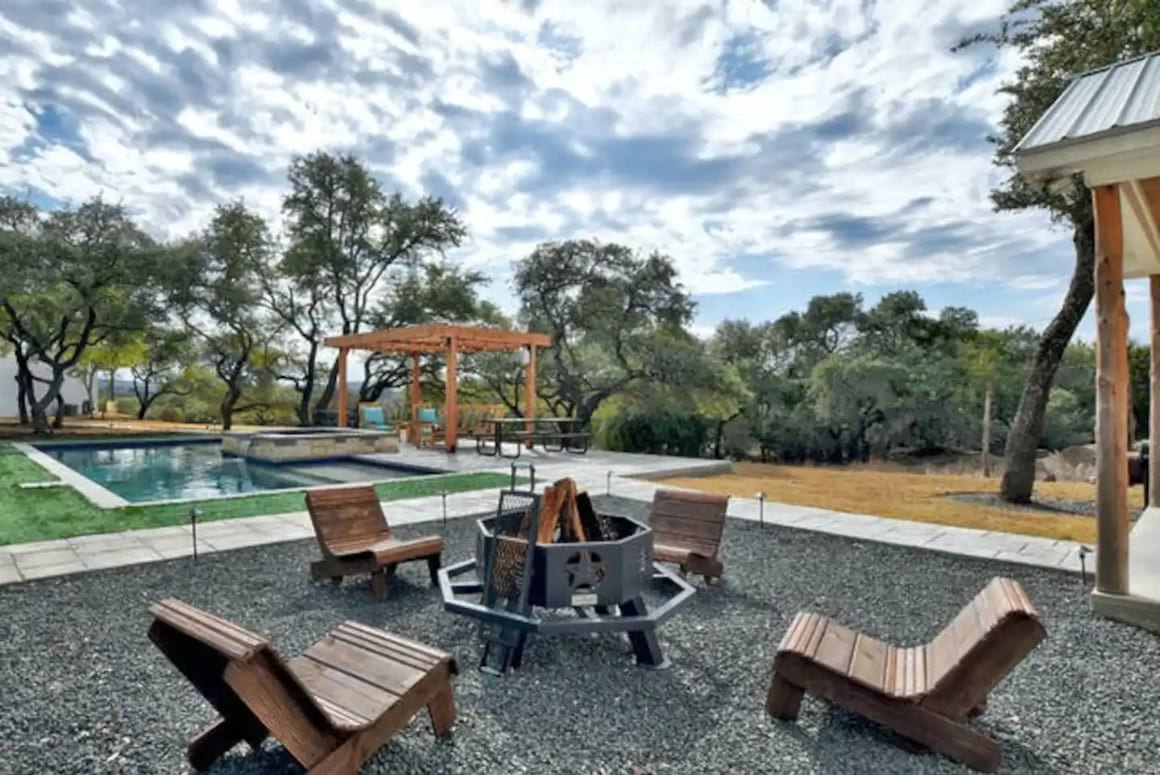 For an escape close to the fun in Austin, why not shack up with your buddies at this Airbnb?
During the day, explore the surrounding mountains and lakes with your friends. In the evening, head back and relax in the awesome outdoor space.
Light up the fire pit and retell the stories of the day or turn on the spa for a warm evening dip.
The beautiful white interior will be easy on the eyes every morning when you wake.
With quaint country charm which is ever-present during your stay, you can have a nice escape with friends far from the burdens of everyday life.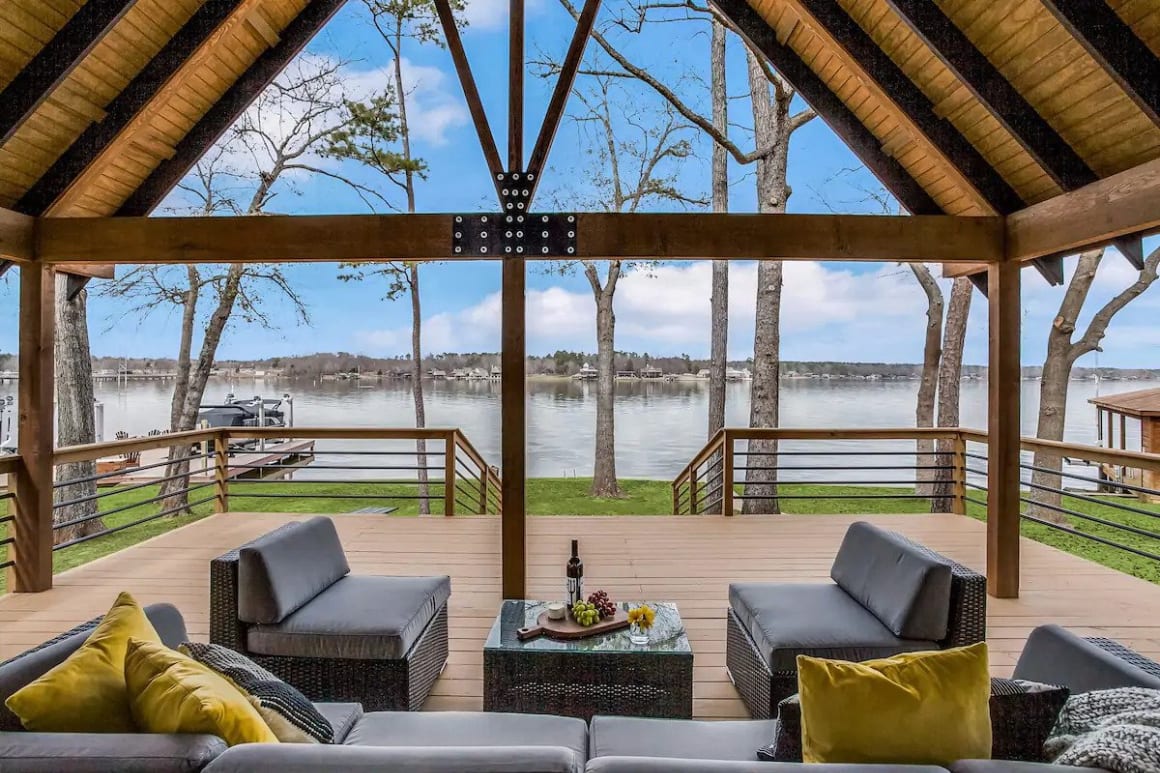 Gather ye, gather ye for an Airbnb in Texas that combines the beauty of lakeside living with the nostalgia of arcade games. This weird and wonderful combination will make for an amazing experience with your friends and family.
This newly renovated cabin in Cypress Springs has everything you need to feel at home in luxury.
Cook up a huge breakfast, head to the waterfront patio, and take in the morning's sights and sounds. When you are done with your lake activities, it is time to fire up the old school arcade games. Play Pac-Man, Frogger, and some 60 other games which will keep everyone busy throughout your stay.
When it comes to Airbnbs in Texas, it does not get more unique (and wonderfully weird) than this right here at Tin Valley Retro Rentals.
Come and discover a motor yacht that is stranded in the Texan desert – have a boat experience without even needing the ocean!
Each night, enjoy some of the best stargazing in the state and pretend you are floating along the Pacific Coast.
With lots of privacy, enjoy the fire pit and the charcoal grill in the evening while your friends can tent up next door.
To take the experience to a whole new level, this Airbnb happens to be clothing optional.
Top 5 Airbnb Experiences in Texas
Airbnb Experiences exist to help you really enjoy everything your location has to offer. These experiences are created and run by locals who know the area, town, or city as well as anybody.
The best part is, you don't even have to stay at an Airbnb to participate in these experiences.
As you can see below, these tours and activities take you into a variety of settings and provide a personal touch to your adventure.
With the help of your friendly guide or host, you can immerse yourself into the local life, visit hidden gems and delicious restaurants. Alternatively, find yourself in incredible nature that is often overshadowed by the more famous national parks.
The experiences can last for a few hours up to a whole day and will give you wonderful, unique insight into your destination.
$49 p/p
2.5 Hours
Up to 10 people
Equipment included
When in wonderful Austin, Texas, you may have heard about the 1.5 million bats that fly through the sky every evening.
Don't let this scare you off – there is a reason this is one of the best Airbnb experiences in Texas.
Jump onto the oversized paddle boards that can carry multiple people – float along the water and enjoy amazing views of downtown Austin.
Watch the sunset paint the sky, then sit back and witness the mass movement of bats.
Finish the night paddling under the city lights that guide you home.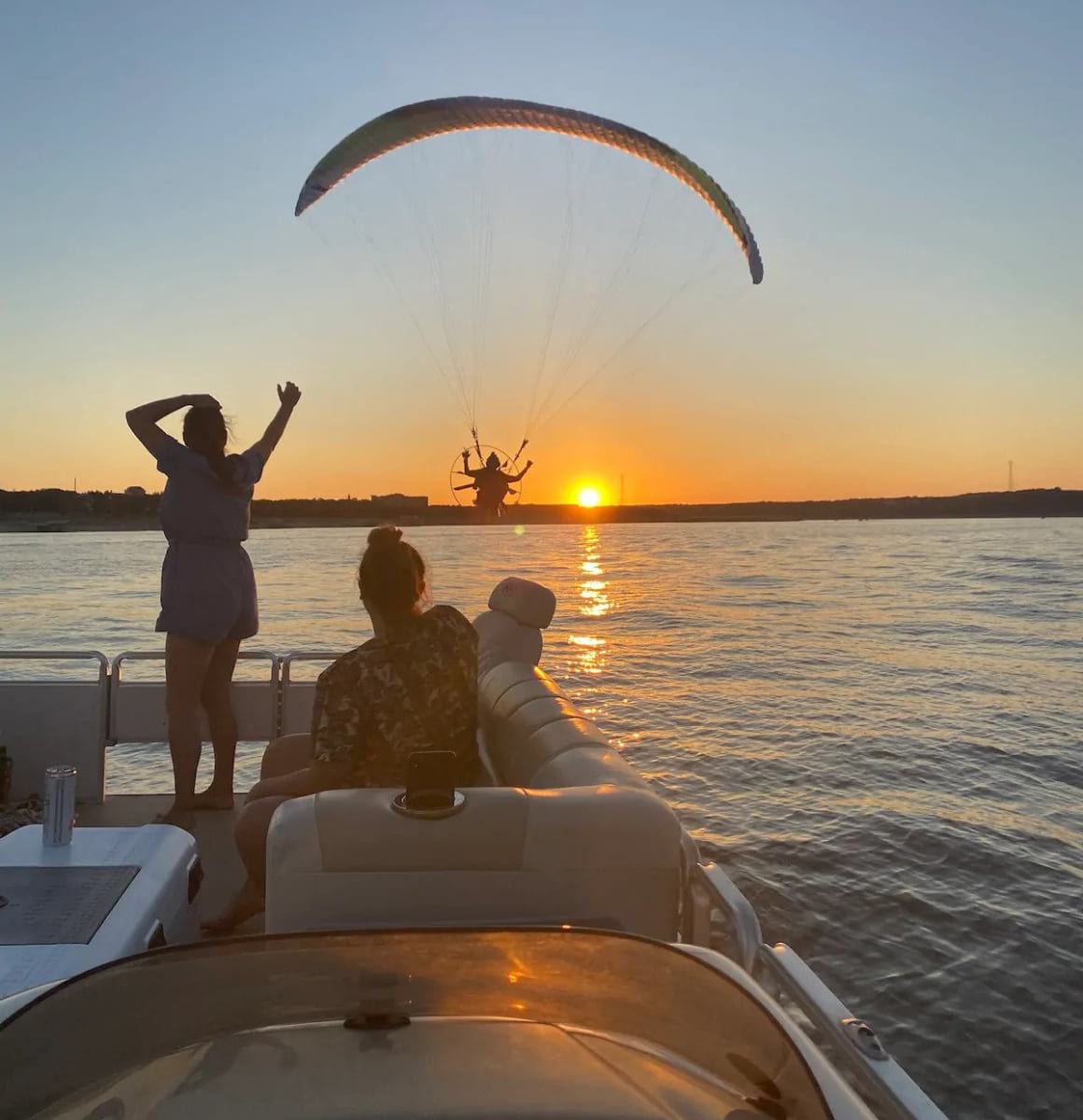 $50 p/p
3 Hours
Up to 10 people
Drinks provided
Head down to Lake Travis and enjoy a day on one of the largest lakes in Texas.
Surrounded by beautiful scenery, easy cruising, and clean swimming, it is no wonder Lake Travis is so popular.
Get on your own boat and be expertly guided around the lake visiting big cliffs, landmarks, and cruise by beautiful lakeside homes.
At Devil's Cove you will drop anchor, and you can float in the water for over an hour. Enjoy some refreshments or bring your own.
Activities can be customized based on the group, and they specialize in family trips and parties.
If you like water sports, consider heading over to Corpus Christi for a few days of windsurfing. There's tons of great attractions in Corpus Christi worth exploring.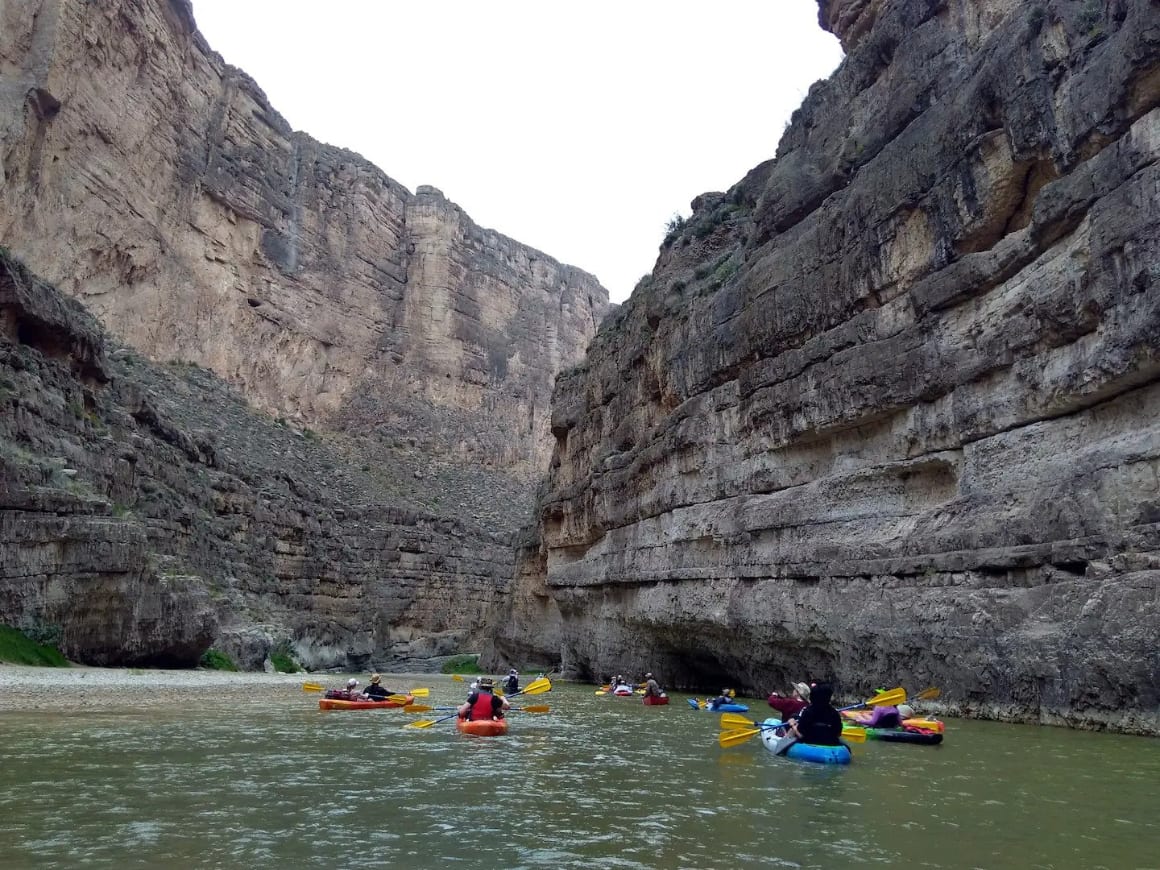 $150 p/p
7 Hours
Up to 10 people
Includes equipment
Come and see the amazing Rio Grande on possibly the most scenic Texas Airbnb experience. With the expertise of your qualified guides, you can easily navigate the river.
The Rio Grande is only a Class I which makes it perfect for beginners, and fun for large groups after a social adventure.
Depending on the water levels, you can raft, canoe, or kayak. Canoes are particularly handy if you have young kids.
Chuck your lunch in the cooler box provided, and prepare for an epic journey down the amazing Rio Grande.
$110 p/p
3 Hours
Up to 10 people
On historic Main St
Enjoy a three-hour walking tour, or casual stroll as your guide would say, through historic Grapevine.
As you wander down Main Street, which has so many stories to tell, you will visit five different tasting locations.
These include local restaurants and specialty shops that are ready to provide the town's best food, wines, and spirits.
Along the way, your guide will share the fascinating history of Grapevine, along with its culture and gorgeous architecture.
$40 p/p
2.5 Hours
Up to 6 people
Includes transport
Make your way through Dallas and experience the nightlife like a local.
Over two and a half hours, your guide will give you the VIP treatment as you visit some of the city's best speakeasy bars.
At each of the three bars, you will have the chance to enjoy a delightful drink from experienced bartenders.
One of the speakeasies is even a password-required venue that is famous for its underground cocktails and appetizers.
As you hit up each spot, your guide will elaborate of the exciting hitory of each area. Just remember to pick up a great place to stay before you go!
Don't Forget Your Texas Travel Insurance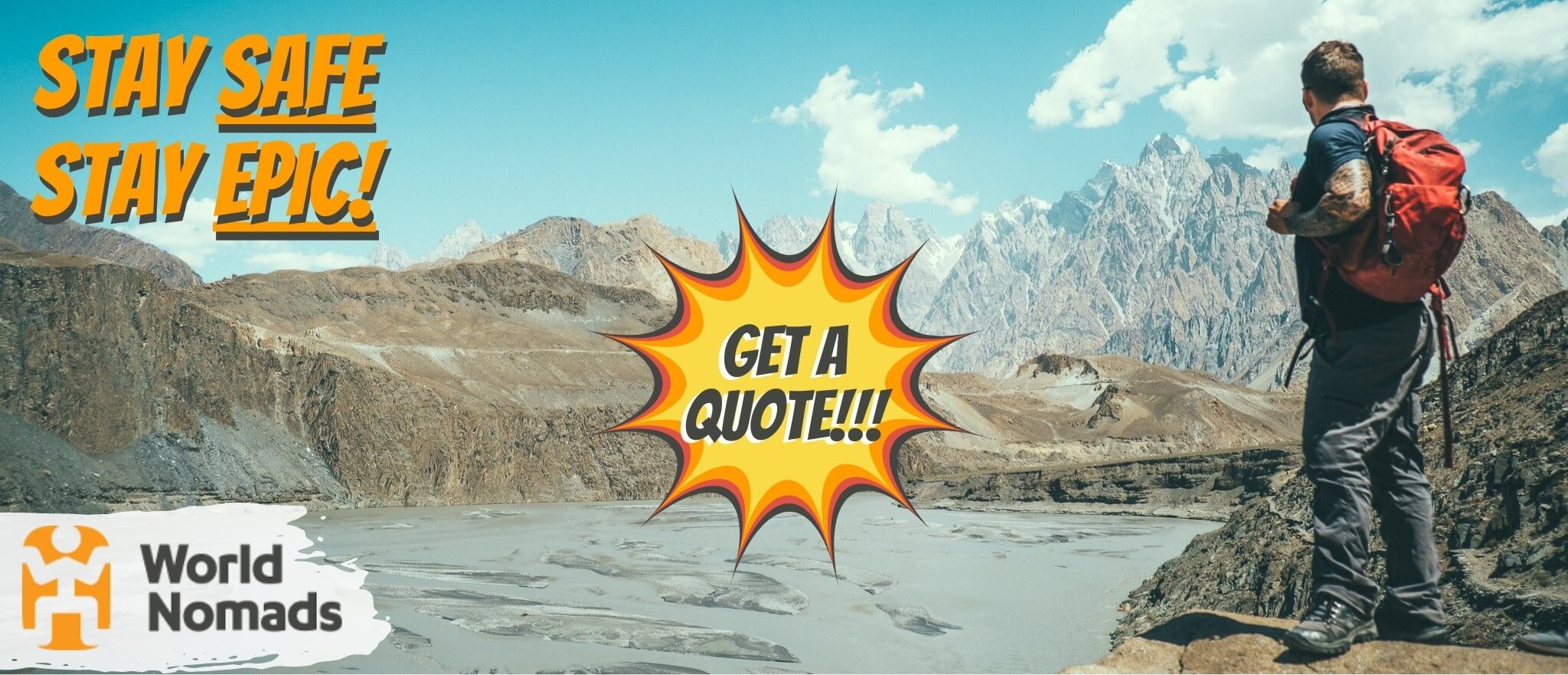 World Nomads' mission is to support and encourage travellers to explore their boundaries. They offer simple & flexible travel insurance, and safety advice to help you travel confidently.
They've been doing it since 2002 – protecting, connecting, and inspiring independent travellers just like you.
Get a quote below or read our in-depth review!
World Nomads provides travel insurance for travelers in over 100 countries. As an affiliate, we receive a fee when you get a quote from World Nomads using this link. We do not represent World Nomads. This is information only and not a recommendation to buy travel insurance.
Final Thoughts on Texas Airbnbs
I guess it is true what they say – that everything is bigger in Texas. Home to unique and bold Airbnbs, you will have plenty of opportunities to stay in unforgettable places.
From treehouses to cabins, landlocked yachts to tiny homes, you are spoiled for choice of Airbnbs in Texas.
You will find yourself as close to exciting cities as you are to the bliss of quiet nature.
Texans are passionate about their home state which is evident in the varied experiences that they are offering. There's no doubt that their passion will come through on their tours and adventures which will make your trip a memorable one.
---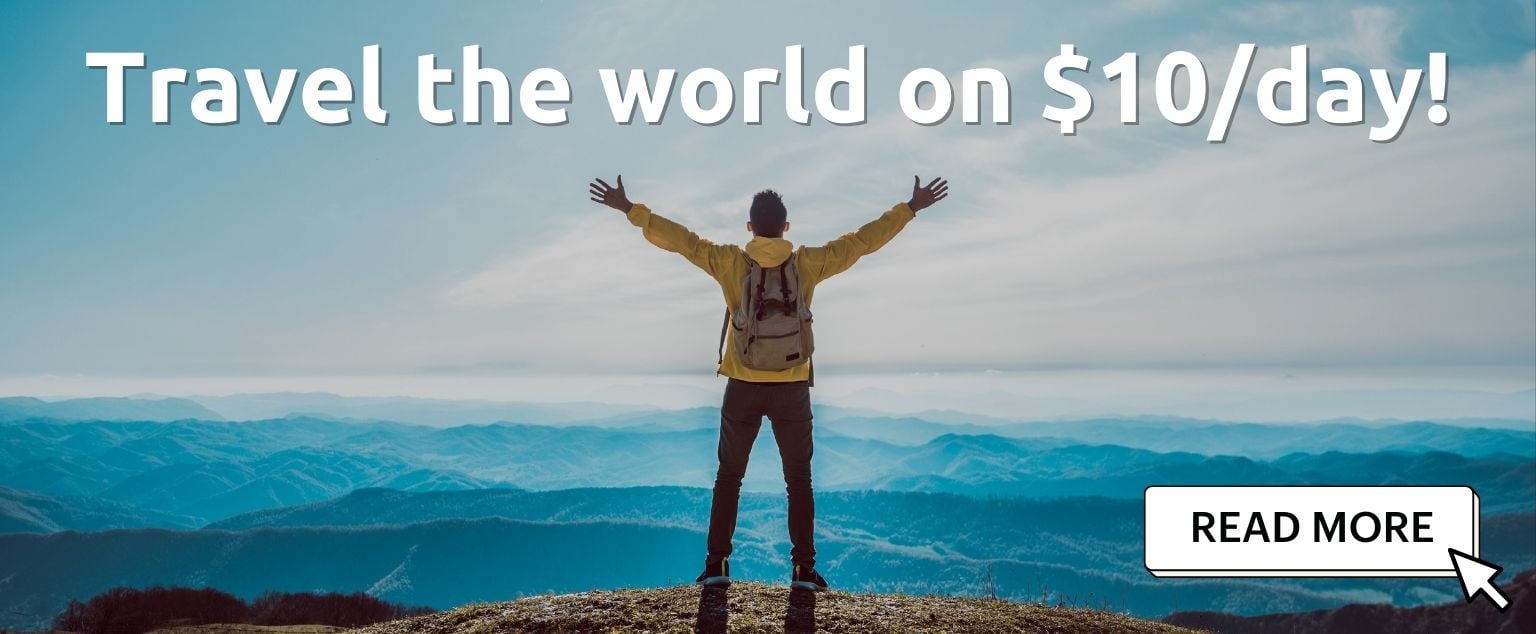 And for transparency's sake, please know that some of the links in our content are affiliate links. That means that if you book your accommodation, buy your gear, or sort your insurance through our link, we earn a small commission (at no extra cost to you). That said, we only link to the gear we trust and never recommend services we don't believe are up to scratch. Again, thank you!