A destination replete with lush coastlines, charming medieval villages, and quaint rolling countryside, Kent is one of the most stunning counties in England. Not to mention the oldest.
It should come as no surprise that there is a bounty of things to do in Kent. It's home to some of the country's most ancient castles and Medieval landmarks, and it's often referred to as the 'Garden of England' due to its picturesque orchards and gorgeously manicured gardens.
Kent also has a mild climate, making it a great year-round place to visit in the UK. Summer draws tons of tourists and locals alike to its coastlines while winter sees frost-topped castles illuminated in festive cheer and mulled wine on just about every corner.
Regardless of when you're visiting, Kent has a fairytale-like quality to it that must be seen to be believed. If you thinking of visiting Kent, but you're not sure what to do, then allow me to introduce to you the best attractions in Kent, from popular spots to hidden gems…

Unlock Our GREATEST Travel Secrets!
Sign up for our newsletter and get the best travel tips delivered right to your inbox.
The Top Things to Do in Kent
Backpacking the UK and don't have much time? I can help with that! Whether you're just passing through or simply want to soak up the best sights in less time, here are the absolute must-dos that should feature at the top of your itinerary.
Towering majestically over the White Cliffs, Dover Castle is something of a Medieval icon in Britain. Dating all the way back to the 11th century, this landmark attracts hoards of tourists each year so it's a good idea to head there early if you want to avoid the crowds.
Step into the palatial interior to see where Henry II used to live. Potter about in the armories, kitchen, great hall, and even the king's private chambers while taking in that distinctive medieval court atmosphere. Remember to keep your eyes peeled for the lifelike hologram figures dispersed throughout the place.
As you explore Dover Castle, be sure to check out the secret wartime tunnels where you'll even be able to witness a rescue operation.
Entrance fee: $25.26
Hours: 10 a.m. to 5 p.m. (last admission 3 p.m.)
Address: Castle Hill Rd., Dover CT16 1HU, UK
2. Hike the Viking Trail
Travelers looking for outdoorsy activities in Kent will no doubt be thrilled by a visit to the Viking Coastal Trail.
Stretching across 32 miles, this circular, multi-use leisure route starts off at Reculver and passes through three coastal villages to end at Pegwell Bay which is where the Vikings first landed.
While most cyclists can cover the entire trail in a day, I would strongly suggest that you break up your cycling expedition with various stops along the way since there's plenty to explore.
In addition to the many beaches dotted throughout, you'll also find historic sites like the Roman ruins of Reculver.
First-time visitors may wish to download a copy of the route before hitting the trail.
Entrance fee: Free
Hours: N/A
Address: Isle of Thanet, Kent, UK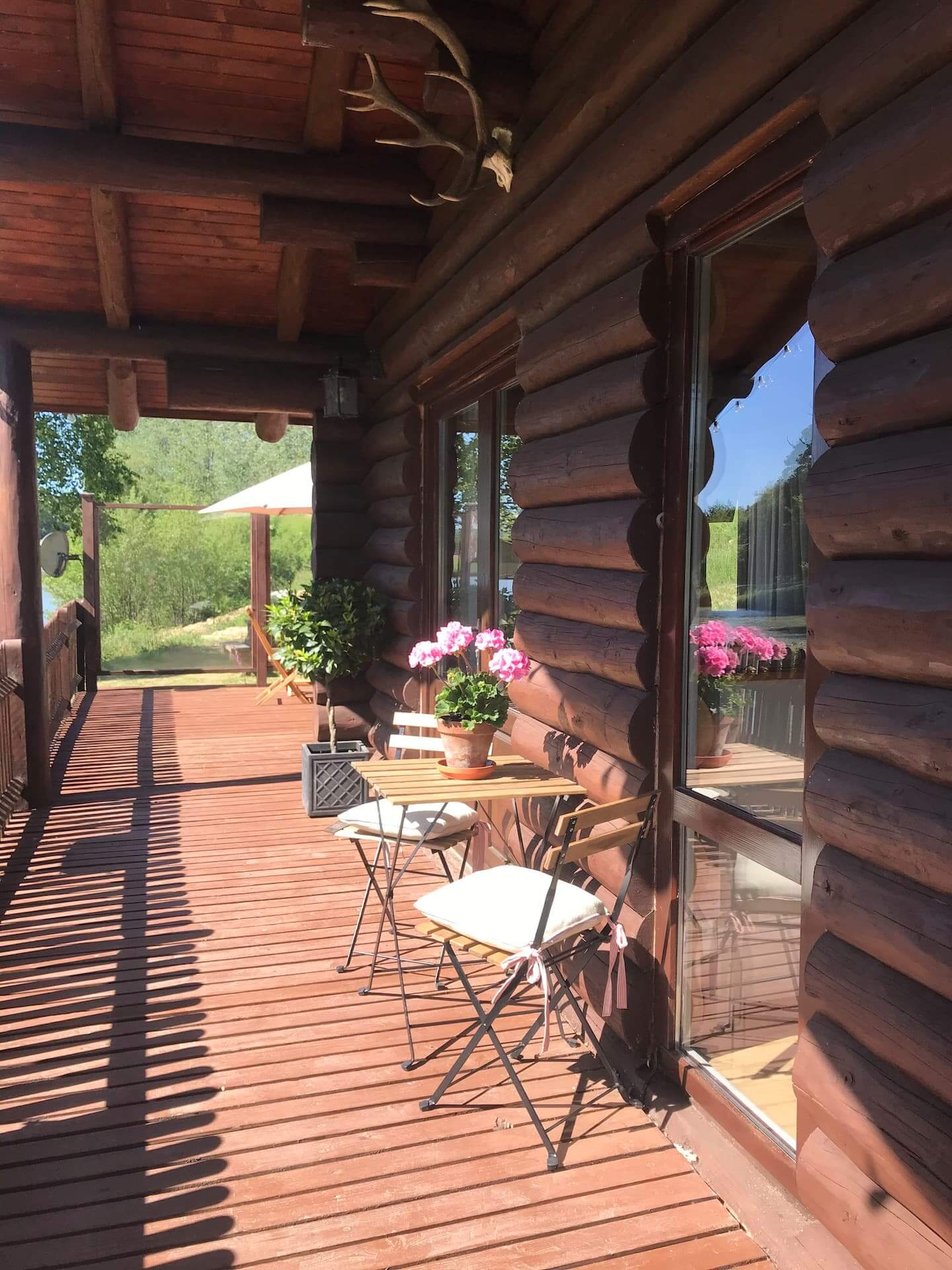 One of the best ways to experience the best nature of Kent is to stay right in it. Opt to stay in a truly idyllic traditional log cabin for two.
Not only will you be right by the lake, but you'll also be on a working farm – perfect for those who want some respite from the hustle and bustle of the city!
Surrounded by lush woodlands, this Airbnb has private screened decking and a barbecue area that you can put to good use during warmer months.
With one bedroom, the cabin boasts a well-equipped kitchen, complete with complimentary milk, coffee, and tea. There's no Wi-Fi, but rest assured that you'll find plenty to do nearby since attractions like Scotney Castle and Bewl Water lie within easy reach.
Entrance fee: $126/night
Hours: Check-in between 2 p.m. and 8 p.m., Check-out at 11 a.m.
Address: Lamberhurst, Kent, UK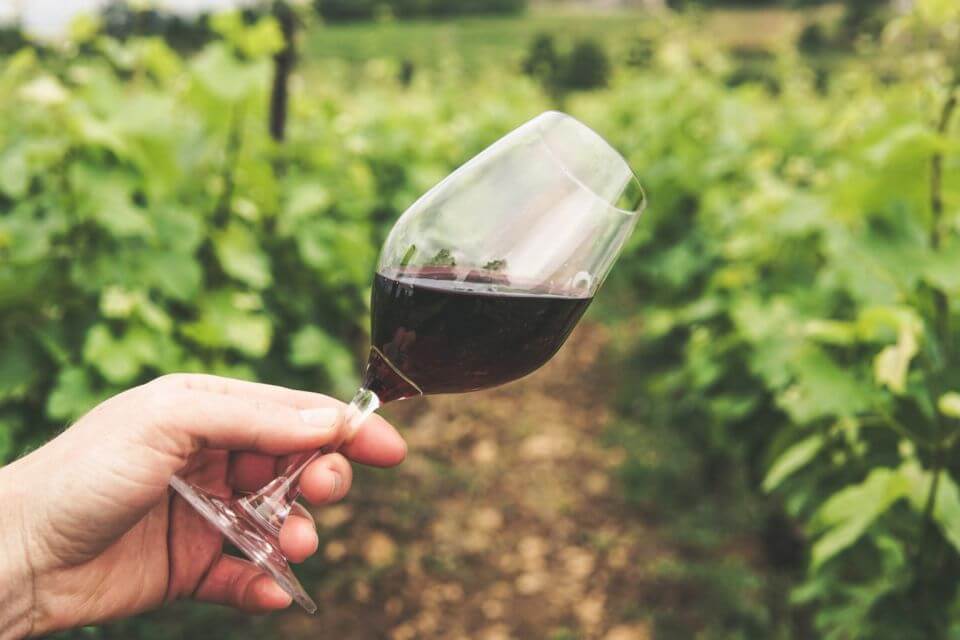 Wondering what to do in Kent on a beautiful summer's day? How about checking out the area's wineries?
I know that Kent doesn't exactly spring to mind when one thinks of fine wine, but a little-known fact is that both Kent and nearby Sussex have a great wine scene.
You can spend a day wandering the English countryside while exploring two or three wine estates to learn more about the winemaking process. Afterward, you may wish to enjoy a relaxing stroll through the vineyard.
Of course, it wouldn't be a proper wine experience without a sampling session, so you'll also be treated to different types of English wines.
Oh, and did I mention lunch is provided at one of the vineyards?
Entrance fee: $139.13
Hours: Dependent on tour
Address: Pickup from local train stations
5. Check Out Leeds Castle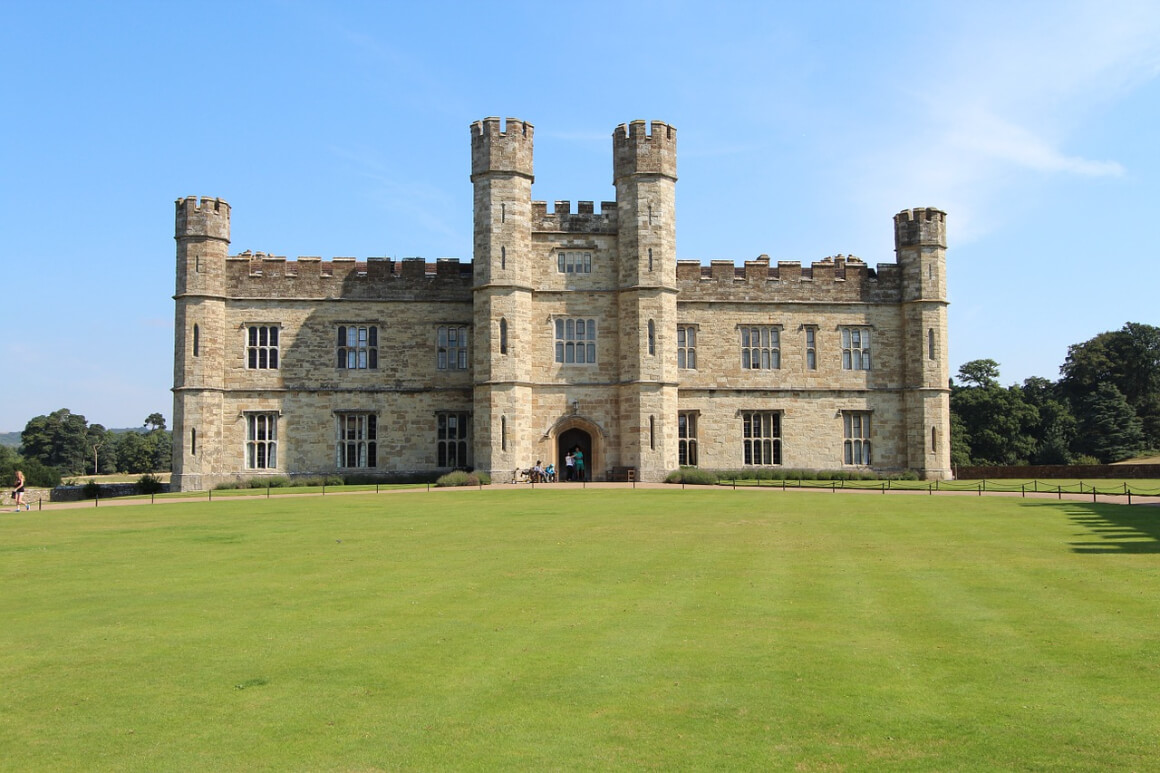 While it's often overlooked in favor of Dover Castle, I do believe that Leeds Castle should also feature on your list of things to explore in Kent. Expect moats, mazes, gardens, rivers, the works!
Brimming with history, this castle dates all the way back to the 9th century and a visit offers endless opportunities to step back into the past. A former Norman stronghold, this property once housed Henry VIII, his first wife, and other Medieval queens.
Families can take advantage of regular events like craft shows, markets, and Medieval festivals. In July, you'll also be privy to the annual Leeds Castle Concert.
You can also pack a picnic to enjoy on the gorgeous grounds that surround the castle.
Entrance fee: $34 (adult), $24.36 (children)
Hours: 10 a.m. to 5 p.m.
Address: Broomfield, Maidstone ME17 1PL, UK
6. Be Wowed by the White Cliffs of Dover
There are heaps of nature things to do in Kent, and the White Cliffs are just one of the many outdoorsy attractions that beckon on the outskirts of the city.
Facing France and the Strait of Dover, these cliffs are quite a sight to behold indeed, with their white-chalk façade looming over the ocean.
Now, there are plenty of ways to properly explore the cliffs: you can simply meander the trail network or view it from a ferry. If you're not on a budget, you can even consider booking a Heritage Spitfire airplane tour.
Don't miss a visit to the White Cliffs Visitor Center and Coffee Shop where you can have a cuppa while gazing out at The Channel.
Entrance fee: Free ($5.80/car parking fees)
Hours: 7 a.m. to 7 p.m. (Car park), 10 a.m. to 7 p.m. (Café)
Address: Langdon Cliffs, Dover, Kent, UK
Small Pack Problems? 😉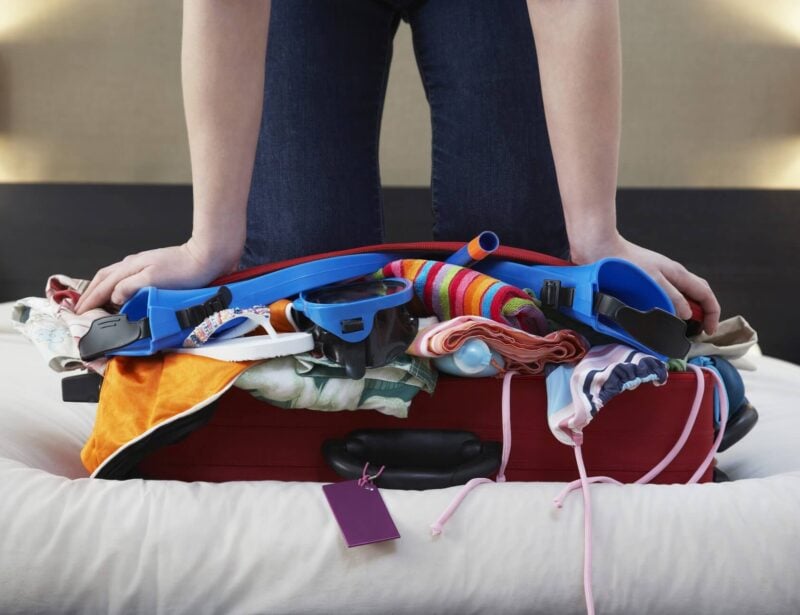 My missus travels with all her clothes in ziplock bags: don't be like my missus. UP YOUR PACKING GAME!
Packing cubes for the globetrotters and compression sacks for the real adventurers – these babies are a traveller's best kept secret. They organise yo' packing and minimise its volume too so you can pack MORE.
Or, y'know… you can stick to ziplock bags.
View Our Fave Cubes
Or Check Out the Sacks!
7. Take in Naval History at Chatham
A lovely town nestled in the Medway, Chatham is particularly famous for its Historic Dockyard where you can actually board various heritage ships like the HMS Gannet.
Step into the very heart of English naval history as you immerse yourself in the 'Age of Sail', a period that saw some of Britain's mightiest fleets commanding the oceans. Have a peek through a naval submarine's periscope, potter about a WWII Destroyer's bridge, and don't leave without ringing the bell aboard a Victorian Sloop.
Chatham offers various attractions that you can explore after visiting the dockyard, such as Buckmore Park, the Copper Rivet Distillery, and Fort Amherst.
Incidentally, did you know that Charles Dickens once lived and wrote in Chatham?
Entrance fee: $30 (Adult), $19.20 (Child), $82.50 (Family with 2 adults and up to 4 children)
Hours: 10 a.m. to 5 p.m.
Address: Main Gate Rd, Chatham ME4 4TZ, UK
8. Relax at Mote Park
If you're looking for the best free things to do in Kent, you really can't go wrong with a visit to Mote Park!
Looking like something that's been plucked straight off the back of a postcard, this incredibly beautiful park is brimming with a medley of activities.
Whether you want to spread out a blanket and relax with a good book under the shade of a towering tree, watch the over-wintering birds, kayak on the lake, or traipse about in the woodland, you'll certainly find plenty to keep you entertained for an afternoon.
Train enthusiasts will undoubtedly be delighted by the model railway that runs every Sunday and you can easily catch a ride for a nominal fee ($0.35).
Entrance fee: Free
Hours: 8 a.m. to 8 p.m. (11 p.m. on Saturdays)
Address: Mote Ave, Maidstone ME15 7RN, UK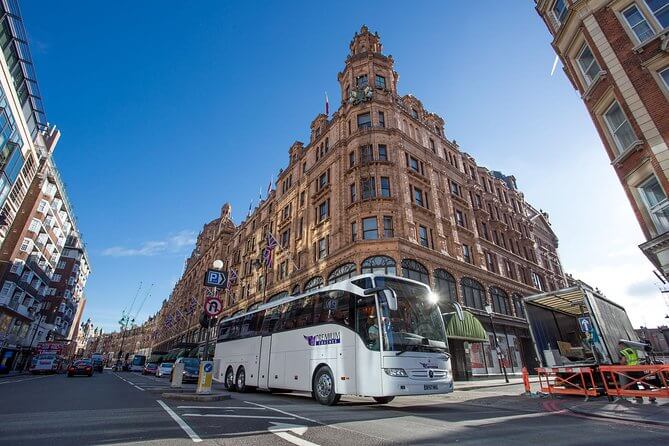 Okay, since London and all its exciting attractions lie just over an hour from Kent, it really warrants a day trip, don't you think?
If you're a first-time visitor to this exceptionally eclectic city, it may be best to opt for a full-day sightseeing experience that'll help you cover more ground in less time. See all iconic landmarks like Westminster Abbey and Paul's Cathedral up close and watch the Changing of the Guard at Buckingham Palace.
Conclude your day with a River Thames sightseeing cruise and fuel up with an optional cream tea at Harrods.
Now, if you'd like to stay overnight, rest assured that London has plenty of cool hostels where you can crash without breaking the bank!
Entrance fee: $133.21 (as from $7.33 for a one-way train ticket from Kent)
Hours: 7.45 a.m. to 4.45 p.m.
Address: Victoria Coach Station, 164 Buckingham Palace Rd, London SW1W 9TP, UK
10. Enjoy Deal's Chippies
Travelers looking for things to do in Kent off the beaten path may wish to check out the coastal area of Deal, known for its many pubs and restaurants.
This beautiful destination features various attractions such as the historic Deal Castle and Timeball Tower, originally built to help ships estimate both the tides and time.
In summer, it's not uncommon to see neighboring locals flocking there to enjoy a scrumptious meal at one of Deal's Chippies – that's British for a Fish and Chips shop. Be sure to try rock candy as well, which is a hard sugar confectionary that's commonly flavored with mint.
After sampling the local cuisine, you can always stroll around the area to admire the neat rows of English cottages.
Entrance fee: Free
Hours: N/A
Address: Deal, Kent, UK
Is This the Best Daypack EVER???
11. Chill on the Beach
I'm sure by now you've realized that there's an abundance of stunning sights in Kent and its beaches are no exception!
Just a quick heads-up though: some beaches are best visited when the tide is low so you may wish to plan your visit right. Botany Bay, for instance, is more easily accessible at low tide, and during that time, you can even head into the caves that were once used by smugglers.
A personal favorite of mine is Margate Main Sands which features plenty of family-friendly entertainment like children's rides and tidal pools.
Nearby, you'll also find a mysterious structure known as Margate's Shell Grotto which is absolutely covered in millions of shells – and no one knows why this place even exists!
Entrance fee: Free
Hours: Open 24 hours
Address: Droit House, Stone Pier, Margate CT9 1JD, UK
12. Take a Ride on the Kentish Lady River Boat
Taking a ride on the Kentish Lady River Boat is often said to be among the top things to do in Kent, and after trying this activity out for myself, I must say I quite agree!
There's something so relaxing about kicking back in this historic boat while drifting leisurely along the Upper River Medway. The Kentish Lady River Boat only operates between spring and autumn, and you can always check their calendar before booking your cruise.
With two open decks, this accessible boat also has a bar, perfect for sipping on an ice-cold pint while taking in the sights.
Travelers can normally choose from 1-hour cruises on weekends and 3-hour lunch or dinner cruises during the week.
Entrance fee: $10.45 (1-hour cruise), $34.25 (3-hour cruise)
Hours: 10 a.m. to 4 p.m. (Monday to Friday)
Address: Undercliffe Boathouse, Bishops Way, Maidstone ME15 6XG, UK
13. See How Beer is Made at Shepherd Neame
I've covered vineyards but it would be unfathomable to leave Kent without taking at least one brewery tour. After all, England is practically synonymous with beer!
If you ask me, there's no better place to sample local concoctions than at the Shepherd Neame, which just so happens to be among the oldest breweries in England.
During the 80-minute brewery, you'll learn how history fuses with modern technology to produce those legendary Kentish brews.
Sip on natural mineral water right from Shepherd Neame's well and see the fermentation vessels up close before trying some locally grown hops and malted barley. Afterward, you'll be taken to the Visitor's Center for a tutored tasting of the brewery's best specialty lagers and ales.
Entrance fee: $23.40
Hours: 4 p.m. to 10 p.m. (Wednesday to Friday), 12 p.m. to 10 p.m. (Saturday), 5 p.m. to 10 p.m. (Sunday)
Address: 17 Court St, Faversham ME13 7AX, UK
14. Live Out your Royal Fantasies at Hever Castle
Another castle, I know. But hey, I told you Kent's full of those!
Besides, this place offers so much more than just another plain ol' castle visit. A great destination for couples looking for romantic things to do in Kent, Hever Castle used to be Anne Boleyn's childhood home.
Nowadays, the estate has award-winning gardens where you can enjoy a walk in the sunset or simply chill by the lakeside. You'll also find fountains, chess pieces crafted from golden yew, and a rose garden.
During the summer holidays, visitors can even try their hand at archery, attend jousting tournaments, or even take a boat out on the lake. If you feel peckish, you can always check out the on-site Japanese teahouse.
Entrance fee: $25.48 (Adults), $22.38 (Seniors 60+), $14.50 (Children 5-17)
Hours: 10.30 a.m. to 6 p.m.
Address: Hever Rd, Hever, Edenbridge TN8 7NG, UK
Travel with peace of mind. Travel WITH a security belt.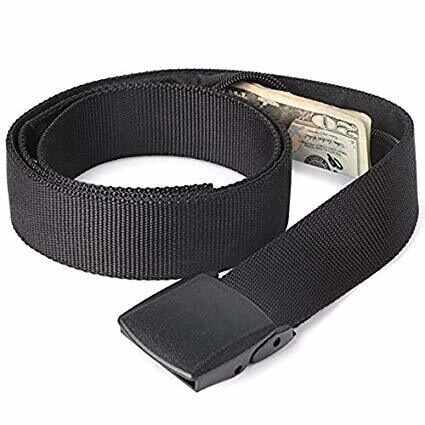 Get your cash stashed with this awesome Pacsafe money belt. It will keep your valuables safe no matter where you go.
It looks exactly like a normal belt except for a SECRET interior pocket perfectly designed to hide a wad of cash or a passport copy. Never get caught with your pants down again! (Unless you want to.)
Hide Yo' Money!
Here's another excellent day trip that lies within easy reach of Kent!
Best known for its iconic Palace Pier and beautiful beaches, Brighton has a delightfully bohemian vibe that's bound to please travelers from all walks of life.
In my opinion, one of the best ways of seeing the city is by biking your way around, especially if you're visiting in spring or summer. An experienced guide will accompany you to various points of interest such as the Royal Pavilion, Brighton Lanes, and of course, the legendary Brighton Beach. You'll even be privy to the city's unique history and culture.
More importantly, the route is quite easy, making this the ideal activity for both beginners and more experienced cyclists.
Entrance fee: $41.26
Hours: 10.30 a.m. to 1 p.m./ 2.30 p.m. to 5 p.m.
Address: 22 New Rd, Brighton BN1 1UF, UK
16. Meander Through the Chislehurst Caves
If you're seeking adventurous things to do in Kent, be sure to check out the Chislehurst Caves, located just 30 minutes from the city center.
Nestled in Chislehurst's woodlands, the man-made caves were gradually carved out over a century by the Saxons, the Romans, and even the Druids.
You'll also find a labyrinth of passageways that'll no doubt thrill adults and children alike. Don't hesitate to take a lantern-lit tour of the caves to properly explore the Caves Church, Pool, and the Druid Altar.
A quick note of warning though: the caves may not be suitable for people who have a fear of darkness or enclosed spaces. You may also wish to don sensible footwear because of the uneven terrain.
Entrance fee: $8.19 (Adults), $5.85 (Seniors and children)
Hours: 9 a.m. to 4 p.m. (Wednesday to Sunday)
Address: Caveside Cl, Old Hill, Chislehurst BR7 5NL, UK
17. Take the Kids to the Canterbury Roman Museum
The ideal activity for a lazy afternoon with the kids, the Canterbury Roman Museum was erected around the underground ruins of an original ancient Roman Town.
The little ones will no doubt appreciate kid-friendly attractions like mosaic making and toga costumes. They'll even be encouraged to handle real Roman objects and uncover treasures hidden all over the museum.
While exploring the place, remember to keep an eye out for the original Roman mosaic flooring. Roman board games are also available in the dining room for the whole family to enjoy.
The museum regularly hosts workshops like 'Roman Mosaic Makers', so you can always check their website to see what's on before going.
Entrance fee: $11.23 (Adults), $5.67 (Children)
Hours: 10 a.m. to 5 p.m.
Address: 11A Longmarket, Butchery Ln, Canterbury CT1 2JR, UK
Where to Stay in Kent
Owing to its gorgeous sights that draw plenty of tourists from all over, Kent offers a wide range of options in terms of accommodation.
As such, you can expect to find a comfortable place, whatever your budget or travel style.
Here are a few recommendations for where to stay in Kent:
This quintessentially British property ticks all the boxes in terms of accommodation! Not only does it feature a children's playground, but it also has an on-site bar and restaurant. The B&B additionally boasts stylish rooms with double or twin beds for two. In the morning, kickstart your day with a complimentary breakfast before heading out to explore nearby attractions.
A pet-friendly cabin with a hot tub and proximity to the coast? Yes, please! With a stay in this Airbnb, you'll be close to some of the best attractions in Kent, including Dreamland, Turner Center, and Old Town. Both Westbrook Beach and Margate Main Sands lie just a quick walk away. After exploring all those great spots, retreat to the cabin to relax in the hot tub, then light the firepit outside and prepare a quick meal in the kitchen to enjoy on the furnished patio or dining room.
Offering just about everything you need for a luxurious stay, the Cave Hotel near Canterbury lies in the market town of Faversham. With beautifully furnished rooms that can sleep up to two guests, this hotel has a 24-hour front desk and on-site restaurants specializing in oriental cuisines and fine dining. There's also a bar that can be accessed by a glass bridge.
Some Additional Tips for Visiting Kent
Before you zip up your suitcase and grab your passport, I have just a few more travel tips to ensure you have a positively epic time in Kent!
Keep your eyes peeled for public signs. Kent's public rights of way network may be vast, but everything is signposted. Remember that footpaths are usually indicated by yellow arrows, Bridleways by blue arrows, and Restricted Byways by plum arrows. Red arrows indicate traffic.
Don your wellies. That's British for Wellington Boots! There are plenty of outdoor activities in Kent, so remember to pack your comfiest (and preferably waterproof) footwear.
Try Kentish strawberries. These are often said to be the best strawberries in the world. They're so scrumptious that Wimbledon usually orders over 66,000 pounds of Kentish strawberries for championship season!
Plan your visit for Spring. Spring (March to June) is a great time to watch brightly colored plants in full bloom while visiting the many Kentish gardens. To avoid the crowds, you may also wish to visit in Autumn (September to November).
Don't forget your travel insurance for Kent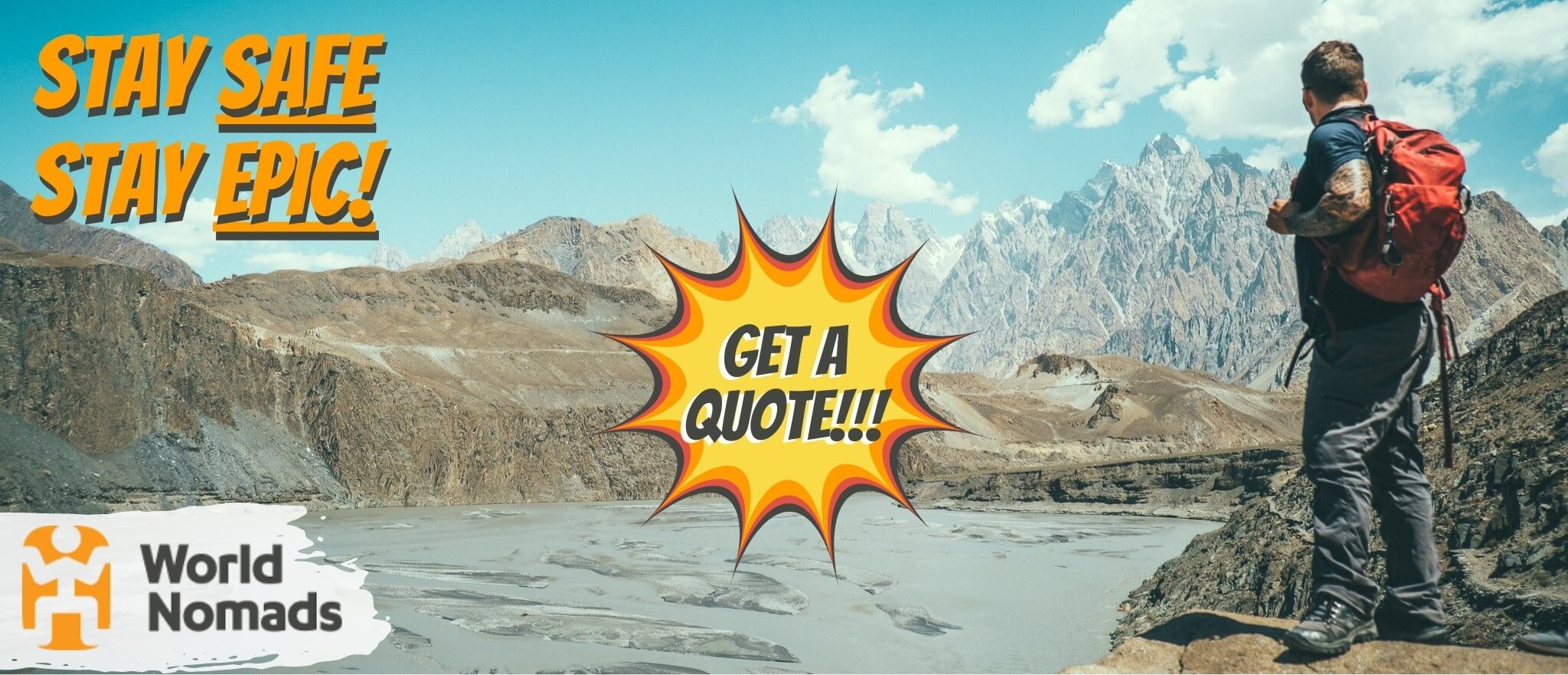 World Nomads' mission is to support and encourage travellers to explore their boundaries. They offer simple & flexible travel insurance, and safety advice to help you travel confidently.
They've been doing it since 2002 – protecting, connecting, and inspiring independent travellers just like you.
Get a quote below or read our in-depth review!
World Nomads provides travel insurance for travelers in over 100 countries. As an affiliate, we receive a fee when you get a quote from World Nomads using this link. We do not represent World Nomads. This is information only and not a recommendation to buy travel insurance.
Final Thoughts on Things to Do in Kent
Soaked in Medieval history, Kent is a unique destination that should really feature on your list of places to visit in England. Not only is it an excellent jumping point to various other cities in the UK, but it harmoniously fuses the old and the new.
Kent is the kind of place where the laid-back pace of countryside living is tinged with the buzz of the city, perfect for enjoying the best of both worlds!
More importantly, travelers from all walks of life will find fun things to do in this delightful destination, regardless of their budget and preferences.
Whether you want to step back in time at one of the castles, burrow your toes in the warm sand, or embark on a good old British pub crawl, I have no doubt that Kent is one city that will draw you back!
---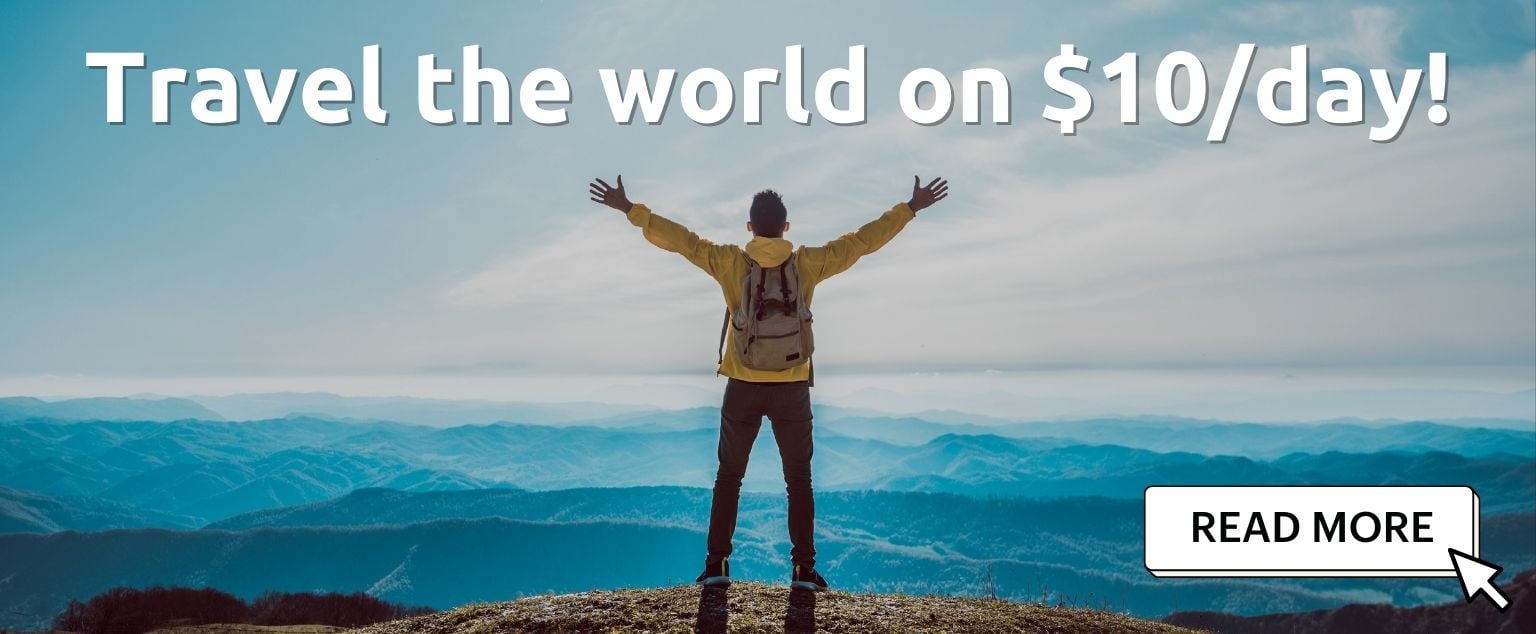 And for transparency's sake, please know that some of the links in our content are affiliate links. That means that if you book your accommodation, buy your gear, or sort your insurance through our link, we earn a small commission (at no extra cost to you). That said, we only link to the gear we trust and never recommend services we don't believe are up to scratch. Again, thank you!