No trip to England would be complete without visiting the historic city of York. What makes York unique is its long Roman and Viking history, all against a backdrop of beautiful Yorkshire countryside.
A visit here is a lot like stepping back in time, as you march down the cobbled streets lined with medieval buildings and boutique stores. It's like a fairytale come to life!
Of course, there are plenty of things to do in York. This vibrant city has more than thirty museums (hey, there is 2000 years' worth of history to work with), a city wall and Minster to marvel at, and the surrounding  Moors and Dales are some of the most unspoiled nature spots in the UK.
You only need to walk over the bridge and into the historic centre before you're met with a ton of attractions in York. In fact, deciding on what to do in York is one of the hardest choices since there's so many options!
To make your life easier, I have prepared a list of all the best attractions in York so you can make planning your itinerary much easier. Let's get started!

Unlock Our GREATEST Travel Secrets!
Sign up for our newsletter and get the best travel tips delivered right to your inbox.
The Top Things to do in York
If it's your first time visiting York, you might be overwhelmed by all the attractions. To make it a little easier for you, I've listed the absolute top things to do in this incredible city that you simply cannot miss.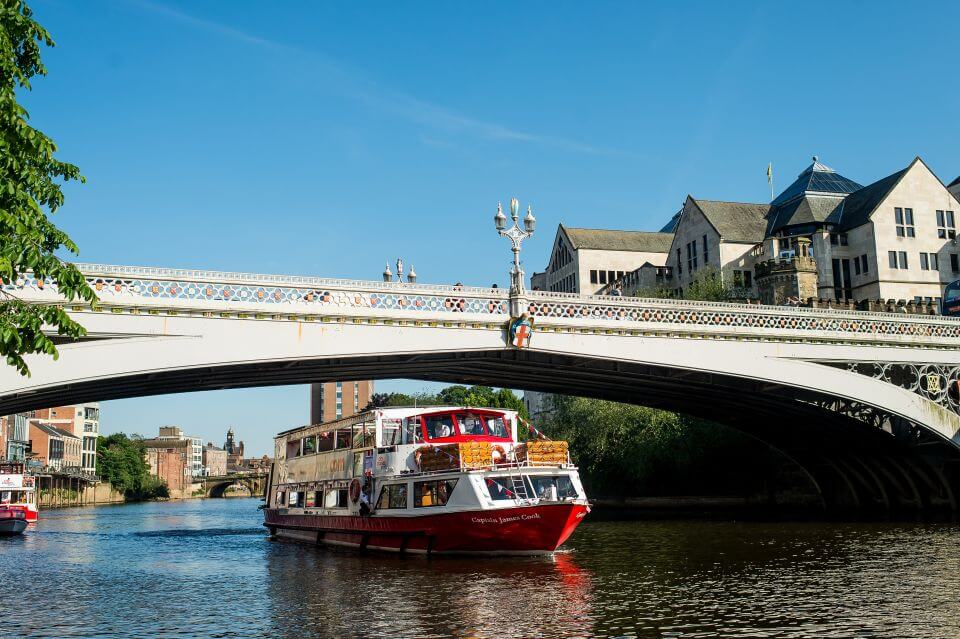 One of the best things to do in York is to see the city on the River Ouse cruise. It's pronounced 'ooze', but I assure you, the only thing this river oozes is beauty. It flows, glistening through the city, offering lovely views and a tranquil, relaxing experience.
The lunchtime cruise lasts around an hour and a half, and during that time, passengers are treated to a two-course meal. Relaxing music plays while you eat, after which a guide takes the mic to provide an informative commentary on the landmarks you pass by.
Entrance: £35
Hours: 11:00
Address: King's Staith Landing, King's Staith, York
2. Feast your eyes on the magnificent York Minster Cathedral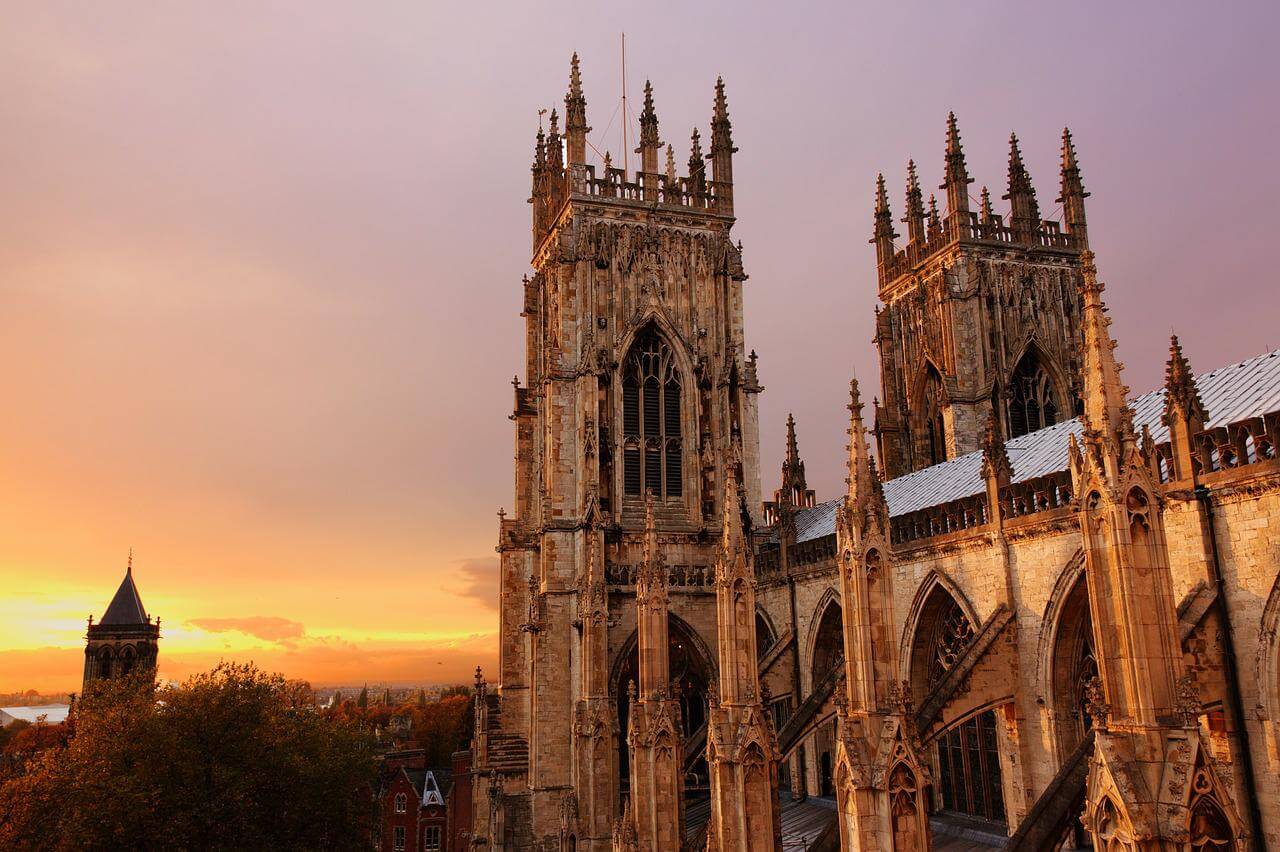 York Minster is a marvel made of stone and stained glass. It dates back to the 7th Century and has some of the most impressive medieval architecture in the country. It's nothing short of breathtaking, especially when you consider the building methods available during that time and what they've been able to achieve.
A highlight that's not to be missed is the Great East Window. The panels are made of ornate and coloured stained glass depicting religious scenes.
If you're keen on history, a guided tour will reveal to you the impact the Romans and Vikings had on the building. The Undercroft Museum is a state-of-the-art museum experience with historic artefacts and displays.
Entrance: Adult/Senior – £12.50, Child under 16 – free with paying adult
Hours: Mon to Sat: 9:30 to 16:00, Sun: 12:45 to 15:15
Address: York Minster, Deangate, York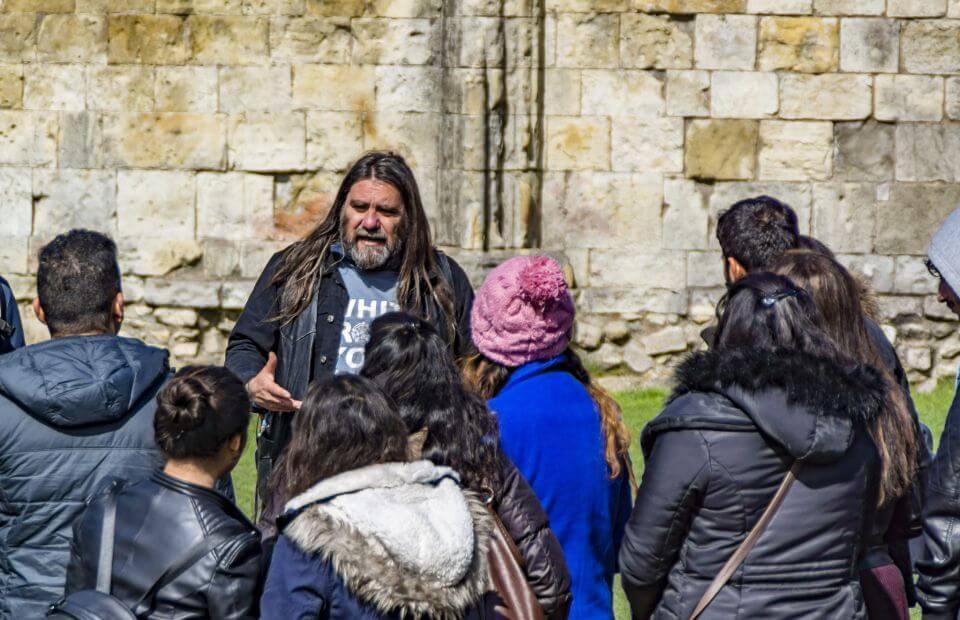 For the history buff, there are plenty of things to do in York. With remains found across the city left behind by the Romans, Vikings, Normans, and Anglo-Saxons, York is an important city in the UK's history.
While you can visit many of the sites on your own, a private tour with a professional guide can bring the stories to life with local insights and detail. You'll explore everything from historic parks, streets, churches, ruins, and castles as you walk along.
If you have a particular interest or specific requirements, the tour can be tailored to cater to this.
Entrance: £110 per group up to 30
Hours: 9:00 to 17:00
Address: Pick up from York city centre
4. Delve into Archeology at DIG
This is one of the best things to do in York with kids. DIG York is an interactive archaeological adventure inviting the little ones to experience the thrill of the dig.
There are four indoor excavation pits based on real-life digs in the city. Each pit is filled with replica Roman, Viking, and medieval finds for your little ones to dig out. There's also a talk from a real-life archaeologist and exhibits of actual finds.
DIG is ideal for children aged 5 to 12, and there's a fun play area for the under 5s.
Entrance: Adult: £8.00, Child (5-16): £7.50
Hours: Operating times vary seasonally
Address: St Saviour's Church, St Saviourgate, York
Leave behind the bustling streets of York for a full-day tour of the Yorkshire Dales National Park. Here, you'll be treated to idyllic rolling hills and glittering rivers.
Along the way, you'll stop at small towns to enjoy the local produce: beer in Masham, lunch in Hawes, and a stop at the Wensleydale Creamery for tasty cheeses. You'll also be treated to some magnificent scenery as you go.
From Hawes, you'll take the scenic route back to York, with plenty of stops en route to take some photographs.
Entrance: £51
Hours: Depart at 9:15
Address: Tour begins in Duncome Place next to York Minster
6. Walk along the famous Shambles shopping street
In medieval times, the Shambles was a popular shopping street, cobbled and lined with overhanging shopfronts. Some say it was the inspiration behind Diagon Alley from the Harry Potter movies, and it's easy to see why.
Originally, the street would have housed butcher shops selling cuts of meat in their windows. This is why it was designed in such a narrow way, as butchers wanted to keep the sun out.
Nowadays, shopping on the Shambles is one of the most popular things to do in York, having been restored and housing a variety of cafes, boutiques, and sweet shops.
Entrance: free
Hours: N/A
Address: York Shambles
Small Pack Problems? 😉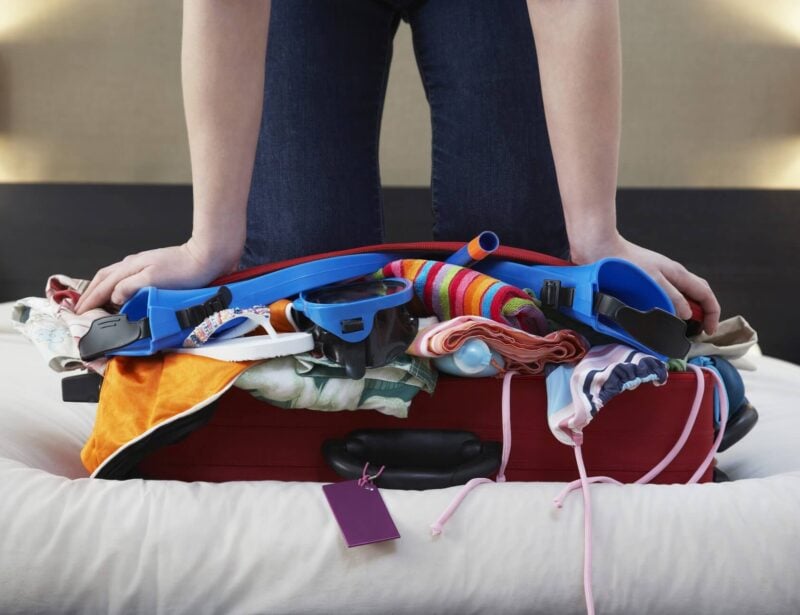 Wanna know how to pack like a pro? Well for a start you need the right gear….
These are packing cubes for the globetrotters and compression sacks for the real adventurers – these babies are a traveller's best kept secret. They organise yo' packing and minimise volume too so you can pack MORE.
Or, y'know… you can stick to just chucking it all in your backpack…
Get Yours Here
Read Our Review
7. Taste York's Sweeter Side at York's Chocolate Story
Tantalize your sweet tooth at York's Chocolate Story – an informative and entertaining tour through the history of the city's most prominent chocolate-making families. It's as close to a Willy Wonka experience as most of us will get, and it doesn't require a golden ticket.
Discover the stories behind some of the biggest names in chocolate – Rowntree's, Terry's, and Cravens. You'll also learn the history of chocolate and the secrets of how it's made.
The UK has some very unique varieties of chocolates and sweets (candy to you Americans) and it's one thing you simply must try when backpacking in the UK.
A fully guided tour will take you through three epic floors of interactive exhibits covering the 300 years of York's chocolate production.
Entrance: Adult: £15.95, Children (4-15 yrs): £13.50
Hours: open daily from 10:00
Address: York's Chocolate Story, King's Square, York
A city with a history as long as York's is bound to have some dark tales to tell. Over 2000 years, the city's dungeon has seen some things and housed some notorious figures.
A tour of these dungeons will include re-enactments, special effects, and displays of various objects and artefacts.
You'll encounter famous (and infamous) characters from York's dark past and be regaled with some gripping storytelling.
A visit here offers a truly immersive experience and plenty of thrills.
Entrance: £17.95
Hours: 10:00 to 17:00
Address: 12 Clifford St, York
9. Visit Northwood Trail Fairy Sanctuary
Escape to the city for a visit to an enchanting, magical woodland that feels like something out of a fairy tale. Just 20 minutes outside of York, this is a great way to spend some time outdoors and is one of the best things to do in York for the whole family.
Explore the trails through this one hundred acre wood, breathe in the fresh air and get closer to nature and the outdoors.
After a walk along the trail, stop in at the Northwood Kitchen for a snack and a coffee before heading next door to the Fairy Museum displaying fairy artefacts and treasures found in the woods over the years.
Entrance: Adult: £8.90, Child (under 16): £6.90
Hours: 10:00 to 18:00 Thursday to Sunday
Address: Northwood trail, Sunley Hill, Welburn, Nunnington, York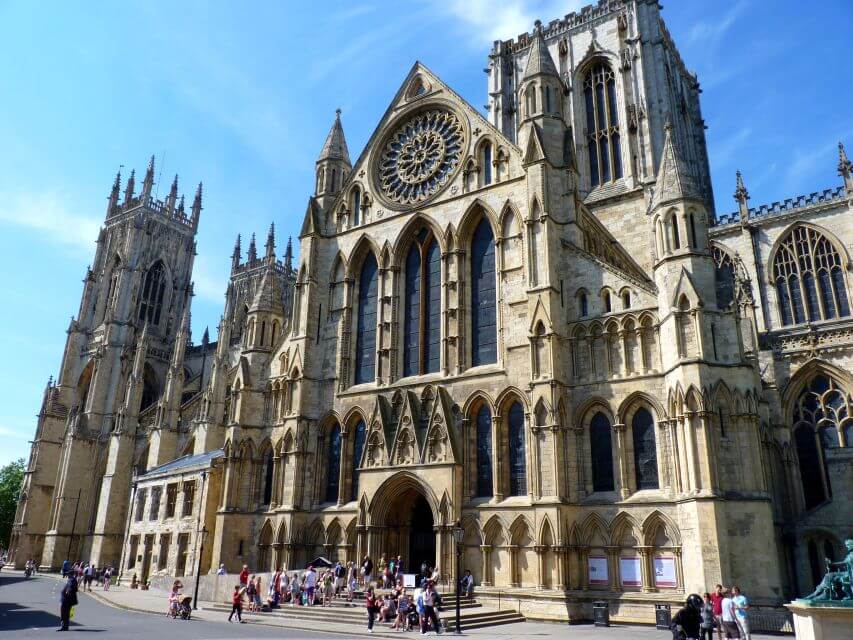 Explore the fascinating and gripping history of York at your own pace with a guided audio tour. As you aren't joining any tour groups, you have the flexibility to linger longer at the attractions that really interest you.
The audio tour allows you to experience the 2000 years of history, starting from York's beginnings as a small Roman settlement.
Bloody Viking invasions, significant figures, and historic individuals are fascinatingly and engagingly presented.
As you'll be walking, you'll be smashing your daily step target too.
Entrance: £6.33
Hours: N/A
Address: The walk begins in Exhibition Square
Is This the Best Daypack EVER???
11. Take in the views from Clifford's Tower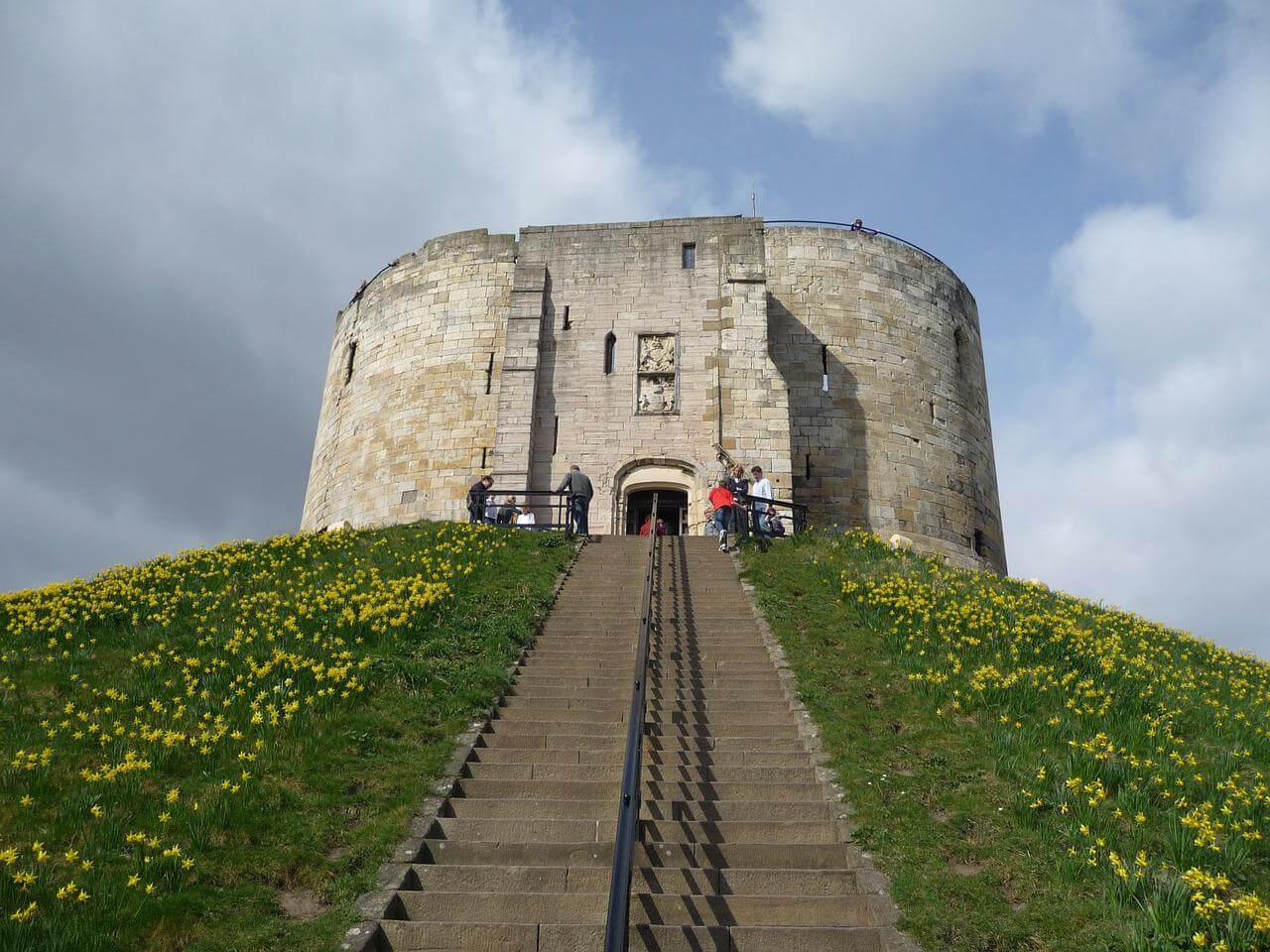 Clifford's Tower is one of York's most iconic things to do. Located in the very heart of the city, the tower has had many functions over the years. Originally, the tower was the keep of the medieval Norman York Castle.
You'll need to tackle some serious stairs to get to the tower, but I assure you, it's worth it. The view from here over the city is exceptional. So much so that a roof deck was recently added here to offer a comfortable place to soak in the skyline.
Inside the tower, you can explore this ancient building and listen to incredible stories from the tower's turbulent history.
Entrance: Adult: £8.10, Child: £4.80
Hours: 10:00 to 18:00
Address: Tower Street, York,
12. Check out the National Railway Museum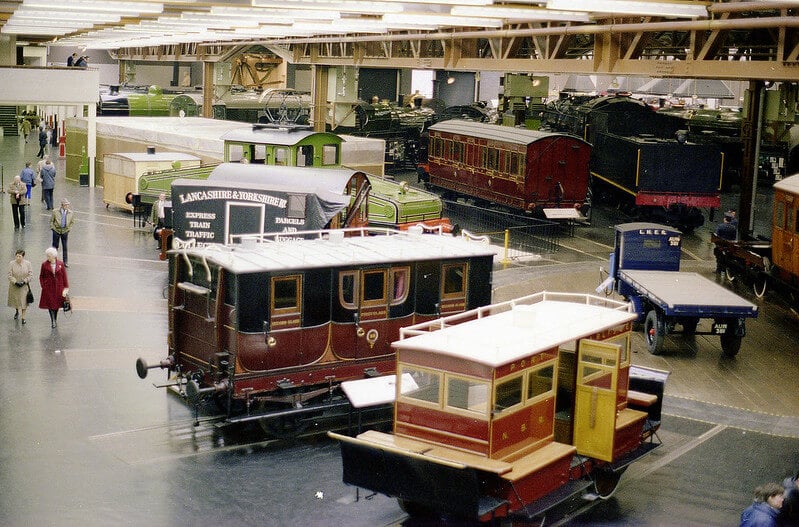 Train enthusiasts, this one is for you. Even if you aren't that into trains, the National Railway Museum is a great outing – especially with the kids. See shiny iconic locomotives, explore the history of rail travel, and marvel at feats of engineering.
You'll have access to the world's most extensive railway collection from historic photos, memorabilia, and even model trains. The museum isn't only about the past; various exhibits also detail the future of rail travel.
Admission is free, but if you wish to, you can make a donation to the museum to help them continue their work.
Entrance: Free
Hours: Wednesday to Sunday, 10:00 to 17:00
Address: Leeman Road, York
13. Discover the Historic Medieval Guildhall
The Merchant Adventurers' Hall is one of the finest medieval guildhalls in the world. Originally built between 1357 and 1361, the hall has seen many upgrades and additions throughout its history, including distinctly Tudor decorations dating to 1601.
The Hall contains a wonderful art collection, silver, jewellery collection, and interesting pieces of furniture and furnishing. In addition to touring the hall, you learn about trade and exploration in Tudor times and the guilds.
Stop in at the Merchants' Coffee House for some locally sourced food and drink to round off your visit.
Entrance: Adult: £6.50, Children: free with a paying adult
Hours: Sunday to Friday: 10:00 to 16;30, Saturday: 10:00 to 13:30
Address: Fossgate, York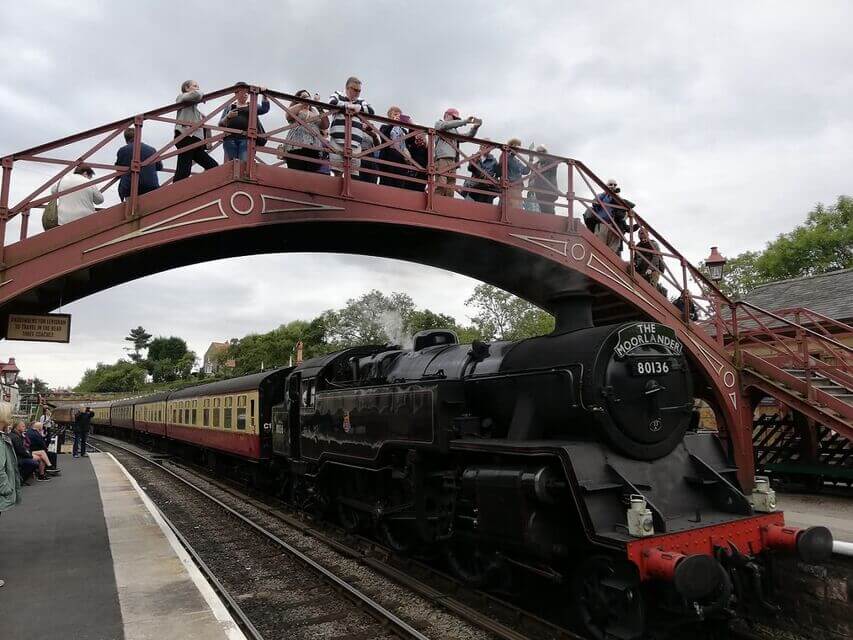 Head out of the city to take in the picturesque local scenery of the North York Moors National Park. You'll pass quaint villages and sweeping scenery as you make your way to the seaside town of Whitby.
Whitby is one of those rare places that seems to have been suspended in time. It has incredible neignborhoods to stay in and gorgeous abbey to explore.
Plenty of Captain Cook attractions, and a strong gothic subculture if you're into that! You could also just grab some fish and chips and enjoy this with a view of the ocean.
Grab the steam train (Harry Potter fans will recognize the station as Hogsmeade Station) and see the Hole of Horcum before returning to York.
Entrance: £52
Hours: Departure times vary
Address: Opposite the Dean Court Hotel in Duncombe Place, York
Travel with peace of mind. Travel WITH a security belt.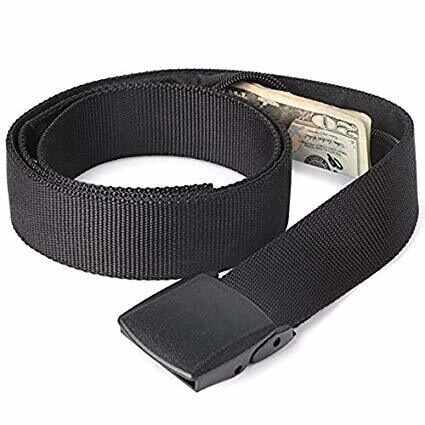 Stash your cash safely with this money belt. It will keep your valuables safely concealed, no matter where you go.
It looks exactly like a normal belt except for a SECRET interior pocket perfectly designed to hide a wad of cash, a passport photocopy or anything else you may wish to hide. Never get caught with your pants down again! (Unless you want to…)
Hide Yo' Money!
15. Enjoy a stroll through York Museum Gardens
Spend a relaxing day in the outdoors at York Museum Gardens. The gardens feature an array of plant species, wildlife, and even some historic features to see.
If the weather's good, bring a picnic along to enjoy among these beautiful gardens – one of the more romantic things to do in York. The grounds are also home to the remains of St Mary's Abbey and the York Observatory – the oldest working observatory (built in 1832).
Keep an eye out for the diverse array of wildlife that can be found in these gardens. Many birds and insects and animals such as squirrels and hedgehogs roam freely here.
Entrance: Free
Hours: 9:00 to 18:00
Address: Museum Street, York
16. Take in the Excellent Exhibits at York Castle Museum
York Castle Museum houses some entertaining and exciting exhibits. Visit Kirkgate – a recreation of bustling Victorian Street brought to life. Explore the York Castle Prison and hear the stories of some of its residents.
Other eras depicted with incredible accuracy include World War I and even the swingin' 60s. Every momentous happening in the city is presented in the museum through fascinating displays and innovative exhibits.
If you're looking for things to do in York when it's raining, York Castle Museum should be top of your list.
Entrance: Adults: £14, Children (5 – 16 yrs): £7
Hours: Monday: 11:00 to 17:00, Tuesday to Sunday: 10:00 to 17:00
Address: Tower St, York
17. Learn About Flying at the Yorkshire Air Museum
What used to be the RAF Elvington airfield has now been transformed into a fascinating aviation museum. The museum is a re-creation of a 1940s airbase and houses over 500 000 historic objects related to aviation history.
Over 50 planes are displayed, including England's first jet bomber, a replica of the 1903 Wright Flyer, and various WWI and WWII planes. Most of the aircraft on display are military with a small number of civilian craft to see.
The Allied Air Forces Memorial is on the premises, too, for those wishing to reflect on the many service members who gave their lives in conflict.
Entrance: Adults: £12.00, child (under 4): free, child (4-17 yrs): £5.00
Hours: 10:00 to 17:00
Address: Halifax Way, Elvington, Yorkshire
The countryside around York is picturesque, the kind of rural idyl you imagine retiring to one day (ok, maybe that's just me?). Get the whole Yorkshire experience with a stay at a unique shepherd's hut overlooking the Vale of York.
Surrounded by rolling hills and farmer's fields, this is an escape to soothe the soul. The tiny hut has everything you need for a comfortable stay and a fire pit to sit around in the evening.
After a day of adventuring, soak your sore feet and tired muscles in the wood-fired outdoor hot tub.
Entrance: £122 per night
Hours: N/A
Address: York, Yorkshire
19. Discover Allerton Castle
Explore the Gothic-revival stately home known as Allerton Castle. With roots that stretch as far back as 1066, this beautiful estate has a rich heritage to explore.
Choose to take a guided tour of the historic house to learn as much about its long history. See the beautifully decorated bedrooms, library, drawing room, Great Hall, and the elegant Ballroom with its vaulted ceilings.
Don't leave before taking a stroll through the gardens and taking in the view of the surrounding countryside.
Entrance: £13.50
Hours: Tour times vary
Address: Allerton Mauleverer, North Yorkshire
20. Encounter Viking Culture at JORVIK Viking Centre
Certainly not one to miss, the JORVIK Viking Centre offers a fascinating tour through Viking culture and the occupation of York. The past is brought to life using lifelike dioramas, archaeological artefacts from the area, and engaging exhibits.
Vikings have a bad reputation for being marauding brutes, but you'll explore the culture to see that this perception hasn't always been fair.
Everything that is known about Viking-age York has been learned from archaeological evidence. As more treasures are unearthed, exhibits are updated and revaluated. A visit here is definitely one of the best things to do in York.
Entrance: Adults: £13.50, children (5-16 yrs): £9.50
Hours: 10:00 to 17:00
Address: Coppergate Shopping Centre, York
Where to Stay in York
Need a place to stay in York? You're in luck! York offers a wide range of accommodations to suit every pocket, from budget-busting hostels to rural cabins to stylish hotels and homestays of every kind.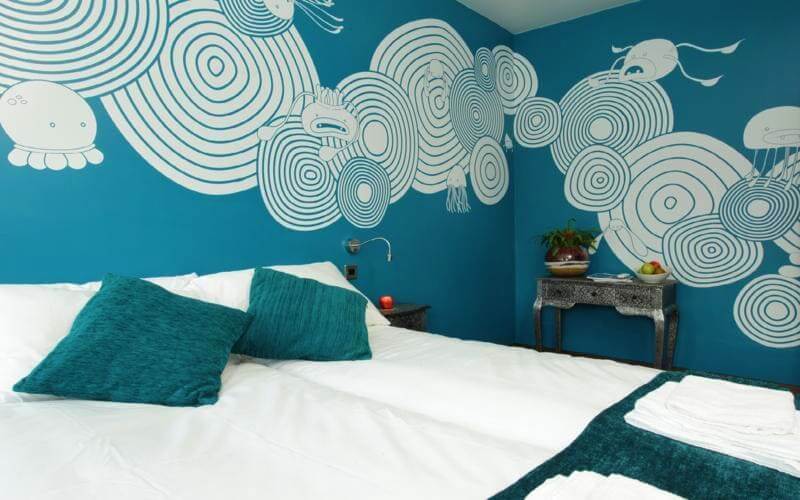 The Fort Boutique Hotel is a vibey and central hostel in the very heart of historic York. Flat-screen TVs, Wi-Fi, and complimentary hot beverages are included in the price of a bed. The hostel's perfect location means plenty of trendy cafes and bars within walking distance. From here, accessing the rest of the city is super easy.
Choose this beautifully furnished Airbnb in York in a great location. The cottage-style apartment is entirely self-contained, private, and located just minutes from York Minster. Enjoy all the comforts of home in this historic setting. The city centre is a short walk away, where you'll find many restaurants, bars, and attractions.
This Viking-inspired hotel dates back to 1750 and overlooks historic ruins and buildings. All rooms here are well equipped and include complimentary toiletries, tea, and coffee-making facilities, and a continental breakfast to start your day right. The excellent location means you're close to everything while still enjoying an affordable stay. This is one of the best B&Bs in York since it's in a historic building and close to the centre.
Some Additional Tips for Visiting York
Before you dive in and book your accommodation, I have a few more tips for you to make sure you have an epic time!
Invest in travel insurance! You never know what may happen on the road.
Take advantage of Museum Passes. Many of York's top attractions offer bundled entry tickets which are more affordable and offer access to more than one attraction.
Book in advance. Some attractions offer a slight discount when you book online.
Stay in a central location. Try to stay as centrally as possible to avoid racking up transport costs. If you stay in the center of York, you can pretty much walk to most things to do in York or use public transport.
Don't underestimate the size of the city. There's the city centre and then there's all the amazing countryside surrounding it. Allow yourself plenty of time to explore it all.
Book a place with breakfast and a kitchen: If you do go the hostel route, try to find one that has free breakfast. Even if it's just instant coffee, cereal, and bread, it'll fill you up for a few hours. Likewise, if your hostel has a communal kitchen you can save a lot by cooking a few meals yourself.
Bring a good water bottle with you and avoid buying single-use plastic ones!
Find cheap flights. Every once in a while, a killer deal pops up.
Parking is a nightmare. Try to park outside the city centre and get the park and ride into town.
Don't forget your travel insurance for York
ALWAYS sort out your backpacker insurance before your trip. There's plenty to choose from in that department, but a good place to start is Safety Wing.
They offer month-to-month payments, no lock-in contracts, and require absolutely no itineraries: that's the exact kind of insurance long-term travellers and digital nomads need.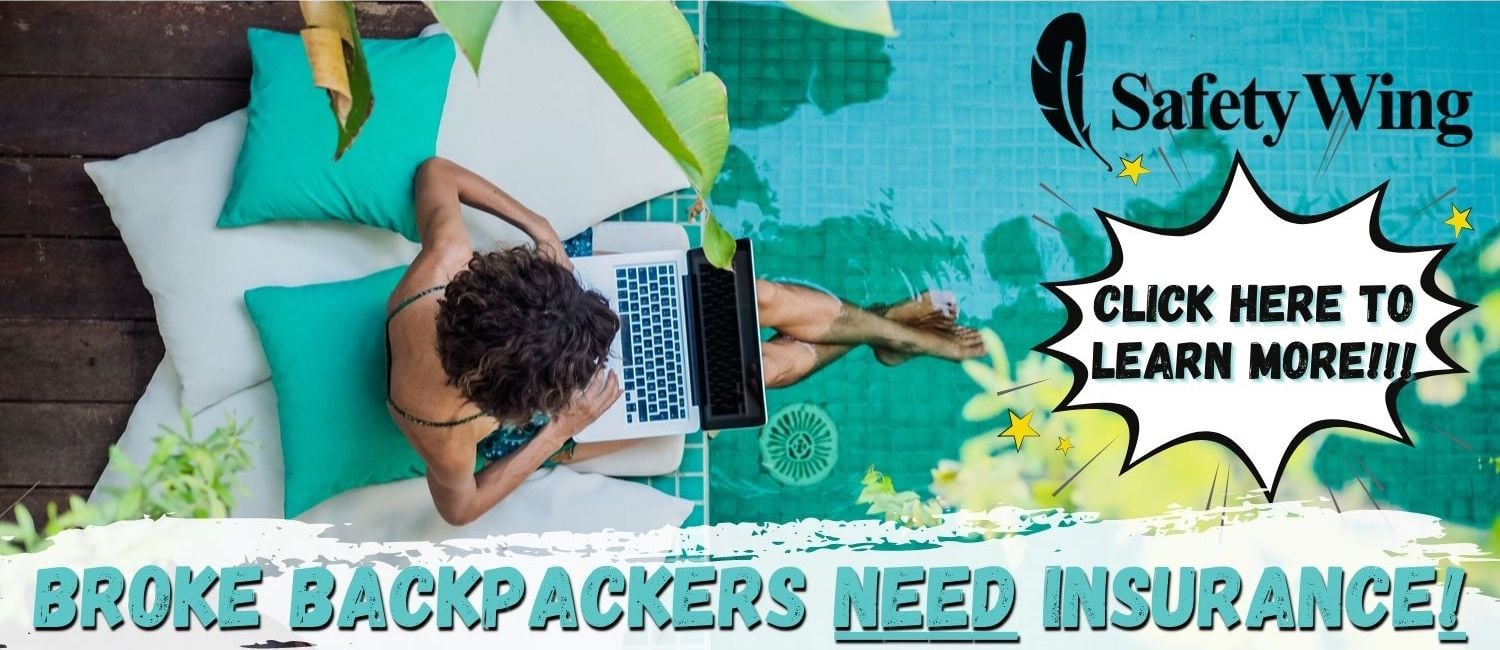 SafetyWing is cheap, easy, and admin-free: just sign up lickety-split so you can get back to it!
Click the button below to learn more about SafetyWing's setup or read our insider review for the full tasty scoop.
Final Thoughts on Things to Do in York
By now, it should be fairly clear why York is such a popular place to visit in the UK. There are so many things to see and do and such a variety of experiences to choose from. The hardest part of planning is figuring out where to even start.
Yes, there's a lot of history, but there's beautiful nature and culture in spades. If you're travelling with the family, there are plenty of kid-friendly experiences to ensure the little ones have a great time.
It can be easy to feel overwhelmed by the vast array of activities and attractions in York, but hopefully, this guide has made it easier to pick which of these to include in your itinerary.
---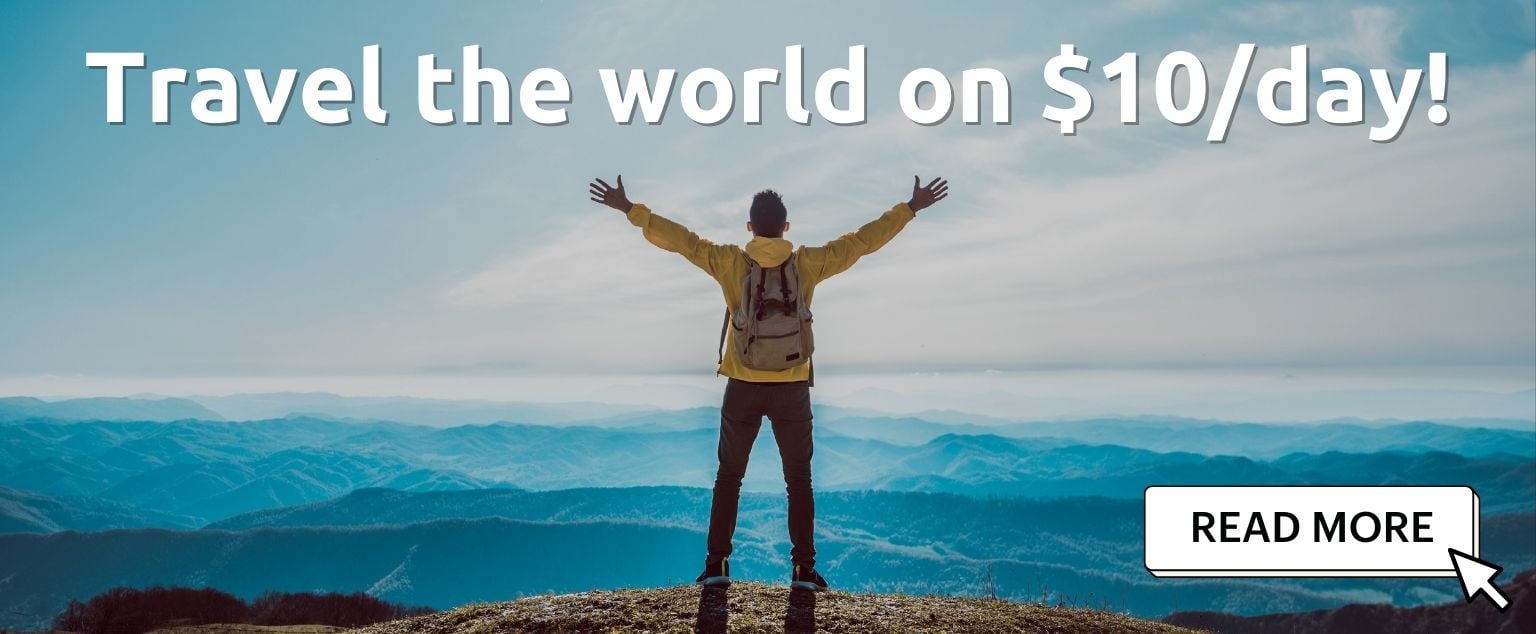 And for transparency's sake, please know that some of the links in our content are affiliate links. That means that if you book your accommodation, buy your gear, or sort your insurance through our link, we earn a small commission (at no extra cost to you). That said, we only link to the gear we trust and never recommend services we don't believe are up to scratch. Again, thank you!