In the age of 'Instagram destinations', high volume travel, and globalization, travel accessory companies create loads of different travel backpacks to suit the needs of the individual traveler.
Going on an extended backcountry expedition? There's a pack for that. Traveling internationally for a business conference? There's a bag for that. Weekend getaway downstate to go skiing with friends? Theres a bag for that. Tortuga has been a top choice at The Broke Backpacker for years now. Why? Comfort, a wide range of functionality, and their sleek minimalist style.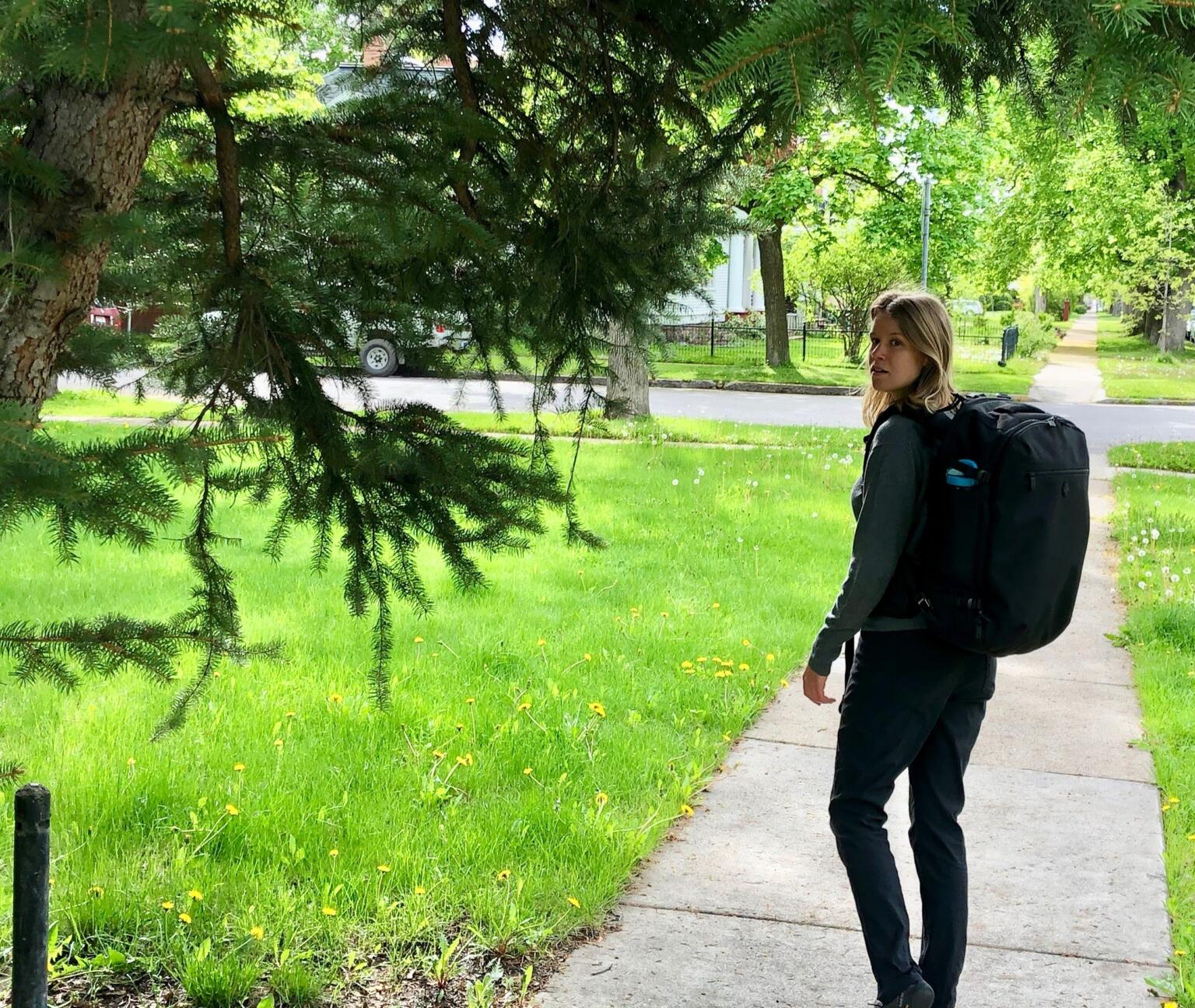 Between Uber rides to the airport, multiple connecting flights, travel delays and late night arrivals to your destination could take up to 20 hours on a good day. Having a pack that's comfortable to withstand travel abuse is essential.
If you're stuck living out of your backpack for an extended period of time, you need to stay organized and the critical items need to be accessible. Functionality in design is another key feature with any good travel bag.
Finally, style is everything. I'm not the "flashy" type. You will never see me purchase an obnoxiously colored bag that screams "GIVE ME ATTENTION" or "STEAL ME". Style is more than having a backpack with cool colors. It's about aligning with your travel philosophy as a whole, and having a good travel backpack is more than an accessory. It's a travel companion.
Tortuga just launched the brand new women's version of the very popular Setout travel backpack. Read on to find out why this is one of the best travel backpacks for women on the market right now…
Quick Answer: Tortuga Women's Setout Backpack Specs
| | | |
| --- | --- | --- |
| Sizes | 35 Liters | 45 Liters |
| Weight | 3.6 lbs (1.5 kg) | 3.8 lbs (1.7 kg) |
| Dimensions | 21.5 x 14.5 x 7.5 Inches | 22 x 14 x 9 Inches |
| Torso Length* | 15.5-18 Inches | 15.5-18 Inches |
*Made shorter compared to Men's Tortuga Setout
Ladies & Gents, It's Time to Step Your GEAR Game Up. 😉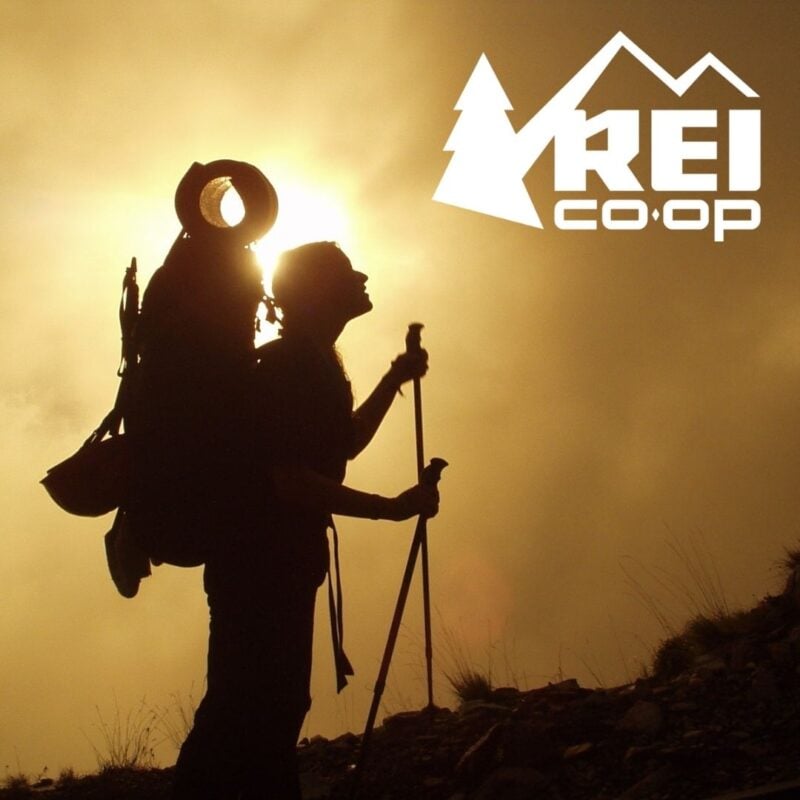 REI is one of America's biggest and most-loved outdoor gear retailers.
Now, for just $30, get a lifetime membership that entitles you to 10% OFF on most items, access to their trade-in scheme and discount rentals.
Join REI Today!
For a decade I have worked in the Outdoor Industry as a Guide and Educator, moving constantly, scoring seasonal jobs and exploring. The light and fast ideology is something I've adopted beyond mountain travel, it is a philosophy I have included in every aspect of my nomadic life.
Light and fast is MY style, which certainly doesn't apply to every traveler. Thankfully the Tortuga Women's Setout offers enough functionality where each traveler can find ways to have this backpack meet their own travel needs. Let me give you some context as to what I pack for my "regular" travel.
The Tortuga Setout has three interior compartments that help me organize and access all the items listed above, in addition to exterior features. Overall, the different compartments have specific features; however, the design is diverse enough where these compartments can be made to suit your travel needs.
15″ Macbook pro
Phone
Wallett
Headphones
Cords to charge all the electronics I'm burdened with in the 21st century
Toiletries
"X" days worth of clothes (Depending on the time of year and your length of travel)
Book(s)
Notepad
Laptop Compartment
We live in the 21st century. The modern traveler is almost always traveling with their laptop, tablet or both. Safe storage of these valuable items is critical.
This compartment can securely hold a laptop up to 17″ in length, and a 9.7″ tablet. Have you ever carelessly set your laptop on a table at a coffee shop, look away only to hear a "FLOP" as your bag hits the ground. Each sleeve is padded with a velcro strap to keep it secure.
The compartment itself comes with supplemental space. So if you're a tech-heavy traveler with a laptop, tablet and loads of files and papers for work you'll be able to fit it all in with room to spare.
Despite the fact this a compartment that is clearly designed for a laptop or tablet, that does not limit its use to those items specifically. An ideal travel backpack should have versatile features that allow you to utilize the bag to meet your needs. Not traveling with a backpack or tablet, no worries! Pack notebooks, sketchpads, external hard drives, chargers, whatever your imagination desires with room to spare.
Good design means you can find a way for this particular compartment to meet your needs.
Laptop Compartment Score 4.8/5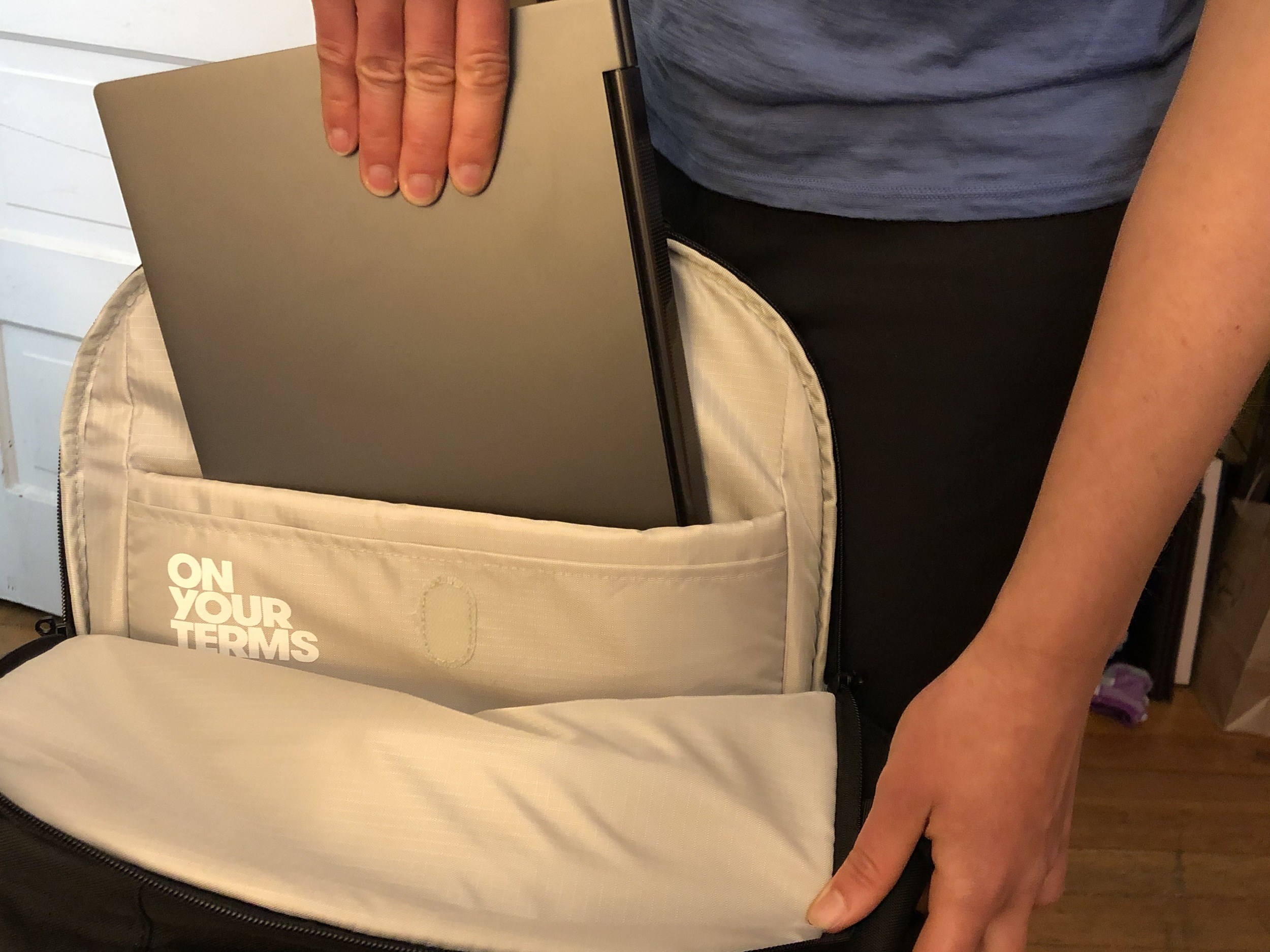 Clothing Compartment
This is really the meat of the backpack. Even if you're a heavy packer you could easily cram 7 days worth of clothes into this compartment. It's designed to open up like a traditional suitcase, which has its benefits.
First, it allows you to be able to pack your clothes to the brim while only taking up minimal space. Next, the "suitcase style" zipper makes for easy access. Need to bust out a sweater or jacket before stepping onto the place, this is ideal for getting what you need without exploding the contents of your backpack.
Finally, the "suitcase style" access allows you to store small items in the mesh zipper compartment. Loads of travel bags and suitcases have that feature, so why does that matter? In a fully loaded, compact backpack, the more opportunities you have to organize your stuff, the easier it will be to pack.
I'm that person who absolutely hates checking bags, so I load my carry on to maximum capacity. Having an intentional, designated space to organize all your items is essential if you're trying to travel minimally.
Clothing Compartment Score 4.5/5
Miscellaneous Compartment
Somehow every time I pack my headphones, snacks or charger at the top of my pack. I reach for it a few hours later only to find that it sunk to the bottom of my pack underneath all my other shit. Its a pain in the ass to dig around for the item I need until it eventually results in exploding the contents of my pack.
With the Tortuga Women's Setout, the miscellaneous compartment allows you to store all the little things so they never float around to the mysterious corner of your fully-loaded backpack. There are so many little pockets to choose from you would have to try to be disorganized.
There's a place to store your pens, a small pocket for your notebook, a mesh pocket for blah blah blah. All the pockets for all your needs. The coolest part of the miscellaneous pocket is the key clip. Quick access, safe storage and the pack compartment are consolidated enough where the jingle of your keys won't drive you insane.
It's the little details that matter. This backpack allows one to keep track of all the little details in their secure designated pockets.
Miscellaneous Compartment Score 4.6/5
Overall Interior Score 4.6/5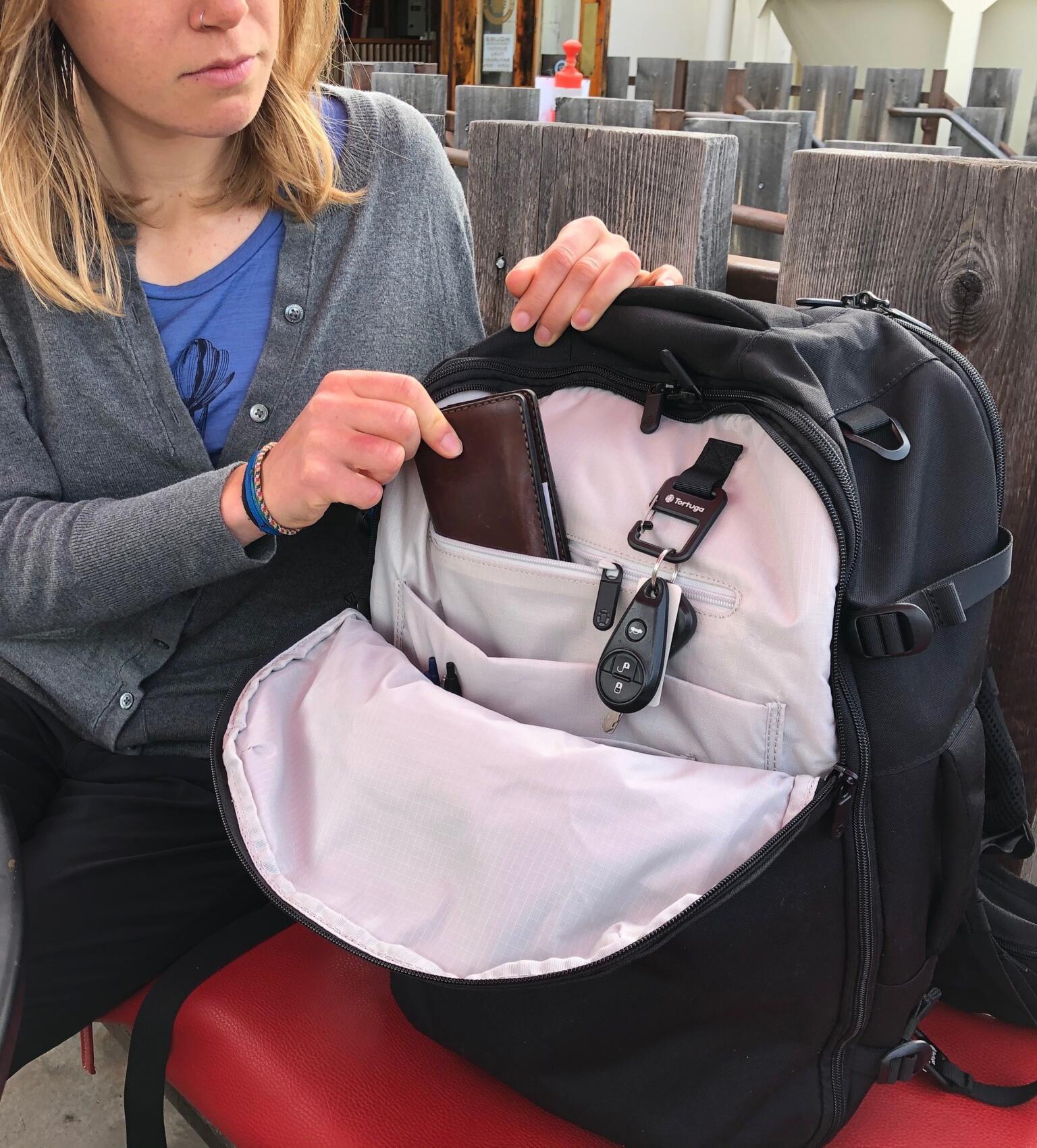 Exterior Breakdown
For those of you that don't know, Tortuga has made a male version of the Setout backpack. Subtle changes are made here and there that supplement the functionality of the backpack overall. Small changes definitely can make big differences, let's explore more.
Straps & Comfort
This is a backpack isn't it? Let's start with the straps. Padded with injection-molded form and air mesh on the shoulder and hip straps as well as the back itself. Small details like this make a big difference for whenever you're on your feet all day in a warmer climate. There is nothing grosser than taking your backpack off and noticing the back of your shirt and backpack straps are drenched in sweat.
In addition to comfort, there's packability. The Tortuga Setout includes the hideaway straps, included with a padded handle on the side allows you to carry the pack like a briefcase if you're trying to take the old school route.
Hip straps have their purpose. The hip straps are removable which is a nice feature especially if you're using the backpack for everyday use on your commute to work. However, if you decide to leave the hip straps on you can stash small items into the zipper pockets for quick access.
Straps & Comfort Score 4.4/5
Security
As a 21st century traveler, its common knowledge that you should never leave your bag unattended, especially in an airport. Even, if you keep your backpack on you at all times, sometimes those sneaky pickpockets can still get away with sticking their greedy hands inside your backpack.
The Tortuga Women's Setout includes YKK security zippers. What does that really mean? It means you can fit a small travel lock to secure your zippers shut. Take that pickpockets!
Although locking zippers are nice, what are the chances that you're gonna lock all three compartments shut? Pretty low.
The reality of this security feature is that you're gonna buy one lock and secure the most valuable compartment, likely the laptop compartment is you're carrying your technology in there.
The setback of the security feature is that the two front compartments are vulnerable to thieves and pickpockets. So here's a nickel's worth of free advice, purchase three travel locks for your backpack. Or if you only have one lock like most people do, stash ALL valuable items into the compartment that is locked so if you get robbed, it won't set you back too far.
Security Score: 4/5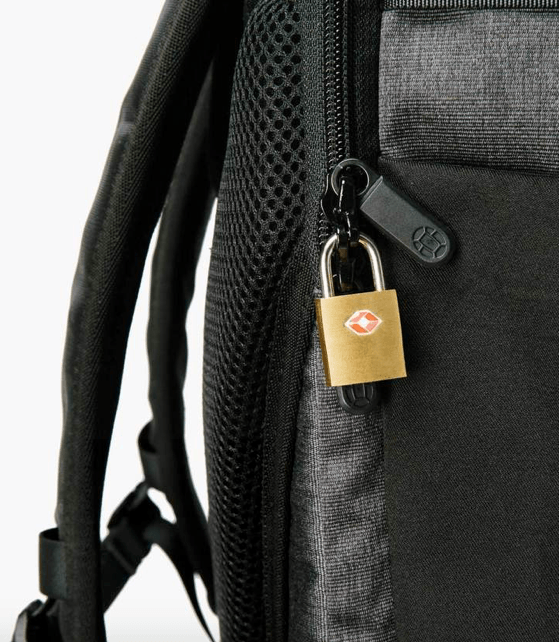 Durability & Toughness
If you travel like me, then you're the type of person who beats the hell out of their travel gear. For me, it's critical that I own a tough piece of gear that can handle some abuse.
The exterior of this material consists of a 9000D polyester. So what the hell does that even mean? It's a unique type of synthetic material that is derived from recycled plastic bottles. In the 21st century it is becoming more common for companies to innovate affordable and durable products made from something we have an abundance of in our society, plastic waste.
9000D polyester is not only tough because synthetic is quick-drying and highly water-resistant. In addition, the outside of the pack is coated with a DWR (durable water-resistant). Water-resistant is the keyword here. It can handle rain and splashing, but I wouldn't recommend taking this pack down the river or to the beach.
Among all the travel backpacks out there, the Tortuga Setout line has high resilience and durability. It can take a beating, and keep light amounts of water from ruining the contents of your backpack. Overall, I would argue that this backpack is pretty tough.
Durability & Toughness Score 4.7/5
Overall Exterior Score 4.4/5
Pros
Versatile design
Easy to keep all contents organized
Durable exterior
Water Resistant coating
Carry on compatable
Can fit a lot of stuff in a compact, easy to carry space
Cons
Heavy for a backpack
Minimal security features
Straps can be cumbersome to adjust
The best present of all… is CONVENIENCE!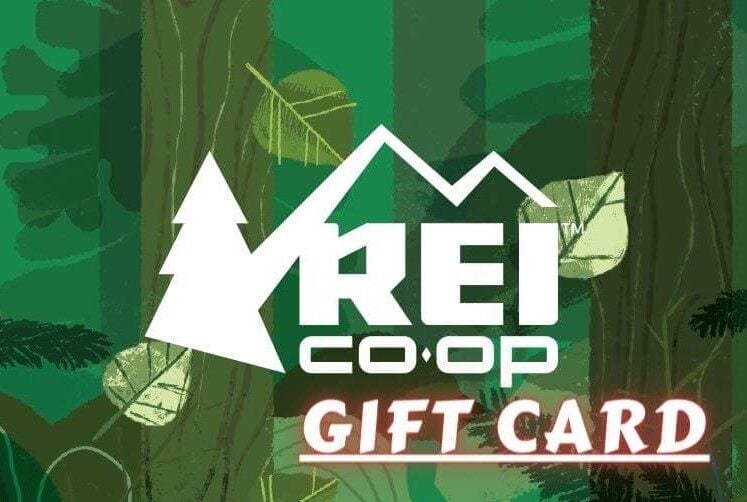 Now, you could spend a fat chunk of $$$ on the WRONG present for someone. Wrong size hiking boots, wrong fit backpack, wrong shape sleeping bag… As any adventurer will tell you, gear is a personal choice.
So give the adventurer in your life the gift of convenience: buy them an REI Co-op gift card! REI is The Broke Backpacker's retailer of choice for ALL things outdoors, and an REI gift card is the perfect present you can buy from them. And then you won't have to keep the receipt. 😉
Buy on REI!
As I mentioned earlier in this article, there are loads of options for routine travelers. For this particular style of travel backpack, the Tortuga Women's Setout is among the best in this category. While you're doing research, it is worthwhile seeing what other options are out there so you can make the best decisions to fit your needs.
The most direct competitor out there is likely the AER Travel Pack 2. When comparing these two products side by side there are some big differences between these two packs, but ultimately they go for the same market. Both backpacks are high-quality bags, but if you frequently travel with electronics and hate checking bags like me, the Tortuga Women's Setout is the move.
However, if you don't need the fancy add features and prefer to go for simplicity, you can't go wrong with an AER bag.
Some other options for you could be the Wandrd Prvke 31 (for photographers) or the Solgaard Lifepack. Both of these travel backpacks are smaller and don't nearly hold the same capacity as the Tortuga Setout (women's or men's). The Aer Travel Pack 2 is a good option for short trips and is a good way to stay organized but maintaining that minimal travel fashion.
The Solgaard Lifepack is sweet because of it's solar recharging capabilities so you never are forced to travel with a dead battery (God forbid).

Our GREATEST Travel Secrets…
Pop your email here & get the original Broke Backpacker Bible for FREE.
Overall, I think I have made it by this point clear that the Tortuga Women's Setout backpack is a great product. In general, I struggle to stay organized. It is way easier for me to do when there is a system in place. Stay organized is critical when you're traveling, especially in a foreign country where losing something valuable could be detrimental.
The laptop, clothing, and miscellaneous compartments make it hard to not keep your stuff organized. Which is a big win in my book. What's cool about the interior design is that it doesn't confine you in a "box". You can find ways to configure the backpack to meet your needs, which is what makes the Tortuga Women's Setout versatile.
I'm a fan of the exterior overall as well. It's durable, and water-resistant, plus it's a synthetic material made from recycled water bottles. Functionality is a key component of the exterior, pockets, a place to stash your water bottle, and added security to keep those damn thieves away from your stuff!
Functionality, versatility, and style are all key components in making the Tortuga Women's Setout a great travel backpack.
So what's our overall score for this epic backpack? We can confidently give the Tortuga Women's Setout a solid 4.7/5 rating!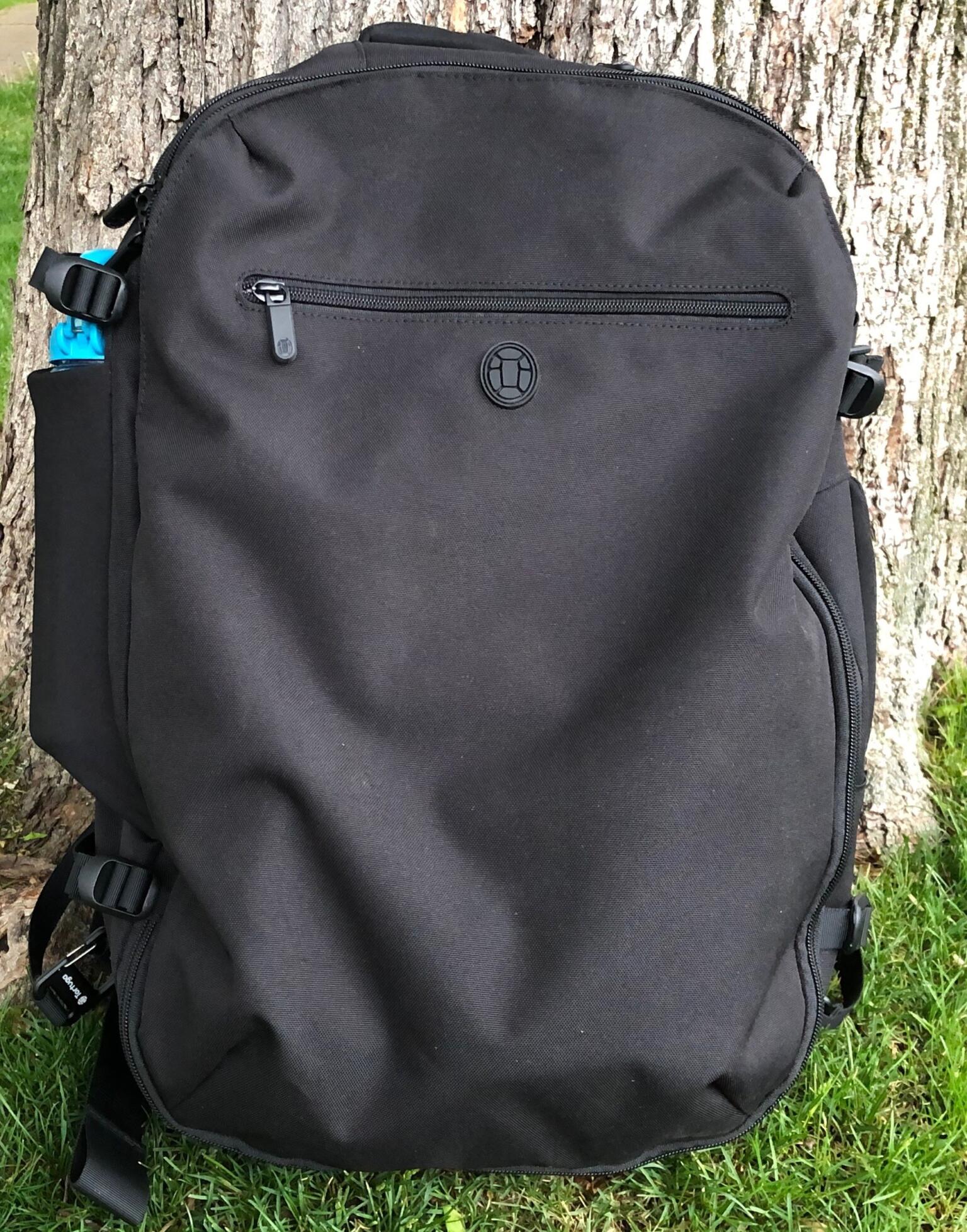 ---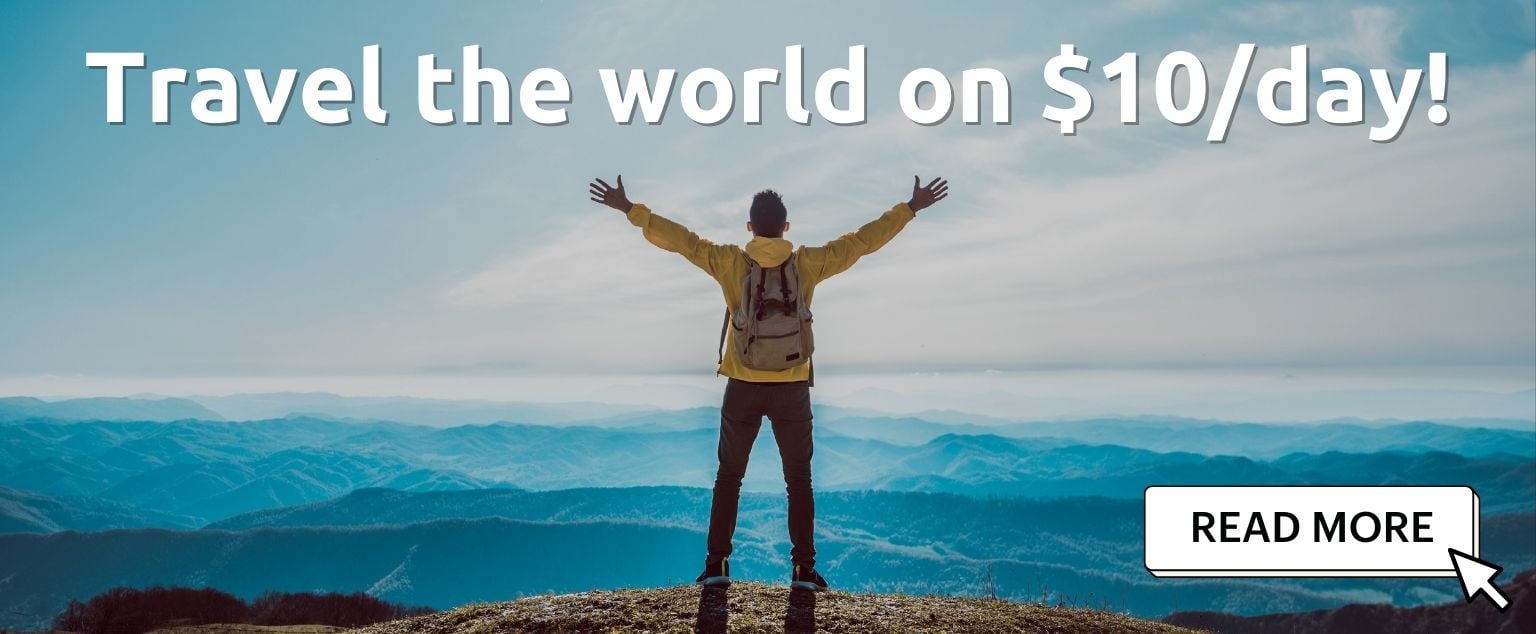 And for transparency's sake, please know that some of the links in our content are affiliate links. That means that if you book your accommodation, buy your gear, or sort your insurance through our link, we earn a small commission (at no extra cost to you). That said, we only link to the gear we trust and never recommend services we don't believe are up to scratch. Again, thank you!