"Travel and change of place impart new vigour to the mind." Seneca
You bet your toga robed ass it does… 
Today, in the modern world, this Stoic wisdom still rings true. Indeed, hitting the road on an adventure is one of the greatest things you can do for your personal development.
For me personally, spending my younger years bumming around India on a budget of just $10 a day, getting well and truly out of my comfort zone, being frequently cold, anxious, hot, overwhelmed, wet, tired, sunburnt, over-eagerly-energised… (Did I mention I have ADHD?)
Anyway, all this hardship, all these challenges, they went hand in hand with feeling inspired, welcome, curious, driven, passionate and creative. Being on the road is one of the most incredible opportunities to learn new skills, gain more confidence and spend some time introspecting on who the heck you want to be – and what you stand for.
And yes! You absolutely can just hit the fucking road, stick out your thumb, and await destiny to roll around the corner! Travelling to find yourself doesn't always have to be planned…
However, if you truly wish to prioritise your personal development whilst travelling, then I got good news for you, amigo. I've done some thinking and I've put together a list of some of the most enriching experiences around the globe that will not only satisfy your wanderlust but also catalyse personal growth… 
But First: Fostering a Positive Mindset on the Road
Travelling can be a challenging endeavour. Life on the road comes with epic highs but also with crushing lows. Especially if you're travelling solo to find yourself – the highs and lows are even more extreme when you're traversing them all on your own.
In order to better navigate them, it's essential to keep one's head straight and understand the power of a positive mindset. There is great power in remaining optimistic. And there is power in being kind, non-judgmental and open-minded.
When you set off on an adventure, whether you plan to cycle through Europe into Singapore, wander through the chaos of Chinese megacities, or go on a multi day hike through remote mountains in Pakistan, your mindset plays a central role in how your travels unfurl.
I'm a big believer of embracing optimism, kindness, and a can-do attitude in all aspects of life. That's what The Broke Backpacker manifesto is all about.
First and foremost, positivity is contagious. By approaching travel experiences with a positive mindset, you not only enhance your own well-being but also inspire those around you. You become a magnet for the incredible encounters and meaningful connections only the road is able to provide.
Optimism, my friends, is the fuel that keeps the fire of adventure burning bright. It's the unwavering belief that even during tough times, there's a silver lining waiting to be discovered. When you come across obstacles or face unexpected hurdles, it allows you to adapt, learn, and grow. It opens your eyes to the hidden lessons within every experience.
You are constantly reminded that these setbacks are nothing but mere stepping stones on your path to personal development. And let us not forget the power of kindness.
For as you traverse the globe, simple acts of kindness have the ability to transcend cultural and language barriers. A smile, a helping hand, a genuine, curious conversation… they will create profound connections and leave lasting impressions on both you and the people you meet.
Finally, being able to find the funny in setbacks is yet another skill well worth developing.
Let these qualities guide you as you embark on the adventures that will shape your personal development. Travel far, and always travel with an open heart.
Remember: you don't know the lives that go on behind the faces you come across. Practicing kindness and compassion reminds us of our shared humanity, and ultimately makes the world a better place, one interaction at a time.
Finding Yourself Through Travel: 11 Epic Experiences
Sit back and relax, my friends, as I dive deep into my very favourite types of transformative travel. From some of the best places to travel to find yourself, to experiences that will kick-start your personal development on the road, here's exactly what I recommend if you're seeking self-discovery:
1. Epic Journeys in Far-Flung Lands: Trips to Find Yourself
The thrill of arriving in an unfamiliar land, where you really don't know what to expect, is a truly electrifying experience. Gustav Flaubert once wrote, "Travel makes one modest. You see what a tiny place you occupy in the world."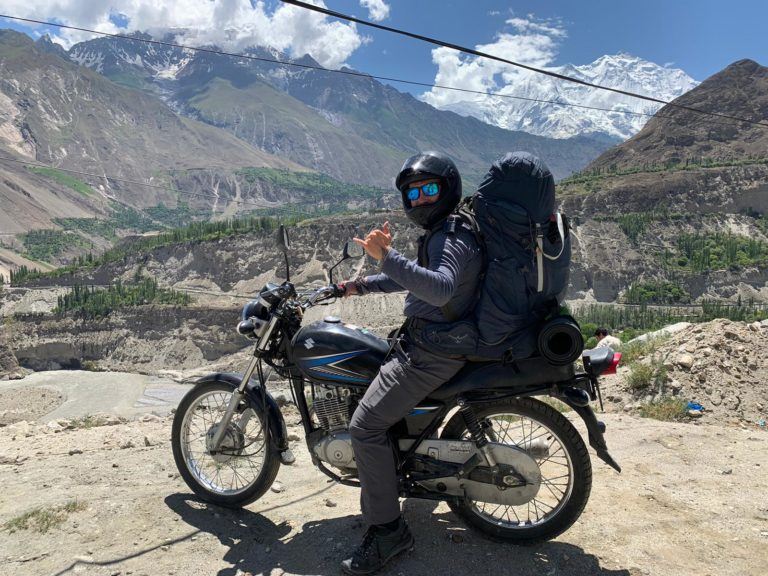 Whether you're navigating the bustling street markets of Bangkok or summiting peaks in the Andes, you'll figure out more about who you are and how you tick in the process.
In my opinion, the further you get off the beaten path, the more you get out of your comfort zone, the greater the learning opportunity. Trust me, the lessons learned on these epic journeys will seep into your soul, leaving you with a treasure trove of experiences and a hearty dose of self-awareness.

Unlock Our GREATEST Travel Secrets!
Sign up for our newsletter and get the best travel tips delivered right to your inbox.
2. To the Roof of the World: Personal Growth in the Himalayas
Imagine waking up to the majestic snow-capped Himalayas, sipping a piping hot mug of butter tea. Perhaps your last square of dark chocolate is melting on top.
As the sun slowly rises, turning the mountains pink, then orange, then finally gold, you realise that this same scene has unfurled day after day with little change for thousands of years… Being amongst the mountains, especially without a phone signal, is a truly incredible experience that will help you find balance and put your challenges, trials and tribulations into perspective.
Imagine, one foot in front of the other, the soft crunch of snow, the air is thin, upon the wind you hear the faint chime of prayer wheels being turned in a village just out of sight, a mirage for the ears, mayhap? Prayer flags flap above you as you walk onwards through an endless stretch of Christmas trees – no lights upon these beauties though. Only snow weighed down the heavy bows.
Overhead, an eagle whirls and weaves elegantly, searching for the easiest route, surveying its domain. You follow the winding trail, thinking of all those wanderers and pilgrims, explorers and holy men, who have walked this trail before…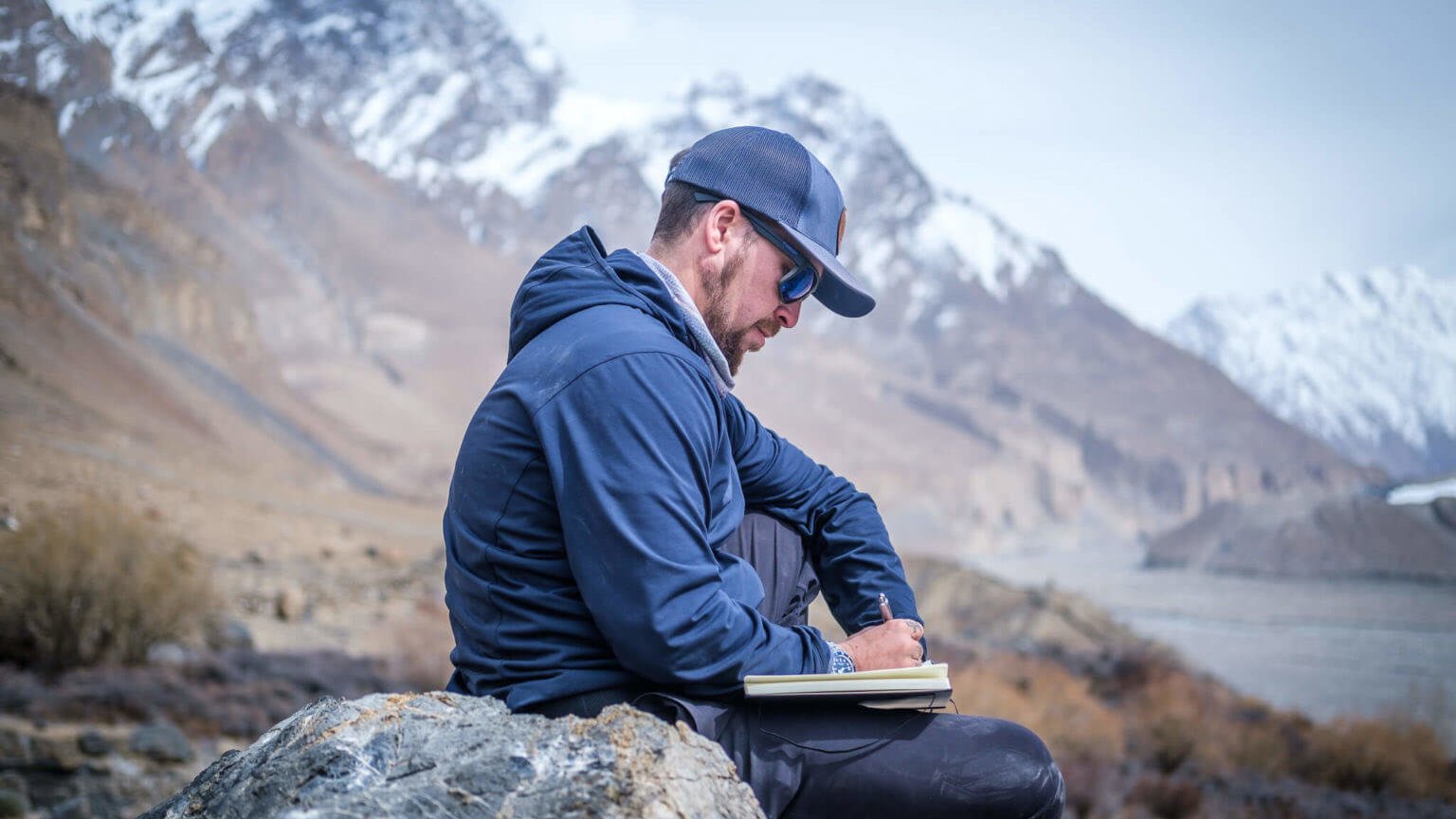 Sounds enchanting, right? I wrote that from memory, shot by shot, as it happened to me in Nepal over a decade ago.
I remember this moment intimately and clearly. It is etched upon my heart. But it's not just the breathtaking views that make this journey a transformative one: it's the grit, the perseverance, the feeling of insignificance against the towering peaks, and the warmth of the mountain communities that welcome you.
You'll learn life lessons that no classroom can ever teach, like resilience, humility, and the importance of living in the moment. After all, as honest Abe (the vampire hunter) put it; "In the end, it's not the years in your life that count. It's the life in your years".
Engaging with the local communities also offers a cultural exchange more enriching than any museum. Trust me, sharing stories over a meal in a mountain village is an experience that stays with you for a lifetime.
3. Volunteering Around the Globe with WorldPackers: Giving Back While Growing
What's better than travelling the world? How about, travelling the world slowly and investing your time and energy into worthy projects that enable you to give back, stretch your travel funds further and become a part of a community… There are a few different ways to do this but the best and biggest platform I have found (and used personally) is Worldpackers.
Worldpackers are all about creating a mutual exchange of value, connecting eager travellers with opportunities to lend a hand in exchange for food and board. There's something incredibly fulfilling about immersing yourself in a new culture and contributing to a cause that's bigger than yourself.
According to a report by WorldPackers, 93% of volunteers felt more competent after their experiences, and personally, I get it. I've volunteered a lot around the world; working in a commune in India, an organic farm in the ancient country of Palestine, a moshav in Israel, a hostel in Colombia, an adventure activities centre in Turkey, a windsurfing school in France, and many more.
Whether you're teaching English in Cambodia, building eco-houses in Brazil, or working on organic farms in Italy, you're not just making a difference – you're learning new skills and meeting interesting people. It's a win: win.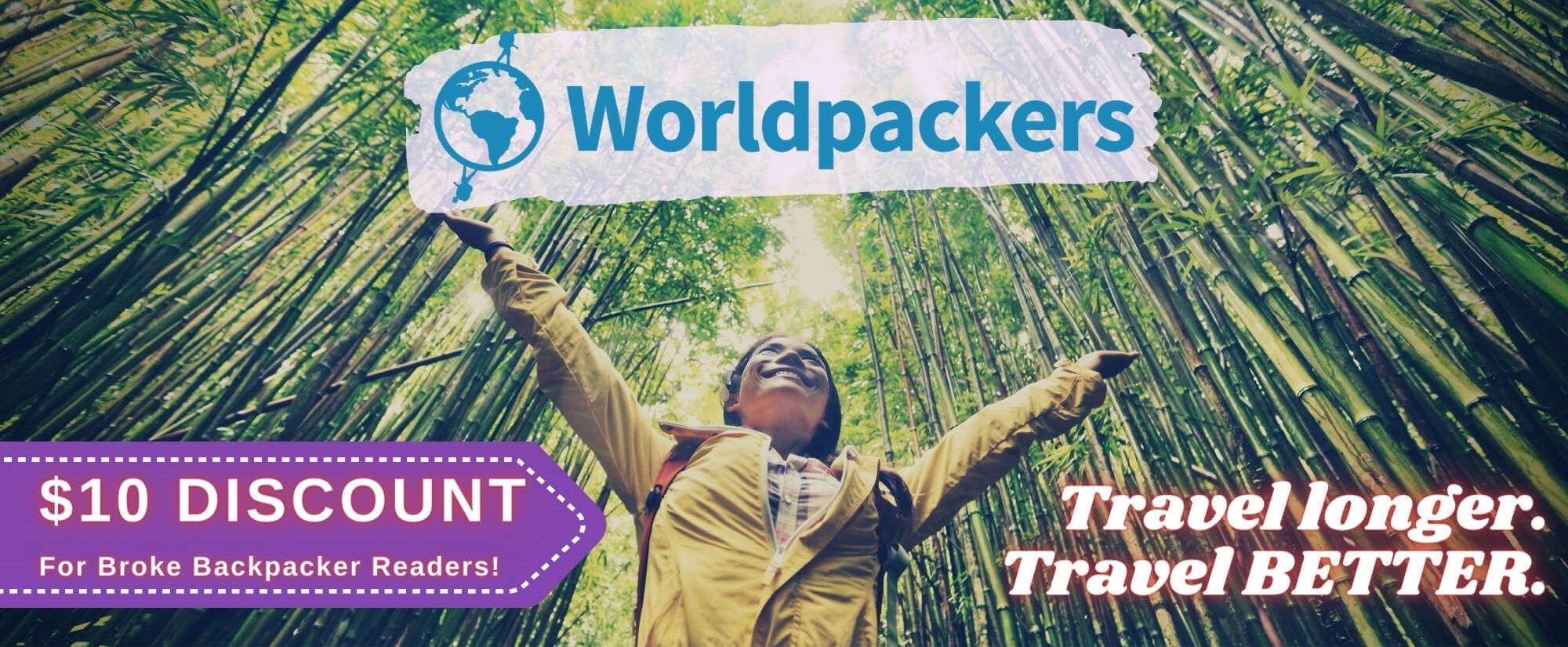 Worldpackers: connecting travellers with meaningful travel experiences.
4. The Digital Detox: Unplugging from the Digital World
Now, let's shift gears and head away from screens and into the wild. As we get caught up in the digital world, it is easy to forget our roots, our connection with nature. Heading deep into remote corners of the world offers a chance to reconnect and for a much-needed digital detox.
Imagine exploring the wild vastness of Africa for example. When you're out there in the wild, watching the circle of life unfold before your eyes, you gain a new perspective.
You understand the fragility and the resilience of life, the rhythm of nature, and the beauty of a world untamed by technology. Plus, there's nothing like learning resilience from the formidable Maasai warriors, whose lives are a testament to the power of adaptability and the strength of community.
Whilst I have not yet really travelled around Africa (just Morocco and a short stint in Tanzania to climb Kilimanjaro), it is high on my list of places I am keen to visit and explore… Every year, I head into the mountains and take a few weeks away from my laptop.
I use my two-phone system, so I can get away from work, distraction and stress and reconnect with myself, my purpose, my goals, my breath. This time is non-negotiable for me and I do it every year to recharge.
It is always incredibly valuable. And, whilst I sometimes experience anxiety from being away from my phone or laptop, this passes, I breathe, I journal, I watch the mountains turn pink as the sun sets… It puts what does and doesn't matter into perspective.
5. Hitchhiking Adventures: Taking the Road Less Traveled
Hitchhiking might sound like a relic from the past or a scene from a Kerouac novel, but it's a fantastic way to meet locals and embrace unexpected experiences – it has been one of the best experiences of my life.
Hitchhiking may be less common these days but is still very much alive in many parts of the world! It's about the thrill of the unknown, the kindness of strangers, and the stories shared between the driver and the hitchhiker.
Henry David Thoreau once said, "Not until we are lost do we begin to understand ourselves." Well, hitchhiking can sometimes literally get you lost, but it's in these unexpected detours that you find the best adventures and really get to use travel to discover yourself. Plus, the characters you'll meet and the stories you'll hear… let's just say they're priceless.
Small Pack Problems? 😉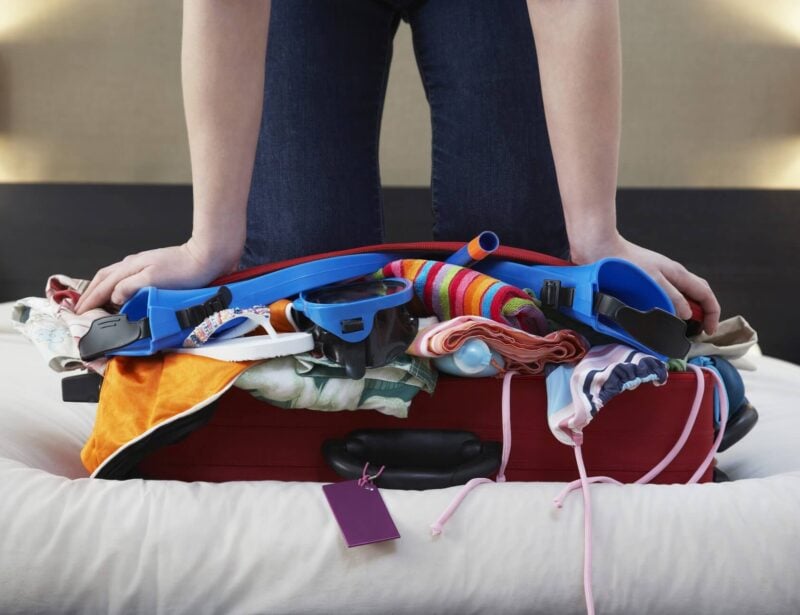 Wanna know how to pack like a pro? Well for a start you need the right gear….
These are packing cubes for the globetrotters and compression sacks for the real adventurers – these babies are a traveller's best kept secret. They organise yo' packing and minimise volume too so you can pack MORE.
Or, y'know… you can stick to just chucking it all in your backpack…
Get Yours Here
Read Our Review
6. The Art of Travelling Sloooooow……
As many a broke backpacker will know, to travel cheap often means to travel slow. And to travel slow means to truly soak in the vibe of a place and learn more about the culture of where you actually are slowly meandering through.
Perhaps the ultimate example of slow travel that still puts a SHIT TON of miles under your belt is the Trans-Siberian Express. It's a journey I have always wanted to do.
Picture this; Getting to see much of the vast expanse of Russia, right from Moscow's buzzing metropolis, via frozen lakes and endless prairie, past the tribes of the Steppe and onwards to the tranquil shores of the Sea of Japan. So, if you can afford the ticket, hop on the Trans-Siberian Railway – the longest railway line in the world.
A journey on this iconic railway isn't just about the destinations you'll tick off your list: it's about embracing the discipline of slow travel. As the landscape changes outside your window, from bustling cities to serene countryside, from mountains to lakes, you'll find yourself reflecting, introspecting, and growing. It's this gradual transition that teaches you adaptability and the art of savouring the journey – essential life skills in our fast-paced world.
7. Working Online: The Freedom of Digital Nomadism
In the age of the internet, work is no longer a place; it's an activity. More and more people are ditching their desks to embrace the freedom of digital nomadism. It's not just about working from exotic locations (though that's a significant perk); it's about mastering the art of balancing work and life, fostering creativity, and becoming an entrepreneur in your own right.
Starting an online business isn't just a career move; it's a crash course in real-world skills, from marketing and sales to customer service and finance. A report by MBO Partners showed a 49% rise in the digital nomad population in the U.S. between 2019 and 2020. This lifestyle might seem challenging at first, but remember, "Life begins at the end of your comfort zone," as Neale Donald Walsch famously said.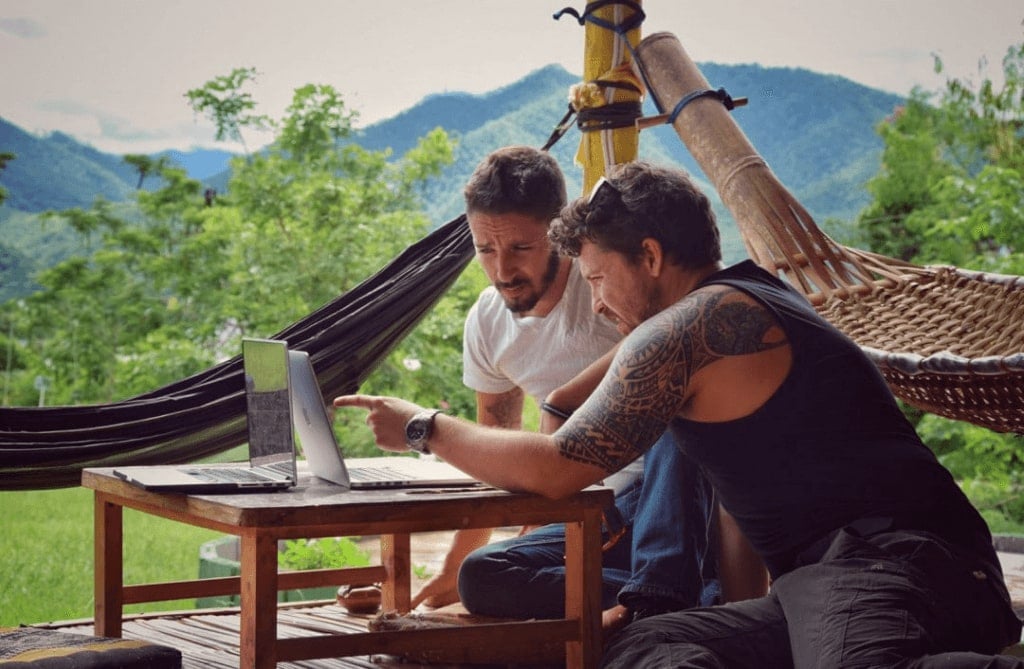 Ultimately, working remotely, especially if you build your own business, is an incredibly rewarding experience. It can be fucking tough but hey, if you are already backpacking the world you will, ultimately, have a lot of downtime – use that downtime wisely, start a passion project, learn a skill, launch a business.
Take risks, lots of risks. Fail young, fast and cheap… learn, and come back stronger. Whilst it IS hard to be successful at building an online business the truth is that the bar is low… most people simply don't have the work ethic or the focus to be able to compete.
If you can be even a little bit of a savage, you will crush it. Work hard, work consistently, be optimistic, forge your dream life… travelling to find yourself may even lead you to find a new career.
8. The Ultimate Workation: Balancing Work and Play in Bali
If you're still wondering how to strike the perfect balance between work and wanderlust, let me introduce you to the concept of a 'workation.'
And there's no better place to start than Bali, an island that's become a hotspot for digital nomads and the place I personally hang my hat (and accumulate doggos, six so far). Amidst the lush rice fields and serene beaches, you'll find next-level co-working spaces teeming with aspiring entrepreneurs, digital nomads, and remote workers from across the globe.
But it's not just about work:
It's about embracing the local Balinese culture, with its focus on balance and harmony, and letting it influence your personal and professional life.
Engaging with the digital nomad community here, you'll learn about diverse ways of living and working, thus broadening your worldview.
And enriching your personal growth journey.
And of course, it helps if you have a spot to aim for… Introducing Tribal Bali, the islands' very first custom-built co-working hostel of which I am a co-founder, come find me down there and say Ahoy!
9. Language Learning: Expanding Your World View
Learning a new language can be challenging, but the rewards are immeasurable. Immersion experiences in Latin America are perfect for those seeking to expand their worldview and get fluent with the local lingo so you can chat up the local hotties. When you learn a new language, you gain access to new cultures, new perspectives, and new opportunities.
According to a study published in the Journal of Personality and Social Psychology, living abroad can lead to a clearer sense of self. Learning a new language can contribute significantly to this. Immersing yourself in the language and culture of a foreign country allows you to gain insights into how people think, behave, and communicate.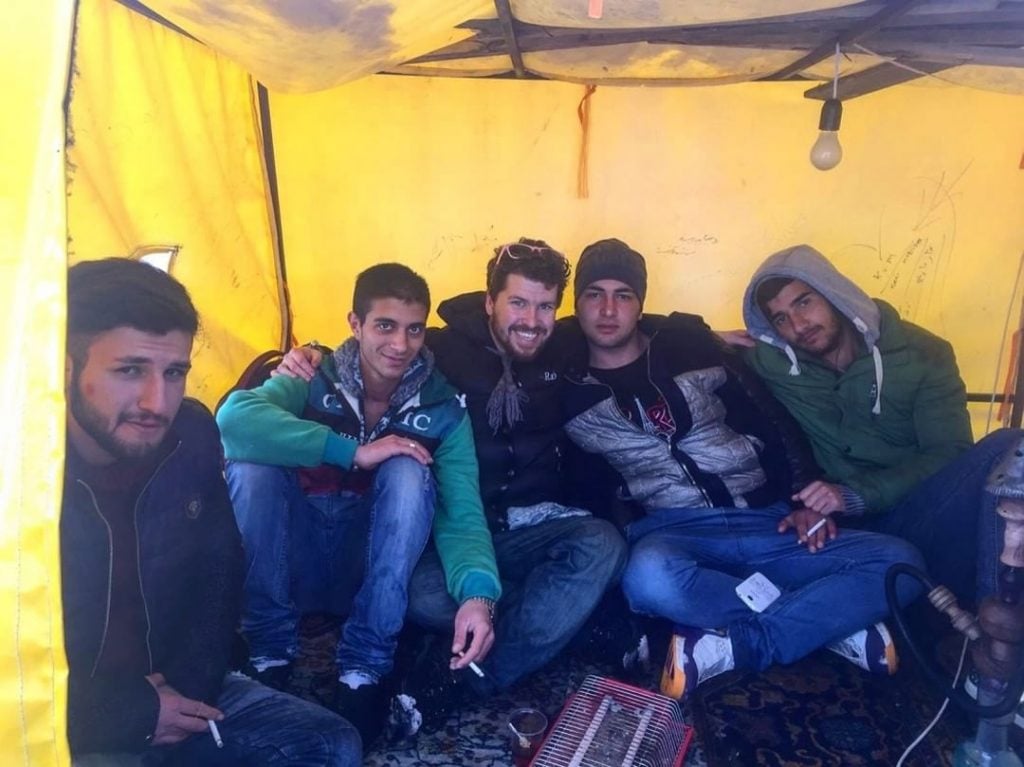 Personally, I really struggle with languages but the handful of words I have in Farsi (Iran) and Urdu (Pakistan) always help me crack a smile, break the ice and make new best friends when in these amazing parts of the world. Since I was married to an Iranian for a few years, I know a few hilarious phrases which I shall probably best not repeat here.
10. The Camino de Santiago: A Walk Towards Self-Reflection
The Camino de Santiago isn't just another one of those amazing hiking trails; it's a transformative journey that draws pilgrims from all walks of life and I am determined to get there myself in the next couple of years. Whether you're trekking it for spiritual reasons, personal growth, or the pure love of adventure, the Camino is a masterclass in self-discovery.
Each step along this ancient path is a metaphor for moving forward in life, overcoming obstacles, and embracing change. The camaraderie among the pilgrims, the simplicity of life on the trail, and the stunning landscapes you'll encounter offer invaluable lessons in resilience, gratitude, and mindfulness.
As Marcel Proust said, "The real voyage of discovery consists not in seeking new landscapes, but in having new eyes." The Camino is a vivid testament to this, promising a journey that's as inward as it is outward.
It's the ultimate place to start discovering oneself, masquerading as a sexy hike.
Is This the Best Backpack EVER???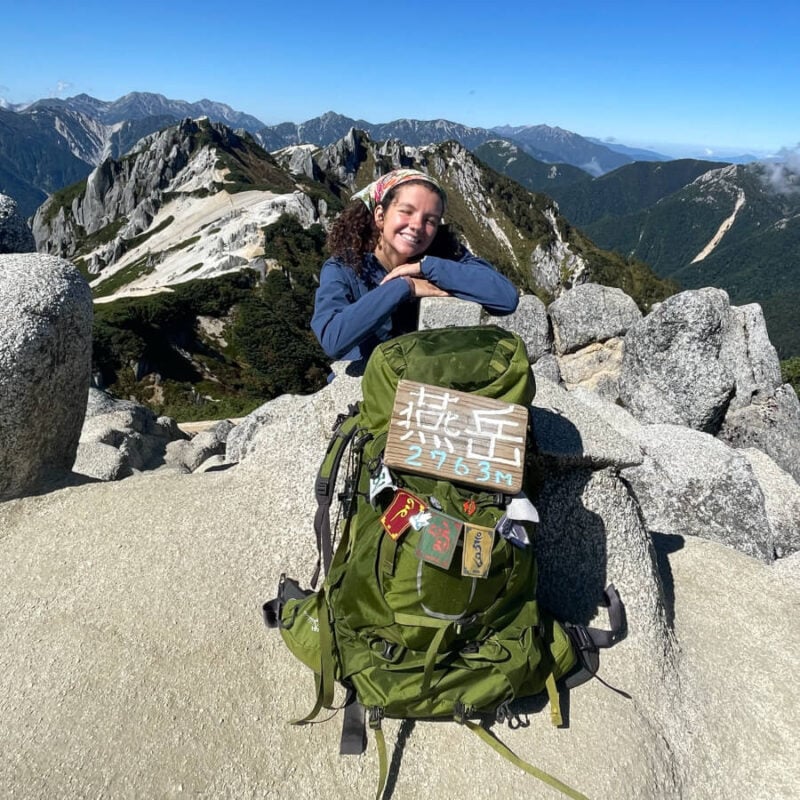 11. Meditation Retreats in Asia: A Journey Inward
Meditation has been practised for thousands of years as a way to cultivate inner peace, mindfulness, and compassion. Today, meditation retreats in Asia offer the opportunity to delve deeper into this ancient practice and discover its transformative power.
As Henry David Thoreau once said, "Not until we are lost do we begin to understand ourselves." Meditation retreats in Asia offer the chance to disconnect from the distractions of daily life and focus on self-reflection and personal growth.
With experienced teachers and beautiful natural surroundings, these retreats can be a life-changing experience, and can certainly can be a clear cut way to get into self discovery through travel. My ex-wife Nina swears that her silent 10-day Vipassana retreat was one of the most important experiences of her life.
Your Personal Development Passport: Final Words of Wisdom
Travelling to find yourself is not just about seeing new places and having fun. It's ultimately the perfect canvas on which to paint your own story of personal growth and self-discovery.
The ideas in this post are just a few specific suggestions to get your creative travel juices flowing. Ultimately, you don't need to hike the Camino or do a silent retreat to grow as a person but I have personally found that having a specific goal or framework often offers me the best chance for introspection and development.
Really though, I'm just a big believer in getting out of one's comfort zone – if you do that, and you manage to do it without dissociating and numbing yourself (alcohol/phone use / whatever), to be present with your discomfort, to ride with it, to roll with it, to understand and accept it and to realise it isn't scary, it makes you stronger, this is when you grow…
It's time to step out of our comfort zones, explore the world, and discover the endless possibilities for personal growth that await us.
---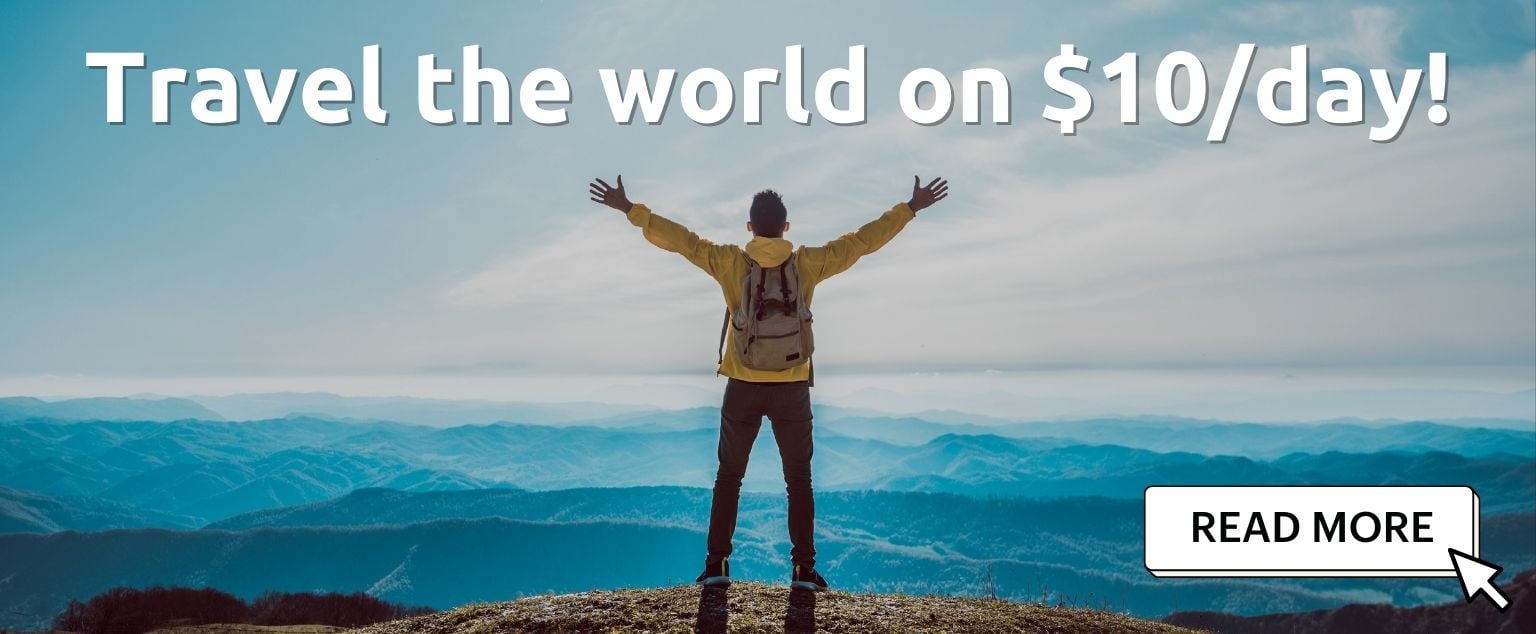 And for transparency's sake, please know that some of the links in our content are affiliate links. That means that if you book your accommodation, buy your gear, or sort your insurance through our link, we earn a small commission (at no extra cost to you). That said, we only link to the gear we trust and never recommend services we don't believe are up to scratch. Again, thank you!