Tucked away between the famous Rocky Mountains and the Great Plains, Colorado Springs is bursting with history, culture, and beautiful scenery. With a buzzing art scene, tons of opportunities for outdoor activity, and a dynamic city environment, it's no wonder this has become a recently popular spot for young families.
Downtown Colorado Springs is the hub of the city. This is where you'll find the buzzing art and culture scene, as well as traditional carriage houses and condos up for rent. Old Colorado City is another area that is overflowing with history and culture, you can even rent out an old repurposed train trolley vacation rental here!
Head a few miles west to Manitou Springs if you prefer a more laid-back vibe. Here, there are many cottages and cabins dotted throughout the beautiful Rocky Mountain landscape. Similarly, the Florence neighborhood has a small-town American charm like no other, and is ideal for family vacations and romantic getaways.
Let's take a closer look at some of the best vacation rentals in Colorado Springs.
Quick Answer: These are the Top 5 Vacation Rentals in Colorado Springs
Overall Best Value Vacation Rentals in Colorado Springs
Overall Best Value Vacation Rentals in Colorado Springs
Stylish 7 Bed Home with Mountain Views
> $$$$
> 16 Guests
> Tastefully decorated home with tons of windows and natural light
> Located in a residential area north of Downtown Colorado Springs
Best Budget Vacation Rentals in Colorado Springs
Best Budget Vacation Rentals in Colorado Springs
Sleek and Modern 2 Bed Cottage
> $
> 5 Guests
> Comfortable home with a sleeper couch for an added guest
> Located within walking distance of many local tourist attractions and restaurants
Best Vacation Rentals for Couples in Colorado Springs
Best Vacation Rentals for Couples in Colorado Springs
Stylish and Small Home for 2
> $$
> 2 Guests
> Original carriage house with a stunning brand-new kitchen
> Located in west Colorado Springs, with quick access to Downtown
Best Vacation Rentals for Families in Colorado Springs
Best Vacation Rentals for Families in Colorado Springs
Contemporary 4 Bed Carriage House with Natural Light
> $$
> 8 Guests
> Contemporary and cozy interiors with a yard and playground
> In a quiet neighborhood right by the freeway, a few minute's from Old Colorado City kitchen/dining
Over-the-Top Luxury Vacation Rentals in Colorado Springs
Over-the-Top Luxury Vacation Rentals in Colorado Springs
Opulent yet Homey 5 Bed House
> $$$$
> 10 Guests
> Huge house with outdoor fireplaces, a games room, and a sports bar
> Located just north of the city center in a residential area

Unlock Our GREATEST Travel Secrets!
Sign up for our newsletter and get the best travel tips delivered right to your inbox.
Types of Accommodation in Colorado Springs
Carriage Houses
Carriage houses are super common around the Colorado Springs area. Usually, a single-family residence, this type of vacation rental is similar to a condo or a townhouse, built using wooden slacks and painted in charming colors. 
Popular for housing horse-drawn-carriages in their heyday, these are now used as accommodation, ideal for small families or couples. Carriage houses typically have a raised patio or porch, and a yard. Today, you'll find homes that have been joined together and expanded for residential use.
This historical place to stay is common among local residents, and is a great option for vacationers looking for an authentic and local experience. Depending on your budget and vacation needs, you could find a carriage house in Colorado Springs for between two to ten guests. 
Cottages and Bungalows
Hidden along tree-lined alleyways and in mountainous regions, cottages and bungalows are typically small homes with lots of character. From the Rocky Mountains to the Great Plains of Colorado Springs, there are many cottages and bungalows up for rent. 
You might be wondering what the difference is between the two. Well, cottages usually have small quaint gardens and are located in more central regions. Whereas, bungalows can be found hidden in the mountains and forests. They're usually the more secluded and remote version of their city counterparts.
Because of their size, cottages and bungalows are ideal for small families and couples to rent while on vacation. They are also great options for those traveling with pets, and even for digital nomads in search of an affordable long-term rental.
Mansions
Luxury homes can be found in almost every populated area in the USA. From the mountainside to Downtown, there are some extraordinary luxury vacation rentals in Colorado Springs. 
Many of these homes boast opulent architectural styles, including glass walls, Spanish-inspired archways, and dramatic log-cabin exteriors. Naturally, mansions usually have large gardens with Jacuzzis (and sometimes swimming pools). Inside, don't be surprised if you come across a dedicated games room, indoor bar, or even a private cinema. The sky is the limit when it comes to these high-budget holiday homes.
As the size of these homes is typically large, mansions are the best option for large families and groups of friends to rent on vacation. They are also ideal for those who wish to host large gatherings or events.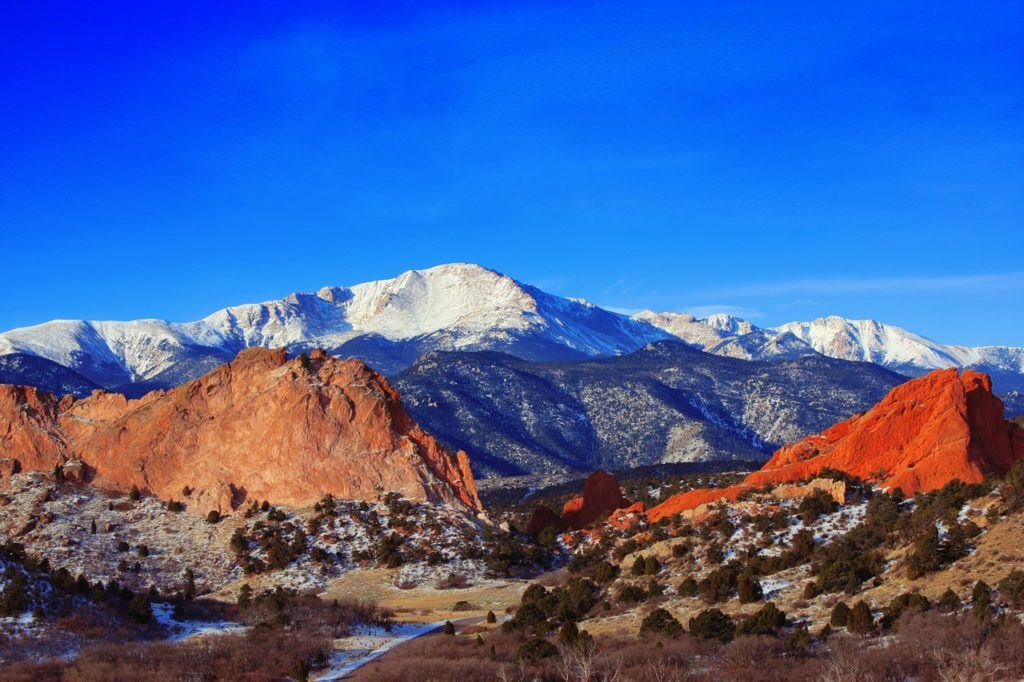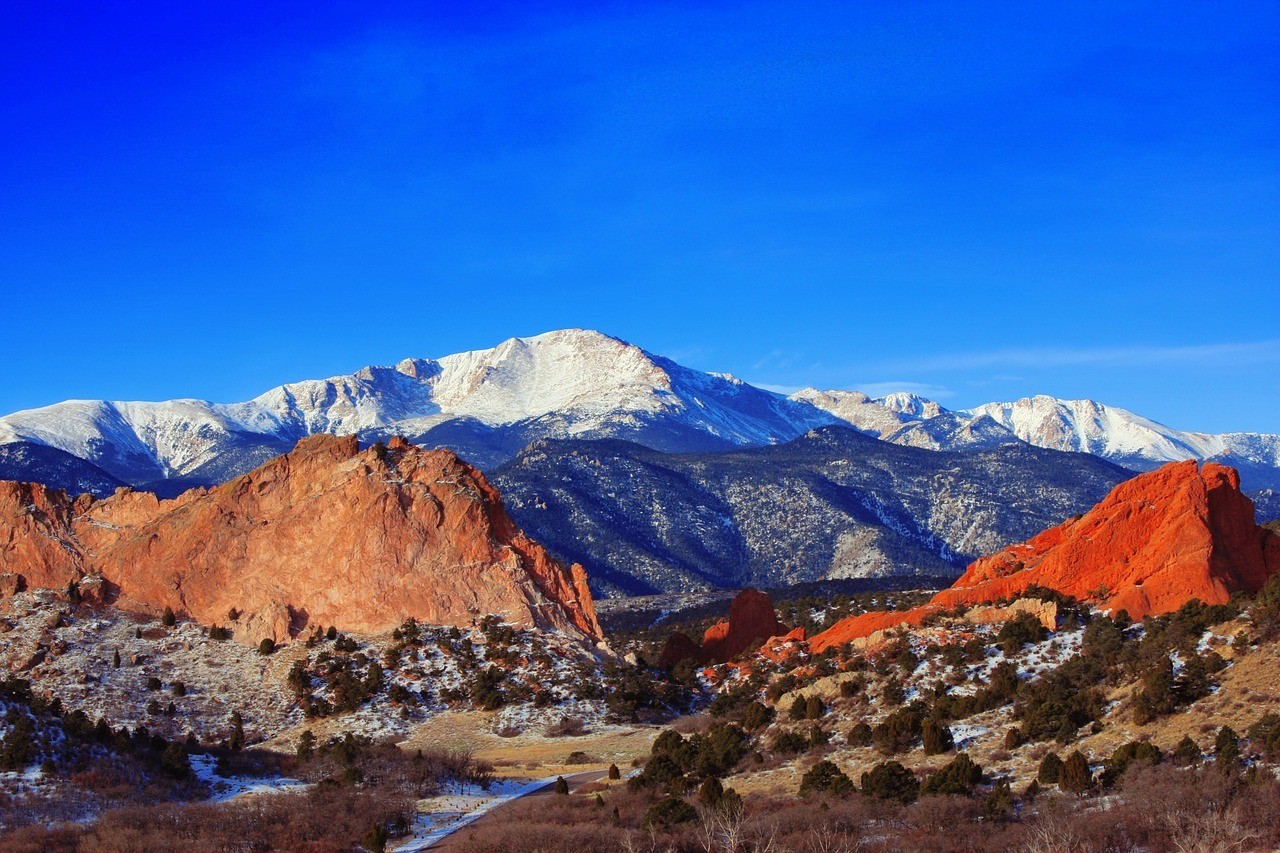 Top 20 Vacation Rentals in Colorado Springs
From quaint cottages in the middle of the historical district to gigantic log mansions perched on dramatic Rocky Mountain cliffs, there are some extraordinary vacation rentals in Colorado Springs.
$$$$
Tastefully decorated home with tons of natural light
16 Guests
Located in Downtown Colorado Springs
A modest mansion, this triple-story home is filled with everything you might need while on vacation and more – from a pool table to a private indoor gym fitted with all the necessary elliptical equipment as well as a Jacuzzi spa. Ideal for family getaways, the huge yard plays host to a custom-designed wooden playground with a slide and trampoline.
One of the most useful things about this home is the flatlet in the basement. It's basically its own separate rental and includes a full kitchen with a dishwasher. It's the perfects spot for the in-laws during a grand family gathering.
$
Comfortable home with a sleeper couch
5 Guests
Walking distance of many local tourist attractions
This charming cottage might just be the best vacation rental in Colorado Springs for those on a budget. Firstly, it has been newly renovated and boasts clean white walls, comfortable new furniture, and cozy linen. Second, it has a fully-equipped kitchen with a dishwasher and high-quality appliances, not to mention, it's been stylishly designed and is beautiful to look at! Third, this quaint cottage has a spacious yard with comfortable seating.
It's located in a super central and hip district, close to tons of restaurants, shops, and grocery stores. Overall, it's your one-stop-shop for a budget holiday home!
$$$
Traditional home with cozy yet sleek fittings
10 Guests
Located minutes from Downtown
With so much natural beauty surrounding this home, this gorgeous log cabin blends right into its surroundings. 
The interior doesn't disappoint either. Recently renovated with clean whites and warm wooden tones, and using top-of-the-range fittings, cabinetry, and materials including hardwood flooring and granite countertops, this home oozes luxury from every corner.
Each bedroom has large windows that overlook the leafy central suburb that it's located in. Close to hiking and mountain bike trails, this luxurious home is the perfect spot for outdoor adventurers. It's also close enough to historic Manitou for those who would prefer to soak in the culture and history of the wonderful town.
Is This the Best Travel Pack EVER???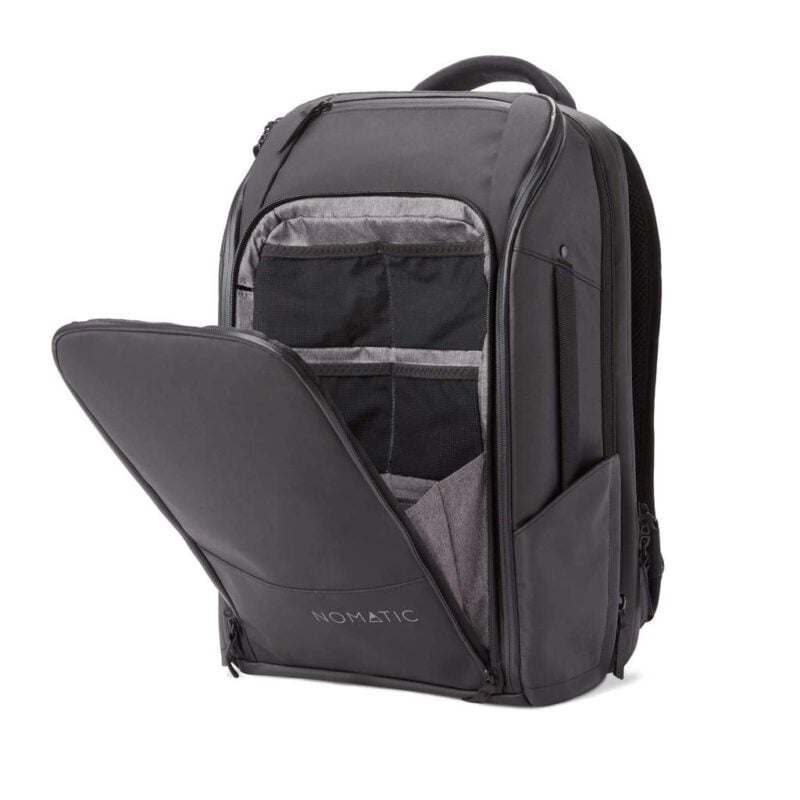 $$$$
Outdoor fireplaces, a games room, and a sports bar
10 Guests
Located just north of the city center
There's no shortage of tall ceilings, luxurious furniture, and outdoor space at this opulent mountainside home. Architecturally designed using exposed wooden ceiling beams, staircases, and stone walls, this home has an abundance of character. 
The best part, in my opinion, is the sheer amount of space for activity. There are two separate lounges (almost necessary for a five-bedroom house), a bar, and a pool table. Even better, you'll be able to enjoy lake views from the spacious outdoor BBQ patio.
I can just imagine settling down for a cup of hot cocoa with the family after a long day exploring the historic city.
$$
Contemporary and cozy interiors
8 Guests
A few minute's from Old Colorado City
This traditional carriage house has been remodeled with contemporary interiors and stylish taste. Abstract art fills the walls, comfortable blankets cover the furniture, and modern lighting features make this house a home.
With four full bedrooms and a kitted backyard with a play structure, this is without a doubt one of the top luxury holiday homes in Colorado Springs for families to enjoy. There is even a garage with private washer dryer facilities, which with young kids, is a must-have!
$
Colorful lighting, flooring, and furniture
2 Guests
Within walking distance to great parks and eateries
Inspired by outer space and color, this studio is one of the coolest self-catering vacation rentals in Colorado Springs. Its floors are completely unique and otherworldly, it almost feels as if you're walking on artwork made from glass. Interesting colored light features bring a sense of abnormality into the space. 
Painted walls, abstract art, and colorful furniture scatter the studio, which has a fully-equipped kitchenette. There's also a rustic style outdoor area covered with string lights leading into an old shed repurposed as a chill lounge. Enjoy a relaxing 420 afternoon in this peaceful oasis!
$$$
Family-friendly home with a playground, trampoline, and water slide
14 Guests
Located in north Colorado Springs
When summer comes around, it's always a pleasure having a swimming pool to cool down in. This six-bedroom mansion has a super homey feel about it with warm interiors and comfortable furniture scattered throughout. 
The star of the house, however, is the outside space. To begin, there's a patio with a BBQ, a dining area, and a large Jacuzzi. Follow the stairs towards the huge yard with a swimming pool with a slide and jumping platform as its center piece. Around the corner, there's even a huge children's playground and a full-sized trampoline!
Super Accessible Vacation Rental in Colorado Springs | Spacious and Homey Home
$
Wide passageways and no steps with a handicapped accessible shower
3 Guests
Located in Old Colorado City
This basic holiday home excels for two things: its value for money, and its ease of access. As one of the top budget self-catering vacation rentals in Colorado Springs, it has a full gourmet kitchen with quality appliances including a huge double door refrigerator. 
The main selling point of this simple home is its accessibility benefits. Wide-open entrances and spaces, as well as a lack of stairs throughout, make this the perfect spot for wheelchair users and others with limited mobility.
$$$
Traditional antique interiors
13 Guests
Walking distance to Downtown Colorado Springs
Wake up in the comfort of an old-style Coloradan carriage home and simply walk out the door to many of the city's top restaurants and attractions. Five spacious bedrooms, each decorated using stylish antique furniture and quirky curtains and linen make this one of the greatest family homes in the central Downtown district.
From the street, the unassuming house seems modest and small. However, step inside and explore the warm rooms flooded with natural light through the bay windows. Not only does this historic home boast antique furniture and original exteriors, but it also maintains its original hardwood floors and interior beams as well as a beautiful cast-iron fireplace.
$$
Laundry room, office space, and child-friendly add-ons
12 Guests
10 minutes from Downtown Colorado Springs
Family gatherings are a treat, but they can also take the energy out of you. That's why it's important to choose a vacation rental with ample room for everyone to spread out. This rental goes one step further to ensure you're never too exhausted. The living room is fitted with a huge reclining couch, where you can relax and unwind while still enjoying the company of your family.
Of course, it has a large kitchen fully equipped with all the appliances and equipment needed for making feasts. Remodeled and fitted with beautiful furniture and decorative touches, this huge home is one of the top luxury vacation rentals in Colorado Springs for a reason.
$$$
Brand-new kitchen, foosball table, and patio
10 Guests
Located in the heart of Colorado Springs
An all-time favorite, behind the walls of this unassuming carriage house, you'll find four bedrooms with impeccable interiors. Martha Steward would feel right at home in this house, which is designed using warm whites and bright natural light. 
The best part of the home is the family living area, which includes a dining table and a kitchen that leads through an open archway into a lounge and games room. The kitchen boasts a huge center island with bar seating and plenty of food preparation space. Stunning contemporary lighting fixtures hang over this island, making it the centerpiece of the room.
$
Historical trolley with modern interiors
2 Guests
Located in the heart of Old Colorado City
This train trolley isn't your average holiday rental in Colorado Springs. Not only is it truly unique, but it's also a historical stay! Recently remodeled with minimalistic yet stylish interiors, this is the perfect spot for a romantic pair to enjoy each other's company.
While it's fitted with a full kitchenette and private bathroom, it's also located in the super central Old Colorado City. This makes it easy to venture outside the trolley to grab a bite to eat at one of the many eateries in the area. The hosts of this holiday home even provide you with a small breakfast to get you started in the morning!
Best Rental in Colorado Springs for Honeymooners | Cozy and Romantic Studio
$$
Tiny remodeled home with a fireplace, porch, and private parking
2 Guests
Located in Old Colorado City, 2 miles from Downtown
While it looks small from the road, this charming studio home provides you with everything you might need during a holiday. A well-equipped kitchen with snacks and breakfast, a perfect two-seater lounge and dining space, and an ultra-comfortable queen-sized bed.
Beautiful modern touches and contemporary finishes will make you feel right at home in this spacious yet cozy studio. Centrally located in Old Colorado City, thisvacation rental allows you to enjoy everything the city has to offer, only minutes from your doorstep. 
4 Guests
A few blocks away from Downtown
If we had to describe this home in three words, it would be sleek, contemporary, and stylish. It is located just outside the hustle of Downtown Colorado Springs yet still close enough to access wonderful attractions.
Inside the home, you'll find modern interiors, warm and welcoming colors, and stylish furniture. However, the real heart of this rental is outside, in the luxurious Jacuzzi to be exact.
I can just imaging relaxing here and admiring the views of the famous Pikes Peak after a day exploring the exciting city.
$$$$
Massive home with large patio, lawn, and balcony
22 Guests
Located in Broadmoor, a mile from Downtown Colorado Springs
While views arent too hard to come by in this naturally exquisite region of America, this house truly has some special vistas to share. In fact, the entire front of the house is lined with a wide balcony and covered patio which leads onto a lush green lawn. 
From these outdoor living spaces, you'll be able to admire 180-degree views of the surrounding South Cheyenne Mountains. Trust me when I say, the sunsets are spectacular from this spot!
$$
Original carriage house with a stunning brand-new kitchen
2 Guests
Located in west Colorado Springs
This petite carriage house is the perfect secluded stay for couples and those seeking a romantic getaway. While the exterior maintains its classic charm and carriage appeal, the interior has been completely refurbished boasting contemporary fittings and cabinetry. 
Warm colors and tons of natural light bring a homey feel into the space, which is perfect for two, but spacious enough for four if necessary.
It's also super well located right in the hub of the city, only three miles away from the famous Garden of the Gods. This is one of the best vacation rentals in Colorado Springs for couples.
Most Remote Rental in Colorado Springs | Secluded Barn House
$
Refurbished barn surrounded by nothing but wild farmland
6 Guests
Nearby many walking and hiking trails
If you're interested in a more remote stay, this converted barn will surprise you with its classic charm and comforts. Nestled in the farmlands just west of the city, it has been remodeled and converted into a stylish condo suitable for up to six guests.
While the barn has been renovated in a modern style and fitted with contemporary furniture, it still maintains its charm with exposed wooden walls, beams, and structural appeal. From inside, you'd never guess you were staying in an old barn!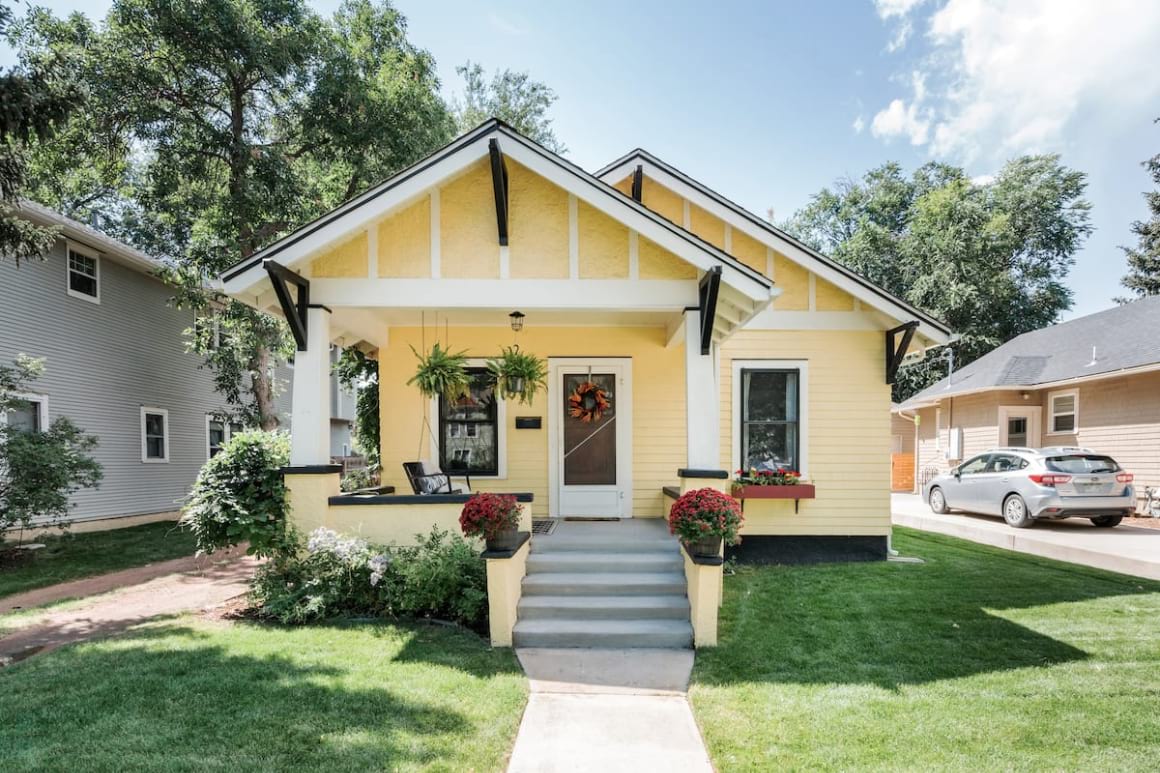 $$
Homey spot with patio and yard
6 Guests
Positioned within a walkable historic neighborhood
Many times, vacation rentals give you the feeling they were designed exactly for that purpose – to be rented out. This holiday home gives the exact opposite vibe, and could not be homier if it tried! Filled with warm furniture, personal touches, and welcoming colors, it's easy to make this your home-away-from-home in Colorado Springs.
The quaint carriage house has a charming narrow patio, fitted with a French bistro dining set, and a yard with a private Jacuzzi, perfect for both warm and cool mountain days.
Most Historic Vacation Rental in Colorado Springs | Old Victorian Family Home
$$
Authentic Victorian home
8 Guests
Centrally located in Downtown Colorado Springs
History is everywhere in this city, and this home is bursting with interesting stories. You know what they say, 'if these walls could talk'. The traditional Victorian home still looks just like it would have a hundred years ago. However, inside, you'll be surprised by refurbished interiors and gorgeous decorations.
The best part of this luxury vacation rental in Colorado Springs is the brand new kitchen, which has been fully remodeled using top-of-the-range appliances and marble countertops. It's a wonderful room to spend an evening cooking up a storm with your family.
$
Bright home with a fully-equipped kitchen
6 Guests
Located in Downtown Colorado Springs, near many dog parks
Traveling with pets calls for a spacious home with a yard, located nearby dog parks and green spaces. This property hits the nail on the head. It's a traditional carriage house from the outside to the interior. Filled with authentic furniture and rustic fittings, this house will easily feel like a second home in Colorado Springs.
The crowd-pleaser of this spot is the kitchen/dining room, which overflows with light from the enormous bay windows. These classic windows open out into the private patio and yard – the perfect spot to catch the morning sunshine with your coffee and doggo.
Don't Forget Your Colorado Springs Travel Insurance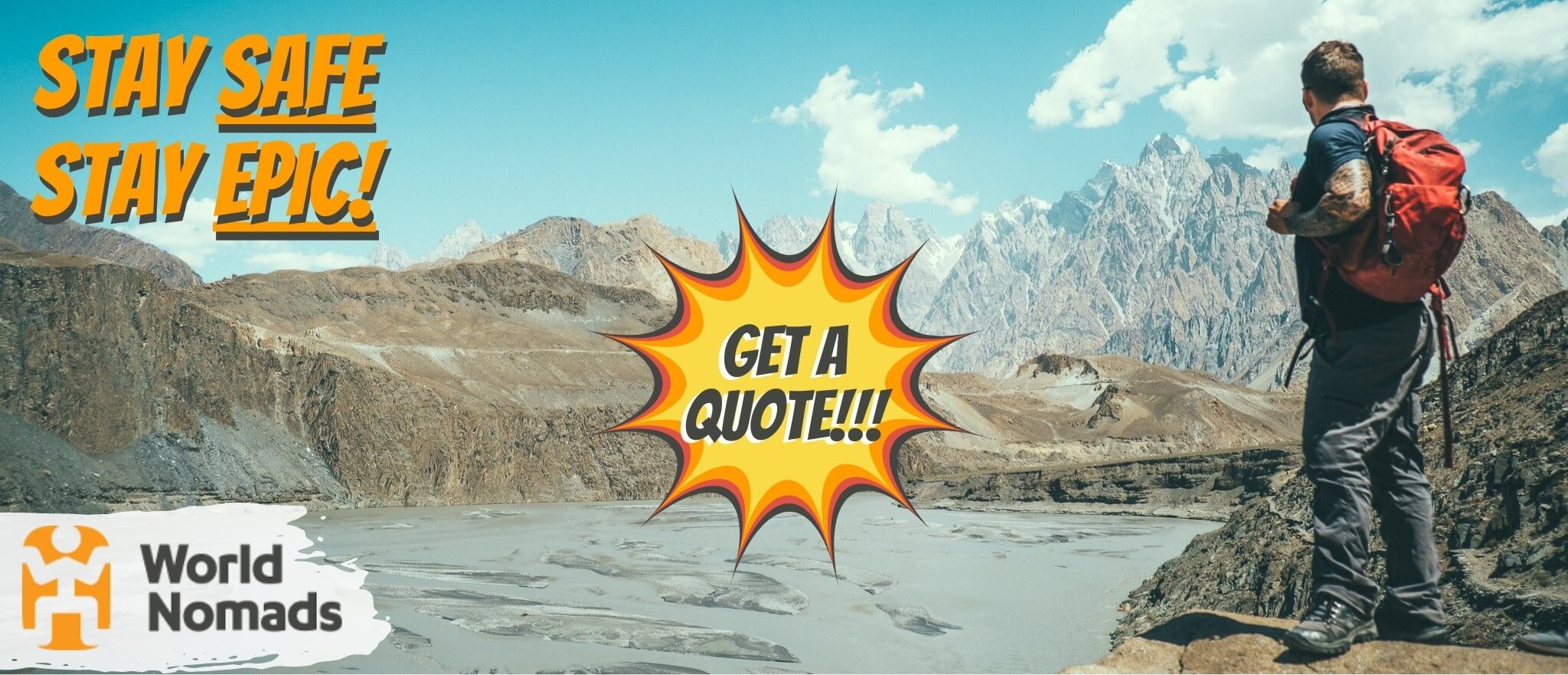 World Nomads' mission is to support and encourage travellers to explore their boundaries. They offer simple & flexible travel insurance, and safety advice to help you travel confidently.
They've been doing it since 2002 – protecting, connecting, and inspiring independent travellers just like you.
Get a quote below or read our in-depth review!
Final Thoughts
While Denver and Boulder are known as Colorado's most desired cities, you can think of Colorado Springs as the state's best-kept secret. Whether you're hoping for a vacation filled with culture, history, and religion or one packed with adventure, you're sure to find what you're looking for in Colorado Springs. Friendly locals, quiet streets, and world-class eateries make this stunningly underestimated town everything it is.
There's accommodation for every type of traveler here, from large family gatherings to intimate and romantic getaways. Home to Pikes Peak (one of the most famous hiking trails in the Rocky Mountains), it's the perfect holiday spot for outdoor adventurers and is scattered with accommodation to meet a variety of needs.
---
Bye for now, but not forever!
If you want MORE top-tier Broke Backpacker content like this, then sign up for our weekly newsletter below to get the latest and greatest!
And for transparency's sake, please know that some of the links in our content are affiliate links. That means that if you book your accommodation, buy your gear, or sort your insurance through our link, we earn a small commission (at no extra cost to you). That said, we only link to the gear we trust and never recommend services we don't believe are up to scratch. Again, thank you!