Also known as the Garden Isle, Kauai is well known for its dramatic geography and Hawaiian history. Over 90% of this island cannot be reached by road making much of it very exclusive compared with other islands in the archipelago.
Kauai is divided by its four shores – the East Coast is lined with coconut palms and pristine beaches. A bunch of tourist attractions including waterfalls, rivers, and grottos can be found in this area. As a result, you'll find most resorts here.
South Kauai is much drier and less populated. It plays host to the National Tropical Botanical Garden and ocean blowhole called the Spouting Horn. There are, however, loads of vacation rentals in the Poipu region.
The North Shore is lush and green and home to Kauai's most popular resort town known as Princeville. It's also the most expensive part of the island! The West is as wild as they come, mostly impassable for humans. The Grand Canyon of the Pacific can be found here, and it's a great example of the area's landscape.
Among these vast landscapes, the vacation rentals in Kauai are magnificent and comfortable.
Quick Answer: These are the Top 5 Vacation Rentals in Kauai
Overall Best Value Vacation Rental in Kauai
Overall Best Value Vacation Rental in Kauai
Luxurious Tropical 3 Bed Oasis
> $$
> 6 Guests
> Stunning garden views and fully equipped
> Located in a quiet Princeville neighborhood
Best Budget Vacation Rental in Kauai
Best Budget Vacation Rental in Kauai
Charming 2 Bed Plantation Home
> $
> 4 Guests
> Classic plantation home with authentic furniture
> Located close to the beach in Kekaha
Best Vacation Rental for Couples in Kauai
Best Vacation Rental for Couples in Kauai
Peaceful 1 Bed Tropical Condo
> $$
> 2 Guests
> Simple home on golf course property with ocean views
> Located on a golf course resort in Princeville
Best Vacation Rental for Families in Kauai
Best Vacation Rental for Families in Kauai
Idyllic 3 Bed Beach House
> $$$
> 6 Guests
> Large private home with panoramic lanai
> A few roads from the famous Hanalei Beach in a quiet town
Over-the-Top Luxury Airbnb in Kauai
Over-the-Top Luxury Airbnb in Kauai
Bright and Spacious 3 Bed House
> $$$
> 6 Guests
> Tons of natural light and a private swimming pool
> Located in Princeville, near great restaurants and cafes.

Unlock Our GREATEST Travel Secrets!
Sign up for our newsletter and get the best travel tips delivered right to your inbox.
Types of Accommodation in Kauai
Plantation Cottages
Waimea Bay on Kauai's West Coast was well known for its now obsolete sugar farms that were built in the early 1900s. The farmworkers lived in modest homes, now referred to as traditional Hawaiian plantation cottages. Some of the homes you'll see today were recently built and modeled on these original houses. However, many of these historic structures still stand and are rented out as holiday homes, and as a result, they are fully equipped as self-catering vacation rentals in Kauai.
Usually single story, with an open-plan living space leading onto a covered porch (known as a lanai), plantation homes are typically surrounded by tall palms and lush gardens. As a more secluded rental option, plantation cottages are best suited for couples, small families, and even long-stay visitors and digital nomads.
Beach Houses
As one might expect on a tropical island encircled by world-class beaches, Kauai is lined with beach houses. Ranging in price depending on location and size, these holiday homes in Kauai are usually a great bet for families and friends traveling in groups.
The general rule is that if you're traveling with more than four people, it will be more economically viable to rent out a house than a large resort condo or hotel room. Beach houses are, you guessed it, located on or nearby the beach, and are usually fully equipped. Many homes offer great views, backyards and some even include swimming pools and Jacuzzis!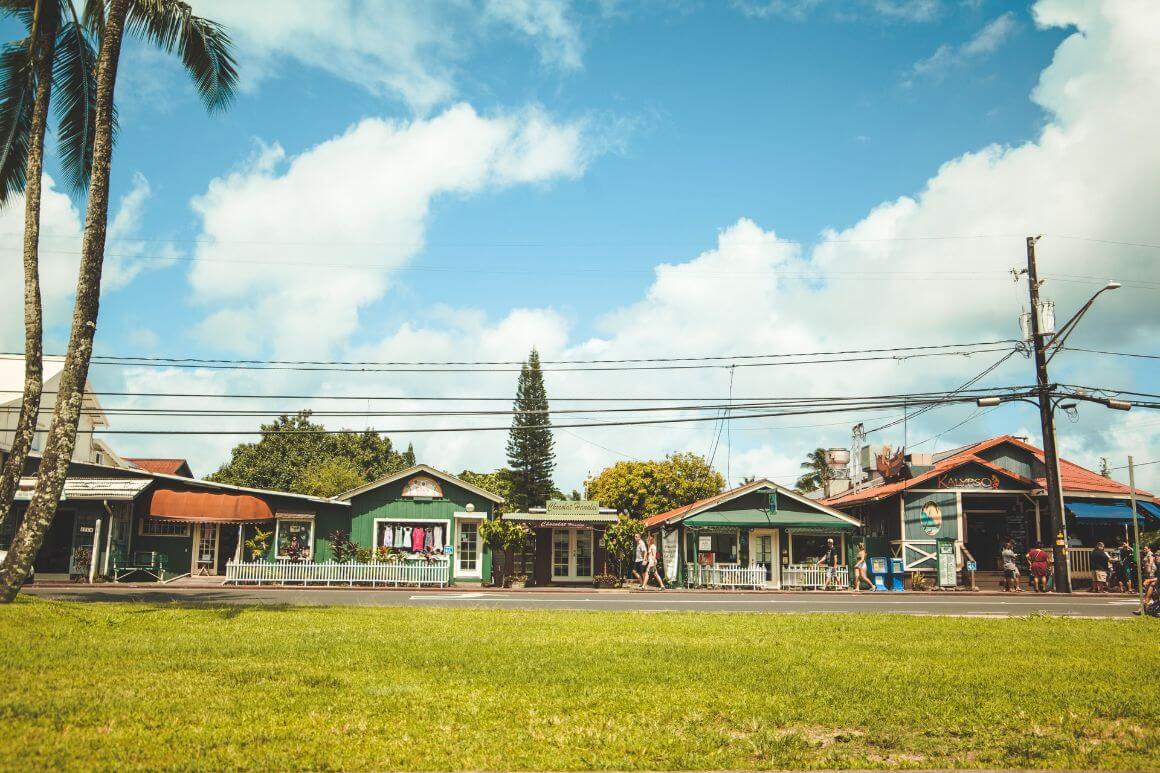 Private Resort Condos
Private resort condos are a pricier vacation rental option than most, but for good reason. They are located in safe resorts, are secure for children to adventure around, and offer access to shared amenities such as manicured gardens, swimming pools, Jacuzzis, gyms, and barbeque spots. Some even offer hotel-level services such as housekeeping, concierge, and babysitting.
Another bonus is that these resorts are built for holidaymakers and are often equipped with ramps and lifts for wheelchair or pram users.
You always know what you're going to get from a trusted resort condo. These are ideal for short-stay visits, couples, and young families.
Top 20 Vacation Rentals in Kauai
Accommodation is more modest in Kauai than on other Hawaiian islands. There isn't much civilization inland in Kauai, and most places to stay are close to the beach. You'll be able to choose from traditional plantation homes, beach houses, and secure resort condos scattered along these tropical shores.
$$
Located in a quiet Princeville neighborhood
6 Guests
Stunning garden views and fully equipped
High vaulted plantation ceilings, tons of space, and natural light make this three-bedroom house one of the best vacation rentals in Kauai for families and friends. The home has an open-plan concept living room with traditional wooden flooring and is decorated with authentic Hawaiian furniture.
Surrounded by tall tropical palms and greenery, staying here feels like you're completely secluded. However, ride a bike or walk just a few minutes down the road to the central Princeville suburb to enjoy a delicious meal or beach day.
$
Located close to the beach in Kekaha
4 Guests
Classic plantation home with authentic furniture
Looking for a private family home with two bedrooms for a modest price? Look no further. This authentic sugar plantation home just steps away from the gorgeous beach offers visitors a truly local Hawaiian experience on a budget.
The spot has been recently restored with warm and sleek finishes yet remains filled with traditional bamboo furniture and art. A full kitchen with emerald green tiles brings the tropical outdoors into the home. This small space even has a beautiful garden, lanai, and an outdoor shower.
$$
Nearby shops and restaurants in Princeville
2 Guests
Traditional Hawaiian furniture meets contemporary finishes
The most beautiful homes on this island are without a doubt those that preserve authentic Hawaiian charm. This home is no exception. It's an original plantation home that has been remodeled with elegant and clean new finishes including polished hardwood flooring and exposed ceilings.
Large glass windows open into a lush tropical garden. The spot has been fitted with traditional Hawaiian furniture keeping its historic charm alive. Included in your stay, you'll have access to bikes, kayaks, a SUP, and a surfboard, making this one of the top luxury vacation rentals in Kauai for a bunch of reasons.
Is This the Best Travel Pack EVER???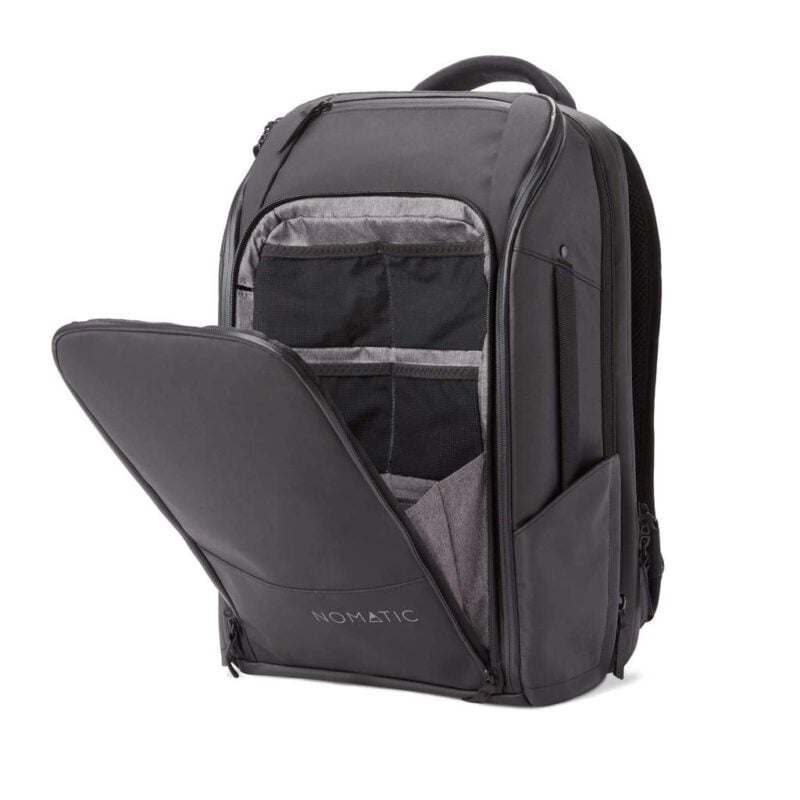 $$$
Located in Princeville, near great restaurants and cafes.
6 Guests
Tons of natural light and a private swimming pool
Bright and sunny, this contemporary home is overflowing with natural light. Firstly, it's decorated using lots of contemporary furniture interspersed with authentic wooden pieces and pops of colorful art and linen. All in all, it's a super calming space that makes you feel like you're on holiday as soon as you step through the doors.
Secondly, the home has a wraparound balcony with island views, plenty of seating, and a barbeque. Finally, the kitchen is fully equipped with top-of-the-range appliances including a washer and a dryer for long-stay visitors. You are sure to be shocked at the size of the swimming pool on the lower deck. The kids will love it!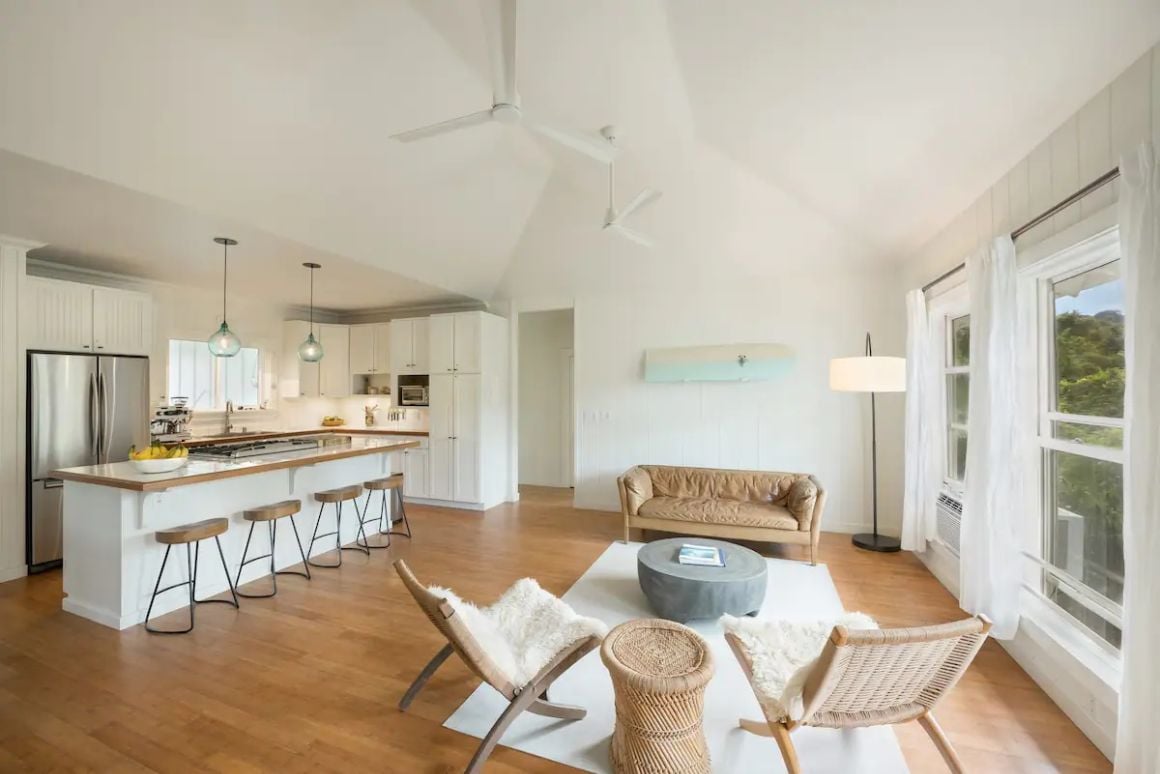 $$$
A few roads from the famous Hanalei Beach in a quiet town
6 Guests
Large private home with panoramic lanai
This gorgeous contemporary family home has a super spacious shared living area which is surrounded by a panoramic lanai balcony. The eight-person dining and barbeque area under a covered lanai is the perfect spot for a family meal.
Recently remodeled, the home has clean white tiling, freshly painted walls, and glass touches. It has a super homey, yet classy and modern feel about it. Above all, its beachside location makes it the perfect vacation rental in Kauai for families.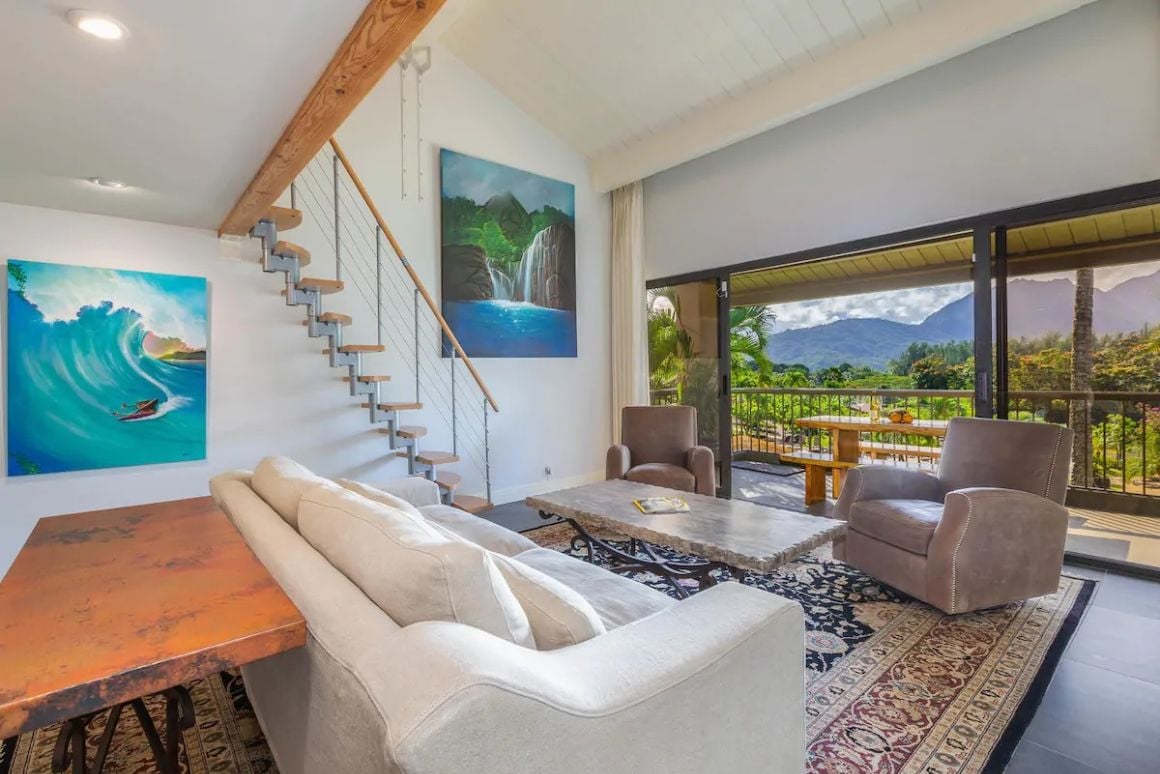 $$$
Located in the Hanalei Bay Resort in Princeville
2 Guests
Picturesque views, stylish furniture, and tons of space
A weekend away in Kauai is best enjoyed in a central location by the beach. With little time to spend cooking during the weekend, close proximity to restaurants and cafes is so important. This luxurious condo in Princeville is sure to exceed your weekend getaway expectations.
Located in the Hanalei Bay Resort, you'll get to enjoy shared pools, Jacuzzis, tennis courts, restaurants, bars, and a private beach. Its location in a resort is super convenient and secure for a lock-and-go vacation. The double-story condo itself spares no expense and is fitted with comfortable contemporary furniture and high-quality appliances. In short, your only problem will be trying to extend your stay!
$$$
Located on a 3-acre park in desirable Princeville neighborhood
12 Guests
Large home with fireplace, firepit, lanai, yard, and pool
Who knew the words warm and cozy could be used to describe a tropical oasis in Hawaii? However, this home really does, with inviting wooden floors and exposed plantation ceilings, comfortable furniture, and a fireplace.
Five double bedrooms and four full bathrooms mean there is plenty of space for you and your family or friends to spread out and enjoy some well-needed peace. The home includes a large swimming pool with a Jacuzzi surrounded by tropical greenery.
For long-stay visitors or digital nomads, you'll be pleasantly surprised by the private office space. Want more reasons why this is one of the best vacation rentals in Kauai? There is a gym and 'man cave', a laundry room, and a garage filled with bicycles to use.
$$$
Located in a resort, close to shopping and beaches
4 Guests
Wide hallways, spacious living area, and elevator access
In general, the most reliable accessible properties are resort condos. Fitted with a shared elevator and well-designed with large open spaces and hallways in mind, this two-bedroom condo is ideal for wheelchair users. With ocean and garden views, you'll feel as if you're on the beach from the privacy of your very own balcony.
This condo is furnished simply and has two bedrooms, three bathrooms, and a spacious open-plan living area. The kitchen is fully equipped for a short or long-stay visit. Feel free to enjoy the shared swimming pools, gym, jacuzzi, and tennis courts.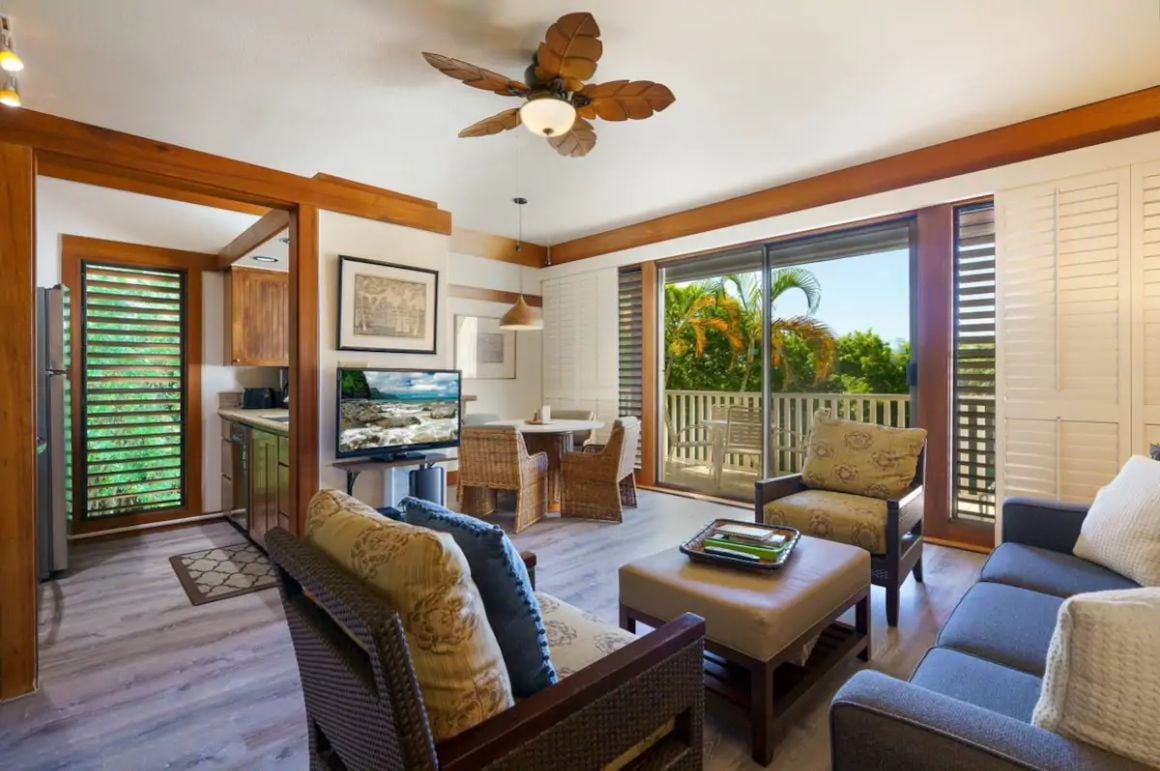 $$
Located in Poipu town, walk to shops, activities, and restaurants
4 Guests
Traditional Hawaiian interiors and garden views
This plantation resort condo is nestled between the beach and Poipu town, offering top restaurants, bars, and eateries. Within walking distance of your private oasis, you can enjoy golf, surfing, snorkeling and scuba diving, boat cruises, horseback riding, or partying at a Luau.
The condo itself has two bedrooms with an added sleeper couch, making it possible to squeeze a couple of extra guests in. Warm wooden plantation shutters, ceiling fans, and woven furniture give the condo a personalized and homey feel. Finally, the condo includes a covered balcony and access to a shared swimming pool and jacuzzi.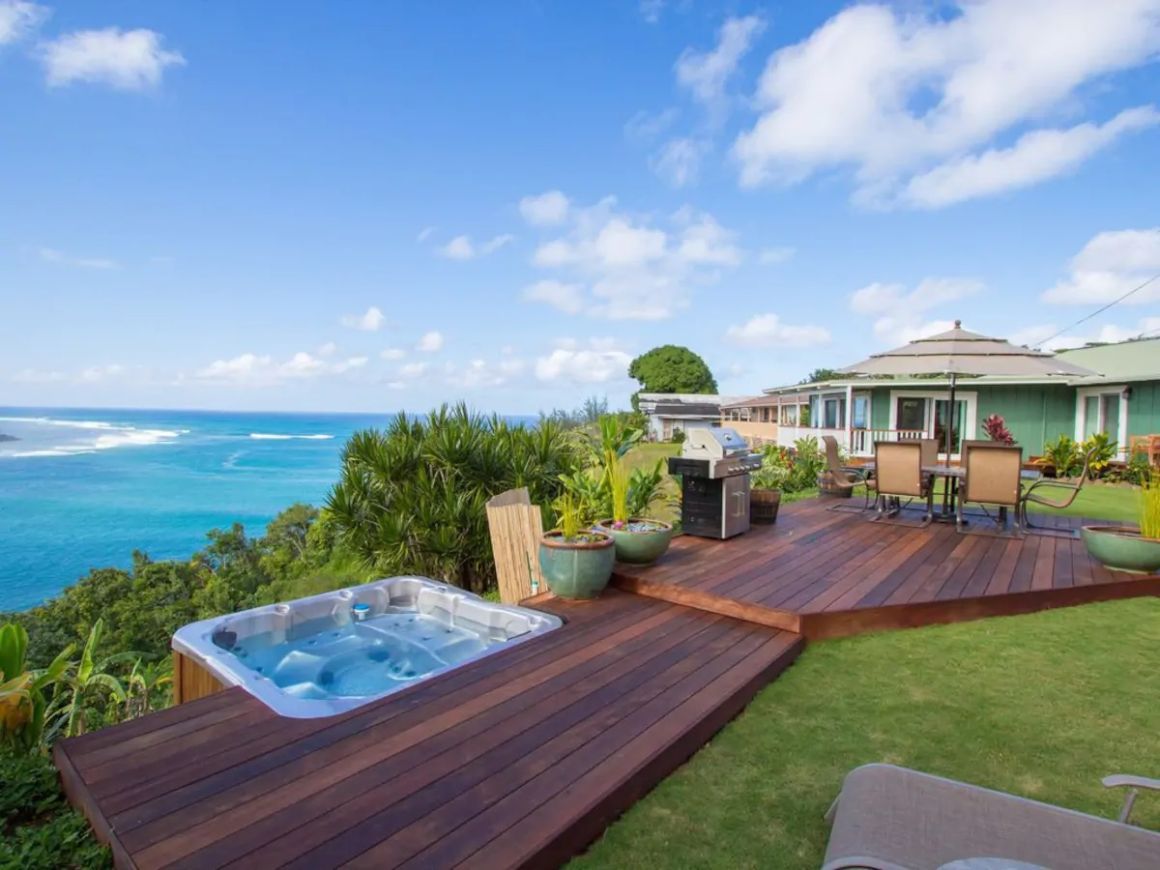 $$$
Located above the beach in Kilauea
8 Guests
Large lawn and deck with 180-degree ocean views
If you're traveling with a large family, this hilltop house has something for everyone. With four bedrooms and a large shared living area, it's spacious enough to enjoy your own time away from your family when needed. Furnished with authentic Hawaiian-inspired items and scattered with original art, this oasis will be your home-away-from-home.
A top-selling point for this traditional plantation home is the large yard and deck with outdoor seating, a barbeque, and a Jacuzzi overlooking views of the Kalihiwai Bay and river. There is even a private gazebo that functions as an outdoor living room.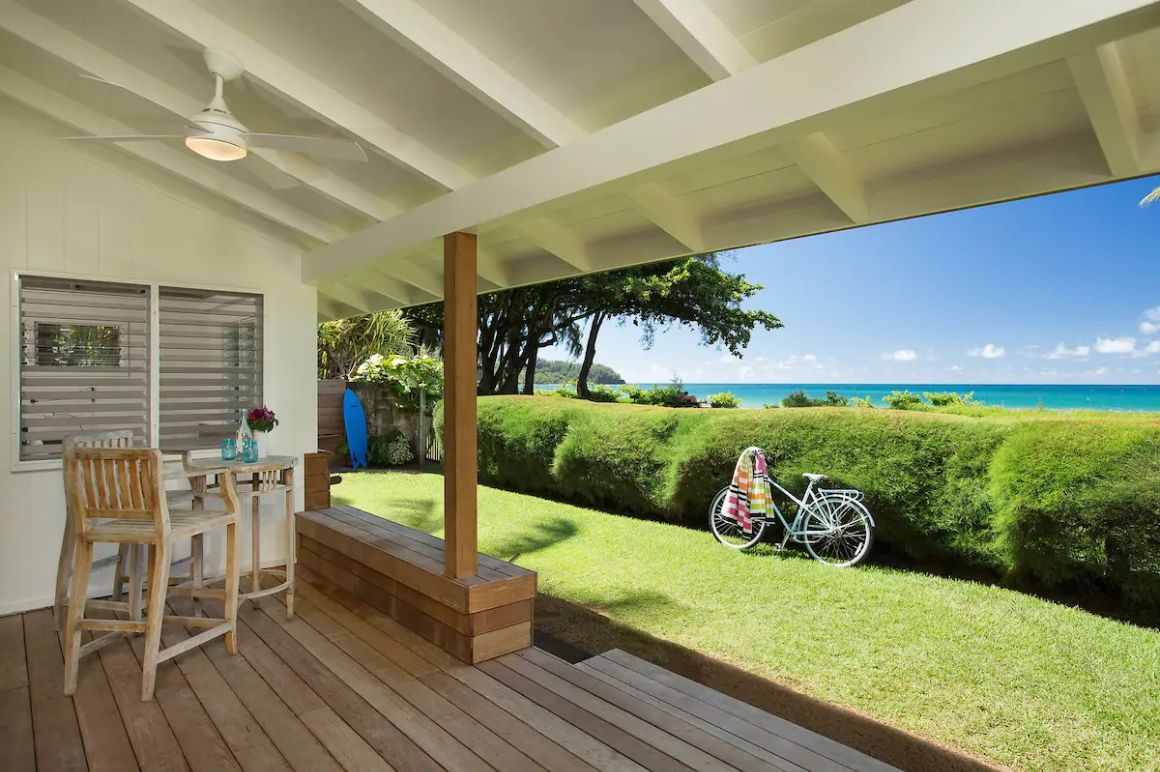 $$$
On the water in Hanalei Beach
4 Guests
Large lanai, lush lawns, and stunning interiors
Ocean views, beautiful shared living space, and a convenient location. These are the three things every friend's getaway needs. This home comes with a fully equipped kitchen and an eight-seater dining table. The living room is filled with comfortable furniture and opens onto a spacious covered lanai. From the lanai, you'll have nothing between you and the beach but a lush private lawn!
The two en-suite bedrooms are stylishly decorated with modern wooden furniture and crisp white linen, and are a great private oasis to retreat to during a friend's getaway. Listen to the waves roll in over the sand from your private shaded lanai.
$$
Located on the beach in Princeville
5 Guests
Stunning ocean views and quirky boho interiors
This stunning condo is perched above green lawns with an ocean view. It has been recently refurbished with clean white walls, wooden exposed ceilings, and glass sliding doors. With an open-plan living area, the small home is packed with charm from one corner to the next.
You'll find a mix of woven boho ottomans, authentic Hawaiian furniture, faux fur throws, and stunning tropical wallpapers in this holiday rental in Kauai. Keep a lookout for the surf-themed art, painted surfboard, and embroidered decorations throughout the specially curated space.
My favorite part without a doubt is the balcony, which is fitted with a hanging basket chair (amongst other seating), and the unique tiki glasses in the kitchen. Quirky, simple, and classy are the perfect words to describe this space.
$$
Close to Bali Hai and the Na Pali Coastline
2 Guests
Open-plan living space with breathtaking ocean views
Honeymooners will adore this intimate condo on the shore. Surrounded by manicured gardens and lush private grounds as well as a private beach, you won't even need to leave this beach vacation rental in Kauai. What more could you ask for than a fully-equipped kitchen with brand new appliances, a comfortable living room, and a California king overlooking the ocean?
This condo even comes with a washer and dryer, and access to a shared swimming pool and jacuzzi on the property.
$$$
Rental unit in Kuhio Shores, Poipu
6 Guests
Floor-to-ceiling sliding doors leading onto the oceanfront
This condo is located in a private resort on the stunning Poipu beach. Although it has a bit of a hotel vibe, this home has everything you might need from a beach vacation rental in Kauai – a comfortable lounge, large television, air conditioning throughout, and brand new kitchen appliances including an ice maker, perfect for making bespoke cocktails.
Stroll over to the Beach House restaurant for a meal and some drinks before heading into Poipu to continue the festivities.
While the condo has two full bedrooms, there is also a queen-sized sleeper couch which can easily accommodate an additional two guests.
$$
Steps away from Hideaways Beach, restaurants and bars
5 Guests
Modern apartment with ocean views and beachfront access
This condo has gorgeous ocean views on one side, and mountain views on the other. The newly built building features floor-to-ceiling glass windows and sliding doors, bringing in lots of natural light. White walls and marble countertops create a blank canvas, which is filled with contemporary yet warm wooden furniture.
A luxury vacation rental in Kauai, the home has two king beds and a sleeper couch, making it possible to fit between four and six guests comfortably.
Enjoy your morning coffee listening to the ocean and birds, watching the waterfalls in the distant mountains, and smelling the fresh tropical flowers that surround it.
$$
Located on a golf course resort in Princeville
2 Guests
Simple home on golf course property with ocean views
Even though this condo is on the ground floor, it boasts exquisite views of the Makai golf club and ocean in the distance. The condo is decorated with homey touches and is very inviting and bright. Enjoy ocean views as you cook your dinner from the barbeque under the lanai. There's even a spot to get married in front of the ocean if that's in your plans!
The best thing about this spot is its location nearby some of the island's most famous tourist attractions and top restaurants and bars. Your hosts will make sure you are taken care of in this quaint condo, by filling every room with lovely-smelling flowers before your arrival.
$$$$
Located on private Haena beach in Hanalei
10 Guests
Huge glass windows, quirky interiors, and world-class views
This beach house is secluded on a private beach, surrounded by nothing but the ocean and tropical jungle. You will feel like you've landed on a deserted island, even though it's located just on the edge of Hanalei, one of Kauai's top destinations. The double-story home has balconies on both floors overlooking the beach and ocean.
The interior won't disappoint you either. It has been newly remodeled with clean classy finishes and furnished with comfortable furniture with pops of color. In and amongst the color, the house is scattered with beach-themed interiors and art and will make you feel like you're on vacation the moment you step inside. It's no wonder this remote home is one of the top luxury vacation rentals in Kauai.
$$
Located one house back from the beach in Waimea
4 Guests
Wooden home with outdoor bathroom and beach view
This plantation cottage is located across the road from the beach in the hip Waimea town. The single-story home has been remodeled to maintain its historic plantation charm while offering a more classy and modern feel.
To begin, rustic wooden furniture, woven blinds, and trendy tiled kitchen walls fill this space with charm. The bedrooms are fitted with traditional Hawaiian furniture and tropical-themed bedding and wall art. One of the bedrooms has a private office space, ideal for a long-stay visitor or digital nomad.
The best thing about this holiday home in Kauai is its outdoor bathtub and shower. This might just be the most wonderful spot to do some nighttime stargazing!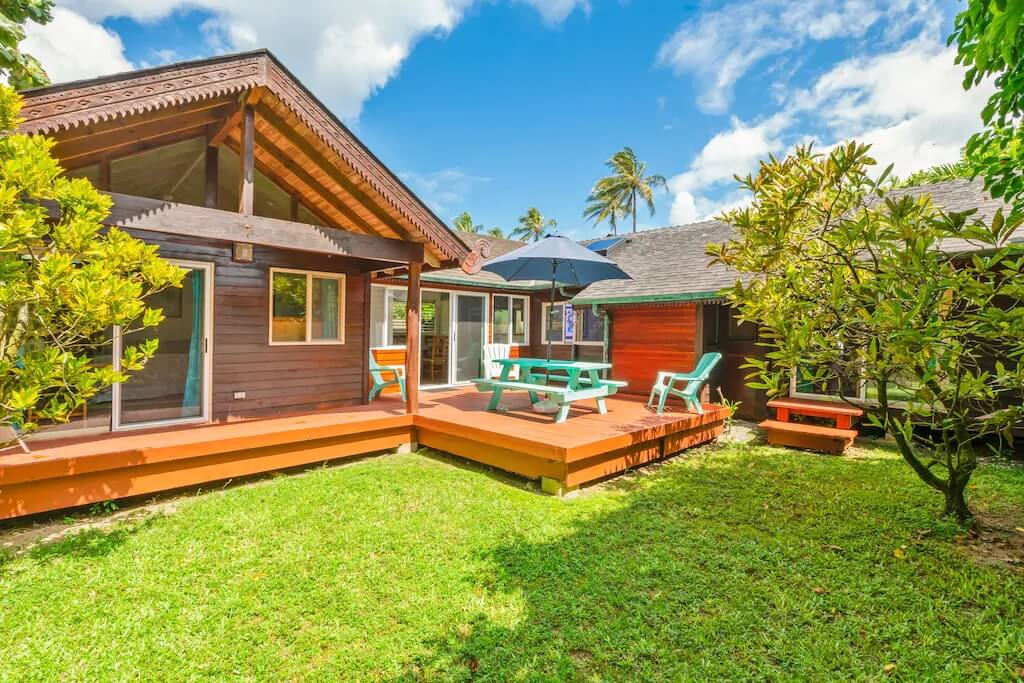 $$$
Off the beaten track in Wainiha, steps from the beach
5 Guests
Homey and bright with a large yard and open-plan interior
If you're after a quiet, peaceful, and affordable holiday home in Kauai for a long-term visit, look no further. This wooden bungalow is an airy and comfortable spot to set up camp. It's located in front of a white sand beach with stunning underwater reefs. I can just imagine spending a well-deserved lunch break out snorkeling.
The peace and seclusion of the home taste even sweeter knowing that you're always close to the small town of Hanalei, which offers some great food and drink options. The space is clean, spacious, and filled with comfortable wooden furniture. Seating space is abundant in this home, you could find yourself working from a private desk in your bedroom, the kitchen table, the back yard, or under the lanai.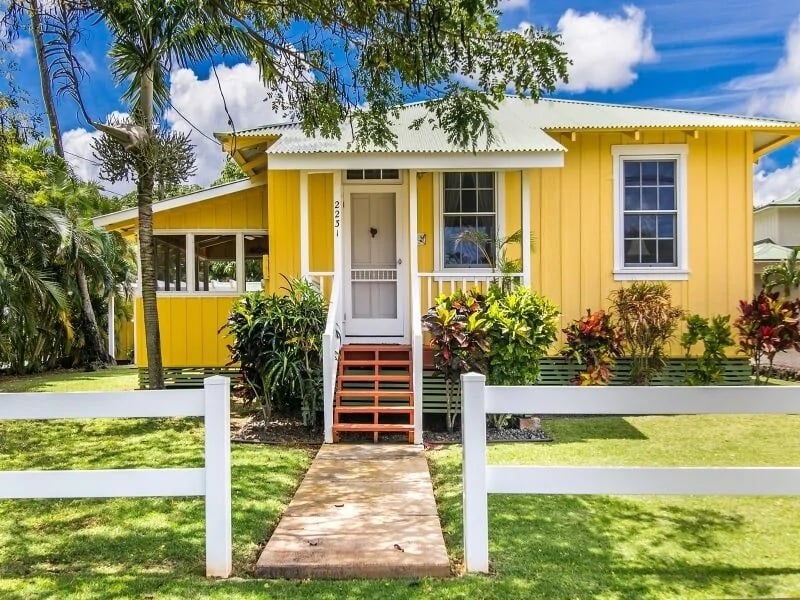 $$$
Steps from Poipu and Brennecke's Beach
4 Guests
Original home renovated with stylish fittings
This charming yellow plantation cottage is as beautiful as they come. Surrounded by manicured tropical plants and filled with a mix of traditional Hawaiian furniture and modern pieces, this cottage will be your home-away-from-home.
The best part of this beach vacation rental in Kauai is the half indoor/outdoor lanai, which is painted bright sunshine yellow. Complete with lounge furniture, a breakfast spot, and a traditional plantation ceiling fan, you'll likely spend most of your time lounging about in this tropical oasis.
There's also an outdoor shower which will come in handy when arriving home from the sandy beach, just steps from the property.
Don't Forget Your Kauai Travel Insurance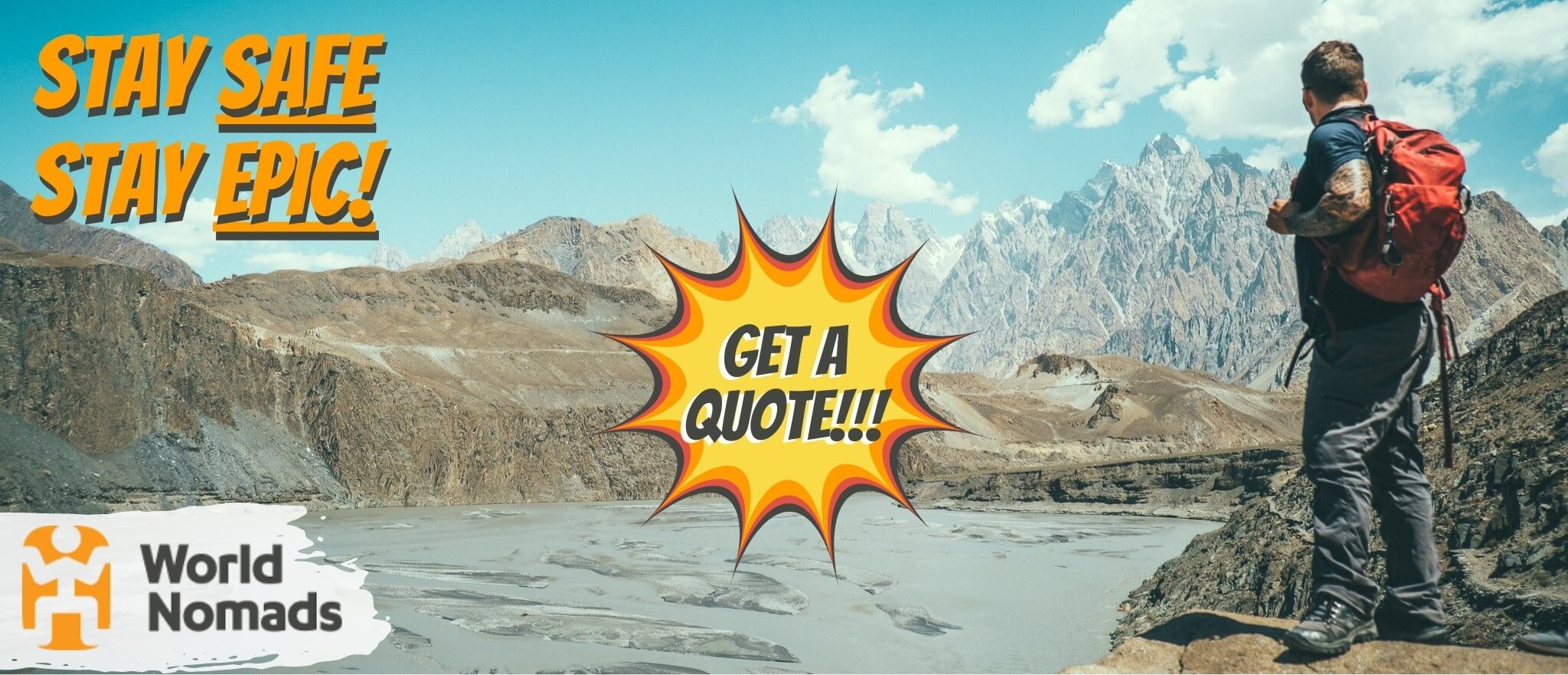 World Nomads' mission is to support and encourage travellers to explore their boundaries. They offer simple & flexible travel insurance, and safety advice to help you travel confidently.
They've been doing it since 2002 – protecting, connecting, and inspiring independent travellers just like you.
Get a quote below or read our in-depth review!
World Nomads provides travel insurance for travelers in over 100 countries. As an affiliate, we receive a fee when you get a quote from World Nomads using this link. We do not represent World Nomads. This is information only and not a recommendation to buy travel insurance.
Final Thoughts
You'll struggle to find a place better for hiking, snorkeling, and relaxing. If you're an avid adventurer, the Garden Isle will no doubt be on your travel hit-list. As the oldest of the Hawaiian islands, Kauai is also home to some of Hawaii's oldest villages and civilizations, and is a fantastic place to experience Hawaiian culture and history. The island has a laid-back vibe and offers visitors some of the best and most secluded beaches in the world.
From the tall NaPali Coast cliff faces to the vast landscapes of the Waimea Canyon, you'll be blown away by natural beauty everywhere you look.
---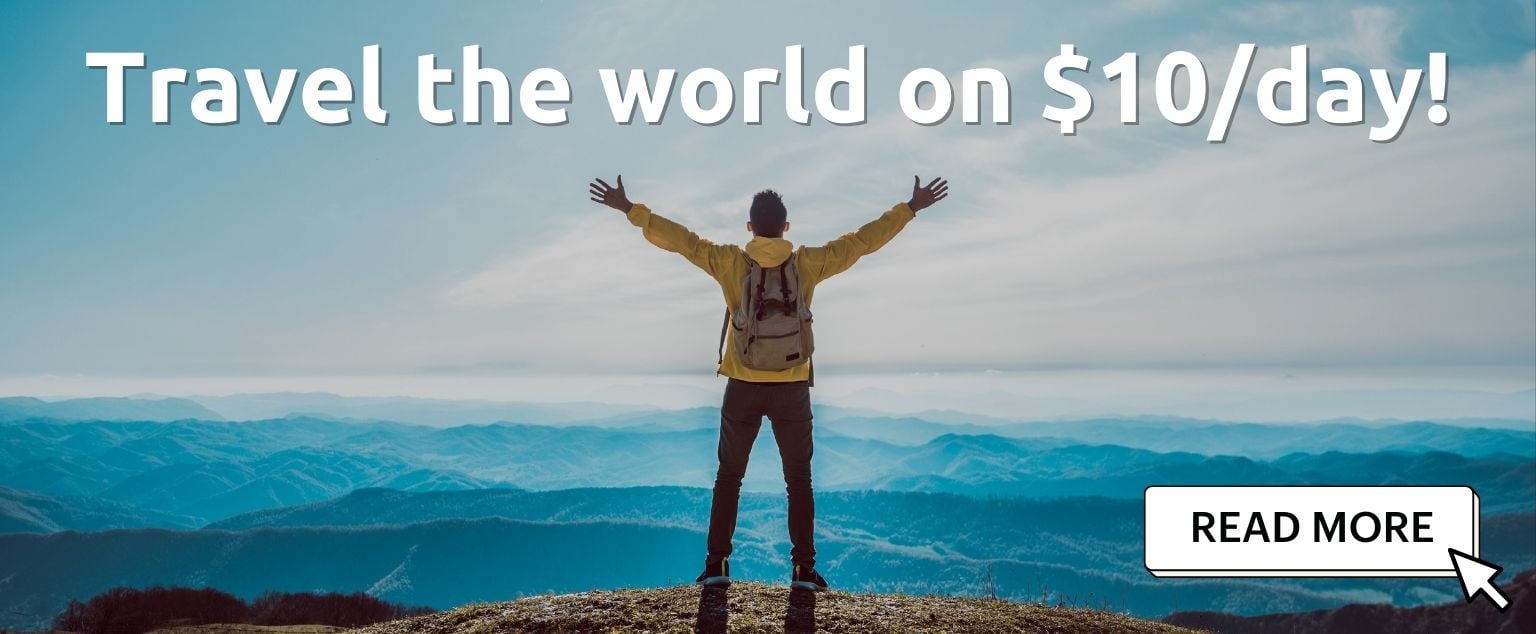 And for transparency's sake, please know that some of the links in our content are affiliate links. That means that if you book your accommodation, buy your gear, or sort your insurance through our link, we earn a small commission (at no extra cost to you). That said, we only link to the gear we trust and never recommend services we don't believe are up to scratch. Again, thank you!