From hillsides and mountains draped in lush tropical jungles, to palm-fringed beaches and rocky shores, Kauai is blessed with so much natural beauty.
While the island may be small, the options of places to stay for a vacation are plentiful and varied. You can choose from cozy beach bungalows and tidy bed and breakfasts, as well as sprawling resorts and glamorous villas. There's an option to suit every level of luxury and budget.
If a casual and comfortable beach house in Kauai is more your vibe, we've put together this list of the best beach houses in Kauai to help you find one that ticks all of your boxes. Whether you're looking for something secluded and romantic for two, a spacious home for a group or family holiday, even something with a touch more luxury – we have an option for you. Check them out!
In a Hurry? Here's Where to Stay in Kauai for One Night
Is this amazing Kauai Beach House booked for your dates? We've got your back with our other favorite properties below!

Unlock Our GREATEST Travel Secrets!
Sign up for our newsletter and get the best travel tips delivered right to your inbox.
Staying in a Beach House in Kauai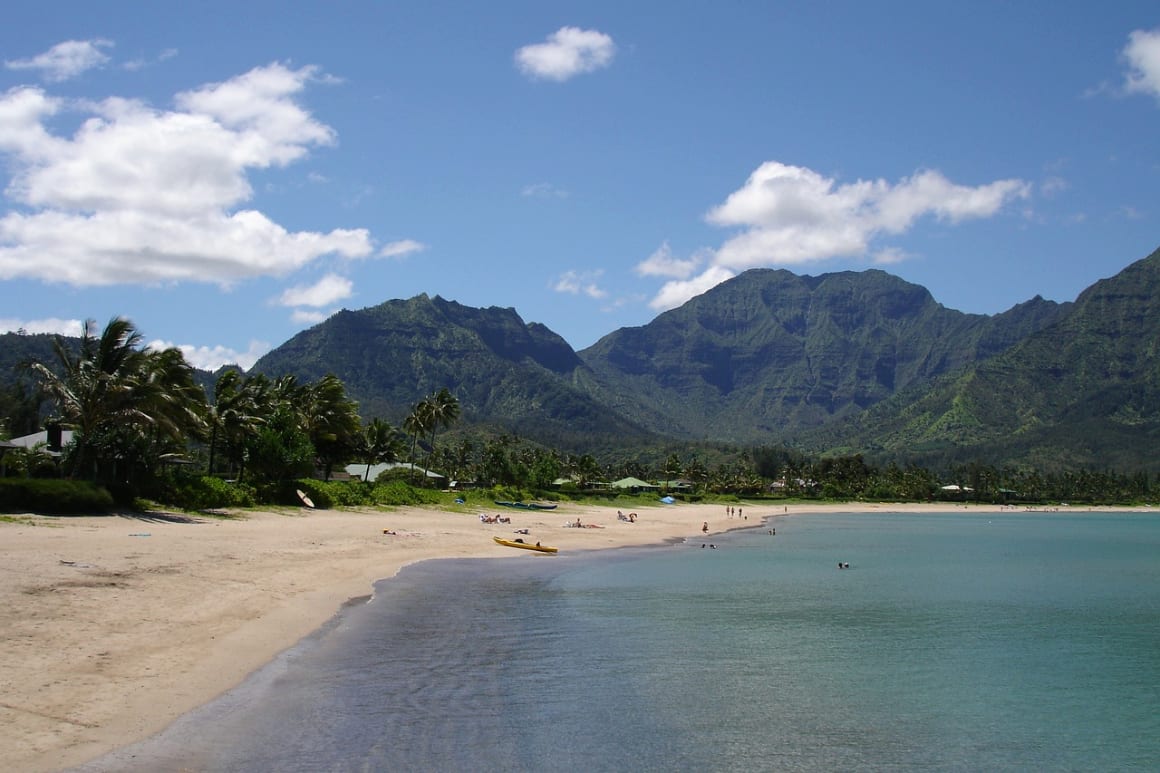 Choosing a beach house over all the other unique accommodation in Kauai will give you a private and comfortable stay, that you can enjoy on your own terms. You'll have everything you need in terms of home comforts, and can structure your days as you desire.
Another epic thing is that you're usually within walking distance of the beach and ocean. From the moment you arrive to when you depart, there's no need to go very far unless you want to explore.
What to Look for in a Beach House in Kauai
Choosing the best beach house in Kauai to suit your needs comes down to personal preference, but a quick search on Airbnb will give you an idea of what's available.
The first crucial element is location – are you ok with being in the tourist resort area? If not, consider something a little more rural with deserted stretches of beach. Being in the busier area certainly does have its benefits with shops, entertainment, water sports, and dining options on your doorstep.
Because most beach houses are mere steps from the ocean, consider carefully how important having a pool is to you. Also, things like air conditioning and Wi-Fi may swing your vote – they aren't standard so check carefully.
One thing that you'll want is an outdoor space – a patio, a lanai, a balcony, or a garden – to enjoy the lovely ocean breeze and views.
Overall Best Value Beach House in Kauai
Overall Best Value Beach House in Kauai
The Lime House
> $
> 2 Guests
> Just steps from the beach
> Light, contemporary decor
Best Budget Beach House in Kauai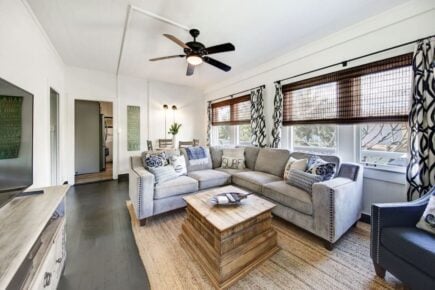 Best Budget Beach House in Kauai
Waimea Beach Cottage
> $
> 2 Guests
> Outdoor shower and tub
> Quiet residential location
Best Beach House for Couples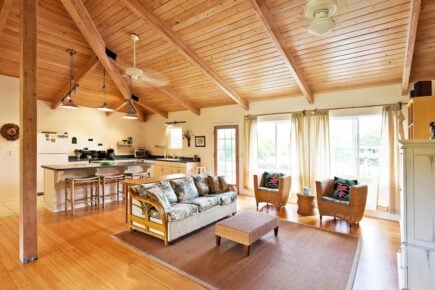 Best Beach House for Couples
Hale 'Oli
> $
> 2 Guests
> Three lanais for views
> Perfect for a romantic retreat
Best Beach House for a Group of Friends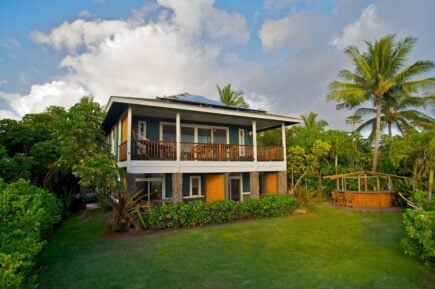 Best Beach House for a Group of Friends
Hale La-Air
> $
> 11 Guests
> Fun Tiki Hut for barbeques
> Private side yard
Best Beach House for Families visiting Kauai
Best Beach House for Families visiting Kauai
Poipu Beach House
> $
> 8 Guests
> Private pool and spa
> Restored 20s-era home
The Absolute Cheapest Beach House in Kauai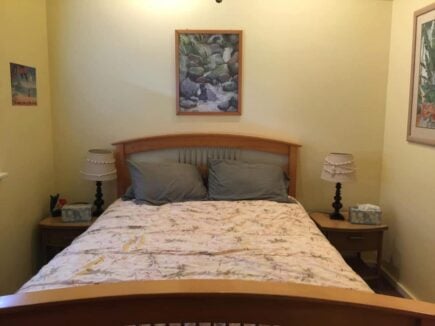 The Absolute Cheapest Beach House in Kauai
Skipper's Beach Cabana
> $
> 8 Guests
> Fully air-conditioned
> Tranquil rural setting
Amazing Luxury Beach House in Kauai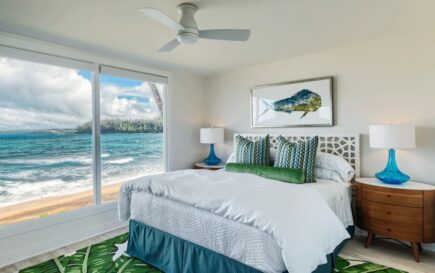 Amazing Luxury Beach House in Kauai
Haena Beach House
> $$
> 10 Guests
> Two lanais with views
> Private beachfront setting
The Top 15 Beach Houses in Kauai
We've researched beach houses in Kauai to give you a starting point to find your dream getaway. We've tried to include a little something for everyone!
Overall Best Value Beach House in Kauai – The Lime House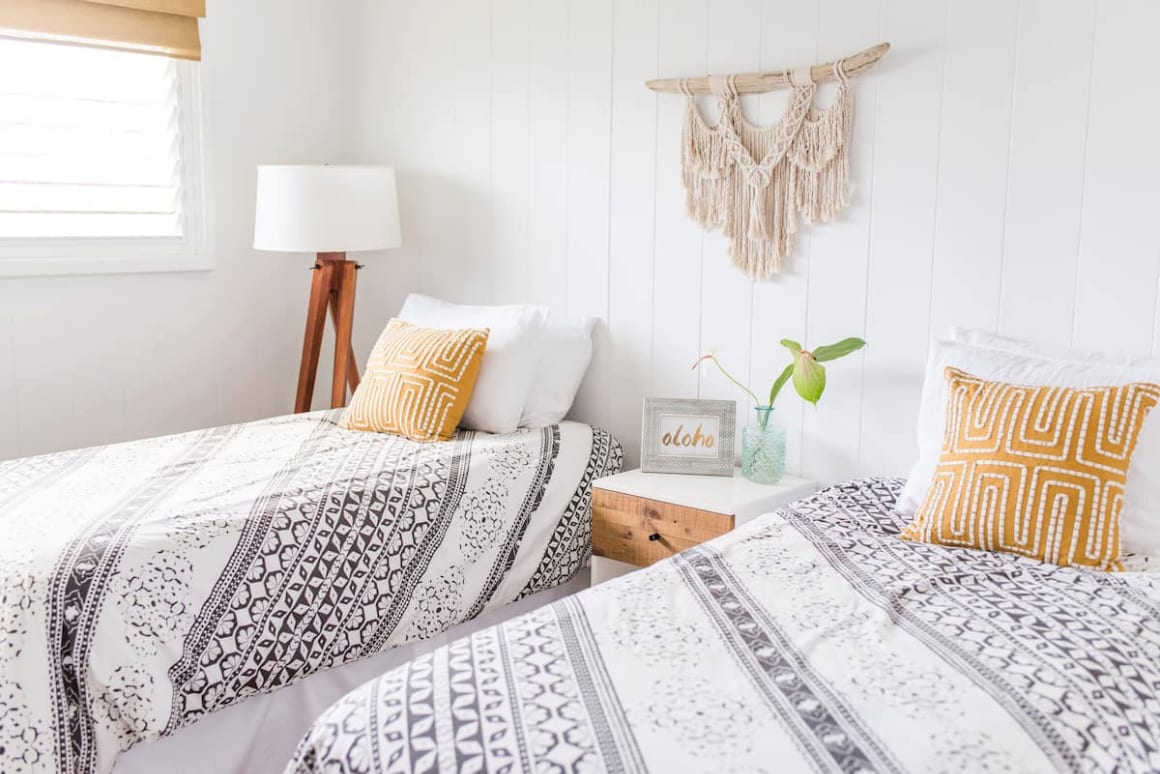 $
2 Guests
Just steps from the beach
Light, contemporary decor
From its central location on the east of the island, The Lime House is close to excellent beaches, markets, hula shows, and hiking trails. Everything you'll need is within easy reach while still being perfectly positioned for touring the entire island.
The peaceful interiors of the home are flooded with natural light and feature contemporary décor and furnishings. With a relaxed and casual atmosphere, there are all the comforts of home including a full kitchen and a spacious backyard.
Shop for supplies at the coconut marketplace across the street, and take in a hula show. You're just steps from a great family beach where you can swim, sunbath, and snorkel.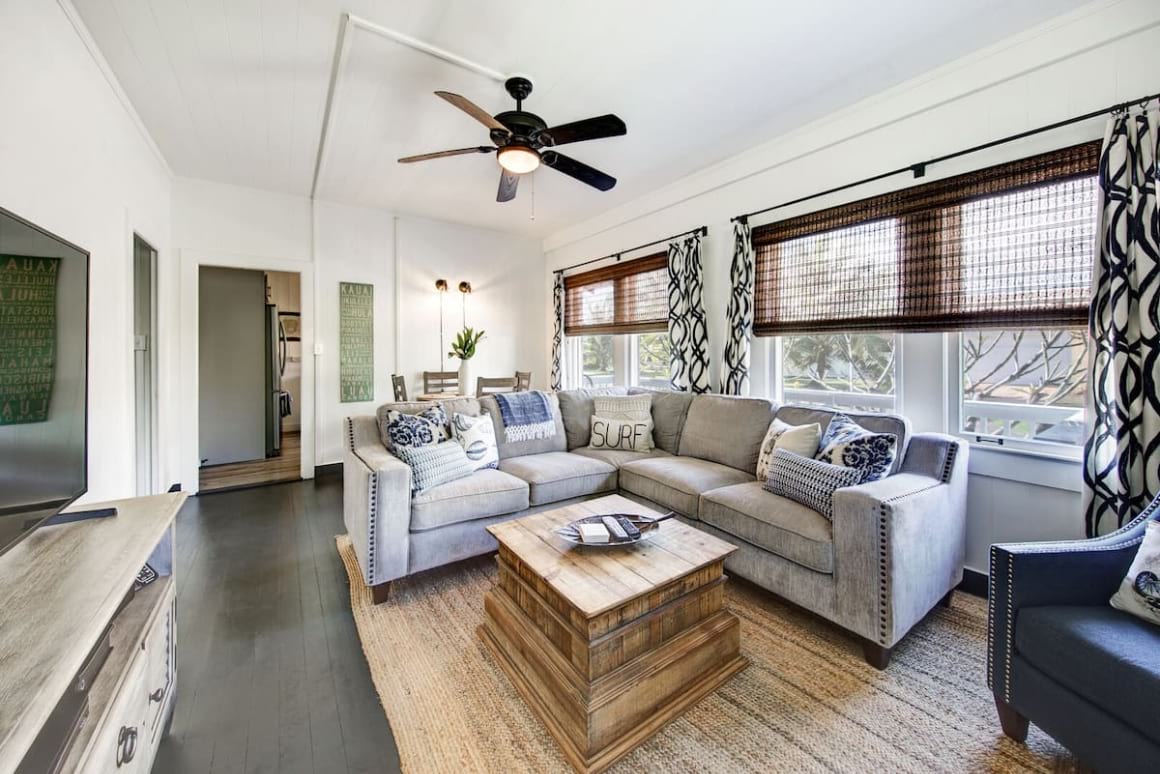 $
2 Guests
Outdoor shower and tub
Quiet residential location
Set in a quiet residential area, Waimea Beach Cottage is a short stroll from a black sand beach on the west of the island. This location is far from the resort areas and offers a peaceful and uncrowded experience.
The cottage was recently renovated and offers a well-equipped retreat and relaxed vibe. From the garden pergola and barbeque area to the stylish interiors with just a hint of Hawaiian flair, this unique accommodation in Kauai offers great value.
The Waimea Pier is a short stroll away along the black sand beach where you can enjoy a magical sunset. White sand beaches are just a short drive away and nearby Waimea Canyon offers excellent hikes.
It is the perfect spot for those traveling on a budget.
Best Beach House for Couples – Hale 'Oli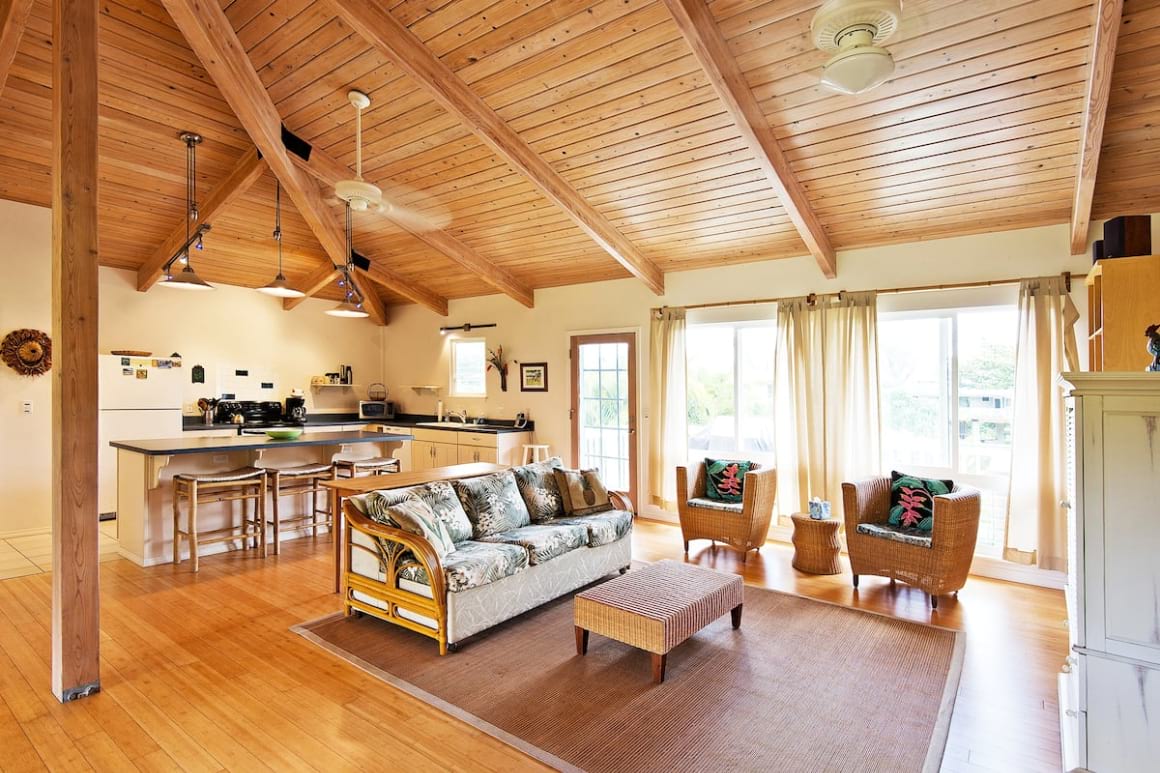 $
2 Guests
Three lanais for views
Perfect for a romantic retreat
Experience the north of Kauai at Hale 'Oli. Just five minutes from Princeville and mere steps from Wainahina Ku'au Beach, the house is perfectly positioned for your couple's retreat and Kauai beach holiday.
The comfortably furnished house is airy and bright, and offers three lovely lanais where you can enjoy the cool ocean breeze and take in the view. From the full kitchen to the high spend internet, you'll feel right at home here.
Top beaches are an easy walk away, great for sunbathing, swimming, and snorkeling. Hanalei Town is a short drive away, where you'll find more beaches as well as dining and shopping.
Best Beach House for a Group of Friends – Hale La-Air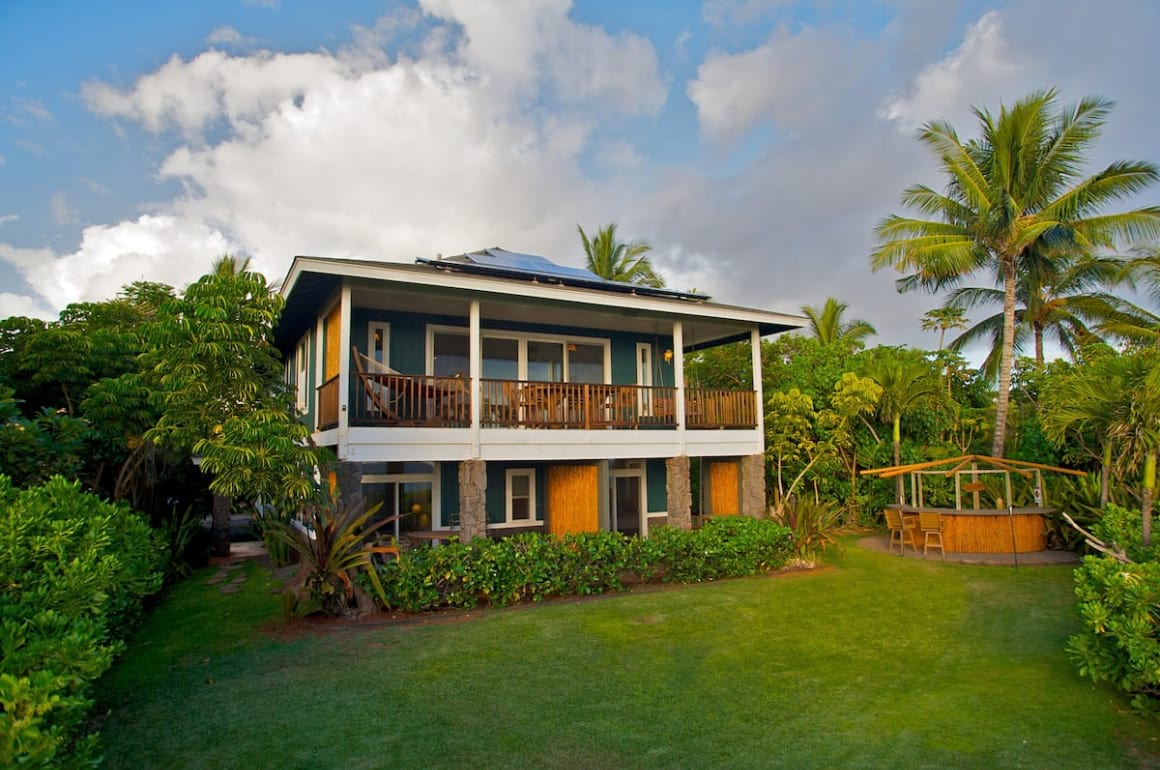 $
11 Guests
Fun Tiki hut for barbeques
Private side yard
Located in West Kauai in Kekaha, Hale La-Air is a beautiful oceanfront home. A stone's throw from the house, you'll find the longest white sand beach in Hawaii.
The spacious and well-equipped Hale La-Air is an ideal retreat for a group of friends or a large family. As one of the best beach houses in Kauai for a group, there's enough space for everyone to really relax, seek out a solitary moment, or come together to enjoy a barbeque at The Tiki Hut in the garden.
A porch swing and hammock will make it hard to want to leave the house. But if you're keen to explore, Waimea Canyon's many hiking trails are within easy reach. A boat trip out to the beautiful Na Pali coast is highly recommended.
Is This the Best Backpack EVER???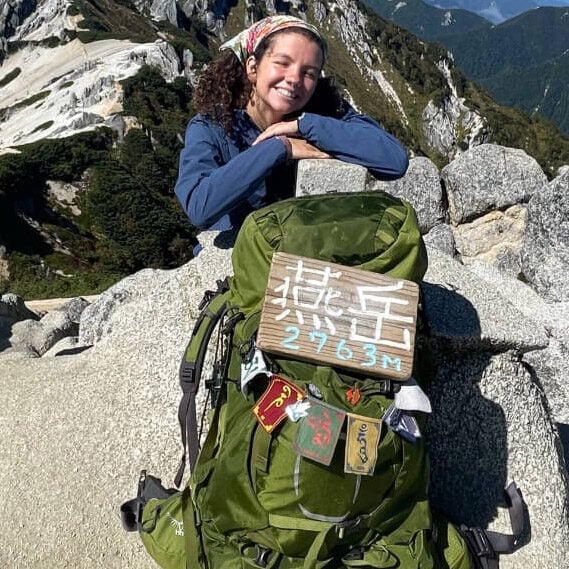 Best Beach House for Families Visiting Kauai – Poipu Beach House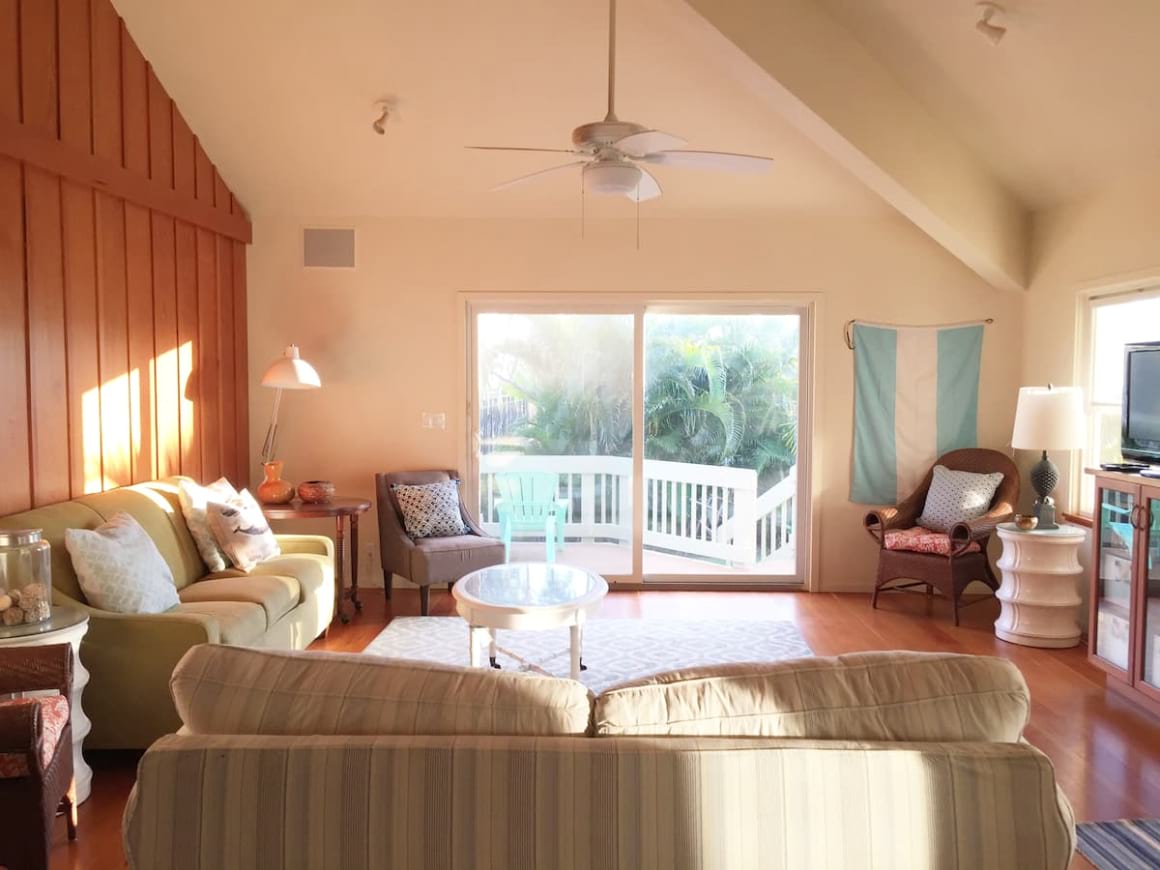 $
8 Guests
Private pool and spa
Restored 20s-era home
Poipu Beach House is situated on a peaceful residential street, just off from Poipu Beach Park. The 1920s-era house is surrounded by lovely gardens and will have you feeling instantly at home.
With all the amenities needed for a comfortable stay, the house is ideal for families. There's plenty of outdoor space for the little ones to enjoy, including a pool and spa, a covered porch, and a poolside fire pit to gather around in the evenings. The house comes with various child-friendly extras including a high chair, crib, and books and toys.
Poipu Beach Park and Brennecke's Beach are easy to access from the house. Here, you can enjoy surfing, boogie boarding, paddle boarding, fishing, and whale watching.
The Absolute Cheapest Beach House in Kauai – Skipper's Beach Cabana
$
8 Guests
Fully air-conditioned
Tranquil rural setting
Located in a rural valley in Moloa'a Bay, Skipper's Beach Cabana offers a crowd-free setting yet is still central enough to Kauai's top attractions. Set in a natural and unspoiled countryside, Skipper's is a remote and affordable beach house in Kauai.
The house is well-maintained and neat, and is equipped with central air conditioning. A modern kitchen, lanai, barbeque area, and an outdoor shower offer a comfortable stay with all the essentials.
Plenty of beach gear is available for guests to use when they hit the stretches of deserted beaches nearby. Keep an eye out – turtles and seals often visit the beaches here.
Amazing Luxury Beach House in Kauai – Haena Beach House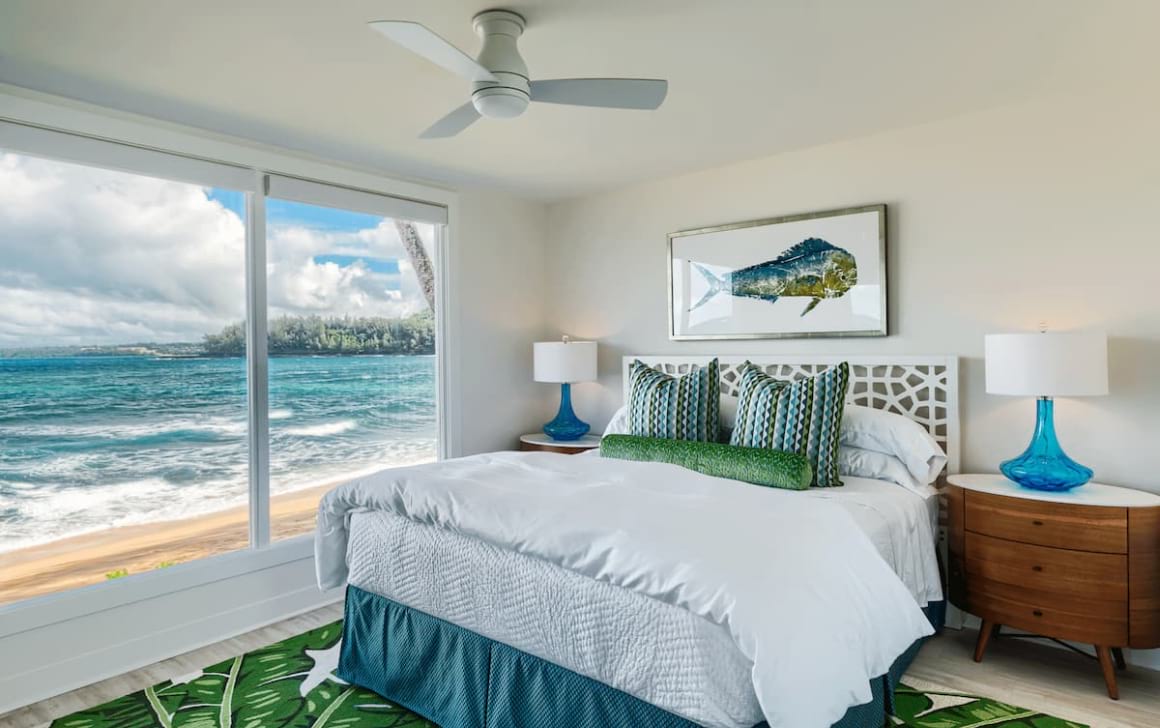 $$
10 Guests
Two lanais with views
Private beachfront setting
Tucked in a leafy setting on a deserted beach in north Kauai, Haena Beach House lies between Hanalei Bay and the beautiful Tunnels Beach. Enjoy panoramic views from the two lanais and easy access to top attractions.
Perfect for large groups, the house offers plenty of space to unwind in comfort and style. With casual living spaces and sumptuous rooms, the house offers all the comforts of home in an idyllic setting.
Hike on the Kalalau Trail, go snorkeling at Tunnels Beach, and enjoy magical scenery at Lumahai Beach. Nearby Hanalei offers plenty of options for dining and shopping, as well as great kayaking and stand-up paddling.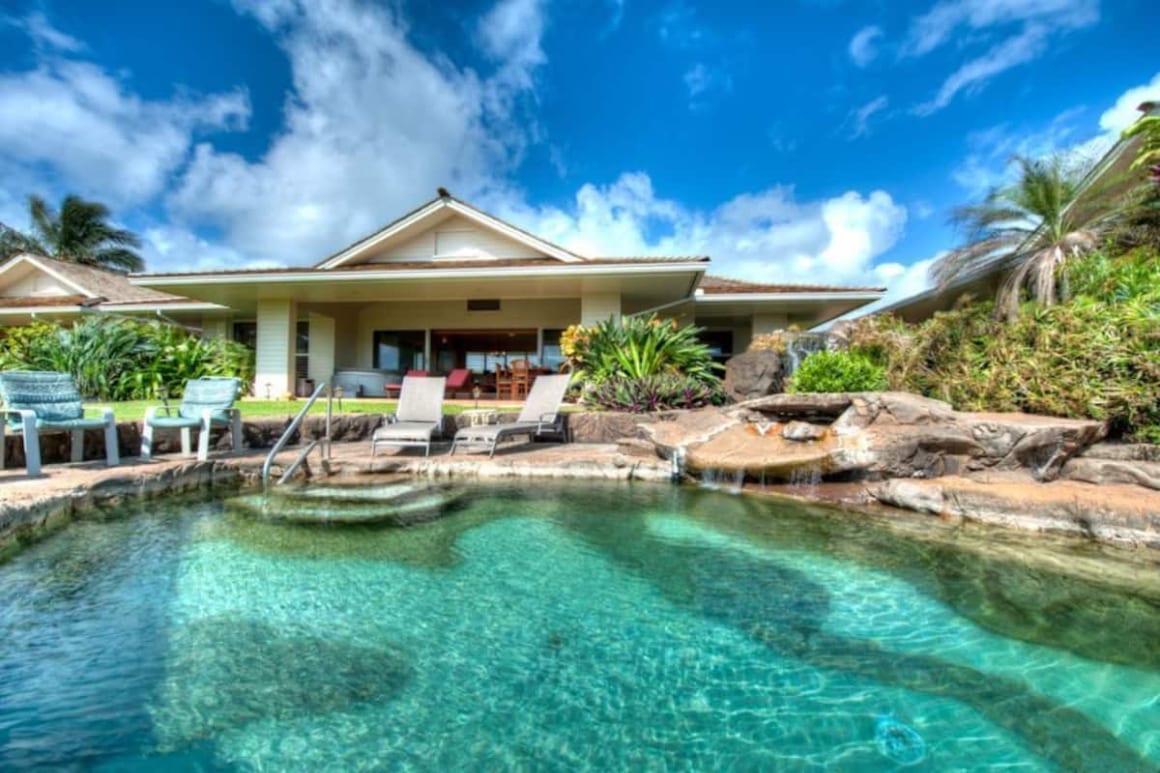 $
8 Guests
Hot tub and custom pool
Genuine Hawaiian Experience
Just a few steps from the ocean on the east coast of Kauai, Moana Kai Beach House enjoys a convenient location for a great Hawaiian vacation. Close to shops, restaurants, and excellent beaches, everything you need is within easy reach.
The bright and well-furnished home offers all the comforts required with a hint of Hawaiian surf-inspired charm. The outdoor area features a spacious lanai with a hot tub and dining area as well as a rocky custom pool with cascading waterfalls.
The white sandy beach is a few steps away, as is the beachfront path lined with shops and restaurants. The path is also great for gentle strolls, jogging, and biking. Wailua is a short drive away where you can go kayaking or explore the Wailua Falls.
Another Great Beach House for a Weekend in Kauai – Kua Nalu Poipu Beach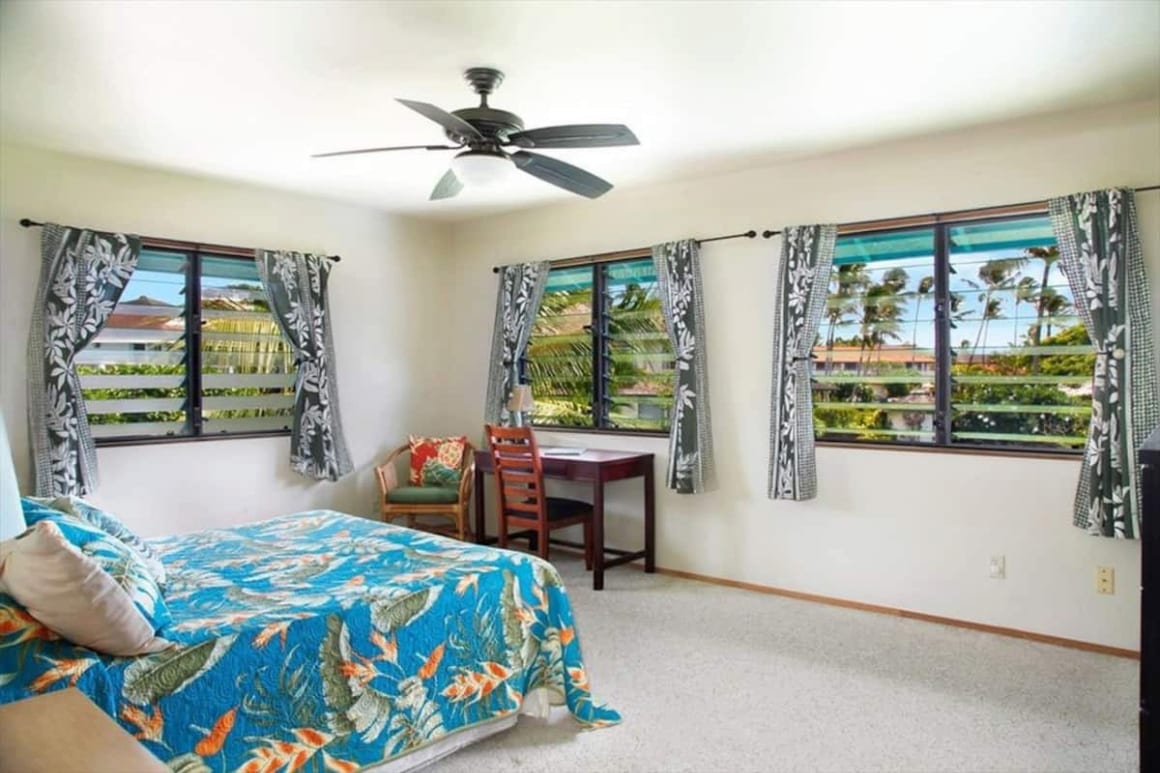 $
8 Guests
Family-friendly home
Overlooking Brennecke's Beach
Kau Nalu Poipu Beach is a large home surrounded by expansive lawns, located over the road from Brennecke's Beach. The renowned Poipu Beach is adjacent and within easy reach of the house.
One of the best beach houses in Kauai for families and groups, Kua Nalu is a bright and spacious home-away-from-home. The house is fully equipped with everything you'll need, including a full kitchen and two lanais with ocean views, and a gas barbeque. Beach gear is also provided.
Everything you need is within walking distance, including restaurants, shops, and activities. Boogie boarding, snorkelling, and the family-friendly beach at Poipu.
Kauai Beach House with an Epic Location – Anini Beach House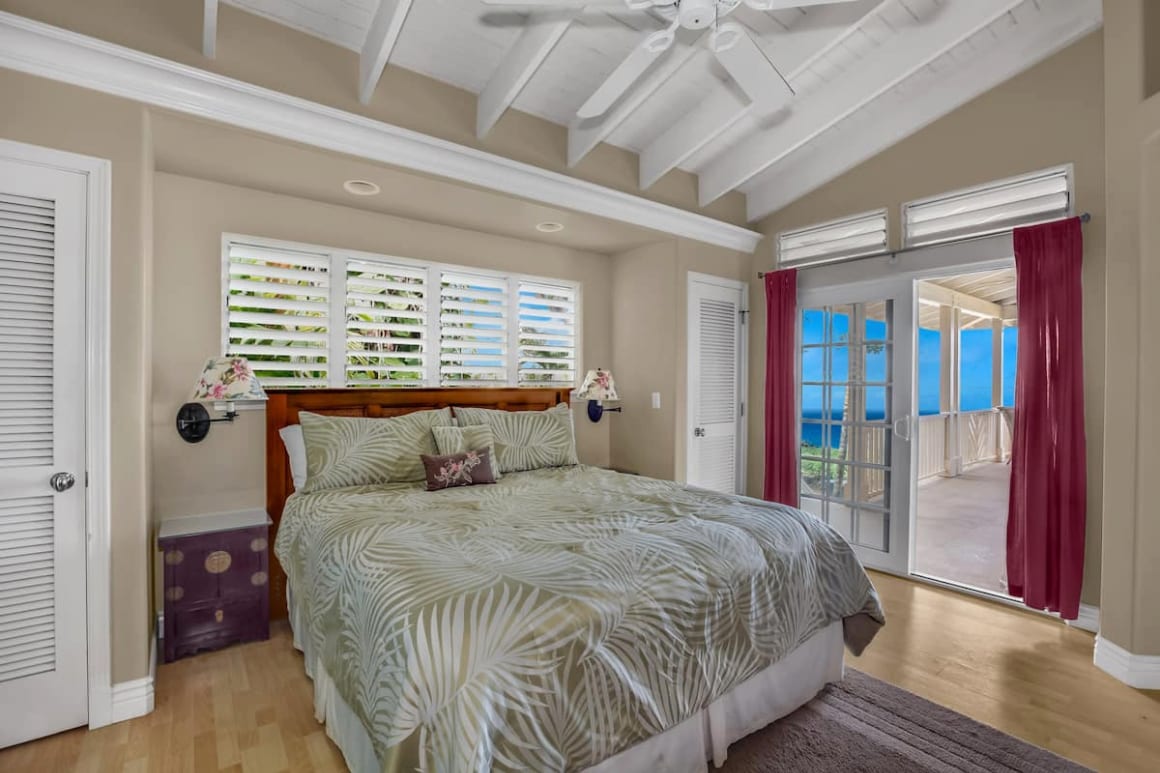 $
5 Guests
Wrap-around lanai with views
Secluded beach retreat
Anini Beach House is located at the end of a quiet street, overlooking the ocean on the north shore of Kauai. Miles of almost deserted sandy shore stretch in either direction and the ocean here is protected by an offshore reef, making it a great beach to enjoy with the family.
The house is stylishly furnished to create a comfortable and relaxed atmosphere. There is a wraparound lanai provides plenty of opportunities to enjoy the ocean breeze and the lovely views.
Its location is perfect for long beach walks, picnics, snorkeling, paddleboarding, and even windsurfing when the conditions are right. The hub of stores and restaurants in Princeville is a short drive from the house.
Another Great Beach House with an Epic Location – Ha'ena Beach House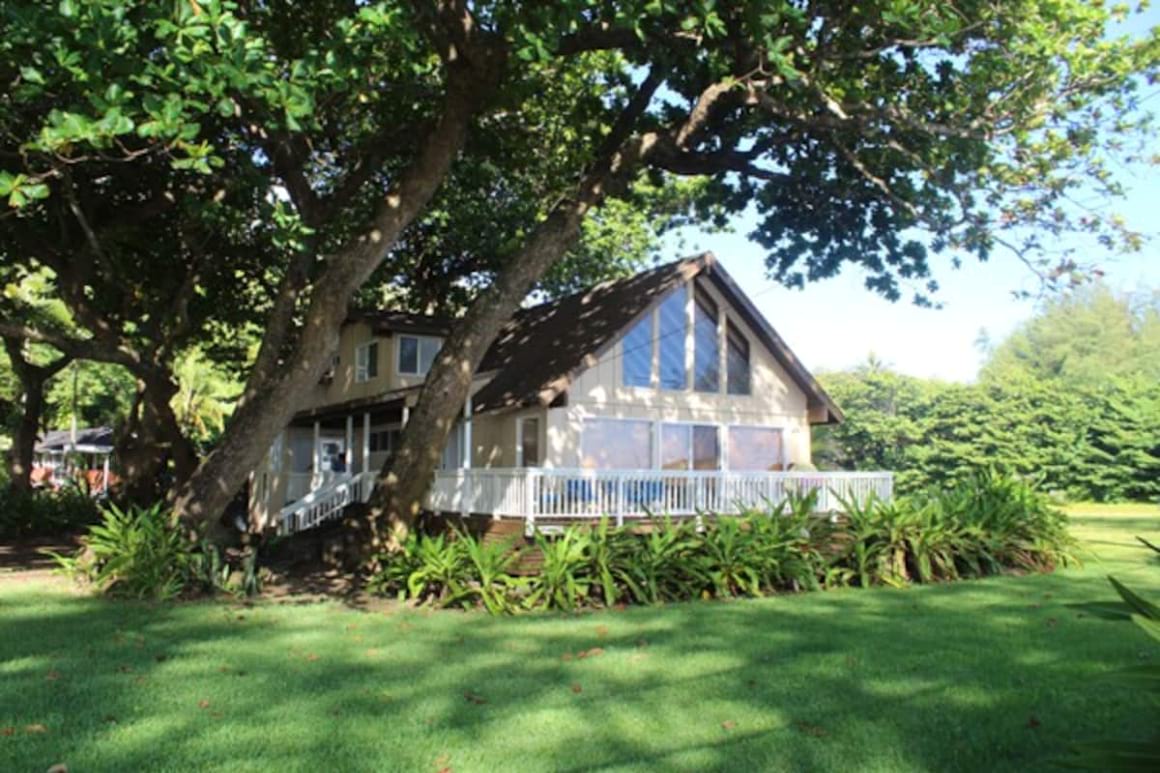 $
6 Guests
Private Jacuzzi deck
Unobstructed views
Just past Hanalei, in a quiet lane near Na Pali Coast Trail, you'll find the tranquil Ha'ena Beach House. The house enjoys an almost rural setting with unobstructed views of the ocean that lies just over the road. You'll love the stretch of uncrowded beach.
The house is shaded by tall Kamani trees and surrounded by lush gardens and lawns. With a well-equipped kitchen and a private Jacuzzi deck, it's welcoming and comfortable. Guests can make use of the beach gear provided, including beach chairs, a cooler, masks, and snorkels.
Hanalei and Princeville are within easy reach and offer a wide range of entertainment, restaurants, and shops to explore.
Best Kauai Beach House for Views – Niulani Lanikai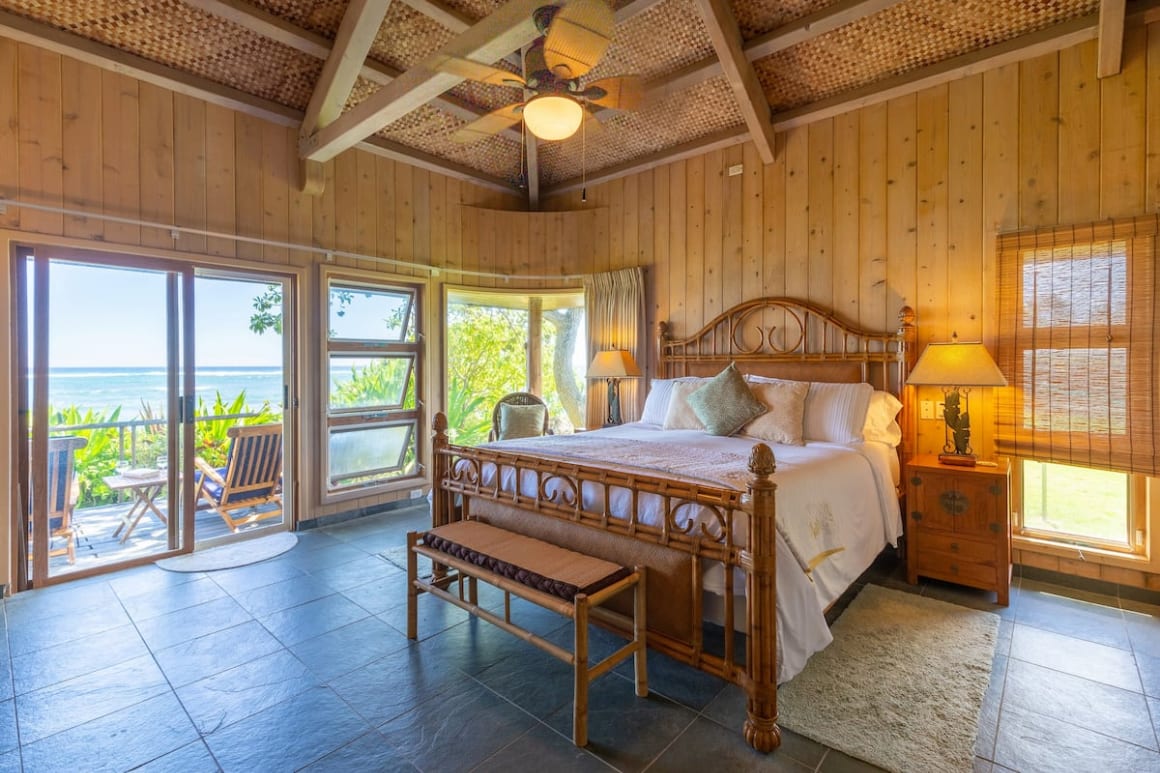 $
10 Guests
Three separate lodgings
Breathtaking ocean views
Located in the popular town of Kapa'a, Niulani Lanakai offers a central location close to shops and restaurants. A stay here is within easy reach of a range of top activities including golf, kayaking, paddling, and biking.
Perfect for groups or even just a couple, Niulani Lanikai comprises three distinct lodgings. The main home has two bedrooms and an open loft space. For guests needing more space, The Beach Bungalow is located above the garage, while the Beach Cottage is detached.
Hang out on the lanai and enjoy views over the lush gardens and ocean beyond, whip up tasty feasts in the spacious modern kitchen, or head to the beach. Loads of beach gear is provided for you to use, including boogie boards, snorkels, and masks.
Best Beach House for Long Term Travellers – Anini Beach Front
$
10 Guests
Well-equipped, modern kitchen
Tranquil setting
Located three miles from Anini's main beach, Anini Beach Front lies just over the road from a beautiful stretch of white sandy beach. The house is situated in a quiet cove with seven other homes, all joined by a continuous stretch of lawn.
Casual and well-furnished with everything needed for a comfortable stay, a modern kitchen with all-new appliances, generous living areas, and a furnished lanai offers all the essentials.
Activities to enjoy here include windsurfing, kayaking, paddle boarding, and hiking aplenty. Head to Princeville for shopping, dining, and entertainment.
$
7 Guests
Beautiful yard with barbeque
Access to Poipu Athletic Club
Pane Makai (The Turtle Suite) is situated in a large Hawaiian-style beach house that has been split into two identical apartments (Dolphin and Turtle). This unique accommodation in Kauai is ideally located steps from the popular Poipu Beach.
The house has been well-equipped and decorated with a hint of traditional Hawaiian style in the form of bamboo furnishings, surf-inspired knick-knacks, and traditional local art. The house is surrounded by historic lava rock walls and shaded by monkeypod trees.
Enjoy barbeques in the expansive yard, take in the view from the upstairs lanai, or head to the Poipu Beach Athletic Club (special access is for guests only). Poipu Beach is known for excellent swimming, sunbathing, surfing, and snorkeling.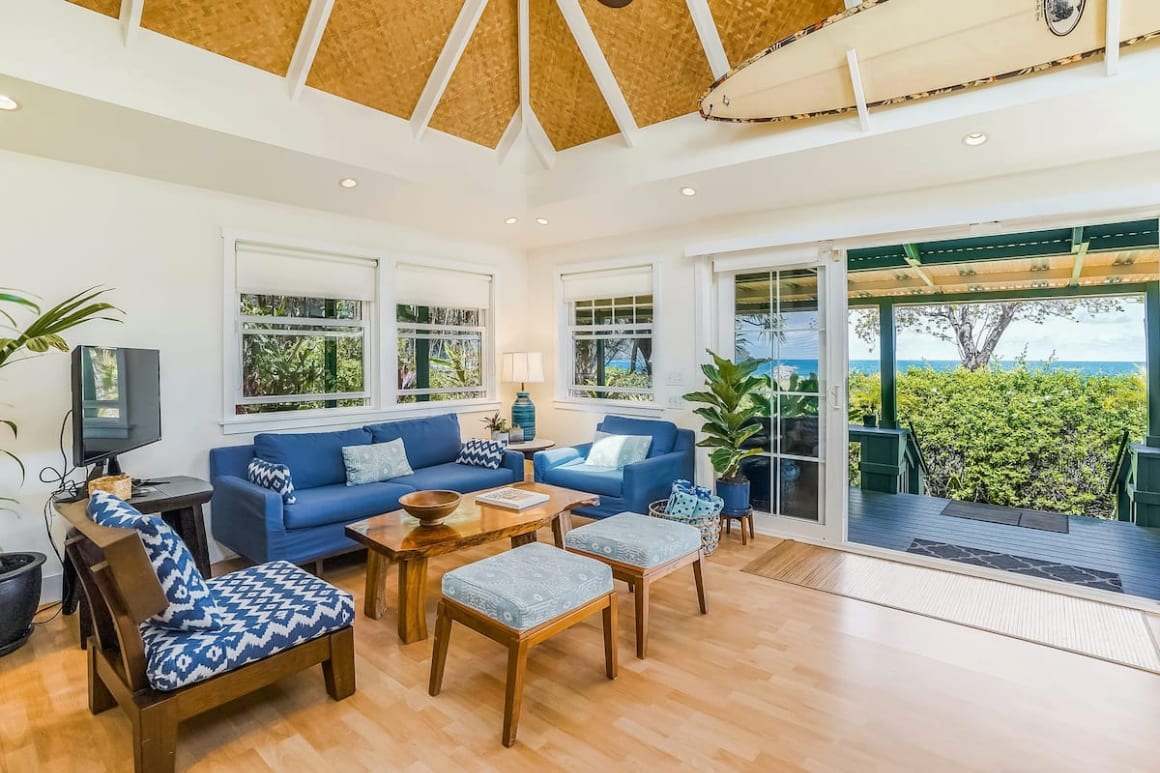 $$
6 Guests
Wraparound lanai with great views
Central location in Hanalei
Located within Pine Trees Beach Park, Hanalei Bay Beach House is centrally located within easy reach of top surf spots, great entertainment, and great beaches. The house is surrounded by exceptional beauty – beaches in front and a backdrop of majestic mountains.
The house is light, bright and casual – perfect for a relaxing island beach break. A wrap-around lanai looks out over lush gardens and the sparkling ocean beyond. In winter, you can view whales and surfers.
Stores, restaurants, and entertainment can be found in nearby Princeville. Everything from golf, botanical gardens, and scenic lookouts are just a short drive away.
Don't Forget Your Kauai Travel Insurance
ALWAYS sort out your backpacker insurance before your trip. There's plenty to choose from in that department, but a good place to start is Safety Wing.
They offer month-to-month payments, no lock-in contracts, and require absolutely no itineraries: that's the exact kind of insurance long-term travellers and digital nomads need.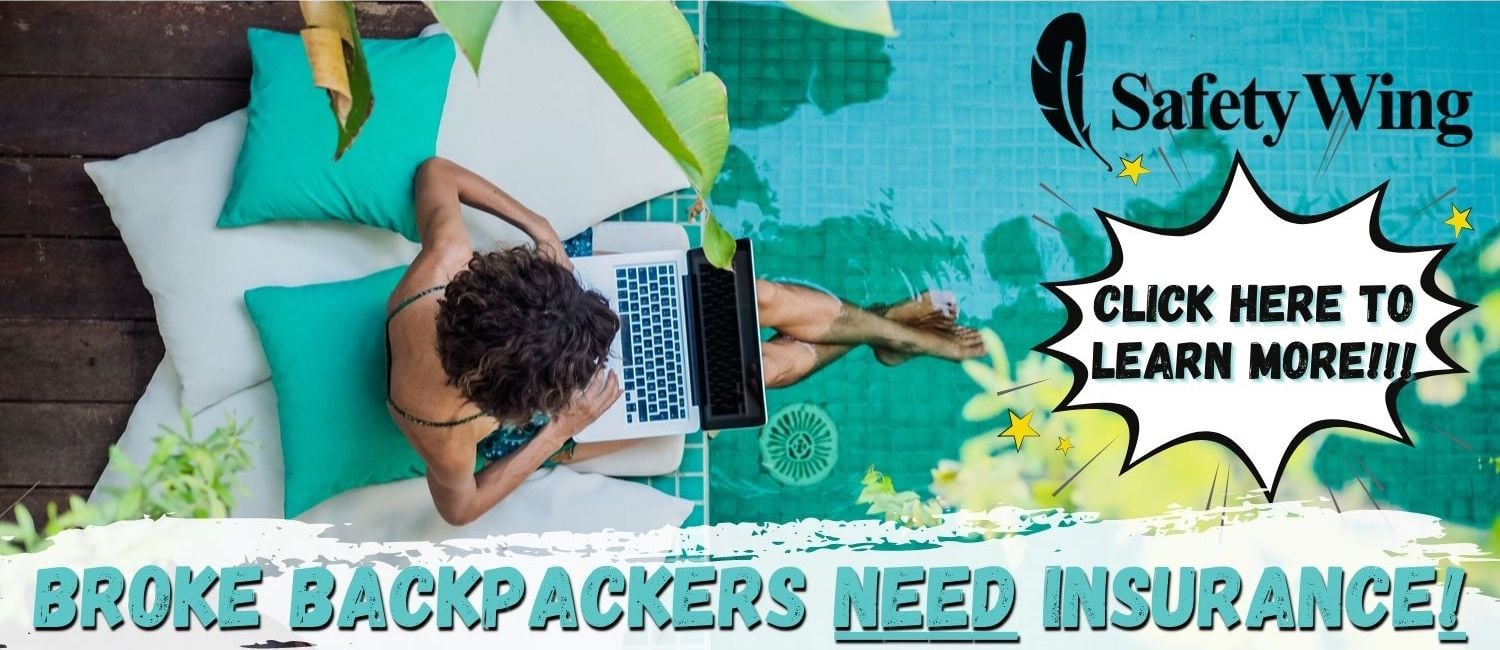 SafetyWing is cheap, easy, and admin-free: just sign up lickety-split so you can get back to it!
Click the button below to learn more about SafetyWing's setup or read our insider review for the full tasty scoop.
Final Thoughts on Kauai Beach Houses
Kauai's lush landscape and fantastic beaches offer a robust vacation destination with activities and attractions to please a wide range of travelers. Whether you're planning to swim and sunbathe, try the wide range of watersports on offer, or hike and explore the jungles and mountains, you'll not leave disappointed.
Choosing to enjoy all of this from the comfort of one of the best beach houses in Kauai will offer you a comfortable stay in a home-away-from-home. Your days are yours to structure as you please in a casual setting, usually close to the ocean.
---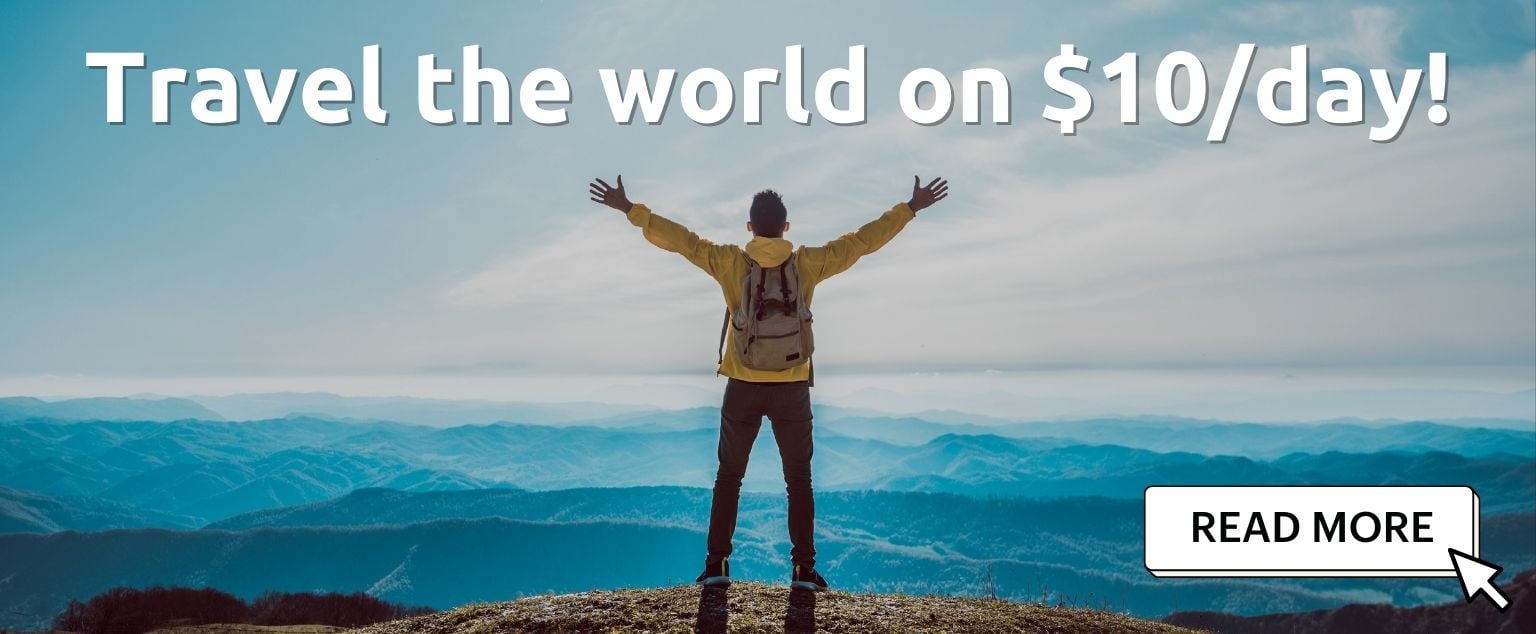 And for transparency's sake, please know that some of the links in our content are affiliate links. That means that if you book your accommodation, buy your gear, or sort your insurance through our link, we earn a small commission (at no extra cost to you). That said, we only link to the gear we trust and never recommend services we don't believe are up to scratch. Again, thank you!