Nashville is the place to visit in the South! It is full of charm, has great weather, and plenty of things to keep you occupied. With a nickname like Music City, it is unsurprising that one of the main reasons to visit Nashville is the music. Music is at the very core of this place. Finding a concert, street performance, or low-key music gig to watch in this quirky, friendly city is easy. If you want to visit an iconic place in music history, check out the Bluebird Cafe or the Ryman Auditorium where "The King" himself has performed (thank you, thank you very much).
Aside from the music, there's an incredible art scene here too! A plethora of galleries are scattered throughout the city, and a few historical buildings and botanical gardens that are well worth a visit.
As for the food, imagine Southern comfort food, fusion, and of course some slow-smoked Southern barbecue, and, well you've got the picture. Definitely worth checking out!
VRBOs in Nashville reflect the cool, quirky, and musical spirit of the city, and will have you eager to book another trip. We have found the best rentals in Nashville. Just keep reading on to discover our top picks for Music City!
Quick Answer: These are the Top 5 VRBOs in Nashville
Overall Best Value VRBO in Nashville
Overall Best Value VRBO in Nashville
Stylish Studio
> $
> 2 Guests
> Pool access
> Walking distance to bars and restaurants
Best Budget VRBO in Nashville
Best Budget VRBO in Nashville
Spacious Condo
> $
> 2 Guests
> Smart TV
> Cool industrial style
Best VRBO for Couples in Nashville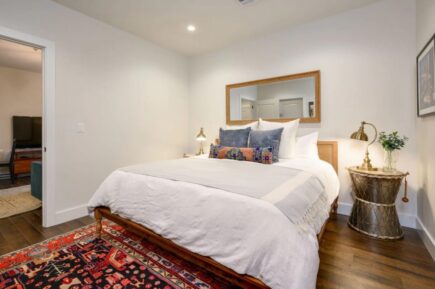 Best VRBO for Couples in Nashville
Historical Condo with Pool
> $
> 2 Guests
> Pool access
> Eclectic decor
Best VRBO for Families in Nashville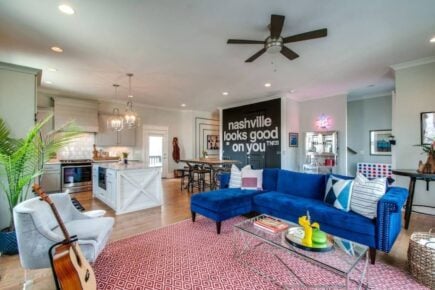 Best VRBO for Families in Nashville
Luxury Townhouse with Skyline Views
> $$
> 10 Guests
> Queen bunk beds
> Guitar
Over-the-Top Luxury VRBO in Nashville
Over-the-Top Luxury VRBO in Nashville
Urban Farmhouse in Central Nashville
> $$$$
> 12 Guests
> Fitness room
> Bocce ball court

Unlock Our GREATEST Travel Secrets!
Sign up for our newsletter and get the best travel tips delivered right to your inbox.
What to Expect from VRBOs in Nashville
Nashville VRBOs are the definition of cool with the most popular rentals being houses, condos/apartments, and townhouses. The VRBOs here are a great mix between professional-looking properties and more "local feel" places. But no matter where you choose to stay, they all have beautifully put-together interiors.
All rentals are kitted out with your comfort in mind, so expect fully-equipped kitchens, modern bathrooms, and ample dining/living spaces. Some of the larger properties here also come with spectacular rooftops that have great views of the downtown skyline. We love that you can find somewhere to stay to suit any budget and in pretty much all areas of the city, including the more popular neighborhoods!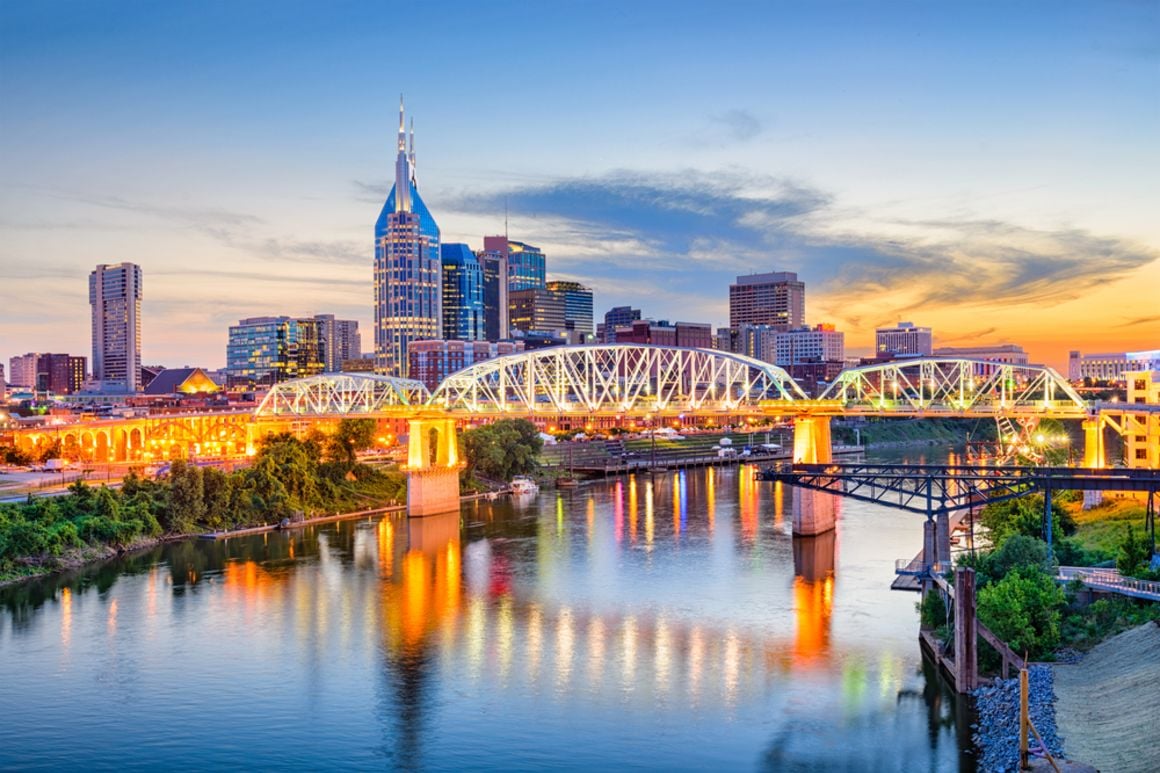 Condos and Apartments
Condos and apartments are the perfect choice if you're looking to stay right in the thick of Nashville's most "vibing" areas. You'll find amazing options in neighborhoods like The Gulch or other popular downtown areas. These rentals range from spacious, urban apartments in revitalized industrial buildings to quirky lofts with a rich, historical past.
They can range in size so are great options for either a couple or a larger group. In newer buildings, it is not uncommon to have access to a communal pool or to have a small balcony. Stay in one of these if you're looking for a weekend away or easy access to Music City's greatest attractions.
Houses
We definitely recommend houses if you are a large group of friends or a family. These fantastic rentals have a luxurious feel to them and tend to look professionally decorated. Many of them have a modern farmhouse vibe and are extremely spacious. If you're staying in a bigger home, expect the kitchen to be large and fully kitted out – ideal for preparing family meals!
You will find many great options just outside of the downtown area but still close enough to visit the main sights and attractions. Many homes are relatively new builds and have amazing rooftop decks with the best views of the Nashville skyline! Houses tend to come with parking, so if you're driving to the city from home or getting a rental, you don't have to fret.
Townhouses
Townhouses are another favorite for families and groups. Unlike in other cities, the Nashville townhouses tend to be newer builds, so are spacious, bright, and modern. Like houses, they have a put-together and luxurious feel to them with a full kitchen, living area, and full-sized dining table. Don't be surprised to find a fabulous rooftop deck either!
Many of these rentals can be found just outside of downtown in the trendy area of East Nashville in prominent neighborhoods like Five Points. This is great, as you will be within walking distance of restaurants, cafes, and grocery stores. Expect them to have in-house or on-street parking which is ideal as downtown is only a short drive away.
Why Stay in a VRBO?
There are a ton of reasons why VRBO should be your platform of choice for booking your next vacation, here are just a few:
Local Experience: When you stay in a VRBO property, you'll get a local host with local knowledge who will happily share their tips on the best free music shows around town or their top barbecue joints.
Unique Properties: VRBOs are unique properties where you can really live "like a local". Why stay in a run-of-the-mill hotel when you can come home to a place full of charm and character?
Affordability: They're also affordable! Booking a quality VRBO often works out cheaper than staying in a hotel, and you'll be in some of the city's most popular neighborhoods.
Last-Minute Booking: Hosts can set their reservation cut-off limit for the very same day, so if you've rocked up to Nashville without a plan, you'll still be able to find somewhere to stay!
The 20 Top VRBOs in Nashville
Hold onto your hats because you're going to get blown away. Here are our ultimate Nashville VRBOs in all their glory!
Overall Best Value VRBO in Nashville | Stylish Studio
2 Guests
Walking distance to bars and restaurants
This fantastic Nashville VRBO is comfortable, stylish, and close to downtown Nashville. There are many award-winning restaurants and bars within walking distance. Plus, there's access to a communal swimming pool. The interior is modern and has a beautiful four-poster bed that you'll definitely want to crash on after a fun night out on Broadway! There is a full kitchen and living space as well as a shared outdoor seating area.
Music City Center
Ryman Auditorium
Nissan Stadium
Best Budget VRBO in Nashville | Spacious Condo
2 Guests
Cool industrial style
For all you budget travelers, we have found you one of the best VRBOs in Nashville! This amazing condo is within walking distance of some award-winning restaurants and bars and is only a short drive from downtown. This spacious condo has a subtle industrial vibe that shines through in the polished cement floors and industrial pipe shelving.
Fitted with a full-size modern kitchen for all your cooking needs, this place is great for solo travelers or couples who are looking to save some pennies here and there! Affordable and stylish? VRBO, you've done it again.
$
Covered patio with seating
1-2 Guests
Bright, cheery style
If you're looking for the perfect solo pad, then you're in for a treat! Check out this awesome guest house in East Nashville. The space is bright and spacious with little pops of color to give it some cheer. The covered outdoor patio is great for hanging out, or if you prefer to be indoors, lounge on the comfortable couch in front of the TV.
A real draw to this property is its walkability to several well-known restaurants like Red Headed Stranger and Folk!
Is This the Best Backpack EVER???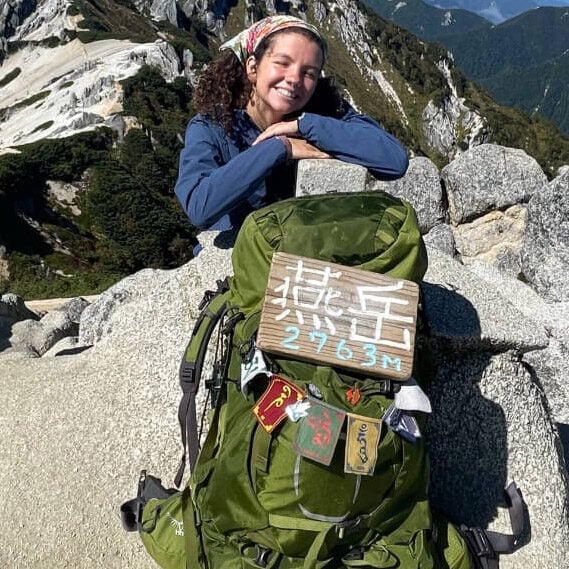 Romance will definitely be on the cards if you stay in this historical 1865 condo. We love the fun, eclectic style of the decor and furnishings. From the Moroccan mirror to the comfortable blue velvet couch, this place is effortlessly trendy, and a perfect base for all your Nashville adventures. Take a dip in the heated pool downstairs before firing up the grill in the poolside outdoor kitchen for some Tennessee-style barbecue. Best of all, it's only a short distance to downtown.
This has got to be the best VRBO in Nashville for a family vacation! The kids are going to go nuts over the queen bunk beds, and for you adults, there is an incredible rooftop complete with an outdoor kitchenette and grill!
Relax and recharge around the rooftop fire pit admiring the city skyline (glass of wine in hand of course), then retire to the comfortable lounge area and grab the guitar for a family sing-along. When in Nashville, right? The interior has farmhouse elements but with a lot more fun and color.
12 Guests
Bocce ball court
Yes, yes yes to this urban-meets-farmhouse luxury home within walking distance of downtown. It doesn't get more bougie than this, people! Stay here if you're a large group or family. Hell, if you're rich enough, stay here as a couple!
The house has a rooftop deck with a fire pit and cozy seating, an attic TV room (in addition to the downstairs lounge!), and a fitness suite with a ping pong table, Peloton bike, and infrared sauna! Oh, and if you happen to know what bocce ball is, you'll even find a court in the garden.
12 Guests
Exposed brick walls
Probably one of the best Nashville VRBOs, this massive loft is in a former industrial building and has a colorful maximalist interior. It is a great place to stay with friends who want to stay somewhere unique in the heart of downtown that is just steps away from the city Honky Tonks!
We are totally digging the exposed brick walls, Persian carpets, and the hand-painted mural in the stairway. There are two living areas with large, comfortable sectionals, so there's plenty of room for everyone to chill out.
10 Guests
City-view rooftop deck
This VRBO in Nashville is totally off-the-hook! The massive rooftop deck has a huge sectional, super cute lighting, and killer views! The beautiful open kitchen/living/dining space is clean and bright, and it's the ultimate place to bond with the family or friendship group over a delicious home-cooked meal.
Alternatively, for those of us who are challenged in the culinary department, family bonding also works in restaurants, some of which are just a quick walk away!
Best Townhouse on VRBO in Nashville | Retro Townhouse
6 Guests
Colorful, retro interior
Perfect for families or groups, this fun and colorful Nashville VRBO is a great place to base yourself for your vacation in the city! This place comes with a beautiful, fully-equipped kitchen, dining table, and a cozy outdoor patio. We love the neon lights, bright furnishings, and super instagrammable wall mural (#housegoals).
Best VRBO for a Weekend in Nashville | Modern Guest House
2 Guests
Walkable to restaurants, bars, and cafes
Where better to spend the weekend in Nashville than in this modern guest house in the trendy Five Points neighborhood? Staying here will give you all the things you need for a comfortable stay like a full kitchen, fast Wi-Fi, a coffee maker (very important!), and a heavenly king bed!
Plus, you'll be just a short walk from some of Nashville's best restaurants and some serious boutique shopping. When you're ready to head out to Music City's famous attractions, just take the short drive into nearby downtown!
Best Nashville VRBO in Downtown | Historical Condo
$$
Feather pillows and duvets
2 Guests
Quirky vintage decor
This historical condo downtown is in the best possible location just steps away from Nashville's infamous Honky Tonk bars. What's more, this place is incredibly trendy and comfortable!
Ideal for couples or a couple of besties, the vintage jewel tone decor and textiles, dark wooden accents, and exposed brick, give this place a luxurious yet quirky vibe. We absolutely adore the spacious bathroom, and there's a special place in our hearts for the light-up vanity table <3.
Best VRBO Apartment in The Gulch | Industrial Loft
2 Guests
Floor-to-ceiling windows
It's all about location, location, location in this spacious industrial loft that is right across from the iconic Station Inn. Ideal for couples, the apartment has floor-to-ceiling windows that make the place super bright and inviting, as well as give a fantastic view of the vibrant neighborhood.
We like the minimalist vibe, paired with the polished concrete walls and boho decor. You'll find all the necessities for a great stay like a full kitchen, living room with a flat-screen TV, and dining table.
6 Guests
Walking distance to bars and restaurants
I am seeing a light-up "Nashville" sign and I am very happy about it! This beautiful Nashville VRBO would be a wonderful place to stay for a family (hello double bunk beds) or as a group of friends (hello bars within walking distance). The rooms are modern with a bit of character, and the townhouse as a whole is spacious and bright!
Best VRBO in Nashville near Nightlife | Music Row Condo
$$
Free parking (pass GO and collect 200)
6 Guests
Access to a guitar-shaped pool!
Not only is this stylish, comfortable, and spacious condo on Music Row, home to Nashville's best nightlife, it also has a guitar-shaped pool! The pool is actually in the shape of a guitar – so cool! The interior is contemporary and decorated in muted colors (good for your post-drinking headache).
Plus, there's a full kitchen so you can easily whip up your favorite hangover food the morning after. This place is perfect for friends and/or your drinking buddies. Cheers!
10 Guests
Rooftop wine cooler and bar!
I hope you and your friends like drinking wine, because this 10/10 Nashville VRBO has got its very own wine cooler on the gorgeous rooftop deck! Looks like it's wine o'clock, everybody! Not only that but it also has a bar, comfy outdoor seating, and a modern fire pit.
The whole gang will appreciate its proximity to restaurants, bars, and prominent neighborhood The Gulch. As for the interior, the house has a modern farmhouse vibe with a huge kitchen, dining table, and living room complete with a sleek fireplace.
Sparks will definitely fly in this incredible penthouse condo close to Music Row and The Gulch! We love the huge balcony, outdoor living area, and al-fresco dining table. The modern furnishings give the place a luxurious feel and the huge windows really open up the space. You and your new boo will adore the loft bedroom and use of the building pool!
Yes, girl – you're getting married, and you're ready to blow off some steam with your gal pals before you tie the knot! Girl, have we found you the best VRBO in Nashville for your wild celebration. This townhouse has the most incredible views from the rooftop deck – you'll be able to spot the neon lights of Broadway and make out some of the city's landmarks.
What we love the most is that the roof is the perfect place for some pre-gaming before the big night out with an outdoor kitchen and dining table. Each bedroom has a fun, subtle theme, and the townhouse interior is stylish and well thought out.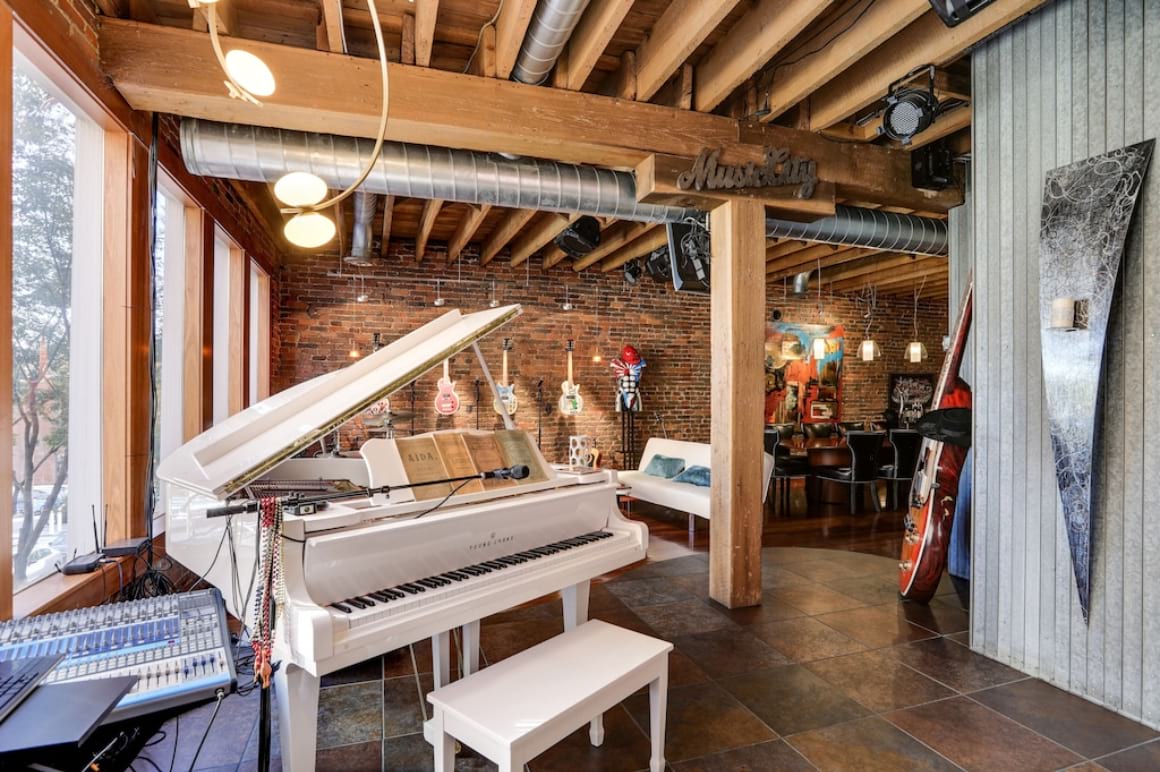 8 Guests
70s vibe master en-suite with Jacuzzi tub
No article about Nashville rentals would be complete without showcasing a loft where you can have your very own jamming session. This place has loads of instruments (including a white grand piano!) and a karaoke machine in case singing is more your forte.
The rest of the place just oozes cool – from the '70's-style master en-suite with electric blue tiles, walk-in shower, and Jacuzzi tub, to the locally commissioned backsplash and artwork. Fully equipped with a loft-wide Sonos sound system with controls in every room, this loft is a music lover's paradise!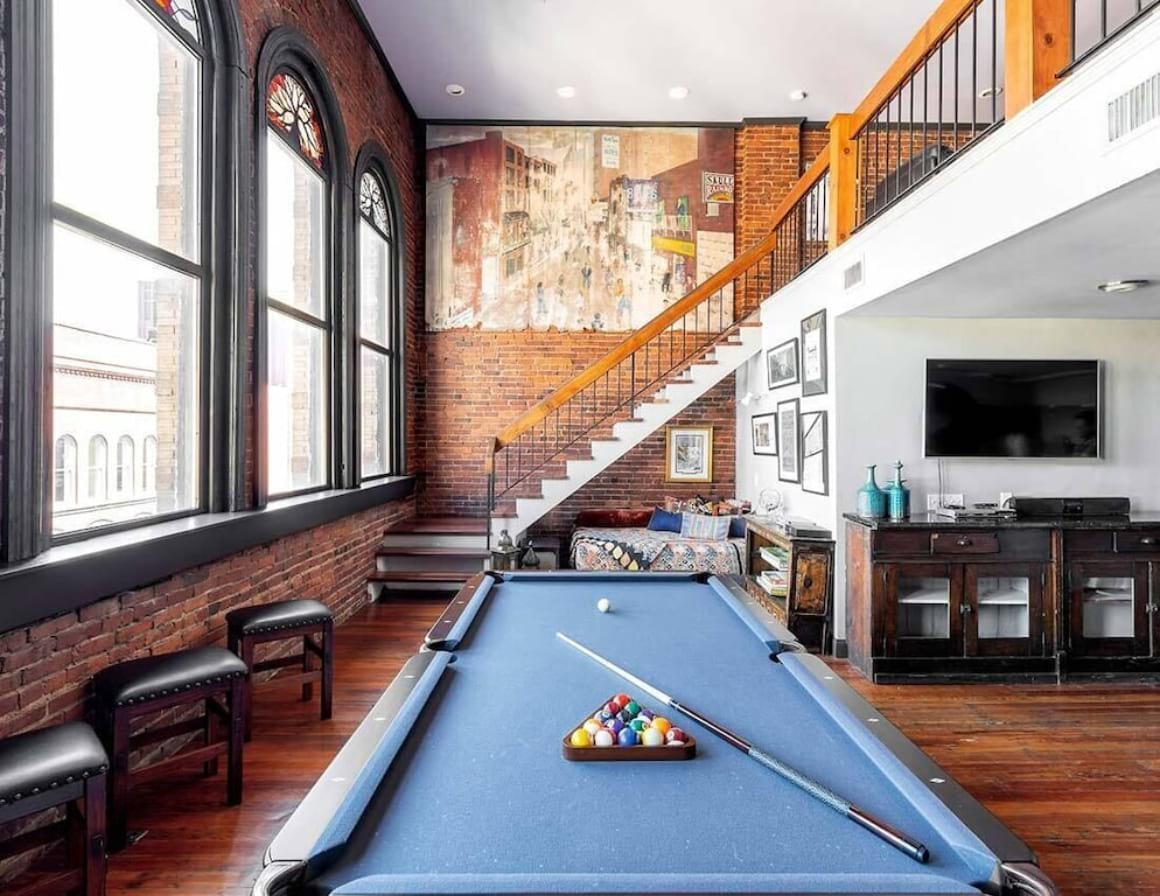 6 Guests
Breathtaking feature windows
This historical loft is the one. It has a mezzanine second floor, so the open area by the feature windows has ridiculously high ceilings with a unique chandelier hanging next to the open fireplace.
Now for the feature windows. Those bad boys have stunning stained glass detailing and let in a ton of light to brighten up the dark brick walls.
The interior is eclectic, and fits with the quirky Nashville vibe. Stay as a group of friends and enjoy the proximity to downtown (call dibs early on the master bedroom though, because the soaking tub is amazing).
8 Guests
Beautiful contemporary interior
Wow, what a view! This lovely house is only a mile from downtown and has the most jaw-dropping view from its sleek, rooftop deck. You'll be itching to come home after a day of Nashville sightseeing just to rush up to the roof and watch the sun go down and the city lights turn on.
The interior is beautiful with a mix of neutral tones, clean lines, and antique-looking statement pieces. Stay here with friends and take advantage of the gourmet kitchen for some al-fresco dining on the roof!
Don't Forget Your Nashville Travel Insurance
ALWAYS sort out your backpacker insurance before your trip. There's plenty to choose from in that department, but a good place to start is Safety Wing.
They offer month-to-month payments, no lock-in contracts, and require absolutely no itineraries: that's the exact kind of insurance long-term travellers and digital nomads need.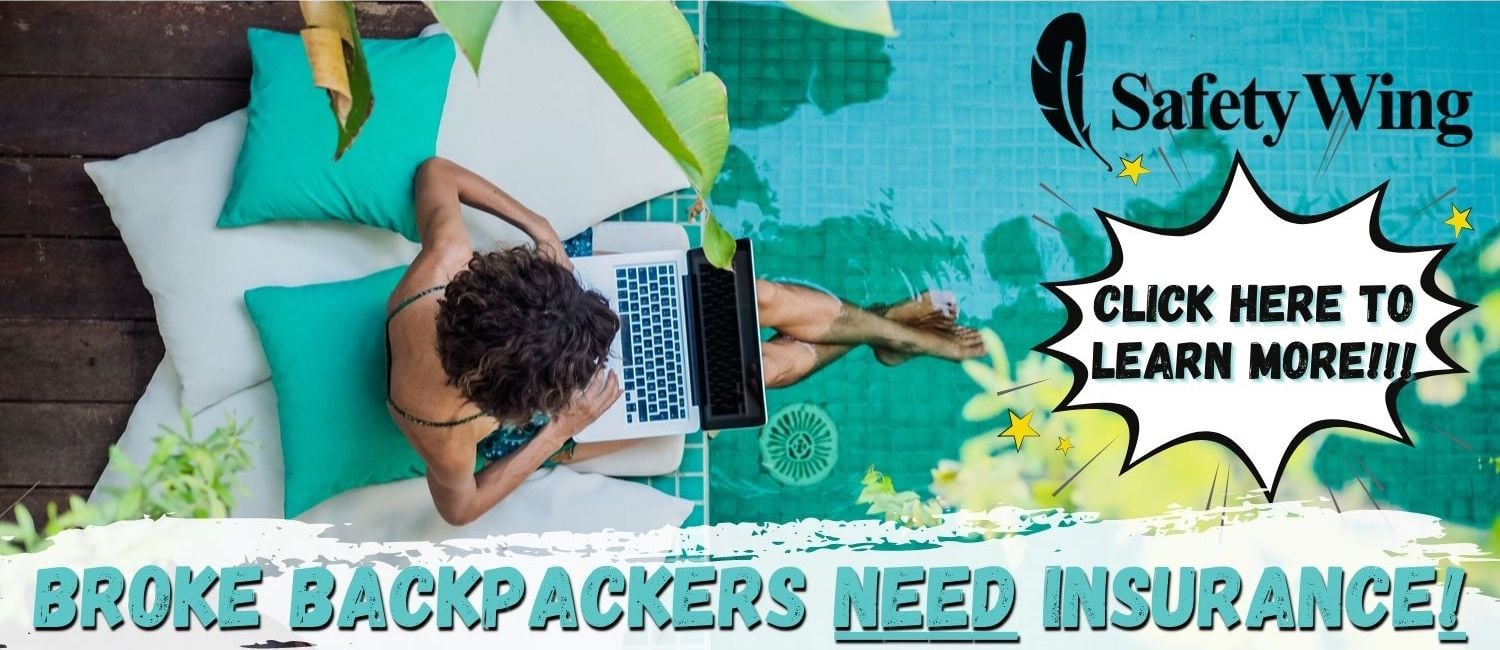 SafetyWing is cheap, easy, and admin-free: just sign up lickety-split so you can get back to it!
Click the button below to learn more about SafetyWing's setup or read our insider review for the full tasty scoop.
Final Thoughts on Nashville VRBOs
We hope you're just as impressed by the Nashville VRBOs as we are! The range of properties from historic condos to modern townhouses has us convinced that no matter what you're looking for you'll be bound to find something you'll be more than happy with. Whether you've come for a bachelorette party, family vacation, or to listen to some great music at the Bluebird Cafe.
What impresses us the most about these VRBOs is the availability of stunning (and quality) properties in prominent or up-and-coming places that are super affordable (yay for VRBO.com!). Just remember that whenever you're taking a trip, especially overseas, it is always a wise thing to check out travel insurance just in case you really do "break a leg".
---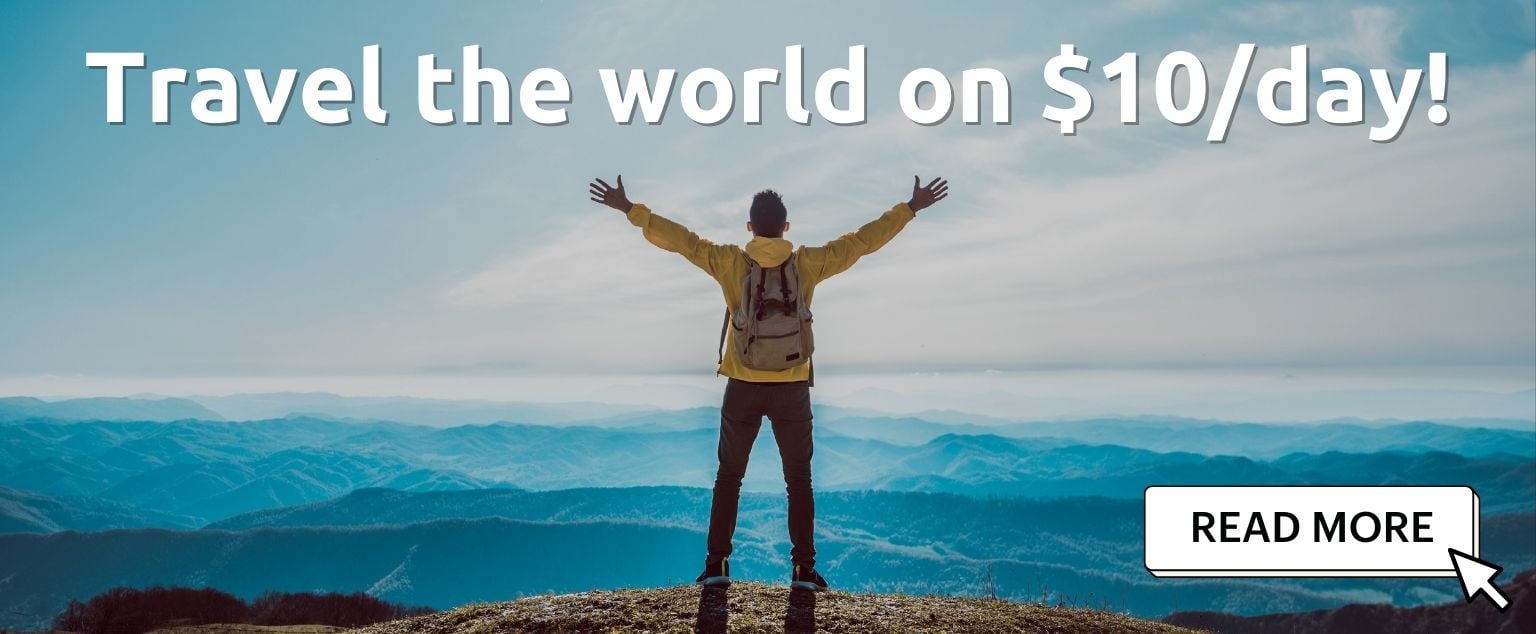 And for transparency's sake, please know that some of the links in our content are affiliate links. That means that if you book your accommodation, buy your gear, or sort your insurance through our link, we earn a small commission (at no extra cost to you). That said, we only link to the gear we trust and never recommend services we don't believe are up to scratch. Again, thank you!