Honky-tonk on Broadway, biscuits dripping in gravy, Southern hospitality, and an incredible art scene – Nashville, Tennessee, has quickly grown into one of the country's most dynamic Southern cities. Known as the hometown of country music and the birthplace of bluegrass, this city really lives up to its name, with some of the best music auditoriums, stages, and lounges in the whole southeast.
The city is also teeming with museums and other major attractions, boasting an incredible history linked to the Civil War. While the city sure has a lot to offer, one of the best things about Nashville is its surrounding landscape. Surrounded by lush forests, working farms, and rolling hills, you could spend years exploring the landscape around this Southern city.
When it comes to accommodation, Nashville has it all: hotels, resorts, estates, bed and breakfasts, and self-catering rentals.
However, if you've had it with bustling cities and are looking for a remote or off-the-beaten-path destination that isn't too far from Nashville, look into one of the best cabins near Nashville. Even though you'll be a short drive from the bustling city, you'll feel a world away in these countryside havens dotted around the state of Tennessee.
Save yourself the time and effort and browse through this consolidated list of fifteen of the best cabins in the area:
Best Cabin for Couples Near Nashville
Best Cabin for Couples Near Nashville
Gorgeous Countryside Cabin with Porch and Firepit
> $$
> 2 Guests
> Southern-style breakfast and welcome cocktail available for an additional charge
> Near the famous Leiper's Fork Village
Best Budget Cabin Near Nashville
Best Budget Cabin Near Nashville
1-Bed Cabin with Porch near Mt Juliet
> $
> 2 Guests
> Charming remodeled cabin with traditional wooden interiors
> In east Nashville on the lakes, a short drive to Mt Juliet
Over-the-Top Luxury Cabin Near Nashville
Over-the-Top Luxury Cabin Near Nashville
4-Bed Cabin with Firepit and Huge Gardens
> $$$$
> 16 Guests
> Games room and TV den, outdoor firepit
> On five acres of pastureland in Gallatin, north of Nashville
Staying in a Cabin Near Nashville
If there is one thing I can tell you for sure, it is that there is no shortage of cabins to visit in Nashville. Although not the typical cozy cabin winter destination, Nashville is surrounded by hilly countryside and expansive land dotted with cabins.
In this area, the term cabin can be used interchangeably with chalets or cottages, but the premise is the same. A cabin is a type of self-catering vacation rental typically built using local wooden materials.
With a traditional log-style interior, most cabins in this area have vaulted wooden ceilings, porches overlooking the countryside or garden, and an open-concept living space with double-height ceilings. Most structures will have wooden floors, walls, ceilings, and furniture, but some modern cabins feature more contemporary interiors.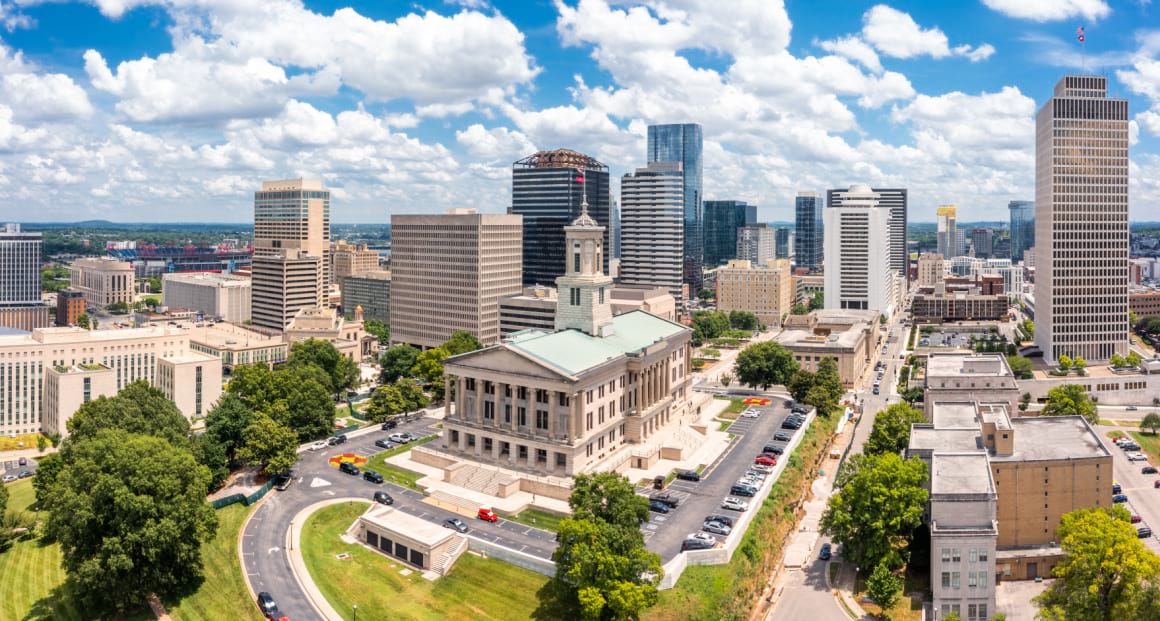 If you want to spend time outdoors surrounded by nature, staying in one of the best cabins near Nashville is a great idea. You could rent a cabin near hiking or cycling trails, farms, or rivers to kayak on. While you'll feel miles away from civilization, many of these properties are just a short drive from Nashville, making them ideal for quick vacations out of the city.
With remote locations in the hills or countryside, cabins are also known for their incredible views. Depending on where you stay, you could sip your morning coffee on the porch overlooking endless farm vistas or gaze up at the ancient trees towering above your cabin.
What to Look For in a Cabin Near Nashville
What to look for in a cabin rental all depends on what type of vacation you are after. If you are looking for a quiet and romantic getaway, spending time in a remote cabin in the woods will suit your needs.
However, if you're traveling with a group of friends and want to explore both the city and mountains, you might prefer a cabin closer to Nashville center. Choose your location carefully, and ensure you are near the main highlights you want to tick off your travel list before you arrive.
If you're visiting with children, there are many cabins that come highly recommended for family getaways. These properties usually have kid-friendly amenities like games, toys, cots, high chairs, and even fenced-in gardens. If you're prepared to pay a bit extra, you could even source a cabin with a private swimming pool.
All of the cabins on this list come equipped with a full kitchen. This is an essential feature since many properties are located off-the-beaten-track, far from grocery stores or restaurants. If you enjoy cooking, choose a cabin with an expansive kitchen fitted with modern appliances.
Nashville is a very car-dominant city, and with most of the best cabins near Nashville being located in remote countryside locations, you will likely need to rent a car for the duration of your trip. If you have a personal vehicle, you're in luck. Just about all properties outside the city center offer free parking on the property. However, if you choose a cabin in the center of Nashville, make sure to check that there is parking available outside the property.
Airbnb offers the most extensive options when it comes to cabins in this area. The platform allows you to refine your search and find exactly what you're looking for, in the area you're searching, and for the budget you have available to spend.
The Top 15 Cabins near Nashville
From five-bedroom cabin estates to cozy studio log cabins, there really is a cabin near Nashville for every type of traveler. Without further adieu, here are the fifteen top cabins in the area: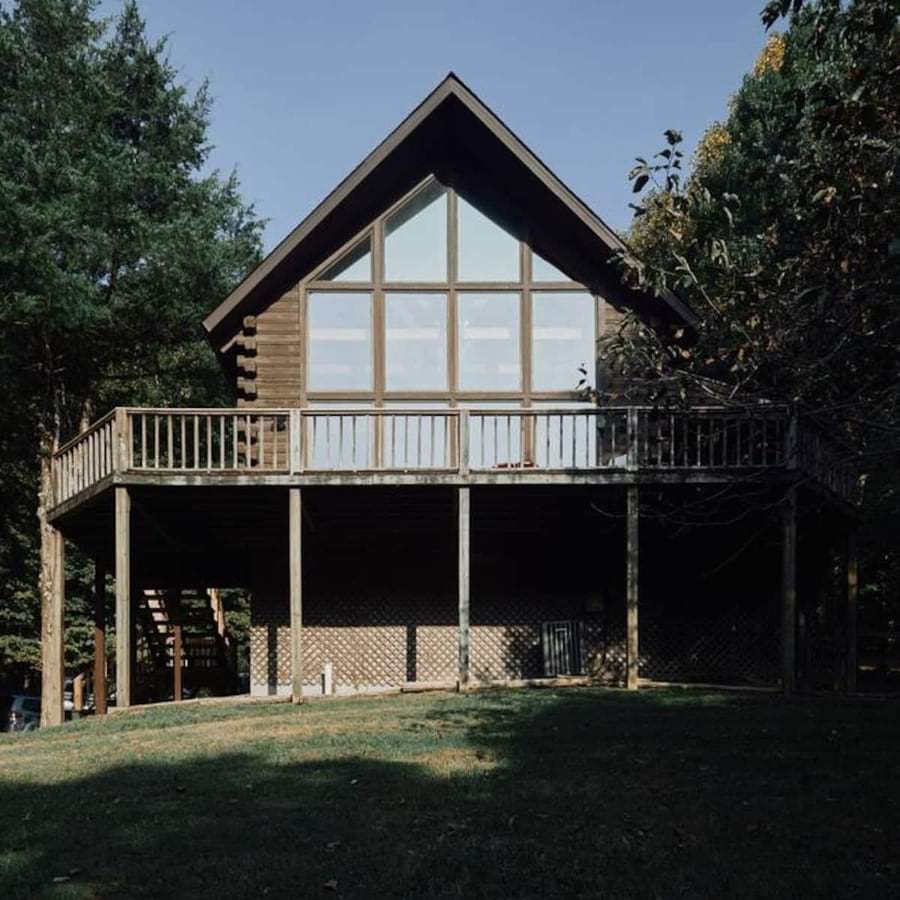 Musical instruments and a firepit included
Just outside the city center, surrounded by 186 acres of trails
Simple and beautifully constructed, this cabin is an authentic D-Log cabin, which means the walls outside are made using the same piece of wood as the walls inside. The cabin is decorated with trendy minimalistic interiors, with a simple aesthetic that gives it a relaxing atmosphere.
The main living space features an open-concept layout with a double-height wall of windows, letting abundant natural light into the space. Not to mention the views that can be admired from just about any point in this unique accommodation near Nashville.
One of my favorite features is the deep soaking tub and separate shower in the bathroom, a rare luxury in this type of accommodation.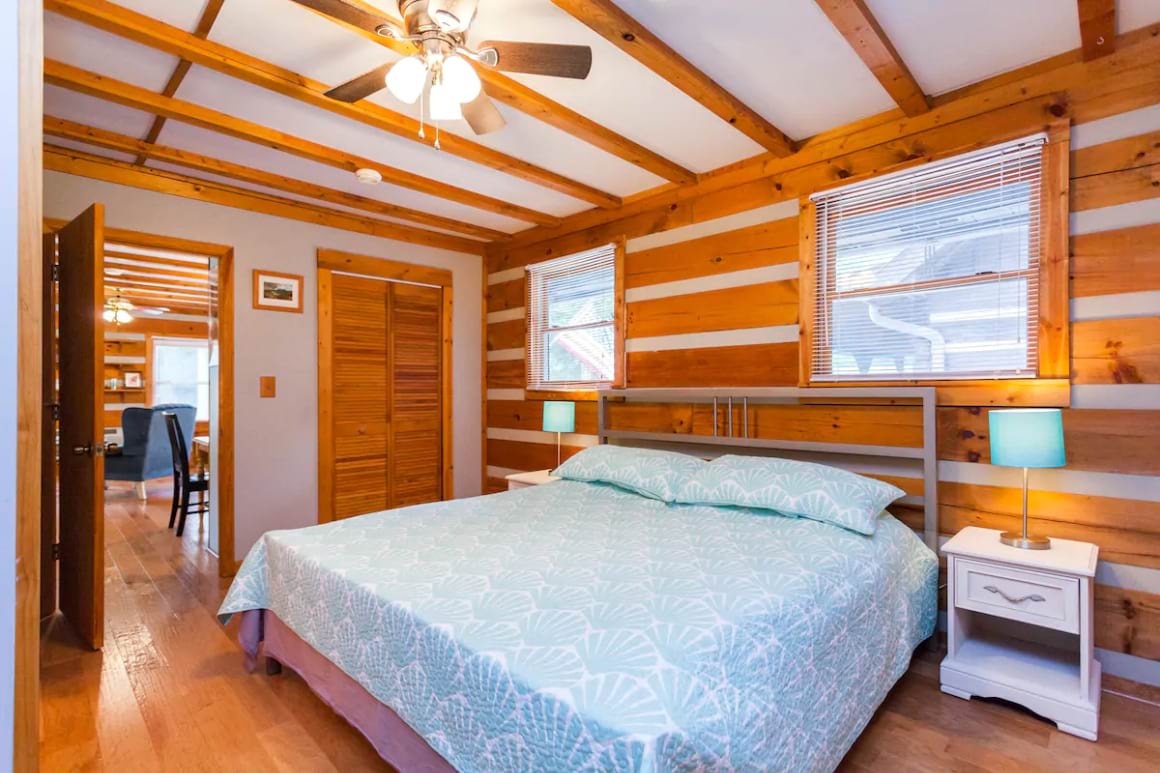 Charming remodeled cabin with traditional wooden interiors
In east Nashville on the lakes, a short drive to Mt Juliet
Since cabins are usually located in remote areas, they tend to be cheaper and offer more value for money compared with rentals in the city center. If you're looking for an affordable cabin near Nashville, this gorgeous spot in the East Nashville suburbs is just a short drive from downtown and near excellent hiking trails around Mt Juliet.
In a serene countryside setting yet close to the city, it offers the best of both worlds without breaking the bank! The cabin features everything you might need while in the area, including a full kitchen, fast Wi-Fi, a cozy bed, and heating and cooling to keep you warm or cool year-round.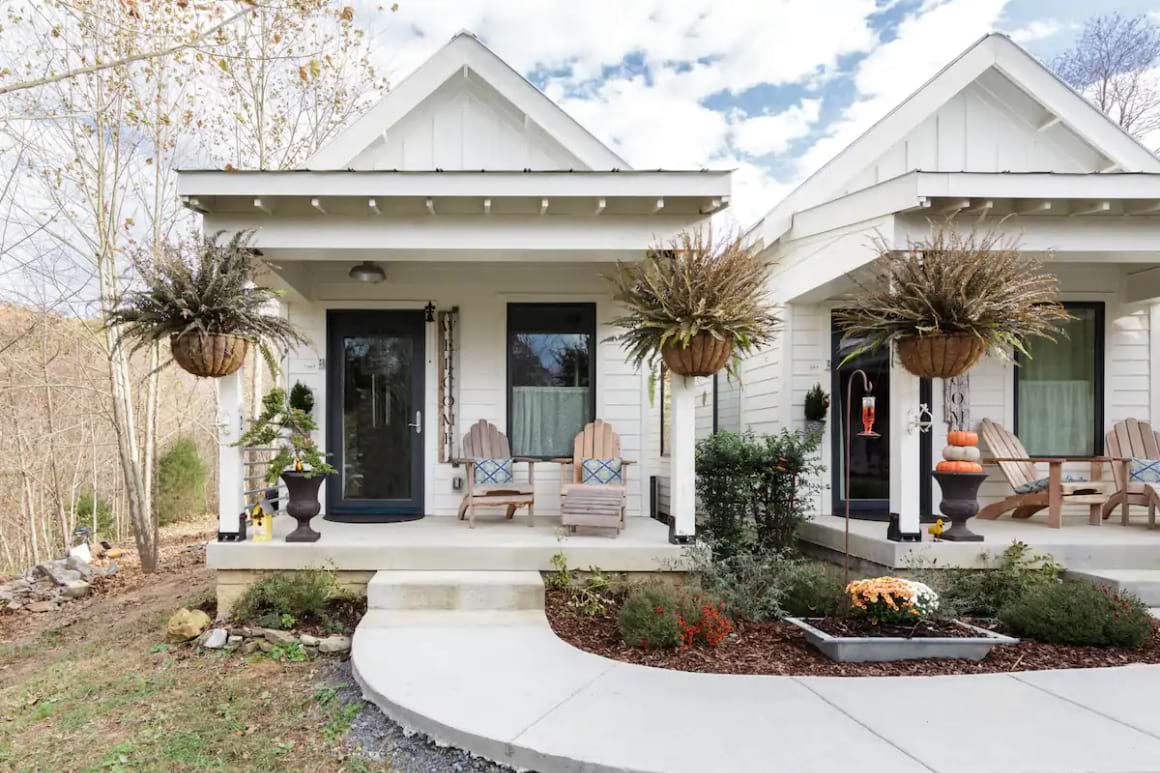 Southern-style breakfast and welcome cocktail available for an additional charge
Near the famous Leiper's Fork Village
Listed on Airbnb Plus, this retro cabin really is something special. Although small, the cabin includes all the amenities you might need for a short stay, including a comfortable bedroom, a basic kitchenette with tea and coffee-making facilities, a living room with a TV, and a private bathroom.
As one of the best cabins near Nashville for couples, the space is inspired by a farm-chic style, featuring neutral interiors combined with industrial and recycled accents. It is located near a small stream between Leiper's Fork Village and Kingfield, two rural towns southeast of Nashville.
Wraparound porch with hot tub overlooking the garden
Near Henderson, a short drive from central Nashville
Nestled in the woods just a short distance from Downtown Nashville, this stunning five-bedroom cabin has plenty of space to accommodate sixteen guests. Gather a group of friends and head for Hendersonville for the adventure of a lifetime.
The cabin is built using local wooden materials and furnished with warm interiors. It features a spacious central living area with a wood fireplace and a massive kitchen and dining area. After journeying through a local hiking trail in the area, head back to the cabin to indulge in some s'mores by the firepit.
Games room and TV den, outdoor firepit
On five acres of pastureland in Gallatin, north of Nashville
If you're a luxury lover looking for the best cabin near Nashville, this gorgeous spot in North Nashville offers the perfect combination between five-star accommodation and rustic living.
The symmetrical structure features an abundance of traditional triangular windows, which bring tons of light into the home and allow guests to gaze across the limitless countryside views from the comfort of the living room.
The interiors are just as gorgeous as the rolling hills outside, with double-height ceilings, a classic central stone fireplace, and wooden beams giving the space a cozy and inviting feel. However, it also has a state-of-the-art kitchen, luxurious bedding, and plush towels for an extra-classy touch.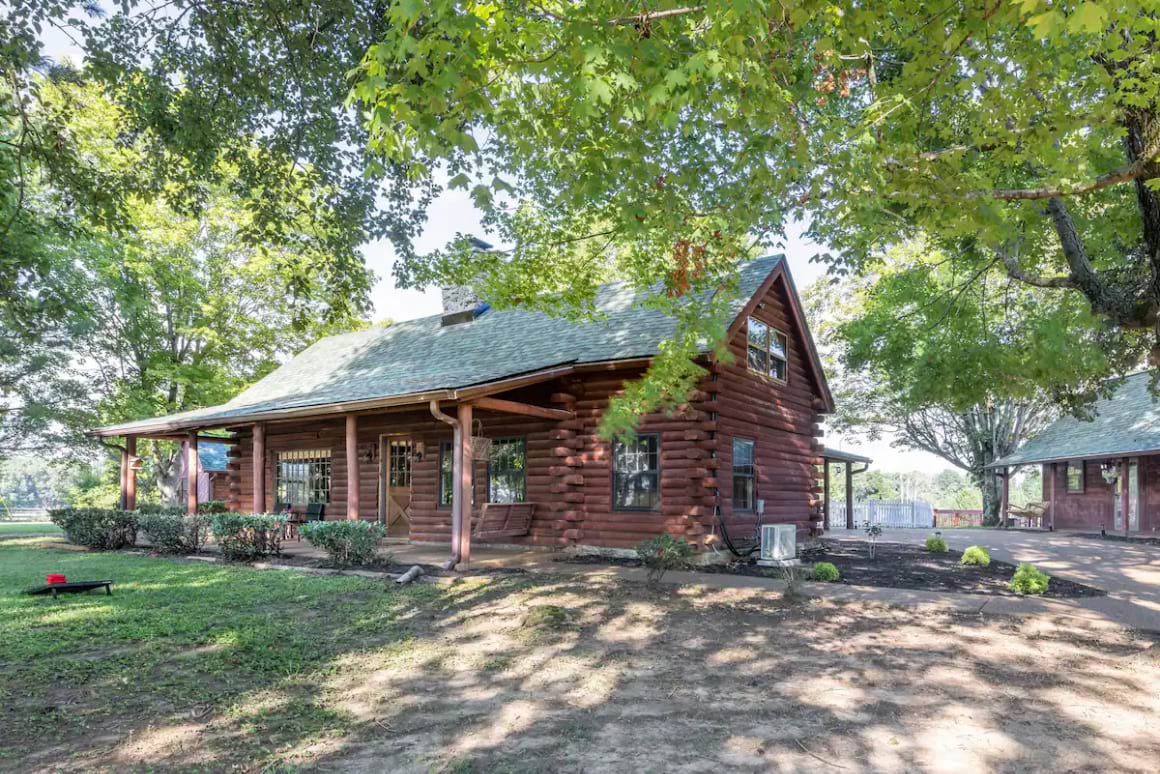 Outdoor swimming pool and hot tub
Half an hour's drive from Nashville in Pleasant View
This cabin may not look like much from the outside, but it is one of the most luxurious and elaborate cabins on this list. Built using traditional log and timber materials surrounded by towering trees and a lush lawn, the cabin includes a massive fenced-in pool area with an outdoor pool, slide, and hot tub.
One of the best cabins near Nashville for families traveling with children, this massive cabin has five private bedrooms with enough space to accommodate twelve guests. Aside from the sophisticated living space and full kitchen, it also has a games room and den with a pool table and comfy couches.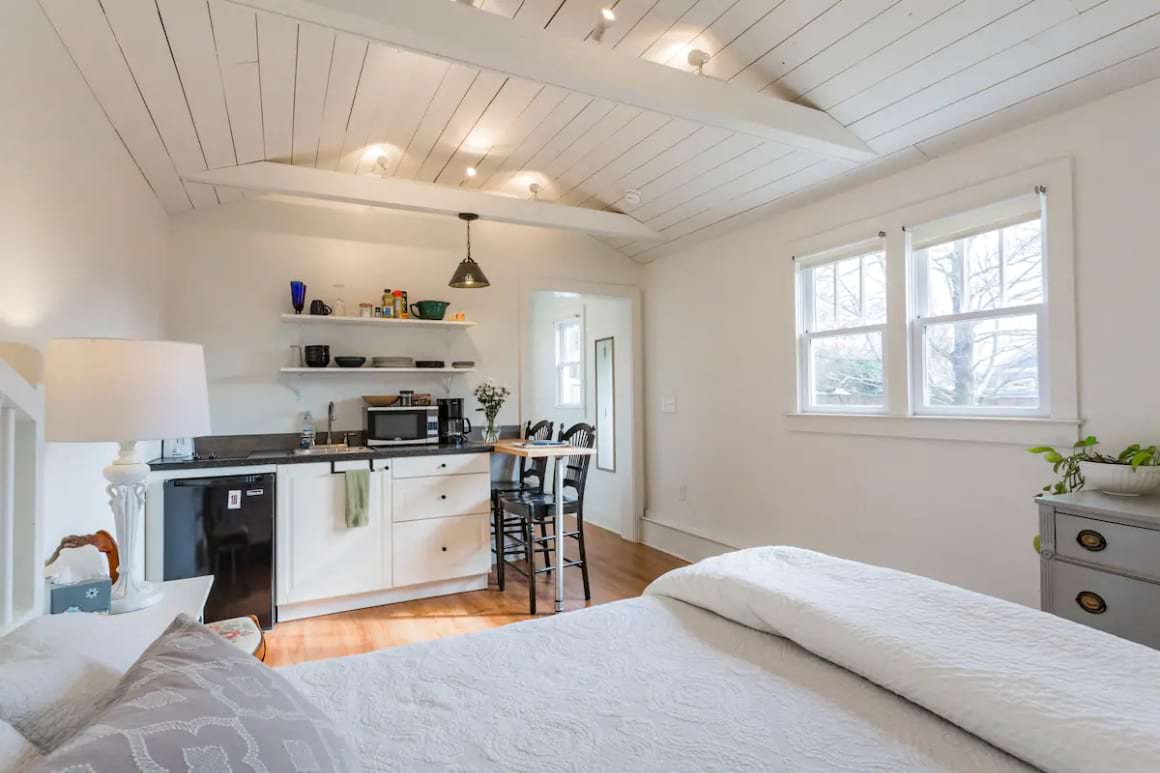 Studio layout with contemporary cabin-inspired interiors
In East Nashville's residential area, close to coffee shops and grocery stores
Forgive me for stereotyping, but if there is something I know a backpacker lives for, it's a good deal. So, instead of renting a small bed in a shared dorm room, why not book this charming tiny cabin in East Nashville for a similarly low price?
Located in the backyard of a residential home, you'll be close to the action of the city but still removed enough to experience the remote cabin vibe. The tiny cabin features a fully equipped kitchenette perfect for preparing basic meals and a private bathroom with a shower and complimentary toiletries. I don't know about you, but this sounds better than a shared space to me!
Great for families
In the residential suburbs of Nashville, on the Cumberland River
Once again, this cabin seems really understated from the outside, but the interior reveals a luxurious masterpiece with some of the most beautiful views in the area. Set in a residential neighborhood of Nashville, directly on the Cumberland River, the views from the front deck look like something from a five-star safari lodge.
The cabin is just as beautiful as its views, featuring a rustic-style interior decorated with antique furniture, bespoke lighting, and unique artifacts to give it an authentic Southern feel. Enjoy life on the lake in summer, or cozy up by the indoor fireplace during the snowy months at this unique accommodation in Nashville.
Traditional southern barn on 96 acres of farmland
On a private farm in an agricultural community a short drive from Nashville
If you only have one weekend to visit the area, I recommend booking this gorgeous farm cabin just a short drive from the city center. This way, you'll get to experience the peace and quiet of the countryside while still being close enough to visit the dynamic Tennessee capital.
Set in a traditional southern red-painted barn, this cabin is located on 96 acres of pristine farmland scattered with ponds, gardens, roaming cattle, and a waterfall. The cabin's interior has been entirely remodeled, with contemporary finishes and warm wooden furniture, and will make you feel right at home.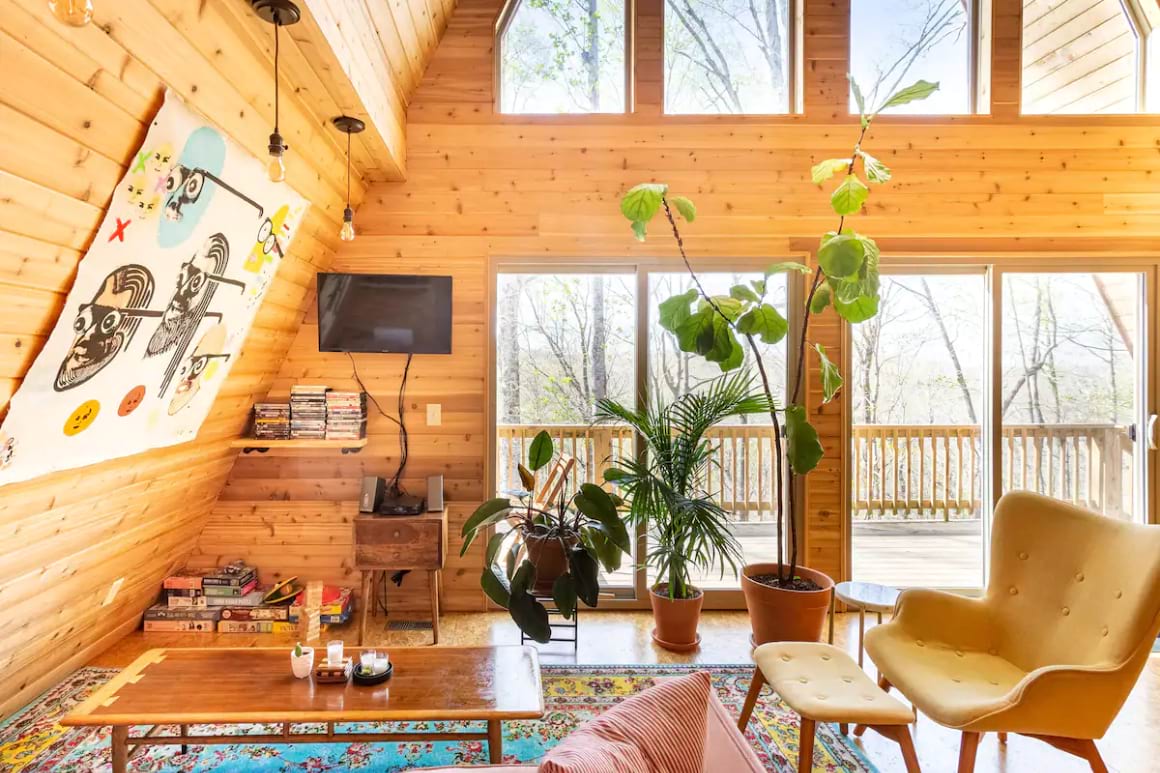 In-unit washer and dryer, fully equipped kitchen, cleaning products, dedicated workspace
Free parking on premises, outdoor dining area, and firepit
You'll feel right at home in this A-Frame cabin in Ashland City, just a few miles west of Downtown Nashville. One of the best cabins near Nashville on a budget for an extended visit, the cabin is situated on a wooded hillside with a sprawling garden and sunny balcony.
The two bedrooms are simply decorated, taking advantage of the natural wooden aesthetic as the main event. The cabin also has a fully-equipped kitchen, dedicated workspace, well-working Wi-Fi, in-unit washer and dryer facilities, and parking on the premises. It even includes a private hot tub and all the linens, extra pillows, and toiletries you might need for a long visit.
Historic cabin with luxurious contemporary interiors
In the countryside between Westhaven and Bellevue, south of Nashville
This unassuming cabin has a storied history, built in 1855 in the woods near the town of Franklin. Conveniently close to Nashville, it perfectly balances being off-grid and close to civilization.
The inside of the cabin has been entirely refurbished with a blend of contemporary interiors, modern furniture, and antique touches. The result is a luxurious cabin with a rustic spirit.
It is also much bigger than it looks, with three full bedrooms, a spacious living room with a fireplace, and a well-equipped farm-style kitchen.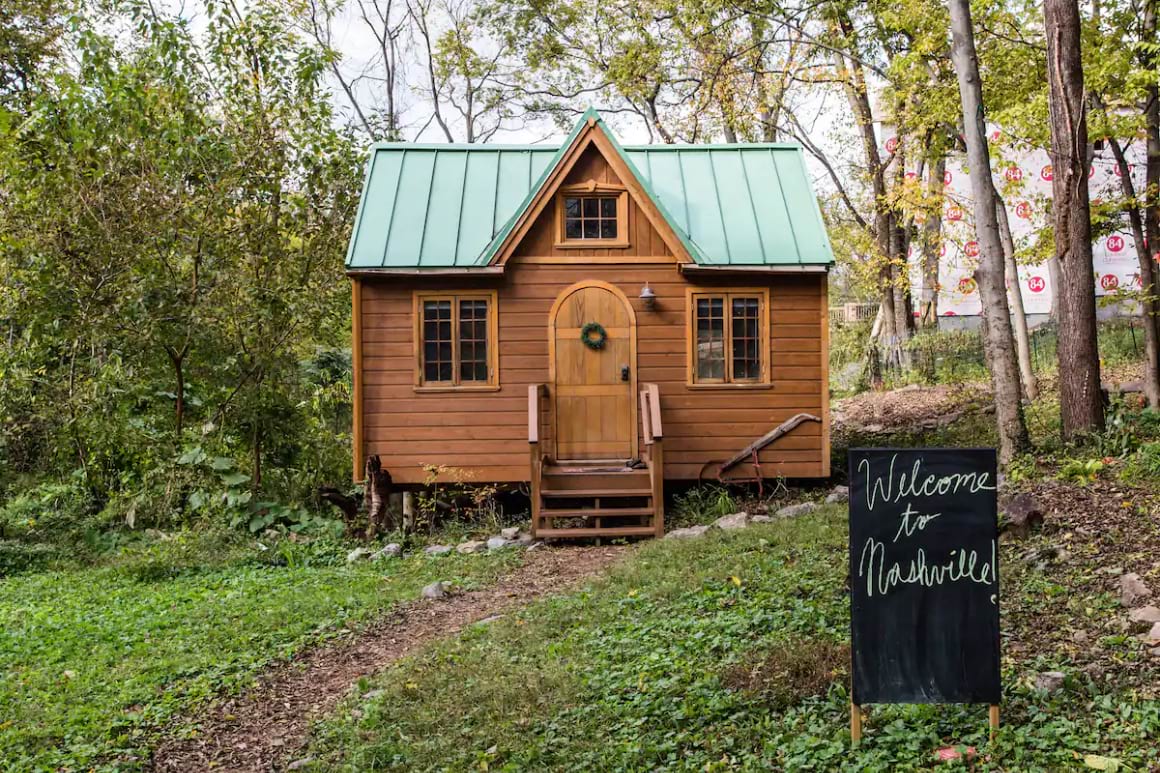 A blend of new and old interiors with a claw-foot tub and modern appliances
In a quiet backyard in South Nashville, close to the Design District
There are a lot of attractive and unique accommodations near Nashville, but this tiny-home cabin outdoes all others with its charming fairy-tale appeal. Set in a misty, forested landscape in South Nashville, you'll never believe this cabin is just a hop and a skip away from Downtown Nashville.
Designed and built by the property owners, you can feel the love and care that has gone into creating this magical space. The home combines old and new interiors and has space for four guests, with one double bedroom and a spacious sofa couch.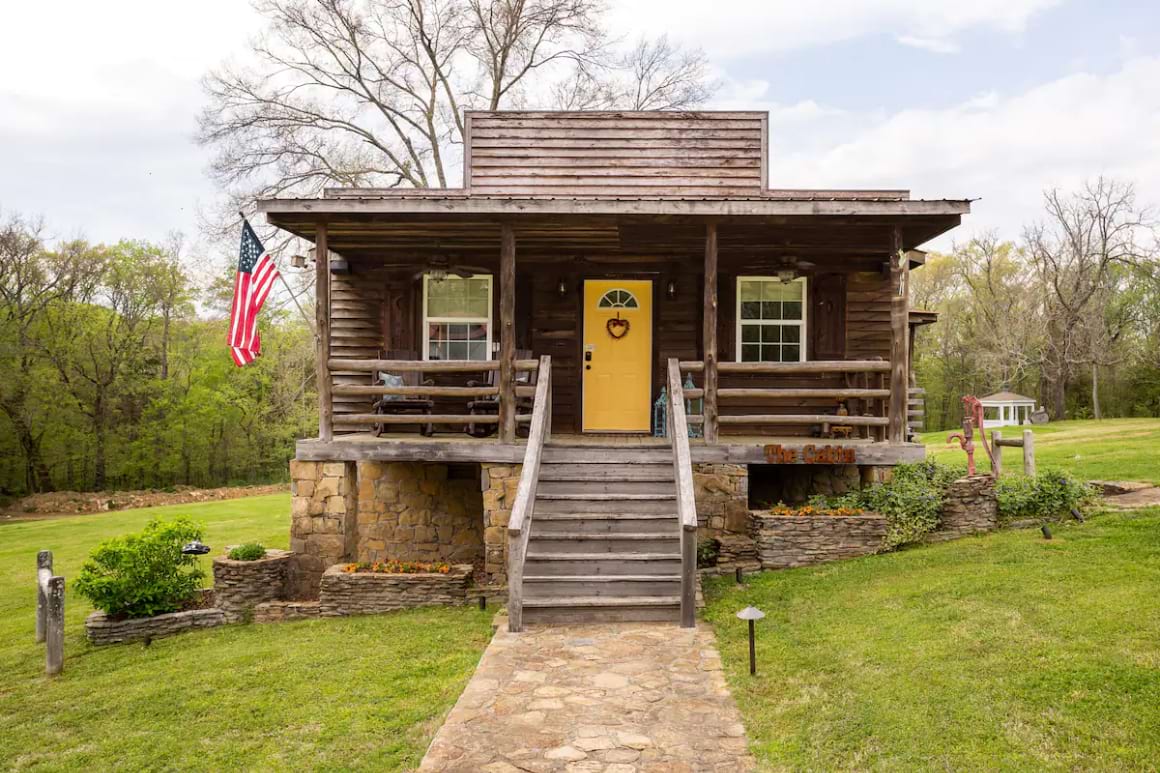 Spacious garden and porch with BBQ facilities
On a large estate in Nolensville, south of Nashville
Beautifully blending classic Southern architecture with traditional cabin building materials, this cozy cabin in Nolensville looks like the storefront of a movie-set saloon. Marketed towards adults only, the cabin has one bedroom suitable for two guests max and is set on six acres of private property.
Best of all, it offers a peaceful and quiet atmosphere without being too far removed from the city center, with grocery stores, cafes, restaurants, and bars nearby. While the interiors are cozy and romantic, the spot is also ideally suited for a business trip, with a personal workspace and a fast internet connection.
Vaulted ceilings, wooden floors, and tons of natural light
Nestled in the Nashville countryside
Luxury meets rustic nature at this gorgeous spot, which is one of the best cabins near Nashville, for a good reason. Indulge in this luxurious cabin experience in the countryside surrounding Nashville, which features three bedrooms and two bathrooms.
The cabin is a new build and features top-of-the-range appliances and modern fittings from floor to ceiling. I'm talking leather recliners, a pizza oven, 4K televisions, and a state-of-the-art coffee machine. Other luxurious amenities include plush robes, slippers, and lavish complimentary toiletries in each bathroom.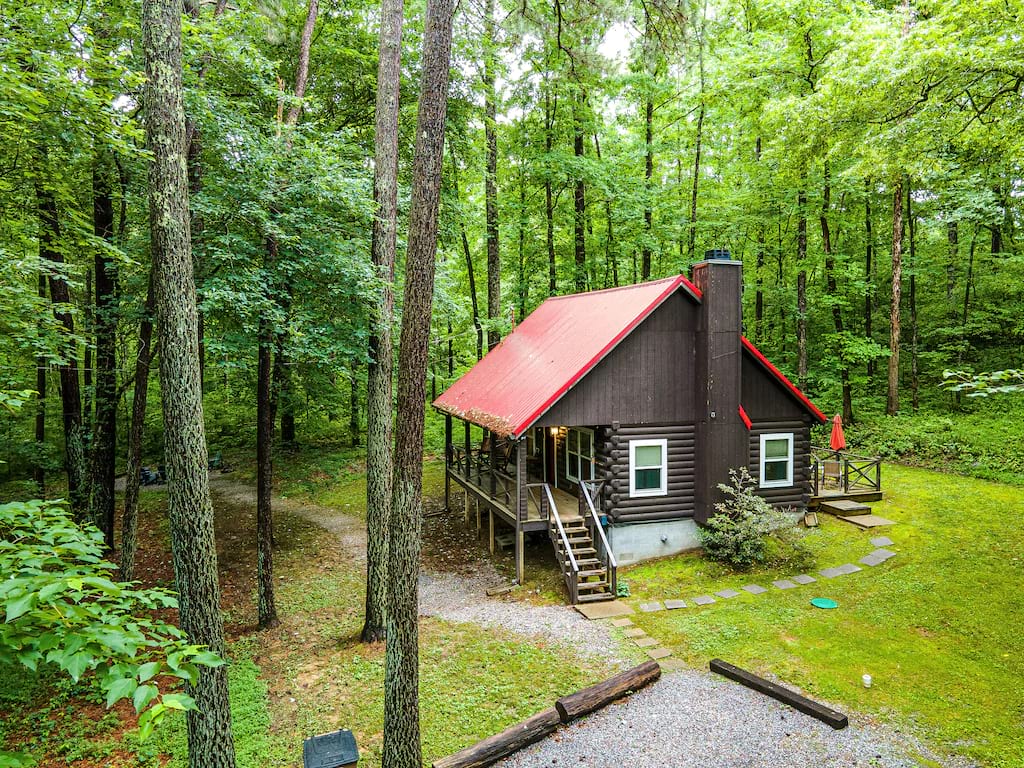 Open-concept kitchen, living, and dining room
In a quiet and rural neighborhood surrounded by trees in Cheatham County
Escape the city buzz and rent out this remote cabin in the woods by Cheatham County. Surrounded by nothing but towering trees and moss-clad lawns, you'll feel a million miles from civilization at this fairy-tale-esque cabin.
With one bedroom, one bathroom, and two mattresses, the cabin sleeps a maximum of four guests but is most comfortable for two. It also features a fully-equipped kitchen, cozy living room, terrace, and a firepit in the garden. Spend your days exploring the surrounding forest before returning to light a fire and cozy up in the living room.
Don't Forget Your Nashville Travel Insurance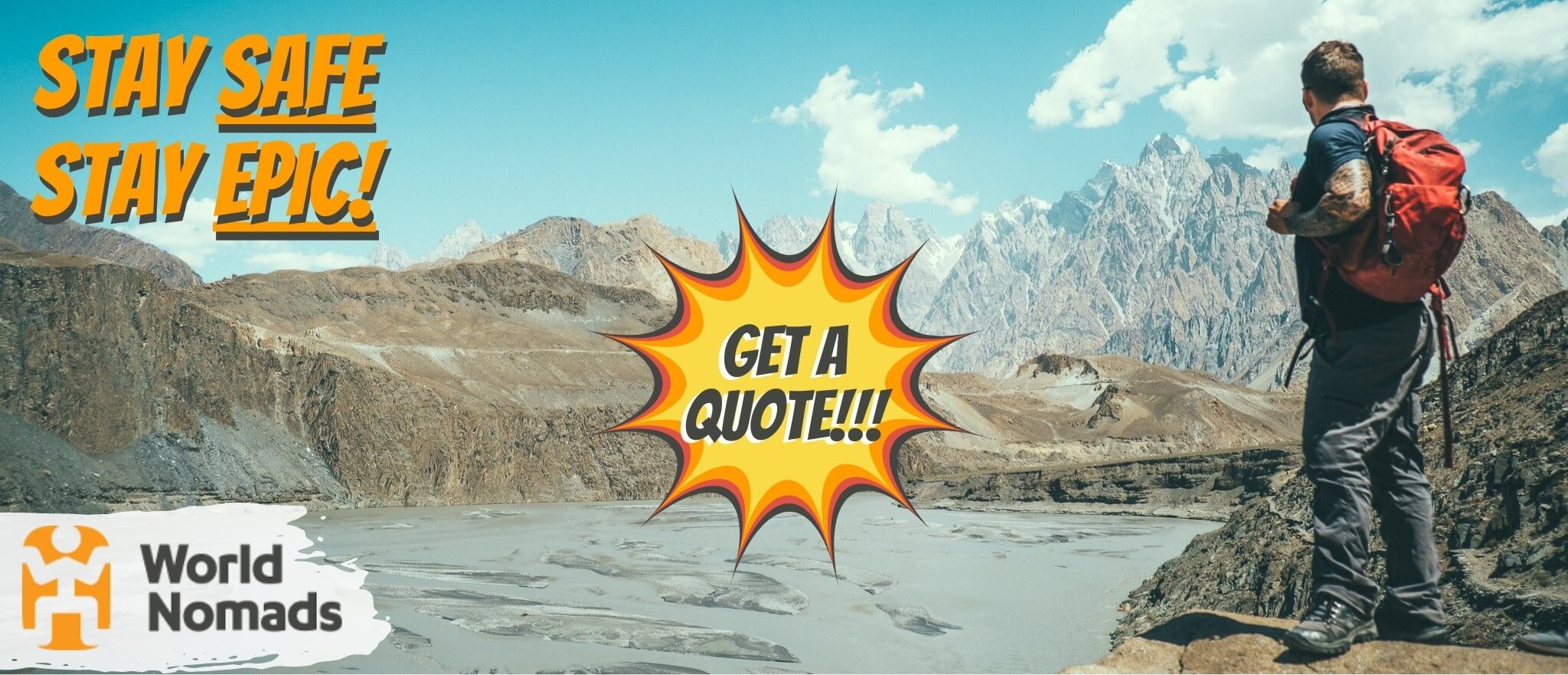 World Nomads' mission is to support and encourage travellers to explore their boundaries. They offer simple & flexible travel insurance, and safety advice to help you travel confidently.
They've been doing it since 2002 – protecting, connecting, and inspiring independent travellers just like you.
Get a quote below or read our in-depth review!
World Nomads provides travel insurance for travelers in over 100 countries. As an affiliate, we receive a fee when you get a quote from World Nomads using this link. We do not represent World Nomads. This is information only and not a recommendation to buy travel insurance.
Final Thoughts on Cabins near Nashville
With so many impressive cabins on the market, it is no easy task to choose the best cabin near Nashville. Surrounded by hilly countryside, magnificent forests, and tons of lakes and rivers, the greater Nashville area is teeming with cabins of all shapes and sizes.
It doesn't matter whether you're looking for a cozy romantic cabin for two guests or a massive mansion in the countryside; you'll find what you're looking for in this part of the world. Cabins offer the benefits of a self-catering vacation rental, all while being located in incredible destinations surrounded by natural scenery.
Tennessee has a fair share of outdoor adventure and adrenaline-spiking activities to take part in. So, if you're visiting from abroad, make sure you purchase a good travel insurance option. A lot can go wrong in these remote regions, and it is always best to be safe rather than sorry when staying at one of the best cabins in Nashville.
---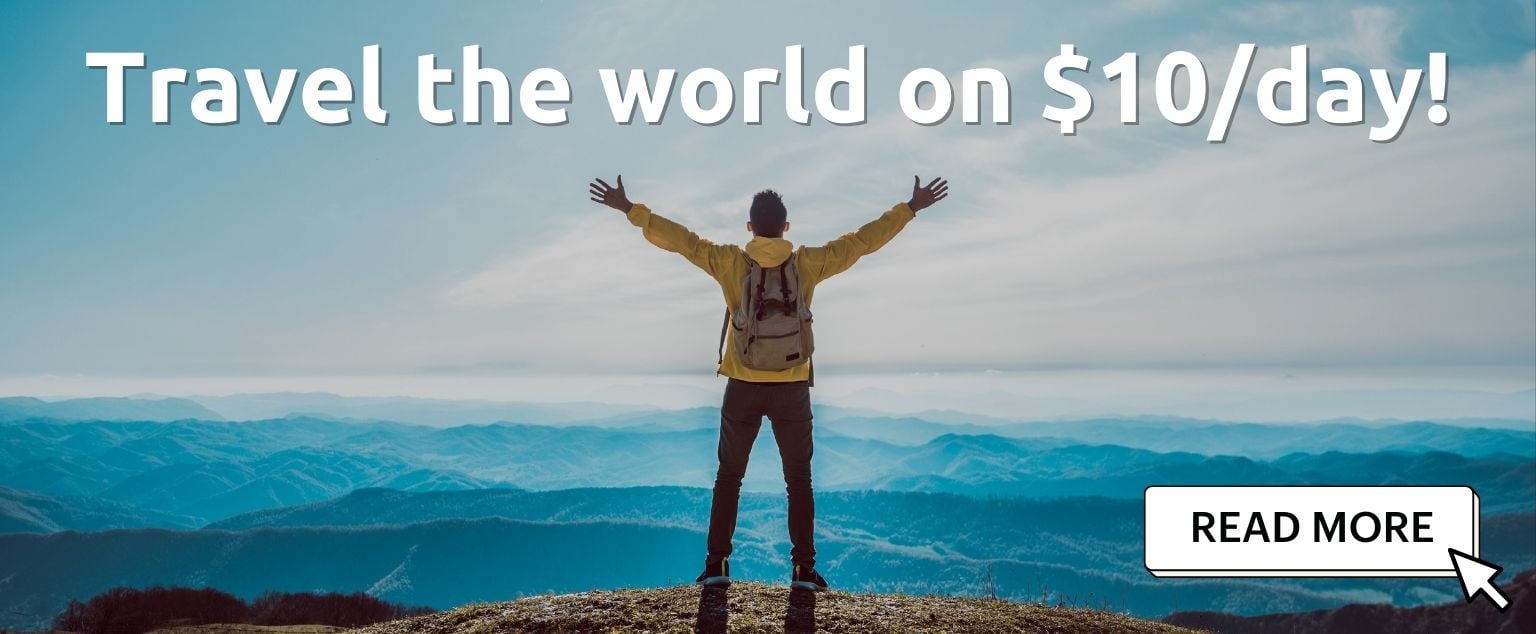 And for transparency's sake, please know that some of the links in our content are affiliate links. That means that if you book your accommodation, buy your gear, or sort your insurance through our link, we earn a small commission (at no extra cost to you). That said, we only link to the gear we trust and never recommend services we don't believe are up to scratch. Again, thank you!