Famous for its coffee shops, rock n' roll icons, and for being home to some of the world's largest tech companies, there is a lot to love about Seattle. With an abundance of nature, a buzzing music and nightlife scene, and some of the best food in the Pacific Northwest, this city really does live up to all the hype.
However, Seattle is a big city. Not only is it geographically spaced out, but it is surrounded by neighboring suburban islands that can only be accessed by bridge or ferry. Because of this, you could easily spend a week or more exploring all the city has to offer.
While Seattle has many top-rated hotels, spending some time in a VRBO in Seattle is a great way to spread out and relax, as well as experience the city like a local. If you're travelling for more than a few days, a vacation rental like VRBO allows you to have a home away from home and have the freedom to come and go as you please.
Whether you're a first-time visitor or know the city like the back of your hand, this guide will show you some of the best VRBOS in Seattle, from budget options to luxury mansions.
Quick Answer: These are the Top 5 VRBOs in Seattle
Overall Best Value VRBO in Seattle
Overall Best Value VRBO in Seattle
Beautiful 3 Bed House with Deck and Yard
> $$
> 6 Guests
> Zen-inspired interiors with eclectic art
> Near Seward Park in South Seattle
Best Budget VRBO in Seattle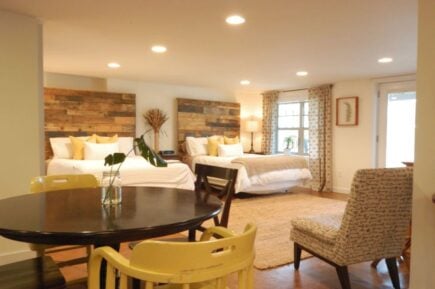 Best Budget VRBO in Seattle
Cozy Studio Flatlet for 4 with Deck
> $
> 4 Guests
> Fully-equipped kitchen and laundry
> Near Green Lake Park
Best VRBO for Couples in Seattle
Best VRBO for Couples in Seattle
Calming 1 Bed Townhouse with Patio and Garden
> $$
> 3 Guests
> Recently refurbished with farm-house interiors
> Between Washington Park and Lake Washington
Best VRBO for Families in Seattle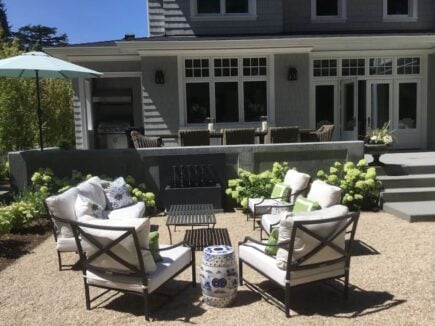 Best VRBO for Families in Seattle
Up-Scale 4 Bed Family Home with Garden
> $$$$
> 8 Guests
> Designer built home with high-quality furnishings
> On a golf course in Madison Park
Over-the-Top Luxury VRBO in Seattle
Over-the-Top Luxury VRBO in Seattle
Luxurious 6 Bed Mansion with Landscaped Yard
> $$$$
> 18 Guests
> Farmhouse style interiors with natural light
> In Queen Anne neighborhood, walk to downtown

Unlock Our GREATEST Travel Secrets!
Sign up for our newsletter and get the best travel tips delivered right to your inbox.
What to Expect from VRBOs in Seattle
Before you go ahead and start scrolling for the best Seattle VRBOs, it's a good idea to familiarise yourself with the best neighborhood so you know which area is close to all the attractions you want to see.
The best areas to stay in for first-time visitors are Downtown Seattle, Belltown, and Capitol Hill. Located in the heart of the city, these neighborhoods are jam-packed with high-rise condos and apartments, and townhouses. Those more interested in the nightlife scene than general tourist attractions will do well in Belltown and Fremont, which have the best combination of bars, restaurants, and nightclubs.
South Lake Union is another up-and-coming central neighborhood worth checking out. The area was given new life when Amazon built its offices there, and it's now a top spot to find a luxurious high-rise condo or apartment.
If you prefer a bit quieter and secluded areas, there are tons of exquisite VRBOs in Seattle around the city's many lakes and parks. In fact, these areas are scattered with a mix of architectural styles that Seattle is well known for. To name a few, you could rent out a traditional Tudor house with its gables and steeply pitched roofs.
There are also a bunch of Victorian-style homes around the Queen Anne neighborhood. Built in the 1800s, these decorative homes are some of the city's most historical spots to rent out.
Not to mention, the more simple Seattle box-houses and craftsman bungalows that followed the Victorian era are loaded with charm – but more on that in the next section…
Condos and Apartments
As expected in most American metropolis cities, Downtown Seattle is stacked with high-rise buildings housing condos, apartments, penthouses, and studios. These types of accommodation options are most loved for their reasonable price, great location, and stunning city views.
Most condos and apartments are usually new on the market (or at least remodeled), with sleek modern interiors. You could expect lots of glass and marble fittings and trendy contemporary furniture in these spaces. Most buildings have elevator access, making them accessible for wheelchair users. Another big plus – you could even find a building with a rooftop deck and a shared pool and gym.
Looking for an affordable studio for a long-term rental? Seattle has you covered. On the hunt for a lavish five-bedroom penthouse VRBO in Seattle with panoramic city views, floor-to-ceiling windows, and top-of-the-range appliances? Shouldn't be a problem in this city.
Seattle Box Houses
If you take a drive around the Capitol Hill and Beacon Hill neighborhoods, you'll notice a bunch of simple and symmetrical-style houses. These are what locals call the Seattle box house.
Seattle box homes are known for their near-perfect square and rectangular shapes. They're pretty much a local variant of the classic foursquare house found across other areas in the country. They are simply designed using wooden materials and typically have two-and-a-half stories and spacious front porches.
Designed as suburban family homes in the early 20th century, the first floor of a box house usually contains the kitchen, living and dining room, and entrance hall. If I'm going to get really specific, the most traditional box house usually has four bedrooms on the second floor, each with its own corner.
With their central location and many bedrooms, Seattle box-houses are an excellent option for families or friends visiting the city.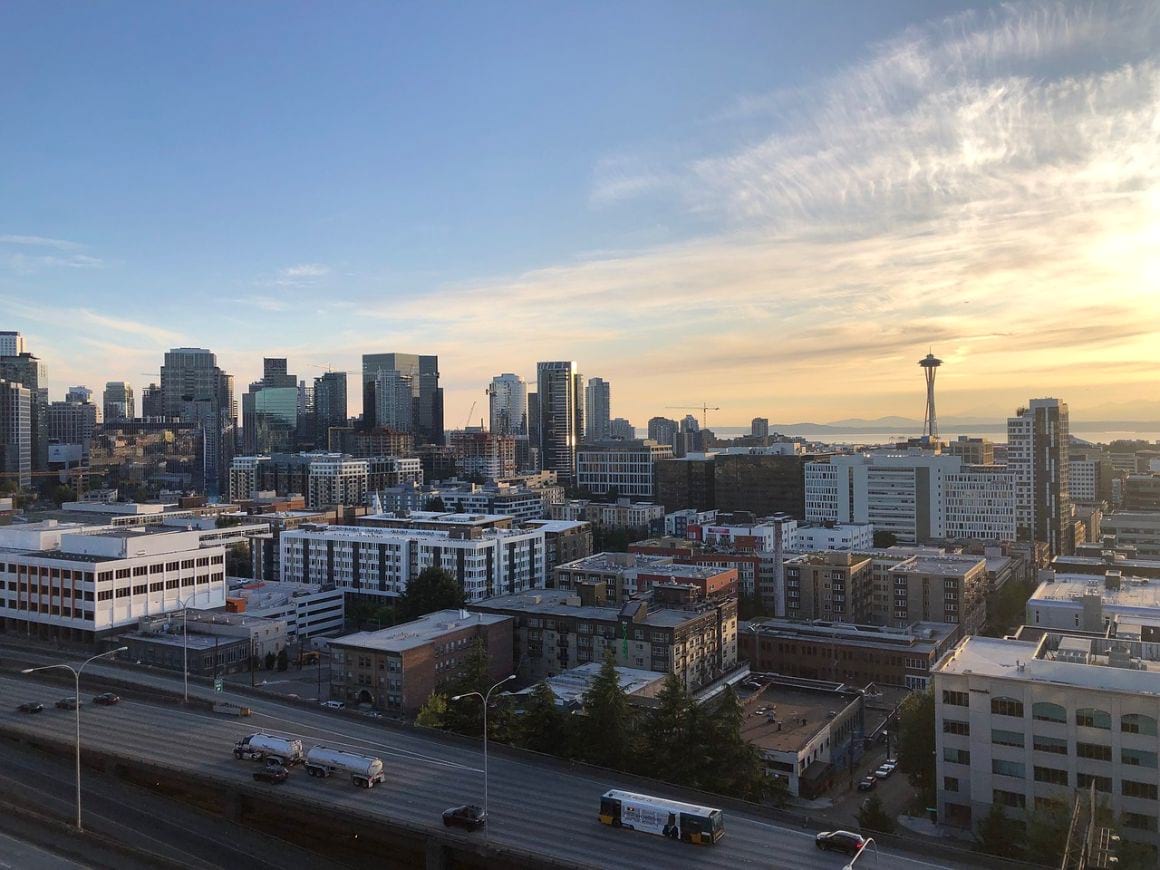 Craftsman Bungalows
Built in the 1920s and 1930s, craftsman bungalows are another type of architectural style commonly found across Seattle. They are built using wood because of the risk of earthquakes throughout the region and boast hardwood floors and solid door and window frames.
This type of accommodation gained popularity when the city experienced a population boom in the early 1900s as a simple alternative to the ornate Tudor and Victorian styles. It's a much-loved style that has become synonymous with the city.
Typical craftsman bungalows have covered porches at the front of the home, vertical roof panels with multiple peaks. Like box houses, craftsman bungalows were designed with living areas on the bottom floor and bedrooms upstairs.
Because they can be found across the city, you could find a super affordable and practical craftsman rental in Seattle or splurge on a newly renovated one. They're an excellent option for families and friends and because of their low price, even couples, and long-stay visitors.
Why Stay in a VRBO
Unique Properties – Renting a local box-house in Seattle will guarantee a more local and authentic experience. You'll also be able to ask your hosts for insider advice on the area.
Affordability – When compared with luxury hotels, you're likely to receive much more value for your money when you rent from VRBO.
Safety – Seattle is a safe city on the whole, but VRBO offers 24 Hour support and have vetted all of their property hosts, so you can have peace of mind when staying in a VRBO in Seattle.
Staying Long-Term – Those who want to stay longer than seven or thirty days can benefit from special offers on specific properties when booking through VRBO.
Views – Seattle is known for its iconic skyline and ocean views, and it's not difficult to find a beautiful VRBO with panoramic views of the city.
Accessibility – Almost every sky-scraper in the city is fitted with adequate lifts, making VRBOs an excellent bet for wheelchair users.
Top 20 Vacation Rentals in Seattle
Depending on whether you prefer the big-city-life experience in Downtown Seattle or enjoy a more low-key suburban vibe, there is an abundance of amazing VRBOs on the market across the city. Let's take a look at them now!
$$
Zen-inspired interiors with eclectic art
6 Guests
Near Seward Park in South Seattle
I chose this spot as the best overall value VRBO in Seattle because of its low price per person, great location, and homey interiors. Located in Seward Park, just south of the city center, guests can benefit from being close to the city and the main attractions in Seattle, but still enjoy the peace and quiet of the suburbs.
The home has three bedrooms and is overflowing with natural light. The kitchen has been completely refurbished with stone countertops, large farm-style sinks, and stainless steel appliances. Designed to bring guests zen and relaxation, the house even has a dedicated yoga and exercise room!
$
Fully-equipped kitchen and laundry
4 Guests
Near Green Lake Park
Calling all budget travelers! I've found a spot that will give you the most 'bang for your buck' in Seattle. The studio is just north of Greenlake, near shopping and dining areas, and can comfortably sleep four guests in a studio-style bedroom. The flatlet has its own entrance and includes a private wrap-around deck overlooking the Olympic Mountains.
Well-designed to give a cozy and homey feel, the space includes a fully-equipped kitchen suitable for cooking just about anything you please. Great for saving extra on laundry services, you'll also have access to private washer/dryer facilities. If you're backpacking Seattle and need a place to relax and do some laundry, this is the place for you.
Perfect VRBO in Seattle for Solo Travelers | Homey Flat for 2
$
Warm and welcoming space with eclectic-touches
2 Guests
In the trendy Capitol Hill neighborhood
Not only is this flatlet super well located and priced for solo travelers, but it's also a suitable option for LGBTQ+ travelers. In fact, the Capitol Hill neighborhood is highly rated for its openness and liberalism. You can't walk more than a mile without seeing a colorful Pride flag swaying in the wind.
This VRBO in Seattle is warm and inviting and has a very homey vibe. With a full kitchen, cozy lounge, and lots of natural light, this could quickly become your home-away-from-home in Seattle.
$$
Refurbished with farm-house interiors
3 Guests
Between Washington Park and Lake Washington
If you're visiting the city with a lover, I recommend spending some time just outside the city center around the peaceful Washington Park area. With a comfy bedroom fitted with a top-quality queen-sized bed, a stylish kitchen, and an outdoor dining area, this is the perfect spot to relax and unwind with your significant other.
The modern kitchen is a crowd favorite, with marble countertops and stainless steel appliances. This space is a pleasure to cook in if you're after a romantic night in. Even better, you'll be able to enjoy your romantic meal under the trees in the quaint courtyard garden.
Is This the Best Travel Pack EVER???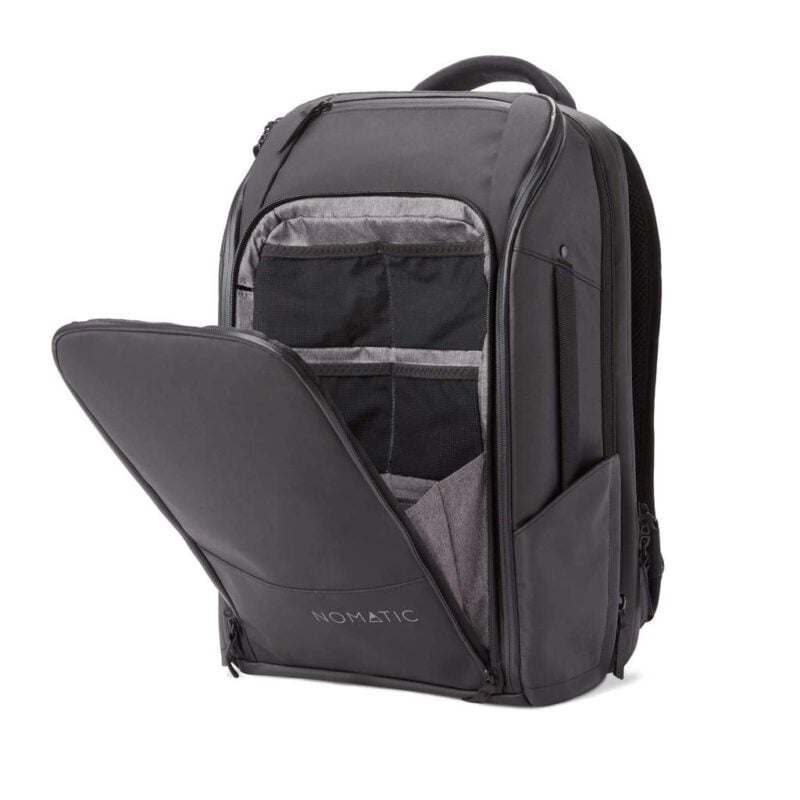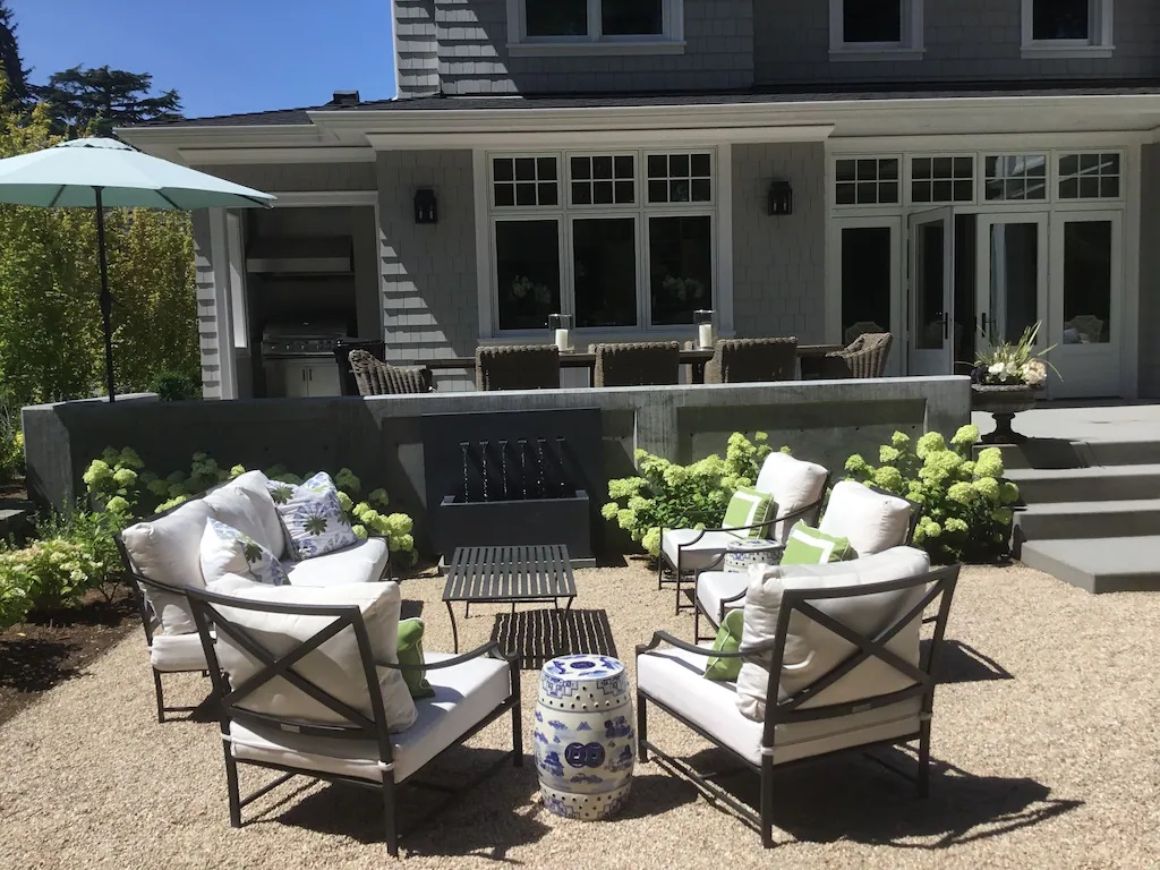 $$$$
Designer built home with high-quality furnishings
8 Guests
On a golf course in Madison Park
Like many big cities, finding a suitable rental in Seattle for families can be tricky. You're always better off heading just outside the buzz of the center, where properties are larger.
This spot is located on a golf course and boasts a beautifully manicured garden that opens out onto a huge golfing green. And when you want to explore the city, all the top places to visit in Seattle are not too far away.
The interior of the four-bedroom house looks like it could be in a Martha Stewart magazine, with an impeccably designed farm-style kitchen and interior decorated rooms. The oversized center island turns the kitchen into a top spot to spend quality time preparing a family-style meal with loved ones.
Most Over-the-Top Luxury VRBO in Seattle | Luxe 6 BR Mansion
$$$$
Farmhouse style interiors with natural light
18 Guests
In Queen Anne neighborhood, walk to downtown
The most over-the-top luxury places to stay in this city are in the top hotels. However, if you're after a private rental, this spot comes in at a close second. The six-bedroom mansion can sleep eighteen guests comfortably. It's located in a prestigious neighborhood and has a spacious garden with a children's play area and an alfresco dining area.
The home follows an open plan concept and has been fully renovated with exquisite interior-designed fittings and classy furniture. When family time gets intense, there is even an attic flatlet with its own kitchenette and a second living room for added privacy.
$$
Windows overlooking waterfront views
2 Guests
In the heart of Downtown Seattle
The two reasons why I love a good condo are the prime location and the views. This spot hits both nails on the head. This VRBO in Seattle is located right on the waterfront, a few steps from Pike Place Market and other top things to do in Seattle.
Through the large windows and from the private balcony, you'll be able to watch as tourists and locals enjoy the waterfront in downtown Seattle.
The space is very spacious for such a well-located condo and includes a walk-in laundry closet and storage space. There is even room to set up a sleeper couch in the living room.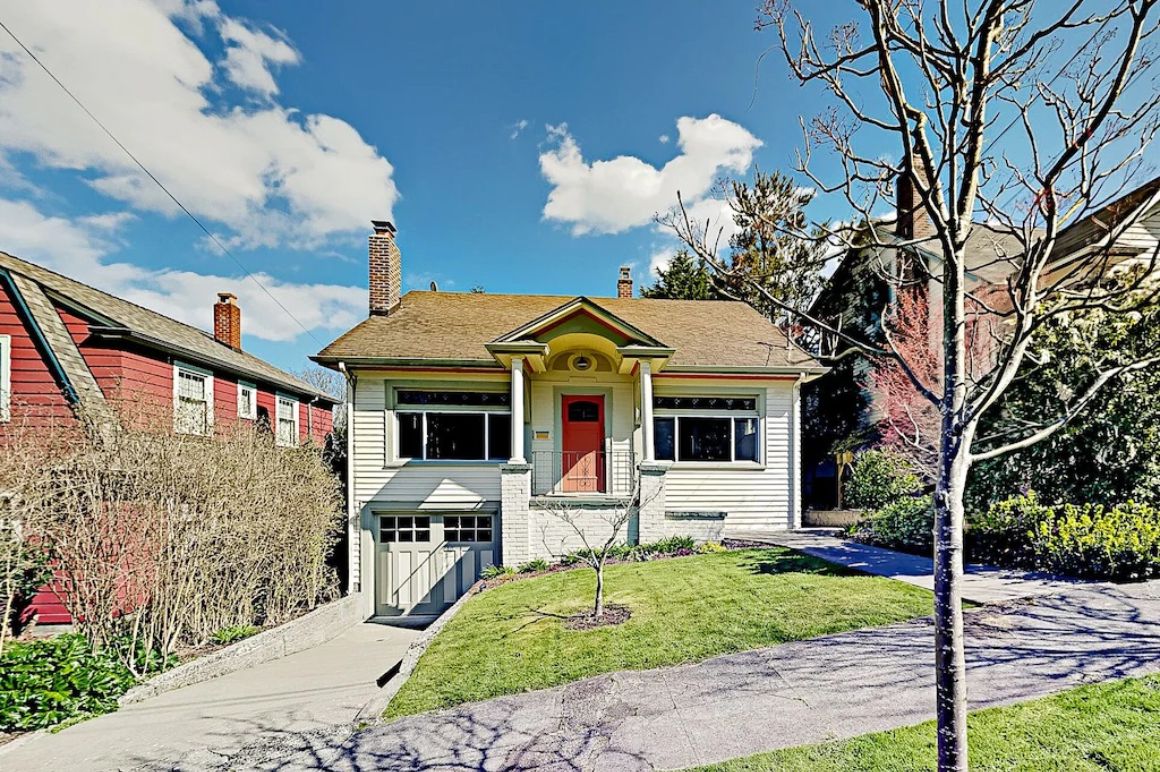 $
Includes a BBQ area and an office space
4 Guests
In the prestigious Queen Anne neighborhood
Anyone interested in the architectural history of Seattle will adore this cozy one-bedroom craftsman bungalow in the popular Queen Anne neighborhood. The freestanding house has a single story with a covered entrance porch and basement parking garage. While the interior of the home has been remodeled with contemporary fittings and furniture, there are still elements of the old craftsman bungalow across the house.
Aside from the full-kitchen and open-plan living space, the most desirable features of this home include a walk-in pantry to store food, as well as a private deck and a workspace. Best of all, feel free to enjoy sunny days in the backyard, which has a huge patio, outdoor dining area, and BBQ overlooking park views.
$$$
Bright and Spacious with BBQ deck
9 Guests
In the trendy Frelard neighborhood
This Seattle box house is another great historical stay. This family-friendly VRBO in Seattle has space to fit nine guests across its four bedrooms. The four-story home has multiple balconies and decks, all kitted out with outdoor furniture and beautiful views. One even has a Jacuzzi!
Not only does this spot provide a highchair and crib for young children, but it also allows guests to host events and small gatherings with up to 25 guests. The center of this house is the kitchen, which has tons of bar seating, preparation space, and a full pantry.
$$
Patio overlooking Elliot Bay
4 Guests
Across the street from Pike Place Market
You won't find a more conveniently located rental than this gem, which is right on the Seattle waterfront. It's also fully accessible for wheelchair users, with a building elevator and lots of free space to move about in the apartment.
The winning feature of this space is its view, which overlooks the picture-perfect Seattle waterfront and Ferris wheel. Spend some time people-watching from the balcony, which boasts exquisite views, or enjoy the common building amenities, including a gym, Jacuzzi, club room, and private parking garage.
There's even a shared rooftop deck where you can experience waterfront views as you've never seen before.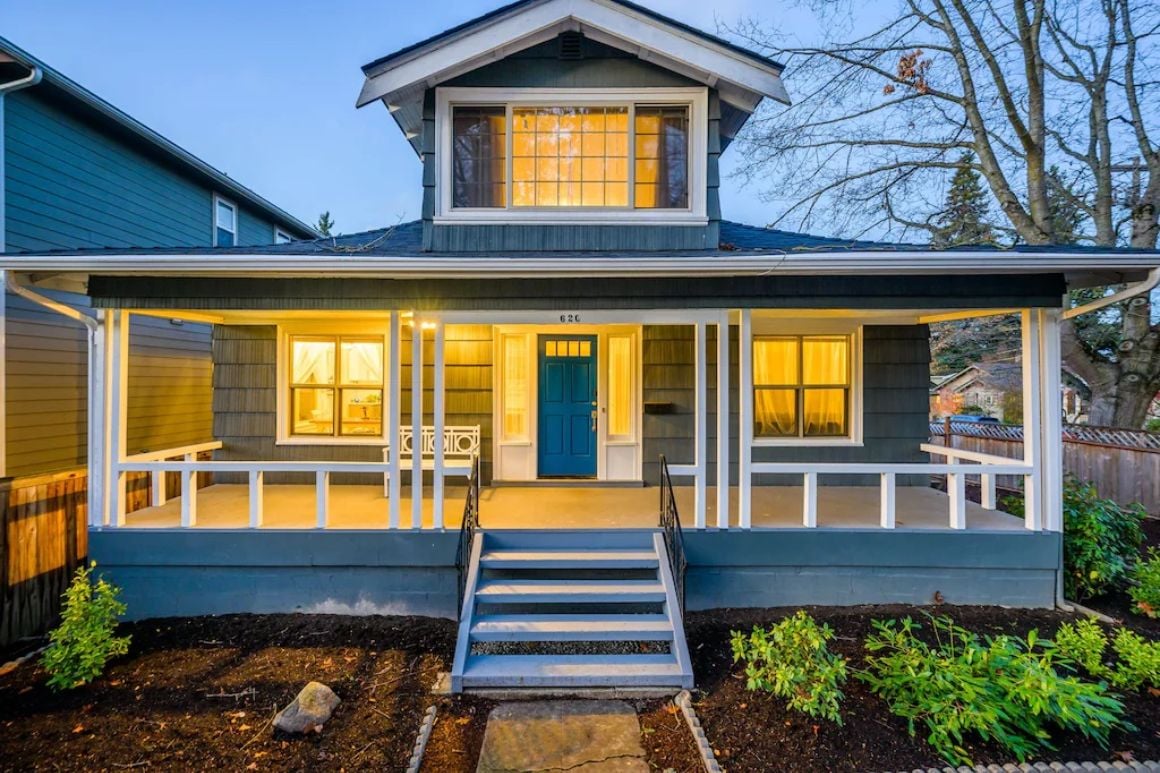 $$$
Parking for four cars, beautiful yard
11 Guests
In the heart of Seattle, near the University of Washington
It's only fair to pick an authentic box house as the most beautiful rental in Seattle. This space has two and a half floors, with the main floor containing the living area and master bedroom, the lower level housing three bedrooms, and an attic with a fifth bedroom.
While this house is by no means over-the-top, it has been refurbished with warm hues and has a bunch of natural light, giving it a wonderful homey feeling. Simply decorated with neutral tones, the house has a state-of-the-art kitchen with quality appliances, a separate TV room in the den, and super spacious bedrooms and bathrooms.
$$
Rooftop deck with bar area
7 Guests
In the lively Georgetown neighborhood
Seattle is a great city to host a family gathering or come together with friends for a special event. Typically, rentals here aren't super spacious for hosting events. The main reason I chose this property was for its spacious living area and rooftop deck.
In fact, the rooftop deck is a great spot to enjoy the city's rare sunshine and is fitted with a lounge suite, dining table, BBQ, and even a mini kitchenette/bar.
The house has a fully equipped kitchen suitable for cooking a family-style meal for your guests. Not to mention, although this cozy multiple-story home only has two dedicated bedrooms, there's enough space to sleep seven guests throughout the house.
$$
Fully-equipped kitchen and balcony
4 Guests
In Belltown, near bars and restaurants
With a booming rock n' roll and jazz scene, Seattle is a great place to enjoy a night out on the town. The Belltown neighborhood is a nightlife hotspot, and you can easily walk to some of the area's best spots from this rental in Seattle.
At a push, the home can sleep four guests (two on a sleeper couch). It has a full kitchen with lots of storage space, laundry facilities, and a spacious balcony. You'll find contemporary fittings, modern art, and tasteful furniture throughout the home. With a communal pool, gym, and lobby space, it's also a great spot to meet new friends.
$$
Balcony overlooking ocean sunsets
4 Guests
Views of the islands, Olympic Mountains, and Alki Point lighthouse
Are you ready to be blown away by exquisite ocean views? From the second you step into this condo, you'll forget you're in one of America's largest cities. In fact, this spot gives the best of both a beach retreat and a city vacation.
A super-rare find in Seattle, the home is fitted with high-end wooden furniture and a fireplace, making it feel like home-away-from-home. When the weather allows, enjoy your meals outside on the balcony, and when it gets chilly, you'll be equally as satisfied by the indoor fireplace.
$$$
Private office desk nook
8 Guests
Minutes from Downtown Ballard
Seattle is like a dream come true for digital nomads. There are great coffee shops to keep you fueled during a workday, beautiful park spaces to enjoy a break, and an abundance of like-minded workaholics throughout the city.
Although pricey, this three-bedroom VRBO in Seattle is the perfect space for digital nomads. It's located just outside downtown Ballard and has a cozy workspace overlooking views of the street. The house has a modern kitchen with top-of-the-range appliances and even includes a huge rooftop deck to admire the city skyline from.
$$
Hardwood floors and high ceilings
9 Guests
Minutes from Downtown Seattle
You'll feel right at home from the minute you walk through the front doors of this refurbished home. The traditional craftsman bungalow is located in the prestigious suburban paradise of Queen Anne.
Original hardwood floors, bay windows overlooking the tree-lined street, high ceilings, and wooden stairs are a reminder of an earlier period in Seattle.
However, the space has been updated with a flair of contemporary style and flair, with modern bathrooms boasting lots of modern glass and eclectic tiles. When you book the space for parties of eight or more, you'll receive access to the downstairs basement flatlet.
Best Condo for a Short-Term Rental in Seattle | Industrial Style 1 Bed
$$
Includes parking and offers monthly discounts
4 Guests
On the waterfront, across the road from Pike Place Market
If you're looking to spend an extended period of time in the city, this gorgeous sunny apartment on the waterfront is the perfect place to do so. Not only is it super well located in the center of downtown Seattle, but the hosts also offer weekly and monthly discounts.
Tons of natural sunlight filter throughout the condo. This space has an industrial feel about it, with a face-brick feature wall and wooden floors. With an outdoor terrace dining area overlooking the waterfront, private office space, fireplace, walk-in closet, and full kitchen, I won't blame you if you never want to leave this rental in Seattle.
$$
Access to a shared yard with bocce ball
6 Guests
In Leschi, two blocks from Lake Washington
Great for quick weekend visits, this house is located just off the i90, making it super accessible from the airport or for those driving into the city from the greater Seattle region.
The townhouse has two bedrooms and a spacious open-plan living area leading out onto a private enclosed patio on the one side, and a shared yard on the other. Prepare a BBQ dinner to eat outdoors and gather around the fire pit, or head into town for a local bite to eat.
$$$
Multi-level home with rooftop deck
6 Guests
A short walk from Alki Beach
With a vibey nightlife scene and a relatively young population, Seattle is a wonderful place to visit with a group of friends – and this rental will ensure you have the best holiday with your friends yet.
The multi-story home has an open-plan living area with a dining area and a fully-equipped kitchen for a self-catering vacation rental. Not to mention, the huge lounge sofas turn into one massive bed, perfect for a movie night in with friends.
If you feel like more of a party, head upstairs to the private deck, which is fitted with a firepit, moody lighting, and outdoor lounge furniture. With panoramic city and ocean views, the top floor of this VRBO in Seattle is the perfect spot to enjoy both sunrise and sunset.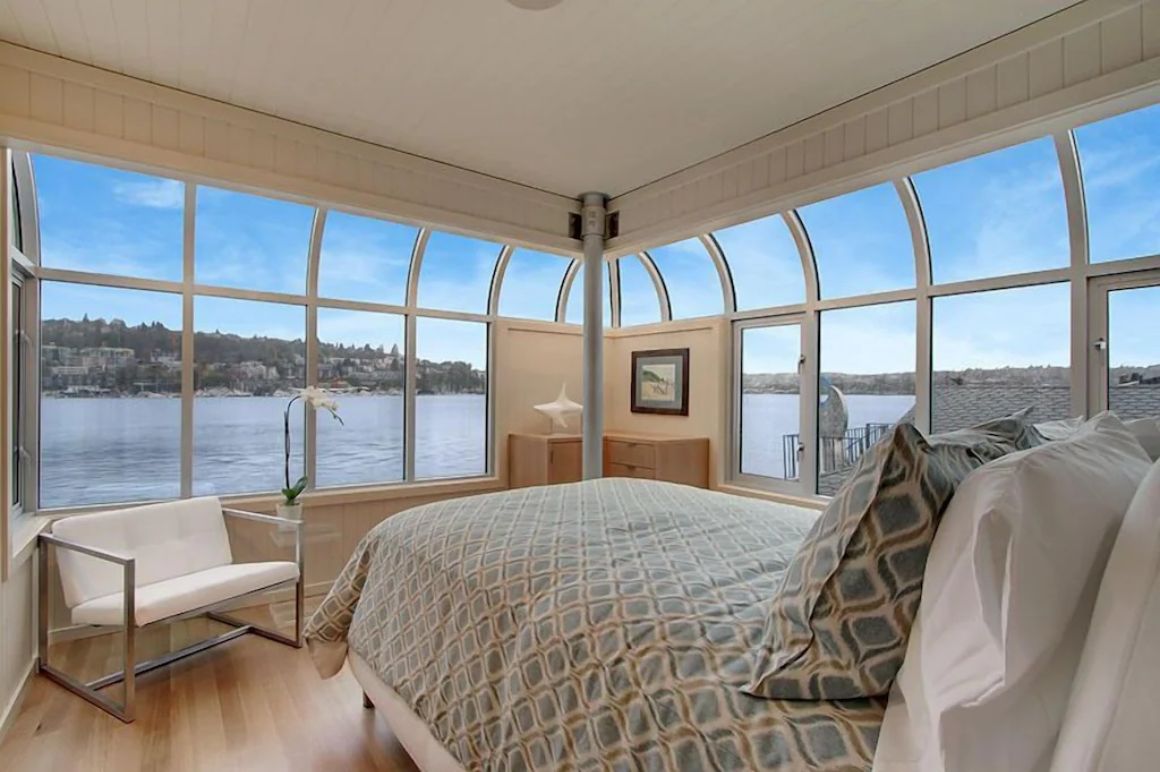 $$
Sky-lights throughout the home
5 Guests
On Lake Union with panoramic views
This might actually be my favorite rental in the city. What seems like a modern home is actually a houseboat floating at the end of a dock on Lake Union. Naturally, this spot has incredible lake and city views. However, the views are made even better by the boat's contemporary design, which uses floor-to-ceiling glass walls, windows, and curved skylights.
The houseboat is designed with modern furniture, mirrors, and coastal-themed linen. In my opinion, the best room is the master bathroom, which boasts classy marble floors and a fully glassed-in shower with lake views. Can you think of anything more peaceful than enjoying a shower with ocean views?
Don't Forget Your Seattle Travel Insurance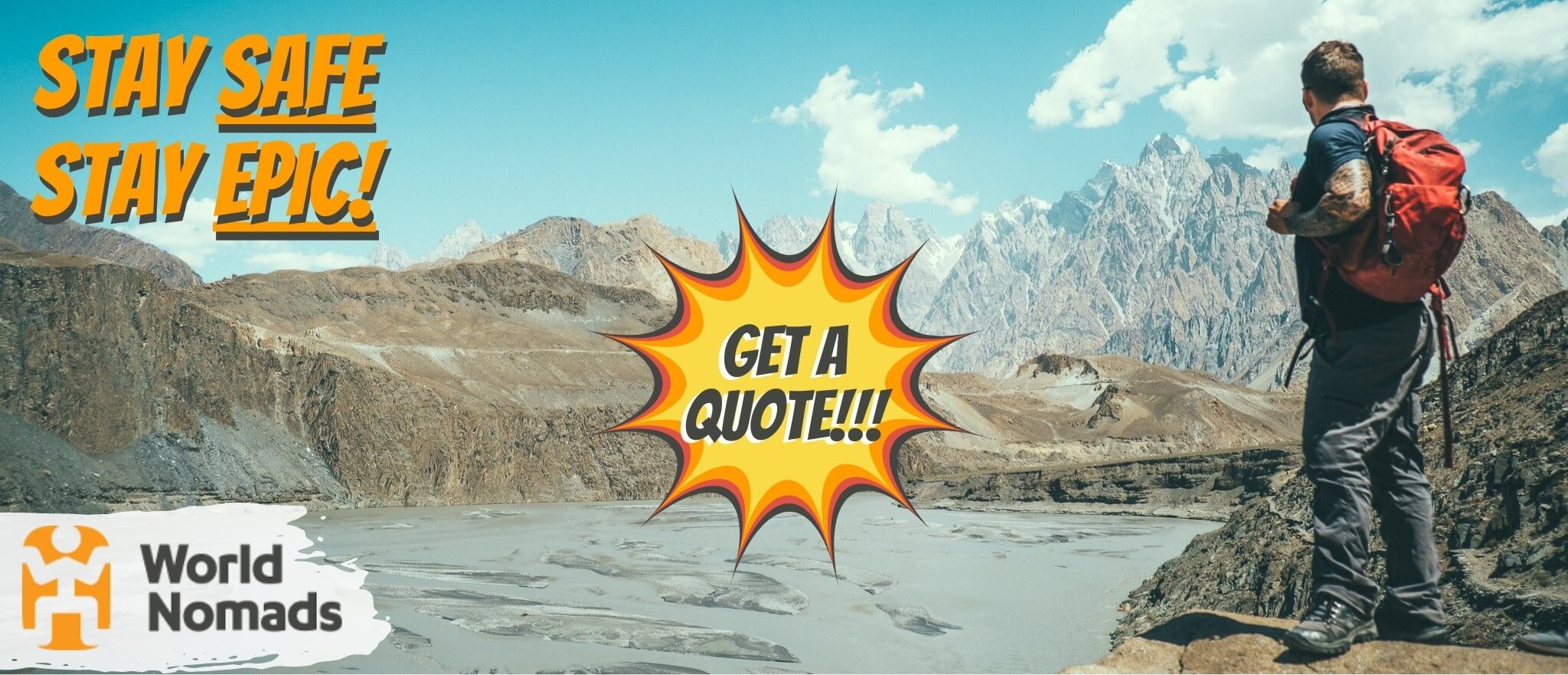 World Nomads' mission is to support and encourage travellers to explore their boundaries. They offer simple & flexible travel insurance, and safety advice to help you travel confidently.
They've been doing it since 2002 – protecting, connecting, and inspiring independent travellers just like you.
Get a quote below or read our in-depth review!
World Nomads provides travel insurance for travelers in over 100 countries. As an affiliate, we receive a fee when you get a quote from World Nomads using this link. We do not represent World Nomads. This is information only and not a recommendation to buy travel insurance.
Final Thoughts
Seattle is one of the most dynamic and exciting cities in America. Surrounded by mountains, forests, parks, lakes, and the ocean, the city is a haven for outdoor lovers and city-slickers alike.
From authentic box houses and craftsman bungalows in the leafy 'burbs to city center condos and studios with waterfront views, there's a VRBO in Seattle waiting for every type of traveler.
Whether you come for the coffee, a tasty food tour of Seattle, or the markets, are fascinated by the tech-hubs (including Amazon and Microsoft) that originated in the city, or visit for the skyline views, the hype is real, and Seattle is definitely a city worth adding to your bucket list.
Do you have a favourite VRBO from my list? Let me know in the comments.
---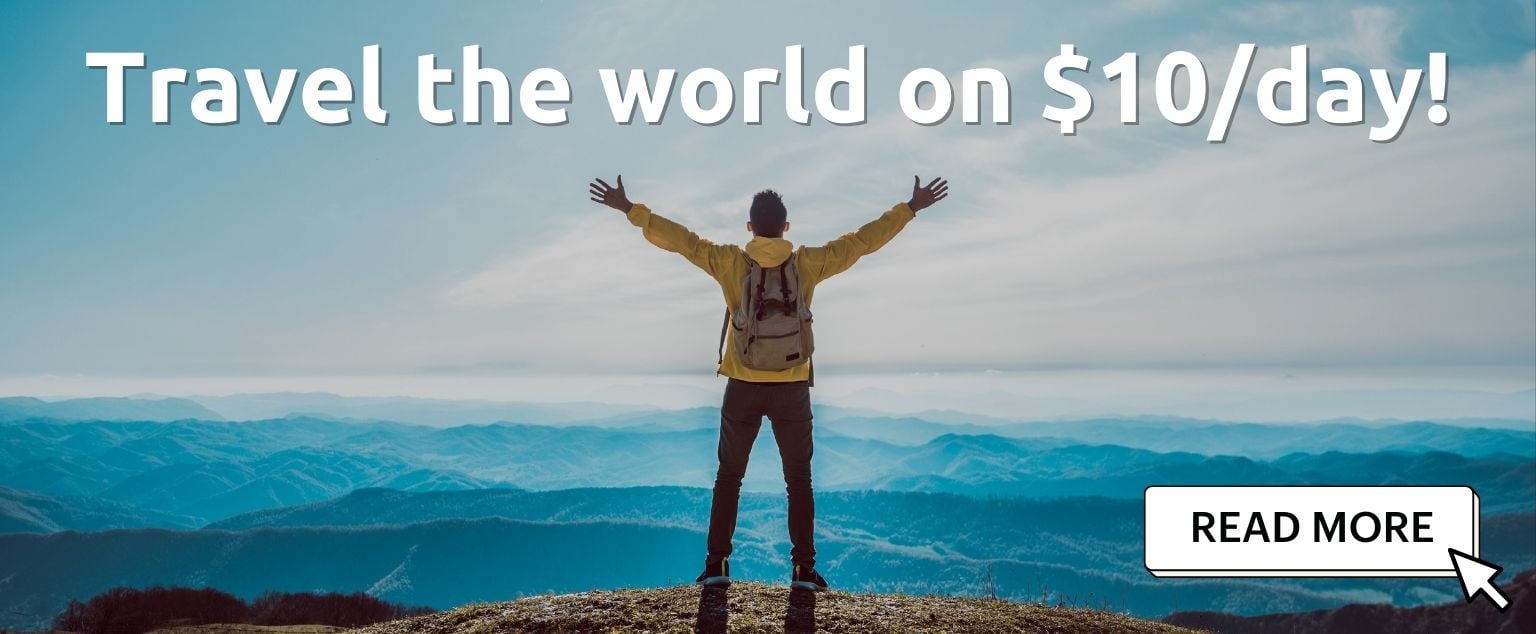 And for transparency's sake, please know that some of the links in our content are affiliate links. That means that if you book your accommodation, buy your gear, or sort your insurance through our link, we earn a small commission (at no extra cost to you). That said, we only link to the gear we trust and never recommend services we don't believe are up to scratch. Again, thank you!