Like most major U.S cities, Seattle is safe. There is a low chance of you becoming a victim of crime, road accident, or random act of god.
Unfortunately, whilst you are unlikely to encounter any issues,  you shouldn't travel anywhere believing you are impervious to misfortune. Life happens, and whilst unlikely, you can end up in the wrong place at the wrong time.
Seattle has a high crime rate. Most infringements that do occur are non-violent, but it is still worth taking sensible precautions to dodge trouble, including choosing a safe place to stay and evading sketchy areas.
Remember, the best way to avoid disaster is to avoid putting yourself in disastrous positions!
So, is Seattle safe for travel? Whether you want the longform answer, or if you're just skimming through for a few tips, you'll find all the information you need to smooth out your adventure right here!
There is no such thing as a perfect safety guide, and this article is no different. The question of "Is Seattle Safe?" will ALWAYS have a different answer depending on the circumstances and timing of your trip. This article is written for savvy travellers, from the perspective of a savvy traveller.
Whilst we strive to make sure the information we make available is factually accurate, the world is a changeable place, now more than ever. Between all the chaotic politics and click-hungry media, it can be hard to maintain what is truth and what is sensationalism.
Here, you will find safety knowledge and advice for travelling Seattle. It won't be down-to-the-wire cutting edge info on the most current events, but it is layered in the expertise of veteran travellers. Combining our guide with your own independent research and a little common sense is a formidable strategy for ensuring the safety of your trip.
If you see any outdated information in this guide, we would really appreciate it if you could reach out in the comments below. We strive to provide the most relevant travel information on the web and always appreciate input from our readers (nicely, please!). Otherwise, thanks for your ear and stay safe!
It's a wild world out there. But it's pretty damn special too. 🙂
Updated January 2023
Is Seattle Safe to Visit Right Now?
The short answer is yes, travelling to Seattle is safe!
Known as the "Emerald City", Seattle is the most populous municipality in Washington state. Only 725,000 people live here, but the city attracts millions of visitors each year. With such a vast contingent of temporary residents, accidents and problems are bound to arise, but you definitely should not be put off by this!
Seattle's crime rate is slightly higher than the national average, which is why you probably shouldn't go wandering around by yourself after dark. Whilst becoming the subject of a violent crime is unlikely, you should be aware that flashing expensive possessions can make you a target for theft. Gang violence is negligible, but you should be aware that it exists.
Homelessness is an issue that is being addressed across the city, but there are areas where it is still rife. Take care to avoid the so-called "Jungle" (formally the East Duwamish Greenbelt), which is home to large homeless encampments.
There is an earthquake/natural disaster risk when you visit Seattle, but again, the chances of this impacting your time here are negligible.
Whilst it's clear that Seattle has its issues, the overall consensus is that Seattle is a very safe city. Yes, there may be some unsafe neighbourhoods, but you shouldn't face any problems during your visit. If you do, the Seattle police department will be happy to help you out. As far as we know, there is nothing pressing that should discourage you from travelling to this awesome city!
Safest Places in Seattle
The statistically safest neighbourhoods are Hawthorne Hills, Blue Ridge, and North Beach. However, these are all residential districts a significant distance away from tourist attractions. On your trip, it is still perfectly safe (and much more interesting) to stay in areas that are closer to the action! These are the top places to stay in Seattle.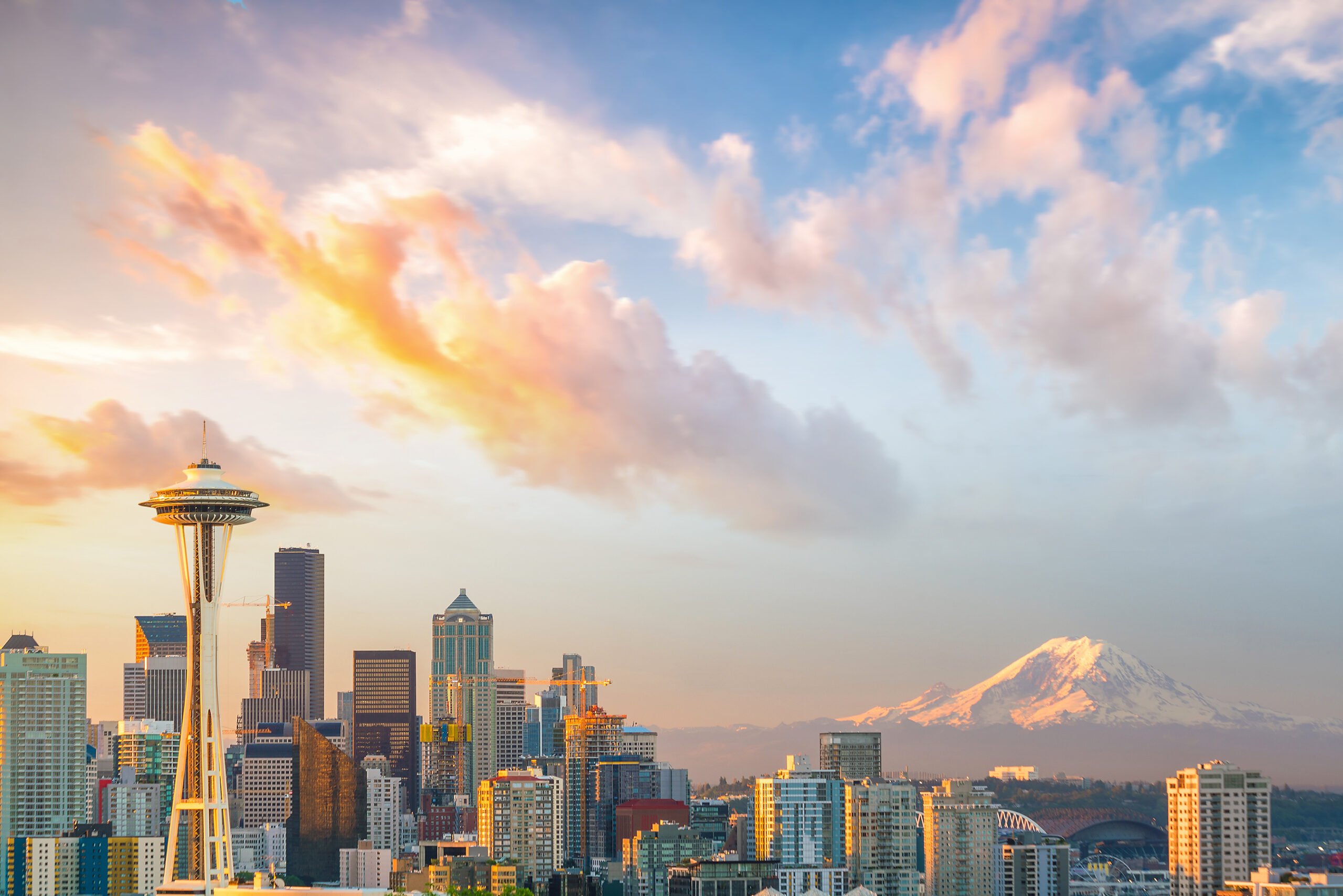 Waterfront: Waterfront is compact, and can easily be explored on foot. It's known to be super family-friendly, which also makes it one of the safest neighbourhoods in Seattle. In addition to its central location, Waterfront is the hub of Seattle's transportation system. With buses, trains, ferries and more, you can easily explore all corners of the city.
Capitol Hill: Capitol Hill is by far the coolest neighbourhood in Seattle. Located north of Downtown, this central district boasts a diverse, young, and friendly atmosphere. Capitol Hill is packed with nightclubs, bars and cafes, perfect for getting in touch with the fun side of the city. As Seattle's music hub, whether you're into pop, trance, alternative, or the city's spotlight grunge, there'll be something to get you hyped!
Queen Anne: Queen Anne is a haven for sightseers and culture vultures. This centrally located neighbourhood is home to Seattle's most iconic landmarks and attractions. Notable Queen Anne attractions include the Seattle Space Needle, the Museum of Pop Culture, the Seattle Monorail, the Children's Museum and Discovery Park.
Unsafe areas in Seattle
Whilst you will be hard-pressed to get into trouble during the day, parts of Seattle (especially within the metropolitan areas of Chinatown, Belltown and Georgetown) do have higher crime rates. This doesn't mean you should avoid these areas, but definitely exercise extra caution at night just to be sure..
A recent poll showed areas of the city in which Seattle residents don't feel safe.
Pike and Pine Street: While touristy and safe during the day, these streets are known for violent crime – especially at night time
East Duwamish Greenbelt: South of Dearborn Street, all the way to Yesler Way (near the I-5 and I-90 Interchange), is where you'll find "The Jungle"; with its sizeable homeless camp, it's not a nice place to find yourself at any time of the day.
Between Blanchard and Bell: parts of Belltown are known for drugs, robbery, and assault
The road that runs between Lake Washington and Puget Sound, on the I-5, has been the scene of homicides and robberies as well as assaults
M L King Jr. Way all the way to the South Boeing Access Road: where you'll find issues surrounding violent crime (high crime statistics)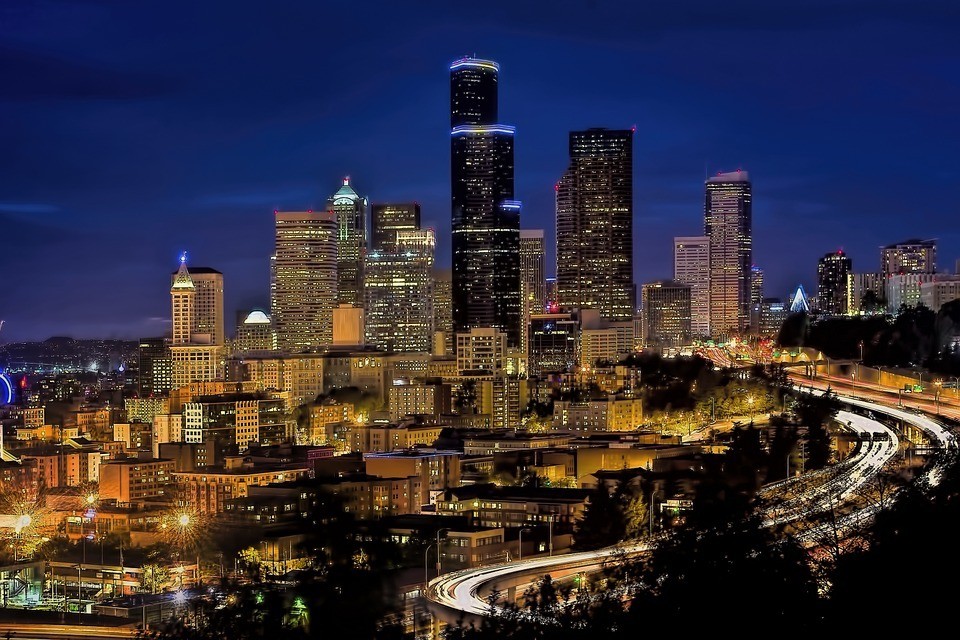 Seattle is one of the safest cities in the US. People here are pretty chilled (and reserved) but are, basically, friendly. There's a cool alternative scene here, a huge LGBT community, and a lot of different races living together. While all of this sounds pretty cool, there are still a couple of things you need to be careful with. We've got a few tips…
Don't walk around with large sums of money – if someone sees a big wad of cash every time you pay for something, you'll be more of a target.
Photocopy your passport – and keep your passport safely locked away. It's not worth the headache of losing that…
Stay somewhere with secure, lockable doors – and always make sure you lock your door when you head out for the day.
Don't leave your bag(s) unattended anywhere – it could very easily go missing.
Keep belongings close to you – around tourist sights and on public transport. Here's where you're most likely to encounter a pickpocket. Wear a money belt to hide your cash.
Know about distraction techniques – over-friendly strangers, someone bumping into you, dropping something in front of you – often a precursor to petty crime.
Be aware of your surroundings – be vigilant; know what's going on around you; don't be oblivious to shady characters.
Walk with purpose – looking like a lost tourist is just going to make you stand out like a lost tourist – and an easy target.
Ask for directions if you're lost – but ask someone official: a police officer, a bus driver, someone like that.
Careful when withdrawing money from ATMs – take note of who's around you, who's watching, and make sure the machine itself hasn't been tampered with.
Don't look flashy – especially at tourist sights, it will attract the wrong sort of attention.
Avoid giving money to panhandlers – It's up to you, of course, but the Seattle police department advises against it. If someone gets aggressive or intimidating, cross the street, and find a police officer to report the incident.
It's legal to buy marijuana – from licensed places if you're over 21. Know your limits though…
And don't drive when you're high – it's illegal and unsafe.
Don't take shortcuts at night – stick to well-lit, busy streets, even if it's longer to walk.
Get yourself a sim card – you can get around without worry, find nearby food and drink, and call people. All the benefits.
Notify people if you head into the mountains – make sure you check in; don't go off-grid.
And be prepared – the landscape and weather can get pretty drastic out there.
So that's it. Basically, it's all about using your common sense when travelling. Seattle is the sort of place where most likely, YOU will be the one to put yourself in danger – travel smart and you'll be fine!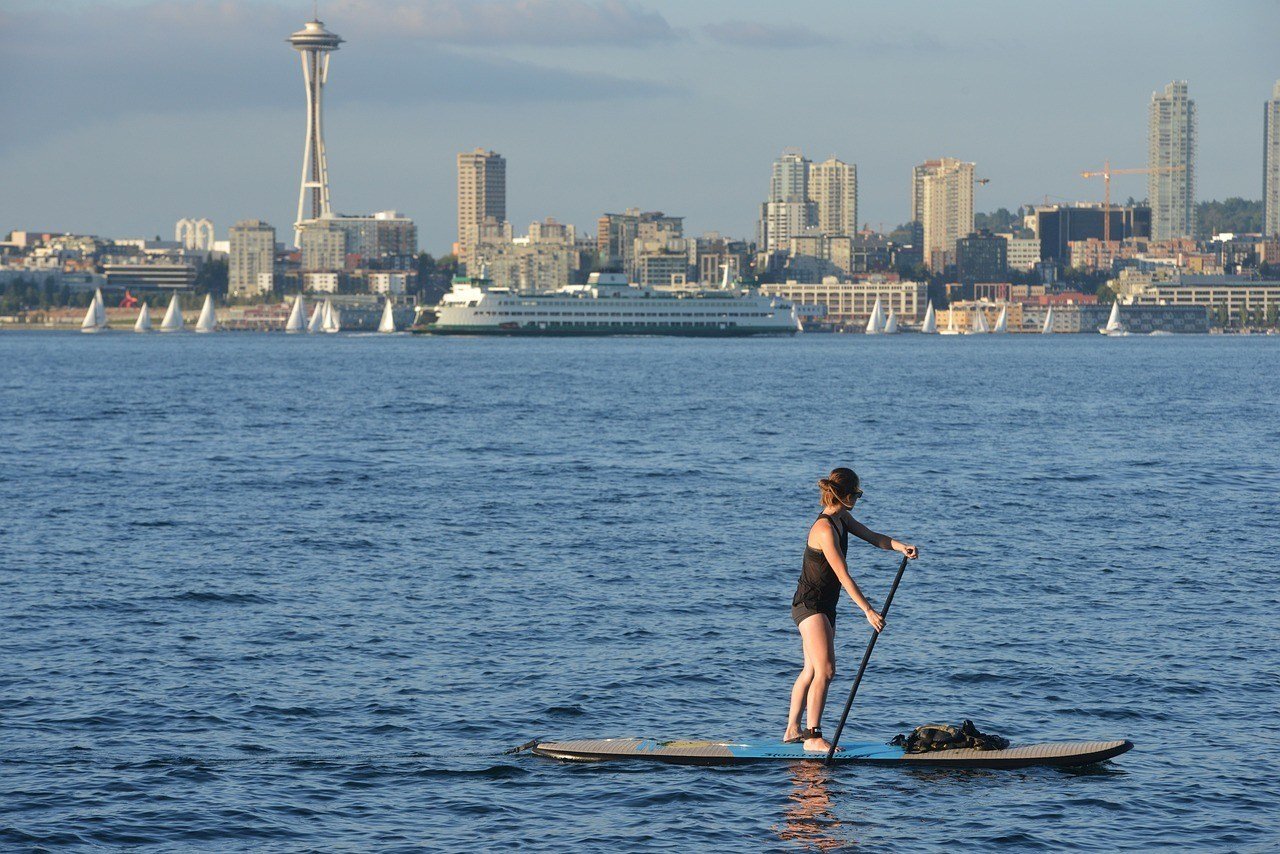 Seattle is home to some great places for solo travellers. Solo travelling is super rewarding, and getting to see the world at your own pace makes a great change from group travel. Then there's other stuff – like having to do everything by yourself, challenging yourself, and overcoming tough obstacles that can make or break a trip.
We're here to help with a few cherry-picked tips for solo travel in Seattle!
Finding a good place to stay in Seattle is where you should start. Choose somewhere that will suit you, in a decent, non-sketchy area that's close to stuff you want to see and do. It goes without saying that you should read reviews to find somewhere that other solo travellers have recommended.
Seattle has its fair share of great social hostels. These are, obviously, somewhere you can get to know other travellers who are doing what you're doing.
Know what "Seattle freeze" is. It's a reputation for Seattle residents not being very open or friendly to strangers. Don't let that put you off though. People are welcoming and kind and won't hesitate to help you out. That said, you may have to initiate the contact, so get your best conversation starters ready!
Get yourself booked on a tour. A walking tour, a food tour, a day trip to somewhere like Rainier. The likelihood is you'll meet some people, if not for the day, then maybe even a new mate.
Walk around the city! Seattle is a super walkable city – being by yourself shouldn't put you off having a stroll. You can walk along the waterfront, Green Lake in the north of Seattle, or even Broadway up on Capitol Hill – which is where you'll find the LGBT community. Basically, it's all fair game; just heighten your awareness after dark.
Don't ghost your friends and family. Tell them if you're going out for dinner, or if you're on a day trip, update them about the hostel you're staying in, what you've seen – anything! It's nice, keeps you sane, and safe too.
Keep an eye on your money and bank cards. You may want to stash them in different places. Trust us: having everything in one bag is a nightmare if that bag goes missing. So spread it around.
Don't pack too much. Since it's a city, one bag will probably do you fine anyway. Having loads of stuff is not a good look in a city – plus you end up feeling pretty out of place lugging a load of baggage around when no one else is.
Ask at the reception for advice on the local area. A cool bar to have a few drinks at, a restaurant recommendation, or just a hidden gem of sight that they might know of. It's here you're going to find actual, interesting, cool stuff that probably won't be in your guide book.
Remember not to watch the clock! The best thing about solo travelling is getting to do things at your own speed, and starting with Seattle is a great way to begin your USA backpacking adventure!
Is Seattle safe for solo female travellers?
Seattle can be a cool place for solo female travellers. It's a big city with a ton of stuff to do and cool people to meet. Then again, it's a big city. That means it is home to the hazards and outright dangers that come with the territory, and this risk is exacerbated if you're travelling solo girl!
Most of the time though, that's at night. And if you're used to city living, you'll have your own safety routine down to a T anyway. Even so, we've got together a handy list of our top tips for solo female travellers in Seattle to help you stay safe and have an awesome time!
Before you travel, make a few contacts. Get online and ask for some advice. We'd recommend a Facebook like Girls Love Travel. Even hitting up hashtags like #girlsabroad on Instagram will uncover some cool lady travellers who will more than likely respond positively to a DM. Go for it!
Make sure the accommodation you're booking comes highly reviewed by other solo female travellers. Doing your research is a big part of choosing somewhere to stay; don't just book the cheapest option.
As a woman in Seattle, it's pretty easy to blend into the background. It's a big, modern city, obviously. We would say, however, to avoid looking like a traveller. Avoid hiking shoes, Day-Glo daypack, windproof raincoat, you'll just look out of place. Try and look like you belong in the city and you'll end up having a more comfortable time in Seattle.
Seattle's large homeless population may worry you. And we get it. You'll most likely see people begging, and the tents that house the city's homeless dotted around. It can be daunting. Know that it's ok to say no. If someone turns nasty, cross the street, go into a shop, tell somebody (even a police officer) if you're really freaked out about it.
Take extra caution after dark. When everyone goes home after the business day (and happy hour) is done, the Downtown area actually gets pretty quiet. It seems everyone clears out. You may want to take extra caution wandering around here after dark, though we'd say it's best avoided if you're by yourself as a woman.
Don't be afraid to go out by yourself. Somewhere like a sushi restaurant would be good for that since you can just take up a single seat at the bar. You could easily strike up a conversation with someone – if you want to, that is. It's fine to eat alone!
You don't have to tell people everything about yourself. If someone's asking too much, don't tell them. A complete stranger does not need to know your full name, where you're from, where you're staying, or even what your travel plans are.
Trust your gut. If a situation feels a little bit like it's getting weird, then it most likely is. And if a person seems like a bit of a weirdo and you don't like it, then trust your gut and remove yourself from their company.
Be careful if you're going out hiking. Not in the city, obviously, but in one of the National Parks like Rainier for example. You can't always get good phone service and things can go wrong. Inform people that you're going, be prepared, or – if in doubt – take a guided tour.
As we've said already, Seattle is actually a pretty safe city. As a solo female traveller, you're going to feel secure in this city. In fact, it's a GREAT place to go by yourself. For one thing, there's an amazing food scene to get involved with. That's reason enough to go to Seattle!
Is Seattle safe to travel for families?
Seattle is a safe place for family travel. In fact, it's a great place to go with children in tow.
There's a cool waterfront area to run around in, fun boat trips, an aquarium, and a cool music scene. If your kids are sports fans, you can always turn up at a Seattle Seahawks game. There's a ton of stuff to do here, so make sure you prepare a Seattle itinerary!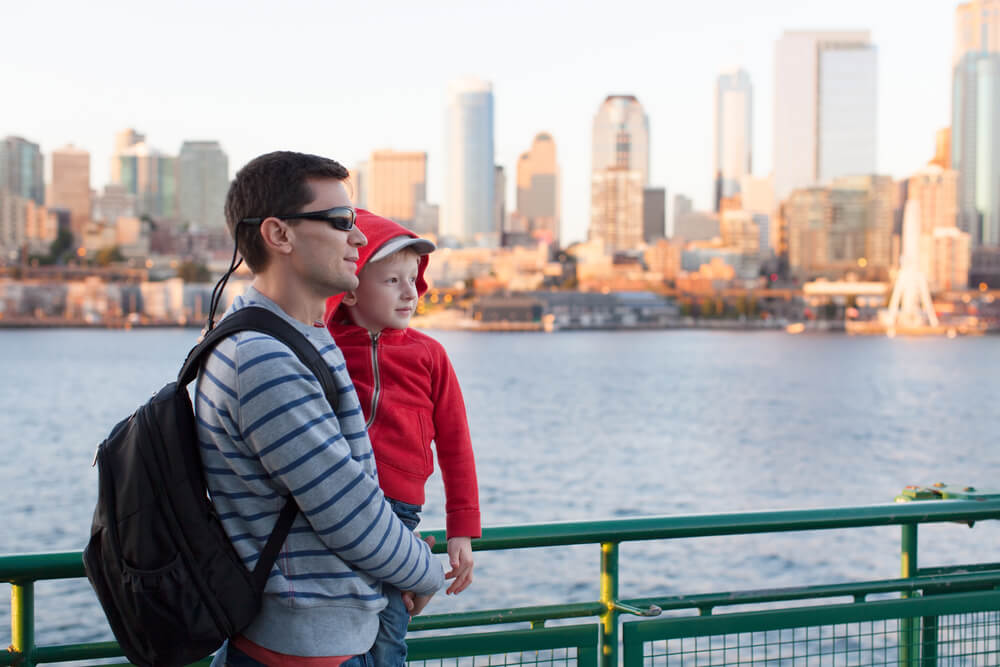 We'd say avoid staying in the downtown area, however, as a lot of the hotels here are not so family-friendly and geared towards those on business.
Keep in mind: some bars and pubs have a "no minors" policy, whilst other establishments have a "no kids" policy after 10 PM.
Basically, Seattle is safe to travel with children in tow. 100%.
Getting around Seattle Safely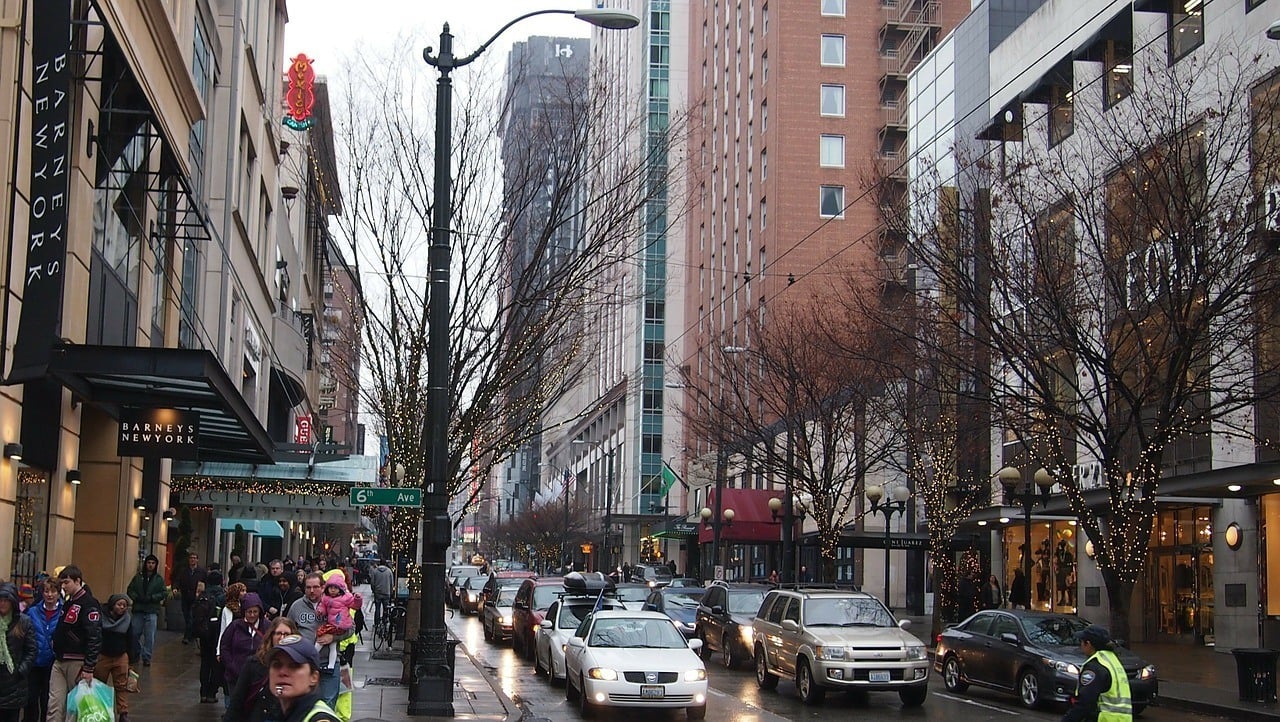 First of all, let's take a look at Seattle's buses. This comprises a county-run service that has a flat rate across the city; there is a peak and an off-peak price. To pay, you will need exact change or to get yourself an ORCA Card.
Uber and Lyft are both active within the city but can get quite pricey. Similarly, renting a car is great if you want to get out of Seattle, but I'd say is unreasonably costly, especially when you factor in the insurance and fuel costs.
Then there's the really exciting one: the Seattle streetcar. More comparable to European trams than anything else, it's got two lines, with more planned for the future. The streetcar stops every 15 minutes, making it pretty convenient.
Finally, there's the train and light rail system. The regular old train provides a commuter service that runs north and south of the city, whilst light rail gives a great route from the airport to Seattle University.
Crime in Seattle
Violent crime in Seattle is above the national average, but there is definitely a difference between the safest and most dangerous areas of Seattle. Try avoiding the latter, especially at night! Most crime in Seattle is property-based (theft, vehicle theft, vandalism etc), which means that it is worth keeping that extra level of awareness and double-checking valuables.
In 2022, the city recorded 48 homicides, 1654 robberies, 8018 burglaries, and 6244 incidents of motor vehicle theft. Whilst this might seem like a lot, you have to remember that there are millions of visitors each year, so the chances of you getting sidewinded are super low.
Getting Insured BEFORE visiting Seattle
ALWAYS sort out your backpacker insurance before your trip. There's plenty to choose from in that department, but a good place to start is Safety Wing.
They offer month-to-month payments, no lock-in contracts, and require absolutely no itineraries: that's the exact kind of insurance long-term travellers and digital nomads need.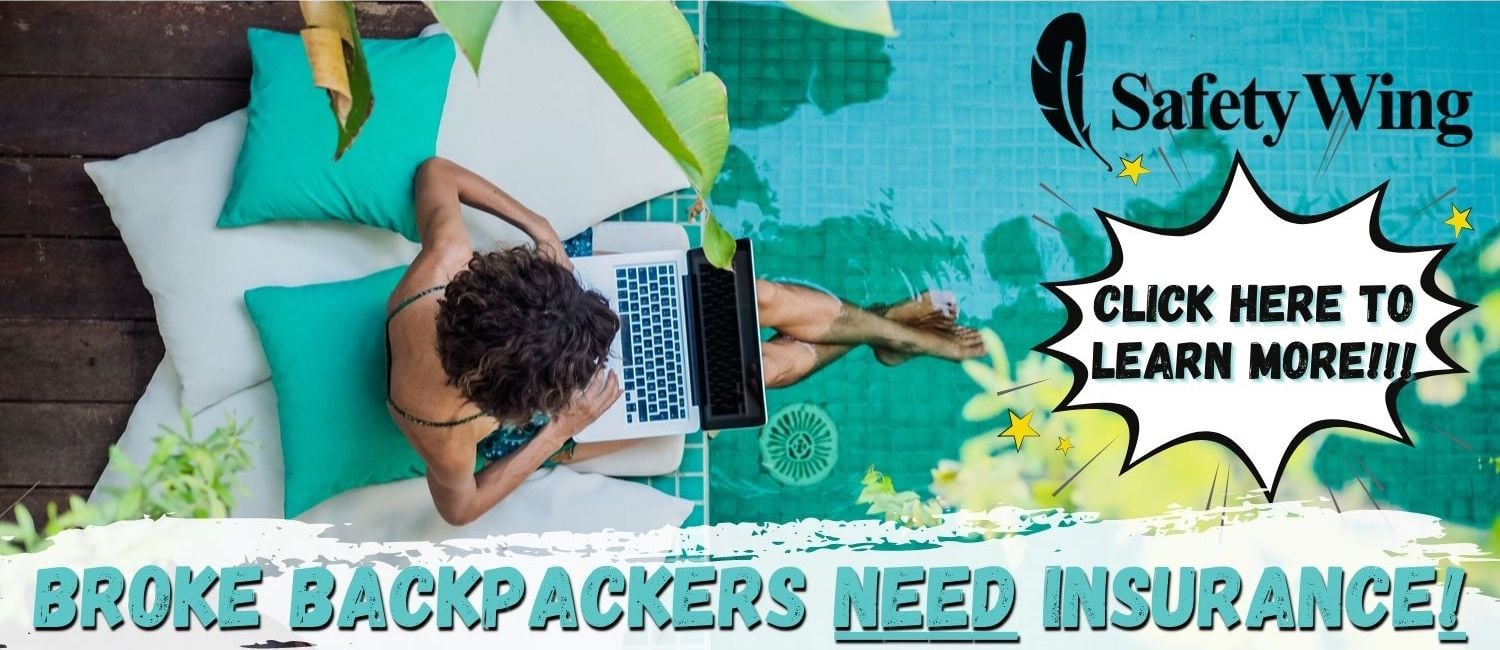 SafetyWing is cheap, easy, and admin-free: just sign up lickety-split so you can get back to it!
Click the button below to learn more about SafetyWing's setup or read our insider review for the full tasty scoop.
FAQs on Seattle's Safety
Here's what people usually ask us about staying safe in Seattle!
So, How safe is Seattle?
Seattle is one of the safest of America's larger cities. It's a pretty walkable place where you're not likely to encounter a high level of violent or even petty crime. However, that sort of statement always needs to come with a "but"…
Which is that crime can happen anywhere. Seattle can get a fair few pickpockets and strange individuals on public transport, and travelling around late at night can be a good way to attract the attention of oddballs and potentially dangerous characters. There's also its big homeless community. The best way to avoid all of this stuff is to go nowhere near "The Jungle" and avoid travelling late at night.
That's the main thing about Seattle. Danger, or more to the point petty crime, is only likely to come to you if you choose to put yourself in a more risky situation. After dark = sketchy. Homeless areas = sketchy. Busy tourist areas = maybe pickpockets. Be smart with how you travel around. Keep our safety guide for Seattle in mind, be aware of things that can happen, and most likely you'll be 100% fine!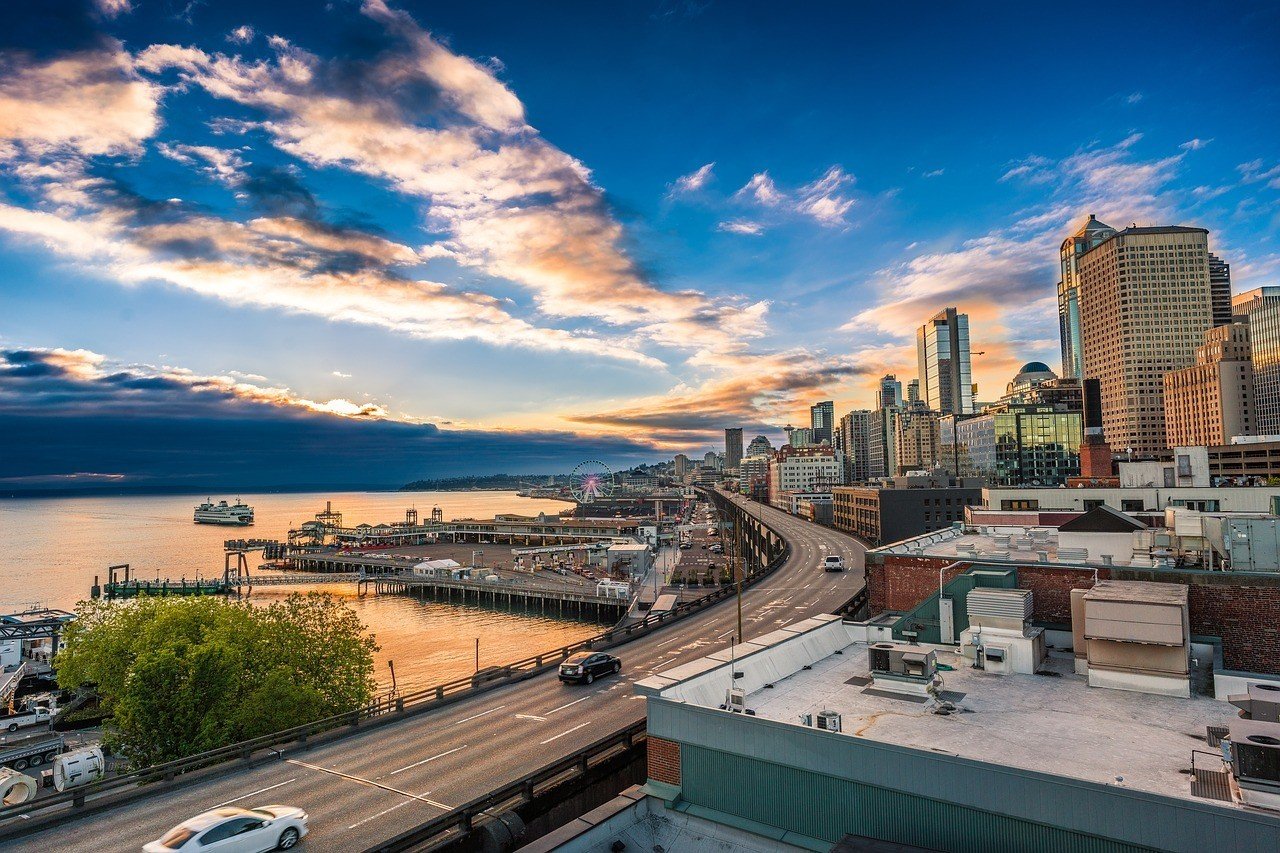 Disclaimer: Safety conditions change all over the world on a daily basis. We do our best to advise but this info may already be out of date. Do your own research. Enjoy your travels!
---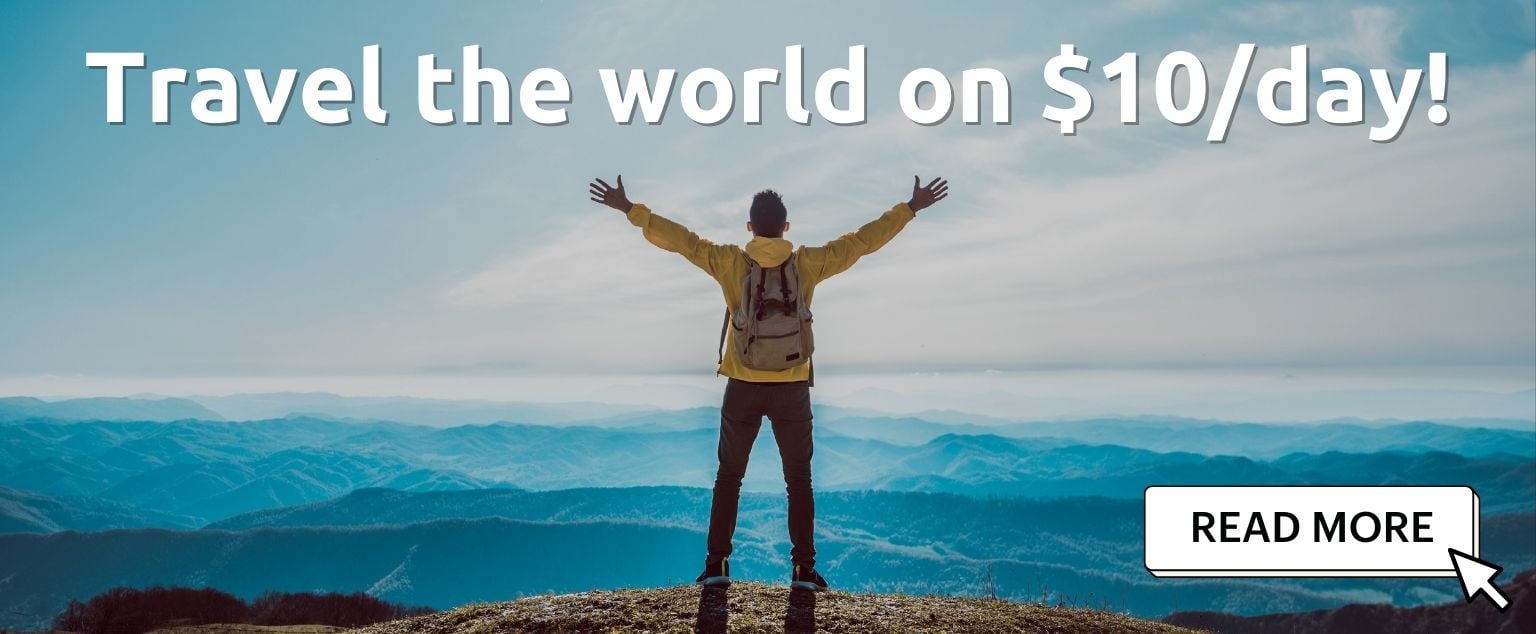 And for transparency's sake, please know that some of the links in our content are affiliate links. That means that if you book your accommodation, buy your gear, or sort your insurance through our link, we earn a small commission (at no extra cost to you). That said, we only link to the gear we trust and never recommend services we don't believe are up to scratch. Again, thank you!