Whether you're a Game of Thrones fan or you just enjoy chilling on the beach, there's plenty to see in Dubrovnik. This gorgeous old town on the Dalmatian Coast in Croatia is blessed with one of the most beautiful old towns in the Balkans, and you may even spot King's Landing on your trip!
It only takes a quick search on Instagram to be convinced a trip to Dubrovnik is a good idea. The next step is finding somewhere to stay. It can be tricky finding somewhere affordable, so Airbnb in Dubrovnik is a great idea. Rentals in Dubrovnik can come in a range of shapes and sizes, from cute little apartments to boats!
In this post, we'll take a look at the best places to stay in Dubrovnik. We've thought about a load of different travel styles and budgets. Not only that, but we'll also take a look at the five best Airbnb experiences, so you know how to spend your time when you arrive. Let's get started!
Quick Answer: These are the Top 5 Airbnbs in Dubrovnik
Overall Best Value Airbnb in Dubrovnik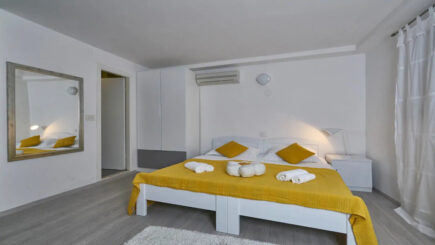 Overall Best Value Airbnb in Dubrovnik
Studio in the centre of the Old Town
> $$
> Three guests
> Small kitchenette
> Quiet neighbourhood
Best Budget Airbnb in Dubrovnik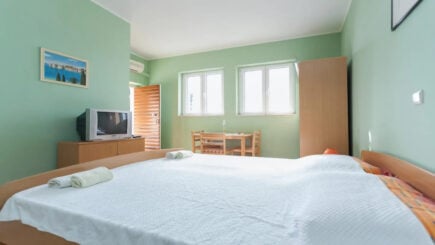 Best Budget Airbnb in Dubrovnik
Apartment Karmen with amazing view
> $
> Three guests
> Great location
> Private entrance
Best Airbnb for Couples in Dubrovnik
Best Airbnb for Couples in Dubrovnik
Ragusa Seaview with balcony
> $$$
> Two guests
> Wonderful location
> Private balcony
Best Airbnb for Families in Dubrovnik
Best Airbnb for Families in Dubrovnik
Anisija Garden House
> $$$$
> Six guests
> Swimming pool
> Big garden
Over-the-Top Luxury Airbnb in Dubrovnik
Over-the-Top Luxury Airbnb in Dubrovnik
Villa Donna Paola
> $$$$$$$$$
> Eight guests
> Private swimming pool
> Beautiful garden
What to Expect from Airbnbs in Dubrovnik
With so many different types of Airbnb on offer in Dubrovnik, it can be hard to know where to start. A good way if you're not sure is to focus on location first. The best part of town if you want lots to do is the Old Town. You can use that as a base for visiting the beaches, dining out, and checking out historical sites.
The most common type of property you'll find is an entire flat – usually a holiday home. With relatively small buildings in the town centre, you'll have to go further out to find other types of property. But once you do, you're sure to be impressed.
If money's no object, consider splashing out on a villa or a boat!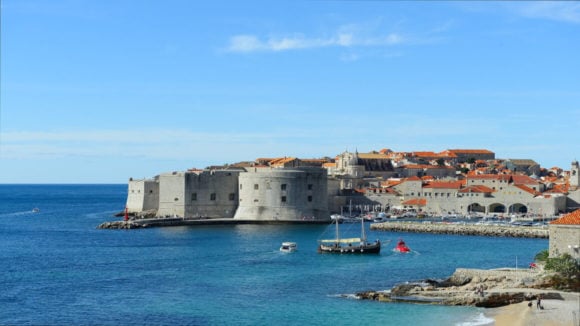 Entire Flat
An entire flat is the most common type of Airbnb in Dubrovnik, and each one comes with its own distinct and charming character. These are an excellent option for couples, honeymooners, and perhaps small groups of friends and family. Basically, any group of up to four people.
You can often expect a kitchen or kitchenette where you can prepare meals and somewhere to chill out. Happy to pay a little extra? You'll likely get a balcony or terrace with a fantastic view. The best apartments with balconies are often outside of the Old Town.
Villa
Looking for a little more luxury from your Dubrovnik Airbnb? A villa might be the answer. While there are some near the Old Town and the main beach, Banje, you may have to head a little out of town.
The trade-off is worth it, though for the peace and quiet. Plus, it's not too far to drive in, get a taxi, or perhaps even walk to enjoy the city's vibrant nightlife or food and drink scene.
What to expect from your villa depends on your budget; however, the majority come with cooking and living facilities, swimming pools, and somewhere to park your car.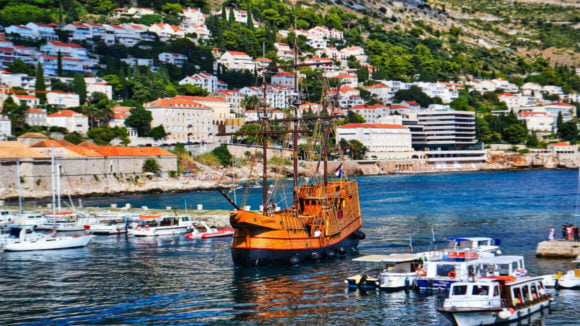 Boat
Of course, Dubrovnik isn't the only part of the Dalmatian Coast well worth your time. Instead of renting a car and staying in one place, why not hire a boat instead?! You'll need a fair bit of cash to spare, but it could be well worth it for the unique experience.
One of the most appealing parts of using Airbnb is unique stays, and few are more special than a boat. Most boats will be moored in the ferry port at Gruž. Many come with a captain, who will pilot the boat as you soak up the sun on the deck. They often know all the best spots off the Dalmatian Coast!
Why Stay in an Airbnb
Still not convinced about staying in an Airbnb in Dubrovnik? That's pretty surprising, but here are five more reasons why you should.
Local Experience: Sometimes staying in a hotel or hostel can seem a little cold and impersonal. Your local host will share all the best spots that you won't find in the guidebooks.
Unique Properties: Hotels and hostels can get boring. Why not enjoy a home away from home, or something you'd never have thought of booking?
Affordability: Airbnbs can be a lot cheaper than the equivalent hotel. The plus of having your own kitchen means you can save money on eating out, too! This works out especially great if you're backpacking Dubrovnik on a budget.
Safety: Airbnb vet both hosts and guests, so you have peace of mind during your stay.
Airbnb Experiences: It's not just about a local experience when it comes to places to stay, it's also about seeing the local area. The best way to do that is with locals. We'll tell you more about Airbnb Experiences in a bit.
Travel with peace of mind. Travel WITH a security belt.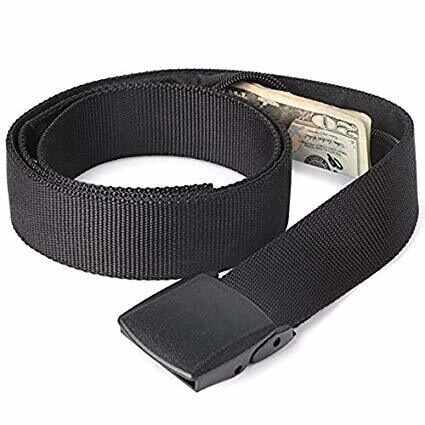 Custom-designed BY the Broke Backpacker FOR broke backpacking, the Active Roots Security Belt will keep your valuables safe no matter where you go.
It looks exactly like a normal belt except for a SECRET interior pocket perfectly designed to hide a wad of cash or a passport copy. Never get caught with your pants down again! (Unless you want to.)
Check on Amazon
But now, let's look at the best Airbnbs in Dubrovnik!
The Top 15 Airbnbs in Dubrovnik
We've scoured through the best Airbnbs in Dubrovnik, so you don't have to. Whether you're a backpacker looking for a cheap room or planning a special family celebration, there's a place to stay for you!
Three guests
Quiet neighbourhood
Let's begin our list with this cool studio in the centre of Dubrovnik's Old Town. Ideal for a couple or a solo traveller, there are few better locations. You can make use of creature comforts such as a small kitchenette, air conditioning, TV and Wi-Fi during your stay. However, you probably won't spend too much time here, since the best hotspots in Dubrovnik are right on your doorstep – not to mention the beach!
Three guests
Private entrance
It can be tricky to find somewhere on a budget in Dubrovnik – tricky, but not impossible. This one is not just a private room; it's an entire flat! With space for three people, you'll be guaranteed your privacy just a hop, skip and jump from the Old Town. You'll get a view of said Old Town from your hillside location. There's also a small dining area and kitchenette for your comfort and convenience!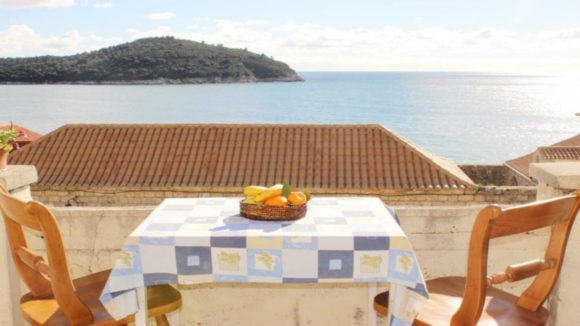 Two guests
Private bathroom
If you're a solo traveller, you'll need to make your money last. So here's another budget option. This one is a private room in a house. While you can get entire places for a similar price, it can be nice to have some company from your host and a bit of help when it comes to finding things to see and do. Get travel tips over a coffee on that beautiful roof terrace!
Two guests
Private balcony
If you're travelling with your other half, you'll want to sweep them off their feet. Well, that's what Airbnb is all about; this Seaview property is super romantic. Imagine sitting out there watching the sunset with a glass of wine. If you get want to head out for some food and drinks, the Old Town is just over the road, so it shouldn't be too hard to find an awesome restaurant or bar to check out.
Is This the Best Travel Backpack EVER???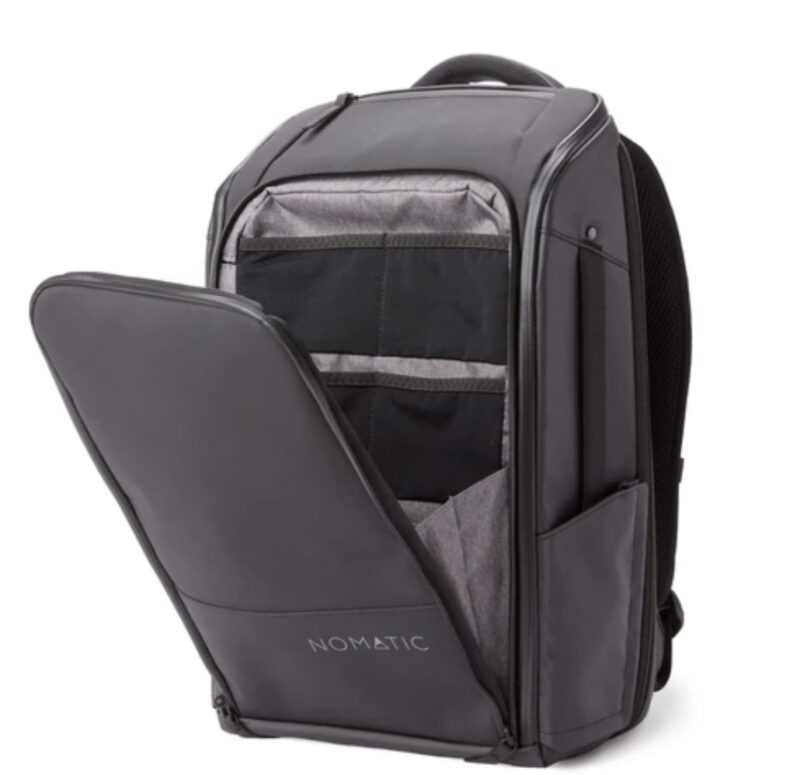 This gorgeous house is suitable for family members of all ages. If parents want a lie in and the kids are impatient, they can just head down to the pool for a dip. And the big pink flamingo is perfect for a relaxing float! It's not only the pool that makes this place so great. If you plan to see the area by car, you'll be pleased to know there's free parking on offer.
Over the top luxury Airbnb in Dubrovnik – Villa Donna Paola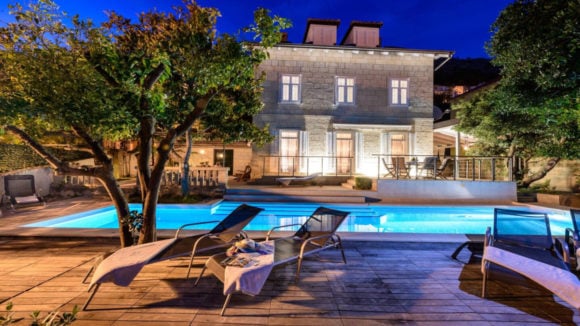 $$$$$$$$$
Private swimming pool
Eight guests
Beautiful garden
If you're looking for one of the most jaw-dropping Airbnbs in Croatia, let us present to you the Villa Donna Paola. Built by a local captain for his Italian wife (yep, that's Donna Paola), the house has a traditional Dubrovnik garden and a big swimming pool. It's tastefully decorated with gorgeous artworks while retaining many original features, like its art deco fireplace. If you want to be blown away by a Dubrovnik Airbnb, stay here!
$$$
Fully-equipped kitchen
Six guests
Outdoor dining area
With space for six guests across four bedrooms, this is one of the larger entire flats in Dubrovnik. It's great for a group of friends or family who want to enjoy the delights of the city and come back to an incredible sea view in the evenings. Whip up a storm in the fully-equipped kitchen, then enjoy your creation in the outdoor dining area. If the food doesn't take your breath away, the blue waters of the Adriatic sure will!
Best Villa in Dubrovnik – Villa Hedera
Eight guests
Unique tower view
Another beautiful Airbnb in Dubrovnik, the Villa Hedera is a real treat. While it'll burn a big hole in your pocket, there's room for up to eight guests, so the price isn't quite as terrifying as you might think at first glance. You're so close to the Minceta Fortress in Dubrovnik's city walls that you can actually touch it. If you find the swimming pool a little too chilly, take a dip in the jacuzzi hydro-massage tub instead!
$$$$$$$$
Outdoor chill area
Ten guests
Professional Captain
You've probably got the picture now that Dubrovnik is a pretty luxurious destination. If the villas didn't give it away, then this catamaran definitely will! With room for up to ten guests, you can book this cruiser for up to a week – it has four private bedrooms. This would be a fantastic way to celebrate a big birthday or have a family celebration. It's a wonderful way to see the islands off the Dalmatian Coast.
Perfect Airbnb for Digital Nomads – Odore di Mare
$$
Laptop friendly workspace
As long as there are a laptop-friendly workspace and a strong Wi-Fi connection, there's not much else for digital nomads to worry about. This small apartment has all that and more – just imagine how much more enjoyable your online work will be as you look out over the rooftops down towards the Lovrijenac Fortress. You've got a kettle and fridge in your room, too, so no excuses for missing out on food or drink while you work.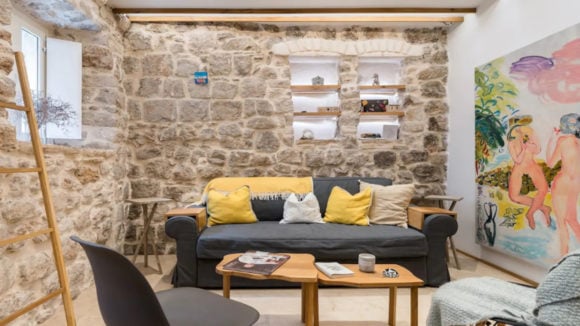 Four guests
Original stone walls
Dubrovnik is famed for its Old Town, but many of the unmodernised places will be private homes off-limits to the public. However, there are always exceptions, and this gorgeous apartment in the centre is one of them. It pre-dates the Great Earthquake of 1667, and those strong, sturdy walls look like they'd survive another! The bedroom has a king bed, so it's an excellent spot for couples or honeymooners.
Stunning Airbnb for Honeymooners in Dubrovnik – Apartment Aquarell
Two guests
Epic views of Old Town
Dubrovnik is a pretty popular destination for couples, so this is a great option if you're looking for a romantic spot. Despite the Old Town and Banje Beach seeming far away in those beautiful views, they're just a five-minute walk away. If you don't want to head into town for a meal, just cook something up in the kitchen and enjoy it on the terrace.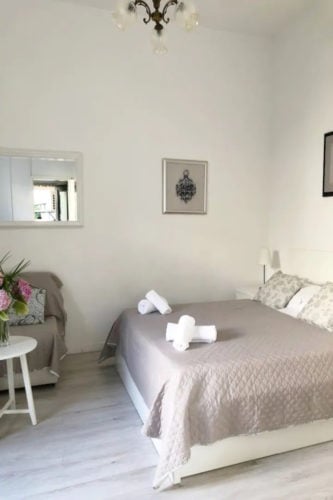 There are a lot of Airbnbs in Dubrovnik Old Town, and it's hard to decide which one is the best. The right one for you can change according to criteria of course, but this is definitely one of the most affordable. It can sleep up to four guests, so that price can become even less if you split it. There's a small garden and terrace – the perfect place to enjoy breakfast.
Best Airbnb for a Weekend in Dubrovnik – Apartment Simovi?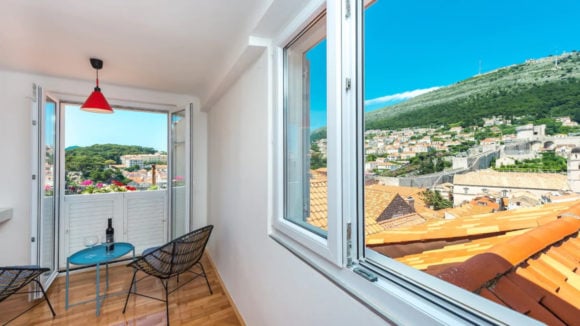 Four guests
Airport pickup available
Close to all the attractions, this apartment is perfectly located for visiting the Old Town, the beach, and taking the cable car up above the city. There's room for four guests, too, so it's perfect for a girls' or guys' weekend. You probably won't be spending that much time in the apartment, but when you do, you can make the most of a fully equipped kitchen, a living room, and a dining area.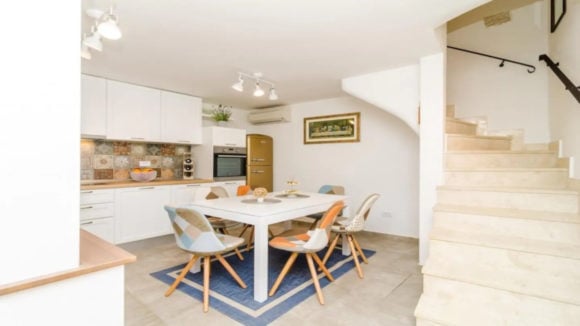 $$$
Fully-equipped kitchen
Six guests
Living room with TV
Last but not least is an Old Town apartment with space for up to six guests. Eating out as a group of friends can really pull on the purse strings, but that doesn't have to be the case here. You can make something in the fully equipped kitchen before enjoying it in the cute and cosy dining area. Then, watch a film on the TV or head out into town for a few drinks – the perfect night in or out!
Top 5 Airbnb Experiences in Dubrovnik
If you're sick of cheesy tours but worried you won't find your way around Dubrovnik, let us introduce you to an alternative. Airbnb experiences are carefully curated tours by locals that will enhance your trip!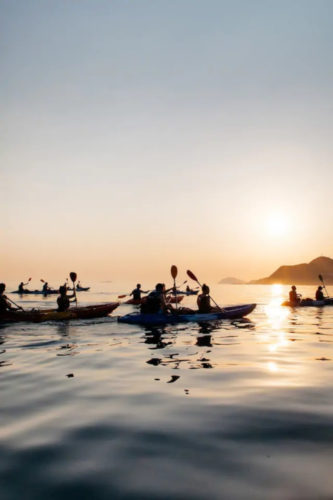 250kn/person
Three hours
Up to ten guests
One of the most popular activities off the Dalmatian Coast is sea kayaking. Paddle through the beautiful blue waters of the Adriatic Sea before stopping off in caves and on uninhabited islands. This experience isn't just fun; it's also a great workout – so you can have an extra slice of Madarica after dinner!
300kn/person
Three hours
Up to five guests
With so many remote and exciting islands nearby, it seems a shame to spend your whole time in the city. With this unique opportunity to hike and bike on Kolocep Island, you don't have to settle for urban living. Adrenaline junkies will love this experience as there are opportunities for cliff jumping or scuba diving.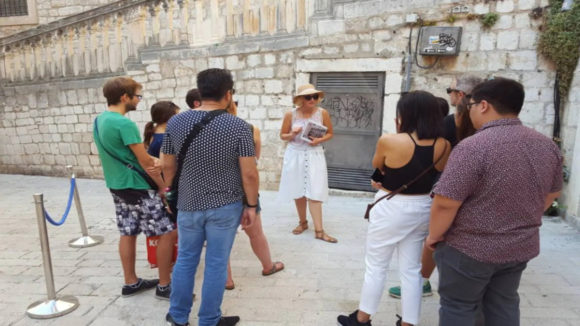 165kn/person
Three hours
Up to ten guests
If you're a Game of Thrones fan, you can't come to Dubrovnik and miss seeing the filming locations from the epic TV show. Not only will you see the Lovrijenac Fortress (better known as King's Landing), but you'll also learn about the real history of the city, which has been occupied by Ottomans and Napoleon.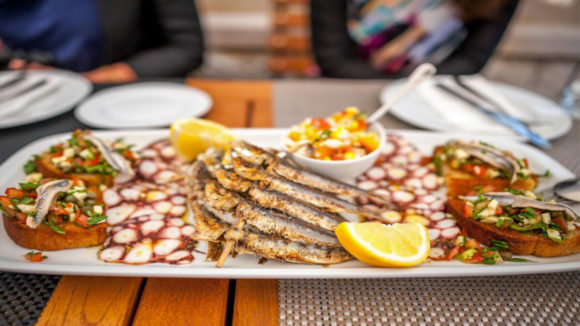 740kn/person
Three hours
Up to ten guests
If we're honest, there are a lot of tourist trap restaurants in Dubrovnik. However, you won't be stopping off at any of them on this awesome foodie tour! Find the best spots where locals love to eat, and yes, you're welcome to taste the fresh and locally sourced products such as wine and honey!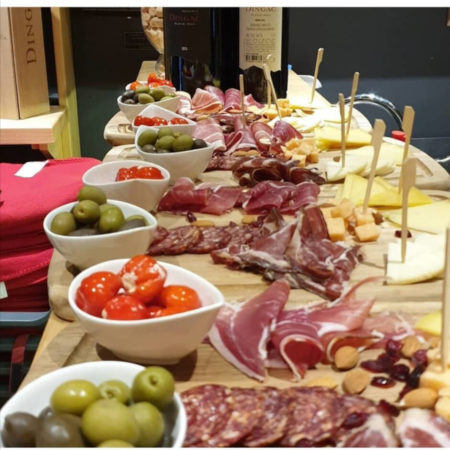 375kn/person
Two hours
Up to eight guests
Sometimes, you won't want to sightsee in Dubrovnik during the day because it's just so damn hot. In the evening, it gets a bit cooler, and you can see the city in a whole different light, so to speak. Not only will you check out the tourist attractions, but you'll also be stopping off for food and drink on this memorable evening walk.
Final Thoughts on Dubrovnik Airbnbs
Now that you've seen all the best Airbnbs in Dubrovnik, you'll have a better idea of what to book for your trip. We've seen everything from private rooms where you can crash after a long day to luxury villas and yachts.
With so much choice, you might be finding it challenging to decide where to stay. If so, opt for our overall best value Airbnb pick in Dubrovnik – Studio in the Centre of the Old Town. It's the perfect blend of a superb location and great value for money. 
And don't forget to take out Travel Insurance for your trip! I have been using World Nomads for some time now and made a few claims over the years. They're easy to use, professional and relatively affordable. They may also let you buy or extend a policy once you've started your trip and are already abroad which is super handy.
If there's one insurance company I trust, it's World Nomads. To find out why I use World Nomads, check out my World Nomads Insurance review.
Getting an estimate from World Nomads is simple – just click the button or image below, fill out the necessary info, and you're on your way!

---
Find out how YOU can support the site.
We work hard to put out the best backpacker resources on the web for free! It's all about helping out our tribe of awesome backpacker readers (that's you!). Please visit the link to find out how you can help keep the site going 🙂
For the sake of transparency, some of the links in our content are affiliate links. This means that if you book your accommodation, buy a piece of gear, or sort your insurance through our link, we earn a small commission at no extra cost to you. We only link to stuff that members of the Broke Backpacker team has actually used and never endorse products or services that are not up to scratch. Thanks for your support!