Missouri is a state home to some of America's most famous writers, from Mark Twain to Maya Angelou. It has a fascinating history, where little things start and big things grow.
A World's Fair held in St. Louis in 1904 is where the country was introduced to the waffle cone, cotton candy, and good old-fashioned iced tea. The first successful parachute jump from a flying plane happened eight years later just outside of the city.
Missouri takes tremendous pride in its natural landscape. Having protected so much of its underrated wilderness, there is ample beauty to uncover. In among that wilderness, Missouri has 6,000 caves – that we know of, that is. This might explain why Richland has its own cave restaurant, the only one in America.
Come and discover a state full of surprises, and check out the huge selection of holiday rental accommodations in Missouri. Trying out an Airbnb in Missouri will give you a great opportunity to explore the state on any budget.
Read on to find out what to expect, and of course, our picks for the best Airbnbs in Missouri.
Quick Answer: These are the Top 5 Airbnbs in Missouri
Overall Best Value Airbnb in Missouri
Overall Best Value Airbnb in Missouri
The Waterfront Cottage
> $$
> 6 Guests
> Sunset views
> Private acreage
Best Budget Airbnb in Missouri
Best Budget Airbnb in Missouri
Cozy Private Room
> $
> 2 Guests
> Great location
> Queen bed
Best Airbnb for Couples in Missouri
Best Airbnb for Couples in Missouri
Spring Lake Tree House
> $$$
> 2 Guests
> Sleep under the stars
> Lake views
Best Airbnb for Families in Missouri
Best Airbnb for Families in Missouri
Lakeview House
> $$$
> 10 Guests
> Kid cave and slide!
> Baby cot
Over-the-Top Luxury Airbnb in Missouri
Over-the-Top Luxury Airbnb in Missouri
Twin Turret Farm and Castle
> $$$$
> 16 Guests
> On 20-acre lake
> Near wineries

Unlock Our GREATEST Travel Secrets!
Sign up for our newsletter and get the best travel tips delivered right to your inbox.
What to Expect from Airbnbs in Missouri
When it comes to planning your adventure, there are a few things you should know about Airbnbs in the Cave State.
Airbnbs are spread right throughout Missouri, which is great news for those moving around or looking for a staycation.
The most common hubs are, Kansas City and St. Louis. Airbnbs here will give you ease of access to downtown locations and the best attractions. For those after a more outdoorsy escape, properties widely available in the Lake of the Ozarks region.
The majority of Airbnbs come with a lovely personal touch, that will elevate your adventure. You can expect spacious living areas, great kitchens, and picturesque views of the city, or nature.
Here are three of the most common types of Airbnb in Missouri: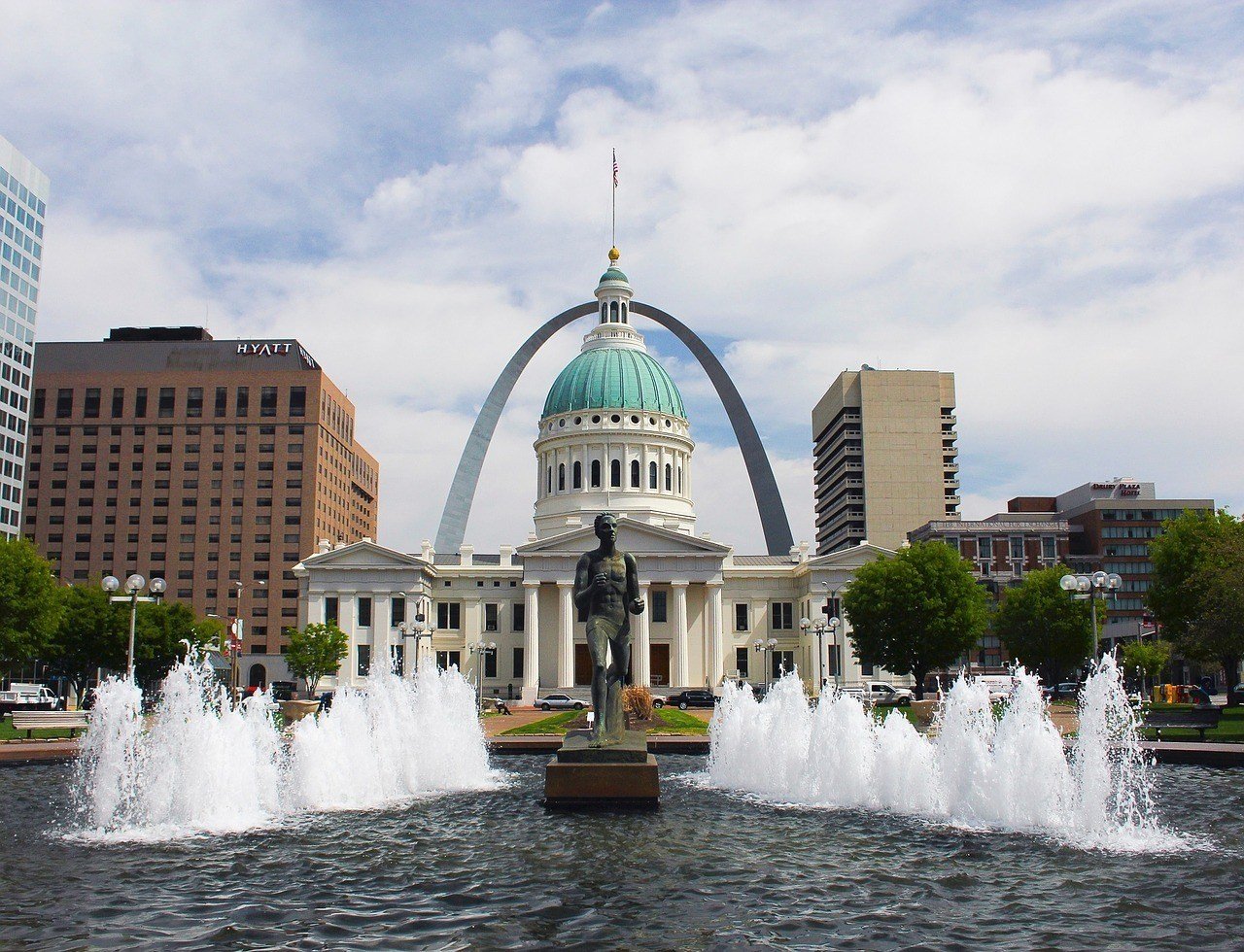 House
The term 'house' might in itself sounds quite bland, but the Airbnb hosts have brought their properties to life to create a fantastic experience for you.
The beauty of staying in a private house instead of a hotel or hostel is obvious – you will have the full breadth of amenities. If you are traveling as a family, or with a group of friends, this can be particularly handy.
Don't miss a beat, you can have all the trappings of home with fully equipped kitchens, plenty of room to hang out and play games, and sometimes backyards to run around in.
You'll find these cosy homes all over Missouri, although the best ones are found in residential areas giving you an inside look into the local lifestyle.
Cabin
Cabins on Airbnb are popular throughout the States, and that is no different in Missouri. One of the best ways to experience Missouri's underrated wilderness is to pack your bags and check-in to a cabin. Disconnect from everyday stress, relax, and indulge in the peace and quiet.
You will find a rustic experience, that is often met with a touch of luxury – enjoy both a fire pit for s'mores, and a hot tub to laze under the stars. The warm, wooden interiors will remind you of simpler times, and you can fall asleep to the sounds of nature.
Cabins in Missouri are mostly one or two bedroom properties, so they're best suited to couples and smaller traveling crews.
Cabins are most commonly found around the Ozark Highlands and the St Francois Mountain Range.
Lakefront Cottage
Perfect for a staycation, a weekend out of the city, or for a family vacation, a trip to a lakefront cottage in Missouri will be both comfortable and memorable.
Most common around the Lake of the Ozarks (although Missouri has no shortage of lakefront locations), these cottages make for a prime Airbnb vacation.
Cottages can be anywhere between small adobes to sprawling semi-mansions, so you will have a lot to choose from.
The beauty of these cottages is that not only do they have stunning views, but your hosts will go out of their way to provide some extra fun.
Many lakefront cottages on Airbnb will have their own private deck for hanging out, plus, canoes, kayaks, and sometimes a paddleboat.
Why Stay in an Airbnb?
Aside from the above, here are five more reasons why you should consider an Airbnb for your Missouri adventure.
Local experience: Live where the locals live and experience Missouri with the help of your knowledgeable host.
Unique properties: How else will you ever fulfill your dream of living in a treehouse, or staying in a cabin in the woods?
Privacy: No more shared dorms, enjoy contactless check-in, private access, and personal space.
Affordability: Why fork out more for a hotel that doesn't come with its own kitchen and living area?
Staying long-term: Have you fallen in love with Missouri? Hosts often provide discounts for weekly and monthly stays.
The 15 Top Airbnbs in Missouri
Now that we know a little more about Airbnb, let's dive into the best Airbnbs in Missouri!
Pack your bags and get ready for an epic stay at this amazing Airbnb in Missouri. Although the cottage can sleep up to six, it would still be ideal for a couples retreat.
Wake up to your own private lake and have over 15 private acres to explore with your group. After easing into the day with a warm cup of coffee on your lakefront patio, prep for a fun day of adventures.
You and your traveling party have a total of eight local wineries within 40 minutes, as well as, delicious dining, antique shops, and even scuba diving.
After a fun day exploring Missouri, retreat to your cute refuge and watch the sun go down over the lake.
3 Places to visit: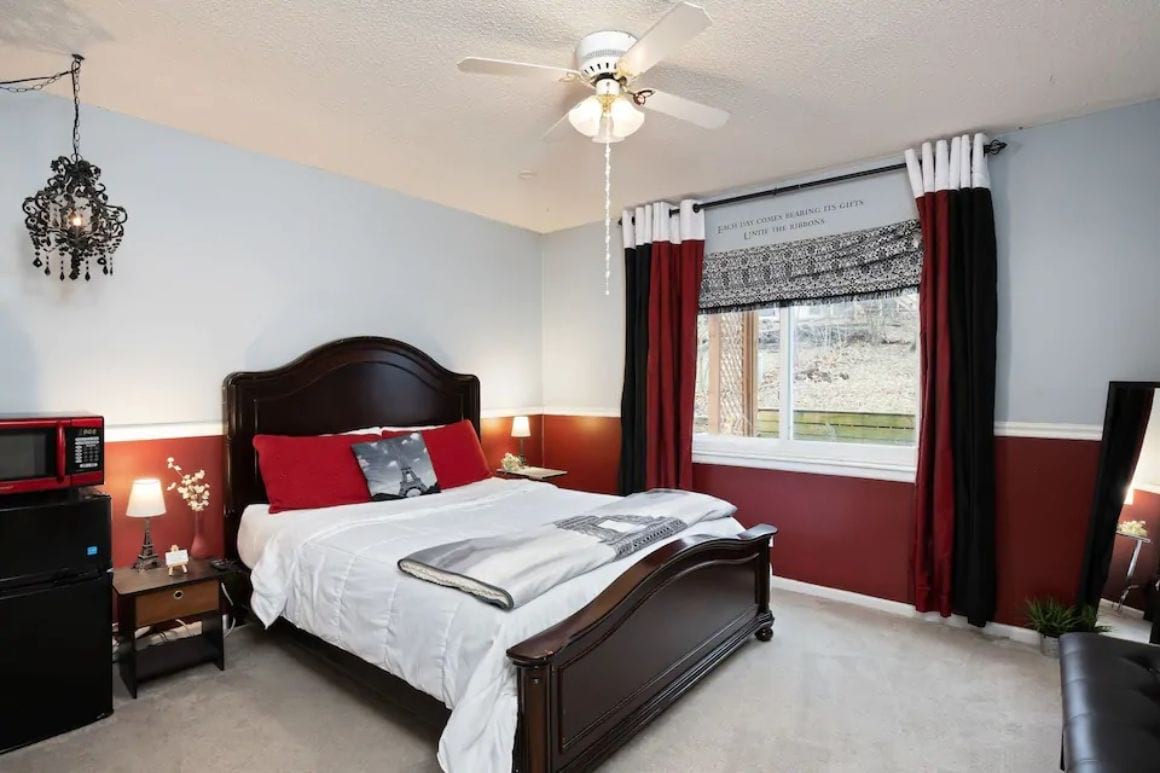 Grab yourself a comfy stay, minutes from downtown Kansas City, at this budget Airbnb in Missouri.
The home is in a fantastic neighborhood surrounded by hearty dining options, only five minutes from Parkville, and 15 minutes from the action of Kansas City.
The home has a shared bathroom and full kitchen. Start your day off with a cup of complimentary coffee or tea, before walking out into the beautiful neighborhood.
If you just want to relax at night, the home features strong Wi-Fi as well as a TV.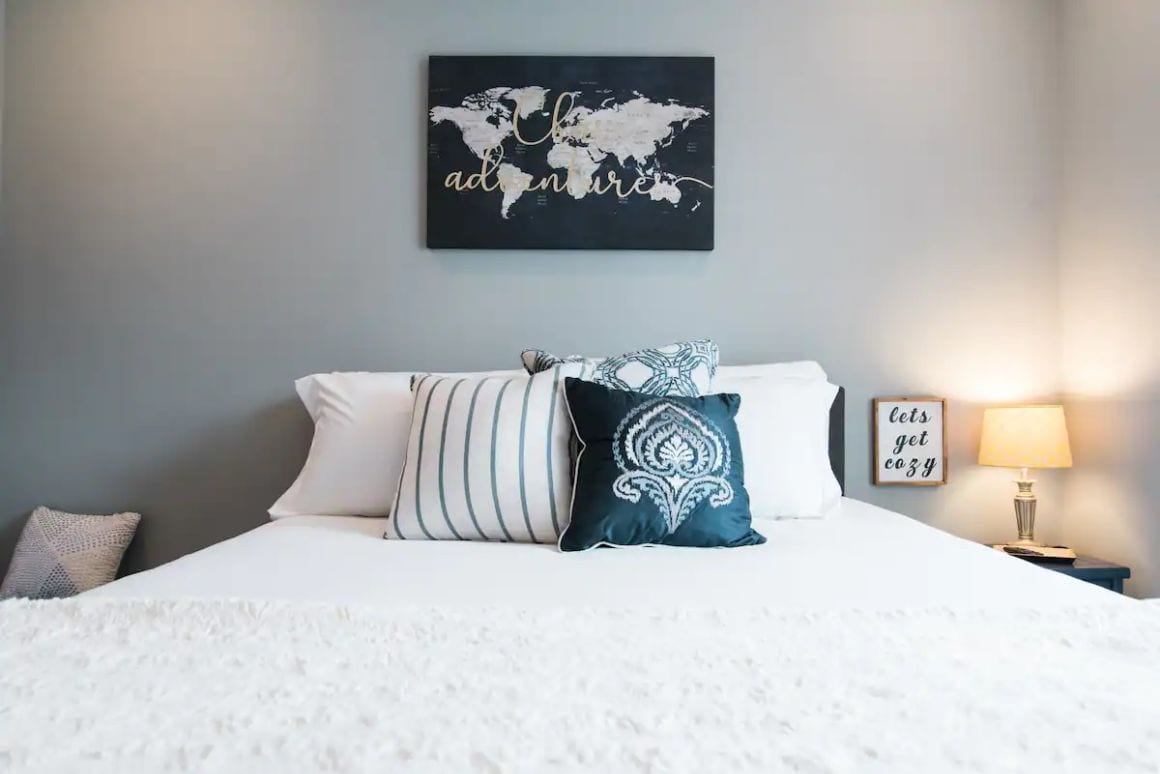 For solo travelers heading down to the big arch city, this wonderful St. Louis Airbnb will welcome you with open arms.
Luxe and modern yet inexpensive, it is a welcome change from shared dorm rooms.
The comfy queen bed is ideal for cosying down each night, and the spacious bedroom allows you to kick back and relax with your own TV.
Your host takes incredible pride in maintaining the shared space, to make everyone feel comfortable. Grab a book and hang in the living area which is soaked in natural light, meet fellow travelers and make use of the kitchen.
When you are ready to venture out, the home is just a short walk from Tower Grove Park, Grand Boulevard and downtown.
Check out our post of the most exciting things to do in St. Louis!
Is This the Best Travel Pack EVER???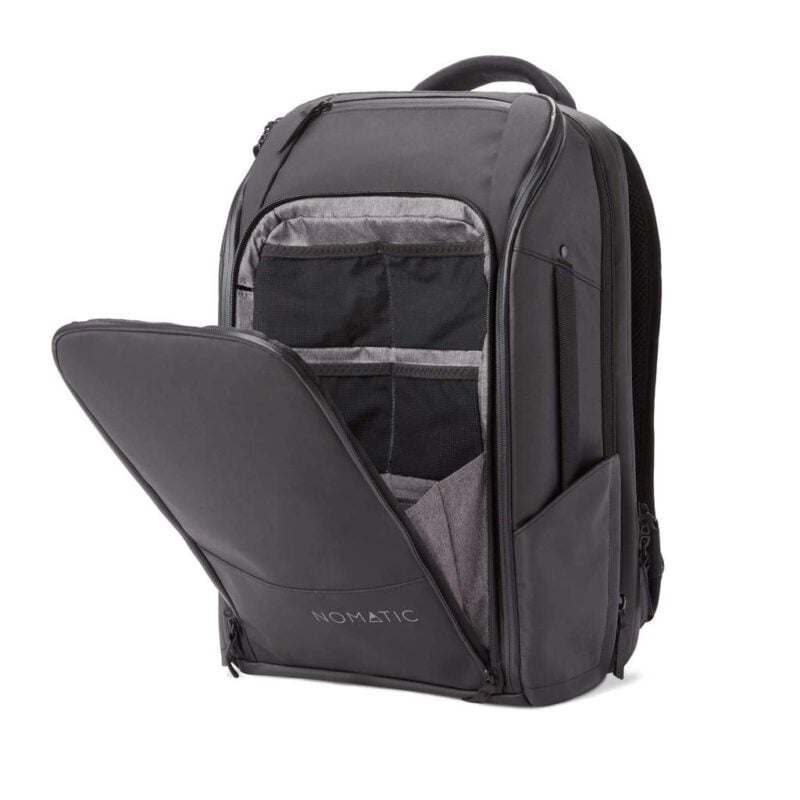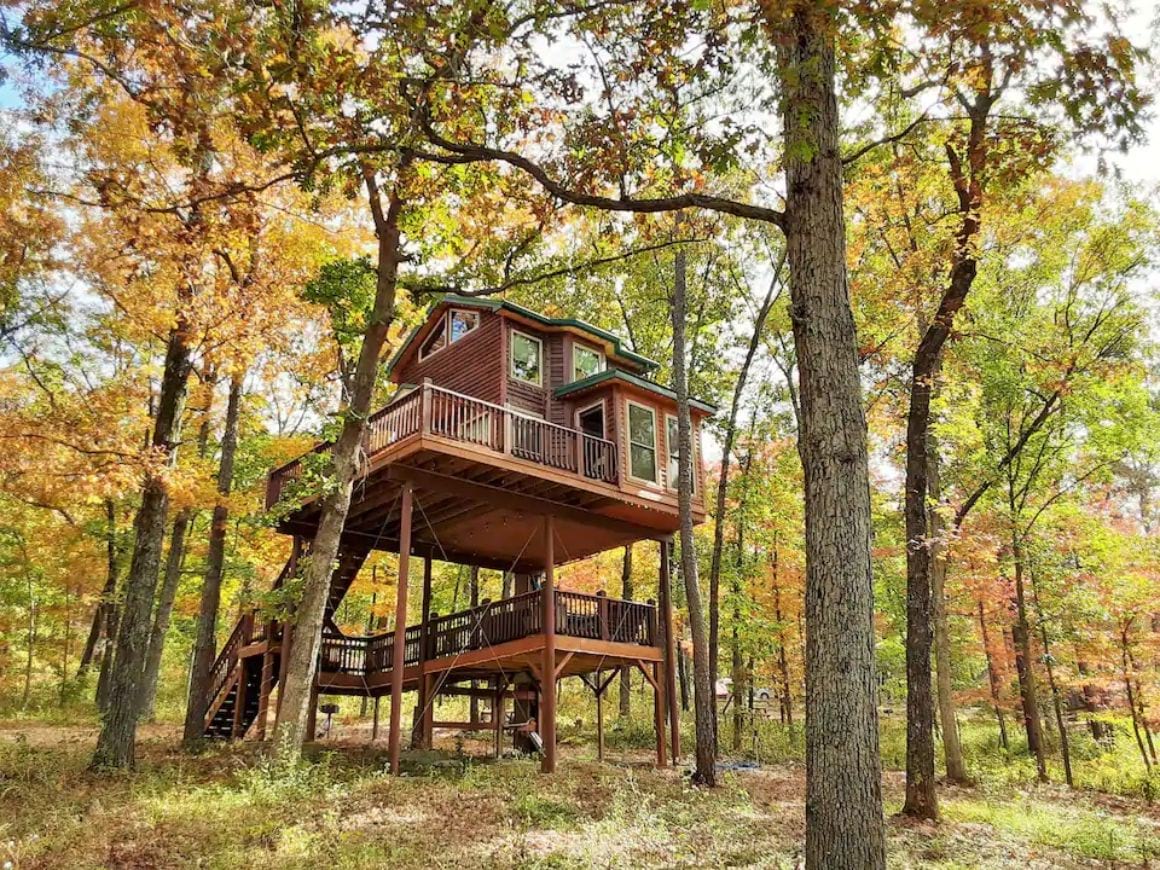 Airbnbs in Missouri offer great romantic escapes for you and your significant other. Unique homes create the best memories, after all! This luxury treehouse is one of our favorites.
Hoisted 20 feet into the air, each night you can fall asleep on a California king bed and see the stars sparkling above. When the sun sneaks through the trees in the morning, views of the lake will flood through your windows.
Discover hiking trails down to the lake and the surrounding forests. Walk to your hearts content, knowing you can rest your weary legs in the patio Jacuzzi.
Best Airbnb in Missouri for Families | Lakeview House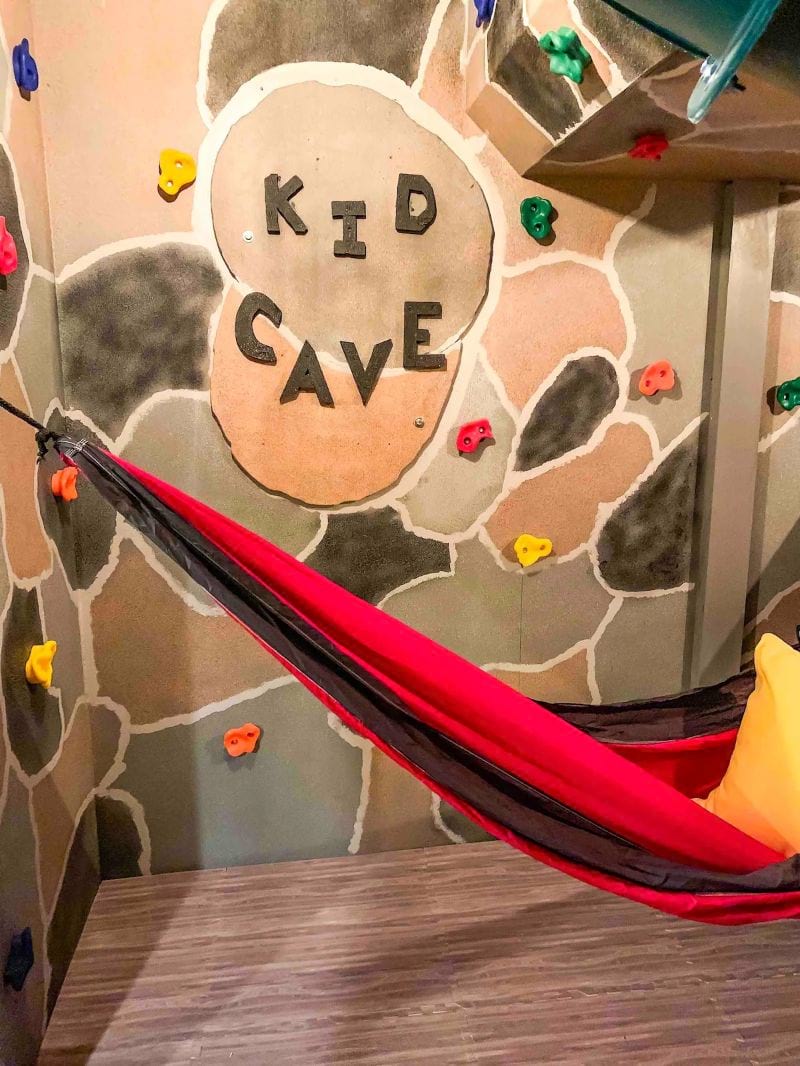 There may be no Airbnb in Missouri more suited to adventurous kids than this one. A beautiful home that has been redecorated for ultimate lake house vibes awaits your next family vacation.
Have wonderful views of Table Rock Lake throughout the day, and be close to all the amenities you need in Branson.
The fully-stocked kitchen means your nightly dinners can include all your favorites, while the spacious back deck will be perfect for some evening grilling.
Tell the kids to not bother with the stairs, as they can take the slide down. Yes, you heard that right! The slide takes them to the Kid Cave, complete with indoor rock climbing and hammocks.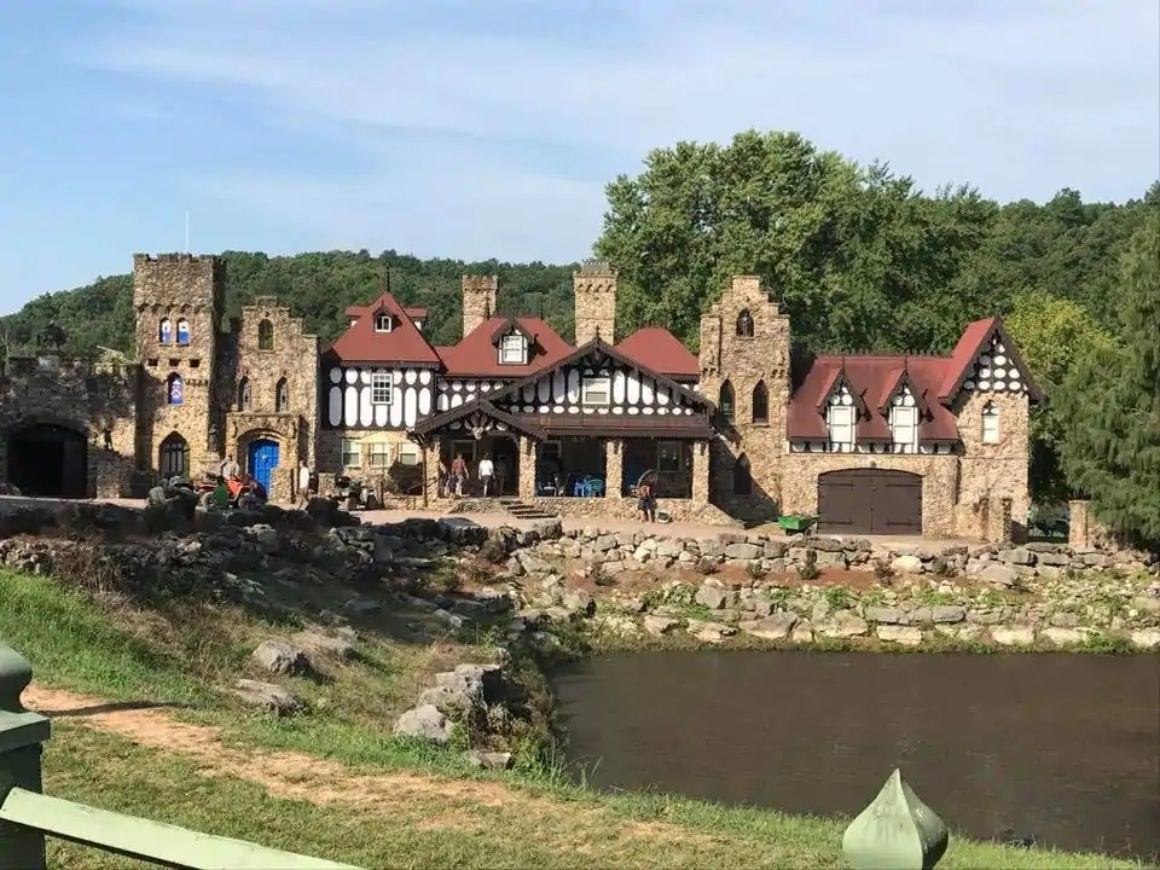 Have you ever wondered what it would be like to live in a castle? To be a king or queen? Well, ponder no more with this castle Airbnb in Missouri.
Featuring plenty of old-world charm, original stone walls, and an impressive lakeside location, this Airbnb is jaw-dropping.
In a remote part of a 100-acre property, you and your 15 guests can revel in utmost privacy.
If you want to get out on the lake, the castle provides multiple canoes, a kayak, and a paddleboat. There are also numerous hiking trails, some that make their way to local wineries.
Under the stars, light up the fire pit and keep the night rolling at the indoor pool.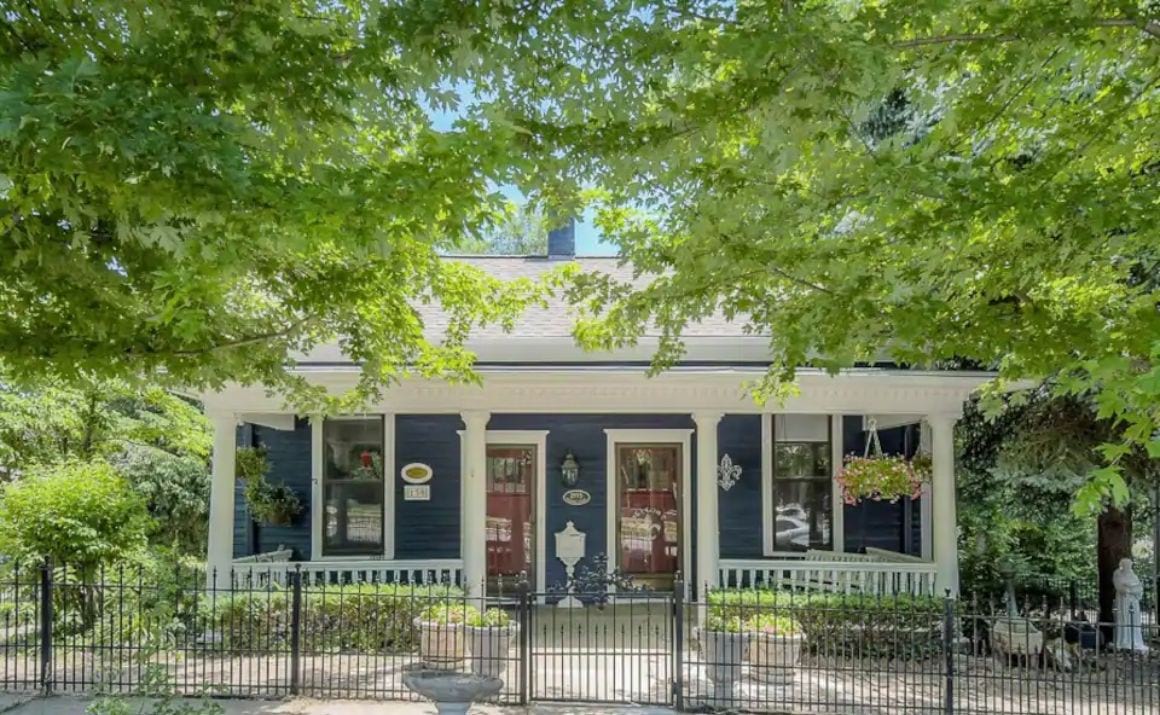 Spend your nights in Liberty at an historic home that has many stories to tell. As you walk in, you can immediately sense the history.
If you weren't tempted to try the classic porch swing, you will then fall in love with the spacious interior. The old-era is switched for modern amenities with a luxurious living space and a fully equipped kitchen.
Lucky for you, if you don't feel like cooking, it is just a short walk to Liberty Square where you can find numerous exciting restaurants and bars to enjoy.
4 Guests
Picturesque location
At this cabin Airbnb in Missouri, you can switch off from the madness of the world and live in the moment.
Located at the intersection of two creeks, the cabin has amazing views wherever you look, while the sound of the creeks will be a lullaby every night.
The 120-acre property is eager for your footsteps. Come and discover springs, rolling fields, and dense forests. The fresh air will fill your lungs and give you a new lease on life. After exploring the landscape, you can spend each evening around the campfire cooking s'mores as the stars beam down from above.
On cold nights, head inside and snuggle up in front of the fireplace.
6 Guests
Private shoreline
Wake up each morning to amazing views at Rippling Point Airbnb in Missouri. At the end of a private drive, you will enjoy 300 feet of personal lakefront shoreline.
Walk down to the deck that floats over the lake itself, jump into one of the two provided kayaks, and paddle on out.
The property is popular with wildlife. Looking out through the huge windows, it is common to spot deer, beavers, and even foxes.
The open layout and modern kitchen will make you feel right at home. At the same time, the floor-to-ceiling windows will give you non-stop views of the water.
At night, jump into the hot tub or bring out the numerous board games in the cottage.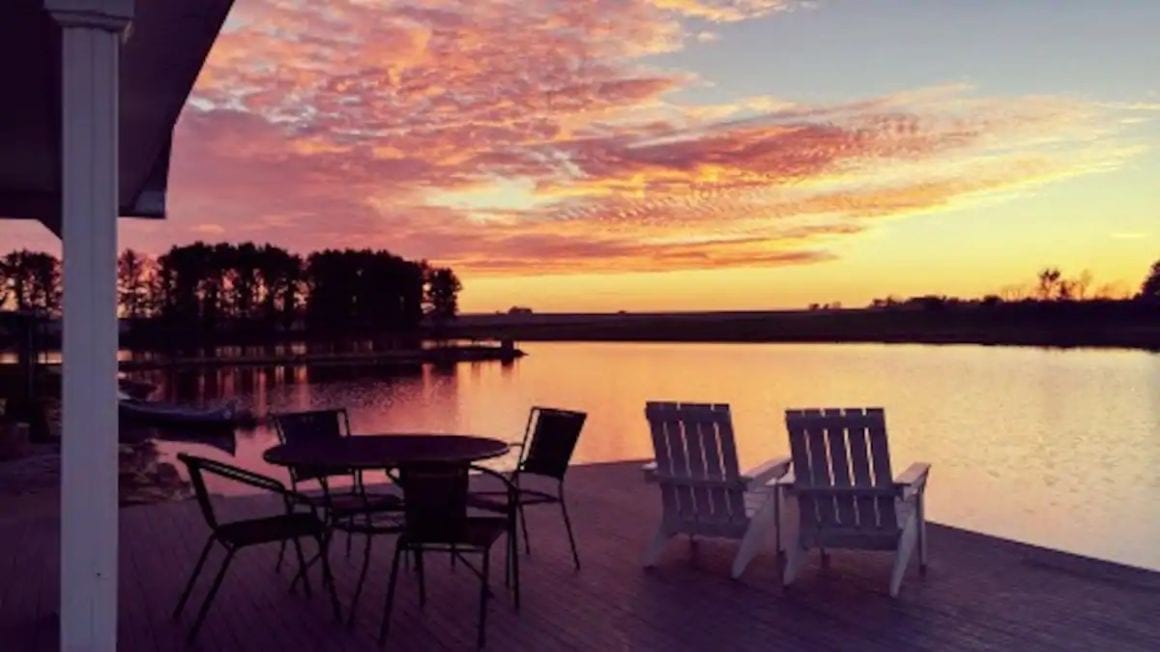 The winner of best Airbnb with a view in Missouri goes to this private lake house.
Grab your loved one, or a buddy who loves the water, and head on down to Philadelphia, Missouri. Located at the end of a 5-acre lake on a beautiful 25-acre property, the home is miles from the rest of the world. You can celebrate the peace and quiet, and bask in each evening's sunset.
Despite its relatively small size, the lower level is spacious with a lofted bedroom. It comes with all the necessary streaming services to help you wind down after a big day on the lake.
The kitchenette has everything you need including a two burner stove, small oven, and a skillet. But, how can you resist using the outdoor grills and cooking under the orange sky.
Best Airbnb for a Weekend in Kansas City, Missouri | Boho Loft in Rivermarket
In need of a quick and easy weekend vacation? Check out this loft Airbnb in Missouri.
With wooden beam ceilings, wooden floors and dark leather couches, the bohemian vibe makes this apartment cozy and comfortable.
On arrival make some time to kick back and relax, it is well located to nearby attractions, so there's no need to rush.
Situated in the heart of the historic Rivermarket, you will be right in the birthplace of Kansas City.
If you don't feel like using your own kitchen, restaurants, and bars are mere steps away. Or, the free streetcar can take you further out.
Spend the weekend exploring the P&L District, the Crossroads Arts District, and many more of the best things to do in Kansas City.
Stunning Airbnb for Honeymooners in Missouri | Tiny Paradise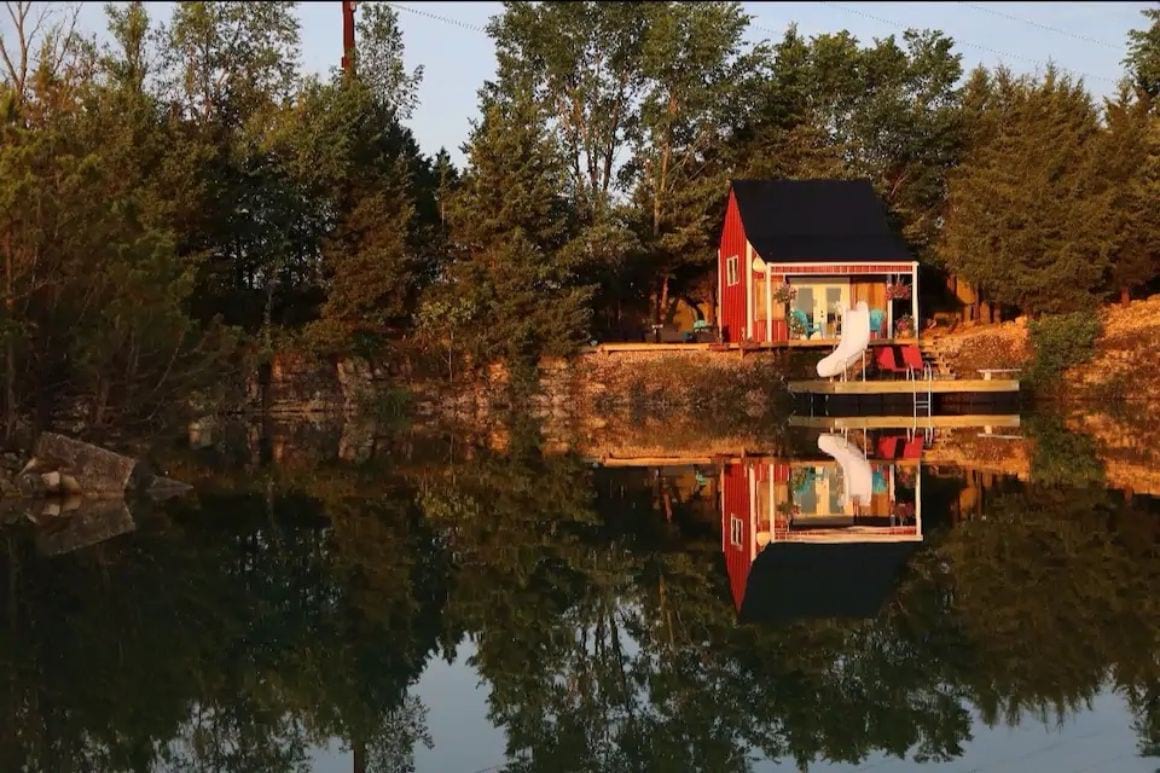 Disconnect from the world and spend your honeymoon focused on just one thing– spending time with your spouse.
Tiny Paradise was once listed as being a top 50 tiny house in the USA, and it's not hard to see why.
Wake up on the plush king bed, make two cups of coffee, and wander down to your private deck. Watch the sun rise over the forests and the lake lap the shores. When it's time for a swim, don't just jump in, ride on the slide!
You can cook up some romantic dinners, and catch the sunset far away from anyone else.
Best Airbnb in Missouri for a Group of Friends | Esperanza Lodge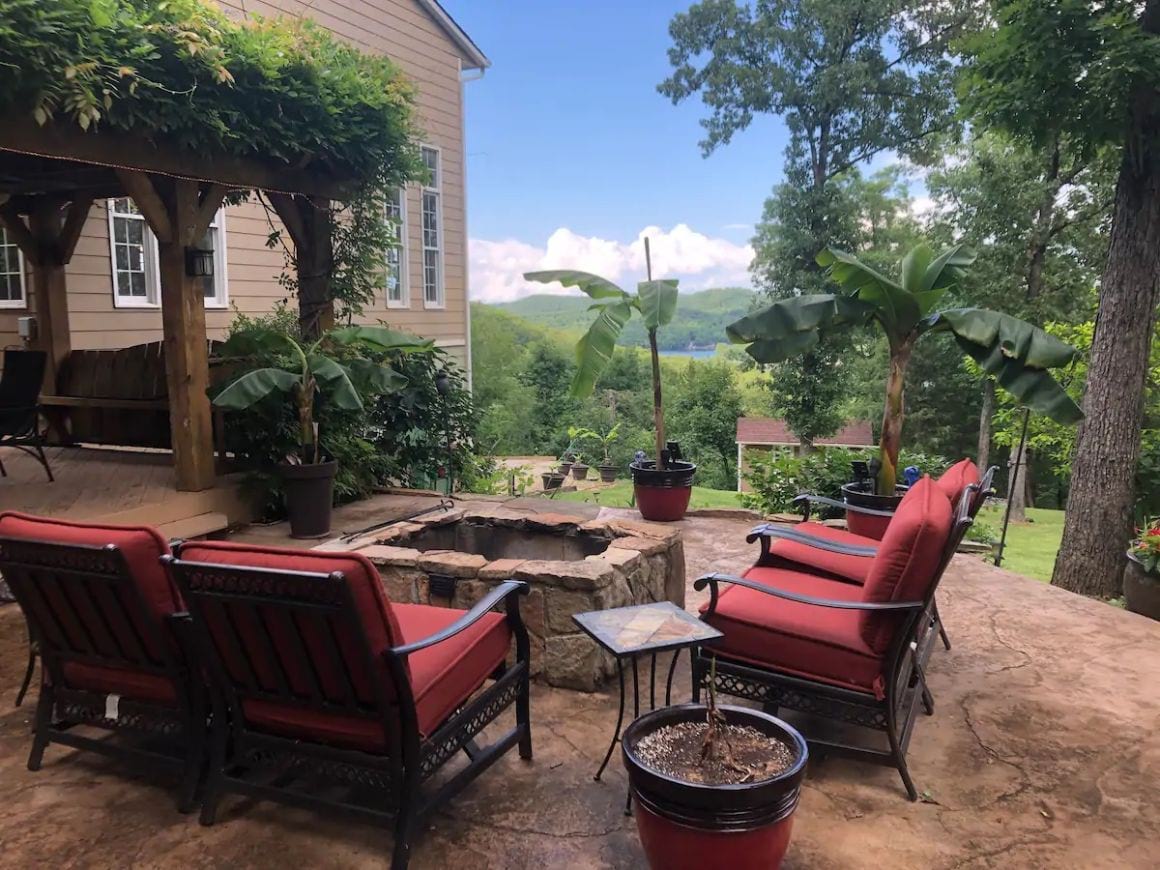 12 Guests
Awesome patio/Jacuzzi
Quick! Grab 11 of your best friends and head down to this lodge in Missouri.
Looking over the Lake of the Ozarks, you can connect with the beautiful scenery without giving up an inch of luxury.
The spacious lodge can easily house a large group of friends. Although, it is worth fighting for the master suite, which boasts its own sunrise views over the lake.
The real MVP of the lodge, however, is the incredible outdoor entertainment space complete with a tire swing, grassy lawns, and even alpacas to hang out with. The stone patio has a fire pit along with an eight-seat Jacuzzi and a grill.
2 Guests
Remote and relaxing
Try out yurt life in comfort at this unique property in Missouri. Located near Roaring River State Park and Mark Twain National Forest, it is surrounded by beautiful scenery.
Disconnect from it all and breathe in the fresh air, kick back on your own deck chairs with a book or light up the fire barrel.
The comfortable memory foam mattress will ease you to sleep every night along with the sounds of nature. In the morning, the sounds of birds will slowly wake you and a pleasant morning stroll around the property comes highly recommended.
Later, stay at the yurt or adventure beyond to the many nearby wilderness areas.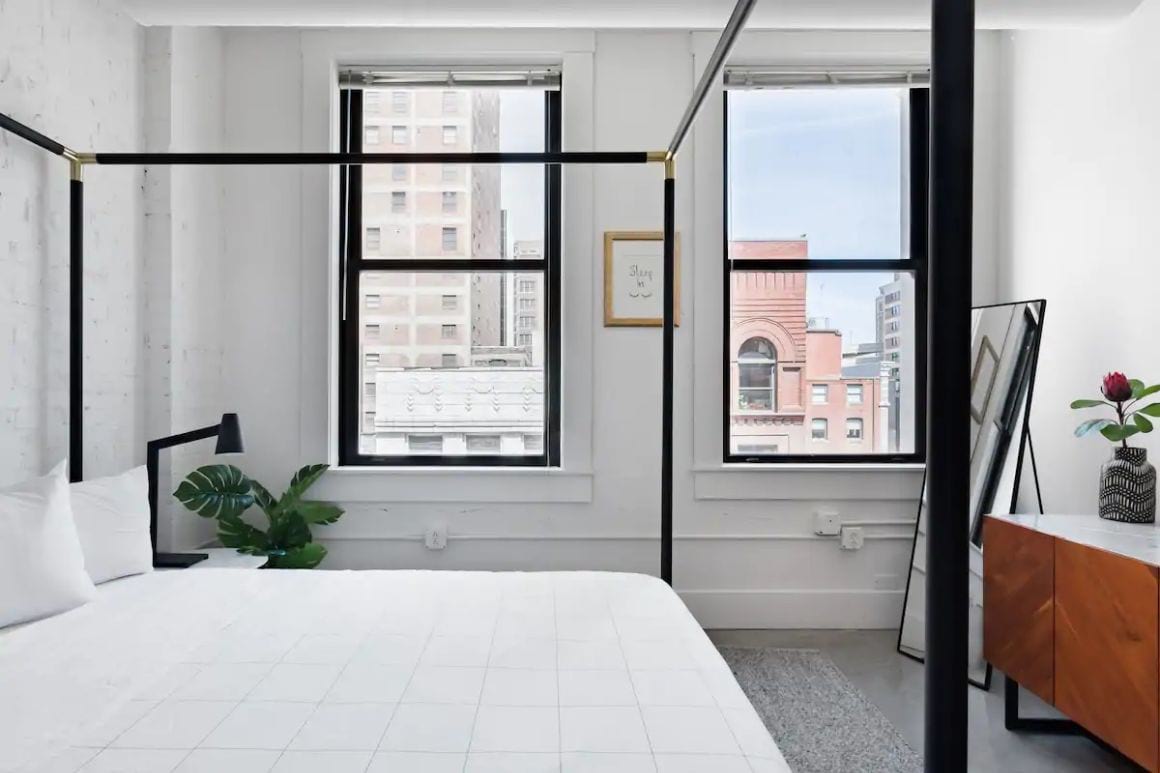 4 Guests
Comfort and style
Enjoy comfort, contrasts, and accents inside a boutique loft. Welcomed to the Airbnb Plus programme for its stunning design and superhost status, you are promised an unforgettable stay. Not only will you be indulging in style while in St. Louis, you can be assured your host will make your stay wonderful.
Take in the city views through each window as you relax with friends or family in the open-plan living space. The loft is located right in downtown St. Louis in one of the most desirable parts of the city.
Groceries, restaurants, and excellent cafes are all within walking distance, as is the ever present Mississippi River.
Top 5 Airbnb Experiences in Missouri
Airbnb Experiences are all about giving travelers like yourself a better insight into their destination. They are also an opportunity for locals to show off unique skills and talents.
There is a huge variety of Airbnb Experiences including historic and food walking tours, hikes through rarely explored landscapes, adventures on water, and arts and crafts.
Learn about Missouri from those who know it best, or take a break from the heavy traveling and partake in a cooking class.
Here are our top five Airbnb Experiences in Missouri. Spread far and wide, there just might be one near you!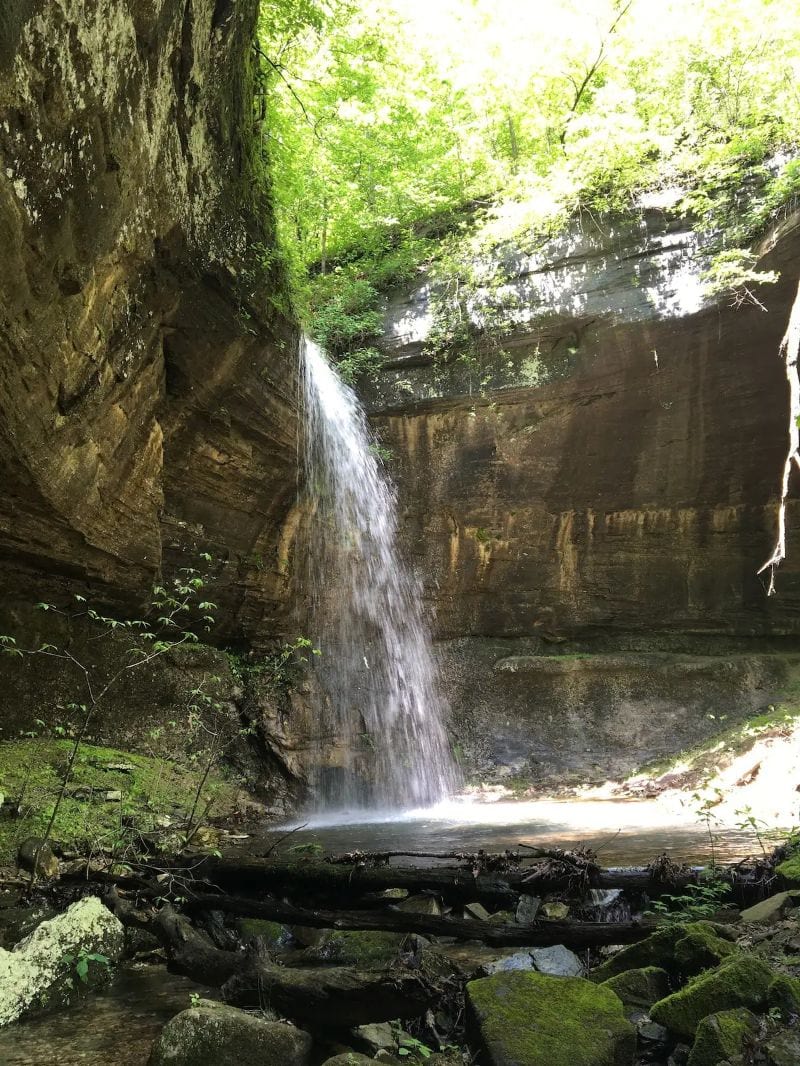 $20 p/p
2 Hours
Up to 10 people
Drinks included
This certified animal Airbnb Experience will surely bring joy to young and old alike.
Upon entering, be greeted by curious female alpacas before trying your hand at hand feeding (pardon the pun). Move on to the small animal paddock where you will meet the ranch's sheep and goats. These will include the beautiful Nigerian Dwarf goats.
Finish up the meet and greet by hanging out with the male alpacas last. Now you can walk around the gorgeous property and enjoy the peace and quiet.
Bring your own picnic and make use of the farm's tables and chairs.
An informal experience, don't be afraid to revisit your favorite parts.
$37 p/p
3.5 Hours
Up to 10 people
Street murals
Alongside your friendly guide, go on an exciting urban hike around downtown Kansas City.
Discover the city's hidden gems and unlock local secrets. Walk by some of Kansas City's best historical and modern buildings. Explore the city through a different set of eyes, and learn about its history and the Union Station's revival story.
Admire some of the colorful and creative murals which will have you reaching for the camera.
Through three neighborhoods you will explore and gain a deeper understanding of what Kansas City is all about.
Conclude the journey with a fun, relaxing ride back to the beginning on the KC streetcar.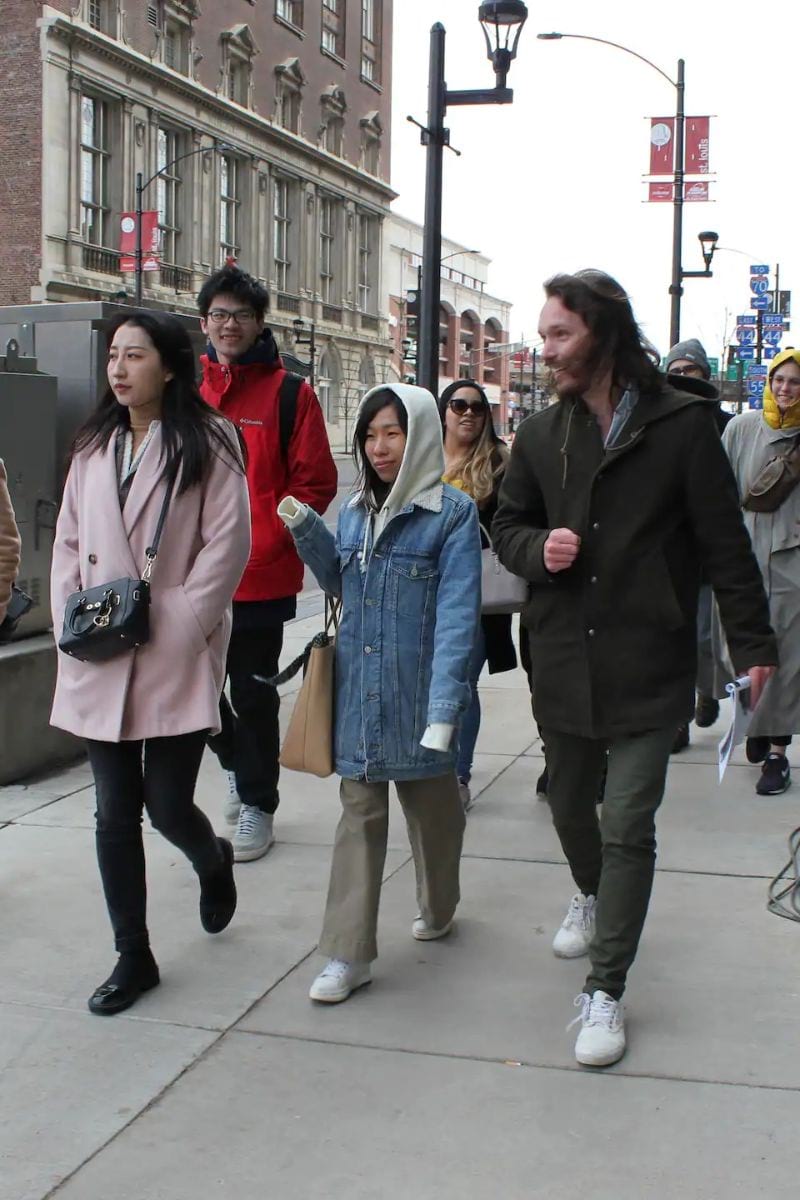 $12 p/p
2 Hours
Up to 10 people
Born and raised in St. Louis, your tour guide will give you a first-hand insight into the good and the bad of this colorful city.
Gain a fresh perspective as you walk the streets of downtown St. Louis exploring historical landmarks, seeing strange sculptures, and learning about the city's underrated and undiscovered highlights.
Get insider tips on some of the city's best restaurants and bars, so you get to eat like a local for the rest of your stay.
Hear wonderful stories about St. Louis characters both famous and infamous, and all the things that made the city what it is today.
$65 p/p
3 Hours
Up to 4 people
Drinks and rings included
Tap into the expertize of your hosts and learn how to design and craft your very own ring!
Before you begin, however, get to know everyone over a glass of wine, craft beer or fresh spring water. Tour their urban farm which includes free-range chickens and a free-range cat.
Inside the eclectic barn/workshop space, your host will show you the technique and process for numerous styles of rings.
Then, the hands-on experience will begin. Create your own ring just how you want it, it can even be garnished with a seal.
Once completed, it will be a perfect memory of your getaway.
$30 p/p
90 Minutes
Up to 10 people
Includes drinks
Joining the wave of 'paint and sips', the Blank Canvas Gallery and Studio have created a fresh take on this popular activity.
Your passionate host, who has a fine arts background, will guide you through the evening.
Begin by choosing a theme to paint, these can include sunsets, landscapes, and watercolor paints. The creative time can last between 90 minutes and two hours giving you plenty of time to unlock your creative wizard and getting painting.
Start with a blank canvas and leave with your own creation, along with a memorable night.
Don't Forget Your Missouri Travel Insurance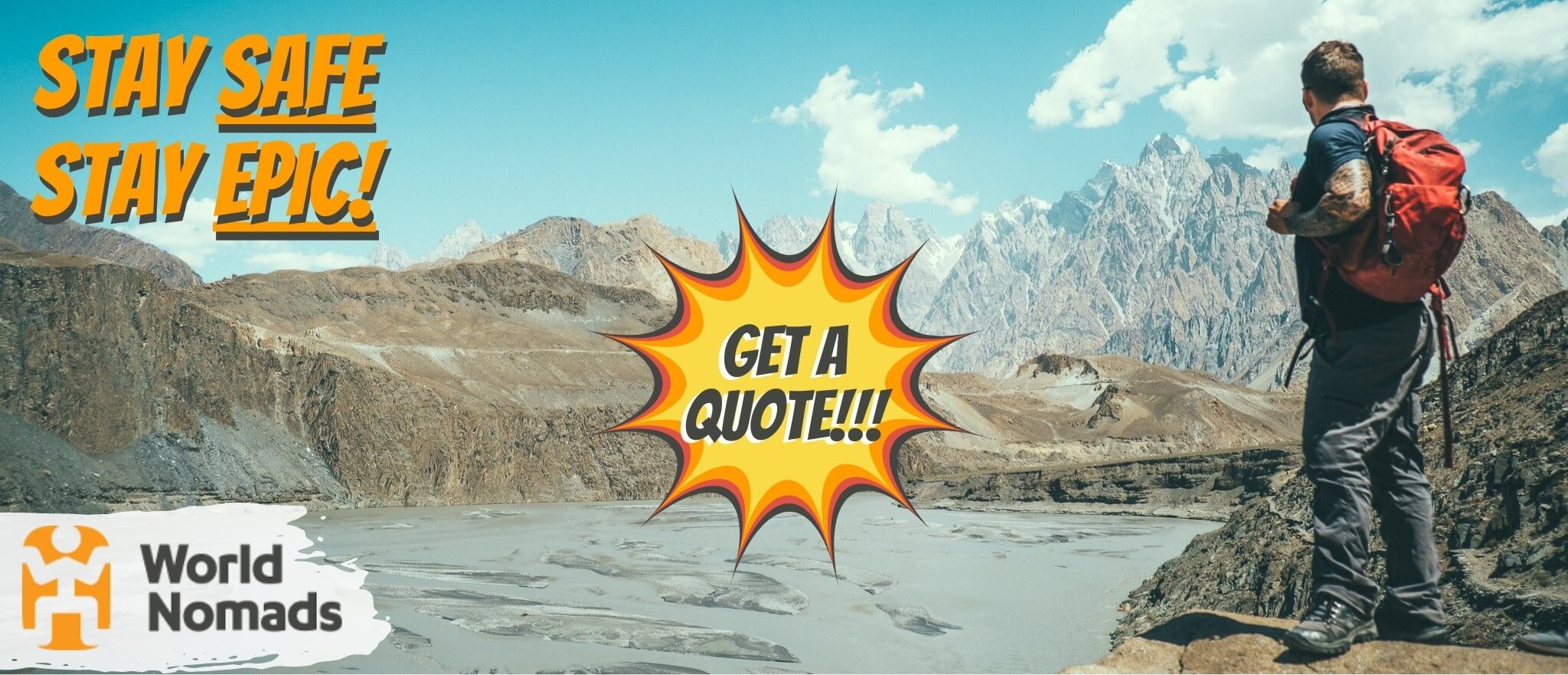 World Nomads' mission is to support and encourage travellers to explore their boundaries. They offer simple & flexible travel insurance, and safety advice to help you travel confidently.
They've been doing it since 2002 – protecting, connecting, and inspiring independent travellers just like you.
Get a quote below or read our in-depth review!
World Nomads provides travel insurance for travelers in over 100 countries. As an affiliate, we receive a fee when you get a quote from World Nomads using this link. We do not represent World Nomads. This is information only and not a recommendation to buy travel insurance.
Final Thoughts on Missouri Airbnbs
The best Airbnbs in Missouri open up their doors to guests from around the world. They provide comfort, adventure, excitement, and something different.
Airbnbs are an opportunity to step out of the humdrum and see the state for what it is, full of rushing rivers, sprawling lakes, and interesting cities. Whatever corner of the state you want to explore, there will be an Airbnb for you. Don't just have memories of your destination, have memories of your accommodation, too.
Remember folks, consider getting travel insurance before your adventures to Missouri.
---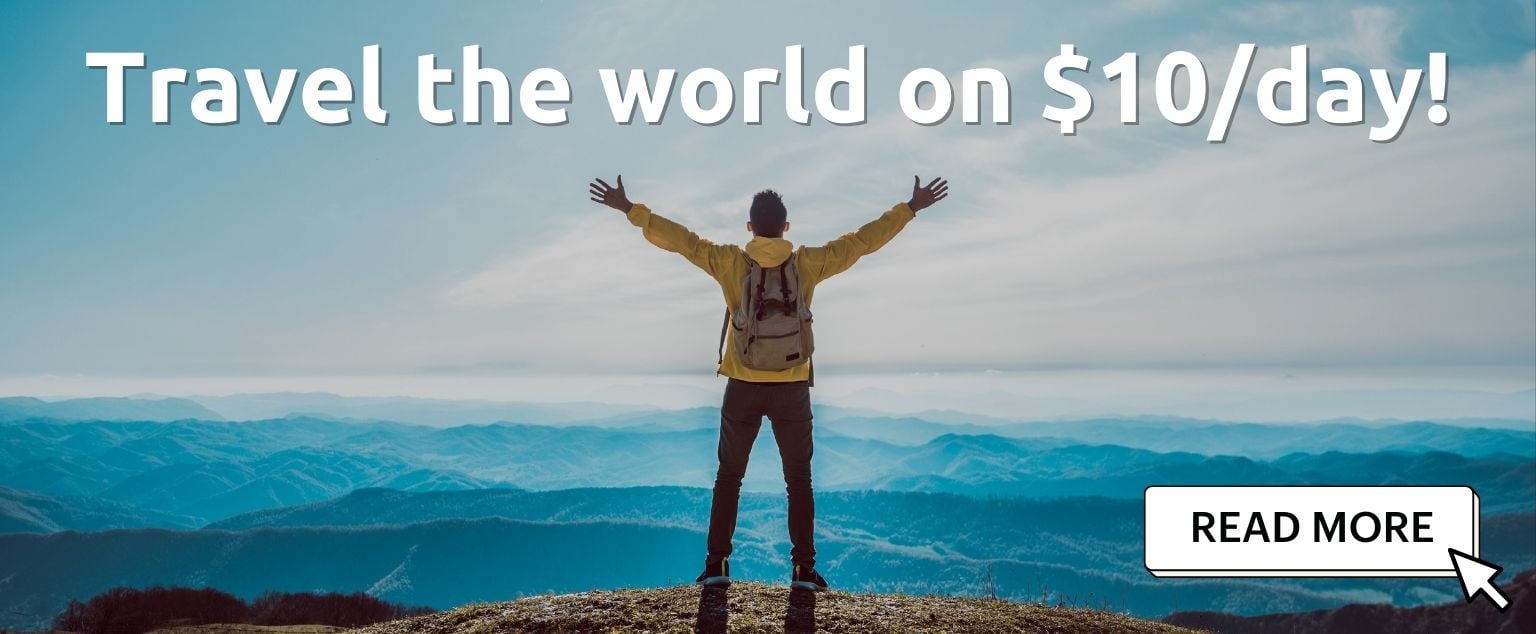 And for transparency's sake, please know that some of the links in our content are affiliate links. That means that if you book your accommodation, buy your gear, or sort your insurance through our link, we earn a small commission (at no extra cost to you). That said, we only link to the gear we trust and never recommend services we don't believe are up to scratch. Again, thank you!