Perhaps Missouri doesn't quite hit the top of bucket list destinations like Paris or Athens, but you'll soon discover that there's a lot that makes this state so special and unique. The great thing about Missouri is the diversity; nature lovers will appreciate the magnificent parks, city fanatics will enjoy the vibrant nightlife, and history enthusiasts can visit the numerous sites of interest.
When planning any vacation, finding a place to stay can be a challenge, which is why we've taken the first step by putting together this list of ideas for unique accommodation in Missouri. Staying at one of these properties is a great way to turn a regular trip into a once-in-a-lifetime adventure!
Read on to discover our picks for the best treehouses and cabins in Missouri. With so many interesting things to discover, you'll be glad you picked a cool, unique place to stay instead of an overpriced and basic hotel room.
In a Hurry? Here's Where to Stay in Missouri for One Night
Is this amazing Missouri treehouse booked for your dates? We've got your back with our other favorite properties below!
Unique Accommodation in Missouri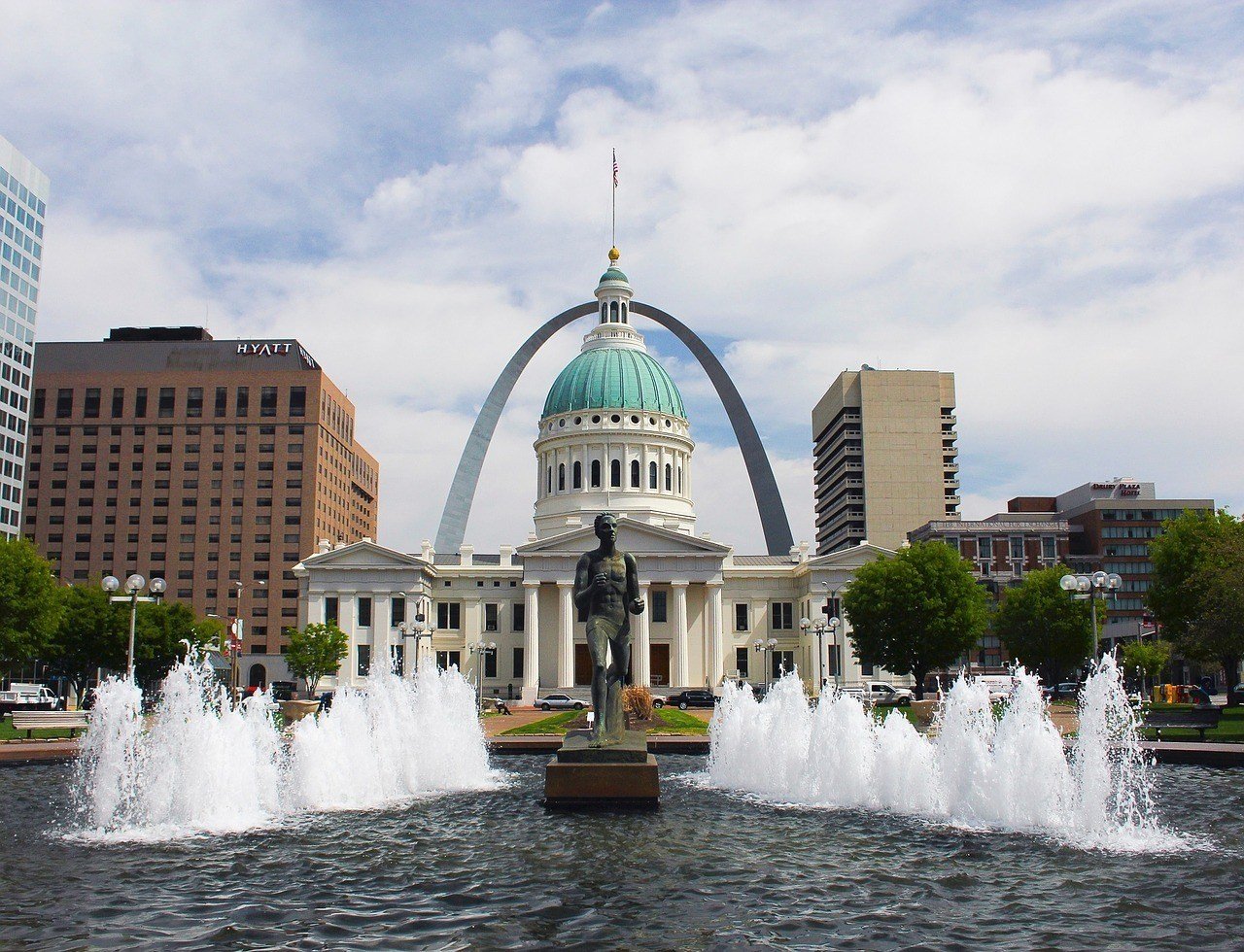 Finding a place with character as well as modern comforts may feel like a challenge. However, by picking a treehouse or cabin, you can see a new side to Missouri that you'd likely miss if you stuck with the big-name hotels.
Most of the best treehouses and cabins in Missouri are locally owned, so you won't only be supporting a local business, but you can also get insider tips and advice about the best things to see and do in the area including lesser-known restaurants or cool seasonal activities.
In general, treehouses and cabins tend to be geared toward people who enjoy the outdoors, but there are some more centrally located properties if you enjoy being in the city yet also want more personal and private space.
The great thing about staying at a cabin or treehouse in Missouri is that you'll likely have the entire space to yourself. It's also possible to find great options no matter your group size or budget, so whether you're traveling with your family or you're a solo backpacker, you can find a cool place to stay.
Missouri Airbnb has many incredible options for unique accommodations!
Staying in a Treehouse in Missouri
Treehouses are designed for adventurous travelers who love being outside and want a truly exceptional experience! Just imagine waking up to the sound of birds and wind in the trees – this is the sort of thing you can expect when staying at a treehouse.
Many treehouses are rustic properties that provide a unique camping-like experience. If you really want to unplug from society, some treehouses lack commodities like Wi-Fi, running water, and electricity, but make up for it with their stunning natural surroundings.
If you want to stay in a treehouse but you prefer a modern environment, there are always options with great contemporary comforts, but these tend to be a bit more expensive since it takes a lot more effort to maintain.
Many of the best treehouses in Missouri are smaller properties better designed for one or two travelers, but there are also options for families or larger groups. If you are traveling with young children it's important to check whether the treehouse is safe for kids or if there might be any risks.
Although most treehouses tend to have a more remote location, they are often within easy driving distance to nearby towns and amenities. Most properties offer free parking onsite, so you can come and go during your stay and explore nearby attractions.
Staying in a Cabin in Missouri
Cabins are often the perfect mix of camping and staying at a hotel. In a cabin, you can still have your own private space and modern amenities, while enjoying a more secluded location often close to parks, trails, and other outdoor attractions.
For people who want to experience both the cities and the natural side of Missouri, staying in a cabin is the perfect solution. Cabins are often a short drive or sometimes walking distance from city attractions, but usually have a more peaceful atmosphere so you can enjoy a break when you're tired of the hustle and bustle of the city.
Cabins range from small one-room spaces that are suitable for solo travelers or couples to huge multi-story properties that feel more like luxury resorts and so you're guaranteed to find a cabin for any group size!
Price can also vary quite drastically between cabins, and we've made sure to include some of the best budget cabins in Missouri so even if you have limited spending for your trip, you can still find a cool cabin to stay in.
While the absolute cheapest cabins tend to offer a more camping-style experience and may not have Wi-Fi or electricity, there are plenty of other options for budget cabins that include modern amenities whilst still maintaining a rustic and woodland charm.
OVERALL BEST TREEHOUSE IN MISSOURI
OVERALL BEST TREEHOUSE IN MISSOURI
High Hope Spring Lake Ranch Treehouse
> $$
> 2 Guests
> Walking distance to a lake
> Hot tub
BEST BUDGET TREEHOUSE IN MISSOURI
BEST BUDGET TREEHOUSE IN MISSOURI
Almost Heaven Treehouse
> $
> 2 Guests
> Pavilion kitchen
> Secluded setting
BEST BUDGET CABIN IN MISSOURI
BEST BUDGET CABIN IN MISSOURI
Summit Missouri Cabin
> $
> 2 Guests
> Located near Katy Trail State Park
> Wi-fi
BEST TREEHOUSE FOR COUPLES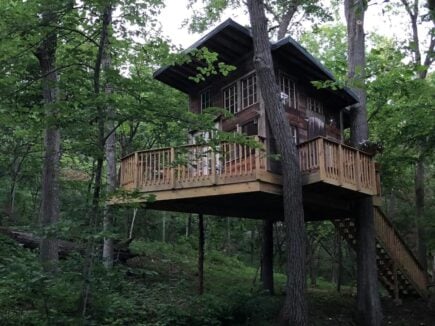 BEST TREEHOUSE FOR COUPLES
Sundance Ranch Treehouse
> $$
> 2 Guests
> Kayaks and paddle board
> Remote escape
BEST CABIN FOR A GROUP OF FRIENDS
BEST CABIN FOR A GROUP OF FRIENDS
Woodland Cabin near Tablerock Lake
> $$
> 6 Guests
> Large deck with BBQ
> Outdoor Lazy-boy recliners
OVER-THE-TOP LUXURY CABIN
OVER-THE-TOP LUXURY CABIN
Branson Shores Resort
> $$$$
> 16 Guests
> Canoes and Kayaks
> Swimming pool
BEST CABIN FOR FAMILIES VISITING MISSOURI
BEST CABIN FOR FAMILIES VISITING MISSOURI
Cape Giradeau Log Home
> $$
> 4 Guests
> Hot tub
> Large deck
The Top 15 Treehouses and Cabins in Missouri
If we haven't already convinced you that staying in unique accommodation in Missouri is guaranteed to be an awesome experience, then this list of super cool treehouses and cabins should be all the proof you need to convince you to pack your bags for your next trip!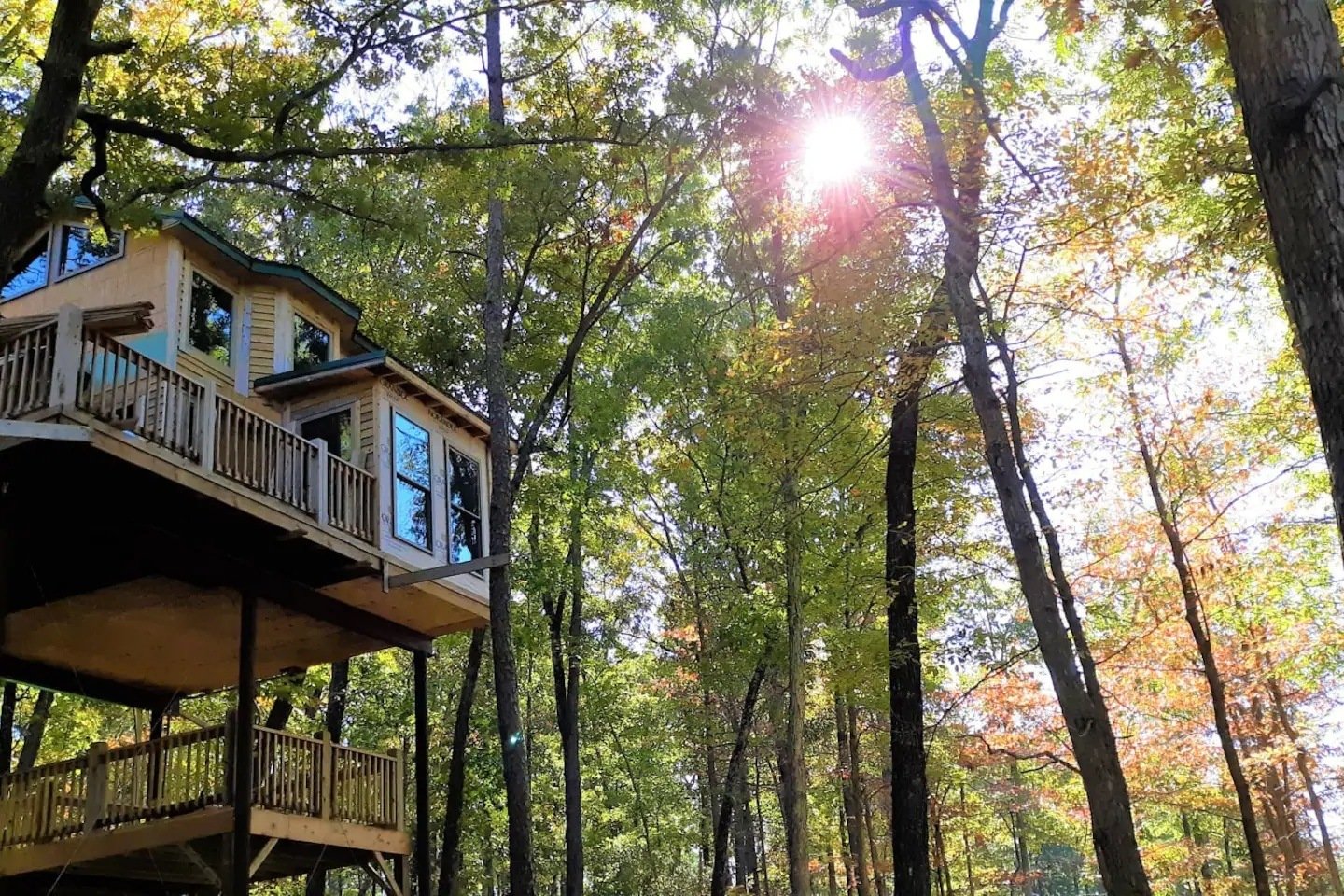 $$
2 Guests
Walking distance to a lake
Hot tub
This super-luxurious treehouse in Missouri definitely lives up to its name! Keep your hopes high and have them all fulfilled at this gorgeous property. Homey comforts include a kitchen, indoor heating, and even a hot tub. The biggest selling point has to be the prime location on Sayersbrook Lake and the awesome views that come with it.
There are plenty of nearby hiking trails that are easily accessible from the property, or you can check out the Edg Clif Winery which is right next door!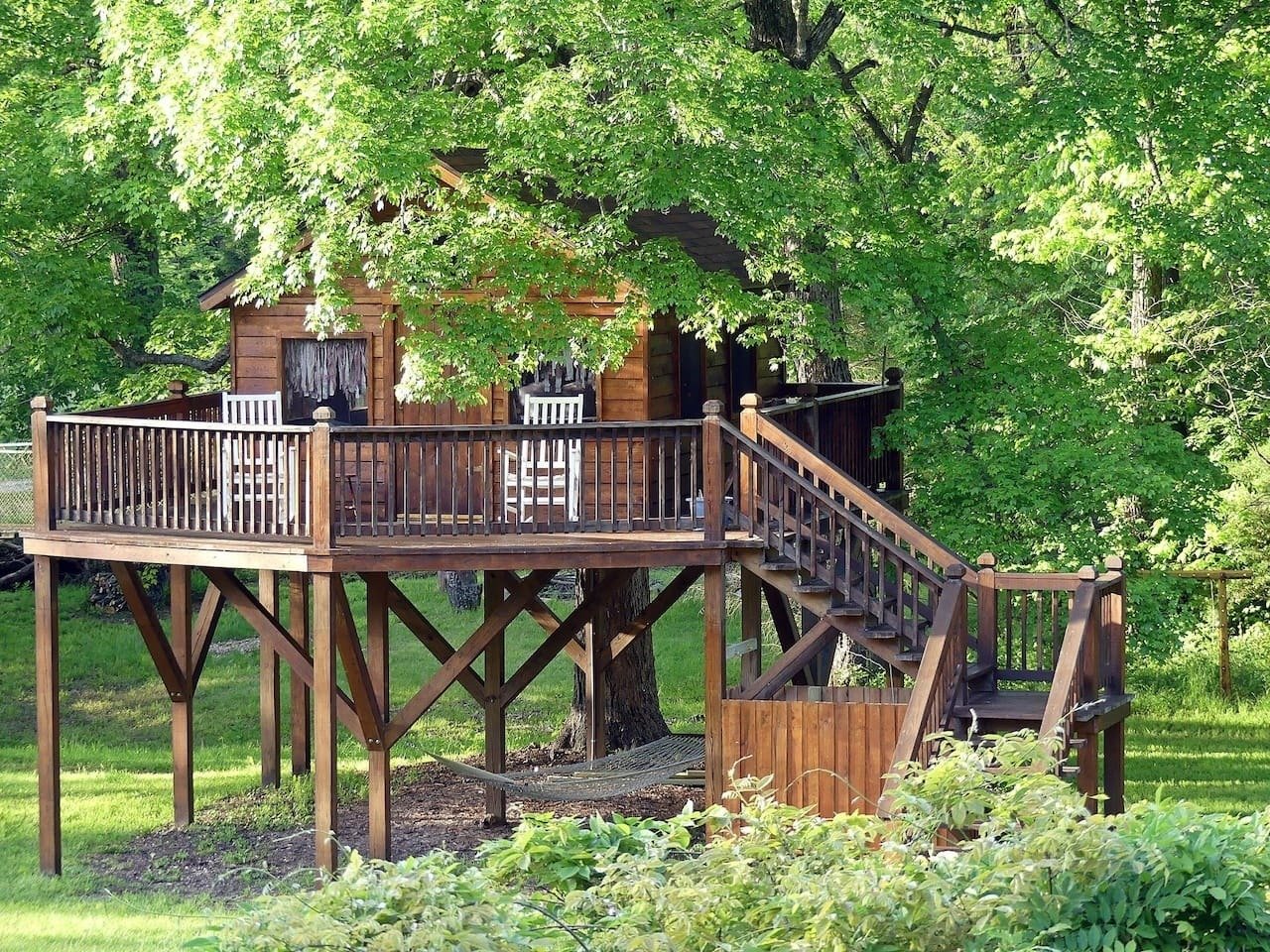 $
2 Guests
Pavilion kitchen
Secluded setting
Enjoy a remote location in Missouri with access to a creek and free tubes if you want to go river rafting! The little private treehouse is a perfect spot to enjoy wildlife, swim, hike, go boating, or just relax and listen to the birdsong.
There's a queen-size bed plus another pullout mattress, so the treehouse can accommodate up to four guests if needed. You'll have access to a rustic out-house style bathroom, a covered pavilion kitchen, and fun activities like badminton, croquet, and board games.
$
2 Guests
Located near Katy Trail State Park
Wi-Fi
Suitable for solo travelers, couples, or small families, this charming cabin in Missouri is situated in the woods, surrounded by an array of hiking trails. There's even a trampoline, rope swing, and swimming pool here, making it the perfect place to enjoy the outdoors.
If you need to pick up supplies, it's just a short three-mile drive into town, and the cabin comes equipped with comfy amenities like AC and W-Fi. You can use the shower in the main house, and if you have any questions or are looking for suggestions about what to do, the friendly hosts can help you!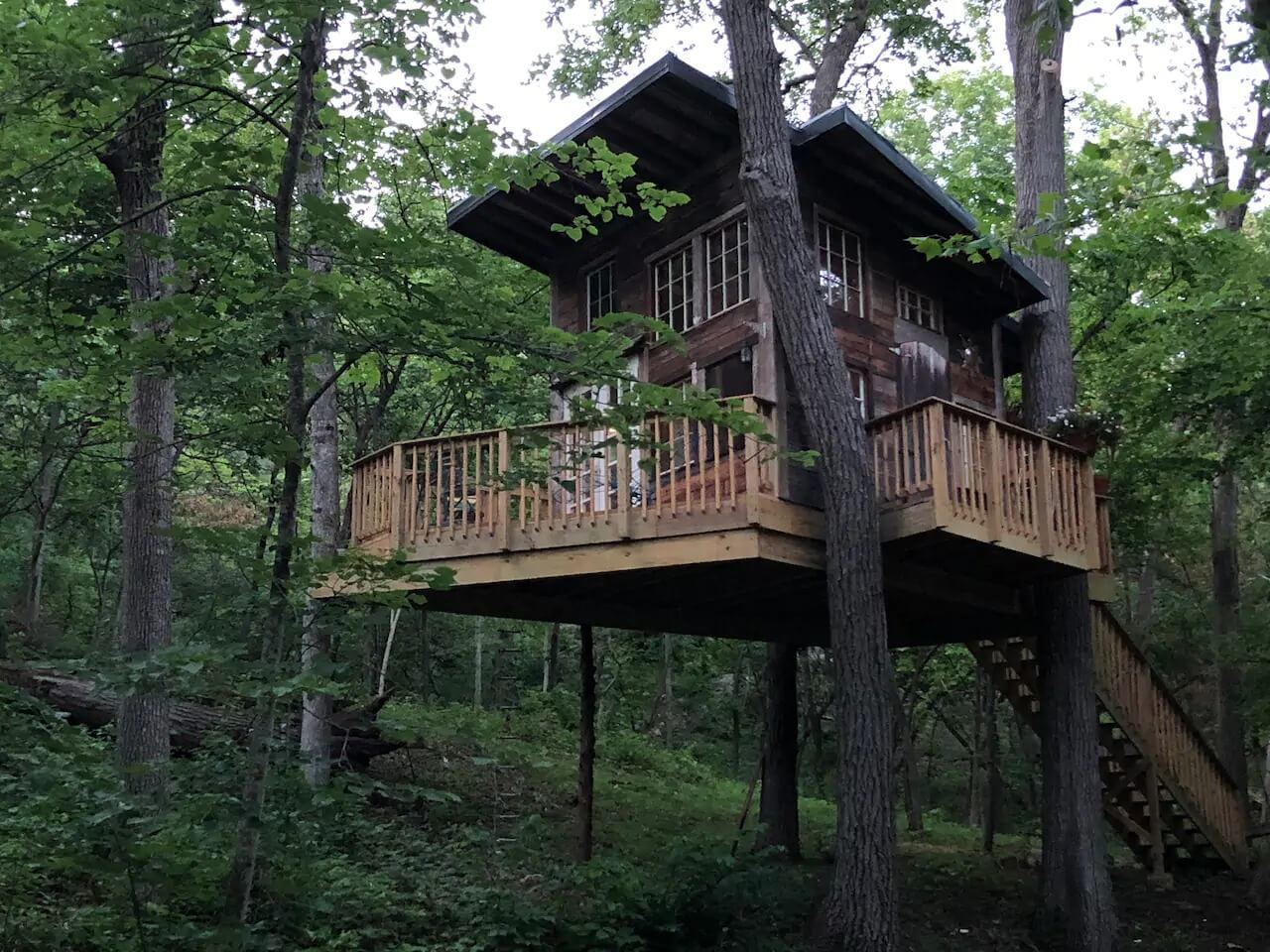 $$
2 Guests
Kayaks and paddleboard
Remote escape
A sweet, romantic treehouse located just outside of Excelsior Springs, this is a great spot for couples traveling together to Missouri. Nearby you'll find the popular Excelsior Springs golf course, or you can check out the dining and entertainment options in town.
Of course, you might also just want to relax at the cabin, go fishing or boating on the lake, or check out some of the hiking trails nearby. There's a kettle for you to make tea or coffee and a covered outdoor lounge that offers great views of the lake!
Is This the Best Travel Backpack EVER???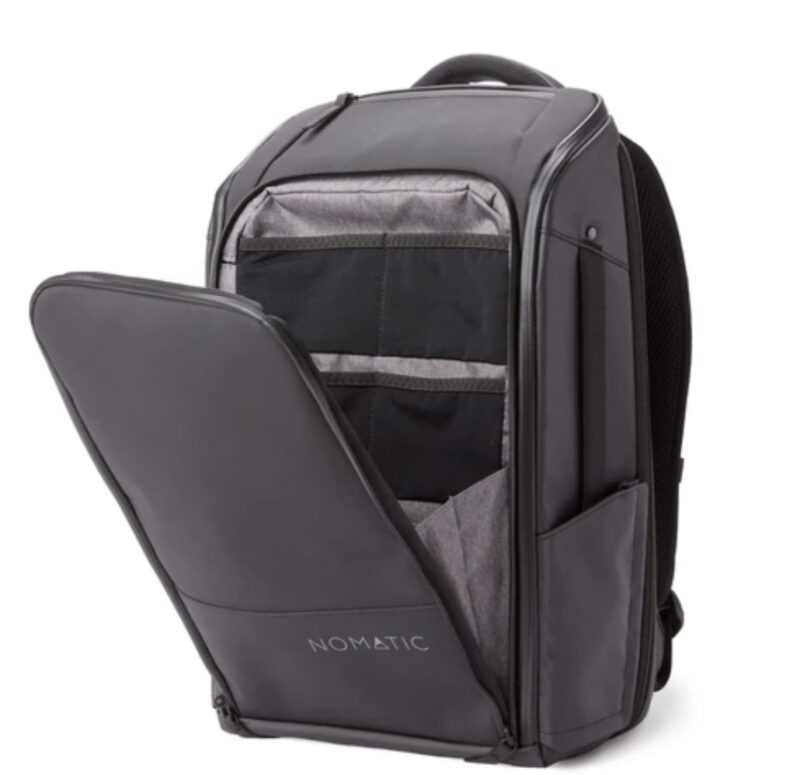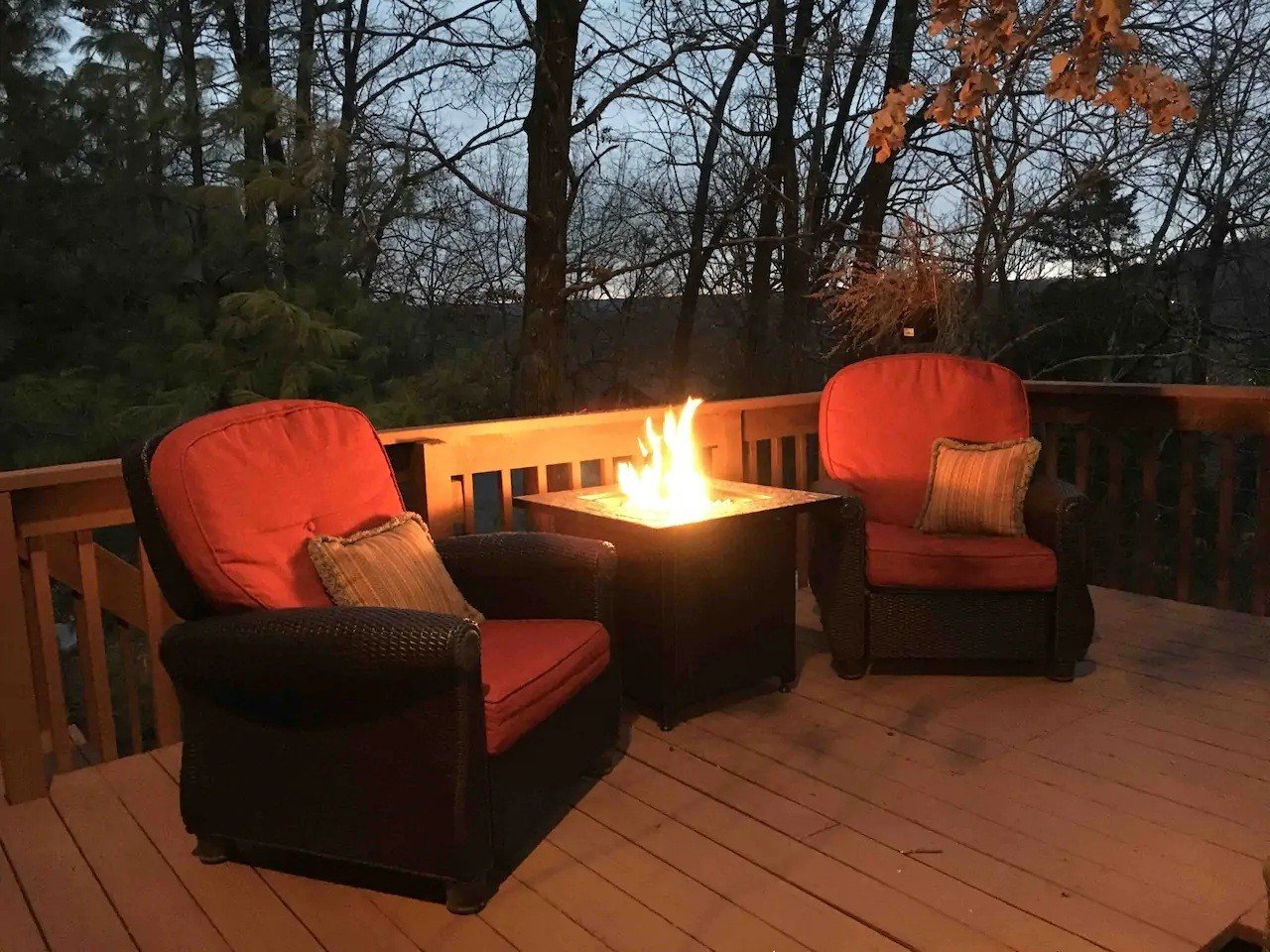 $$
6 Guests
Large deck with BBQ
Outdoor lazy-boy recliners
This cool little cabin near Branson is close to city attractions but also has a perfect lakeside location for outdoor sports and adventures. You can rent boats and jet skis, or just jump in the lake for a swim!
The cabin has an equipped kitchen as well as an outdoor grill area and dining table. Staying at the cabin, you can enjoy a more secluded atmosphere, whilst not giving up contemporary conveniences like Wi-Fi, a TV, and a washer.
$$$$
16 Guests
Canoes and Kayaks
Swimming pool
If money isn't an issue, why not spend your vacation in Missouri in true style at this decadent cabin right on the shores of Table Rock Lake? It's the perfect luxury vacation home with antique decorations, huge windows, a BBQ area, and plenty of space for you and all your friends or family.
There are paddleboards, kayaks, and canoes for use, plus you get a pontoon for free during one day of your stay! If you don't feel like swimming in the lake, there's a large swimming pool and a hot tub where you can relax and unwind at the end of the day.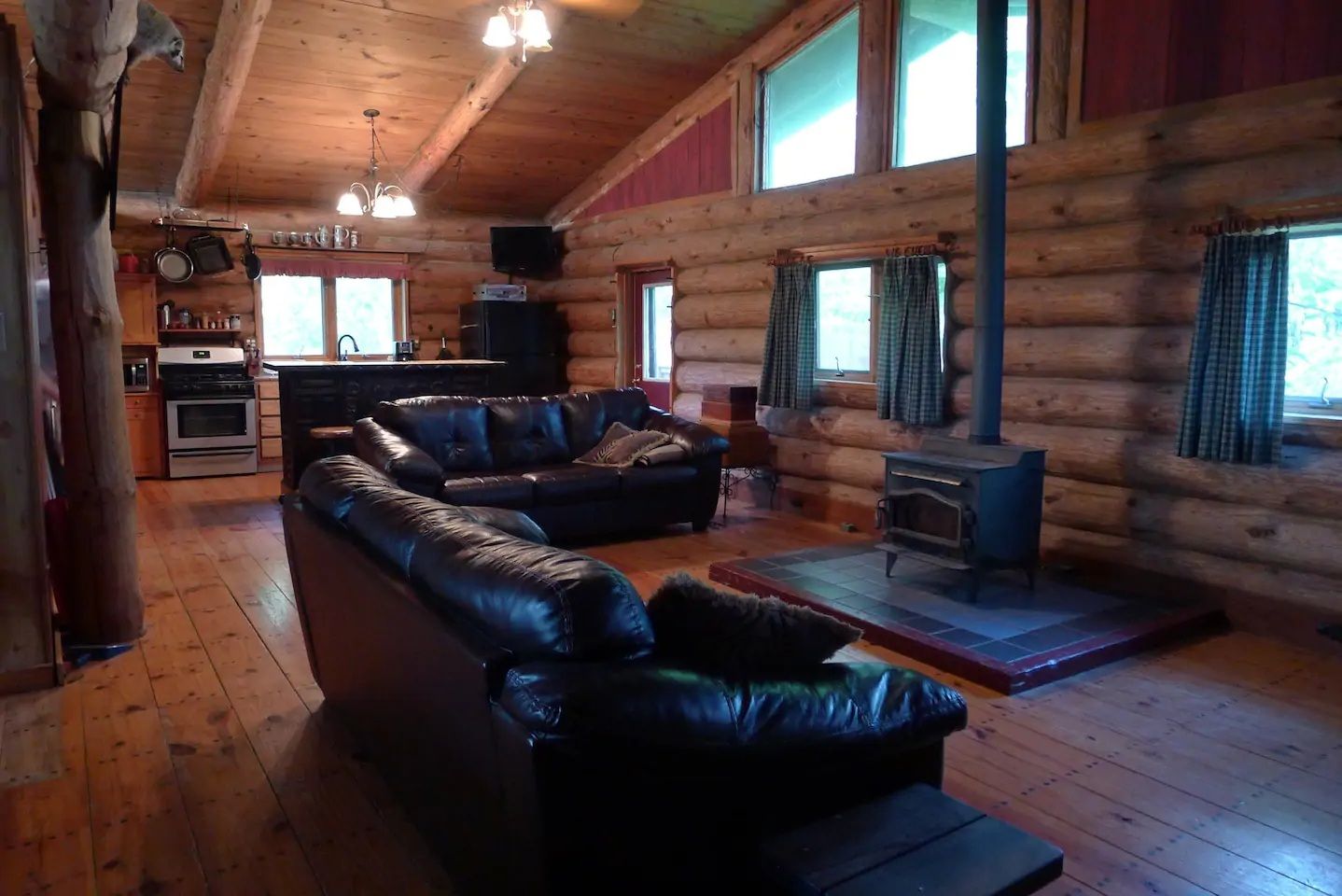 $$
4 Guests
Hot tub
Large deck
Conveniently located close to downtown Cape Giradeau, this unique log cabin has everything a family might need for a fun vacation. Despite being close to the city, the cabin has a secluded feel and is equipped with home-style amenities like a full kitchen, hot tub, TV, laundry, and grill.
Nearby you can enjoy fun family outings to the Cape Splash Family Aquatic Center, or hike in the state park. In Cape Giradeau there are other historic attractions, casinos, shopping, movies, and restaurants so everyone can find something fun to do!
$$$
8 Guests
Farm animals
Indoor fireplace
This awesome two-story treehouse is big enough to fit the entire family and provides all the fun and entertainment you need for a memorable vacation. The treehouse is located on the same property as the Magic Land Educational Eco-Center where over 70 different barnyard animals are kept, which is a fun place to bring children!
You can keep warm in the winter thanks to the indoor fireplace, and cook meals for picky eaters using the well-equipped kitchenette. There are also child swings, nearby hiking trails, and a great outdoor grill and picnic area for summertime cookouts.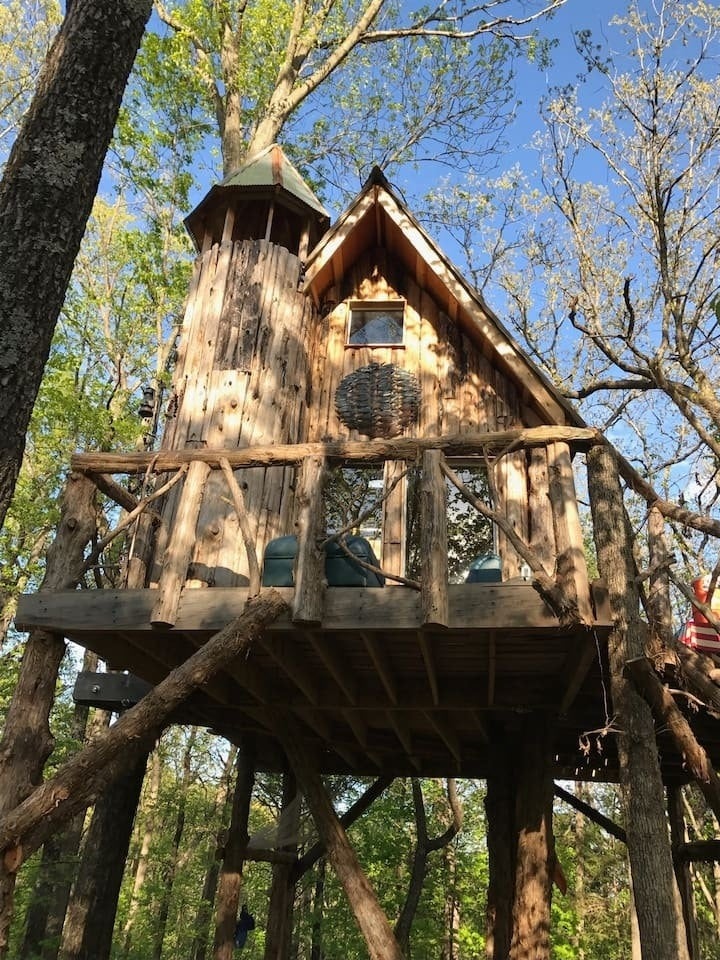 $
2 Guests
Propane stove
Outdoor fire pit
If you're a hardcore adventurer, this sweet "camping in the trees" option will be perfect for you! It's a chance to truly take a break from technology and social media, since the treehouse doesn't have Wi-Fi or electricity.
There's a great spot for outdoor yoga and a spiral walking path for mindful meanderings. This treehouse in Missouri has a remote feeling, but it's only 7 miles outside of Hermann and there are other cool nearby attractions like the Robller Winery, Astral Glass Studio, and Riverfront Cultural Society.
$
8 Guests
Swimming pool
Kitchen
Groups of budget backpackers will love this sweet homey cabin in Missouri! Bed linen and towels are charged as an extra fee, but if you have your own sleeping bag and camp towel, you'll be set and ready to go.
The cabin is located within the Basswood Resort Park where you'll have access to a laundry room, swimming pool, and gym. Save money by cooking your own meals in the kitchen, have a BBQ dinner on the outdoor grill, or head into town to check out one of the many local restaurants!
Best Cabin for Long-Term Travelers – James River Cabin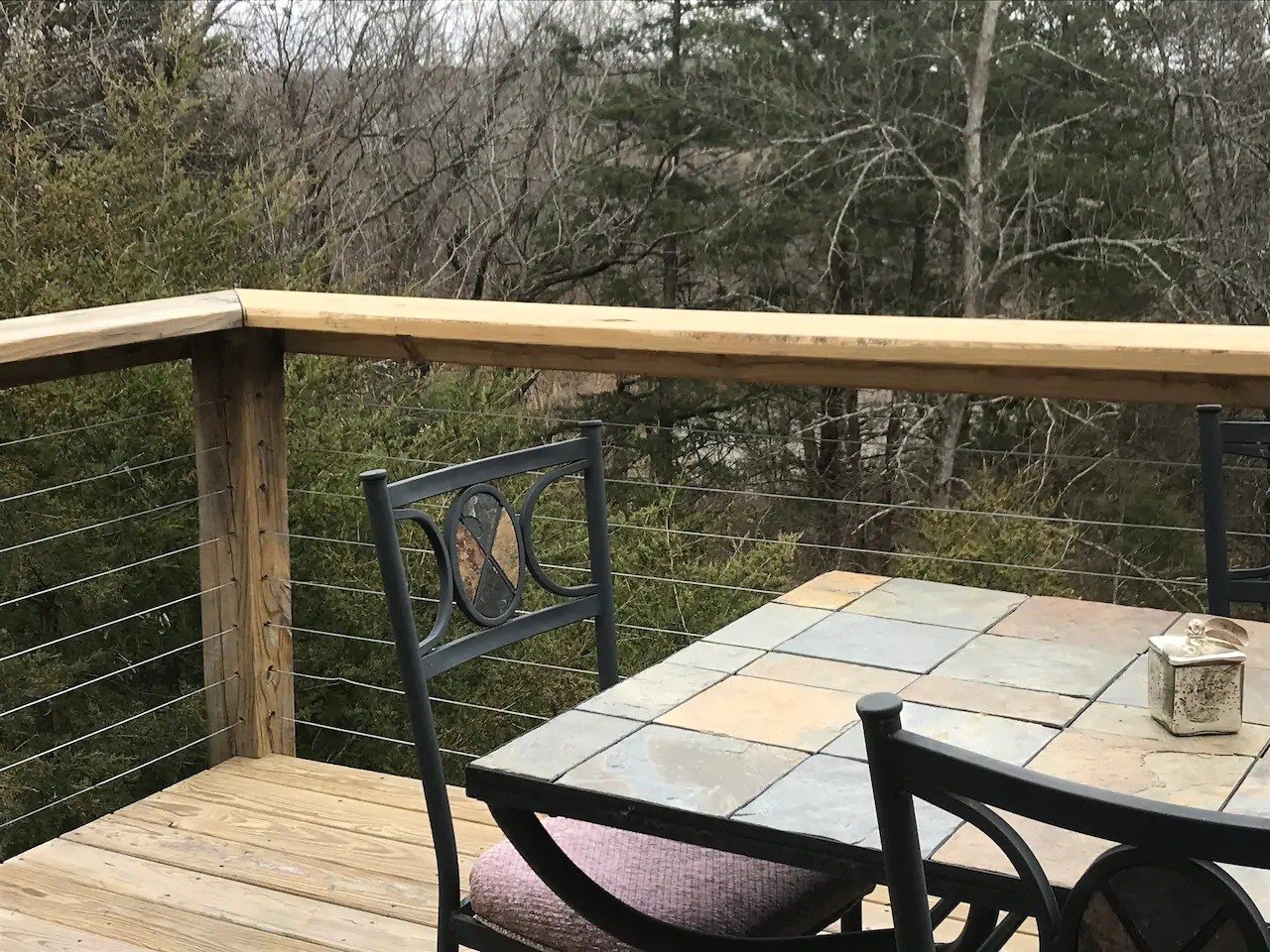 $
4 Guests
Inner tubes provided
Peaceful location
Just a five-minute drive from Springfield and half an hour from Branson, this charming little cabin is close to city attractions yet still maintains a quiet and peaceful setting. The reduced price and discounts for extended periods make it a perfect spot for long-term travelers visiting Missouri.
The cabin has homey comforts including a TV, laundry, Wi-Fi, and a fully equipped kitchen. But arguably the biggest selling point of this cabin is its close proximity to several hiking trails and you can even go fishing or boating in the river nearby. Kick back, relax, pick up your favorite book, or just watch for wildlife from the front porch!
$$
2 Guests
Jacuzzi tub
Gym access
A super romantic option for honeymooners traveling to Missouri, a stay at the Wild Rose Cabin will allow you to make special memories with your loved one! You'll have all the comforts of home plus more with amenities like Wi-Fi, an equipped kitchen, and even a Jacuzzi tub. It's situated close to many hiking trails so if you're looking to spend your days out exploring, this place provides the perfect location.
The cabin is in the Westgate Resort which also includes access to a gym, swimming pool, outdoor picnic area and grill, and restaurant. Shops and attractions of Branson are just around the corner, or you can hang out and relax at the cabin.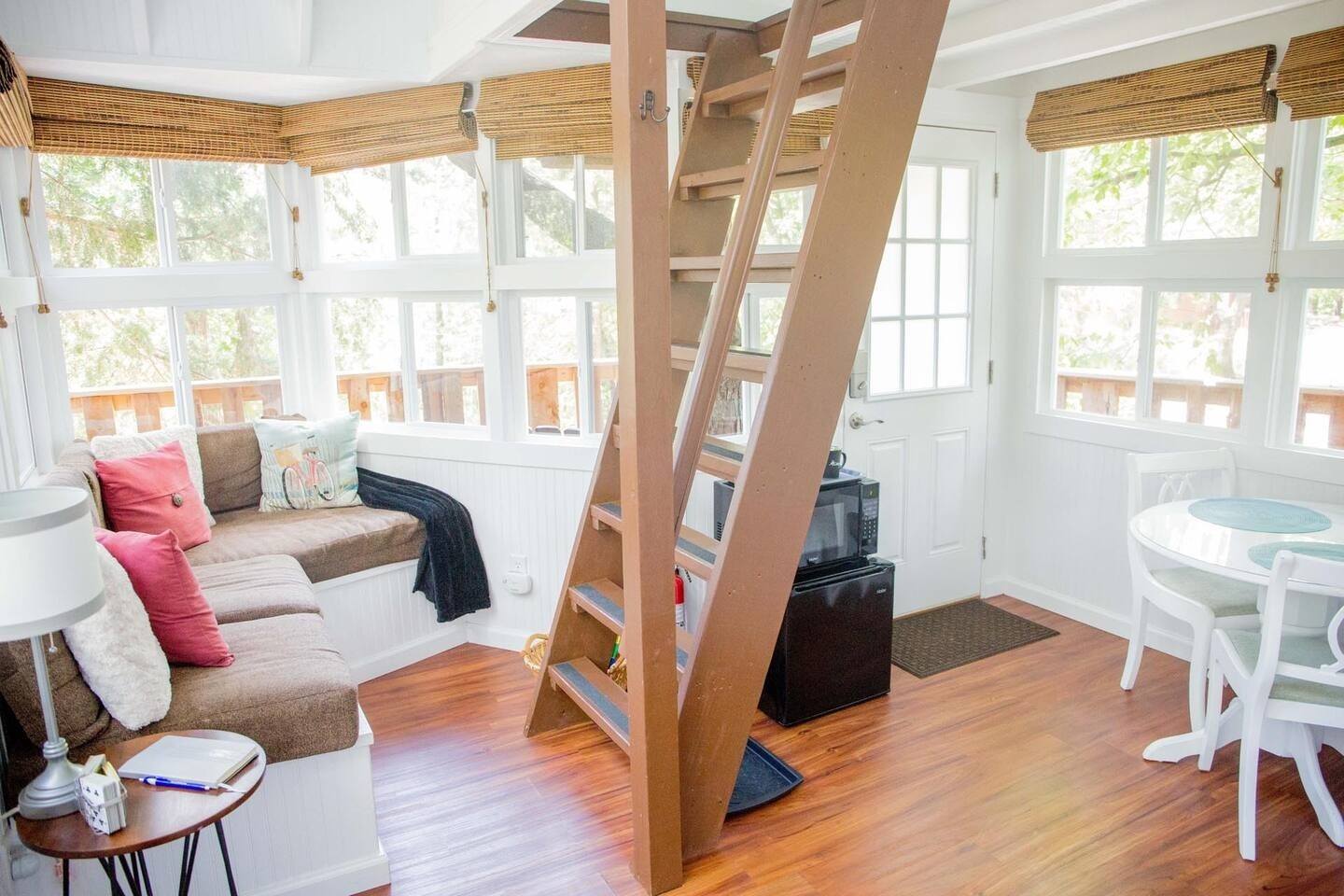 $$$
4 Guests
Breakfast included
Heating and AC
The Sunrise Treehouse is a great option for people who are interested in luxurious and unique accommodation in Missouri. Located on the same property as The Cottage Bed and Breakfast, a superb breakfast is included in the room price, and there's also a microwave and fridge for you to use.
Books and games are provided in the cabin and you can take some time out and relax on your own private wrap-around porch outside. It's just a 4-minute drive to downtown Hermann where you can find city attractions, great parks, restaurants, and shops.
Absolute Cheapest Treehouse in Missouri – The Owl's Nest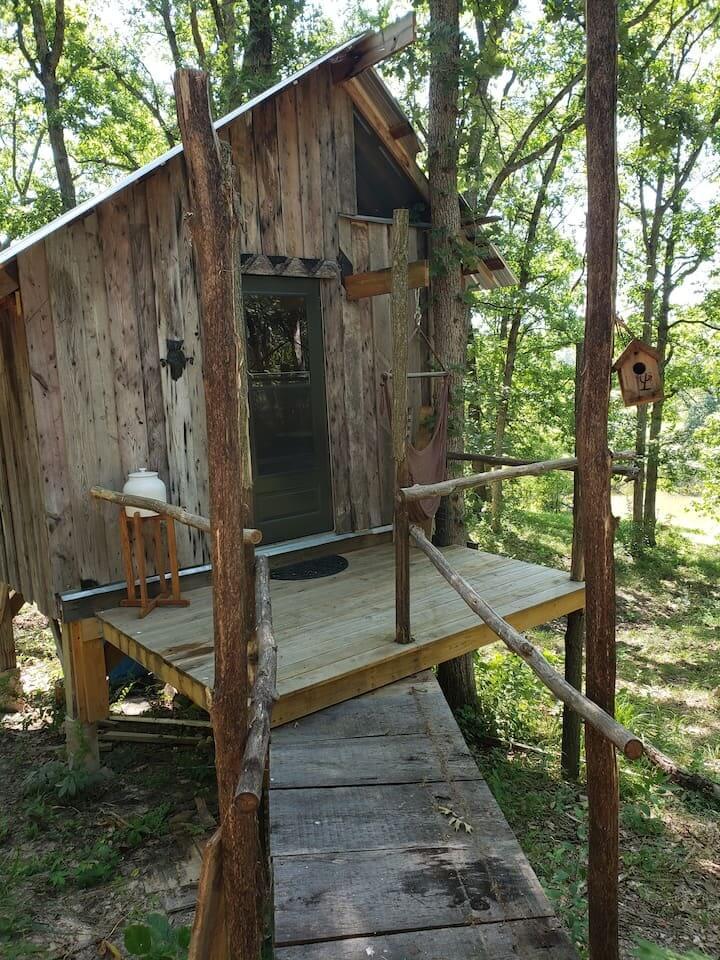 $
2 Guests
Camping stove
Next to a pond
For camping enthusiasts looking for an authentic outdoor experience, then this cute woodland treehouse is the perfect option. For a super cheap price, you can sleep in the treetops and listen to the wind through the trees!
There's no electricity, but there are battery-powered lights and a camp stove for you to use. Nearby is the start to the Thousand Hills Trail where you can hike all day. It's also a great spot to just relax, watch nature, and hang out by the little pond.
Most Beautiful Treehouse in Missouri – Ozark Tree Suite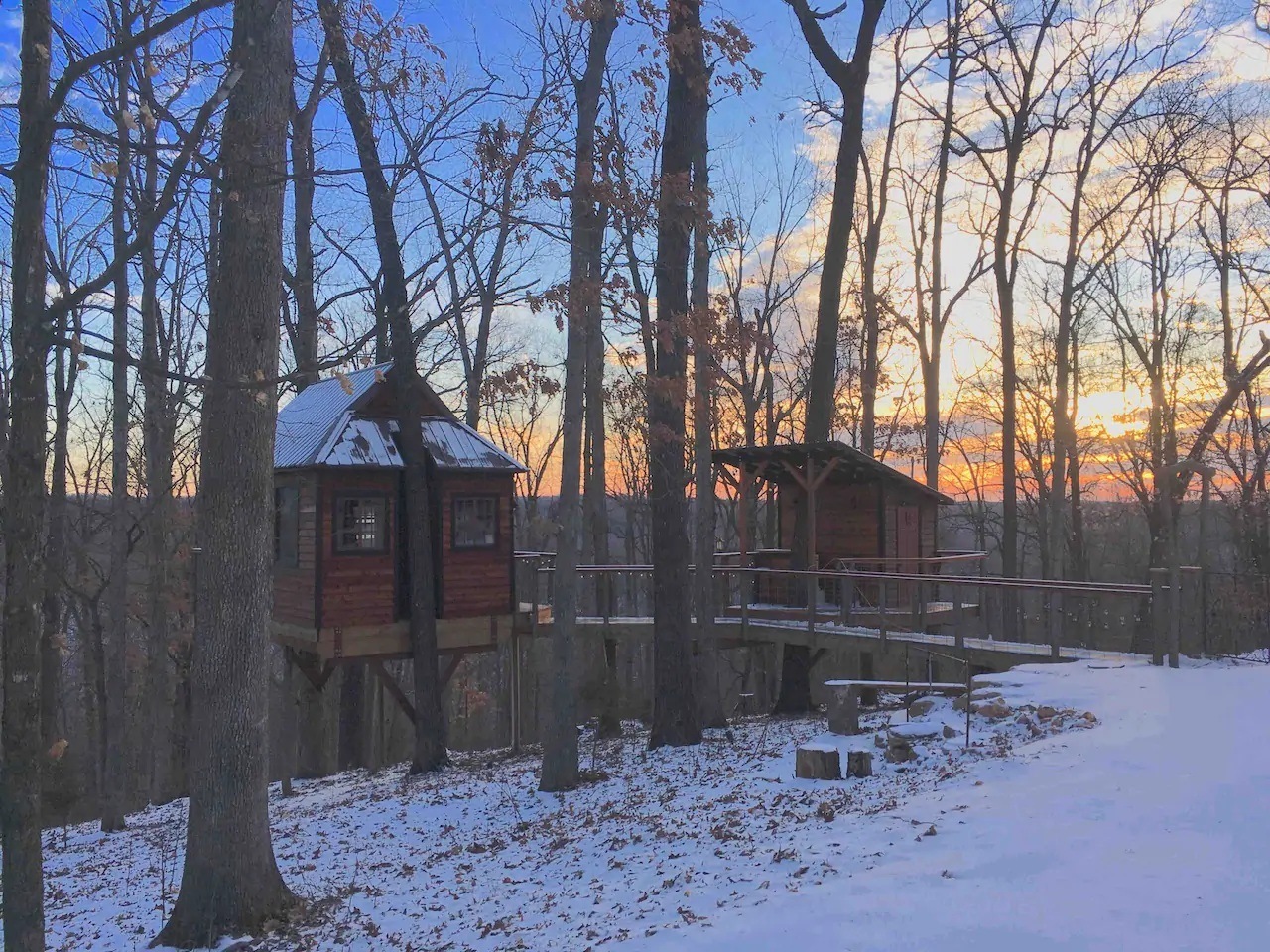 $$
2 Guests
Breakfast included
Jacuzzi tub
This super cute woodland treehouse is great for solo travelers or couples looking for a picturesque retreat in Missouri. The property is just minutes from Roaring River State Park and Mark Twain National Forest so you'll have plenty of options for outdoor adventures!
The treehouse has a small kitchenette, campfire pit and picnic area, and ingredients provided for a self-service style breakfast. You can keep connected with the Wi-Fi at the treehouse, and there's also a TV if you feel like watching your favorite movie during your stay.
Check out these other great resources
We have loads more information to help you plan your trip.
FAQ about Treehouses and Cabins in Missouri
Here's what people usually ask us when they look for vacation homes in Missouri.
Final Thoughts about the Best Treehouses and Cabins in Missouri
From family road trips to solo vacations, Missouri has a lot of options for every type of traveler! The best way to experience all the coolest parts of the state is to find unique accommodation in Missouri so you can better appreciate the natural beauty, awesome parks, and cool wildlife.
With all the options on this list of the best treehouses and cabins in Missouri, we hope that you've found something that fits your specific travel needs! It's important to remember that especially during peak season, places tend to fill up fast so it's a good idea to reserve a spot well in advance.
Whenever you're traveling, and especially if your trip takes you to an international country, it's a good idea to get travel insurance. While you're having fun boating, hiking, camping, and adventuring in Missouri, it will be reassuring to know there's a backup plan in place in case something goes wrong!
And have you thought about getting Travel Insurance for your trip? We've put together a roundup of Travel Insurance for backpackers – check it out here, or if you're low on time, get a quote from World Nomads, our favorite travel insurance provider.
Getting an estimate from World Nomads is simple – just click the button or image below, fill out the necessary info, and you're on your way!

---
Find out how YOU can support the site.
We work hard to put out the best backpacker resources on the web for free! It's all about helping out our tribe of awesome backpacker readers (that's you!). Please visit the link to find out how you can help keep the site going 🙂
For the sake of transparency, some of the links in our content are affiliate links. This means that if you book your accommodation, buy a piece of gear, or sort your insurance through our link, we earn a small commission at no extra cost to you. We only link to stuff that members of the Broke Backpacker team has actually used and never endorse products or services that are not up to scratch. Thanks for your support!