From the bright lights of Nashville, to the picturesque Smoky Mountains there is something for all tastes in Tennessee. With great weather all year round, there isn't a bad time to take a trip.
Tennessee is inextricably linked to music – for residents, it is coursing through the veins. Throughout the state, you will find towns alive with the sounds of music, from bluegrass, to country, to rock and roll. Stroll through downtown Memphis – learn about the city's amazing history and its important role in music. Dance your way along the Honky Tonk Highway and eat mouthwatering Tennessee cuisine in Nashville.
Come and discover a state that is full of rushing rivers and calm lakes. Grab a fishing rod or blow up a tube and float along the water.
Some of the best mountains in Appalachia are in Tennessee, including the underrated Roan Highlands.
Of course, one of the best and easiest ways to enjoy the beauty of this state is check out holiday rentals in Tennessee. Stay close to downtown, or among the woods with sunset views at one of the many Airbnbs in Tennessee.
Keep reading for our traveling tips, and the coolest Airbnbs in the Volunteer State.
Quick Answer: These are the Top 5 Airbnbs in Tennessee
Overall Best Value Airbnb in Tennessee
Overall Best Value Airbnb in Tennessee
The Stock Barn
> $$
> 2 Guests
> Farmstay
> Rustic vibes
Best Budget Airbnb in Tennessee
Best Budget Airbnb in Tennessee
Cute and Cozy Apartment
> $
> 2 Guests
> Great Location
Best Airbnb for Couples in Tennessee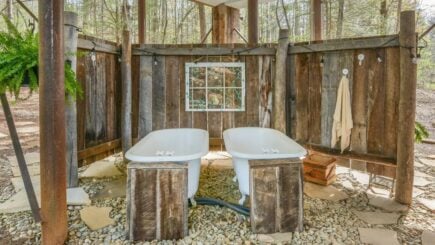 Best Airbnb for Couples in Tennessee
Stone Mountain Treehouse
> $$$
> 2 Guests
> Large patio
> Outdoor bathtubs
Best Airbnb for Families in Tennessee
Best Airbnb for Families in Tennessee
The No Farm Farmhouse
> $$
> 7 Guests
> Toys & Bunkbeds
> Huge Lawns
Over-the-Top Luxury Airbnb in Tennessee
Over-the-Top Luxury Airbnb in Tennessee
A&E Farm
> $$$$
> 15 Guests
> Amazing views
> Gorgeous decor

Unlock Our GREATEST Travel Secrets!
Sign up for our newsletter and get the best travel tips delivered right to your inbox.
What to Expect from Airbnbs in Tennessee
When it comes to Airbnbs in Tennessee you can expect to be right in the action. Regardless of whether you want a night in town or a weekend escape to the mountains, Airbnb will get you there.
There are a variety of accommodation types, many of which are incredibly picturesque and go beyond just providing a bed to sleep on. Have easy access to your destination without having to give up on all the things you love back home.
Enjoy full kitchen spaces, en suites, and living areas to hang out with your loved one, friends and family. Soak in the incredible views away from hotels, let alone neighbors.
The best Airbnbs in Tennessee will make you forget about adventuring beyond. You can simply hang out and enjoy the home's beauty.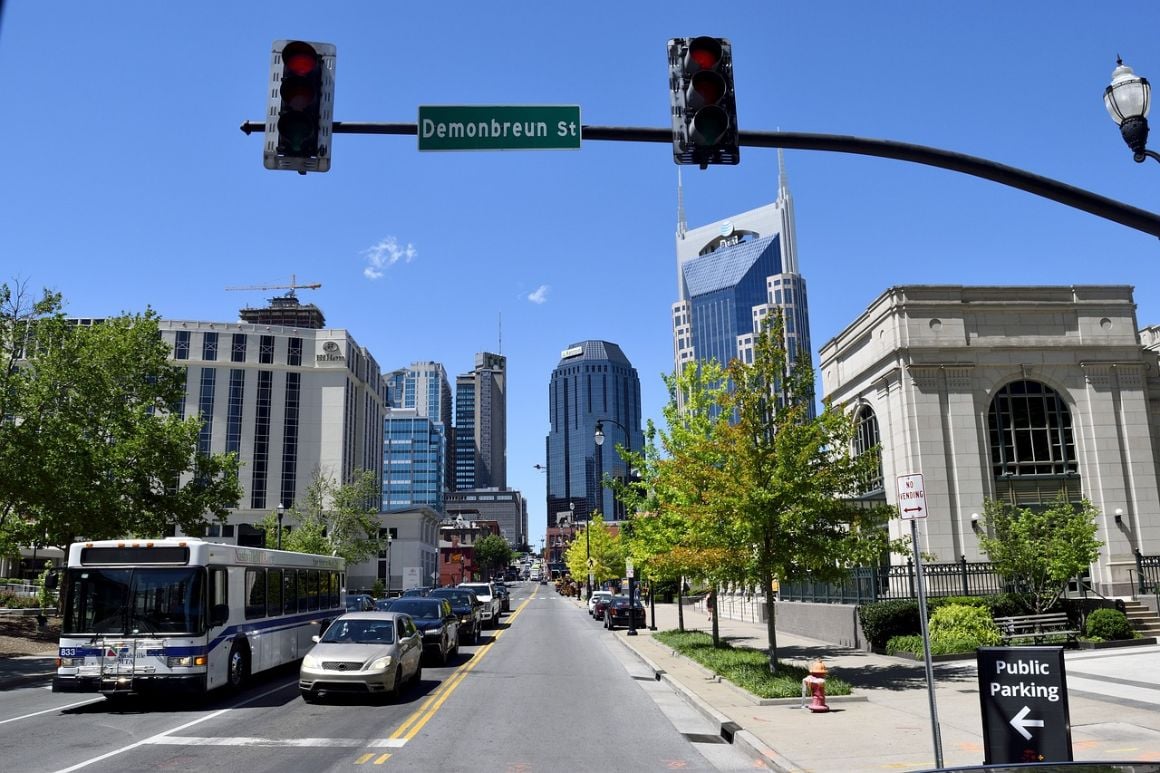 Cabin
When it comes to getting out of the city and disconnecting, a cabin is an idyllic place to stay. Luckily, cabins are one of the most common type Airbnb you will find in Tennessee. You will find one almost in any part of the state – next to flowing rivers, alongside lakes, and perched up on the mountainside.
Some cabins in Tennessee are placed in the forests just out of Nashville and Memphis, granting you the best of both worlds between the peace and quiet, and exciting nightlife.
Perfect for all sized traveling parties, a cabin is ideal for a great weekend getaway with friends. Romantic one bedroom cabins will appeal to couples, and those looking for an intimate retreat. Either way, have amazing views from your doorstep, fire pits, and hot tubs.
There are also a bunch of treehouses hanging around near Nashville.
Tiny Home
What better way to immerse yourself in the Tennessee nature than to stay at one of the state's many tiny homes.
Tiny homes continue to grow in popularity, with the backing of companies like Airbnb, it has never been easier to experience the tiny home life. Although this type of accommodation is obviously small, the creative designs make up for it.
A minimalistic approach means even tiny homes can have a proper kitchen, dining, and living space. But most importantly, you will feel as if you are a part of the living and breathing landscape.
These accommodations are perfect for couples, although we have managed to find one big enough for a group of friends to enjoy!
Placed throughout Tennessee, there are homes in Gatlinburg and Chatanooga which are surrounded by gorgeous scenery.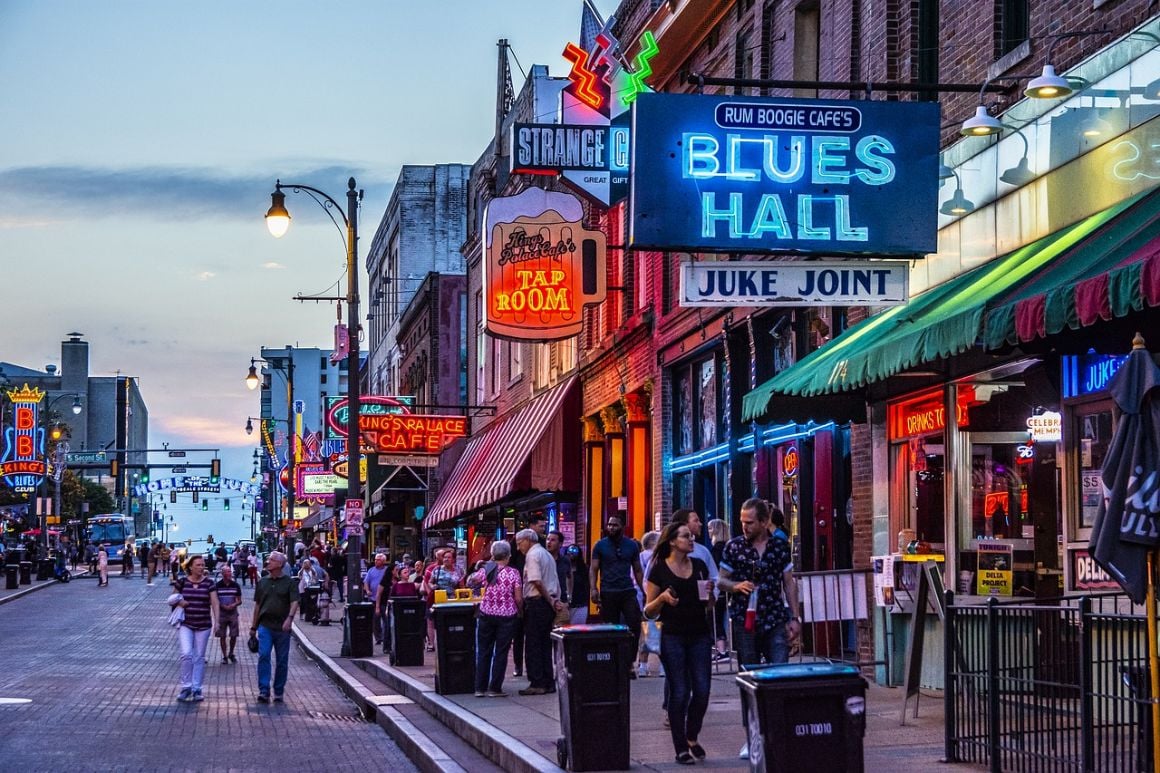 Condo
After a more upscale adventure to the countryside? A condo may be the way to go.
Although common in Nashville and Memphis, condos are best untilized by couples and small families on their way to Gatlinburg.
Dotted around the Great Smoky Mountains, condos offer easy access to an adventure paradise during all seasons. They are a great place to stay during the ski season. You can have a warm place to crash every night, surrounded by an up-and-coming dining scene and awesome distilleries.
The beauty of a condo is that not only do you get a private space at a cheaper price than a hotel, but with more amenities. Make the most of roomy living areas, full kitchens, and views out to the mountains of Appalachia.
Most condos are in a complex that have shared pools, hot tubs, outdoor spaces, and even playgrounds for kids.
Why Stay in an Airbnb
If you aren't sure why you should stay in an Airbnb, check out these reasons below!
Local experience: Get away from the tourists traps, and stay where the locals live. You can discover hidden gems.
Unique properties: Check out tiny homes and cabins in the woods, that you won't find anywhere else.
Privacy: Enjoy contactless check ins, private rooms and bathrooms, along with storage to keep your belongings safe.
Affordability: Why book yet another hotel room, when for the same price, or less, you can get a kitchen!
Staying long-term: Some Airbnb hosts offer discounts for weekly and monthly stays, so don't be afraid to fall in love with Tennessee.
The 15 Top Airbnbs in Tennesee
Now you know a little more about what to expect, let's dive in to the best Airbnbs in Tennessee.
Overall Best Value Airbnb in Tennesee | The Stock Barn
Grab your partner and enjoy an escape just 25 minutes from Nashville. This century-old barn is one of the most beautiful Airbnbs in Tennessee.
Surrounded by farmland and with gorgeous views, the barn's open living space brings out its beauty. With original wooden beams lining the ceiling and mahogany wood floors in the bedroom, you can get a sense the barn's history.
When it comes to hanging out and relaxing, bring a chair outside and look up at the stars, far from any light pollution.
Prepare a drink and play a friendly game of pool on the barn's billiards table. For restaurants and shops, Greenbrier is just down the road.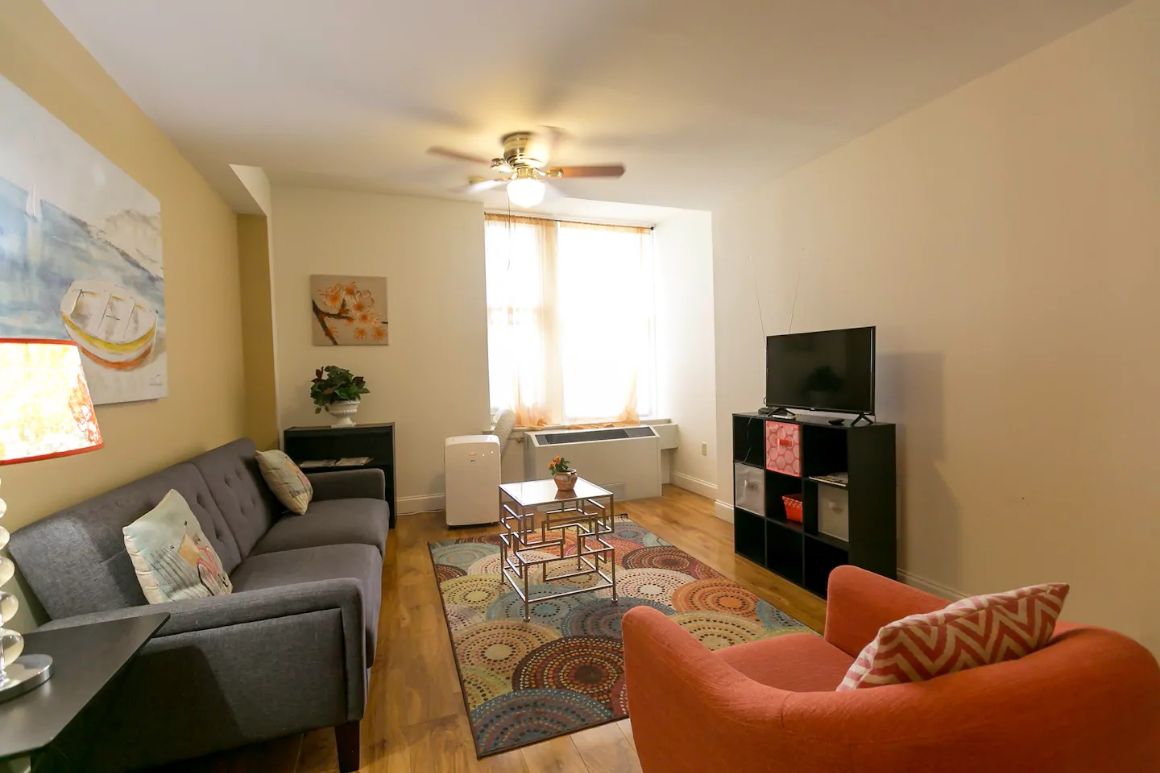 2 Guests
Comfortable and cozy
For budget travelers making their way down to Memphis, this is the Airbnb for you!
A cute and cozy apartment, this home is the perfect base to explore Memphis and it's many highlights.
Its central location on Madison Avenue will have you mere steps from great restaurants, bars, and shops. And, let's not forget that it's on top of the entertainment district and classic recording studios.
When you are all tuckered out after a big day in town, you will love having your own private space to enjoy.
There is a queen-size bed, couches and lounge chairs to relax in, and a kitchen that will come in handy throughout your stay.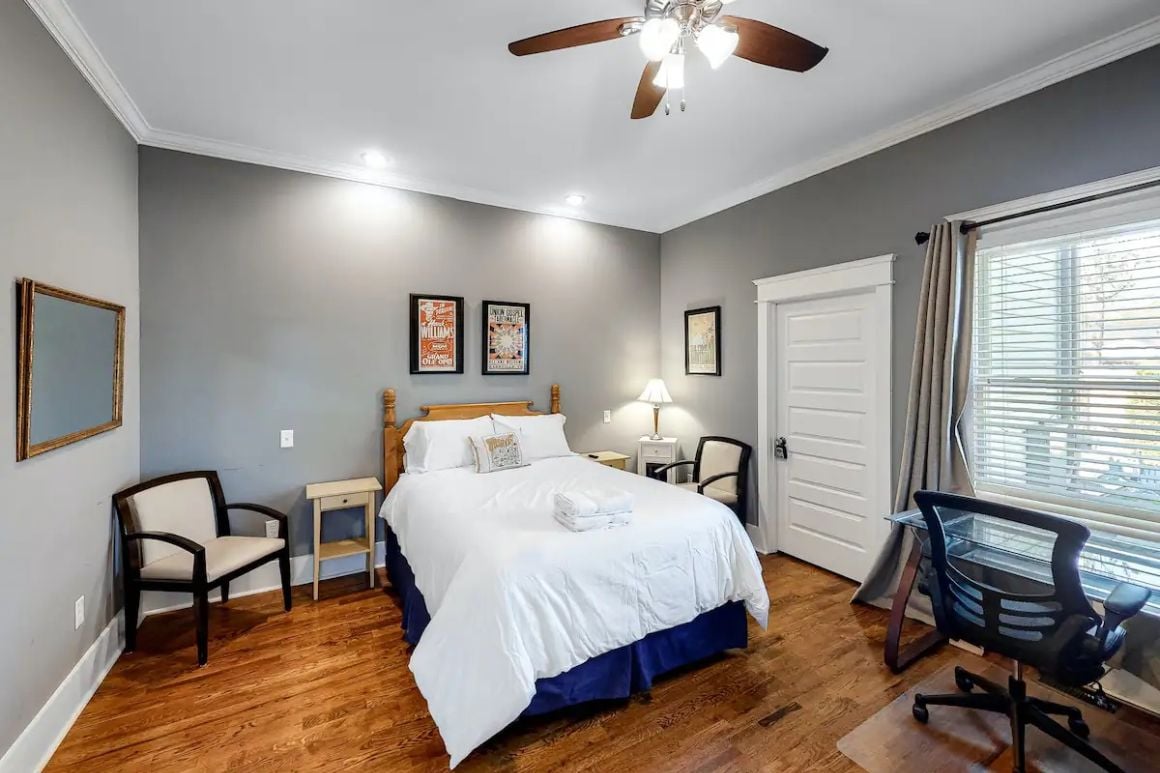 1 Guest
Private and modern
Set yourself up for an incredible adventure to the exciting city of Nashville by checking in to this Airbnb in Tennessee. This wonderful studio will make you feel right at home, and will no doubt be a welcome change from dorm rooms or stale hotels.
In a quiet neighborhood, you can enjoy a lovely refuge from the incredible chaos of downtown Nashville, yet be just minutes away from the country's best music scene.
With great wifi, a workdesk and a comfy queen bed this private apartment has everything you need.
As for exploring, don't miss out on the easy trip to the Parthenon, the Country Music Hall of Fame, and of course, Honky Tonk Highway.
Is This the Best Travel Pack EVER???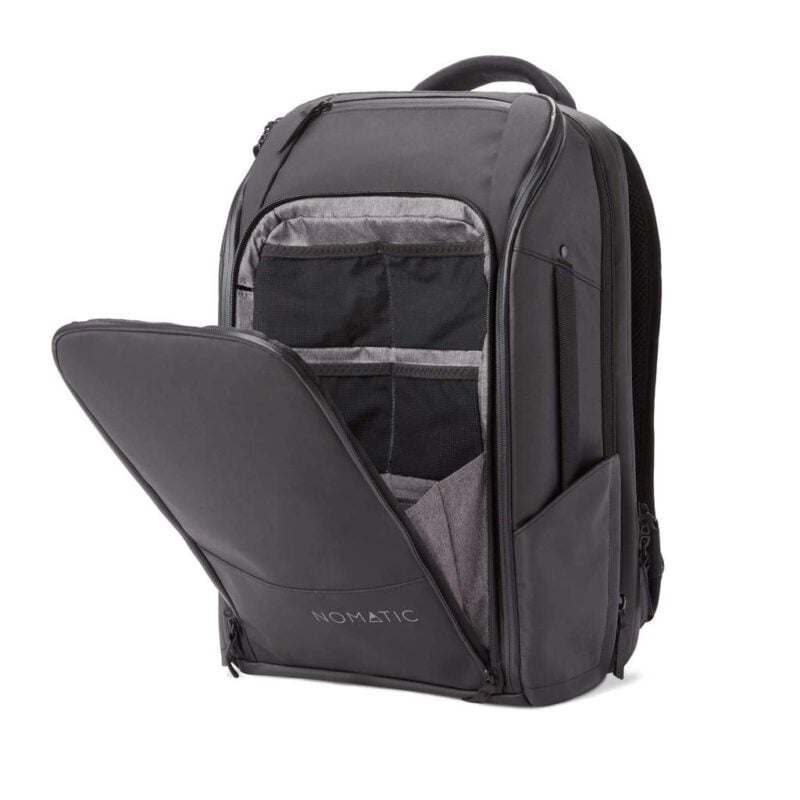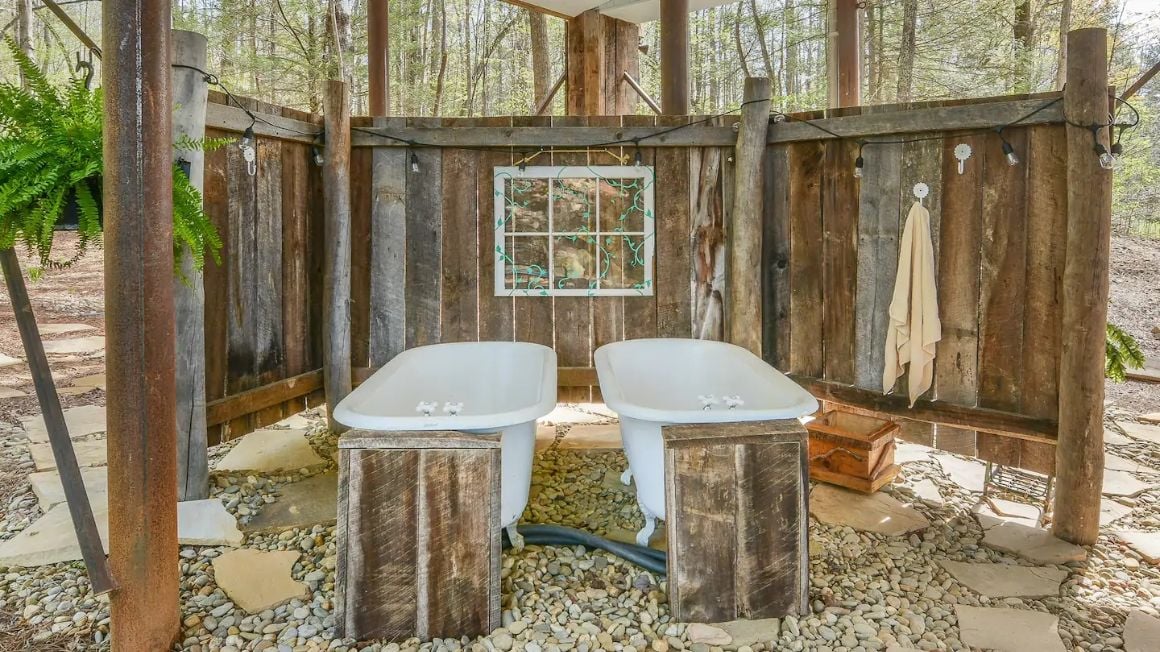 Treat yourself to a romantic adventure at the Stone Mountain Treehouse Airbnb in Tennessee. Secluded on a 20-acre property, full of dense forests, great hiking, and wonderful views, this treehouse is the ultimate couples' getaway.
An upscale glamping adventure, enjoy utmost privacy among the trees. Wake up on a delightful king-sized bed to the sun creeping through the canopy.
Spend your days wandering the property, discover a beautiful waterfall, and try your hand at mountain biking, and even disc golf. At night, light up the gas log fireplace and snuggle up with your loved one.
Round up the kids, load the car and head down to a unique family vacation at this farmhouse Airbnb in Tennessee.
Situated on a spacious farm that is no longer in operation, the kids will have plenty of space to run around, play catch, and let their imaginations run wild.
It's a great chance to get them off their screens, and enjoy some peace and quiet that comes with this rural setting.
At night, tuck into plenty of family-oriented activities with lots of board games on offer, plus coloring books and even giant scrabble!
When you need to stock up, Arrington and Franklin are a simple 20 to 30 minute drive away.
Over-the-Top Luxury Airbnb | A&E Farm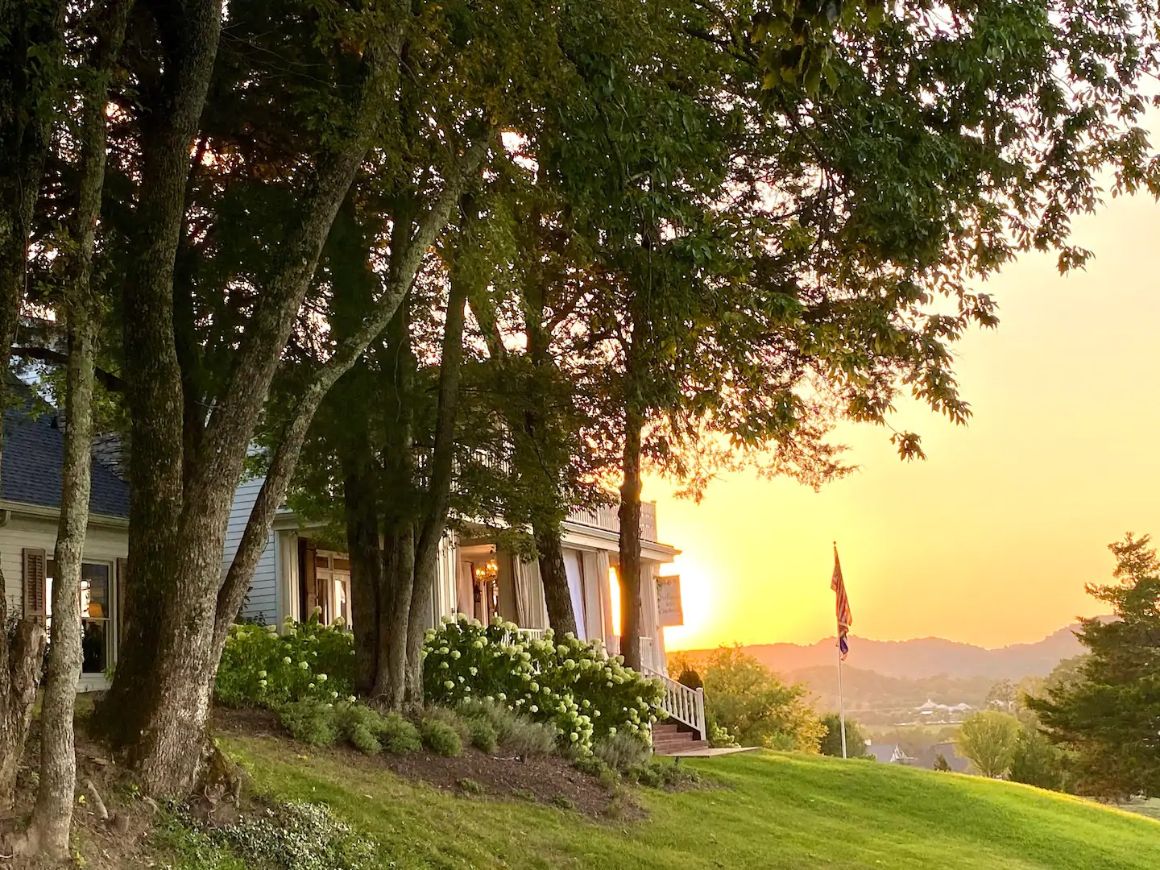 When it comes to incredible luxury, amazing views, and a real Tennessee vibe, the A&E Farm is one of the best places to stay.
This impeccable Airbnb in Tennessee will make your jaw drop to the floor from the second you drive through the gates. With rolling grassy hills and long-range views, it feels like a throwback to simpler times, yet with all the modern luxuries you could imagine.
With room to sleep up to 15 guests, mountain views from every window, and dining space fit for a king, it doesn't get any better than this.
Your host will also play the role of concierge to make sure your experience is exceptional.
You can explore all the best things to do in Nashville with a private space to unwind.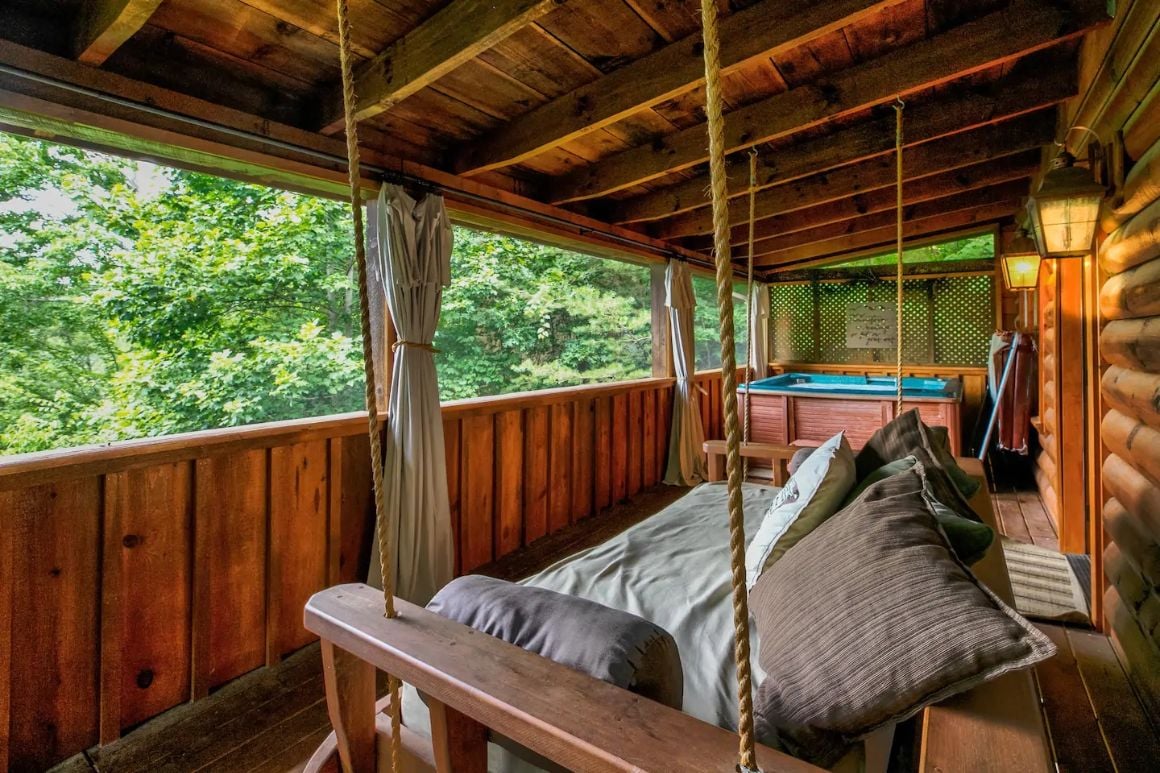 2 Guests
Hot tub and fireplace
Cabins are one of the most popular types of accommodation you will come across on Airbnb in Tennessee.
This Gatlinburg cabin is perfect for all budgets. With a lazy daybed on the patio and views from the bubbling hot tub, you can have a relaxing stay in the mountains away from the noise of everyday life.
Take in amazing views from the porch, while the sounds of the waterfall and river float between the trees.
The interior is quite spacious due to the loft bedroom with a poster queen bed. Grab a blanket, snuggle in front of the fireplace, and pop on your favorite movie.
A 20-ft tiny home among the trees awaits you and your friends as you head a few minutes out of Nashville. Surrounded by the woods, this tiny home has a loft bedroom along witha pull out queen sized bed.
The full kitchen allows you to cook up a storm, although the home is just a few minutes from a variety of restaurants and shopping.
The spacious, five-acre property also has a main house which is shrouded in history, as it has been the recording studio for artists such as Dolly and Tim McGraw.
Enjoy a zen experience each night around the campfire, or take a cheap Uber ride to Downtown Nashville.
Best Condo on Airbnb in Tennessee | A View with Style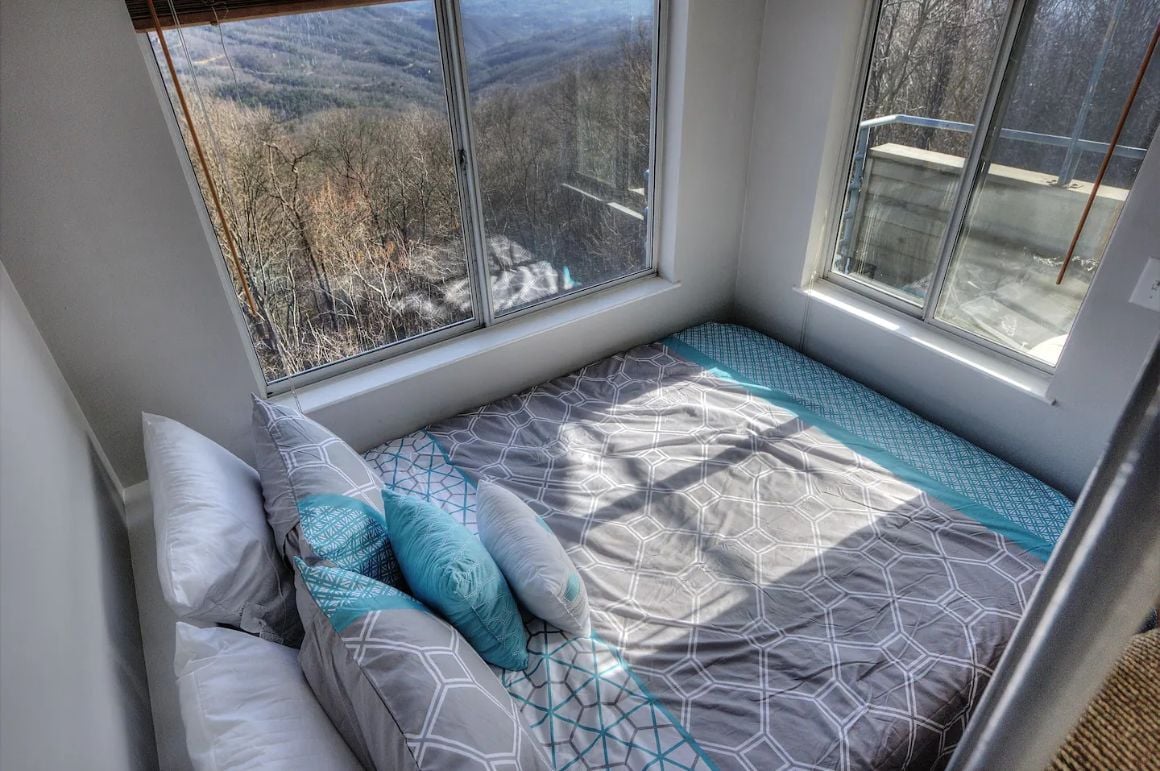 4 Guests
Close to Gatlinburg
Have incredible panoramic mountain views all to yourself at this Airbnb in Tennessee.
Newly renovated and ready to impress, the condo is only 10 minutes from Gatlinburg, a historic city with great breweries and restaurants. It is also just two miles from the entrance to the Great Smoky Mountains National Park full of world-class hiking.
Wake up to stunning views everyday, and make use of the kitchen to fuel up for the adventures ahead.
When you aren't out and about, the condo complex has an indoor pool, multiple hot tubs, and picnic areas with gas grills.
2 Guests
Rustic and remote
Take a breather and completely shut off from life at the Shiners Shack tiny home.
Nestled among the trees and seemingly forever away from civilization, this is a great opportunity to take stock and reset. Oh, and it also features a Jacuzzi that has unforgettable sunset views!
The tiny home has a four-burner stove and oven, so you can fill up before the trip and never have to eat out. Enjoy every meal outdoors, overlooking the Smoky Mountains. At night, light up the fire pit and doze off underneath the stars.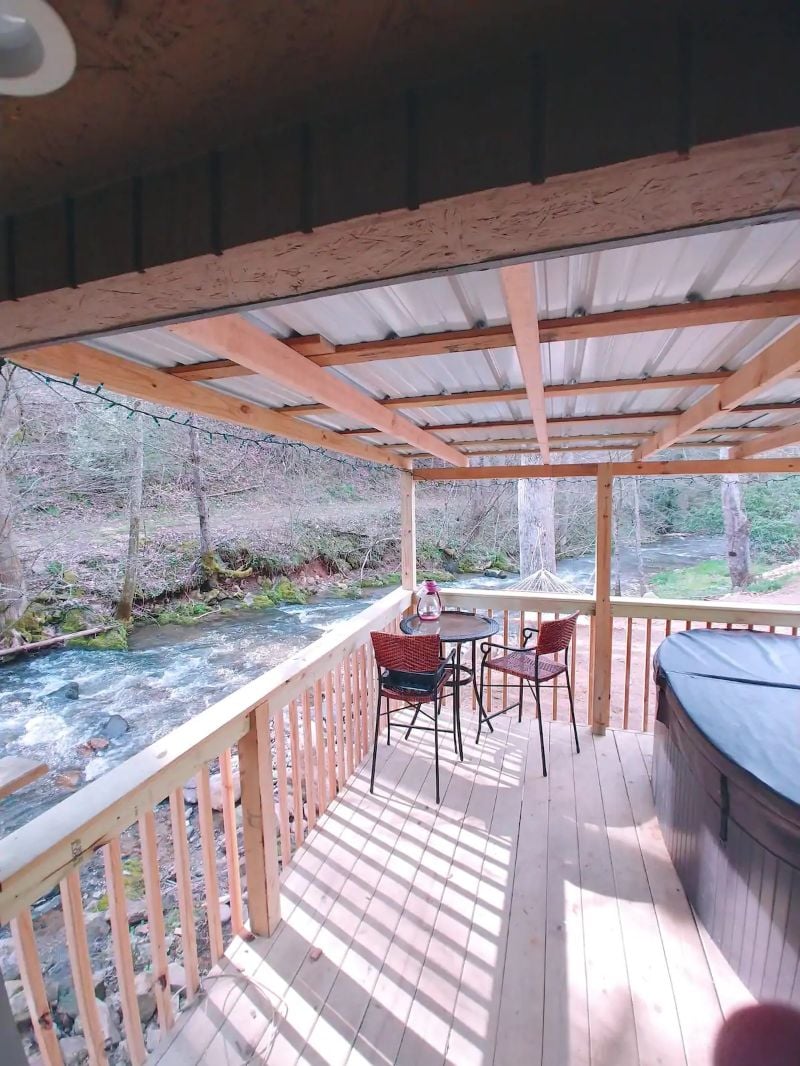 Be so close to the rushing Bold Stream that you feel like you're floating! At the Eleanor Rigby, a rustic mountain cabin B&B in Tennessee, you'll find one of the best views of all here.
Start your day with breakfast and coffee on the covered deck, looking out over the stream and into the woods. When you're ready to go, dip your toes in the water and get ready for some exciting adventures.
You will find waterfalls, awesome hiking, zip lining, and white-water rafting all within a 15 minute drive.
At night, rest your weary legs in the hot tub and soak in the scenery around the fire pit.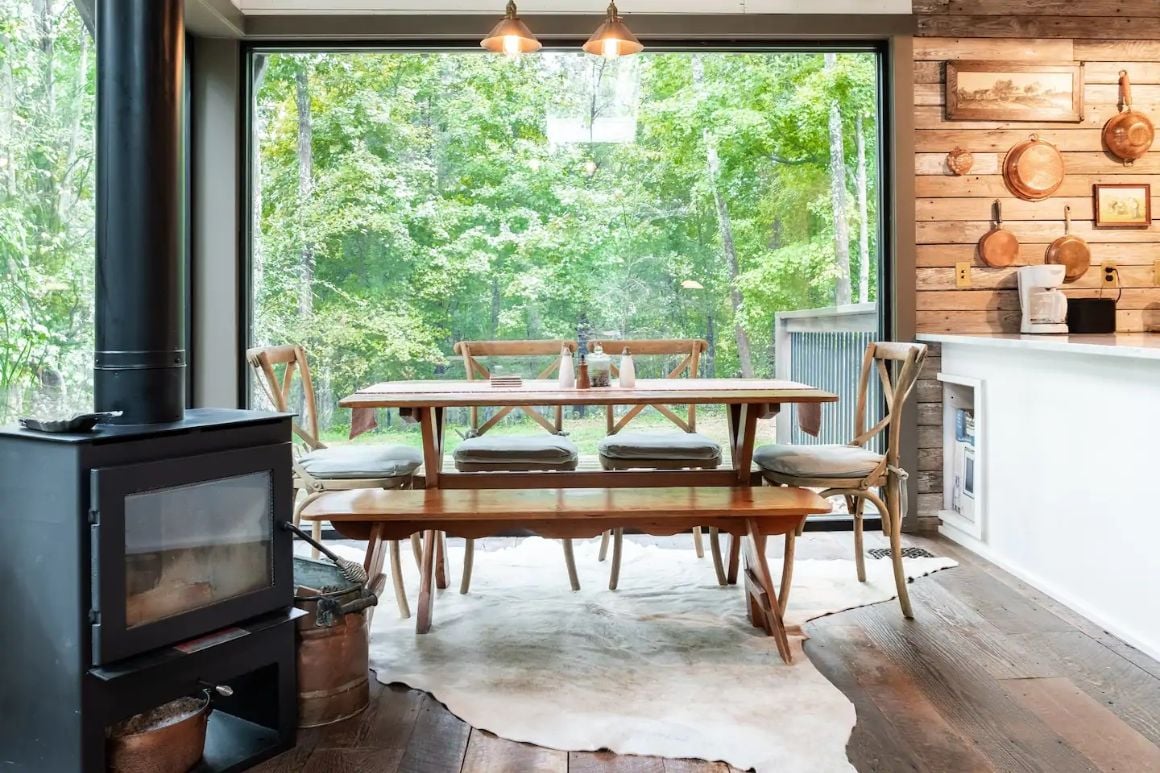 4 Guests
Close to Nashville
Have the sights and sounds of Nashville moments away from your front door at this quiet cabin.
The best Airbnb in Tennessee for a weekend getaway, this home is made from reclaimed materials with a charming vintage style.
Soak in the views that stream through the floor to ceiling windows, while the inside fireplace creates an air of romance. The kitchen has all the trappings of home, and provides the option to never have to leave the cabin.
But if you do, you can liven up your evenings with a trip to downtown Nashville and its vibrant music scene.
Stunning Airbnb for Honeymooners in Tennessee | The TreEscape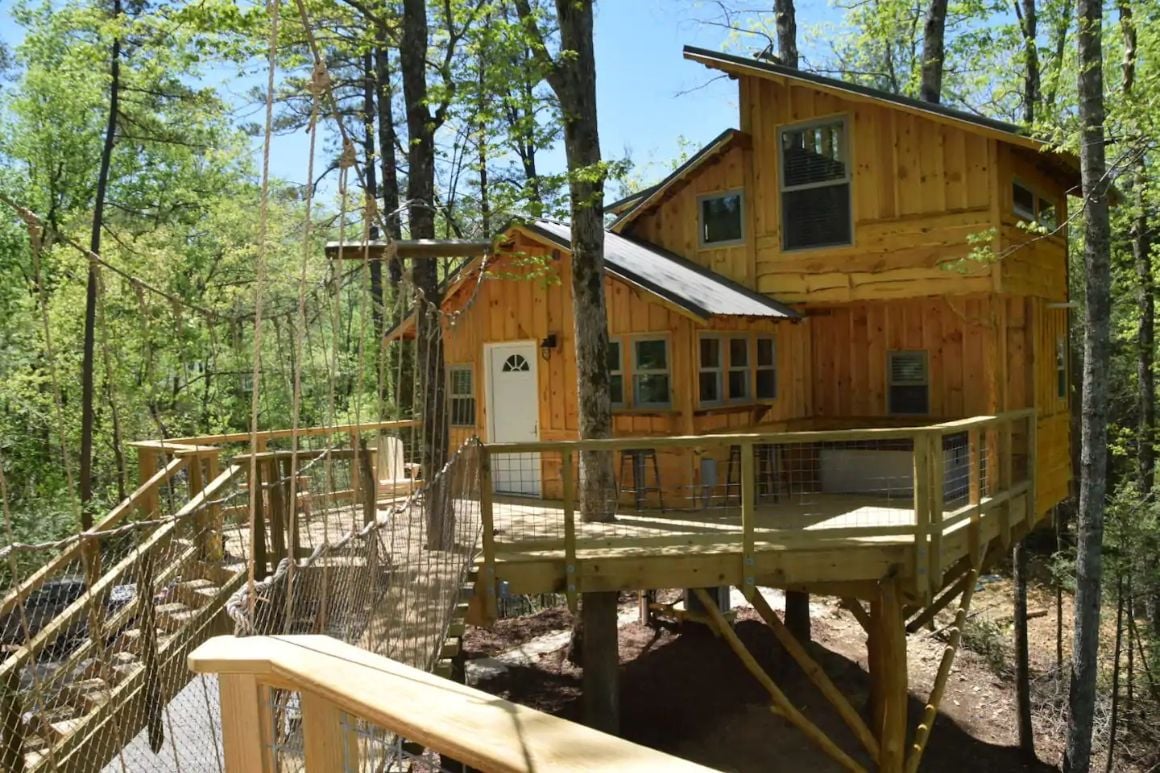 2 Guests
Suspension bridge
For honeymooners looking to get away from it all and be alone with their partner, it will be hard to say no to the TreEscape treehouse.
Built by the Treehouse Guys, this home has its own romantic loft bedroom, a rain shower, and live trees growing through the interior. You can explore the property using the suspension bridge that guides you to Crows Nest Deck and around yet another tree.
A unique yet luxury experience awaits newlyweds who can relax in the hot tub, or on the hanging chairs.
Be among the Smoky Mountains, and take the easy journey to Clingman's Dome.
Best Airbnb in Tennessee for a Group of Friends | Serenity By the Falls
Grab your best friends and get together for a tiny home experience. Yes, a tiny home that is still big enough for 6 guests.
With multiple double beds and a bunkbed, there is plenty of room to for everyone to enjoy this unique adventure.
The real fun begins on the spacious outdoor deck complete with bluetooth speakers and porch swings. Spend every night hanging out and catching up, surrounded by wonderful mountain views.
Go on a group adventure to Deer Lick Falls along private hiking trails – the waterfall is one of the biggest in the state!
Roast marshmallows around the campfire, and celebrate another great day with friends.
4 Guests
Jacuzzi and patio
A fresh take on a modern yet rustic barn, this Airbnb is the most picturesque in Tennessee.
Located on a 100-acre property, you are far from neighbors with plenty of grass lawns to relax on. The interiors are bright and lively, with a bar perfect for making cocktails and entertaining friends.
The Jacuzzi and patio offer amazing views of the rolling hills, and a great spot to watch the sunsets.
Your hosts will deliver farm fresh eggs prior to your arrival so you can prepare for a delicious breakfast every morning.
Top 5 Airbnb Experiences in Tennessee
Airbnb Experiences are designed by locals for travelers just like yourself. You can explore Tennessee through the eyes of knowledgeable and friendly locals.
These experiences come in all shapes and sizes – from casual walking tours showing off the history of Chattanooga, to rafting down nearby rivers.
Have insider insight into local cuisine, entertainment, and nightlife while discovering all the area's hidden gems.
By participating in an Airbnb Experience, you will walk away with great memories thanks to those that have lived their lives in Tennessee.
$50 p/p
90 Minutes
Up to 10 people
Drinks included
Take part in a spin and sip session in Music City, Tennessee. This Airbnb Experience is an introductory class to paint pouring on vintage records.
In Nashville, a city entwined with music, it makes sense to leave the city with a colorful record.
Great for all skill levels, untap your creative side over a glass of wine. Select your favorite record and take note of the many pouring techniques before you give it a try.
Mix your favorite colors, paint to your heart's desire, and walk away with a fantastic memento of your Nashville experience.
$199 p/p
2 Hours
Up to four people
Food Included
Take your friends and family on this exciting off-road adventure around Chattanooga.
This innovative Airbnb Experience allows you to get into the backcountry from the comfort of a Swincar. An electric ATV will take you around Lookout Mountain, as well as 300 acres of adrenaline-packed wilderness.
There will be many opportunities to put the Swincar in park and lunge for the camera. Such is the beauty, you'll want to stop for photos regularly. But don't worry, your friendly guides will be taking pictures throughout.
The cars make no noise, which means you won't scare off wildlife including deer, turkeys, horses, and birds of prey.
Finish the day with a picnic and a new thirst for off-road adventures.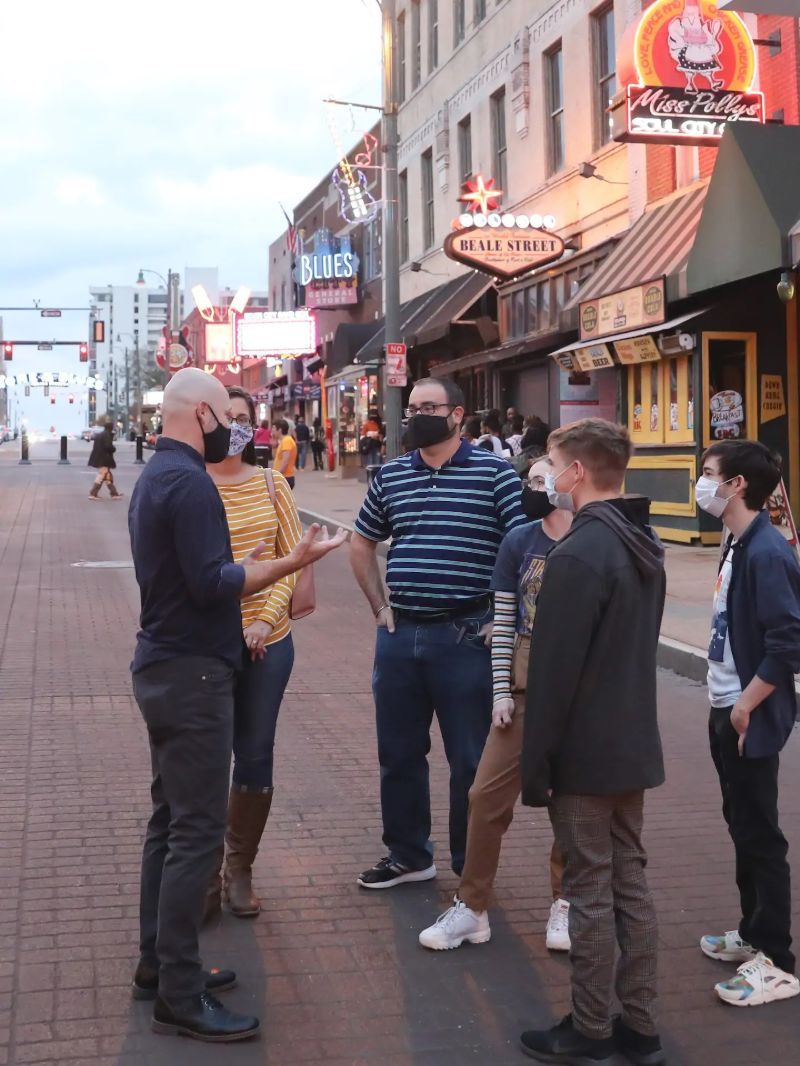 $35 p/p
90 Minutes
Up to 10 People
Explore the culinary hotspots, rich musical history and unique stories of Memphis alongside your passionate guide.
Tapping into the mind of your host who knows the city like the back of his hand, you will walk away with a great understanding of what Memphis is all about.
Learn the secret history that lies behind many famous local restaurants, and sample some new culinary treats.
Walk through the city's music scene, take photos with the King of Rock n' Roll and wander along the iconic Beale Street.
Finish the tour at the famous Peabody Hotel, and have a cocktail in the impressive lobby bar.
$65 p/p
2.5 Hours
Up to 10 people
Food included
Visit five restaurants throughout the popular Gulch District on this awesome Airbnb Experience.
Nashville is known for it's delicious take on classic American cuisine, and that is all showcased on this walking food tour.
Despite being over two hours long, you will walk a mere two miles around some of the coolest streets in the city.
Try some hot chicken, and famous Nashville BBQ as you wander past impressive murals, shops, and nightlife.
Your guide will not only show you the best food in town, but give you the lowdown on some local music venues and some interesting Nashville history.
$45 p/p
3.5 Hours
Up to ten people
Complimentary cocktails
Join the founder of Smoky Tours for an evening of moonshine and wine.
Start the tour with an overview of wine and shine in Appalachia, and begin your walk to one of many working distilleries.
Go behind the scenes and mingle with the brewers themselves to receive an insider understanding of the process.
Experience VIP treatment at each location, including custom drink lineups, backstage tours, and complimentary cocktails.
Your walk through Gatlinburg is scenic regardless of the season, and add an excellent backdrop to your wine and shine adventure.
Don't Forget Your Tennessee Travel Insurance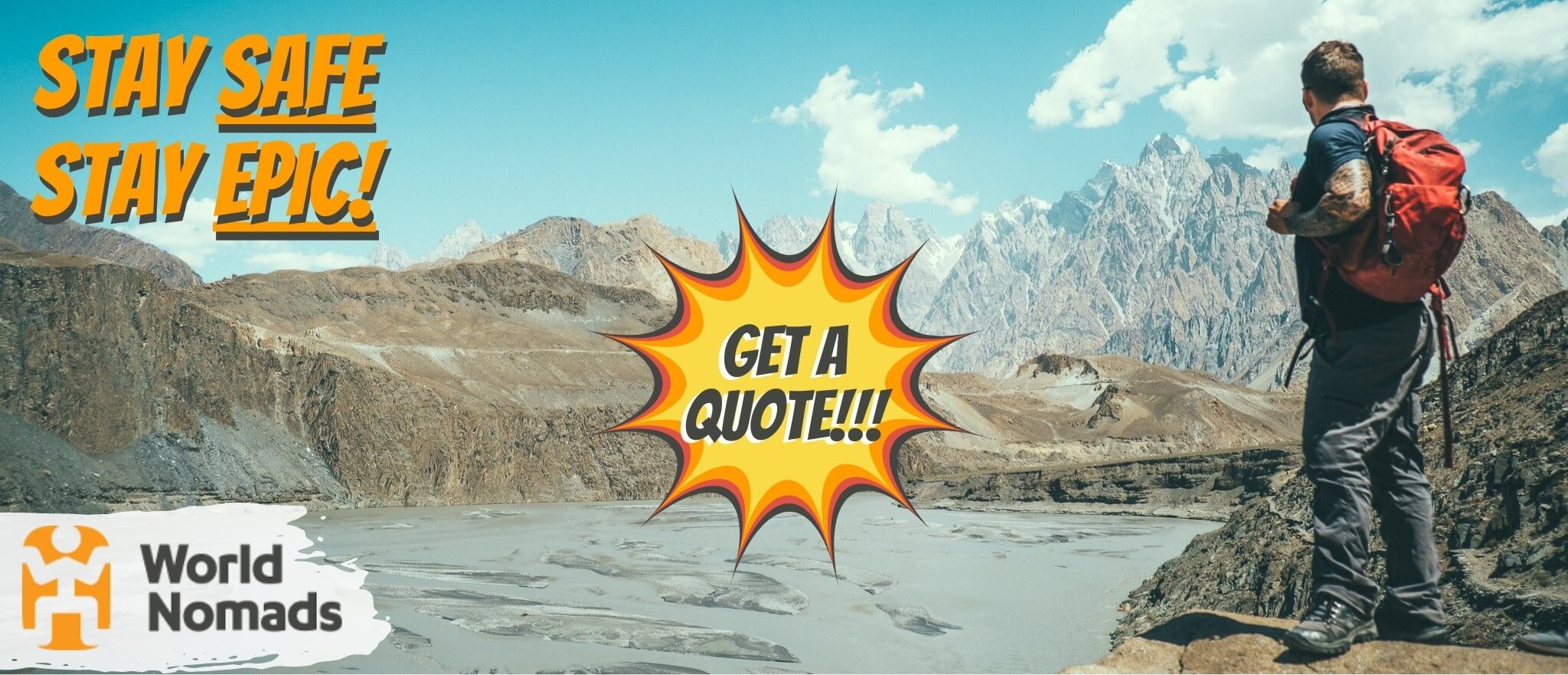 World Nomads' mission is to support and encourage travellers to explore their boundaries. They offer simple & flexible travel insurance, and safety advice to help you travel confidently.
They've been doing it since 2002 – protecting, connecting, and inspiring independent travellers just like you.
Get a quote below or read our in-depth review!
World Nomads provides travel insurance for travelers in over 100 countries. As an affiliate, we receive a fee when you get a quote from World Nomads using this link. We do not represent World Nomads. This is information only and not a recommendation to buy travel insurance.
Final Thoughts on Tennessee Airbnbs
After going through the best Airbnbs in Tennessee, it is hard to argue against venturing to one of these great locations.
You could stay just steps from the music scenes of Nashville and Memphis, or you could choose to live it up in the mountains surrounding Gatlinburg, or in a vacation rental in Chattanooga. Regardless of whether you are a family or a solo traveler, there is a perfect Airbnb in Tennessee for you.
Before you head on down to the Volunteer State, grab yourself some travel insurance. You never need it, until you do.
---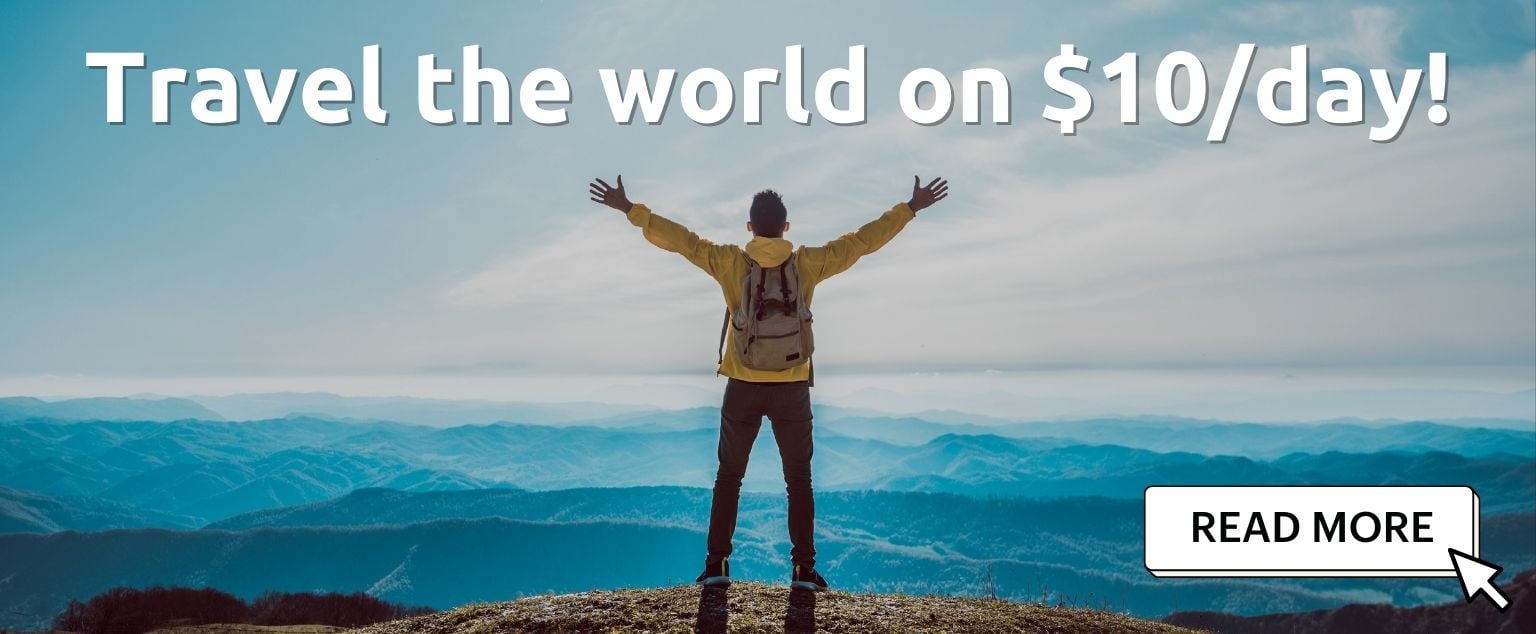 And for transparency's sake, please know that some of the links in our content are affiliate links. That means that if you book your accommodation, buy your gear, or sort your insurance through our link, we earn a small commission (at no extra cost to you). That said, we only link to the gear we trust and never recommend services we don't believe are up to scratch. Again, thank you!