Calgary has a lot of strings to its bow. One of the most successful winter Olympics took place here in 1988, and since then it has gone from strength to strength. Nowadays, it's home to some fabulous eating options, awesome artisan coffee shops, and the famous Stampede Festival.
The people are known for their self-confidence and attitude, which makes for some great and memorable encounters in its bars! And to top it all off, it boasts great outdoor activities as well!
So, now it's time to start planning your trip. The first and possibly most important part of that is where you're going to stay. And rather than a hotel or a hostel, why not treat yourself to something with a little personality and charm?
Best to look at the best Airbnbs in Calgary. Whether you want a loft apartment, a friendly homestay, or even a cute cabin with easy access to outdoor activities, there's a rental in Calgary for you.
For this post, I've put together a list of the 15 best Airbnbs in Calgary. I've taken different budgets, personalities, and travel styles into account. Rest assured only the best options have made it to my final cut.
So, let's jump straight in and check out the overall best Airbnbs in Calgary!
Quick Answer: These are the Top 5 Airbnbs in Calgary
OVERALL BEST VALUE AIRBNB IN CALGARY
OVERALL BEST VALUE AIRBNB IN CALGARY
Great Apartment on 17th Ave
> $
> 6 Guests
> Great Location
> Continental Breakfast included
BEST HOMESTAY IN CALGARY
BEST HOMESTAY IN CALGARY
Downtown Apartment w/ Workspace
> $
> 2 Guests
> Private bathroom
> Access to communal areas
BEST AIRBNB FOR COUPLES IN CALGARY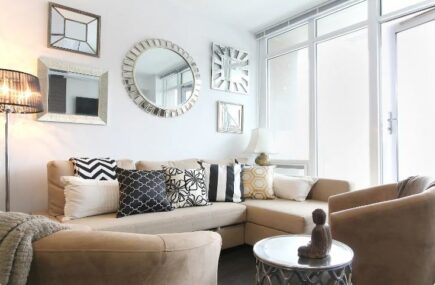 BEST AIRBNB FOR COUPLES IN CALGARY
Tiny Charming Flat
> $$
> 2 Guests
> Free underground parking
> King Bed
BEST AIRBNB FOR FAMILIES IN CALGARY
BEST AIRBNB FOR FAMILIES IN CALGARY
Townhouse near City Center
> $$
> 6 Guests
> Great Location
> Comes with crib and family games room
BEST LUXURY AIRBNB IN CALGARY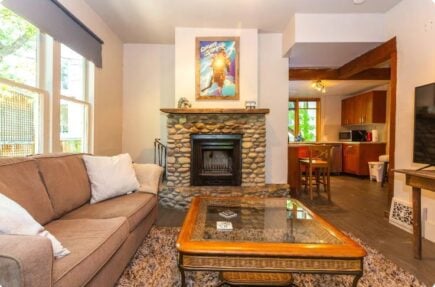 BEST LUXURY AIRBNB IN CALGARY
River Cabin Sanctuary
> $$$$
> 6 Guests
> Front yard for fishing and BBQ
> Clawfoot Bath

Unlock Our GREATEST Travel Secrets!
Sign up for our newsletter and get the best travel tips delivered right to your inbox.
What to Expect from Airbnbs in Calgary
Canada is a vast country with a diverse landscape and a ton of unique experiences for tourists to enjoy. However, to really enjoy them, you will need to pick your location wisely.
Calgary is a vibrant city and the gateway to Banff National Park. If you're planning a Canada road trip through some national parks, then you'll probably find yourself here at some point.
A good tip to keep in mind when deciding on your accommodation in Calgary is that you should base yourself as central as possible, such as in the downtown area near transport systems, especially if you don't have a car. This way you can save money, as well as time, because you'll be able to easily walk to places of interest.
There are many types of accommodation available to rent on Airbnb in Calgary, such as private rooms, condo units, and apartments, which are some of the most common Calgary Airbnbs. However, if you venture farther out, you'll find truly unique stays such as treehouses and cabins. Let's take a look at some of the most popular Calgary vacation rentals.
Private Rooms
Whether you are looking for something that's right smack in the middle of the city or quieter and peaceful stays in suburban areas, private rooms are pretty much everywhere. Booking a private room is an excellent option for solo travelers or couples on a budget.
Some private rooms come with private bathrooms but others may require you to share them with other guests. You'll also usually have shared access to other common spaces such as kitchens and living rooms. Just make sure to check the description to avoid unpleasant surprises.
Most private rooms provide guests access to washing machines, dryers, and all the amenities you might need for a comfy stay, but the best thing about them is they allow you to stay with a local who can give you insider tips on your destination.
You may also have other guests staying with you in a shared apartment, so you no longer have to stay in a hostel in Canada to meet other like-minded travelers.
Apartments and Condos
Condo units and apartments are pretty much all over Calgary and are the perfect choices for couples, families or business travelers, those who would like more privacy. If you're travelling in a group or with children, or just like to have the entire apartment to yourself, these are a good option that doesn't break the bank.
As a general rule of thumb, apartments and condos are cheaper than houses, so if you're backpacking Canada and looking for somewhere to yourself for a while, you might find a good deal with an apartment.
Since most condos and apartments are in tall buildings, you might just get amazing views as a bonus. Located close to city centers, they make the perfect base to explore the surrounding attractions. Sometimes they even come with shared facilities such as pools and fitness centres.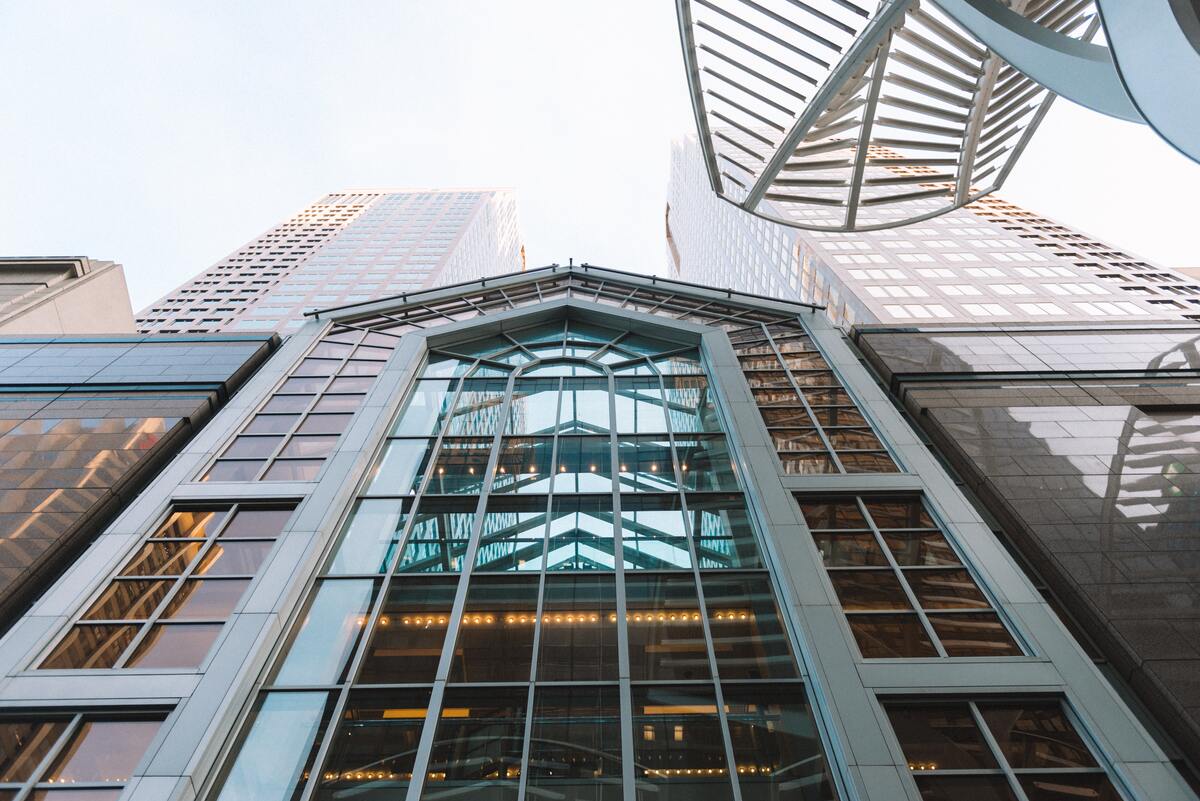 Townhouse
A townhouse is essentially an entire house but they tend to be in older and more historical buildings. These are the best option for families or large groups since they often come with two or more bedrooms.
They are entire rental units, so you get a fully equipped kitchen, modern bathrooms, living areas and a dining room. If you're lucky it might also come with a garden, patio or free parking.
Townhouses are the biggest and often most expensive type of vacation rental in Calgary, but split the cost between each member of your group and it can work out to be quite affordable.
Why Stay in an Airbnb?
I can think of many reasons to choose Airbnb over a hotel, but here are just a few…
Local Experience: Whether your host is a private owner or a business, they'll be able to give you the top tips on what to do nearby. That doesn't just go for Calgary, but for everywhere in Canada.
Unique Properties: In a place chock full of unique vacation rentals, why on earth would you want to stay in a drab and dull hotel?!
Privacy: Cabins, chalets, and treehouses mean you and your companion(s) can get the break you need without anyone else interfering.
Affordability: Airbnbs offer a lot more value for money than equivalently priced hotels. And with big group stays, you can split the cost multiple ways!
Safety: It might seem a little weird staying in someone's house; however, both hosts and guests are vetted by Airbnb reviews to ensure the safety of both. Canada is overall safe, and the Airbnb booking security just adds a little extra to it.
The Top 15 Airbnbs in Calgary
Now you know what to expect from Airbnbs in Calgary, it's time to take a look at my top picks!
6 Guests
Continental Breakfast included
Let's kick off with one of the best value Airbnbs in Calgary. Situated right by the city's Red Mile (where you'll find some of the best nightlife), you won't be complaining about the location.
Not only that but for a very reasonable price you also get a continental breakfast included – not that common for entire place Airbnbs! It's already cheap as chips, but if you split this place between the 6 guests that can fit into this place, you're really laughing.
You'll be able to have quite a few drinks on the Red Mile before you stumble home to your comfy beds!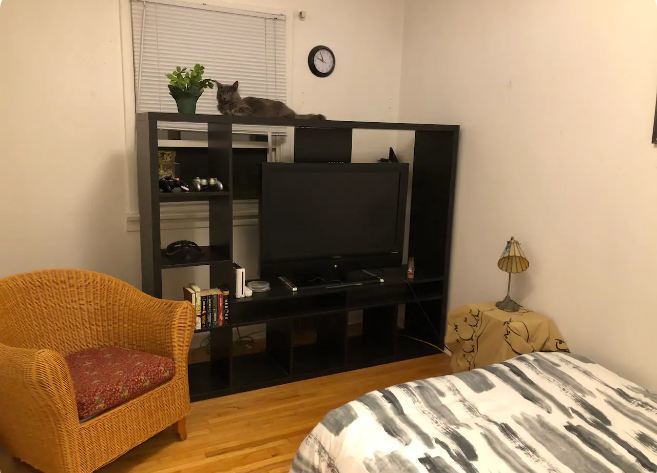 2 Guests
Multilingual household!
A Calgary homestay is a great way not only to save money but to get some awesome local recommendations too.
Although this place is a little out of the centre, that money you save will leave you with enough to get a public transport ticket and have enough change for lunch or dinner! If you're really stuck for things to do in Calgary, your friendly hosts are happy for you to join in with their activities too. Even if it's just chilling with their kitten!
If English isn't your first language, don't worry. Your hosts can communicate in French, German, and Spanish too!
3 Guests
Balcony and free parking
Looking for somewhere chill and relaxing to work? Look no further than this cool Calgary vacation rental. Not only does it have fast Wi-Fi and a laptop-friendly workspace, but you'll have a stunning view of the city as you work too!
Not only that but once you've closed your laptop for the day there's plenty to do. Since you're in the heart of downtown, enjoy the benefits of being in a great central location and wander over to see the sites that are within walking distance such as Calgary Tower.
Is This the Best Backpack EVER???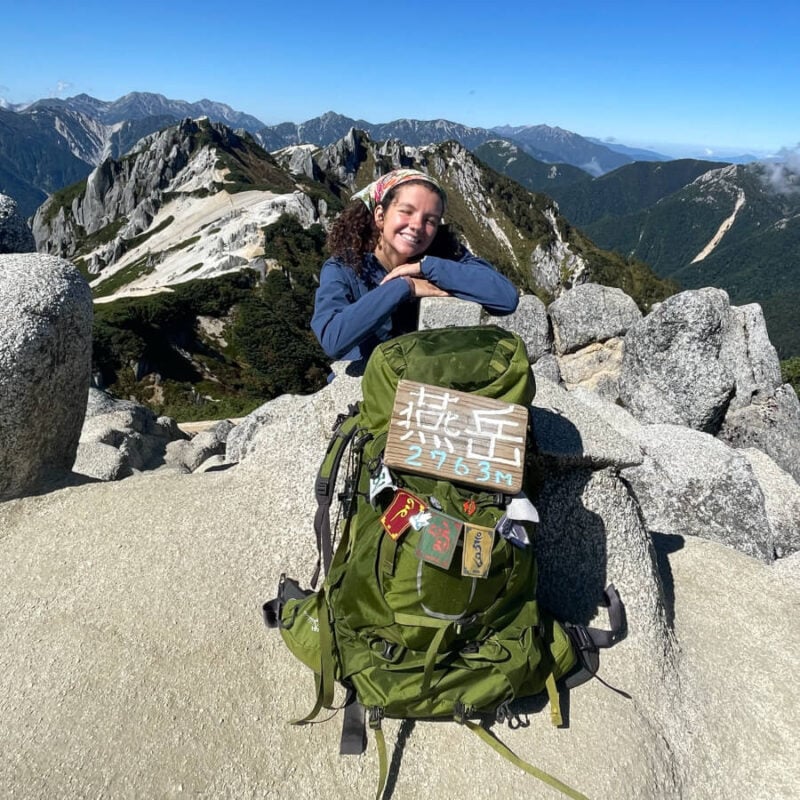 17th avenue is also known as the Red Mile, and as we established earlier, it's a great area for nightlife! And you know that sometimes after a big night out, there's nothing better than a homely and comfy atmosphere to destroy that hangover.
That's exactly what you'll get at this lovely Calgary Airbnb. Enjoy making something to soak up the alcohol the following day in the fully equipped kitchen, or pop to one of the nearby cafes or restaurants or shopping center that are all within walking distance!
You've got a private entry too, so return home at whatever time you like!
Best Short Term Rental for Couples | Tiny Charming Flat
$$
Free underground parking
Another great spot on 17th avenue is the cute and cosy Calgary Airbnb. It's the perfect spot for couples as you'll be able to enjoy the luxury of a king bed, as well as chic and modern decor!
If you're travelling with a small child, there's a pull-out bed too, so you can still enjoy having maximum privacy and enjoyment together, while the little one is comfortable too. The news just keeps getting better if you've travelled in your own car, as this place offers free parking too!
2 Guests
Access to communal areas
Want to save some cash and really enjoy a local experience? Then it's a good idea to check out the best homestays in Calgary. Such as this one with a private room!
Not only do you get an awesome double room and a communal space to chill out in, but you get to enjoy a private bathroom! If that's not enough, you're in a perfect location near downtown, near all attractions such as National Music Centre, Calgary Tower and Heritage Park Historical Village.
Especially good to know if you're a long term traveller!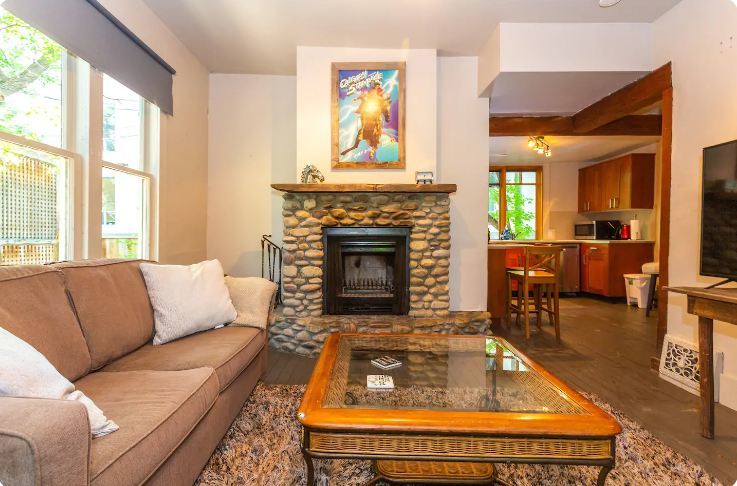 $$$$
Front yard for fishing and BBQ
For this totally awesome luxury Calgary Airbnb, let's head a little further out of the city centre. Yep, we're going to the Riverside to check out a gorgeous cabin!
This riverfront cabin has more than 100 years of history, yet it boasts plenty of mod cons that will keep you comfortable, warm, and feeling like royalty!
If you're into outdoor activities, make the most of the front yard – you can try fly fishing in the river! Then, in the evening, cook what you've caught on the BBQ!
6 Guests
Comes with crib and family games room
Staying with the family? Head away from the hustle and bustle and take a look at this excellent vacation rental with plenty of space in Kensington. With space for up to 6 guests, there's room for mum, dad, and the rest of the family.
Head out to the garden for a picnic and some games, or stay in and enjoy each other's company in the comfortable communal areas or games room, complete with foosball table and smart TV. There's Wi-Fi, so everyone can connect to their devices. And if you have a baby, there's a crib too!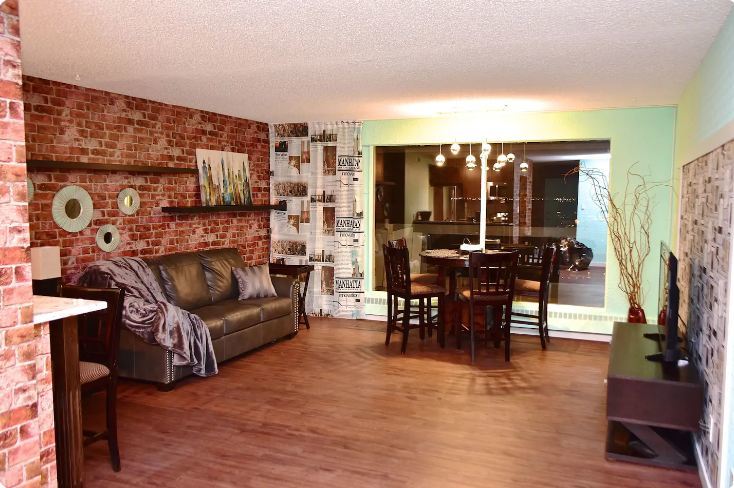 $$
Free underground parking
6 Guests
Patio style balcony
Okay, I know you've already seen plenty of Airbnbs in Downtown Calgary, but that's because it's the best area to stay! And I couldn't resist showing you just a couple more.
This condo is stylish and cool – just look at that indoor brickwork! After a long day of sightseeing, cool off in the tropical torrent shower, before enjoying a glass of wine out on the patio-style balcony. Those views are just sublime!
Another Great Apartment in Downtown Calgary | 6th Ave Cosy Den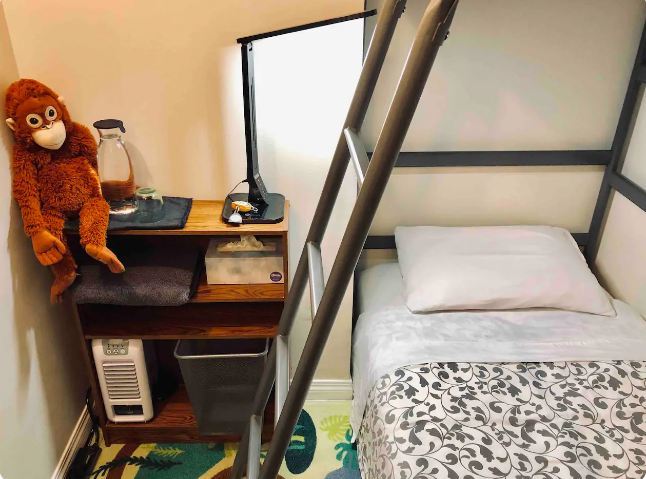 $
Complimentary Tea and Coffee
2 Guests
Gym and sauna in building
Okay, I promise this is the last apartment I'm going to show you in Downtown Calgary. I told you I'd have vacation rentals for every budget and travel style, and this unusual option isn't for everyone.
However, for business travellers or students on a budget, this place is perfect! A private room with a bunk bed sleeping up to two, it's one of the cheapest options in the area.
For a small fee, you can also arrange airport pick up and/or drop off with your helpful hosts!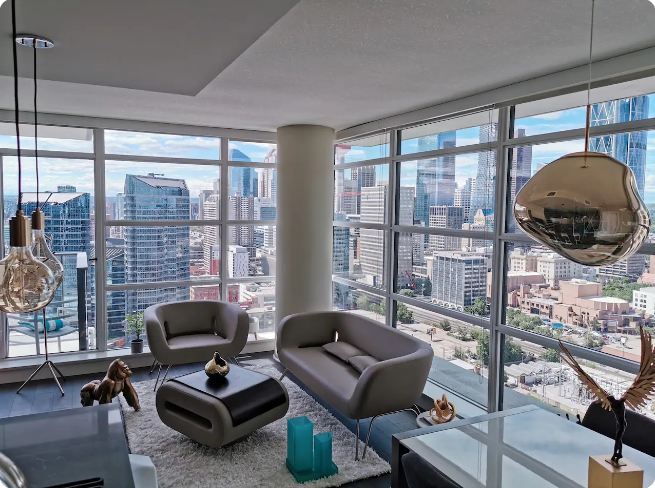 6 Guests
Tallest residential tower in Calgary!
Do you want to see stylish vacation rentals with awesome views? Of course, you do, so check out this Calgary apartment. It's in the tallest residential tower in town! You'll have to have a head for heights here, as you'll be all the way up on the 28th floor.
Once you get over that, enjoy kicking back and relaxing on the high-end furniture. When you fancy getting out, you'll be happy to know that you can make your way to and from the apartment in the lift, rather than climbing several flights of stairs!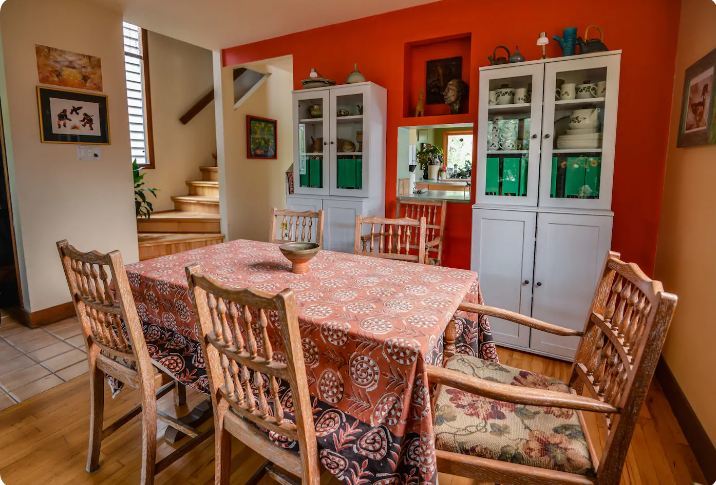 There are so many great homestays in Calgary that I didn't think it was fair to just show you one. Let's head a little out of the city centre to this woodland themed homestay, which is perfect for nature lovers!
The heritage neighbourhood is near enough Downtown for you not to miss out on the coolest sites and nightlife, but it's easy access to the woods. You've got access to the whole house, including relaxing garden rooms, the ideal place to relax with your book or enjoy a steaming mug of coffee!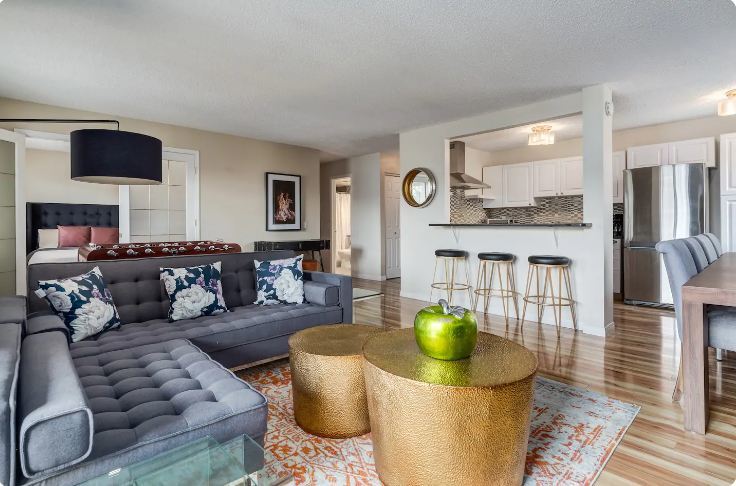 If you're in a big group of friends, you want somewhere that's got plenty of space and a few extras that make your stay a little more fun.
This incredible Calgary Airbnb comes with a foosball table, so set up a tournament and have a few drinks before a night out in the city!
There's a fully equipped kitchen too, so rather than heading out to a restaurant as a big group, everyone one of you and your 9 best pals can bring their own culinary skills to the table!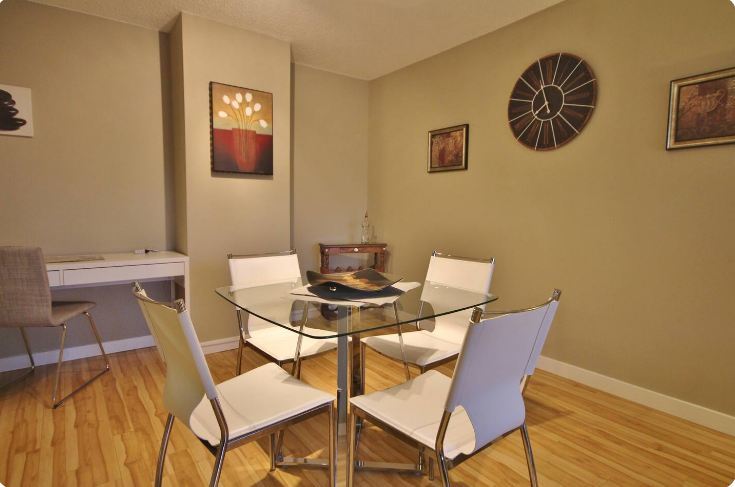 Last but not least, let's take a look at another part of Downtown Calgary – the Beltline. This condo not only boasts a great location, but the views from that patio are sublime.
Whip up a meal in the fully equipped kitchen and enjoy that at the table and chairs which look out across town! If that's too much effort, just pop open a beer or a bottle of wine and drink in the sunset.
In the building, you've got a gym, a racquet-ball court, and a sauna. So you can stay fit and fresh!
2 Guests
Trampoline and Swing in backyard
Head a little out of the city centre to the neighbourhood of Kensington, and you'll find this colourful Calgary Airbnb. And it proves that you don't have to stay in a hostel to find somewhere cheap and with plenty of character.
Your nice hosts are happy for you to make yourself at home in the communal areas of this house, and they'll happily give you recommendations for travelling around the area. You can even chill with their cute pets. Look out for their cats and dog! Last but not least, your room is super comfy!
FAQ about Airbnbs in Calgary
Here's what people usually ask me when they look for vacation homes in Calgary.
Don't Forget Your Calgary Travel Insurance
ALWAYS sort out your backpacker insurance before your trip. There's plenty to choose from in that department, but a good place to start is Safety Wing.
They offer month-to-month payments, no lock-in contracts, and require absolutely no itineraries: that's the exact kind of insurance long-term travellers and digital nomads need.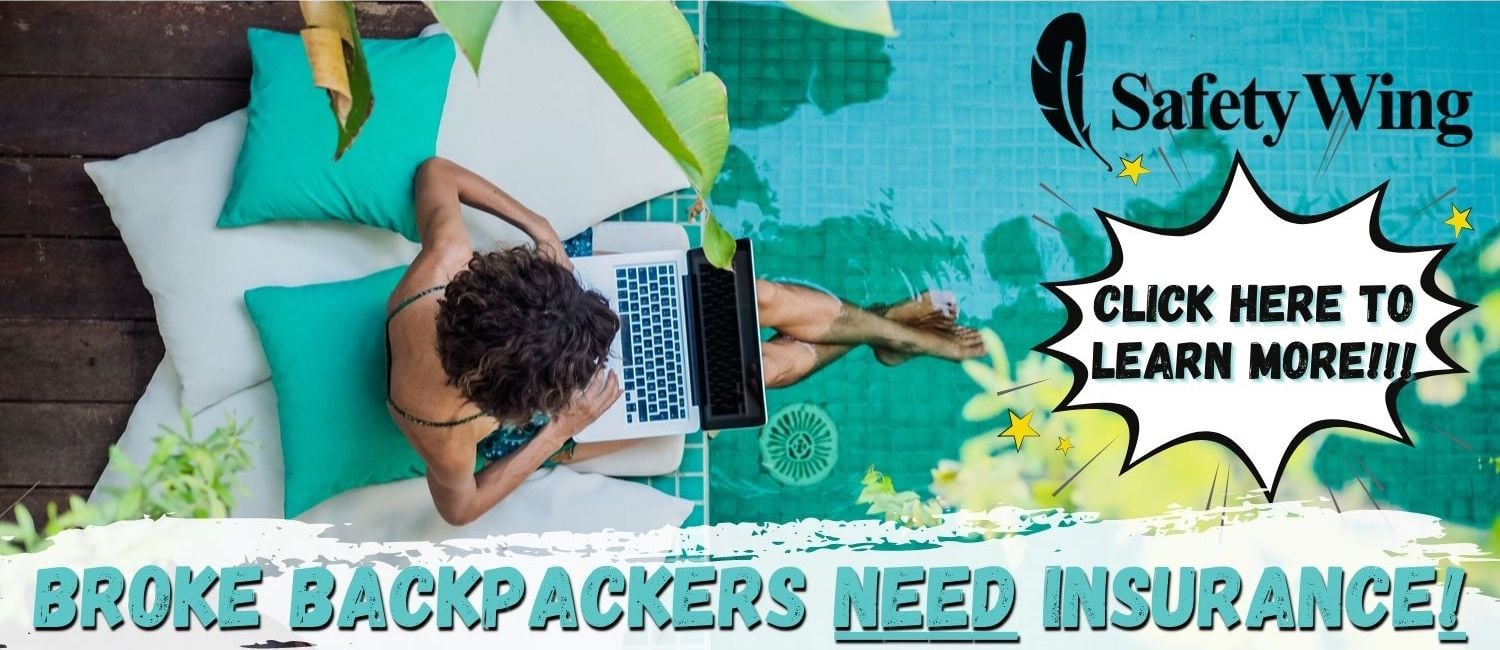 SafetyWing is cheap, easy, and admin-free: just sign up lickety-split so you can get back to it!
Click the button below to learn more about SafetyWing's setup or read our insider review for the full tasty scoop.
Final Thoughts on Calgary Airbnbs
Well, that's all from me and my list of the best Airbnbs in Calgary. I think you'll agree that I've packed this extensive list with a range of eclectic options. I hope you've seen one that you've fallen a little bit in love with!
Remember, the huge variety of rentals in Calgary includes cosy dens, high rise condos with incredible views, and charming homestays with friendly locals. The only problem with my list is that it might have given you a little too much choice!
If that's the case, there's no need to panic. Just take a seat, have a cup of tea, and a deep breath. Then go for it and book my favourite Calgary Airbnb, the Great Apartment on 17th Ave! It combines an awesome location, with great value and lots of style. I love it!
Now, all that's left is for us to wish you an awesome holiday in Calgary. I hope you have a great time!
---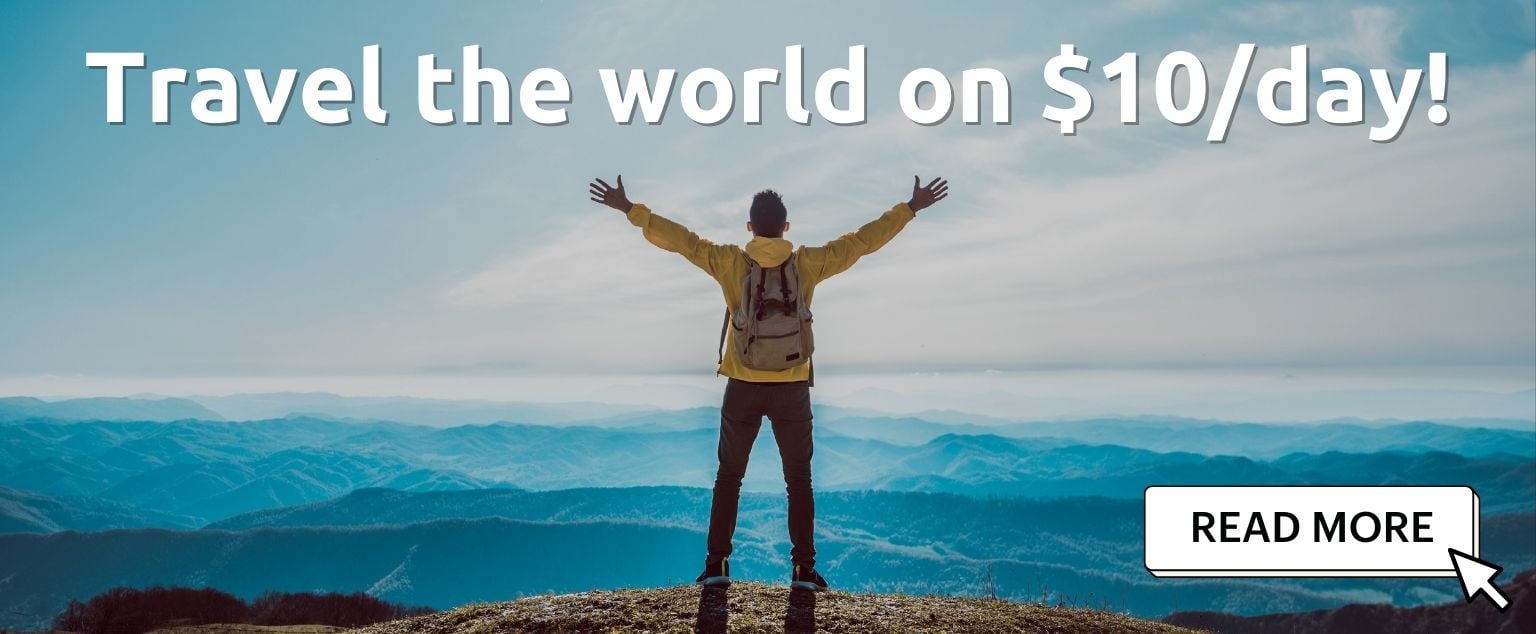 And for transparency's sake, please know that some of the links in our content are affiliate links. That means that if you book your accommodation, buy your gear, or sort your insurance through our link, we earn a small commission (at no extra cost to you). That said, we only link to the gear we trust and never recommend services we don't believe are up to scratch. Again, thank you!