An open-ended Bikepacking adventure through Europe is every cyclist's pipe dream. The continent invented cycling in 1817 and has been perfecting the design ever since. The result is a collection of some of the most fantastic cycling routes on earth.
No other area can offer up such international options. You can pedal through eight to ten countries in a few weeks, enjoying the subtle geographical shifts as you ride from Western into Eastern Europe. Even staying within one nation, the natural landscape and an incredible biking infrastructure work together to make remote alpine mountaintops accessible on a bike.
International cyclists and local villages have etched out hundreds of iconic cycling routes that can take riders both peacefully and at a frenetic pace through the peaks of the Alps and Pyrenees, and the valleys of the Loire and Szalajka. Summer is right around the corner, and the best time to plan your bikepacking adventure in Europe was several months ago, but the second best time is now.
This guide will introduce you to some of Europe's best rides. Just being mentioned as one of the top ten rides in this continent full of epic trails is a heavy accomplishment on its own. There are at least fifty trails that have a royal pedigree and a legitimate argument for the crown.
No matter which path you take, bikepacking is a great way to experience Europe. Townships big and small are used to seeing riders muscling through main street with several bags strapped across their frames and are often quick to lend a helping hand. At the same time, there is still plenty of wild country left on the continent. You could ride for hundreds of kilometers between houses.
Whether you'd like a slow leisurely ride that ends in a spa-adjacent hotel room or rugged rides that avoid paved roads entirely, you can find the right ride for you through Europe. Today, we'll introduce you to those routes.
These Are The Best Cycling Routes in Europe
Some of the cycling routes on our list casually meander from pub to pub, while others will take you thousands of miles across the continent. The first step in any bikepacking trip is nailing down your start and end points. Having those facts down makes it easier to get lost along the way.
No matter which ride you choose, the roads will be busiest in July/August, so make sure and book hotels, hostels, or campgrounds well in advance. The shoulder season is a great time to ride while enjoying more solitude and cheaper hotel prices. You can finish some southern rides year-round, but most riders map out a time period between March and October to avoid sleeping outside in the snow.
Each ride on our list consists of multiple legs, usually in the form of 'stages.' you can find itineraries that cover the entirety of each route, or search through the stages and find a few highlight sections of the trail for a great day trip.
Where it starts: Donaueschingen, Germany
Where it Ends: Tulcea, Romania
Distance: 2850 KM
# of days: 40-50
Difficulty: Spicy
The ride follows the Danube river through eight countries and thousands of kilometers of changing landscapes. The most famous iterations of the pathway end in Hungary, but if you want to keep biking, you can follow the river all the way to its dumping grounds. Start your trip straight from the source of the Danube, in Donaueschingen, and don't stop until you hit the Black Sea. This famous route has great stops and excellent infrastructure. All you've got to do is follow the river.
To spend more quality time off the bike, several shorter legs of the ride shave off thousands of KMs while taking you through the route's highlights. The most popular leg is the trip from Passau, Germany to Vienna, Austria. Ending your trip in the City of Dreams or in neighboring Budapest, great places to celebrate the completion of a long week's ride.
What You Need To Know:
Sections of this trail are the most popular cycling route in all of Europe, depending on when you visit. You can expect paved roads and plenty of stops for a cold drink. If you want to get ahead of the crowds, the path from Budapest to the Black Sea is the least traveled section of the ride.
The most popular leg, Passau to Vienna, lopes slightly downhill and can be finished in three to five days, much more approachable than trying to follow the entire river.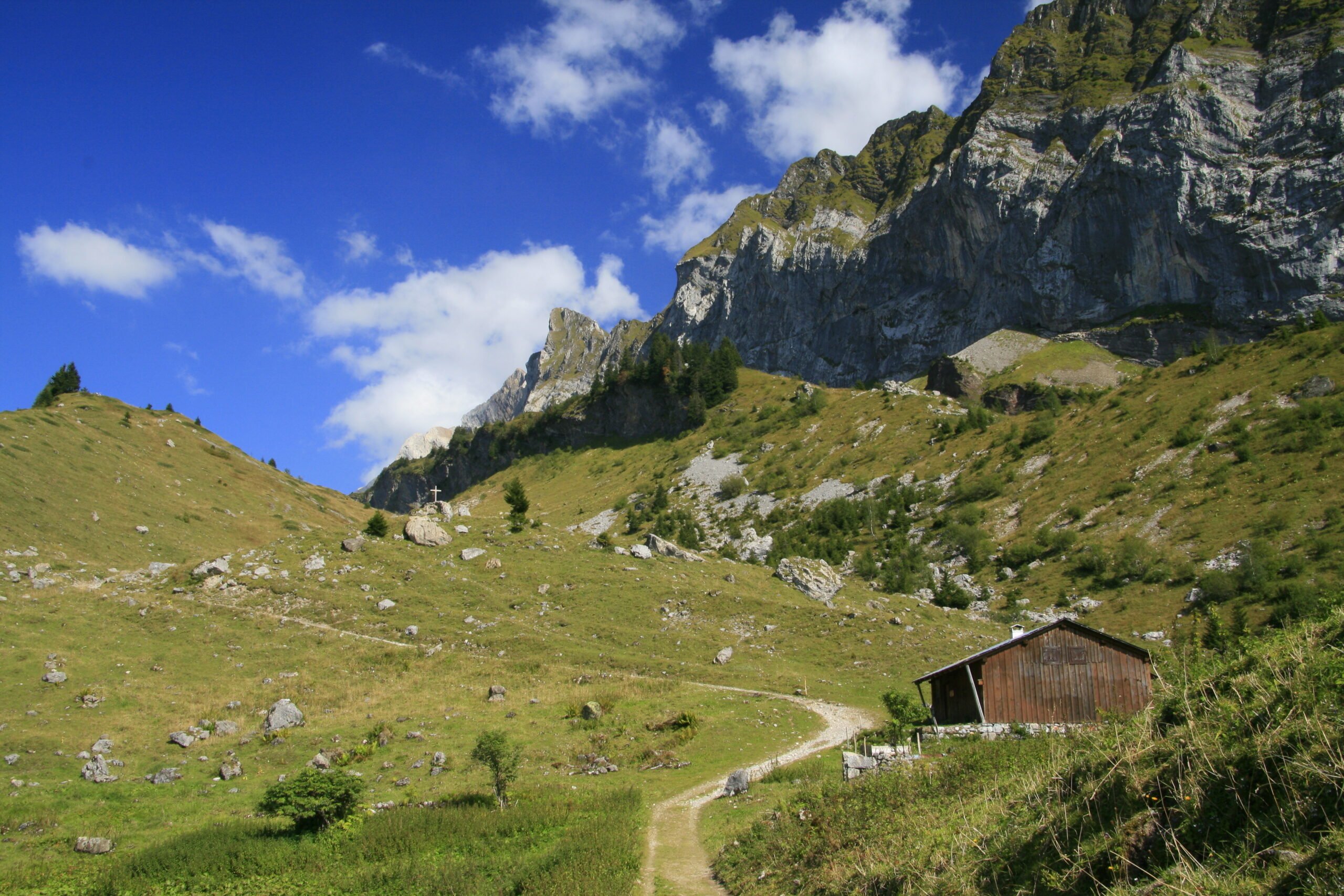 Where it starts: Grense Jakobselv, Norway
Where it Ends: Cape St. Vincent, Portugal
Distance: 7600 km
# of days: 180
Difficulty: Extreme
This ambitious adventure covers the continent without taking the highway. The trail is comprised almost solely of backcountry gravel roads and singletrack trails, providing a unique way to see Europe. While the trail stays on dirt roads, it also promises a relatively non-technical crossing of the continent, built with the Great Divide MTB trail in the USA in mind.
This trail starts with wild camping and sunny days in Finland and Sweden before ending with the grueling, deserty trails of Portugal. The dry bumps of Portugal slow down riders to a pace of 2 km an hour, torture after months on the bike. To this day, only 12 people have finished the entire trial, so there's still time to get your name down in the history books for this epic ride.
What You Need To Know
This ride is extreme and uncharted. Most of the credit goes to one man: Andy Cox. He calls himself a guy who loves to ride, and he put together the longest predominately off-road bikepacking route in the world.
You'll have to cross more fences than intersections to get through this epic backcountry route. While the route itself does not cover super technical terrain, the sheer enormity of the task makes the ride difficult. You'll need a gravel or mountain bike and bikepacking bags capable of traveling over 200 km between services.

Where it starts: Genk, Belgium
Where it Ends: Genk, Belgium
Distance: 375 Km
# of days: 8
Difficulty: Mild
This route is best done on a buzz. Enjoy eight days of responsibly drinking and riding through Belgium's national parks and detours that elevate your ride at the tree line. A typical Belgium itinerary covers around 60 km per day. You could rip through this thing much faster if you really wanted, but once the riding ends, the drinking drops too.
Each night of the tour ends in a new small town with centuries of brewing history. You'll have to schedule an extra few days in Antwerp to get the full taste of the beer scene. Some riders could spend a week in the Kulminator alone. Ring the bell and tell Dirk you've come to taste beer.
What You Need To Know:
Legally you are not allowed to drink and ride your bike with more than .5 milligrams of alcohol per millimeter of blood. The shortened daily itinerary gives you plenty of time to sober up after a lunch break that lasted a few more beers than anticipated.
Where it starts: Nevers, France
Where it Ends: Saint-Nazaire, France
Distance: 630 Km
# of days: 7
Difficulty: Mild
More than a single start and ending point, The Loire Bike path is a complicated web of shorter and longer rides. There are all sorts of branches off the main hunk of this trail, perfect for day rides through the castles and valleys of the Loire River.
Start your ride with Confit in Frances's quiet midsection and end with fine dining on the West Coast. Or, use Tours as a home base and take advantage of several SNCF rail lines with bike-friendly cars to reach this route's best points in a few afternoons. The trail is also a small part of the EuroVelo 6 that can take you across the entire width of the European continent.
What You Need To Know:
This paved route zips along some of the best biking infrastructure in Europe. You can find many bike rental options in Tours, whose Place Plumereau makes for a fantastic home base. The bike-friendly city is in the middle of the route and within a day's ride of the area's most famous castles.
Where it starts: Shetland Archipelago, Scotland
Where it Ends: Bergen, Norway
Distance: 7250 km
# of days: 100
Difficulty: Medium
Also known as the EuroVelo 12, this is the most amphibious cycle route in Europe. You'll need more than a few ferries to cover the entire route, which follows the sea from Scotland to Norway, passing through six different countries along the way.
You don't have to start in the Shetland islands to taste the north. Most cyclists don't have a few hundred free days to tackle the whole ride, especially once the sun stops rising. It's best done in stages. At the right time of the year, you can enjoy 18 hours of smooth riding as you pedal past some of the wildest countries in Europe.
What You Need To Know
While the difficulty of each section of this paved route is not the most technically advanced riding out there, planning on covering the entire distance in one trip severely elevates the challenge.
A great way to split up the cycle route is by country. The UK, Germany, and Sweden all have nearly 1,000 kilometers of cycling, more than enough for a two-week bikepacking trip. Along that immense distance, this route requires a lot of ferry crossings and goes through several tunnels where bicycles are forbidden. Keep track of updated changes.
Where it starts: Sevilla, Spain
Where it Ends: Santiago, Spain
Distance: 970 KM
# of days: 21
Difficulty: Medium
Most prefer to walk the Santiago de Compostela Pilgrimage, but some of us were born to ride. In the large network of routes that make up The Santiago de Compostela, The Via De La Plata is the road less traveled as you'll frequently go 20 km between refills. Most walkers opt instead for the better infrastructure of the Camino Frances.
Its relative solitude makes it the best cycle path of the Santiago network. It's a bit far on foot, but each city is within a cruisy day's ride from the other. Via De La Plata covers four different Spanish regions, winding through generations of wealth hauled along the silver route since the Roman Times. You'll feel the wealth in the countryside and get a glimpse of what all Spain has to offer.
What You Need To Know
Only about 3% of all pilgrims undertaking the Santiago De Compostela choose the silver path, but there is no way to avoid the crowds forever. The route links up with the other, more populous trails in Astorga.
Still, there are plenty of options to rest along the way, and you'll never be too far from a Menu Del Dia. The Via takes advantage of the same Albergues as any Camino Walk. The other thing this route shares with the other Camino walks is steaming hot August temperatures. July And August are good months to skip this ride if you can't handle peak temperatures above 40 degrees Celsius.
Where it starts: Romanshorn, Switzerland
Where it Ends: Montreux, Switzerland
Distance: 1000 KM
# of days: 11
Difficulty: Carolina Reaper
Lake Constance and Lake Geneva are only 375 kilometers apart, but this bike path elects for the scenic route, climbing over 30 mountains between lakes. Endurance maniacs have pushed through and finished the challenging set of climbs in just over three and a half days, but there's no need to rush through this epic scenery.
A two-week itinerary still allows plenty of daily climbing, and the meandering pathway takes you through plenty of villages that provide a necessary night's rest. 11 days might seem like a long time to cover only 1,000 Kilometers, but spread across that distance is 31,000 meters of total ascents. Getting to the top is the least of your worries, with some of the more technical descents require precarious balance on singletrack trails at high speeds.
What You Need To Know
While you can hit this route any day of the year, it also marks the course for Switerland's first Bikepacking Event. Registration for The Hope 1,000 typically fills up in minutes, so you should start planning now for 2024. With no crewmembers, no road closures, no mechanics, and no signposts, it's a true bikepacking spectacular.
Don't worry if you've already missed the registration window. The entire course is single-track beauty through the backcountry, so riding alone helps you navigate tricky sections without riders breathing down your neck.
Where it starts: Munich, Germany
Where it Ends: Venice, Italy
Distance: 560 Km
# of days: 9
Difficulty: Mild
This trail provides one of the most accessible pathways through the alps, splitting time between paved cycleways and backcountry roads of Bavaria. The main spine of the route connects you to several other of the region's most popular cycling paths, including the path of the Dolomites. You'll have your fair share of alternative stops if you want to stretch your trip out a bit further.
The original passage brings enough adventure for most biking trips across beautiful Alpine countryside with charming village stops along the way – make sure to budget an extra afternoon in the spa town of Bad Tölz. By the time you get to Venice, you'll have seen three previous Olympic Villages and a smattering of quiet countryside.
What You Need To Know
The most treacherous parts of this route involve getting in and out of Munich and Venice, you can always cut your trip a few kilometers short to spend more time in the countryside. Many prominent itineraries stretch out your vacation to two weeks, helping you leisurely push yourself through the Alps.
This pace, plus the fact that this entire route brings you through wide country roads, makes the Muenchen-Venezia an excellent choice for anyone who wants a bikepacking trip without coming face to face with your own mortality.
Where it starts: Würzburg, Germany
Where it Ends: Füssen, Germany
Distance: 440 km
# of days: 10
Difficulty: Mild
If you couldn't tell from the name, this cruisy route is all about indulgence. You could probably finish things in less than 10 days, as long as the sheep don't cause a traffic jam, but there's no need to rush through some of Germany's most beautiful cycling paths. Most of the route covers gravel pathways adjacent to farmland that provide great spots to set up the tent.
The other half of the trail runs through medieval villages and quaint vineyards that tempt you to stop early for a drink. The path even passes through Donauwörth, a charming cycling-oriented town that connects riders to the Danube Cycle Route.
What You Need To Know
While this route is beginner friendly, there are still a few tricky sections. You'll have to navigate a few cobblestones and rough roads that may require a spare tire. Still, the entire road is incredibly well-signposted, and you'll never be too far from a charming town to spend a night or two rejuvenating.
If you head from north to south, you'll slowly leave the alps and watch as the landscape changes to river valleys and woodlands.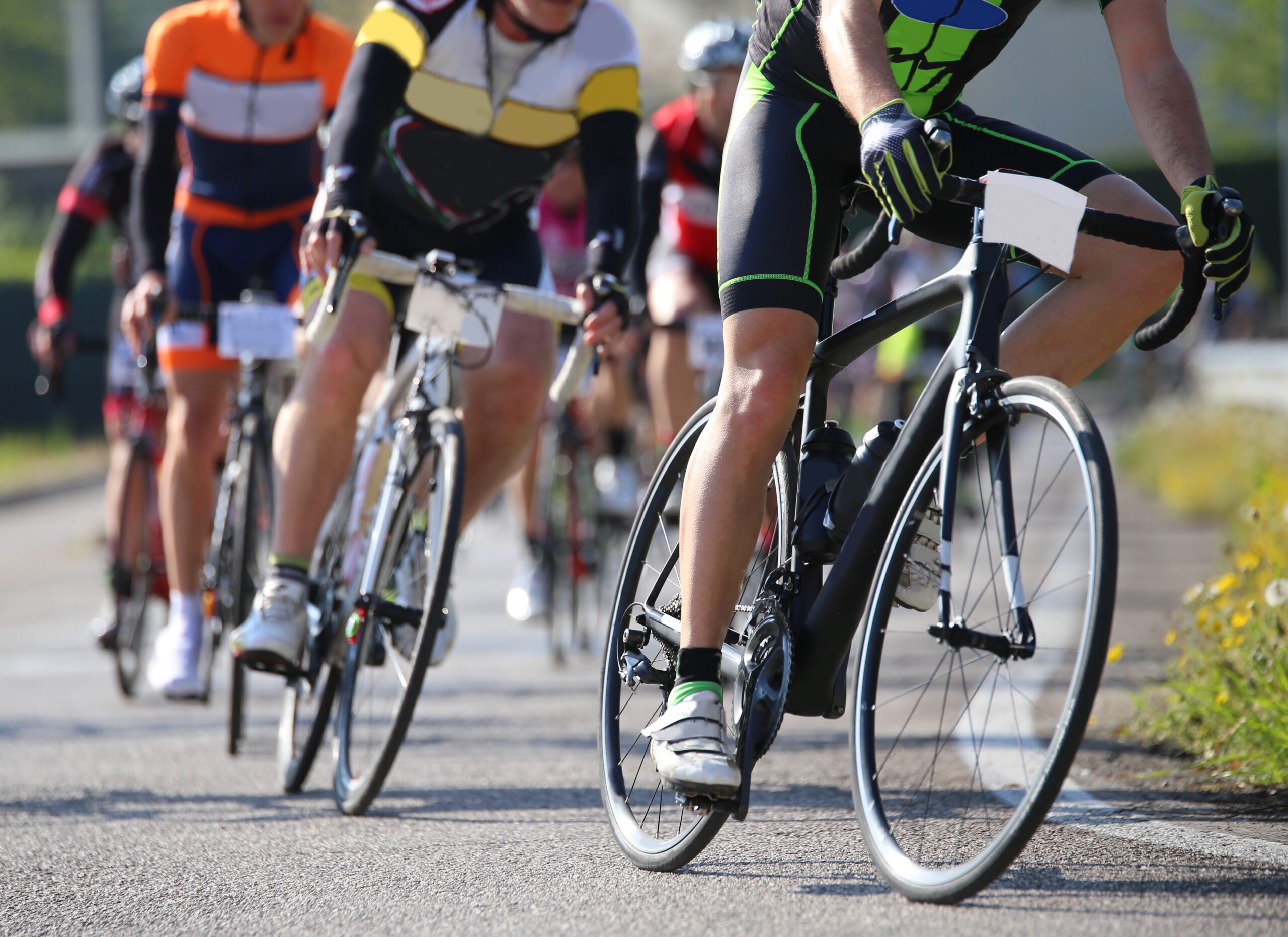 Where it starts: Liege, Belgium
Where it Ends: Liege, Belgium
Distance: 258 km
# of days: 1
Difficulty: Expert
This route is one of professional cycling's most famous classics, sometimes considered the most difficult single-day ride in the world. Depending on the year, the route could require 12 ascents, none more demanding than the Côte De La Redoute. Once you cross the Remouchamps Gorge, you face a steep 10% average grade, with sections tipping up over 20%.
In addition to challenging climbs, the centennial route is known for its cobblestone sections, shaking your handlebars and testing your reaction times. This stretch of road is known as 'the old lady' for its place in biking history. Carving out a space to challenge yourself on this one-day ride is a cycling pilgrimage.
What You Need To Know
While this is technically a day's cycle, it's a whole lot of kilometers to pack into one route. The easiest way to enjoy this iconic ride without overdoing it would be to start in Liege and stay a night in Bastogne, fueling up with a few baked Saint-Marcelin's in the meantime.
The main action of this route takes place in late April. Adventurous amateurs can have a go at the course one day before the professionals take the streets for the Classic. Weather is always a factor in the Liege Bastone Liege, as the race takes place early in the year for the professional cycling calendar. Rain, sleet, and snow frequently make uninvited appearances.
What Gear Do I Need To Cycle In Europe?
It's a tricky proposition to pack everything you need on your bike and hit the road, sometimes with a few days between towns. You'll need all-weather gear, more food than you'd think, and odor-resilient socks.
The good news is you're not the first person to head to these hills. You don't have to pack everything you need to survive for weeks. Some of these trails will have a hot shower and cup of tea waiting for you at every stop, you won't even need to bring your own towel. Most European cycling routes have committed infrastructure and pass through towns that are ready to help out.
The gnarlier the route, the tighter the community that surrounds it. Previous riders and passionate neighbors help you meet the mammoth task with immense online communities and detailed first-hand accounts. Once you've got a route on your radar, explore online communities centered around your particular path to find some trip-saving trail secrets.
There is no source better than an unadulterated message board. The biking community loves to share. If you can get in touch, people who have finished your planned route will be happy to offer up the tips and tricks that got them through the ride.
A Bike
And not just any bike, either. Bikepacking requires bikes with a particular set of skills, all of which the rough terrain of the old world will put to the test at some point in your journey. A kilo or two in frame size doesn't make a world of difference in an afternoon ride, but you'll feel every gram on a longer ride.
A great bikepacking bike strikes the middle ground: A heavy, aluminum frame will hold back each pedal stroke, and going too light increases the risks of a breakdown. Not every lightweight road bike can handle you + 35 litres of necessary camping equipment.
While some bikes can heavy loads and tough terrain better than others, still choose a bike you know how to fix. It's not a question of if but when your bike will require some first aid. Bikes are highly specialized equipment. Map out your route and then pair it up with the right ride. In a dream world, you could piece together a dream bike that's the sum of these four parts:
Wheels: Wider tires add extra comfort and smooth out long bumpy rides, but they add on weight and increased surface tension. Don't go too extreme in either direction.
Frames: Titanium is the best in the business but overkill for most rides. Light aluminum or Chromoly steel will get you through most rides.
Gearing: Keep it simple with a 1x setup and find a rear derailleur that can make things two or three speeds easier than you're used to.
Suspension: This is the most case-by-case part of your bicycle. The less backcountry you're riding, the less suspension you need.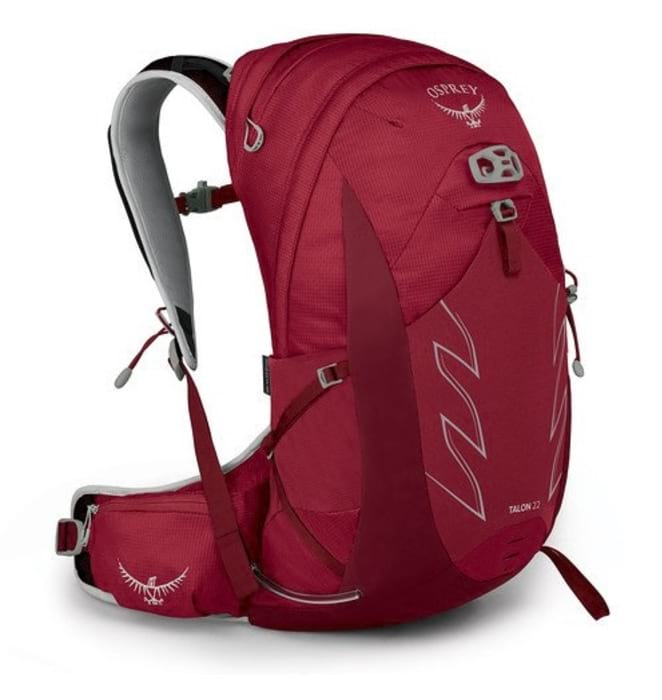 Nothing will take you further than the Osprey Talon 22. The Airscape back suspension is the key to this bag's success. The back panel leaves space for a bladder pack and curves the weight of your pack across your shoulders, hips, and chest. Every strap has myriad adjustment options to spread your load precisely.
Large hip pockets fit their fair share of cliff bars, and the large water bottle pockets would each fit a Nalgene. There's even a beaver tail front pocket and clips for oversized equipment. Once everything is packed and strapped up, this bag stays locked into place, even during mad, bumpy descents.
All this extra comfort does add an extra gram or two compared to some bags. It might feel counter-intuitive, but in this case, adding on a bit of extra weight will help things feel lighter in the long run. Don't let the specs fool you, this pack is made to excel on the most intense day of the trip.
Other Bike Bags
Once your itinerary starts to work in overnight stops, the storage will have to spill from your backpack onto your bike. Bike bags should be waterproof and capable of bouncing through dirt and mud without a scratch. The bags you hook onto your bicycle have different strengths than one you'd keep on your person.
That means these bags don't worry about breathable back paneling or mesh straps to protect your shoulders. They still have to spread the load to make sure you can still stay balanced on two wheels, and bike bags should also be ready for a beating.
They'll have to get through the same rough roads and wet weather as you will. Rain soaking your skin might not stop a ride, but a soaking wet bike bag will send any rider scrambling for cover. Complete weather resistance is the number one requirement of any bike bag. Beyond that, the bags split into different niches, largely based on what part of the bike they connect to.
Seat Bag: The most essential bag in bike-packing sits right under your seat to minimally affect your bike's aerodynamics. Seat Bags handle oversized equipment like coats and sleeping bags or up to 15 liters of storage. They can also be great storage spaces for your bike tools, which you'll hopefully never have to use.
Seat bags like the REI Junction make storage as simple as a few clips and velcro.
Frame Pack: The pack connects to the three tubes of your bike frame to offer triangular storage. These bags don't play well with rear suspension but are great choices for storing the heaviest items of your trip on hardtail bikes.

Handlebar Bag: These bags typically come with a whole lot of length, great for tent storage and other long and relatively thin items. Just make sure your bag won't bump into your front tire. You can also opt for a smaller Stem Cell to hook across the central point of your handlebars, giving you easy, sweat-free access to snacks and cell phones.
Waist Pack: If you've got solid bike bags or don't have too much technical terrain to cover, you might get away with just bringing a waist pack with you. Alone or combined with a larger backpack, waist packs should store everything that needs to stay close. Packs like the Black Hole® Waist Pack 5L
A waist pack is just barely too small to replace a backpack fully, but you can also travel with a combination of a backpack and a waist bag, so you don't have to lug all your gear when you only need your wallet.
Many bikepackers reject waist packs, citing the burden of an extra bag in addition to their backpack. Those of us who have seen the light can't leave the house without a waist pack strapped above our rear ends.
Bike Tent
Some of the best riding takes place far away from the nearest Hilton. Bikepacking trips require different sorts of tents than what you might have lying around in the closet. These tents shed weight and surface area at every corner to fit on more handlebars. They also need to be easy enough to set up after dark. It's not a question of if, but when, a traffic jam or a wrong turn will dictate a bit of fumbling around in the woods to get camp pitched. When the moment comes, a great bike tent will deploy in far fewer steps.
You should also consider whether or not you need shelter for your bicycle, or rather, the seat bags on your bicycle. Most frames will be fine after a few nights of rain, but your gear might not be so lucky. Modern seat bags are ultra water-resistant, but nobody is perfect. Long nights of rain will expose any minute cracks in the armor, so unless you're carrying a tarp along with you to cover up the bike, the seat bags are probably coming into bed with you.
These factors, and many more key design features, are why we can't get enough of Big Agnes' Copper Spur. They crammed their legendary ultralight tent into a smaller packed size to create a special edition perfect for bikepacking.
Leatherman Multi-Tool
The separation between a good multi-tool and a great one could be the difference between fixing roadside hiccups and dragging your bike a few miles. Hopefully, that day will never come, but bikepacking trips must prepare for the worst.
Nothing better prepares you for a few nasty surprises than an entire toolbox that fits in your pocket. The Free P4 is a slim option that fits right into your seat bag or clipped to a belt. They call it free because each of the 21 different tools is held together with a magnetic closure that allows one-handed deployment.
Between spare tubes, a patch kit, a pump, tire levers, and a Leatherman Multi-Tool, you'll have everything you need to fix routine bumps and bruises or at least patch together your bike to get to the next repair shop.
The best part is not all 21 of those tools are only useful on a bike. From hanging underwear up to dry all the way to changing bike tubes, a genuine leatherman has no equal.
Final Thoughts On The Best Cycle Routes in Europe
These trails run a gambit of paved pathways that you can stroll down in an afternoon, to grueling, months-long rides through the backcountry. Amongst the immense diversity in difficulty in these rides, overall length is much less of a factor than you might expect.
Longer routes don't necessarily mean more difficult. I'd rank riding 1,000 km on a smooth, paved road easier than 100 kms along muddy singletrack, especially if I've got all my gear strapped on.
Distance should definitely be a consideration when choosing your trail, but also consider the riding terrain, length between towns, amount of climbing, and typical weather for your ride – and always assume you'll get rained on.
Treat your first few cycling routes like warm-ups. Don't take off on a month-long scramble before you know how your legs will respond to a weekend spent riding all day and sleeping on the cold earth. Those adventures get you comfortable on the bike, teach you what you need, and teach you what you don't need.
And finally, take your time. We're talking about cycling through Europe. That's a once-in-a-lifetime experience for many foreigners. What's the point of speeding past the countryside so fast that the whole trip feels like a blur?
Unless you're in competition for the yellow jersey, there is no need to schedule a spartan bikepacking trip. Budget extra time to stop and smell the flowers.
---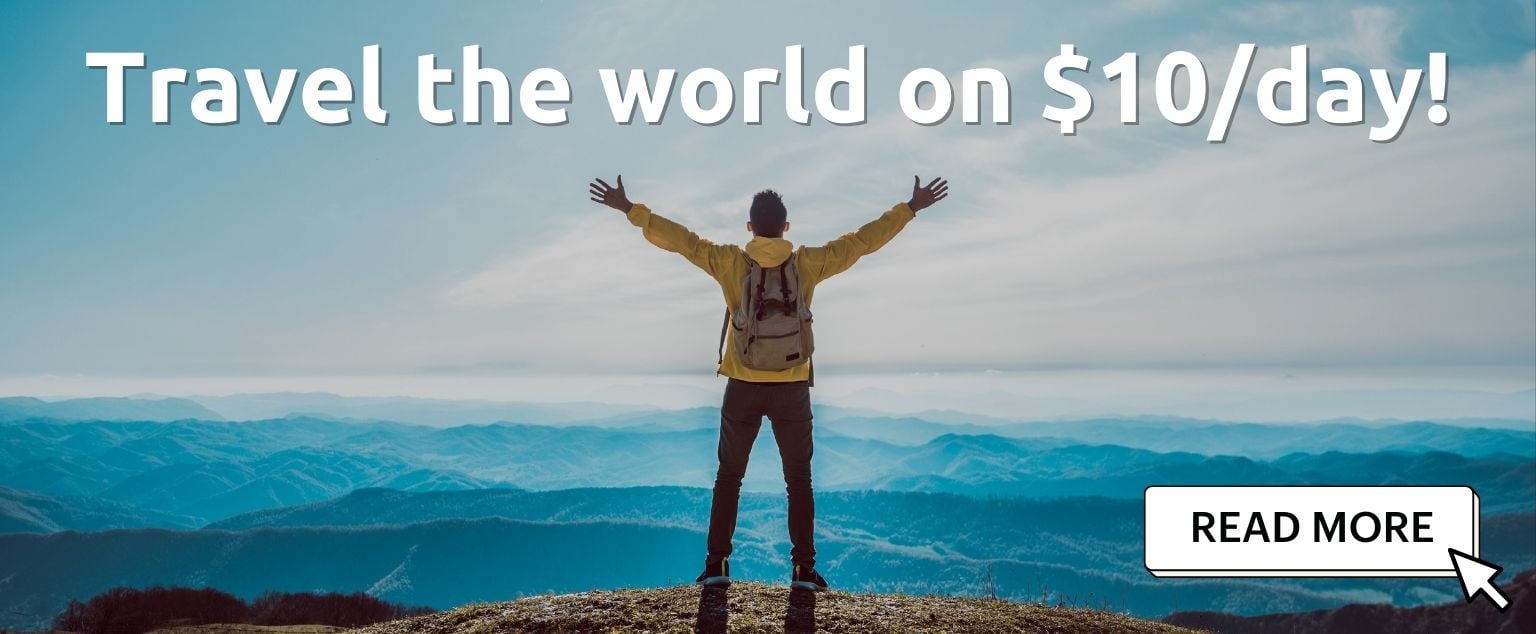 And for transparency's sake, please know that some of the links in our content are affiliate links. That means that if you book your accommodation, buy your gear, or sort your insurance through our link, we earn a small commission (at no extra cost to you). That said, we only link to the gear we trust and never recommend services we don't believe are up to scratch. Again, thank you!