Brasov is one of the most exciting cities to visit in Romania. The ancient city lies in the hilly region of Transylvania (yes, it's a real place), and has been the center of Romania's cultural and historical activities for centuries. It's only a few hours away from Bucharest by train!
Brasov perfectly combines natural beauty, historical interest, and unique attractions. The entire place is an ancient medieval town, and is Romania's most well-preserved city. Bran Castle is one of the main tourist hotspots, also known as 'Dracula's Castle.'
It attracts many young travelers, meaning you can find some great hostels in Brasov. You won't struggle to find a great private room in a hostel, or a bed in a shared dorm.
Let's get stuck in and check out the top hostels!
Quick Answer: The Best Hostels in Brasov

Do You Want to Travel FOREVER??
Pop your email in below to get a FREE copy of 'How to Travel the World on $10 a Day!'.
What to Expect from Hostels in Brasov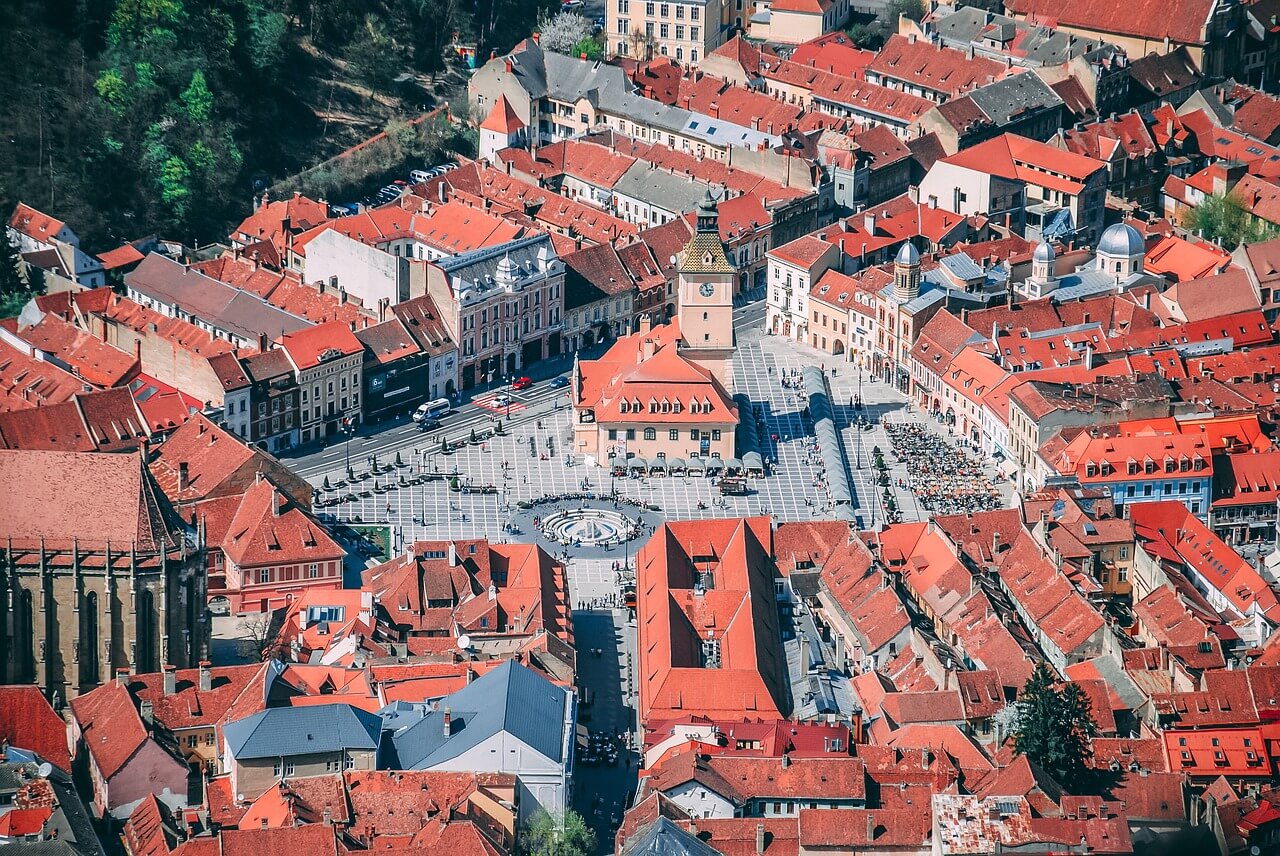 One of the main (and probably most obvious) reasons I would recommend hoping into hostel life during your visit is to save money. Hostels offer many excellent facilities at a super low price – even cheaper because of the exchange rate to Romanian Ieu.
As well as for saving money, they are great if you're looking for a sociable vibe. Many of Brasov's best hostels have their own in-house bars and restaurants, making it easy for solo travelers to meet and mingle with like-minded guests.
There are different types of hostels for every kind of traveler. You can choose from quiet, eco-friendly spots in the forest, or a party hostel in the Old City. Many of the properties have long-term rental options, and might even give discounts to large groups!
Most Brasov hostels have both shared dormitory rooms and private suites available. While some private suites have en-suite bathrooms, it isn't a given. Make sure to enquire about this if it's a make-or-break amenity for you.
Shared dormitories are common and usually pretty small. It's not hard to find a shared room for four to six, ideal for small groups or solo travelers. Bigger dorm rooms are available if you're traveling with a large group.
You are going to find amazing amenities in every hostel, such as;
A common lounge
Garden or terrace
Kitchen space
Dining Space
Luggage and bicycle storage
Shared bathrooms
Everywhere is equipped with Wi-Fi – super convenient for digital nomads who need to get to work on their travels.
Brasov is a super small city, and can easily be explored on foot in a few days. Of course, if you want to head further out to explore the suburban neighborhoods beyond the city center, and small towns in the neighboring mountains and forests, it will take a lot longer. Most of Brasov's hostels are central in the heart of the Old City, within walking distance of many restaurants, bars, and cultural attractions.
The best platform to find hostels is Hostelworld.com. You'll also similar types of accommodations (including budget self-catering rentals and guesthouses) on Airbnb and Booking.com.
Best Hostels in Brasov
Enough chit-chat. Now we know what to look for from hostels in this ancient medieval city, let's dive into our pick of Brasov's best hostels! We've included everything from relaxing guesthouses with private suites, to buzzing party hostels with on-site bars.
Best Overall Hostel in Brasov – Zozo Hostel
$$
In a green suburb just outside the city center
Beautiful garden and terrace
Unique sustainable wooden dorms and private barrel bungalows
My personal favorite hostel in Brasov has to be Zozo Hostel! It's located just on the edge of the city, only a mile from Strada Sforii and The Black and White Towers, by the Olt River. As it sits between the center of the Old City and the surrounding nature, this spot gives guests an opportunity to explore a unique combination of the great outdoors and magnificent culture.
This hostel is beautifully built and designed. The main house has dorm-style accommodation, that has been remodeled using natural wooden tones and white linens. Each dorm has a privacy curtain, power outlets, and bedside lights.
Private rooms are available too, and are pretty luxurious if you ask me. They're built in freestanding wooden bungalows which look like wine barrels or saunas, and have the same basic interiors, with a small private outdoor seating area. There are even family-sized rooms available!
This hostel in Brasov offers some hotel-like amenities. My favorite is the airport transfers that can be added to your rate, special dietary meals on request, baggage storage, and a tour desk.
Why you'll love this hostel:
Luxurious feeling accommodation
Full English/Irish breakfast included in the daily rate
Perfect for solo travelers, groups, and couples
Bathrooms are shared, and equipped with showers and hair dryers.
In the morning, you'll be woken by the sounds of nature, and the smell of a fresh breakfast being prepared in the kitchen. This full English or Irish, and continental breakfast is included in your nightly rate, and is the best way to get you going for a day exploring Brasov.
You can make use of the shared areas, including a spacious common room and fully equipped kitchen. Of course, there's a big outdoor yard and terrace, which is the perfect setting for your morning coffee. There's even a dedicated picnic spot and an outdoor BBQ for when the weather is warm.
I highly recommend this spot to anyone who is interested in enjoying the outdoors around Brasov. Your hosts would be glad to help organize hiking tours, cycling trips, and skiing adventures (during winter).
$
A minute walk from the Old City
Shared kitchen
Spacious common area with TV and board games
If you're reading this article, it's very likely you're gunning after the most affordable hostel in Brasov. Well, Rolling Stone Hostel is one of the cheapest in the city, whilst still having a super central (and safe) location. Budget travelers rejoice! As a matter of fact, this was the first hostel to ever open in the city!
The hostel is located a short walk from the center of the Old City, within walking distance to just about any of the historical and cultural attractions you might wish to visit. No matter if you're after the nightlife or prefer to soak up the cultural sights, there is always something happening at the hostel – from barbecue evenings to pub crawls and day trips.
You'll also find a bunch of tourist information, guide books, maps and public transport timetables available at the reception. They will be happy to help you organize any additional trips and tours, or just offer you some local knowledge.
There is a shared TV lounge and chill-out area where guests can put their feet up and relax after a day of walking around the city. Although the building is pretty old, the interiors have been updated with modern amenities, including new bathrooms with 24-hour hot running water.
Why you'll love this hostel:
Linen provided and beds made for you
24-hour reception
Super affordable small mixed dorms
As you would expect, Rolling Stone Hostel has free Wi-Fi connection across the property. Ideal for digital nomads who need to get some hours in. But wait, there are still so many perks to staying here!
One of my favorites is the bright and spacious rooms with comfortable mattresses and fresh linens. There's nothing better than hopping into a cozy bed after a long day exploring a new city, and this hostel has put lots of effort into ensuring the beds are super comfortable.
Not only are the staff friendly and helpful, but they'll be glad to assist you in doing your personal laundry and cleaning your room or bed. Any true backpacker will know the value of clean clothing and bedding on the road!
If you're exploring Europe by car, or have rented a car in Romania, you will have access to free parking on site. You can also safely store your bicycle at this hostel in Brasov.
All in all, for an affordable and clean accommodation with a cozy vibe, this spot is the best in town.
$$
On the most popular residential street in the historic old town
In-house bar
Largest hostel in Brasov
It was a bit of a toss-up deciding whether to name Centrum House Hostel the best party hostel, or the best overall hostel in the city. It has tons of features that makes it great for all types of travelers.
First of all, it's located on the most desirable residential street in Brasov, surrounded by towering gothic churches and medieval buildings. It's a quick walk to all must-see attractions in the city, as well as public transportation centers that can get you to Bran Castle, and beyond.
My favorite thing about Centrum House is its on-site bar named Wander Bar, which is the heart and soul of the hostel. It is located in the cellar of the ancient building, offering an incredible atmosphere for a night out. Each night the hostel employees and guests party up a storm before heading out into the ancient city for a night on the town.
This Brasov hostel has space for 65 guests across five dorms, with shared bathrooms and two private rooms with en-suite bathrooms. Each dorm has its own bathroom, with free towels, a hairdryer, and clothing irons.
Why you'll love this hostel:
All-day coffee and tea facilities
Friendly staff
Summer lounge and loft
Like you might expect at any good party hostel, the staff are super friendly and willing to help you with anything you might need during your stay. Need some advice on the best restaurants in the area? They got you. Looking for a place to get your hair done? That can be arranged. After an outdoor adventure that isn't too far from Brasov? Look no further – the staff will be able to organize it all for you.
You can make use of the common areas, including a summer lounge and loft area, which is a great spot to meet other guests and just relax after a day on your feet. While you won't have access to a kitchen, you'll be able to order meals from the on-site cafe, and enjoy the all-day tea and coffee-making facilities.
Centrum Hostel has some hotel-like benefits, including daily housekeeping, 24-hour security, laundry services, and availability to book airport transfers to ease your way in and out of your visit.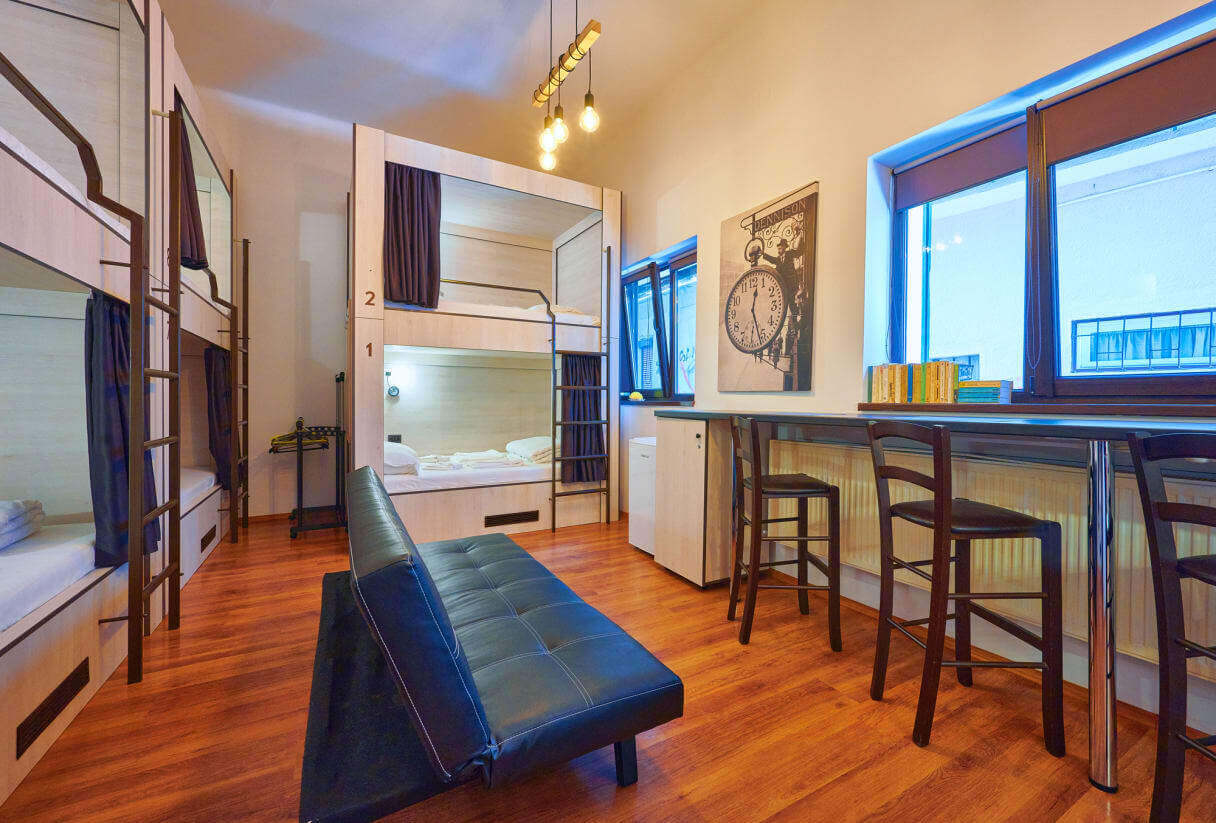 $
In the heart of Old Town, Brasov
Desk space in each dorm and Wi-Fi throughout
Fully-equipped shared kitchen
Being a digital nomad can be one of the most rewarding lifestyles in the world, but it can also get pretty expensive – pretty quickly. Don't worry, we've found the best hostel in Brasov where digital nomads can get their workday done in peace, still enjoy a sociable atmosphere, and all for a super affordable rate.
Secret Boutique Hostel features some of the most beautiful hostel accommodation we've seen in the city. The rooms have all been designed with wooden floors, modern furniture, and new fresh linens and towels. Each room is bright and spacious and has lots of natural light.
If you rent a dorm bed, they are a fully private cubicle separated by wooden walls and blackout curtains, and includes a personal nightlight and power outlet. You can choose from double or single dorm beds too, which offer a cheap option for couples!
The rooms are equipped with seating areas and couches, as well as desks where digital nomads can easily settle in for a day of work. Free Wi-Fi is available across the property. There are even mini-fridges in the dorm rooms where you can store a leftover takeout, or keep a few drinks cool!
Of course, spacious lockers are available so you'll never have to worry about leaving your possessions unattended.
Why you'll love this hostel:
Super clean rooms
Memory foam mattresses
Housekeeping services
Just like the dorms, the kitchen and shared spaces have all been beautifully designed. Everything is sparkling, from the cooking equipment to the crockery and seating. And, it's all available for guests to use as they please throughout their stay. There's even a snackwich machine for you to make on-the-go sandwiches!
As expected, the bathrooms are also super clean, featuring glass and marble sinks, and rainwater showers. There are plenty of them too, so you won't have to wait around.
Ideal for digital nomads, this Brasov hostel is the perfect combination of a quiet and social environment. There are no loud bars on-site to distract you while you're trying to work. That being said, there are a ton of spots to dance the night away nearby (particularly on Republicii Street, which is lined with bars and nightclubs) – it's the best of both worlds!
Best Hostel with Private Rooms in Brasov – Residence Ambient
$
In the idyllic Old City
Warm wooden interiors and antique finishes
Private doubles and family-sized rooms
Sometimes we all need a little bit of privacy and luxury. If you're traveling with a partner, this spot will exceed your expectations. While it is listed as a hostel on Hostelworld.com, we would classify this as more of a guesthouse. It offers all the amenities and super low prices that any great hostel would.
Residence Ambient provides updated accommodation in a historic medieval building. This means high ceilings, large windows, and spacious rooms that have been fitted with new furniture and luxurious bedding. Of course, each room is equipped with all the modern amenities you might need, including TVs, well-positioned outlet points, and heating and cooling.
There are a few bedroom options to choose from, ranging from a standard twin to a three-bed apartment fitted with two twins and a double bed. They're all pretty similarly priced, so you won't have to spend too much extra if you're traveling as a group of four. These larger apartment rooms have their own private living room too!
Take note that breakfast is not included in the nightly rate. However, the guesthouse has a lovely indoor rooftop restaurant where you can order meals. The views are exceptional, spanning across the rooftops of the medieval city. It is one of the best cities to visit in Europe after all.
Why you'll love this hostel:
Fully equipped shared kitchen
Child and pet friendly
Rooftop restaurant with city views
We love this Brasov hostel because it offers high-end hotel-like qualities for a fraction of the price of a traditional hotel. Plus, it has a much more local and authentic vibe when compared to stuffy hotels.
The staff at reception are available to assist you 24 hours a day, and will be glad to arrange airport transfers, tours, and a late check-out. They can provide wake-up calls, shuttle busses across the city, fax services, and store your luggage if they aren't able to secure a late checkout.
Although breakfast isn't included in the rate, this shouldn't be an issue as guests are able to make full use of the well-equipped kitchen. It is fitted with all the basics you might need to whip up your own breakfast or snack on-the-go. The best part? You can enjoy your home-cooked meals in the breakfast lounge and restaurant overlooking the city.
Is This the Best Backpack EVER???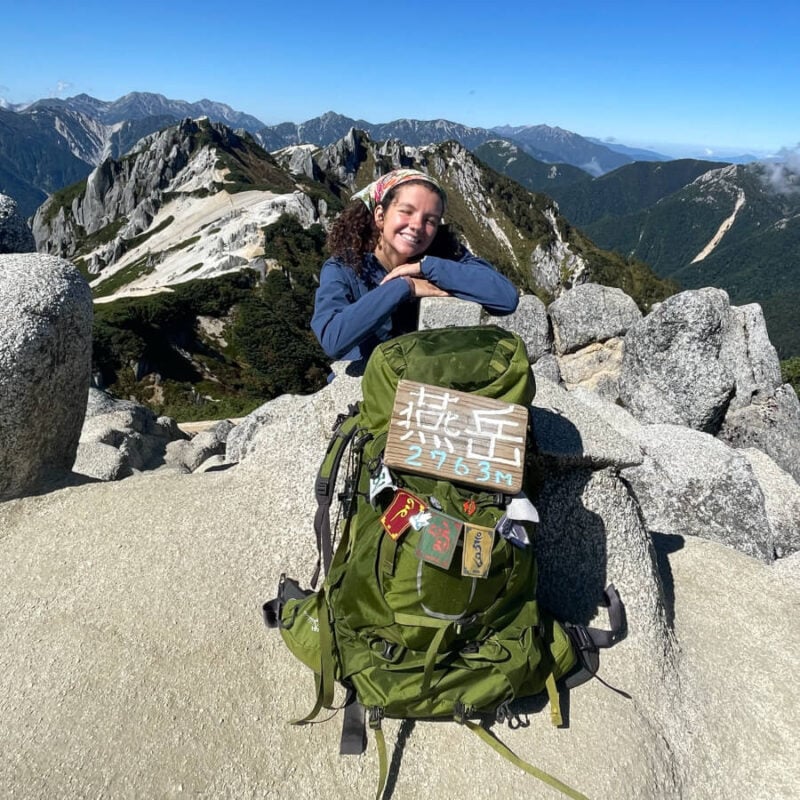 Other Hostels in Brasov
$$
A block away from Council Square, close to the Black Church
Incredible on-site restaurant and bar
Terraces with mountain views
Viva La Vida Hostel is another one of those prime hostels located in the heart of the city center. The property has clean and spacious dorm rooms, and bunk beds equipped with cozy linens and towels. There are two dorms, both of which are pretty big sleeping up to ten guests. For big groups you can try to snag a whole room!
The only negative is that the beds don't have privacy curtains. Solo travelers need to be prepared to be up-close and personal with their roommates. Naturally, the big rooms makes it a lot more affordable than a smaller dorm. Both have a terrace overlooking mountain views, as well as a shared bathroom.
The biggest highlight at this hostel in Brasov is its onsite restaurant and bar. Not only is a delicious continental breakfast included in the nightly rate, but the restaurant also serves incredible local meals throughout the day. You won't have to worry about going hungry!

Our GREATEST Travel Secrets…
Pop your email here & get the original Broke Backpacker Bible for FREE.
$$
Walking distance to the Black Church and public transport
Private rooms and small dorms
Shared kitchen space and communal lounge
Jugendstube has over a decade of experience operating as one of Brasovs' top hostels. It's located right in the heart of the old city, only a quick walk from Council Square and The Black Church. As well as all the public transport networks you could need.
The hostel prides itself on having a super friendly atmosphere, you are bound to leave having made great friends. The most sociable spaces are the common lounges and kitchen, which are open throughout the day to cook your own food, relax and chat with other travelers.
The rooms are pretty small – but in the best way possible. There are some private rooms with ensuite bathrooms, and most of the dorm rooms are limited to four guests. Smaller dorm rooms mean a better night's sleep!
Digital nomads will fare well at this Brasov hostel. On top of the unlimited Wi-Fi throughout the property, there are designated work/computer spaces where you can set up camp and get your emails sorted before heading out to explore the medieval city.
$$
Near Council Square and Neolog Synagogue
Shared kitchen and private coffee/tea facilities in rooms
Small dorms with between 4 to 6 guests
Just a stone's throw away from the heart of Council Square, Downtown Hostel provides a affordable accommodation with a home-away-from-home flair.
The dorms range in size from four to eight beds, keeping things small and quiet compared with other large hostels. They are cozy, and all beds are fitted with privacy curtains and comfortable bedding. All rooms have a TV, microwave, kettle, hairdryer, and wardrobes. They also feature private bathrooms.
Best of all (and not super common in the area), this space has its own private garden, the ideal place to enjoy your morning coffee before venturing into the city for the day.
FAQ about Hostels in Brasov
Travel Safety Tips for Brasov
ALWAYS sort out your backpacker insurance before your trip. There's plenty to choose from in that department, but a good place to start is Safety Wing.
They offer month-to-month payments, no lock-in contracts, and require absolutely no itineraries: that's the exact kind of insurance long-term travellers and digital nomads need.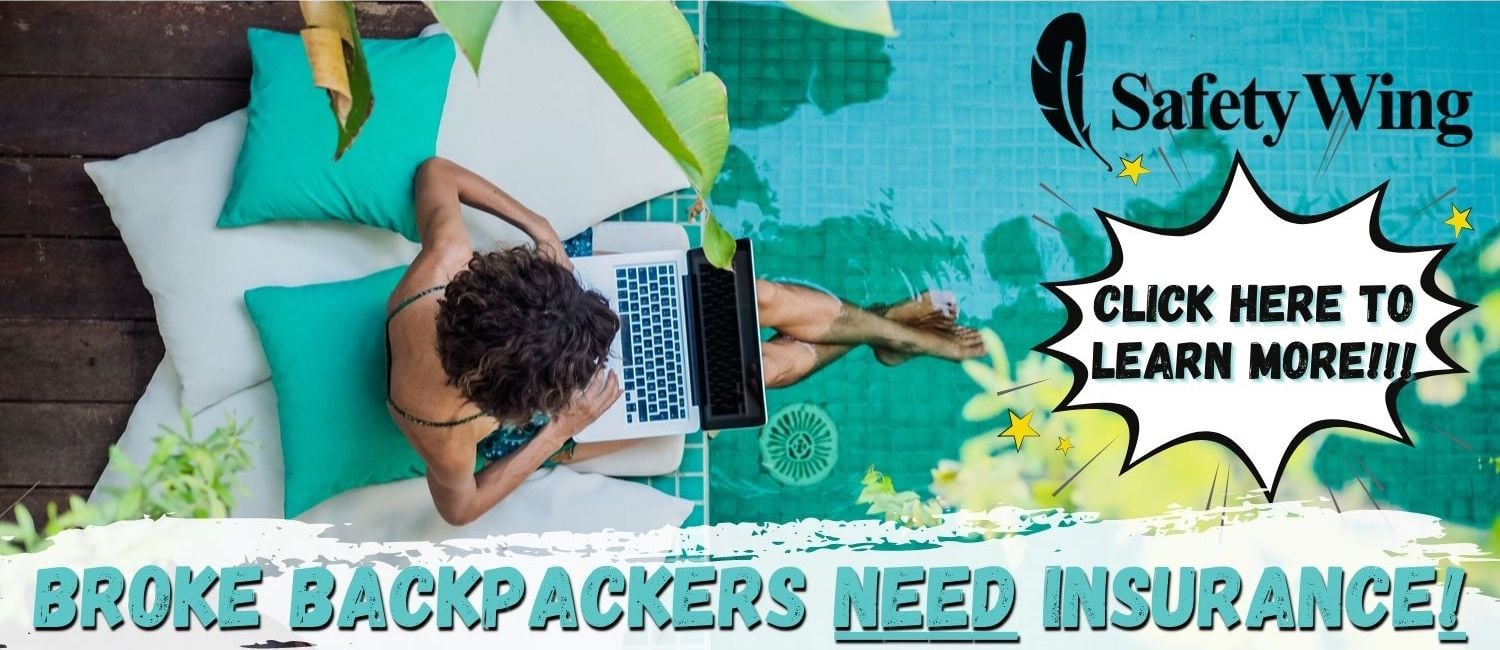 SafetyWing is cheap, easy, and admin-free: just sign up lickety-split so you can get back to it!
Click the button below to learn more about SafetyWing's setup or read our insider review for the full tasty scoop.
Final Thoughts on Hostels in Brasov
Although the city is pretty small, Brasov is packed with hostels.
If I had to pick a favorite, I'd go with Secret Boutique Hostel purely because of its excellent combination of location, cleanliness, and modern amenities. However, I'd struggle to turn down a night at the beautiful Zozo Hostel too. For a party scene, Centrum House Hostel steals the show with its underground cellar bar.
I hope that after reading this article, you've found the perfect hostel in Brasov for you. Come on, what are you waiting for? Get booking and get exploring!
---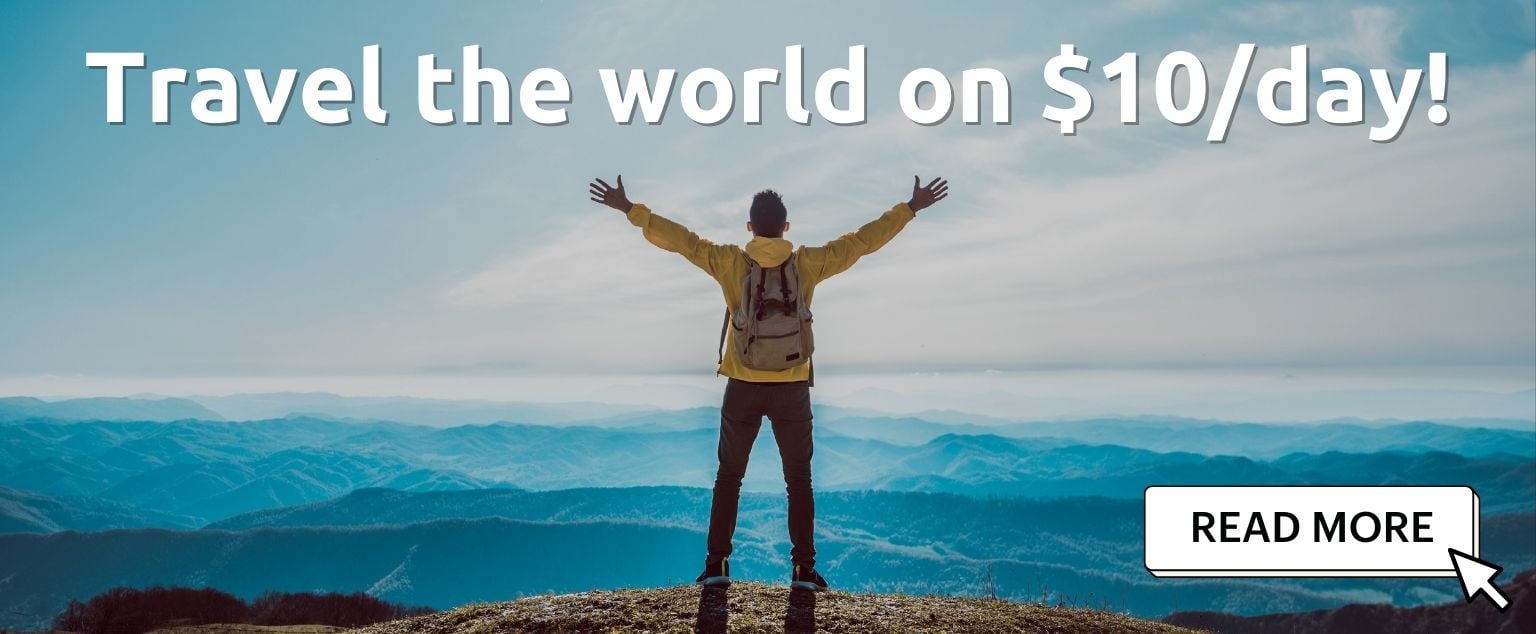 And for transparency's sake, please know that some of the links in our content are affiliate links. That means that if you book your accommodation, buy your gear, or sort your insurance through our link, we earn a small commission (at no extra cost to you). That said, we only link to the gear we trust and never recommend services we don't believe are up to scratch. Again, thank you!