Looking for somewhere to get away from it all and kick back on the beach for a while? With its sparkling, coral reef, captivating sunsets and friendly people, Fiji's palm-lined beaches and 300 islands will make you feel like you are at the end of the world.
But with all of these islands to choose from, and a whole lot of hostels all offering up beds, how will you know where to stay? Do you want utter seclusion or a hostel with a beach bar and pool?
It's all good though, no need to stress. We've sorted it and found the best hostels in Fiji, all with something a little different about them, so you can find the ideal spot in paradise for you.
Get reading, and get planning: Fiji is waiting…
Quick answer: The Best Hostels in Fiji
Best Hostels in Fiji
Best Overall Hostel in Fiji – Bamboo Beach
– $$
– Bar
– Pool
– Laundry
Offering up a slice of beach life to its guests, staying at this beachside hostel also means staying in the best hostel in Nadi. The hostel pool looks out across the actual beach, so you get all the blissed out beach views but with sunloungers and the hostel bar to enjoy. Nice.
Rooms are simple, clean and provide you with everything you need for a beach break. The thing that makes this place our best overall hostel in Fiji (aside from the crazy cool view) is the staff and the warm friendly feeling they create for the guests.
– $$
– Bar
– Outdoor Swimming Pool
– No Curfew
While this is top Nadi hostel might not be all about drinking games and bar crawls, the staff here put in a lot of effort to make sure everyone has a good time. For example, the hostel's beachside bar serves up cheap cocktails, tasty pizza and big cold glasses of wine. Sounds good, right?
Make friends with other travellers around the pool, head out on the free kayaks to explore the ocean and then spend evenings together drinking under the stars. I mean, what more could you want from the best party hostel in Fiji?
– $
– Free Breakfast
– Laundry Facilities
– Bar & Restaurant
Travelling alone to a faraway island can seem a little daunting, but choosing to stay here will mean you're safe and well looked after. Locally run by a friendly family, this top hostel in Fiji offers more than just a bed to stay – it offers an incredible experience.
Make friends with the other travellers staying and join in with the many fun activities put on at this place, which is easily the best hostel for solo travellers in Fiji. You'll literally have such an amazing time in paradise that you won't wanna leave.
– $
– Games Room
– Pool
– Shuttle Bus
With constant glowing reviews and a killer view of the beach, it's not hard to see why this is the best cheap hostel in Fiji. It may be budget accommodation for surfers (with a laid back vibe to match), but this top hostel has a lot more going for it than hitting the waves.
We love the outdoor pool area: ideal for taking a refeshing dip and getting to know the other guests. We also love their rooms: spacious and clean, meaning you can get a good nights' sleep and wake up early to explore the beautiful surrounding area or try out one of the hostel's surfing lessons.
– $$
– Outdoor pool
– Foosball Table
– Laundry
Staying in Fiji with your partner might mean that you want a little more luxury out of your hostel, and probably a private room too – if your budget can stretch. One of the best hostels in Nadi, think palm-studded beaches, happy people and an easygoing atmosphere.
When it comes to a place to spend time with your other half, the beachside pool and bar make it an ideal spot that – combined with the great private rooms – all adds up to make this the best hostel for couples in Fiji.
Best Hostel for Digital Nomads in Fiji – Nadi Bay Hotel
– $$
– Outdoor Terrace
– Free Breakfast
– Bar & Restaurant
When it comes to working remotely, there's nothing better than living the dream and getting some work done by the beach. This cool little place is the best hostel for digital nomads in Fiji as it offers a service somewhere between a hostel and a hotel.
The private rooms are large and come with their own seating area where you can get some work done. Or if you wanna soak up the ocean atmosphere, grab a table by the pool and hit your targets whilst sipping on a cocktail (or two).
– $$
– Outdoor Pool
– Book Exchange
– Bar & Restaurant
This is the best hotel with a private room, and yes they are pretty aswsome. The private rooms have massive windows that look out across the beach, so you can go to sleep to the sound of the waves and wake up to the sunrise across the ocean.
If you are looking for the best hostel in Nadi, this might just be it. The bar and restaurant serve up tasty drink and local dishes, whilst the staff are super accomodating and work hard to make sure the vibe is chilled and fun.
Psst!
Heading to a hostel? Don't forget to pack a
padlock
! It's well worth having one so you can secure your locker and protect your stuff!
More Best Hostels in Fiji
Want to stay in the party district or maybe somewhere more laidback? Decide on where to stay in Fiji before booking your hostel.
– $$$
– Bar
– Swimming Pool
– Aircon
Looking to spend some time in paradise but don't want to stay in a basic bed in a cheap hostel? Well, then this is one of the best hostels in Fiji for you. Private rooms come with stylish wooden floors and big doors that open up onto beautiful gardens and sea views.
Ok, so staying here might mean splashing a little bit more cash, but the whole place is really well looked after and the staff are endlessly happy to help with any questions. Don't forget to check out the cool pool area and the delicious food in the hostel restaurant.
– $$
– Bar & Cafe
– Outdoor Swiming Pool
– Luggage Storage
Set inside and old house, rooms at this cool Fiji hostel are big and comfortable. There's a wide selection of rooms on offer, from dorms to privates which means there is something to suit every travel type. And you might get to meet a mix of travellers too, which is good if you're social.
Take part in the activities on offer and explore the surrounding islands, or just simply… do nothing but sit on the beach, sip on a fruity cocktail and watch the spectacular sunsets from your deckchair. Sounds terrible, doesn't it…
– $
– Air-Con
– Restaurant
– Outdoor Pool
If you're looking for a quiet spot to spend some days on the beach, this is the best hostel in Nadi for you. Don't worry about finding a good restaurant, or somewhere to arrange trips: the helpful hostel staff will see to it that everything is sorted and you know all the local tips and hints.
While they don't have huge dorms, and it might have more of a hotel vibe, staying here means being close to some of the best restaurants and bars in the area, but far enough away that you can still feel secluded in your beachside hammock.
– $$
– Free Sea Kayaks
– Yoga Classes
– Free Breakfast
If you don't have time during your trip to travel around and explore the islands, this recommended hostel in Fiji will show you what it's like to stay on a beautiful beach in paradise. Painted in punchy green and yellow colours, this is a happy place where you'll be greeted with smiles and leave happy.
Make sure you check out the yoga classes and take out one of the free kayaks for an adventure on the high seas. The hostel restaurant serves up home-cooked local dishes and you can enjoy a beer or two with the array of international guests around the pool.
– $
– Free Breakfast
– Bar
– BBQ
Located in the Yasawa Islands, this Fiji backpackers hostel has an amazing atmosphere. It's got a traditional experience that'll make you feel like part of a family, which is great if you're travelling by yourself.
It might not be modern with top-notch facilities, but what it lacks in style it makes up for in experience. The food is delicious and the games, along with swimming in the sea, all add up to having one of the best holidays of your life. For real.
– $
– Air-Con
– Free Breakfast
– PADI Lessons
Diving in Fiji is an amazing experience, so why not stay at this cool Fiji hostel and learn to dive at the same time? The instructors will show you around the overflowing coral reefs and underwater scenery, and then you can return to a well-earned dinner and drink at the hostel bar.
The dorms are clean and well looked after and there are even family rooms on offer if you want to stay with your mates in a group. We reckon that staying in this hostel is sure to be one of those unforgettable experiences.
Want to save the world and stay hydrated? Single-use plastic bottles are a huge threat to the oceans and planet – Be a part of the solution and invest in a
filter water bottle
.
The GRAYL GEOPRESS water bottle is the ONLY all-in-one filter water bottle setup you'll need. We use it on our own adventures to purify often nasty looking water and it does a beautiful job – we have yet to get sick! This is what the whole Broke Backpacker team uses- in mountains, cities, jungles – we love it – it's a total game changer
– $$$
– Bar
– Air-Con
– Kayak Trips
Yes, this is one cool Fiji hostel and it might be actual paradise. When you see this place, you'll wanna be getting a flight right away. Spend as long as you want to wallow in the waters of the pristine beach, eating the local food and daydreaming as the sun sets over the famous Blue Lagoon.
You can also sleep safe and sound in the dorm that has actual beds (not bunks). Another reason this is one of the best hostels in Fiji is that it arranges free sea kayaking trips – and you can arrange a free diving trip too!
– $$
– Free Bike Hire
– Restaurant
– Laundry Facilities
Staying in isolation might not be for everyone, but if you're looking for a proper castaway experience then look no further than this recommended hostel in Fiji. Experience life surrounded by local families and their traditions, plus some great opportunities to enjoy a much more simple life.
The seriously tasty locally cooked food will keep you coming back for more, and the white sandy beaches and sparkling blue seas will feel like they're all yours… well, maybe you'll see a fisherman or two, but still. Don't expect Wi-Fi, or even much electricity, but if you want paradise: this is it.
The Best Travel Backpack?!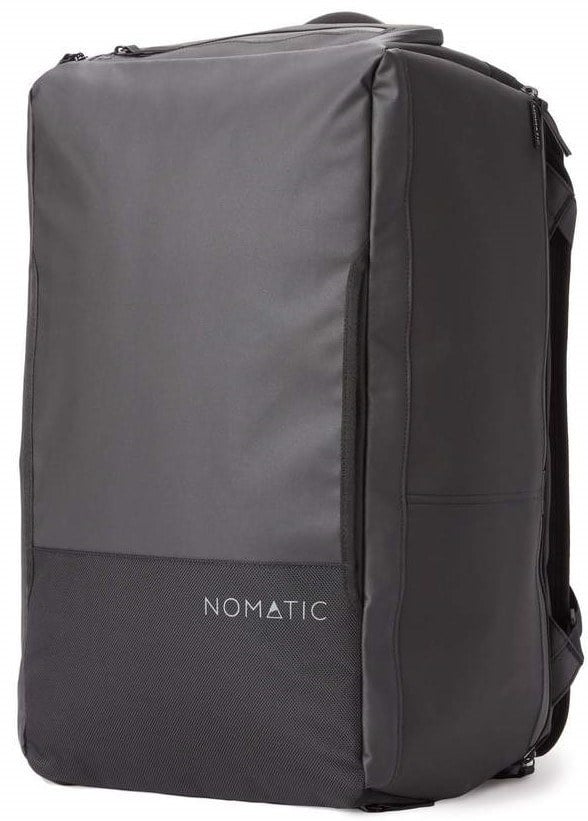 Pssssst! Not picked the perfect travel backpack yet? The Broke Backpacker team has tried out over thirty backpacks this year! Our favourite carry on backpack is the Nomatic Travel Bag.
Read our full review!
What to Pack for your Fiji Hostel
Pants, socks, underwear… Here are some other items you might not have thought to pack.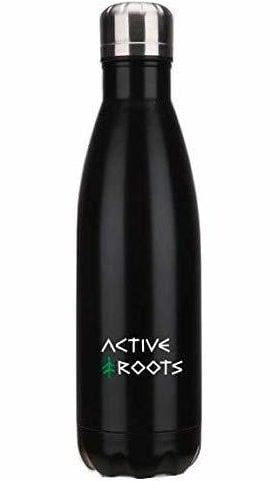 1. Active Roots Water Bottle: Sturdy and durable, the Active Roots water bottle survives the roughest adventures while keeping your drink cold or hot for at least 24 hours. Vacuum-sealed and made from stainless steel, the bottle can fit 25oz, which is plenty to keep you hydrated. Super cool bonus: the bottle isn't just super useful, it helps to reduce the single-use plastic waste – save the planet by filling up your bottle.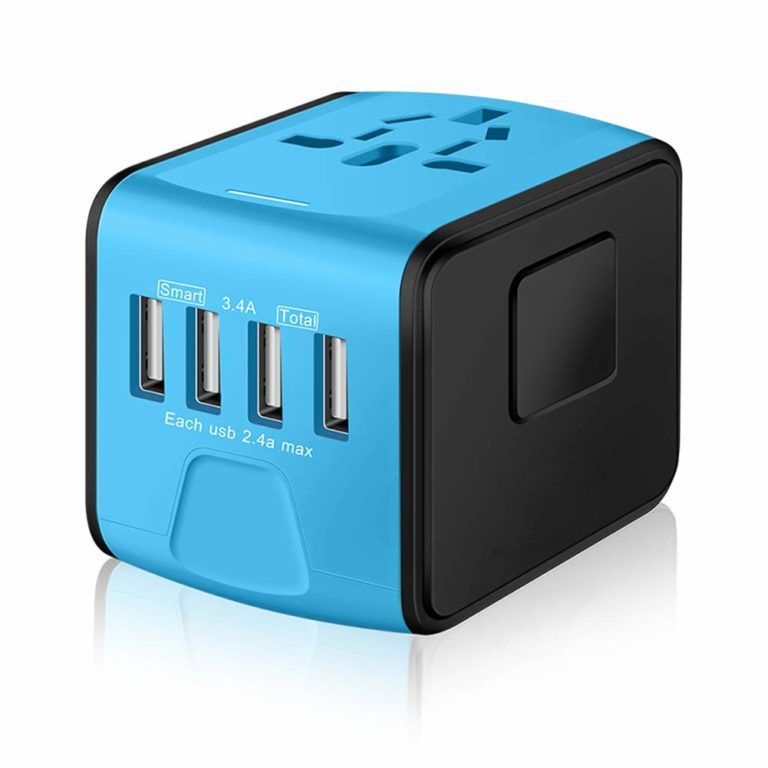 2. Universal Travel Adapter: This universal travel adapter charges your devices in (pretty much) every country – definitely a lifesaver when travelling around the world. The plug also regulates the power output depending on which device you're charging. No more fried hair dryers or electric razors!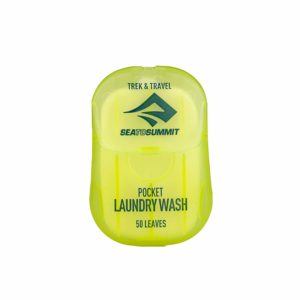 3. Sea to Summit Travel Soap: The Sea to Summit multipurpose soap leaves are the perfect hygiene travel companion. The individual, Leave-no-Trace-certified strips are great for keeping your hands clean before you eat in that dodgy but delicious restaurant. There are also little strip packs for laundry, shampoo and shaving.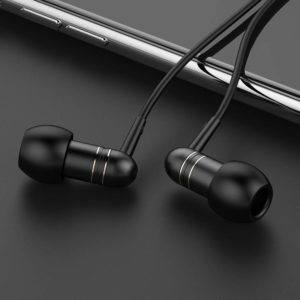 4. Noise-Cancelling Earbuds: These simple earbuds will help you out. Keeping out most of the surrounding sounds, you can either choose to listen to some relaxing music or no sound at all while falling asleep. This can be a life-saver in some unexpected party hostels. Make sure you're well-rested for the next adventures!
5. Power Bank: Everyone knows the mini heart attack when your phone is about to run out of power. Surviving long bus rides without charging stations can be agonizing, which is why every backpacker should have this Anker Power Bank. You can charge your phone up to 5 times, or plug in two devices simultaneously. With high-speed charging and enough power to keep you going for days, you can conquer even the biggest adventures without a problem.
6. Active Roots Toiletry Bag: Your toothpaste is lost in the depths of your backpack again? You won't have this problem with the Active Roots Toiletry bag. The bag is made from a durable, water-resistant material, which can be a lifesaver on long travels. Super cool bonus: for every purchase, the company donates to an environmentally-friendly charity – it's a win-win situation for everyone.
Why you should travel to Fiji
There you have it. All of the coolest places to stay in Fiji, from cool beachy hostels perfect for couples to vibrant local stays that are really welcoming for solo travellers.
So much of Fiji is only reachable by boat, so if you haven't got the time to spare to get around, we've included some of the best hostels in Nadi, too.
Did you manage to make up your mind which one of the top hostels in Fiji is ideal for your trip?
Don't worry if you're finding it all too confusing to work out (there are a hell of a lot of islands!) – just go for our best overall hostel, Bamboo Beach.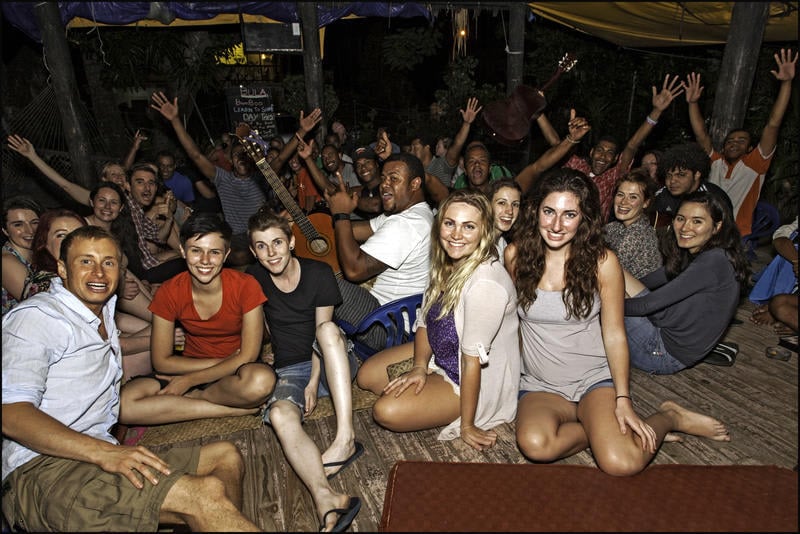 It's also our best hostel in Nadi and staying there means you get a good mix of everything Fiji has to offer – and good transportation links, too.
Get ready… because you're off to ACTUAL paradise.
Travel Safety Tips for Fiji
Don't forget to sort your travel insurance before heading to Fiji! We've put together a roundup of the best travel insurance for backpackers – check it out here, or if you're low on time, get a quote from World Nomads, our favorite travel insurance provider.
Getting an estimate from World Nomads is simple – just click the button or image below, fill out the necessary info, and you're on your way!

More Epic Hostels in Fiji and Oceania
Hopefully by now you've found the perfect hostel for your upcoming trip to Fiji.
Planning an epic trip all across Fiji or even Oceania itself?
Don't worry – we've got you covered!
For more cool hostel guides around Oceania, check out:
Over to you
By now I hope our epic guide to the best hostels in Fiji has helped you choose the perfect hostel for your adventure!
If you think we've missed anything or have any further thoughts, hit us up in the comments!
Yay for transparency! Some of the links in this post are affiliate links. This means that if you book your accommodation through the site, The Broke Backpacker will earn a small commission at no extra cost to you. Your support helps keep the site going.
---
Need More Inspiration?
Like this post? PIN ME!!!
Noodle addict. City dweller. Aaron Radcliffe is the marketing ninja for The Broke Backpacker, founder of Nomads Nation and Co-Founder of Ditch Your Desk.