Fiji is made up of 333 tropical islands in the South Pacific, and it's many people's idea of an island paradise. However, there's way more to it than just palm fringed beaches with powdery sand and azure waters.
Although… for a holiday that's not a bad thing to be around! Fiji is a great place for adventurers, honeymooners, and backpackers too. And you do get your fair whack when it comes to history and culture!
In this post, we'll take a closer look at the best places to visit in Fiji. Across more than 300 islands, we've picked 11 of the top things that will make your trip completely unforgettable.
We've had to be ruthless, but we definitely think these are the best things to put on your Fiji itinerary.
So, let's dive right into it!
Need a place quick? Here's the best neighbourhood in Fiji:
BEST AREA IN FIJI
The Yasawa Islands
The Yasawa Islands are an archipelago of 20 islands set northwest of the main island of Viti Levu. Although you won't find any banks or shops here, the Yasawa Islands offers visitors a myriad of breathtaking sights and extraordinary natural beauty.
Places to visit:
Explore the spectacular Sawa-I-Lau Caves.
Head out on a day trip to the nearby Mamanuca Islands.
Lounge on the golden sands of pristine Champagne Beach.
These are the BEST Places to Visit Fiji!
Once you start reading, you'll quickly realize that there is a lot to explore in Fiji. To make sure you don't miss out on the best hotspots, come up with a rough Fiji itinerary before you start your travels. That way you'll get to see everything you want to without the stress of having to plan last minute!

Unlock Our GREATEST Travel Secrets!
Sign up for our newsletter and get the best travel tips delivered right to your inbox.
#1 – Yasawa Islands – Great place to visit in Fiji for couples!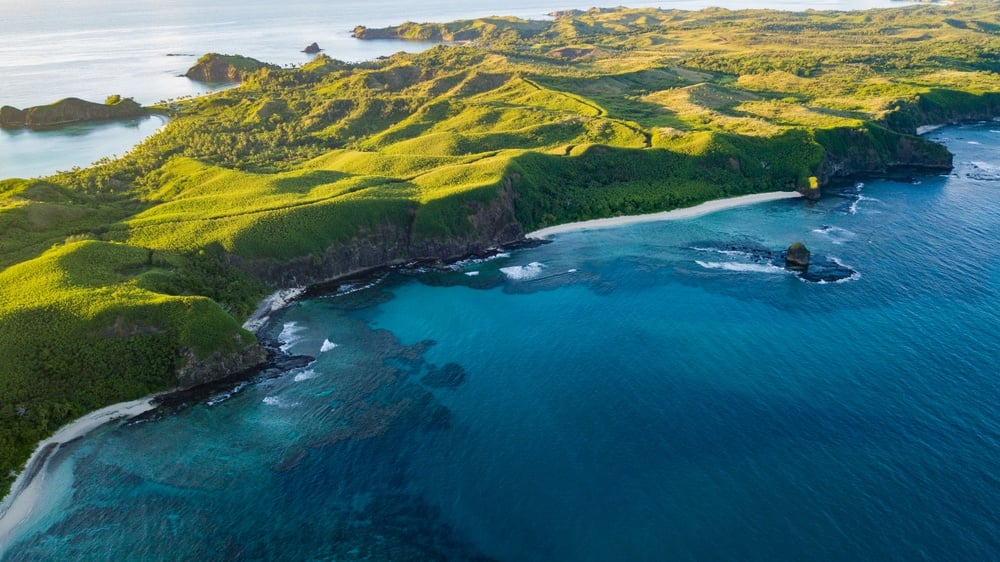 Spend a few days here to really escape and disconnect from the rest of the world
Boat journey from Denaurau on Viti Levu is up to 3 hours
One of the honeymoon hotspots in Fiji
Why it's awesome: For those who are travelling to Fiji, the idea is probably a paradise island getaway. It'd be a stretch to say that Suva and Nadi have hustle and bustle, but in Fiji you can truly disconnect from everyday life and the rest of the world! This archipelago north of the main island of Viti Levu should be savoured for a few days rather than hours, but a trip here will be truly special. That's probably why it's so popular with honeymooners!
What to do there: If you want to stay on the islands themselves, there are a number of luxury resorts that will make your stay truly memorable. They'll be able to help you plan such things as snorkeling and scuba diving during the day, and things like candlelit beach dinners in the evening. If you don't fancy arriving on the islands in the standard way – i.e. by boat, you have some other options. A seaplane is one, or if you want to really make an entrance, try a helicopter!
#2 – Nadi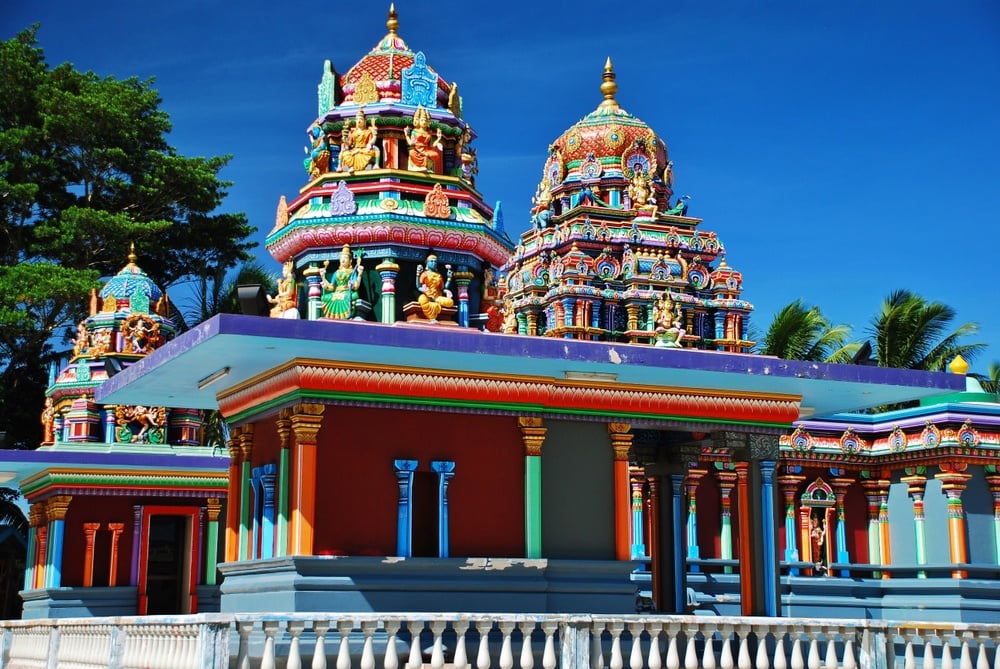 Visit the largest Hindu temple in the Southern Hemisphere
Experience authentic Fijian culture
Check out some of the best places to eat in Fiji
Why it's awesome: Situated on the west coast of the largest island, Viti Levu, Nadi is a tourist playground. It's a fantastic place to get an introduction to the islands! Here, you'll find some of the best places to eat in Fiji, the best shops, and the best bars and nightlife. There's also a lot of variation when it comes to places to stay – including cheap and cheerful hostels, as well as a smattering of luxury hotels and resorts. It's also the cultural hub of the islands. Don't miss the Sri Siva Subramaniya temple. It's the largest Hindu temple in the Southern Hemisphere and one of the most recognizable landmarks in Fiji!
What to do there: When you've visited the temple and checked out the cultural attractions, you might feel like it's time to get out of the city. Nadi can get quite busy (by Fijian standards), so you might want some more ideas of what to do in Fiji nearby. Well, don't miss heading into the foothills of the Sabto Mountains. There, you'll find natural thermal springs and a mud pool in the rainforest!
#3 – Fiji Museum, Suva – A fascinating educational place to visit in Fiji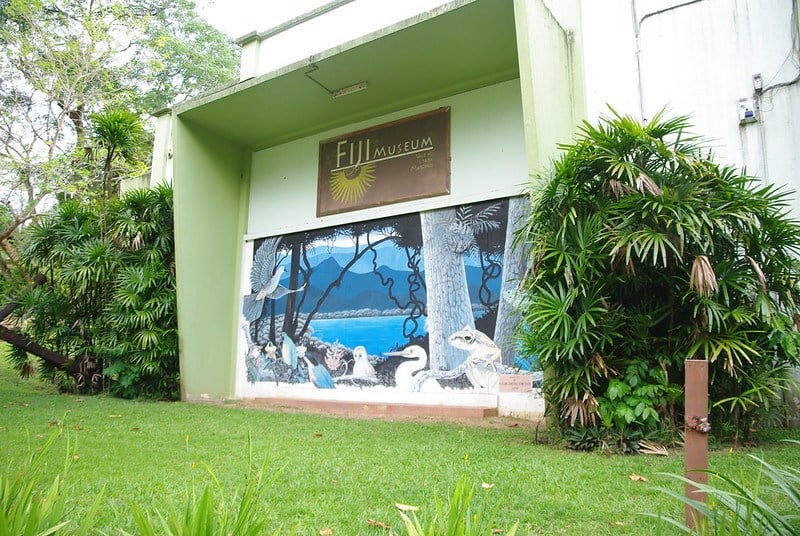 Learn about Fiji's history
Check out some incredible artifacts including traditional cannibalism forks
Possibly one of the most famous places in Fiji
Why it's awesome: If you want to learn more about the history of this fascinating nation, there's no better place to do so than at the national museum. Located in the capital city, Suva, you'll find this place inside the historic Thurston Gardens. The museum takes an in-depth look at over 200 years of history in Fiji and has more than 3,000 artifacts that tell authentic stories of indigenous life. They include traditional canoes made entirely from bamboo. For something a little darker, check out the traditional wooden cannibalism forks!
What to do there: As well as the artifacts, there's some archaeological material that is a lot older to check out. In fact, it dates back 3,700 years! Once you've explored the permanent galleries and temporary exhibitions of one of the most popular attractions in Fiji, you have a few options. Have a snack at the onsite Mimosa café or pick up some souvenirs for friends and family at the gift shop. If you're at the museum on a Thursday or a Friday, don't miss the pottery demonstrations!
#4 – Kula Eco Park – Awesome place to visit in Fiji with kids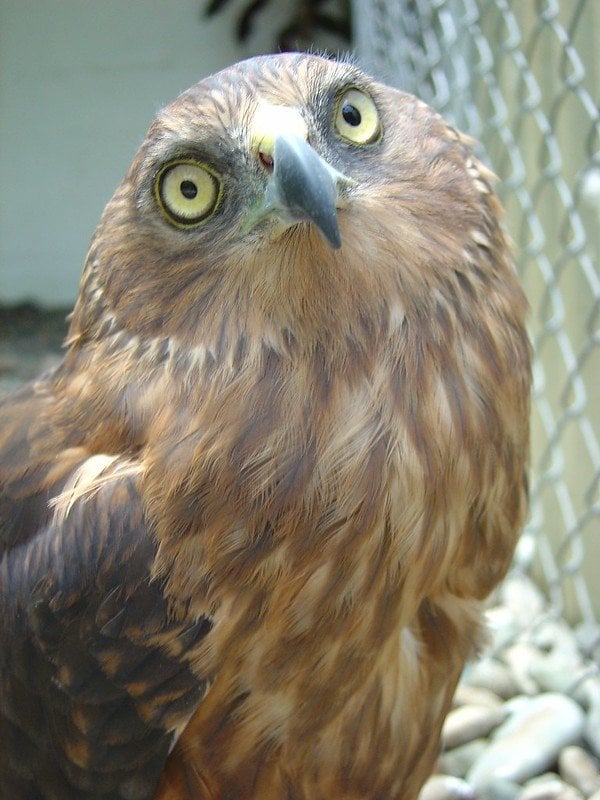 See the kula bird – the national bird of Fiji
Kids can join the junior ranger program and get close to their favourite animals!
A Fiji must-do if you want to see the islands' flora and fauna
Why it's awesome: Named after the national bird of Fiji, you won't want to miss Kula Eco Park. Especially if you're travelling with the kids! It's in the Coral Coast, another of the best places to visit in Fiji. Here, you can see a swathe of flora and fauna that you won't find anywhere else in the world. For example, the endangered Fijian iguana and the national bird – the kula! There are also flying foxes (which are really bats) and parrots on display in the park.
What to do there: You can take a self-guided walk through the park to try and spot all the animals, or the kids can get a little more hands-on. Yes, joining the junior ranger program is one of the most memorable experiences of visiting Fiji for them! They'll be able to hand-feed turtles, and the staff might even let mum and dad have a go too. There are a couple of adrenaline-fuelled activities available in the park too – such as the Splash Mountain Jungle Water Slide and the Canopy Flier Zipline. Kula Eco Park is one of the top attractions in Fiji for a day out!
#5 – Garden of the Sleeping Giant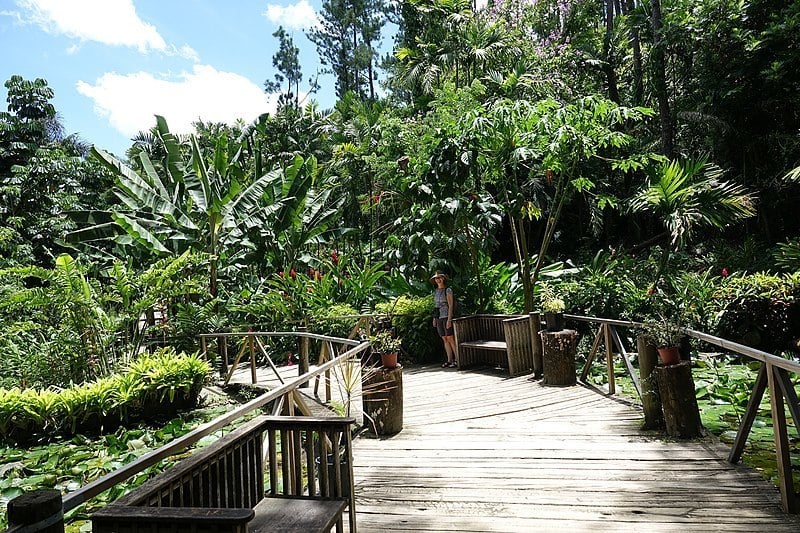 A Fiji must-see for horticulturalists
See a number of indigenous and Asian orchids
One of the most peaceful points of interest in Fiji
Why it's awesome: Located at the base of the Sleeping Giant Mountain, near Nadi, the Garden of the Sleeping Giant is a Fiji must-do. Especially if you're into landscaped gardens and plants! Originally, this place was established to house a private orchid collection for the famous Canadian TV actor, Raymond Burr, who had a vacation home here. Nowadays, it's been opened up to the public and it's a lovely place to stroll around and see more than 30 varieties of orchid, both from Fiji and further afield.
What to do there: If you want to take a break from Fiji's picturesque beaches and cultural attractions, the Garden of the Sleeping Giant is a great place to spend half a day or a little longer near Nadi. Explore Fiji's most popular garden on wooden boardwalks and stone pathways. These will take you over lily ponds and past so many different plants and trees. You could even bring a picnic!
#6 – Mamanuca Islands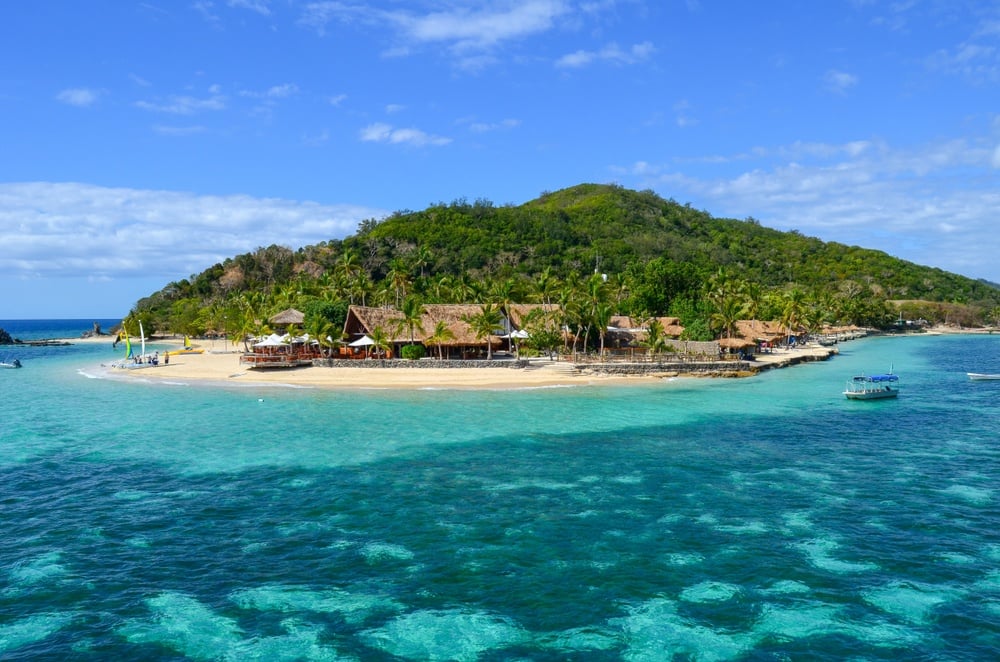 Take a helicopter tour to get a bird's eye view
Located to the northwest of Viti Levu Island
How to see all of Fiji from above
Why it's awesome: When you travel to Fiji, you can't do a helicopter tour. It just so turns out that the Mamanuca Islands are one of the best places to see from above, and since the archipelago is so close to the main island of Viti Levu Island, you'll see a fair bit of that too! They're not just great in a helicopter though – these islands are pretty sweet on land. Take a walk along the white sand beaches or take a dip in the azure waters.
What to do there: Another aspect of the Mamanuca Islands is that the water of them is sublime. So, it just happens that these islands are one of the best places in Fiji to practice water sports! Want something relaxed and stress-free? Then why not try paddle-boarding or a bit of sea kayaking? If you're looking for a bit more of a thrill, then there's parasailing, surfing, and jet-skiing here too. You should be able to arrange it through your accommodation!
#7 – Natadola Beach
Widely considered to be the best beach on the main island of Viti Levu
A great place for swimming
Lots of water sports on offer here too!
Why it's awesome: We've mentioned that there are some great beaches in Fiji but we haven't talked about one specifically yet. Well, that has just changed. If you're staying on Viti Levu, you're in luck. That's because Natadola Beach is one of the best on the island! As you'd imagine from a South Pacific Island beach, there are long expanse of sand that runs down to the turquoise water, which is perfectly calm. In fact, this is one of the few beaches in Fiji where you can swim no matter where the tide is.
What to do there: As well as swimming, you can try your hand at a whole host of watersports on Natadola Beach. The breaks here are the perfect conditions for surfing, so it's a great place to take your first steps on the water. More experienced surfers can head out a little further to find some big waves too. Snorkeling and kayaking can also be enjoyed at this incredible beach, or you could just relax on the sand and catch a tan! Whatever you choose to do, it's one of the best places in Fiji if you're looking for a beach!
#8 – Monuriki – Certainly one of the most exotic places to see in Fiji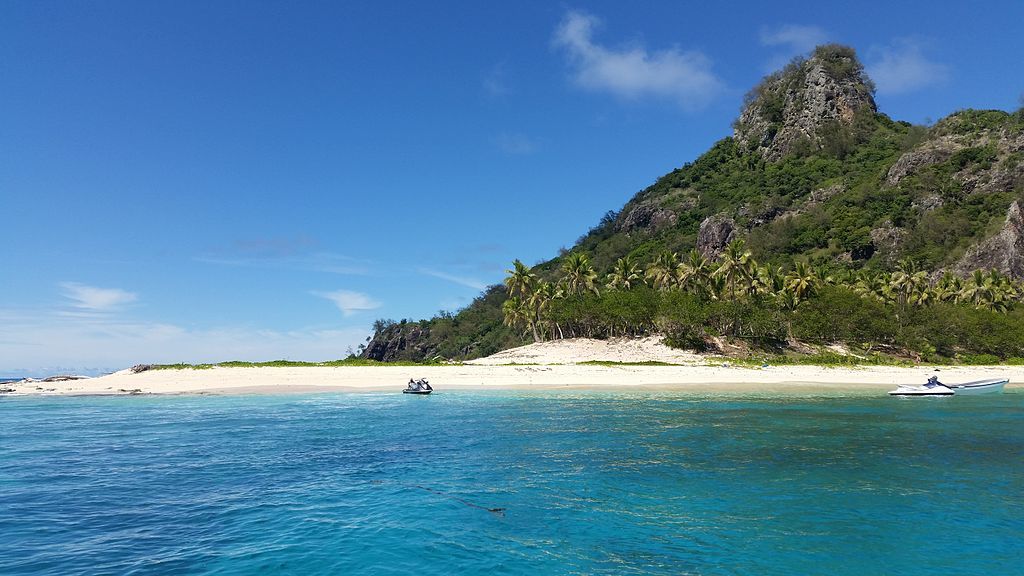 Known as the coral reef capital of the world
Deep-sea dive to spot turtles and tropical fish
A beautifully colourful underwater experience
Why it's awesome: Fiji is known as the coral reef capital of the world. That applies to nowhere more than Monuriki Island, one of the best places in Fiji to snorkel and scuba dive. It's actually one of the Mamanuca Islands that we've already mentioned earlier – but Monuriki deserves a mention all to itself! It's uninhabited, so you won't be able to stay here. You can take tours to it though, and they'll be a truly memorable experience!
What to do there: Snorkelling of Monuriki is great, but deep-sea diving is even better. You'll be mesmerized by brightly coloured tropical fish, lazy turtles, and a rainbow of coral reefs. This really is something to tick off the bucket list, and one of the top Fiji vacation ideas!
#9 – Sigatoka Sand Dunes National Park – A beautiful and scenic place to check out in Fiji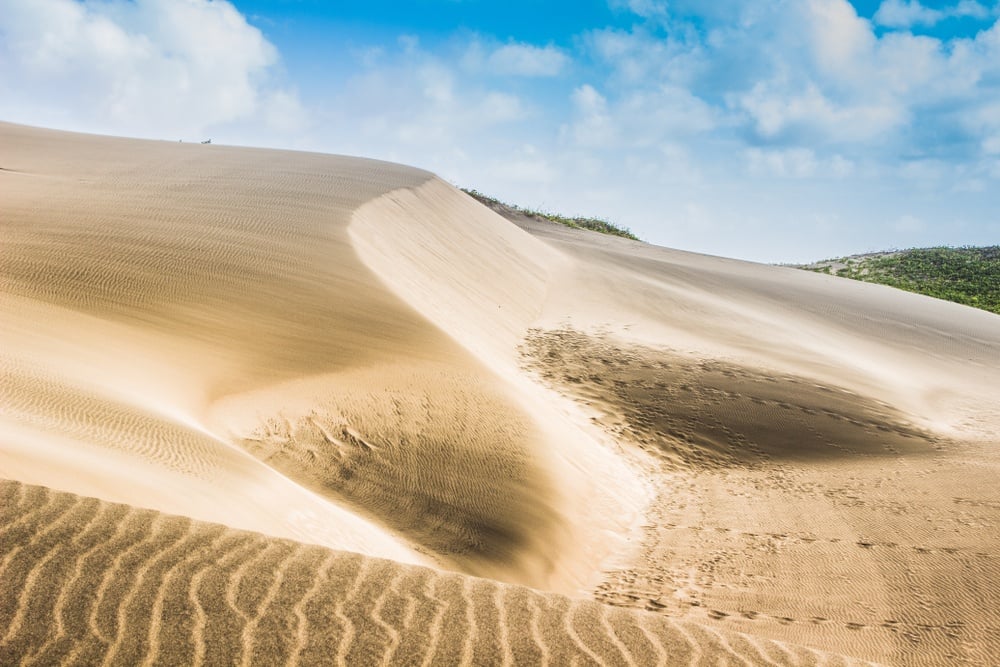 One of the best places in Fiji for hiking an outdoor exploring
An important archaeological site that dates back more than 2,600 years
Check out forests, meadows, and of course, sand dunes!
Why it's awesome: Head to the southwest corner of Viti Levu to find this incredible national park. Sigatoka Sand Dunes are one of the best places in Fiji for hiking and seeing a variety of landscapes. The sand dunes are the most impressive part! They cover 650 hectares and some can be up to 60 metres high! That may not sound much when compared to a mountain, but you just try and climb to the summit! The park is also an important archaeological site, belonging to a primitive culture which lived here 2,600 years ago.
What to do there: Start off your visit to Sigatoka Sand Dunes National Park at the Visitor's Information Centre. If you're nervous about getting lost, you can get a guided tour from a local ranger. These last for one, two, or four hours and will take you through meadows, an inland forest, onto a gorgeous beach, and through the dunes which give the national park their name! The dunes are in fact some of the most impressive landmarks in Fiji!
Is This the Best Daypack EVER???
#10 – Udre Udre's Grave – One of the more unique places to visit in Fiji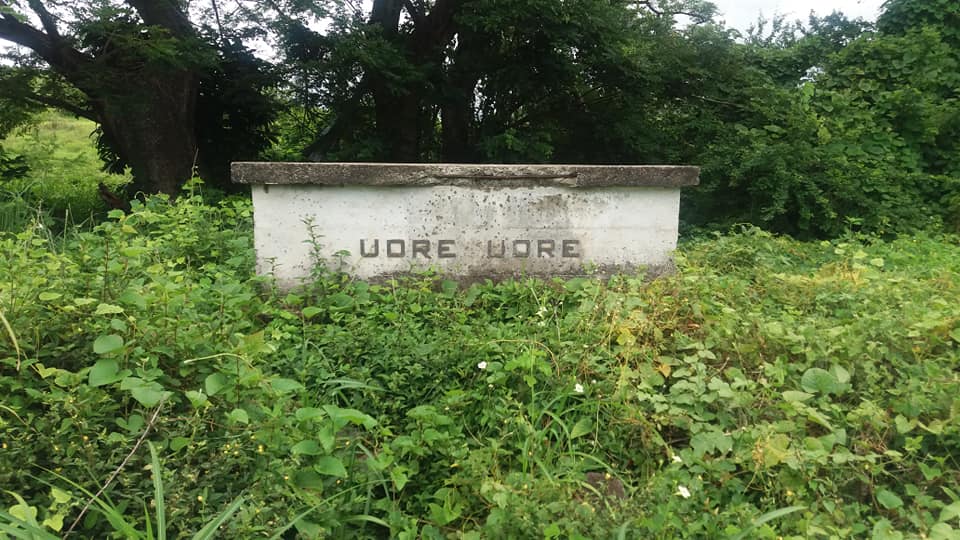 Visit the final resting place of the most prolific cannibal of all time
Said to have eaten more than 800 people
Definitely one of the more unusual things to do in Fiji
Why it's awesome: You've seen the old-time films that show cannibalism on South Pacific islands. And, you've probably dismissed them as a load of old rubbish really! However, these stories did come from somewhere, and cannibalism is actually a part of Fijian history. Actually, Fiji was home to the most prolific cannibal of all time (that we know of at least), Udre Udre. He is alleged to have eaten the flesh of more than 800 of his enemies! It's a great story, and seeing his grave is one of the most unusual things to do in Fiji!
What to do there: Right on the north coast of Fiji, this is one of the best places to visit in Fiji if you want to tell your friends back home you've gone off the beaten track and seen something a bit weird. Supposedly, Udre Udre kept a stone from each time one of his enemies was grilled. You can see all 800 of them surrounding the grave in Rakiraki!
#11 – Coral Coast and Pacific Harbor
Pacific Harbor is the adventure capital of Fiji
One of the most scenic parts of the Fijian coastline
Lots of things to do on the southern coast of Viti Levu Island
Why it's awesome: The Coral Coast is quite a lot of the southern shores of Viti Levu. It's named after the wide bank of coral that protects this part of the island. If you don't want to stay in a built-up area like Suva or Nadi, it's one of the best places to stay on Fiji. That's because there are a number of resorts dotted along with the coast catering to all budgets! Adventurers shouldn't miss out on Pacific Harbor, the undisputed adventure capital of Fiji!
What to do there: As well as doing extreme sports like skydiving and parasailing from Pacific Harbor, there are some more sedate opportunities too. To the west of the Coral Coast, you'll find Sigatoka Sand Dunes National Park which we mentioned earlier. You can also hike up to Tavuni Hill Fort, go diving in the beautifully blue Beqa Lagoon, or take a river cruise through the rugged and scenic Namosi Highlands. There's so much to do on the Coral Coast it really is one of the best places to visit in Fiji!
Get insured for your trip to Fiji!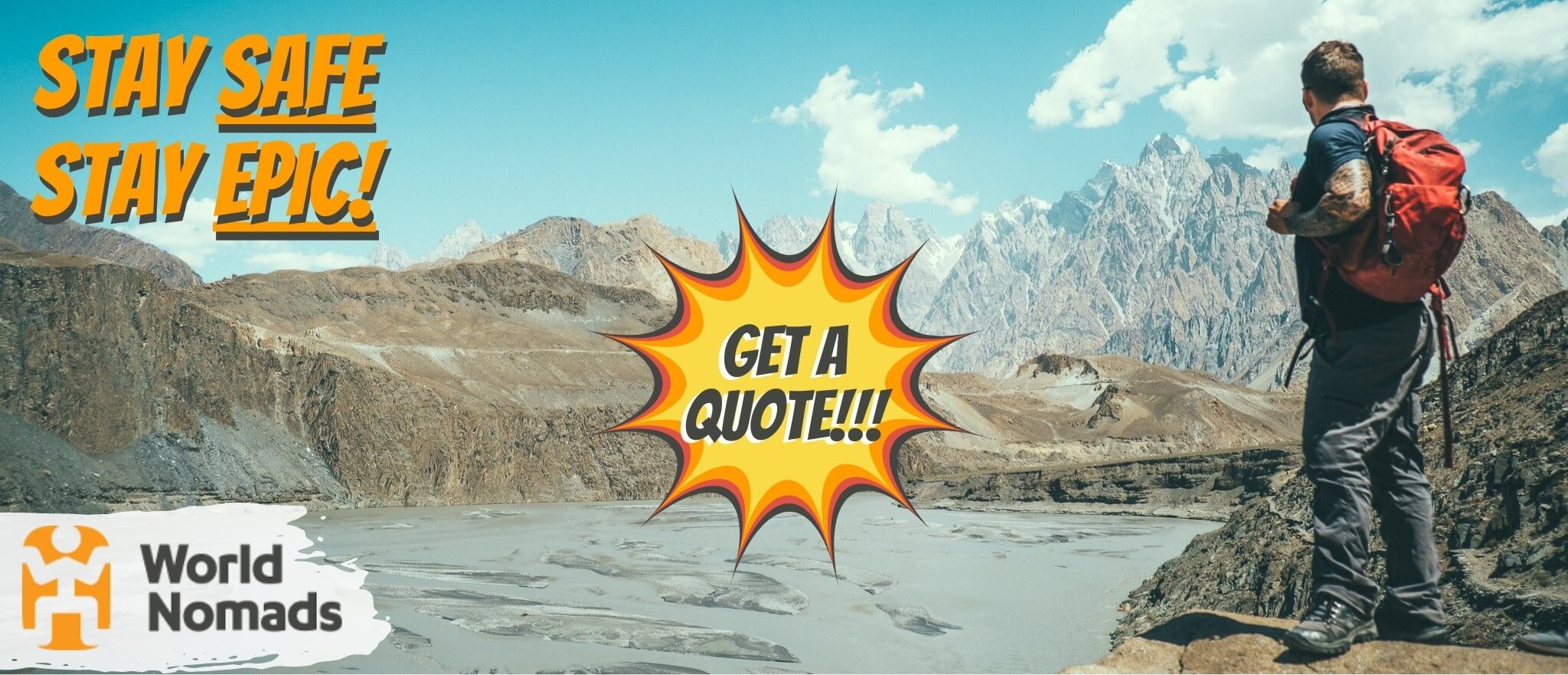 World Nomads' mission is to support and encourage travellers to explore their boundaries. They offer simple & flexible travel insurance, and safety advice to help you travel confidently.
They've been doing it since 2002 – protecting, connecting, and inspiring independent travellers just like you.
Get a quote below or read our in-depth review!
World Nomads provides travel insurance for travelers in over 100 countries. As an affiliate, we receive a fee when you get a quote from World Nomads using this link. We do not represent World Nomads. This is information only and not a recommendation to buy travel insurance.
FAQ on the Best Places to Visit in Fiji
Find out what people want to know about the best places to visit in Fiji
Final Thoughts
So, that is it from our list of the best places to visit in Fiji. We hope that you've got a better idea of what to do once you get to this incredible archipelago. We think you'll have seen that even though you might be tempted to spend your whole vacation just laying on the beach, there are a lot more things to do as you explore Fiji!
Hiking through national parks, helicopter rides over desert islands, and learning about the islands' unusual history just have to take up a little space on your Fiji itinerary!
Thanks for checking out our list of the best places to visit in Fiji and we do hope that it proves really helpful. Just remember to keep a copy at hand when you're visiting the islands. It'll take all the stress out of planning your trip!
---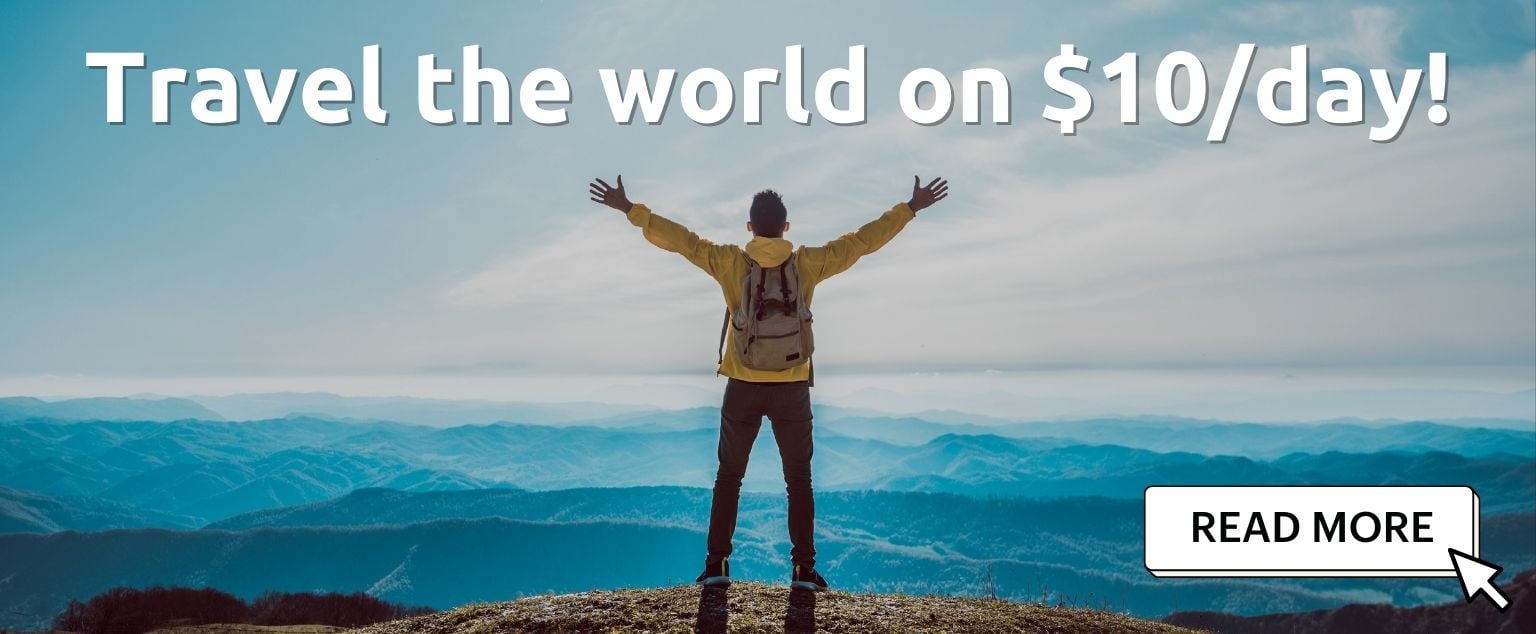 And for transparency's sake, please know that some of the links in our content are affiliate links. That means that if you book your accommodation, buy your gear, or sort your insurance through our link, we earn a small commission (at no extra cost to you). That said, we only link to the gear we trust and never recommend services we don't believe are up to scratch. Again, thank you!