Right in the thick of the Pacific Ocean are a collection of 330-odd islands that we know as Fiji. 
If you can imagine equatorial paradise from the expansive, turquoise shores and the distant call of a conch shell being blown… then you can imagine Fiji. 
But backpacking Fiji is much more than a remote tropical getaway.
Fiji is unique: getting wildly off the beaten path is not that hard. Most of the outer islands saw the 21st century and went, nah, I'll take the village life, thanks. Particularly if you visit Fiji on a sailboat, you can find yourself in what feels like an alternate time period, drinking kava with village chiefs, and hiking uninhabited islands. 
But you know what? Travelling to Fiji can also be (perhaps surprisingly) easy! Due to the fair number of tourists that come through, there are cheap places to stay and delectable, mouth watering street food. 
No wonder broke backpackers in need of a vacation gravitate toward Fiji!
With so many possibilities for adventure, it can be hard knowing where to start. So I've put together some advice – and some MAJOR inspiration – for backpacking Fiji.
Whether you're looking to surf, party, or hike far away from other humans, Fiji has something special waiting for you.
Why Go Backpacking in Fiji?
Fiji is a destination that you cannot help but be swept away by. Of course, it's beautiful.
There are 330 islands – some inhabited, and some uninhabited – that are ringed by coral reefs and covered in lush greenery. The sunset makes you shiver and consider moving your life out here, to the middle of the Pacific Ocean. This is taking backpacking Oceania to a whole new level.
Beyond lazing in a hammock and drinking coconuts, riding waves, and diving the reefs, there's also a fascinating mix of cultures.
Alongside Fijian, one of the national languages in Hindi! This hints at Fiji's long and diverse history that has largely played out away from the eye of the mainstream.
The thing about Fiji is time slows down. I don't know if it's the tropics or the endless jokes told by the locals, but something about Fiji has you sleeping in till midday. Then you're indulging in afternoon kava (a mildly trippy cultural drink), surfing, fresh fish, and a healthy dose of sunshine. The days just seem to whittle away.
With round the world tickets often including a stopover in Fiji – plus cheap flights from Australia and New Zealand – Fiji has been a hotspot for backpackers for a couple of generations. Backpacking Fiji might not be as cheap as, say, Vietnam, but dorm beds can still be found for around $10 USD!
You can always stick to the fairly well-beaten path and have a good time in Fiji. Or, you can sail in and live the boat life.
The sailor has a whole other side of Fiji to explore. One of the traditional ways of life, kava ceremonies, and careful negotiations of customs.
Whether you come for an affordable surfing holiday or a season of kava drinking and seafood collecting, Fiji will leave a big, sandy footprint on your heart!
I'd recommend having at least 2 – 3 weeks to explore Fiji! Even if you just stick to the main tourist destinations, you need a good chunk of time to really sink your teeth into this beautiful country.
Backpacking Fiji: 3 Week Itinerary
In my opinion, you can't cram an epic Fiji itinerary into anything less than 3 weeks. It's like trying to squish a sleeping bag back into its original cover: sure it can be done, but goddamnit it's a pain!
One of the biggest drawcards to backpacking Fiji is the slow pace of life. And how are you going to get the full Fiji time experience if you're busy ticking things off your to-do list?
You'll likely fly into Nadi – and it's worth checking out the town for a couple of days. If nothing else, Nadi has EPIC street food and interesting temples to explore. But pretty quickly, you're going to want to swap mainland life for islands life; that's what Fiji is all about, no?
So get yourself a Bula pass which allows you to hop on and off the inter-island ferries and get exploring the Yasawa and Mamanuca Islands. Depending on what style of travel you're into, you will stay longer on different islands. If partying is your thing, then you'll extend your stay on Beachcomber Island.
If you're after a slower pace of living, then Waya Island will be right up your alley. Round off your 3 weeks by dipping your toes in the water of the Coral Coast. If you haven't hiked quite to your heart's content, there are jungles here that are sure to entice you.
Make sure you don't leave Fiji without trying a littttttttle kava! 😉
Backpacking Fiji: 1 Month Itinerary
Settling in for a month allows you time to find epic places to stay in Fiji – both on and off the tourist trail.
You'll still fly into Nadi and get to enjoy the mouth-watering fish curry while soaking up some sun and city sights. But of course, you'll want to be heading to the islands that you came here for!
Denarau Island is reclaimed from mangroves, but other than that fun fact, the backpacker is probably going to feel a little adrift here. This island is like one massive resort replete with a golf course and tubby, middle-aged men on vacation. However, it's still beautiful and has good sea connections to the Yasawas and Mamanuca Islands.
With a month up your sleeve, you can settle into the island time and get your sun tanning on! You can also take better advantage of the weather windows and catch some epic waves. Most surfers will want to spend at least a month in Fiji trying out the best breaks during their optimum weather windows.
A couple of nights on Beachcomber Island are great for letting off some steam and indulging in a few too many cups of kava! When you're done partying and flirting with the backpackers on their gap year, it's time to head back to the mainland.
Lautoka and Sigatoka are full of epic, sweaty hikes. You can crush these jungle trails and balance out some of that indulgent drinking! 😉 But if you have come here with your surfboard, you can always hit some of the mainland breaks too.
If you haven't learned how to surf, Sigatoka is the place to do it. The waves aren't quite so monstrous as out in the Mamanucas, and there are plenty of decent surf schools about.
Between the surf, the sun, and the beers, a month backpacking Fiji will happen slowly and then all at once!
Sailing Fiji: 3 Month Itinerary
Ah, the sailors. They've got nothing but time – until cyclone season kicks them up the butt and it's time to move on!
After sailing across the Pacific, sailors will find themselves with a glut of Pacific paradises to explore. And yet most of them spend a considerable time in Fiji! Why's that?
It's damn fine – that's why! When sailing in following the trades, your first port of call is likely going to be Savusavu.
Venua Levu is not quite so touristy as Viti Levu and has more of a rough and wild feeling. The sailors will enjoy getting their land legs back as they hike through old sugarcane trails and steaming jungles.
Sailing toward Viti Levu, it makes sense to stop in at Makogai and Levuka Islands. Makogai Island has some epic dive sites full of soft coral and octopi. While there is also epic diving and sailing to be done around Levuka, it's most interesting because it's the old colonial capital. There is an eerie, but enjoyable, vibe to the island that's wicked to lean into.
Rounding off your time in Fiji in the Mamanucas and the Yasawa Islands is a must. The famous surf breaks and sailing clubs are here. The islands are on the dry side of Fiji so the weather is always good. There are plenty of good anchorages and the good times keep rolling.
After Fiji, you'll probably sail onwards from Tonga, but hey, if you get stuck a little longer in Fiji – no one could blame you!
Fiji is not massive – it's roughly (just under) the size of Israel. But its landmasses are separated by stretches of reef filled ocean.
While this makes for stunning postcards and dope surfing, it does make it a little challenging to get around! Luckily, there are many ferries and even seaplanes to help you travel to Fiji. With a little planning and knowledge of the best places to visit in Fiji, you can make sure you hit all the best spots – and find off the beaten path adventures.
Just give yourself plenty of time in each place and don't expect transport to run on time, necessarily. No one has anywhere, in particular, to be in Fiji. They are the ultimate practitioners of the art of slow travel.
So, no matter where you choose to visit – you're sure to drink some kava and have lots of slow conversations with the locals! Your top places to visit in Fiji are going to depend on what kind of travel you love. Luckily, backpacking Fiji lives up to its paradisical reputation: it has a little something for everyone!
Most backpackers will spend their time on the main island of Viti Levu, but there are certainly some stunning places to explore beyond this island.
Backpacking Nadi
When flying into Fiji, you are most likely going to fly into Nadi. It's not Fiji's capital, but it is the centre of tourism. If you're stepping off the plane from somewhere frigid and grey in Europe, Nadi is going to hit you like a ton of bricks.
It's delightfully warm. And while some people find the humidity a little suffocating, I think of it more like a big, deep embrace.
The colours of Nadi will also hit you: the temples, the cloudless sky, and of course the beautiful ocean. Fijians will immediately go about welcoming you and there's a feeling of oh shit I'm in the Pacific!
Nadi has several good backpacker hostels, mostly near Wailoaloa beach. While this beach is beautiful to the uninitiated, grey Europeans, by Fijian standards it's pretty meh. Some people find Nadi a bit of a headache; there are resorts and traffic to contend with while you're adjusting to the tropical climate.
But there's still heaps of great things to do while in Nadi. The population is mostly Indo-Fijians, and the city is home to the largest Hindu temple in the Southern Hemisphere. And let's face it, the beaches are still incredibly dreamy!
However long you stay in Nadi, you have to pass through here if you're flying in. You might as well lean into the bustle and enjoy the incredible street food. How often are you in a city full of multicoloured buildings that sell kava, roti, and sunscreen all in one store?
Backpacking Suva
Suva was chosen as the capital of Fiji by the British. So it tracks that Suva is the rainiest place in Fiji. The British just needed those grey skies to feel at home.
There isn't heaps of tourist infrastructure in Suva, and it has more of the markings of a slightly wayward and multicultural city than it does of Pacific paradise. It has been nicknamed the 'New York of the Pacific'. But with all the transport running on 'Fiji time' and the frequent power outages, I'm not sure it tracks!
Suva is super diverse though, and you can find yourself amazing roti and curry for less than a dollar on the streets. The city is sort of like if you tried to glue together old colonial buildings, rundown markets, glistening NGOs, a somewhat seedy nightlife, and a big helping of village spirit all together. It's wonderful madness that you can't help falling in love with!
If you end up staying and backpacking Fiji for quite a while, then I'd recommend spending more time in Suva. If you're just here to for a quick backpacking trip, I'd probably skip it. While I found the museums, the local dance classes, the chaotic traffic, and the Bula spirit captivating, Suva is not what you think of when you think "Pacific getaway."
That being said, there are some beautiful beaches and excellent SCUBA diving to the north of the city. The Colo-i-Suva National Park nearby is also worth checking out!
Backpacking Coral Coast
This is a stretch of coast on the main island of Viti Levu south of Nadi. It's not got the resort vibes of Nadi, or the bustling and strangely rainy vibes of Suva. It's pure Pacific magic at its best.
Here is where you can child in the sun all day, catching up on some journaling and R and R. Or you can learn to surf on some of the breaks more suited to beginners. That being said, the surf can still get to 6 – 8 feet, so there's a lot of fun to be had for surfers of any level!
Plus, the water temperature hardly ever drops below 23 degrees so you don't have to worry about thick, movement restricting wetsuits! This is more a benefit for those that choose to go SCUBA diving at one of the Coral Coast's many unique dive sites. The soft coral dominated reefs, warm currents, and lack of overexploitation means these reefs teem with life.
If water sports aren't your things, there are treks, quad biking, or even cooking classes to be had. The locals of the Coral Coast are very welcoming and go above and beyond for visitors. You don't quite understand Fijian hospitality until you've been chatting with locals and invited to dinner every other night of your stay!
Backpacking the Yasawa Islands
The Yasawa Islands are a short ferry or seaplane ride from Viti Levu. They're super popular with both backpackers and sailors – for good reasons! The towering volcanic peaks and quintessential beauty of the beaches make them a popular destination for sun lovers and adventure seekers alike.
But the Yasawa Islands weren't open to tourism until the 1980s. Even today, they are not overly developed. There's still a strong community and culture among the locals.
You don't feel like you've stepped into another resort town that might as well be anywhere in the world. You feel like you're firmly in Fiji.
The Yasawa Islands are also quite easy to travel for the backpacker. You simply have to buy a Bula Pass which allows you to hop on and off the ferries that connect the islands. The ferries are subject to Fiji Time, so don't expect to be anywhere in a rush!
In my opinion, this balance of affordable tourism, and a splash of chaos, make the Yasawa Islands an attractive place to travel. Of course, once you're here, there's endless surfing as well as diving, hiking, and hammock chilling.
Backpacking the Mamanuca Islands
This chain of islands is just south of Nadi, and is again, a deservedly very popular place to visit!
Sailors will know the Mamanuca's for the famous Musket Grove Marina. This is a very well known meeting spot for cruisers who have spent a season in Fiji, and for those coming over from the Pacific Crossing. Many of the Mamanuca Islands don't have the best anchorages or are privately owned islands, so cruisers may not spend all that much time here.
Surfers on the other hand will likely head straight to the Mamanucas, quit their jobs, and never leave. World-class breaks like Cloudbreak, Restaurants, and Lighthouse, all have their home nearby to one of the Mamanuca Islands. There are also heaps of lesser-known breaks, secret spots, or spots that work when the moon is just right – so it pays to do a bit of exploring!
Then the backpackers will be all over the cheap dorms, learning to SCUBA dive, and chilling in the sun. With regular ferries between the main islands and Nadi, it's easy and affordable to get out here and soak up some sunshine.
Getting to the Mamanucas and their shallow, picturesque reefs is once again a feeling of, oh shit, so this is what Fiji's all about. Life is slow and things fall into place here.
Backpacking Vanua Levu
Vanua Levu, alongside Viti Levu, is the other main island in Fiji. While the Yasawa and Mamanuca Islands are popular with tourists, most locals don't live there.
Coming to Vanua Levu is left off a lot of itineraries, and the tourism industry has been slower to sink its teeth into the island. I think that makes for a more rewarding travel experience.
The roads aren't in as good condition, the hot springs are devoid of people, and there is an element of wilderness to the whole island. This does mean that you need to have a bit more planning, and your wits about you though.
The main town of Savusavu is becoming quite a popular resort town, so backpackers may want to shy away from here due to the prices. Sailors will also be wary of Vanua Levu due to the notorious barrier reefs that have claimed many a-ship. With so many people either shying away from the island or sticking to the major centres, you can have the whole wild interior to yourself.
If you go to some of the villages on the interior of the island, you'll be expected to bring a gift of kava to present to the chief (known as sevusevu). The main centres like Labasa and Savusavu will stand in stark contrast to village life.
Under the paradise surface, there are a lot of complicated politics in Fiji. You'll probably notice that many of the people in the city centres will be of Indian descent, but in the villages, they'll exclusively be Fijian.
Then there are the negotiations with Kiribati to purchase land in Vanua Levu to accommodate their population as climate change slowly claims more and more of Kiribati itself. So yeah, there's a lot going on here.
So this might not be the first pick for a backpacker. But if you do end up staying for a while in Fiji, I'd recommend coming out here. And yes, enjoying the diving and the sailing, but also getting under the surface of the country and understanding what makes it tick.
Backpacking Ovalau
This island is a 12-minute flight, or morning ferry ride, away from Viti Levu. It's not expensive to get to, and you can find reasonably priced accommodation when you get there. It's home to the old British capital of Fiji – Levuka. And yet hardly any backpackers come out here!
Ovalau in some ways can feel like it's trapped in the past. The colonial buildings are in slight disrepair, and there's a lot of talk about preserving the way Fiji used to be. But of course, everyone has a different idea about exactly what Fiji used to be.
But in other ways, Ovalau becomes a highlight of your trip all too easily. The locals are so friendly, and there aren't enough cliches in the writer handbook to describe their hospitality.
If you look different, people will stop and talk to you – out of curiosity and nothing more! You can never really get lost here, as someone will always point you in the direction you want to go.
Sailors will be relieved to know that Ovalau's anchorages don't live up to their infamous rolly reputation. Yes, there are better anchorages in Fiji, but these aren't that bad! And Ovalau is really a must-do for all visitors to Fiji.
You can go fishing in the rock pools here and swim with an enormous diversity of marine life. But you can also simply sit in town and have a yarn. I swear I haven't talked with so many strangers in my life until I came to Ovalau!
Getting Off the Beaten Path in Fiji – The Eastern Islands
Fiji as a destination is fairly off the beaten path. But within Fiji, there is a fairly well-worn series of destinations that people go to.
Most people stick to exploring the Coral Coast and Nadi on Viti Levu before going to the Yasawa or Mamanuca islands. This is all very well and good, but if you want to see the other Fiji, the Fiji that pushes you, then you need to stray off the beaten path.
Luckily, it's not too hard! Even Suva – the country's capital – is off its tourist beat.
The old capital on Ovalau is also an experience in the "other Fiji". But, especially if you arrive by sailboat, it's worth making Vanua Levu your base for exploring the Eastern Islands.
The Eastern Islands are less inhabited, and village life is very important. Some of the islands aren't inhabited at all. It's wild, a little risky to sail in terms of navigating the barrier reefs, but oh-so-worth-it. An offbeat adventure to barely inhabited islands in the middle of the Pacific is the ultimate calling for intrepid travellers!
Being an island nation, many of the best things to do in Fiji are unsurprisingly based around the water. But there are also jungles, amazing food, and cultural icons to explore too.
My favourite part about visiting Fiji was that no matter what you ended up doing with your day, everyone was so friendly and accommodating that you always had a good time. Especially in the outer islands, it's all too common to be invited around for dinner or to go fishing. People will come and chat with you just because.
So while it's tempting to try and do everything, take a leaf out of the locals' book and slow down – you're on Fiji time after all.
1. Drink Kava
This mildly intoxicating drink is used ceremonially in Fiji. It's pretty bitter-tasting, but especially in the outer islands, is customary to drink when you arrive at a new village. If you're not keen on some of the slightly hallucinogenic effects, be sure to ask for your cup to be "low tide".
It does taste like dirty water, or watery dirt – depending on who you ask. But who said medicine ever tasted good? 😉
2. Go Diving
I mean, 330 islands in the middle of the Pacific are ringed by coral reefs – it'd be mad if they didn't have good diving! But truly, Fiji is blessed with unspoiled marine life. Keep an eye out for turtles, barracuda, rays, and sharks.
Also, the sheer diversity of soft coral is rather incredible! If you're not into SCUBA diving, you can always learn to freedive in the pristine waters.
Fiji has the type of diving that will turn even the most cynical into conservationists.
3. Learn to Surf
Fiji has a reputation for being Surfing Level: Advanced Only. This is largely thanks to one of its most famous breaks – Cloudbreak – that has swells of up to 20 feet. But, there are lots of great beginner breaks, especially along the Coral Coast.
If you travel to Fiji during the off-season, you'll likely have the breaks to yourself as well!
4. Go Fishing
There are many fishing charters in Fiji – including spearfishing specialists as well as catch and release ones. I'd recommend going with a charter partly because if you don't have a boat, this will be the only way to get close to the fish!
But also, if you are fishing near reefs, you need to make sure you're targeting the right species. Many fish carry ciguatera – which can cause some heavy food poisoning – which is f*cking gnarly.
5. Take a Local Ferry
Getting between islands is pretty straightforward. You can either take a seaplane or a ferry. Now, aside from saving money, taking a local ferry is a surefire way to find your sea legs! It might be best to take sea sickness medication before you go on the ferry if you're prone to seasickness.
But how can you say you've backpacked the islands if you haven't taken a ferry AKA the ultimate island transport?
6.Visit Sri Siva Subbramaniya Swami Temple
This is the largest Hindu temple in the Southern hemisphere! It's a symbol of both Fiji's diversity and its colonial legacy.
Many Indians were brought to Fiji by the British as indentured labourers. Fijian history has often been turbulent, but one of the results is the beautiful architecture in Fiji today.
7. Hike Colo-i-Suva Forest Park
Everything you could possibly want from a national park on a tropical island is found in Colo-i-Suva. It's little wonder it's a source of national pride! There's hidden waterfalls, luscious greenery from the forest floor to the sky, and swimming spots.
You don't need to take a tour, and with the park sitting at 120 – 180 metres altitude, you get a slightly cooler reprieve from the equatorial climate.
8. Eat Kokoda
I have a theory that this is the way that fish should be eaten. Across every island and coastal culture, you find fresh fish 'cooked' with citrus and marinated in coconut cream. Think of the ceviche in South America, and the Ika Mata if you have been backpacking in the Cook Islands.
Fiji's take is kokoda. And oooh boy, this shit's delicious!
9. Laze in a Hammock in the Yasawa Islands
The Yasawa Islands are a popular stop for backpackers as they're an affordable slice of the good life. They don't have too many resorts dominating the pristine beaches – and during high season many of the backpackers become little party bubbles.
But aside from being cheap to stay in, they're also gorgeous. There's nothing better than remembering why you came to the tropics in the first place: you came to relax! So it's time to string up your hammock and dive into a great travel read!
Fiji has cheap hostels – perhaps a little surprising for an island in the middle of the Pacific! Of course, there are the high-end luxury resorts and the all-inclusive (verging on prison) type of resorts too. But that's not what the backpackers are looking for!
You can find dorm beds here for anywhere between $10 – $50 per night. Many of the hostels have meal plan options, where your nightly rate includes breakfast and dinner. This can sound like a good deal, but sometimes it works out cheaper to spend a little more on your dorm bed and then eat cheap on the street. Aside from being cheaper, street food is the best food.
The Best Places to Stay in Fiji
Backpacker accommodation staples like hostels are surprisingly cheap in Fiji. You might be in the middle of the Pacific, but you can still find a dorm bed for $10 USD! The more remote you go, the more expensive the hostels get.
Many of the outer islands won't have hostels at all: you'll need to camp, potentially stay in a guesthouse, or on your own sailboat. 😉 That being said, you can find some really awesome beach houses in Fiji in local communities where they treat you as part of the family. It's super cute!
But in Nadi and the nearby islands, you've got plenty of fairly affordable hostels and airbnbs to choose from. If you have a little cash to spurge and want to leave a smaller ecological footprint on your next vacation, you can always consider staying in a Fijian eco-resort.
While backpacking Fiji is not as cheap as Southeast Asia, it's also not terribly expensive. If you budgeted $50 USD a day here, you would have a very comfortable trip. If you employed some of the tried and true budget-saving hacks, you could bring that daily cost down a lot.
The price of a hostel is mid-range (and camping is always free!) but some of the activities run on the expensive side. While trekking and national park entries are fairly cheap, things like SCUBA diving can add up fast.
Shared taxis and buses on the main islands are very cheap. Expect to pay only a few dollars per ride. Street food is also only a few dollars per meal (and fucking delicious). The food has lots of starchy vegetables and fish so it's always filling, too.
So if you stick to inexpensive activities, camp more than you stay in hostels, and stick to cheap street food, budget travel in Fiji is very doable!
A Daily Budget in Fiji
Money in Fiji
Money in Fiji is relatively straightforward. $1 USD is roughly $2 FJD. So it's pretty easy to do quick conversions in your head regarding prices. There isn't really a point in getting Fijian dollars before you land in the country; you're better off converting cash once you arrive.
Credit and debit cards are accepted in the major cities and tourist centres – including some of the Yasawa Islands. But the further you get away from infrastructure, the harder it is to pay by card. Your best bet is to carry some cash on you so that you don't get caught out.
For all matters of finance and accounting on the road, The Broke Backpacker strongly recommends Wise – The Artist Formerly Known as Transferwise! It's our favourite online platform for holding funds, transferring money, and even paying for goods.
Wise is a 100% FREE platform with considerably lower fees than Paypal or traditional banks. But the real question is… is it better than Western Union?
Yes, it most certainly is.
Travel Tips – Fiji on a Budget
Fiji is one of the cheapest destinations in the Pacific. However, it is still possible to go a little out of control. Standard budget backpacking tips aside, here are my top tips for backpacking Fiji on a budget…
Take the ferry rather than seaplane. Unless you get wildly seasick, there's no need to take a seaplane to the outer islands. Fiji is relatively well connected by ferry services (at least to the well visited islands). If you get a Bula Pass you can hop on and off the ferries and explore multiple islands! Island hopping is really that easy (and cheap!).
Use shared taxis. These are found in Nadi and Suva, as well as a handful of other regional centres. They function, essentially, as a shared uber. If you don't take the bus, they can be a good way to avoid having to pay for the full price taxi ride.
Eat local. Fiji does have restaurants that serve imported steak and cheese. But that's going to drive the price of your meal up like crazy! Instead, stick to the mouth watering roti and fish curry you can find on every street corner.
Go camping. Get some good camping gear and get into the jungle! Not only is it free, but there's a certain magic of falling asleep watching the stars and waking up to a peachy sunrise.
Get out of Nadi! No, Nadi is not that bad. It's actually a pretty interesting place. But it's expensive and quite touristy compared with the outer islands. Spend a couple of days settling into Fiji life and then get out! You get better bang for your buck elsewhere.
Why You Should Travel to Fiji with a Water Bottle
All those hella cute sea turtles you see snorkelling in Fiji? They really don't like plastic bottles – or plastic anything really.
If you want to do your part in being a responsible traveller, then be sure to start replacing the plastic you would use with more sustainable alternatives! Plus, as a bonus, you don't gotta spend hard-earned dosh on silly overpriced plastic water bottles.
Yeah, so this is pretty fucked up. The alternative to the plastic bottle we use is one of the best filtered water bottles – the Grayl bottle.
It filters your water, thereby keeping your tum-tum safe no matter where you travel. Plus, you get to do your bit in reducing the mountains of garbage that threaten to ruin picture-perfect paradises like Fiji.
Fiji has a tropical climate meaning it's warm all year round, doesn't really have a "winter", but it does have a slightly less wet season. And for sailors, Fiji is impacted by tropical storms and cyclones. So it's important to know when to avoid them.
If you're not bothered by rain and the odd tropical storm, backpacking Fiji during the off-season can be a great way to experience it without the crowds.
It's also worth noting that the islands have a wet and a dry side due to their topography. Suva falls firmly on the wet side of Viti Levu, while Nadi is on the dry side.
What to Pack for Fiji
It's best to be prepared, but you don't want to carry too much stuff either. It's worth spending some time on your backpacking packing list.
Make sure you pack mosquito repellent! The tropics are known for an abundance of these little fuckers. And, like any adventure, there are a few things that I never leave home without.
Fiji is a very safe country for backpackers! The rate of violent crime is low, and even petty theft is fairly low. That being said, following the usual safety travelling tips – especially if you're travelling solo – is going to make for a safer trip.
As you'd expect, there are more instances of theft and muggings in Suva than in the countryside. Fiji is a small place, with a very tight-knit community. The upside to this is that the gossip spreads about who can and can't be trusted very quickly.
The roads on Viti Levu are in pretty good condition. But over on Vanua Levu, they're basically non-existent.
Sailors will need to keep an eye on the barrier reefs, and the weather too.
The other thing is, while it's unlikely that you'll run into any trouble, if you do, help is a long way off. Fiji is still quite remote and so getting to a hospital that can treat you can be difficult.
So heads up surfers – don't take on swell you're not ready for!
Sex, Drugs, and Rock 'n' Roll in Fiji
Just like a lot of the world, all the good stuff is illegal here – weed included. But the moist, tropical climate is rather conducive to growing marijuana, and there's clearly demand, so you can definitely find a joint.
Expect to haggle, as with everything in Fiji. And don't get caught!
Nah, the police presence in Fiji isn't over the top, but they do NOT take kindly to a foreigner with a doobie between their lips. The Bula vibe disappears real fast.
There's a funny story of locals shooting down police drones with spearguns because they didn't want their pot being stolen. (The Broke Backpacker does not condone shooting police drones with spearguns, but also, noice one mate.)
Aside from the ganja, you can very legally drink kava to your heart's content. It's rather like being mildly stoned crossed with the feeling you get after two glasses of champagne. Like anything intoxicating, you can always accidentally take it too far, so just watch out for your mates and stay hydrated.
Now, the backpacker scene is alive and well in Fiji meaning that a sexy encounter on the road could be probable. While this is certainly a recipe for some steaming smoosh times, I'd remind you that free love is about love as much as it is about sex. So you might as well try and be good to each other as you do it.
There's also an increasing risk of HIV in Fiji. While HIV is not the death sentence that it once was, the irregular condom use of travellers means that one sexy encounter abroad could colour your relationships for the rest of your life.
I'm by no means saying don't have sex! Go get ALL the endorphins! Just be safe is all.
Travel Insurance for Fiji
Alrighty, speaking of being safe while backpacking Fiji… You don't think about the best travel insurance when you're chilling in a hammock or about to go for an epic surf; when you climb aboard a dilapidated bus and high tail it around some sketchy corners.
But if you break your leg, you think about it.
Back home (as long as you aren't from the United States of Zero Health Insurance) you could go to the hospital and get treated properly. But while you're backpacking Fiji? Not so much.
The further you get from Viti Levu, the smaller your chances are for a hospital. And as with anywhere in the world, those hospital trips can get VERY pricey.
World Nomads' mission is to support and encourage travellers to explore their boundaries. They offer simple & flexible travel insurance, and safety advice to help you travel confidently.
They've been doing it since 2002 – protecting, connecting, and inspiring independent travellers just like you.
Get a quote below or read our in-depth review!
World Nomads provides travel insurance for travelers in over 100 countries. As an affiliate, we receive a fee when you get a quote from World Nomads using this link. We do not represent World Nomads. This is information only and not a recommendation to buy travel insurance.
Being a string of islands in the middle of the Pacific, you're most likely going to have to fly in. Most of the flights land in Nadi on Viti Levu, although some of the flights will go into Suva.
Fiji has featured on many around the world tickets. Flights from Australia and New Zealand are relatively inexpensive too.
The flight into Fiji is really something to behold. The shallow barrier reefs and picturesque islands seem to appear out of nowhere. You get this sense that this really is the middle of the ocean, this is Fiji!
The other way you can enter Fiji is by sailboat. Fiji is a popular cruising ground with boats coming in from New Zealand or from across the Pacific each year.
It's a little tricky entering Fiji, as you have to check-in at one of the designated ports. This means if you're sailing in from across the Pacific, you've got to navigate some sketchy reefs and go past the mysterious Eastern Islands before you get to a port of call.
However you make it into Fiji, once you arrive, the sweet smell of the tropics and the sounds of crashing waves will assure you that you've made the right decision!
Entry Requirements for Fiji
There are several countries that are exempt from visas when travelling to Fiji. Usually, you can stay up to three months on a tourist visa.
Sailors will probably want to look into getting an extension on their visa and sometimes it's worth going through an agent. Fijian bureaucracy runs on its own pace and it can be a little tricky (read: fucking difficult) to navigate.
But if you're just turning up for three months or less for some epic surfing and diving, then getting a visa is straightforward.
It's not super easy to create public transport that connects 330 odd tropical islands, but Fiji has done it! There are easy to use buses and shared taxis on the mainland, AND affordable Interislander ferries between the outer islands.
The further from the main islands that you get, the less reliable the public transport is – if it's there at all. In this case, the norm becomes hitchhiking.
Travelling by Sailboat in Fiji
Fiji is one of the ultimate cruising grounds. Travelling by sailboat and living the boat life allows you a certain freedom that other modes of travel don't allow. It also makes you 'earn' your travel miles, and slow down to appreciate your surroundings.
It's no secret that the Pacific is my favourite place to go sailing. The sunshine, the overwhelming friendliness of the locals, the surf, the diving, the fishing – oh yeah, and the trade wind sailing!
Some of the anchorages in Fiji are known for being a little rolly, and I already mentioned the hazardous barrier reefs that can make navigation tricky. But with some good planning and fair winds, you can enjoy everything from secluded islands to beach bars!
Sailors are generally pretty respectful, but be sure to pay mind to the customs of some of the outer islands. Fiji has pockets of very traditional society and it pays to show respect. Usually, this means wearing modest clothes and bringing a gift of kava to the village chief.
Onwards Travel from Fiji
Unless you're sailing in, you're going to have to take a plane out of Fiji too. Heading onwards to backpack Australia or New Zealand is probably your best bet – you might want to get back to a high minimum wage and stack some cash!
Plus, travelling New Zealand in the frigid South Island provides a lovely contrast to the tropical shores of Fiji.
There are also relatively cheap flights onwards to LA. I dunno, maybe the big, bold US of A is calling you.
Of course, if you're on a boat, it's probably onto Tonga or other parts of the Pacific. If you're following the trade winds it definitely makes sense to head toward Tonga.
The good news for the backpackers willing to learn is that boats are often looking for volunteer crew! You never know you might just fall in love with the boat life…
Unless you are a fancy pants ex-pat (in which case, why are you reading a budget backpacking guide? Hehe you little ragamuffin, i like you!) you probably won't be able to find paid work in Fiji. There is a good and diverse ex-pat scene that is full of people with jobs ranging from hospitality to diving instructors to diplomats.
But in terms of backpacker jobs, you probably won't score one too easily. There is pretty unreliable WiFi – particularly in Suva – so becoming a digital nomad is not really an option here either.
Volunteering in Fiji
One way you can save money while backpacking Fiji is by volunteering. Usually, your accommodation and maybe your food is covered by the project – a pretty sweet deal! Beyond saving a little money though, volunteering is a way to invest back into the community that you're travelling in.
I think as backpackers we talk a lot about creating a community, but not all of us are willing to dig the tunnels or do the physical work a community needs. Not all volunteer programs are reputable – this is true. But the Broke Backpacker trusts Workaway and Worldpackers to deliver on quality experiences every time.
Both are review based platforms that connect volunteers with meaningful projects. While workaway has more projects on offer, I'd say that their website and customer service is a little lacking compared to Worldpackers. That being said, Worldpackers has a pretty awesome spread of volunteer opportunities, too!
Plus Broke Backpacker readers get a discount when they join up! So sign up and get searching for a way for you to give back the next time you hit the road.
Fijian culture has always been diverse. The Melanesian and Polynesian cultures cross over here to bring you the epic cross-over culture.
Fijians strongly value community and family above all else. They're very welcoming of foreigners and tourists and are always up for a chat.
However, Fijian culture has come to include strong Indo-Fijian elements. At times, there is a lot of tension that dates back to the colonial era regarding Indo-Fijians. This is not something that people backpacking Fiji should worry about getting caught up in, but you will definitely notice it.
The tension is most palpable in cities on Vanua Levu where the Indo-Fijians have control over the major economies but are barred from owning land. Both Fijian and Hindi are national languages, alongside English. Today, almost 40% of the population is Indo-Fijian.
Having a sizable minority in a country always creates tension. When asked about Fijian culture, it can be tempting to focus on one culture or the other – even though both cultures make Fiji what it is today.
But, both cultures come together and value family above all else. Also, not to be glib, but the melting pot of cultures makes for some seriously delicious foods!
Useful Travel Phrases for Fiji
You don't have to be a polyglot or speak multiple travel languages before you hit the road. But learning a few local phrases helps to break down that barrier between you, the tourist, and the locals. Learning a language goes a long way!
Fijian is not the easiest of languages to learn but you should still try and slip in a few phrases you learn!
What to Eat in Fiji
Traditional Fijian foods focus on fresh seafood, starchy farmed vegetables, and coconuts. If that's not a recipe for deliciousness, I don't know what is!
You can get fresh fish in almost any restaurant, along with taro cooked in every which way. The bele leaves also feature heavily in Fijian food and they are so unbelievably good for you.
A little part of me dies and goes to food heaven whenever I smell fish suruwa cooking!
These days restaurants do sell things like hamburgers and steak and chips, but these will be quite expensive. Along with traditional Fijian food, there are also strong Indian and Chinese influences.
The street food in Fiji is mostly Indian style dishes such as dahl and paneer. And oh boy are they cheap and delicious! The best way to save money in Fiji is to stick to street food! And the coconuts, yeah, the coconuts are bloody good.
Popular Dishes in Fiji
A Brief History of Fiji
The first people arrived in Fiji about 3000 years ago. Due to Fiji's location within the Pacific, it became this incredible crossroads of cultures throughout history. Both Melanesian and Polynesian explorers settled in Fiji.
There's a lot of overlap and cultural mingling; so today, Fijian culture has more in common with Polynesian culture. Although its people remain Melanesian.
Fiji has always been a country of many languages largely due to its geography as well. Vast oceans separate little specks of land, and yet Fiji is a crossroad between the two halves of the Pacific. So people not only came from far and wide, but they settled on different islands and formed localised languages.
There's a long history of trade between the Kingdoms of Fiji and the Kingdom of Tonga. Both societies were seafaring and highly skilled sailors at that. Fiji used to export druas or efficient and beautiful sailing canoes to Tonga.
Today Fiji has relative peace, although the decolonial path remains thorny at best. That being said, Fijians are some of the most welcoming and hospitable people I have ever met. And I cannot overstate that enough! Their family means everything, and their culture is very important.
Your burning questions about backpacking Fiji answered, right here, right now!
Fiji is a special place, so be good to it.
When you arrive in Fiji, you immediately understand why people have been drawn to it for thousands of years. The reef teems with fish, the weather is beautiful, and the landscape is stunning. So all you need to do is pay it forward and make sure you leave the islands as they were for everyone to continue enjoying.
But the sun-soaking, the surf catching, the fish-eating; it's all as bloody magical as it sounds. With a little bit of deference to the culture – especially on the outer islands – you'll have a travel experience that goes beyond the average backpacking trip. Fiji is a place that lets you drift way off the beaten path.
Just remember to stay on Fiji time. Things will get done as they're supposed to – usually after a cup of kava! Backpacking Fiji might be just the reminder you need to slow down and travel longer…
Before you know it, you'll have acquired a sailboat and have made a second home out of these 330 beautiful Pacific Islands.
Each time you arrive in Fiji, it just takes one Bula Vinaka to remind you that this is indeed the land of the good life.
---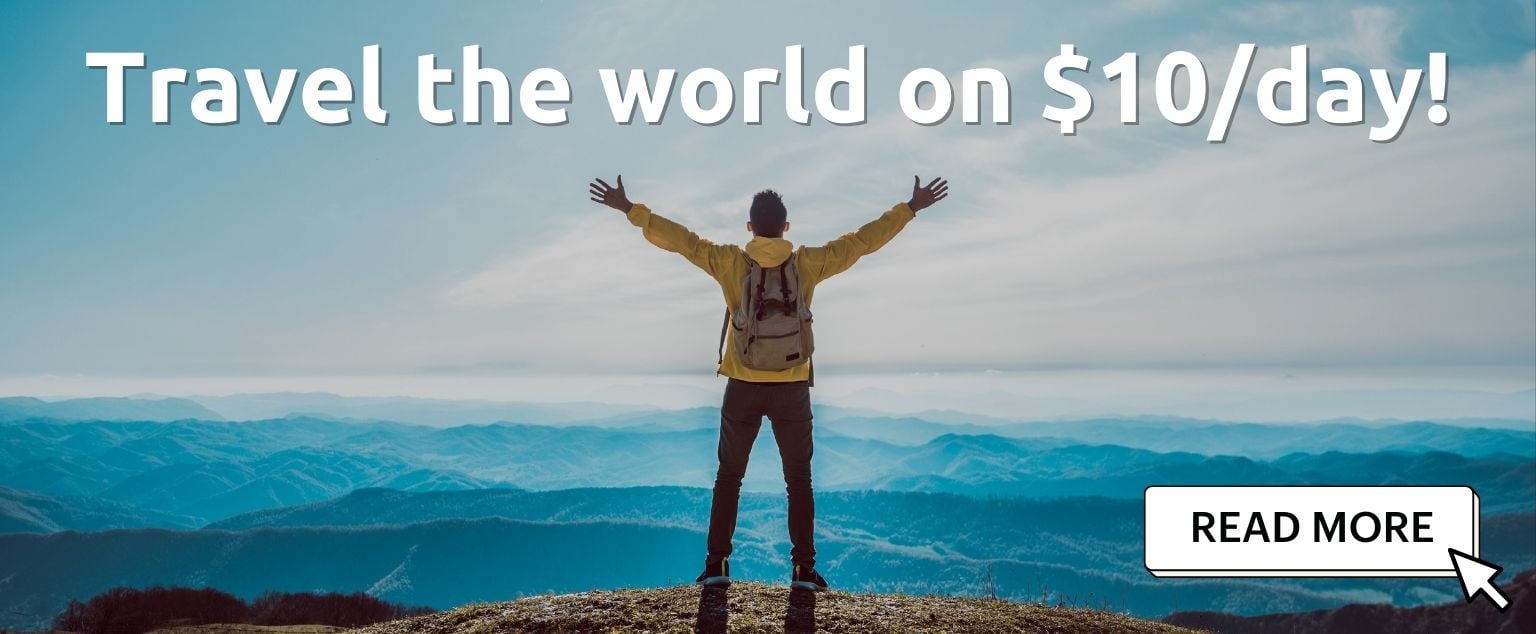 And for transparency's sake, please know that some of the links in our content are affiliate links. That means that if you book your accommodation, buy your gear, or sort your insurance through our link, we earn a small commission (at no extra cost to you). That said, we only link to the gear we trust and never recommend services we don't believe are up to scratch. Again, thank you!