When anyone imagines a tropical island with swaying palm trees, sparkling blue oceans, and white powdery sands, chances are the image in their mind closely resembles Fiji. This exotic archipelago in the South Pacific is made up of over 300 islands (many of which are uninhabited) and is blessed with magical coral reefs, fascinating culture, and warm hospitality.
A holiday here involves selecting from the wide variety of unique accommodations in Fiji. These range from some of the world's best spas to authentic thatched bungalows in traditional villages. And, on top of this vast offering of accommodation options, you'll find a growing number of eco-resorts in Fiji to choose from.
We've gathered some of these options here for you to help get you started in planning your trip to this exotic destination. While this is just a small sample of the best eco-resorts in Fiji, it does illustrate the wide variety of unique places to stay available to you.
In a Hurry? Here's Where to Stay in Fiji for One Night
First time in Fiji
Ocean View Glamping Tent
Set on a sloping hillside overlooking a peaceful bay on Matacawalevju Island, Ocean View Glamping Tent offers a close-to-nature stay without sacrificing comfort. It's eco-friendly and is close to many top attractions and sites.
Places to visit:
Blue Lagoon
Sawa-I-Lau Caves
Turtle Rock
Is this amazing Fiji Eco-Resort booked for your dates? We've got your back with our other favorite properties below!

Unlock Our GREATEST Travel Secrets!
Sign up for our newsletter and get the best travel tips delivered right to your inbox.
Why Stay in an Eco-Resort in Fiji?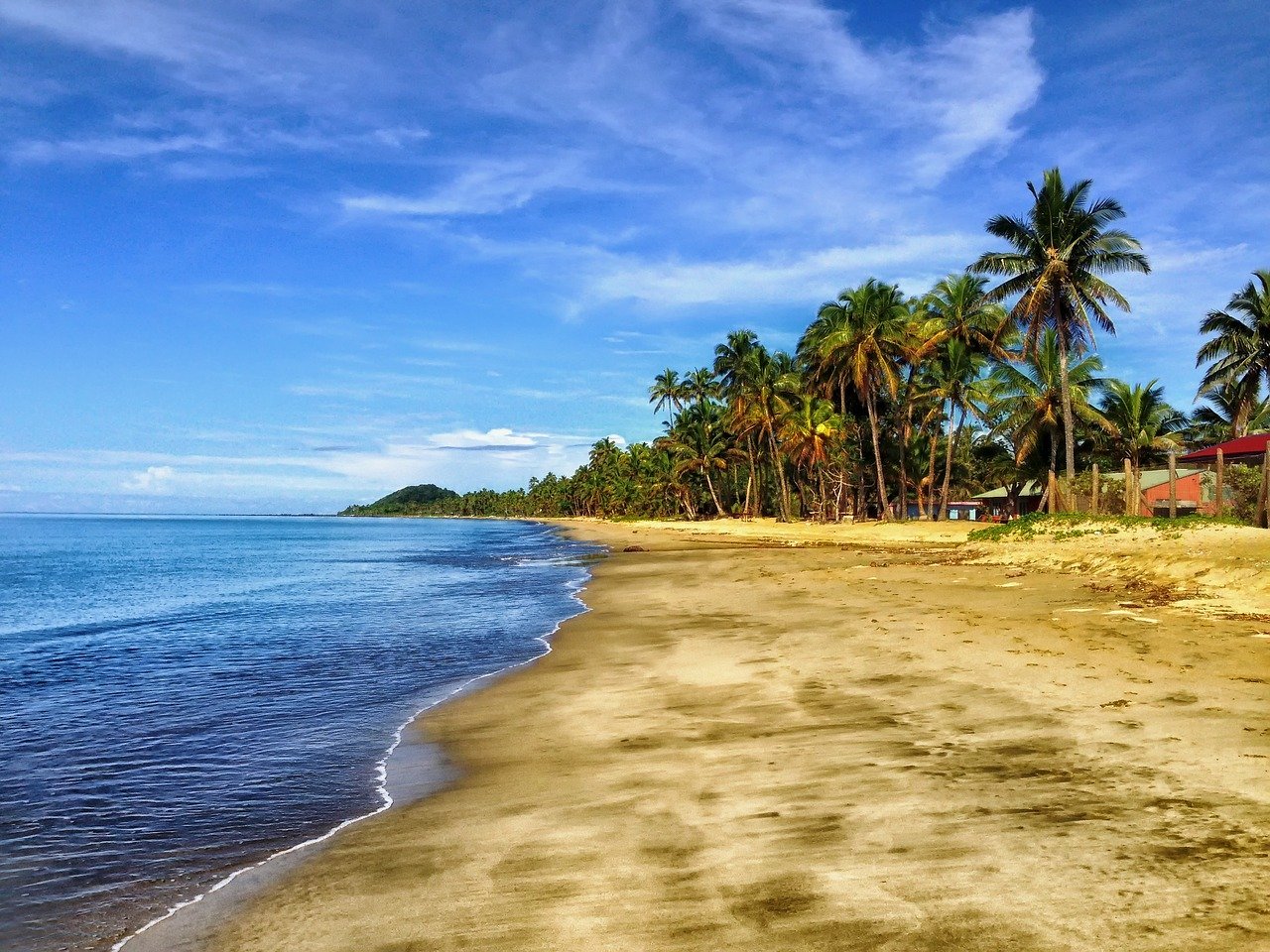 As more people are choosing to live a more sustainable lifestyle that minimally impacts the planet, it stands to reason that more options become available for sustainable travel.
A stay in an eco-resort offers you the chance to get closer to nature and fully experience the beauty of your chosen destination. Plus, it helps you to minimize the impact of your travels on the environment. Eco-resorts offer some of the most unique accommodation options, from treehouses to beach huts and everything in between.
A stay at an eco-resort also offers a comfortable and pleasant stay in well-managed accommodation. You can rest easy knowing that you're supporting environmentally conscious organizations.
What is an Eco-Resort?
Eco-resorts and eco-lodges share a common commitment to preserving and protecting the planet. Eco-resorts implement a variety of initiatives to reduce their environmental impact. These can include using solar power, harvesting rainwater, recycling, composting, and using energy-efficient lightbulbs and appliances. Other methods can include waste treatment and contributions to carbon offsetting schemes.
Part of this commitment to sustainability also includes uplifting and empowering local communities. This can be achieved by supporting local businesses and artisans where possible. For example, some hire local tour guides, support local farmers and producers, and promote local artists. Some places also offer visitors a chance to learn more about local culture and heritage. So pack up your eco-friendly bag and buckle up, it's time to check out the top 10 eco-resorts in Fiji.
Top 10 Eco-Resorts in Fiji
We've gathered this list of some of the best eco-resorts to get you started in finding unique accommodation for your travels in Fiji. Whatever your budget, tastes, and requirements, there's sure to be something that grabs your eye.
OVERALL BEST VALUE ECO-RESORT IN FIJI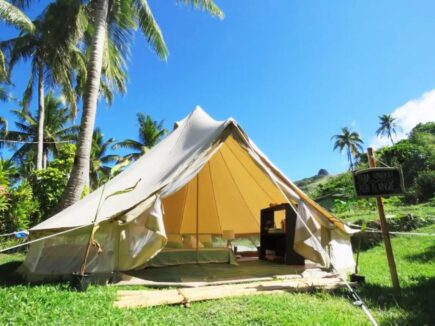 OVERALL BEST VALUE ECO-RESORT IN FIJI
Ocean View Glamping Tent
> $
> 2 guests
> Truly authentic stay with all the comforts
> Tranquil location close to all the sites
BEST VALUE ECO-RESORT IN FIJI
BEST VALUE ECO-RESORT IN FIJI
Spacious Eco-cabin in Yasawa
> $
> 2 guests
> White, sandy beaches and bright coral reefs
> Short walk to the famous Blue Lagoon
BEST ECO-RESORT FOR COUPLES
BEST ECO-RESORT FOR COUPLES
Palmlea Farms Ecolodge Villa 2
> $
> 3 guests
> Authentic Fijian glamping
> Peaceful natural paradise
MOST ECOLOGICAL ECO-RESORT IN FIJI
MOST ECOLOGICAL ECO-RESORT IN FIJI
Namosi Eco Retreat
> $$
> 2 guests
> Authentic traditional village
> Back-to-basics living in the mountains
BEST ECO-RESORT FOR FAMILIES VISITING FIJI
BEST ECO-RESORT FOR FAMILIES VISITING FIJI
Le Malologa
> $
> 6 guests
> Charming homestead set on a hilltop
> Spacious home and private pool
BEST ECO-RESORT FOR BACKPACKERS
BEST ECO-RESORT FOR BACKPACKERS
Beachfront Dormitory 1 at Comfort Eco Lodge
> $
> 2-6 guests
> Beachfront dormitory
> Variety of free activities to enjoy
AMAZING LUXURY ECO-RESORT IN FIJI
AMAZING LUXURY ECO-RESORT IN FIJI
Vakanananu Retreat
> $$
> 2 guests
> Hillside location with sea views
> Exclusive-use eco-villa for a private stay
$
2 guests
Truly authentic stay with all the comforts
Tranquil location close to sites
Ocean View Glamping Tent is set on a lush hillside overlooking a tranquil bay on Matacawalevi Island in the Yasawa Islands. The family-run resort offers a comfortable stay with easy access to the island's many attractions, including the famous Blue Lagoon.
The resort relies on solar power, and water comes the hillsides a short distance away. Meals are prepared with vegetables from the organic farm on the property and fresh seafood caught daily. Vegan, vegetarian, and gluten-free options are available.
Guests can head out to many nearby top attractions, including the Blue Lagoon made famous in the movie of the same name, the jaw-dropping Sawa-I-Lau Caves, and many top snorkelling and diving spots.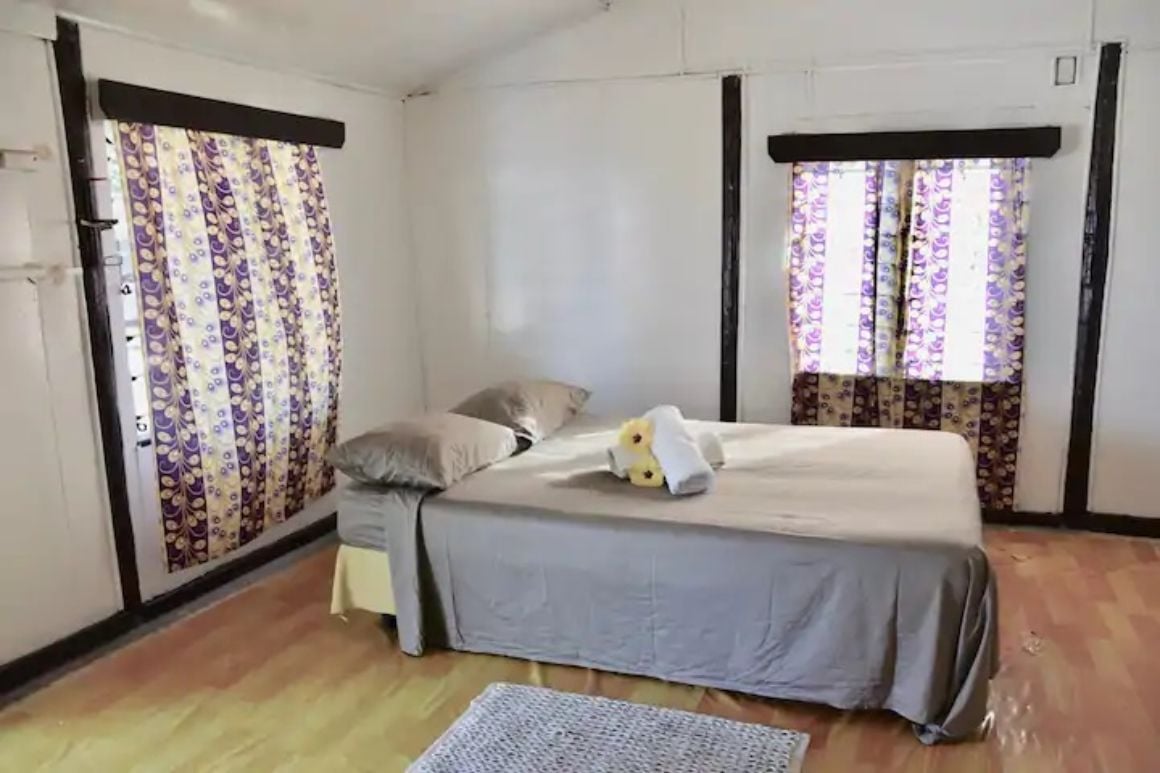 $
2 guests
White sand beaches and bright coral reefs
Short walk to the famous Blue Lagoon
This spacious eco-cabin is located 10 meters from the white, sandy beaches on the island of Nanuya Lailai. The cabin is a relaxed and simple retreat with all the essentials needed for a pleasant stay: queen-sized beds, mosquito netting, and access to a variety of activities and experiences.
The cabin runs entirely on solar power, with electricity available between 5 pm to 10 pm daily. Drinkable filtered water is available on site, so there's no need to purchase bottled water. The entire cabin and all furnishings are made entirely out of local wood. Breakfast is free, with the option to include all other meals at an additional cost. Vegan and vegetarian options are available.
Guests can head out to explore the famous Blue Lagoon, go spearfishing and hand-line fishing, or snorkeling. Visit spectacular nearby caves, Honeymoon Island, or enjoy an uninterrupted walk around the entire island.
$
3 guests
Authentic Fijian glamping
Peaceful natural paradise
Palmlea Farms Ecolodge Villa 2 is a traditional Fijian-style villa on Vanua Levu Island. Guests can enjoy a truly local experience in this piece of paradise with the convenience of modern amenities and comforts.
All power for the villa comes from solar panels, while the resort is committed to conserving the natural surroundings. All meals are created from the freshest local ingredients; enjoy farm-to-table goodness from local growers and fresh seafood from local fishermen.
The north coast of the island boasts protected waters enclosed by the Great Sea Reef. Here, water sport enthusiasts can enjoy diving, fishing, and surfing. Inland, guests can enjoy hikes and walks through the hillsides.
Most Ecological Eco-Resort In Fiji – Namosi Eco Retreat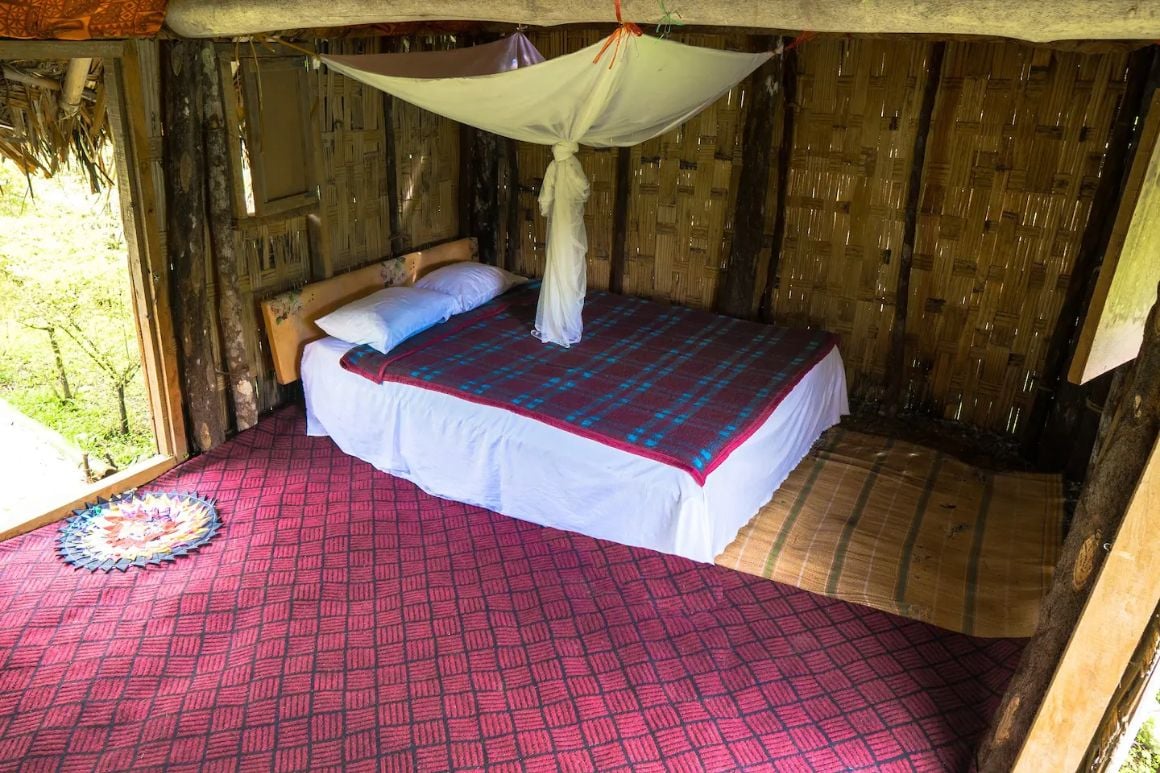 $$
2 guests
Authentic traditional village
Back-to-basics living in the mountains
Offering a truly unique experience, Namosi Eco Retreat offers guests the chance to experience ancient traditional life in this authentic setting in the mountains. The traditionally handcrafted bures (huts) are made from bamboo and palm leaves and offer a modern bed, privacy, and modern bathrooms.
Guests can help with farm work, learn survival skills like fishing and cooking on an open fire. Experience the undiluted culture of the local people through dancing, yoga and meditation, and storytelling. This is an opportunity to unplug from technology and experience a different way of life.
Enjoy a sunrise mountain walk through this verdant landscape, or go river rafting and horse riding. Other activites include hiking and bird watching.
An Eco-Friendly Traveller NEEDS an Eco-Friendly Backpack!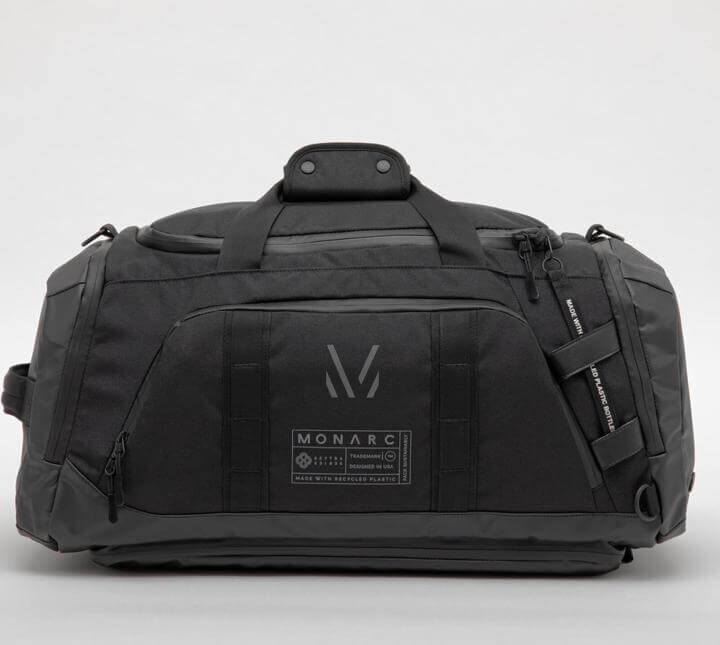 50 recycled plastic bottles – that's what goes into every Monarc Settra: the world's MOST SUSTAINABLE backpack.
Whether you're rocking duffel mode or backpack mode, if you're a traveller that gives a flying hoot about their environmental impact, then there's only one backpack you should consider – the plastic-negative Monarc Settra.
Learn More Now!
Best Eco-Resort for Families Visiting Fiji – Le Malologa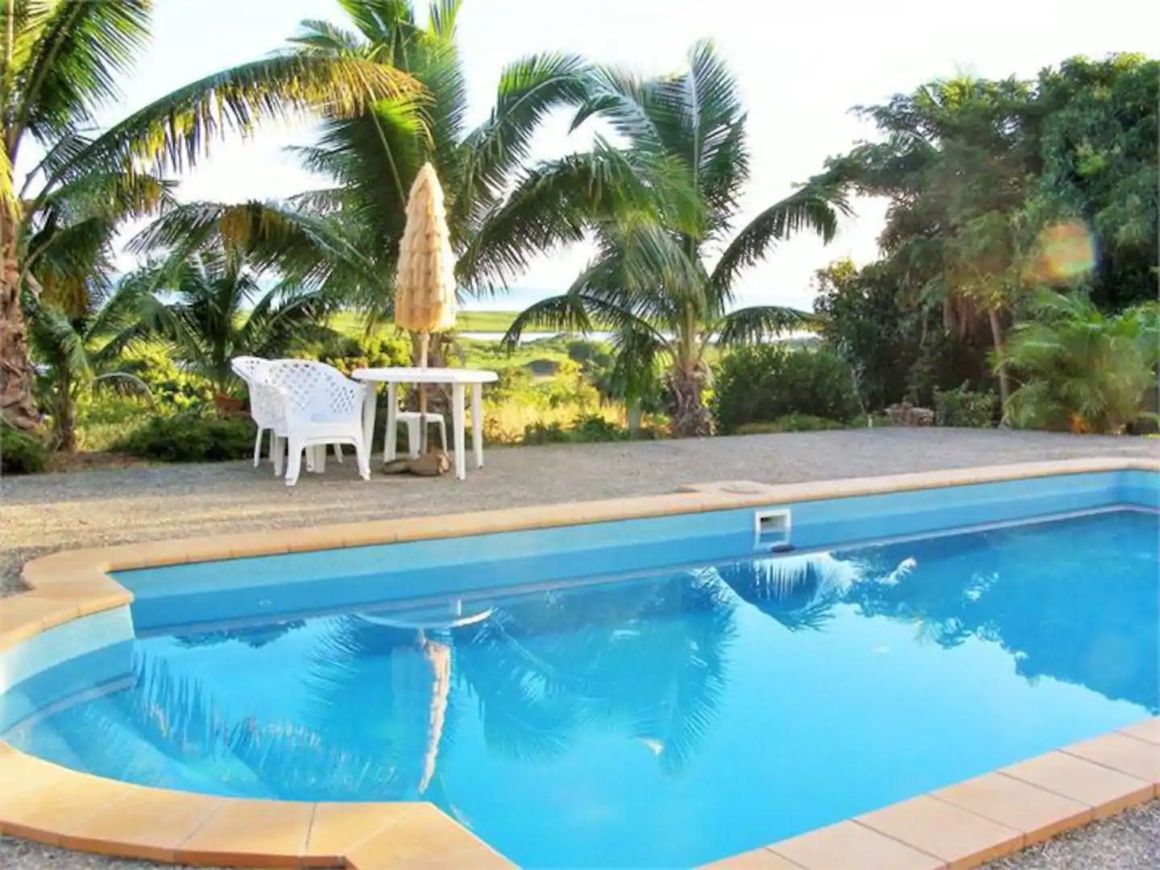 $
6 guests
Charming homestead set on a hilltop
Spacious home and private pool
Enjoy the ideal family retreat at Le Malologa. The converted farmhouse features three spacious bedrooms, lush surroundings, and a pool to enjoy. The large, covered patio is the perfect place to enjoy family barbeques while you take in the beautiful views.
Solar power provides hot water for showers, the pool is free of harsh chemicals and is purified with salt. The homestead is set on 5 acres of beautiful landscape to explore.
Spend lazy days beside the pool, or head out to explore Fiji. The property is large and worth exploring on walks, enjoying the view of the ocean as you go.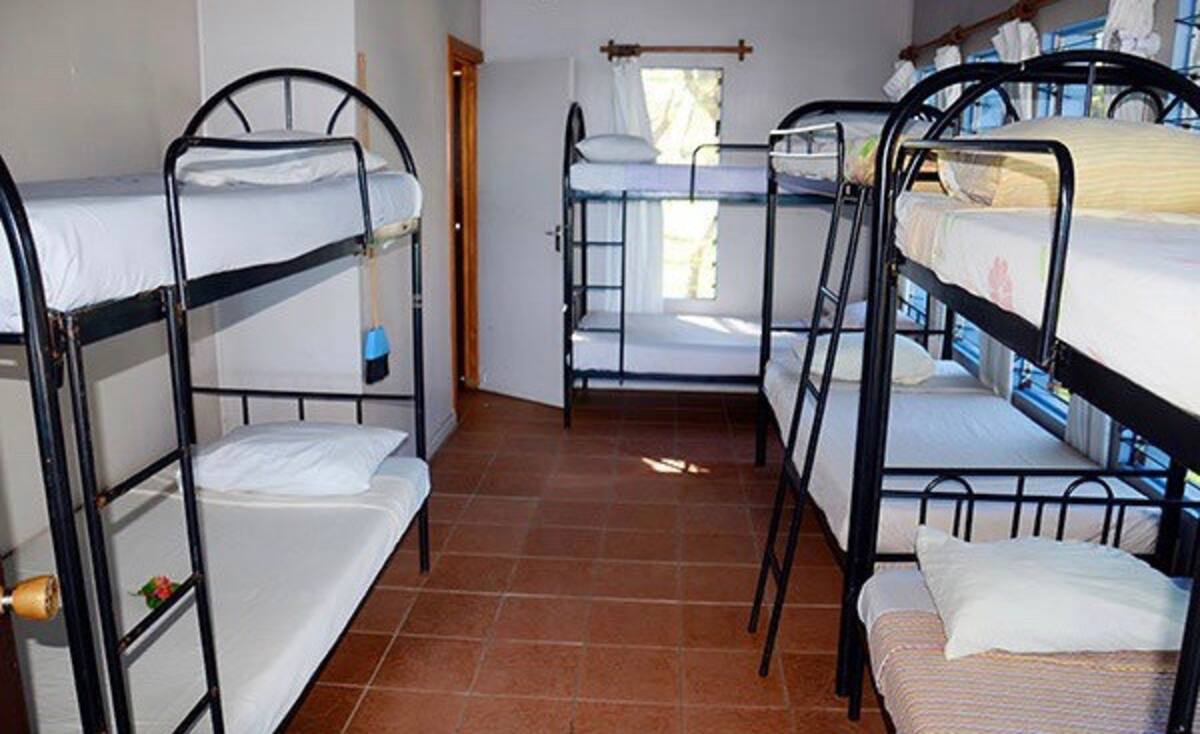 $
2-6 guests
Beachfront dormitory
Variety of free activities to enjoy
Located on a pristine private beach on Nacula Island, Comfort Eco Lodge offers dormitory-style accommodation for solo travelers and small groups. The lodge is simple yet comfortable, perfect for budget backpackers.
Electricity is provided by solar panels and is available for use between 6 pm and 6 am. Meals are made from locally sourced fruit and vegetables as well as freshly caught fish. Guests can opt for vegan and vegetarian options.
The surrounding area offers abundant outdoor adventures. These include fishing tours, snorkelling, visits to the famous Blue Lagoon, Sawa-I-Lau Caves, and local schools. Various free activities are also on offer, including traditional dancing, basket making, coconut climbing, hiking, and fire dancing.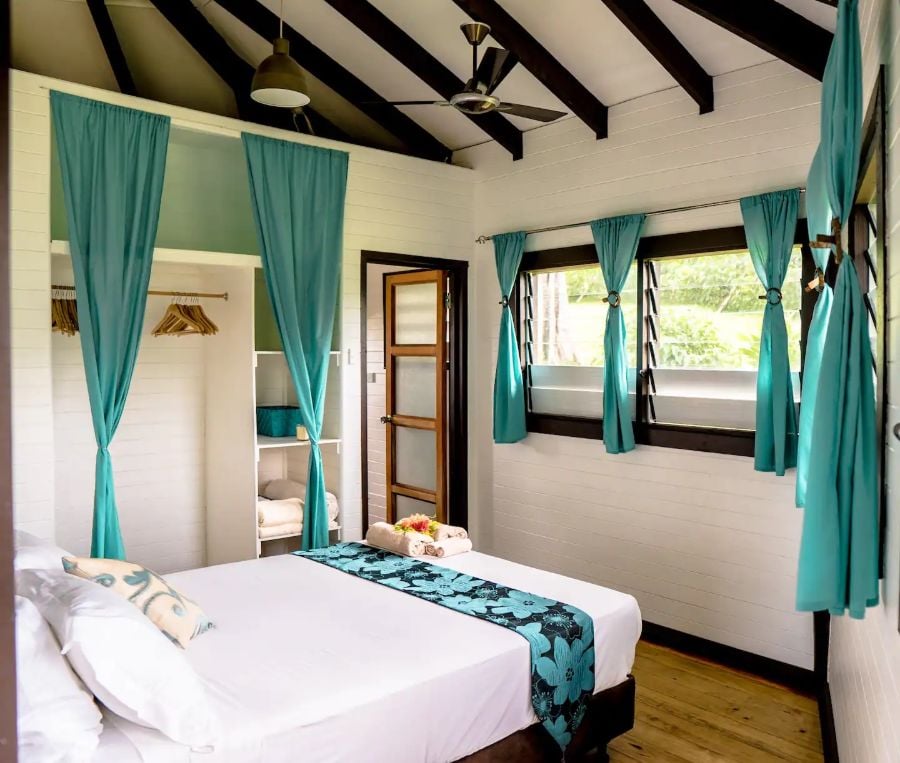 $$
2 guests
Hillside location with sea views
Exclusive-use eco-villa for a private stay
Perched on a hillside of Taveuni Island and overlooking the glittering ocean, Vakanananu Retreat is the perfect island hideaway beneath the palms. Featuring a fully equipped kitchen top appease food lovers and cooks, the villa has a distinct home-away-from-home feel where guests can get comfortable and truly relax.
The footprint of the villa is minimized through the use of solar power throughout for all energy needs. Fresh fruit and vegetables can be harvested from the garden for meals and snacks. The villa is constructed from local timber and local artifacts provide an authentic feel.
Guests can spend lazy days in a hammock on the spacious deck and enjoy the tranquil setting. Or, try out some peaceful yoga on the mats provided. Explore the nearby village and its shops and restaurants, experience the world-class snorkeling and diving that the area is known for. If you're up for more adventure, throw on your hiking boots and trek through the nearby rainforest nearby.
$
2 guests
Authentic accommodation in a traditional-style hut
Idyllic location with a wide range of activities
Located on Vanua Levu, Palmea Farm's Eco-Lodge Glamping Bure 6 offers an exotic and authentic Fijian retreat. The bure or bungalow offers a comfortable base from which to explore the pristine natural environment of the North Shore.
Built in the traditional style from bamboo and palm leaves, the resort lies on a working permaculture farm that produces all the food used in the meals. The entire resort is energy-efficient, water-efficient, and strives to recycle where possible.
Guests can choose to get involved in farm life, relax beside the swimming pool or a hammock, or set out to explore this magnificent region. Watersports on offer include kayaking, paddle boarding, surfing. On land, guests can go sightseeing or mountain biking.
$
3 guests
Private and intimate ocean-front retreat
Within walking distance of the Blue Lagoon
The Gold Coast Inn is a family-run retreat on a superb stretch of beach on Nanuya Lailai Island. The bure or bungalow offers comfortable beds and an en suite bathroom tucked beneath swaying palms.
Solar panels and a generator provide electricity, and water is sourced from a well on the property. The resort hires local tour guides and uses locally sourced produce for all meals.
Guests can enjoy a wide range of water-based activities, including snorkeling, diving, kayaking, and night spearfishing. For a cultural experience, guests can join in a kava ceremony, visit a local village, or learn to make coconut oil the traditional way.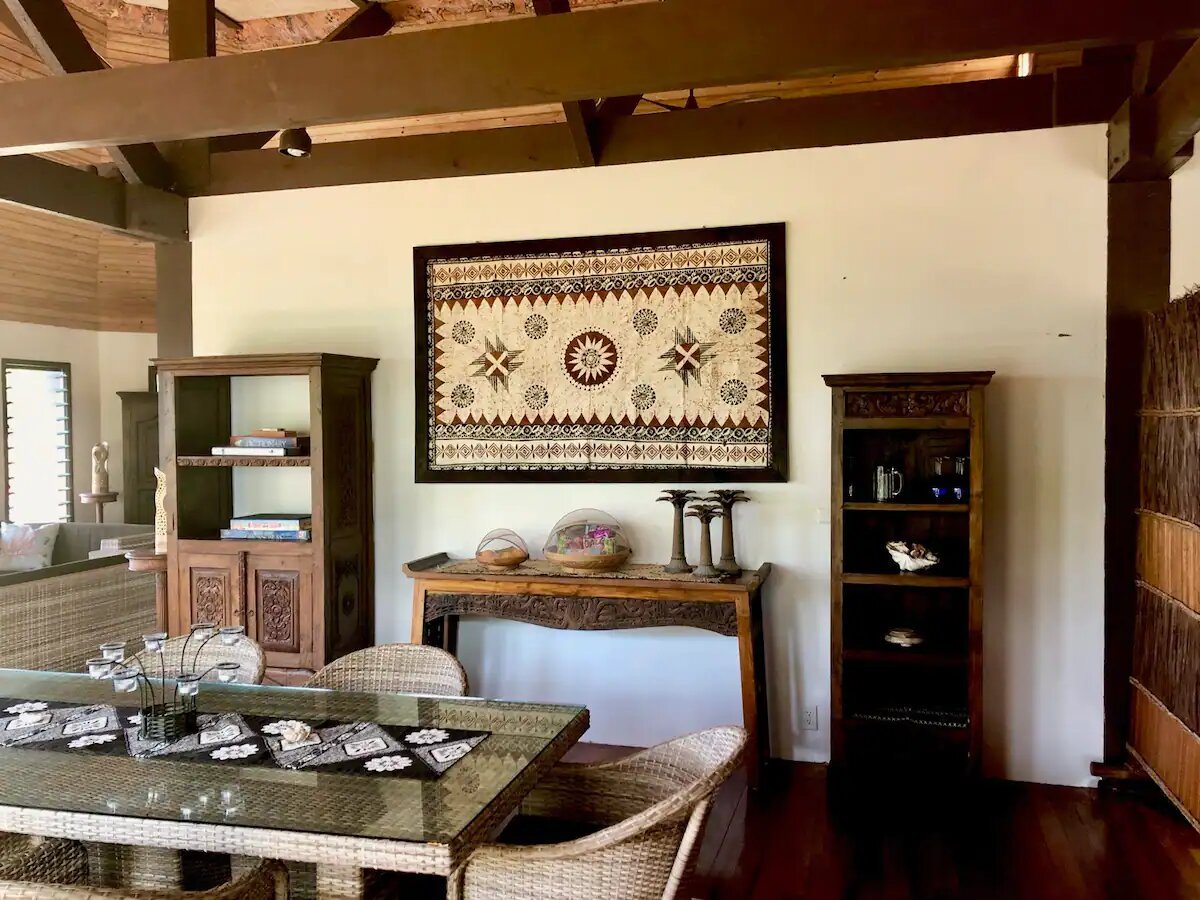 $$$
4 guests
Private villa on a family-run eco-resort
Untouched location of wild beauty
Oneta Resort is a family-run eco-resort, the only operational resort on Ono Island, part of the untouched Kadavu Archipelago. There are no roads on the island; getting around is done by boat. The villa is a spacious and well-equipped retreat with everything needed for a truly relaxing and comfortable stay.
The villa features local timber and traditional elements to offer an authentic feel. Water for the resort comes from a natural hillside spring and is also used to water the organic vegetables in the garden, while electricity is entirely solar.
Ono Island is remote and untouched by large-scale tourism. All activities are offered by the resort itself and include diving at Astrolabe Reef, or guests can go snorkeling with manta rays. Fishing is particularly good here, with many fishermen from around the world coming for that very purpose.
Don't Forget Your Fiji Travel Insurance
ALWAYS sort out your backpacker insurance before your trip. There's plenty to choose from in that department, but a good place to start is Safety Wing.
They offer month-to-month payments, no lock-in contracts, and require absolutely no itineraries: that's the exact kind of insurance long-term travellers and digital nomads need.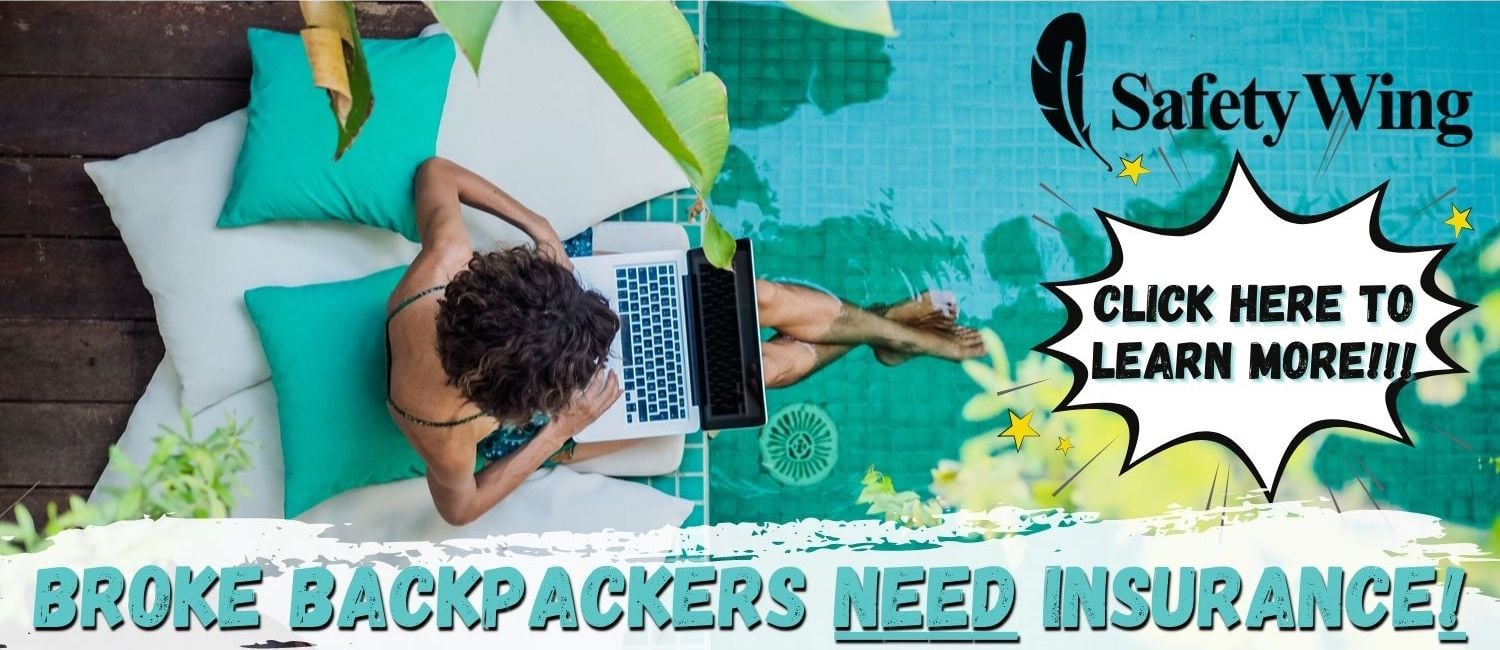 SafetyWing is cheap, easy, and admin-free: just sign up lickety-split so you can get back to it!
Click the button below to learn more about SafetyWing's setup or read our insider review for the full tasty scoop.
Final Thoughts in Eco-Resorts in Fiji
Fiji is the kind of idyllic tropical island destination most people only dream about. Blessed with immense natural beauty in the form of palm-fringed beaches, forested hillsides, bright coral reefs, and activities galore to immerse yourself fully in its beauty, Fiji is a generous destination.
As the trend to a more conscious lifestyle and way of traveling grows, so does the number of unique accommodations. The local Fijian way of life lends itself to living in harmony with nature, and eco-accommodation is. a great way to respect that.
---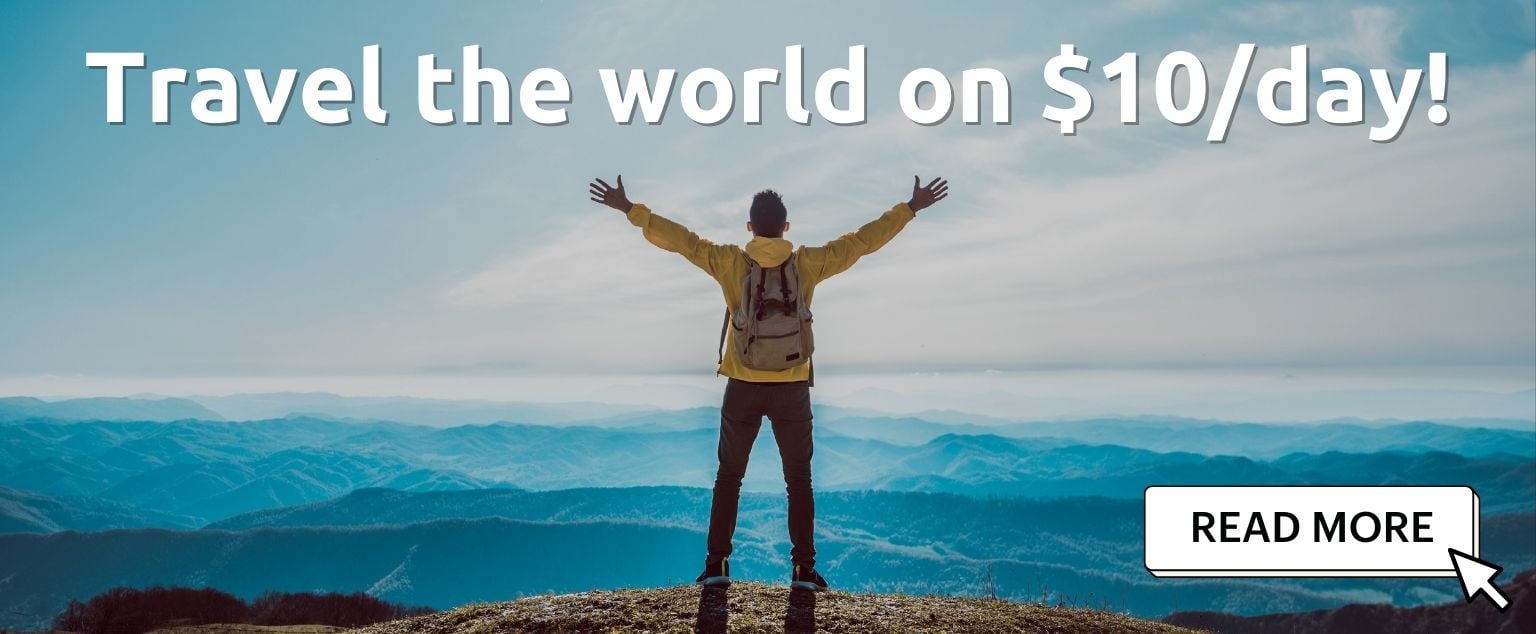 And for transparency's sake, please know that some of the links in our content are affiliate links. That means that if you book your accommodation, buy your gear, or sort your insurance through our link, we earn a small commission (at no extra cost to you). That said, we only link to the gear we trust and never recommend services we don't believe are up to scratch. Again, thank you!