The archipelago islands of Fiji are all about the ocean. With only around 10% of Fiji's territory being on land, you can bet those beautiful turquoise Pacific Ocean waters surround anywhere you go.
There are hundreds of islands, almost all of them with stretches of beach and littered with coral reefs, that vacationers can choose from.
With the potential for days spent lounging on the beach and exploring the undersea world of coral and tropical fish, what better way to experience it all than by staying at a beach house in Fiji? Surely with all this ocean, a hotel just doesn't sound appealing, does it? Personally, I think nothing beats having your very own space next to the sea.
From rustic cottages to luxury pads and everything in between, you can find a beach house in Fiji for any type of traveller. But then that begs the question: where do you start?
Well, you've come to the right place. I've curated a list of the very best beach houses in Fiji so you can find the perfect property for your vacation without needing to stress.
So, when you're ready, let's get started…
In a Hurry? Here's Where to Stay in Fiji for One Night
FIRST TIME IN FIJI
Bure Vonu
You can't get a much more authentically run beach house in Fiji than this place. As well as the amazing hosts, this place is well kept and comes with everything you'll need for a comfortable stay. And then there's the location, which puts you in easy reach of just about everything.
NEARBY ATTRACTIONS:
Sigatoka Sand Dunes National Park
Cafe Planet
Kula Wild Adventure Park
Is this amazing Fiji Beach House booked for your dates? We've got your back with our other favorite properties below!

Unlock Our GREATEST Travel Secrets!
Sign up for our newsletter and get the best travel tips delivered right to your inbox.
Staying in a Beach Houses in Fiji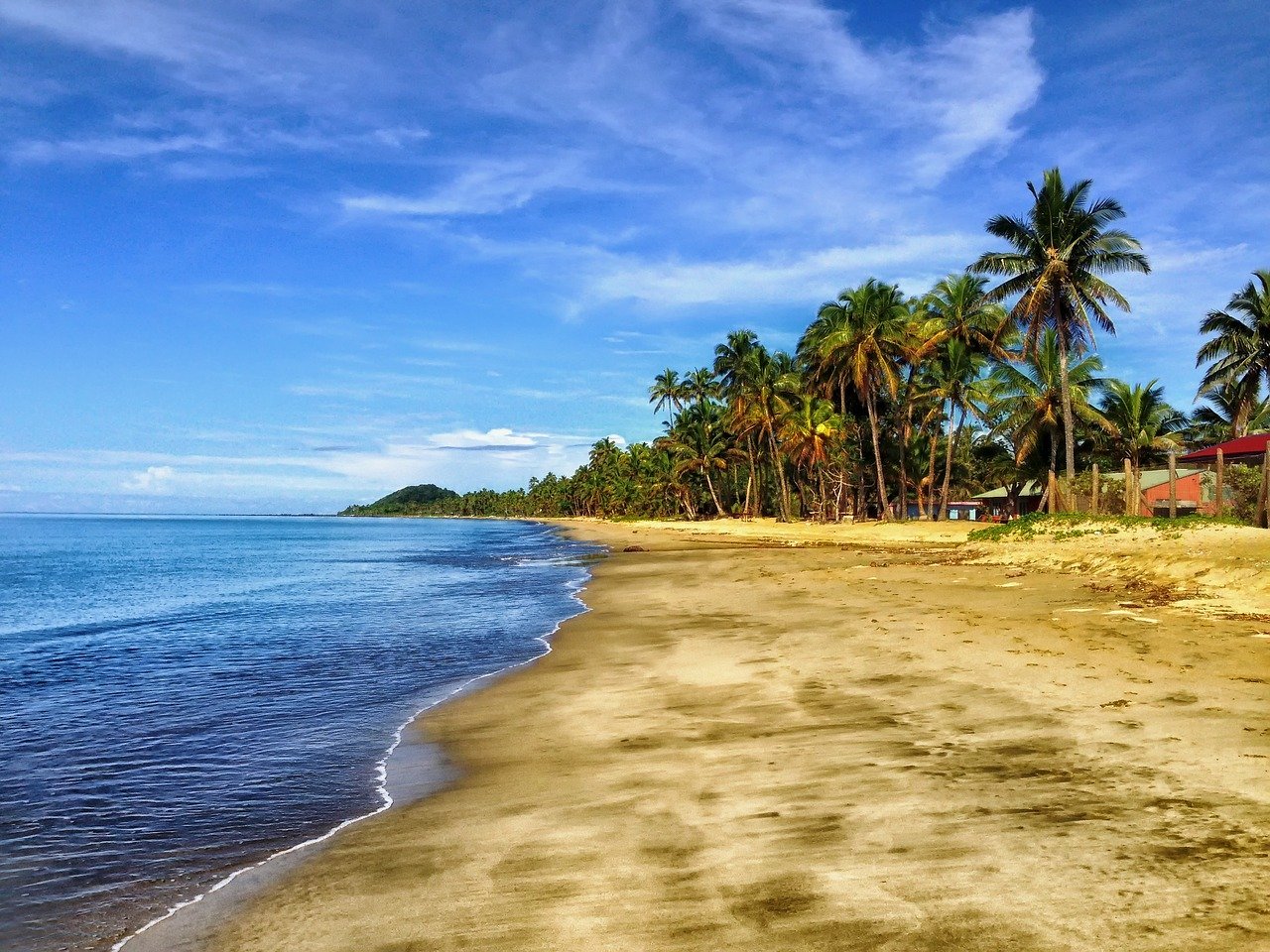 Beach houses in Fiji feel more authentic than any other property you will find in Fiji. That's because Fiji is all about being on the ocean and being surrounded by beaches. While there are a few privately owned beach houses that can be rented as vacation rentals, many of the best are located in resorts or homestay environments.
Hold up there: before you start thinking of a resort as a high-end luxury (yes, those do exist), there are different types of resorts scattered throughout Fiji. A fair few of these are community or family-run locations that feature a few beach houses and only a handful of staff who'll not only help your stay run smoothly but who actually introduce you to Fijian culture.
So while you'll be able to arrange snorkeling trips and horse rides along the beach, these sorts of places will show you the ropes in terms of tradition with things like Kava ceremonies for travelers who want to immerse themselves in island life.
But for those who want a different kind of island life – as in, doing absolutely nothing most of the time with a view of a white sand beach and turquoise seas – that is most definitely a possibility. As I just mentioned, there's more than one type of resort, and if you're more in the market for an all-inclusive luxury getaway, then you'll find beach houses in Fiji with these credentials.
What to look for in a Beach House
The first thing you should look for is the location. Fiji has many islands to explore, but the main one's travelers tend to go to are Viti Levu, Suva, Nadi, Denarau Island, Kadavu, and the Yasawa Islands. Of course, if you are looking for where to stay in Fiji that's more remote, then you can find those islands too.
Most independent beach houses are set in off-the-beaten-track locations on islands other than Viti Levu. Whatever you go for, most of the time you will be treated to airy spaces, sea views, private outdoor space to kick back in, and comfy interiors for the ideal beach getaway.
If you're looking for a luxury beach house in Fiji, make sure you check if the property has a swimming pool, maid service or butler service (yes, these are common amenities!) and meals included.
If you are traveling on a budget and want an authentic experience, go local. These sorts of resorts may not be super high-end, but they surprisingly often feature meals as part of the per-night price and have the added bonus of introducing you to Fijian culture. It's a good bet for solo travelers, families, couples or friends alike who want to see more than just a gated community. Perfect for those backpacking Fiji!
If you're staying somewhere more remote, check whether there is a supermarket nearby, otherwise, you should make sure to stock up on supplies. Most beach houses come with fully equipped kitchens unless you're staying at a resort with meals included – then you'll need to check if there is a self-catering kitchen available.
Since you are staying by the beach, you should check whether your accommodation comes with beach gear and snorkeling equipment, as I'm sure you'll want to check out the corals in those divine waters!
If you're not sure where to look for a beach house in Fiji, don't worry, I got you. My personal favourite place to find these properties is Airbnb. You can find some properties on Booking.com or Vrbo, but Airbnb has more options available, and it's nice to be able to communicate with the hosts before you book.
But you do need to set quite a few filters to find the hidden gems. If that sounds like too much work for you, check out my top picks below!
OVERALL BEST VALUE BEACH HOUSES IN FIJI
OVERALL BEST VALUE BEACH HOUSES IN FIJI
Bure Vonu
> $
> 2 Guests
> Hammocks
> Family-run house
BEST BUDGET BEACH HOUSES IN FIJI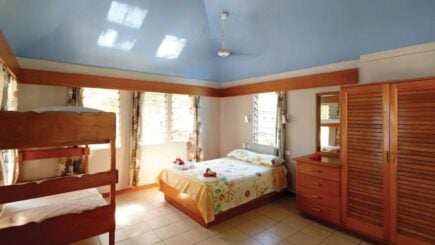 BEST BUDGET BEACH HOUSES IN FIJI
Life's a Beach-Bungalow
> $
> 3 Guests
> Wi-Fi
> Off the beaten track location
BEST BEACH HOUSE FOR COUPLES
BEST BEACH HOUSE FOR COUPLES
Beach-Front Cabin
> $
> 2 Guests
> Breakfast included
> Private porch
BEST BEACH HOUSE FOR A GROUP OF FRIENDS
BEST BEACH HOUSE FOR A GROUP OF FRIENDS
Three Palms Villa
> $$$
> 6 Guests
> Private swimming pool
> Quiet location
OVER-THE-TOP LUXURY BEACH HOUSE
OVER-THE-TOP LUXURY BEACH HOUSE
The Palms
> $$$$
> 8 Guests
> Meals included
> Butler service
BEST BEACH HOUSE FOR FAMILIES VISITING FIJI
BEST BEACH HOUSE FOR FAMILIES VISITING FIJI
Beautiful home at Natadola Beach
> $$
> 6 Guests
> Secure property
> Beach access
BEST BEACH HOUSE FOR BACKPACKERS IN FIJI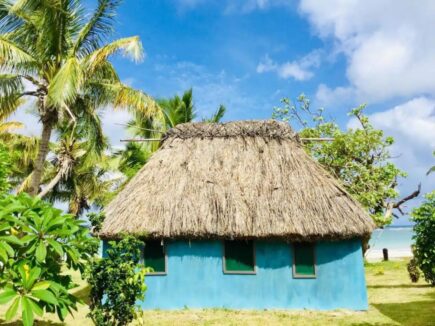 BEST BEACH HOUSE FOR BACKPACKERS IN FIJI
The Blue Beach House in Malakati Village
> $
> 2 Guests
> Traditional food included
> Experiences on offer (e.g. Kava ceremony)
The 15 Top Beach Houses in Fiji
Now you know what to expect from beach houses in Fiji, it's time to start looking longingly at some of the best beach houses! Well, without further ado, here they are…
$
2 Guests
Hammocks
Family-run house
This beautifully kept Fijian beach house is mere steps to the shoreline and is situated in a laid-back neighborhood within walking distance of coffee shops and eateries. What's more, it's run by a friendly family in Sigatoka.
From here it's also just a short drive to top places to visit in Fiji. Plus, it's a magical setting for magnificent sunsets. In short, the location is awesome. The Cafe Planet coffee shop next door comes very highly rated.
As for the house itself, this is a comfortable place to be, with all the basic essentials you will need to make your stay enjoyable. You'll be able to kick back in a hammock, go for a horse ride on the beach and or take the snorkeling gear out to look at the magnificent corals, all organized by your hosts.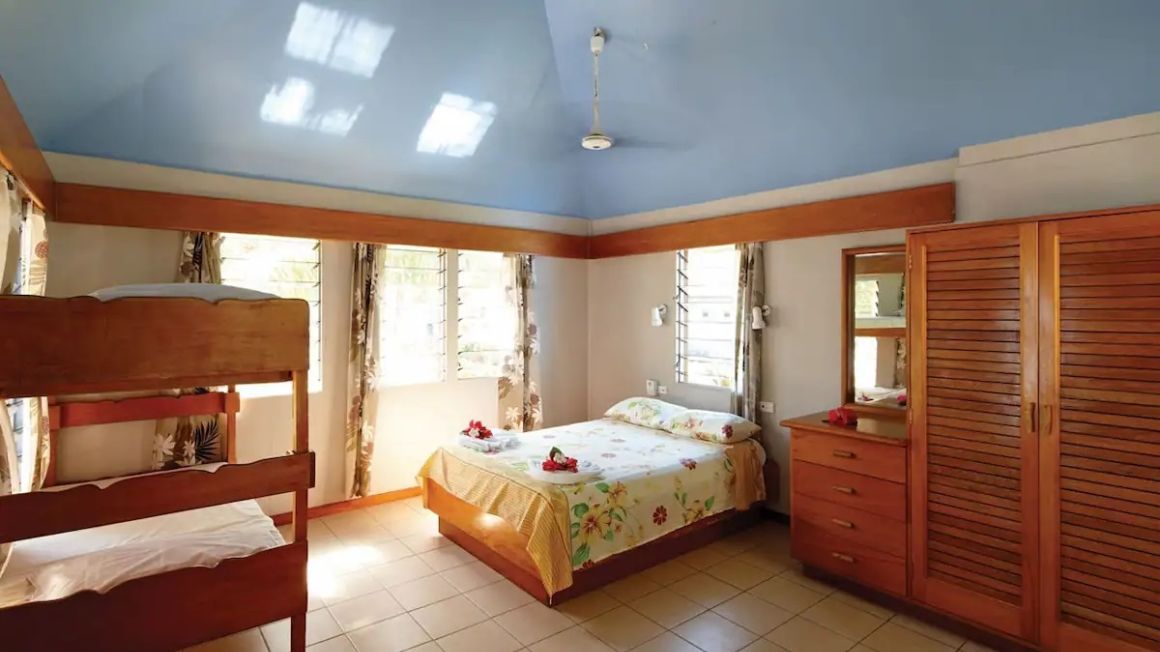 $
3 Guests
WiFi
Off the beaten track location
Travelling to Fiji doesn't need to be expensive. There are some affordable accommodation options for backpackers and those travelling on a budget, just like this stunning beach house in Fiji!
This is a self-styled eco-lodge in an off-the-beaten-track location on the beautiful Nacula Island. Located at the end of the glittering "Blue Lagoon", you'll have access to plenty of things to keep you busy in the area: diving, hiking, swimming, and more.
The beachfront bungalow offers up a rustic experience. It's not a high-end option, but you'll get to spend time with locals and lap up some incredible scenery. Doesn't sound too bad, does it?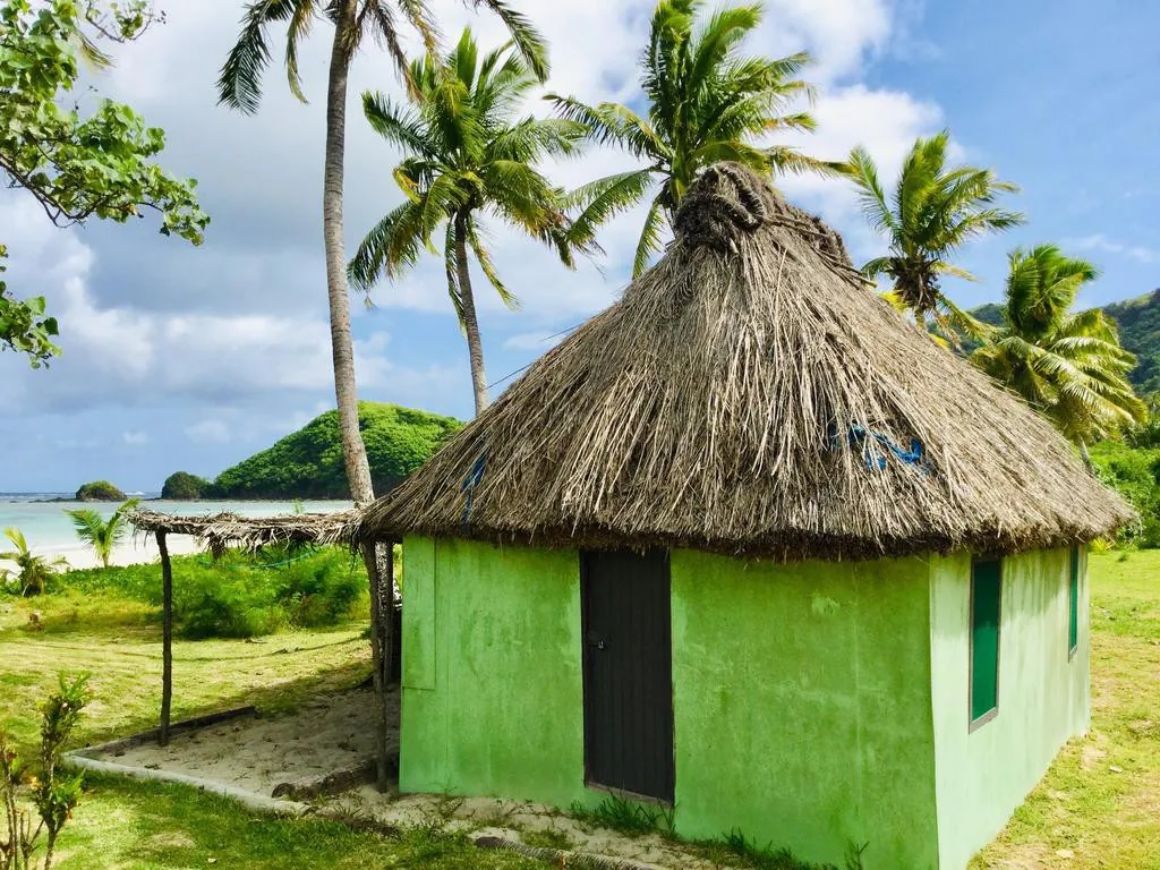 $
2 Guests
Breakfast included
Private porch
What better way for a couple to stay in Fiji than at this gorgeous blue nature lodge on the pristine Matacawalevu Island?
The cottage itself is light and airy and comes with an en-suite bathroom and a private porch area, which faces west so you get amazing sunsets. It's located in a Malakati Village, where the locals welcome you with a traditional Kava Ceremony – this is Fiji life, tradition, and culture all wrapped up into one perfect bundle. Plus, it's near to some incredible attractions, including tons of hiking trails, The Blue Lagoon and Sawa-I-Lau Caves.
Every day you can enjoy breakfast, lunch, and dinner on-site, which is included in the room rate. You may not think it possible, but there's good WiFi here too, and cell service, just in case you need (or want) it. But with views of the stunning turquoise sea, who needs WiFi?
Best Beach House for a Group of Friends – Luxury Villa w/ Pool
$$$
6 Guests
Private swimming pool
Quiet location
Get together a group of friends and head to Fiji for a whale of a time. Situated on Fiji's stunning Coral Coast, this large villa serves up panoramic views of the surrounding sea.
It's located well away from busy resort areas, meaning you and your friends can laze around in the secluded fruit garden, take a soak in the saltwater pool, or kick back in a hammock.
Inside the villa is modern, with high wood beam ceilings and plenty of social spaces to kick back in. The kitchen is well-equipped and stylish.
Is This the Best Backpack EVER???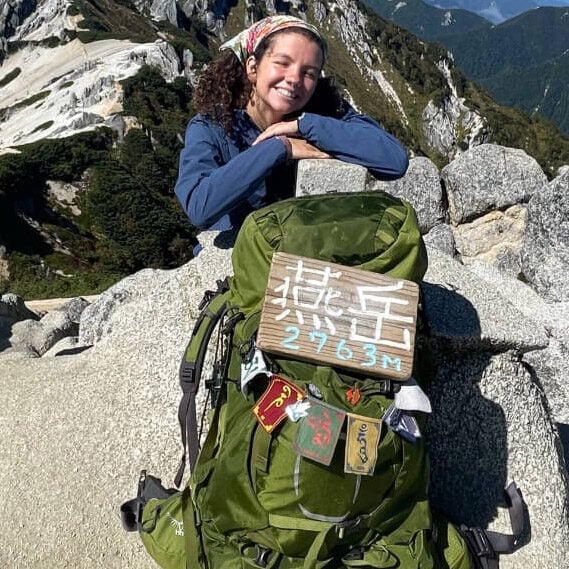 $$$
6 Guests
Shared pool
Fully equipped kitchen
If that last place didn't do it for you, and you fancy a less quiet location, then you could opt to stay in a Fijian beach house in a resort area in Cuvu.
This property is beautifully designed, harmonizing with the natural environment yet offering fully modern amenities. There are three large bedrooms, two big bathrooms, a kitchen, and a lounge-dining area to enjoy.
And the best thing? It all overlooks the Pacific Ocean. Since it's on a resort, there's a shared outdoor pool to make full use of, as well as onsite staff to make sure things run smoothly. If you are keen to try some diving while in Fiji, the Dive Away diving school is just a short drive away.
$$$$
8 Guests
Meals included
Butler service
For something utterly stunning, opt for this place in Vomo Island – quite possibly the coolest beach house in Fiji. It's located on an 87-hectare private island, for one thing. If that isn't enough to entice you, I don't know what will.
Staying at this beach house (part of a resort) means you also have access to a whole range of activities: kids club, golf course, spa, all sorts. Inside, the beach house is uber chic, equipped with cutting-edge furnishings and open-plan interior design. Amenities include a butler service (!) and daily laundry.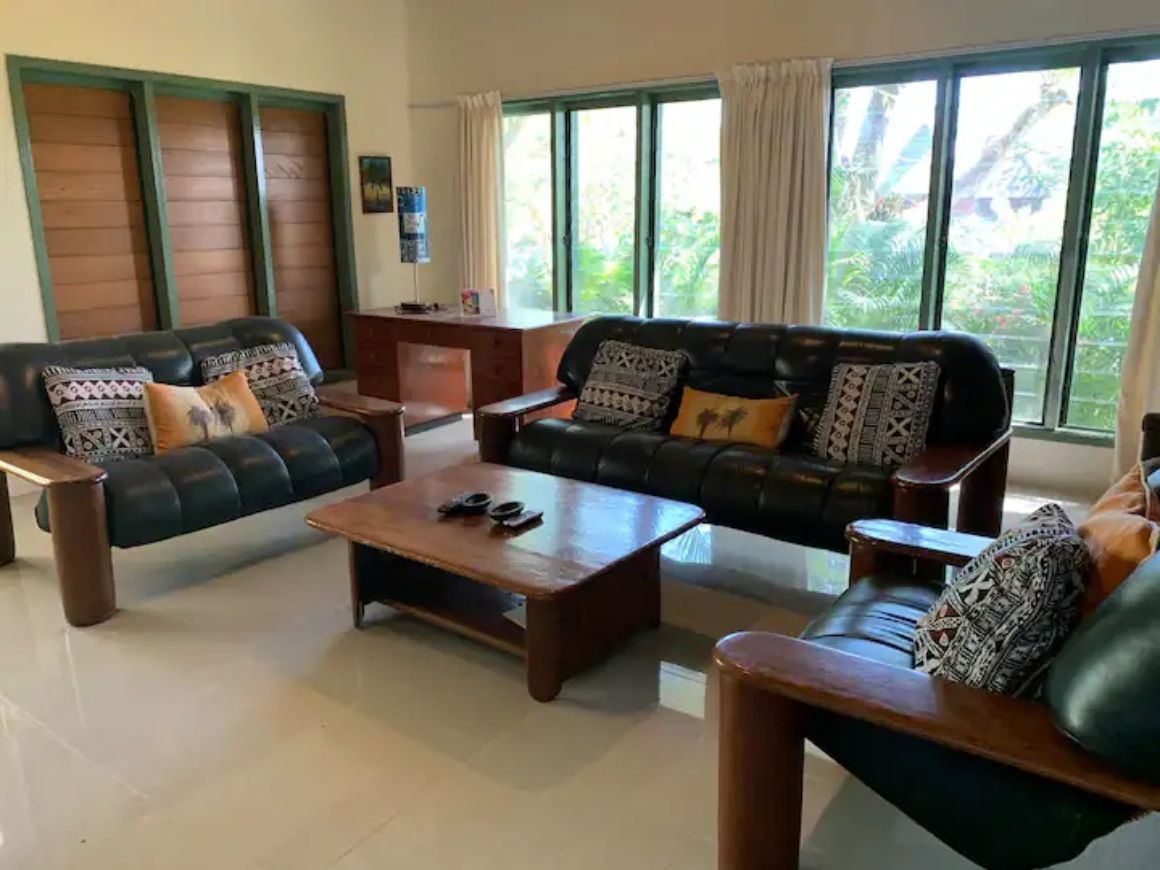 $$
6 Guests
Secure property
Beach access
Take your family on a trip to paradise – they'll definitely thank you for it! This particular villa is a good spot to base yourself for that perfect Fijian beach break.
Located among lush tropical gardens on Natadola Beach, here you can enjoy a glass of wine on the porch while your children safely explore the fenced backyard.
Nearby there's a choice of cuisines to try out, but you could also cook for yourself, thanks to the fully equipped kitchen here. The property is spacious and has everything you could want for your family vacation.
$
2 Guests
Traditional food included
Experiences on offer (e.g. Kava ceremony)
A lot of backpackers in Fiji may think they have to opt for a hostel, but if you don't really feel like sharing with people, don't worry: you can have your very own beach house in Fiji (on a budget, thankfully).
Located on a beautiful stretch of white sand beach in Malakati Village, staying here means being part of a community-run group of beach houses, and enjoying being part of island life.
The property bills itself as "just for real travelers" with experiences such as taking part in a Kava ceremony on the cards if you feel like it. The bonus? Three organic traditional meals a day are included in the room rate.
$$$$
8 Guests
Private swimming pool
King-size bed in every room
At the other end of the spectrum, there's this sprawling mansion of a beach house in Fiji. Occupying its very own private gardens, this chic property has been designed for all sorts of stays in mind: romantic getaways, special occasions with families, or just a long-planned friends' holiday.
Here you can leave the stresses of everyday life behind as you ease into island life. All meals are included (score!), there's a butler service, the use of kayaks, a gym, tennis courts, and much more.
The interiors are modern and feature high ceilings and chic furnishings. All bedrooms have king-size beds, en-suite bathrooms, their own lounge areas, and private terraces!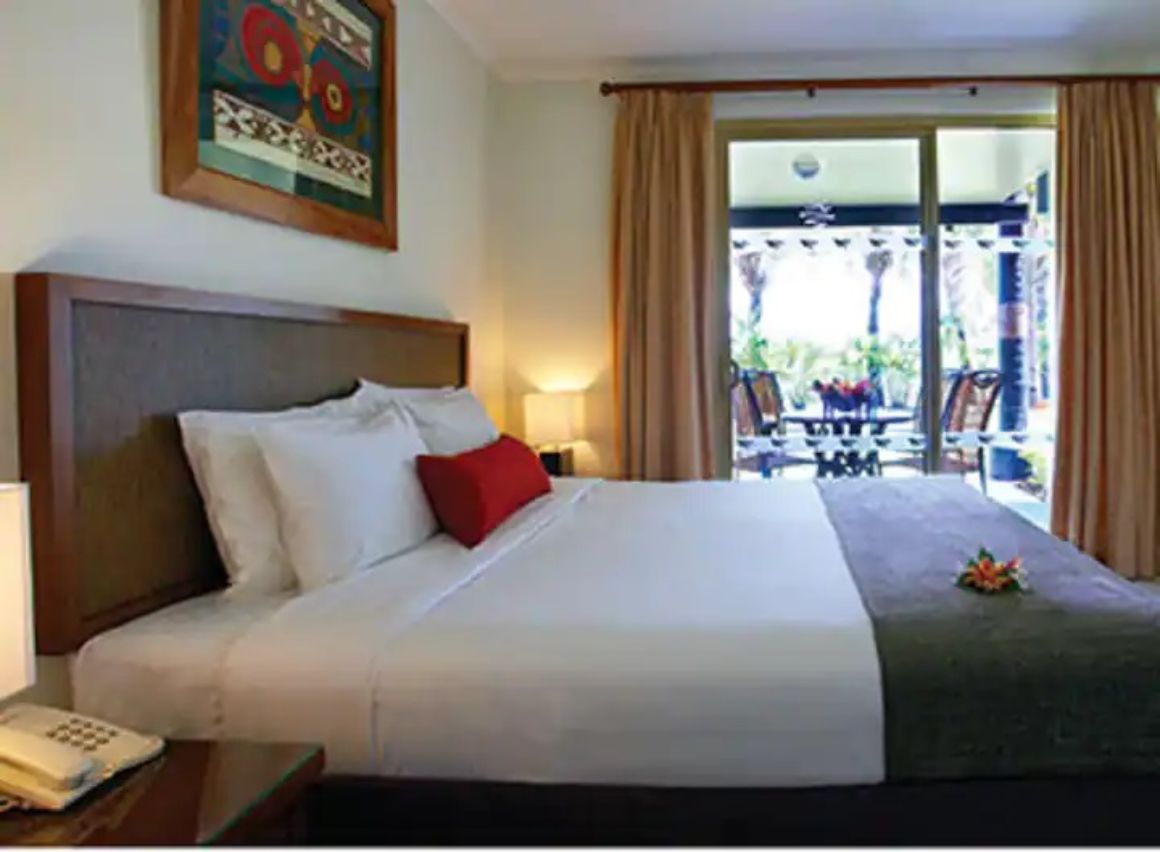 $$
1 Guest
Shared swimming pool
Resort location
Set on a small resort, you can stay at this beach house in Fiji with peace of mind knowing that you're safe and secure. There's everything you could need on-site, with a bar, eatery, and decently sized swimming pool.
One thing that's a bonus is having staff onsite just in case you need help with anything. Being able to arrange activities through the resort is a major plus as well.
Inside, everything is spacious and clean; it comes with a kitchen-lounge area and a cozy bedroom. On a budget? Stock up on ingredients at the nearby supermarket and cook back at your pad.
$$
5 Guests
Cool design
Beach club access
Surprisingly modern but not too over the top, this awesome little beach house in Fiji is the perfect base for a weekend getaway in Pacific paradise.
The design of this place is uncluttered and simple, with practical furnishings and polished concrete floors. You'll have everything you'll need to make you feel at home, including onsite laundry, large open-plan kitchen, and a polished bathroom.
The location puts you on Viti Levu's Coral Coast, plus you'll have access to Maui Bay Clubhouse, giving you access to facilities like a pool table, paddleboards, kayaks, and a swimming pool. The amount of activities you can do here will surely help putting together your Fiji itinerary!
$$$
6 Guests
Private pool
Amazing snorkeling right on the beach
Situated just steps away from the lagoon itself, this place is located in a gated community on the Coral Coast of Viti Levu.
Here you'll be surrounded by coconut palms and the exotic flora afforded by a tropical garden. Like snorkeling? Good, because you'll be able to literally walk into the shallow water here and start exploring the marine life – no need to head out to deep water.
The beach house comes with its very own private pool and hot tub and is a modern take on a classic coastal property in Fiji. The incredible sea view is just the cherry on top.
$$$
8 Guests
Cool architecture
Private swimming pool
When it comes to unique accommodation in Fiji, you can't get much better than this uber-chic property that looks like it's been lifted right from the pages of a design magazine. Very cool. The name of this place, Vale-I-Yata translates as "House on Top" – and you can see why.
The views from this house perched on an outcrop jutting into the sea offer some breath-taking vistas of the Mamanuca and Yasawa Islands. The interiors of the house are beautiful, as are the tropical gardens, but the stylish swimming pool (and the views from there) steals the show.
$$
2 Guests
Private pool
Cool daybed
One of the coolest parts of this beach house in Fiji that makes it great for honeymooners is the shaded daybed that seems to hang over the ocean – reached by stepping stones across the lawns of a lush, tropical garden.
Obviously, that's not all. Situated on Fiji's Sun Coast in the district of Volivoli, here you'll have access to not just one but two private beach clubs.
But you may not want to leave the beach house: with a hot tub, swimming pool, spacious rooms, and captivating sea views, it's a wonderful place to be.
$$$
12 Guests
Activities and services on offer
Private swimming pool
Tastefully decorated with a mix of traditional and chic modern minimalism, this classic-meets-modern beach house in Fiji has been carefully curated with relaxation in mind.
For a start, the name Mokusiga means "laze about" in Fijian! Accordingly, the space includes a sizeable deck area dotted with loungers and a 15-meter pool that overlooks a white sandy beach.
There's also a long list of services available, including chefs, spa treatments, and activities like snorkeling and horse riding. There's a calm resort feel to this attractive beach house that you won't forget in a hurry.
Don't Forget Your Fiji Travel Insurance
ALWAYS sort out your backpacker insurance before your trip. There's plenty to choose from in that department, but a good place to start is Safety Wing.
They offer month-to-month payments, no lock-in contracts, and require absolutely no itineraries: that's the exact kind of insurance long-term travellers and digital nomads need.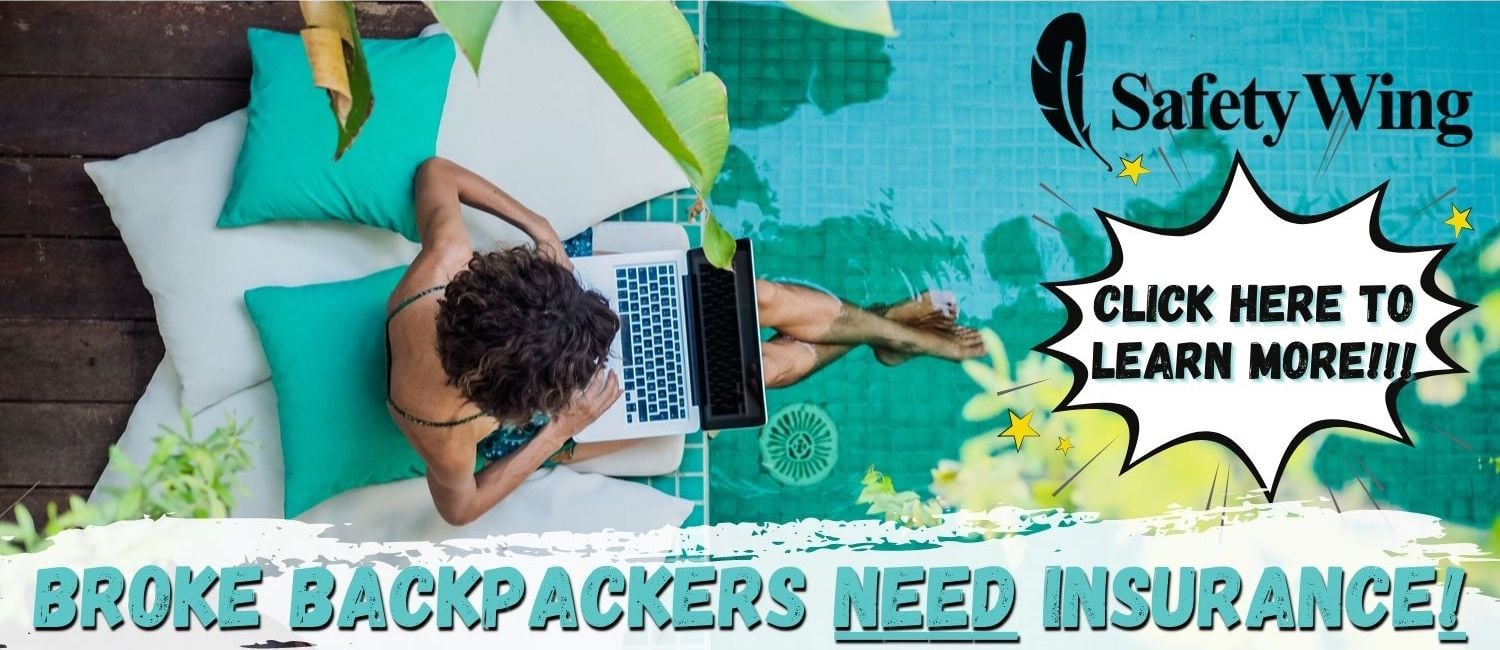 SafetyWing is cheap, easy, and admin-free: just sign up lickety-split so you can get back to it!
Click the button below to learn more about SafetyWing's setup or read our insider review for the full tasty scoop.
Final Thoughts on the Best Beach Houses in Fiji
There's nothing quite like the prospect of a vacation in Fiji. This island paradise of a destination features a whole lot going for it: culture, coral, and turquoise seas lapping powdery white sand beaches. What a place to reset, relax and make some memories while you're at it.
If you're looking for somewhere in a far-flung location where there's no WiFi or even electricity, you can find that in Fiji.
Equally, if you're looking for somewhere super comfortable with all the modern conveniences (and more) that you could ever need or want, you can find that too. There's a beach house in this archipelago for everyone.
And while you're thinking about your trip, make sure to check out some travel insurance. If you're jetting to Fiji from another country entirely, and that's highly probable, you should consider getting covered by insurance. It's definitely something to think about in this topsy-turvy world of ours!
---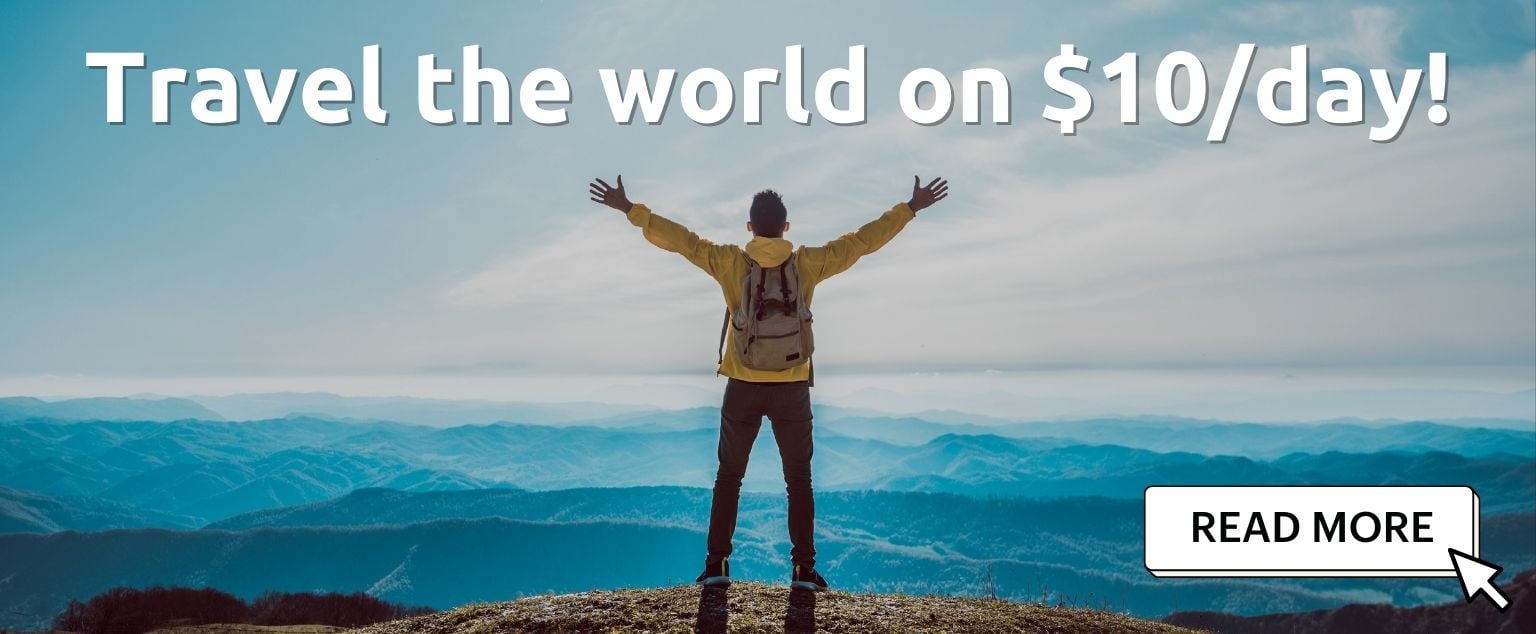 And for transparency's sake, please know that some of the links in our content are affiliate links. That means that if you book your accommodation, buy your gear, or sort your insurance through our link, we earn a small commission (at no extra cost to you). That said, we only link to the gear we trust and never recommend services we don't believe are up to scratch. Again, thank you!