If you think of paradise and you think of white sand beaches and crystal clear waters – you're thinking of Fiji! This archipelago is comprised of a collection of jewel-like islands scattered across the South Pacific. It is home to rainforests, epic surf, and coral reefs galore. As well as natural beauty, Fiji also boasts a fascinating mixture of different cultures.
With its reputation for tropical sun, sea, and resorts with hefty price tags, it's pretty easy to assume that Fiji is an expensive destination. Even getting there can cost thousands of dollars! But if paradise is calling, we're here to help you keep those expenses down to a minimum.
We've crafted this comprehensive guide to budget travel in Fiji so you can hit the surf and sun and have the adventure of a lifetime!
From tips on bargain accommodation and transport to cheap eats and affordable attractions, our guide is packed with info on everything you'll need to factor into your trip. So let's dive in, the South Pacific awaits…
It depends. There are so many factors that go into the cost of travelling to Fiji: the accommodation, the flights, food and drink, paying for activities, attractions and souvenirs, too. It can all add up, which is where our budget guide comes into play.
The travel costs listed throughout this guide are estimates and subject to change. Prices are listed in US Dollars (USD).
Fiji uses the Fijian Dollar (FJD). As of May 2021, the exchange rate is 1 USD = 2.03 FJD.
For a summary of a how much a 2-week trip to Fiji will cost in general, see the table below:
2-Weeks in Fiji Travel Costs
ESTIMATED EXPENSE: $337 – $1837 USD for a roundtrip ticket.
Fiji can be pretty expensive to fly to. Of course, it depends where in the world you're flying from but, generally speaking, getting to this Pacific archipelago will take up a large chunk of your budget.
Knowing when to fly can help you keep your costs down. The most expensive time of year to fly to Fiji is from November through January (high season), while the cheapest month for flights is April (during the wet season).
Fiji's main airport is Nadi International Airport (NAN), which is situated on the main island of Viti Levu. You should factor in transport to and from the airport into the cost of your trip to Fiji; some hotels and resorts offer free shuttles, otherwise you'll have to pay for a taxi or bus.
Here's a breakdown of the average cost to fly to Fiji from a handful of global transport hubs:
New York to Fiji Airport: 849 – 1573 USD
London to Fiji Airport: 792 – 1662 GBP
Sydney to Fiji Airport: 424 – 1,217 AUD
Vancouver to Fiji Airport: 919 – 2,298 CAD
It's possible to keep the cost of your airfares low by checking online. Sites like Skyscanner allow you to scour various prices and deals and find the best flight for your budget. Last minute deals are good to look out for, too.
The cheapest way to fly is the longest. This will mean multiple connecting flights which can be inconvenient, but worth it to have a few extra dollars in your pocket when you hit the ground travelling!
ESTIMATED EXPENSE: $9 – $280 USD per night
Considering it's a slice o' paradise on Earth, Fiji isn't crazy expensive for accommodation. But if you want to stay somewhere glitzy, that can certainly be arranged! There are some seriously swish resorts and other high-end lodgings throughout the archipelago that don't make Fiji seem a budget-friendly destination.
But as we said, there are some pretty affordable accommodation options, too. These include hostels, Airbnbs and even some bargain hotels. It's even possible to stay in a resort for a pretty decent price – if you time your trip for low season, when there are better deals to be had.
Wondering how these options measure up to your budget? Let's take a look at each one in more detail.
Hostels in Fiji
Yes, accommodation in Fiji doesn't have to be expensive! Unlike some other island destinations, here there are hostels everywhere, allowing even penny-pinching backpackers to stay in this Pacific island paradise. The cheapest hostels in Fiji can actually cost as little as $9 per night for a bunk bed in a dormitory.
Along with the bargain prices, hostels come with other perks too. They tend to be social places, making them good for a solo traveller looking to meet new people when travelling. Who knows maybe you'll find someone to hit up an epic Fijian adventure with! They also often come with complimentary breakfasts, and even cheap (or free) excursions and activities.
(If that sounds good to you, head over to our guide to the best hostels in Fiji and pick your favourite!)
Here are a few Fiji hostels to whet your appetite:
Horizon Backpackers @ Smugglers Cove – If you thought staying in Fiji had to mean opting for a hotel, this amazing hostel proves otherwise. Offering up top value for money, the beachfront location at Nadi Bay is awesome. There's a good party atmosphere, too, but rooms are still clean and comfortable.
Bamboo Beach – This budget-friendly option comes with its own pool and beach access. Located close to bars and other hostels in Nadi, it's a good place to socialise and meet other travellers. There are free activities and events to enjoy every day here.
The Beachouse – A family-owned budget resort, this place comes with dorms and private rooms to choose between. And being situated in a sandy lagoon, close to mountain treks and waterfalls, it's great for nature-lovers.
Airbnbs in Fiji
Though it's probably better known for its hotels and resorts (we're getting to that), you'll be pleased to hear that there are Airbnbs in Fiji, too. These places can be all sorts of amazing, offering your very own slice of seclusion among Fiji's 300-plus islands.
The best thing? Airbnbs in Fiji can cost as little as $40 a night.
With privacy and seclusion being a major perk of Airbnbs, they also come with kitchens, allowing you to keep costs low by cooking your own meals. Fiji being Fiji, these places are often situated in stunning locations, serving up top quality views at low prices.
Some of our favourite Airbnbs in Fiji include:
Exclusive Private Sea View Cottage – This family-run Airbnb comes with an incredible view looking out over the Pacific Ocean. It's situated in a secluded bay in the lesser-visited Yasawa Islands. Staying here also gives guests the benefit of interacting with a friendly family, too.
Modern Apartment in Suva City – More urban than some Airbnbs, this large one-bedroom apartment comes with AC, Wi-Fi, its own open plan kitchen/lounge and a polished bathroom. The location in the capital, with restaurants on the doorstep, means getting around is a breeze.
Beach Bungalow with Ocean View – Live out your desert island dreams on Nacula (part of the Yasawa Islands) with this dreamy Airbnb. It's a fairly simple bungalow, but the bonus is having paradise all around you.
Hotels in Fiji
While Fiji can be expensive for hotels, it's not always the case. In fact, there are a surprising amount of budget hotels situated throughout the archipelago. These allow budget travellers to stay for a snip of the cost of their pricier neighbours, and can be as cheap as $60 per night.
The benefits of hotels are multiple. You get housekeeping, swimming pools, on-site gyms, restaurants, bars, access to beaches, plus the chance to book tours and excursions through the hotel itself. In short, you won't have to lift a finger – simply kick back and enjoy!
Here are some of the best budget hotels in Fiji:
Palmlea Farms Lodge & Bures – An eco-friendly option, this boutique yet affordable hotel boasts bungalows and villas to choose from, all with ocean views. It's rustic, with a mix of Fijian and European aesthetics. It also features a swimming pool and on-site bar-restaurant (breakfast is included).
Fiji Gateway Hotel – This smart, modern hotel is in striking distance of Nadi Airport, making transfers straightforward. It's overflowing with amenities: a bar, two restaurants, two swimming pools, tennis court, and even a spa.
Tanoa Rakiraki Hotel – A clean, welcoming hotel, this place boasts contemporary rooms, as well as a pool, restaurant and sports facilities. Here you can relax in a laid-back setting in Rakiraki, on the northern coast of the main island.
Resorts in Fiji
If you thought hotels were the high-end option, think again. Resorts in Fiji are where it's at for luxury. Swimming pools, private beaches, all-inclusive food and drink – you name it, Fiji's resorts have it! Staying in one might not be "authentic" but it's definitely a treat for the senses.
Though Fiji can be expensive for resorts, it's thankfully not always the case. You'll find them everywhere, on the main island of Viti Levu, as well as smaller islands, such as Tavewa. You may have to stretch your budget for the privilege of staying in a resort but if you're here to treat yourself, this is the way to do it!
Here are some of the more affordable resort offerings in Fiji:
Likuri Island Resort Fiji – A dream holiday destination on Fiji's "coral coast", this beach resort offers up multiple amenities, including a swimming pool (complete with pool bar) and lively evening entertainment.
Mantaray Island Resort – For some boho luxury, head to this resort in the Yasawa Islands. Rooms here are fresh, and modern; some come with charming outdoor showers and rooms overlooking the sea.
Tokatoka Resort Hotel – This fun family-friendly resort boasts an outdoor pool with a waterslide, as well as a restaurant, bar and other high-end amenities. Rooms are polished; you can opt to stay in your very own villa here.
ESTIMATED EXPENSE: $0 – $10.00 USD per day
Some people may stay in their resort for their entire 2-week trip to Fiji, but that might not be for you. After all, there's so much to explore across the hundreds of islands – with countless beaches and charming villages – that you'll probably want to venture out at some point.
Thankfully, Fiji is not expensive for public transport. In fact, it's possible to use public transport to get around while sticking to your budget, all while getting to experience a real, local side to Fiji.
On the larger islands, there's a network of roads. This is plied by both an official bus network and less official mini vans. Travelling on either of these is a cheap option, but not always the fastest way to get where you need to be.
Without further ado, let's get into the details.
Bus Travel in Fiji
If you're not travelling far, you may want to get around Fiji on foot or even a bike. But if you want to explore more far-flung locations, you can get around on Fiji's bus network.
Most of Fiji's roads (95%, in fact) are located on Viti Levu and Vanua Levu. Travelling by bus is the preferred option for almost all locals on both of these islands.
Local buses connect up small towns and cities, delivering passengers to pretty much every corner of the islands. It's very possible to travel around Fiji cheaply using these.
However, these buses are usually fairly old. Some might not even have windows. But you could argue that this is part of the experience!
Express or long-distance buses are run by private companies. These are much more reliable than their public cousins, and come with things like air conditioning and comfortable seats. These can get you from Nadi to Suva in around six hours, for example, while regular buses take much longer; this journey will cost $10 on a private bus.
Here's a breakdown of some average prices:
Standard adult ticket – $2.20 – $3.00
Public bus, single ticket – $0.50 – $2.50
Express bus bus, single ticket – $1 – $30
Getting Around in Fiji
The public transport system of Fiji is not greatly developed. It can take a long time to get from A to B, and with only buses to rely on, you'll be at the mercy of the roads and their traffic.
If you want to keep the cost of your trip to Fiji as low as possible, stick to public buses; private buses are more expensive. However which one you decide to use depends on how comfortable you want to be, and how quickly you want to get to your destination.
Taxis are also commonplace in urban areas in Fiji. They're generally inexpensive; you can pick these up at most major intersections and at bus stations. They may not be up to the same standards as the taxis you're used to (i.e. a bit old).
Taxis are not only good for short journeys, but also for day trips. Make sure you negotiate the fare before you head off on your trip. As a guideline, flagging down a taxi costs $1.50 and then an additional $0.50 per kilometre. Yellow airport taxis cost $5 to pick up.
Renting a Car in Fiji
Having your own wheels in Fiji is probably one of the best ways to get around Viti Levu and Vanua Levu. You don't have to worry about relying on other people's schedules, or waiting around for buses. Simply hop in your ride and go!
The most cost effective way to rent a car in Fiji is by doing so at Nadi Airport. There are international rental franchises, as well as local places here.
The rental rate from an international company is around $125 per day (tax exclusive). The longer you plan to rent the car for, the cheaper the day rate will be. You can also hire cars per hour or for half a day.
Things to note:
Without a credit card, expect to pay a hefty cash deposit.
Third party insurance is compulsory and costs at least $30 per day. You'll be liable for the first $500 damage in case of an accident.
Petrol in Fiji costs around $1.10 per litre, diesel around $0.95.
One good way to keep the cost of your trip to Fiji lower is to travel in low season; car rentals will be discounted during this time. Or you could opt for a smaller car, the cheapest are hatchbacks (small to medium cars).
Want to save some cash and explore Fiji by rental car? Use rentalcar.com to find the best deal possible. There are some great prices on the site and they aren't difficult to find.
ESTIMATED EXPENSE: $5-$20 USD per day
You probably don't know much about food in Fiji, but let us tell you that it's more diverse than you'd think. With its mix of cultures, you'll find Indo-Fijian curries, Chinese cuisine, local traditional dishes, and even Western fast food to sate just about every appetite.
Needless to say, when you're working out your budget for Fiji, you'll want to have enough cash to sample some of the archipelago's tastiest foods. The price of food in Fiji varies depending on the location, what you're eating, and in what sort of place you're eating in.
The rule of thumb – food is cheaper in towns than in resort areas. That means you'll be able to enjoy the following classics at low prices:
Roti – Taking roots from its Indian population, roti is a layered flatbread often stuffed with highly spiced ingredients. It's served either as a snack, or used to wrap yet more delights for a filling meal. Costs as low as $1.
Taro – Dalo (or taro) is a staple on the islands of Fiji. It's definitely something you should try. Usually found as part of most meals in Fiji, these root vegetables are either fried or boiled, sort of like potatoes. A serving can be as little as $0.50.
Babakau – This enormously tasty deep-fried dough (sometimes known as a Fijian pancake) is a breakfast favourite among the islands. Often served up with fruit, butter and jam, it's a great way to start the day. Priced around $1-$2.
Want to keep things even cheaper? Then take note of these tips:
Head to Nadi – Nadi is where it's at for cheap restaurants. Basing yourself here, or nearby, means having everything from modern cafes to budget bites at street food stalls at your fingertips.
Avoid seafood – Things can get pretty expensive if you opt for the catch of the day or seafood options. If you're particularly cash-strapped, do as the Indo-Fijians do and eat vegetarian dishes.
Market stalls – Travelling around the islands of Fiji, you'll often see locals at the roadside selling fresh produce. Run by local families, these places sell an array of different fruits and vegetables for affordable prices.
Where to Eat Cheaply in Fiji
You may now know what to eat if you want to keep the cost of your Fiji trip as wallet-friendly as possible but where you should eat is another factor to your daily food budget. Choose unwisely, and you could end up paying more than you need to for your breakfast, lunch and dinner.
Luckily, towns in Fiji are filled with an array of cheap restaurants. Between them, they serve up a combination of Indian, Chinese and Western cuisine that you can enjoy for a snip of the prices you'd pay at a hotel.
Hit up a curry house – Possibly the cheapest places to eat in Fiji, you can enjoy a whole meal at an Indian restaurant for as little as $5. Beware – Indian food in Fiji is notoriously spicy, so tread with caution if you're not a fan of heat!
Make a beeline for bakeries – Quick and convenient, bakeries will be a surprising addition to your diet in Fiji. These serve a range of snacks, from meat pies (e.g. around $2.50) to cakes and sandwiches. Try Hot Bread Kitchens in Suva.
Go traditional – Both for experience and value for money, eating Fijian food at a local restaurant is not to be missed. At these sorts of places you can enjoy meals for around $10, made with locally sourced ingredients.
If you're staying in self-catering accommodation, grab some local produce. Everyone knows that the cheapest way to travel anywhere is to make your own meals. The cheapest places to source ingredients include:
Produce markets – The centres of local communities, these are found in towns across Fiji. You'll get to buy from local farmers, who sell fruit and vegetables for cheaper than supermarkets.
MH (Morris Hedstrom) – This is the largest chain of supermarkets in Fiji. Well known across the archipelago, you'll be able to pick up most things you need from here. Tip: the City Complex location in Suva has a food court on the second floor.
ESTIMATED EXPENSE: $0-$15 USD per day
Fiji may not be known as a party destination, but when it comes to alcohol this Pacific nation certainly has a few tasty brews of its own.
For those who do want to party, there are nightclubs, though these can only be found in Suva and Nadi. Or you could opt to stay in a hostel that puts on nightly events with free-flowing drinks.
Drinks prices at resorts and hotels vary (unless you're lucky enough to be staying in all-inclusive, of course). Most hotels have happy hours though, usually between 5:30 p.m. and 6:30 p.m.
To really save money and avoid paying hotel prices, head out of the resort areas. Even the happy hours are longer once you venture to local bars.
To keep things cheap in Fiji, it's best to stick to local alcohol as import taxes really drive up the price of foreign alcohol, in some cases it may even be more expensive than what you'd pay at home.
For example, a bottle of wine (usually Australian in Fiji) costs an average of $15, a pint of beer $4, and a cocktail $5-$15.
Supermarkets are cheaper though, around half the price, in fact. A 750ml beer costs $2.50 while a bottle of wine will be $7.50.
Here are some tipples that will help you travel around Fiji cheaply:
Fiji Beer – There's a selection of beers brewed in Fiji, but Fiji Gold and Fiji Bitter and the two you'll see the most. Both are lagers. Gold is lighter, and Bitter – served in a stubby bottle – is more of a "serious" beer. A bottle of either costs $1.50 – $2.00.
Local rum – Because of Fiji's sugarcane industry, the country has a pretty strong rum game. Two you'll see everywhere are Ratu Rum and Bounty Rum. A bottle costs around $10 or less.
A unique way to experience some truly traditional drink in Fiji is by trying out yaqona (aka kava). This drink isn't technically alcoholic, but it'll definitely give you a buzz. With its medicinal qualities, it'll numb your tongue and make you feel pretty laid-back. It's no wonder it's the national drink.
If you're staying at a resort or hotel, you'll probably get roped into trying some yaqona at some point!
ESTIMATED EXPENSE: $0-$25 USD per day
Fiji has a lot of natural beauty. Its various islands feature rainforests, mountains, waterfalls, as well as impossibly beautiful beaches, coral reefs to snorkel, and diving spots.
There's not just natural beauty though. Fiji also features cultural and historical attractions, such as Fiji Museum and botanical gardens in the capital city, Suva. There's also the historic buildings of former capital, Levuka, situated on the island of Ovalau.
But being spread out across hundreds of islands, Fiji's attractions – natural or manmade – aren't always going to be central to where you're staying.
Rather than the price of attractions themselves, a major addition to the cost of your trip to Fiji can actually be getting to various places in the first place.
So the best thing for a shoestring budget is to stay put and enjoy what's around you – the natural world on the doorstep of your accommodation! Planning out your itinerary ahead of time can help too.
Some of the best ways to enjoy it include:
Hiking – Hiking trails in Fiji can be pretty spectacular and are well worth time spent away from the beach. You'll get to experience a different side of the islands, and soak up some amazing views from various vantage points. There are countless trails to choose from, some better trodden than others.
Enjoy life underwater – You don't have to pay an arm and a leg to go scuba diving in Fiji. In fact, by donning a face mask and snorkel and peering under the water, you'll be able to see an array of colours and marine life without breaking the bank.
Once you've factored in the flights and the prices of transport, your accommodation, your daily food and drink allowance, and the cost of sightseeing, too, it's easy to assume that that's it for your Fiji budget.
But there can be a lot more to spend your money on in Fiji besides the obvious stuff. Souvenirs can play a part, you may scoff at the idea now but if you see an awesome Fiji T-shirt, you might just have to buy it!
For souvenirs (and other unexpected costs, like luggage storage), you should set aside about 10% of your original budget.
Tipping in Fiji
There is no custom of tipping in Fiji. For that reason, it's not expected. But that doesn't mean that if you want to tip you shouldn't. It will still be appreciated!
If you're at a restaurant or bar, you aren't expected to leave a tip. If you really want to leave something, $1-$2 should be fine.
When it comes to tour guides, as with other service staff, it's not the done thing to tip.
It's the same with taxi drivers, no need to tip. Even bellhops and other hotel staff don't expect tips.
However, there is one thing you can do if you want to show your appreciation. At all-inclusive resorts and larger hotels you may spot a "Staff Christmas Fund Box". These are tip boxes where guests can put in however much they want to. It will then be divided equally among all members of staff at the end of the year.
Fiji has a culture of sharing, which is why individual tipping is not part of the islands' customs.
Get Travel Insurance for Fiji
World Nomads' mission is to support and encourage travellers to explore their boundaries. They offer simple & flexible travel insurance, and safety advice to help you travel confidently.
They've been doing it since 2002 – protecting, connecting, and inspiring independent travellers just like you.
Get a quote below or read our in-depth review!
World Nomads provides travel insurance for travelers in over 100 countries. As an affiliate, we receive a fee when you get a quote from World Nomads using this link. We do not represent World Nomads. This is information only and not a recommendation to buy travel insurance.
If budget travel is your middle name, then you should take these extra money-saving tips into consideration for your Fiji trip:
Enjoy nature – Nature is free. Whether it's sitting on the beach, sunbathing, swimming, snorkelling, or hiking around on dry land all of it can be enjoyed for little or no money. Unless you're renting equipment or paying for transport to get somewhere, you can happily enjoy the beauty of Fiji on a shoestring budget.
Use pedal power – You don't always have to hop in a taxi to get where you need to go. Especially on smaller islands, getting around on a bike is fun, healthy, environmentally-friendly and – most importantly – cheap!
Stock up – If you're heading to smaller islands, make sure to stock up on some basic food staples. Generally the further you are from the main island, the more expensive supplies are going to be (and the difficult it can be to find certain things).
Go couchsurfing – There's actually a few couchsurfing options throughout Fiji. It's a good chance to learn about Fiji from actual local people, as well as staying for free. If you're a sociable person, it's a great option.
Have a water bottle: Don't waste money on plastic, bottled waters; carry your own and refill it in the fountains and the tap. If you're worried about potable water, get a filtered bottle, like the GRAYL, which filters out 99% of viruses and bacteria.
Earn money while you travel: Teaching English while traveling is a great way to make ends meet! If you find a sweet gig, you may even end up living in Fiji.
Become a volunteer with Worldpackers: Give back to the local community and, in exchange, you're room and board will often be covered. It's not always free, but it's still a cheap way to travel in Fiji.
Despite its reputation for luxury resorts, once you're on the ground in Fiji you'll realise that this Pacific nation is actually pretty affordable. It's definitely possible to travel around Fiji on the cheap without skimping out on what you want to do.
Let's finish with a round-up of some of the best budget tips for Fiji:
Travel in low season – Getting cheaper accommodation outside of the high season (November through January) is one of the best ways to save money on your trip. No doubt about it; even resorts get cheaper.
Don't stick around in resort areas – Food and drink will be expensive in and around your hotel, unless it's all-inclusive. So don't be afraid of doing things the local way and heading to the nearby bars and restaurants for cheap eats and alcohol.
Get local transport – Though tourist buses may be better organised and more comfortable, the minivans used by locals are much cheaper. They're less reliable, but an all-round classic Fiji experience to use.
Stay in a hostel – Hostels are cheap throughout the year and are used by backpackers to keep their Fiji trip within their globetrotting budget. Join in, have fun and set aside more money for exploring the archipelago.
Use bicycles – The cost of renting a bicycle pales in comparison to getting taxis and minivans everywhere. It's the best option to get around on a budget for local areas and smaller islands, at least.
What we think the average daily budget for Fiji should be:
With our budget tips you can travell Fiji on a budget of $50 to $150 USD per day.
One more thing! Check out our essential packing list to make sure you don't forget the important stuff (it'll be more expensive to buy it in Fiji – trust us!).
---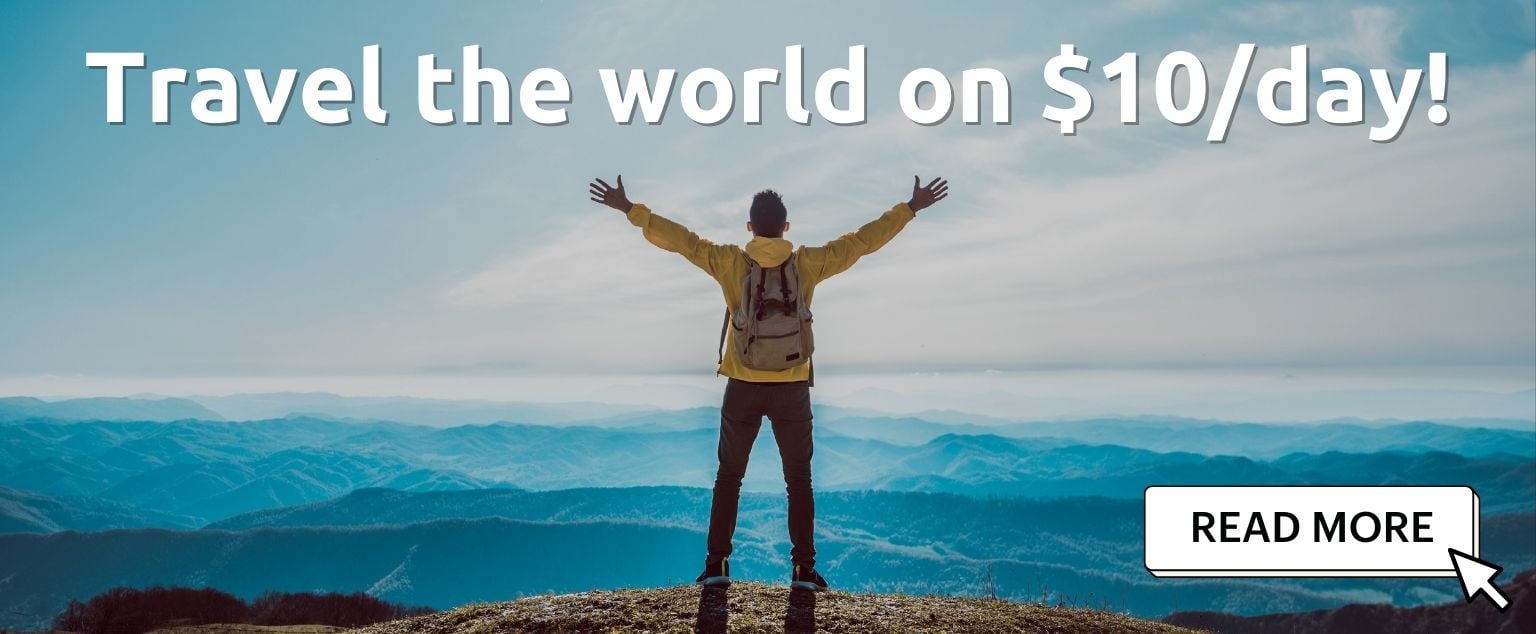 And for transparency's sake, please know that some of the links in our content are affiliate links. That means that if you book your accommodation, buy your gear, or sort your insurance through our link, we earn a small commission (at no extra cost to you). That said, we only link to the gear we trust and never recommend services we don't believe are up to scratch. Again, thank you!