With over 300 different islands, Fiji is the dream location when it comes to tropical getaways!
You have to have seen the amazing photos all over Instagram or the thousands of Fiji travel blogs that litter the internet. With white-sand beaches and crystal clear, turquoise waters as far as the eye can see, there's no better way to exile yourself.
Luckily, getting around Fiji is going to be your only worry and there are solutions for that. There are dozens of sites, activities, beaches, places to swim, and more places to snorkel and dive than we can mention! So our suggestion for your Fiji trip itinerary is that you embrace your inner Fijan. Relax and just enjoy the beautiful island for the stunning place it is.
This stunning archipelago is on many a bucket list. With everything it has to offer, it's not hard to see why. For party lovers, there are dozens of bars on mainland Nadi. For backpackers looking for a less touristy but equally beautiful beach location, there are the Yasawa Islands. For everything in between, you can guarantee there's an island in Fiji's coastline with your name on it!
Whether you're looking for what to do in Fiji for a week or just a few days, look no further!
When you plan a trip to Fiji, knowing when to visit is essential! The combination of tourist season, weather patterns, varying temperature and weather conditions over around 300 islands that make up Fiji means picking a time to visit can be tricky.
With a "wet season" that lasts from November to April, and a peak season in August, November, and January, you will need to plan when to go to Fiji carefully. For those looking to experience the tropical vibe of the island, without the hustle, bustle, and price inflations of the tourist season, the best time to go is between May to June or September to October!
This allows you to avoid peak season, miss the humidity the wet season brings, and save money flying to Fiji too! You will also miss the occasional cyclones that are known to hit during the wet season.
Regardless, as one of the happiest places in the world, Fiji is a beautiful destination no matter when you decide to go.
Staying in a nation of over 300 different islands, deciding where to stay in Fiji isn't an easy task. However, Fiji has a type of island suited for everyone. Those with families might prefer the relaxed, clean fun of Denarau. However, night owls and party goers would jump at the chance to spend the night in the metropolitan Suva or Nadi.
For our Fiji itinerary, the Yasawa Islands are where it's at!
The combination of cheap prices, backpacker atmosphere, great beaches and easy access to the other islands are just about all you could want for some time in Fiji. Yasawa is a true backpacker's delight!
Other places of interest in Fiji include the surfer's dream, the Mamanuca Islands, and the natural wonderland of Taveuni. Mamanuca is home to some of the most consistently perfect beaches, waters, coral reefs and the infamous Cloud Break. Taveuni, on the other hand, offers some of the most gorgeous hiking trails, lush jungles, and other inland nature activities. Both offer awesome features and amazing activities in Fiji!
Set on gorgeous, white-sand beaches, the Octopus Resort experiences stunning sunsets that rival some of the best views on the island! Not only that, but it has a swimming pool, beach bar, and a restaurant. You can also enjoy spotless rooms, facilities, delicious food and complimentary pick-ups between Nadi and Lautoka! As far as Fiji's hostels go, it doesn't get any better than this.
This little place is a true home away from home. You'll have a cute private room to yourself, in a very well located area.
Everything is in walking distance. According to previous guests, the hosts are incredibly welcoming and super helpful.
You'll expereince Fiji not only from a tourist view, but also get the chance to find out about the local way of life, great food and culture.
With a diverse range of activities such as snorkeling, diving and fishing trips on offer, Oarsman Bay Lodge is one of the best budget hotels in Fiji! With white-sand beaches, evening entertainment, activities, massage rooms, daycare centers as well as it's incredible on-site restaurant and bar, you'd be tempted to never leave the hotel.
With all accommodation offering fantastic sea views, accompanied by individual gardens, this resort is the perfect place to let the spirit of Fiji take over. With a tranquil pool, snorkeling, kayaking and a huge variety of tours and excursions on offer, this resort has everything you could ever need. Enjoy panoramic ocean views, live Fijian music performances and an array of Fijian cuisine available. This is perfect for those looking to splurge!
For your Fiji trip itinerary, it's important to remember that you're not on one island, you're on many.
Considering Fiji is an island nation of over 300 unique islands, getting around isn't as easy as it is in other popular travel destinations. Then again, Fiji provides incredible views and white sand between your toes, so it's worth the sacrifice! A worthwhile trade if there ever was one. Seriously, you'll be speechless once you see the numerous amazing places in Fiji!
If you're planning a trip to Fiji, knowing how to get from place to place counts for a lot. Once you are on one of the different Fiji islands, it is easy enough to get from place to place within that island. Most resorts offer transport to different island attractions. Walking around on the islands is easy enough and if you're one of the main islands, a variety of registered cabs and busses will take you wherever you need to go!
The trouble comes in for those wanting to island-hop. If you don't go knowing which islands you want to check out, you may spend a fortune on ferries to and from island to island.
Fiji's Turquoise Waters | Bukama Village Visit and Kava Ceremony | Swim with Manta Rays | Sawai-I-Lau Caves | Dinner Under the Stars
If you're spending one day in Fiji, this is definitely the way to spend it! While the Fiji vibe will encourage you to relax and let the day take you where it takes you, there's something to be said for planning ahead.
For those wondering what to do in Fiji, our Fiji day 1 itinerary will give you a great start.
Day 1 / Stop 1 – Begin Your Fiji Itinerary with a Dive into Yasawa Turquoise Waters
Why it's awesome: This is the moment you realize paradise is becoming a part of your reality!
Cost: Free!
Food nearby: Your accommodation of choice generally provides all meals, as food outside of the mainland is quite difficult to find.
Many travelers often start off with dreams of crystal clear waters with palm trees swaying above them as they sip cocktails, one coconut at a time. In Fiji, this dream becomes a reality!
Take a moment to just soak up some Fijan sunrays and swim in the refreshing unreal blue waters most will only see from pictures. Feeling the smooth white sand beneath your feet as you unwind in this island paradise is enough to make you want to make your trip to Fiji permanent.
This only improves after a dive into some of the clearest blue waters anywhere in the world. Fiji is home to many colorful near-shore coral reefs if you want to turn your swim into a coral adventure snorkel.
Insider Tip: Apply a broad-spectrum SPF 30 sunscreen at least 30 minutes before you head out!
Day 1 / Stop 2 – Bukama Village Visit and Kava Ceremony
Why it's awesome: You'll feel closer to the Fijians and the islands overall!
Cost: $88 USD.
Food nearby: Not applicable as the only food source on the island is the resort you stay at.
Aside from stunning waters, vibrant ocean life and a relaxed atmosphere that will have you questioning ever leaving, one of the highlights of Fiji are its people. With a reputation as some of the most welcoming people on the planet, meeting them is a genuine highlight on any trip to Fiji.
If you're lucky you'll take part in a traditional Kava Ceremony, sampling the national drink of Fiji known as yaqona or grog. This unusual drink causes an odd, numb feeling around the mouth, lips, and tongue! Used to welcome guests, enjoy this is truly a special experience! Outside of Fiji, Kava is used holistically as a natural calming supplement.
Insider Tip: Part of taking part in a Kava ceremony involves gifting the local chief with a Kava Kava Root as thanks for his hospitality!
Day 1 / Stop 3 – Swim with Manta Rays in Yasawa's Famous Coral Reefs
Why it's awesome: The reef is near enough to the shore that you can view Fiji's vibrant marine life with ease!
Cost: Free!
Food nearby: Your accommodation of choice will provide your food.
No Fiji itinerary should miss a visit to its coral reefs.
The Yasawa Islands are an amazing place to explore Fiji's rich and vibrant marine life! With hundreds of colorful fish, octopi, starfish and manta rays to name a few, this promises to be one of the best snorkeling experiences of your life!
Swimming with the manta rays is a scuba diver's dream and only in Fiji can you do it with the ease of swimming in your backyard pool.
Having schools of fish swim and split around you before regrouping is an amazing experience! Some of the larger fish may be difficult to spot but the abundance of the smaller ones makes up for it.
Make sure you bring an underwater camera to capture this stunning swim!
Insider Tip: Time your dive well, the nearness of the reef to the shore means at low tide, said coral is exposed which makes exploring difficult!
Day 1 / Stop 4 – Explore the Sawai-I-Lau Caves
Why it's awesome: They say this is the true spirit of the Yasawa!
Cost: $68 USD.
Food nearby: A quick stop at Oarsman Bay Lodge.
One of the must-do activities on any Fiji itinerary, the majestic Sawa-I-Lau Caves are a must-see! Ancient limestone formations, carved by waves are hidden to the naked eye.
According to legend, a young chief once hid the woman he was in love with because her family threatened to marry her to a rival chief! They say he swam to this secret haven to bring her food and company every day until they both escaped to a new island together.
The magic of this story is tangible once inside the caves. The caves themselves offer a magical experience as you move from cave to cave. The first of which glints with sunlight through holes in the ceiling.
The second cave will unleash your inner adventurer! It can be found by submerging yourself and swimming through a beautiful and dark underwater tunnel!
Day 1 / Stop 5 – Enjoy an Alfresco Picnic Under the Yasawa Stars
Why it's awesome: There's nothing more serene than the experience of sitting under the Fijian stars for dinner!
Cost: $60 USD.
Food nearby: Navutu Stars Resort Restaurant.
Enjoy an Alfresco picnic under the Fijian night sky. The perfect way to end off a day of exploring the stunning sites of your new home is to unwind. It would be easy to head back to your resort, grab a quick bite and pass out, but this would be a waste of the beautiful Fiji night sky.
End the night the way Fijians have for millennia. Just enjoying paradise. Enjoy the serenity of sitting under the glimmering, light pollution-free sky of Fiji eating local food! Far removed from the industrialized, hustle and bustle of the "real" world.
Take in the serenity of this fantastic island! All while you eat some of the delicious island food Fiji is known for and sip on a cocktail or two. Enjoy the gentle crashing of the waves in the distance as you relax, signaling the perfect end to an incredible day!
Namaka Markets | Garden of the Sleeping Giant | Sri Siva Subramaniya Temple| Fijan Cooking Class| Ed's Bar
Nadi is a natural starting point from which to explore Fiji and is often used as little more than a gateway to the rest of the country. This is definitely a first-time visitor's mistake as Nadi offers a wide variety of things to do and sites to see that can be overlooked!
This 2-day itinerary for Fiji will cover a huge variety of sites thanks to its incredible multicultural mix. From bustling early morning markets, sumptuous indigenous and foreign foods to people from all over the world enjoying this little slice of heaven.
Day 2 / Stop 1 – Stop by the Namaka Market
Why it's awesome: This a great way to check out the locals at work and get some cheap high-quality fruit!
Cost: $2 USD
Food nearby: Grab a coffee at the Bulaccino Café.
Your second day on this Fiji itinerary begins with a trip to one of the island's biggest markets!
Known as the Namaka Market, a stop here is a good way to grab a taste of some local fruit and vegetables. You can also casually chat with the friendly locals to get an idea of their daily lives. They'll also be able to tell you where to go and what to do to make the most of your Fijian market experience.
Cheap, high-quality food abounds and it's the perfect place to buy Kava Kava root if you're planning on visiting a local village later on during your travels. This goes a long way for travelers looking to make genuine cultural connections. The exchange is a significant way of showing the locals that you've taken the care to learn about the culture and not simply take advantage of the island's natural beauty.
It's also a great way to sample some of the delicious and colorful fruit that adorns the island and adds to its world-renowned lively, colorful landscape!
Day 2 / Stop 2 – Uncover the Secrets of the Garden of the Sleeping Giant
Why it's awesome: This is a nice way to relax without having to spend all day in the sun and sand!
Cost: $8 USD
Food nearby: Stop in for a brilliant bite at the Grace Road Kitchen.
Containing over 2,000 different Asian orchids and Cattleya hybrids, this is a wonderful way to get out of the sun and city to spend the day in nature. The orchids are the highlight of the garden and they are meticulously cared for!
The attention to detail of their caretakers makes the visit even more special! Learn about the fascinating history of the garden and how it went from being a mountain valley to a majestic garden!
As you stroll through the garden, see if you can spot the well-known croaking frogs or use the walking trail that cuts through the tropical rainforest.
A tasty, complimentary fruit drink is offered to you at the end of your journey.
Day 2 / Stop 3 – Make a Pilgrimage to Sri Siva Subramaniya Temple
Why it's awesome: This is the biggest Hindu temple in the Southern Hemisphere!
Cost: $2 USD
Food nearby: Enjoy simple but delicious Indian style food at Tata's Curry House.
A perhaps little known Fiji fact, is that there are actually a large number of Hindus living in Fiji. This has resulted in a very interesting blend of Indian and Fijian culture, food, and even language. The Sri Siva Subramaniya Temple is an example of this extraordinary union.
The vibrant colors and ornate decorations of this deeply spiritual place have resulted in one of Fiji's most stunning buildings. The temple is one of the iconic Fiji landmarks and is often the home of many Hindu festivals and celebrations throughout the year!
A great cultural stop in this Fiji itinerary, you're sure to leave the temple feeling profoundly touched.
Insider Tip: Make sure to arrive at the temple respectfully dressed or you won't be allowed in. Legs and shoulders should be covered and you should remove your shoes before entering the temple!
Day 2 / Stop 4 – Join a Fijan Cooking Class
Why it's awesome: You'll learn an entirely new cultural method of how to prepare food.
Cost: $87 USD
Food nearby: You'll be making your own meals so you can enjoy some homemade Fijian dishes.
If you love trying new, delicious and exotic food, you'll love this!
It's always fun learning about the history of a new culture or country. This is especially true when your taste buds get a chance to be involved which brings us to your Fijian cooking class.
The class begins with an exploration of the local food market. After you're taught a little bit about the ingredients you'll be using, it's time to get down to business! You'll be shown the art of cooking authentic local food with experienced local chefs.
This is a great way to meet new people, spend time together as a couple, or treat yourself to the experience of learning and perfecting something new!
Using the freshest, in-season ingredients, you'll be taken on a taste exploration of what exactly the Fijian flavor is all about.
Day 2 / Stop 5 – Cut Loose Like a True Fijan at Ed's Bar
Why it's awesome: The variety of this place makes it a true melting pot for people from all over the world.
Cost: Free!
Food nearby: Martintar Next To Ed's Bar offers the best burgers anywhere on the island.
Despite its unassuming name, Ed's Bar is one of the most popular bars in all of Fiji!
Beloved to locals, travelers, backpackers and tourists, this mecca of nightlife is the best way to cap off a successful day of exploring. Ed's is home to a huge variety of local and international drinks, pool tables, a dance floor and several outdoor courtyards to keep the Fijian heat at bay!
They also host talented live bands and DJs. For the heavier party goers, the popular nightclub, Ice Bar, is located upstairs. Ed's Bar is a dream stop for people looking to enjoy themselves without paying exorbitant prices or restricting themselves to the company of fellow resort goers.
If you're looking to vacation in Fiji to let loose, a stop at Ed's Bar is not to be missed!
Sabeto Mud Pool | Beqa Firewalkers | Sigatoka Sand Dunes | Colo-I-Suva Forest Park | Manta Ray Island
If you've got more than 2 days in Fiji, you'll want to get to explore more of the islands this dream destination has to offer! There are more than a few things to do and far more than one island to see.
To help with that, this 3-day itinerary in Fiji can be spaced out, even if you're looking for a Fiji itinerary for 10 days of adventure!
Decompress in the Sabeto Mud Pools
Recharge your batteries at one of Fiji's best-kept secrets.
Enjoy high-quality at a budget price.
Get down and dirty in a fun, family-friendly setting.
The ideal way to start off a 3-day itinerary in Fiji.
Mud pools may not automatically spring to mind when you think of Fiji. Regardless, one dip in the Sabeto Mud Pool will have you wondering why you've never heard about it before!
Interestingly, this is one of two sister mud pools, owned by the same family.
The Sabeto Mud Pool is run by a local woman who has run other successful resorts in Nadi. This means she knows her customers and what they want before they even want it.
The therapeutic effects of these wonderful pools will have you feeling reinvigorated and ready to take on the world! Enjoy the strange, yet pleasant, sensation of bathing yourself in mud and letting the sun dry you out! Afterward, step into the water pool and clean yourself. You'll want to bring a travel towel.
They also offer an affordable quality massage for those looking to detox and destress from their real-world troubles! Whether you're an experienced mudder or a traveler looking to try something new, this is definitely an interesting and invigorating way to spend the afternoon in Fiji!
Take Part in the Unique Spectacle of the Beqa Firewalkers
Watch a legendary ceremony unfold before your eyes!
A unique and world-famous ritual.
Be in awe of these almost supernatural feats of human endurance!
This is one of the most awe-inspiring things to check out on this Fiji itinerary. Gaining worldwide prominence, thanks in part to the works of Sir David Attenborough, the fire-walkers of Beqa are truly an awesome sight.
If you've got the time to enjoy a unique sight in Fiji, this is definitely a must-see!
This ritual is rumored to have come from an ability given to a great warrior who captured the spirit of a deity. The deity promised him anything if he let the deity go, and eventually rewarded the man and his descendants with the ability to walk on fire. While some may have their doubts, these are soon erased after seeing this extraordinary sight.
After feeling the warmth coming off the flames that embody the spirit of the God that gave the Beqans their supernatural ability to walk on fire, you'll be amazed! Watching the Fijians walk across the scorching rocks will soon make a believer of even the biggest doubters.
This is a great way to experience local history and myth for anyone looking to enjoy the magic of the Fijian islands.
Visit the Sigatoka Sand Dunes National Park
Visit Fiji's first national park.
Explore Ancient Lapita Artefacts.
Enjoy watching some of Fiji's beautiful birds.
If you're in Viti Levu and looking for something interesting to do on the mainland, Fiji's first National Park is one of the most unique and least-known sites to visit. It's both a unique, natural and cultural heritage site that 's open every day from 8 am to 5 pm.
Summing them up as gigantic sand dunes is definitely a disservice to these enormous testaments to the power of nature!
Visitors can take either the 1-hour or 2-hour walk to explore the site, or make use of local rangers who act as guides. While both give you the chance to see what makes this site so special, the 2-hour option is definitely the better of the two.
The site also offers visitors a chance to check out ancient Lapita artifacts that date back more than 2,600 years and is also one of the largest burial sites in the Pacific. There are more remains to be uncovered and this may be your chance to be a part of Fijian history.
If you're not into the history of the dunes, you can simply enjoy the opportunity to bird watch. Witness some of Fiji's brightest and most colorful, winged residents!
Explore the Colo-I-Suva Forest Park
A perfect way to catch a break from the more touristy activities.
Spot rare birds and insects.
Explore the best of Fiji's mesmerizing forests.
If you're spending more than 3 days in Fiji, you might find yourself yearning for some inland adventures! If that's the case, the Colo-I-Suva Forest is the perfect place for you.
An oasis of lush greenery, that's filled with a variety of tropical plants and exotic, colorful birdlife. A huge array of walking trails lead to clear tranquil pools and other natural beauty.
This is a nice way to catch a break from Suvas urban jungle!
The forest is home to an array of mahogany and pines which were planted in an attempt to stabilize the topsoil without impinging on the indigenous vegetation. The park is also home to many different bird species; from scarlet robins, spotted fantails, Fiji goshawks to the humorously named barking pigeons.
With a collection of locations for swimming, rope swings, picnic tables, and campsites, this is a great way to spend time with the family away from the often busy resort beaches. Bring your hiking boots for the best experience trekking through the forest.
Dive in the Waters of Manta Ray Island
Enjoy one of the most unspoiled underwater environments anywhere in the world!
Swim with the majestic Manta Rays.
Unwind on one of Fiji's least crowded islands.
This is a beautiful spot for divers and lovers of marine life everywhere.
The breath taken coral wonderland that surrounds the island is one of the best places to observe Fiji's world-famous underwater realms. Over 7,000 different species of fish can be found on Fiji's reefs. This includes the rare, bicolor rabbitfish, as well as the black rabbitfish, and, of course, the majestic manta rays that give the island its name.
Due to the less busy nature of the Yasawa Islands, you can spend longer amounts of time exploring Fiji's underwater beauty. Explore The unrefined beauty of one of the world's most colorful coral reefs!
With perfect visibility and hundreds of marine life, this is a paradise you'll want to make sure you see before your time in Fiji is up. Bring your adventure camera along to preserve these memories.
While crime exists in Fiji, it's not all that common and can easily be avoided by practicing common sense and adhering to safety guidelines. The majority of crime that affects tourists is mainly opportunistic and petty in nature.
Violent crimes are rare but are more likely to occur in urban areas such as Nadi and Suva. While in these areas, do as the locals do and catch a cab rather than walk through the city- even in a group!
To avoid minor theft, keep your belongings safely secured, even at your resort. Make a habit of covering your PIN when you use it, not flashing cash and keeping your belongings close or within eyesight when island-hopping!
Make sure when traveling to use only licensed vehicles. If you're driving at night, be alert. Many roads in Fiji can be poorly lit or have frequent animal crossings.
Lastly, make sure you have travel insurance in case of an emergency. A tropical nation with many remote islands only has so many ways to find and transport you in case of injury. Without your travel insurance, this could cost you a pretty penny!
Stick to these basics and your dream Fijian holiday will remain the way it was intended- paradise.
Don't Forget Your Travel Insurance for Fiji
ALWAYS sort out your backpacker insurance before your trip. There's plenty to choose from in that department, but a good place to start is Safety Wing.
They offer month-to-month payments, no lock-in contracts, and require absolutely no itineraries: that's the exact kind of insurance long-term travellers and digital nomads need.
SafetyWing is cheap, easy, and admin-free: just sign up lickety-split so you can get back to it!
Click the button below to learn more about SafetyWing's setup or read our insider review for the full tasty scoop.
For travelers with time on their hands looking to explore this tropical paradise, day trips are the perfect way to take in the islands many adventures. There's plenty to do and even more to see, take a look at some of these amazing day trips from Fiji!
Viti Levu: Mud Pool, Temple, and Sleeping Giant Garden
One of the most all-encompassing day trips from Fiji is the Viti Levu: Mud Pool, Temple, and Sleeping Giant Garden trip.
This six and a half-hour spiritual and sense awakening begins at the Sri Siva Subramaniya Swami Temple. This is the largest Hindu temple in the entire Southern Hemisphere! You'll learn the complex influence of Fiji's Indian population on Fiji.
Afterward, head to Nadi, the capital of Fiji. It is the perfect place to grab locally-made souvenirs or some fresh fruit at the Namaka Market.
Your next stop is the Garden of the Sleeping Giant, an incredibly lush garden with more than two thousand different types of orchids. To accompany this visual treat, enjoy a physical one by stopping at the Sabeto Mud Baths.
This will leave you feeling relaxed, rejuvenated, and ready to make the most of your stay in Fiji!
Natadola Beach and Veisabasaba Village Day Tour
One of the best ways to explore any new country is to meet and relax with the locals. This trip allows you to do just that, as well as soak up some of that incredible Fijian sun.
You'll be picked up from your hotel before being brought to the Veisabasaba village. There you'll enjoy an incredibly profound ceremony!
Known as the Kava ceremony, it involves sipping on a pleasantly numbing drink with deep traditional roots. After this, you'll learn directly from the villagers what daily life is actually like.
Move on to Natadola Beach. This picturesque, white-sand beach is the perfect way to unwind, whether that's via massage or the tranquil Fijian waters!
Fiji on Foot: Small-Group Tour with Local Guide
This on-foot adventure is perfect for travelers looking to get away from tourist hotspots and truly explore Fiji.
Start the adventure with a change of scenery as your transport takes you out of the city to rural Fiji. The best guides are local ones. Experience this first-hand and learn about sugar cane farming and the location of Fiji's first village, Viseisei.
After picking up some supplies to put in your daypack, your hike begins! Hopefully, you'll have your inner Indiana Jones ready to go as you wade through forest trails! Before long you'll be clued up on everything Fiji from the local culture and history behind each path or rock face.
End your journey with a fantastic homemade lunch, courtesy of a local family.
Viti Levu: Navua River Tubing
The perfect way to see more of the interior beauty of Fiji. It's in these remote areas that the locals live away from the hustle and bustle of the city.
Travel upriver via longboat into the Namosi Highlands and view the stunning greenery of Fiji's interior. Dress to get wet, as you pass by and through easy-going rapids, waterfalls and more.
You'll end the trip with a stroll through the jungle, a quick swim and then enjoying lunch next to the river. Then enjoy the meandering trip back as you ride gentle rapids home.
From Port Denarau: Cloud 9 Floating Platform Day Trip
If you love a party, this day trip from Fiji has your name written all over it.
The majestic barge of a party vessel not only offers international, top-shelf drinks, in addition to Fijian favorites, but delicious pizzas as well. The double-level floating platform also often hosts international DJ's aboard.
Built with flair and with fun in mind, this oceanic party oasis also offers several exciting water sports. These range from parasailing, jet-skiing, snorkeling gear, paddleboards, as well as a $60 USD bar tab per person!
For the budget-conscious traveler, the trip also offers transfers from resorts in Nadi/Denarau region.
Find out what people want to know when planning Fiji itinerary.
There's a reason why Fiji is one of the most popular holiday hotspots! With pristine white-sand beaches, glowing summer sun and brilliant blue seas, what's not to love about this island paradise?
Fiji is frequently near the top of the happiest countries in the world and after meeting the locals, you'd be hard-pressed to disagree! Fiji has some of the most friendly, welcoming people in the world with a specific ceremony just for that purpose!
In the warm summer season enjoy the beaches, laid back island lifestyle and unwind and some of the most picturesque seas in the world. In the off-season, there's plenty left to enjoy as many of the sights, food, and atmosphere remains!
Make sure to check out the villages that lay scattered throughout Fiji. You'll walk away with a profound appreciation for the friendly and humble people who inhabit it! Our Fiji itinerary will ensure that you have the trip of a lifetime.
With all this in mind and hundreds of things to see and do, our itinerary for Fiji will definitely come in handy!
The name of Fiji is built on welcoming people from all over the world. The result of that incredible hospitality is that at the end of your trip the only thing you'll regret is having to leave this stunning island paradise!
---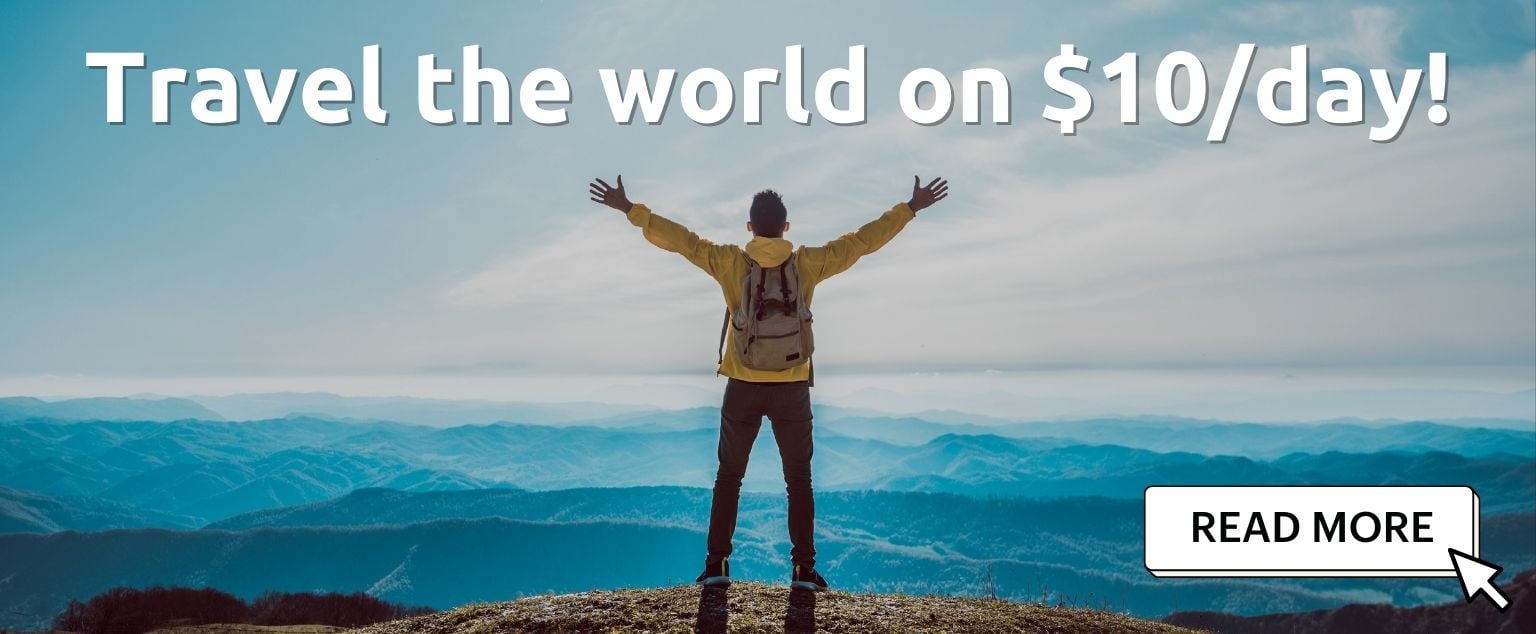 And for transparency's sake, please know that some of the links in our content are affiliate links. That means that if you book your accommodation, buy your gear, or sort your insurance through our link, we earn a small commission (at no extra cost to you). That said, we only link to the gear we trust and never recommend services we don't believe are up to scratch. Again, thank you!