What do you get when you mix turquoise lagoons, a capital city with no traffic lights, and the best breadfruit stew this side of the Pacific? The Cook Islands.
The Cook Islands are the dream backpacking destination that nobody thinks about! You can hike through jaw-dropping, untouched tropical mountains, kick back in the balmy sunshine, and swim with sea turtles.
And you can do it all on the cheap! No, it won't be as cheap as bumming through South East Asia; it will be more on par with backpacking in New Zealand. But still, backpacking the Cook Islands on a budget is possible. Paradise for (almost) pennies – sounds bloody great.
The far-flung atolls and a good dose of slow island time mean that, logistically, the Cook Islands can be a bit of work. Which is why you've come to this sexy, how-to guide! 😉
The Cook Islands left a big, sandy footprint on my heart when I drifted through as a boat bum. I didn't have many zeroes in the bank account. But with plenty of thrifty tips, they had me enjoying every moment in the Cook Islands.
Whether you come by boat or by plane, with or without many zeros in the bank account, backpacking the Cook Islands is sweet. Kick back, relax, and get ready to feel some serious love for and from my favourite islands in the Pacific.
Why Go Backpacking in the Cook Islands?
The Cook Islands are the lands of slow time. I even think alarm clocks give up the ghost and stop working out here.
These islands are a few degrees further south in latitude than other Pacific paradise islands. This means you've got a slightly more temperate climate. And, that sea breeze that cuts through the equatorial sun is DELIGHTFUL!
For backpackers, there is a good two weeks of exploring to do. It might even be just what you need to avoid travel burnout. This is the place of inspiration! These shores (and juicy, fresh fish) will remind you why you left home in the first place; to slow down; to appreciate a life different from your own.
All 15 of the islands are spread over nearly two million square kilometres of ocean. So expect a well-connected community that stops for a chat wherever you go. This is the Pacific at its best.
So whether you laze the days away in a blissful seaside hammock, or you want to take advantage of the numerous adventures on offer, the Cook Islands are waiting to bring out your best too!
Pack your surfboard wave riders, the swell here is always good. For the land babies who prefer a little more distance between them and the big blue, there are islands to trek across and subterranean swimming holes to find!
For the boat-packer, you'll likely end up here with more time on your hands after sailing across the Pacific. You'll be poised to drop anchor on one of the outer atolls and do what the mermaid-in-training boaties do best – sweet fuck-all.
The Cook Islands are that special place that time forgot. Even after the apocalypse, this island will still be ticking along in a bubble of its own. You can expect delicious fish for dinner, epic diving, dancing, sunbathing and chatting with everyone you pass in the street. Largely forgotten by the rich and famous – and many other backpackers – you'll have plenty to explore without breaking the bank.
If you are coming here with nothing but the bag on your back and a few coins in the bank account, I'd recommend a shorter itinerary. This is not, by any means, a less epic one. But – let's face it – you can't fly to the middle of nowhere on the cheap.
So for you backpackers, there are two itineraries that will likely appeal to you. Get ready for some serious sunshine, kicking back, and beach magic!
For seafarers, I've put together a little something extra. This is a country that's far more ocean than it is land – so it felt appropriate!
Be sure to get creative with your provisioning here. The supermarket is a bit of a foreign concept, as the supply ship comes in every three months. Luckily, the feral sailors know a thing or two about fishing, right?
The Raro Special – For the Broke-ass Backpacker

Suggested Route: Avarua => Black Rock Sunset => Te Rua Managa => Muri Beach => Avana Pass surfing => Titikaveka Beach
If you're coming here as a good, ol' broke backpacker then 8 days in Rarotonga is just what the doctor, ahem, I mean totally qualified travel writer, ordered.
You're going to want to base yourself in one of the cheap hostels on the Western side of the island. This is the perfect base to explore Rarotonga (Raro, for short). 8 days is enough time to get in your island chill time, plus a little adventure, without going over your budget.
The Cook Islands should really be up there as one of the world's best hiking destinations. I highly recommend setting aside a day to trek across Raro.
There's also plenty of incredible snorkelling and surfing spots, plus beaches galore. Catch the bus around to Muri beach and say hello to the fishies! You will have plenty of time to check out the night markets.
Don't skip the world's best capital city – Avarua – either!
Rarotonga and Aitutaki – For the Backpacker With a Splurge
Suggest Route: Avarua => Te Rua Manga => Muri Beach => Avana Surfing => Aitutaki
This one is for the backpacker who wants the full Pacific experience.
You want to have a nosy around the main island, say hi to the Aunties, eat some good market food, and then explore a remote island! Spend eight days on Raro, still. Get in a surf, a scuba dive, and a hike across the island. All good, juicy stuff!
And then, hop aboard an Air Rarotonga flight and prepare to have your cotton socks well and truly knocked off. Aitutaki is the most accessible remote island this side of Tahiti. There's even a couple of resorts.
Aitutaki consists of a 'main' island, a barrier reef and a few far-flung islands that make for good fishing spots. You can walk across Aitutaki in one day, straight from the beach into schools of reef-dwelling fish and turtles! This shit is simply incredible.
You'll have enough time to jump on out to explore One Foot Island. You might just want to kick it with the dolphins and the turtles – or maybe you want to join a fishing trip. Nothing says island living like chucking a fresh fish over the campfire!
The Sea Dog Spectacular – For You Ocean Nomads
Suggested Route (Cook Island Loop): Palmerston Island => Pukapuka => Suwarrow => Rarotonga => Mangaia
Suggested Route (Raro Touchdown): Rarotonga => Palmerston Island
Alright matey, I've got a special something something for you.
If you want to drift on to other waters, I'd still recommend stopping by in Rarotonga to get those all-important cans of food and fresh fruit. And while you're here and the winds are good, swing by the Palmerston atoll. This gives you a taste of secluded paradise, tops up your pantry, and keeps you sailing ever onwards.
If you want to spend a bit more time exploring, then I'd suggest the Cook Island loop. You can head straight to Palmerston from French Polynesia. From there, you can go north and explore the barely inhabited Pukapuka, and the uninhabited Suwarrow.
By the time you wash up in Rarotonga, you'll be pretty keen to talk with some other humans and go to that grocery store! Be sure to swing by the Southern Island of Mangaia before heading ever onward!
In all likelihood, you'll probably find yourself backpacking Rarotonga and travelling out to Aitutaki. It takes a fair bit of planning (and moneys) to fly out and explore some of the outer islands. Unless of course, you have a boat.
For those that do make it out to the far-flung Northern Cook Islands, you are in for a treat. Even the relentless resort industry hasn't got a strong foothold out here. It's pure Pacific in all its glory. You'll find some of the oldest islands in the Pacific but underground caverns and isolated, organic coffee plantations.
The Cook Islanders like to claim they 'invented the colour blue'. And you've got to give it to them, every time you see these lagoons, you are left running out of adjectives to describe a majesty that usually only exists in the imagination. There's only so many times you can say 'azure', 'turquoise', 'sapphire', 'ultramarine'.
When travelling these wondrous islands and atolls – as well as packing your quality backpack -be sure to pack your adventuring spirit. There are islands to cross, fish to spear, and diving to be done!
But hey, don't forget to slow down. There's a hammock with your name on it and some serious island time to tune into!
Backpacking Te Rua Manga
Te Rua Manga, The Needle, is a rock formation that juts stubbornly skyward and watches over Rarotonga.
There is a well-marked trail all the way up to the base of the rock. You can – of course – sip your coconut from here, on the comfort of flat land at the base, and think 'gee, that's nice'. You can even laugh at everyone's sweaty faces when they return from climbing it.
But don't you just get an urge, whenever you see a tall rock, that you just need to climb it? For those with a little knowledge of climbing, you can be a little spider monkey who can make it all the way to the top! Then, you can look over Rarotonga and say 'everything the light touches is ours, Simba.'
The greenery of the hike starts to become mesmerising in the most literal sense of the word. This is an untouched equatorial jungle at its finest. So get out those hiking shoes, hush the inner mermaid who wants to return to the comforting shallow waters, and HIKE THAT MOUNTAIN!
Backpacking Muri Beach
Located on the southeastern side of Rarotonga is a beach with water so blue it boggles the mind. You may find yourself irrationally mad at this water. How, just HOW are you so blue?
You can hire a stand up paddle board and get some of the best isolated views. Or just splash around in the shallow lagoon waters. Either way, you won't be disappointed.
There are a few cheeky market stalls and restaurants nearby, so all you have to do is get yourself a snack and park up. This is the ultimate spot to chill. This is where backpackers come to rejuvenate before their next adventure.
The snorkeling is just epic; say hi to new fishy friends! Not only is there abundant sea life, but the waters are warm. There's no getting out early because you got goosebumps from the cold waters.
Backpacking Avarua
This is – objectively and completely unbiasedly – the world's best capital city! There are no traffic lights and no McDonalds in sight. There is a complete lack of obscene skyscrapers and multi-story monstrosities that gate off the beach and say, hey hippie, get lost!
Sure, there's a few resorts that cash in on the perfect holiday brochure beaches. But that's not to say there's nothing going on. There are several wonderful cafes, a LEGENDARY market, and plenty of smiles to go around.
You can start the cross-island trek here and find somewhere beautiful to stay. There are all the regular draws to a capital city too – like the National Library and National Museum.
In fact, even if I wasn't a complete nerd, I would recommend going to the National Museum here. It sums up the island in one small, yellow, palm tree lined building.
Backpacking Aitutaki
All that hard work backpacking the world's best capital city must have tired you out! When you are done hiking across the Island (and stocking up at the supermarket), Aitutaki – commonly known as 'Heaven on Earth' – will welcome you with open arms.
Aitutaki is one main island, a lagoon, and a barrier reef. This is where the adjectives start running out and the hyperbole starts running in. The waters here are teeming with turtles and reef fish. The beaches that come to you in your stressed-out daydreams? They come from Aitutaki.
Backpacking here is exactly what you need to unwind. Of course, we want to push ourselves when adventuring. That's the whole point! But, it's important to digest the lessons learned. This is the place to journal, to reflect, to muse over the new person travelling has made you.
Backpacking Atiu
This is the first of the destinations that may appeal to boat-packers more than backpackers. It gets a little harder (and more expensive) to get to Atiu and stay here. But man, oh man, is it worth it.
Atiu is a volcanic island ringed by a reef. If I had to pick an island to live out the apocalypse on – it's this one. And, the 400 or so islanders that live here are so welcoming.
Whether you wash up here on the boat or you arrive by plane – you've made it. You are soon to find yourself exploring limestone caves and secret subterranean swimming spots.
The soil is fertile: taro ('potato of the tropics') and breadfruit grow spectacularly, and the locals grow incredible organic coffee too. Tell me a better combination than exploring underground caves followed by a hot cup of joe.
Until the 1980s, due to the oppression of God-fearing missionaries, alcohol was deemed illegal – and they worked hard to prohibit it. In the best fuck-you to missionaries I've heard to date, there is a long-standing tradition of brewing beer in the jungle.
Turns out, people just want a cold brewski in paradise. Because of this, today, you can still find delicious, cold craft beer in the middle of the Pacific Ocean.
There is no shortage of fish; simply duck off the reef and you'll find dinner. You'll have the whole reef, with hardly a person in sight, to go for a dive then you can wash it down with a cold one. Delightful.
Backpacking Mangaia
Mangaia is the oldest island in the whole Pacific. It is said that Tuna (the Polynesian God of eels and – himself – a mythical eel) resides in these very caves. The raw nature of this island, and its remoteness, will have you up late at night wondering about the deities.
It is more likely that you will explore this island by boat, as the flight cost from Rarotonga may be out of the price range of the average budget backpacker. However, if you're looking for an adventure that is truly off the beaten path, Mangaia is the place to come.
There are no big bustling streets here, it doesn't even have any street lights. Instead, there are a few hundred locals, beautiful churches and epic swells breaking on fossilised coral cliff faces, and untouched lands. Walking through the wetlands and through the caves beneath the ground feels like an alternate, alien Earth.
Backpacking Palmerston Island
Alright, so you've definitely got to be travelling by boat to make it out here. There is no airport and no way for a helicopter or seaplane to land in its lagoon. The supply ship comes twice a year, and the island even only has two toilets.
Many a ship has been wrecked on the reef. The motus and the reef that encircle it is about as far away as you can get from anywhere else in the world. So – naturally – this is my dream home.
But feral wee sailors that make it out here are usually more interested in the fascinating history: many of the people that still inhabit this island descend from one man and three women.
William Marsters and his wife and mistresses were sent to Palmerston to produce copra around 1863. He decided to settle out here and, upon his death, divided the island between his three wives.
This arrangement still stands today, and bar a little immigration from Rarotonga and New Zealand, almost everyone on the island can trace their lineage back to Mr Marsters. I mean, how else do you stay busy on a remote island in the 1800s?
Sure, there is some great fishing, epic sunbaking, and a jolly good party to indulge in. Plus there's no ciguatera here!
But it's the overwhelming welcome from the locals that brings the intrepid sailor here year after year. The journey will test you; the locals will welcome you.
It just makes you wonder about the mysterious – and yet very biologically simple – ways that the world works!

Getting Off the Beaten Path in the Cook Islands
While I would argue the whole of the Cook Islands counts as off the beaten path travel, there are certainly ways to remove yourself even further from the tourist trail.
Okay, Rarotonga has its share of resorts and Aitutaki has some fancy bungalows. However, neither of these islands have traffic lights, fast food, or any other markers of an overdeveloped island.
To truly get away from tourism – or from people altogether – all you have to do is sail away. From Rarotonga, you go to Aitutaki. To get away from the "hoards" of people on Aitutaki, you simply head north.
If Palmerston Island and its 57 inhabitants are just too much, better get over to Suwarrow where there will be just one caretaker during yachting season.
If the risk of seeing another human is simply unthinkable, there's always Manuae or Takutea – the uninhabited islands.
If travel is about getting out of your comfort zone, then I'd say scrounging through the last of your cans that you brought back in Tahiti and hoping you catch a fish today is about as good as it gets.
Off the beaten path often sounds better in theory. Yeah sure, people suck, but supermarkets can be pretty useful. Shh, don't tell grumpy Indi that she will start to long for shelves stocked with canned spinach and instant coffee.
Nevertheless, there is a reason we seek out the challenges of solitude.
The Cook Islands are some of the most breathtaking, awesome places on planet Earth. The waters are plentiful and crystal clear, the sand is postcard-worthy, and the fishing is easy. But, you've come backpacking and exploring here for more than a pretty picture; you came here to push yourself.
Whether you want to pull a total lazy ass and do nothing but lay in the sun, or whether you want to be up at the crack of dawn doing every activity possible, backpacking the Cook Islands will deliver!
The water is warm and the sea breeze is cool. Coconuts and lime grow freely. And, there is nowhere that you've got to be. So slow down homie, it's time to dive into some things to do…
1. Diving in the Cook Islands
A country that is more ocean than it is land, perhaps unsurprisingly, has some EPIC diving. The water ranges between 23 and 28 degrees and visibility can be as great as 60 metres. I dunno about you, but that just sounds bloody beautiful.
Rarotonga and Aitutaki have some of the most accessible diving, made even easier by going with a tour company. Expect to pay around $95 dollars per dive. Now, you might think it's all congregations of reef sharks, reef drop-offs, turtles, and a kaleidoscope of colourful fish – but that's not all!
There are shipwrecks and night dives galore too! You can also learn to free dive in the calm, deep waters. Stripping yourself of the cumbersome scuba gear and simply descending into the blue is enough to make a mermaid out of anyone.
Spend enough time in these waters, and you'll be dreaming of growing gills in this life or the next! King Neptune has a way of speaking to even the most stoic and logical divers out there. He'll be whispering sweet nothings in your ear in no time.
2. Spearfishing
Going hand in hand with learning to free dive is learning to put dinner on the table (or in the campfire!). There are some truly spectacular fishies on offer here. This is made easier by going on a tour with some locals.
You can find a tour guide that suits your ability level. This is great because you don't want to (literally) be thrown in the deep end with experienced hunters disappearing into the depths below you.
There are a few FADs (Fish Aggregating Devices) that make for excellent spearfishing grounds. You can expect to find wahoo, mahi-mahi, and tuna while you're here.
Now all you need to do is sharpen that fillet knife and share it with the village! Make sure nothing goes to waste, ok team?
Man, do I miss fresh tuna cheeks and fresh mahi-mahi is sesame oil. I used to make a fish stock out of the bones and leftovers and give only the entrails to the birds. Oh, boat life, I miss you!
3. Markets
Nothing beats a bloody good market – and Raro has got 'em! There is a night market near Muri Beach that happens Tuesday, Wednesday, Thursday, and Saturday. Punanga Nui Markets run every day except Sunday, but they are most thriving on Saturday morning.
You can expect to find all kinds of fresh food stalls – from fruit juices to fish – as well as a range of arts and crafts. Generally, there is music and bustling energy that just makes you want to smile. It's a good place to get food because, unlike almost anywhere else in the world, it is not always cheaper to cook for yourself.
This is because the supply ships don't come all that often to the outer islands. Even Rarotonga is an expensive place to deliver groceries to. Expect some crazy prices for canned goods in the supermarkets. But the markets with their fresh produce, are cheap and delicious!
4. Hike Across an Island
You can hike the length of Rarotonga. Starting from the capital city of Avarua, you head deep into the centre of the island, past the famous Te Manga mountain, until you pop out the other side!
It is not an easy walk; you should definitely bring enough water and good hiking shoes. But the hike itself can be done in 3 – 4 hours. Rarotonga just isn't that big! Once you've walked across it, you can also walk around it by following the only road in town.
5. Sunbake Yourself into a Potato
Prepare the aloe vera, because these beaches were made for sunbathing. There is something rather wonderful in saying ciao to the grind culture, if only for a few days, and doing a sweet lot of absolutely nothing!
I mean, we know skin cancer is coming for those that douse themselves in baby oil. And global warming means we're all on borrowed time, anyway. So be safe. But hey, it's just sunbaking!
Throw your towel down, pick up that book, and get relaxing, baby! This is your island time after all.
6. Hammock chills
I don't know what it is, but there is nothing like a good afternoon nap in a hammock. The sea breeze sways you gently, your book falls out of your lap, and soon enough you're drooling as you nap.
I feel like the portable hammock is the superior way to experience the beach. You are far enough away from the sand that it doesn't enter every orifice of your body, but you're still close enough to the sea to feel part of the beach scene.
Watch the afternoon melt away as surely as the tide rises and falls. This is the good shit!
7. Surfing – Hang 10, my dudes
There are some pretty sweet breaks around Rarotonga in particular. The trade winds and reefs around the island come together in that glorious way that produces intoxicating barrels. Rarotonga Point is a personal favourite.
You don't need to be Kelly Slater, but you do need to have surfed a bit before. There are right and left-hander waves with perfect barrels followed by a long wall. Dude, I mean really – perfection.
There are definitely other breaks all along the island over a range of difficulties. Always worth having a yarn with the locals about the best spots! As far as I know, there are no beach breaks on Raro.
So watch that reef you crazy coconuts! Is the perfect wave worth a cut-up face? I mean, of course it is! But just be sure to be able to get yourself out of anything you get yourself into.
8. Get Creative with Cooking (Boatlifers)
When the provisions get hard to come by, it's time to get creative in the galley! Likely, the boat bums will be arriving from across the Pacific via French Polynesia. Tahiti has big supermarkets where you can stock up on canned goods – at a price! The further you get from the continental centres of food production and distinction, the more your cans of beans cost.
By the time you get to the Cook Islands, you're in the lands of intermittent supply ships. When they come in, it's more exciting than Christmas! But until then, well, you make do with fresh fish.
This leads to some very creative times in the galley. Boat galleys are known to be small places where the magic happens. Somehow one pot and a broken burner produce the best damn soups known this side of the Pacific. And let's face it, fish tastes better from the back of a boat!
I think there is some untapped joy to be had in salting and pickling your own foods, baking bread from scratch, even fishing up coconuts that bob past your boat. Life is in the little things.
Backpackers can expect to find a couple of cheap hostels on Rarotonga and Aitutaki. There are a few Airbnbs here, also.
But further out, you're best off packing your tent, or emailing ahead that you'll be arriving. There's not a whole lot of accommodation options – resorts or otherwise!
If you and your tin can float on by, you can expect to find nice anchorages and a few moorings to pull up to. You can always check out sailing guides, or websites for the latest information.
The Best Places to Stay in the Cook Islands
The best part of backpacking the Cook Islands is that the resorts that pollute the view and vibe are simply not here. That can make finding somewhere to park your butt a little tricky – but hey! Here's a handy little list of all the best places to stay in Rarotonga and Aitutaki!
I know I fall at the cheapskate end of budget backpacking, and I was lucky enough to be here on a friend's boat. We collected rainwater and salted our own fish. A supermarket was a very distant daydream.
When the winds were right (and they usually were) we didn't need the engine or to use fuel. So aside from the cooking gas, we didn't spend a whole lot of money at all.
You know though, when we got to a supermarket, there was a moment where the two of us kissed the floor and brought $300 worth of canned goods. Salted fish only takes you so far.
So, boaters, you know the drill. Provision like you might never see civilisation again and then try not to see civilisation again. The grocery stores here are expensive, but everything else is quite comparable to backpacking Australia or New Zealand.
Rarotonga has cheap hostels and guesthouses, so does Aitutaki. You can buy cheap plates of food at the local market, and there are plenty of activities to do on the island that are fairly cheap.
What will push up your backpacking budget in the Cook Islands:
There is no cheap way to fly between islands, so be prepared to pay handsomely for your beach chills. I mean, I still think it's worth it, but you've been warned. Once on the islands, you won't spend much money, so it's a bitta give and take.
Also, there are ATMs on Rarotonga, but it's helpful to have cash on you. Eftpos is sometimes a thing here, and sometimes when the Moon decides to play games, there is no Eftpos. So have cash!
A Daily Budget in the Cook Islands
I think the average backpacker would spend around $80 – $100 per day here and be extremely comfortable. You can do it for far less, and obviously, for far more.
Money in the Cook Islands
The Cook Islands use the New Zealand Dollar as legal tender. They did have their own coins, but to cut a long story short, shit went tits up. Facing bankruptcy, the money wizards waved their magic wands and out of the rubble came the New Zealand Dollar.
I mean, the country was already in free association with New Zealand – and many more Cook Islanders live in Aoeteroa than in the Cook Islands. But still, money is weird.
For your reference, at the time of publication 1 NZD = 0.71 USD.
Anyway, the backpacker probably doesn't need a macroeconomic explanation, nor am I in any way qualified to give one. What you wanna know is how much of your hard-earned dosh are you going to spend here? And how do you spend less of it?
Travel Tips – the Cook Islands on a Budget
So yeah – this won't be your cheapest backpacking adventure – you're in the middle of the Pacific!
But I don't think it's unmanageable. It's very similar to the cost of backpacking in Australia and New Zealand. Still, there are some of the usual budget backpacking tips, as well as a few extras I found helpful in the Cook Islands.
Camping – These islands were made for a discreet tent and a good hike. Especially on the outer islands where there aren't a huge range of guesthouses, a tent might be just what you need. There's nothing like waking up to the sound of waves. For this, you'll need good backpacking gear.
Eat street food – This is the land of intermittent supply ships: anything that is imported will have a hefty price tag. Fresh local produce (like taro, breadfruit, and tuna) gets turned into afforadable street food. I mean, street food is always the best. But here, it's also a way to save money.
Hitchhiking – Amongst the islands with little public transport, you can walk or just stick your thumb out. I think hitchhiking is the best way to travel because it gets you chatting with locals from the get go. You save some cash, and you have an adventure. That's the way of being a broke backpacker!
Fly as little as possible – Those flights out to the outer islands are gonna cost you. If you budget for them in advance, sweet as. But if not, it's best to keep flying to a minimum to keep those purse strings happy.
Or come by boat 😉 – Find a boat to volunteer on! The Cook Islands are a popular yachting destination, so in season there are boats that could introduce you to the boat life. Prepare to exchange cooking, night watch, maintanence skills – whatever you've got – for the trip of a lifetime.
If you are already a pirate in training, you know you've got it good! There are plenty of good places to drop anchor here, so you're good to go exploring. The latest cruising permit prices have increased though, so keep that in mind.
Why You Should Travel to the Cook Islands with a Water Bottle
Plastic washes up on even the most pristine beaches… so do your part and keep the Big Blue beautiful
You aren't going to save the world overnight, but you might as well be part of the solution and not the problem. When you travel to some of the world's most remote places, you come to realise the full extent of the plastic problem. And I hope you become more inspired to continue being a responsible traveller.
Plus, now you won't be buying overpriced bottles of water from the supermarkets either! Travel with a filtered water bottle instead and never waste a cent nor a turtle's life again.
The best time to visit the Cook Islands is between April and November. The balmy equatorial weather is a steady 24 – 30 degrees Celcius all day.
Being slightly further south than French Polynesia means you don't have quite the same amount of humidity. But hey – when it rains it rains. Can't have palm trees without a bit of humidity!
Speaking of rain, the April – November window means you'll miss out on most of the rain. The weather here is generally pretty chill.
However, coming during the shoulder season won't necessarily mean you get rained out. If a cyclone hits the islands it will be during November – March. Yachties don't like to roll the dice on their homes, so they will clear out before then.
Between July and October, whales make the annual retreat to the tropics from Antarctica and can be seen in great numbers.
Festivals in the Cook Islands
The Cook Islands love a reason to come together to dance and eat. Most weekends there is a buzz going on somewhere. Sometimes, you have to lick your finger, hold it to the wind, and follow the smell of breadfruit stew.
There are a few festivals that encourage migration to Rarotonga for a few days though – now they are a special time! Prepare to double your weight in good food, dance until you've lost all that weight again, and maybe blow some FIRE!
Te Mire Ura
Celebrated sometime in April or May in Rarotonga. The best dancers, from across a nation of excellent dancers, come together to show off a little and celebrate a lot.
There are categories ranging from beginners to professionals, and even the golden ladies (seniors). Dancing is described as 'poetry in motion'. The stories – and poetry – of the Cook Islands are indeed preserved in dance. This is an epic show that's well worth coming out to if you find yourself in Rarotonga in the early half of the year!
Te Maeva Nui
This is held from the 30th of July to the 4th of August. It is a week-long celebration of Cook Island culture that culminates on Independence Day. Expect to see a lot of music, a lot of food, and a lot of dancing!
The float parade opens the festivities – and I dunno about you, but I love a good float parade. It really just gets everyone in the festival mood. It'll be time for a lot of dancing and a few cheeky beers on the beach before you know it.
Gospel Days
Celebrated on October 26th, this is pretty much what it sounds like. It celebrates the day the missionaries brought Christianity to the islands. There is a lot of singing and a lot of religious re-enactments.
Vaka Eiva
The outrigger canoe has withstood the pressures of time and colonialism. This outrigger canoe race is now one of the most prestigious sporting events on the Cook Island calendar!
Local teams, as well as teams from New Zealand, Australia, Hawaii and beyond, compete for the Paddlers Cup. There are gruelling sections of open ocean to cross either solo or as part of a team. For a lot of people though, this is more than a sport: this is a reminder of the deep connection they have to the ocean.
And, there's always a good wee party at the other end of the course!
What to Pack for the Cook Islands

The longer you stay in the Cook Islands, the more likely you are to know someone who knows someone. The whole chain of islands are connected by community links. This means that petty theft and crime rates are low. It's just that much harder to get away with stuff under the watchful eyes of the Island Aunties!
That being said, the usual travel advice applies here.
Don't be flashy with your expensive gear.
Don't tempt fate by leaving bags unattended for long stretches of time.
Still, the islands are pretty safe.
They are very remote, though! So, getting sick and/or injured can present a problem if you need urgent medical help. Be careful about ciguatera, and take any dengue fever outbreaks seriously.
Also, as much as you might think you can catch that sick reef break (cough, baby Indi I'm looking at you) a trip to the hospital may not be that easy. There is a hospital on Raro, and you could probably fly back from Aitutaki easily, but the further out you get, the harder it is to get any serious medical attention. So, do the cool shit, but stay safe!
Sex, Drugs, and Rock 'n' Roll in the Cook Islands
If a can of beans costs $5, how expensive do you think a bitta weed is gonna be? This is not French Polynesia, and they don't grow much of the good stuff themselves here. (I mean, as far as I know – which is very little.)
Allegedly, there is still weed around but it comes from New Zealand – where they do grow a fair bit. Like any other import to the islands, it's pretty pricey. But, where there's a stoner, there's a way.
As for other substances, it's the same story; sure, you can find drugs if you look for them, but it's gonna cost you.
And I never thought I'd say it, but you might not need a trippy tab when you've got a lagoon backing onto a jungle full of subterranean swimming holes.
It is worth saying here, homosexuality is illegal in the Cook Islands and comes with a prison sentence. It is not a law that is often enforced, but still. Being gender diverse, and/or gay, was part of Polynesian life before the missionaries, but apparently 'God says no touching butt of the same gender'.
As much as it pains me, I'd say be careful holding hands with your boo if you've got matching genitalia, that's all.
Travel Insurance for the Cook Islands
ALWAYS sort out your backpacker insurance before your trip. There's plenty to choose from in that department, but a good place to start is Safety Wing.
They offer month-to-month payments, no lock-in contracts, and require absolutely no itineraries: that's the exact kind of insurance long-term travellers and digital nomads need.
SafetyWing is cheap, easy, and admin-free: just sign up lickety-split so you can get back to it!
Click the button below to learn more about SafetyWing's setup or read our insider review for the full tasty scoop.
You've two options to get in here:
Either way, you'll be treated to the same easy entry requirements.
Entry Requirements for the Cook Islands
So in addition to being bloody gorgeous, the Cook Islands are also super easy to get into. Every passport holder, irrespective of nationality, can come to the Cook Islands for 31 days VISA FREE!
You can extend this visa for a maximum stay of six months.
Dude, paradise has never been so easy – or so entirely dependent on the tourism industry.
I might have mentioned that the Cook Islands are undiscovered, middle of nowhere PARADISE! The trade-off for this is a lack of public transport.
Rarotonga does have a very good bus system – in that it has one at all – but the rest of the islands don't! These lands are kind to the boat bum but it can get a little pricey for the backpacker.
Backpacking by Bus in Rarotonga
The bus on Rarotonga follows the one road on the island. It is easy to hail down, it goes everywhere you might need, and isn't too expensive. You can buy a single ticket for $3 or a day pass for $26.
The buses go both clockwise and anti-clockwise around the single road on the island. If you're in a rush it would pay to know which direction you need to go in. But if you're not in a rush, at some point you're going to get where you need to go – there's only one road in town!
Remember team, this is island time. If the bus is late, no worries! Another one will be on its way soon.
There are no buses on the outer islands. There also isn't a bus on Aitutaki. To be fair, I probably wouldn't bother with a bus service on an island with 200 residents either. Time to get those walking shoes out!
Backpacking by Boat in the Cook Islands
There are no ferries that run between the islands. There is the supply ship that travels out to the outer islands every few months, but that's quite a waiting game if you want to hitch a ride with them.
Even between Rarotonga and Aitutaki, there's no ferry! So there isn't really an option to travel by boat to a country that is mostly ocean. Unless of course, you own your own boat.
Sailing here in your own vessel can make for a much more flexible travel experience. Plus, there's the added bonus of testing yourself to the limit when your engine gives up the ghost in the middle of buttfuck nowhere.
Some places, like Palmerston atolls, are only accessible via boat. You have to earn your way in blood, sweat, and night watches to make it out here. The reward of reaching a place after weeks of travelling just hits different!
Backpacking by Plane in the Cook Islands
The other option to get between the islands is to fly. Air Tahiti and Air Rarotonga are two carriers that do service most of the outer islands – but not all. Some islands don't have a runway so air access is off-limits.
This is also an expensive way to get around. However, if you're in the Cook Islands for a once in a lifetime experience, then the odd flight or two won't hurt.
People have paid more to do less! Getting out to the subterranean swimming holes and quiet skies of the islands is worth its weight in pricey plane tickets.
Onwards Travel from the Cook Islands
As a backpacker, you've had to fly in here. And, unless you find a boat to sail off into the sunset in, you'll be flying out too.
Cheap flights run from New Zealand and Australia and – by Pacific Ocean standards – they're just a hop, skip and a jump away. So you could always go spread your hitchhiking thumbs and adventurous spirit down under!
For the little sailors in their tin can drifting across the Pacific, you've got options too. I'd recommend pushing your time in the Pacific out a little longer. Head on over to Fiji, and/or Tonga, at least. These islands have enough to keep you busy until the end of cyclone season when you can take a southerly heading and shoot for Australia or New Zealand too.
Maybe the Pacific has got you by the cojones and you choose to keep going! The Soloman Islands, Tuvalu, Kiribati all become great adventures. You just have to get the right winds and keep giving King Neptune his offerings and the whole ocean remains yours!
My own incredibly long, drawn-out world cruising route itinerary doesn't fit into my word count. It involves mermaids, Kiribati, and Alaska… OK! I'm done.
You can volunteer in the Cook Islands, but there aren't as many opportunities as there are in other places. This is not because volunteers aren't needed, but because the small population and logistics make it hard to run efficiently.
Still, with a do-good heart and a wish to embed yourself within the local community, volunteering can be a great way to experience the Cook Islands. You can connect with the community and give back in a meaningful way that you wouldn't otherwise have been able to do.
Workaway and world packers are two ways you can volunteer while travelling. Workaway is a more informal arrangement between you and the host directly. You can volunteer a range of your skills – from art to childcare, to labouring.
Worldpackers is a more formal volunteer arrangement. There are hundreds of options over a wide range of industries that you can volunteer and grow your skills with.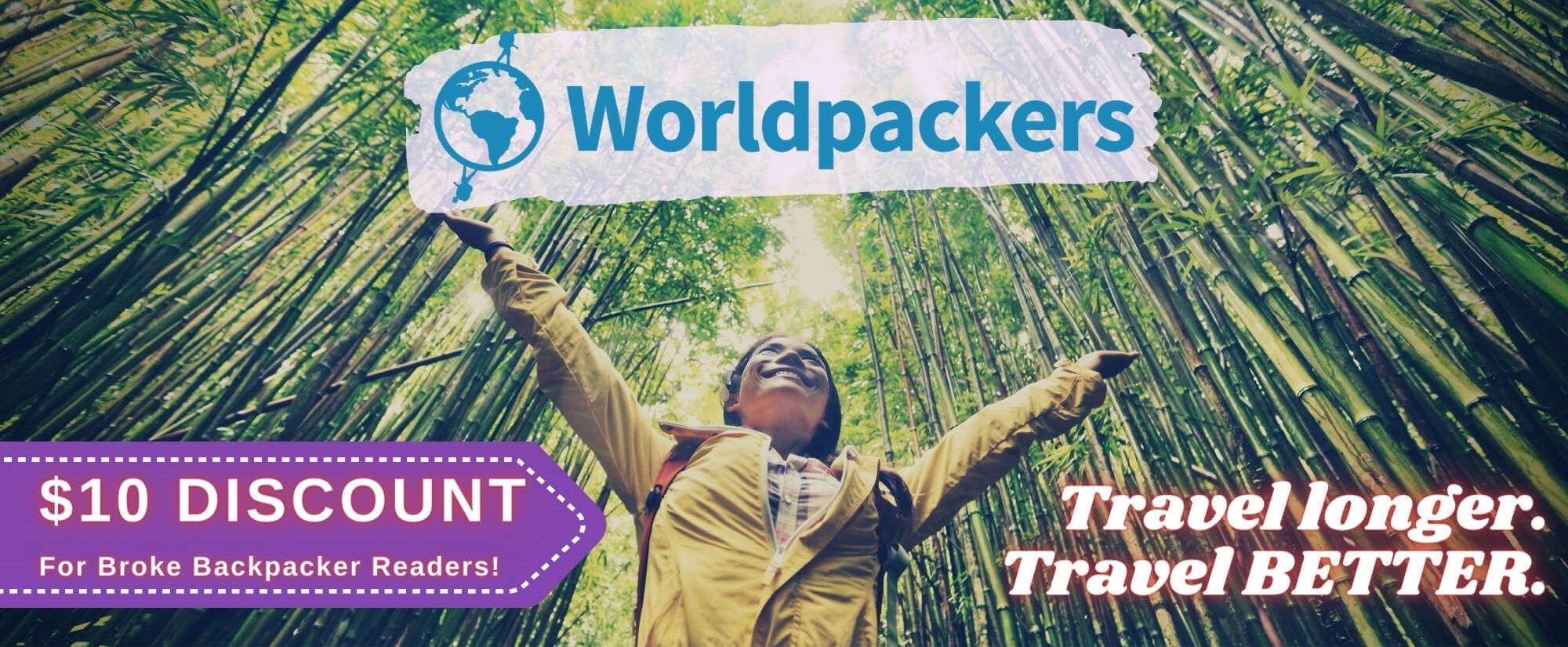 Worldpackers: connecting travellers with meaningful travel experiences.
A mouth-watering mixture of fresh fish, juicy fruit, and starchy veggies – that's Cook Island cuisine in a nutshell.
I think one of the BEST meals that I have had in my entire life was Ika Mata. It's similar to ceviche in that raw fish is 'cooked' in citrus before being topped with coconut cream.
Now, perhaps living on a boat for months and scraping the barrel for the last of our provisions predisposed my taste buds to glory. But, man, boiled green bananas on top of fresh coconut cream? Add that to fresh flying fish? And have someone else cook for you after so many months?
My tastebuds just about died then and there.
There are plenty of incredible foods to try in the Cook Islands. Plus, in Rarotonga, there are also plenty of cafes and Western-style restaurants. But why'd you come backpacking in the Cook Islands if you want Western food?
The Cook Islands use fish in every way imaginable, including in an underground oven known as an umu. Breadfruit, papaya, coconut, taro, and cassava all feature prominently in these fresh and tasty meals!
Tiopu Kuru (breadfruit stew) – A bowl of this thick goodness will give you energy (and good fibrous poops) for the whole day! It's tasty, cheap, and available everywhere. You could even try learning how to make it yourself.
Poke – This is a creamy, sweet desert that is made from overripe bananas, pumpkins, or other starchy foods. It has the consistency of a pudding, but in this unbiased opinion, is far superior. It is usually served with a drizzle of coconut cream.
Fish sandwiches – This is a very popular lunch staple in the islands. There's no tricks, ifs, or buts about it; just the catch of the day that has been fried up and put in a sandwich. Hell yes!
Pawpaw salad – A spicy salad that involves green papaya, or pawpaw. You can be like me and say 'I want it spicy spicy not white-girl spicy'. But be warned – you may cry and eject a humbling amount of snot from your sinuses as you eat! Have some coconut cream handy to dilute the spice.
Ika Mata – Ah yes, Ika Mata; fish of my heart, food of my dreams. Take the freshest of tuna fillets, douse it in lime, and leave it for an hour. Add coconut cream, capsicum, and onion.
I have a theory that all countries that have fish and coconuts were taught how to make Ika Mata, or ceviche, or something equivalent, in the womb. This knowledge of how to cook fish with citrus and then drown it in coconut juice is ubiquitous across tropical countries on the ocean. Somewhere deep in our collective history, the first human to drizzle lime in a coconut and mix it all up with fish rejoices. The recipe has stood the test of time.
More Cook Islanders live in New Zealand than they do in the Cook Islands. Those who do live in the Cook Islands mostly live on Rarotonga, with other islands having only 200 – 300 residents apiece. This results in a very tight-knit culture. Everyone knows everyone and they want to know you!
Aunties will be ready to welcome you into the community, if only you stop and chat for a while. The further out from Rarotonga you get, the more welcoming the communities get. Now, this is saying something, because Raro is already supremely welcoming! This is genuinely a land time forgot.
This is slow living at its finest. Cook Islanders are rightfully very proud of their Polynesian heritage which has survived the decades of colonialism. While many people here do speak English, it goes a long way if you do know a couple of phrases in Te Reo Ipukarea.
Useful Travel Phrases for the Cook Islands
Te Reo Ipukarea, or Cook Island Maori, is related to other Polynesian languages like Te Reo Maori of Aotearoa (New Zealand). Some phrases can be understood throughout the Pacific, so picking up one Polynesian language will make it easier to learn others.
But just like Romance languages might be similar, they are also distinct. Just because you speak Spanish doesn't mean you're fluent in Italian. It would be a mistake to think that because you are fluent in one Polynesian language, you are fluent in all of them.
A few useful phrases to start you off in the Cook Islands:
Books to Read About the Cook Islands
History of the Pacific Islands by I.C Campbell
A bright, lively, and balanced account of the history of the Pacific Islands. It doesn't specifically relate to the Cook Islands, but as you will learn when travelling the Pacific, the history of the world's greatest ocean is thoroughly connected. Maybe less of a beach read and more of a plane ride read.
False Start in Paradise by Iaveta Short
This book is an attempt to record many of the events of the enthralling, difficult and politically turbulent period in the short life of this tiny island democracy. There's nothing quite like trying to get your head around the intricacies of another country's political system.
Miss Ulysses from Puka-Puka: The Autobiography of a Sea Trader's Daughter by Florence Johnny Frisbee
This is the first book published by a Polynesian woman. It's an autobiographical story about the trials and tribulations of living on a remote atoll in the Pacific. As much as the sea delivers, it will take away; this is life at its most Pacific.
Starry Tales by Geraldine McCaughrean
This isn't specifically about the Cook Islands either, but I read it while I was there. For as many humans that have lived on the Earth, there have been as many stories about the stars. When you use the stars as landmarks to guide you ever onwards, the stories can be a matter of life and death – but also whimsy!
A Brief History of the Cook Islands
The first great seafarers to settle the Cook Islands likely arrived between 900 – 1200 CE. Those who settled in (what is today) Rarotonga, probably came from Tahiti.
Tahitian andTe Reo Ipukarea are similar languages, and culturally the two share many links as well. There are stories of great warriors leading people to seek new lands.
Ara metua is an inland road on Rarotonga that remains to this day. It is thought to be over 1200 years old. This kind of engineering is an impressive example of how human civilisations adapt to new environments. Great seafarers become adept at manipulating the land once they settle in.
These first seafarers had a complex and intricate culture – much of which has been passed down to Cook Islanders today. Creation stories and navigational knowledge are still remembered, although parts of the knowledge is at risk of being forgotten.
Some of the outer islands, like Pukapuka, were more likely to have been settled by the Kingdoms of Samoa.
In my humble opinion, going to the Cook Islands is a unique experience in and of itself! You are midway between the middle of nowhere and the edge of nowhere. There is fresh, tropical fruit to try, dancing to be done, hammocks to be swayed in.
There are also whales.
Whale Watching in the Cook Islands.
Whales make the annual retreat to the tropics from Antarctica and can be seen in great numbers between July and October.
You can usually spy on these majestic beauties from a headland on shore – especially with the help of binoculars. But, you may want to join a tour, or even swim with them.
Whales turn even the most stone-cold loonies of us into greenies. But, we need to be mindful of when that desire to interact with the great wilderness of the planet breaches an ethical barrier. I guess the biggest thing is that these whales don't owe you a performance.
There are ways to ethically interact with whales. Generally, they are quite tolerant of humans. I would imagine that on account of their size comparative to ours, they don't feel especially threatened. Even swimming close to adult whales hasn't been shown to have a negative impact if it is done in small numbers.
However, noise pollution has been shown to alter behaviour, especially between mother and calf. So joining twenty other boats to chase down the same two whales? Hm, probably not ethical.
But let's face it, seeing these mammoth mammals up close is something heart-stopping! Sailboats and small tours don't have the same negative impact on the whales. Choosing to go in smaller groups, on smaller and quieter boats, will be a more enjoyable experience for you and the whales.
You can never be too conscious when it comes to ethically whale watching, so that your memorable trip doesn't affect the Earth.

Disclaimer on the dark side of whale watching
I personally don't think you should swim near a mother and calf. Tour boats that come close to mother and calves have been shown to change the swimming behaviour of mum and bub.
The duo tends to avoid swimmers and boats, potentially disrupting the calf's growth. This gets into the gross predatory impacts of animal tourism. And you know what, I'll just say it, we don't fuck with it.
You are very likely to come into close contact with majestic creatures, especially when you live and travel on the ocean. It's why we go snorkelling and diving – to watch another way of life unfold around us.
If you see them? Coolio. If you don't? Don't go chasing them with a speed boat. But you know that already! 😉
It is hard not to love the Pacific. There is something here that just feels clandestine, secret, sexy, dangerous, and wonderful.
I think our biological settings are set to go about life as slowly as you do here in the Cook Islands. There isn't a meeting to make it to. There isn't an alarm to go off. There is just fish to catch, and a wave to ride.
A whole range of exciting adventures is in store for the backpacker in the Cook Islands! Are you learning to spearfish? Are you preparing a campfire on a secluded beach, far away from any light pollution? Do the stars give you a wink as they fill the sky until it is overflowing?
Drifting in on your tin can, ahem, I mean your boat, is probably going to make it cheaper to travel around. You will earn your hammock time in long night watches and creative sessions in the galley.
You have the time to learn to salt your own fish, to mend your hammock, to distil alcohol. Because backpacker – or boat-packer – the Cook Islands will give you time. I would just say, lean into the slowness.
Relax your jaw. Prepare to problem-solve until you want to jump off a bridge, and then build a sandcastle and chill out! Travelling to places this remote will test you – and that's the point. I don't think you know true joy until a trip to the supermarket feels like a foreign voyage.
Amongst the ocean, there are flecks of land. Mother Earth will always be the most extraordinary, most comfortable home to return to.
Sure, King Neptune is dashing and exciting too. Dolphins and flying fish playing hooky with the bow of the boat is impressive. And nothing beats an ocean sunrise.
But something about clambering up the centre of the Cook Islands makes you appreciate the specks of terra firma we have come to build our lives on. The majesty of this pale blue dot is on full display here. This is the backpacking trip that will make you appreciate your place on the planet deep in the universal boondocks.
Go on, off you go! Get out to the Cook Islands! Fresh fish and a seriously sexy sunset await.
---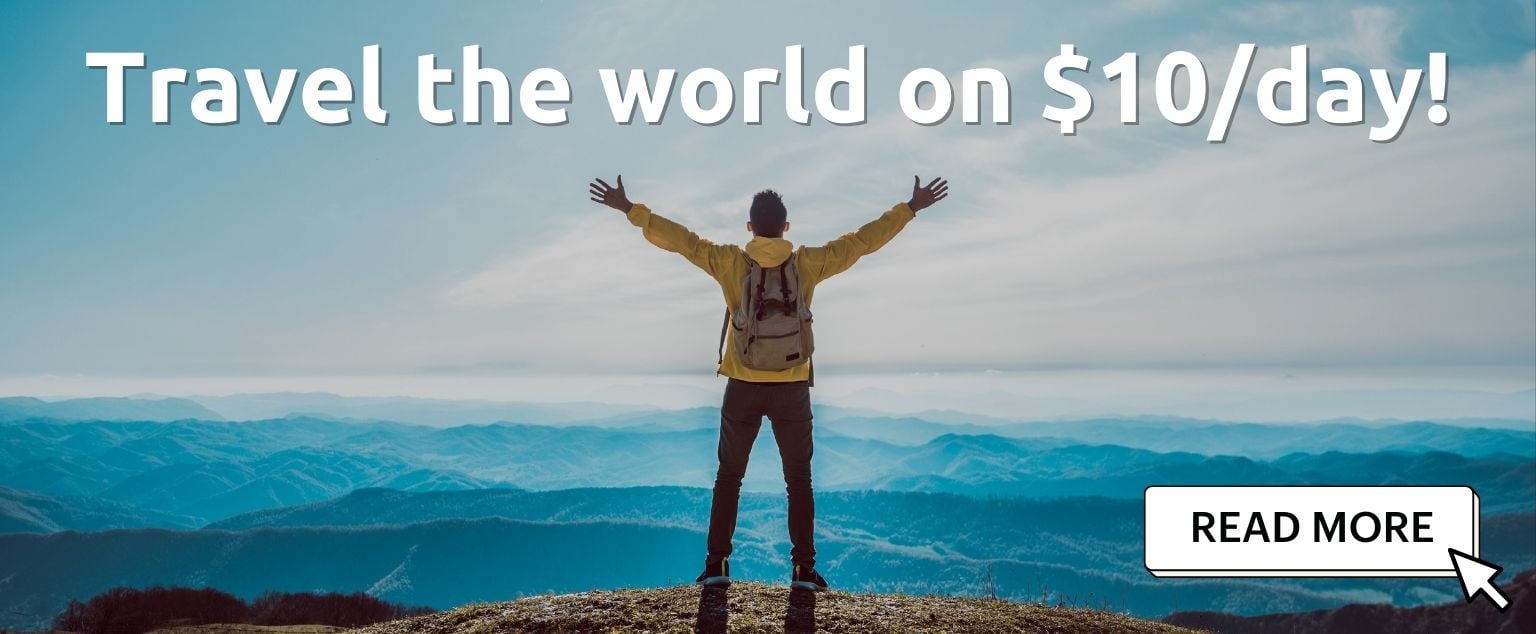 And for transparency's sake, please know that some of the links in our content are affiliate links. That means that if you book your accommodation, buy your gear, or sort your insurance through our link, we earn a small commission (at no extra cost to you). That said, we only link to the gear we trust and never recommend services we don't believe are up to scratch. Again, thank you!