When I say "paradise", you think of French Polynesia, right?
Coconut palm trees, azure shallows, surfing, diving, and hammock chilling. Mmm, can I get a HELL YEAH?
Except, the humble budget backpacker usually responds with an awkward silence. I can't afford that. Well, I won't lie, it's not as cheap as South East Asia. But – wait – with a little savvy know-how, you can backpack French Polynesia without bankrupting yourself. You won't be staying on a million dollar yacht, but you will be watching the same million dollar sunset as those that do!
I washed up here as a boat bum after delivering a sailboat across the Pacific. I had a small paycheck after five weeks at sea and I needed to spread it as far as possible – while still indulging in a cheeky smoke and backcountry hikes, obviously.
To my ABSOLUTE DELIGHT, I discovered backpacking French Polynesia on a budget is totally possible! A little slice of heaven, epic hikes, insane barrels, and some fresh fish for dinner are yours for the taking.
Simply slow down to island time and read on, folks. The South Pacific is calling you – just put your ear to a shell and listen!
Why Go Backpacking in French Polynesia?
French Polynesia is a dreamy, ice-cream-sandwich destination. You've got white sand beaches, world-class scuba diving, and that damn delicious poisson crou.
Island time is real, and you lean into a very slow-paced life. Be prepared to smile and say bonjour to everyone who rides past you in the street.
Every beach and every corner will make you want to take yet another photo. But, there is so much more to French Polynesia than an Instagram worthy photo. In fact, put ya damn phone down!
Epic hikes take you through fairyland looking mountains. There's dancing and delicious food in abundance. And, you can practice opening those coconuts by hand.
Then, there's snorkelling in the best damn reefs in the world. Backpacking French Polynesia will make you believe in fairies and mermaids again. If you stay in here long enough, you may even turn into one yourself.
The islands are spread over 2000 kilometres of the ocean. So, I think that the best way to backpack through French Polynesia is by fully embracing the boat life.
If If you're graced with your own boat – lucky you! But, hitchhiking your way through the islands is also possible. That being said, if you're not a boat lover, there is still backpacking galore to experience here.
And, guess what? All this paradise can be done on the cheap! I'm here to guide you through the know-how! 😉
Embrace the Broke Life
The thing about backpacking in the billionaire's playground is you realise how blessed you are to be broke. (No, I'm serious.)
There's no one spying on your nudie beach swims with a zoom lens. There's no one hounding you for something inappropriate you said when you were a young, dumb twenty-something year old.
Besides, you made it here, regardless. You haven't had it so bad. And, It's only gonna get better now that you've arrived!
You can be a free-loving explorer on the most pristine beaches in the world, without a security detail. And, you can catch fresh fish while you're at it.
French Polynesia is the perfect destination to start your grown-up gap year. You get to chill out in paradise, have some EPIC adventures, and realise that living cheaply can be done anywhere!
Below are three itineraries in French Polynesia. You may find yourself here for just a few days, or you may find yourself on a long, leisurely sail here for three months. Whatever the case, these itineraries are a good jumping-off point to your travels!
Backpackers are going to want to stay in the Society Islands: Tahiti, Bora Bora, Moorea, Huahine, and other smaller islets. They have the most budget-friendly infrastructure, as well as stellar camping spots. You'll be emptying the white sand out of your luggage for weeks to come, but man, will it be worth it.
When you're sitting on the return flight home, you'll tilt your head and, as yet more sand falls out of an orifice, you'll smile. Oh, French Polynesia, you delightful bastard! The mountains were sweet and the fruit was sweeter. If only I had had more time.
The longer you have in French Polynesia, the more you can start to jet off and explore. Look, I don't think you can ever have enough time in the South Pacific, but having any time at all is a good start.
Three Days in French Polynesia
Suggested Route: Papeete => Mahina (day trip) => Moorea => Papeete
If you're just here to put your toes in the shallows of a French Polynesian adventure, then this is the itinerary for you!
Papeete is a great place to fly into and begin your adventure. There's enough bustle to keep it interesting, and plenty of white sand beaches and palm trees to rig your hammock in between.
Mahina and Moorea are must-sees, even if you're only here for a few days. Moorea will blow you away with its mountains – as well as its picture-perfect beaches, of course. It is also a slower and more relaxed vibe than Tahiti (the biggest island), so you get a real taste of island time.
If there's enough time for Tahiti and Moorea to leave a big red lipstick kiss on your heart, there's enough time for the sand to find its way into your pants. And trust me, you'll be better off for it!
Three Weeks in French Polynesia
Suggested Route: Papeete => Moorea => Huahine => Bora Bora => Mount Aorai => Rangiroa => Papeete
If you're a budget backpacker, or a traveller hungry for a taste of many of the best islands (or both), then this is the itinerary for you! You'll have just enough time to sample some coconuts and catch some bangin' waves. But it's not so long that you end up counting coins for a flight onwards.
Start in Papeete, but get out to Moorea quickly. From here you can enjoy beautiful beaches and hiking before taking off to Huahine and Bora Bora.
This is a nice mix up between slow beach chilling, spearfishing spots, and some intense hiking!
After chilling in Bora Bora, come back to Tahiti. From here, I highly recommend climbing Mount Aorai! There are free huts along the way, so this is not an expensive hike. It is a challenge though – so be prepared, Padawan.
After that otherworldly hike, fly out to Rangiroa in the Tuamotus for some well-deserved hammock time. The snorkelling here is epic, so make sure you save some energy for that.
Somewhere between a mountain summit of a far-flung island and a reef sojourn, you'll release the inner mermaid (or merman). Some may call it your inner feral, but they would be wrong. King Neptune is a classy overload who simply asks you to pick up some garbage on the way home.
Getting an Air Tahiti pass is a nifty trick to help you keep costs down when flying between these islands, too.
Three Months in French Polynesia
Suggested Route: Nuku Hiva => Hiva Oa => Fatu Hiva => Takaroa => Fakarava => Rangiroa => Tahiti => Moorea => Huahine => Bora Bora
This itinerary is for those living on a boat, or backpackers with a bit more time on their hands. It starts out in Nuku Hiva or Hiva Oa because that's the likely first port of call after a Pacific Crossing. But, if you are flying about, you can do this itinerary in reverse.
When making the sail out of the Marquesas and toward the Society Islands, you're going to want to leave as much time as possible for the Tuamotu exploration! They are, time and time again, everyone's favourite place to get stuck in the South Pacific.
Takaroa is a smaller – and more remote – first stop. Ease back into some semblance of land life before heading onto the 'bigger' atolls of Fakarava and Rangiroa.
Maybe you're thinking the Society Islands won't capture your heart in the same way as the Robinson Crusoe adventures of the Tuamotus. In that case, consider the alternative route.
King Neptune might think he has dominion over the big blue. But all you sailors know that Mother Nature has a bigger role to play in route planning. Sometimes the alternate route will be possible – sometimes not.
What is for certain is that you will be emptying sand and nostalgia from your luggage for months to come after this adventure!
Still, on your way out of French Polynesia be sure to hike on Tahiti and Moorea. It is nice to see a mountain after weeks of coral atolls! Plus, supermarkets are a welcome sight after living off cans of something you brought in Mexico.
Where in this wild wonderland do you go? It's near impossible to see everything, but you want to make sure you see AS MUCH AS POSSIBLE!
There are so many great places on offer. However, I would recommend putting these bad boys on your must-see list.
Backpacking Papeete
If you don't sail in like a swashbuckler, then you will likely be flying into Papeete. This capital city surprised me a little bit; it was bustling. Not only were there cars on the road but there was traffic.
There were glitzy superyachts and a bit of haughtiness. Not everyone said 'bonjour', but luckily the baguettes were still one euro.
Granted, I had just been sailing in the wilds of the Tuamotus; perhaps I was not prepared for any loud noises, let alone a city. Though, Papeete is still very chill! You can go shopping at the main market for a bit of spice and noise, then retreat to your hammock and coconut.
This is a city for beach bums in a country made for beach bums. Unsurprisingly, there are some of the best surf breaks in the world here – Teahupoo comes to mind. But, some lesser-known breaks are just as sweet and better suited to the beginner – think Taapuna.
If you bring your own board into the country (and, let's face it, what self-respecting wave rider doesn't travel with their own board?) then the cheapest thing to do is hit those waves, man.
French Polynesia is not exactly set up for budget travel. But, especially in Papeete, enough surf bums have come to pass that there are bargains lurking. Those with a keen eye will find those sweet, cheap prices.
The Mount Aorai hike is simply jaw-dropping. And, you can stay in free huts along the way. This is a tough bugger of a hike, but certainly manageable with a bit of planning.
There are also some very interesting museums here – though be prepared to shudder at times. The effects of 'La Bombe' are something of a thorn in France's side, and something the locals are very eager to not let be forgotten.
It would pay to speak a little French or Tahitian before you get to French Polynesia; outside of Papeete very little English is spoken. Even in Papeete, be prepared to get some very questioning glances if you say 'how you going?' instead of 'ca va?'
Backpacking Huahine
Huahine is not a busy metropolitan centre; this is the place they tell you to picture yourself in during guided meditation.
The island is just over 16 kilometres wide at its widest. It's lined with palm trees, white sand, and ringed by water so blue it melts into the sky. You can go spearfishing here, as well as enjoying some of the best damn scuba diving in the world!
This is a very laid back town with few accommodation options. Though there are reasonably priced guesthouses and you can also pitch your tent and sleep under the stars.
It's possible to rent a bike and ride the length of the island at your leisure, too. This is where you come to indulge in some island time, splash around in the shallows, and maybe catch yourself a fish for din-dins. Goddamn, DREAMY if you ask me!
Backpacking Moorea
Backpacking Moorea is just bloody nice. Moorea is between Papeete and Huahine when it comes to tourist infrastructure. It is popular enough to have a few shops and some funky Airbnbs, but it still doesn't have the same traffic and business as Papeete.
It also has spectacular surf! You can ride waves all day and eat fresh fish in coconut cream by sunset. Honestly, it's a beach-loving backpacker's dream.
There is at least one backpacker hostel on the island, and there are cheap guesthouses and Airbnbs. It pays to call places directly in advance as they are not always listed on hostelworld and other accommodation websites. You can also pitch your tent and make the most of those warm island nights.
There are some truly EPIC hikes on Moorea, too! It is a volcanic island in the tropics, so you have that wonderful combination of a little altitude and a lot of greenery.
Prepare to sweat your little tush off though! And bring water, please, my dude. Bring way more water than you think you will need. I made the rookie mistake of not bringing enough and damn near collapsed afterwards!
I recommend that you do some research to get inspiration and route information before you set off. Moorea is the perfect combination of just touristed enough to find information easily, but it's not overcrowded.
My favourite hike was the Col Des Trois Cocotiers (Three Coconuts Pass). It was quite popular, but not particularly difficult, and you just can't beat the views!
You feel like you've walked into the mouth of God and seen what heaven looks like. (That might have had something to do with a certain substance I allegedly consumed once I arrived, but still – the views, man!)
Backpacking Tuamotus
This is less backpacking and more straight-up Robinson Crusoe adventure. The Tuamotus are hands down my favourite place in the world. But, granted, backpacking here is not without its challenges.
In all honesty, you are better off boat-packing and exploring them on the water. The coral atolls are spread out over a vast ocean, after all!
Everywhere says they have the best diving in the world, but the Tuamotus can rightfully claim that spot. Fakarava (one of the largest atolls) has the largest congregation of grey nurse sharks in the world.
You don't even need to go out on any kind of tour to find seriously good snorkelling. Simply walking off the beach and putting your cute little cheeks in the water is going to reward you with coral reefs TEEMING with life.
If you didn't come here a sexy siren, you will leave as one. The fish welcome you as one of their own. It's all you can do to join the highway of movement.
The sharks have seen just enough people to know that when the people carry a spear, dinner follows. So be prepared to be flanked by a posse of nosy fish thieves if you go spearfishing.
The freediving here will make you wish you were born with gills. In fact, the life below the water is so far and away more glorious here that you'll pray to Neptune to be a coral in your next life. If you've never done it before, this could be a great place to learn how to freedive.
If you do come here by boat, remember that Freshwater is scarce on these wee atolls. You're going to want (or need) to have your own watermaker.
Also, be mindful of when you sail through the lagoon passes; you need to get the tide right!
With the safety aspect down, you have unlimited freedom to simply hang out and soak up some sunshine while you fish. I think you could get stuck here for months on end.
Hey, paradise isn't easy, but it's definitely worth it.
If you are backpacking here instead, I would recommend choosing one of the main atolls – Fakarava or Rangiroa – and staying there for a few days.
There are flights from Tahiti that run here and some limited guesthouse options. It is not overly expensive, but it's not cheap. However, discounts are more than doable.
Once on the atolls, there is little else to do but snorkel, spearfish, and lay in the hammock. So, you'll have a job spending money – even if you wanted to – once you arrive.
Backpacking Marquesas
These soaring beauties are about as far off the beaten path as you can get. They are some of the most isolated islands in the world, and they really do feel like the Garden of Eden. If you're arriving on your boat from across the Pacific, likely one of these islands will be your first port of call.
Backpacking the Marquesas is a very welcome sight for those needing to get back to a slower pace of life. In the right season, there is fresh, free fruit that lines the street. Think big… juicy… MANGOS just rolling down the road.
Baguettes are ubiquitous – and cheap! Not much else is cheap though. It is hard to keep costs down in the middle of the ocean.
If you are backpacking without a boat, I would again suggest picking one of the main islands to travel to – either Nuku Hiva or Hiva Oa.
Be sure to visit a marae – a sacred place where they provide all kinds of things for the community, from food to beds, from schooling to religious facilities. The Marquesans are some of the friendliest people I've ever met. Listen to the land a little – it has seen a lot out here.
Be sure to budget plenty of time when you're doing anything bureaucratic. Most government buildings shut down over lunch and open up, you know, whenever.
The hiking here is phenomenal. If the Tuatmotus can claim the world's best diving, I'd say the Marquesas could possibly claim the world's best hikes. They've got hidden waterfalls, dense jungle, and just enough altitude to keep it interesting.
If you get a bit friendly with some of the locals, there is probably a pig hunt going on that you can join in on. Nothing quite says island life like hunting down a pig and spit roasting it in the middle of the jungle.
There are some basic guesthouses here, and it is possible to camp. But just know that if you don't come here by boat there is very little infrastructure.
Personally, I love going off-grid and spearfishing for dinner while doing dick-all the rest of the day. But, for people used to having a packed out itinerary, the Marquesas might come as a bit of a surprise to you. Island time, baby!
What is there to do when you wash up on a little speck of land somewhere deep within the middle of the ocean? Quite a lot, actually!
A nice, healthy balance between lazy hammock days, and heavy-duty excursions will give you a well-rounded experience. You've got plenty to keep you busy – or decidedly un-busy – while backpacking French Polynesia.
1. Chill in a Hammock
Not to state the obvious, but you're in island-fucking-paradise. Oh, baby, it's glorious!
Time to string up the hammock, pull out a book, and just hang out. In our grind culture, we don't have enough time to simply sit and soak up the sun's rays. This is the perfect time to do it!
2. Ride the Length of an Island by Bike
This is one of those things that sounds epic and IS epic! A lot of the islands are quite small. While you could rent a car and zip around all day, why not lean into island time and go a little slower?
There is always something to uncover: go and hunt for some Polynesian ruins, stumble across a well-needed ice cream cart, or discover an artist's studio. The islands will always surprise you with hidden gems.
3. Go Spearfishing
I mean, as long as we stay being good guardians of these abundant waters, there is no better way to get dinner. The waters here are swarming with life (and ceviche in waiting).
It is a way of life here for the locals. It's well worth it to pay for a guide, or a day out on the water, to be shown the secret spots.
4. Pearl Farm Tour
Have you heard of the mystical black Tahitian pearl? I'm not one to go ga-ga over shiny things very often, but these pearls are pretty bloody nice. Even though they are known as Tahitian pearls, many of them are cultivated in the Tuamotus.
Jump on a tour of these farms – it's fascinating! Also, it's just a cracking day out on the water.
5. Baguettes for Breakfast
A relic of the bread laws that came out of the French Revolution (let them eat bread, anyone?) means that you can buy fresh bread for one Euro anywhere in French Polynesia.
There is something quite bizarre – and quite delicious – about rocking up to Hiva Oa circa de nowhere and buying a crisp loaf of French bread. It's especially sweet for the broke backpackers. That's breakfast baby!
6. Open a Coconut with Your Bare Hands
Look, this might be a little one for the ego. It doesn't really matter whether or not you open the coconut with a machete, knife, or your bare hands. Except that you would be opening a coconut WITH YOUR BARE HANDS!
I can also confirm that it's one of the most attractive things in the world watching someone open a coconut with their bare hands. It just hits on a primal look-a-strong-resource-collector button in my brain. So, if you want to impress someone, or you just want to feel like Bear Grylls, then get practicing.
7. Epic Fruit Juice.
Unsurprisingly, these tropical lands are blissed with some delicious, juicy fruits. I'm particularly partial to the mangoes, however, the starfruit is also divine.
The best experience is blending them all together, then washing it down with a coconut, before spending some time in the loo because you've overdone it. But how can you say no when it just tastes so good?!
8. Pretend You're Robinson Crusoe
When I get my sailboat, you will find me deep within the Tuamotus, probably fishing, maybe sunbaking. Then I'll be doing maintenance on the water-maker and, undoubtedly, gathering some coconuts.
For the backpackers looking to push themselves this is the place. It is next-level adventure and solitude; you can come here to be a little feral deep within island paradise.
When it comes to finding places to stay in French Polynesia, there are plenty of options. There are a couple of hostels on the more populated islands like Tahiti and Moorea. Amongst the resorts, there are still some great Airbnbs, guesthouses, and free camping spots! Backpackers can enjoy saving a few dollars and the social atmosphere of a hostel or family-run guesthouse.
The Best Places to Stay in French Polynesia
Without further ado, here's the best of the accommodation options in beautiful French Polynesia!
If you have backpacked in Australia and New Zealand, you will know what to expect from French Polynesia. It's not going to be fifty cent breakfasts and a five dollar dorm room. Even shopping at the supermarket can make the budget backpacker shudder!
However – unlike Oz and Kiwi Land – French Polynesia is new to the backpacking scene. So, expect less hostels, and inconvenient transport. That being said, hopefully you're getting some of these cost saving tips down now to make your time in these paradise islands last longgggggggger!

Money in French Polynesia
The local currency is the CFP franc – or the franc as it is normally known – and it's worth keeping some on you. Some places will accept Euro or USD, but don't expect a super great exchange rate. The local currency is best.
Especially if you leave Tahiti or Moorea, keep some cash on you. On these islands, some ATMs work with (some) reliability. But, the further out you get, the more likely it is that the bank simply runs out of money.
At the time of publication, the exchange rate is 1 CPF = 0.0098 USD or 100 CPF = 0.98 USD.
A Daily Budget for French Polynesia
Travel Tips – French Polynesia on a Budget
The idea that travelling in French Polynesia on a budget is impossible is very wrong. But, I can't lie either; it's unlikely to be your cheapest adventure.
Pensions. These are basically guesthouses and, especially out into the outer islands of the Tuamotus, this is your best affordable bed option. Luckily, they are typically family-run, super cosy, and full of hospitality. So, you save a few dollars and you are immersed in culture, too!
Workaway or Volunteer. There is a reasonably active workaway community here with loads of opportunites! Volunteering in French Polynesia is one way to give back a little, save some money, and get a more authentic and genuine travel experience. Finding some work on a boat (cleaning, maintenance, whatevs) is also pretty straightforward and a nice way to explore these beautiful isles.
Sometimes eating out is cheaper. Prepare to cringe at five dollar cans of beans. Yikes. Luckily, there is usually some reasonably priced street food – especially in Tahiti, Moorea, or Bora Bora.
Baguettes. I know, I've already plugged them, but GOOD bread for 1 euro? This is a big yes. You have a cheap breakfast that pairs well with anything and a happy budget!
Go camping! If you've got a good tent then the wilds of the Pacific are yours for the sleeping in.
Hitchhiking. On the outer islands, with no real public transport, this can sometimes end up as your only option. Anyway, hitchhiking is always a good time!
Hike and surf rather than go on tours. Tours will always eat into your budget. I wouldn't write them off entirely, as the locals know the best diving and fishing spots, and paying them for it is far and away worth it. But, hiking and surfing is free!
Why You Should Travel to French Polynesia with a Water Bottle
Plastic washes up on even the most pristine beaches… so do your part and keep the Big Blue beautiful!
You aren't going to save the world overnight, but you might as well be part of the solution and not the problem. When you travel to some of the world's most remote places, you come to realise the full extent of the plastic problem. And I hope you become more inspired to continue being a responsible traveller.
STOP USING SINGLE-USE PLASTIC! If you'd like some more tips on how to save the world.
Plus, now you won't be buying overpriced bottles of water from the supermarkets either! Travel with a filtered water bottle instead and never waste a cent nor a turtle's life again.
Plastic washes up on even the most pristine beaches… so do your part and keep the Big Blue beautiful!
Officially, the best time to go is from June – August. This is indeed when it is driest and the weather is balmy. But, of course, that's when everyone and their dog is here.
Typically, sailors arrive sometime in April and cruise until June with no problem. The cyclone season doesn't start until November. But, it is rare that a big tropical storm will hit here.
Still, from October, the rain and humidity come. Even in paradise, it is only so nice when you're sweating even when you're in the ocean.
Festivals in French Polynesia
This is by no means an exhaustive list of the festivals in French Polynesia, but they certainly get the party started!
Heiva i Tahiti ~ June 29th ~ July 14th
This is the creme de la creme of festivals in French Polynesia. It begins sometime at the end of June and goes through the first half of July (the dates change annually).
This is several weeks of proud celebration of Polynesian culture. Prepare for music, dancing, and colours! There are dance competitions, outrigger canoe races, glorious food, and all kinds of celebrations!
July 14th is Bastille Day. Usually, this gets incorporated into the festivities somehow. It's a happy time to be in French Polynesia – but especially in Papeete.
Hawaiiki Nui Va'a – October 19st – 21st
This is the most epic race over the seas! Outrigger canoes that are known as va'a assemble in Huahine and race 126 kilometres over three days.
There is no crew change out on the high seas, just endurance and determination. Of course, at the other end of the course, there is a big ol' party!
Tahiti Carnival – sometime in October
The dates on this change year to year. But like the Carnival counterparts in Central and South America, this is the time when all bets are off.
A bitta madness, a few masks, and a lot of dancing is about to commence! It's pretty special to be able to have a cheeky blaze, don a mask, and take to the street party with the best of them!
What to Pack for French Polynesia
Crime, in general, is pretty non-existent in French Polynesia. I mean, that's not to say it's impossible. Don't go out of your way to dangle your nice new watch in front of people.
But generally, kidnapping, terrorism, and even petty theft are not a big concern. Still have your wits about you though, as you would anywhere.
However, it is a remote destination and so if shit does hit the fan it can be hard to get to help in time.
There is a good hospital in Tahiti. But if you're windsurfing out in the whops, it's a long damn sail, or flight, to get help. That's not to say you shouldn't windsurf out in the whops – just be prepared!

Sex, Drugs, and Rock 'n' Roll in French Polynesia.
All manner of drogas are very illegal here. It's also the islands, so it's not easy to transport delightful little bits of powder out there. That being said, the upside to this being a playground for the rich and famous is that everything is available – for a price.
However, the islands are nice and warm and lend themselves to growing delectable pakalolo (weed). Honestly, weed is pretty easy to source and it's not bad quality. Nothing quite beats a cheeky smoke on a deserted beach. Dude, the tropics were just made for getting blazed.
Papeete and Moorea have their share of bars and even a couple of nightclubs. That's not where the party is at though. The party happens inside people's homes – or on their yachts.
So, if you so choose, you can find whatever you need to delight your senses and watch the sunrise tripping balls on your new friend's old boss's superyacht. Noice.
Travel Insurance for French Polynesia
World Nomads' mission is to support and encourage travellers to explore their boundaries. They offer simple & flexible travel insurance, and safety advice to help you travel confidently.
They've been doing it since 2002 – protecting, connecting, and inspiring independent travellers just like you.
Get a quote below or read our in-depth review!
World Nomads provides travel insurance for travelers in over 100 countries. As an affiliate, we receive a fee when you get a quote from World Nomads using this link. We do not represent World Nomads. This is information only and not a recommendation to buy travel insurance.
Entry Requirements for French Polynesia
This slice of paradise is a French territory. So, all you EU passport wielding backpackers can simply turn up and get waved through the gate. For a lot of travellers, it is similarly simple; you just need a stamp to say 'I was here'.
That being said, the usual business applies here: you need a passport with more than six months validity and some patience to deal with bureaucracy. You can usually stay in French Polynesia for 90 days free of charge as long as you have proof of an onward flight and sufficient funds in the old bank account.
I don't know how carefully the airport security checks these things, but those arriving by sea need to make sure they've got their house in order. Some jaded officials are a little sick of broke-ass sailors, so show them what they want to see.
I'm not telling you it's a good idea, but you can find or create proof of onward flights without actually buying said flights. (Maybe that's why they get so sick of broke-ass sailors!)
For a country that is mostly ocean, there sure is a distinct lack of boat travel. That leaves you with two options for inter-island travel: your own boat, or flying.
Once on the islands, you can ride a bike, stretch your legs and walk, rent a car/scooter, and occasionally take a bus.
Travelling by Bus in French Polynesia
Papeete has a brand spanking new bus service that loops around the island. It is easy to use and costs around $3USD (depending on where you want to get on/off).
It is not the cheapest way to get around but it is cheaper than using taxis, for example. None of the other islands has regular bus services – not even Moorea or Bora Bora.
Some buses service the ferries and the cruise liners. It is always amusing – if not very practical – to jump on one of these for the day and pretend you're part of the cruise.
Public transport really isn't a 'thing' the further out you get from Papeete. By the time you are in the Tuamotus or the Marquesas, a bus is more of a foreign concept than stores that are open at lunchtime.
Luckily, the islands are small enough to ride a bike around on or walk. Just lean into island time baby, you'll get there when you get there!
Travelling by Boat in French Polynesia
There is a ferry between Papeete and Moorea and it costs around $15 USD. There are rumours of a ferry between Tahiti and Bora Bora, but when I was there it wasn't possible.
The cargo schooner and cargo ferries do service the outer islands – usually once a month. It is possible to talk your way into being a piece of cargo, but I think the price for this trip would be dependent on your haggling skills. You also would be at the whims of the cargo boat, which starts to run slow even by island time once it gets to the Marquesas.
That leaves your own boat, or your friend's boat, or working on a boat as the other way to backpack French Polynesia by water. Sailing your own boat sounds like the pinnacle of freedom, but you still must contend with the weather and the system of reefs.
The boat just allows you so much more flexibility of travel. Plus, boat life is pretty damn awesome! Most boat-packers arrive in the Marquesas and make a leisurely path south via the Tuamotus, past Tahiti and onwards out of French Polynesia.
Most boat-packers arrive in the Marquesas and make a leisurely path south via the Tuamotus, past Tahiti and onwards out of French Polynesia.
There is a pretty big superyacht scene. So, if you get a qualification like an STCW, there is work to be had onboard a boat.
That being said, working in paradise is not the same as backpacking in paradise. Sometimes it feels like shit smells like shit, no matter how pretty the backyard is. But, working your way through the islands is a great way to make some money, see some damn fine water, and have an epic adventure.
Travelling by Air in French Polynesia
The most common way even for locals to get between the islands is to take a flight. Air Tahiti is the main player in this game, and they are renowned for their good service – as well as leaving on time!
You can get an Air Tahiti Pass for around $600USD (obviously, dependent on where you go). This typically includes four to five islands destinations. While this sounds pricey, it is cheaper than the one-way flights that can be $200USD one way.
This is a nice way to backpack French Polynesia on a mid-sized budget. You can still see several island slices of paradise, not spend too much if you watch where you stay once there, AND French Polynesia from the air is truly something special.
Onwards Travel from French Polynesia
For your visa to be by-the-letter-official, you need proof of onward travel out of French Polynesia.
For the boat bum, that will likely mean sailing on toward either Tonga, Fiji, or the Cook Islands.
If you're backpacking, you could also choose to continue gallivanting about the Pacific, or you could head down under. New Zealand and Australia share some of the mighty Pacific Ocean and are both bloody beautiful places to the backpacker adventuring further through Oceania.
If you aren't quite done with the sun-seeking, Australia could be just what you need! A lifetime could be spent exploring this wilderness, and you still wouldn't see all its beaches!

For you little mermaids, diving in New Zealand is a great opportunity to see how the cold water compares to the balmy tropics.
(Spoiler alert: they're both epic!)
French cuisine meets fresh fish and Polynesia cooking. Mmm, dude, the food here is amazing.
Spearfishing a tasty fish, dousing it in butter and herbs, wrapping it in alfoil, and chucking it in the fire. That's what I'm talking about.
When backpacking it is often cheaper to buy food from the supermarkets and cook it yourself. French Polynesia is one of the rare exceptions when eating out is not always more expensive.
The price of food in the supermarket gets truly eye-watering – especially out in the Marquesas. I'm still having nightmares about those $5 cans of beans.
On the other hand, a serving of poisson crou can be around $8 a plate. This is similar to ceviche in that raw fish (probably caught that morning) is 'cooked' with lime juice and marinated in coconut cream.
There is a surprising amount of cheese in this Polynesian paradise. You never feel the long shadow of colonialism quite so strongly when you order smelly blue cheese in Polynesia. Pair that with one of those 1 euro fresh baguettes and you've got a solid snack.
A hangi is another popular way to eat in the islands. This involves burying taro and some kind of meat in an underground fire pit in quantities enough to feed a village. Put on some music and it's time to be merry into the small hours of the night.
I think I mimed more in French Polynesia than I have anywhere except maybe rural Myanmar. That is because I am uncultured swine who doesn't know how to speak French. I would HIGHLY RECOMMEND learning some French and some Tahitian before going.
Tahitian, Marquesan, Tuamtuan are quite similar languages to each other. They are similar to Maori and Hawaiian, too. So, if you know any Polynesian language, make sure you try out a few phases.
A man who was anchored on the boat next to us could speak Maori and was delighted to be able to shoot the shit with one of the locals we met on our hike. But of course, they are not the same language, so it's worth brushing up on your Tahitian.
If you don't speak any Polynesian, I recommend learning some French. The French just don't want a bar of English! 😉
Polynesian culture is strong out here. Church and the family are very important and community is everything. Be prepared to slow down, say 'bonjour', and talk with everyone on the street.
Of course, there are also strong French influences. It is quite the trip to be drinking wine in the middle of the Pacific waiting for the shops to open after their designated lunch break!

Useful Travel Phrases for French Polynesia
Books to Read About French Polynesia
Sea People by Christina Thompson – How did the earliest Polynesians find and colonize these far-flung islands? It is the story of how a people without literacy or metal tools conquered the largest ocean in the world. It reads like a well paced novel, makes you think, and answers curious questions logically.
Tupaia by Joan Druett – He was an expert navigator who drew a chart of the Pacific encompassing 2,500 miles and locating nearly 100 islands totally unknown to Europeans. This man was also a translator, an artist, a high priest, a brilliant orator, and a most devious politician. He is merely the greatest known Polynesian navigator of the 18th century.
Hawaiki, Ancestral Polynesia: An Essay In Historical Anthropology By Kirch, Patrick Vinton; Green, Roger Curtis – This book reconstructs in extensive detail the Ancestral Polynesian culture that flourished in the Polynesian homeland – Hawaiki – some 2,500 years ago.
Island of Shattered Dreams by Chantal Spitz – This is the first ever novel by an indigenous Tahitian writer. In a lyrical and immensely moving style, this book combines a family saga and a doomed love story, in the period leading up to the first nuclear tests. The text is highly critical of the French government, and as a result its publication in Tahiti was polarising. Ah, I love a good controversy.
Getting Stoned with Savages by J Maarten Troost – I actually nearly peed myself laughing while reading this book. So while it's not strictly about French Polynesia, it does still give good insight into the Pacific as a traveller and as an expat. Plus, it's side-splittingly funny!
A Brief History of French Polynesia
Some of the greatest seafarers in history first arrived in the Marquesas around 200 CE. The Society Islands including Tahiti were thought to be first settled around 300 CE. These seafarers used celestial navigation, swell reading, and other techniques to explore and cultivate new lands.
French Polynesia Today
Today, French Polynesia is considered an overseas collectivity of France. They have their own multi-party democracy with their own head of state.
France has little to do with the day to day runnings of the country. Although, almost everyone speaks French and you can buy blue cheese in the Marquesas.
There have recently been protests regarding the nuclear testing that occurred. Understandably, the Polynesians want firm assurances from France that it won't happen again, as well as an apology and reparations.
I think that coming out to French Polynesia is a unique experience in itself. You end up far-flung out in the middle of the Pacific Ocean drinking French wine and eating ahi freshly speared that morning. However, French Polynesia can rightly claim some of the world's best surfing and hiking so make sure you get out exploring when you're here.
Surfing
Teahupoo is just the tip of the iceberg, or maybe, only the first promissory set of waves. Surfing here really is fucking outrageous! (Excuse my French.) The trade winds and long travelling swells break on reefs in clear, warm waters.
The swell is notoriously heavy, so bring multiple boards and know your limits. You know Mother Moana is ready to humble the cocky surfer. But limits aside, is there anything better than getting up for an early morning surf before retreating to that hammock and a good book all afternoon? Nah!
Plus these breaks are surfed by world pros every year, so you can ride waves in the wakes of the sport's giants. Man, just typing about this makes me wanna get my butt back over there and surf all over again!
Hiking
Volcanic islands thrust upright on the equator and relatively undeveloped land. That means you've got some truly epic peaks to scale.
Mostly, you can just pack plenty of water and get moving. But – be aware – sometimes you 'need' a guide (or you won't be allowed to hike without one). You can use a website like alltrails to get inspiration and route information.
It starts to feel like a primordial fairyland out there, so be prepared to never want to hike anywhere else ever again. Once you've had the good stuff, you just don't want to go back! It's like going from a pair of well-made Birkenstocks to a pair of two-dollar flip flops.
The hiking here will be so good that you'll forever be comparing your weekend hikes to the greatness that you may never see again.
Kite Surfing
For similar reasons that Polynesia has some epic surf, there is also really good kite surfing here. You'll have whole stretches of glorious ocean to yourself to simply catch the wind and try not to break your collarbones.
Kitesurfing is one of those things that I, personally, sort of see as madness. However, those who do it assure me it's one of the best things in the world. In any case, French Polynesia is fast becoming a top destination for kitesurfing for all the same reasons it's famous for regular-ass surfing.
Ah, the dreamy isles of bliss. You can enjoy freediving to the depths with abundant marine life. There are adventures tempered with some good old fashion solitude in the sun.
You don't need to be a Kardashian to live it up in French Polynesia. You can paddle by the yachts of the rich and famous and say 'nice sunset, isn't it?'
The humble backpacker can enjoy the finer things in life here. That is, if the finer things involve morning surfs and afternoons drinking fresh coconuts. Which, of course, they do!
French Polynesia is also a dream come true for boat bums. If you cross the Pacific Ocean, this is likely your first port of call. If mangos rolling down the street, epic diving, and poisson crou aren't the best welcome-to-land treat, I don't know what is!
Plus, there's some real off the beaten path exploring to be done in the outer atolls here. You can slip into a liminal space between society and wilderness. You get to tinker with your tin can while catching fresh fish for dinner every night. It's quite alright, indeed.
You won't find it as cheap as other places in the world, but you will be rewarded with a cornucopia of adventurous travels and slow conversations.
So avast my dear pirates, it's time to sail away (or backpack away) into the South Pacific! Paradise awaits.
---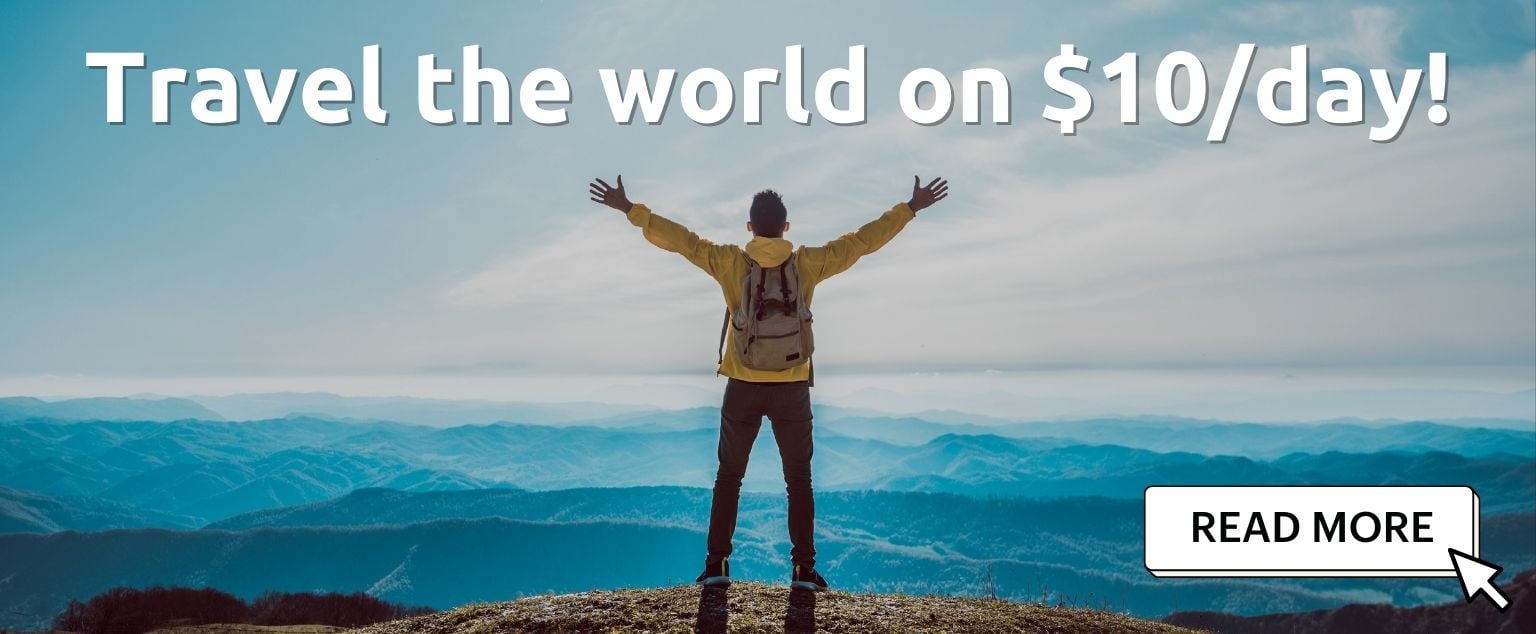 And for transparency's sake, please know that some of the links in our content are affiliate links. That means that if you book your accommodation, buy your gear, or sort your insurance through our link, we earn a small commission (at no extra cost to you). That said, we only link to the gear we trust and never recommend services we don't believe are up to scratch. Again, thank you!