The beautiful pacific region of French Polynesia is one of the most sought-after and luxurious destinations in the world. With over 118 islands within the region, many visitors flock to this unique and well-preserved location to experience the most spectacular diving spots on the planet.
But it's not only diving enthusiasts who visit here. With hundreds of pristine white beaches, incredible marine life that can be seen even from the shore, and deep blue lagoons, it is a true tropical paradise. And because it's far from any other inhabited country, you can find total seclusion if you really want to.
Because there are so many islands to visit in French Polynesia, including tourist favorites Bora Bora and Tahiti taking the center of attention, it can be hard to decide on where to stay in French Polynesia, especially if you want to find somewhere off the beaten track.
Along with this, it is well-known that French Polynesia is not exactly the most budget-conscious destination, primarily offering more exclusive resorts and all-inclusive packages, but that's not to say it should be missed on any backpacking trips.
That's why in this guide I have not only broken down the best islands for all types of travelers but also I have also given you some top tips on budget-friendly places to stay.
Looking for a specific place to stay but don't have much time? These are my highest recommendations for places to stay in French Polynesia!
Best Budget Accommodation in French Polynesia: Bungalow Ofe
Situated on the largest island in the French Polynesia island of Tahiti, lies this cute bungalow which is equipped with an outdoor terrace that presents stunning views over the lagoon. The property is also easily accessible and budget-friendly making it perfect for those backpacking French Polynesia or those with a short layover and are transiting to the nearby islands.
Best Bed & Breakfast in French Polynesia: Pension TUPUNA
Pension Tupuna is located on the shores of the breathtaking Huahine Island and presents some of the most picturesque views in French Polynesia. The bed & breakfast offers 5 bungalows all of which are uniquely designed and are inspired by local artists and craftsmen on the island. The property is surrounded by natural beauty including a spectacular cream-coloured beach along with tropical gardens consisting of mango trees, papaya trees, and orchids.
Located on the honeymoon island of Bora Bora lies the luxurious Four Season Resort. What can be best described as a once in the lifetime experience, the resort offers guests stunning over-water bungalows with views of the magnificent turquoise waters below. Visitors also have access to an incredible infinity pool, outdoor tennis court, and waterfront day spa.
No matter where you stay in French Polynesia you are going to find spectacular beaches and unspoiled natural landscapes. Whether it be vast volcanic mountains, luscious rainforests, cascading waterfalls, or beautiful coral reefs.
Before we get into the best places to stay, let's take a look in more detail at the five best islands to stay in French Polynesia. Each offers something different to visitors, so it's a good idea to familiarise yourself with each islands unique charms to see which neighborhood best suits your interests and needs.
Tahiti is the central hub of French Polynesia and is where the majority of visitors will arrive when they visit the region. Consisting of multiple different neighborhoods, all of which offer beautiful landscapes and incredible accommodation options, Tahiti is the best place to stay in French Polynesia if you're transiting, backpacking Oceannia or a first-time visitor to French Polynesia.
You will almost definitely have heard of the idyllic island of Bora Bora. Famous for its picture-perfect waterfront bungalows and stunning lagoons, the island is the perfect destination for honeymooners or couples with money to spend, looking for a romantic getaway. Bora Bora is a once-in-a-lifetime destination and isn't known to be cheap, so if you want to visit here, you had better save some pennies!
Next up we have the island of Mo'orea. This is the most easily accessible island from Tahiti's International Airport, Mo'orea provides visitors with stunning natural landscapes at slightly cheaper costs than some of its nearby neighbors. It is known for its jagged mountains and hiking trails through the rainforests, as well as epic diving and snorkelling locations. For those wanting a bit of adventure, Mo'orea is the best choice for you.
If you're looking for a true rural paradise that makes you feel as if you have the island to yourself, then you have to head to Maupiti. Almost completely untouched by tourism, the island provides visitors with raw natural beauty, which means no lavish resorts or hotels, just true authentic island-life. Sounds bliss, right?
Finally, we have Huahine, which is arguably the coolest place to stay in French Polynesia. Huahine provides visitors with the perfect mixture of luxurious hotels and resorts but also landscapes that have been little touched by tourism.
Tahiti – Where to Stay in French Polynesia for First Time Visitors
With it being the largest and arguably the best island in French Polynesia, along with being home to the capital Papeete, Tahiti has inevitably made itself one of the most popular tourist destinations in the South Pacific.
Known for its sparkling blue waters, fascinating black volcanic sandy beaches, and lush mountain ranges overlooking deserted coves, Tahiti is a nature lover's paradise.
Tahiti is also primely located amongst the other islands, along with being home to the largest International Airport, making it the perfect stepping stone to many of the incredibly fun things to do in French Polynesia.
Best Bed & Breakfast in Tahiti: Fare Vaima
This deluxe waterfront bungalow is equipped with a beautiful private terrace and pontoon overlooking the ocean. The property is located just a few minute's walk from beachside restaurants and cafes along with being only a 10-minute drive from the international airport. Guests also have access to 2 kayaks perfect to explore the crystal clear waters of French Polynesia.
Best Budget Accommodation in Tahiti: Bungalow Ofe
This cute bungalow is located in a beautiful garden just off the main house and is equipped with a private bathroom and lagoon view terrace. In the evenings, be sure to watch the beautiful pink hues and fabulous sunsets overlooking Mo'orea Island from across the water. Guests are also well equipped with snorkeling equipment, kayaks, and standup paddleboards perfect to explore the nearby lagoon and coral reefs.
The traditional Royal Tahitien is primely located on Tahiti's east coast and boasts top-class facilities including a luscious lawn, outdoor pool, hot tub, and a waterfall cascading over rocks. The property is also just a short distance from a lovely lagoon along with a unique volcanic black sand beach. If you're ever wondering where to stay in Tahiti for an ideal location at a good price, this would be it.
Things to do and see in Tahiti
Visit the black sandy beach and lighthouse at Pointe Vénus.
Catch a wave at Taharuu Beach.
Wander around luscious greenery at Water Gardens Vaipahi.
Explore the spectacular natural beauty of Faarumai Waterfall.
Visit the Robert Wan Pearl Museum.
Explore Papeete Market.
Bora Bora – Where to Stay in French Polynesia for Couples
Undoubtedly the most pictured island in the South Pacific and one of the most sought-after honeymoon destinations in the world, Bora Bora has certainly marked itself as one of the most beautiful islands on the globe.
Located just an hour away from the Papeete airport, the plane journey itself is an unforgettable experience as you cruise over the island's famously translucent lagoon.
Bora Bora is probably the ultimate place to stay in French Polynesia for a romantic getaway, as guests always feel as if they have escaped to a private oasis. It can be difficult for guests to fathom a trip to this paradise island as it regularly tops lists of the most expensive honeymoon destinations in the world.
However, a stay in one of the island's overwater bungalows is a once-in-a-lifetime experience, so if you're willing to fork out for a slice of luxury then this is the ultimate place to do so.
This cute bungalow can be best described as a little piece of paradise with a quiet, elegant, and clean interior. Perfectly located for those who want to experience Bora Bora's spectacular outdoor activities with incredible coral reefs and warm sandy beaches located within walking distance to the cottage.
The beautiful Royal Bora Bora hotel adopts a traditional Polynesian atmosphere which will immerse you in the Tahitian way of entertaining. Located beachside, the hotel offers direct access to the main tropical white sand beach, along with a large tropical garden that has spectacular mountain views overlooking the famous Motu Piti Uu'Uta.
Probably one the most incredible resorts in the South Pacific, The Four Seasons provides guests with serene waterfront bungalows overlooking the sparkling crystal clear waters of the island's famous lagoon. Guests have access to private plunge pools, a serene infinity pool, and free guided snorkelling tours, making it the ultimate place to stay in French Polynesia for those who love being in the water.
Things to do and see in Bora Bora
Visit the beautiful Matira Beach.
Explore the vegetation covered mountain of Otemanu.
Go on an aquabike adventure.
Take a helicopter ride overlooking the nearby islands.
Take a hike to Mont Pahia.
Go on a sunset boat tour.
Mo'orea Island – Where to Stay in French Polynesia on a Budget
Arguably the most visually striking island in French Polynesia, Mo'orea provides travelers with spectacular views of glistening lagoons, jagged mountain peaks, and lush valleys.
The small island epitomizes the South Pacific's reputation of having laid-back vibes with a slow and relaxed pace of life. Guests can spend their days relaxing in the crystal clear waters where you can experience flourishing, colorful coral reefs, unlike many others.
If you want some more adventure, there are many hiking trails that run through the rainforests and across the volcanoes mountain peaks.
With it being easily accessible just a short ferry from the international hub of Papeete, along with being less well-known than its famous neighbor Bora Bora, Mo'orea is the ultimate place to stay in French Polynesia if you're on a budget.
The island is also uniquely shaped resembling a heart and provides an epic view from the sky if you choose the more lavish option to fly to the island.
The Manava Beach Resort is traditionally decorated in the purest Polynesian style and has a wide range of accommodation options, from rooms overlooking luscious gardens to overwater bungalows with incredible views of the ocean. The resort is a travel sustainable property with an onsite Coral Nursery which facilitates the development of marine fauna, preserving Mo'orea's stunning natural beauty.
Best Budget Accommodation in Mo'orea Island: PainaPaopao Backpacker
Looking to explore the epic island of Mo'orea, but are you on a shoestring budget? Then the epic backpacker resort of PainaPaopao is an awesome option. The hostel-style resort is ideally located on the north coast of the island, between two beautiful bays, and is authentically built of wood on stilts.
Best Bed & Breakfast in Mo'orea Island: Breathtaking view | bungalow 2 pers. | pool
This traditional bungalow is beautifully located on a hill with picturesque views overlooking the bay and its crystal, azure-like waters. Perfect for couples or solo travellers as the property can fit up to two guests with a deluxe double bed and private bathroom along with a lush garden making it the perfect place to relax after a day of exploring.
Top things to do and see in Mo'orea Island
Experience the incredible mountain and sea views from Belvedere Lookout.
Visit Tiki Village, the cultural centre of Mo'orea Island.
Go on a boat trip around Cook's Bay.
Get those goggles on and go snorkelling in Lagoonarium de Mo'orea.
Hike up to Toatea Lookout.
Huahine – Coolest Area to Stay in French Polynesia
The relatively untouched two islands of Huahine consist of some of the most spectacular wild landscapes in the South Pacific. From magnificent bays, crystal clear lagoons, lush forests, and quaint villages, Huhaine is the definition of an idyllic paradise island.
For those looking for a unique and raw adventure, then Huahine is the ultimate holiday destination. With little infrastructure and minimal tourists, the island is relatively unchanged by the modern world, creating a peaceful and authentically laid-back atmosphere.
There are also only eight small villages and 5,000 residents on the island which can you make you feel as if you have it all to yourselves.
A trip to Huahine is incomplete without a visit to Fare Beach, arguably one of the most stunning beaches in the world, featuring dazzling white sands and turquoise-blue waters.
Best Budget Friendly Accommodation in Huahine: Bungalow near the beach
This beachfront bungalow is the perfect place to stay in French Polynesia if you want an authentic and relaxed experience. The property epitomizes Huahine's laid-back vibe with a cute outdoor swimming pool and garden, along with a rustic wooden interior.
Best Bed & Breakfast in Huahine: Pension TUPUNA
Pension Tupuna is situated in a quiet location, on the shores of Port Bourayne Bay and is one of the most picturesque places on the island. Guests have a choice between 5 bungalows, all of which have been built from trees cut here and are designed from crafts and local products.
The authentic and mystical Maitai Lapita Village provides guests with the perfect mixture of luxury and tradition, with thatched-roof villas and top-class facilities. The hotel is nestled between a lake and the lagoon, on an ancient archaeological site where Huahinean ancestors once lived, giving guests a unique and historic stay.
Things to do and see in Huahine
Visit the paradise beach of Plage Hana Iti.
Go snorkelling at Maro'e Bay.
Have a bite to eat on the beach at Motu Murimaora.
Take a boat trip with Huahine Dream Tours.
Visit Motu Mahare.
Maupiti – Best Off-The-Beaten Track Area to Stay in French Polynesia
The hidden treasure of Maupiti is the ultimate off-the-beaten-path adventure. Nestled away from heavy tourism the tiny island is just 10.5 km squared and boasts beautiful natural landscapes including vast cliffs and luscious mountain ranges.
Although Mautipi is small, you won't be short of things to do. Take a road trip around the island on its only road stopping off at archaeological remains, spectacular viewpoints, and gorgeous beaches.
The island's rural location and small size mean there are no hotels and the accommodation options available are limited with Maupiti only accommodating up to 100 tourists. This can make planning a trip to the island a bit more challenging, but if you go, you will be sure to have an unique experience!
This rustic lodge boasts laid-back vibes and is only a 10-minute walk to one of the island's best white sandy beaches. Guests are provided with spacious rooms with deluxe beds equipped with mosquito nets.
This large guest house is perfectly located to explore the island and its incredible activities on foot. Guests can enjoy the beauty of lagoons or watch whales at the island's Maupiti diving club or perhaps indulge on traditional Polynesian meals. Fitting up to 6 guests the home is the perfect place to stay in French Polynesia for families.
The basic but clean rooms of this home are perfect for budget-conscious travellers! The property is primely located just 50 metres away from the island's beach, which hosts some of the best sunsets on the island. The hosts pride themselves and their property on having a welcoming and authentic atmosphere.
Things to do and see in Maupiti
Go on a snorkelling trip at Terei'a Beach.
Explore Motu Tuanai.
Hike up to Mt. Teurafaatiu Summit.
Visit Te'urafa'atiu.
Take a dip in Motu Auira.
ALWAYS sort out your backpacker insurance before your trip. There's plenty to choose from in that department, but a good place to start is Safety Wing.
They offer month-to-month payments, no lock-in contracts, and require absolutely no itineraries: that's the exact kind of insurance long-term travellers and digital nomads need.
SafetyWing is cheap, easy, and admin-free: just sign up lickety-split so you can get back to it!
Click the button below to learn more about SafetyWing's setup or read our insider review for the full tasty scoop.
French Polynesia is without a doubt one of the most unique travel destinations in the world and its rural location makes it even more special. From world-class diving, dazzling sunsets, picturesque viewpoints, and incredible white, sandy beaches, it is the perfect spot to escape from the daily grind and unwind.
If you weren't sure on where to stay in French Polynesia before, I hope this guide has helped narrow down the best places to stay that fit your wants and needs. In case you're still not sure, here is a quick summary…
If you're looking for a place with more tourist infrastructure with plenty of restaurants and lavish resorts then picking either Bora Bora or Tahiti is probably your best bet.
On the other hand, if you're looking to head off-the-beaten-path then Maupiti and Huahine will provide you with a luscious getaway away from the crowds.
Finally, if you're wanting to save some cash then the easily accessible island of Mo'orea is a great option, plus there's plenty of hiking trails and diving spots for the adventurous traveler too!
Did you find what you were looking for? Let me know in the comments.
---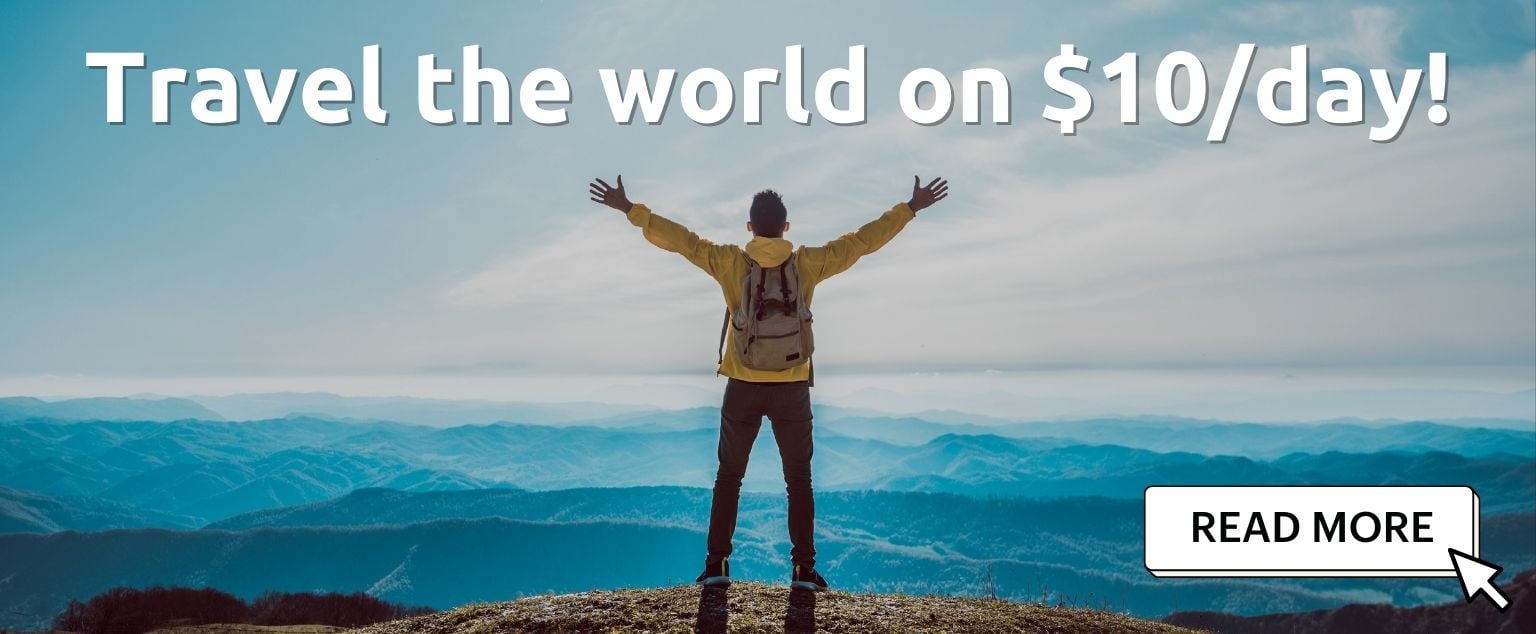 And for transparency's sake, please know that some of the links in our content are affiliate links. That means that if you book your accommodation, buy your gear, or sort your insurance through our link, we earn a small commission (at no extra cost to you). That said, we only link to the gear we trust and never recommend services we don't believe are up to scratch. Again, thank you!