Ho Chi Minh is a wholly unique city where you'll feel as if you've stepped into another world from the moment you land. It's always busy and noisy, the streets are frankly terrifying for tourists, and the food is strange and almost always delicious. When you travel to Ho Chi Minh, you'll walk away changed, it's just unavoidable.
But this isn't always the easiest city to explore. Everything is different in Ho Chi Minh, from the language to the food and even the way you cross the street! To help you navigate this strangeness and stay alive while you explore all the historical and beautiful places to visit in Ho Chi Minh, make sure you take this easy guide along with you.
The Best Places to Stay in Ho Chi Minh
Ho Chi Minh is one of the best places to visit in Asia if you want cheap food and, more importantly, cheap accommodation. In fact, you'll find a whole range of amazing places to stay in Ho Chi Minh at every price point. To help you choose the best accommodation for you, here are some of the best options available.
When you stay in a hostel, you want to be close to the action, which is why you should stay at the Ho Chi Minh Vietnam Backpacker Hostels Saigon. It's close to the most lively and interesting neighborhoods in Ho Chi Minh and offers both comfortable dorms and spacious private rooms. It's one of the best hostels in Ho Chi Minh if you want to save money for activities, shopping, and food while still enjoying a comfortable bed!
View on HostelWorld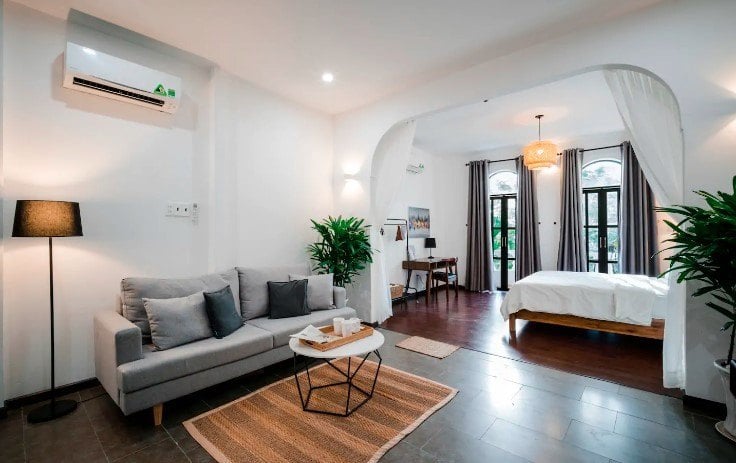 Located in the center of Ho Chi Minh City, this is the best way to experience the city like a local. The apartment is spacious and beautifully decorated.
It also has a balcony where you can watch the everyday lives of Vietnamese people. The kitchen is fully stocked with everything you need to cook at home, but in case you don't feel like cooking, there is an amazing noodle restaurant on the first floor.
View on Airbnb
This budget hotel is located in District 5, which is one of the best places to stay in Ho Chi Minh for food, a lively atmosphere, and easy exploration of the city. The rooms are air-conditioned with a private bathroom, television, and simple furnishings as well as free Wifi. When you're choosing where to stay in Ho Chi Minh on a tight budget, this is a perfectly located hotel that promises both convenience and comfort.
View on Booking.com
Best Luxury Hotel in Ho Chi Minh: Caravelle Saigon
Located in one of the most convenient and interesting neighborhoods in Ho Chi Minh, the Caravelle Saigon offers luxury and style right in the heart of the city. It's located within walking distance from amazing landmarks such as the Opera House, Golden Dragon Water Puppet Theatre, and the Ben Thanh Market. It's an eco-friendly hotel that offers a gym, spa, bar and restaurants as well. So, when you're deciding where to stay in Ho Chi Minh to enjoy the city as well as stylish comfort, this hotel is an amazing choice.
View on Booking.com
Need a place quick? Here's the best neighbourhood in Ho Chi Minh:
Best Area in Ho Chi Minh
Pham Ngu Lao
Known as the "backpacker district," Pham Ngu Lao is an area in District 1 that attracts budget travelers thanks to the low prices for everything from food and drink to accommodation.
Places to Visit:
Join a Vintage Vespa Tour and explore Saigon on two wheels.

Take a day trip out to the Cu Chi Tunnels and learn how the village protected themselves during the War.

Learn about Saigon's troubled past at the Museum of Ho Chi Minh City.
These are the BEST Places to Visit in Ho Chi Minh!
#1 – Giac Lam Pagoda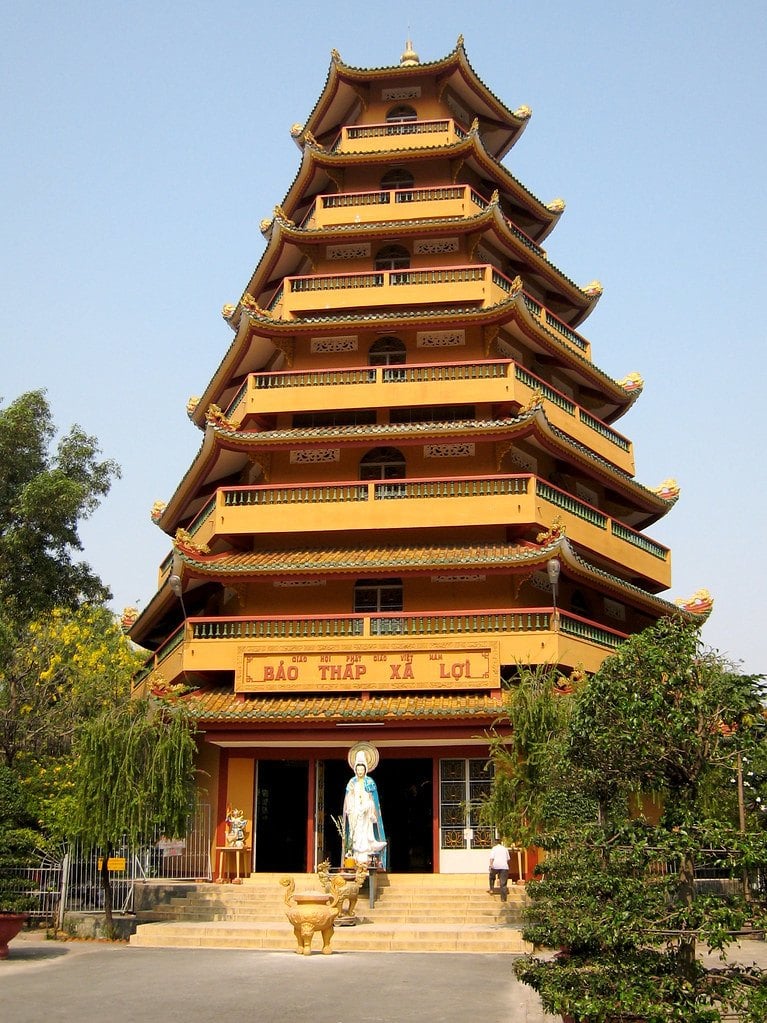 • The oldest temple in Ho Chi Minh.
• The gardens around this pagoda are amazing and deserve lots of attention.
Why it's so awesome: Giac Lam Pagoda was built in 1744 and is the oldest temple in Ho Chi Minh. Brightly colored and cheerful, the pagoda looks amazing set against the lush green trees and gardens that surround it. It looks great in photos and remains one of the best places to visit in Ho Chi Minh if you're looking for some serenity.
What to do there: When you arrive at the temple, make sure you pay attention to the Bodhi tree at the entrance of the temple, which was a gift from a Sri Lankan monk in 1953. The temple itself is beautiful and looks amazing in photos, but don't forget to explore the gardens as well. They include some amazing architecture and have a serene atmosphere which is the perfect antidote to the busy city streets.
#2 – The Central Office
One of Ho Chi Minh's coolest historical sites!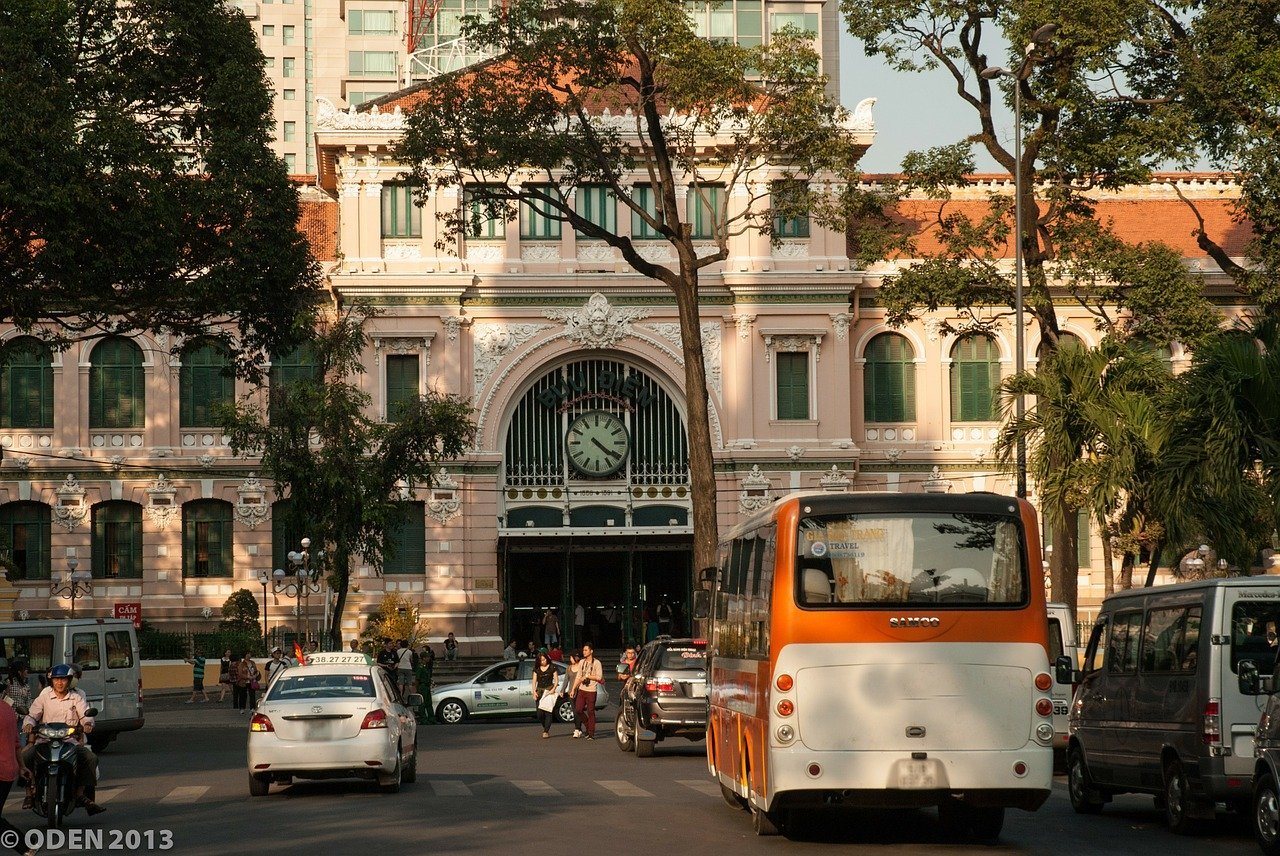 • A slightly strange area to visit, but this is still one of the most important landmarks in Ho Chi Minh.
• Bring your camera with you and marvel at this building, designed by one of the most famous architects in the modern world.
Why it's so awesome: You might think that visiting a post office sounds boring, but this office is a little different. It was designed by Gustave Eiffel, the designer of the famous Eiffel Tower and dates back to 1886. Built in a gothic style, this stunning building remains one of the most striking points of interest in Ho Chi Minh.
What to do there: Take your camera along with you and explore this monument to architecture and French influence. Make sure you go inside as well, as the huge domed roof looks amazing and the walls are adorned with colonial maps that are worth some study.
#3 – The Reunification Palace
• The former home of the president of South Vietnam during the war.
• This building has an important significance to modern Vietnam as it was the place where the North Vietnamese invaded in 1975 and Ho Chi Minh surrendered.
Why it's so awesome: Vietnam's troubled history is very close to the present and you'll feel it everywhere in the city. If you want to learn more about this history, then you need to put this building on your Ho Chi Minh sightseeing itinerary. It's a monument to the Vietnam War and to the end of the war.
What to do there: This building looks the same as it did in 1966 and it carries its history heavily. If you want to gain a really complete understanding of the building and its place in history, then take the free tour. The guide will help you understand the cultural and historical significance of the building to the war and to modern Vietnam.
#4 – Pham Ngu Lao Street
A great place to visit Ho Chi Minh at night
• Ho Chi Minh's bar and café hub.
• This is the best place to visit in Ho Chi Minh for a fun night out with friends.
Why it's so awesome: This is the street where you need to go if you want to have a night out with friends. There are a huge range of bars and cafes in the area where you can sit and relax after a day of walking and sightseeing. Some of the best places to add to your Ho Chi Minh itinerary are located in this area too. So, if you can't afford to stay at these expensive hotels, you can at least enjoy a drink in their luxurious bars.
What to do there: Grab a group of friends and enjoy the friendly, busy atmosphere. You can have a drink, grab a meal, and explore the music and nightlife. Also, make sure that you have a drink at the Rex, the Majestic, or the Caravelle Hotels as they all have rooftop bars. There's nothing quite like having a drink while looking out over the lights of the city.
#5 – The History Museum
A fascinating educational place to visit in Ho Chi Minh
• If you want to go deep into a location, then you need to learn more about its history and this is the place to learn about Ho Chi Minh's past.
• The museum is located in a beautiful garden which provides a nice respite from the busy city.
Why it's so awesome: This museum was once a French colonial villa and the building and grounds still reflect that history. But it's what's inside the museum that's really worth the trip. It contains artifacts that span 4,000 years of Vietnam's history, from Bronze Age weapons and art to pieces from the Cham and Khmer Kingdoms.
What to do there: Put aside a couple of hours to explore the history and art on display at this museum. And when you're done, decompress in the garden and let all that history and artwork sink in and influence how you think about Vietnam and Ho Chi Minh in particular.
The Best Travel Backpack?!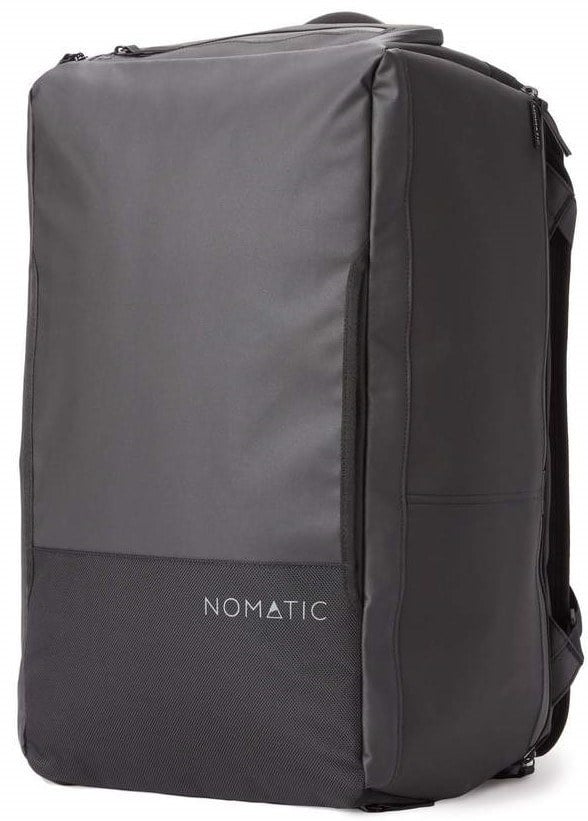 Pssssst! Not picked the perfect travel backpack yet? The Broke Backpacker team has tried out over thirty backpacks this year! Our favourite carry on backpack is the Nomatic Travel Bag.
Read our full review!
#6 – The War Remnants Museum
Possibly one of the most important places to visit in Ho Chi Minh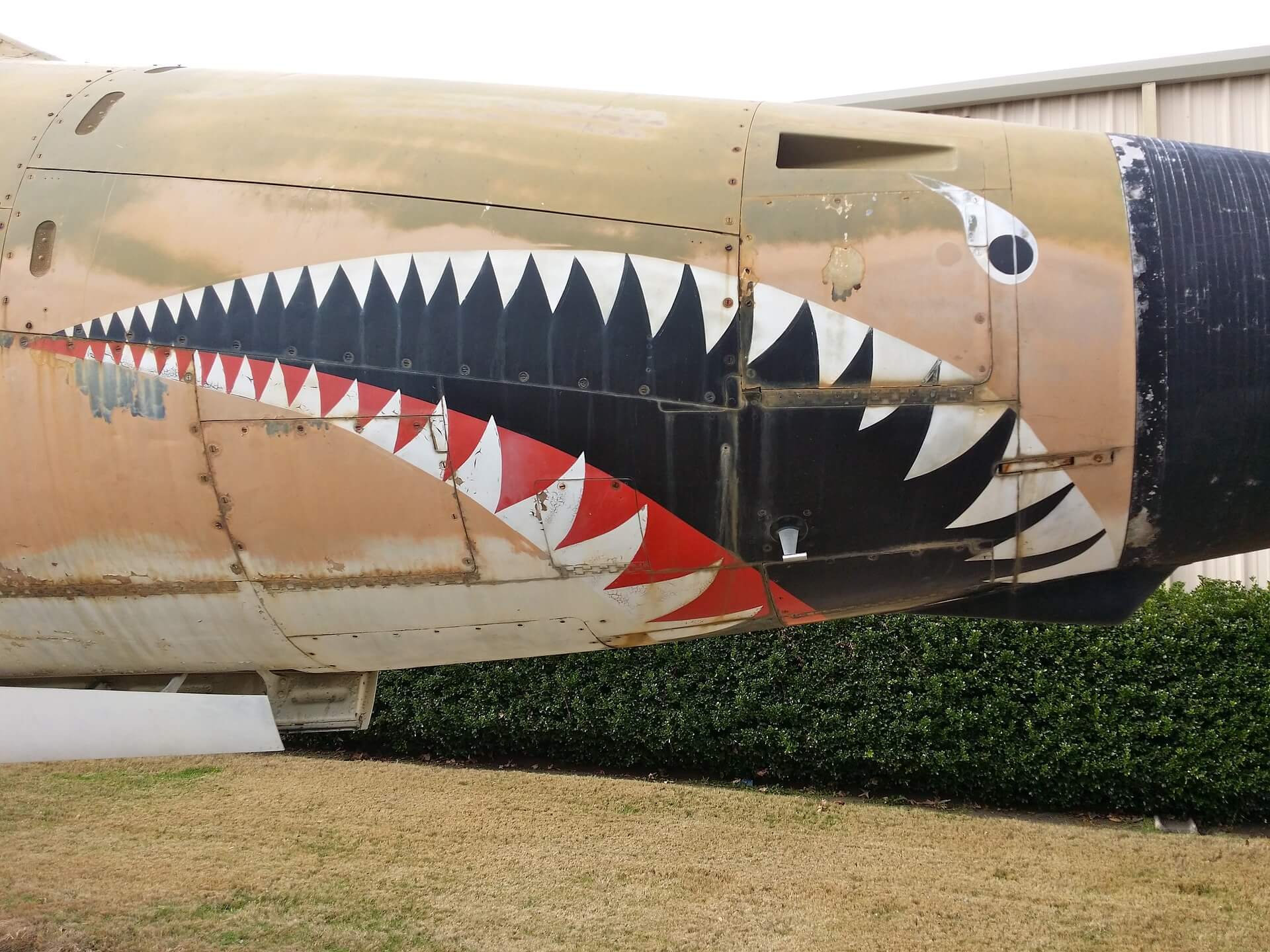 • This is a harrowing museum and definitely not a place to take the kids.
• When you're visiting Ho Chi Minh, it's important that you learn about this part of its history from the local point of view.
Why it's so awesome: Most people in western countries knows about the Vietnam War, but as you backpack around Vietnam you'll think about it from new perspectives you may have never considered. In Ho Chi Minh, this war is often known as the American War, and this museum explores it through this very different viewpoint. It doesn't shy away from the darker sides of the war either, so prepare yourself to have an emotional and harrowing tour through a part of history you thought you knew about.
What to do there: Take your time to explore when you get to this museum, as it will teach you things about the War that you can't find in the history books. You'll get to see a variety of different types of war relics from Huey helicopters to attack bombers and tanks. But even more tragic, the museum includes personal memorabilia from the war's victims as well as old photographs that will take you back to that dark time in history.
#7 – Cu Chi Tunnels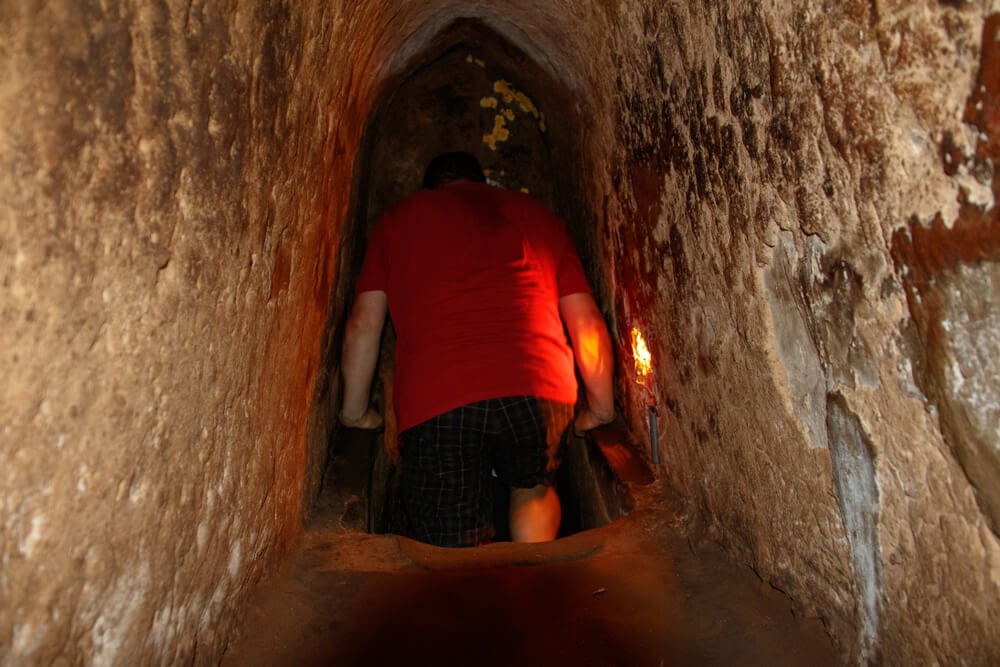 • A slightly terrifying and enlightening look at the past.
• The Cu Chi Tunnels were used by the Vietcong guerrillas during the Tet Offensive in 1968 and they're a stark and frightening piece of the past.
Why it's so awesome: The Cu Chi Tunnels are a series of underground tunnels and chambers which stretch for 30km outside of the city and they were used by the Vietcong guerrillas during the Vietnam War. You can actually crawl through these tunnels now and experience what it must have been like during that time which is an extreme and viscerally important experience.
What to do there: Don't even think about exploring these tunnels if you have claustrophobia as they are very small and dark and frightening even if you don't have trouble with tight spaces. But if you're feeling brave and want to experience this little slice of history when you visit Ho Chi Minh City, take the time to immerse yourself in what it must have been like for those fighters during the.
Quick Note – Staying Safe in Ho Chi Minh
Ho Chi Minh can be a mixed city when it comes to your safety. First and foremost, violent crime against foreigners is almost unheard of, so you'll probably be safe in that respect. And it's also safe for women traveling solo as well. However, Ho Chi Minh has a number of problems with crime that seem to be getting worse with time.
Pickpocketing, bag snatching and theft from hotels are the biggest problems you could experience while in Ho Chi Minh. However, these crimes are usually opportunistic. If you're watchful, keep your belongings close, hide your money when you're out and about, and stay alert and you should be fine. Also, be careful in taxis as they often refuse to use the meter and increase the prices when they see a foreigner. Always insist they use the meter and get out if they refuse.
Much like staying safe anywhere in Vietnam, keeping a close on Ho Chi Minh's notoroious traffic is the biggest safety tip to keep in mind. Crossing the road takes skill and practice. Your best chance of surviving it is to cross with locals, stay close, and do exactly what they do.
Don't forget to sort your travel insurance! We've put together a roundup of the best travel insurance for backpackers, or if you're low on time, get a quote from World Nomads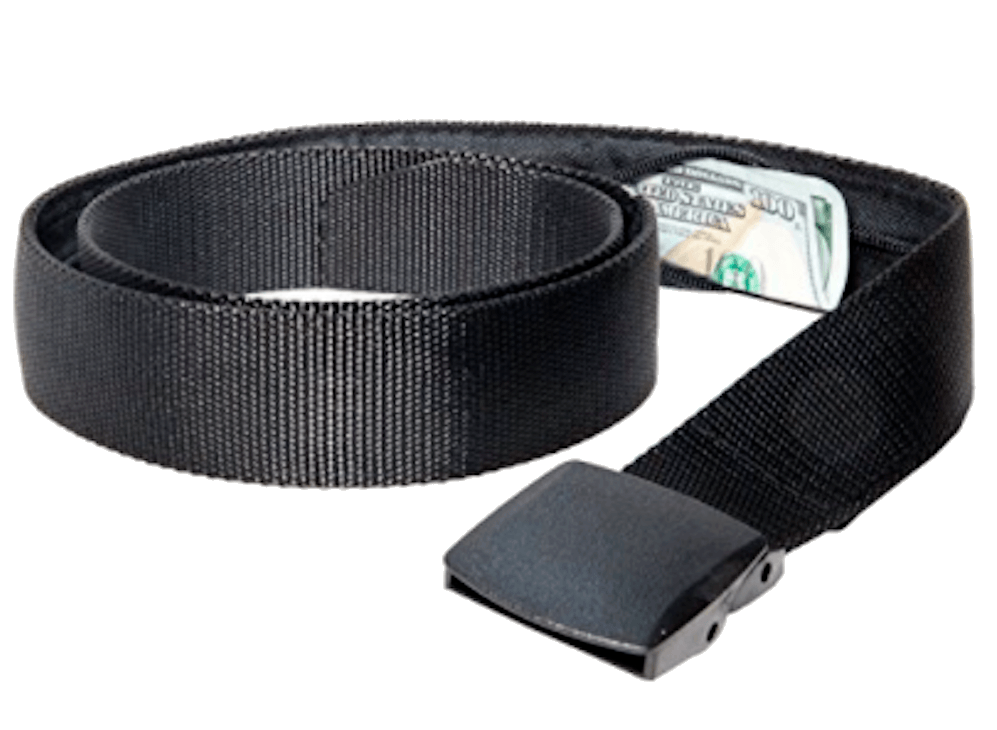 You should always have emergency cash hidden on you - pick up this awesome security belt with its hidden pocket before you travel, it's perfect for hiding money, a passport photocopy.
#8 – Notre Dame Cathedral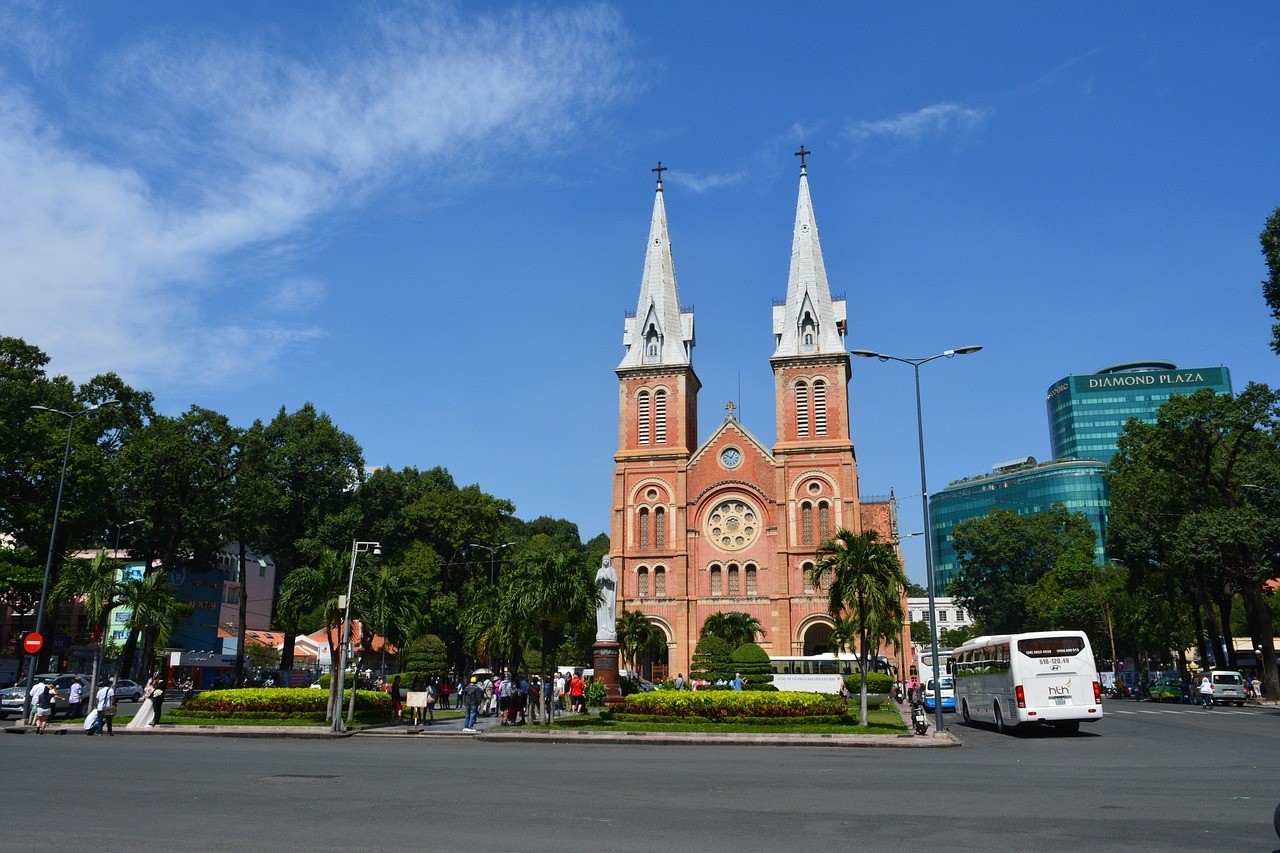 • A stunning neo-Romanesque style that sits like a beacon in the middle of the city.
• This cathedral was built in the 1800s and is in the center of the city, which makes it a great place to start your explorations.
Why it's so awesome: You wouldn't expect to be able to see a building in this style right in the middle of Ho Chi Minh. It's a jarring contrast the buildings around it and that's what makes it one of the most popular points of interest in Ho Chi Minh. Built between 1877 and 1883, the towers are 40 meters high and the inside is lushly decorated with stained glass windows and devotional tablets.
What to do there: The staff at this cathedral are available during the week to teach you all about the history of the cathedral. So, if you want to learn more about significance in Ho Chi Minh's history, make sure you show up during working hours.
Visiting Ho Chi Minh? Don't risk having to sit on the floor or change your itinerary because you missed the last ticket at the station! Find the best transport, best time and the best fare with Bookaway. And why not use what you've saved to treat yourself to a nice convenience-store beer on arrival?
It only takes 2 minutes! Book your transport on Bookaway now and guarantee your seat easily.
#9 – The Mekong Delta
A must visit place to visit in Ho Chi Minh on the weekend!
• This is one of the most densely populated areas in Vietnam and a fascinating mix of cultures and attractions.
• There are lots of tours to this area available in Ho Chi Minh.
Why it's so awesome: Stretching over 39,000 square kilometres, this mass of waterways is densely populated and one of the hotspots in Ho Chi Minh for travelers. The Mekong Delta is about 4 hours from the city, which makes it the perfect place to visit on an organized tour. The waterways are filled with floating markets, homes, and schools and you simply can't miss what all this looks like when it's arranged around rushing water.
What to do there: If you have limited time to stay in this beautiful area of Vietnam then it's probably best that you find an organized tour. That way you have the transport organized for you as well as a guide who can show you the best places.
#10 – Cao Dai Temple
• Possibly the most beautiful Cao Dai temple in Vietnam.
• This religion integrates other major religions into its doctrines, which is why the mix of religious statues inside the temple are the main draw for tourists.
Why it's so awesome: Cao Dai is a relatively new religion established in Vietnam in the 20th century. It's a monotheistic religion that integrates aspects from all the major religions within its doctrines. There are several Cao Dai temples in Vietnam, but the temple in Ho Chi Minh is said to be the most beautiful in the country.
What to do there: This temple looks amazing in pictures, so make sure you take a few selfies outside. Once you're inside, you'll find ornately carved dragons and a dazzling mix of religious statues that are from sometimes opposing religions but nonetheless look amazing together. Make sure you examine the effigies of Brahman, Buddha, and Christ in particular because they're reflective of the inclusiveness this religion is known for.
#11 – Bitexco Financial Tower
• One of the best places to visit in Ho Chi Minh for amazing views!
Why it's so awesome: This tower was designed by Carlos Zapata and reaches 68 storeys in the air and 262 meters. The building was designed to resemble a lotus bulb and there's a sky deck on the 48th floor where you can take in the views of the city.
What to do there: Try to get to the tower at sunset for amazing views of the city against the colorful sky. You can also grab a drink at the rooftop bar if you want to sit and relax against the backdrop of that stunning vista.
#12 – Ben Thanh Market
A must-see for foodies!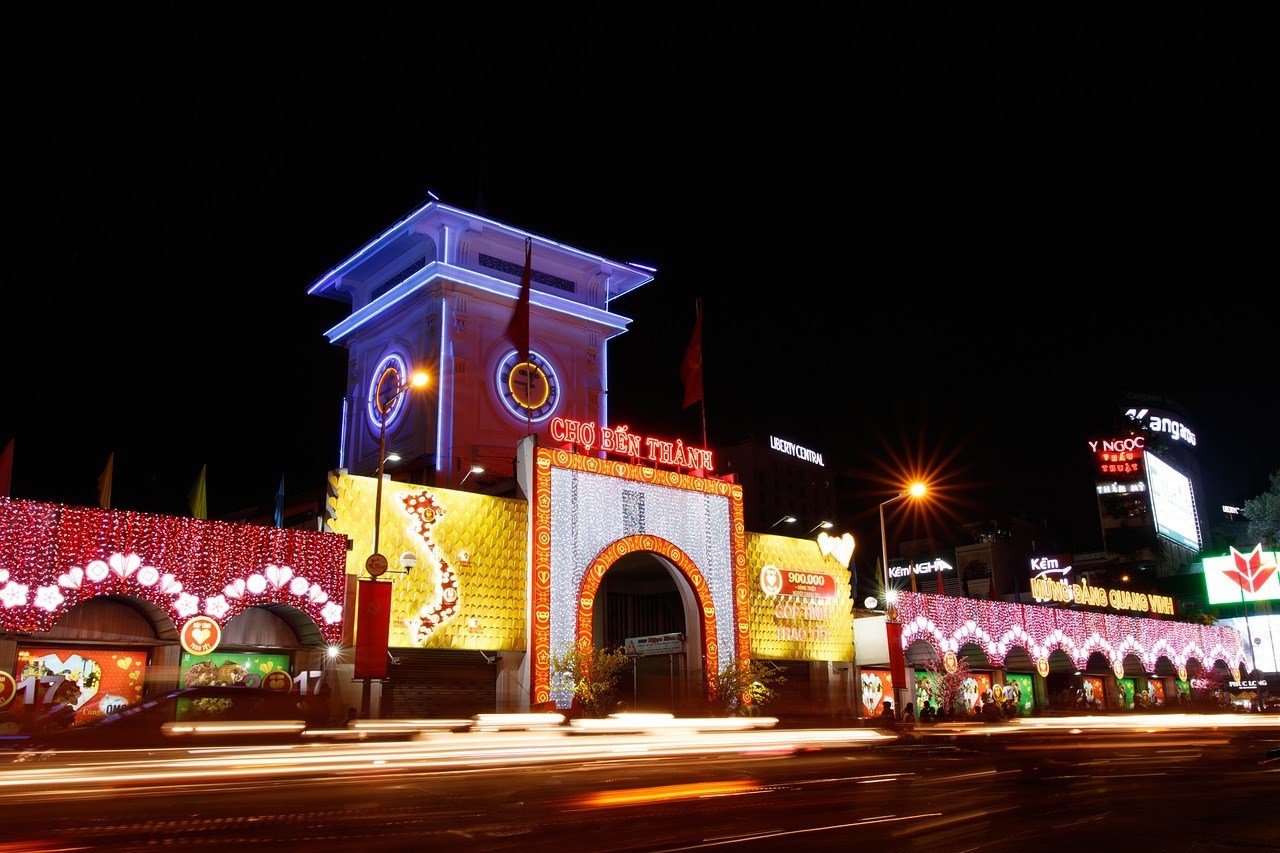 • This is the best place to visit if you want to try eating everything!
• Make sure that you bargain hard when you want to buy something at this market, it's both expected and necessary to get a good price.
Why it's so awesome: This market is in the center of the city and is one of the most popular landmarks in Ho Chi Minh for shopping and eating. It contains a huge range of world-class street food vendors selling snacks and meals and you can find almost every type of souvenir in the market that you can imagine.
What to do there: When you arrive at the market, spend some time perusing the stalls first. You'll find a dizzying array of ceramics, textiles, and souvenirs for sale and make sure that you bargain to ensure you get a good price. Once you've worked up an appetite, head over to the food sections and try as many snacks as you can fit in your stomach!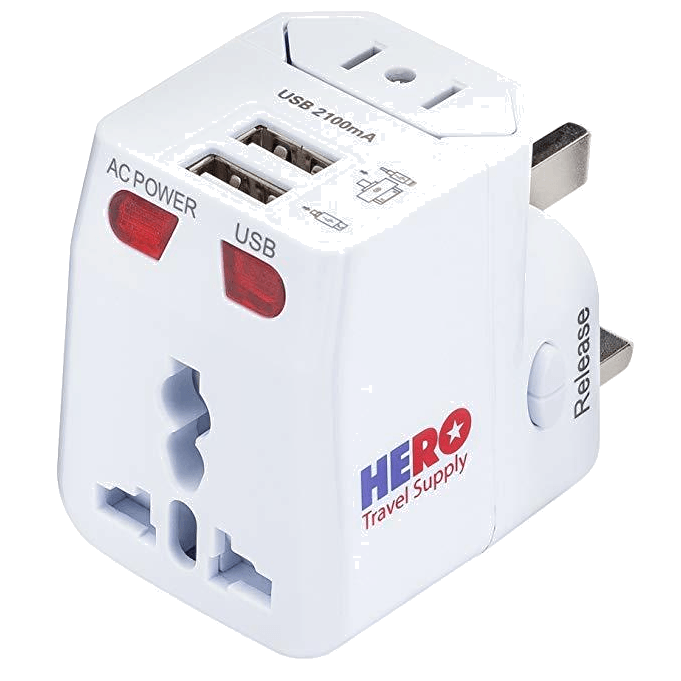 One of the best investments you can make is a
worldwide travel adapter
that will work anywhere! The one featured here is tough, reliable and a solid buy - Don't leave home without one.
GET IT HERE
#13 – Jade Emperor Pagoda
One of the most religious places to see in Ho Chi Minh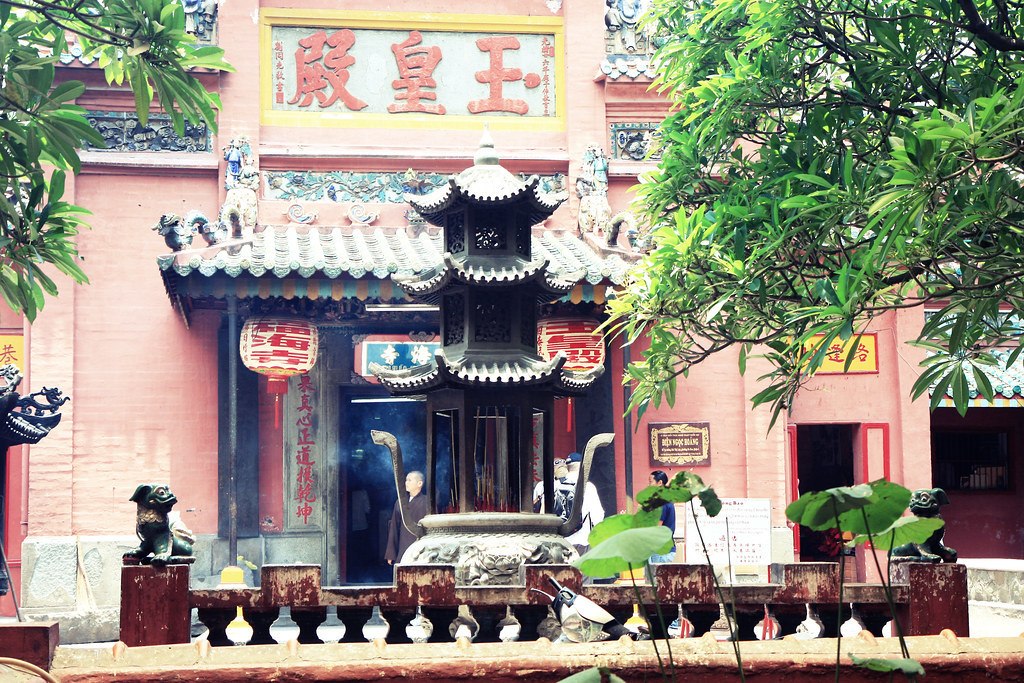 • A working pagoda that includes some of the most stunning imagery and statues in the city.
• This temple is incredibly atmospheric and almost spooky.
Why it's so awesome: This is the type of pagoda that you probably imagined when you were planning your Ho Chi Minh itinerary. It's atmospheric, with the heavy smell of incense and strange, fierce characters glaring at you from the walls. It was built in 1909 in honor of the supreme Taoist God, the Jade Emperor, and is also stunningly beautiful with amazing woodcarvings and a tiled roof.
What to do there: This is a working pagoda, so you'll find people worshipping at the altars and praying at the statues. This means that you need to be quiet and respectful while you explore. Make sure that you explore all the different rooms. The room on the left-hand side of the Jade Emperor's chamber is dedicated to the Chief of Hell and contains the Hall of the Ten Hells. You'll find some amazing and slightly disconcerting imagery in this room.
#14 – The Fine Arts Museum
• A unique opportunity to learn more about Ho Chi Minh's art scene.
• The building itself is a work of art as well, a colonial-era building with lots of period details.
Why it's so awesome: This art gallery is housed in a colonial building from 1929 that includes stained glass, lovely verandahs, and art from the modern and ancient past. Some of the artwork dates back to the 4th century and a lot of it was inspired by the war and its effects on Ho Chi Minh and Vietnam as a whole.
What to do there: If you want to learn more about art in Vietnam, then this is the best place to visit in Ho Chi Minh. Explore the artwork on the walls, but also explore the ground as well. There are some amazing statues scattered around from the 7th through to the 14th century. And if you want to take home a memento of your visit, head to the shop for some great prints for reasonable prices.
Don't forget to pack a good book!
Dispatches: This is our top recommendation for an awesome and inspiring read on this magical city.
Get insured for your trip to Ho Chi Minh!
Remember, when you are traveling you may need insurance! World Nomads are one of the best insurers on the market and we have used them ourselves for years now.
Getting an estimate from World Nomads is simple – just click the button or image below, fill out the necessary info, and you're on your way!

Final Thoughts on the Coolest Places to Visit in Ho Chi Minh
Ho Chi Minh is an exciting, frantic, frenetic city that will change what you think of Vietnam, traveling and the world. There are lots of amazing places to visit in Ho Chi Minh, but the best part of being in this city is actually experiencing its heartbeat, the amazing food, and the local way of life. Ho Chi Minh isn't a city that's easily accessible to tourists. Not a lot of people speak much English and it is definitely very foreign. But it's also a city that will delight your taste buds and your wanderlust. So, if you're looking to get the most out of this experience, this guide should point you in the right direction.
Yay for transparency! Some of the links in this post are affiliate links. This means that if you book your accommodation through the site, The Broke Backpacker will earn a small commission at no extra cost to you. Your support helps me keep the site going.
---
Need More Inspiration?