In this in-depth travel guide, I will be covering everything you need to know about backpacking Ho Chi Minh City.
Having traveled to HCMC quite a bit myself, I'll include useful insider tips on the best things to do in Ho Chi Minh City, how to get around, and more.
Perhaps the single best word to describe Ho Chi Minh City is "overwhelming." The city's never-ending stream of motorbikes can make crossing the street a death-defying adventure, and as Vietnam's largest city, Ho Chi Minh, formerly known as Saigon, is propelling the country into the future while keeping one foot firmly planted in the past.
Ho Chi Minh City is a city of contrasts; on the same street, you can find ancient temples and futuristic skyscrapers, traditional markets and high-end shopping malls.
For a city that was ravaged by a devastating war in the not-so-distant past, HCMC has rebuilt itself as the centre of commerce in a quickly-developing Southeast Asian nation.
While the locals here are optimistic about the future, they never forget their past. Various museums and memorials remind us all of the horrors of war while encouraging us to strive for peace and prosperity.
Backpacking Ho Chi Minh City is an experience you'll never forget. The city's vast array of cultural and historical sights, bustling markets, and raucous nightlife add up to one incredible adventure.
There's enough to see and do in HCMC for weeks on end, so you'll never get bored in this cosmopolitan city.
Best of all, you can do it all on a backpacker's budget and still have a great time. With an abundance of hostels, fantastic street food, efficient public transportation, and beers that only cost a quarter, you can live like a backpacker king when travelling in HCMC.
Are you ready to plan that kickass backpacking trip to Ho Chi Minh City? Well then read on for a massive guide full of useful information on where to stay, where to go in Ho Chi Minh, and how to make the most of your time in the city many still refer to as Saigon.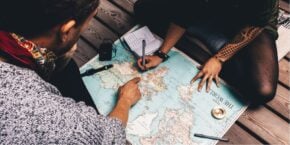 Heading Off-Grid? • Download This Guide as a PDF!
Sign up to The Broke Backpacker's EXCLUSIVE VIP AREA below and download our top backpacking guides as PDFs – go offline with peace of mind!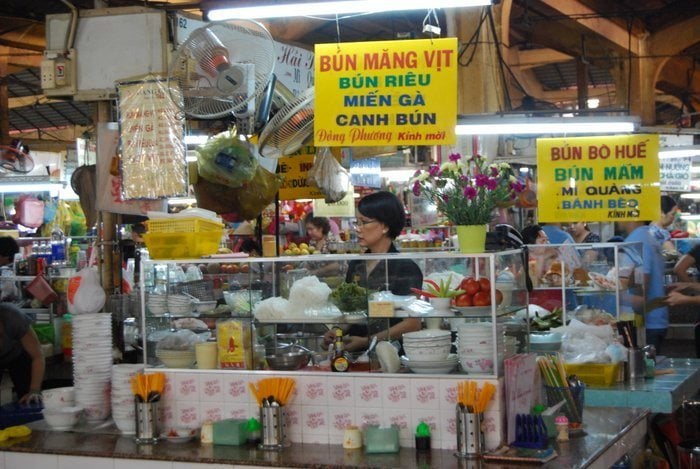 Ho Chi Minh City is an incredibly affordable destination. Seriously, guys, this is one of the best cities for budget backpackers in Vietnam to visit! You can sleep, get around, eat, and even party for pennies on the dollar.
Those backpacking Ho Chi Minh City on a budget can definitely get by on $20-25 a day. Book a dorm bed in a cheap hostel, stick to street food and markets, use public transportation, and take advantage of all the free or cheap activities in the city.
If you up your budget to around $35-40 a day, you can definitely book a double room, rent a motorbike to get around and spend a bit more on food and drinks.
Below is a breakdown of a daily Ho Chi Minh City budget so you can see how far your money goes.
Daily Costs in Ho Chi Minh City:
Dorm bed in a hostel: $5-10
Small basic room for two: $15-20
Airbnb in a private apartment: $30-35
Airport bus: $0.50
Motorbike rental (per day): $6.00
Reunification Palace: $1.75
Street food snack (bahn mi sandwich): $1
Local restaurant for lunch: $2-3
Cup of coffee: $0.50-$2
Local draft beer: $0.25-$0.75
Ho Chi Minh Budget Backpacking Tips
Backpacking Ho Chi Minh City is already a great bargain, but there are always more ways to travel cheaply. Here are a few budget backpacking tips:
Rent a motorbike: Due to the chaotic traffic of HCMC, this is only recommended for experienced riders. If you can handle it, renting a motorbike is the most cost-effective way to explore the city. If not, stick to public transportation.
Eat where the locals are: This is true just about anywhere you travel, but especially true in Vietnam's biggest city. Eating street food or in local markets is super cheap and delicious.
Take advantage of free/cheap activities: There are plenty of things to do in Ho Chi Minh City that are either free or very cheap, including parks, museums, temples, and more.
Drink bia hoi: The local draft beer known as bia hoi costs about $0.25 for a small glass. You can drink several of these beers for less than one imported beer, so pull up a plastic stool and drink up!
Why You Should Travel to Ho Chi Minh City with a Water Bottle
Plastic washes up on even the most pristine beaches… so do your part and keep the Big Blue beautiful
You aren't going to save the world overnight, but you might as well be part of the solution and not the problem. When you travel to some of the world's most remote places, you come to realise the full extent of the plastic problem. And I hope you become more inspired to continue being a responsible traveller.
Plus, now you won't be buying overpriced bottles of water from the supermarkets either! Travel with a filtered water bottle instead and never waste a cent nor a turtle's life again.
Save $$$ • Save the Planet • Save Your Stomach!
Drink water from ANYWHERE. The Grayl Geopress is the worlds leading filtered water bottle protecting you from all manner of waterborne nasties.
Single-use plastic bottles are a MASSIVE threat to marine life. Be a part of the solution and travel with a filter water bottle. Save money and the environment!
We've tested the Geopress rigorously from the icy heights of Pakistan to the tropical jungles of Bali, and can confirm: it's the best water bottle you'll ever buy!
View on REI
Read the Review
IN A RUSH? THIS IS OUR FAVORITE HOSTEL IN HO CHI MINH!
HCMC is massive, with 24 districts in total. As such, it's important to figure out exactly where to stay in Ho Chi Minh BEFORE you arrive; booking a place to stay on a whim is overwhelming (to say the least).
Most backpackers opt for District 1. The most popular area is Pham Ngu Lao, which is full of hostels, street food, and nightlife options. If you're looking for a less wild part of District 1, try finding a place on Dong Khoi Street.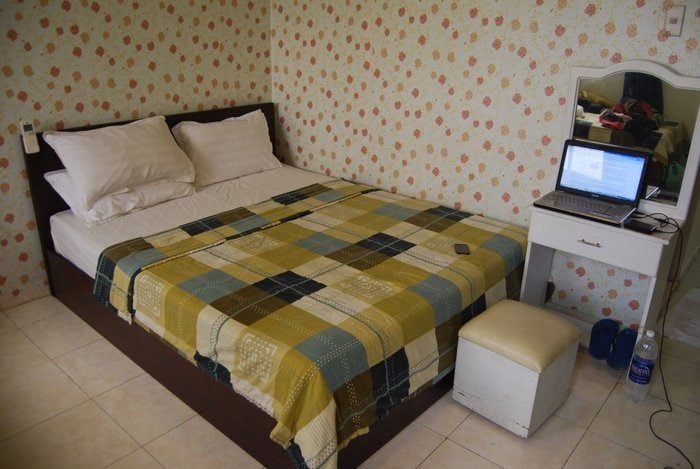 To save you time, I've gone ahead and narrowed it down to the top three hostels – best overall, best party, and best for solo travelers. Booking one of these places means you'll be rolling it the good times with like-minded travelers and may even score a travel buddy for the next leg of the adventure!
Overall Best Hostel in Ho Chi Minh – The Hideout
There are tons of excellent hostels in HCMC, but the best one has got to be The Hideout. They've won the award for the best hostel in Ho Chi Minh numerous times over on Hostelworld, so they must be doing something right!
They have a chill room with plenty of movies, a massage chair, pool table, and computers for guests. Breakfast is free, and you also get not one, but two free beers each night! Why don't all hostels do this?!
Best Party Hostel in Ho Chi Minh – The Hangout HCM
If you're looking to party in Ho Chi Minh City, The Hangout is the place to be! They also offer guests two free beers or a mixed drink every night, which you can grab in their awesome bar that has Jenga, karaoke, flip cup, and plenty of other fun games.
That'll get you nice and ready for their nightly pub crawl, where you also get a free shot. Good thing the beds are comfortable because you'll definitely want to sleep in the next day!
Located in the center of Ho Chi Minh City, this is the best way to experience the city like a local. The apartment is spacious and beautifully decorated.
It also has a balcony where you can watch the everyday lives of Vietnamese people. The kitchen is fully stocked with everything you need to cook at home, but in case you don't feel like cooking, there is an amazing noodle restaurant on the first floor.
Best Hostel for Solo Travellers in Ho Chi Minh – Himalaya Phoenix
Solo traveling in Vietnam? Then go ahead and book a bed at Himalaya Phoenix. Their central location, comfortable rooms, and reasonable prices attract plenty of backpackers.
You'll be a short walk from several points of interest, including the excellent Ben Thanh Market. You're also near the backpacker bars and clubs, but not living in one. This is a great place to stay if you actually want to get some sleep after going out!
Himalaya Phoenix is one of our favourites in Ho Chi Minh but they're not taking guests right now. We're not sure if they're closed for good but we hope they'll come back soon.
1. Visit the Reunification Palace
The most significant place to visit in Ho Chi Minh is definitely the Reunification Palace. Formerly the presidential palace for South Vietnam, this is where Saigon fell to the north in what marked the end of the war. The tank that crashed into the gate is actually on display here.
It still looks like the 1960s inside the palace. Supposedly, they left the place exactly as it was when the war ended. Exploring the Reunification Palace is an interesting experience, and definitely one of the top things to do in Ho Chi Minh City.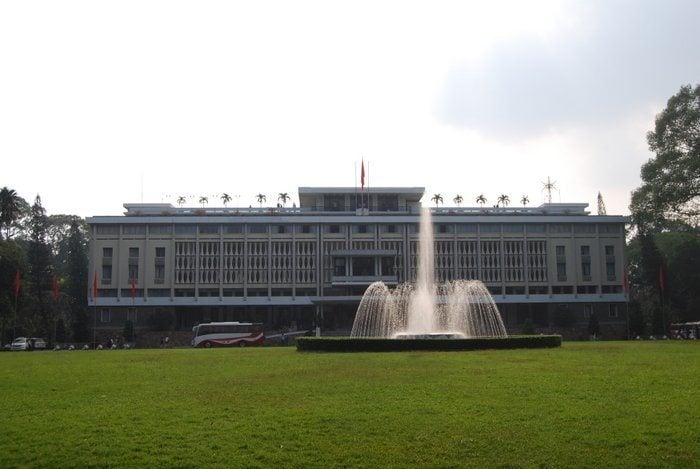 2. Go on a free walking tour
Joining a free walking tour is a great way to get to know any city you visit. They seem to be just about everywhere these days, and Ho Chi Minh City is no different.
Saigon Free Walking Tours has a variety of options to choose from, so sign up and see the city with the help of a friendly local guide.
3. Check out the War Remnants Museum
Visiting the War Remnant Museum is a very somber and, at times, depressing experience, but a must do when backpacking Ho Chi Minh City. They call it the American War here for obvious reasons, and this 3-story museum is packed full of exhibits detailing the horrors of this gruesome conflict.
Not surprisingly, the information in the museum is one-sided. It's a bit similar to the Hanoi Hilton in that regard. Outside of the building, you can see a bunch of American military equipment, including tanks, jets, and helicopters.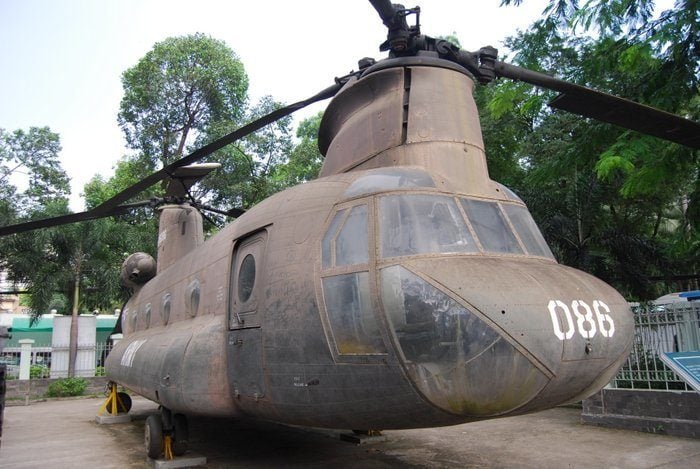 4. Take a stroll on Nguyen Hue Walking Street
There aren't many pleasant places for a stroll in this chaotic city, which makes Nguyen Hue Walking Street such a treat. During the day, you can take in the sights of Saigon's beautiful architecture.
Come here in the evening and you'll see tons of locals out and about, chatting, flirting, and taking an absurd amount of selfies.
5. Chow down at the Ben Thanh Market
If you're looking to indulge in some delicious Vietnamese food, be sure to hit up the Ben Thanh Market. This bustling market is full of vendors cooking up classic dishes like pho and bun cha.
Best of all, you can fill up your belly without emptying your wallet, as most dishes only cost a buck or two. In addition to all the awesome food vendors, this is a good place to shop for souvenirs as well. Just be prepared to haggle!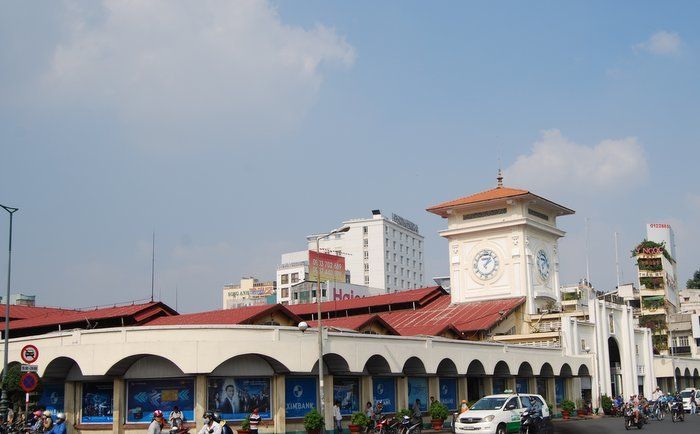 6. See a cultural show at the Opera House
The Saigon Opera House is an attraction in and of itself. This gorgeous theatre is worth a visit even when there isn't a show, but you might as well be entertained! There are a few different cultural shows that go on here, so check the schedule and swing by the box office during the day to pick up some tickets.
7. Visit cathedrals, temples, and pagodas
There are many beautiful religious sights in HCMC, highlighted by the Notre Dame Cathedral. This French-built Catholic Church is free to visit, so go ahead and check it out. While you're over here, you can also pay a visit to the post office.
Be sure to see at least a few of the many pagodas in the city as well. One of the most popular is the Jade Emperor Pagoda, dedicated to one of the highest deities in Taoism.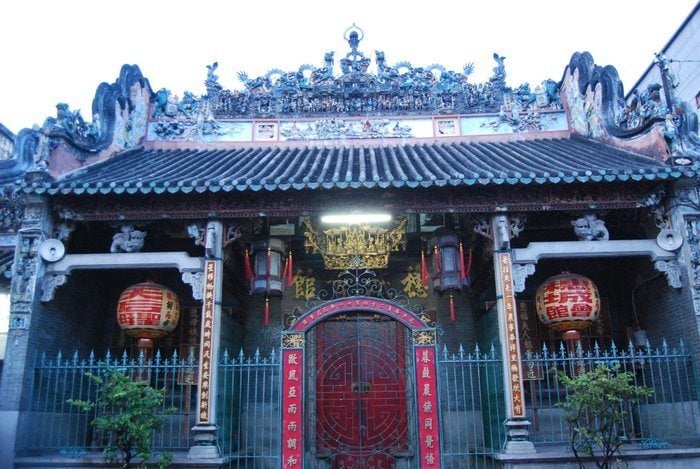 8. Take in the view from atop the Bitexco Financial Tower
One building stands out among the rest in this bustling city, the Bitexco Financial Tower. This massive skyscraper's design was inspired by the lotus flower, Vietnam's national flower.
For an unbeatable view of HCMC, head to the observation deck on the 49th floor. You can also go up to the bar and enjoy an adult beverage to go along with the view.
9. Day trip to the Cu Chi Tunnels
Most backpackers who visit Ho Chi Minh City dedicate a day trip to the Cu Chi Tunnels. This complex system of tunnels was used during the war for a multitude of purposes. Not only were they used to hide from American soldiers, but for communication and supply routes, hospitals, and living quarters.
Just about every tour operator in HCMC runs trips out to the tunnels, so it's not hard to get on a tour. If you're comfortable on a motorbike, you can sign up for an adventure tour to ride out there.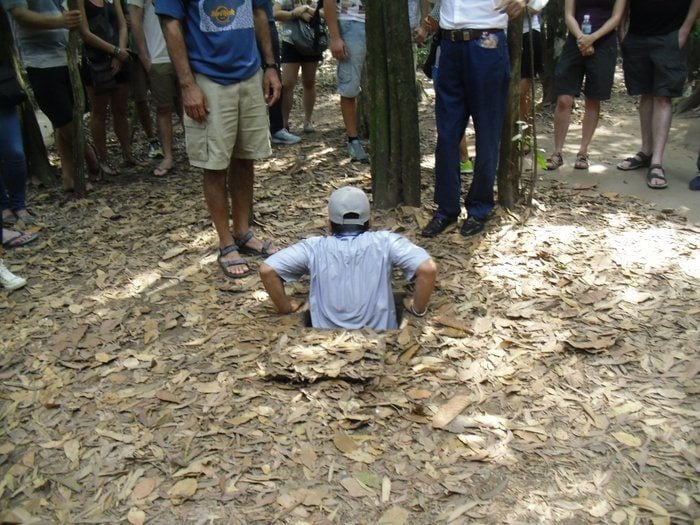 10. Party it up on the Backpacker Street
Commonly known as Backpacker Street, Bui Vien is the place to party in Saigon. Pull up a plastic stool, order a $0.25 draft beer and some snacks, and get ready for a fun night out with fellow travellers and fun-loving locals.
Is This the Best Daypack EVER???
Now that you're more familiar with what to do in Saigon, check out the awesome 3-day itinerary for Ho Chi Minh that I put together below.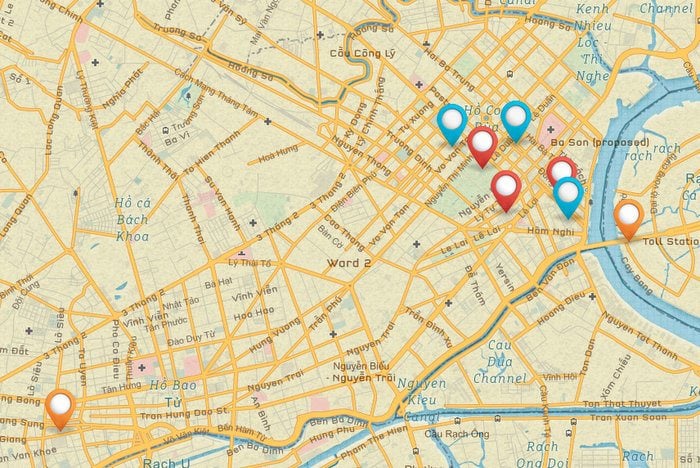 Day One in Ho Chi Minh City: Vietnamese History and Food
The first thing you'll probably notice upon arrival in HCMC is the chaotic traffic. I'm not certain, but I'd bet it's the biggest concentration of motorbikes in the world. Assuming you can manage to cross the street, check into your hostel and head out for your first day in the city.
Before you do anything, I recommend signing up for the Saigon Free Walking Tour for your second day in Ho Chi Minh City. Sign up ahead of time so you'll know if the tour is visiting the Reunification Palace or War Remnants museum. This way you can go to one today and the other tomorrow.
Before hitting the museum, it's time to fill up on some cheap, delicious Vietnamese street food. Head to the Ben Thanh Market and explore the countless aisles of vendors cooking up local classics. Grab a strong cup of Vietnamese coffee with that sweet, sweet condensed milk and you're ready to take on the day.
I'll just go ahead and introduce both museums since you'll be visiting both of them anyway. The Reunification Palace, also known as the Independence Palace, represents the end of the Vietnam War. In 1975 a tank crashed through what was South Vietnam's presidential palace gates to signify North Vietnam's victory.
You can see that very tank on the palace's lawn as you head into the museum. The palace is a very interesting place to explore as it really looks like they left it alone since the end of the war. Tours are available if you would like a guide to explain more about the history.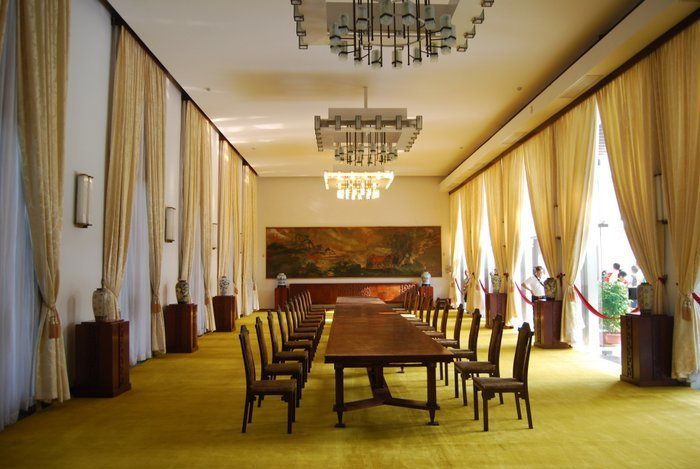 On the other day, you can pay a visit to the War Remnants Museum. Just a word of warning: this museum features some graphic displays and is not for the faint of heart. In my humble opinion, though, it's important to learn about this dark period of human history.
Especially as an American who learned a very one-sided version of the war's history, it was important for me to see the other side. Of course, their version is quite one-sided as well, so I try to find some middle ground to put this disastrous conflict into perspective.
In the evening, you can head to the Nguyen Hue walking street. This rare pedestrian-friendly street is a favourite gathering spot for locals, so it's a great place to people watch. Along the way, you can also admire the architecture; much of it is a remnant of the French colonial days.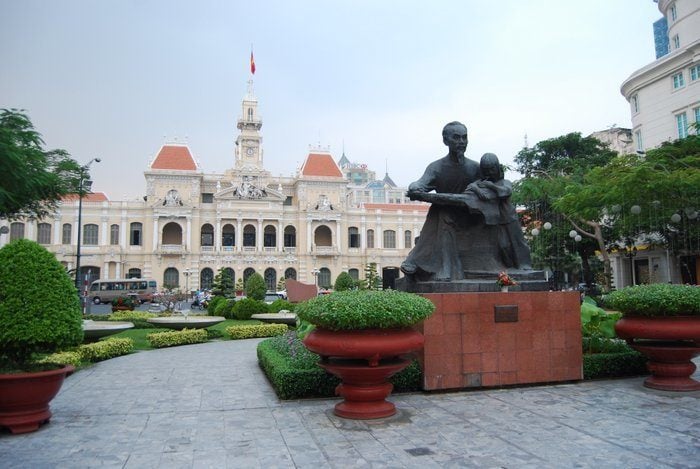 You're spoiled for dinner options in this part of the city, so take your pick. Perhaps you'll walk by a bar with a decent looking Happy Hour or some live music. I'm all about going wherever the night takes me, and you should be too in a city like Ho Chi Minh.
I wouldn't suggest going hard on your first night, but you do you. The nightlife is pretty epic here; just be prepared for an early start to day two in Ho Chi Minh City.
Day Two in Ho Chi Minh City: To the Streets and above
You'll have to get up a bit early to make it to the free walking tour on time. Hopefully, your hostel has free breakfast so you can get moving quickly. If not, you can always grab a bahn mi from a street vendor.
The walking tour starts at 8AM and lasts a few hours. You'll be shown around Ho Chi Minh City by a friendly and knowledgeable local guide. These tours are a great way to get to know more about the city's local culture and history. You'll also make some new traveller friends and get awesome recommendations. Just be sure to leave a decent tip if you enjoy the tour!
As I mentioned already, you'll visit one of the museums from day one as part of this tour. Since it's a free tour and all, you're responsible for buying your own ticket.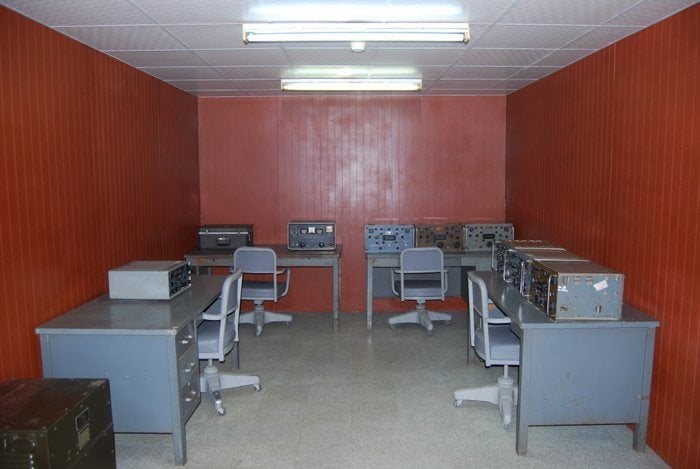 The tour wraps up early in the afternoon, so you've still got plenty of time left in the day. After grabbing some lunch and perhaps a nice jolt of caffeine, you should hit the streets for more sightseeing.
For your afternoon, here are some places to check out in HCMC: the Notre Dame Cathedral, the Saigon Central Post Office, and the Jade Emperor Pagoda. If you're really motivated and move briskly, you can possibly check out all three today.
After a super busy day, it's time to reward yourself with drinks and a view. There are plenty of rooftop bars in Ho Chi Minh City, including the one atop the Bitexco Financial Tower. The lotus flower-inspired skyscraper is hard to miss, so head to the top to take in the panoramic views of HCMC.
You'll probably be quite tired after a full day like this, but if you want to go out consider the backpacker district for cheap food and drinks. Here, you can have a casual night out without spending too much money or energy. Plus, if you want to party you'll be in the right place!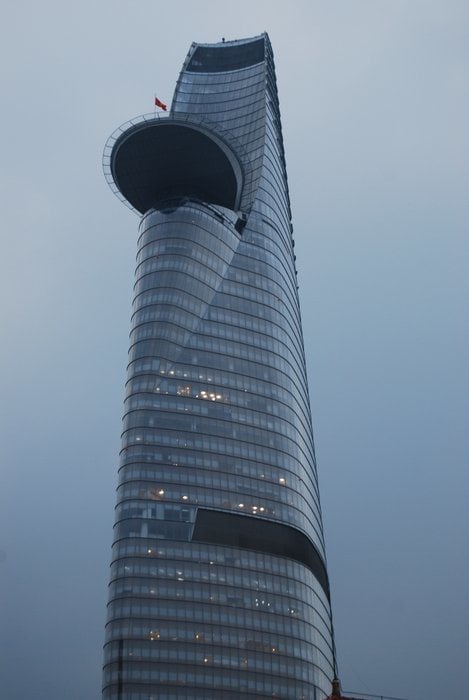 Day Three in Ho Chi Minh City: Choose your own Adventure
Most travelers backpacking Ho Chi Minh City choose to take a day trip out to the Cu Chi Tunnels. Just about every tour operator in the city runs trips here, and you can probably book one at your hostel.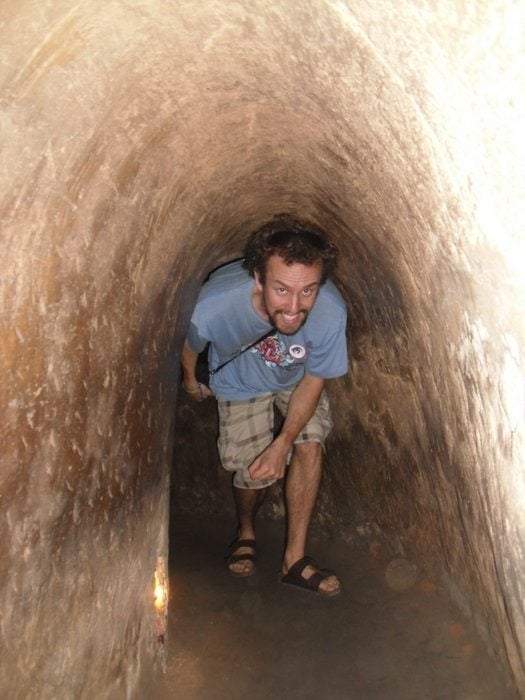 The Cu Chi Tunnels were a crucial part of the Viet Cong's war strategy. They used the tunnels to hide, ship food and supplies, and even as living quarters.
On a day trip, you'll learn all about the tunnels and even get to explore one. It's definitely one of the most interesting things to do in Ho Chi Minh City.
Those who aren't interested in crawling through tiny tunnels may want to spend their final day in the city doing something else. A few options include a Vietnamese cooking class, wandering around Chinatown, joining a river cruise, and visiting art/history museums; the list goes on and on.
One thing's for sure: there is so much to see and do in Ho Chi Minh that you need more than three days to take it all in. At this point, you'll likely want to add a few nights onto your trip.
If you're moving on from the city, go out for one last dinner and some cheeky street beers with your fellow backpackers.
Three days in HCMC is great, but six is even better! We were able to do a lot by staying in the city for almost a week.
Torn? Let us help you make the decision between Hanoi or Ho Chi Minh City with this helpful guide.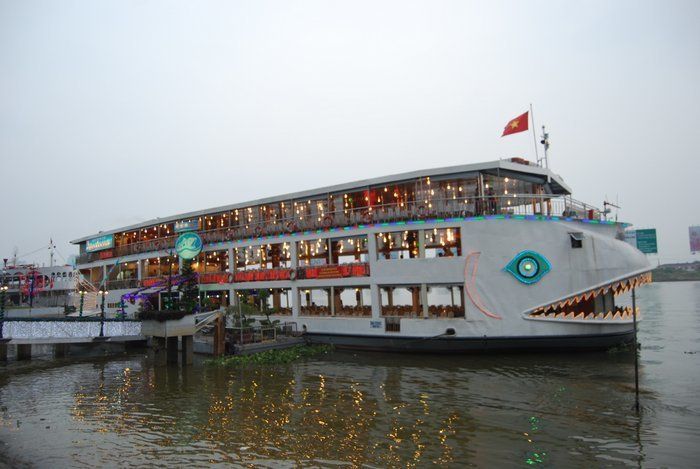 Ho Chi Minh City off the Beaten Path
In a city as huge as Ho Chi Minh, it's not hard to get off the beaten track. Most travellers tend to stick around District 1 where a majority of the hostels, sights, and bars are located. Step outside of this area, and you'll see way more locals than tourists.
When we were backpacking Ho Chi Minh City, we posted on Couchsurfing just looking for people to hang out with. We received a ton of responses and ended up meeting up with super friendly locals on several occasions. Most people here can't offer you a place to crash, but they're happy to meet up and show you around their city.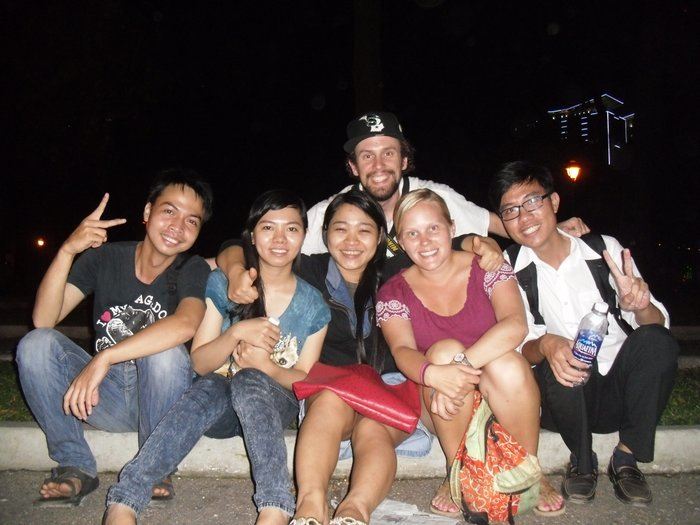 Best Walks in Ho Chi Minh City
There is no denying that Ho Chi Minh isn't the most pedestrian-friendly city. In fact, you will most likely fear for your life on at least one occasion trying to cross the street there. That being said, there are still a few good places to walk in the city:
Free walking tour: The free walking tours run every day and show you some of the highlights of the city. You eliminate the stress of trying to figure out where to go and you make some friends along the way.
Nguyen Hue Walking Street: A pedestrian-friendly oasis in the middle of this chaotic city, this walking street is a very popular place for locals to gather.
Down by the river: Simply walking along the Saigon River is a nice, scenic way to see the city; there are plenty of places to grab a snack or a drink by the river.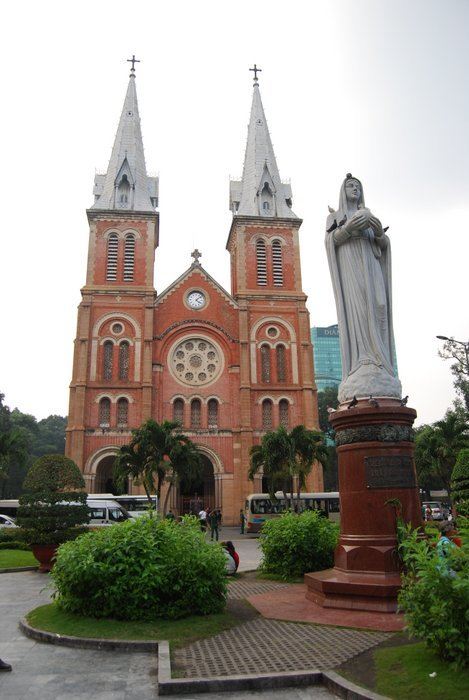 Best Time of Year to Visit Ho Chi Minh City
No matter what time of year you visit HCMC, it will be scorching hot. It's either hot and dry, or hot and wet. December to March are the driest months of the year as well as the busiest months.
Many people visit Vietnam over Christmas and New Year's Eve, so be sure to book ahead if you are travelling during the holiday season.
Speaking of holidays, Vietnam's most important holiday, Tet—Vietnam's Lunar New Year—happens in late January-early February. Many businesses close down during Tet, so keep this in mind. It's a very festive time to visit Vietnam, but not the most convenient.
The rains come from May to November, but usually in short bursts. During the rainy season, you'll be able to fully explore the city, but you might have to take some breaks here and there to avoid being stuck in a downpour.
Getting in and out of Ho Chi Minh City
If you're travelling by air, you'll arrive at the Tan Son Nhat International Airport a few kilometres outside of the city. There are two main terminal buildings, one domestic and one international. It's the busiest airport in Vietnam, often experiencing delays related to congestion.
There are plenty of direct flights in and out of HCMC to other cities in Asia, and even a few to Europe and all the way down to Australia. The best way to get to the city is by public bus. Airport taxi driver scams are very common, so I'd just skip the taxis altogether.
Those travelling overland will likely arrive in Ho Chi Minh City by train, bus, or motorbike. As the country's biggest city, you can go to just about any other region of Vietnam from HCMC.
When you're ready to travel to Ho Chi Minh, forgo buying tickets at the station and book them online instead! You can now book transport in advance for most of Asia using Bookaway and doing so can really save you some stress (and maybe money, too).
How to get around Ho Chi Minh City
Getting around Ho Chi Minh City is definitely an adventure. To say that the traffic here is chaotic is a vast understatement. A metro system has been in the works for several years, but there isn't a single line open yet. As a result, you have no choice but to brave the madness on the roads.
Many backpackers opt to rent or buy a motorbike while backpacking in Vietnam. I wouldn't recommend this to anyone who isn't an experienced rider. If you are comfortable riding a motorbike in this chaos, just be sure to wear a helmet and go with the flow of traffic.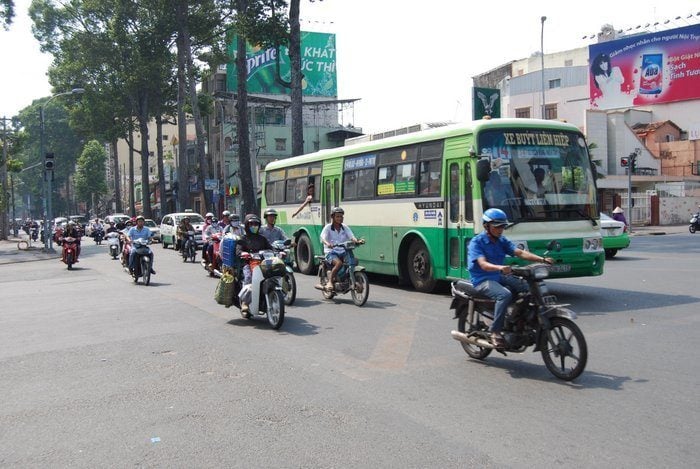 Those who aren't keen on jumping on a motorbike can stick to the city's public buses. They're super cheap and cover all corners of the city, but it can be a bit difficult figuring out the routes. There is also a hop-on, hop-off tourist bus, which is a convenient way to see most of the sights.
Taxi drivers in the city are fine for the most part, but, of course, there are a few bad apples. Just be sure your driver turns on the meter or agrees to a flat fee before you start moving. The app Grab acquired Uber in Southeast Asia, so download Grab for a ride-sharing service in SEA.
Long Distance Trains from Ho Chi Minh City
Taking the train is a popular way to travel across Vietnam. By train, you can travel to the capital Hanoi with several stops along the way. Vietnam doesn't have rail passes or open-ended train tickets, so you'll need to buy separate tickets for each leg of the journey.
My favourite website for finding train timetables and prices is Seat 61. Check them out for a lot of information on train travel in Vietnam.
Use Bookaway to find the best deals on transport – buses, planes, trains, and ferries. It'll save you a load of time when organising transport and you'll probably nab an EPIC DISCOUNT too!
Book your transport on Bookaway NOW. Get the best price for the best ride… then use those savings to buy the best feed in town!
Book Your Transport Here!
Safety in Ho Chi Minh City
Ho Chi Minh City is a pretty safe place to visit for the most part. Unfortunately, pick-pocketing and bag-snatching are rather common. My best tip is to simply be aware of your surroundings and try not to stand out too much. By that I mean don't flash your brand new shiny iPhone or super nice camera in crowded places.
Many thieves in HCMC try to snatch bags off tourists riding motorbikes or getting a ride in a cyclo. While some are tempted to wear their bag around their head, this can actually be very dangerous. If someone tries to snatch your bag you could come tumbling off the bike. I recommend wearing a light jacket or something over the bag so it can't be snatched.
Unfortunately, there are more scams than you can count in the city known as Saigon. From Taxi scams and fraudulent body massages to dishonest shoeshiners who add mysterious charges to your bill, you have to always be on guard here, but this can be seen as the general safety advice for Vietnam regardless.
Another tip for staying safe in HCMC is to be aware of who is counting the money. The 500,000 dong note looks very similar to the 20,000 note, so swapping one for the other is a common scam used to cheat you out of your money. Make sure your money doesn't leave your sight.
Get Insured before Backpacking Ho Chi Minh City
Traveling without insurance would be risky so do consider getting good backpacker insurance sorted before you head off on an adventure.
I have been using World Nomads for some time now and made a few claims over the years. They're easy to use, professional and relatively affordable. They may also let you buy or extend a policy once you've started your trip and are already abroad which is super handy.
If there's one insurance company I trust, it's World Nomads.
ALWAYS sort out your backpacker insurance before your trip. There's plenty to choose from in that department, but a good place to start is Safety Wing.
They offer month-to-month payments, no lock-in contracts, and require absolutely no itineraries: that's the exact kind of insurance long-term travellers and digital nomads need.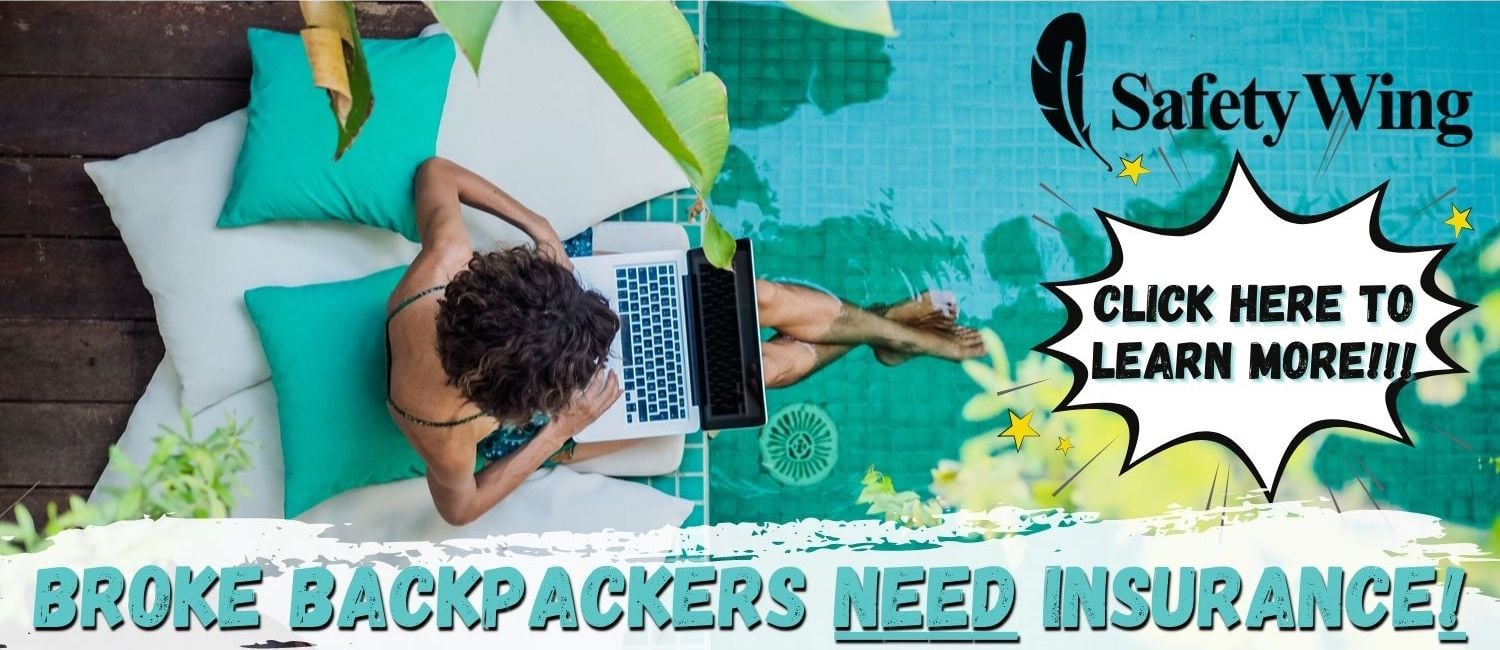 SafetyWing is cheap, easy, and admin-free: just sign up lickety-split so you can get back to it!
Click the button below to learn more about SafetyWing's setup or read our insider review for the full tasty scoop.
Ho Chi Minh City Accommodation Travel Hacks
It's easy to find a dorm bed in a decent hostel for $10 a night or less. You can even find a private room for only $15-20. As you can see, it's already a very budget-friendly destination.
That being said, you can save even more money by ensuring you book a place with free breakfast and/or a kitchen. Lots of budget hostels in Vietnam offer free breakfast in the mornings, beer in the evening, and many also have free activities such as pub crawls or walking tours.
There are plenty of people on Couchsurfing in HCMC, but not that many people can host. It's worth a shot to send out a few requests, especially if you're a single traveller. Even if locals can't host you, many people here are happy to meet up and show you around town.
Eating and Drinking in Ho Chi Minh City
Without a doubt, one of the best things about backpacking Ho Chi Minh City is indulging in the amazing Vietnamese food. Whether it's a tasty bahn mi sandwich from a street vendor, a piping hot bowl of pho in a hole-in-the-wall joint, or regional specialties at the local market, there is delicious food everywhere you go here.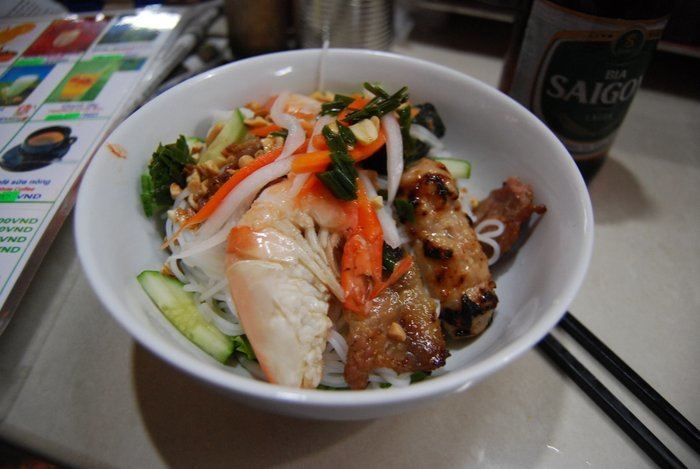 Best of all, if you eat like the locals you'll be able to eat like a king on a backpacker's budget. You'll rarely spend more than a few bucks on a meal in Vietnam if you stick to amazing street food and the markets.
The best way to start your day in HCMC is with a nice cup of strong Vietnamese coffee. Locals like to add a bit of condensed milk to sweeten it up. Coffees are small and cheap in Vietnam, usually only about $0.50 a cup, and there tons of good cafes in the city.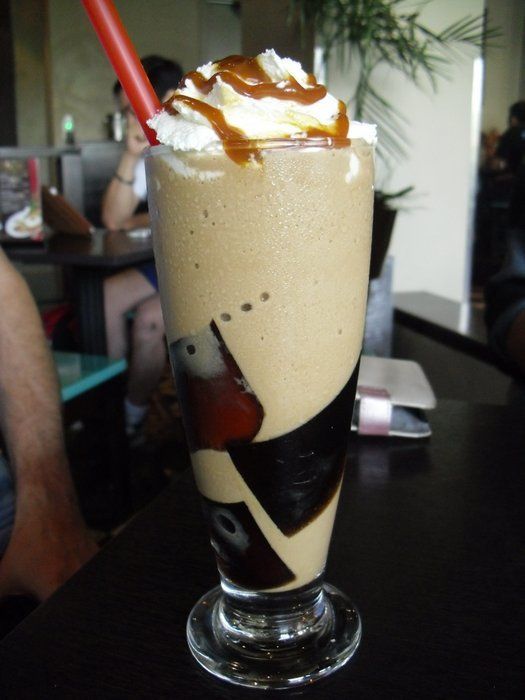 If you're looking for fresh juice, it is not hard to find. Head to the market and take your pick from several different vendors whipping up juices and smoothies. Just beware that they like to add quite a bit of sugar, so tell them you don't want any before they mix it up.
When it comes to booze, HCMC is all about some bia hoi. The local draft beer is everywhere and only costs about a quarter for a small glass. If you're a backpacker looking to party, this is great news. Where else in the world can you go out for a couple beers and not even spend a dollar?
If you're feeling adventurous, you can try some local rice whiskey. The quality varies greatly depending on how and where it was made, so proceed with caution.
Nightlife in Ho Chi Minh City
Once the sun goes down, HCMC turns out to party. This city has great nightlife, with everything from dive bars to classy cocktail lounges and everything in between.
You can have a few drinks and watch the game, check out some live music, or tear up on the dance floor until the wee hours of the morning.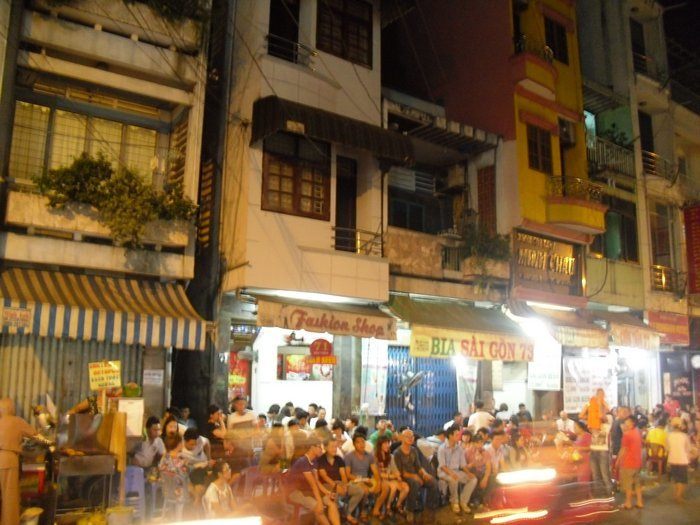 Many backpackers like to party in the Pham Ngu Lao area, which is home to countless hostels and bia hoi joints. There is a party happening on every night of the week. One of the rowdiest places to party here is Go 2 Bar, a huge bar with four floors and a rooftop patio.
If you want to check out a different part of the city for nightlife, head over to District 7. This area is popular with expats and has plenty of great bars. When you really want to get wild in HCMC, head out to one of the massive dance clubs like Bounce on the weekend.
Books to Read on Ho Chi Minh City
Reading about a place you're planning to visit is always fun. It gets you more excited for your trip and you learn something in the process. Below are 5 books and guides to add to your Ho Chi Minh City reading list.
Lonely Planet Vietnam Travel Guide – Plan your trip to Hanoi and the rest of Vietnam with the most recent Lonely Planet guide.
Moon Ho Chi Minh City Travel Guide – This jampacked guide is a great resource to the city.
My Saigon: The Local Guide to Ho Chi Minh City – See HCMC from a snarky local's perspective.
Ho Chi Minh City in 12 Dishes: How to Eat Like You Live There – The title says it all with this one. Read up on 12 must-try dishes in the city.
Volunteering in Ho Chi Minh
Long term travel is awesome. Giving back is awesome too. For backpackers looking to travel long-term on a budget in Ho Chi Minh whilst making a real impact on local communities, look no further than Worldpackers. World Packers is an excellent platform connecting travelers with meaningful volunteer positions throughout the world.
In exchange for a few hours of work each day, your room and board are covered.
Backpackers can spend long periods of time volunteering in Vietnam through Worldpackers while enjoying an awesome place without spending any money. Meaningful life and travel experiences are rooted in stepping out of your comfort zone and into the world of a purposeful project.
Worldpackers opens the doors for work opportunities in hostels, homestays, NGOs, and eco-projects around the world. We've tried and approved them ourselves – check out our Worldpackers in-depth review.
If you're ready to create a life-changing travel experience and give back to the community, join the Worldpacker community now. As a Broke Backpacker reader, you'll get a special discount of $10. Just use the discount code BROKEBACKPACKER and your membership is discounted from $49 a year to only $39.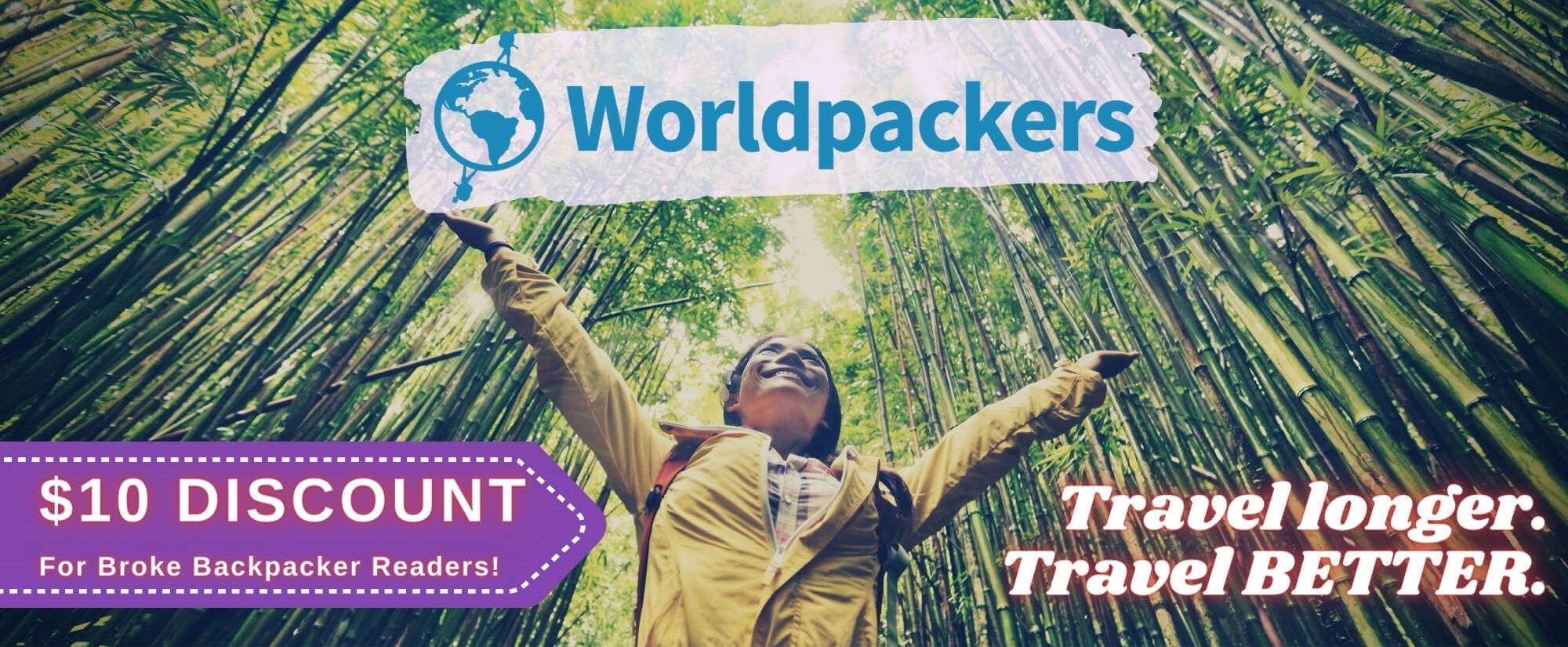 Worldpackers: connecting travellers with meaningful travel experiences.
Make Money whilst Backpacking Ho Chi Minh City
Teaching English online is a great way to earn a consistent income—from anywhere in the world with a good internet connection. Depending on your qualifications (or your motivation to obtain qualifications like a TEFL certificate) you can teach English remotely from your laptop, save some cash for your next adventure, and make a positive impact on the world by improving another person's language skills!
It's a win-win! Check out this detailed article for everything you need to know to start teaching English online.
In addition to giving you the qualifications to teach English online, TEFL courses open up a huge range of opportunities and you can find teaching work all over the world. To find out more about TEFL courses and how you can teach English around the world, read my in-depth report on teaching English abroad.
Broke Backpacker readers get a 35% discount on TEFL courses with MyTEFL (simply enter the code BACKPKR), to find out more, please read my in-depth report on teaching English abroad.
Global Work and Travel is also a viable option for completing a TEFL qualification. You'll do the 4-week course in Ho Chi Minh City where you'll stay in shared accommodation with other TEFLers. They'll also assist you with the pre-departure VISA process and getting a job on completion of the course. There isn't much Global Work and Travel don't help you with so you can't really go wrong!
Once you have your TEFL, there are plenty of English teaching jobs in HCMC and other cities in Vietnam as well. It's actually one of the best up and coming destinations for ESL teachers, and a lot of newbies start their budding careers by teaching English in Vietnam.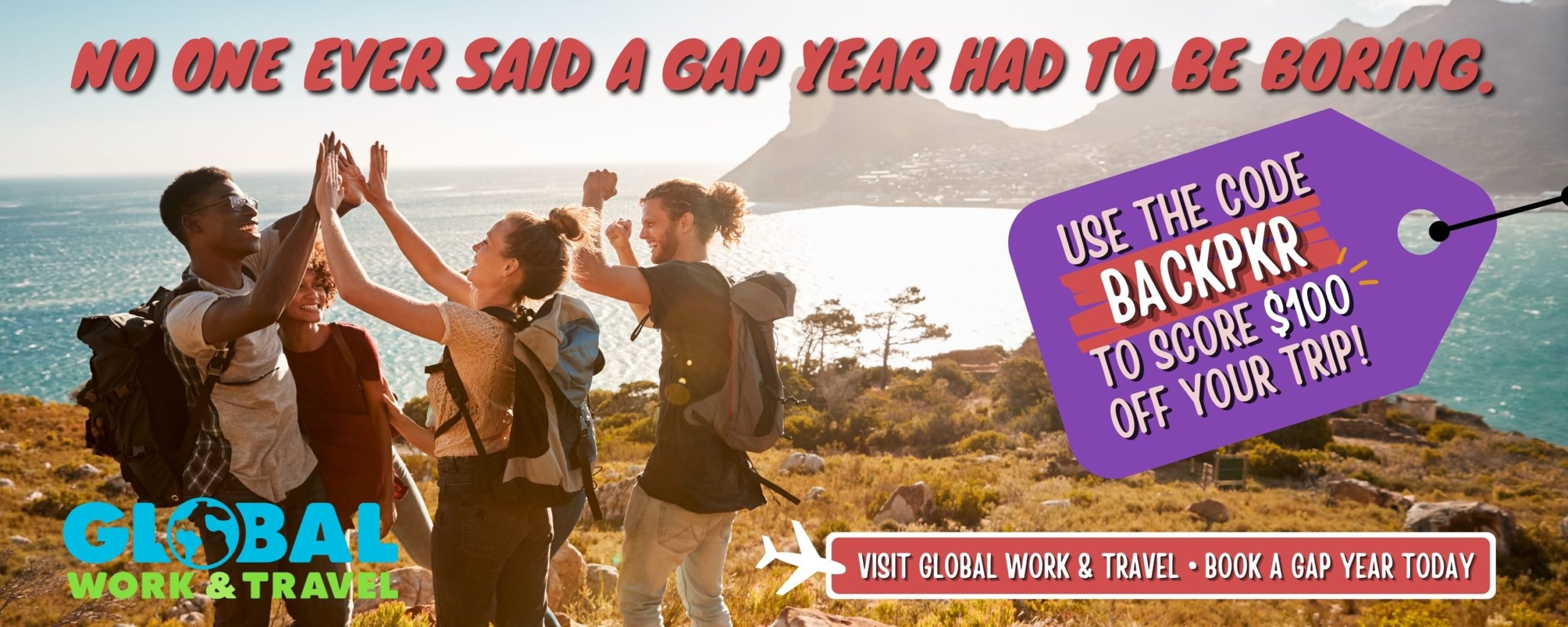 Being a Responsible Backpacker in Ho Chi Minh City
Reduce your plastic footprint: Perhaps the best thing you can do for our planet is to make sure you do NOT add to the plastic problem all over the world. Don't buy one-use water bottles, the plastic ends up in landfill or in the ocean. Instead, pack a tough travel water bottle.
Go and watch A Plastic Ocean on Netflix – it'll change how you view the plastic problem in the world; you need to understand what we are up against. If you think it doesn't matter, get off my fucking site.
Don't pick up single use plastic bags, you're a backpacker – take your daypack if you need to go to the shop or run errands.
Bear in mind, that many animal products in countries you travel through will not be ethically farmed and won't be of the highest quality. I'm a carnivore but when I'm on the road, I only eat chicken. Mass-farming of cows etc leads to the rainforest being cut down – which is obviously a huge problem.
Need more guidance? – Check out our post on how to be a responsible backpacker.
---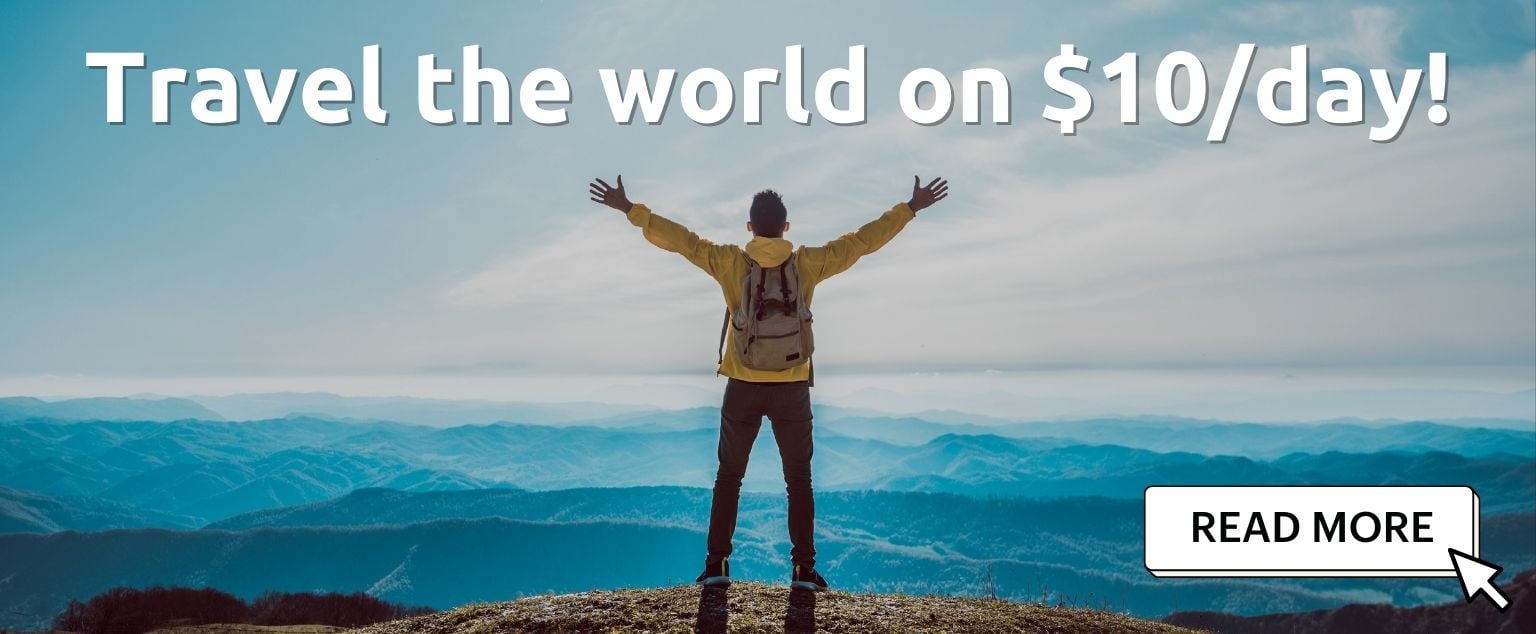 And for transparency's sake, please know that some of the links in our content are affiliate links. That means that if you book your accommodation, buy your gear, or sort your insurance through our link, we earn a small commission (at no extra cost to you). That said, we only link to the gear we trust and never recommend services we don't believe are up to scratch. Again, thank you!