'When I was in South East Asia' stories are rife within the backpacking community. A cocktail of disarray, tumult, and maybe a few too many beers consistently catalyses this supply of bubbly narratives, laugh-hard tales, and cheeky quips.
At the broke backpacker, we love a story (we love a story), and Vietnam is one of our greatest distributors.
With 100 million people jam-packed into a relatively tight space, it is difficult to avoid how busy Vietnam feels. While some places may not be the most relaxing, pockets of paradise are easily found within this vibrant and eclectic land. Our where to stay in Vietnam guide will make sure that you can find the perfect balance between anecdote arousing anarchy, and (of course) a nice holiday.
Mesmerising natural beauty, a world class culinary scene, and amazing monuments convincingly justify Vietnam's millions of visitors each year. With an expectedly outspoken culture and some of the most bizarre (and intense) historic attractions in the world, this country won't fail in making your stay one to remember.
So let's just jump right into it!
Vietnam is a beautiful country with a wide variety of areas on offer. It is a highly popular destination with backpackers, offering history to explore and unbelievable Vietnamese cuisine to devour. With so many visitors, the hostel offerings are plentiful, especially in the cities. For more rural areas, both Airbnbs and hotels are excellent.
Best Airbnb in Vietnam – Retro Details – Ho Chi Minh
There aren't many Airbnb Plus offerings in Vietnam – but the few that are on offer are some of the best prices in the world! This gorgeous studio apartment lets you stay right in the heart of Ho Chi Minh City in style, with exposed brick walls and modern fixtures and fittings. It also comes with a very well-equipped kitchen.
Best Hostel in Vietnam – Lustig Hostel – Sa Pa
This is one of the newest hostels in the country – but it's already gathering a great reputation among backpackers making their way through the Southeast Asian nation! They have a huge rooftop communal space where you can admire views of one of the most beautiful regions in Vietnam. The modern rooms are comfortable and well-arranged.
This gorgeous four-star hotel is a great compromise between price and luxury – offering some great additional extras without breaking the bank! Its most popular feature is the large terrace where you can enjoy stunning views of Hanoi and the river. They also have complimentary bike hire – a great way to get to know the national capital.
Quick Answers: Where is the Best Place to Stay in Vietnam?
Map of Where to Stay in Vietnam
Backpacking Vietnam is a truly unique experience and something I would actively recommend to every traveller. From learning the different cultures to enjoying the amazing and tasty street food, you'll have a blast in this charming country.
The good thing about Vietnam is that you'll never really have to worry about accommodation. You're going to find heaps of amazing hostels in Vietnam, plus a whole host of other excellent choices. Traditional homestays, welcoming Airbnbs, high-end hotels and luxury resorts. If you're looking for spots to meet like-minded travellers, you won't be disappointed!
Hanoi – Overall Best Place to Stay in Vietnam
As the modern capital of Vietnam, Hanoi is the gateway to the country and the first place most travellers will explore. Hanoi has an extensive history that gives visitors the chance to learn about the Vietnam War, colonial rule and ancient history in the region. This sprawling metropolis is packed with museums and memorials.
Hanoi is a city experiencing major development – and with all the tourism money coming in, there are plenty of great stores and restaurants popping up around every corner! It is also where you will find some of the best nightlife in Vietnam. Hanoi is the cultural heart of the country, and if you want to see the modern side of Vietnam this is the place to start.
Hanoi is ranked among the top destinations in the world. It provides an excellent overview of everything Vietnam has to offer, and it is a must-see on any Southeast Asia travel itinerary. It is also the main transport hub, with great connections to both North and South Vietnam. It's definitely the place to get started (although you might not have much choice).
Best Places to Stay in Hanoi
Each neighbourhood and district in Hanoi offers a different perspective of Vietnam. Hoàn Kiem District is the city centre and largest commercial district, whilst Ba Dình is the political hub. Both of these neighbourhoods are packed with monuments, museums and attractions. It can be quite intimidating at first, so give yourself plenty of time to adjust.
Best Airbnb in Hanoi: Komorebi
This beautiful studio apartment is right in the heart of Hanoi – close to some of the biggest attractions in the city! Surrounded by windows, guests are given great views of the city and plenty of daylight to create a bright and welcoming space. The kitchen is shared with other apartments, all of which are let out to tourists (you can choose how much you engage).
This chique hostel has everything you need for a top tier hostel stay. Located in Hanoi's old quarter, Little Charm Hostel is a couple minutes' walk from the Hoan Kiem lake, the night market, and the mysterious 'beer corner'.
The Flora Centre Hotel and Spa is a travel sustainable level 3 property. With a great location, private balconies, and breakfast however you like it, this hotel will give you a sound base for exploring the excitement of Hanoi.
Top Things to do in Hanoi
Look around the Hanoi Old quarter, with its ancient history, and cultural opulence. St. Josephs cathedral is an awesome attraction in the area.
Gawp at the Ho Chi Minh Mausoleum, a massive tomb built for the enigmatic Ho Chi Minh. Learn about the city's origins, history, and the man behind the scenes.
Visit the Ngoc Son Pagoda, on the edge of the Hoan Kiem lake. In the centre of a city, there is nothing more satisfying than a big green area. If you're looking for something leisurely to do for an afternoon, this will exceed those expectations.
Hit the opera house for an evening of refined relaxation. Slightly cheaper than western opera houses, get your fill of dramatic flavours by sliding into this amazing building.
Jump onboard a vintage GAZ-69, for a Hanoi jeep tour that promises a lot of fun!
There are a number of worthwhile day/weekend trips from Hanoi that can be brilliant for experiencing the best of Vietnam.

Visit the famous Halong Bay UNESCO world heritage site, southeast of the capital. This collection of islands is an incredible geological wonderland, and is most likely the reason you came to Vietnam in the first place. Going on a full-day cruise tour can be worth the money, as you get to spend some significant time exploring this iconic place.
Along the same thread, staying on Cat Ba island and visiting the lovely Lan Ha Bay can be a great way to escape the touristy Halong.
Joining a Tam Coc, Hoa Lu & Mua Caves Full-Day trip is an awesome way to get around quickly and see beautiful landscapes.
Hoi An – Best Place to Stay in Vietnam for Families
Located right in the middle of Vietnam, Hoi An is a UNESCO World Heritage Site that has long been considered one of the most beautiful destinations to explore! It is surrounded by greenery, giving it a cleaner atmosphere than the larger cities. Colonial architecture sits alongside centuries-old temples and modern Chinese propaganda from the post-war period.
Vietnam is a notoriously hectic country that some families might choose to avoid. Hoi An can be a breath of fresh air, as it is more peaceful than the larger cities – so even if you are a solo traveller, this is a good stop to gather your bearings. It is also a major shopping hub in the country.
One of the top Vietnamese beaches, An Bang, is located on the Hoi An coastline. Order some food from the many bars, whilst chilling in your sun lounger. Great snorkelling in these parts too!
Best Places to Stay In Hoi An
Hoi An is far smaller than the two main cities, so do stick to the Old Town! This is not only where all the historic attractions reside, but it is also home to the main shopping streets and malls. Since it's smaller than other major tourist destinations in Vietnam, it's not nearly as much of a struggle to find an awesome place to stay in Hoi An.
This stay is perfect for a family wanting to experience a little taste of rural Viet life. Built amongst the mangroves, and located between Hoi An old town and Cua Dai beach, this house is a unique stay. The family who run it are excellent cooks and very friendly, so be prepared to get more than your money's worth. This space accommodates 5 and offers a kitchen, garden views, a refrigerator, and free breakfast.
Bed Station will bring a bit of craziness into your Vietnam trip. As a self-proclaimed 'party hostel', they have a pool bar, a restaurant, and loads of unbelievable hang-out zones. Events are put on by the hostel, including pool parties, themed nights, and pub quizzes. If you're looking to burn the candle at both ends, this is definitely the place.
This stunning four-star hotel is perfect for families wanting an easy-going resort-style holiday in Vietnam! They offer rooms suiting families of three and four – and can provide discounts on multiple bookings of double rooms. As well as a large swimming pool, there is also an extensive on-site fitness suite and a spa, where you can relax and forget any stress.
Top Things to do in Hoi An
Plan a beach day at An Bang, and enjoy the clear waters and tropical temperatures.
Learn to eco-cook. This experience will have you catch crabs, then buy ingredients locally before taking a lesson in top-tier cookery.
Utilise the textile industry and get a suit made! Hoi An has an impressive collection of great tailors, but remember that items do take time to produce, so plan accordingly.
Give in to the beach feeling with a snorkelling day trip on Cham Island.
Visit the Old Town, designated as a UNESCO world heritage site. This will give you a real taste of old Viet, and maybe you'll even find something to buy too! Hoi An was one of the few places to escape American bombs, so has a large historical significance.
The Hoi An museum is a great place to brush up on the city's exciting past.
See the unreal Golden Bridge, held up by two giant hands.
Explore the My Son ruins, on a valuable day trip. These ruins have Hindu origins and cover a site larger than 100 hectares.
Da Lat – Where to Stay in Vietnam for Couples
Da Lat is a great example of the Vietnamese colonial influence – with French-style buildings and star-shaped streets running throughout the city. Once a popular getaway for French colonial authorities looking to escape the big city heat, Da Lat still attracts toasty residents to this day!
Da Lat offers a great romantic atmosphere, and in many ways is geared mostly towards couples in terms of things to do. There are plenty of great Highland trips, including the Valley of Love – the perfect spot to grab that all-important couple's Instagram photo.
Da Lat is much quieter than the larger cities in the country, and many couples enjoy the more peaceful vibes. Ho Chi Minh City isn't far away and whilst it is worth more than a day trip, it is close enough that you can plan a night or two without having to worry too much about transport time.
Nha Trang, the capital of the Khánh Hòa Province, should also be considered as a day trip option. With plenty of tropical beaches, if you're looking to satisfy those sunbathing urges, this city rules. Mudbaths and hot springs are popular attractions, and the party scene is one of the best in Vietnam. International DJs play sets at the two hottest nightclubs, Skylight and Sailing Club. The Six Senses Ninh Van Bay resort is worth a mention, for its fit swimming pool, and its semi-private beach views.
Best Places to Stay in Da Lat
If you're visiting the city, it's smart to stay in the main tourist areas of Da Lat. Most attractions are walkable from the city centre, so this is your best starting point. The motorbike taxi services are abundant too, so any further out destinations won't take too long to get to (although getting appropriate travel insurance first is recommended). If you can, make sure there are plenty of tour providers nearby so you can head into the countryside.
This stylish bungalow is the perfect place for a couple's getaway. With a hammock, stirring sunset views, and tasteful decoration, this Airbnb will make your stay in Da Lat very comfortable. A fully furnished kitchen and great private workspace make this bungalow ideal for longstays too!
A rather peaceful Da Lat hostel, Tigion is a little secluded but still within easy walking distance of the main attractions. Not only is breakfast included – but they also run regular Vietnamese coffee-making and cooking classes for guests to connect with the culture, and each other. They have a friendly reputation, which is reflected in the excellent guest reviews. The main bus station is about two minutes away.
If you are visiting as a couple, it is worth splurging on a five-star hotel – especially since they tend to be more budget-friendly in Vietnam! This hotel has a fairytale atmosphere that will help you enjoy a truly romantic experience in Da Lat. With an outdoor pool and a large spa, you will barely want to leave. When you manage to peel yourself away from the resort, gorgeous mountains await.
Top things to do in Da Lat
Investigate the Lake of Sighs, famous in local lore for being an ambiguous part of legendary love stories. Apparently, lovers would meet at the lake but were unable to properly get together. Regardless of its local significance, the lake is staggeringly beautiful, and you should go see it.
Sharpen your motorbiking skills with a Da Lat motorbike tour, cruising around within those misty mountain vistas.
Garble at the madness of the so-called Crazy House, built by Vietnamese architect Dang Viet Nga, and sporting a different theme in every room.
Get cliche at the Valley of Love, enjoying the stunning surroundings and turning up the heat!
Visit the Linh Phuoc Pagoda, with its lavish surroundings. Perfect for a day out!
Trek to the Elephant (Lieng Rewoa) falls. These are close to the Linh Phuoc Pagoda, so seeing the two in a single afternoon would be a fantastic idea!
Walk to the Pongour Falls, which leap off of a sharp cliff and supply excellent viewing.
Sharp cliffs? How about a day's river canyoning to release that adrenaline and make you feel alive1
Hanoi – Coolest Place to Stay in Vietnam
Not content just with giving it the title of the overall best place in Vietnam, we also believe Hanoi is easily the coolest destination in the country! As mentioned earlier, it has some of the best nightlife in the country – and the recent development projects have created an exciting atmosphere with brand-new restaurants, locally-owned boutiques and art galleries.
Hanoi might only be the second biggest city in the country – but is still full of life and bustling! It is easy to get lost in the streets of Hanoi, and more experienced travellers will likely want to. The city offers an intriguing combination of Asian and European cultures, as a result of French colonization. You won't find this anywhere else in the world!
ED: Except Laos and Cambodia, the other ex-french colonies…
Best Places to Stay in Hanoi
We've already mentioned the city centre as a great destination. Hai Bà Trung District is another fantastic option for more experienced travellers. Whilst easily the busiest district, it is also possibly the best example of old and new combining in the city.
For those backpacking Vietnam on a budget, Cau Giay District is the main student area. The restaurants here will keep your wallet just as happy as your stomach!
Airbnb Plus apartments are hand-selected for their excellent commitment to interior design and above and beyond guest service. This gorgeous apartment is right in the heart of the Old Quarter neighbourhood, allowing you the opportunity to discover Hanoi's historic attractions. A free breakfast is included every morning, as well as an extensive neighbourhood guide written by the local host.
Perfectly placed in the Hanoi Old Quarter, this hostel is clean, cheap, and has a pool! A/C, lockers, and comfy beds are a backpackers dream come true, and are all included with every bed.. With a friendly atmosphere, and a promise (from the horse's mouth) that staff will "bend over backwards to make sure you have an awesome stay", this hostel is definitely a top pick.
A little bit of an upgrade from our other top pick in Hanoi, this four-star hotel is perfect if you want something with a little added luxury. The on-site bar has a spacious terrace, giving you panoramic views of the city centre. Interiors are modern and stylish, with spacious rooms and elegant furnishings. A complimentary Asian-style breakfast is included.
Ho Chi Minh – Where to Stay in Vietnam on a Budget
Formerly known as Saigon, Ho Chi Minh City is the largest city in Vietnam and the former capital of South Vietnam! Like Hanoi, it offers some excellent historic and cultural attractions – as well as excellent nightlife venues. A wallet-friendly destination for budget backpackers, Ho Chi Minh City is known for its great street food vendors, featuring cuisines from all over the world. It has a wide range of cheap accommodation options.
Vietnam, in general, is a very budget-friendly destination – even when compared to elsewhere in Southeast Asia! Nevertheless, Ho Chi Minh has prices that outdo the rest of the country due to its location in the far south of the country. It is also the largest city by both size and population, so make sure to prepare yourself before tackling the crowds.
The Saigon river is a popular attraction for tourists, with heaps of riverside restaurants, boat rides, and great views available. The river splits in a thousand directions, so the southern edges of Ho Chi Minh become weird waterways that are worth exploring. The Ho Chi Minh Mausoleum is also worth a glance. Uncle Ho has an awesome tomb.
Best Places to Stay in Ho Chi Minh
Looking for where to stay in Ho Chi Minh can be a task, as it is a huge area with no distinct centre, acting more like a sprawling collection of unique neighbourhoods. A complimentary tourism map is offered at the airport and at hotels, and this is a great guide to everything on offer in Ho Chi Minh. It is the largest city, so be aware of crowds and extra vigilant of your belongings.
A great option relatively nearby (although you might fancy making a weekend of it) is the Vietnamese island of Phu Quoc. Offering 'both luxury and local life', this Island has some stunning sand and surf, with 150km of picturesque coastline. Watersports are big here, as well as the backpacking scene. The Mango Bay Resort is a great place to stay if you're looking for some stunning views and relaxation.
Best Airbnb in Ho Chi Minh: Rooftop House
Located in the loft of a colonial building, this quaint little hideaway is perfect for solo travellers in Vietnam looking for an inexpensive apartment! Filled with endemic plants, it has a calm atmosphere – giving you a laid-back haven away from the bustling Ho Chi Minh streets. As it's loft-based, it comes with gorgeous views of the surrounding city.
Staying at Meander Saigon will give you a semi-insight into local life. Offering a 'nap service', rooftop bar, amazing co-working spaces, and notably a slide, this hostel will give you a taste of Vietnamese class. With an excellent location subsidised by female dorm and private room availability, you can't go wrong.
Boasting hammocks in every room, this laid-back hotel is a great budget pick right in the heart of Ho Chi Minh City! Every room comes with a terrace, letting you soak up the vibrant atmosphere of the city. They offer regular rooms as well as family rooms – so all kinds of travellers can benefit from their fantastic rates.
Top Things to do in Ho Chi Minh
Examine the Ho Chi Minh War Remnants Museum, rated the best museum in the city. Again, this is a perspective on the Vietnam war that can be quite shocking, so be prepared for graphic stories.
Boat on the Mekong Delta, and explore the Mekong's famous river market.
Tour the Jade Emperor Pagoda, home of the supreme Taoist God. Great architecture and crazy statues.
Walk the Dong Khoi area, with its designer shops, high-class bars, and skyscrapers.
Swing by the Giac Lam Pagoda, taking in the beauty of the grounds. As the oldest temple in Ho Chi Minh (dating from 1744), this site holds a ton of Buddhist history and is an intriguing way to while away an hour or two.
Integrate onto Pham Ngu Lao Street, and grab a drink. As one of the craziest streets in the City, this activity feels raucous.
Grab a cocktail at a rooftop bar. Saigon Saigon bar is a great choice if you're looking for one of these.
Shin into the Cu Chi tunnels. This tour gives you the opportunity to explore the reality of the Vietnam war, and even fire a gun.
Ho Chi Minh – One of the Most Unique Places to Stay in Vietnam
Ho Chi Minh used to be the capital of South Vietnam. That means that there are a lot of attractions in Ho Chi Minh related to both the Vietnam War and reunification. For visitors from the west, these offer a completely different perspective on events than any American accounts, which can be both a sobering and rewarding experience for visitors.
As already mentioned, Ho Chi Minh is packed with fantastic street food options! Cuisine-wise, the city offers almost everything, from French, Mexican, and Brazilian to the local Vietnamese. Not only is the city historically unique, but it is also the place to be for foodies wanting to experience the best of Vietnam's globally lauded culinary scene.
Best Places to Stay in Ho Chi Minh
As already mentioned, whilst Ho Chi Minh has a centre – this acts more as a core for different satellite neighbourhoods than as the defining district in the city! All of our hotels in this section are based in this part of the city, as it comes with the best transport links to other parts of Ho Chi Minh City.
Best Airbnb in Ho Chi Minh: Retro Details
This ultra-stylish apartment is part of the Airbnb Plus range. The bathing area comes with a standalone bathtub, with designer fittings creating a sleek and modern atmosphere. The high ceilings make the apartment feel very spacious, and the kitchen is well equipped with everything you could possibly need – including a coffee machine! The building itself originated in the colonial era, giving you a little slice of Vietnamese history.
This stunning hostel truly has something for everyone! There is a communal balcony area with views over the city and a rooftop bar where you can mingle with other guests. They offer some great complimentary extras – including breakfast, toiletries and coffee. Beds come with privacy curtains to give you some peace. The front desk also offers discounts on local tours and airport transfers. Check out our Ho Chi Minh hostel guide for more epic picks.
With a gorgeous bar and terrace, this hotel is surprisingly affordable, despite its four-star rating and fantastic reviews. They also have rooms with private balconies, all of which come with sun loungers. This place is perfect for soaking up the rays as well as the bustling Ho Chi Minh City. On top of complimentary breakfast, guests also have unlimited access to coffee throughout the day.
Da Lat – Where to Stay in Vietnam for Adventure
Not only is Da Lat the most romantic city in the country, but the surrounding countryside also makes it a gorgeous adventure destination! The Southern Highlands encompass the city, with plenty of great hikes, motorbike trails and canyoning excursions available. If you want to get the adrenaline pumping, head out to rural Da Lat.
Adrenaline activities aside, Da Lat also offers a cultural adventure for those that want to discover a more authentic side of the country! Thien Vien Truc Lam Monastery is only a short cable car ride away and gives a unique insight into religious practices in Vietnam. There are a few other great monasteries dotted around the region, and we recommend taking a tour.
Best Places To Stay in Da Lat
As we mentioned in the couples section, central Da Lat is your best bet for getting to enjoy the area – especially the neighbourhoods close to tourism offices! If you are an inexperienced traveller, I'd recommend taking a guided trip. For those with more experience travelling Southeast Asia, you can opt to stay in one of the more rural parts of the wider Da Lat region.
The main attraction of this crazy house is the views. Massive windows and the stunning hill surrounds give you spectacular sunsets (and sunrises) to lap up. The property comes with modern amenities, a kitchen, a BBQ yard and a living room, as well as space for up to 6 guests in 3 queen-sized beds. Situated only 400 metres from the french quarter, and within easy distance of the night market, this property will ensure you have a relaxing stay in Da Lat.
This family-run hostel is located right in the mountains of Da Lat – and is known for its friendly and welcoming atmosphere! They run daily events – from pub crawls and happy hours to history tours and cooking classes. They provide a complimentary shuttle to Central Da Lat. Breakfast is also included, saving you some more money during your time in the area. This is for sure one of the top Da Lat hostels.
This three-star hotel is a fantastic choice if you are on a strict budget but want the added privacy of your own room. Rooms are somewhat basic but come with all the amenities you need for a short stay in the area. There is a communal garden where you can relax and meet other guests, as well as a terrace with views of the mountains.
Sapa – Where To Stay For Incredible Photography
Right in the far north of the country, Sapa is a mountain town that has been left off itineraries for two long! Alongside mountains, Sapa is surrounded by rice fields that make it one of the most picturesque parts of the country. A camera is essential Vietnam packing when visiting Sapa, because you can grab some of the most perfect pictures.
Some of Vietnam's most prominent ethnic minority groups live in Sapa. For such a relatively small town, it has a diverse character, and multiple cultures are represented within the town's boundaries. This is a great destination to dive deep into modern culture in Vietnam.
Best Places To Stay in Sapa
Sapa is the only town on this list, and therefore the smallest destination. The town centre is where all of the accommodation is based – and, thankfully, the best starting point for exploring further afield within the region. If you're really searching for an adventure, rent a motorbike for a road trip to the stunning Ha Giang Loop.
Staying in this villa may be the best thing you do on a Vietnam trip. With views that could make a nun weep, the atmosphere in this skypad is superb. It has a kitchen, fireplace, TV, fast wifi, and free parking. The home is 1.6km from the Sapa centre, which is walkable, but there is a taxi service too if you are feeling a little lethargic.
This brand new hostel is already gathering excellent reviews – and is now the most popular backpacker accommodation in Sapa! Rooms are modern and come with balconies for enjoying the serene scenery of the surrounding neighbourhood. Their on-site bar also has a communal terrace area where you can mingle with other guests. Breakfast is included in the rate.
This stunning hotel only has three stars but it packs a mighty punch! Rooms are elegantly decorated in a traditional Vietnamese style, and you are guaranteed to enjoy stunning views of the mountains regardless of what room you are staying in. They have an extensive spa service with a variety of holistic therapies on offer. Sapa Central Square is only a short walk away.
Top Things to do in Sapa
Visit Sapa Museum, which hosts a ton of info on the local ethnic minorities and the french colonial history
Hike Fan Si Pan, Indochina's highest mountain (3143 metres above sea level).
Cat Cat village is a massive highlight, offering insight into the H'mong culture. You are able to explore one of the oldest villages in the Sapa region.
Take a look at the Silver Waterfall. Around 200 metres high in total, this waterfall is an impressive sight and comes with characteristically stunning views.
Check out the Fairy Cave.
Walk in the many villages, including hiking the Muong Hoa Valley.
Visit Tram Ton Pass, the highest pass in Vietnam. This has a number of fantastic lookout points and is a classic trek.
Get boozy in Ban Pho Village, which is known for its wonderful wine production. Find out how the villages make their corn wine, and sample some for yourself!
Here's what people usually ask us about staying in Vietnam.
World Nomads' mission is to support and encourage travellers to explore their boundaries. They offer simple & flexible travel insurance, and safety advice to help you travel confidently.
They've been doing it since 2002 – protecting, connecting, and inspiring independent travellers just like you.
Get a quote below or read our in-depth review!
World Nomads provides travel insurance for travelers in over 100 countries. As an affiliate, we receive a fee when you get a quote from World Nomads using this link. We do not represent World Nomads. This is information only and not a recommendation to buy travel insurance.
Vietnam is a truly eclectic nation that has grown as a major tourist destination over the past few years! Turbulent past aside, Vietnam is a safe destination that offers visitors interesting cultural attractions, decadent cuisine, and awe-inspiring scenery. If you can, we recommend hitting a few different destinations across the country to really take it all in.
In terms of our favourite place, I'll go with Da Lat! This city truly has a bit of everything – with mountain scenery and urban life combining satisfyingly into the ultimate destination. If you have limited time, this is a great place to get an overview of the country.
That being said, everywhere mentioned in this guide has its own benefits. If you are planning on hitting up a few locations, we recommend choosing at least one place in the North and one place in the South for a complete experience.
Did we miss anything? Let us know in the comments!
Do you own or run a kick-ass hostel? Want to be featured on this list? Get in touch at [email protected]
---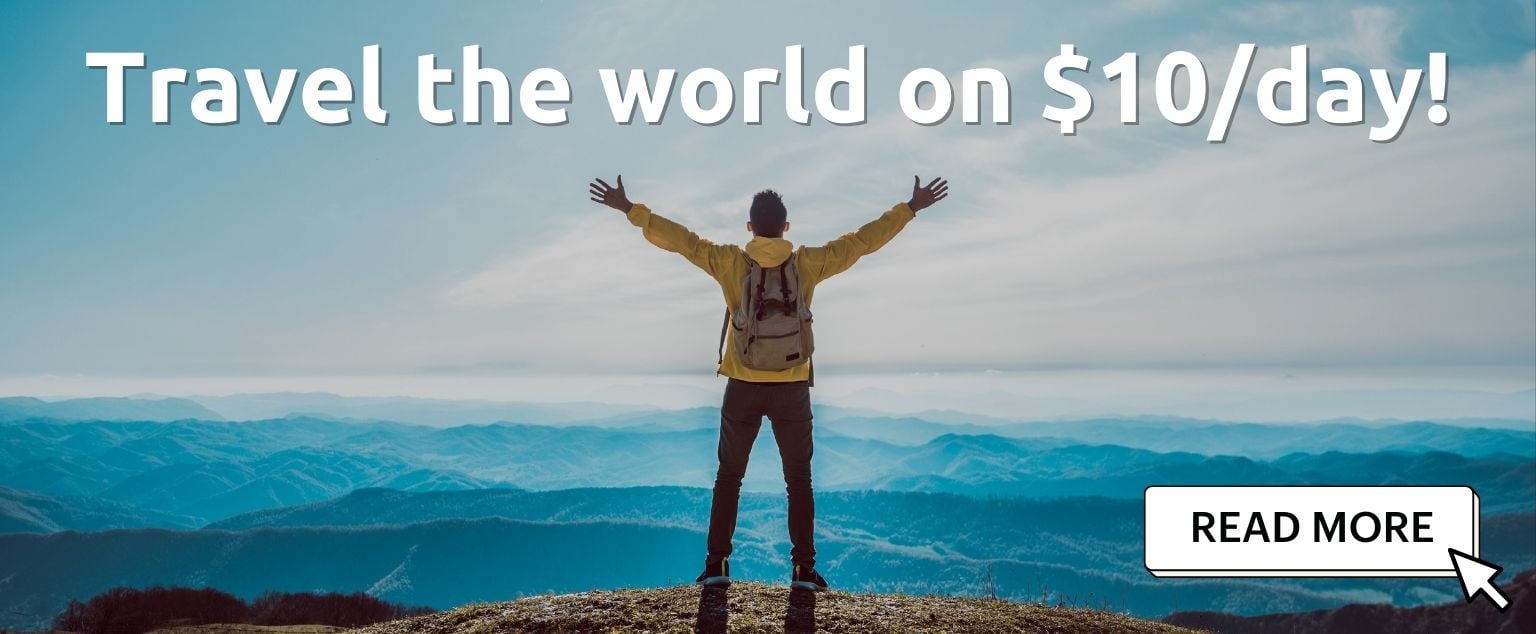 And for transparency's sake, please know that some of the links in our content are affiliate links. That means that if you book your accommodation, buy your gear, or sort your insurance through our link, we earn a small commission (at no extra cost to you). That said, we only link to the gear we trust and never recommend services we don't believe are up to scratch. Again, thank you!