Are you looking for a destination with equal parts adventure, culture, and delicious food? Look no further than a solo trip to Vietnam!
The Vietnamese are known for being super friendly, so it's no wonder this is a favorite destination for solo travelers. Don't be surprised if you start a conversation with a local and spend the day chatting over Vietnamese coffee!
There are so many benefits to solo travel. Firstly, you don't need to pander to anyone else's itinerary. You get to do whatever you want, without anyone judging your choices.
Secondly, traveling solo is a character-building adventure like no other. You'll be surprised by how empowered and independent you will feel after navigating a foreign country alone (with only Google Translate as your trusty sidekick).
Vietnam is a melting pot of history, cuisine, and gorgeous natural scenery – from beaches to lush landscapes, rolling rice terraces, and exquisite nature reserves. Oh, and did I mention that the exchange rate will almost certainly be in your favor?
Let's dive into your ultimate guide to traveling Vietnam on your own!
5 Things to Do in Vietnam When Traveling Solo
Vietnam has an adventurous spirit, often shared by the travelers who visit here. Whatever your interests – you'll find a treasure trove of fantastic activities based on culture, history, or natural beauty. It wasn't easy narrowing it down, but here is my top 5 best Vietnam solo travel suggestions:

Unlock Our GREATEST Travel Secrets!
Sign up for our newsletter and get the best travel tips delivered right to your inbox.
1. Explore the Cu Chi Tunnels
The Cu Chi Tunnels are underground passages built during the Vietnam War. The tunnels shine a light on Vietnam's wartime past, as well as the resilience of its people. The tunnels played a significant role during the Vietnam War as a base of operations and hiding spot for Viet Cong soldiers.
Taking a Cu Chi Tunnels tour makes for a fascinating day trip from Ho Chi Minh and is a great opportunity to meet friends, but is not recommended for those with claustrophobia! The tunnels stretch for miles and include spaces that were used for living, storage, cooking, and even as hospitals. Get ready to crawl!
2. Spend a Night in an Authentic Junk at Ha Long Bay
Don't miss the chance to spend a night on an authentic junk (sailing boat) in Ha Long Bay. It's a solo traveler's dream, offering a serene escape from the country's busy cityscapes.
Take a moment to relax and unwind from your travels while you watch a breathtaking sunset over the misty karsts.
3. Watch a Show at the Thang Long Water Puppet Theater
Puppet shows don't only have to be for children! The magic of Vietnamese culture comes to life through the unique water puppetry at the Thang Long Theater.
This is a must-do for solo travelers in Vietnam looking for a taste of culture. The intricate puppets bring age-old tales to life against a backdrop of traditional music and sparkling waters. It's an unmissable cultural experience!
4. Sip on a Bowl of Pho at the Hoi An Night Market
I have really highlighted the street food scene in Vietnam, and for good reason! A trip to the Hoi An Night Market is a feast for your senses. Join the communal dining scene, engage with locals, and sample some authentic pho.
This iconic dish is a steaming bowl of Vietnamese soup featuring delicate rice noodles and an aromatic broth infused with local spices. The best part about pho in Vietnam is that you can customize your dish! Choose to add fresh herbs, a squeeze of lime, or a dash of Sriracha. As you sip the broth, you will quickly understand why pho is the heart and soul of Vietnamese cuisine.
5. Experience the Power of Nature at the Ban Gioc Waterfalls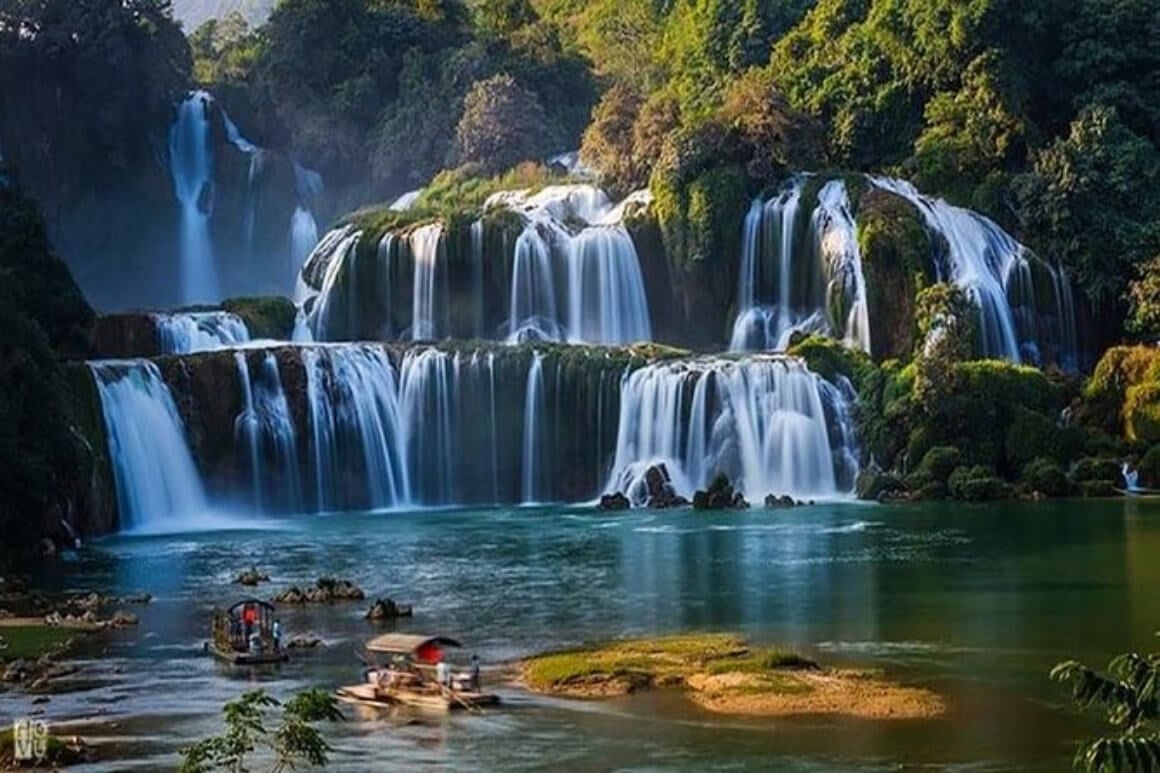 The Ban Gioc Waterfalls are any nature-lover's paradise. Nestled in a lush landscape near the border of China and Vietnam, these majestic falls are truly breathtaking!
The roar of crashing water rushing over the cascading terraces is a sound you won't soon forget. The journey to the waterfalls is an adventure in itself. Join a multi-day organized tour to best experience the falls or are looking for a more convenient way to explore.
Is This the Best Backpack EVER???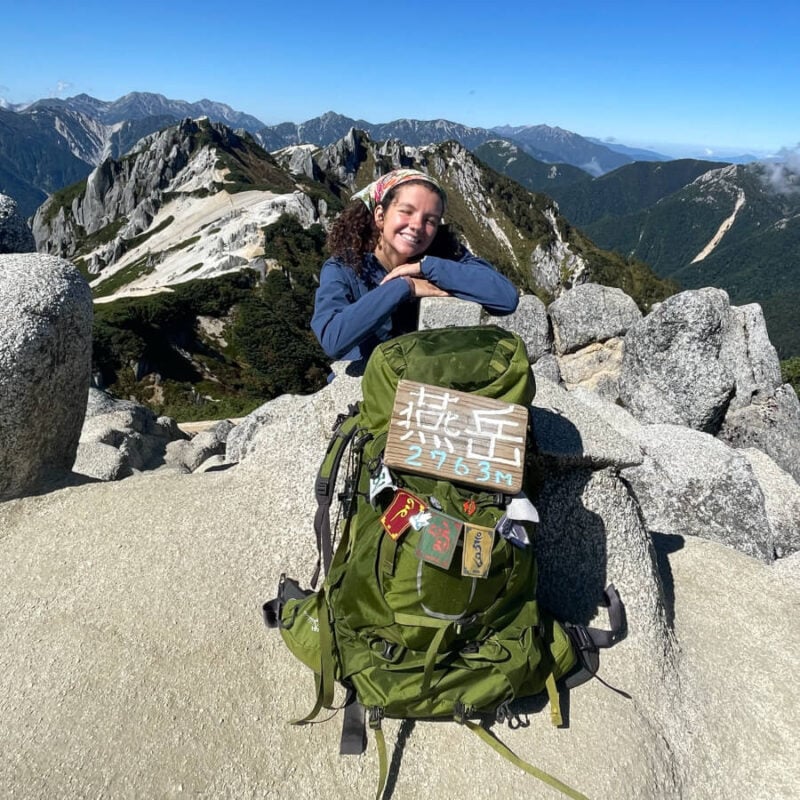 5 Best Solo Destinations in Vietnam
Whether exploring bustling cities or the gorgeous countryside, traveling in Vietnam is always an adventure. Read on for my recommendations of places not to be missed:
Hoi An
Everyone backpacking in Vietnam should visit Hoi An. It's a UNESCO World Heritage site – so it's no wonder it feels like stepping into a storybook. This city on Vietnam's central coast has well-preserved architecture and a unique atmosphere – including the iconic lantern-lit streets. From mouth-watering street food around every corner to tailors who can whip up custom-made outfits in no time – you're in for a budget-friendly treat.
As mentioned, Hoi An's street food scene is legendary. Visit the Hoi An Night Market, and be sure to try a crispy banh mi roll or a spring roll fresh out of the fryer. Once you're full to the brim with delicious street food, why not join a traditional lantern-making class?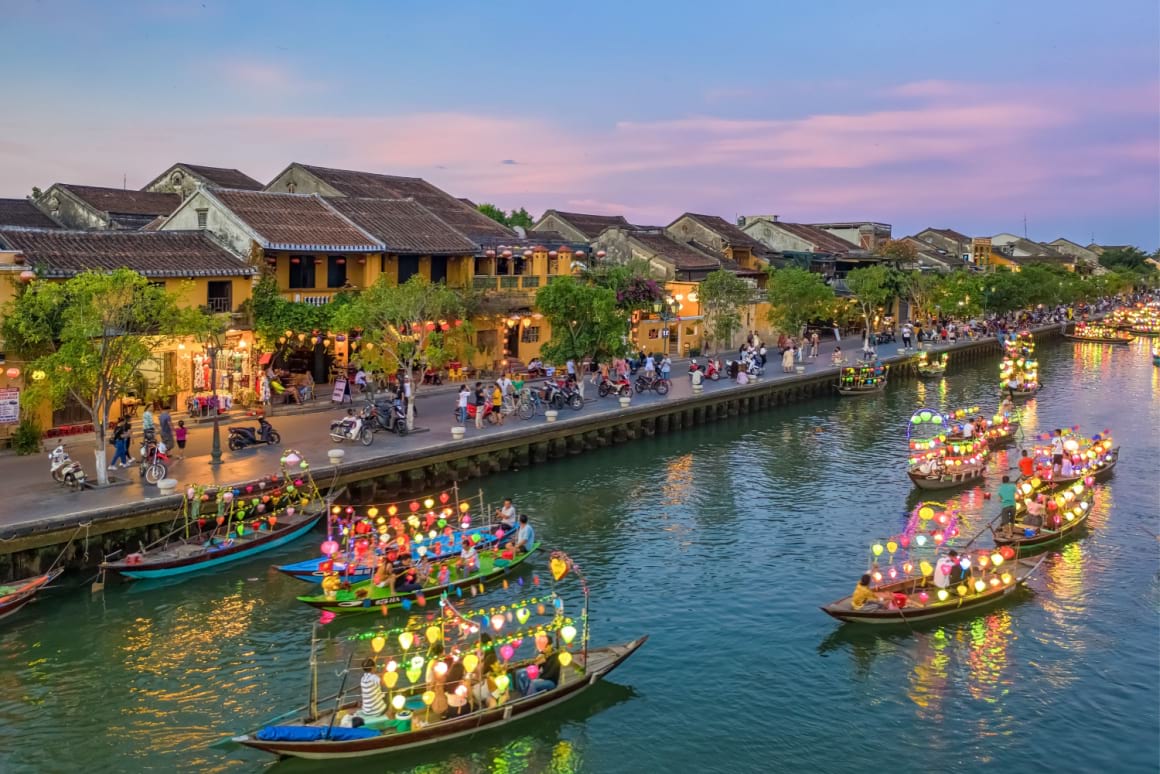 You can't say you've visited Hoi An without joining a sunset boat ride on the Thu Bon River. The twinkling lights of boats against the backdrop of fiery oranges and pinks as the sun dips below the horizon is pure magic.
Ideal for a solo trip to Vietnam, SnapStay Hoi An is within walking distance of the ancient town. This hostel has a beautiful rooftop bar looking over the city lights – it's the perfect place to connect with other travelers.
Ha Long Bay
Ha Long Bay is another UNESCO World Heritage site not to be missed. It is known for its iconic towering limestone rock formations that jut out from the emerald waters.
Join an affordable boat cruise for the day, or stay overnight on a traditional Vietnamese junk (a type of traditional sailboat, and by no means junk!). Alternatively, if your arms are up for it, explore the bay yourself by hiring a kayak. For the early birds, a sunrise over the magically misty bay is an unmissable experience.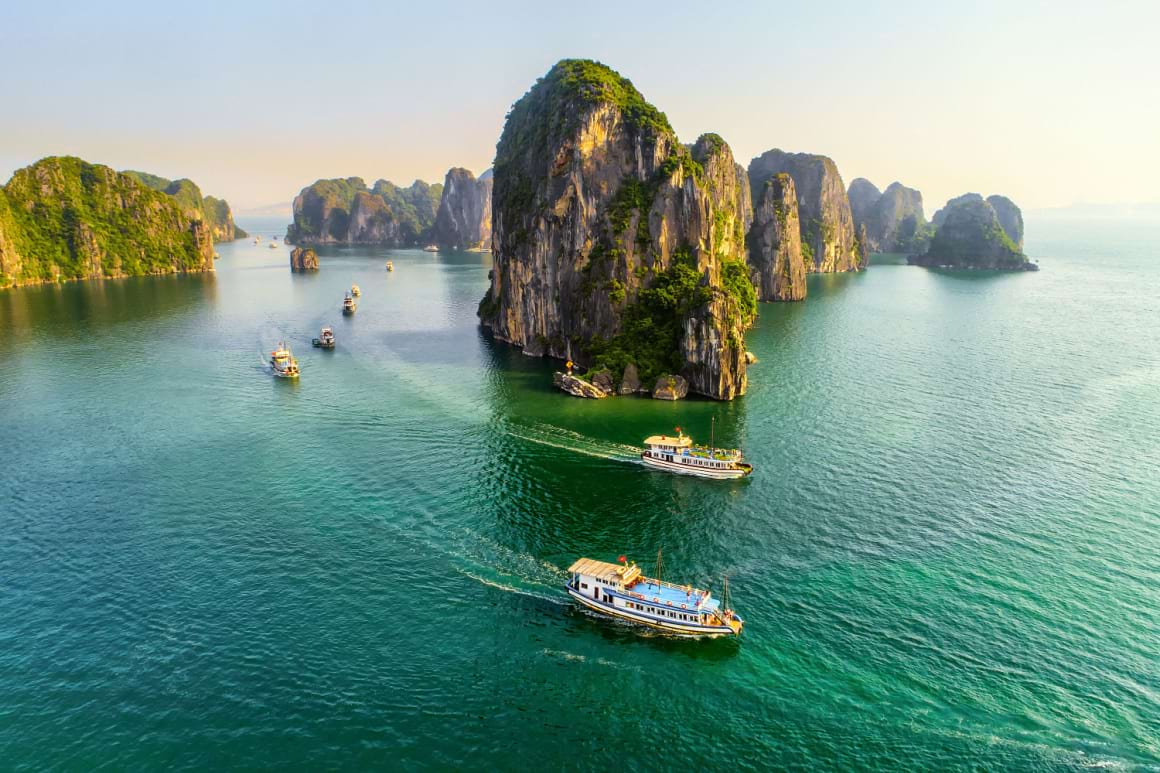 The culinary scene in Ha Long is a seafood extravaganza! Sample the fresh catch of the day, from prawns to fish and even squid – all without breaking the bank. Dine outside and enjoy the fresh sea air for a truly Vietnamese experience.
Ha Long Fancy Hostel has friendly English-speaking staff and an in-house travel agent who will happily help you organize your activities. It's located on the mainland at the gateway to the majestic bay and is a top place to stay for those traveling solo in Vietnam.
Hanoi
Hanoi is LEGENDARY. Vietnam's capital city is one of my personal favorite cities in the world. It's only a two to three-hour drive inland from Ha Long Bay. Once again, there is an abundance of affordable great hostels, and budget-friendly street food reigns supreme here. It can be somewhat chaotic as a large city, but you will find respite from the hustle and bustle in Hanoi's numerous temples and green spaces.
Hanoi is a place of contrasts – where ancient temples stand alongside the vibrant pulse of modern life. The perfect blend of tradition and buzz!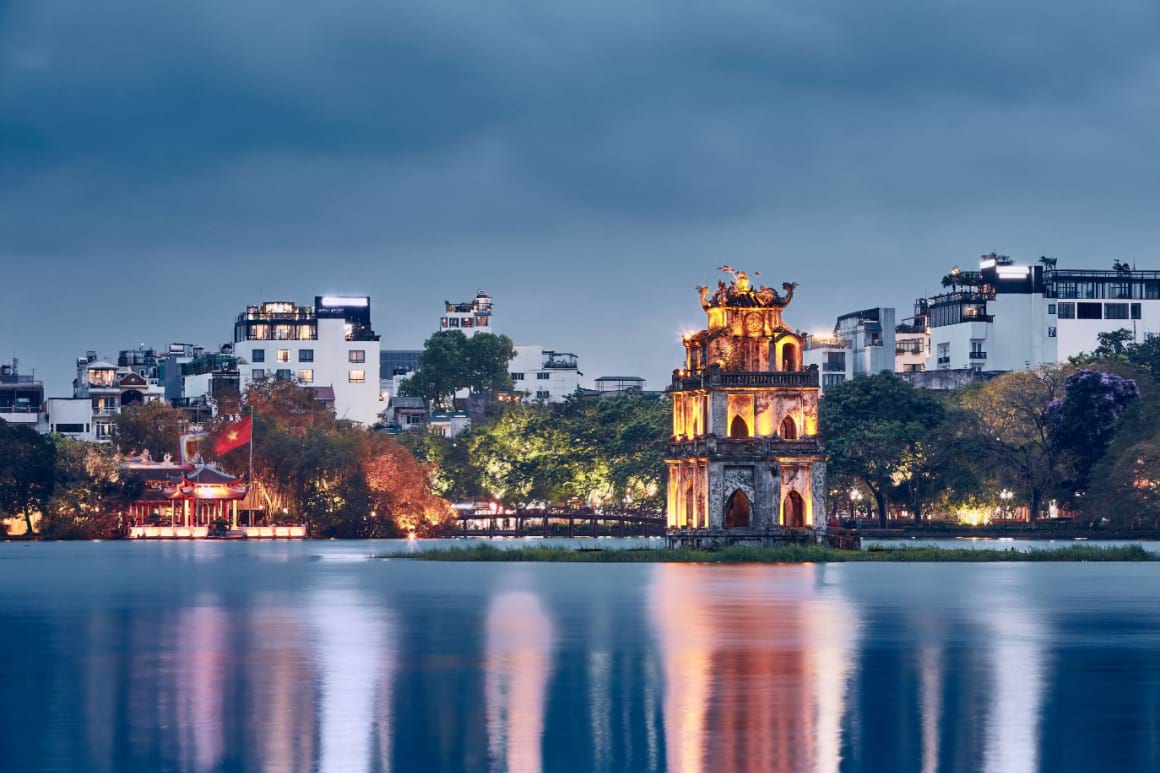 Be sure to visit the Old Quarter – with its maze-like alleys, craft stores, and quirky cafes. When you're ready for a moment of zen, find your way to the Hoan Kiem Lake – an oasis between the continuous honking of motorbikes.
In the heart of the Old Quarter, Old Quarter View Hanoi Hostel is a superb spot to stay, featuring free walking tours, local cooking classes, and a daily happy hour with free beer! What's not to love?
Sa Pa
Sa Pa is a trekking paradise and a must-visit for any nature-loving and adventurous travelers. Located in the country's north, it is home to breathtaking rice terraces, and fascinating local villages dotted between misty mountains. There are plenty of treks and hiking options available which, luckily, cater to all skill and fitness levels (phew!).
The locals here are passionate about sharing their customs and culture. You may enjoy learning some local weaving techniques or tasting a traditional home-cooked meal. Markets like Sa Pa Market or the Bac Ha Sunday Market are host to a plethora of handmade crafts, textiles, and unique souvenirs to take home.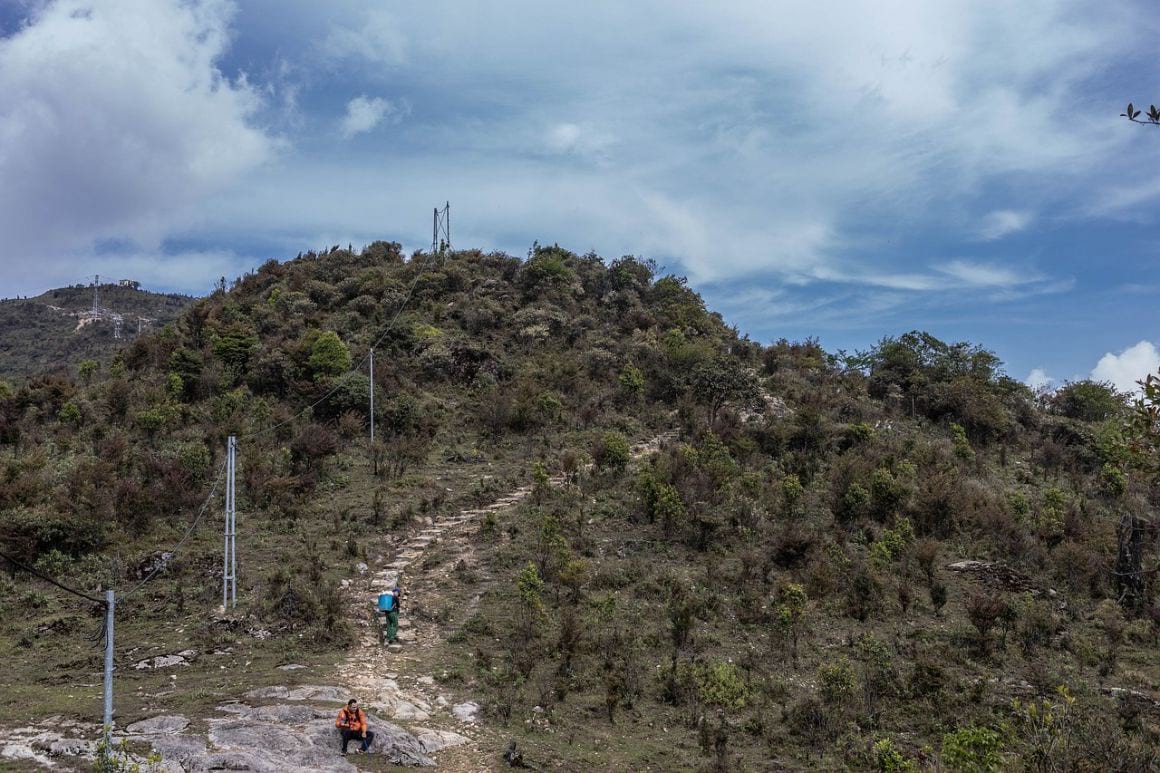 Sa Pa has many beautiful natural wonders for adventurous solo travelers in Vietnam to explore – including the Silver Waterfall and the iconic Love Waterfall. For unbeatable views, join a challenging trek (or opt for the cable car instead) to the top of Fansipan Mountain – known as the 'Roof of Indochina.' Treat yourself to a massage or herbal bath at a local spa to unwind after this active adventure.
Saigonese Trekking Hostel is a great hostel option in central Sa Pa. The friendly staff will be ready and waiting to assist you with your trekking bookings.
Ho Chi Minh City
Ho Chi Minh City is Vietnam's most populous city, situated in the country's Southern region. This vibrant metropolis, formerly known as Saigon (and still lovingly called this by locals), boasts an eclectic mix of modern skyscrapers and colonial-era architecture. This combined with a visit to the War Remnants Museum to delve into the city's unique past provides a wonderfully diverse HCMC travel itinerary.
This isn't the first or last time I will mention affordable and delicious street food in this article, but it really is a Vietnamese staple! Chat with curious street vendors, and be sure to sample a Vietnamese iced coffee. As with other major Vietnamese cities, you'll find many bustling market streets where the unrelenting sound of motorbike honks becomes unnoticeable.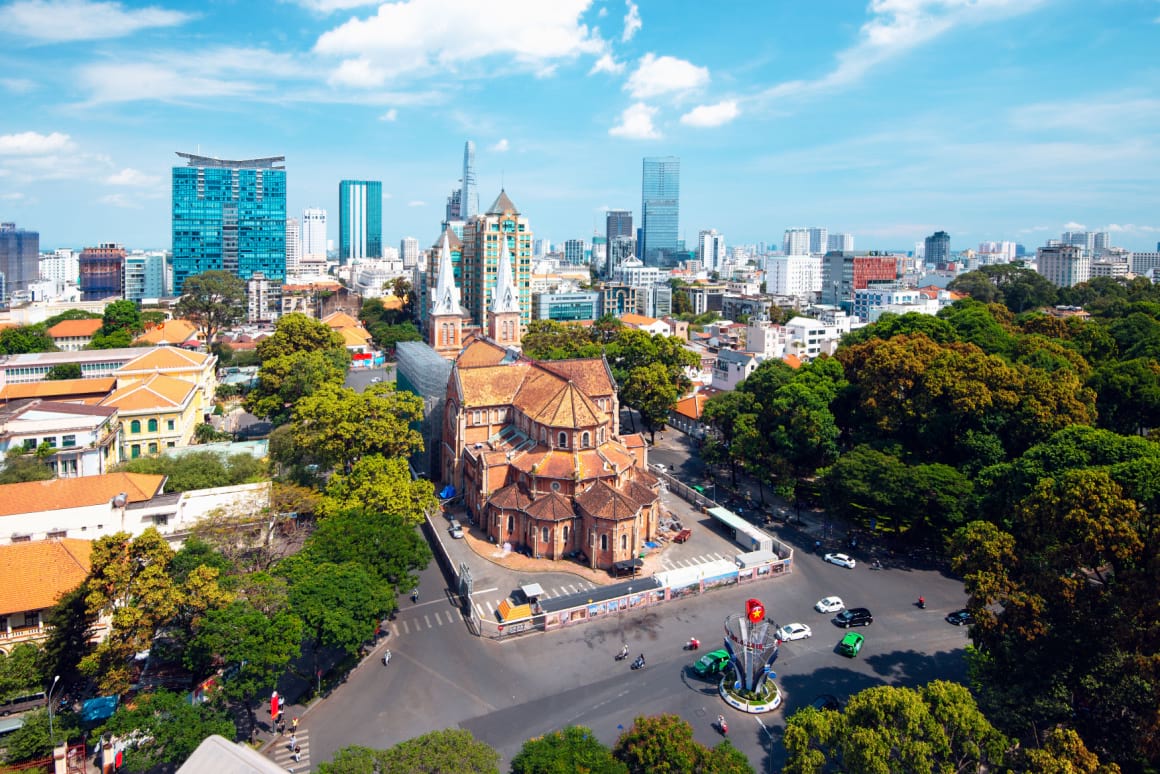 Saigon Authentic Hostel is a perfect place to stay to connect with fellow travelers. Ask at the hostel tour desk for recommendations for a day trip to the Mekong River Delta – where you'll find lush landscapes and picturesque floating markets. Another fascinating day trip from Ho Chi Minh is to the Cu Chi tunnels.
The Best Travel Apps for Solo Travel in Vietnam
Hostelworld: Your go-to for booking hostels and backpackers
Booking.com and Airbnb: Ideal for finding hotel and bed and breakfast options
Couchsurfer: An exciting option for budget travelers to meet locals, but not recommended for solo female travelers in Vietnam
GetYourGuide: Useful for lining up tours and day trips
Bumble, Hinge, and Tinder: Great for meeting singles and other solo travelers in your vicinity
Grab: Southeast Asia's equivalent of Uber, especially useful in busy cities like Hanoi and Ho Chi Minh City
XE Currency: To keep track of currency conversions into the Vietnamese Dong
Vietnammm: A top app for ordering takeout food from local restaurants
Foody: To help you discover local restaurants, cafes, and street food stalls
ToursByLocals: To connect with local guides for personalized tours and experiences
Smart Bus HCMC: Info on public bus routes, schedules, and stops in Ho Chi Minh City
Vietnam e-Visa: The official app to apply for and manage your Vietnam visa application online
Vietnam Traffic Live: To get real-time traffic updates, handy for navigating the bustling streets of cities like Hanoi and Ho Chi Minh City
Holafly: An e-SIM application that allows you to download a data-only SIM card without installing a physical card
You should also consider joining Facebook groups specific to Vietnam's travel and ex-pat scene- such as Backpacking Vietnam, Vietnam Travel Planning, or Hanoi Massive.
Stay connected when travelling through Europe!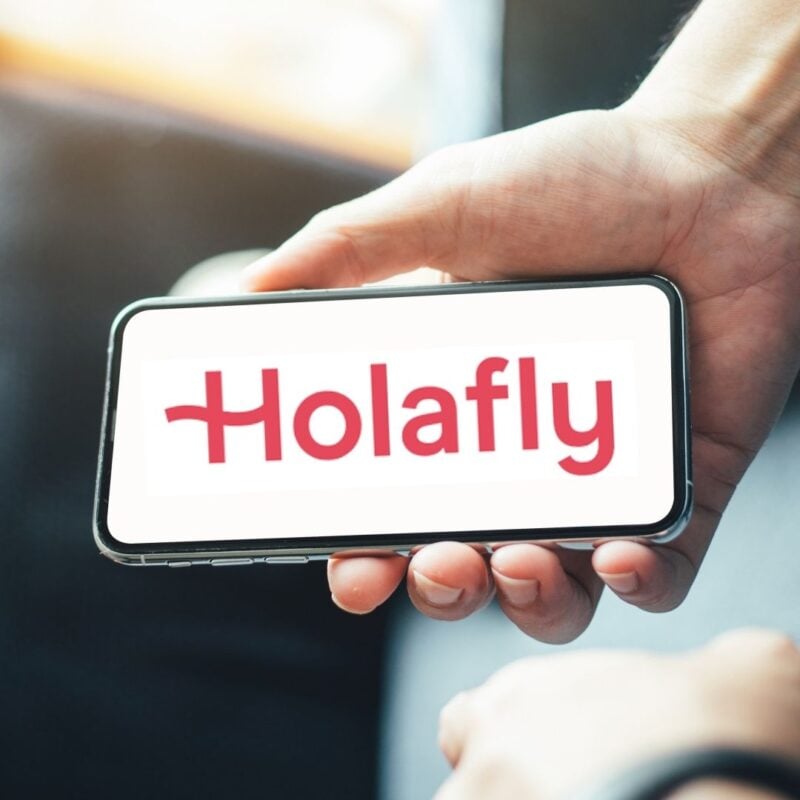 Stop stressing about your phone service when you travel abroad.
Holafly is a digital SIM card that works smoothly like an app — you simply pick your plan, download it, and voilà!
Roam around Europe, but leave the roaming charges for the n00bies.
Get Yours Today!
Safety Tips for Solo Travelers in Vietnam
Traveling Vietnam alone will no doubt be a once-in-a-lifetime adventure, but safety precautions are key. Keep an eye on your belongings in crowded places, and use a money belt to keep valuables close to you.
While Vietnam is generally safe, solo female travelers in Vietnam are advised to stick to well-lit and populated areas, especially at night. Female travelers should also dress modestly to respect local customs.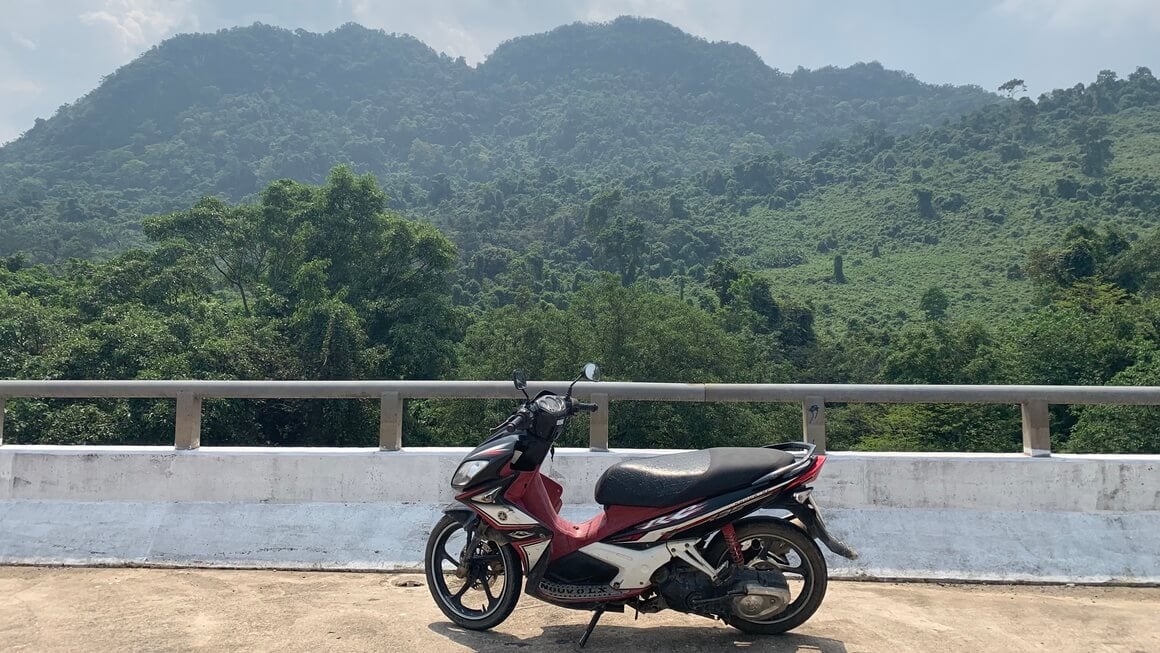 As always, opt for reputable accommodations and transportation options. Let someone know your whereabouts and plans by sharing your 'live location.'
Remember the basics: avoid leaving drinks unattended, use official taxis, and trust your instincts – if a situation doesn't feel right, there is usually a good reason.
Tips for Solo Traveling in Vietnam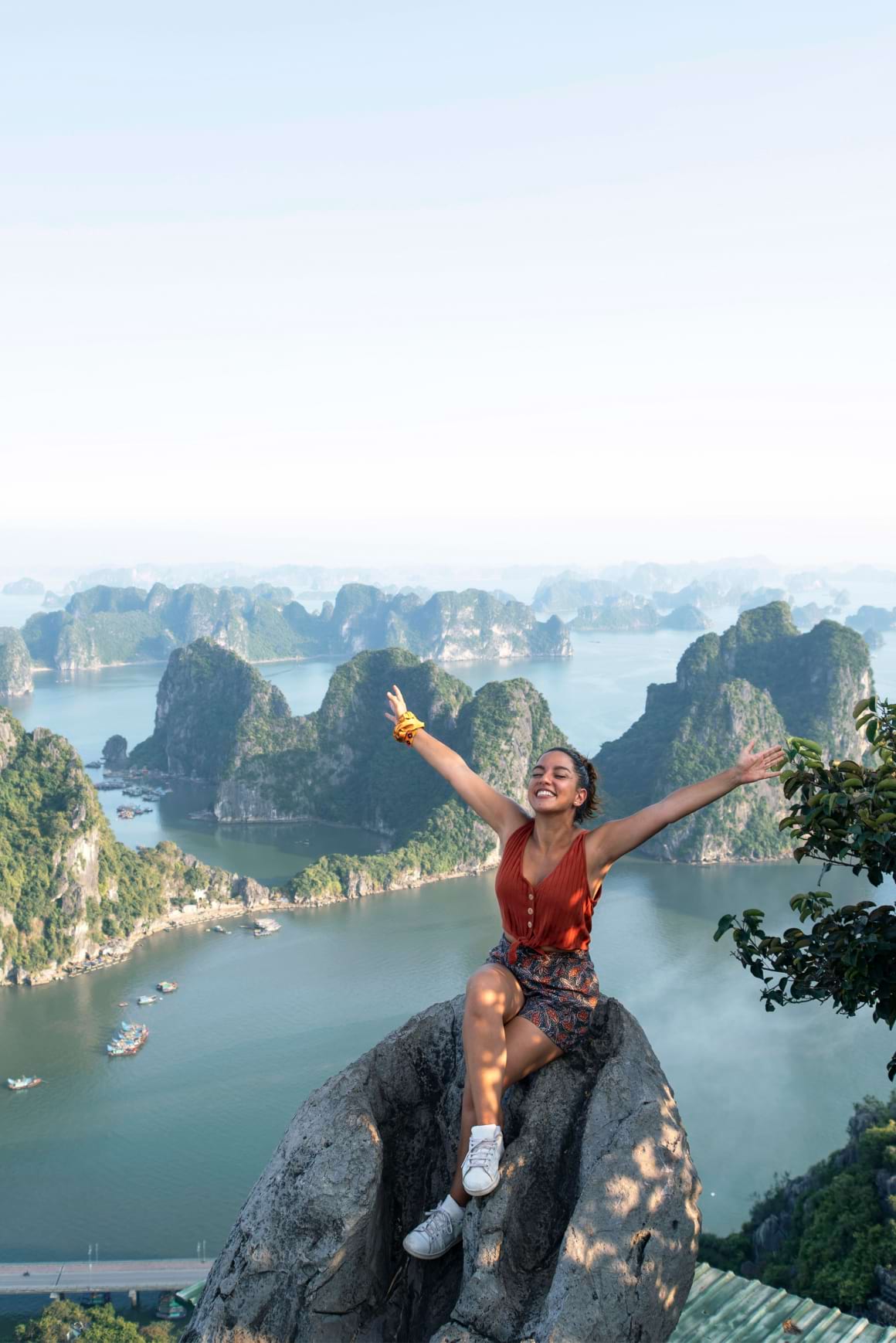 Book yourself into some exciting hostels for at least 50% of your nights in the country. Vietnam is full of eccentric and affordable hostels – such as The One Hostel & Rooftop Pool Hanoi, which features a rooftop pool – perfect for cooling off and meeting fellow solo travelers. Alternatively, take the slide instead of the stairs at Meander Saigon in Ho Chi Minh. They also offer a free walking tour of the city every Sunday!
Pre-book a few activities and adventures to plan your trip around. As a solo traveler in Vietnam, this is also a great way to make new friends. It is also a fantastic way to safely explore the natural beauty that Vietnam has to offer. For the thrill-seekers out there; take a trip to the Phong Nha-Ke Bang National Park to explore the underground world of caves, including the largest cave in the world. If you prefer expansive views, consider an organized hike like this trekking through rice terrace fields tour.
Have flexibility in your itinerary. You want to allow yourself to go with the flow based on who you meet and what you discover along the way. I have no doubt that you will find the best hidden gems while exploring well beyond the popular tourist spots.
Plan your own trip. While extensive research is always useful – crafting an unforgettable trip comes down to your own interests and what you'd like to gain from your travels. Maybe you'd prefer a yoga retreat over an adventurous backpacking trek. The choice is yours!
Be sure to join walking tours in Hanoi, Ho Chi Minh City, and Hoi An. Try and book a free walking tour through your hostel – it's a great way to explore the bustling streets and learn about the history of where you are while gaining some valuable insider info and meeting new friends.
Get clued up on the diverse religious beliefs of locals in Vietnam. When visiting temples or sacred sites, dress modestly and respectfully to honor local customs and traditions. Solo female travelers in Vietnam should be especially aware of this.
Don't be afraid to use friendship settings on dating apps like Hinge or Bumble to connect with like-minded travelers. You never know; your new backpacking bestie might be on the other side of the app!
Prepare for the weather. Vietnam is a long, skinny country that experiences a range of climates. Winters can be chilly, while summers are hot and humid. Central Vietnam has a rainy season, which brings some storms. A safe bet is to visit during the dry season.
Get good travel insurance! Good travel insurance is essential for solo backpackers, wherever you are going. If you're on your own, make sure you've got your own back!
ALWAYS sort out your backpacker insurance before your trip. There's plenty to choose from in that department, but a good place to start is Safety Wing.
They offer month-to-month payments, no lock-in contracts, and require absolutely no itineraries: that's the exact kind of insurance long-term travellers and digital nomads need.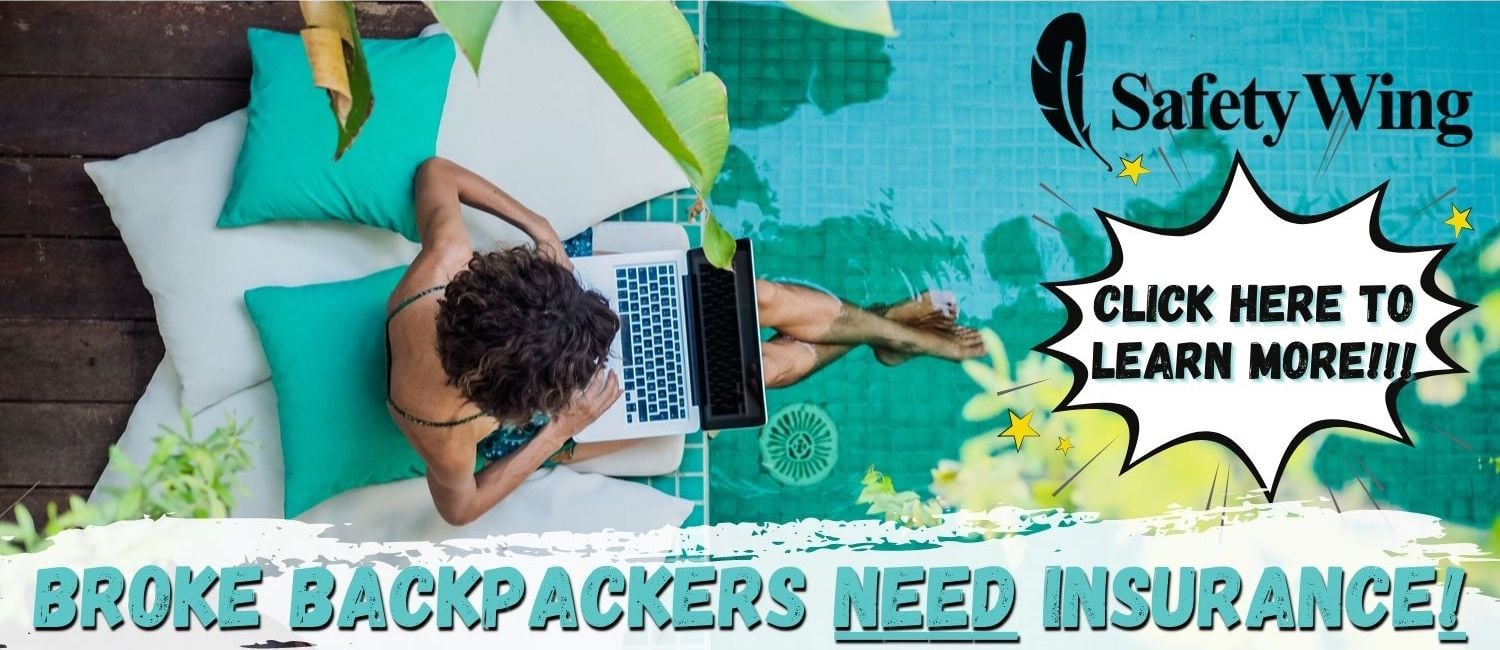 SafetyWing is cheap, easy, and admin-free: just sign up lickety-split so you can get back to it!
Click the button below to learn more about SafetyWing's setup or read our insider review for the full tasty scoop.
How to Meet People when Solo Traveling in Vietnam
Be open and up for the task. The key to meeting people while traveling solo is to be friendly and approachable. Step outside your comfort zone and strike up a conversation. My usual 'in' is to ask another traveler to take my picture!
Stay in a hostel. When deciding where to stay in Vietnam, I always opt for hostels. Not only are they dirt cheap, but this is a sure way to meet other solo travelers. Most hostels have communal spaces like bars and restaurants and also organize tours for guests to join.
Join group tours. This could be a free walking tour of a city or a more adventurous tour like a trek or river rafting excursion. Tours are a great way to meet other tourists with similar interests!
Explore shared spaces. Coffee shops or communal workspaces are the perfect setting to meet other travelers. You'll never meet anyone if you stay in your hotel room!
Join a pub crawl or food tour. Delicious food and cold beers bring people together, right? Even if you aren't a drinker, these food-based activities are a fun and relaxed way to connect with fellow explorers.
Sign up for a few workshops. One of the best Vietnam solo travel tips is that the country offers fantastic skill-building classes like cooking and traditional crafts. Look out for ones that include communal dining at the end – where you enjoy the fruits of your labor with fellow participants.
Use social media and apps. Facebook is a great place to find events in your area, while dating apps can be switched to 'friend mode' to connect with others traveling solo.
Volunteer… Volunteering in Vietnam is elite! Not only will you walk away with the warm feeling of giving back, but you might gain a new like-minded friend, too.
Final Thoughts for Your Solo Vietnam Trip
Vietnam truly is a solo traveler's paradise. There is something for everyone – foodies, adrenaline junkies, hikers, culture and history enthusiasts, and yoga and wellness advocates. It doesn't hurt that travel, accommodation, and food in Vietnam are so affordable.
Vietnam is a cultural melting pot of influences that has been woven together over centuries. From ancient times, Chinese settlers brought tea and other cultural influences. The colonization of Vietnam by the French left behind a legacy of European architecture, baguettes, and even coffee culture!
If you're worried about getting lost in translation, fear not! Google Translate and some good old-fashioned charades will become your new besties. The language barrier might seem like a challenge, but it also opens up opportunities for unexpected friendships.
The Vietnamese are also well known for their hospitality, for good reason. Locals are passionate about sharing their culture, history, and traditions – which makes for an immersive experience where you truly feel connected to the country and its people.
So, what are you waiting for? Start planning your Vietnam solo travel today!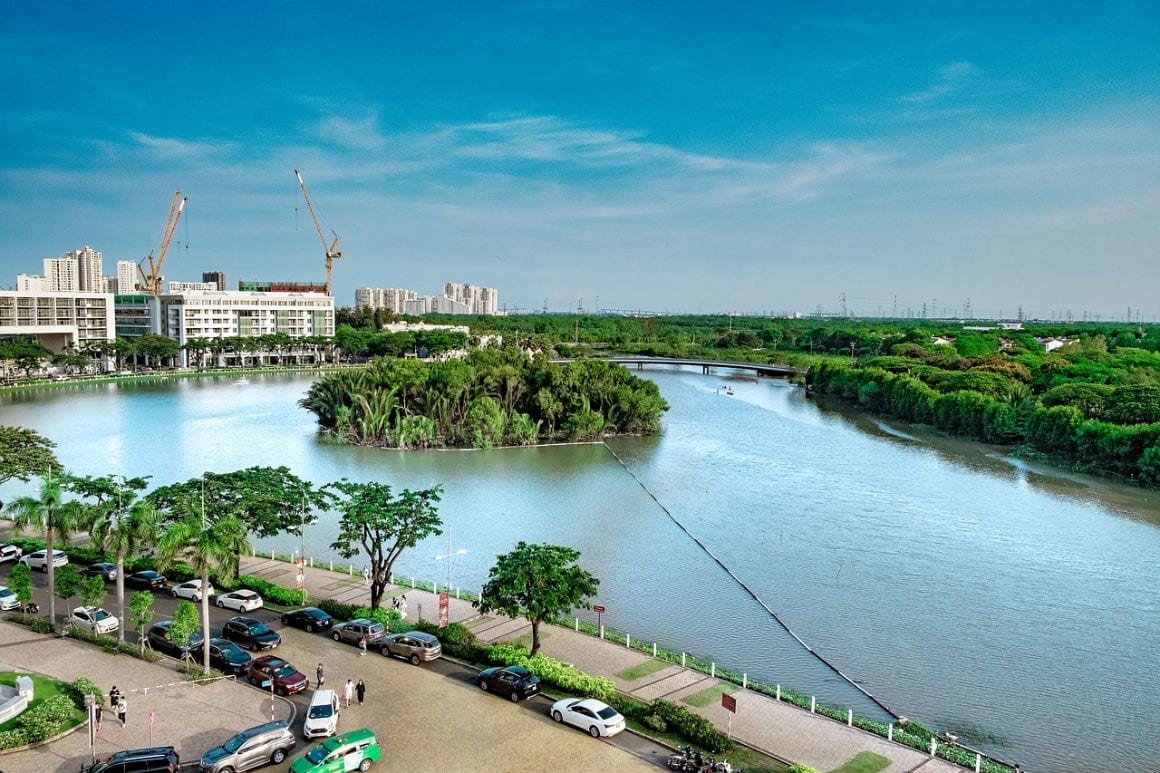 ---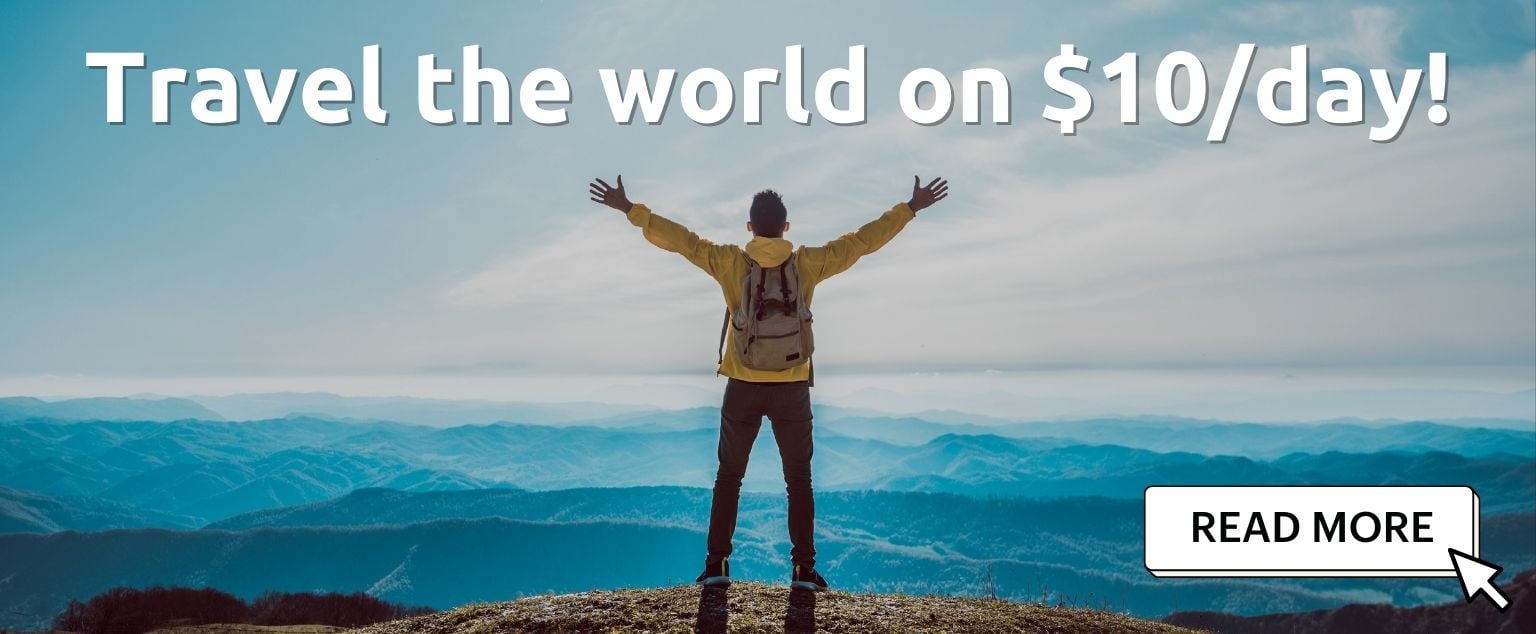 And for transparency's sake, please know that some of the links in our content are affiliate links. That means that if you book your accommodation, buy your gear, or sort your insurance through our link, we earn a small commission (at no extra cost to you). That said, we only link to the gear we trust and never recommend services we don't believe are up to scratch. Again, thank you!